Three Perfect Days: The Canadian Rockies
Story by Peter Koch | Photography by Sam Polcer | Hemispheres, November 2017
Ever since the Canadian Pacific Railway laid tracks through the Bow Valley in the 1880s—and a group of railway workers stumbled upon a hot spring on the side of Sulphur Mountain—the Canadian Rockies have been marked as a retreat for people who like their holidays a little rugged. The sublimely beautiful area that would become Banff National Park was preserved in 1885, starting a trend that would see seven parks created and united under the banner of the Canadian Rocky Mountain Parks UNESCO World Heritage site. In the same stroke, Banff transformed all the barriers to westward expansion—braided blue-green rivers, snowcapped peaks, massive glaciers, and lodgepole pine forests crawling with wolves and grizzlies—into the region's greatest assets. Even today, despite the proliferation of locavore restaurants, high-end hotels, luxury retailers, and world-class ski resorts, the wilderness continues to assert itself. Rugged mountains press in on all sides. Bull elk graze on golf courses. And, from time to time, wolf howls still split the night.

In which Peter takes a black-diamond tumble, skids through a glorious canyon, and wolfs down a trio of steaks
I wake early at the Moose Hotel & Suites in Banff, anticipating a bluebird day and, with luck, first tracks on fresh powder at one of the three local ski resorts. Stepping outside, however, I quickly forget all that—partly because of the sub-zero temperatures and partly because of the view along Moose Street: the enormous, radiant face of Mount Rundle.
This astounding view is no accident. Unlike many western mountain towns that began as mining interests, Banff was developed with visitors in mind. Banff Avenue was oriented to afford the best possible views of Cascade Mountain in one direction and Sulphur Mountain in the other. Every eastbound street ends at the base of Tunnel Mountain, with Rundle looming high above—so every now and then, as you stroll past cutesy businesses, you'll look up and get the shock of your life. You can see why the Romantic painters had a thing for mountains.
At the tiny Whitebark Cafe, I grab a window seat and watch a procession of brightly garbed pedestrians, most with skis over their shoulders or snowboards under their arms. Resolving to beat them to the slopes, I inhale a yogurt parfait with housemade granola and blueberry compote, glug my latte, and hit the road to Sunshine Village, which is perched 7,200 feet up, on the Continental Divide.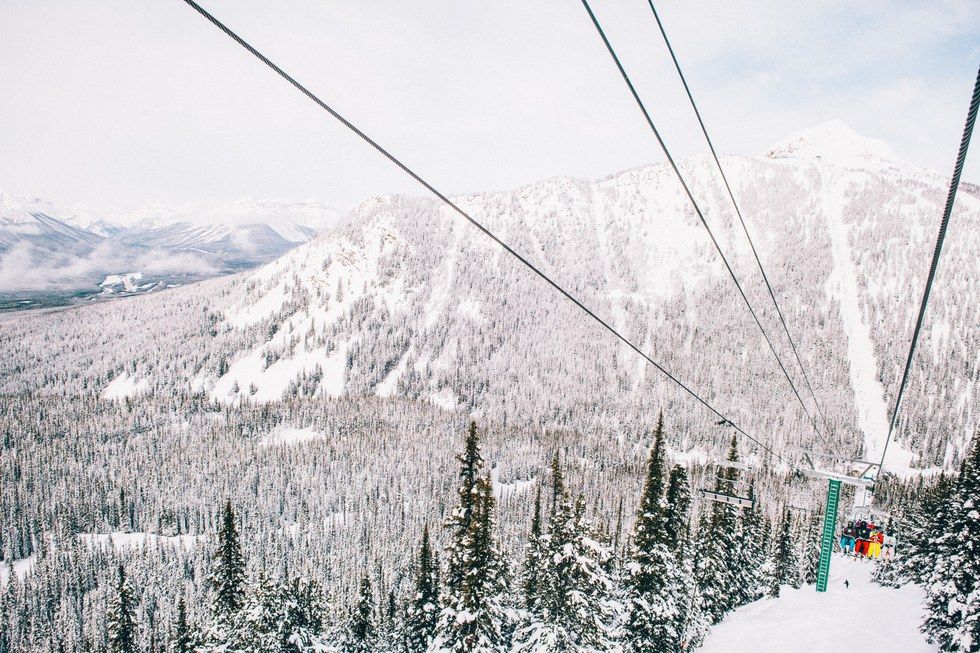 The 20-minute gondola ride up Healy Creek Valley to Sunshine's high-elevation base incrementally reveals a skier's paradise: bumps, gullies, cliffs, glades, and chutes spanning three mountains. On one side, ice climbers hack away at the frozen Bourgeau Falls; on the other, hot-doggers huck themselves off sheer drops in the Wild West Freeride Zone. The bass thump of a helicopter dropping avalanche control bombs reminds me that nature, for all its beauty, can also be unforgiving, so it's best to start slowly.
I'm met at the top of the ride by Kendra Scurfield, whose family owns Sunshine and who grew up playing on these slopes. "I don't even remember learning to ski," she says, shortly before performing a series of perfectly rhythmic turns through the glades and powerful slalom arcs out on the groomers. While Scurfield skis with childlike abandon, I simply ski like a child, whooping as we cross over into British Columbia, whimpering when we reach the edge of double-black-diamond Delirium Dive. After a while, foolishly perhaps, I announce that I'm ready for a challenge.
"I have a challenge for you," Scurfield replies with a grin. I follow her halfway down Lookout Mountain to a lip that serves as the entrance to South Pocket, a seemingly vertical black diamond that's split down the middle by trees. The right-hand chute is choked with boulders that have cleaved off Brewster Rock, and the left-hand chute seems too narrow to even make a turn. I drop in, managing a few sloppy turns before I catch an edge and crash down the mountainside, clawing at the snow as I fall.
In need of de-icing, I persuade Scurfield to join me in the resort's Lookout Kitchen + Bar, where, over a spicy elk burger and arugula salad, she graciously suggests a slightly less challenging escape route.
Later, as I drive down Sunshine Road back to Bow Valley, I spot a flock of bighorn sheep ambling around on a hillside. I'm out of the car, trying to snap a half-decent photo, when one regal-looking ram indulges me by mounting a rock to assume a statuesque pose.
On my way out to Johnston Canyon, a popular hiking destination in Banff National Park, I cruise along the sinuous Bow Valley Parkway, where it's not uncommon to encounter wolves, elk, and grizzlies. The 30-mile byway meanders beside the emerald Bow River between Banff and the village of Lake Louise, offering a peaceful alternative to the Trans-Canada Highway. Soon, I reach the canyon pullout, where Ryan Capel waits for me.
A fixture on the local ski scene, Capel is remarkably athletic for a man in his mid-50s. As we pass through a fragrant spruce and pine forest, he tells me he was born in Banff and raised on the slopes of Mount Norquay. He worked with his father in the ski shop for Candian Mountain Holidays, the world's first heli-skiing operation, before taking over retail at Lake Louise Ski Resort. "The ski culture is strong here—always has been," he says, ticking off the names of pros and Olympians from this town of just over 8,000 people. And the culture endures: Capel's three kids, ages 15 to 23, are all sponsored freeskiers.
Capel strides with purpose on the catwalks that run alongside and over Johnston Creek, ascending the limestone ravine toward a series of waterfalls. Sunlight dances on the blue-green pools where snow and ice haven't settled. "I've been here my entire life, but I never take it for granted," he says. "It's a privilege to live here." I nod—in the cathedral-like silence of the canyon's depths, it feels like a sin to even speak.
Until we hit the ice, that is. Mist from the creek is frozen on the walkways—most wintertime visitors wear cleats for this journey—and what begins as awkward Bambi steps soon evolves into a spirited game of "skating" down the trail as fast as possible. It's silly and incredibly fun, and I wonder aloud why anyone would want to spoil a good slide with something so practical as cleats.
Playtime over, Capel and I agree to meet for a drink back in town, at Park Distillery Restaurant + Bar, a new bar that produces small-batch spirits using Alberta grains and Banff's glacier-fresh water. Taking a seat beneath a photo of heli-skiing pioneer Hans Gmoser, I order a gin cocktail with mint, lime juice, peach puree, and spruce tips foraged from just beyond the park boundaries.
The crowded dining room and bar is a blend of classic Canadiana—antler chandeliers, enamel tin cups—and Mid-Century Modern decor. "Banff is a small community, but it's also a fast little town," Capel says, referring to the constant thrum generated by nearly 4 million annual visitors. That said, it's not uncommon to see mule deer wandering the side streets (a couple of years ago, one of the animals was hunted down and killed by a pair of wolves just a block off the main thoroughfare).
I'm feeling a bit wolfish myself, so I say goodbye to Capel and head down the street to Chuck's Steakhouse, which takes its inspiration from the ranchlands on the Rockies' eastern slope. A waitress in cowboy boots and a denim skirt serves me no fewer than three steaks: a melt-in-your-mouth marbled wagyu, a nutty dry-aged ribeye, and a massive tomahawk. A smoky Campfire cocktail with rye whiskey, rum, amaro, and dry Curaçao rounds the meal off nicely.
Back at the Moose, I soak in the rooftop hot pool with an Alberta beer from Blindman Brewing, idly scanning the sky for signs of fresh snow, until the darkness seems to pour into me, bringing with it the urge to sleep.

In which Peter has a natural bubble bath, encounters a prima donna snail, and sees Mickey Mouse come to an untimely end
The morning breaks gray and drizzly—a perfect complement to my head. I linger by the lobby fireplace, nursing a coffee and contemplating the moose paintings by Aboriginal Canadian artist Jason Carter. I head out for breakfast at the Juniper Hotel Bistro, set on a hill outside of town overlooking the Vermilion Lakes, where I eat eggs Benedict served with buffalo mozzarella, braised rabbit, and juniper berry glaze on bannock flatbread.
With the mental fog clearing, I head for Banff Upper Hot Springs. Here, at one of three natural springs that bubble up from under Sulphur Mountain, the mineral-rich waters remain at a toasty 98 to 104 degrees Fahrenheit year-round. I hook my elbows over the edge of the pool and stare across the valley at Mount Rundle's partially shrouded western face. I don't know if these waters help with infertility or rheumatism or any of the other maladies that early operators claimed, but they're great for sore ski muscles.
Just down the mountain at Cave and Basin National Historic Site, I follow park interpreter Gareth MacKay into a dripping, craggy grotto lit by a natural skylight. In 1883, three railroad workers climbed into a mist-filled cave 37 feet deep. "When they came down that hole," MacKay says, "they had no idea they would create a national park." The men laid claim to the spring—even building a crude, cabin-size "hotel" a few feet from its entrance—but the Canadian government, which was struggling to bankroll its transcontinental railroad and saw an opportunity to do so with tourism, took control, ultimately establishing the country's first national park, and the third one in the world after Yellowstone and Australia's Royal.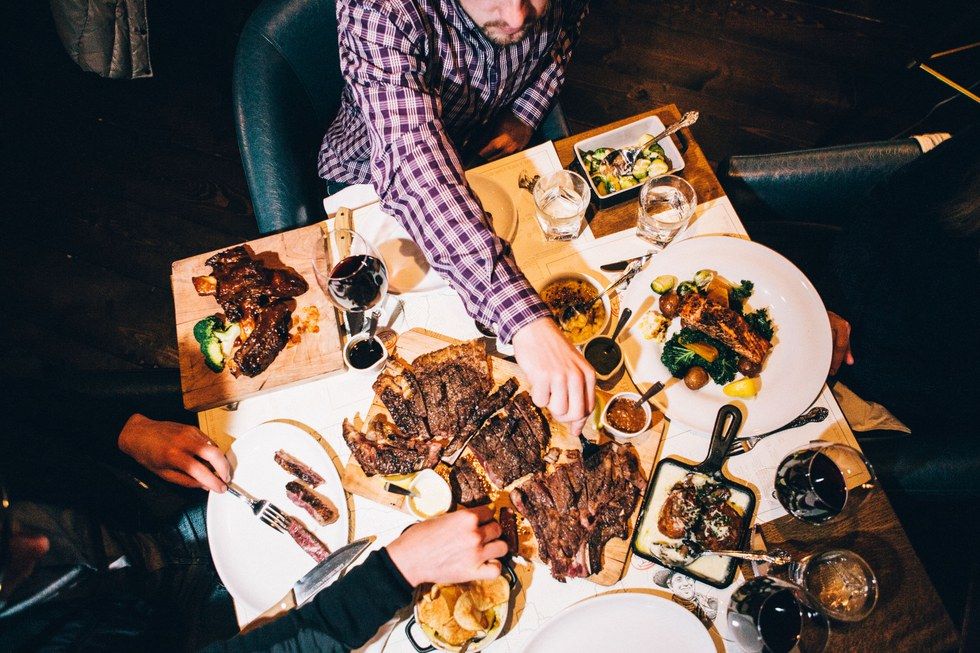 One of the discoverers, William McCardell, described the cave as "some fantastic dream," and I can see why. A spring-fed waterfall pours into the pool, and rainwater percolates down through the porous limestone ceiling, dripping into the glassy water and scattering the shaft of daylight around the cave. "This place changed the course of history in the Bow Valley," MacKay says, almost reverently. "History lives here." As does the park's most endangered creature.
Before leaving, I ask MacKay to show me the Banff Springs snail, which exists in hot springs here and nowhere else in the world. He grudgingly agrees—he seems to consider the tiny mollusk a bit of a prima donna that distracts from the site's history—and soon we're on hands and knees, scanning the bubbling basin. "Right there," he says, pointing to a blob that's barely half the size of my fingernail. The moment doesn't have the raw electricity of spotting, say, a grizzly, but in its own small way, it's yet another reminder that this is a special place.
After the damp of the cave, the chill outside cuts through me, so I head for the warmth of downtown Banff's Wild Flour Bakery for a comforting lunch of carrot and fennel soup; a grilled cheese with apples, spinach, and onion jam; and a kale salad that offers a colorful contrast to the gray tableau outside. Nearly everything is organic and sourced locally, which I'm finding to be common practice here.
From here, it's a short walk to the Whyte Museum of the Canadian Rockies, where Winnipeg artist Diana Thorneycroft has a witty and subversive show, O Canada (I'm Sorry), in which she painstakingly creates tabletop dioramas with handmade figurines and then photographs them. Included here are Martyrdom Near Moose Jaw, which has Mickey Mouse being drawn and quartered by the Royal Canadian Mounted Police, and Burning Braids, which shows a First Nations girl being forced to burn her braids as part of a policy of "aggressive assimilation" at a state school.
Frankly, it's a surprising exhibition for a tourist hub like Banff, especially in a year when the national narrative is centered on Canada's 150th birthday. "I had another exhibit planned," photo curator Craig Richards tells me, "but I thought this was perfect to start off the anniversary. It's challenging, it's thought-provoking, and, for some people, it's downright disturbing."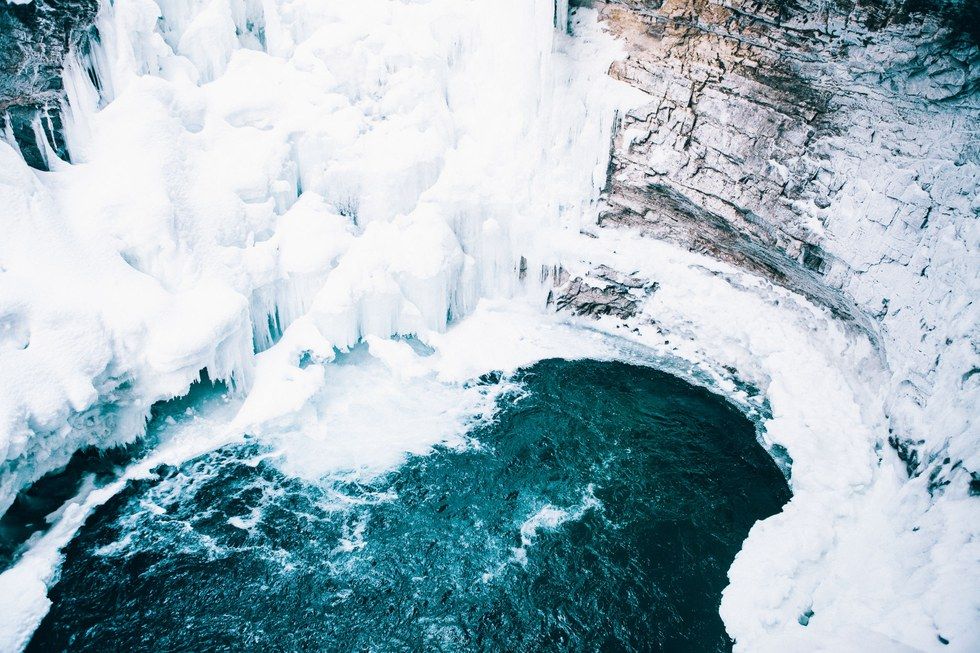 To learn more about the local arts scene, I head up Tunnel Mountain to the 53-acre Banff Centre for Arts and Creativity to meet artist-in-residence Janice Tanton. The walls of her studio are filled with monumental works in various stages of completion. "I'm the queen of unfinished paintings," she says with a laugh.
For locals, the center often solves the problem of what to do tonight, with a busy events calendar (including the world-famous Banff Mountain Film + Book Festival) and the excellent Three Ravens Restaurant and Wine Bar, which commands sweeping views of the town and valley beyond. Tanton and I make our way to the fourth-floor eatery, where we're seated beside the floor-to-ceiling windows.
Our dinner is suitably creative—from the sturgeon amuse-bouche with strawberry and mint compote to the smoked elk tartar dolloped with bright yellow sous vide egg yolk, deep brown balsamic "pearls," and blood-red pickled beets, and sprinkled with dehydrated bison. Just then, the clouds part over Bow Valley, and the sun breaks through. We sip our wine in silence, watching as, farther west, a fresh line of clouds gathers over the peaks of the Massive Range, already dropping more rain.

In which Peter goes off grid, plays pond hockey with an Alec Baldwin look-alike, and embarks on an ill-fated hike
The rain turned to big, fluffy snowflakes overnight, and they're settling on the roads as I drive north and west to drop my bags at Storm Mountain Lodge and Cabins. Once marketed as a place for "unconventional, old-clothes vacations," Storm hasn't changed much nearly a century later. It's still a secluded collection of elegant, off-grid cabins along Highway 93S; there's no Wi-Fi, no phone, and no TV, and cell reception is spotty at best.
When I pull off the Trans-Canada Highway at Castle Junction, a worker informs me that avalanches on 5,510-foot Vermilion Pass have shut down the road. I tell him that I'm staying at Storm, just three miles up; he checks my name against a guest list and waves me through. The road beyond is a blank canvas of powder, and driving it is strangely invigorating. Do these count as "first tracks," I ask myself, before throwing the rental car into reverse and doing donuts in the middle of the highway because, well, I can.
There are more conventional tracks to create at Lake Louise Ski Resort. The 4,200-acre area is legendary for its long season, extensive back bowls, and high-consequence steeps, where, each November, Alpine Ski World Cup competitors like Lindsey Vonn and Ted Ligety charge downhill at 80-plus mph. After getting outfitted in the rental shop, I board a chairlift with veteran ski instructor Patrick Caïs, climbing 2,800 feet to a lookout with spectacular views.
Born in Bordeaux, France, Caïs came to Lake Louise via Montreal, where he worked as an accountant. "I'm not here for the money," he says. He gestures at the sharp mountains and tumbling glaciers. "That's why I'm here."
On our first real run, Caïs and I cruise down wide-open groomers with those killer views, though he admits that his favorite place to ski is in the woods. "The press of the trees makes me feel at one with nature," he says.
For lunch, we pull in to the mid-mountain spot Whitehorn Bistro. "A lot of people think it's a bad thing that we don't have ski-in/ski-out accommodations," Caïs says, "but that's because we're in a national park. Otherwise, this view would be full of hotels and condos." The relatively sparse development here, he continues, means abundant wildlife: elk, bighorn sheep, and the elusive Canada lynx. On the backside of the hill, a few grizzly bears are hibernating in dens beneath the snow. Come spring, they'll emerge and head downhill with cubs in tow, which causes rolling closures across the resort—but that's park life for you.
Over a cheese and game platter, Caïs regales me with stories about the Klondike Gold Rush. Then I take one last ride up the mountain, steeling myself for the World Cup men's downhill course. At first I think I'll try to crush it, Ligety-style, in world-record time, but then I find myself staring at that horizon again, and it dawns on me that this is a moment to be savored, not rushed. So I finish my run with broad, sweeping turns, popping in and out of the trees.
Back on level ground, I head into Lake Louise village, where I'm meeting Wilson Mountain Sports manager Bill Keeling—a towering Alec Baldwin look-alike—for a game of pond hockey on what may be the world's most beautiful rink. Skates and sticks in hand, we make for the castlelike Fairmont Chateau Lake Louise, which maintains the ice on the iconic lake throughout the winter.
Dozens of visitors wobble gingerly around the ice, the mountains crowding in behind them. A sign reads: "No Hockey!" But Keeling skates past it with a shrug. "It's not written in French, too," he says, "so it doesn't really count." I'm as shaky on ice as the other tourists, but Keeling has been playing since age 4, "with a one-piece Ski-Doo suit and a pillow on my butt." He manages to rope a couple more "players" into our game. It's hilariously, joyously fun, and by the time we call it quits we're all smiling. "Most Canadian kids
play pond hockey," Keeling says, adding that adults enjoy it too, "because beer tastes
better afterward."
As tempting as a beer sounds right now, I've got a dogsled to catch. A few minutes down the road, I pull over at the Great Divide Trail, where I can make out a frenzy of yelps even with the windows up. Nearby, a team of Alaskan huskies are going out of their minds with anticipation as they're harnessed for a 10-mile run to Kicking Horse Pass and back with Kingmik Dog Sled Tours. The moment the musher, Stef, releases her brake, the sled lurches forward and the dogs fall silent, focused on the task of pulling. "These dogs are bred to run," she calls out from behind me, "and that is all."
Dogsledding dates back at least 1,000 years in Arctic Canada but only came to the Rockies in the early 1900s, when adventurer Ike Mills started using dogs to deliver goods to the frozen backcountry. At the Great Divide, where waters part ways east and west, we turn back. Stef offers me a chance to drive, with a warning: "If you fall off the sled, don't let go, because they're not going to stop." I don't fall, but I'm soon aware of just how tenuous my "control" over the dogs is; rather than driving them with purpose, I'm clinging to a runaway train.
With snow falling once again, I head back to Storm Mountain Lodge, where a roaring fire warms the hearth in the great room, and the local version of an Old Fashioned—with spiced whiskey and maple syrup—warms my insides. The all-Canadian dinner menu features classic alpine comfort food, with free-range bison, elk, venison, and wild boar alongside scallops from Nova Scotia and salmon from the B.C. coast. I opt for the wild boar belly and tenderloin, served with huckleberry sauce, acorn squash, and beet puree. Like everything else on this trip, it's presented with pride and care—and it's wonderful.
Before bed, I settle into a leather couch in front of the lobby fire with another Old Fashioned, watching flames lick logs as the snow piles up outside. But soon I feel restless. The lodge lends snowshoes, and a nighttime trek seems like just the thing to finish my time here. With a little bit of charm, and a promise to bring beer, I convince a young couple from Calgary to join me for a jaunt on what I think is a half-mile nature trail around the property.
It's all merriment when we set out, what with the awkward footwear, fresh snow to throw, and the novelty of moving through the pitch-black woods by headlamp. But, as 15 minutes wear on to 45, with no sign of the lodge and not a drop of beer left, my trekmates grow worried. Haven't we walked a half mile yet? ("Well, yes.") What are these tracks in the snow? ("Hmm … dogs?") Won't our tracks fill in with snow? (Clearing throat: "Yes.") Are we lost? (Silence.)
But on we clomp—one foot in front of the other, heads down—until we spot an orange light, followed by the outlines of buildings. Safely inside, we sit before the fire, get ourselves a drink and tell stories about our adventure, which was fraught with danger and fear, yes, but also a sense of wonder and of humbling perspective. Just like any other story worth telling in these parts.
This article was written by Peter Koch from Rhapsody Magazine and was legally licensed through the NewsCred publisher network. Please direct all licensing questions to legal@newscred.com.
Around the web

As a member in the tourism, travel and transportation industries, United offers a unique perspective into the economic and operational effects rippling across the U.S. To advocate United's efforts, and in anticipation of a bright future, New York/New Jersey President Jill Kaplan and California President Janet Lamkin have both been named to their states' respective governor's COVID-19 response task force committees.
Appointed by New Jersey Governor Phil Murphy, Jill joins the New Jersey Restart and Recovery Advisory Council ­— a group of business and municipal leaders tasked with planning to restart the state's economy.
"Serving on Governor Murphy's Restart & Advisory Council uniquely positions us in the epicenter of helping to restart state's economy by providing innovative ideas, sharing best practices and creative thinking to help ensure the rebuilding of New Jersey's economic vitality alongside notable business leaders," said Jill. "I'm honored to represent United Airlines and the transportation industry as a core building block to expediting the state's recovery."
United is the sixth largest company in the state and one of the largest essential businesses continuing to operate through this crisis, and as or advocate, Jill will share some of our best practices and lessons we're learning with the nine different committees through the customer and employee lens.
On the opposite coast, California Governor Gavin Newsom last month appointed Janet to his Task Force on Business and Jobs Recovery. Joining Janet at the table are former California governors, legislative leaders and CEOs and executives from numerous businesses with large stakes in the state, such as Apple and Disney. In addition to Janet's position on the task force, Janet is also serving on the Long-Term Jobs Recovery sub-committee and will advocate for industries suffering long-term ramifications of COVID-19 such as tourism, travel and entertainment.
"Being appointed to Governor Newsom's Task Force on Business and Jobs Recovery ensures that United is part of the important conversation and part of the plan to help California pave the way toward a fast, safe recovery of jobs," said Janet. "It is an honor to represent the only transportation business on the task force, and I look forward to working alongside a group of very distinguished leaders and focusing on innovative ways to rebuild the economy for our 40 million residents. This work will build on our partnership with the Governor to provide free flights for medical volunteers and having our employees call to check in on isolated older adults as part of the Social Bridging Project."
Pre-COVID, we transported 38 million passengers to, from and within California each year, and directly and indirectly supported tens of thousands of jobs, so the health and well-being of the industry is vital to the prosperity of the state.
As the only airline represented among each of these groups, Jill and Janet are working hard to ensure that our voices, as a company and industry, are heard, valued and utilized as a new chapter dawns on the horizon.
Hello. I'm Scott Kirby, the new CEO of United Airlines. I'm a proud Air Force Academy graduate and have spent my entire career in and around aviation, including the last four years as President of United.
While I had planned for my first communication with you to be about the meaningful investments we were making to the travel experience and our continued growth across the U.S. and expansion to exciting new destinations around the world, today, the situation rendered to us by the COVID-19 pandemic leads me to a different type of message.
First, I graciously and humbly thank you for your business. Now, more than ever, our customers' loyalty is so deeply appreciated by every member of the United family.
As essential workers, the men and women of our airline have been hard at work over the past two months to transport vital medical supplies and critical goods to places that need them most, to provide free travel to healthcare professionals and to help thousands of individuals repatriate to their home countries.
Safety has always been our top priority, and right now in the midst of an unprecedented crisis, it's our singular customer focus. We recognize that COVID-19 has brought cleanliness and hygiene standards to the front of your mind when making travel decisions. We're not leaving a single stone unturned in our pursuit to protect our customers and employees.
We are installing plexiglass in lobby and gate areas, we're using the same equipment used to clean hospitals to disinfect the interiors of our aircraft, all crew and customers on board are required to wear face mask coverings and we're taking the temperature of our employees before they start work.
But at United, we're not stopping there. We're teaming up with experts from Clorox and the Cleveland Clinic to set a new standard for cleanliness and healthy flying that we are calling United CleanPlus℠.
Clorox is working closely with us to improve how we disinfect common surfaces and provide our customers with amenities that support a healthy and safe environment.
Physicians and scientists at the Cleveland Clinic, will advise us on new technologies and approaches, assist in training development and create a rigorous quality assurance program. And, as scientists learn more about how to fight COVID-19, Cleveland Clinic experts will help us use those discoveries to quickly implement new ways to keep our customers safe.
While we may not know when this pandemic will subside, what we do know is that travel is so deeply woven into the fabric of our global culture. We all desire to visit family, dance at a friend's wedding, hug parents…and see the wonders of this beautiful world. No matter how sharp the picture quality – or how strong the WiFi signal – there's simply no substitute for being there – in person – to collaborate, celebrate, explore. We are confident that travel will return. And when it does, United Airlines will be ready to serve you again in the friendly skies.
Thank you. Be well. And I look forward to seeing you on board.

We remain passionate about connecting the world safely
United CleanPlus SM is our commitment to putting health and safety at the forefront of your journey, with the goal of delivering an industry-leading standard of cleanliness. We're teaming up with Clorox to redefine our cleaning and disinfection procedures, and over the coming months, we'll roll out Clorox products across our U.S. airports, starting in select locations, to help support a healthy and safe environment throughout your travel experience.
At the airport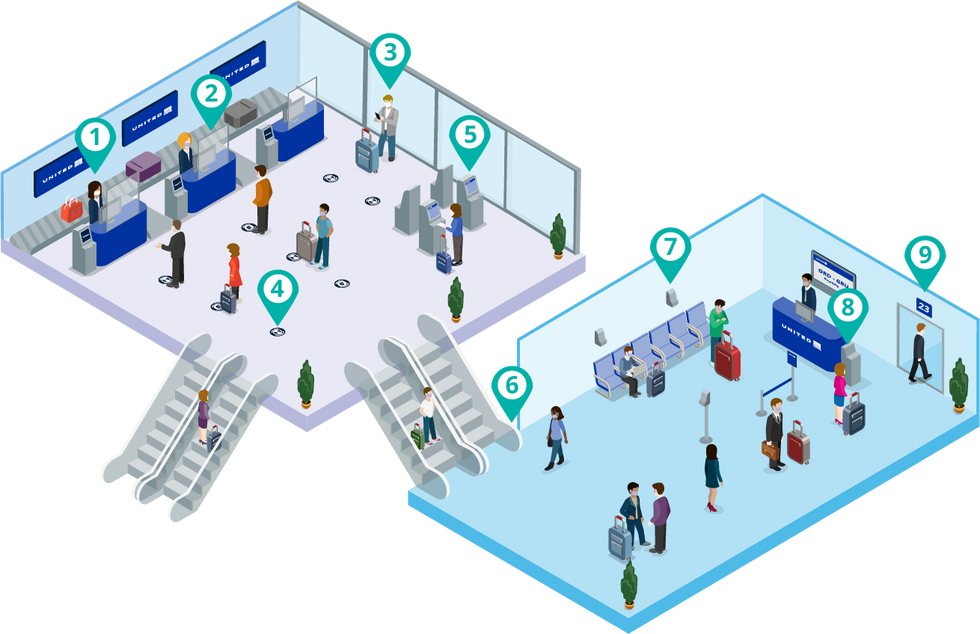 At check-in:

Implementing temperature checks for employees and flight attendants working at hub airports
Installing sneeze guards at check-in and

gate podiums

Encouraging use of the United app for contactless travel assistance and more
Promoting social distancing with floor decals to help customers stand 6 feet apart
Introducing touchless check-in for customers with bags

At the gate:
Disinfecting high-touch areas such as door handles, handrails, elevator buttons, telephones and computers
Providing hand sanitizer and
disinfectant wipes
Allowing customers to self-scan

boarding passes

Boarding fewer customers at a time and, after

pre-boarding

, boarding from the back of the plane to the front to promote social distancing
On our aircraft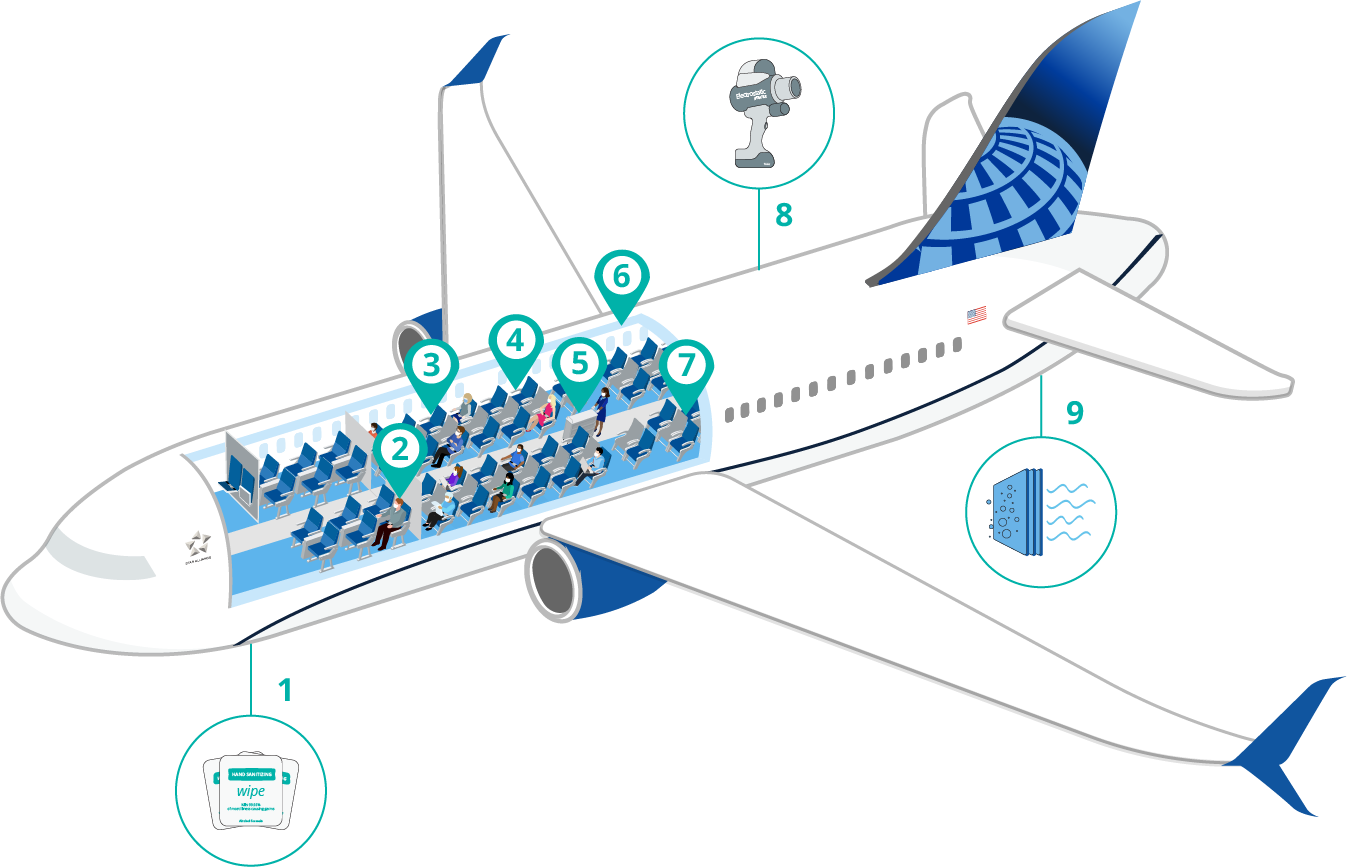 Providing individual hand sanitizer wipes

for customers

Requiring all customers and employees to wear a face covering and providing disposable face coverings for customers who need them
Temporarily removing onboard items like pillows, blankets and inflight magazines
Disinfecting high-touch areas, like tray tables and armrests, before boarding
Reducing contact between flight attendants and customers during snack and beverage service
Ensuring aircraft cleaning standards meet or exceed CDC guidelines
Applying social distancing to seating procedures when possible, including:

Limiting middle seat selection
Moving customers seated closely together
De-planing in groups of five rows at a time to reduce crowding

Using electrostatic spraying to disinfect aircraft, to be completed on all flights by mid-June
Using state-of-the-art, hospital-grade, high-efficiency (HEPA) filters to circulate air and remove up to 99.7% of airborne particles

We're working closely with the experts at Cleveland Clinic to advise us on enhancing our cleaning and disinfection protocols for the safety of our employees and customers. Visit Cleveland Clinic's website to learn more about COVID-19.
Together, we are facing an unprecedented challenge. United Together, we rise to meet that challenge.
Learn more
United Airlines
united
To allow for additional flexibility, flights booked now through June 30 can be changed for free over the next 12 months. All existing travel can be changed without fees as well. See waiver for details:
uafly.co/2M9vgLC
We Are United
weareunited
#AMTDay
is in honor of Charles Taylor, Wright Brothers' mechanic. The highest honor an aviation maintenance technician can receive is his namesake award. Congratulations, Garrick C. (HNL), Phil D., Bud G. and Benny G. (all SFO) who've received it in the past year.
#BeingUnited
We Are United
weareunited
United regional presidents Jill Kaplan and Janet Lamkin will join their states' respective governor's committees tasked with planning to restart the state's economy. Learn more about how they plan to help pave the way toward a fast, safe recovery of jobs.
uafly.co/2zjPrDI
We Are United
weareunited
Oscar, thank you for listening and learning as you traveled the system the past five years. We will carry the New Spirit of United with us as we respond and recover from this historic challenge --
#UnitedTogether
as we care for each other and serve our customers. 💙
#BeingUnited
Watch our most popular videos
Flying UCSF Medical Workers to New York
This is why we fly.
20 UCSF Health workers, who voluntarily set aside their own lives to help save lives, are on their way to New York City.
We are humbled by your selfless sacrifice.
Thank you.
#UnitedTogether #UCSFHeroes
A happy, Hollywood ending
This is the story of Jason and Shantel. You see, Jason and Shantel love each other very much. They also love traveling and they love the classic Adam Sandler film, The Wedding Singer.
It all began when Jason reached out to United's social media team, hoping for assistance with his upcoming plan to propose. Some phone calls and one borrowed guitar later, the stage was set for Jason. Put all that together, mix in some helpful United employees and, voila, you have a truly memorable marriage proposal. Congratulations to this fun-loving and happy couple, and here's to many more years of making beautiful music together.
A big thank you to Chicago-based flight attendants Donna W., Marie M., Karen J. and Mark K. for making this proposal come to life.
Copyright © 2020 United Airlines, Inc.
All rights reserved.
Indicates an external site that may or may not meet accessibility guidelines.
Scroll to top
Scroll to top