Three Perfect Days: Charleston
Story by Ellen Carpenter | Photography by Peter Frank/Edwards | Hemispheres, February 2019
Back in 1874, The Atlanta Daily Herald's Henry W. Grady coined the term "the New South" to encourage people to move beyond the fraught antebellum period and see the region in a fresh light, "thrilling with the consciousness of growing power and prosperity."
That tag has been bandied about in recent years—Nashville is the capital of the New South one day, Atlanta the next—but nowhere are that growing power and prosperity more evident than in South Carolina's largest city, where it seems as if 10 new (and great) restaurants open each month, where Volvo just set up shop with a $1.1 billion plant and Boeing is building its 787 Dreamliners, where 28 people move in each day. The Holy City is a mecca for tourists—6.9 million came in 2017, probably half of them for a wedding—who are just as hungry for rice grits and selfies in front of Georgian row houses as they are for a history lesson. What they'll find will fill them up and still leave them asking for seconds, albeit very politely.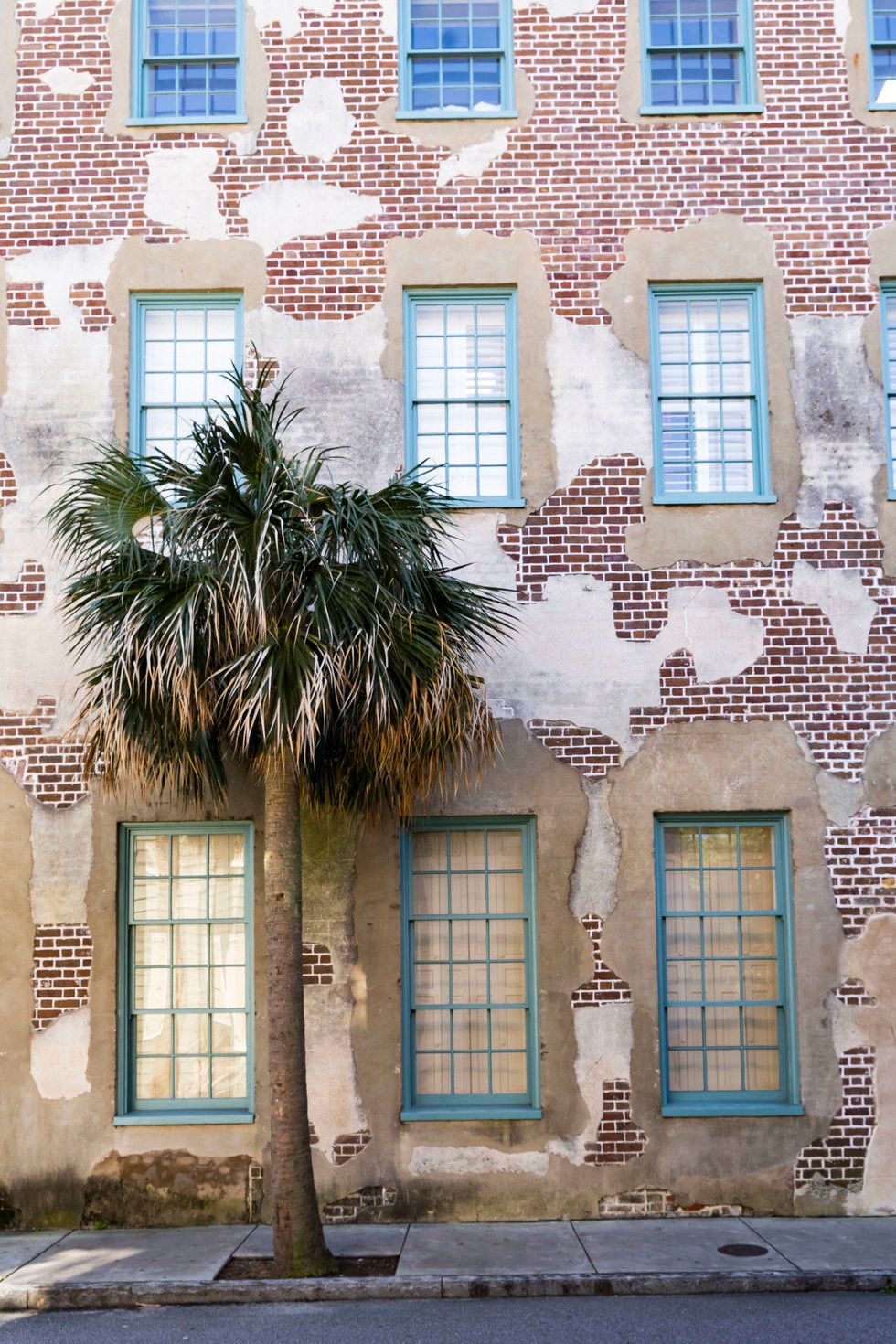 Opener: The Historic District's colorful Elliott Street. Here: the backside of the Dock Street Theatre
Day 1:
Playing pirate, "firing" cannons, and plowing through pimento cheese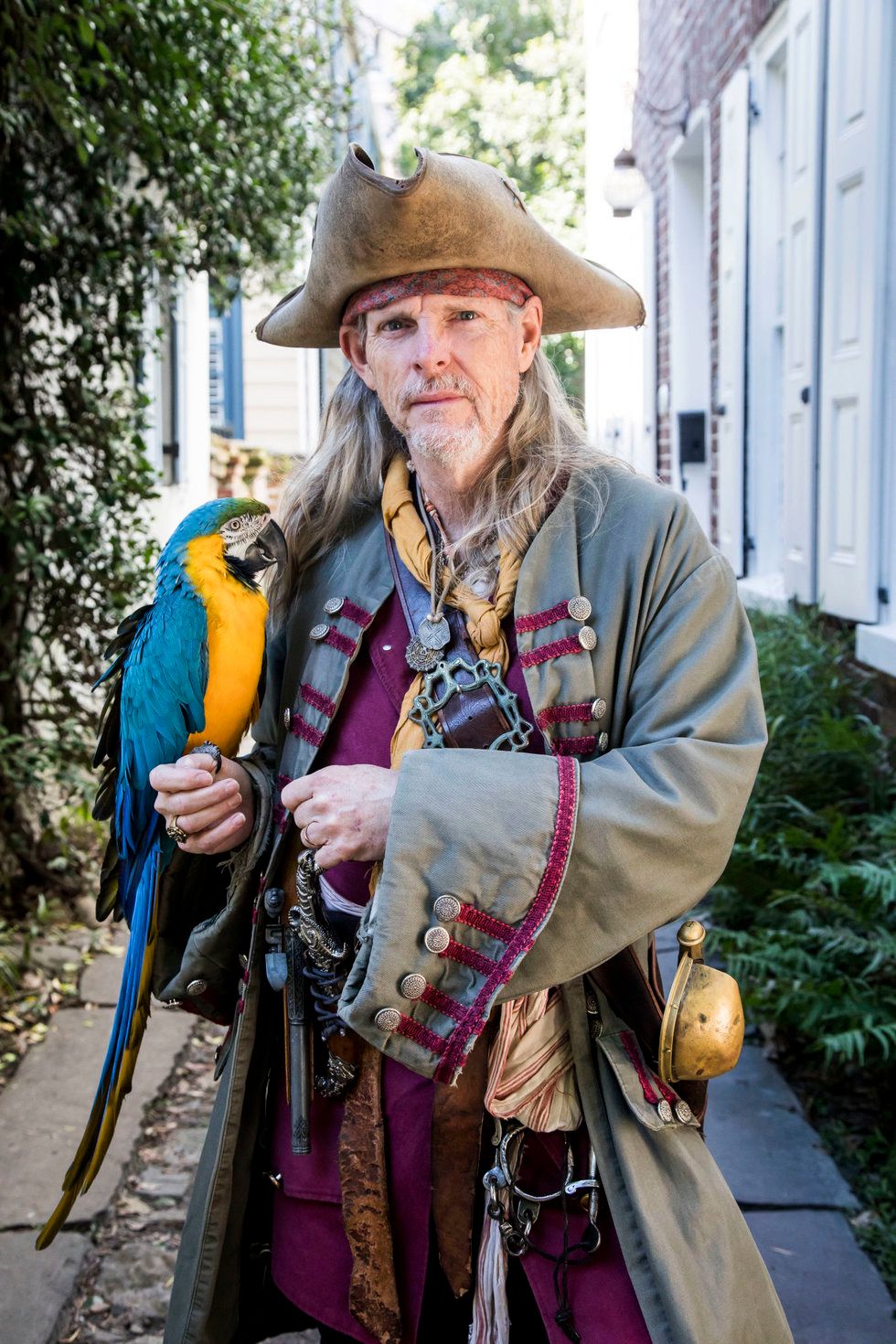 Eric Lavender of Charleston Pirate Tours
Let's go ahead and get the kid questions out of the way: Yes, I'm a real pirate. No, I'm not firing my gun. Yes, my parrot is real. No, we're not gonna take any ships. No, pirates did not make enemies walk the plank—that was Peter Pan."
Eric Lavender, swashbuckling chic in full pirate regalia—tricornered hat, knee-high suede boots, black breeches, regal gray captain's coat with pewter buttons, pistol at one hip, saber at the other—is standing in front of the Powder Magazine, the oldest government building in Charleston (built in 1713). He's about to lead me, my husband, Chris, our 6-year-old son, Calder, and five other history-hungry out-of-towners on one of his daily Charleston Pirate Tours, and to spin yarns about "the who's who of pirates that came through."
"What better way to get a first grader excited about history than having a guy with a parrot on his shoulder tell him about beheadings and pillaging?"
Charleston's history is intrinsically linked to piracy (did you know pirates introduced the rice that's so integral to Lowcountry grits, bringing it from Madagascar?), which is why we want to start our trip with Captain Eric. What better way to get a first-grader excited about history than handing him a foam sword and bandanna and having a guy with a parrot on his shoulder tell him about beheadings and pillaging? As we amble through the Historic District, down Unity Alley, where George Washington kept his mules when he was in town ("If it's good enough for Washington's ass, it's good enough for us," Eric jokes), and past the multicolored houses on Instagram-friendly Rainbow Row and the country's oldest liquor store ("Charleston is a drinking city with a history problem"), Eric tells us about famous pirates of yore—Mrs. Chang, Stede Bonnet, Anne Bonny, and, of course, Blackbeard, who marauded the port of Charleston before meeting his bitter end off of North Carolina's Outer Banks. "You know how he knows all that stuff?" Calder whispers, after Captain Eric lets each of us hold one of his weapons for a final group photo. "Because he's a real pirate." Success.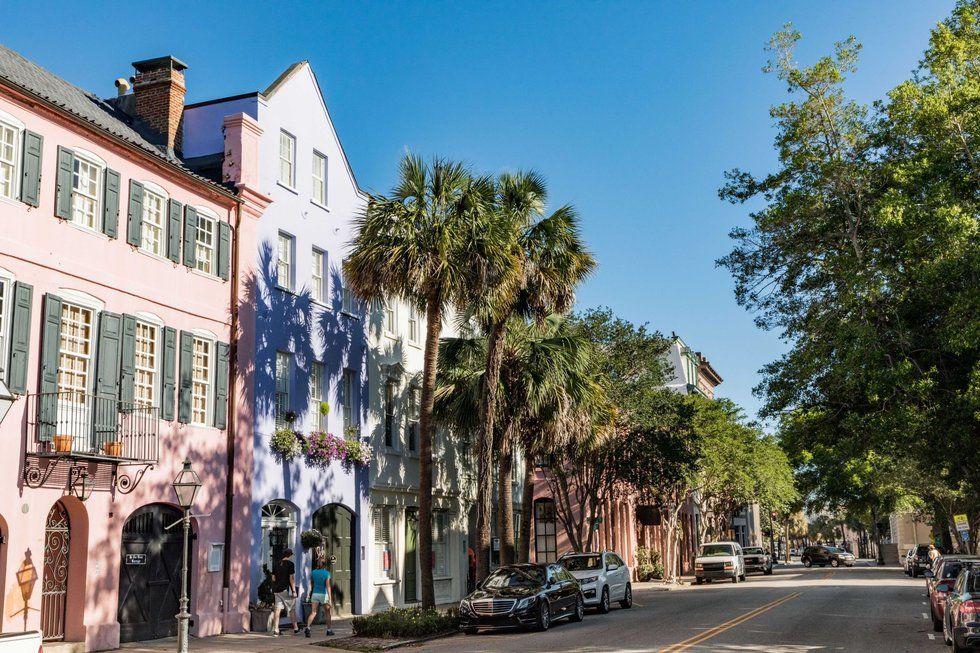 Rainbow Row, a series of pastel Georgian houses on East Bay Street dating back to 1740
After two hours of walking, we're ready to eat. Luckily, Husk is just four blocks from the Old Exchange Building, where our tour ends. Just as piracy put Charleston on the map back in the late 1600s, Husk ushered in the city's foodie era when it opened in 2010. Founding chef Sean Brock recently departed for Nashville, but the restaurant—located in a beautiful, late-19th-century Queen Anne–style home—and executive chef Travis Grimes still celebrate Lowcountry cooking with highfalutin technique. We start with addictively sharp pimento cheese toasts that are way better than pimento cheese has any business being. The fried chicken has the kind of crackly crust you only see on TV, and the Bibb lettuce salad is a lesson in simplicity. The only negative is that we're too full to eat dessert.
"We amble through the Historic District, past the multicolored houses on Instagram-friendly Rainbow Row and country's oldest liquor store."
Chris and I figure we should keep the history lesson going, so we take a cab to the waterfront and catch the ferry to Fort Sumter, where the first shots of the Civil War were fired in 1861. I grew up spending my spring breaks touring Civil War battlefields and forts with my American historian mother, but I'd forgotten how fascinating they are for kids. As soon as we reach the fort, Calder is off: hiding in the shadows of the munitions room, looking for enemy ships through peepholes, loading the cannons with imaginary gunpowder. When he sticks his head inside the barrel of a columbiad cannon, I explain how that's not proper protocol—but only after I snap a photo.
Before heading back on the ferry, everyone convenes for the lowering of the flag. A park ranger, James Drass, invites 20 volunteers to come help. "Don't ever take your freedom for granted," Drass says, as the group folds the flag, south to north, north to south, then in triangles. "I submit to you that America is an amazing country," he continues. "We are a diverse country. It's inherent we're going to have differences. But despite all of our differences, we have one common denominator: We are all Americans." The crowd is silent, and more than a few people wipe away tears, me included, and then everyone breaks into applause.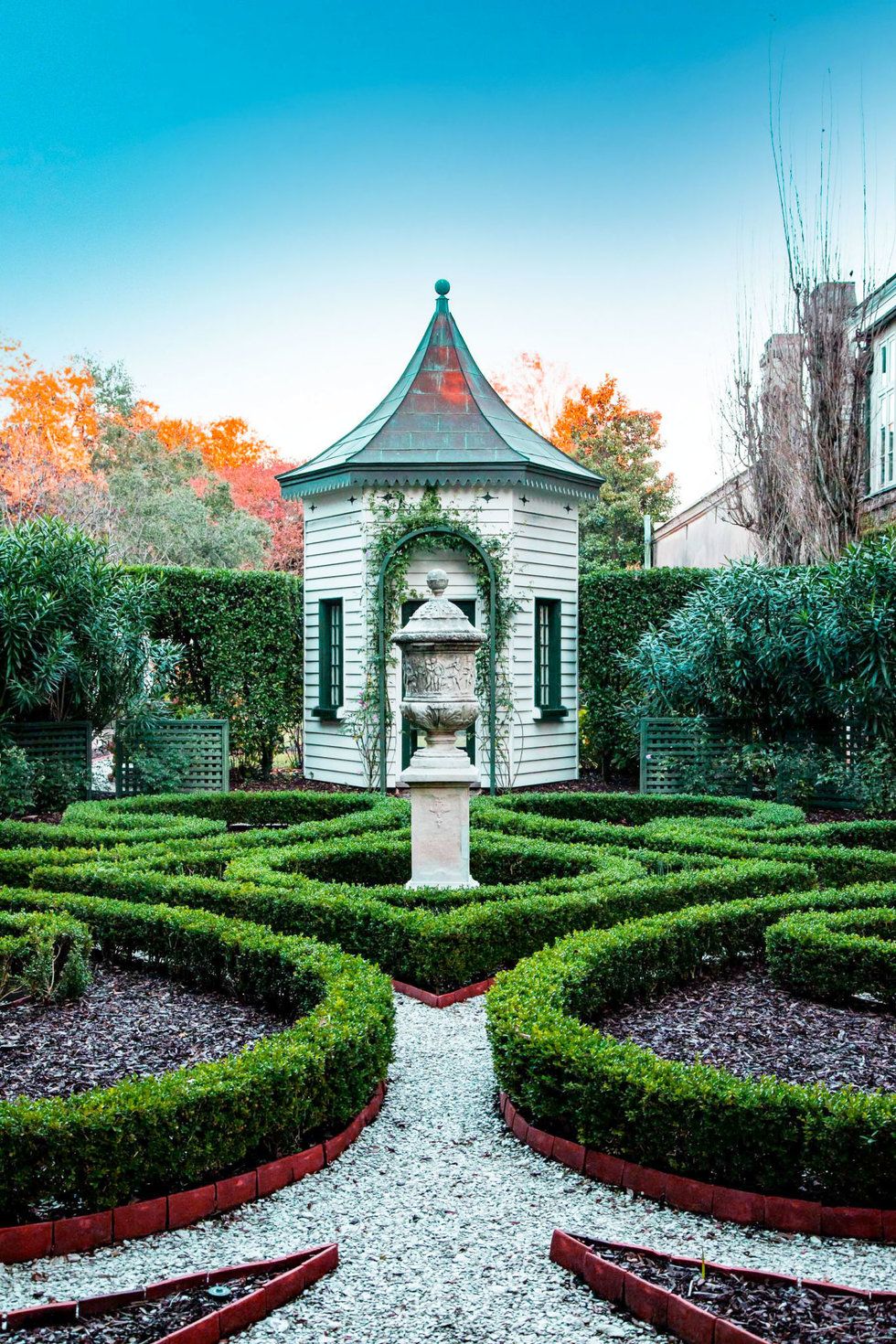 The meticulous garden at the Pineapple Gates House
The sun is already setting when we make it back to the mainland, but we decide to walk the 15 minutes back to the Historic District (it's easy to get around on foot downtown) and meander through the Charleston City Market before dinner. It seems as if every tourist in town has the same idea. The market, a series of sheds that stretches four city blocks, opened in 1804—statesman Charles Cotesworthy Pinckney gave the land to the city, stipulating that it had to be used as a market "in perpetuity." I doubt they had a Christmas shop open year-round in 1804, but they do now, along with 300 other spots, including a toy store, a haberdashery, and a handful of places selling traditional sweetgrass baskets. We stop to watch an artisan weave one, her nimble fingers methodically alternating strands of dried native sweetgrass. I want to buy one, but Calder is waning and I realize we better get him fed before a meltdown ensues. Traveling with kids!
"The addictively sharp pimento cheese toasts are way better than pimento cheese has any business being."
Fortunately, our hotel, the grand Belmond Charleston Place, is a block away, and dinner is just downstairs, at the Charleston Grill. We do a quick costume change—thank goodness for our spacious suite's two bathrooms—and make it to the restaurant only five minutes late for our reservation. Five minutes after that, I'm sipping a glass of Bone Dry rosé (Calder goes pink too, with a Shirley Temple) and we're enjoying the jazz trio's rendition of "Billie's Bounce."
I devour my crab cake, bathed in a lemony butter sauce, while Calder co-opts Chris's charred octopus. "Next time, you're getting your own appetizer," Chris tells him as he concedes the plate. We all trade bites of our mains—sea bass in a creamy curry sauce for me, scallops with salsa verde for Chris, kid's menu spaghetti for Calder—and then take turns choosing from the assortment of chocolates and gelées that our waiter brings us as a parting gift. We leave humming the strains of "The Very Thought of You," take the elevator upstairs, and promptly pass out.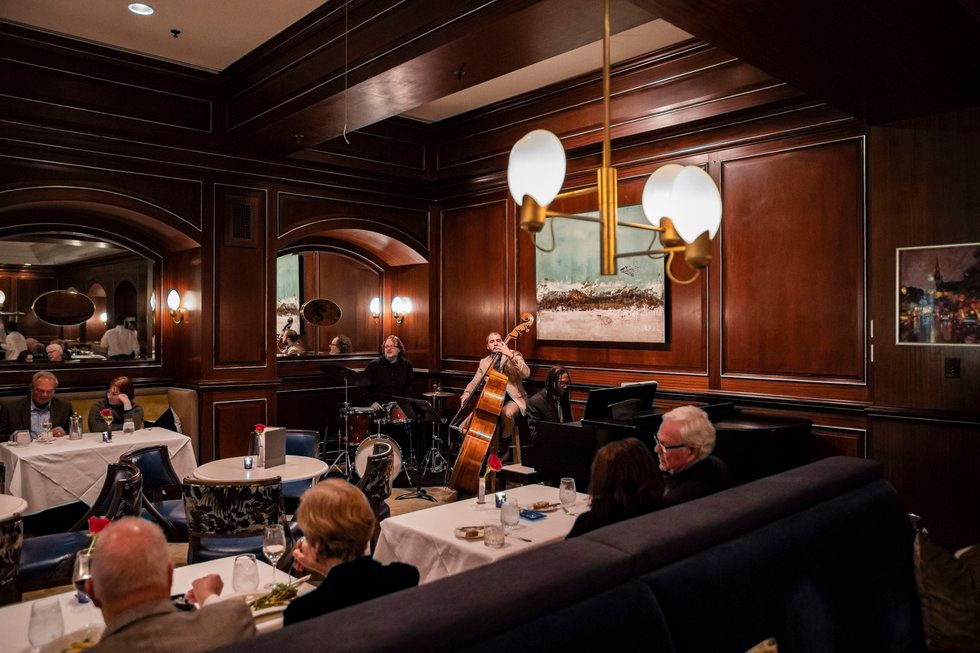 The Charleston Grill, where a jazz trio plays every night
Day 2:
Making BBQ, rescuing sea turtles, and rocking out
I promised myself biscuits for breakfast every morning in Charleston, and by golly I'm starting out right at Hominy Grill, a beloved 23-year-old spot in the residential Cannonborough-Elliotborough neighborhood, just north of downtown, that serves breakfast all day. I go savory with biscuits and gravy while Chris and Calder both go for pancakes, fluffy and stacked high. The coffee refills keep coming, and in no time we're ready to tackle the day.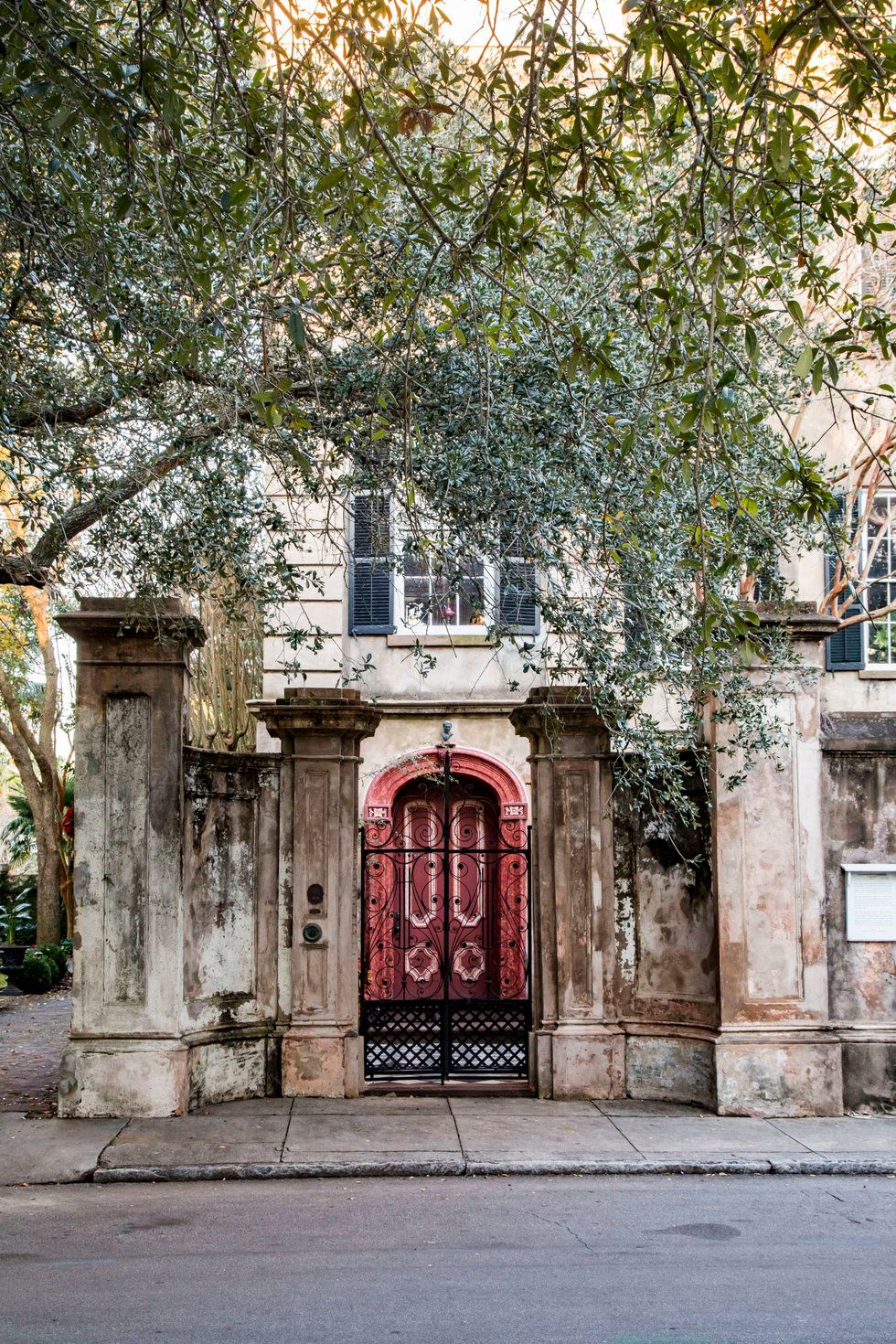 An 1857 Italinte home in the Historic District
We hop a cab back to the Historic District and climb into a different set of wheels: a carriage pulled by two brown and white horses, Sally and Deedee. Horse-drawn carriages seem to outnumber cars downtown—a trend Palmetto Carriage Works launched in 1972 when it became the first company to offer tours. And the horses, I've made sure, are well cared-for: They work only five hours a day and get to spend about five months a year relaxing on a farm on Johns Island. Our guide, Gay Spear, is brash and witty and an endless font of information. As we mosey along, past landmarks like the Circular Congregational Church on Meeting Street and dozens of perfectly preserved historic homes, she offers up funny one-liners ("If you dig here, you're gonna find one of two things: a cannonball or a body") and interesting design notes, like the origin of the pineapple as welcome sign. Turns out back in the 1700s women used to put pineapples out on the gate port to let people know their husbands were home from their sailing voyages—or "to let their lovers know not to come that night!"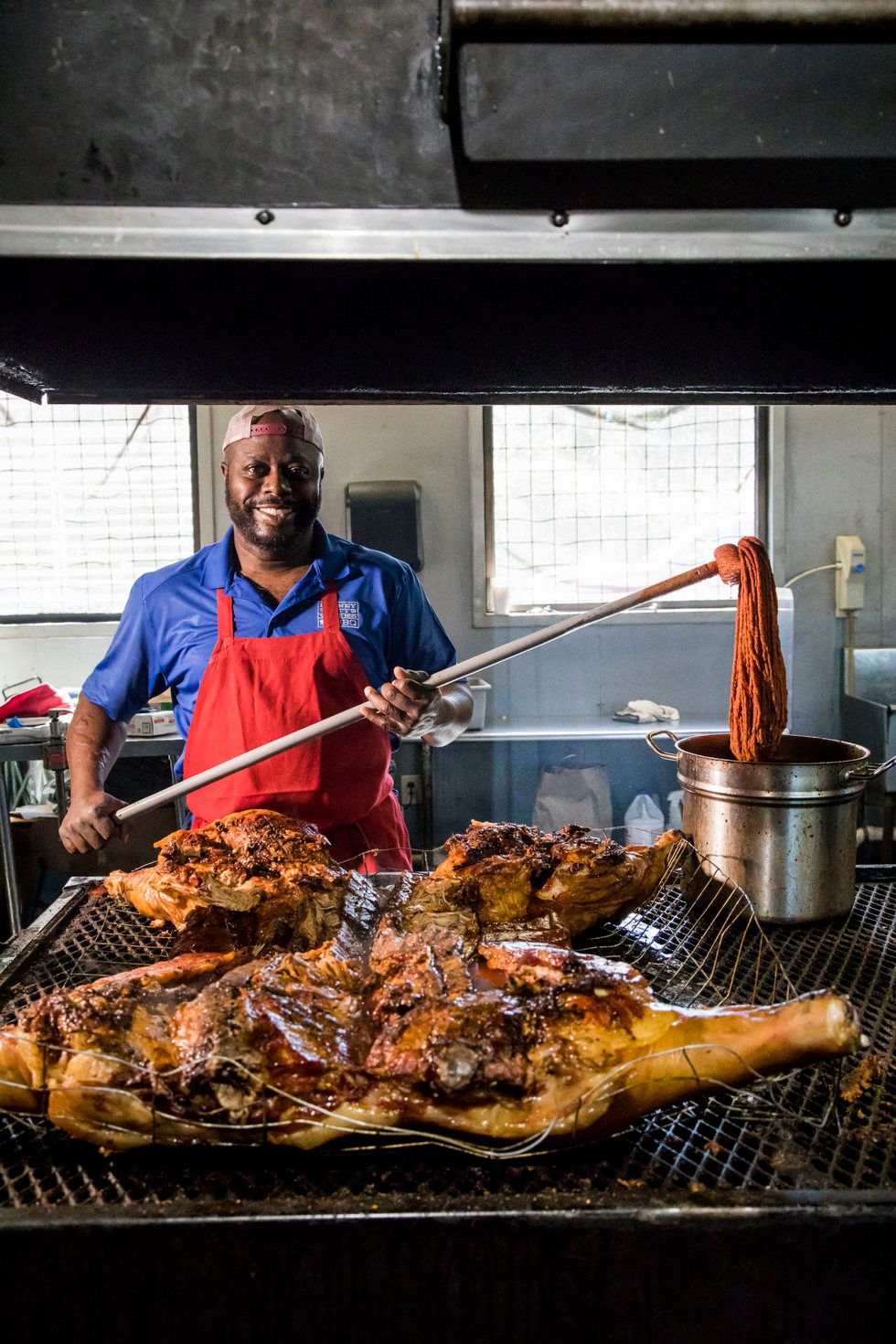 Rodney Scott at his namesake BBQ spot
We bid farewell to Sally and Deedee, and then I bid farewell to Calder and Chris—they have a date with the rooftop pool at the Belmond, while I'm due to meet Mr. Rodney Scott BBQ himself for a lesson in whole hog cooking. Scott won the James Beard Award for Best Chef: Southeast in May, just a year after opening his restaurant in the North Central neighborhood. "Now I can't go anywhere without someone recognizing me," Scott says with an easy smile as he leads me from the bright restaurant to the pit out back. "People at the airport will be like, 'Are you that guy?'"
"When he opens the door to the pit, the smell of oak and hickory practically knocks me over."
When he opens the door to the pit, the smell of oak and hickory practically knocks me over—in the best way possible. He heads over to the fire and shovels a pile of wood coals into one of the five pits, something staffers do every 15 to 20 minutes. "It's more procedure than secret," he says, as one of his employees mops "Rodney Sauce" over the hogs.
I somehow refrain from ripping off a piece of meat to eat right then and there, and head back into the restaurant for a proper lunch: a big pile of pork, potato salad, and coleslaw with a sweet iced tea that is sweeter than any iced tea I've ever had (and I grew up in Kentucky). The vinegar tang of the Rodney Sauce cuts through the fat of the meat perfectly, and I'm in hog heaven.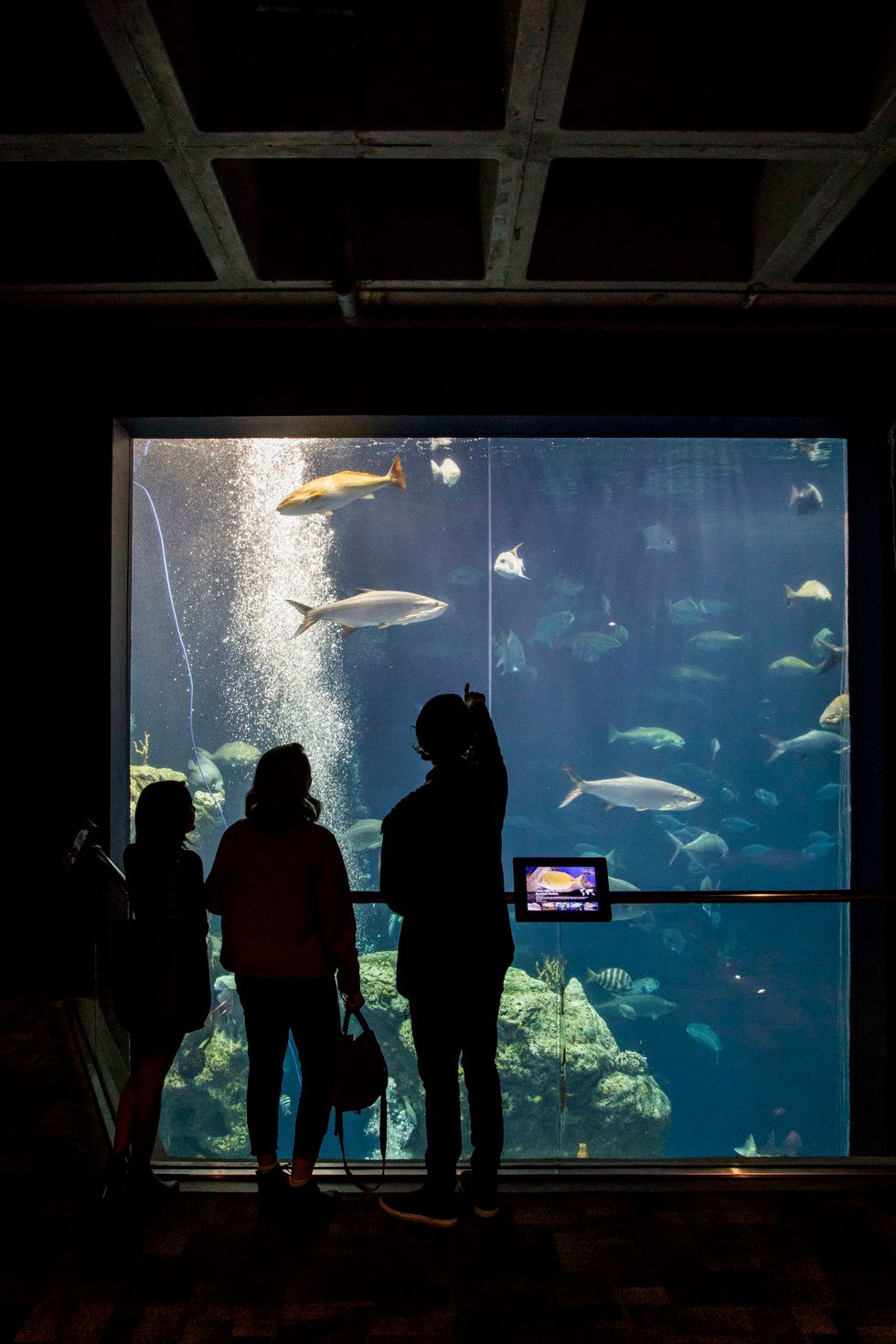 The Great Ocean Tank at the South Carolina Aquarium
Now it's time to feed something else: We've arranged for Calder to get a behind-the-scenes tour of the South Carolina Aquarium, where he is literally able to feed the sharks. But first we check out the Zucker Family Sea Turtle Recovery, which the aquarium opened in 2017. Sea turtles are Calder's favorite animal, so he couldn't be more excited to play vet at the interactive stations where he can "diagnose" a sick turtle and also meet the rehabilitating patients currently swimming in individual tanks. Many of them are named for Harry Potter characters; Voldemort and Hagrid are dead ringers.
After a trip to the gift shop to buy a snap-bracelet sea turtle stuffie (yes, it's a thing), we meet our behind-the-scenes guide, Lea Caswell, who leads us to the top of the 42-foot Great Ocean Tank (the tallest in North America), where another aquarium worker has a bucket of fish ready to feed the blacktip, sand tiger, and nurse sharks. Calder asks why the sharks don't eat the other fish in the tank, and Caswell responds, "Would you rather take a free meal or cook your own?" "I'd rather have Mommy cook me a meal," Calder says. That's my boy.
"The turtles are named for Harry Potter characters; Voldemort and Hagrid are dead ringers."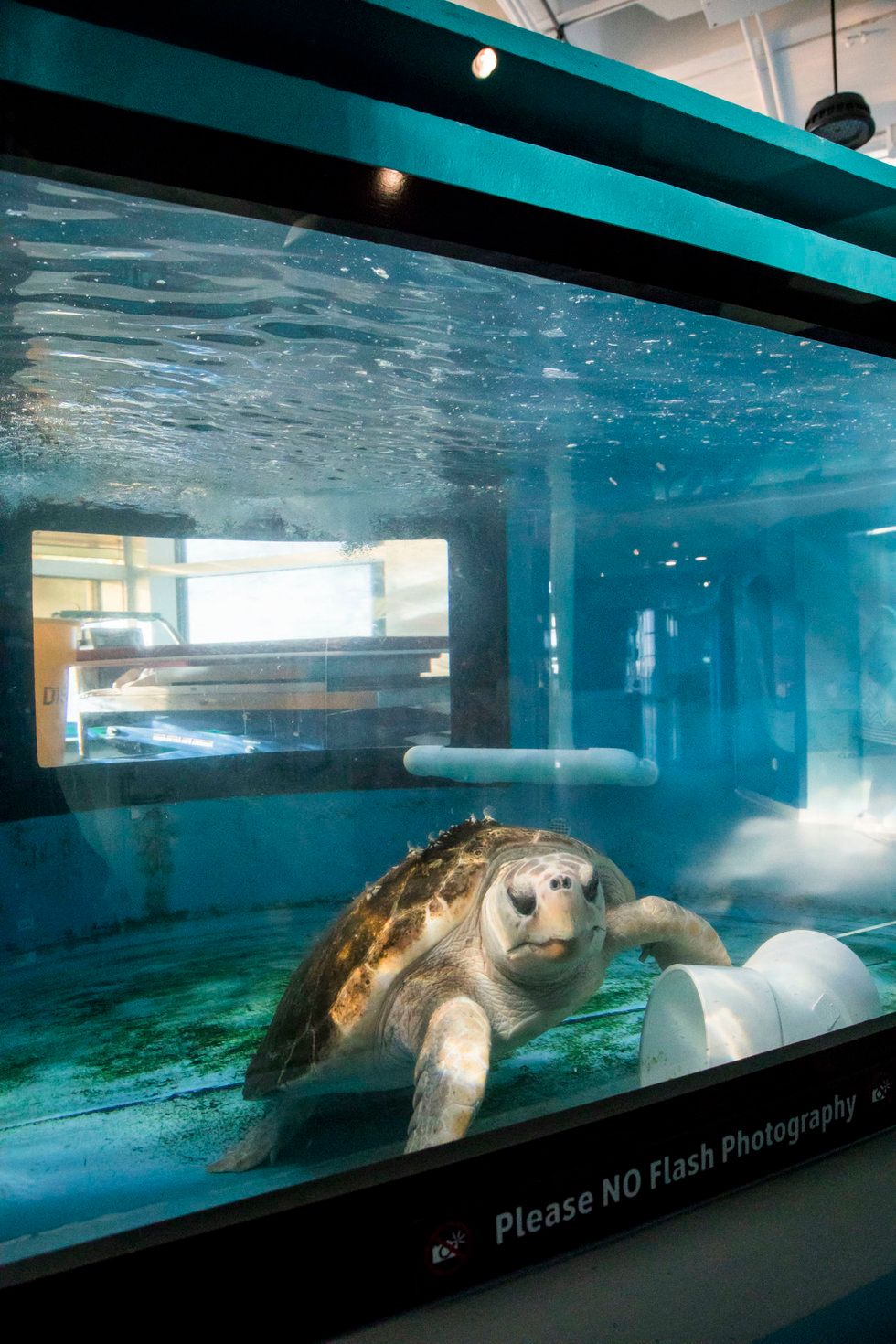 A patient at the Zucker Family Sea Turtle Recovery
Tonight, however, Mommy's leaving the cooking to the pros. From the aquarium, we hop a ride up King Street—a 300-year-old thoroughfare that's now restaurant row, basically—for dinner at The Grocery, a farm-to-table spot that's a fixture on Eater Charleston's "essential" list. We start with the charcuterie plate, which features duck-liver mousse topped with watermelon-rind mostarda, sopressata, coppa, and an array of pickled vegetables, including okra, which Calder inhales. The manager notices his fondness for pickles and brings us another helping.

My glass of gamay pairs perfectly with my duck confit, cooked with shatteringly crisp skin. Chris is so into his snapper that he forgets to give me a bite, and Calder attacks his pizza as if he hasn't eaten all day. (Note for parents: There's a "verbal" kids menu.) We cap it off with a shared banana pudding topped with gorgeous peaks of toasted meringue.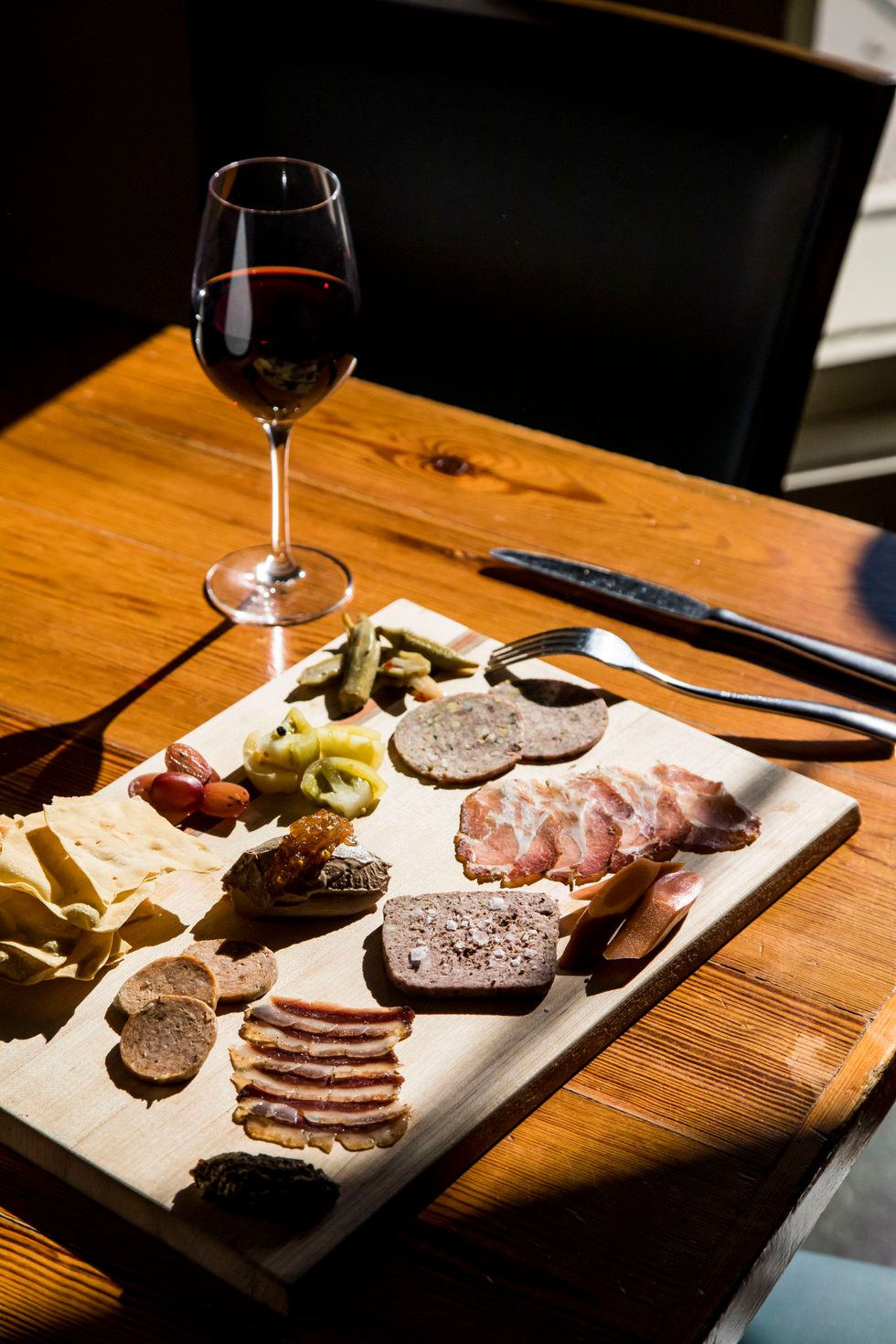 The charcuterie spread at The Grocery
Calder's ready to pass out, but I have a big night ahead of me. While the boys roll back to the Belmond, I head down King Street for a night out on the town with the Grammy-nominated rock group Band of Horses. Shaggy-haired lead singer Ben Bridwell grew up in South Carolina, and he and mustachioed drummer Creighton Barrett relocated to Charleston in 2006 after a decade in Seattle. I meet them and James Hynes, the CEO of local recording studio and record label Rialto Row, at The Rarebit, which they tell me has "the best Moscow mules anywhere."
The band is in the thick of recording a new album, their first time doing so in Charleston. Bridwell actually rented a plantation—on Airbnb!—for a personal writer's retreat. "A real-a** plantation!" he says, eyes wide. "For $150 a night!" The music scene in Charleston, he says, has changed dramatically in the past few years—from "residual Dead hippie college stuff" to "indie rock, Americana, melodic punk…" So, basically, it's cool now.
To show me just how cool, they take me to the center of the scene: The Royal American, a former ironworks on the train tracks that's now a music club. A rock band is playing on a stage behind the bar, smoke machines in full effect, and the place is packed shoulder to shoulder with 20-somethings sipping beers. We grab a round and take a seat on the patio, where we compete with passing trains to be heard. It's approaching 11 now, bedtime for me—but the guys' night is just getting started. They're raring to head into Rialto Row to record. "We'll work until 3 or 4, go home and sleep a couple hours, and be up with our kids at 6," says Barrett. "It's great." Amazed at their stamina, I say g'night and leave them to it.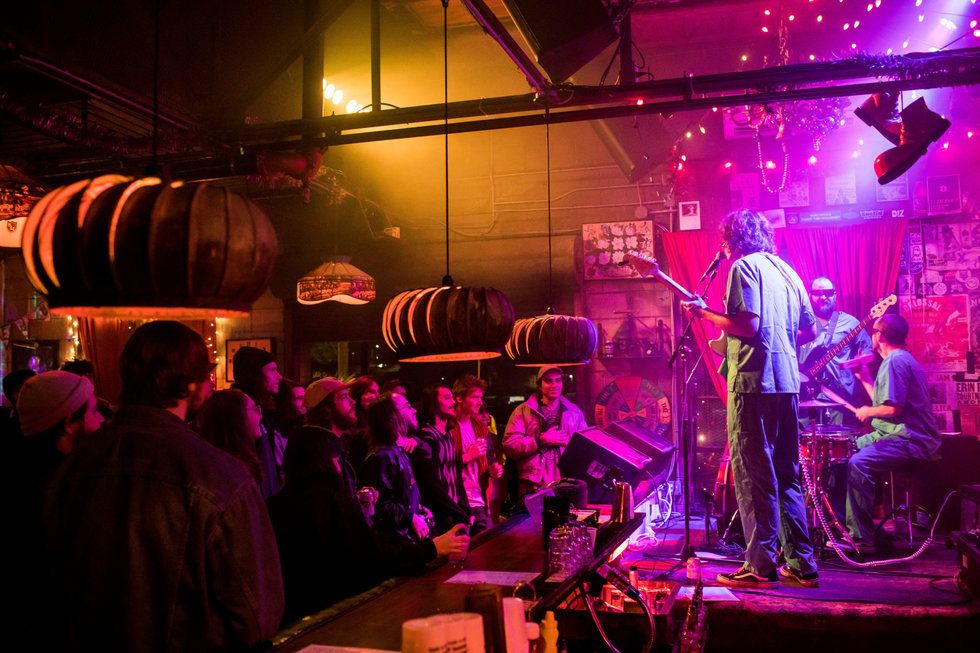 A band performs behind the bar at The Royal American
Day 3:
Catching waves, slurping oysters, and looking through an artist's lens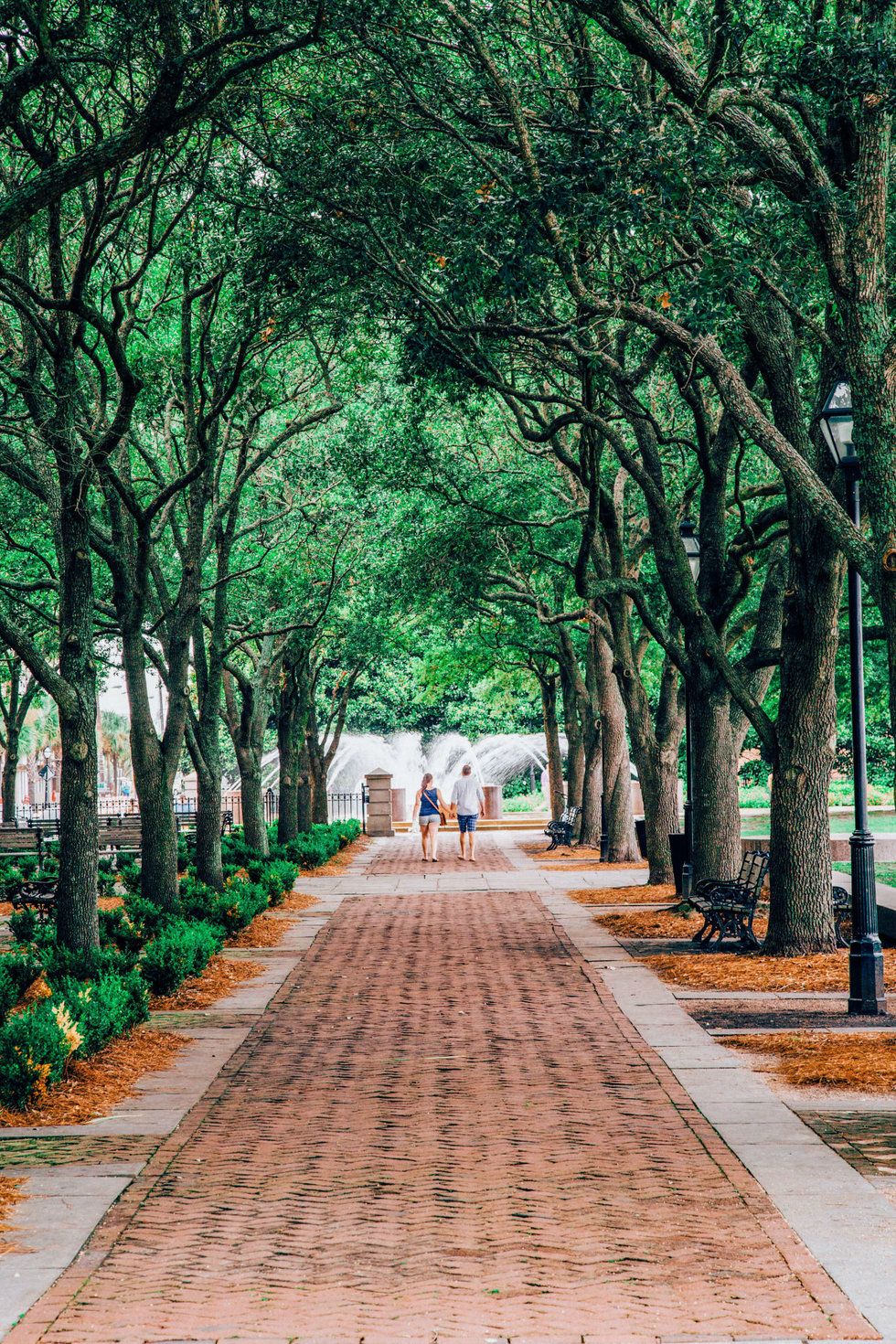 A brick walkway at Waterfront Park
A brick walkway at Waterfront ParkOh, biscuits, how I love you. This morning we feast at Callie's Hot Little Biscuit on King Street, where the line is already out the door by 8:30 a.m. We dig into a variety of fluffy buttermilk creations: plain, cheddar-chive, blackberry jam–topped. I pop the mini cinnamon ones like Cheetos. I want to get some to go, but I know we have a full day of eating ahead.
But first, a beach excursion to Sullivan's Island. We rent a car for the day and cruise over the Arthur Ravenel Jr. Bridge, with its two diamond-shaped cable towers, through Mount Pleasant, and on to the sand-lined streets of Sullivan's in just 25 minutes. On the agenda: roll up our pants and splash in the waves, hunt for seashells, and admire the gorgeous three-story cottages lining the wide beach. Calder keeps his eyes peeled for sea turtles to rescue and is amazed to learn that this ocean is the same one we have in New York.
All this oceanside action has us hungry for some seafood, so we drive back into town for lunch at Leon's Oyster Shop, a fun spot on the upper reaches of King Street famous for oysters, yes, but also fried chicken. The space, a former auto body shop, is kitted out in fairy lights and maritime paintings. Chris and I fight over the last of the chargrilled oysters, which taste like ocean and fire bathed in butter, while Calder happily munches his fried shrimp. I move on to the fried chicken sandwich, moist and crunchy and served with a cooling cucumber and sesame seed salad, and Chris opts for the seafood fry-up. Calder declares his rainbow sprinkle–topped soft-serve better than Mister Softee in New York.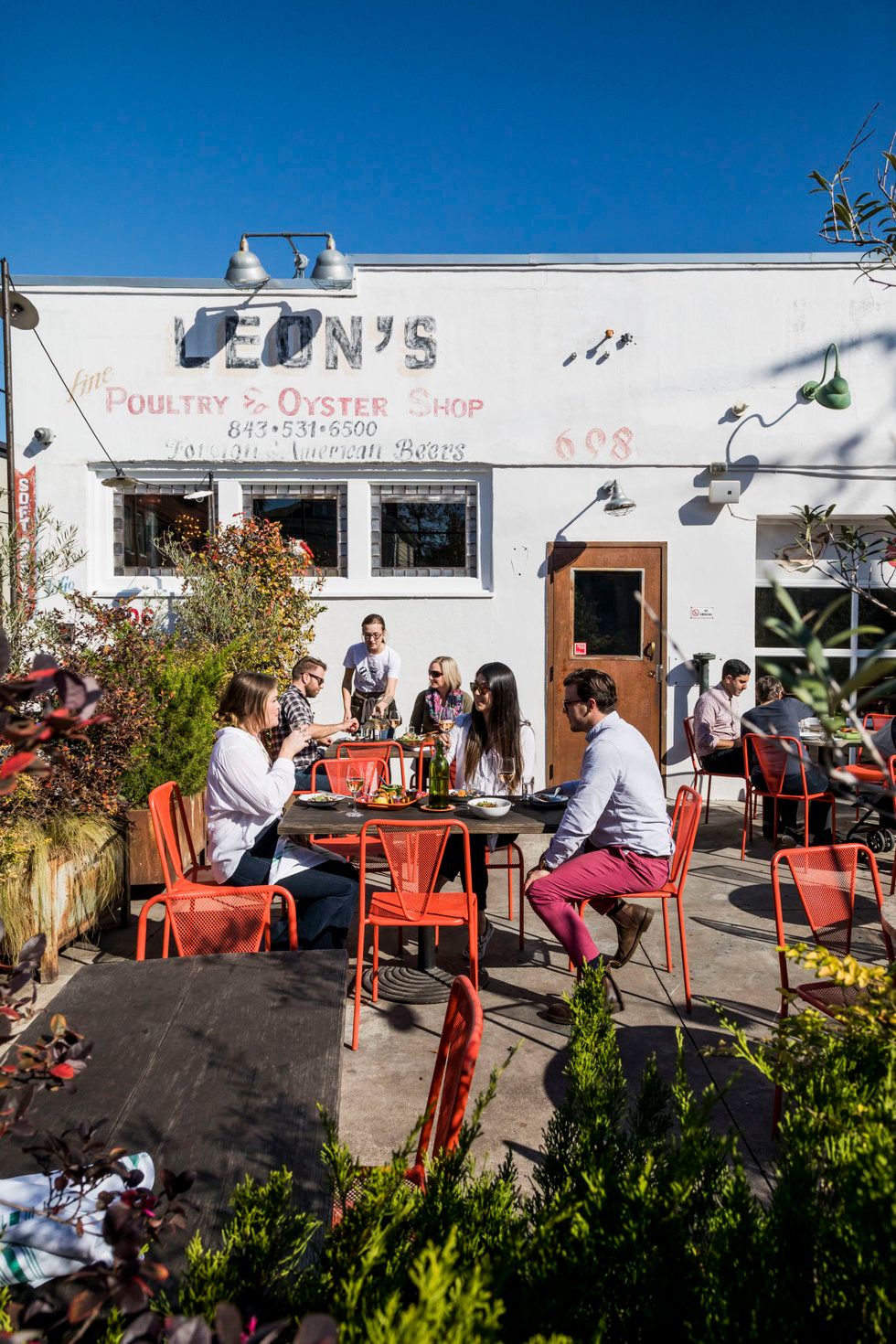 Leon's Oyster Shop
We check into our new digs, The Dewberry, a hip Mid-Century Modern–style hotel that opened in 2016 in a former 1960s federal building, and while all we want to do is take a nap, we rally and cross Marion Square to The Halsey Institute of Contemporary Art at the College of Charleston. I'm eager to see the current exhibit, Southbound: Photographs of and About the New South, which runs through March and features images taken by 56 21st-century artists exploring their perceptions of the American South. The variety is astounding. There are shots of Civil War reenactors, Black Lives Matter marches, empty storefronts, migrant workers, and high school homecoming queens. Seeing all these snippets of life makes me think that there's not just one South—it's impossible to generalize about or judge such a wide swath of our country.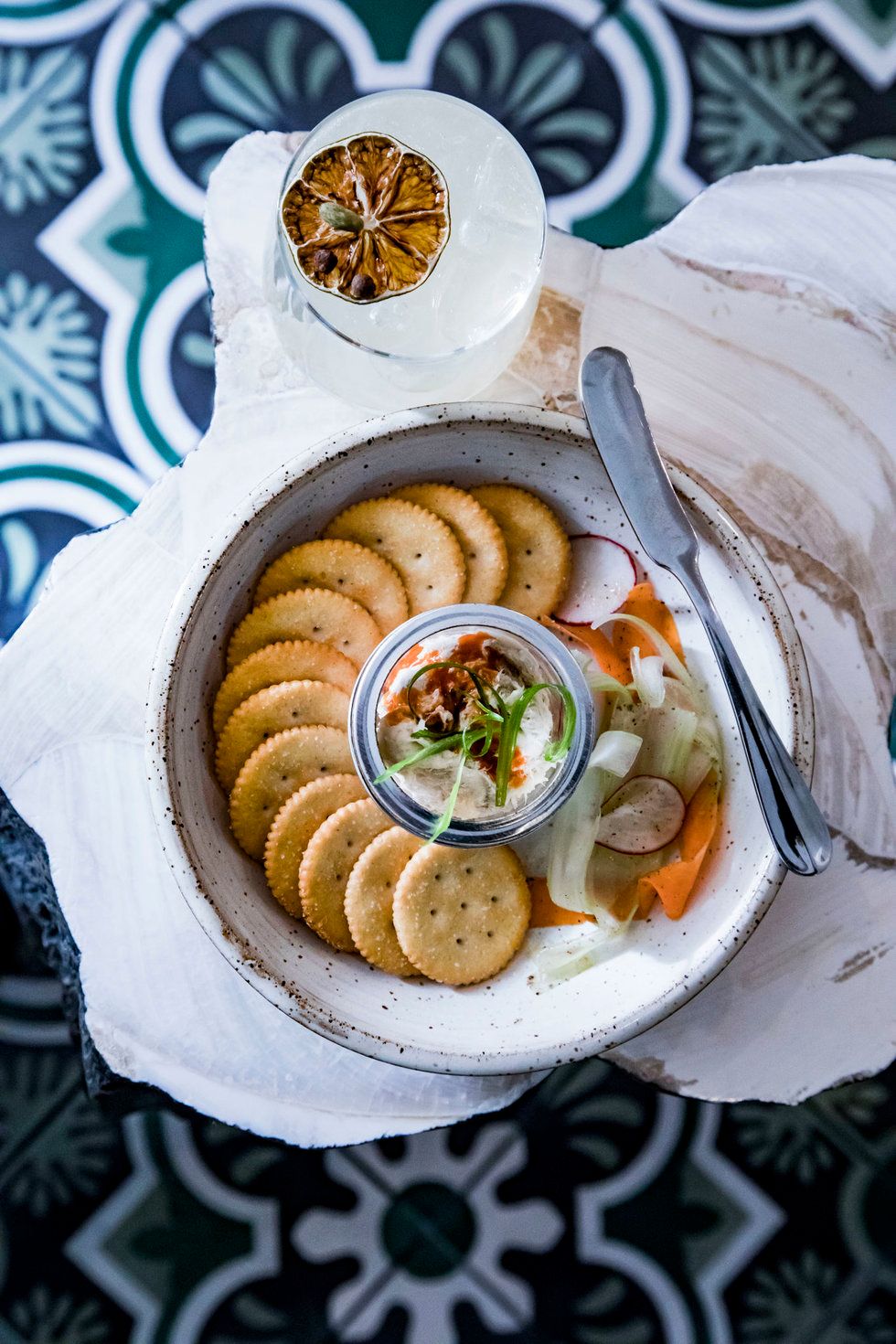 The pecan-smoked fish spread at Parcel 32
Calder's beat and not up for a restaurant meal; Chris gamely offers to take him back to the hotel for some takeout so I can keep my res at Parcel 32, a new Lowcountry-Caribbean restaurant with an airy, outside-in design. I take a seat at the bar and get the pirate-inspired Anne Bonny rum cocktail (and somehow refrain from making an "arrrr" joke). Serendipitously, Band of Horses' "The Funeral" plays over the stereo. Even though I'm dining alone, I order as if I'm with the fam: I start with a pecan-smoked fish spread served with Ritz crackers and pecan-meal hush puppies topped with pimento cheese and Benton's bacon powder. (I need a jar of that in my life.) Next are short ribs, fragrant with clove, allspice, and nutmeg atop a bed of creamy coconut-milk Carolina Gold rice grits.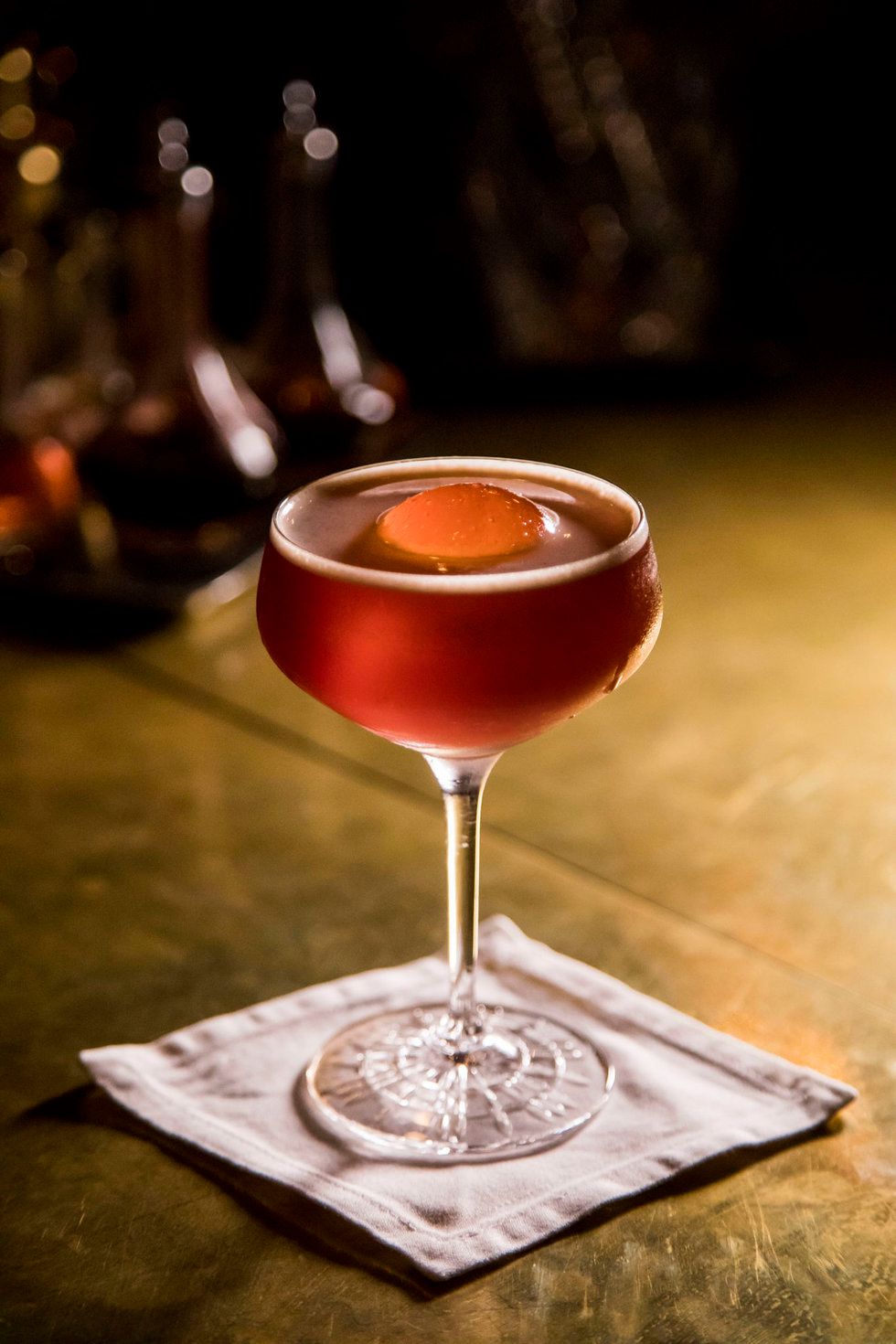 The Panic Button cocktail at The Living Room, in Dewberry
Chef Shaun Brian, wearing a white apron and a bicycle cap, swings by to say hello. He grew up on St. John—he moved to Charleston after losing his restaurant there to hurricanes Irma and Maria—so he comes by the island influence in his cooking naturally. "It makes a lot more sense than I ever thought it would'" he says, giving me a thorough history of the spice trade and the Caribbean's influence on Charleston, going back to the 1600s. "At the end of the day, I still think of myself as an ambassador for my home islands, but I'm in a place where I have much more ability to make an impact."

I get a slice of sweet potato pie to go for Chris and walk back to The Dewberry. There's a wedding party going hard in the ballroom, but The Living Room, with its beautiful bronze bar, is calm and inviting, so I get a couple of drinks to take upstairs for us to enjoy with the pie. I tiptoe into our room, past Calder asleep on the velvet couch, turtle stuffie tucked under his arm, and join Chris in the four-post bed. We pass the pie back and forth—it goes great with my Dewberry Daiquiri—and share photos from the trip, laughing at the videos Calder took without our knowledge on the carriage tour. One starts on a perfectly preserved Federal-style home and then goes slo-mo (Calder's favorite video function), weaving down the street and stopping at a dump truck outside a derelict home ready to be remade. The significance—the city's constant push and pull to preserve and reinvent itself—doesn't hit me until we turn off the lights and say good night.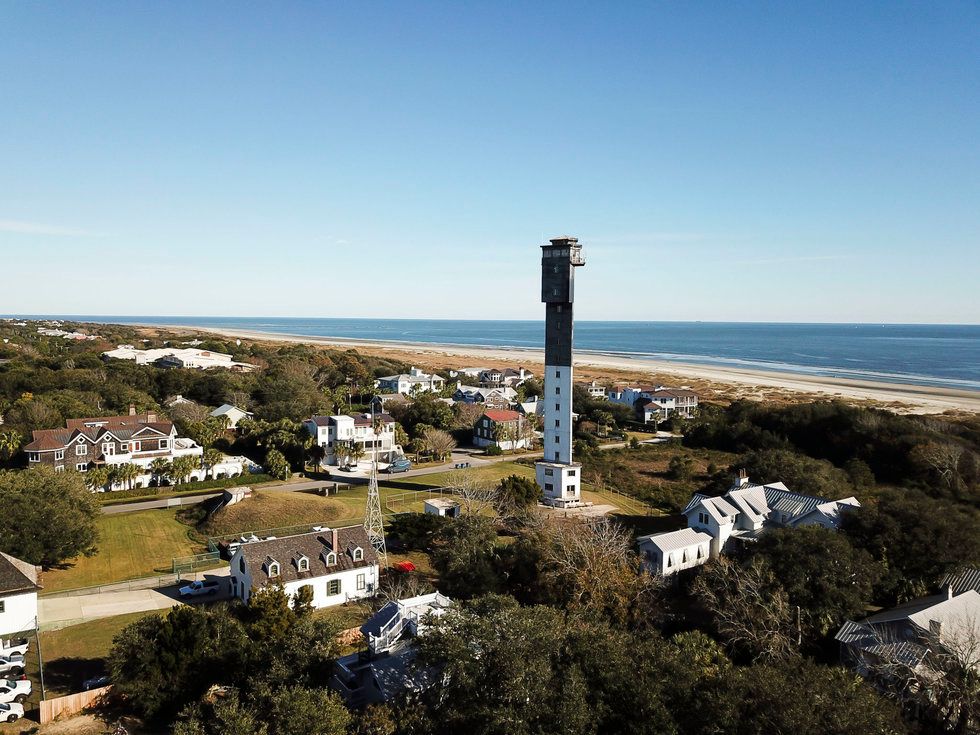 Sullivan's Island
Canada's largest city spreads out along the northwestern shore of Lake Ontario, and it's a dynamic, multicultural and inclusive experience like almost no other place on earth. Not only is Toronto a thriving living city,it's also become one of the world's truly must-visit destinations. Regularly ranked as one of the greatest places to live, Toronto is the cultural center of the country and home to the biggest events, the most pro sports and the greatest concentration of theaters and restaurants.
Recent decades have seen regular multi-million-dollar upgrades to the city's public spaces, with a slew of great museums, iconic architecture and the redevelopment of the now glittering lakefront adding to the city's appeal.

Add in an ever-growing number of world-class hotels, upbeat nightlife that runs from dusk until dawn and a vibrant and diverse culinary scene influenced by the eclectic makeup of the city's people. Bright and bustling, cosmopolitan and cultured, unpredictable and energetic, Toronto has become one of the greatest cities on earth.
What you see and where you go will depend on the length of your stay. A week is good, longer is better. But even a long weekend will give you a taste of 'The Six' — one of the city's many nicknames, reworked recently as 'The 6ix' by one of its most famous sons, Drake.

However long you stay, you can't hope to see it all. So, consider what follows a starting point for your first visit…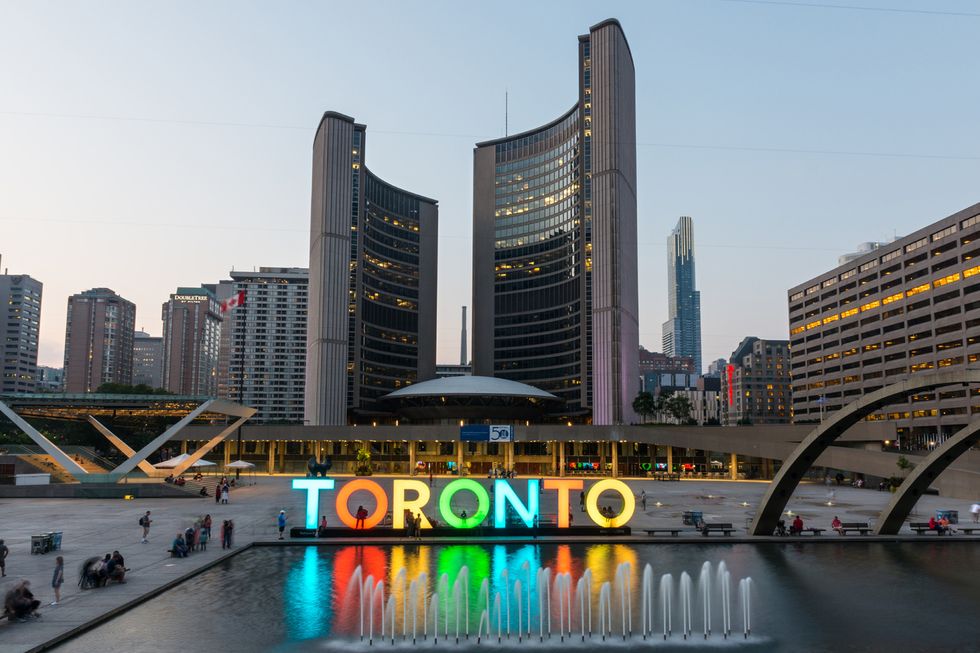 City Hall, Toronto
The checklist sites

No visit to The Six can be considered complete without ticking off several of Toronto's true heavyweight sights. All of the following are in or within easy reach of the city's compact, walk-able and very vibrant center.
The CN Tower is unmissable in every sense, a vast freestanding spire that looks down upon the city and takes its place as one of the 'Seven Wonders of the Modern World'. Head up for the city's best 360-degree views, or get your heart racing on the EdgeWalk — a journey around the circumference of the tower's main pod, 116 stories high and tethered by a harness.

Back on solid ground, Ripley's Aquarium is almost right next door to the CN Tower and is home to 16,000 aquatic animals and the Dangerous Lagoon. A moving sidewalk that whisks you through a long tunnel surrounded by sharks and stingrays is guaranteed to make your heart race all over again.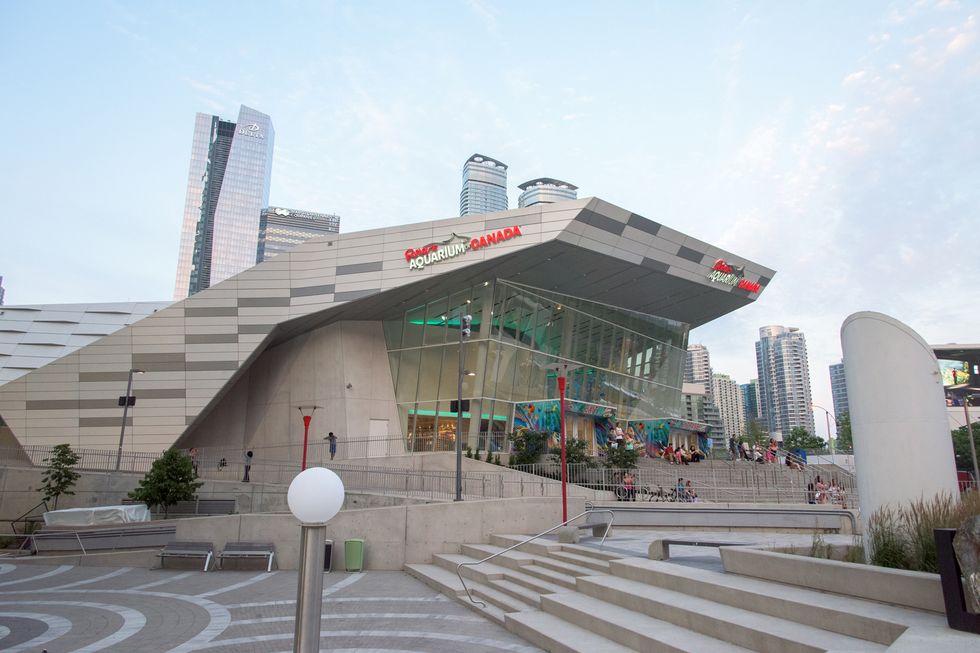 Ripleys Aquarium
Also close to the CN Tower is the Rogers Center, home to Canada's only baseball team, the Toronto Blue Jays. Visit on game day for the full experience, or take the stadium tour to go behind the scenes and through closed doors.

In a city of so many museums and galleries, the Royal Ontario Museum stands out. Not just because it's home to a world-class collection of 13 million artworks, cultural objects and natural history specimens, but as much because it hosts exciting Friday night events that include dance, drink and top DJs.

Two other must ticks include the Art Gallery of Ontario, which houses 95,000 works of art and is free for visitors under 25, and the Hockey Hall of Fame, which taps into Canada's national obsession in stunning depth.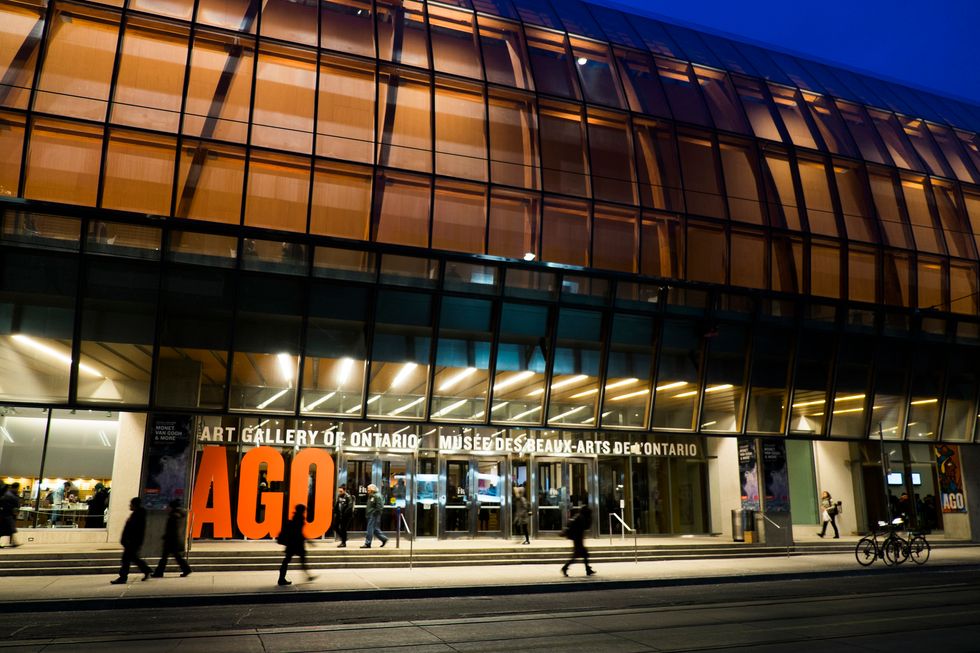 Art Gallery of Ontario
Casa Loma is a must-visit Gothic castle in the heart of the city. North America's only castle is filled with artworks and treasures from Canada and beyond, but its big pull is the network of hidden tunnels to explore as they stretch out beneath the city.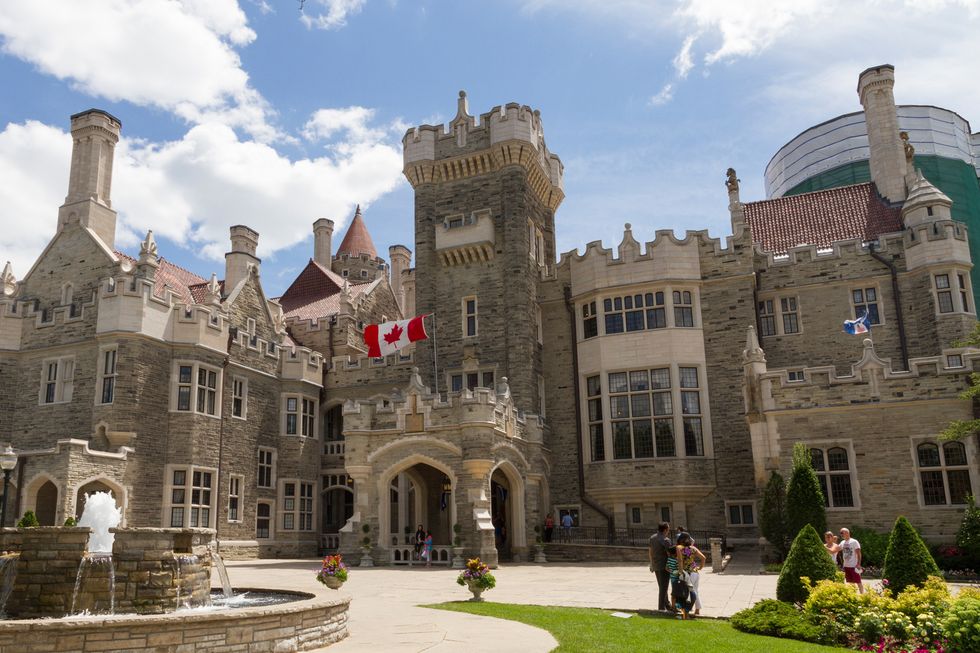 Casa Loma
Toronto's multi-cultural makeup is visible all across the city but reflected best in its remarkable culinary scene (see Where to eat and drink). The city's 'fresh and local' mantra is perfectly showcased at St. Lawrence Market, one of the world's greatest food experiences. Pay it a visit and grab a peameal bacon sandwich — a Canadian staple invented in Toronto and now considered the city's signature dish.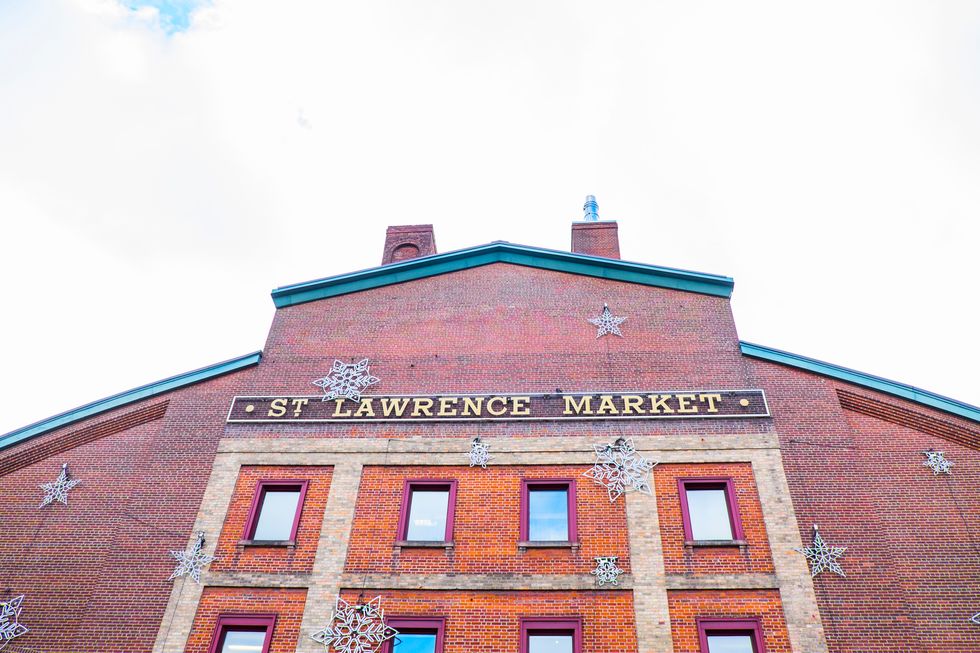 St. Lawrence Market
Afterwards, walk off the calories by wandering the historic cobblestone and car-free Distillery District. Once a vast whiskey distillery and an important spot during prohibition, historians mention that even Al Capone would visit the Distillery to load alcohol destined for the States[9] . This iconic landmark now distils creativity within the 19th century buildings now home to hip restaurants, bars, independent boutique stores, galleries and theaters. Visit in December for the Toronto Christmas Market.

Finally, don't even think about returning home without having had a picture taken with your head poking through an 'O' of the multicolored, 3D Toronto sign at City Hall — the most Insta-worthy location in a city of so many. You'll need to head there early in the morning to avoid the crowds.

If you stay long enough, take a ferry and hop across to Toronto Islands, a chain of 15 small islands in Lake Ontario just south of the mainland. They're home to beaches, a theme park and a breathtaking view of the city's skyline and will very happily fill a full day of your stay.
The bucket list
You absolutely cannot leave Toronto without having witnessed the power of the Niagara Falls and its hypnotic mist up close. Trying to visit the Falls from the States is a trip on its own, but it's almost non-optional when you're less than two hours away in Toronto. Take the trip, buy the T-shirt and tick off one of the world's must-see sights.
Explore like a local
Away from the sleek, gleaming towers of downtown lie many of Toronto's less obvious but no less essential attractions. West Queen West is Toronto's hippest neighborhood and artistic heart, a one-mile strip of very chic galleries, stores, restaurants and boutique hotels. Kensington Market is a fantastically chaotic neighborhood and perhaps the best example of the city's famous multiculturalism. It's not a market as the name implies, but a collection of independent shops, vintage boutiques, art spaces, cafés, bars and restaurants from every corner of the globe.
The Bata Shoe Museum is one of the city's quirkiest collections, an unexpectedly fascinating exhibit that retraces the 4,500-year history of footwear. And as you wander the city, you can't fail to notice that Toronto's walls are alive with graffiti. Take a free 90-minute walking tour through the back alleys of Queen Street West and down Graffiti Alley to gain a better understanding of the city's street art scene. If you visit during the sunnier months, escape the hustle by heading just east of the center to High Park, the green heart of the city where forests, walking trails, picnic spots and even a zoo await you. Ideal to unwind after a long day of urban adventures.
The essentials
When to go With the sun shining, May through October is a great time to visit, but the city is alive through all four seasons. The Spring and Autumn months are ideal as the humidity and visitor numbers are lighter, while Toronto comes alive through the colder months through a wide array of winter celebrations. One of the most spectacular is the Aurora Winter Festival, a six-week celebration that sees the Ontario Place, West Island transformed into four mystical worlds. Whichever season you choose, plan to stay for at least five nights to get a true flavor of the city.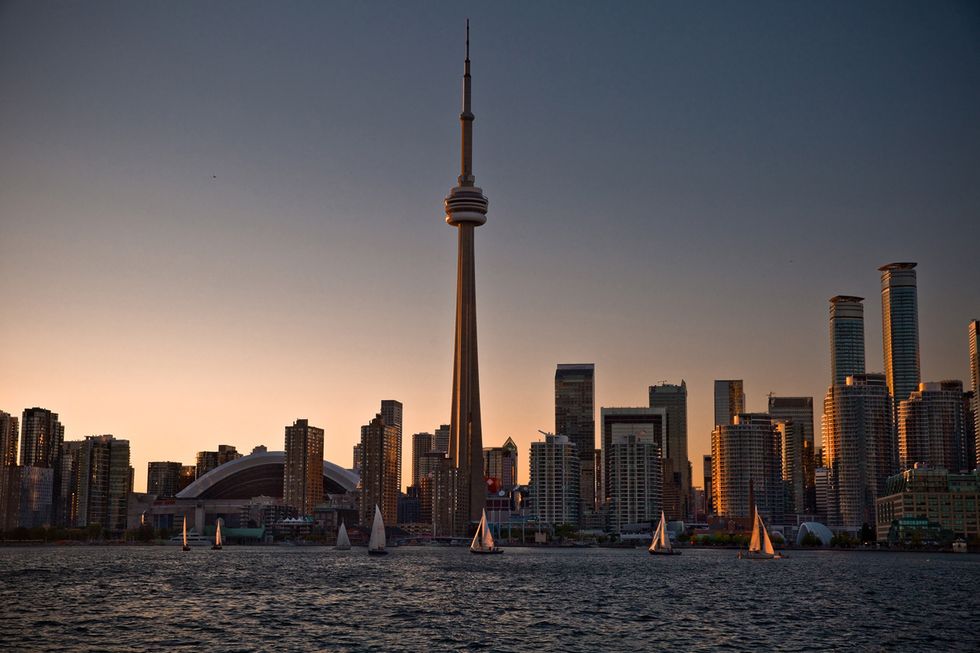 Toronto skyline view
Where to stay To be at the heart of most of the attractions you'll want to see, aim for downtown. One of the best options is the Marriott City Center, not only because it's located right next to the CN Tower but also because it's attached to the iconic Rogers Center where the Toronto Blue Jays play and countless concerts and popular events are held.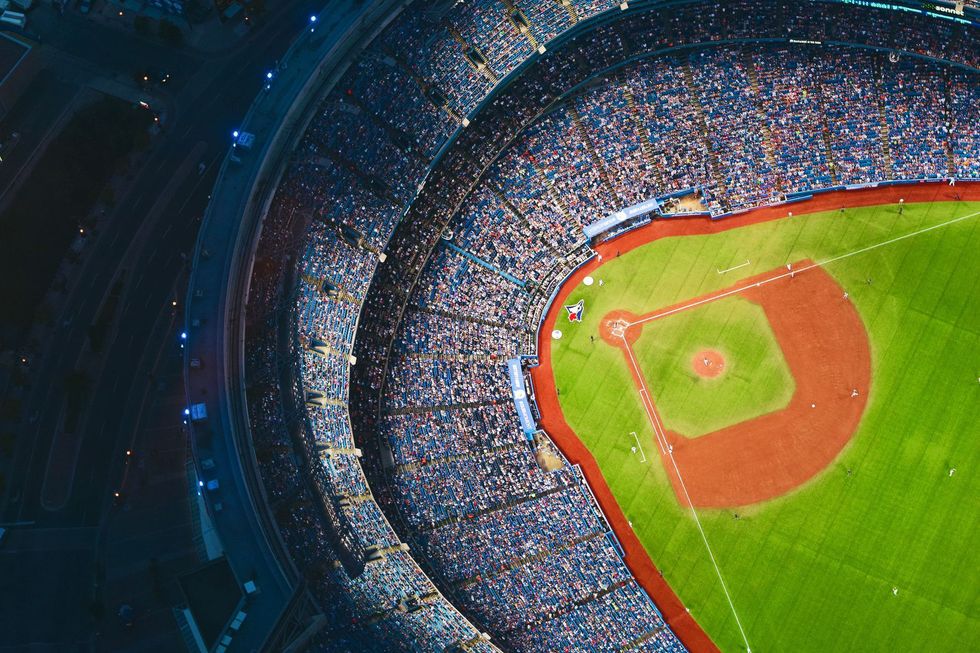 Toronto Blue Jay stadium
Opt for a Stadium room and you'll look out onto the field. If you want to experience Toronto's non-stop nightlife, the Entertainment District is the place to be. If you're looking for a luxury experience, discover Canada's first St. Regis hotel in the heart of downtown.

Where to eat and drink Nowhere is Toronto's incredible diversity more evident than in its food scene — taste Toronto and you're tasting the world. The city is brimming with restaurants and cafés serving everything from high-end fine dining to comfort food from an informal neighborhood joint — plus every option imaginable in between.

For fine dining, consider Alo, Canis and Edulis. Book a table at Canoe, Lavelle, The One Eighty or 360 at the CN Tower and you're guaranteeing a view as spectacular as the food. Or experience the city's remarkable fusion food at DaiLo (French-Cantonese), El Catrin (Mexican-French) and the unexpected mashup of Rasta Pasta (Jamaican-Italian).
The above suggestions don't even scratch the surface of a food scene to rival any city on earth, with options to suit every taste and any budget.
How to get around Toronto is perfect to explore on foot or via a growing network of cycle routes. For a quicker journey, buy a Presto card to use the TTC, Toronto's subway, streetcar and bus system.

How to get there Fly into Toronto Pearson International Airport (YYZ) with United and you're around 15 miles west of the city center. The most comfortable route in is via the Union Pearson Express, which runs every 15 minutes and gets you downtown in 25 minutes ($13).The TTC is a cheaper option at under $5, but it can take an hour and a half and involves a number of transfers, while a taxi will take around 30 minutes and cost $45.
United flies to Toronto from numerous U.S. cities including our Hub city locations. Book your trip via united.com or by downloading the United app.



Following the devastating wildfires in Australia and powerful earthquakes that shook Puerto Rico last week, we're taking action to make a global impact through our international partnerships as well as nonprofit organizations Afya Foundation and ADRA (Adventist Development and Relief Agency).
Helping Puerto Rico recover from earthquakes
Last week, Puerto Rico was hit with a 5.2 magnitude earthquake, following a 6.4 magnitude earthquake it experienced just days before. The island has been experiencing hundreds of smaller quakes during the past few weeks.
These earthquakes destroyed crucial infrastructure and left 4,000 people sleeping outside or in shelters after losing their homes. We've donated $50,000 to our partner charity organization Airlink and through them, we've helped transport disaster relief experts and medical supplies for residents, as well as tents and blankets for those who have lost their homes. Funding will go towards organizations within Airlink's partner network, which includes Habitat for Humanity, Mercy Corps and Americares, to help with relief efforts and long-term recovery.
Australian wildfire relief efforts

Our efforts to help Australia have inspired others to make their own positive impact. In addition to teaming up with Ellen DeGeneres to donate $250,000 and launching a fundraising campaign with GlobalGiving to benefit those impacted by the devastating wildfires in the country known for its open spaces and wildlife, our cargo team is helping to send more than 600 pounds of medical supplies to treat injured animals in the region.
Helping us send these supplies is the Afya Foundation, a New York-based nonprofit that seeks to improve global health by collecting surplus medical supplies and delivering them to parts of the world where they are most needed. Through Airlink, the Afya Foundation will send more than $18,000 worth of materials that will be used to treat animals injured in the Australian fires.
These medical supplies will fly to Melbourne (MEL) and delivered to The Rescue Collective. This Australian organization is currently focused on treating the massive population of wildlife, such as koalas, kangaroos, and birds, that have had their habitats destroyed by the recent wildfires. The supplies being sent include wound dressings, gloves, catheters, syringes and other items that are unused but would otherwise be disposed of.
By working together, we can continue to make a global impact and help those affected by natural disasters to rebuild and restore their lives
Australia needs our help as wildfires continue to devastate the continent that's beloved by locals and travelers alike. In times like these, the world gets a little smaller and we all have a responsibility to do what we can.
On Monday, The Ellen DeGeneres Show announced a campaign to raise $5 million to aid in relief efforts. When we heard about Ellen's effort, we immediately reached out to see how we could help.
Today, we're committing $250,000 toward Ellen's campaign so we can offer support now and help with rebuilding. For more on The Ellen DeGeneres Show efforts and to donate yourself, you can visit www.gofundme.com/f/ellenaustraliafund
We're also matching donations made to the Australian Wildfire Relief Fund, created by GlobalGiving's Disaster Recovery Network. This fund will support immediate relief efforts for people impacted by the fires in the form of emergency supplies like food, water and medicine. Funds will also go toward long-term recovery assistance, helping residents recover and rebuild. United will match up to $50,000 USD in donations, and MileagePlus® members who donate $50 or more will receive up to 1,000 award miles from United. Donate to GlobalGiving.
Please note: Donations made toward GlobalGiving's fund are only eligible for the MileagePlus miles match.
In addition to helping with fundraising, we're staying in touch with our employees and customers in Australia. Together, we'll help keep Australia a beautiful place to live and visit in the years to come.
Scroll to top