Three Perfect Days: Denver
As far as American cities go, at a mere 160 years old, Denver is a lot like a youngest sibling. Founded on a barrel of whiskey—and a death threat—the Mile High City has always played by its own rules. When the transcontinental railroad bypassed the city in the 1860s, Denver started its own rail company and established itself as the preeminent metropolis in the West. More recently, in the midst of unprecedented development, Denver has made itself an alluring alternative to coastal cities, with the promise of easy Rocky Mountain access, 300 sunny days a year, and one of the most dynamic dining scenes in the country. It's as if the rest of America is finally seeing the Queen City of the Plains through the eyes of Jack Kerouac, who wrote in On the Road: "Now I could see Denver looming ahead of me like the Promised Land, way out there beneath the stars."
The Daniel Libeskind-designed Frederic C. Hamilton Building at the Denver Art Museum
Day 1
America's most beautiful train station, Abstract Expressionist masterpieces, and the original pearl-snap shirt
If the railroad made the Mile High City, it's only fitting I start my first day gawking at the pristine beauty of Union Station. Since being restored to its Beaux-Arts glory in 2014, it has become one of the best places in town to eat, drink, and sleep. You won't find any burger chains here. Instead, commuters have their pick of three restaurants from two James Beard Award–winning chefs; a mezzanine cocktail bar, The Cooper Lounge, where drinks are literally served on a silver platter; and The Crawford, a boutique hotel named for local preservationist Dana Crawford where each floor is designed to reflect a different era in the station's history.
"Aglow with morning light, Union Station is a transit hub where people want to spend time"
The Terminal Bar at Union Station
As I walk through the Great Hall, aglow with morning light streaming through the massive arched windows, I notice that this is a transit hub where people want to spend time. Denverites gather over coffee on tufted leather couches and tap away at laptops on long wooden workstations straight out of a university library. There are even two millennial-approved shuffleboard tables. But I'm not here to play games; I want to eat—specifically at Mercantile Dining & Provision, a market and café from Alex Seidel, this year's winner of the James Beard Best Chef: Southwest award. While "farm-to-table" has come to feel like a menu cliché, Seidel actually owns the 10-acre farm that supplies Mercantile with its yogurts and cheeses—including the crème fraîche on my smoky citrus-cured salmon toast.
Satiated, I catch a cab 10 minutes south to the Clyfford Still Museum, a dense concrete building dwarfed by the sharp silver prow of the Denver Art Museum hovering just behind it. Inside, the museum traces the life and artistic evolution of Still, a postwar Abstract Expressionist who didn't quite manage the level of fame of his peers,
Jackson Pollock and Mark Rothko. Still did, however, know how to secure his legacy: In his will, he stipulated that his estate must go to a city willing to establish a museum devoted entirely to his work. Having so much space devoted to one artist feels like a luxury, and the way the museum arranges the pieces—gently guiding the viewer from gaunt, Depression-era realist works to the color-splashed abstractions Still filled with what he called "lifelines"—helps you catch recurring motifs.
In one of the final, light-filled galleries, I encounter a middle school field trip and overhear the teacher asking the kids what they saw in Still's work. "Life and death," one girl responds gravely. Another boy eagerly chimes in: "Hope." Whoa. As the class begins to file out of the gallery, I hear another girl whisper, "I was so confused." I'm tempted to tell her that I think that's
the point.
The rotunda of the Colorado State Capitol
After a 10-minute walk along tree-lined Civic State Park, I arrive at the gold-domed Colorado State Capitol. In addition to marking the spot where the Mile High City reaches 5,280 feet above sea level (the exact location has been changed three times, with the current consensus placing it on the 13th step), the building offers some of the best 360-degree views of the city and surrounding mountains. The dome's observation deck is accessible only on one of the free hourly tours, so I join a group. Our guide, a University of Colorado student named Angela, is chock-full of memorable trivia, like how Bill Clinton's portrait in the presidential gallery is a replica because Clinton apparently liked the original so much he took it home with him. As we pass through the surprisingly magnificent House of Lords–inspired Senate chamber, one of my tourmates emits a low whistle and murmurs, "That's a big-a** chandelier." (Angela tells us it weighs 1.5 tons.) Up on the deck, the sun warms my face as I look across the park at the stately City Hall, hung with a massive "Denver ♥ Immigrants," banner, and the craggy peaks of the Rocky Mountains, which seem to watch over the city.
"I look across the park at the craggy peaks of the Rocky Mountains, which seem to watch the city."
Back on the ground, I undock a bike from a B-Cycle city bikeshare stand and follow 15th Street northwest to Larimer Square, a charming collection of Victorian brick buildings that makes up one of the oldest blocks in the city. Inside one of these historic structures is Rioja, where the city's first James Beard Award winner, Jennifer Jasinski, has been serving up Mediterranean cuisine since 2004. As I swoon over a cube of pork belly in garbanzo bean purée, Jasinski—hair tied up in a bandanna, fork-and-knife earrings dangling—swings by my table and tells me how the city's tastes have evolved over the 18 years she's lived here. "I remember when I first got hired in Denver, everyone said, 'First of all, no one is going to come downtown for dinner, and second, no one here eats fish,'" she recalls. "But I've seen Denverites really push the envelope and try to break that myth of the steak-and-cow town."
Cowboy hats at Rockmount Ranch Wear
After finishing a goat-cheese beignet with fig jam, I wander the three and a half blocks to Rockmount Ranch Wear, the family-owned Western-wear company that invented the pearl-snap shirt in 1946. Rockmount pearl snaps have since become a wardrobe staple of rockers from Jerry Lee Lewis to Jack White. I weave between racks stuffed with shirts in hundreds of prints, colors, and fabrics, from leopard velour to one emblazoned with ray guns, and end up leaving with a blue and teal granado-patterned fleece overshirt.
I swing by my room at the mountain-modern Kimpton Hotel Born to freshen up before venturing out for dinner at Bar Dough, an Italian restaurant in the Lower Highlands where recent Top Chef: Colorado finalist and Jasinski protégée Carrie Baird draws crowds for her "fancy toast," which tonight is a thick piece of ciabatta slathered with the cheesy, caramelized onion crust of a French onion soup. Though a wood-fired pizza oven dominates the kitchen, I opt for squid ink tagliarini, purple potato gnocchi, and a roasted chicken with lemony broccolini and crisp fingerling potatoes, washed down with pairings from the exclusively Italian wine list.
The secret bookcase entryway to the Williams & Graham speakeasy
Knowing that I'm just a few blocks from Williams & Graham, a cocktail lounge that's been listed as one of the World's 50 Best Bars, I have to pop in for a nightcap. The host swings open a heavy-looking bookcase and leads me downstairs into the dark, wood-paneled bar, which despite its cosmopolitan bona fides still has the feeling of a cozy neighborhood joint—Pixies playing on the stereo and all. As I sip a blackberry sage smash that tastes like summer in the mountains, co-owner Sean Kenyon tells me how his family's bartending heritage inspired this spot's look and feel.
"My father and grandfather taught me everything I know about taking care of people," he says, between sips of beer. "People don't visit drinks. They visit atmosphere. They visit people." Entranced by the shimmer of the bottles in the flickering candlelight, in the bar's cocooning darkness, which Kenyon calls "a suspension of reality," I order a second drink, the gin and raspberry Clover Club. Reality, suspended.
Day 2
Subversive street art, tacos with a mission, and urban winemaking in RiNo
RiNo (River North) is the city's new Wild West, and I wake up ready to explore. The RiNo Art District, as it's formally called, actually encompasses four historic neighborhoods on either side of the South Platte River, including the city's old manufacturing center—which was dominated by foundries, pattern shops, and warehouses until the 1980s and '90s—and Five Points, which became known as the "Harlem of the West" during the mid-20th century. As the city has grown, the area has undergone a development boom that has transformed it from a neighborhood that mostly attracted street-art crews to one that now draws out-of-towners for brewery-tour bachelor parties.
A mural by the artist Elle in the RiNo Art District
My first stop is Denver Central Market, a 14,000-square-foot food hall that made Bon Appetit's long list of Best New Restaurants in 2017. The former cabinet factory, Western curiosity shop, and used-car dealership is now home to 11 food vendors, including a fish market and a produce stand that hawks colorful acaí bowls. I opt for an Izzio Bakery paleo bowl—poached eggs topped with sweet plantains, chorizo, and green chili—and a cappuccino from Crema Bodega and settle in at a table next to a woman in a sweatshirt printed with the word "Kale."
Just as I'm finishing breakfast, up walks Tracy Weil, a visual artist and one of the cofounders of the RiNo Art District. In 2005, he and seven other artists established the neighborhood as an arts district and trademarked its name, "which we learned also stands for Republican in Name Only," he says, chuckling. Within the first year, membership ballooned from eight galleries to 50, and today the district's hundreds of members range from exhibition spaces to architecture firms to breweries.
"RiNo has transformed from a neighborhood that attracted street-art crews to one that draws out-of-towners."
"I always wanted RiNo to be its own small town," Weil says, "and the city wanted to keep the authenticity here." As he takes me for a spin around the neighborhood in his SUV—pointing out murals by local artists, like Jeremy Burns's Larimer Boy and Girl, which appears as a different gender depending on the angle from which the viewer sees it—it's clear that RiNo has long passed the small-town phase. Brighton Boulevard, the neighborhood's main avenue, has been gutted and is in the midst of a $30 million project that will add a new park and pedestrian bridge, Weil shows me the site of a World Trade Center campus, slated to open in 2020, and the 11 tiny homes (and one yurt) that comprise Beloved Community Village, a pilot project for housing the city's homeless. The rapid pace of RiNo's development makes these sorts of contrasts even starker.
Mother and daughter Mexican-American chefs at Comal
My insides are starting to rumble, so I bid Weil goodbye and cab across the South Platte River to Comal Heritage Food Incubator. Comal is not simply a restaurant—although the carne asada tacos and horchata are worth the trip alone—but a job training program for immigrant women with a passion for food and entrepreneurship. The menu changes depending on who's in the kitchen: Monday through Thursday it's Mexican; Friday it's Syrian and Iraqi food; Thursday afternoon there's an Ethiopian coffee service. Murals of Frida Kahlo and Malala Yousafzai look out over women working in the kitchen while Latin pop blasts from the speakers. I'm so happy with my lunch I ask the manager if I can say hi to the mother-daughter duo from Durango, Mexico, who made it, but the ladies demur, saying they're too sweaty and covered in food to talk.
Carne asada tacos at Comal Heritage Food Incubator
Anyone can tell you Denver is a craft beer town, but now it's making serious strides in viticulture as well, so I take a five-minute taxi ride over to The Infinite Monkey Theorem winery, one of the movement's pioneers. Founder Ben Parsons started making wine with grapes from Colorado's Western Slope in a Denver back alley a decade ago. In 2012, he moved his operation to a graffitied stretch of Larimer Street, and young locals flock to the industrial-chic tasting room, which feels more like a brewery taproom than a winery. From the company's name—inspired by the idea that if a monkey sat for an infinite length of time at a typewriter it would eventually type the works of William Shakespeare—to its early adoption of cans and kegs, IMT is known for its punk-rock approach to winemaking.
A winemaker at The Infinite Monkey Theorem
"The industry is very stuffy and pretentious," Parsons says as he pours tastes of IMT's sparkling, riesling, cabernet franc, and syrah. "We really wanted to create an atmosphere where people can come and feel comfortable and not feel talked down to by some guys in Napa who probably know way less than we do." With vintages like dry-hopped sauvignon blanc, which has the nose of an IPA, Parsons explains, IMT is looking to "redefine the line between craft beer and craft wine." He has even made a foray into liquor, partnering with The Block Distilling Co. to produce a series of vermouths. After I taste a rosé vermouth seasoned with coriander, basil, and wormwood, Parsons welcomes me into the "secret vermouth society."
Feeling buzzed and buoyant, I step into the dusky street and walk a few blocks to Hop Alley for dinner. From the name, which honors the city's old Chinatown, to the thumping playlist of Lil Wayne and Wu-Tang Clan curated by chef-owner Tommy Lee, this place is a true blend of new- and old-school Denver. I order a Negroni seasoned with sesame and Douglas fir, followed by a succession of umami-packed Chinese dishes, including a silky chilled tofu with smashed cucumbers, peanuts, and bang bang sauce; crispy, fatty Beijing duck rolls; fried chicken with mouth-numbing Sichuan peppercorns and red chilies; and creamy bone marrow fried rice. Dessert is a banana-bread pudding dressed with fish-sauce caramel. I leave with a full belly and a bag full of leftover fried chicken, Weezy still ringing in my ears. I decide to turn in; I've got to get up early for a hike tomorrow.
Deer outside the city
Day 3
Red Rocks musical fantasies, John Denver's legacy, and secret custom cocktails
In Denver, we have four directions: north, south, east, and toward the mountains," says Dawn, my Tours by Locals guide, as we cruise west out of the city on I-70 to Red Rocks Amphitheatre, the iconic venue and public park that's hosted every big name in music, from the Beatles and the Grateful Dead (who declared it their favorite venue) to Carole King and John Denver, the author of Colorado's state song, "Rocky Mountain High."
As we cover the 15 miles from Denver, Dawn explains how a rock formation with naturally perfect acoustics managed to rise out of the earth. The park's three landmark monoliths—Stage Rock, Ship Rock, and Creation Rock—came to be 65 million years ago, when the shifting of tectonic plates on the West Coast created the Rocky Mountains, pushing the sedimentary rock in today's Red Rocks into its current formations. It's almost as if Mother Nature were a Deadhead.
"Slabs of red rock slice the sky at such angles I can't help but think they were frozen mid shift."
OK, man played a role too. John Brisben Walker, the onetime publisher and owner of Cosmopolitan, used the proceeds from the magazine's sale to William Randolph Hearst to purchase the amphitheater, and hosted the first concert there in 1906. In 1927, he sold it to the city of Denver, which later enlisted WPA and CCC laborers to build out the seating. The stadium has held regular concerts since 1947.
We park at the Colorado Music Hall of Fame. Out front, a 15-foot-tall statue of John Denver holds a landing eagle; inside, his bedazzled Canadian tuxedo from a 1970s tour is displayed behind glass. A volunteer eagerly shows us blurry laminated photos of a Bonnie Raitt signature in the "secret tunnel" backstage—where it's a tradition for every performer to sign his or her name—and then Dawn and I set off into the park.
We follow the Trading Post Loop Trail, an easygoing 1.4-mile walk through cacti, piñon pines, cottonwoods, and juniper bushes dotted with chalky blue berries. Behemoth slabs of red rock slice the sky at such dramatic angles that I can't help but think they were frozen mid-shift. I can see why Walker called this landscape "the Garden of the Titans."
On this bluebird morning, the only performance going on at the amphitheater is the horde of spandex-clad Denverites jogging and jumping their way up the stadium's 380 stairs. I eagerly bound down to the stage, imagining the reverberation of the first chord from an electric guitar, the roar of the crowd echoing off millions of years of history. I feel the urge to bow but instead huff it all the way back up to meet Dawn at the top, pausing to gasp for air on the 36th step.
An artist takes in the landscape at Red Rocks Park
Back in the car, we descend nearly 1,000 feet to Golden, a mining town founded during the Pikes Peak Gold Rush of 1859 that nearly beat out Denver to become Colorado's capital. Today, it's best known as the home of MillerCoors, the world's largest single-site brewery. Much of the city's original architecture remains—as Dawn and I walk down the main drag, Washington Avenue, which is lined with restaurants and outdoor-gear shops, I'm half expecting a stagecoach to pull up.
For lunch, we duck into Abejas, a New American bistro decorated with bright red climbing ropes and rustic wooden doors from a local ranch. Dawn and I wolf down porchetta sandwiches—the crispy skin of the pork crunches like potato chips with every bite, mingling with a bright fennel-apple slaw—as we listen to a "Take Me Home, Country Roads" cover.
On my return to Denver, I retrieve my luggage at the Kimpton Born and catch a cab to Cherry Creek, a neighborhood better known for its suburban-style shopping malls and country club than trendy bars and chic hotels. But, like the rest of Denver, that's changing. See: Halcyon, my digs for the night, where I find a coffee-bar check-in, a gear garage, and a rooftop pool. After a spin of Stevie Wonder's Songs in the Key of Life on the player in my room, I'm ready for dinner.
The rooftop of Halcyon
I take a car to the Uptown neighborhood, a residential district north of the capitol building, for dinner at Beast + Bottle. The rustic American menu—buttery lamb from Loveland's Ewe Bet Ranch served with root vegetables and squash agnolotti; bow-tie pasta in a creamy hazelnut sauce—offers plenty of quirky twists. My Karma Chameleon cocktail arrives at the table a clear glass of rum, cachaça, and butterfly pea flower; when the server pours in a small carafe of lime acid, it turns a Pantone-approved ultraviolet before my eyes.
Colorado lamb with root vegetables and squash at Beast + Bottle
The night is still young, and I have a reservation at B&GC, one of the city's most secretive speakeasies. (When I type the name into Google Maps, nothing appears.) I get a text with the location and, going against everything my mom taught me about personal safety, walk down a dark alley next to Halcyon to a cinderblock building marked "Deliveries." Next to a door labeled "Stair Three," there's a small sign with an Illuminati-like triangular symbol and, beneath that, a small golden doorbell. I buzz, and a woman with a headset appears and leads me down to the basement, opening a door to reveal a glowing Art Deco bar. Seductive lighting frames the faces of patrons seated on low-slung red leather banquettes; it feels like the kind of place Don Draper would bring a mistress.
The Art Deco B&GC bar at Halcyon
I decide on a Barcelona Wildwood (cachaça, Midori, Nardini Mandorla, lime, egg white, rosewater, and cucumber) but soon realize I've made a mistake choosing from the menu. The woman next to me asks for something gin-based with lavender bitters, and the bartender hands her a notebook; she gets to name the drink (after anything except herself), and it will be recorded in the book for the next time she comes. She settles on "Chelsea Clinton" (her name is Chelsea). As the man next to me flips through the book searching for his cocktail, I know I have to come back. Not just to this bar, but to this magnetic "young" city, still finding itself out here beneath the mountains and the stars, already a mile above the rest.
Tel Aviv: Miami of the Middle East
Tel Aviv is called the "Miami of the Middle East" by many of the Europeans who flock to the Israeli city for beach holidays. The nickname is puzzling to North Americans who are unaware of not only its fine beaches, but also its other similarities to Miami, like the vibrant restaurants and nightclubs packed with young, diverse, progressive locals. While other parts of Israel are known for their ancient holy sites and trouble spots, Tel Aviv is modern and quite safe.
The basics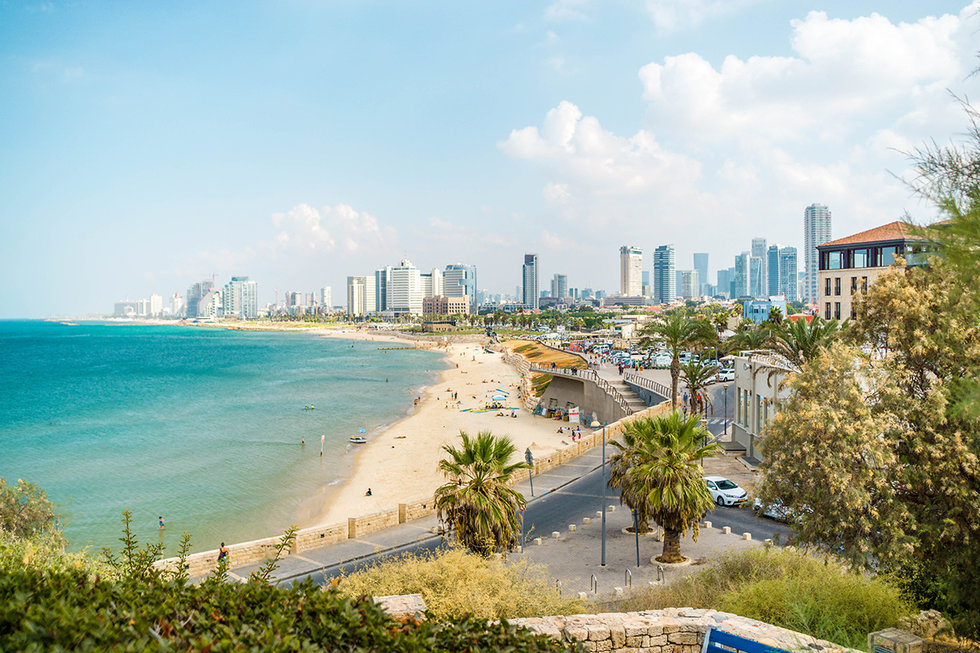 You'll just need your passport when traveling to Tel Aviv. While Hebrew and Arabic are both official languages here, English is also widely spoken. The weather is mild year-round (similar to San Diego). Once you've arrived, a 20-minute shuttle-bus ride will whisk you to your Tel Aviv hotel, and once you're in the city, it's easy to get around in taxis or on foot. Most hotels and restaurants are located within a few blocks of the Mediterranean beaches.
Top experiences
Hit the beach
Your first day can begin with a beach stroll to shake off the jet lag. The seafront promenade lines the Mediterranean for more than three miles, with restaurants and bars overlooking a string of beaches. Some have breakwaters where you can swim in the seawater while others draw surfers. The scene changes from one beach to another, offering plenty of options for visitors.
Seeing the sights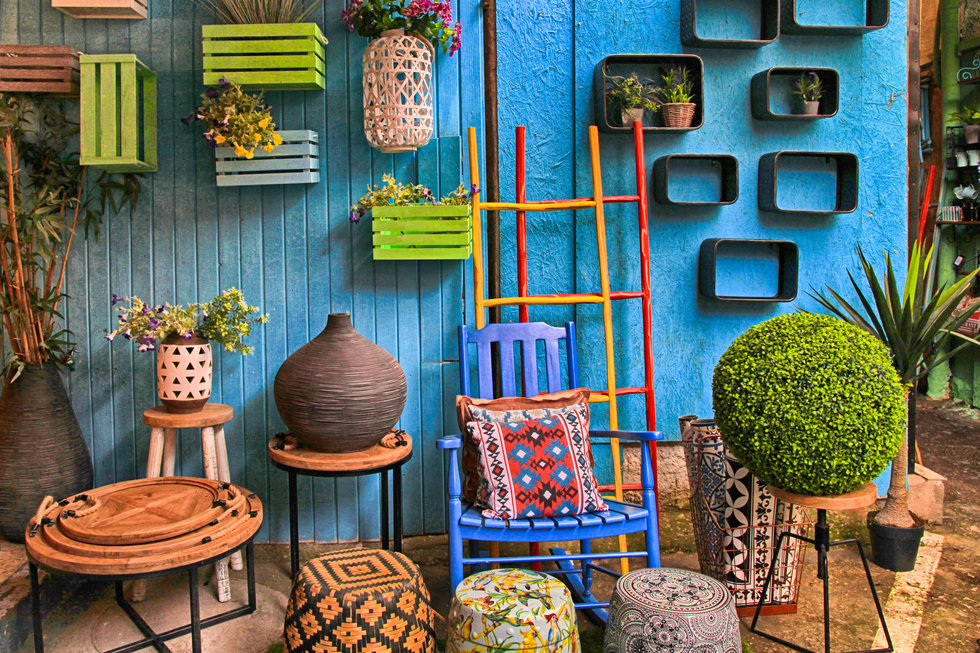 Once you've had your share of relaxing at the beach, you can switch over to exploration mode. Northeast of the beaches, the Museum of the Jewish People, Eretz Israel Museum and Israeli Museum examine themes surrounding Israel and the Jewish people. Elsewhere are museums devoted to Israeli art and Bauhaus architecture (Tel Aviv's White City cluster of Bauhaus buildings is a UNESCO Heritage Site). Or you may be more interested in bargaining at the bustling open-air markets (shuks), including Carmel Market and nearby Nachalat Binyamin Market in central Tel Aviv and Jaffa Flea Market located in the ancient Arab port town on Tel Aviv's southern border.
Where to eat
Nosh across the city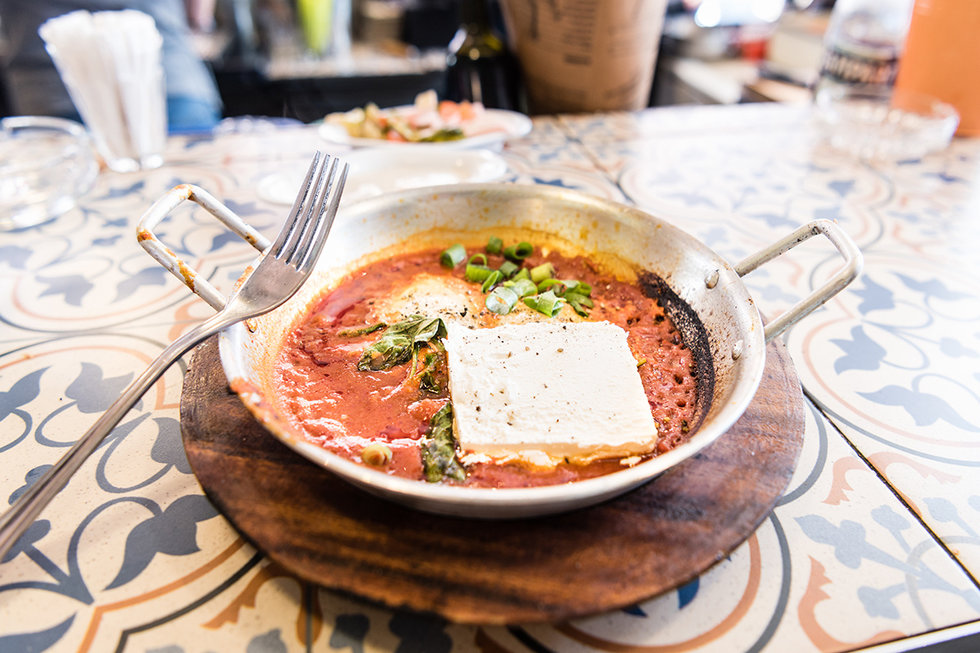 Sightseeing works up an appetite, so now it's time to eat your way through Tel Aviv. Mediterranean and contemporary Israeli restaurants are found all over the city, as are falafel and shawarma cafes. But you can literally taste the city's international flavor in the exotic combinations found in the fusion cuisine at French/Mediterranean and kosher North African spots. A new wave of vegan restaurants and seafood restaurants that capitalize on the city's seaport location are especially popular in Tel Aviv.
Tel Aviv after dark
When restaurants start to empty out, nightspots begin to fill up. Wine bars, pubs, sports bars, underground bars and rooftop bars are all popular, but the city's DJ club scene is world famous. Music throbs from dozens of dance spots. Hangar 11, a converted warehouse, and Haoman 17 are legendary concert venues where world-class DJs perform. Then there's Spicehaus, the city's largest cocktail bar, where bartenders dress like pharmacists and serve drinks in beaker bottles.
Day trips
To Bethlehem and beyond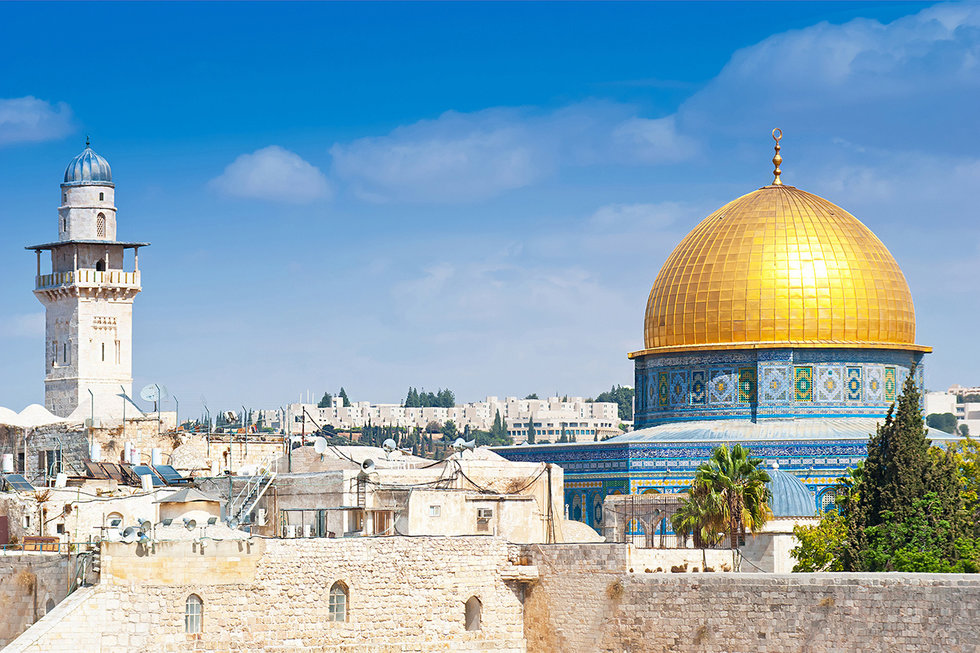 Israel is best known worldwide as the nexus of world religions — and the country is small enough that you can venture out to see many of the historic places tied to the origins of Christianity, Judaism and Islam on bus-tour day trips. These visit all the sites in and around Jerusalem and Bethlehem, only one hour away, including Jerusalem's Old City, the Temple Mount, the Western Wall, the Nativity Church, Mount Zion and the City of David. Longer trips to northern Israel visit Caesarea, Mount Carmel, Nazareth and the Sea of Galilee.
Getting there
United Airlines is the U.S. airline with the most flights to Tel Aviv's Ben Gurion Airport, including nonstops from Newark and San Francisco, and will be the only airline to fly there from Washington, D.C., beginning on May 19, 2019. MileagePlus® award miles can be redeemed to cover accommodations and Hertz rentals. Go to united.com or use the United app to plan your trip to Tel Aviv.
Holiday magic lands in Cleveland
December 1 was a day filled with holiday cheer for dozens of children who came to Cleveland Hopkins International Airport for a magical trip to the "North Pole." We invited children from the Cleveland Clinic, A Kid Again and Rainbow Babies and Children's Hospital to participate in our Fantasy Flight, which every year offers families raising kids with life-threatening illnesses an unforgettable trip to the "North Pole."
Once guests arrived to the "North Pole," they entered a magical winter wonderland and enjoyed Christmas carols, festive food and even received gifts from the wish lists they shared with their parents. The day wouldn't be complete without Santa Claus, and of course the children had a chance to meet him and take photos with him and Mrs. Claus.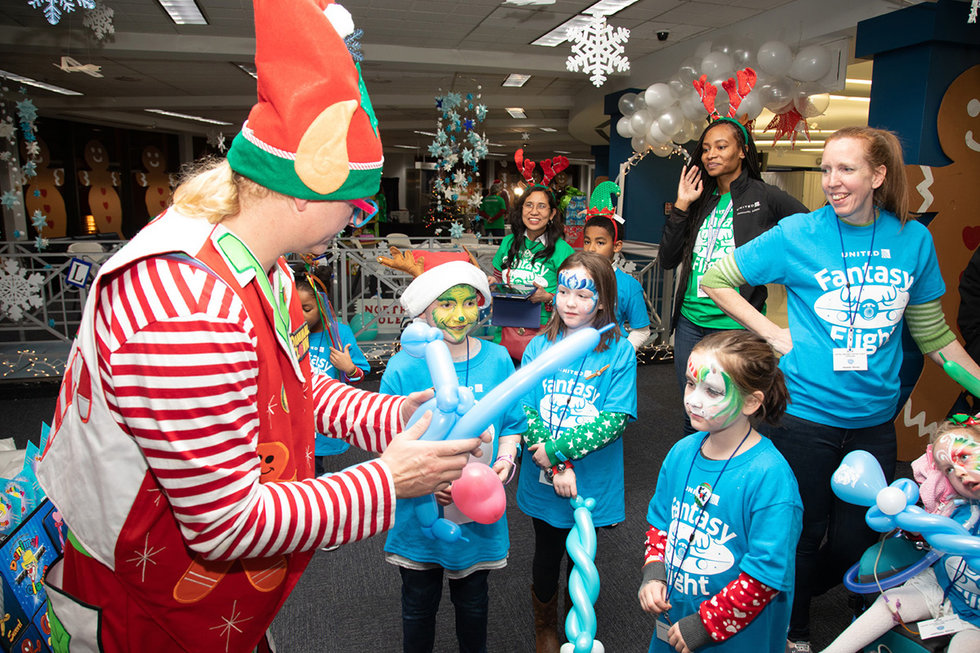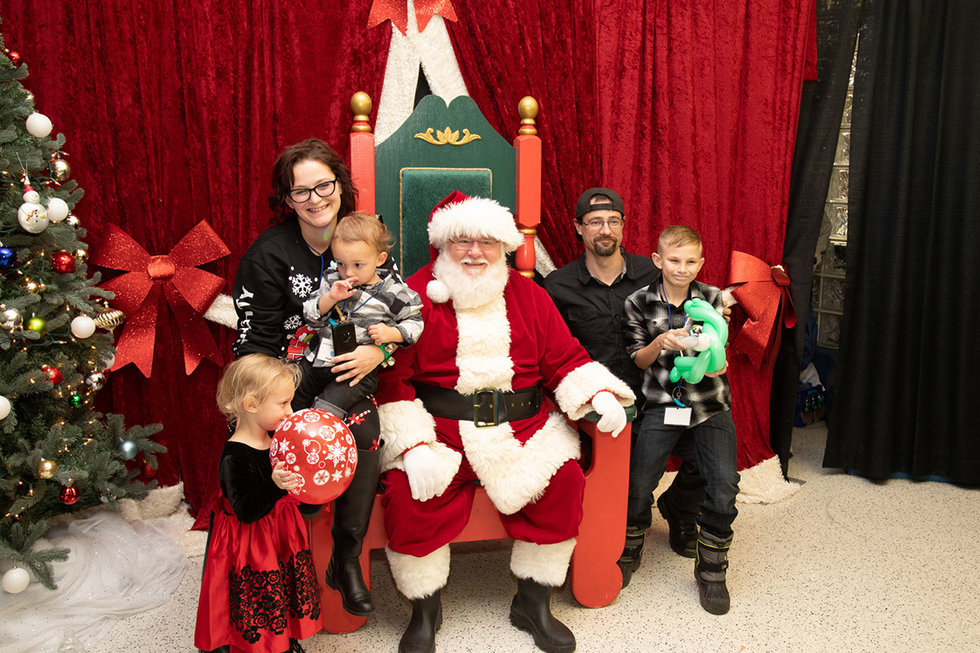 7 winter wonderlands around the world
Rather than heading to a beach destination this winter to avoid the cold, try something completely different by embracing winter with a trip to a winter wonderland. Whether you want to take part in some winter sports, attend a snow festival or just make a snowman with the kids, here are seven cities perfect for welcoming winter.
Sun Valley, Idaho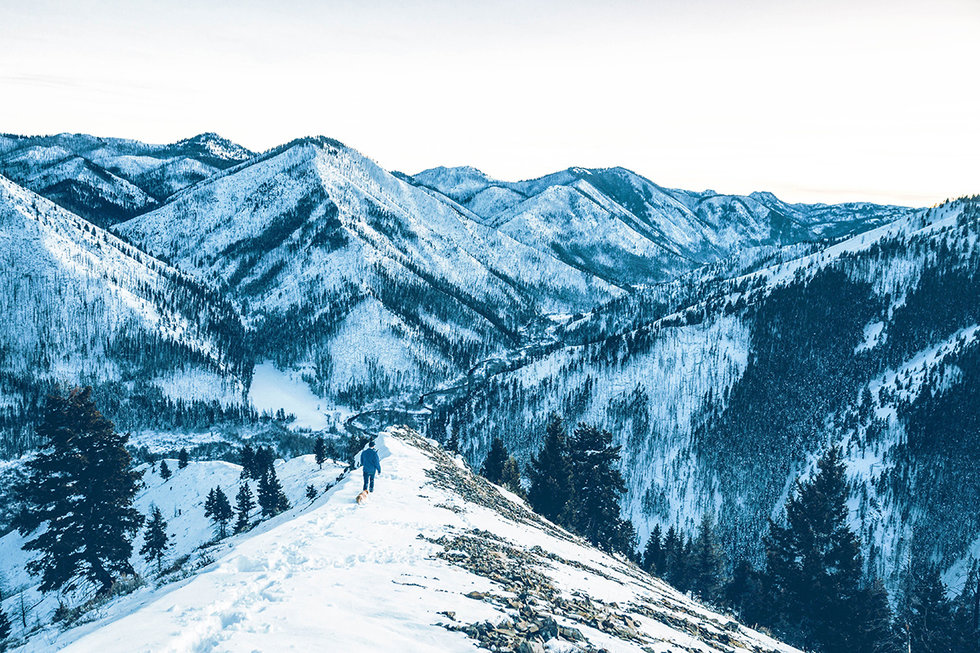 A-list celebs and Olympic champions have been flocking to Sun Valley for generations for the big-vertical-drop skiing — and so have snow sports enthusiasts of all ability levels. They also come for the natural beauty of the Sawtooth range and the mountain-town culture of Sun Valley and adjacent Ketchum. Activities from heli-skiing to snowmobiling and sleigh rides offer something for everyone. A Nordic-skiing festival (January 31-February 3) and symphony series (February 19-24) are among numerous upcoming special events.
Quebec City, Canada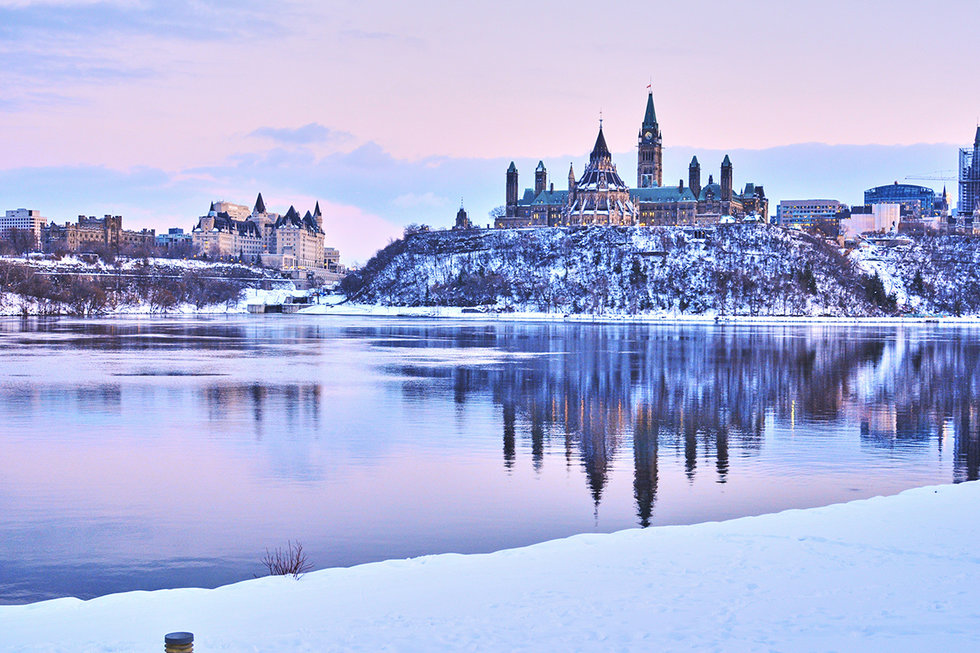 Quebec City is a dreamy destination all winter, with abundant winter activities in and around the city, from fat biking to dog sledding. Twenty minutes away at Village Vacances Valcartier is a sprawling winter playground with 35 snow slides and North America's only ice hotel. During Carnaval de Quebec (February 8-17) — among the world's largest and oldest winter festivals — night parades are staged, a colossal ice palace is unveiled and contests range from snow sculpting to ice-canoe racing.
Geneva, Switzerland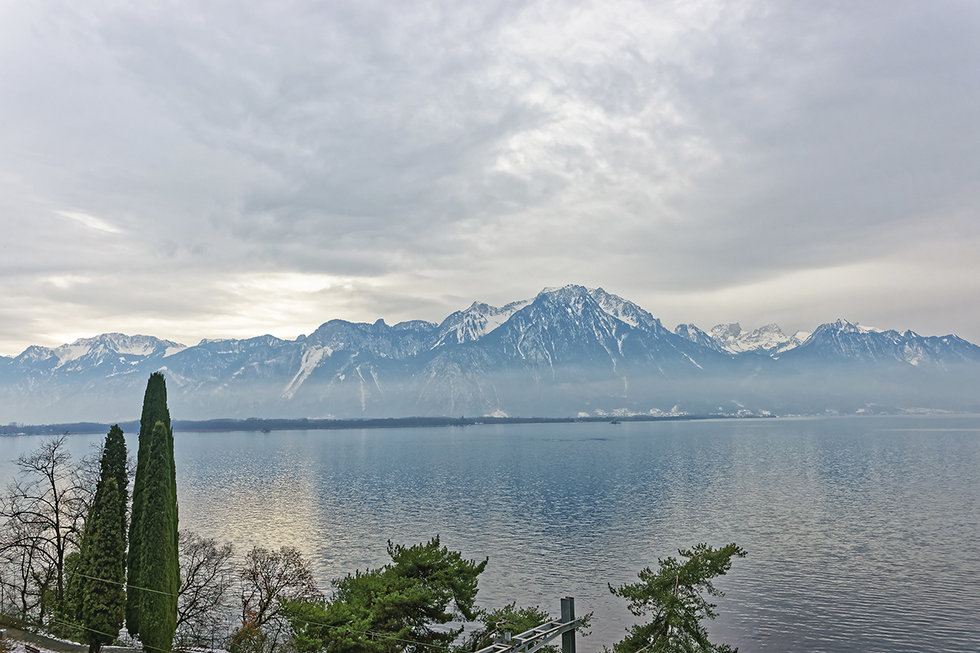 Mont Blanc, the tallest peak in the Alps, means "White Mountain" in English as its summit is topped by a year-round dome of ice and snow. The peak is clearly visible from Geneva, a lovely French-speaking city of 200,000 at the southwestern tip of Switzerland, and the Chamonix-Mont-Blanc ski slopes are only an hour away. While in low-elevation Geneva, it's easy to get around to visit the International Red Cross and Red Crescent Museum or take part in a variety of winter activities.
Minneapolis/St. Paul, Minnesota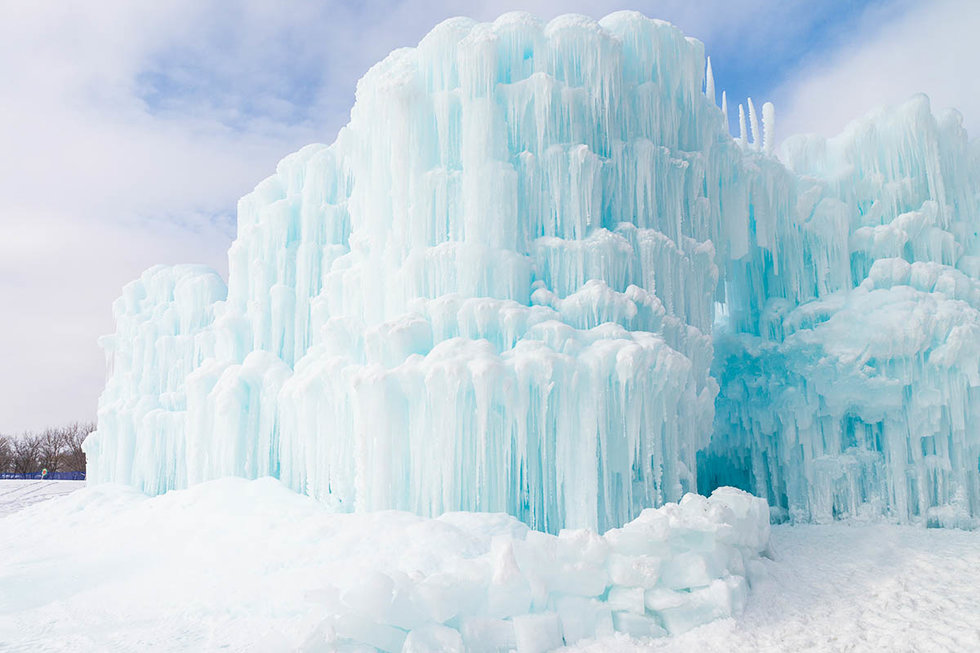 Minneapolis and St. Paul boast the fittest residents — and coldest temperatures — of any U.S. metro area. That odd combination is possible because residents of the Twin Cities celebrate rather than dread winter. Mississippi River recreation paths are plowed and lakeside hiking trails become Nordic-skiing trails. And there is no bigger celebration of winter in the U.S. than the St. Paul Winter Carnival (January 24-February 3), which draws about 400,000 people to admire its multistory ice palace, cavort in its snow park and watch its parades.
Stockholm, Sweden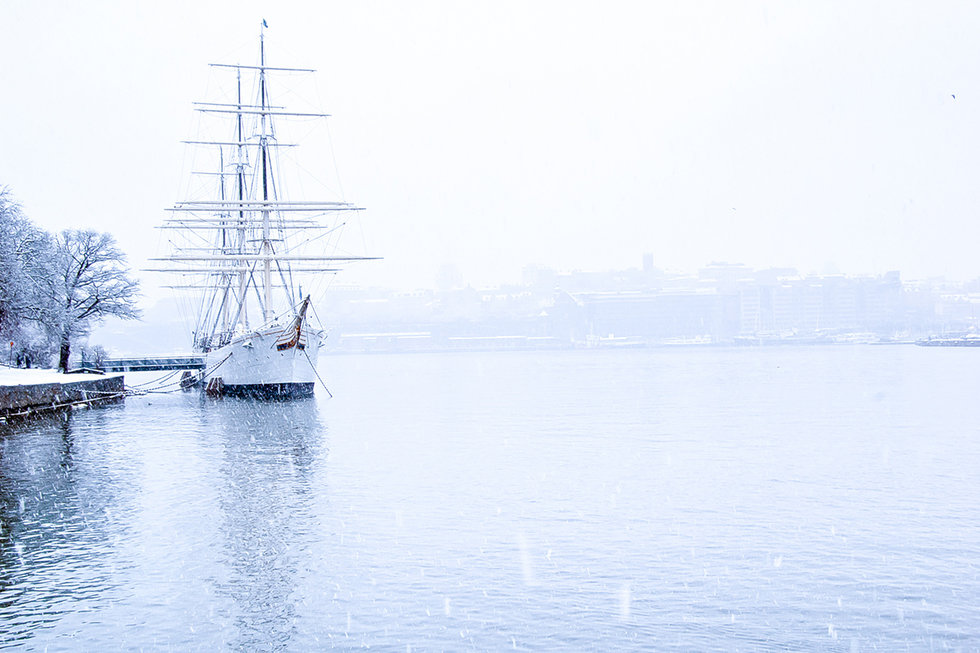 As one of the most northern major cities in the world Stockholm is the best winter destination for combining outdoor winter activities and the indoor attractions of a cultural capital. Outdoor ice rinks are found in the city center and five ski areas are within an hour's drive; Stockholm is a finalist for the 2026 Winter Olympic Games and hosted the same competition in 1912. Indoor enticements include the Nobel Museum, with a Martin Luther King, Jr. exhibition through September 2019, and the Vasa Maritime Museum, the most visited museum in Scandinavia.
Sapporo, Japan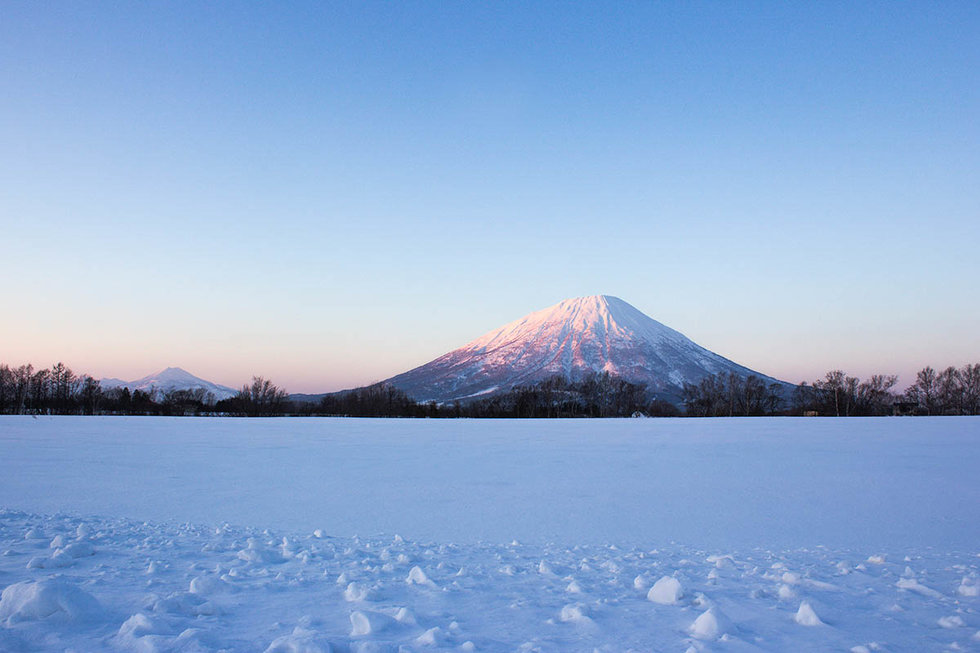 Apart from its ramen restaurants and Sapporo beer (with free tours at the brewery), Sapporo is best known for its winters, which bring 20 feet of annual snowfall. Not only the site of the 1972 Winter Olympic Games, this city on Japan's northern island of Hokkaido is home to one of the world's largest winter festivals. The 70th Sapporo Snow Festival (January 31-February 11) features hundreds of snow statues and ice sculptures, offers snow slides and snow rafting, and attracts 2 million annual visitors — the population of the city itself.
Reno/Lake Tahoe, Nevada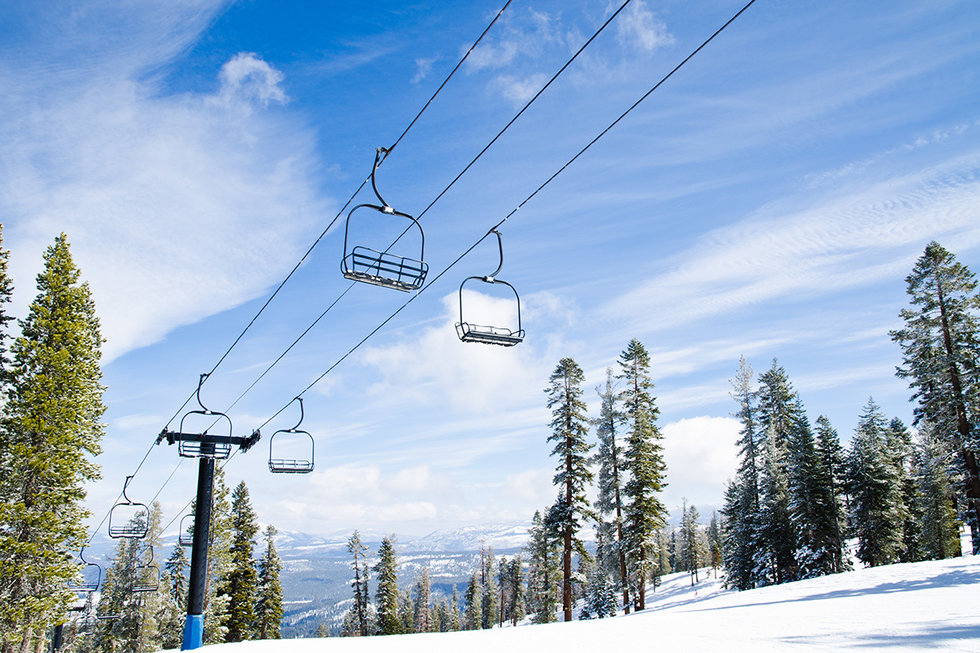 Depending on which direction they head from Reno-Tahoe International Airport, winter visitors have plenty of options. They can go to North Lake Tahoe for major ski areas like Northstar, with its charming base village, or Squaw Valley/Alpine Meadows, site of the 1960 Winter Olympic Games. They can venture to South Lake Tahoe for great skiing at Heavenly (North America's fifth-largest ski area) or Kirkwood (North America's third-highest snowfall). Or for those who are content admiring snow-covered mountains without skiing them, they can stay in Reno for the restaurants, casinos, and nightlife.
If you go
United Airlines flies to all seven of these cities, where MileagePlus® Rewards points can be redeemed to cover accommodations and Hertz rentals. Go to united.com or use the United app to plan your winter wonderland getaway.
The day off: Washington D.C.
Story by Ellen Carpenter | Hemispheres, December 2018
Politics, finance, tech, no matter: Deals happen in D.C. at every hour. But if you find yourself on a business trip with a rare free day, consider yourself lucky: The city has never been cooler.
9 a.m.
Wake up in your spacious room at the InterContinental Washington D.C. – The Wharf, with floor-to-ceiling views of sailboats gliding down the Washington Channel, and forget for a moment that the craziness of Capitol Hill is just five miles away. Snap a photo of the waterfall chandelier in the lobby before popping next door for a delicious egg and bacon biscuit sandwich at Dolcezza, the first outpost of the D.C. mini-chain to offer a full breakfast menu.
Photo by Mark DeLong
10 a.m.

Hop a cab to the National Portrait Gallery, where you can take a selfie with Barack Obama (well, Kehinde Wiley's depiction of the 44th president) before viewing an entire exhibit on the art of the selfie, Eye to I: Self-Portraits from 1900 to Today, which features works by James Amos Porter, Elaine de Kooning, and more. Afterward, muse on the concept of identity under the undulating glass ceiling in the gallery's stunning Kogod Courtyard.
Photo provided by the National Portrait Gallery, Smithsonian Institution/gift of Dorothy Porter Wesley
1 p.m.
Take the Metro's Green Line up to U Street for a taste of Little Havana at Colada Shop. The small counter spot dispenses flaky empanadas, decadent Cubanos, and the café's namesake—four shots of espresso commingling with sweet Cuban crema. You know you want one.
3 p.m.
Time to hit the National Mall and work off that caffeine injection. Every winter, the fountain at the National Gallery of Art Sculpture Garden becomes an ice rink, where you can take in Alexander Calder's Cheval Rouge and Louise Bourgeois's Spider while practicing your triple lutz.
Photo by Mandel Ngan/AFP/Getty Images
5 p.m.
Cab over to the Kennedy Center for the free 6 p.m. show at Millennium Stage, offered every single night as part of the cultural hub's Performing Arts for Everyone initiative. Whether it's modern dance, West African blues, or experimental theater, it'll broaden your horizons.
Photo by Teresa Wood
7:30 p.m.
Give in to your carb cravings at the Michelin-starred Tail Up Goat, a relaxed yet polished restaurant in the Adams Morgan neighborhood. Toss back the complimentary shrub (tart!) and then dive into the red fife brioche (topped with chicken liver mousse, blueberry marmalade, and wood sorrel) and goat lasagna with tomato, anchovy, and salsa verde.
9:30 p.m.
Catch a ride to Blagden Alley—a historic area that used to house the stables and workshops behind stately row houses—for a cocktail at Columbia Room, a lounge that has topped every best-of list imaginable. Score a seat in the leather- and mahogany-lined Spirits Library and order a Maryland, made with rye, applejack, and chartreuse. Then get another.
Photo by Karlin Villondo Photography
3 under the radar places to visit in December
With the end of the year approaching, it's time to utilize those unused vacation days. If you're not traveling for the holidays, take an excursion to one of these under-the-radar destinations. Treat your family to fun in the sun in Florida, kick back on an island in Mexico that takes relaxation seriously, or take advantage of the slow season at a popular Arizona national park.
Isla Holbox, Mexico
For a leisurely vacation to relax on uncrowded beaches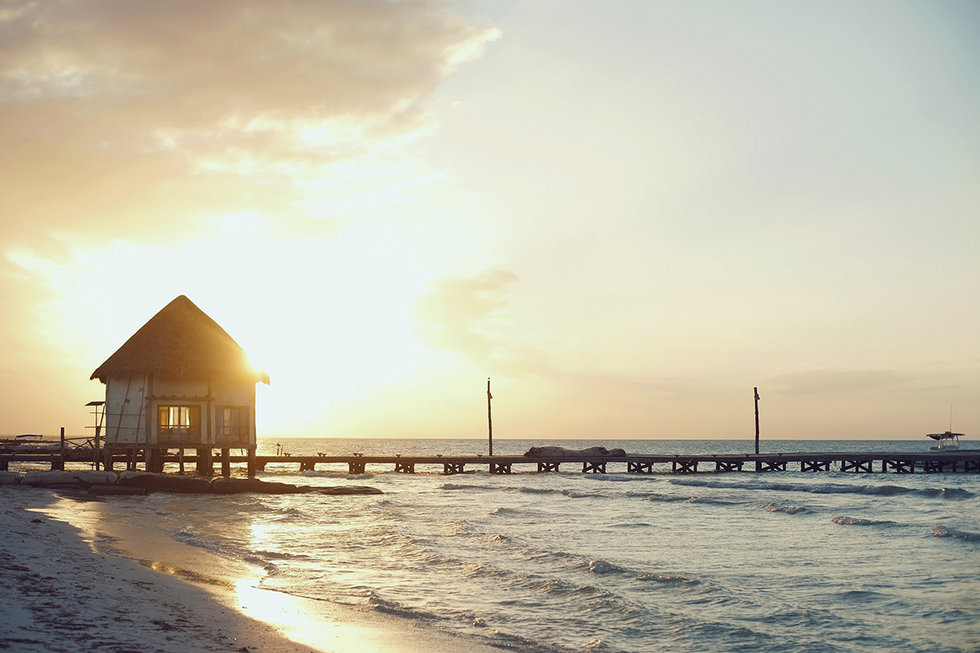 Seeking a destination where you can unplug and sink your toes into the sand while surrounded by natural beauty? Isla Holbox is the spot. This laid-back island sits on the northwest tip of Mexico's Yucatan peninsula. It boasts spectacular beaches with endless turquoise ocean views.
What to do
Pack your flip-flops and beach reads for a seriously laid-back trip to Isla Holbox. Come here to sit on the beach (or in a hammock) while you kick back and relax as you've never relaxed before. Enjoy spectacular beaches without crowds.
Isla Holbox is small — just 26 miles long and one mile wide, with only 2,000 full-time residents. Bright colors and painted murals throughout the area evoke a bohemian vibe. Instead of cars, most people get around by golf cart or bike. (In fact, its taxi cabs are actually golf carts.) Isla Holbox won't give you the lively nightlife of popular tourist destinations like nearby Cancun, but there are plenty of beachside bars serving cocktails, food vendors and restaurants serving fresh Mexican fare.
Go on a wildlife excursion to spot whale sharks, crocodiles or flamingos. Head to the Yum-Balam Nature Reserve to see other exotic animals.
Getting there
The closest airport is Cancun (CUN). From Cancun, head to Chiquila, where you can take the ferry to Isla Holbox.
St. Petersburg, Florida
A family-friendly beach destination for fun in the sun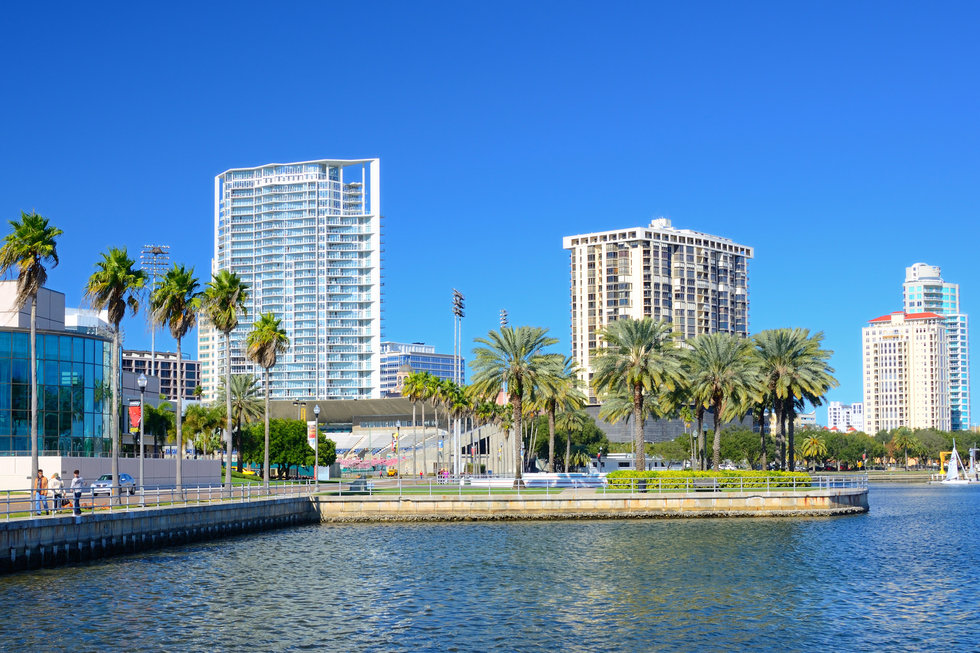 With award-winning beaches offering 35 miles of sand along Tampa Bay, calm waters and plenty of sun, St. Petersburg is quickly gaining momentum as a warm-weather destination for families. Downtown is home to many shops, restaurants, bars and unique attractions, such as an impressive Salvador Dali museum.

What to do
St. Pete beaches are known for their calm, warm and shallow waters. Add 360 days of sunshine per year and an average temperature of 73 degrees, and it's surprising that this sunny beach city still flies under the radar. Keep it laid back by relaxing on the shore, or bump up the action by parasailing, windsurfing or kiteboarding.
After a day of R&R, head downtown to enjoy the lively St. Petersburg culture and nightlife. There are 35 local craft breweries to choose from and many seafood restaurants ranging from casual fare to upscale. The most extensive collection of Salvador Dali's artwork outside of Europe resides in The Dalí Museum. You can even meet a local celebrity at the Clearwater Marine Aquarium — Winter the dolphin starred in the Dolphin Tale movies and is famous for her prosthetic tail.
Getting there
United offers direct service to Tampa / St. Petersburg (TPA) from many U.S. cities.
Grand Canyon, Arizona
To have one of the most magnificent national parks (almost) to yourself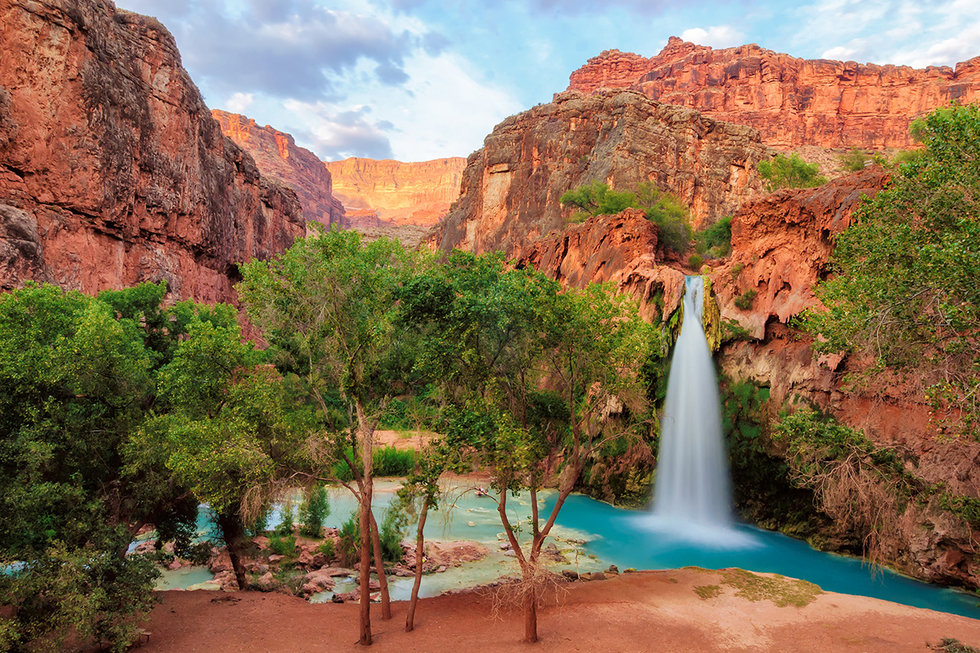 Though the weather is crisp and the temperature a few degrees chillier, the sun shines all month long at Grand Canyon National Park. Traveling here during the low season means fewer visitors will crowd your panoramic views of one of the world's largest canyons and most magnificent natural wonders.
What to do
From scenic drives to backcountry hiking, visiting in the winter makes for a more tranquil and peaceful adventure. The South Rim remains open all year round. The national park offers many trails to view the Colorado River snaking through snow-dusted temples and buttes. Try to catch at least one sunset or sunrise, and be sure to arrive with enough time to stake out a good vantage point. The visitors center and park website have recommendations for the best spots.
Ride the Grand Canyon Railway and travel back in time. A 64-mile stretch of railroad has been transporting passengers from the South Rim to the small town of Williams, Arizona, since 1901. The historic train has an observation dome car to catch the spectacular scenery and even has Wild West-themed entertainment aboard. Every evening in December, the Grand Canyon Railway transforms into the Polar Express and makes a stop at the North Pole where Santa boards the train to greet everyone.
Getting there
Phoenix Sky Harbor Airport is the closest major international airport to the South Rim. United offers service to Phoenix (PHX) from multiple U.S. cities.
For details and to book your trip, visit united.com or use the United app. Don't forget to share your story on social media with the #MyUnitedJourney hashtag once you arrive.

Evolving our brand design
The United brand is heading in a new direction as we evolve the colors and patterns we use. Where did these new colors come from, exactly? Check out the video below to learn about the research, logic and thoughtfulness that went into this evolution as we took inspiration from the spaces around us, the environments we work in, our heritage, the United globe and much more.
Three Perfect Days: Riviera Maya
Story by Jordan Heller | Photography by Lindsay Lauckner Gundlock | Hemispheres, December 2018
There is some dispute as to how Playa del Carmen, the metropolitan heart of the Riviera Maya just 40 miles south of Cancún, got its name. Some say it's after Our Lady of Carmel, the title given to the Blessed Virgin Mary in her role as patroness of the Carmelites. But the more compelling story is the one told by locals.
As legend has it, in the 1970s and '80s, when the area first became a destination, tourists traveling by boat from neighboring Cozumel would disembark in Playa—then known as Xaman-Ha—on their way to the ruins of Tulum. A local Maya woman named Carmen would happily invite these travelers into her modest home for a traditional meal of fresh-caught seafood. She may not have had any experience with immaculate conception, but when it comes to Playa, this Carmen is definitely a matron saint. Today, her spirit can be felt throughout the Riviera Maya, which also includes the village of Tulum, the ruins of Cobá, and a number of small Maya communities on the Caribbean side of the Yucatán Peninsula where, if you're lucky, a woman not unlike Carmen will happily invite you into her home for a meal.
Day 1
Exploring a Maya temple, befriending a butler and feasting on cochinita pibil
I eat grasshoppers for breakfast. No, this is not my way of saying I know how to handle a subordinate. I'm literally eating toasted grasshoppers sprinkled onto a dish of huevos rancheros with green tomatillo salsa, hoja santa, and goat cheese. I've just woken up at Playa del Carmen's Rosewood Mayakoba, which is perhaps the most luxurious resort I've ever stayed in (and I'm a travel writer). There's a private heated plunge pool outside my back door looking over a secluded lagoon, a spa Forbes rated one of the best in the world, and Tavo, my personal butler, who is at my beck and call through a Rosewood messaging app.
The sikil-p'aak tomato salad at La Ceiba Garden & Kitchen
A bottle of tequila and some toothpaste?

Certainly, Mr. Heller.
Despite all this luxury, I'm eating bugs—albeit with a Bloody Mary at a beachside restaurant overlooking the Caribbean. The toasted grasshoppers are crunchy (like perfectly burnt popcorn), incredibly delicious, and an appropriately indigenous start to a morning in which I'll be exploring the ruins of an ancient civilization.
After traveling inland to the village of Cobá, I trade my rental car for a "Maya taxi." It's the Yucatán version of a rickshaw—a padded bench fashioned atop the front wheel of a bicycle with a beach umbrella protecting me from the rain. My driver, Gustino, is transporting me through a mile of jungle and more than a millennium back in time, to the Late Classic (AD 550–830) Maya ruin of the Nohoch Mul Pyramid. The dirt path bustles with all manner of tourists riding Maya taxis, pedaling rented beach cruisers, or walking, excitedly talking about the sites of this ancient city in English, Spanish, German, Russian, and who knows what else.
As Gustino struggles to pedal through a particularly rough patch of mud, I ask him what nationality of tourist is the hardest to transport.
The Ixmoja pyramid at Cobá
"The Germans," he says. "It's not that they're overweight. They're just a very sturdy people. Americans are preferred: very easygoing and friendly people. Everybody wants an American fare."
When we arrive at Nohoch Mul, the panoply of tourists is suddenly speaking the same language: speechless. At 138 feet tall, the sheer scale of this temple is rivaled only by the gleaming hotels going up on the coast. But out here in the Cobá jungle, after I break the canopy and reach Nohoch Mul's summit, it's nothing but green as far as the eye can see, under which is apparently some 30 square miles of ancient city, most of it still obscured by the jungle. I'm told that just 5 percent of Cobá has been excavated since the project started in the 1970s.
"Today, if you come early in the morning, you find corn and beans here left by the local Maya, who continue to offer sacrifices to the gods."
"And what did they do with this little platform?" I ask Diego Viadero, my knowledgeable Tours by Locals guide, who's been schooling me on all manner of Maya history.
"Ah, yes," he says. "That's where the rulers would offer sacrifices to the gods, in hopes that they could avoid a collapse of the city."
"You mean like in the movie Apocalypto, where they chopped off the heads?" I ask.
"Just like in Apocalypto," says Viadero, doing his best to hold back an eye-roll. "Today, if you come early in the morning, you'll find corn and beans here left by the local Maya, who continue to offer sacrifices to the gods."
"Do you think it's enough?" I ask, making the comparison to the more (ahem) substantial offerings of yore. Let the eye-rolling commence.
The Rosewood Mayakoba's Sense Spa
Next, Viadero takes me to Nojoch Keej, which is Mayan for El Venado Grande, which is Spanish for "The Big Deer." It's a sanctuary for endangered animals run by a Maya man named Manuel Poot Dzib out of his back yard in the village of Nuevo Durango. Poot Dzib started the sanctuary in 2005, after Hurricane Wilma destroyed the habitats of many local animals. He now looks after bees (which produce honey that's said to have healing qualities), white-tail deer, paca, curassow, and ocellated turkeys, which he aims to repopulate in areas that are protected from hunters. From the looks of these turkeys, I think ocellated must be Mayan for peacock. They're vibrant, multicolored, and beautiful to look at.
"Tavo leaves me to my plunge pool, where I enjoy my cocktail to the sound of a rainbow-billed toucan flapping around the lagoon."
Poot Dzib asks us to stay for lunch, which is great, because I'm starving. "We're having cochinita pibil—es muy delicioso," he adds, giving off some of that Carmen spirit.
I breathe a sigh of relief when I learn that cochinita pibil is not Spanish for ocellated turkey. It's achiote-marinated pork that's been cooking with banana leaf in a hole in the ground in Poot Dzib's front yard since 8 this morning.
"They normally only do this for the Day of the Dead or other special occasions," Viadero says as we watch Poot Dzib remove the dirt and corrugated metal covering his subterranean oven.
A home-cooked meal, Maya-style
"We used to cover it with banana leaf instead of metal, but that's a much harder and longer process," says Poot Dzib. "This is more modern."
Modern? I'm not so sure, but I grant Poot Dzib that it's certainly an update. In any event, when put on a handmade tortilla with pickled onions and habanero, this cochinita pibil is definitely mouthwatering.
I say "Taakulak k'iin" ("See ya later" in Mayan) to Poot Dzib and his ocellated turkeys and head back to the Rosewood, where Tavo the butler awaits with that bottle of tequila, plus some fresh lime juice and agave nectar for mixers.
Gracias, Tavo!
Certainly, Mr. Heller.
Tavo leaves me to my plunge pool, where I enjoy my drink to the sound of a rainbow-billed toucan flapping around the lagoon. Just one cocktail, however, as I'm hopping onto my complimentary beach cruiser (every guest gets one) to take a spin around the property, where geckos, iguanas, and even a tarantula skitter into the mangroves as I come rolling down the jungle path.
Appetite sufficiently worked up, I'm off to the Rosewood's La Ceiba Garden & Kitchen, where executive chef Juan Pablo Loza serves a communal dinner of Maya-inspired dishes with a contemporary touch. Seated at a long wooden table with 17 other guests, I ask the chef what he's learned from the local Maya villages, which he visits often to pick up cooking techniques.
"My top lesson from the Maya is less about food than it is about perspective," he says, before recounting a delicious meal he had with one family. "The woman who cooked for me had referred to her neighbor as poor. I found it an odd comment, because the assumption in a Maya village is that nobody is exactly rich. 'Why do you say your neighbor is poor?' I asked. She said because she has no family and no garden. If you don't have a garden, you can't get food from it, and if you don't have a family you have nobody to share it with. For them, having a family and a connection to nature is what it means to be rich."
"And now you have this beautiful garden," I say, pointing to his planters of lemongrass.
"And a family, too," he replies. "Including a daughter named Maya."
And then we feast. There's grilled octopus with black recado and burnt lime vinaigrette, zarandeado-style lobster, roasted plantains, and a k'úum salad of squash, arugula, orange, oregano, and ocosingo cheese, finished off with fresh fruits in guava honey and lemongrass.
Tavo, I'm stuffed! Turn out the light and have a pot of coffee waiting for me in the morning, please.
Certainly, Mr. Heller.
Day 2
Scaling ruins, swimming in cenotes, and taking a turn on the karaoke mic
Gran Cenote
In the small village square outside Tulum National Park, the Voladores de Papantla are performing their ancient fertility ritual, or rain ceremony—named an "intangible cultural heritage" by UNESCO. Five men in traditional bright red pants and flowing white blouses with multicolored adornments sit atop a 90-foot pole. The man in the center taps an adagio beat on a simple drum and blows a gentle bird-like tune on a wooden flute while the other four men tie ropes around their waists. When the musician ups the tempo to allegretto, the other two men fall backward, like scuba divers dropping into water, and slowly descend upside down in a merry-go-round fashion, the spinning top ceding rope like a reel feeding line to a fish. It's absolutely beautiful.
On a path cutting through the mangroves and almond trees on the way to the park entrance, a guide shares a mnemonic device that will be helpful should I run into any venomous coral snakes: "red on yellow, kill a fellow; red on black, friend of Jack." I assume I'm a Jack.
"The water is high and crisp as we float past stalagmites growing ever so slowly out of the cave floor."
Thankfully, there are no snakes to be seen in the ancient Maya city of Tulum, an open patch of manicured lawns and stone ruins protected by walls to the north, west, and south, and an ocean reef to the east. Or so it was protected until around 1500, when the Spanish came ashore. This beachside community, established circa 1200, was populated by a few hundred of Tulum's elite (and the sea turtles that still come ashore to lay their eggs), with thousands of people living outside the walls. It wasn't until the 20th century, when archaeologists began studying the region's various Maya sites, that we began to understand how advanced their civilization was—especially in the area of astronomy. As I walk the city's white gravel paths, I can imagine a well-heeled society covered in jade and obsidian jewelry enjoying the same ocean breeze and studying the same night sky. One glance at the view, and it's clear the Maya knew something about real estate. This plot right here, with a lighthouse perched on the cliff, would go for a boatload of jade and obsidian.
Maya ruins at Tulum
After fortifying my stomach with a few al pastor tacos (don't forget the guacamole) at Tropi Tacos in Tulum Pueblo, I meet back up with Diego Viadero for a drive out to Sistema Sac Actun (White Cave System), one of the world's largest underground cave systems, a 164-mile maze of freshwater flowing through subterranean limestone. This afternoon, we're exploring just one mile of the system. The rain-conjuring Voladores de Papantla must be in top form lately; the water is high and crisp as we float past stalagmites growing ever so slowly (less than 10 centimeters every 1,000 years) out of the cave floor and reaching up toward stalactites hanging like icicles from the cave ceiling. It's like the setting of a science fiction movie, so otherworldly I try to prolong my stay by floating as slowly as the calcium deposits are forming in front of me.
"Be careful," says Viadero, as I get a little too close to a stalagmite that's been a million years in the making. "You wouldn't want to break it."
IK Lab
"I certainly wouldn't want that on my conscience," I agree.
After emerging from a cenote (a natural sinkhole where groundwater is exposed to the sky), I offer an adiós to Viadero and make my way to Tulum's Route 15—the narrow street that cuts through the jungle, parallel to the shore, and is lined with trendy restaurants, bars, and "eco-chic" (their word, not mine) hotels. Twenty years ago, this strip wasn't much, but now there's not a speck of beachfront that isn't occupied by an Instagram-ready boutique property. (The number of rope swings is astounding.) In recent years, Route 15 has played host to Demi Moore, Leonardo DiCaprio, Naomi Watts, Gina Rodriguez, Reese Witherspoon, and, after today, me. I'm staying at Sanará, a stylish wellness hotel that attracts young and hip sunworshippers from around the world who like partying and yoga in equal measure.
A shop on Tulum's Route 15
I check into my beachside room (furnished with my very own yoga mat and dream catcher), flop down on the bed, and open up the "Wellness Menu." On offer are a Pudzyah Mayan Healing that "transforms pain to love at the cellular level … It harmonizes your DNA by applying fractal geometry energy"; a Multivibrational Massage and Chakra Balancing; and a Solar Plexus Healer. I opt for the complimentary "Sound Bath" of light yoga and didgeridoo before balancing out my chakras with a burger, a beer, and some fresh ceviche at Clan Destino.
This laid-back spot is all about the ambience: a wooden deck with chandeliers hanging from the jungle canopy and a cenote smack dab in the middle of the club, should you need refreshing after one too many cervezas. The bar offers a free shot of mezcal for those who take a turn on the karaoke mic ("Suspicious Minds" for me, thank you very much); after accepting my applause and draining my shot, I turn the glass over on the bar and take the plunge.
Day 3
Floating down a canal, swimming in the Caribbean, and eating gelato on the beach
A cabana at Mía
At The Real Coconut, Sanará's beachside restaurant, I dig into a light breakfast of coffee and avocado toast (piled high like Nohoch Mul with a squirt of lime and a sprinkling of red pepper flakes). It's a deliciously healthy start to a morning that's going to include traipsing through the Sian Ka'an biosphere reserve and swimming in Laguna Chunyaxché.

At Sian Ka'an—a protected area of tropical forest, marshes, and lagoons about a 40-minute drive from my hotel—I follow my guide, Joaquin Balam of Community Tours, down the narrow boardwalk of Sendero Muyil, which cuts through a forest of zapote and ficus trees. I'm told there are jaguars, pumas, and howler monkeys about, as well as some 330 species of birds.
"Are those the howler monkeys?" I ask of a muted rumbling in the distance.
"We're floating in the current like a couple of astronauts in space, limbs slowly twirling."
"Oh no," says Balam. "When you hear them, you'll know it."
The closest we get to this array of wildlife, however, is some jaguar claw marks on a ficus tree. By the looks of the marks, I'm happy that we're strolling alone.
Baby back ribs at Mía Restaurant & Beach Club
At the end of the path, we reach the sandy shoreline of Laguna Chunyaxché, a bright body of water that reflects both the green wetlands and the blue sky above. We cross the lagoon by boat, to a shoreline of mangroves and seagrass, and step onto a dock at the entrance to a canal.
"Take your life vest off and wear it like this," Balam says, putting his legs through the arm holes of the vest, as if it were a diaper.
"If you say so."
Balam jumps into the canal and I follow, and I immediately understand the Baby Huey getup. We're floating in the current like a couple of astronauts in space, limbs slowly twirling as our seemingly weightless bodies travel down the canal. Cue the opening horns of the score to 2001: A Space Odyssey.
Back on Route 15, I stop in at Mía Restaurant & Beach Club for baby back ribs rubbed with chili and tamarind, washed down with a glass of Château Gloria St Julien Bordeaux from the restaurant's wine cave—the biggest collection of fine wines in Tulum. It's as decadent as the beachgoers lazing in the sun not far from my table.
Head still swimming in that lovely Château Gloria, I decide to take the rest of my body for a little dip. The Caribbean is bathwater warm and crystal clear—in other words, perfect. I walk out for what seems like half a mile, and the water still only comes up to my waist.
Gelato at Origami
Refreshed and sun-dried, I'm ready to trade in the historical and ecological sights of the last few days for the fashion runway of Route 15. The women wear bikinis and sarongs, the men wear linen shorts and loafers, and everybody wears designer shades, brimmed hats made of straw, and suntans of golden bronze. Origami, a beautifully designed gelato shop, is the perfect place to have a seat and watch the catwalk. I have a Ferrero Rocher and crunch on the hazelnuts drenched in icy chocolate and cream while the fashion models play street chicken with Vespas and the delivery trucks distributing tanks of fresh water to the five-star eateries
If Route 15 is for the well-heeled, then Calle Centauro Sur is for the flip-flop set. It's a strip in the center of town, about two miles inland from the beach, where the more casual tourists and locals congregate. Call it the Brooklyn to Route 15's Manhattan. At Batey—a hip, open-air bar and music venue decorated with paintings of Miles Davis and the Beatles—I take a sidewalk seat and listen to a Mexican Elvis impersonator singing Simple Minds' "Don't You (Forget About Me)." As I sip on a Don Julio Reposado, a patchouli-scented parade of 5 o'clock shadows and hot pink hair dye ambles by.
"Are you going dancing tonight?" a young man in a tank top, cut-off jean shorts, and tattered Chuck Taylors asks a friend sitting at the table next to me.
The bar at Mur Mur, in Tulum
"Are you?"
"I'm dressed and ready to go."
Back on Route 15, the revelers are stepping out as if their outfits are going to be scrutinized by bouncers holding clipboards and manning red velvet ropes. Thankfully, no such velvet ropes exist as I enter Rosa Negra for an indulgent meal of burrata, besugo sashimi with black salt and citrus, soft-shell crab tacos, and Pescadores—a fine craft beer made right here in Riviera Maya.
The food is as comely as the patrons, who are bopping their well-coiffed heads to a drum-and-bass DJ. But before I have a chance to pass judgment on an ambience that may appear a touch too buttoned-up, a live conga player steps in front of the DJ.
A rat-a-tat tat, bop ba-da ba-bop, dup du-duh dup du-dup!
The congas add a touch of that Carmen spirit—their organic vibrations reminding me that despite all the Manolo Blahniks and slinky black dresses, my T-shirt and flip-flops are welcome at the party. I shimmy my shoulders, take a swig of my Pescadores, and nod to the beat as I dig into my tacos.
A rat-a-tat tat, ba dop ba-da ba-dop, dup du-buh dup bu-dup!
For Oscar, United's turnaround is a journey
Our CEO, Oscar Munoz, sat down with Texas Inc. to discuss our turnaround strategy, stating it's a journey. Read the full interview here featured on the Houston Chronicle.
United will donate up to 6 million miles on #GivingTuesday
Learn more
We're listening
Check out our newest destinations
United Airlines
united
Announcing the largest-ever international route expansion at our San Francisco hub: New: Melbourne, Toronto, New Delhi Now year-round: Tahiti & Auckland 2nd flight: Seoul First U.S. carrier: Amsterdam
uafly.co/35uGj8
#NewRoute
United Airlines
united
Announcing the largest-ever international route expansion at our San Francisco hub: New: Melbourne, Toronto, New Delhi Now year-round: Tahiti & Auckland 2nd daily flight: Seoul First U.S. carrier: Amsterdam
uafly.co/35uGj8
#NewRoute
We Are United
weareunited
The 787-10 was officially welcomed into our fleet by pilot and inflight crew members representing EWR, IAD, ORD, DEN, IAH, LAX, SFO, LHR, FRA and NRT. ✈️
We Are United
weareunited
"It serves as a fitting capstone to all our efforts that made 2018 a breakthrough year for United, from delivering strong financial performance to currently leading in on-time departures for the second year in a row." - Oscar
twitter.com/united/status/…
We Are United
weareunited
"It serves as a fitting capstone to all our efforts that made 2018 a breakthrough year for United, from delivering strong financial performance to currently leading in on-time departures for the second year in a row" - Oscar
twitter.com/united/status/…
We Are United
weareunited
We're excited about the evolution of colors and patterns we use. Where did these new colors come from?
We Are United
weareunited
Big congrats to ORD Tech Ops team on receiving the Silver Safety Award, the first maintenance hub to achieve this honor! Thank you to everyone at ORD for always being core4 safe! 🏆
Watch our most popular videos
Watch the new Big Metal Bird: Charters
From players and personnel to thousands of pounds of equipment, it takes not only a game plan, but a team to get the San Francisco 49ers to their next game and back all within 24 hours. This process is a little thing in the airline business we call chartering. Learn more about how our Charter team gets professional sports teams to their away games and back on the newest episode of Big Metal Bird.
Image of United & Special Olympics: Taking inclusion to new heights
United & Special Olympics: Taking inclusion to new heights
Learn more
United & Special Olympics: Taking inclusion to new heights
On March 8, 2018, we announced a new global relationship with Special Olympics, an organization we've partnered with for many years focusing on supporting the spirit of inclusion with our employees through local communities and through our Charity Miles Program. United's increased sponsorship includes support for major Special Olympics events, including the Special Olympics 50th Anniversary celebrations in Chicago, site of the very first International Special Olympics Summer Games in 1968, and the 2018 Special Olympics USA Games in Seattle.
In addition, United will engage with local Programs in our key markets around the world. Special Olympics embodies our shared purpose to connect people and unite the world. With more than 5 million athletes and 1 million coaches and volunteers in 172 countries, our employees and customers will join forces with Special Olympics to achieve our shared vision of inclusion. Together, we hope to end discrimination against people with intellectual disabilities.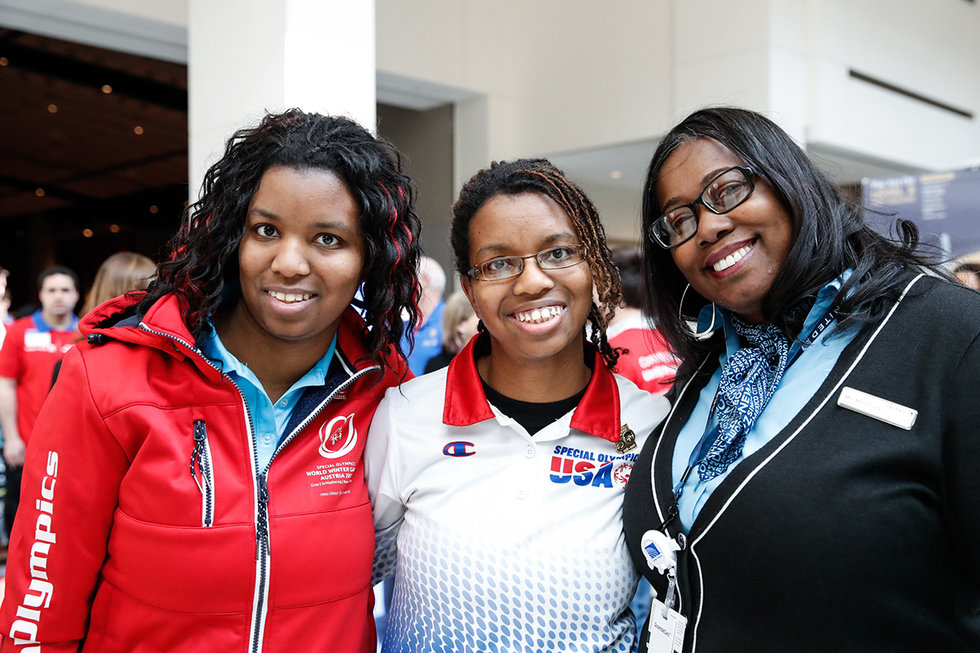 Our relationship with Special Olympics represents a continued effort to break down barriers and further build on the organization's remarkable legacy by engaging our customers and employees around the world. Working together, we created new training that specifically reflects insights from Special Olympics, including training scenarios with real-life situations that individuals with intellectual disabilities face when traveling. By the end of 2018, more than 60,000 United frontline employees will have participated in the new training modules that reflect Special Olympics insights as United takes steps to deliver a world full of inclusion.

Check back this summer for coverage from Special Olympics 50th Anniversary celebrations in Chicago and 2018 Special Olympics USA Games in Seattle.
Image of United's female technicians making history
United's female technicians making history
Learn more
United's female technicians making history
"Many years ago at an air show, I saw a T-shirt that said 'Chicks fly,'" said Orlando-based Aircraft Maintenance Supervisor and Chix Fix team coach Laura Spolar. "And I told my husband, 'Chicks can fly, but chicks can also fix!' A lot of people don't know that women are aircraft mechanics."
Laura didn't know it at the time, but that conversation would serve as the inspiration for the team name of our history-making, all-female team of technicians that competed in the
2018 Aerospace Maintenance Competition (AMC). Of 69 teams at this year's AMC, only three were made up entirely of women, and Chix Fix was the only one representing a commercial airline.
"It's so important for us to show young girls and women that this is a career option for them," said Airframe Overhaul and Repair Managing Director Bonnie Turner, the Chix Fix team captain.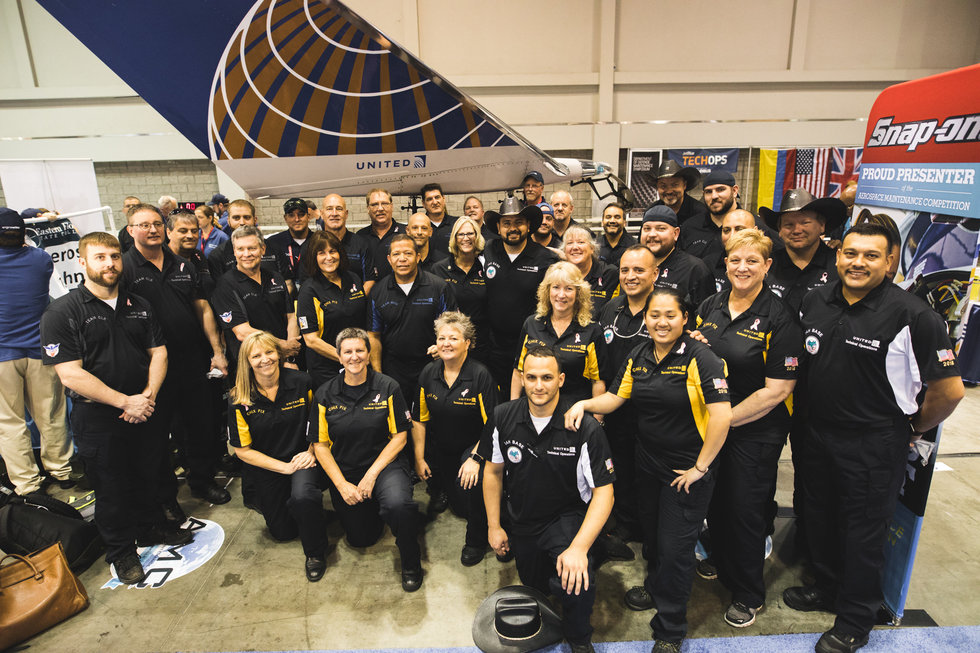 Chix Fix is made up of technicians from five stations. As a group, they only practiced together three times before the competition, but they bonded instantly.
"I feel like I've known these women my whole career," said Denver-based Line Technician Janelle Bendt. "It's been a lot of fun getting to know them and learning from them."
"As a team we just communicate really well; we all respect each other," said San Francisco-based Base Technician Katrina Oyer. "The biggest thing I've taken away from this experience is confidence. Working with these ladies is an eye opener. We really can do anything."
Watch the video above to learn more about Chix Fix and their journey to the AMC.
Copyright © 2018 United Airlines, Inc.
All rights reserved.
Indicates an external site that may or may not meet accessibility guidelines.
Scroll to top
Scroll to top