Three Perfect Days: Guam
Story and photography by Jessica Peterson | Hemispheres, February 2015
With its pristine waters, diverse landscape, rich cultural heritage and burgeoning hospitality industry, this tiny tropical island is set to be the next big thing
Long known as a playground for Japanese tourists, the tropical island of Guam isn't short on Americans, either. A U.S. territory since 1898, it's home to a few far-flung military bases. That said, Guam is enchantingly quiet, encouragingly unspoiled. It's also very small—at about 30 miles long and 12 miles wide at its broadest, this peanut-shaped island has a resident population of around 161,000.
Guam's geography is impressively diverse, given the island's size. In the south, you'll find stands of bamboo and rolling hills; in the north, the beaches are often overshadowed by dramatic limestone cliffs. The southernmost of the Mariana island chain, Guam boasts pristine waters riddled with coral reefs, all of which teem with tropical fish. Culturally, the island has maintained its indigenous Chamorro traditions.
In recent years, Guam has involved itself in a process of renewal—its Spanish forts have been joined by fashion outlets, its ancient settlements by high-end hotels. While it has refused to be pigeonholed as Hawaii Jr., Guam is becoming an increasingly popular venue for scuba divers and bargain hunters, history buffs and even foodies. You could say, in fact, that this tiny island is on its way to becoming the next big thing in tropical getaways.
DAY ONE | You've invented a game while standing on your 19th-floor balcony at the Westin Resort, overlooking a broad horseshoe of coral-mottled water. You call the game "Island Bingo," and it involves checking off all the paradisiacal props within view: coconut palms, flawless sky, turquoise sea, white sand. Bingo!
Having realized you are still in your underwear (some views are best left unseen), you grab a robe and munch on pastel macarons and juicy strawberries while gazing at the travel brochure–worthy panorama before you. From here, it's a quick trip down in the elevator and a two-minute stroll to the beach before your toes are being tickled by the water of Tumon Bay.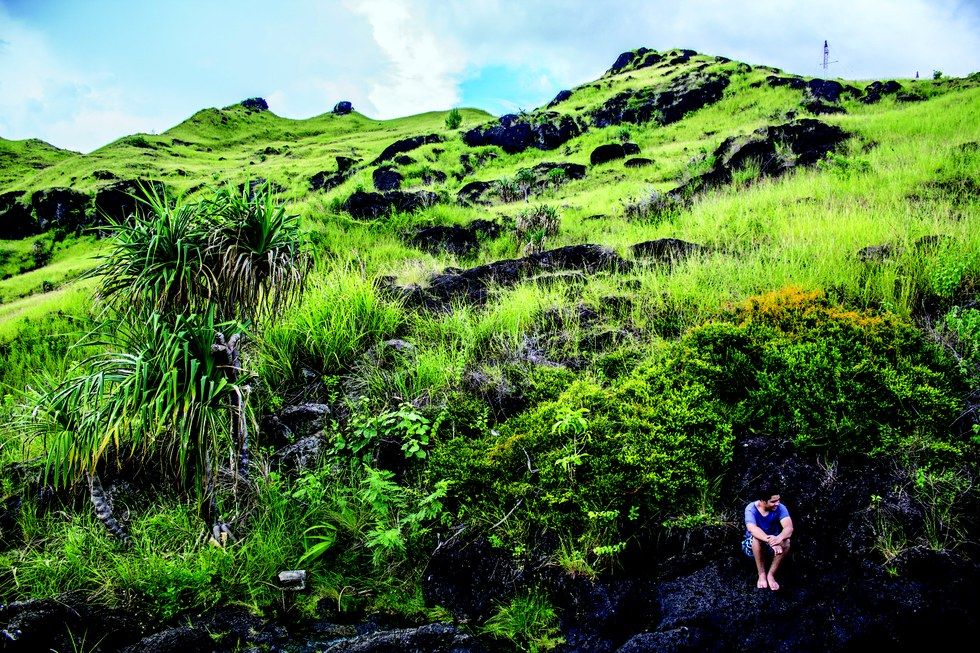 Taking a break at Priest Pools Hill
Tumon Bay has Guam's most manicured strip of sand. Chain hotels and stained-glass wedding chapels skirt the beach, which is flanked by tropical jungle and rocky cliffs. Tumon is protected by a barrier reef—there are more than 1,000 species of tropical fish in the bay alone. You've brought a snorkel along, so you join a handful of seafaring oglers, drifting among hundreds of coral outcrops. An oriental sweetlips approaches, flapping its leopard-like tail and regarding you disapprovingly, followed by a startled-looking convict tang. You'd think they'd be used to us by now.

Back on the sand, a Chamorro man—one of the island's indigenous people—casts a circular net and hauls in a handful of tiny mañåhak, a seasonal catch that is eaten fried or pickled in salt and lemon juice. He's wearing a T-shirt, shorts and flip-flops. He says, "Hafa Adai" (Chamorro for "hello," and a phrase you will hear with reliable frequency during your time here) and beckons you over to look at his catch, a mix of finger-length white and silver fish.
Your skin is starting to resemble that of a fiery squirrelfish, so you leave the beach and head for The Plaza Shopping Center, a two-story mall that houses an array of luxury fashion brands. You pass a trio of Japanese women in matching floral dresses, each sporting a pair of enormous Anna Sui sunglasses and giggling excitedly. Guam is duty-free, so you don't feel too bad picking up a hard-case wheelie from Rimowa. (Your old carry-on no longer qualifies as merely "broken in.")
All this money-saving has made you hungry. You head to the nearby Asia-meets-the-Marianas eatery Proa, a local favorite with big windows overlooking Ypao Beach. You start with a beggar's purse of big-eye ahi poke, a Hawaiian-style dish served with red rice, jicama, avocado and wasabi soy butter sauce. Next come soy-marinated short ribs with finadene, a local condiment made from vinegar, lemon, soy sauce and onions. You pop a red boonie pepper into your mouth and regret it. Easier to swallow is dessert: a creamy, brûléed purple cheesecake.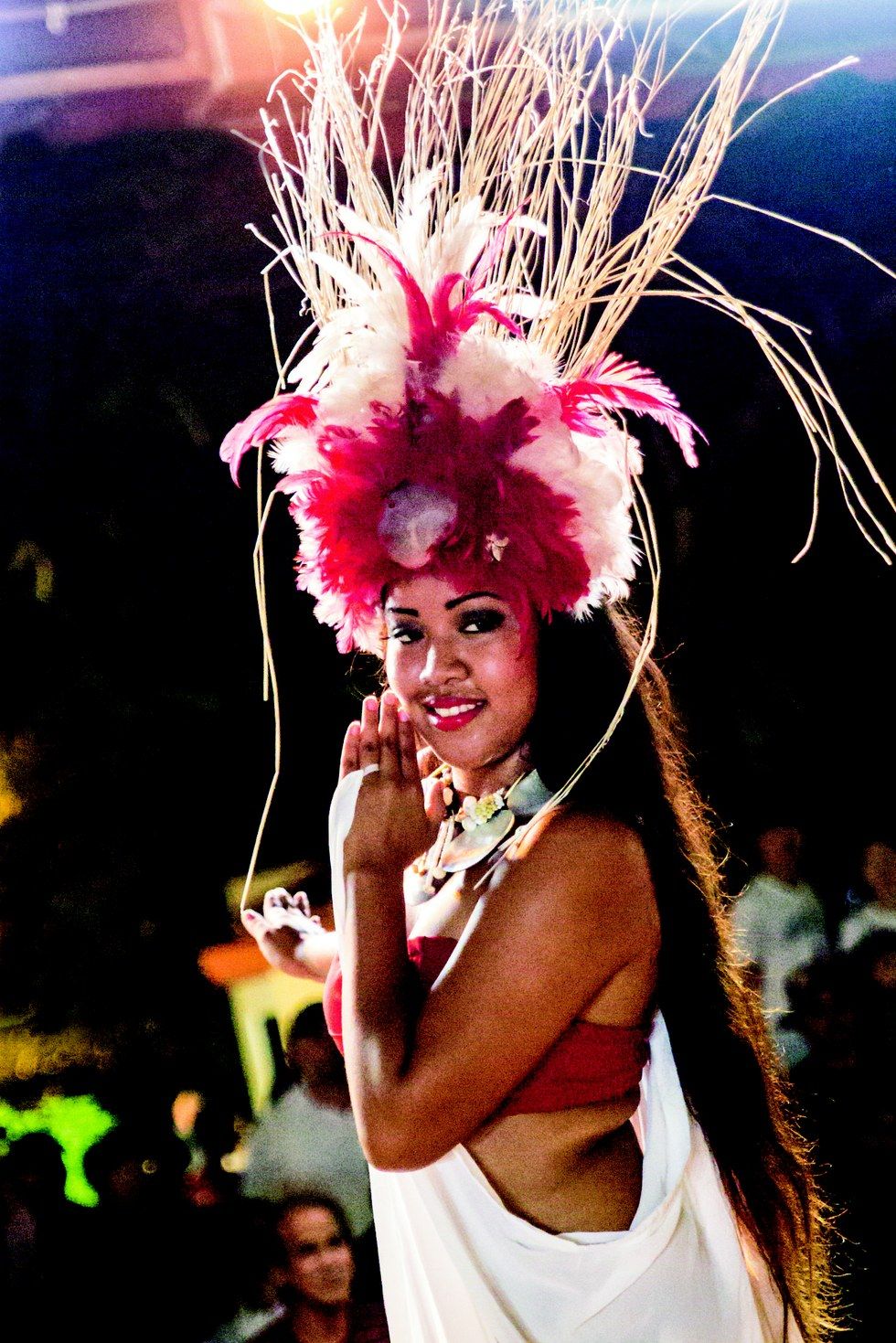 A Chamorrita dancer in traditional dress
Having rendered yourself unable to walk without the assistance of a crane, you decide to take a scenic drive along the road that hugs the southern curves of the island. Jungle-draped hills line the left side of the road, and an endless view of the Philippine Sea stretches away on your right.

Your first stop on the drive is the Latte of Freedom, the world's largest cup of milky coffee. OK, it's not that kind of latte—the word refers to an ancient pillar design, shaped like a mushroom with an inverted cap. The stones, thought by islanders to have mystical powers, now symbolize Chamorro culture, and this one, built in 2010, is the daddy of them all: 80 feet tall, with a viewing platform at the top.
There's an equally fine view from the Vietnam veterans memorial, I Memorias Para I Lalahi-ta: the angular hills, the Lego-like Umatac Bridge and Señora Nuestra de la Soledåd, a 19th-century Spanish fort that now lies mostly in ruins. You'd like to get a closer look at that.
Upon your arrival at the fort, a tattooed man with a large water buffalo in tow uses a machete to lop the end off a coconut, then offers it to you: "Drink!" You sip-walk up to the last remaining sentry post, its slit-like windows framing the misty beach below. This part of the island looks untouched by modern life, in stark contrast to the touristy haven of Tumon. You can't shake the feeling that you've traveled back in time.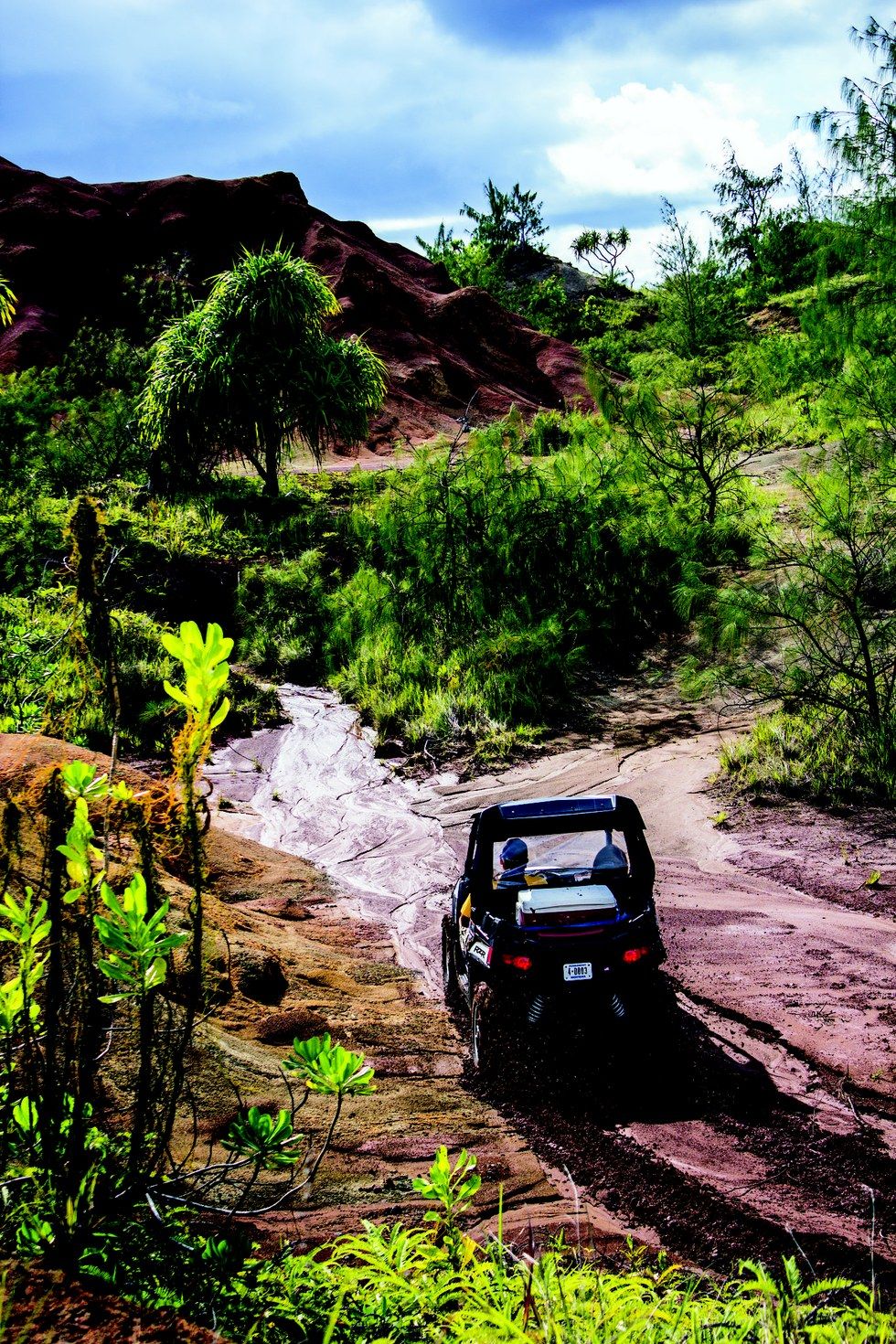 Off-roading in Guam's red-dirt hills with Jungle Rules Adventure Tours
Next, you drive through the Spanish-style village of Inarajan for a dip in its crater-like pools, where seawater rises and falls with the tide. Tourists snorkel in the water and locals hold fiestas in beachside pavilions. Two young Chamorro boys dare each other to jump off a platform into the sea. A gentle rain has spritzed the beach with a fine mist, alleviating the 80-odd degree heat. It's perfect. But, again, your appetite is getting the better of you.

Dinner tonight is at Guam's only German restaurant, McKraut's, in the tongue-twisting village Malojloj (Muh-low-low). A red-faced bartender dressed (unironically, you feel) in a feathered hat and lederhosen serves up big glasses of beer to a raucous crowd. You order the sweet Detmolder Thusnelda, all the better to wash down your smoked brats, spätzle and sauerkraut. "Das ist gut!" you say to the bartender, who looks back at you as if you are a lunatic. By sunset, the place is roaring, so you order another beer, followed by a few more. Taxi!
DAY TWO | You start the day with a quick splash. Drifting among the flickering fish, you spot a Picasso triggerfish, a wedge-shaped critter that looks as if it's been rolling around on an artist's palette. The fish returns your gaze, initiating a staring competition that ends with the arrival of a blacktip reef shark. You've read that these things are "a hazard, rather than a danger," which isn't all that encouraging. But maybe the shark read something similar—it hightails it away before you do.
Breakfast today is a few miles away at Pika's Cafe, a low-key Chamorro eatery that brims with chatty locals. You order the O.O.G. ("Only on Guam"), a heaping plate of tinalan katne (smoked meat), eggs, steamed rice and spicy-tangy finadene. "Mangge!" says the woman who served you. "Delicious, yes?" Yes.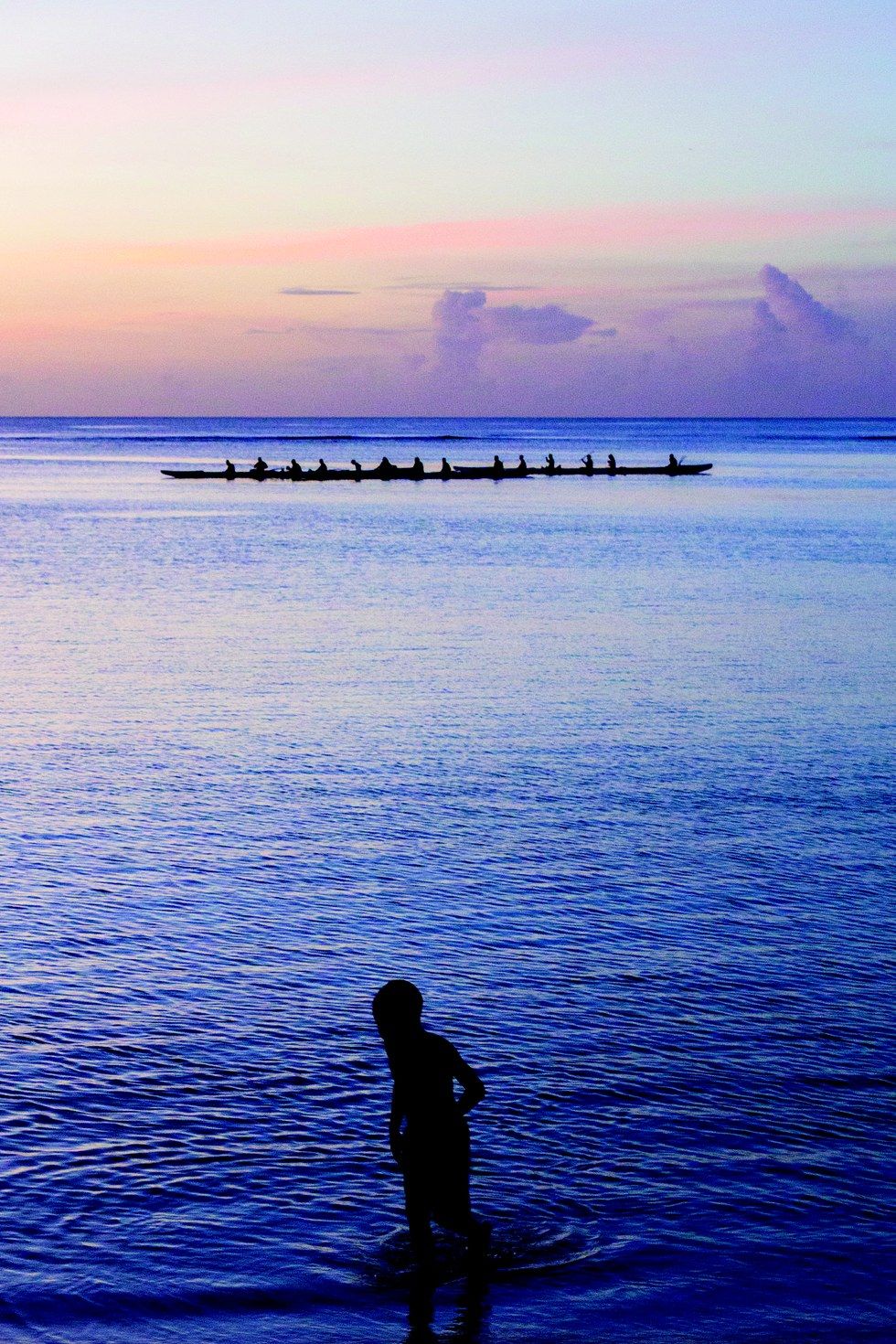 Rowers on Tumon Bay at sunset
Fortified, you meet up with Tony, a guide with Jungle Rules Adventure Tours. Your destination is the red-dirt hills of southwestern Guam, a swath of mostly uninhabited land. Your fellow passengers are a beef-fed Russian family. The only Russian words you know are "vodka" and "Putin"—so you decide to shut up and watch the countryside flash by.

Ill-advisedly, perhaps, Tony has agreed to let you have a go at driving. You wrestle with the steering wheel for an hour or so, juddering over undulating, otherworldly red hills. Perched on a hump in the shade of a single tree, you look out over the sea to the green splodge of Anae Island. Small boats bob about in the water. It's lovely, but you're itching to get back behind the wheel.
You head for even more rugged terrain, possibly going a little faster than you should. Tony promised you couldn't flip this vehicle, but you momentarily doubt his words as you soar over the rim of a massive red dune. One of your Russian passengers emits a flurry of what you assume are expletives.
As the white-knuckle tour reaches its conclusion, your passengers are visibly relieved. "USA amazing!" says the rotund guy who seemed to be swearing at you earlier, two thumbs up. Everyone is covered in a layer of red dirt, so you switch cars and head for Tanguisson Beach for a dip. The drive takes you along a precipitous and potholed road, which makes you pine for your SUV, or possibly a pair of sturdy hiking boots.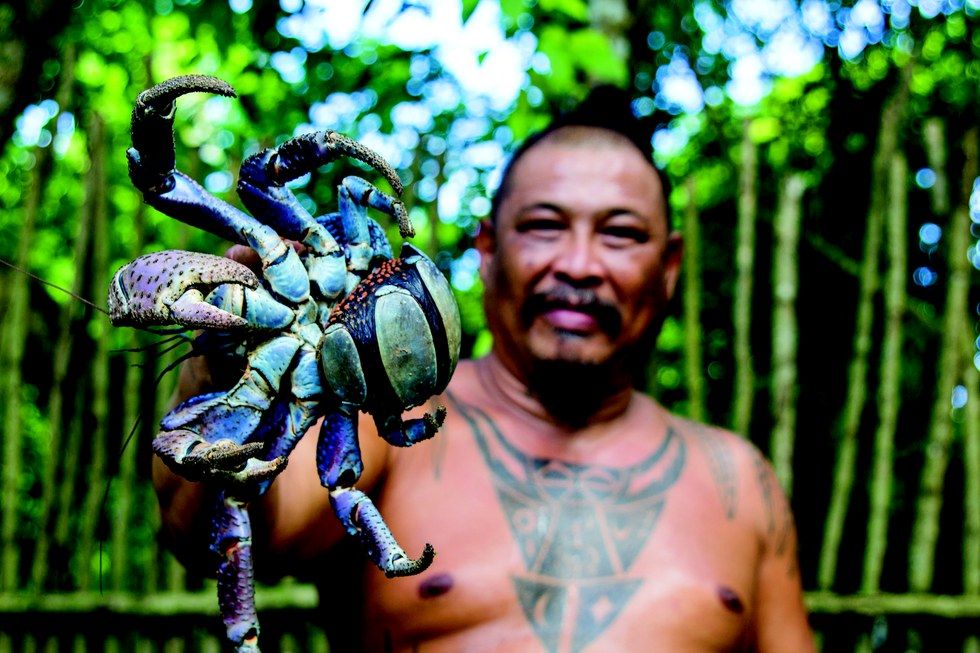 A local holds a coconut crab in Lina'la' Park
The beach more than makes up for whatever discomfort you endured along the way: Mushrooming coral plumes emerge from water the color of sea glass; huge cliffs rise at your back. It's also deserted, apart from a Micronesian woman in a floral skirt and a few kids splashing in the waves. You peel off your dirt-caked clothes and wade past the rocks into the surf.

Having cleaned up, you stroll the beach, wading into the water when the path disappears, to the even more picturesque Shark's Cove. You plop down on a lonely patch of sand and, despite the cove's name, slip on your snorkel and mask and reacquaint yourself with the island's psychedelic sea life.
Just before the sun sets, you drive to Two Lovers Point, a cantilevered platform atop a 400-foot cliff. Here, "long ago," two young Romeo-and-Juliet types are said to have tied their hair together and jumped to their deaths. It's not the most edifying story you've ever heard, but the views of the sea and the sharp cliffs are spectacular.
Your next stop is Tumon's tourist strip, home to the small but wildly popular Japanese restaurant Kai. Patrons are greeted loudly and served liberally from personalized shōchū bottles. Polaroid pictures of regulars adorn the walls. After some fried ginkgo nuts, you have a pink dragon roll, which is crunchy, salty and spicy, with sweet battered shrimp and tangy mayo drizzled on top. Yum. You autograph your shōchū bottle while the owner's wife snaps a photo and hangs it behind the bar.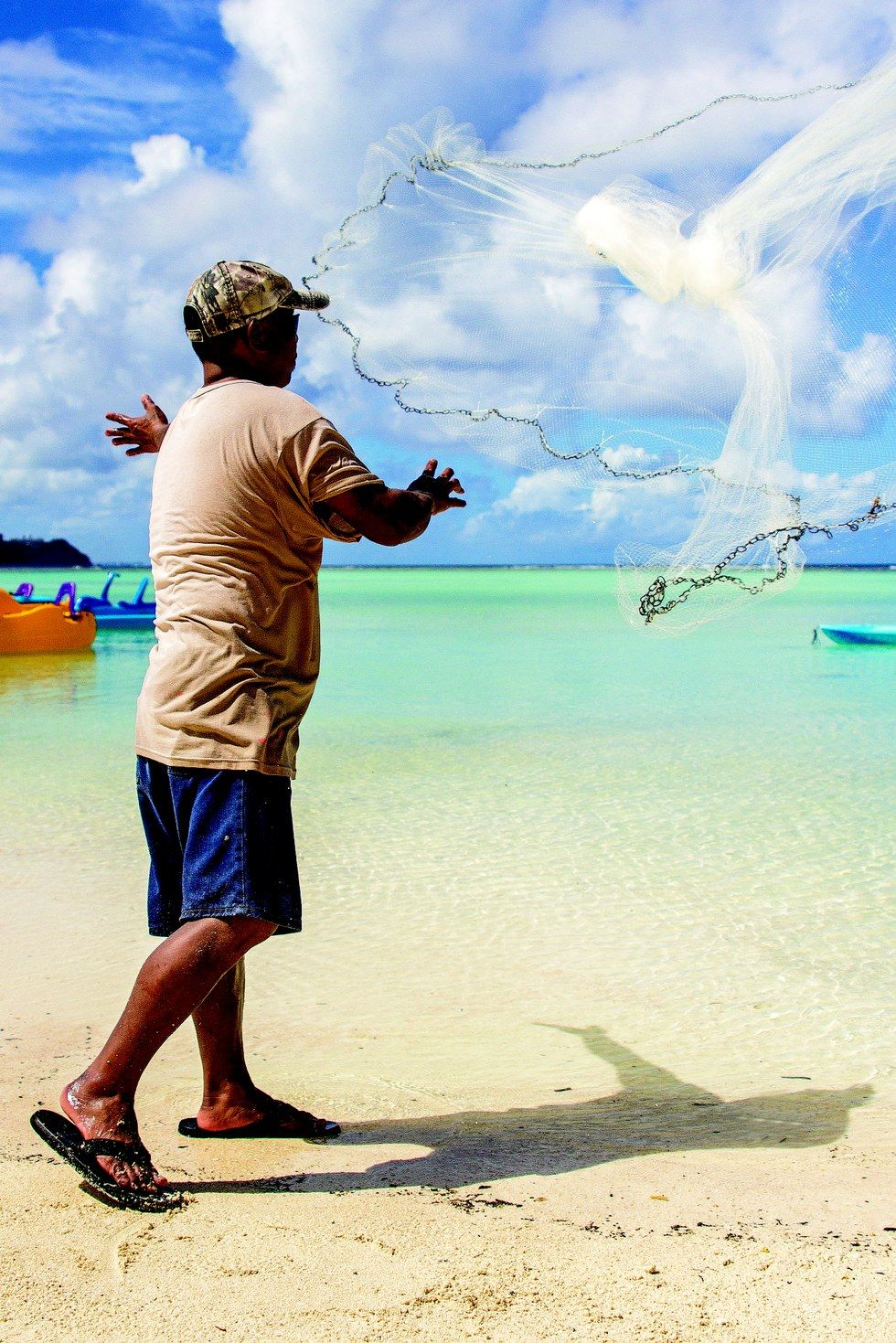 A throw-net fisherman at Tumon Bay
Happily pooped, you head to the second hotel of your stay, the Hilton Guam Resort & Spa, a modish Mediterranean resort at the opposite end of Tumon Bay. Tiki torches line the outdoor bar and surrounding pools. You can see Two Lovers Point from the infinity pool, where you sip a strawberry mojito. A cool breeze takes the edge off the humidity, so much so that your perma-frizz starts to unwind.

As relaxing as all this is, there's a fire dance show at the hotel's outdoor Tree Bar, which you feel you have to see. Nimble and deeply tanned youths swing flaming batons over their heads. The swirling fire, tropical heat and a cocktail or two have left you a bit woozy. You head upstairs and climb into bed, a steady drumbeat lulling you into a sleep that flickers with plunging lovers, Martian landscapes and grumpy little fish.
DAY THREE | You've booked an early Balinese-style massage at the hotel's Spa Ayualam, in an open-air cabana overlooking the bay. You disrobe and a petite woman gets to work on the knots caused by the previous day's adventure with the Russians. The combination of a gentle breeze, fragrant oil and the woman's expert fingers sends you to sleep.
Having been prodded awake by your masseuse, you shower and head down to the Hilton's Islander Terrace. The buffet bar heaves with both American breakfast food and dishes from the Far East. You fill your tray with miso soup, kimchi and oden, a stew of boiled eggs, daikon radishes and fishcakes in a dashi broth. It's wonderful.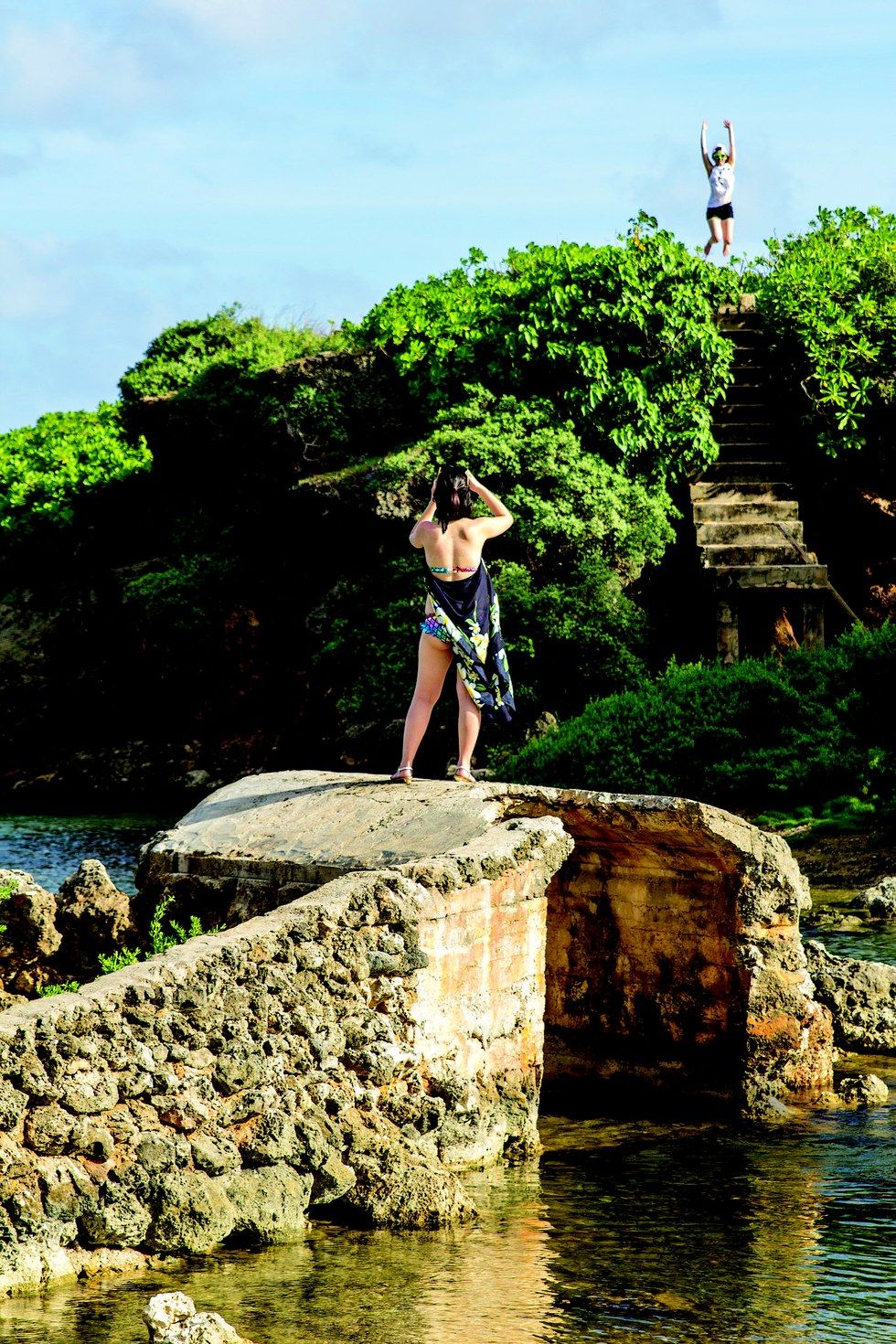 Tourists at the pools in Inarajan
You're tempted to go back to the beach, but you have a very different kind of aquatic experience in store. You hop in your car and head south, following the signs to Fish Eye Marine Park, where you're booked for an activity they call Seawalker. It starts in a circular building at the end of a narrow pier, where you are fitted with a sort of spaceman's helmet. Like those old diving suits, your helmet has a constant stream of air pumped in so you can breathe. Next, you descend a ladder, which takes you about 20 feet under the surface of Piti Bay. Your guide walks you out to a feeding area and hands you a clump of fish food. Immediately, you are surrounded by a rabble of impossibly bright and chummy creatures. No funny looks here.

Next, after an appetite-honing kayak trip, you head for Tumon's Gun Beach, home to The Beach Bar & Grill. On the deck, blaring reggae provides an odd soundtrack to a view dominated by a large rusty gun (one of the island's many reminders of its World War II battles). You start with a Beach Sunset—rum, amaretto, orange, pineapple, banana liqueur, grenadine and, uh, more rum—followed by a Tinian Beach Burger, a mammoth patty topped with cheese and bacon. Lunch over, you slide into a padded beach chair, lower your sunglasses and (yep) fall asleep.
Just next door is Lina'la' Beach & Culture Park, the centerpiece of which is a reproduction of a traditional thatch-and-latte Chamorro village. A man with one cheek full of betelnut hunches over a flat stone, grinding noni leaf. He hands you a sample. "Mm!" you say, thinking "Ew!" A moment later, a muscular man with coarse black hair wearing only a red loincloth shimmies up a coconut tree, tilts his torso parallel to the ground, then slides down. "That looked painful," you say. "Well," he replies, smiling, "maybe a little."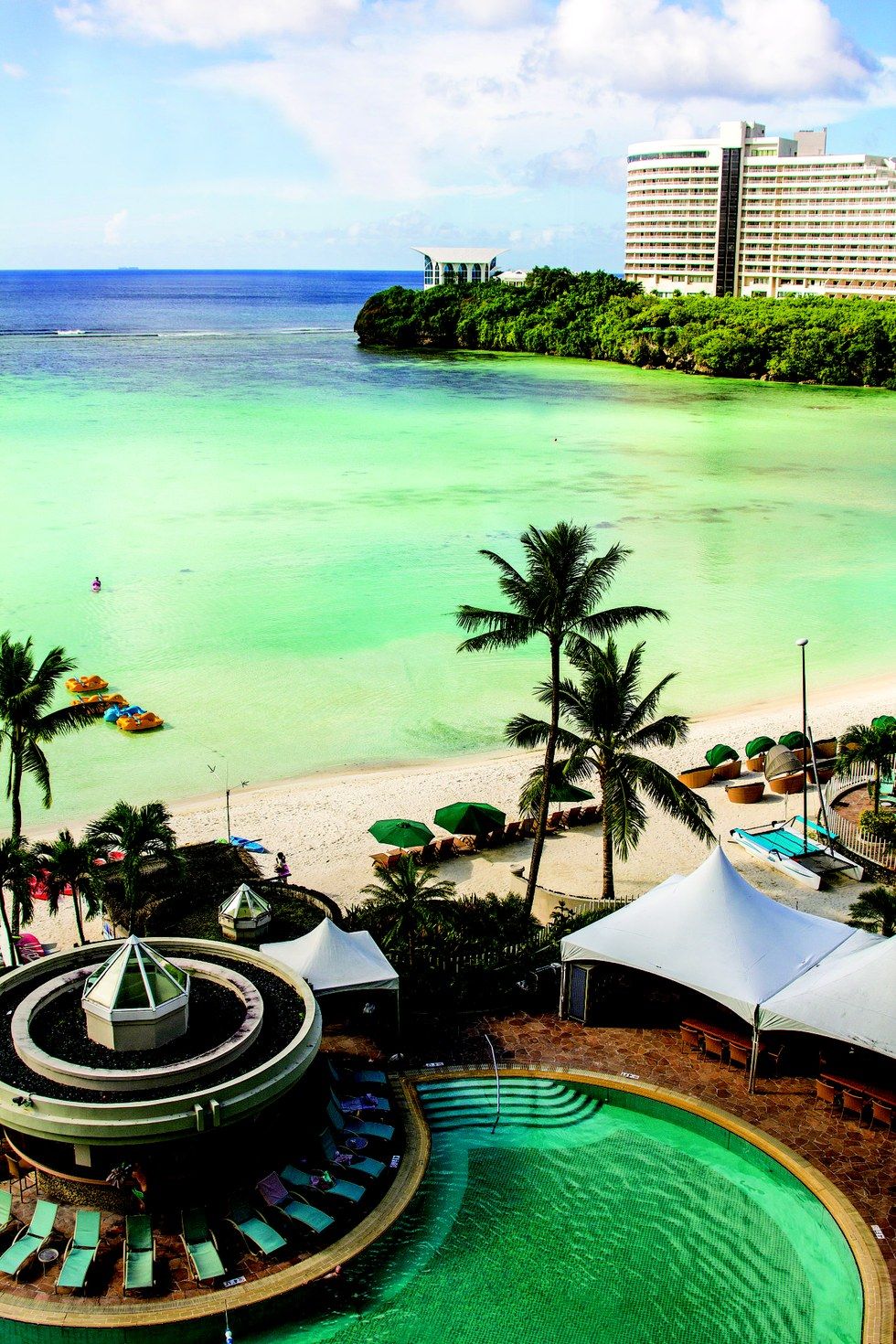 The view of the pool
As the sun sets, you drive south, to the capital city of Hagåtña, where you find Chamorro Village, Guam's largest indoor/outdoor market. Tables are piled with jewelry, paintings and straw baskets. The air is thick with the aroma of smoked meat. You head to Åsu Smokehouse and order a fiesta plate, which includes tender caramelized beef brisket, red rice and crisp cabbage slaw. Despite the large burger you tackled earlier, you eat it all.

From here, you find the only empty seat in the market's central pavilion. A band is playing a classic rock set that, oddly, involves a tuba and a ukulele. On the dance floor, a local woman is swaying her hips beside a man in a top hat lined with tinsel. She giggles as he twirls her around. You get the feeling these two are a staple here.
The narrow arteries of Hagåtña are filling with tourists sipping coconut milk from the shell. A grinning young man poses for a picture with a coconut crab that's about the size of a toddler. When they're not sipping and posing, the tourists are spending. It is tchotchke heaven here, an endless array of beads, baubles and wooden carvings. You are not immune. A stocky middle-age man dressed in a loincloth and holding a spear beckons you to his shop. You walk out with a clamshell pendant.
As you're readying yourself to leave, you spot a makeshift stage, upon which dancers with spears and grass skirts chant and sway to the furious beat of drums. Surrounded by chattering tourists, you cannot help but think of the island's knotted jungles, its mazy reefs and half-forgotten rituals. It strikes you now just how far away from home you are, and just how happy you are to be here.
Writer Jessica Peterson has called Guam home for five years, but her friends still ask her which "nesia" she lives on.
Around the web
Right now, around the world, brave members of America's armed forces are on duty, defending our freedom and upholding our values.
When not laser-focused on the mission at hand, they're looking forward to the day when their service to our nation is fulfilled and they can reunite with their families.
They are also imagining how they can use their hard-earned skills to build an exciting, rewarding and important career when they return home.
I want them to look no further than United Airlines.
That's why we are focused on recruiting, developing and championing veterans across our company, demonstrating to our returning women and men in uniform that United is the best possible place for them to put their training, knowledge, discipline and character to the noblest use.
They've developed their knowledge and skills in some of the worst of times. We hope they will use those skills to keep United performing at our best, all of the time.
That's why we are accelerating our efforts to onboard the best and the brightest, and substantially increasing our overall recruitment numbers each year.
We recently launched a new sponsorship program to support onboarding veterans into United and a new care package program to support deployed employees. It's one more reason why United continues to rank high - and rise higher - as a top workplace for veterans. In fact, we jumped 21 spots this year on Indeed.com's list of the top U.S workplaces for veterans. This is a testament to our increased recruiting efforts, as well as our efforts to create a culture where veterans feel valued and supported.
We use the special reach and resources of our global operations to partner with outstanding organizations. This is our way of stepping up and going the extra mile for all those who've stepped forward to answer our nation's call.
We do this year-round, and the month of November is no exception; however, it is exceptional, especially as we mark Veterans Day.
As we pay tribute to all Americans who have served in uniform and carried our flag into battle throughout our history, let's also keep our thoughts with the women and men who are serving around the world, now. They belong to a generation of post-9/11 veterans who've taken part in the longest sustained period of conflict in our history.

Never has so much been asked by so many of so few.... for so long. These heroes represent every color and creed. They are drawn from across the country and many immigrated to our shores.

They then freely choose to serve in the most distant and dangerous regions of the world, to protect democracy in its moments of maximum danger.
Wherever they serve - however they serve - whether they put on a uniform each day, or serve in ways which may never be fully known, these Americans wake up each morning willing to offer the "last full measure of devotion" on our behalf.
Every time they do so, they provide a stunning rebuke to the kinds of voices around the world who doubt freedom and democracy's ability to defend itself.
Unfortunately, we know there are those who seem to not understand – or say they do not - what it is that inspires a free people to step forward, willing to lay down their lives so that their country and fellow citizens might live.
But, we – who are both the wards and stewards of the democracy which has been preserved and handed down to us by veterans throughout our history – do understand.
We know that inciting fear and hatred of others is a source of weakness, not strength. And such divisive rhetoric can never inspire solidarity or sacrifice like love for others and love of country can.
It is this quality of devotion that we most honor in our veterans - those who have served, do serve and will serve.
On behalf of a grateful family of 96,000, thank you for your service.
Humbly,
Oscar
Each year around Veterans Day, Indeed, one of the world's largest job search engines, rates companies based on actual employee reviews to identify which ones offer the best opportunities and benefits for current and former U.S. military members. Our dramatic improvement in the rankings this year reflects a stronger commitment than ever before to actively recruiting, developing and nurturing veteran talent.
"We've spent a lot of time over the past 12 months looking for ways to better connect with our employees who served and attract new employees from the military ranks," said Global Catering Operations and Logistics Managing Director Ryan Melby, a U.S. Army veteran and the president of our United for Veterans business resource group.
"Our group is launching a mentorship program, for instance, where we'll assign existing employee-veterans to work with new hires who come to us from the armed forces. Having a friend and an ally like that, someone who can help you translate the skills you picked up in the military to what we do as a civilian company, is invaluable. That initiative is still in its infancy, but I'm really optimistic about what it can do for United and for our veteran population here."
Impressively, we were the only one of our industry peers to move up on the list, further evidence that we're on a good track as a company.
The question of where David Ferrari was had haunted retired U.S. Army Sergeant Major Vincent Salceto for the better part of 66 years.
Rarely did a week go by that Salceto didn't think about his old friend. Often, he relived their last moments together in a recurring nightmare. In it, it's once again 1953 and Salceto and Ferrari are patrolling a valley in what is now North Korea. Suddenly, explosions shatter the silence and flares light up the night sky.
Crouching under a barrage of bullets, Salceto, the squad's leader, drags two of his men to safety, then he sees Ferrari lying face down on the ground. He runs out to help him, but he's too late. And that's when he always wakes up.
Italian Americans from opposite coasts – Salceto from Philadelphia, Ferrari from San Francisco – the two became close, almost like brothers, after being assigned to the same unit during the Korean War. When Ferrari died, it hit Salceto hard.
"After that, I never let anyone get close to me like I did with Dave," he says. "I couldn't; I didn't want to go through that again."
When the war ended, Salceto wanted to tell Ferrari's family how brave their son and brother had been in battle. Most of all, he wanted to salute his friend at his gravesite and give him a proper farewell.
For decades, though, Salceto had no luck finding his final resting place or locating any of his relatives. Then, in June of this year, he uncovered a clue that led him to the Italian Cemetary in Colma, California, where Ferrari is buried.
Within days, Salceto, who lives in Franklinville, New Jersey, was packed and sitting aboard United Flight 731 from Philadelphia to San Francisco with his wife, Amy, and daughter, Donna Decker, on his way to Colma. For such a meaningful trip, he even wore his Army dress uniform.
That's how San Francisco-based flight attendant Noreen Baldwin spotted him as he walked down the jet bridge to get on the plane.
"I saw him and said to the other crew members, 'Oh my goodness, look at this guy,'" she says. "I knew there had to be a story."
The two struck up a conversation and Salceto told Baldwin why he was traveling. She got emotional listening to him talk and made a point of fussing over him, making sure he and his family had everything they needed.
About halfway through the flight, Baldwin had an idea. She and her fellow crew members would write messages of encouragement to Salceto and invite his fellow passengers to do the same.
"We did it discreetly," says Baldwin. "I asked the customers if they saw the man in uniform, which most had, and asked them if they wanted to write a few words for him on a cocktail napkin. A lot of people did; families did it together, parents got their kids to write something. After the first few rows, I was so choked up that I could barely talk."
When Baldwin surprised Salceto with dozens of hand-written notes, he, too, was speechless. He laid the stack on his lap and read each one. At the same time, the pilots made an announcement about the veteran over the loud speaker, after which the customers on board burst into applause.
"It seems contrived, and I hate using the word organic, but that's what it was; it just happened," Baldwin says. "Mr. Salceto was so loveable and humble, and what he was doing was so incredible, it felt like the right thing to do. And you could tell he was touched."
On June 27, Salceto finally stood before Ferrari's grave and said that long-awaited goodbye. As a trumpeter played "Taps," he unpinned a medal from his jacket and laid it reverently on the headstone.
"I had gotten a Bronze Star for my actions [the night Ferrari died] with a 'V' for valor, and that was the medal I put on Dave's grave," says Salceto, pausing to fight back tears. "I thought he was more deserving of it than I was."
For the first time in years, Salceto felt at peace. His mission was accomplished.
Scroll to top