Three Perfect Days: Guam
Story and photography by Jessica Peterson | Hemispheres, February 2015
With its pristine waters, diverse landscape, rich cultural heritage and burgeoning hospitality industry, this tiny tropical island is set to be the next big thing
Long known as a playground for Japanese tourists, the tropical island of Guam isn't short on Americans, either. A U.S. territory since 1898, it's home to a few far-flung military bases. That said, Guam is enchantingly quiet, encouragingly unspoiled. It's also very small—at about 30 miles long and 12 miles wide at its broadest, this peanut-shaped island has a resident population of around 161,000.
Guam's geography is impressively diverse, given the island's size. In the south, you'll find stands of bamboo and rolling hills; in the north, the beaches are often overshadowed by dramatic limestone cliffs. The southernmost of the Mariana island chain, Guam boasts pristine waters riddled with coral reefs, all of which teem with tropical fish. Culturally, the island has maintained its indigenous Chamorro traditions.
In recent years, Guam has involved itself in a process of renewal—its Spanish forts have been joined by fashion outlets, its ancient settlements by high-end hotels. While it has refused to be pigeonholed as Hawaii Jr., Guam is becoming an increasingly popular venue for scuba divers and bargain hunters, history buffs and even foodies. You could say, in fact, that this tiny island is on its way to becoming the next big thing in tropical getaways.
DAY ONE | You've invented a game while standing on your 19th-floor balcony at the Westin Resort, overlooking a broad horseshoe of coral-mottled water. You call the game "Island Bingo," and it involves checking off all the paradisiacal props within view: coconut palms, flawless sky, turquoise sea, white sand. Bingo!
Having realized you are still in your underwear (some views are best left unseen), you grab a robe and munch on pastel macarons and juicy strawberries while gazing at the travel brochure–worthy panorama before you. From here, it's a quick trip down in the elevator and a two-minute stroll to the beach before your toes are being tickled by the water of Tumon Bay.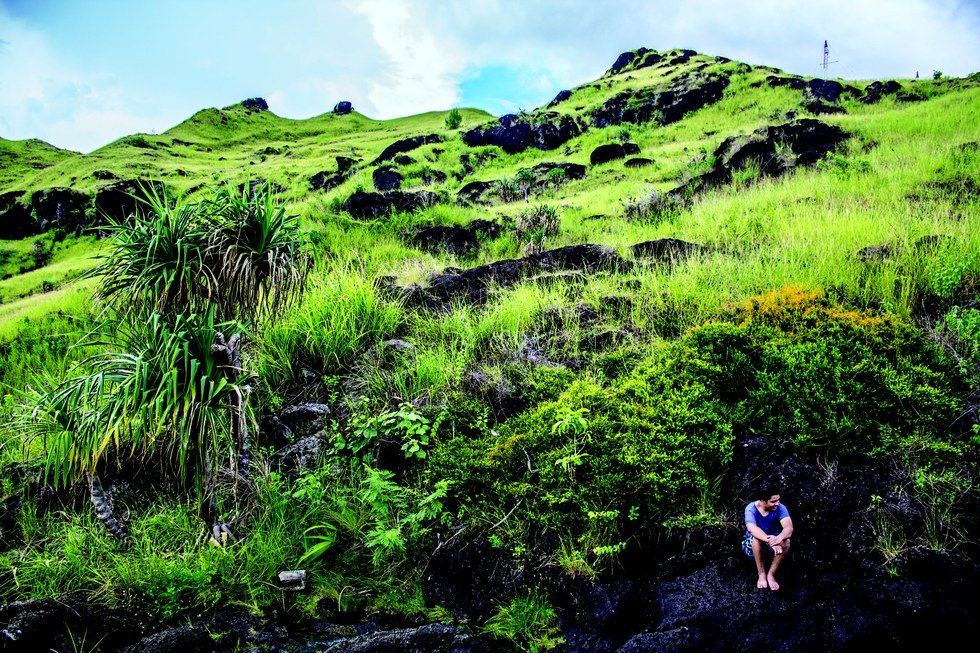 Taking a break at Priest Pools Hill
Tumon Bay has Guam's most manicured strip of sand. Chain hotels and stained-glass wedding chapels skirt the beach, which is flanked by tropical jungle and rocky cliffs. Tumon is protected by a barrier reef—there are more than 1,000 species of tropical fish in the bay alone. You've brought a snorkel along, so you join a handful of seafaring oglers, drifting among hundreds of coral outcrops. An oriental sweetlips approaches, flapping its leopard-like tail and regarding you disapprovingly, followed by a startled-looking convict tang. You'd think they'd be used to us by now.

Back on the sand, a Chamorro man—one of the island's indigenous people—casts a circular net and hauls in a handful of tiny mañåhak, a seasonal catch that is eaten fried or pickled in salt and lemon juice. He's wearing a T-shirt, shorts and flip-flops. He says, "Hafa Adai" (Chamorro for "hello," and a phrase you will hear with reliable frequency during your time here) and beckons you over to look at his catch, a mix of finger-length white and silver fish.
Your skin is starting to resemble that of a fiery squirrelfish, so you leave the beach and head for The Plaza Shopping Center, a two-story mall that houses an array of luxury fashion brands. You pass a trio of Japanese women in matching floral dresses, each sporting a pair of enormous Anna Sui sunglasses and giggling excitedly. Guam is duty-free, so you don't feel too bad picking up a hard-case wheelie from Rimowa. (Your old carry-on no longer qualifies as merely "broken in.")
All this money-saving has made you hungry. You head to the nearby Asia-meets-the-Marianas eatery Proa, a local favorite with big windows overlooking Ypao Beach. You start with a beggar's purse of big-eye ahi poke, a Hawaiian-style dish served with red rice, jicama, avocado and wasabi soy butter sauce. Next come soy-marinated short ribs with finadene, a local condiment made from vinegar, lemon, soy sauce and onions. You pop a red boonie pepper into your mouth and regret it. Easier to swallow is dessert: a creamy, brûléed purple cheesecake.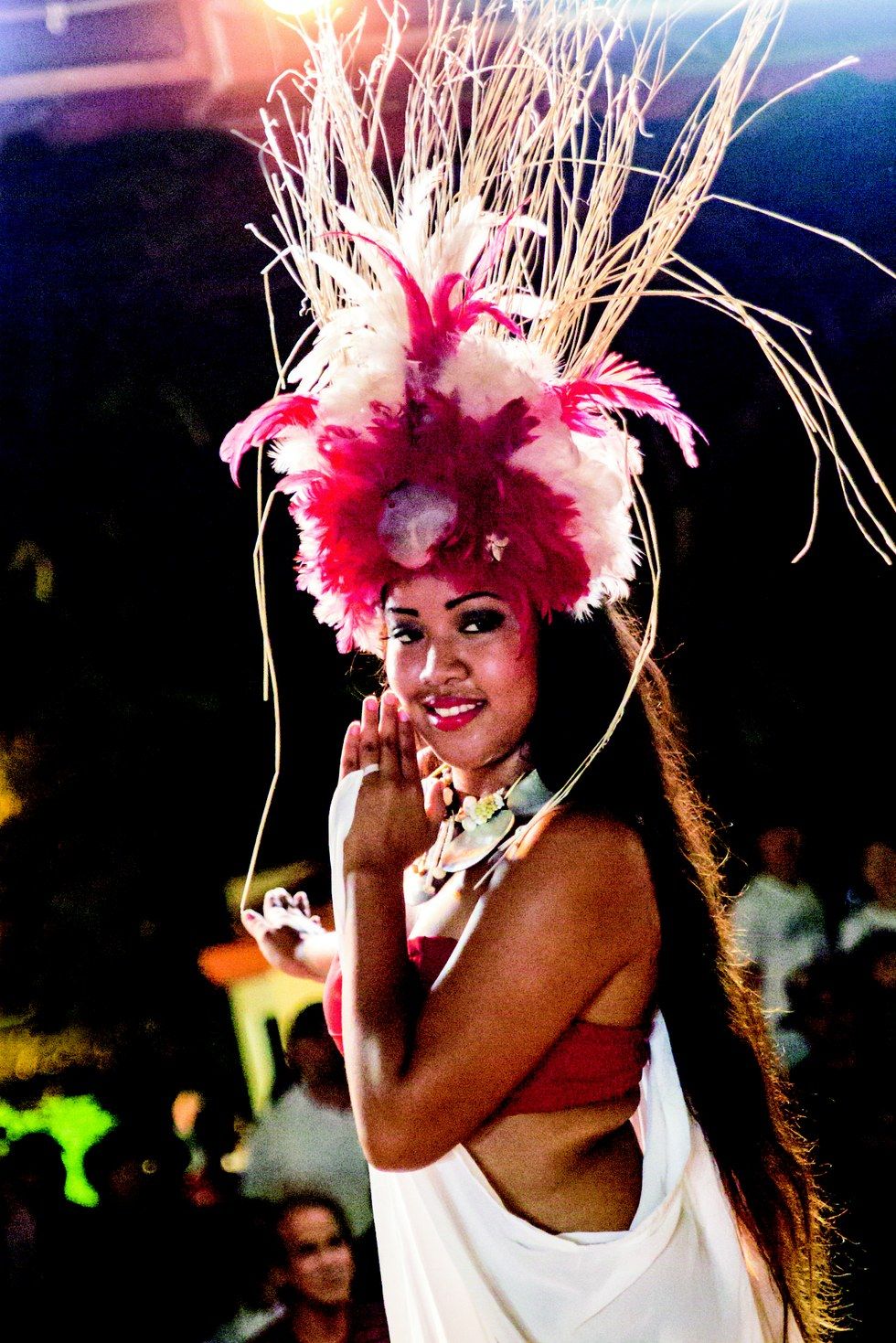 A Chamorrita dancer in traditional dress
Having rendered yourself unable to walk without the assistance of a crane, you decide to take a scenic drive along the road that hugs the southern curves of the island. Jungle-draped hills line the left side of the road, and an endless view of the Philippine Sea stretches away on your right.

Your first stop on the drive is the Latte of Freedom, the world's largest cup of milky coffee. OK, it's not that kind of latte—the word refers to an ancient pillar design, shaped like a mushroom with an inverted cap. The stones, thought by islanders to have mystical powers, now symbolize Chamorro culture, and this one, built in 2010, is the daddy of them all: 80 feet tall, with a viewing platform at the top.
There's an equally fine view from the Vietnam veterans memorial, I Memorias Para I Lalahi-ta: the angular hills, the Lego-like Umatac Bridge and Señora Nuestra de la Soledåd, a 19th-century Spanish fort that now lies mostly in ruins. You'd like to get a closer look at that.
Upon your arrival at the fort, a tattooed man with a large water buffalo in tow uses a machete to lop the end off a coconut, then offers it to you: "Drink!" You sip-walk up to the last remaining sentry post, its slit-like windows framing the misty beach below. This part of the island looks untouched by modern life, in stark contrast to the touristy haven of Tumon. You can't shake the feeling that you've traveled back in time.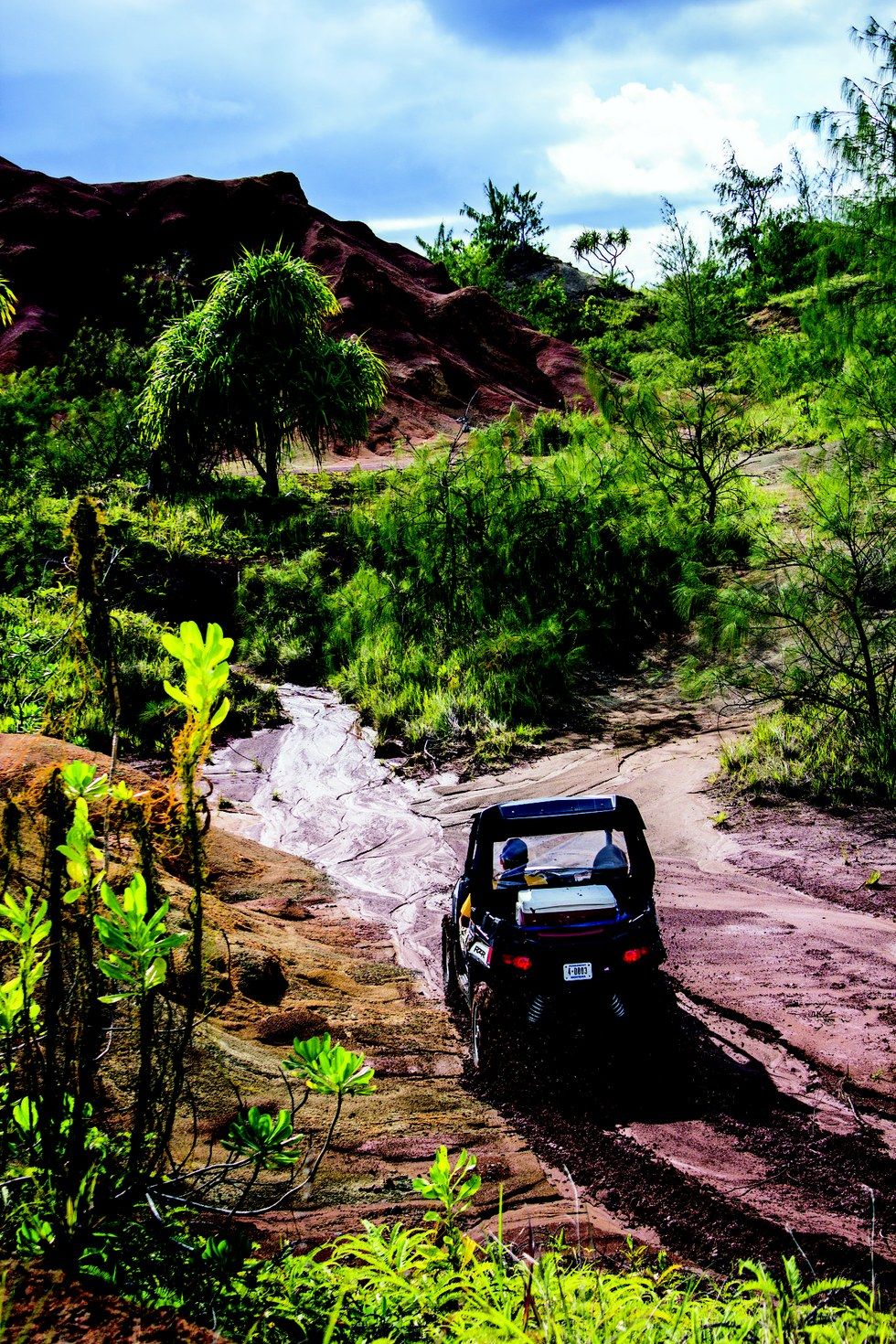 Off-roading in Guam's red-dirt hills with Jungle Rules Adventure Tours
Next, you drive through the Spanish-style village of Inarajan for a dip in its crater-like pools, where seawater rises and falls with the tide. Tourists snorkel in the water and locals hold fiestas in beachside pavilions. Two young Chamorro boys dare each other to jump off a platform into the sea. A gentle rain has spritzed the beach with a fine mist, alleviating the 80-odd degree heat. It's perfect. But, again, your appetite is getting the better of you.

Dinner tonight is at Guam's only German restaurant, McKraut's, in the tongue-twisting village Malojloj (Muh-low-low). A red-faced bartender dressed (unironically, you feel) in a feathered hat and lederhosen serves up big glasses of beer to a raucous crowd. You order the sweet Detmolder Thusnelda, all the better to wash down your smoked brats, spätzle and sauerkraut. "Das ist gut!" you say to the bartender, who looks back at you as if you are a lunatic. By sunset, the place is roaring, so you order another beer, followed by a few more. Taxi!
DAY TWO | You start the day with a quick splash. Drifting among the flickering fish, you spot a Picasso triggerfish, a wedge-shaped critter that looks as if it's been rolling around on an artist's palette. The fish returns your gaze, initiating a staring competition that ends with the arrival of a blacktip reef shark. You've read that these things are "a hazard, rather than a danger," which isn't all that encouraging. But maybe the shark read something similar—it hightails it away before you do.
Breakfast today is a few miles away at Pika's Cafe, a low-key Chamorro eatery that brims with chatty locals. You order the O.O.G. ("Only on Guam"), a heaping plate of tinalan katne (smoked meat), eggs, steamed rice and spicy-tangy finadene. "Mangge!" says the woman who served you. "Delicious, yes?" Yes.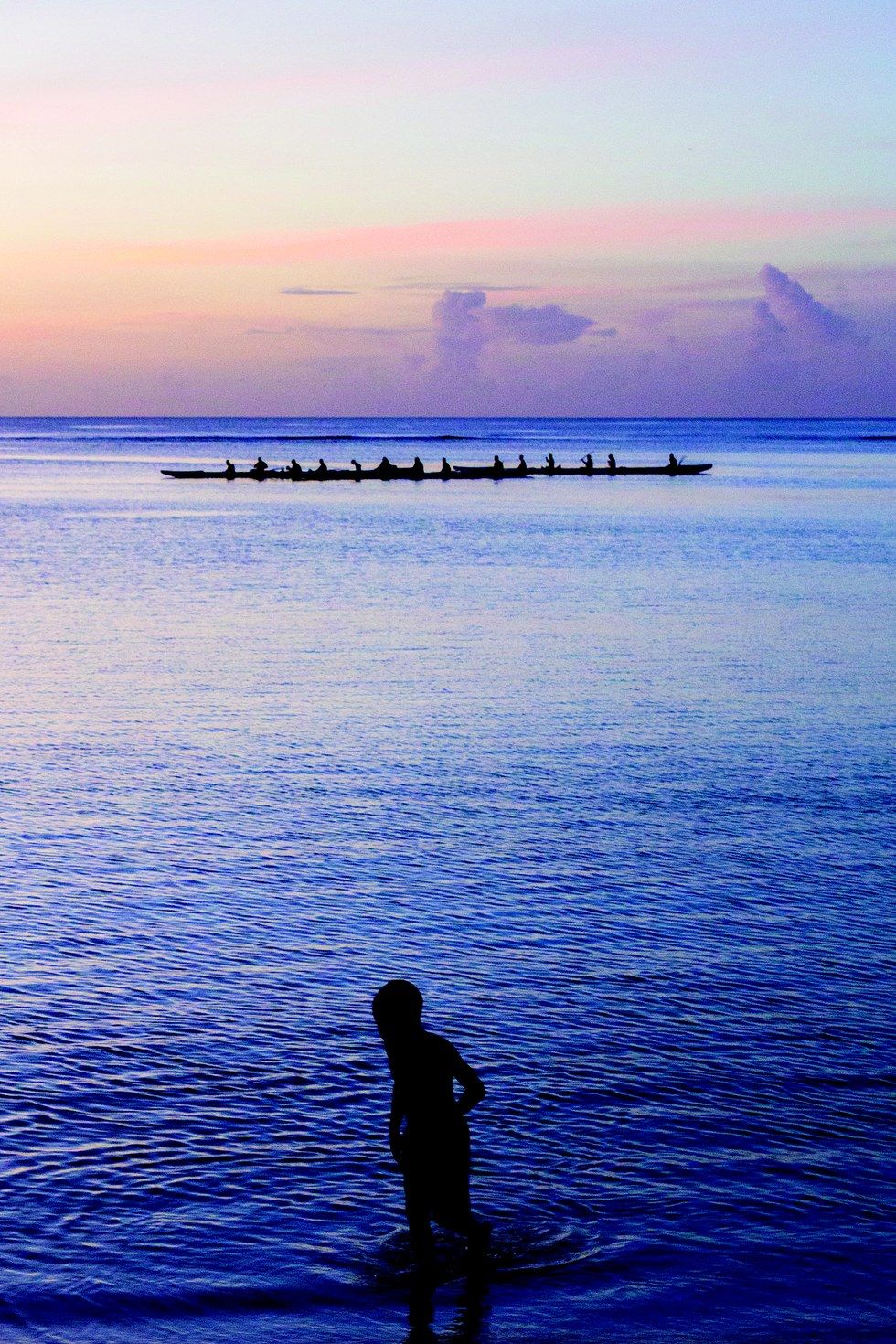 Rowers on Tumon Bay at sunset
Fortified, you meet up with Tony, a guide with Jungle Rules Adventure Tours. Your destination is the red-dirt hills of southwestern Guam, a swath of mostly uninhabited land. Your fellow passengers are a beef-fed Russian family. The only Russian words you know are "vodka" and "Putin"—so you decide to shut up and watch the countryside flash by.

Ill-advisedly, perhaps, Tony has agreed to let you have a go at driving. You wrestle with the steering wheel for an hour or so, juddering over undulating, otherworldly red hills. Perched on a hump in the shade of a single tree, you look out over the sea to the green splodge of Anae Island. Small boats bob about in the water. It's lovely, but you're itching to get back behind the wheel.
You head for even more rugged terrain, possibly going a little faster than you should. Tony promised you couldn't flip this vehicle, but you momentarily doubt his words as you soar over the rim of a massive red dune. One of your Russian passengers emits a flurry of what you assume are expletives.
As the white-knuckle tour reaches its conclusion, your passengers are visibly relieved. "USA amazing!" says the rotund guy who seemed to be swearing at you earlier, two thumbs up. Everyone is covered in a layer of red dirt, so you switch cars and head for Tanguisson Beach for a dip. The drive takes you along a precipitous and potholed road, which makes you pine for your SUV, or possibly a pair of sturdy hiking boots.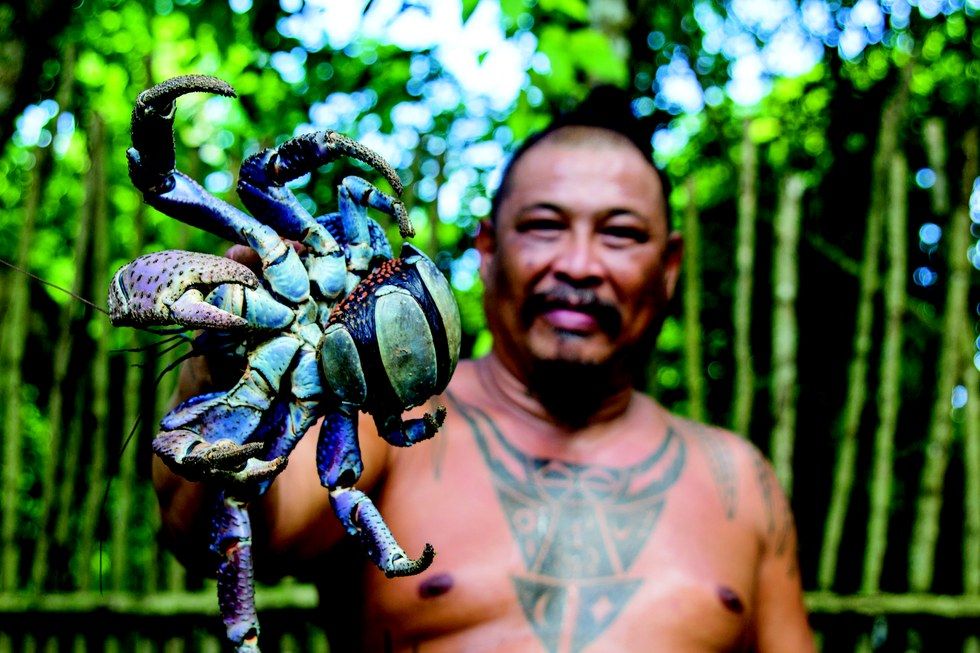 A local holds a coconut crab in Lina'la' Park
The beach more than makes up for whatever discomfort you endured along the way: Mushrooming coral plumes emerge from water the color of sea glass; huge cliffs rise at your back. It's also deserted, apart from a Micronesian woman in a floral skirt and a few kids splashing in the waves. You peel off your dirt-caked clothes and wade past the rocks into the surf.

Having cleaned up, you stroll the beach, wading into the water when the path disappears, to the even more picturesque Shark's Cove. You plop down on a lonely patch of sand and, despite the cove's name, slip on your snorkel and mask and reacquaint yourself with the island's psychedelic sea life.
Just before the sun sets, you drive to Two Lovers Point, a cantilevered platform atop a 400-foot cliff. Here, "long ago," two young Romeo-and-Juliet types are said to have tied their hair together and jumped to their deaths. It's not the most edifying story you've ever heard, but the views of the sea and the sharp cliffs are spectacular.
Your next stop is Tumon's tourist strip, home to the small but wildly popular Japanese restaurant Kai. Patrons are greeted loudly and served liberally from personalized shōchū bottles. Polaroid pictures of regulars adorn the walls. After some fried ginkgo nuts, you have a pink dragon roll, which is crunchy, salty and spicy, with sweet battered shrimp and tangy mayo drizzled on top. Yum. You autograph your shōchū bottle while the owner's wife snaps a photo and hangs it behind the bar.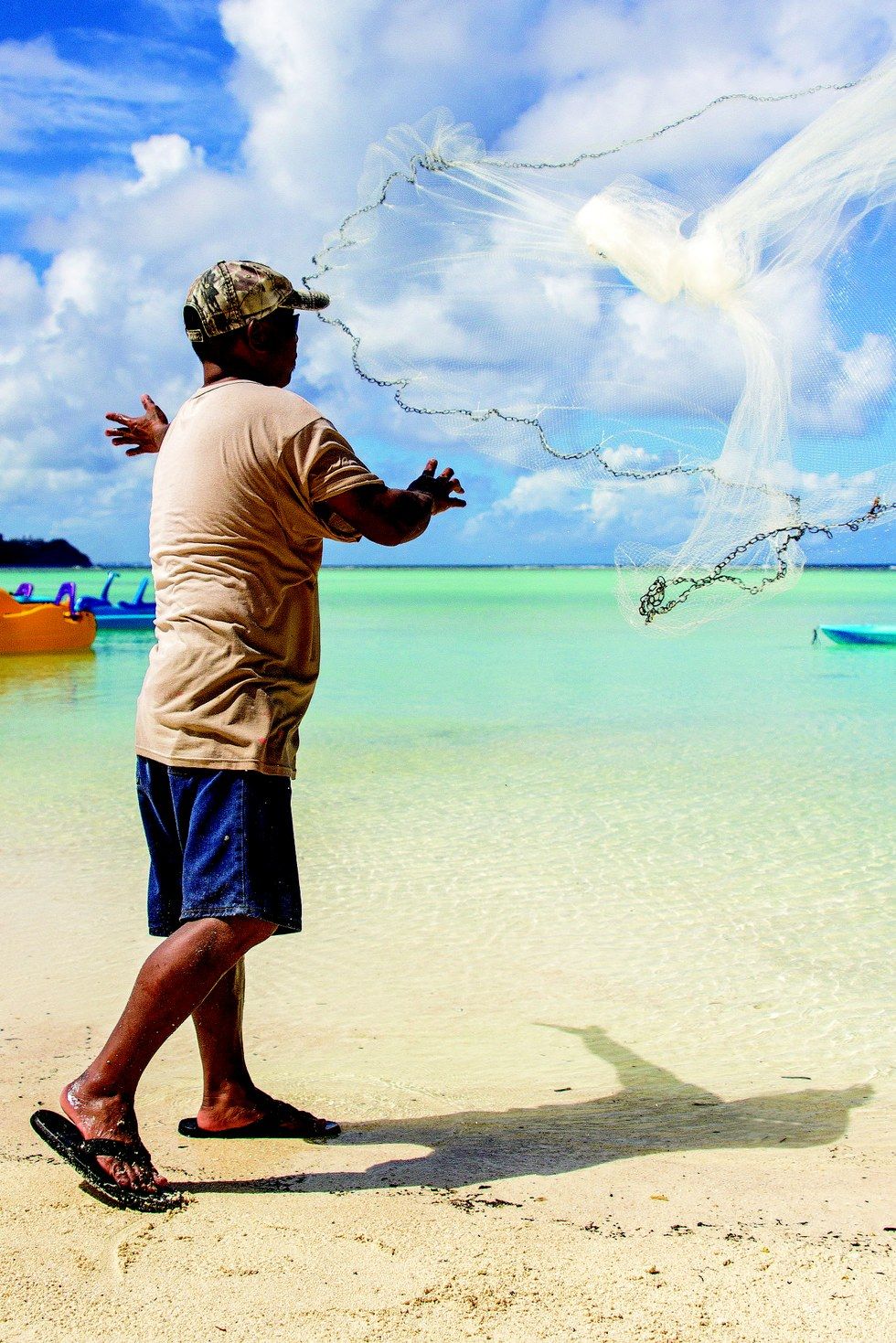 A throw-net fisherman at Tumon Bay
Happily pooped, you head to the second hotel of your stay, the Hilton Guam Resort & Spa, a modish Mediterranean resort at the opposite end of Tumon Bay. Tiki torches line the outdoor bar and surrounding pools. You can see Two Lovers Point from the infinity pool, where you sip a strawberry mojito. A cool breeze takes the edge off the humidity, so much so that your perma-frizz starts to unwind.

As relaxing as all this is, there's a fire dance show at the hotel's outdoor Tree Bar, which you feel you have to see. Nimble and deeply tanned youths swing flaming batons over their heads. The swirling fire, tropical heat and a cocktail or two have left you a bit woozy. You head upstairs and climb into bed, a steady drumbeat lulling you into a sleep that flickers with plunging lovers, Martian landscapes and grumpy little fish.
DAY THREE | You've booked an early Balinese-style massage at the hotel's Spa Ayualam, in an open-air cabana overlooking the bay. You disrobe and a petite woman gets to work on the knots caused by the previous day's adventure with the Russians. The combination of a gentle breeze, fragrant oil and the woman's expert fingers sends you to sleep.
Having been prodded awake by your masseuse, you shower and head down to the Hilton's Islander Terrace. The buffet bar heaves with both American breakfast food and dishes from the Far East. You fill your tray with miso soup, kimchi and oden, a stew of boiled eggs, daikon radishes and fishcakes in a dashi broth. It's wonderful.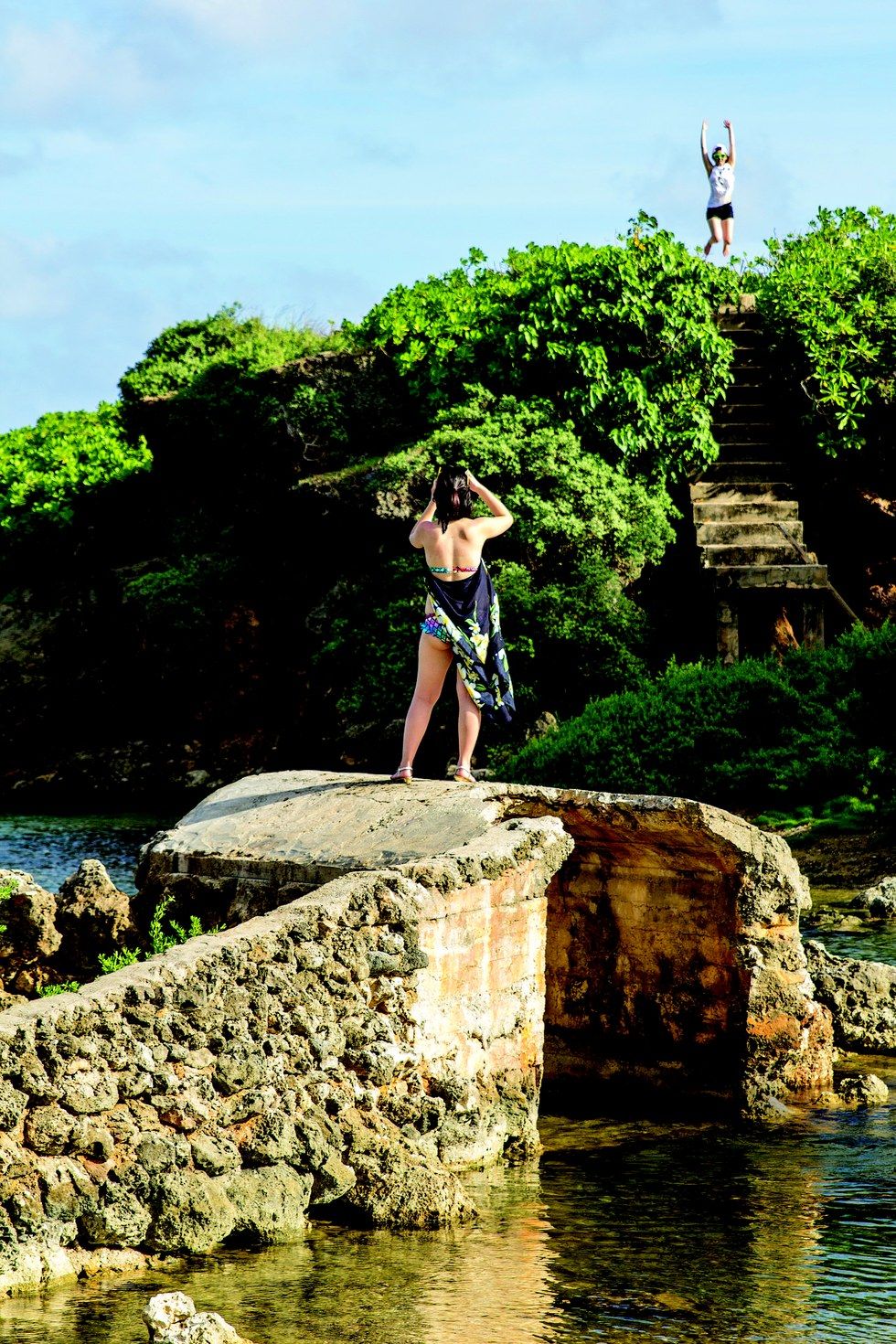 Tourists at the pools in Inarajan
You're tempted to go back to the beach, but you have a very different kind of aquatic experience in store. You hop in your car and head south, following the signs to Fish Eye Marine Park, where you're booked for an activity they call Seawalker. It starts in a circular building at the end of a narrow pier, where you are fitted with a sort of spaceman's helmet. Like those old diving suits, your helmet has a constant stream of air pumped in so you can breathe. Next, you descend a ladder, which takes you about 20 feet under the surface of Piti Bay. Your guide walks you out to a feeding area and hands you a clump of fish food. Immediately, you are surrounded by a rabble of impossibly bright and chummy creatures. No funny looks here.

Next, after an appetite-honing kayak trip, you head for Tumon's Gun Beach, home to The Beach Bar & Grill. On the deck, blaring reggae provides an odd soundtrack to a view dominated by a large rusty gun (one of the island's many reminders of its World War II battles). You start with a Beach Sunset—rum, amaretto, orange, pineapple, banana liqueur, grenadine and, uh, more rum—followed by a Tinian Beach Burger, a mammoth patty topped with cheese and bacon. Lunch over, you slide into a padded beach chair, lower your sunglasses and (yep) fall asleep.
Just next door is Lina'la' Beach & Culture Park, the centerpiece of which is a reproduction of a traditional thatch-and-latte Chamorro village. A man with one cheek full of betelnut hunches over a flat stone, grinding noni leaf. He hands you a sample. "Mm!" you say, thinking "Ew!" A moment later, a muscular man with coarse black hair wearing only a red loincloth shimmies up a coconut tree, tilts his torso parallel to the ground, then slides down. "That looked painful," you say. "Well," he replies, smiling, "maybe a little."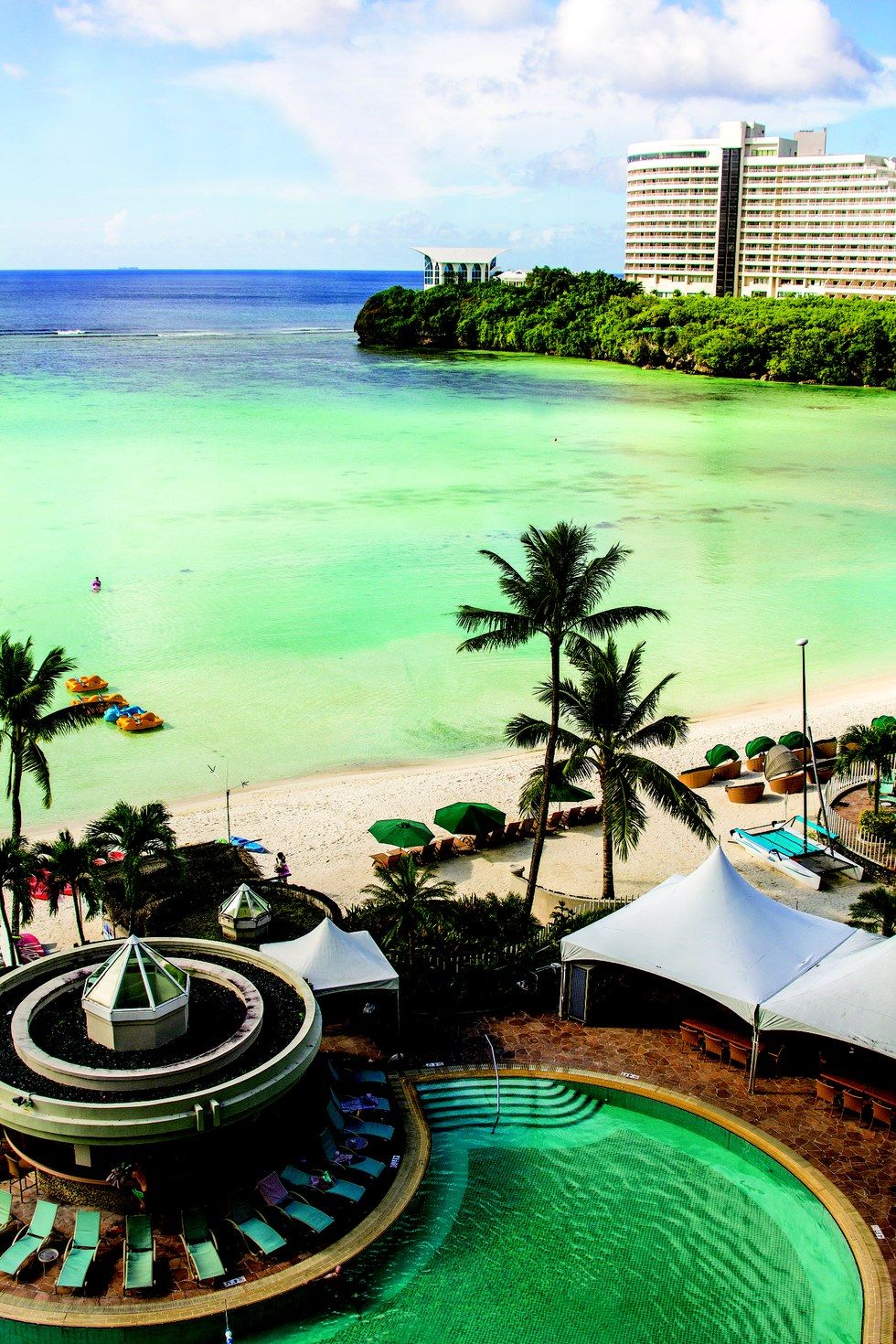 The view of the pool
As the sun sets, you drive south, to the capital city of Hagåtña, where you find Chamorro Village, Guam's largest indoor/outdoor market. Tables are piled with jewelry, paintings and straw baskets. The air is thick with the aroma of smoked meat. You head to Åsu Smokehouse and order a fiesta plate, which includes tender caramelized beef brisket, red rice and crisp cabbage slaw. Despite the large burger you tackled earlier, you eat it all.

From here, you find the only empty seat in the market's central pavilion. A band is playing a classic rock set that, oddly, involves a tuba and a ukulele. On the dance floor, a local woman is swaying her hips beside a man in a top hat lined with tinsel. She giggles as he twirls her around. You get the feeling these two are a staple here.
The narrow arteries of Hagåtña are filling with tourists sipping coconut milk from the shell. A grinning young man poses for a picture with a coconut crab that's about the size of a toddler. When they're not sipping and posing, the tourists are spending. It is tchotchke heaven here, an endless array of beads, baubles and wooden carvings. You are not immune. A stocky middle-age man dressed in a loincloth and holding a spear beckons you to his shop. You walk out with a clamshell pendant.
As you're readying yourself to leave, you spot a makeshift stage, upon which dancers with spears and grass skirts chant and sway to the furious beat of drums. Surrounded by chattering tourists, you cannot help but think of the island's knotted jungles, its mazy reefs and half-forgotten rituals. It strikes you now just how far away from home you are, and just how happy you are to be here.
Writer Jessica Peterson has called Guam home for five years, but her friends still ask her which "nesia" she lives on.
Around the web
Canada's largest city spreads out along the northwestern shore of Lake Ontario, and it's a dynamic, multicultural and inclusive experience like almost no other place on earth. Not only is Toronto a thriving living city,it's also become one of the world's truly must-visit destinations. Regularly ranked as one of the greatest places to live, Toronto is the cultural center of the country and home to the biggest events, the most pro sports and the greatest concentration of theaters and restaurants.
Recent decades have seen regular multi-million-dollar upgrades to the city's public spaces, with a slew of great museums, iconic architecture and the redevelopment of the now glittering lakefront adding to the city's appeal.

Add in an ever-growing number of world-class hotels, upbeat nightlife that runs from dusk until dawn and a vibrant and diverse culinary scene influenced by the eclectic makeup of the city's people. Bright and bustling, cosmopolitan and cultured, unpredictable and energetic, Toronto has become one of the greatest cities on earth.
What you see and where you go will depend on the length of your stay. A week is good, longer is better. But even a long weekend will give you a taste of 'The Six' — one of the city's many nicknames, reworked recently as 'The 6ix' by one of its most famous sons, Drake.

However long you stay, you can't hope to see it all. So, consider what follows a starting point for your first visit…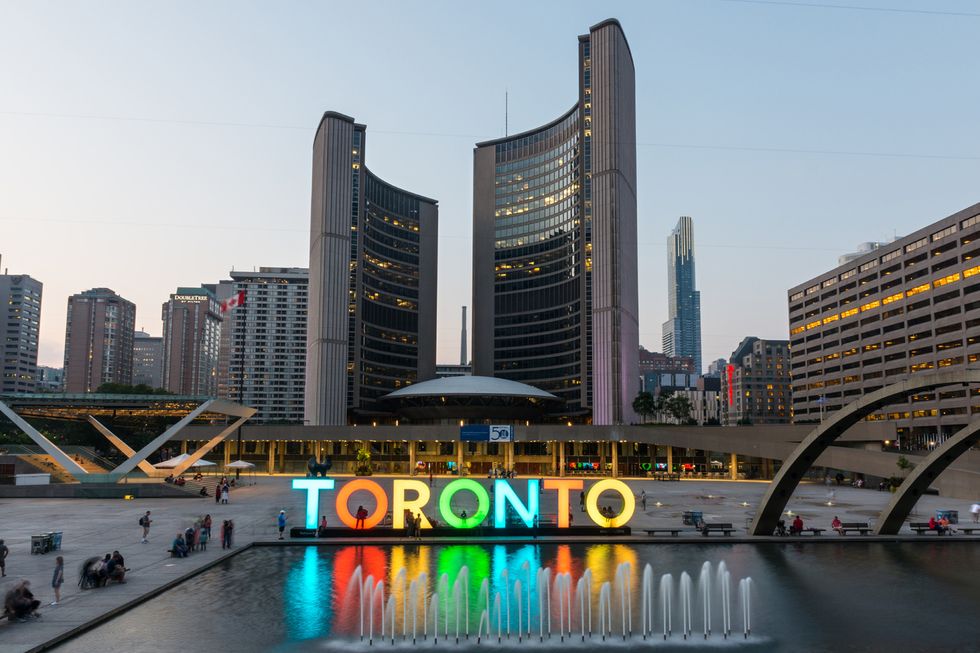 City Hall, Toronto
The checklist sites

No visit to The Six can be considered complete without ticking off several of Toronto's true heavyweight sights. All of the following are in or within easy reach of the city's compact, walk-able and very vibrant center.
The CN Tower is unmissable in every sense, a vast freestanding spire that looks down upon the city and takes its place as one of the 'Seven Wonders of the Modern World'. Head up for the city's best 360-degree views, or get your heart racing on the EdgeWalk — a journey around the circumference of the tower's main pod, 116 stories high and tethered by a harness.

Back on solid ground, Ripley's Aquarium is almost right next door to the CN Tower and is home to 16,000 aquatic animals and the Dangerous Lagoon. A moving sidewalk that whisks you through a long tunnel surrounded by sharks and stingrays is guaranteed to make your heart race all over again.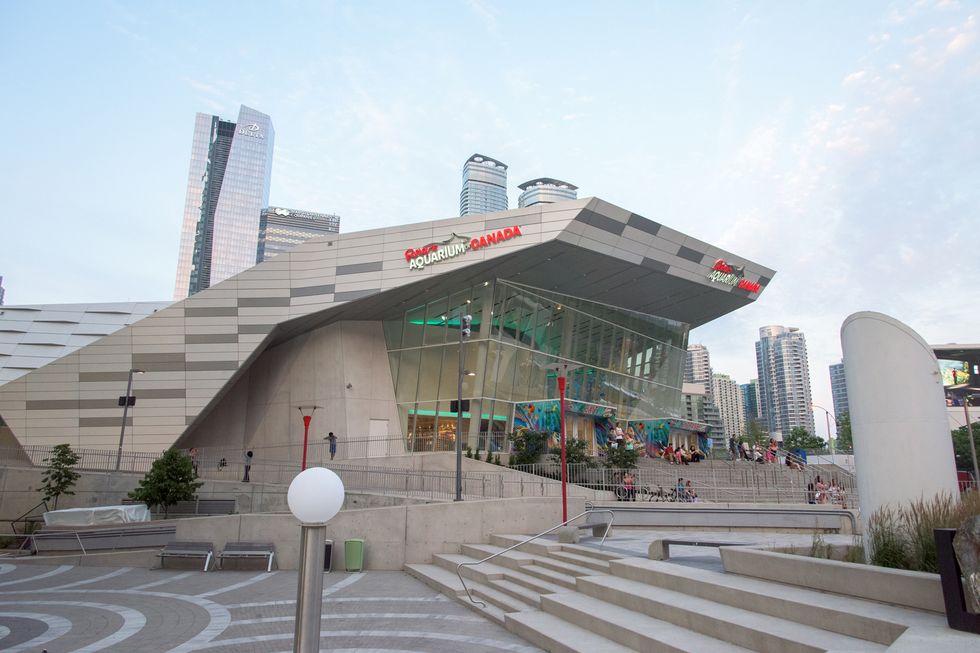 Ripleys Aquarium
Also close to the CN Tower is the Rogers Center, home to Canada's only baseball team, the Toronto Blue Jays. Visit on game day for the full experience, or take the stadium tour to go behind the scenes and through closed doors.

In a city of so many museums and galleries, the Royal Ontario Museum stands out. Not just because it's home to a world-class collection of 13 million artworks, cultural objects and natural history specimens, but as much because it hosts exciting Friday night events that include dance, drink and top DJs.

Two other must ticks include the Art Gallery of Ontario, which houses 95,000 works of art and is free for visitors under 25, and the Hockey Hall of Fame, which taps into Canada's national obsession in stunning depth.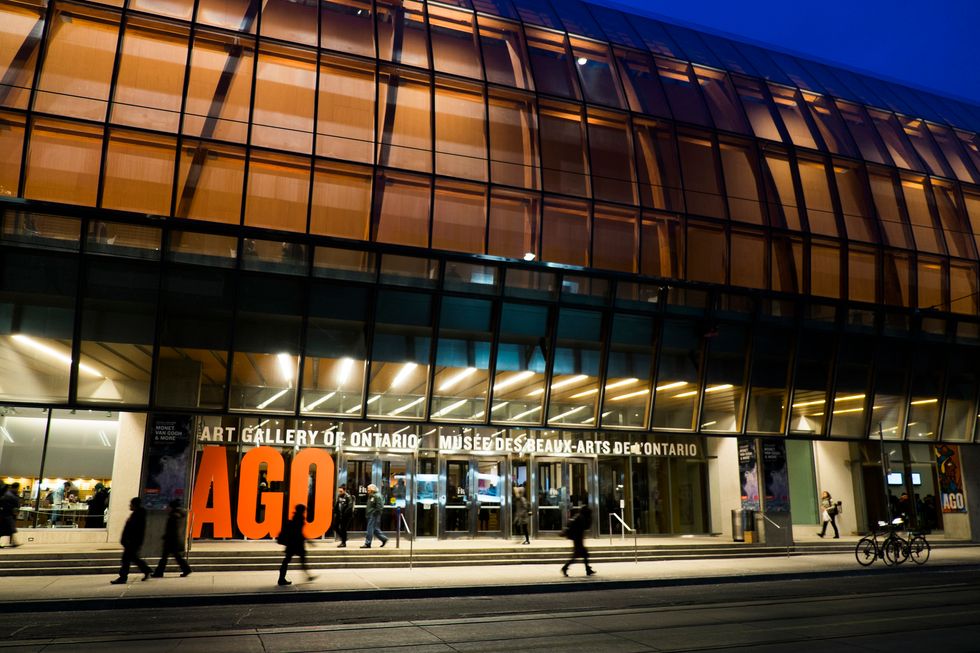 Art Gallery of Ontario
Casa Loma is a must-visit Gothic castle in the heart of the city. North America's only castle is filled with artworks and treasures from Canada and beyond, but its big pull is the network of hidden tunnels to explore as they stretch out beneath the city.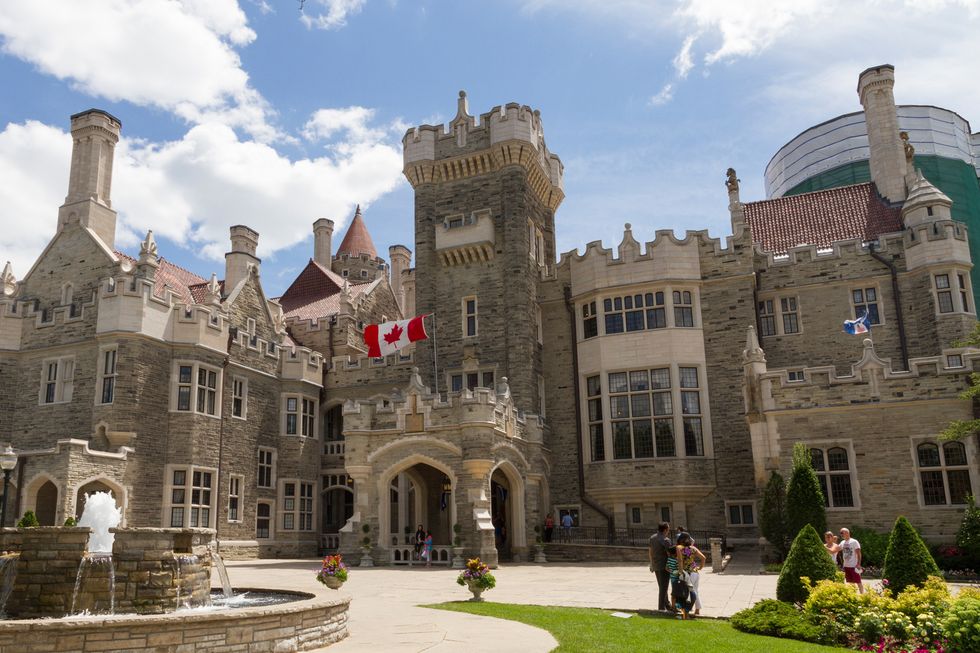 Casa Loma
Toronto's multi-cultural makeup is visible all across the city but reflected best in its remarkable culinary scene (see Where to eat and drink). The city's 'fresh and local' mantra is perfectly showcased at St. Lawrence Market, one of the world's greatest food experiences. Pay it a visit and grab a peameal bacon sandwich — a Canadian staple invented in Toronto and now considered the city's signature dish.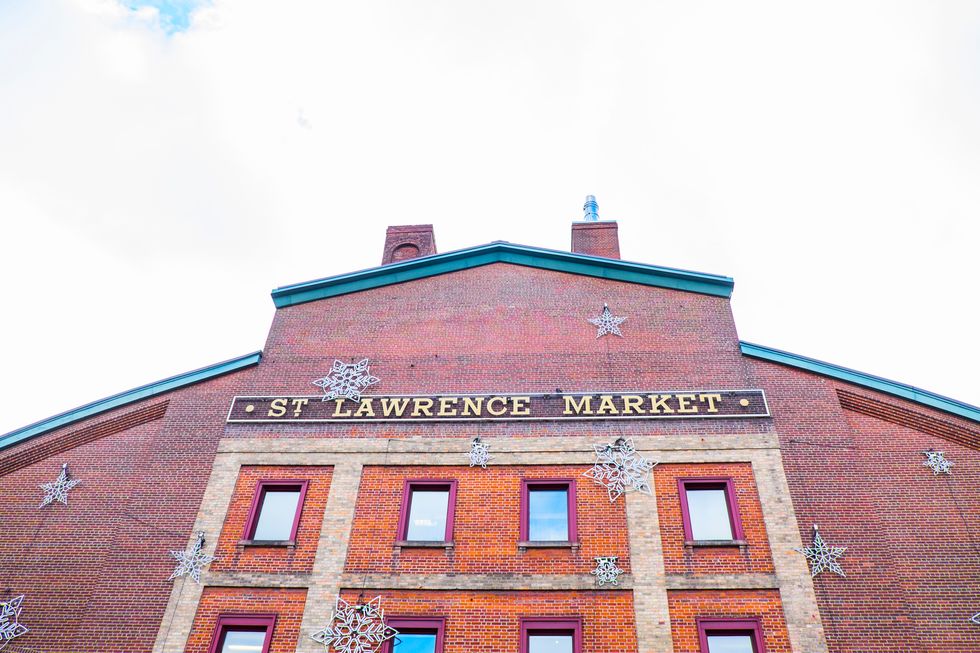 St. Lawrence Market
Afterwards, walk off the calories by wandering the historic cobblestone and car-free Distillery District. Once a vast whiskey distillery and an important spot during prohibition, historians mention that even Al Capone would visit the Distillery to load alcohol destined for the States[9] . This iconic landmark now distils creativity within the 19th century buildings now home to hip restaurants, bars, independent boutique stores, galleries and theaters. Visit in December for the Toronto Christmas Market.

Finally, don't even think about returning home without having had a picture taken with your head poking through an 'O' of the multicolored, 3D Toronto sign at City Hall — the most Insta-worthy location in a city of so many. You'll need to head there early in the morning to avoid the crowds.

If you stay long enough, take a ferry and hop across to Toronto Islands, a chain of 15 small islands in Lake Ontario just south of the mainland. They're home to beaches, a theme park and a breathtaking view of the city's skyline and will very happily fill a full day of your stay.
The bucket list
You absolutely cannot leave Toronto without having witnessed the power of the Niagara Falls and its hypnotic mist up close. Trying to visit the Falls from the States is a trip on its own, but it's almost non-optional when you're less than two hours away in Toronto. Take the trip, buy the T-shirt and tick off one of the world's must-see sights.
Explore like a local
Away from the sleek, gleaming towers of downtown lie many of Toronto's less obvious but no less essential attractions. West Queen West is Toronto's hippest neighborhood and artistic heart, a one-mile strip of very chic galleries, stores, restaurants and boutique hotels. Kensington Market is a fantastically chaotic neighborhood and perhaps the best example of the city's famous multiculturalism. It's not a market as the name implies, but a collection of independent shops, vintage boutiques, art spaces, cafés, bars and restaurants from every corner of the globe.
The Bata Shoe Museum is one of the city's quirkiest collections, an unexpectedly fascinating exhibit that retraces the 4,500-year history of footwear. And as you wander the city, you can't fail to notice that Toronto's walls are alive with graffiti. Take a free 90-minute walking tour through the back alleys of Queen Street West and down Graffiti Alley to gain a better understanding of the city's street art scene. If you visit during the sunnier months, escape the hustle by heading just east of the center to High Park, the green heart of the city where forests, walking trails, picnic spots and even a zoo await you. Ideal to unwind after a long day of urban adventures.
The essentials
When to go With the sun shining, May through October is a great time to visit, but the city is alive through all four seasons. The Spring and Autumn months are ideal as the humidity and visitor numbers are lighter, while Toronto comes alive through the colder months through a wide array of winter celebrations. One of the most spectacular is the Aurora Winter Festival, a six-week celebration that sees the Ontario Place, West Island transformed into four mystical worlds. Whichever season you choose, plan to stay for at least five nights to get a true flavor of the city.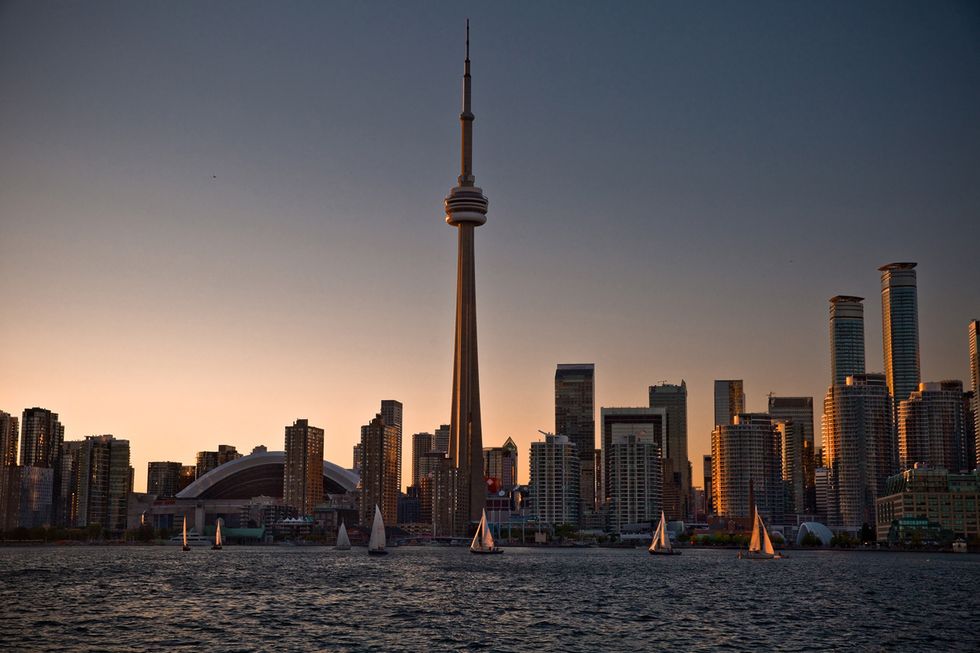 Toronto skyline view
Where to stay To be at the heart of most of the attractions you'll want to see, aim for downtown. One of the best options is the Marriott City Center, not only because it's located right next to the CN Tower but also because it's attached to the iconic Rogers Center where the Toronto Blue Jays play and countless concerts and popular events are held.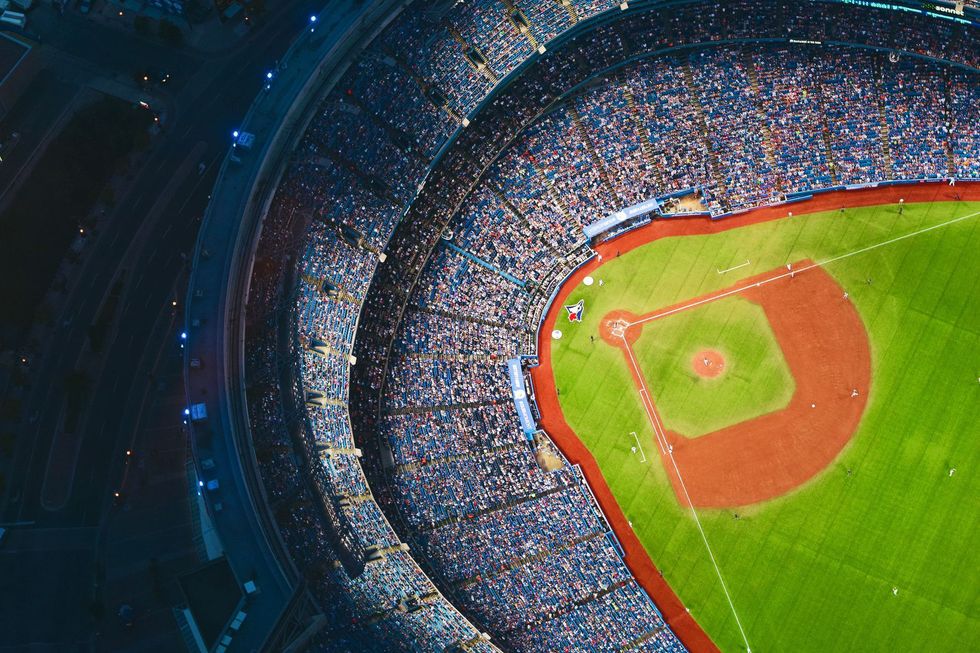 Toronto Blue Jay stadium
Opt for a Stadium room and you'll look out onto the field. If you want to experience Toronto's non-stop nightlife, the Entertainment District is the place to be. If you're looking for a luxury experience, discover Canada's first St. Regis hotel in the heart of downtown.

Where to eat and drink Nowhere is Toronto's incredible diversity more evident than in its food scene — taste Toronto and you're tasting the world. The city is brimming with restaurants and cafés serving everything from high-end fine dining to comfort food from an informal neighborhood joint — plus every option imaginable in between.

For fine dining, consider Alo, Canis and Edulis. Book a table at Canoe, Lavelle, The One Eighty or 360 at the CN Tower and you're guaranteeing a view as spectacular as the food. Or experience the city's remarkable fusion food at DaiLo (French-Cantonese), El Catrin (Mexican-French) and the unexpected mashup of Rasta Pasta (Jamaican-Italian).
The above suggestions don't even scratch the surface of a food scene to rival any city on earth, with options to suit every taste and any budget.
How to get around Toronto is perfect to explore on foot or via a growing network of cycle routes. For a quicker journey, buy a Presto card to use the TTC, Toronto's subway, streetcar and bus system.

How to get there Fly into Toronto Pearson International Airport (YYZ) with United and you're around 15 miles west of the city center. The most comfortable route in is via the Union Pearson Express, which runs every 15 minutes and gets you downtown in 25 minutes ($13).The TTC is a cheaper option at under $5, but it can take an hour and a half and involves a number of transfers, while a taxi will take around 30 minutes and cost $45.
United flies to Toronto from numerous U.S. cities including our Hub city locations. Book your trip via united.com or by downloading the United app.



Following the devastating wildfires in Australia and powerful earthquakes that shook Puerto Rico last week, we're taking action to make a global impact through our international partnerships as well as nonprofit organizations Afya Foundation and ADRA (Adventist Development and Relief Agency).
Helping Puerto Rico recover from earthquakes
Last week, Puerto Rico was hit with a 5.2 magnitude earthquake, following a 6.4 magnitude earthquake it experienced just days before. The island has been experiencing hundreds of smaller quakes during the past few weeks.
These earthquakes destroyed crucial infrastructure and left 4,000 people sleeping outside or in shelters after losing their homes. We've donated $50,000 to our partner charity organization Airlink and through them, we've helped transport disaster relief experts and medical supplies for residents, as well as tents and blankets for those who have lost their homes. Funding will go towards organizations within Airlink's partner network, which includes Habitat for Humanity, Mercy Corps and Americares, to help with relief efforts and long-term recovery.
Australian wildfire relief efforts

Our efforts to help Australia have inspired others to make their own positive impact. In addition to teaming up with Ellen DeGeneres to donate $250,000 and launching a fundraising campaign with GlobalGiving to benefit those impacted by the devastating wildfires in the country known for its open spaces and wildlife, our cargo team is helping to send more than 600 pounds of medical supplies to treat injured animals in the region.
Helping us send these supplies is the Afya Foundation, a New York-based nonprofit that seeks to improve global health by collecting surplus medical supplies and delivering them to parts of the world where they are most needed. Through Airlink, the Afya Foundation will send more than $18,000 worth of materials that will be used to treat animals injured in the Australian fires.
These medical supplies will fly to Melbourne (MEL) and delivered to The Rescue Collective. This Australian organization is currently focused on treating the massive population of wildlife, such as koalas, kangaroos, and birds, that have had their habitats destroyed by the recent wildfires. The supplies being sent include wound dressings, gloves, catheters, syringes and other items that are unused but would otherwise be disposed of.
By working together, we can continue to make a global impact and help those affected by natural disasters to rebuild and restore their lives
Australia needs our help as wildfires continue to devastate the continent that's beloved by locals and travelers alike. In times like these, the world gets a little smaller and we all have a responsibility to do what we can.
On Monday, The Ellen DeGeneres Show announced a campaign to raise $5 million to aid in relief efforts. When we heard about Ellen's effort, we immediately reached out to see how we could help.
Today, we're committing $250,000 toward Ellen's campaign so we can offer support now and help with rebuilding. For more on The Ellen DeGeneres Show efforts and to donate yourself, you can visit www.gofundme.com/f/ellenaustraliafund
We're also matching donations made to the Australian Wildfire Relief Fund, created by GlobalGiving's Disaster Recovery Network. This fund will support immediate relief efforts for people impacted by the fires in the form of emergency supplies like food, water and medicine. Funds will also go toward long-term recovery assistance, helping residents recover and rebuild. United will match up to $50,000 USD in donations, and MileagePlus® members who donate $50 or more will receive up to 1,000 award miles from United. Donate to GlobalGiving.
Please note: Donations made toward GlobalGiving's fund are only eligible for the MileagePlus miles match.
In addition to helping with fundraising, we're staying in touch with our employees and customers in Australia. Together, we'll help keep Australia a beautiful place to live and visit in the years to come.
Scroll to top