Three Perfect Days: Guam
Story and photography by Jessica Peterson | Hemispheres, February 2015
With its pristine waters, diverse landscape, rich cultural heritage and burgeoning hospitality industry, this tiny tropical island is set to be the next big thing
Long known as a playground for Japanese tourists, the tropical island of Guam isn't short on Americans, either. A U.S. territory since 1898, it's home to a few far-flung military bases. That said, Guam is enchantingly quiet, encouragingly unspoiled. It's also very small—at about 30 miles long and 12 miles wide at its broadest, this peanut-shaped island has a resident population of around 161,000.
Guam's geography is impressively diverse, given the island's size. In the south, you'll find stands of bamboo and rolling hills; in the north, the beaches are often overshadowed by dramatic limestone cliffs. The southernmost of the Mariana island chain, Guam boasts pristine waters riddled with coral reefs, all of which teem with tropical fish. Culturally, the island has maintained its indigenous Chamorro traditions.
In recent years, Guam has involved itself in a process of renewal—its Spanish forts have been joined by fashion outlets, its ancient settlements by high-end hotels. While it has refused to be pigeonholed as Hawaii Jr., Guam is becoming an increasingly popular venue for scuba divers and bargain hunters, history buffs and even foodies. You could say, in fact, that this tiny island is on its way to becoming the next big thing in tropical getaways.
DAY ONE | You've invented a game while standing on your 19th-floor balcony at the Westin Resort, overlooking a broad horseshoe of coral-mottled water. You call the game "Island Bingo," and it involves checking off all the paradisiacal props within view: coconut palms, flawless sky, turquoise sea, white sand. Bingo!
Having realized you are still in your underwear (some views are best left unseen), you grab a robe and munch on pastel macarons and juicy strawberries while gazing at the travel brochure–worthy panorama before you. From here, it's a quick trip down in the elevator and a two-minute stroll to the beach before your toes are being tickled by the water of Tumon Bay.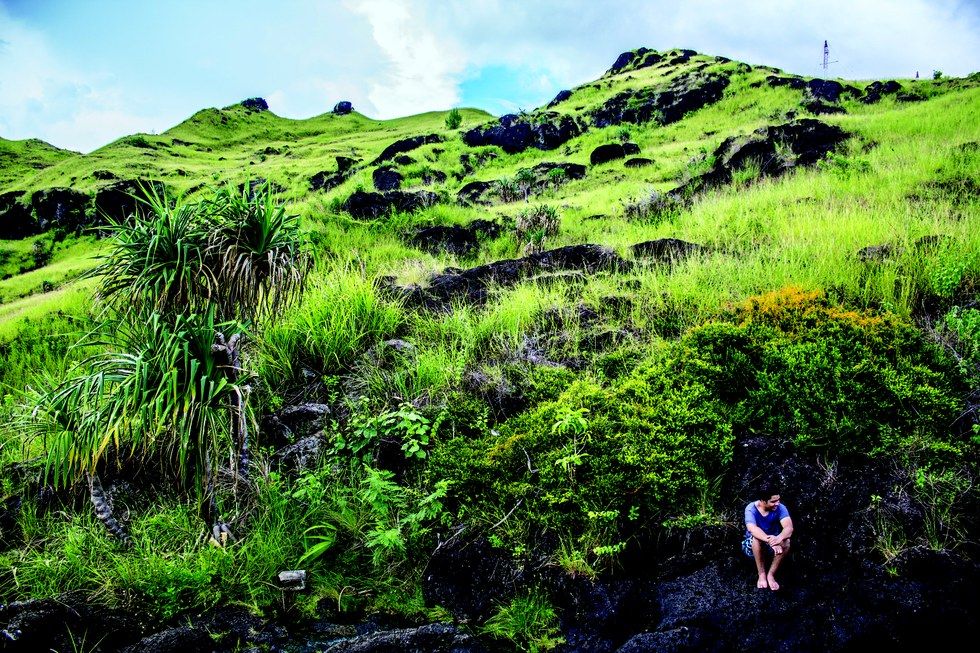 Taking a break at Priest Pools Hill
Tumon Bay has Guam's most manicured strip of sand. Chain hotels and stained-glass wedding chapels skirt the beach, which is flanked by tropical jungle and rocky cliffs. Tumon is protected by a barrier reef—there are more than 1,000 species of tropical fish in the bay alone. You've brought a snorkel along, so you join a handful of seafaring oglers, drifting among hundreds of coral outcrops. An oriental sweetlips approaches, flapping its leopard-like tail and regarding you disapprovingly, followed by a startled-looking convict tang. You'd think they'd be used to us by now.

Back on the sand, a Chamorro man—one of the island's indigenous people—casts a circular net and hauls in a handful of tiny mañåhak, a seasonal catch that is eaten fried or pickled in salt and lemon juice. He's wearing a T-shirt, shorts and flip-flops. He says, "Hafa Adai" (Chamorro for "hello," and a phrase you will hear with reliable frequency during your time here) and beckons you over to look at his catch, a mix of finger-length white and silver fish.
Your skin is starting to resemble that of a fiery squirrelfish, so you leave the beach and head for The Plaza Shopping Center, a two-story mall that houses an array of luxury fashion brands. You pass a trio of Japanese women in matching floral dresses, each sporting a pair of enormous Anna Sui sunglasses and giggling excitedly. Guam is duty-free, so you don't feel too bad picking up a hard-case wheelie from Rimowa. (Your old carry-on no longer qualifies as merely "broken in.")
All this money-saving has made you hungry. You head to the nearby Asia-meets-the-Marianas eatery Proa, a local favorite with big windows overlooking Ypao Beach. You start with a beggar's purse of big-eye ahi poke, a Hawaiian-style dish served with red rice, jicama, avocado and wasabi soy butter sauce. Next come soy-marinated short ribs with finadene, a local condiment made from vinegar, lemon, soy sauce and onions. You pop a red boonie pepper into your mouth and regret it. Easier to swallow is dessert: a creamy, brûléed purple cheesecake.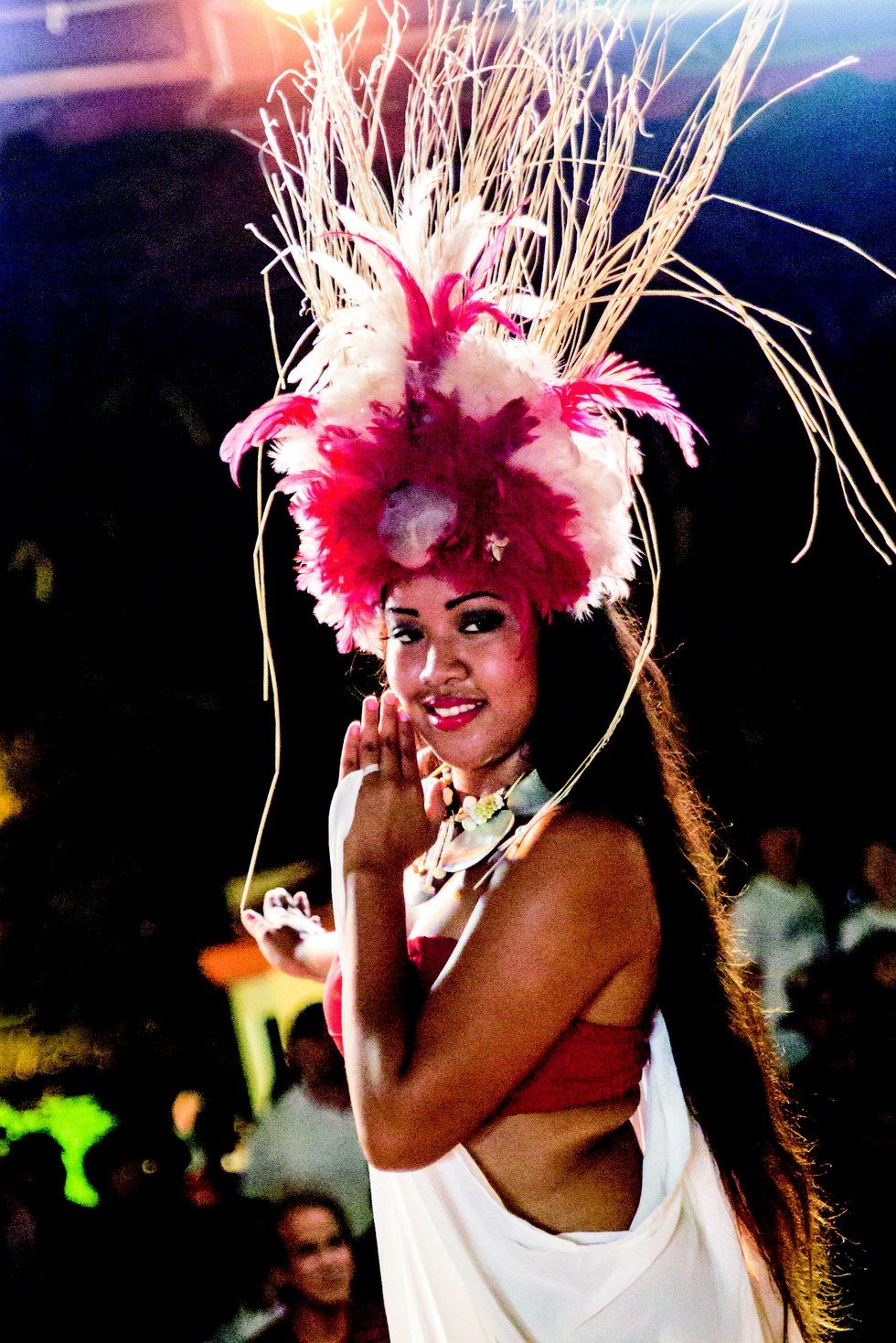 A Chamorrita dancer in traditional dress
Having rendered yourself unable to walk without the assistance of a crane, you decide to take a scenic drive along the road that hugs the southern curves of the island. Jungle-draped hills line the left side of the road, and an endless view of the Philippine Sea stretches away on your right.

Your first stop on the drive is the Latte of Freedom, the world's largest cup of milky coffee. OK, it's not that kind of latte—the word refers to an ancient pillar design, shaped like a mushroom with an inverted cap. The stones, thought by islanders to have mystical powers, now symbolize Chamorro culture, and this one, built in 2010, is the daddy of them all: 80 feet tall, with a viewing platform at the top.
There's an equally fine view from the Vietnam veterans memorial, I Memorias Para I Lalahi-ta: the angular hills, the Lego-like Umatac Bridge and Señora Nuestra de la Soledåd, a 19th-century Spanish fort that now lies mostly in ruins. You'd like to get a closer look at that.
Upon your arrival at the fort, a tattooed man with a large water buffalo in tow uses a machete to lop the end off a coconut, then offers it to you: "Drink!" You sip-walk up to the last remaining sentry post, its slit-like windows framing the misty beach below. This part of the island looks untouched by modern life, in stark contrast to the touristy haven of Tumon. You can't shake the feeling that you've traveled back in time.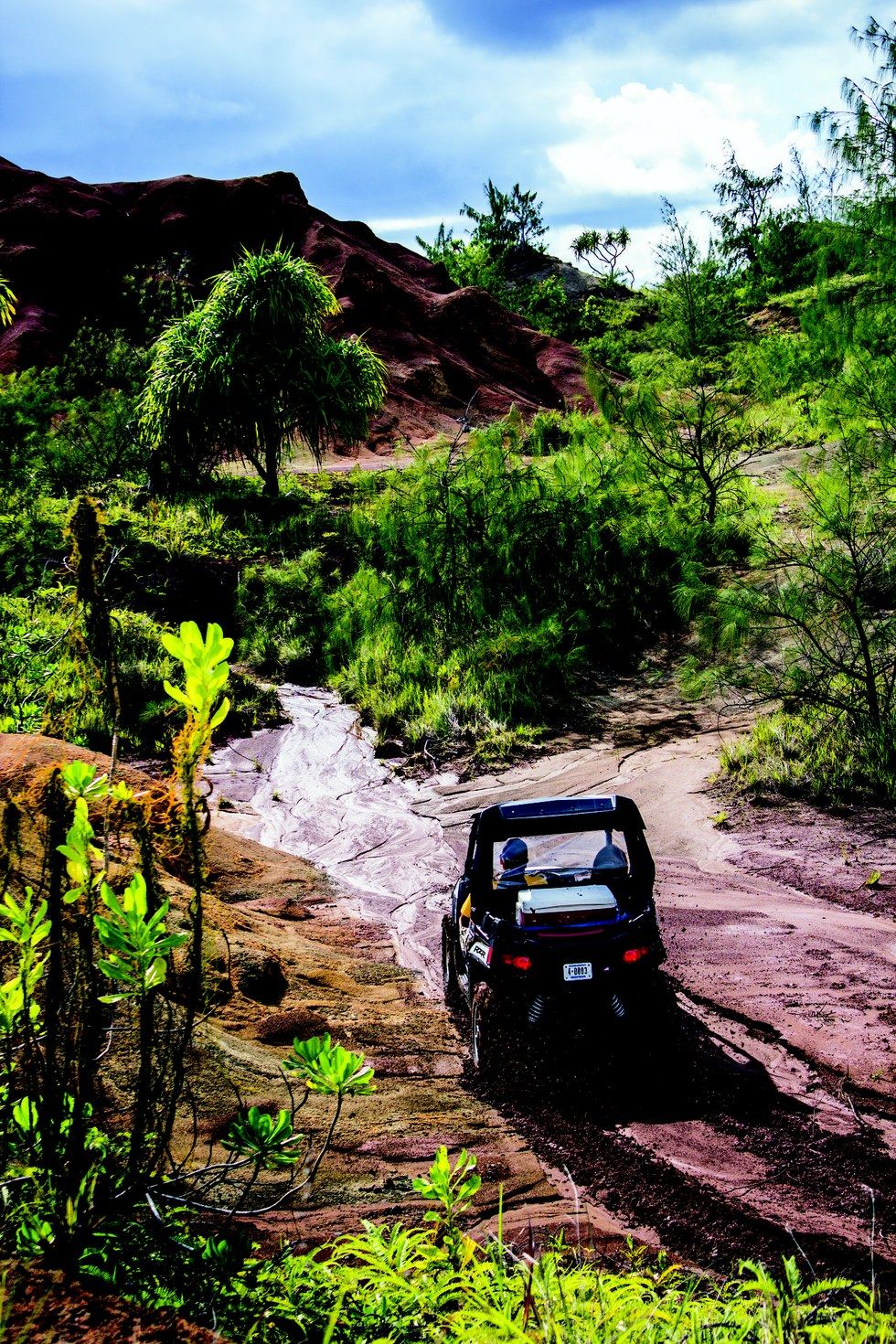 Off-roading in Guam's red-dirt hills with Jungle Rules Adventure Tours
Next, you drive through the Spanish-style village of Inarajan for a dip in its crater-like pools, where seawater rises and falls with the tide. Tourists snorkel in the water and locals hold fiestas in beachside pavilions. Two young Chamorro boys dare each other to jump off a platform into the sea. A gentle rain has spritzed the beach with a fine mist, alleviating the 80-odd degree heat. It's perfect. But, again, your appetite is getting the better of you.

Dinner tonight is at Guam's only German restaurant, McKraut's, in the tongue-twisting village Malojloj (Muh-low-low). A red-faced bartender dressed (unironically, you feel) in a feathered hat and lederhosen serves up big glasses of beer to a raucous crowd. You order the sweet Detmolder Thusnelda, all the better to wash down your smoked brats, spätzle and sauerkraut. "Das ist gut!" you say to the bartender, who looks back at you as if you are a lunatic. By sunset, the place is roaring, so you order another beer, followed by a few more. Taxi!
DAY TWO | You start the day with a quick splash. Drifting among the flickering fish, you spot a Picasso triggerfish, a wedge-shaped critter that looks as if it's been rolling around on an artist's palette. The fish returns your gaze, initiating a staring competition that ends with the arrival of a blacktip reef shark. You've read that these things are "a hazard, rather than a danger," which isn't all that encouraging. But maybe the shark read something similar—it hightails it away before you do.
Breakfast today is a few miles away at Pika's Cafe, a low-key Chamorro eatery that brims with chatty locals. You order the O.O.G. ("Only on Guam"), a heaping plate of tinalan katne (smoked meat), eggs, steamed rice and spicy-tangy finadene. "Mangge!" says the woman who served you. "Delicious, yes?" Yes.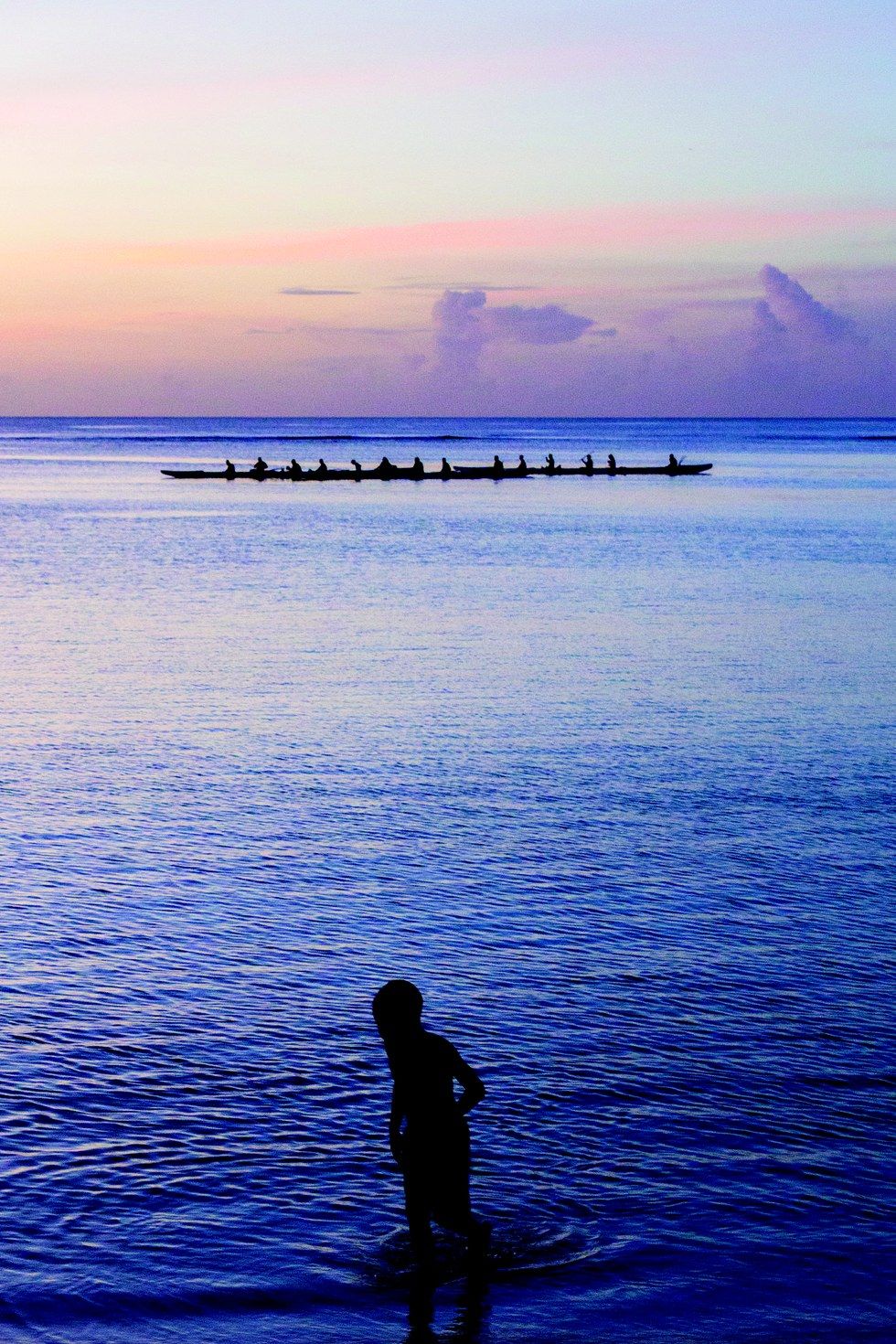 Rowers on Tumon Bay at sunset
Fortified, you meet up with Tony, a guide with Jungle Rules Adventure Tours. Your destination is the red-dirt hills of southwestern Guam, a swath of mostly uninhabited land. Your fellow passengers are a beef-fed Russian family. The only Russian words you know are "vodka" and "Putin"—so you decide to shut up and watch the countryside flash by.

Ill-advisedly, perhaps, Tony has agreed to let you have a go at driving. You wrestle with the steering wheel for an hour or so, juddering over undulating, otherworldly red hills. Perched on a hump in the shade of a single tree, you look out over the sea to the green splodge of Anae Island. Small boats bob about in the water. It's lovely, but you're itching to get back behind the wheel.
You head for even more rugged terrain, possibly going a little faster than you should. Tony promised you couldn't flip this vehicle, but you momentarily doubt his words as you soar over the rim of a massive red dune. One of your Russian passengers emits a flurry of what you assume are expletives.
As the white-knuckle tour reaches its conclusion, your passengers are visibly relieved. "USA amazing!" says the rotund guy who seemed to be swearing at you earlier, two thumbs up. Everyone is covered in a layer of red dirt, so you switch cars and head for Tanguisson Beach for a dip. The drive takes you along a precipitous and potholed road, which makes you pine for your SUV, or possibly a pair of sturdy hiking boots.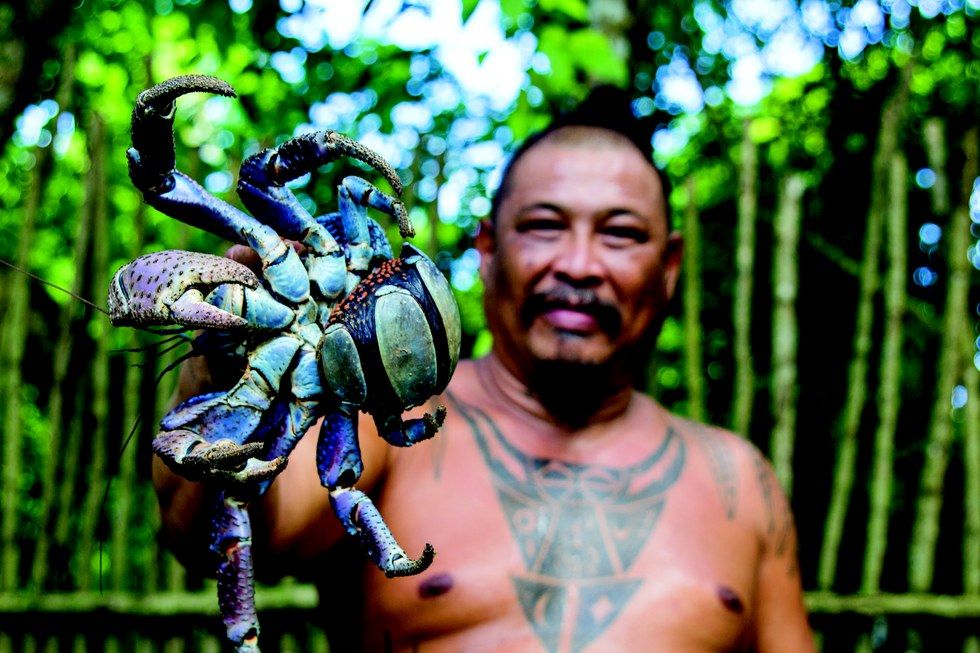 A local holds a coconut crab in Lina'la' Park
The beach more than makes up for whatever discomfort you endured along the way: Mushrooming coral plumes emerge from water the color of sea glass; huge cliffs rise at your back. It's also deserted, apart from a Micronesian woman in a floral skirt and a few kids splashing in the waves. You peel off your dirt-caked clothes and wade past the rocks into the surf.

Having cleaned up, you stroll the beach, wading into the water when the path disappears, to the even more picturesque Shark's Cove. You plop down on a lonely patch of sand and, despite the cove's name, slip on your snorkel and mask and reacquaint yourself with the island's psychedelic sea life.
Just before the sun sets, you drive to Two Lovers Point, a cantilevered platform atop a 400-foot cliff. Here, "long ago," two young Romeo-and-Juliet types are said to have tied their hair together and jumped to their deaths. It's not the most edifying story you've ever heard, but the views of the sea and the sharp cliffs are spectacular.
Your next stop is Tumon's tourist strip, home to the small but wildly popular Japanese restaurant Kai. Patrons are greeted loudly and served liberally from personalized shōchū bottles. Polaroid pictures of regulars adorn the walls. After some fried ginkgo nuts, you have a pink dragon roll, which is crunchy, salty and spicy, with sweet battered shrimp and tangy mayo drizzled on top. Yum. You autograph your shōchū bottle while the owner's wife snaps a photo and hangs it behind the bar.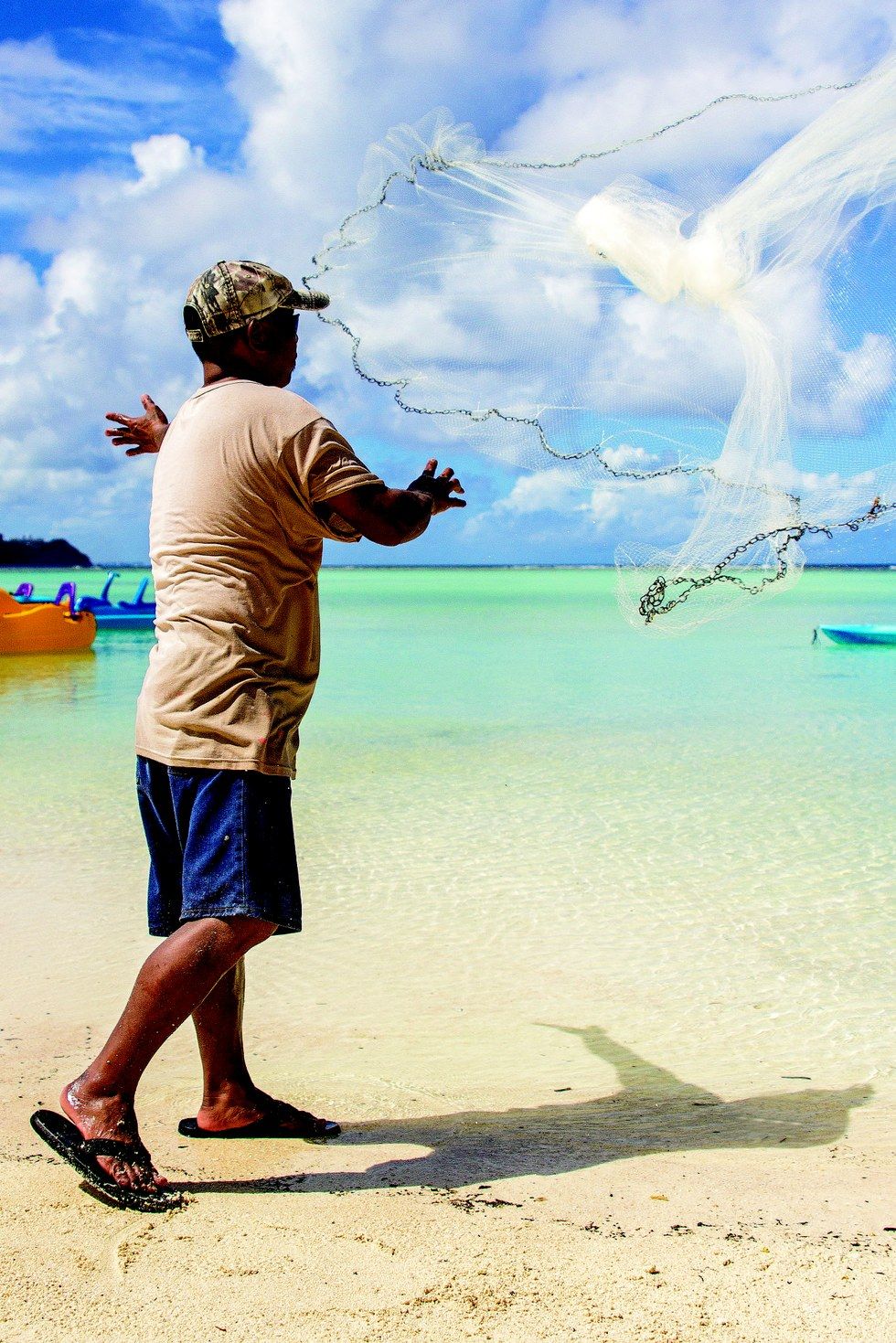 A throw-net fisherman at Tumon Bay
Happily pooped, you head to the second hotel of your stay, the Hilton Guam Resort & Spa, a modish Mediterranean resort at the opposite end of Tumon Bay. Tiki torches line the outdoor bar and surrounding pools. You can see Two Lovers Point from the infinity pool, where you sip a strawberry mojito. A cool breeze takes the edge off the humidity, so much so that your perma-frizz starts to unwind.

As relaxing as all this is, there's a fire dance show at the hotel's outdoor Tree Bar, which you feel you have to see. Nimble and deeply tanned youths swing flaming batons over their heads. The swirling fire, tropical heat and a cocktail or two have left you a bit woozy. You head upstairs and climb into bed, a steady drumbeat lulling you into a sleep that flickers with plunging lovers, Martian landscapes and grumpy little fish.
DAY THREE | You've booked an early Balinese-style massage at the hotel's Spa Ayualam, in an open-air cabana overlooking the bay. You disrobe and a petite woman gets to work on the knots caused by the previous day's adventure with the Russians. The combination of a gentle breeze, fragrant oil and the woman's expert fingers sends you to sleep.
Having been prodded awake by your masseuse, you shower and head down to the Hilton's Islander Terrace. The buffet bar heaves with both American breakfast food and dishes from the Far East. You fill your tray with miso soup, kimchi and oden, a stew of boiled eggs, daikon radishes and fishcakes in a dashi broth. It's wonderful.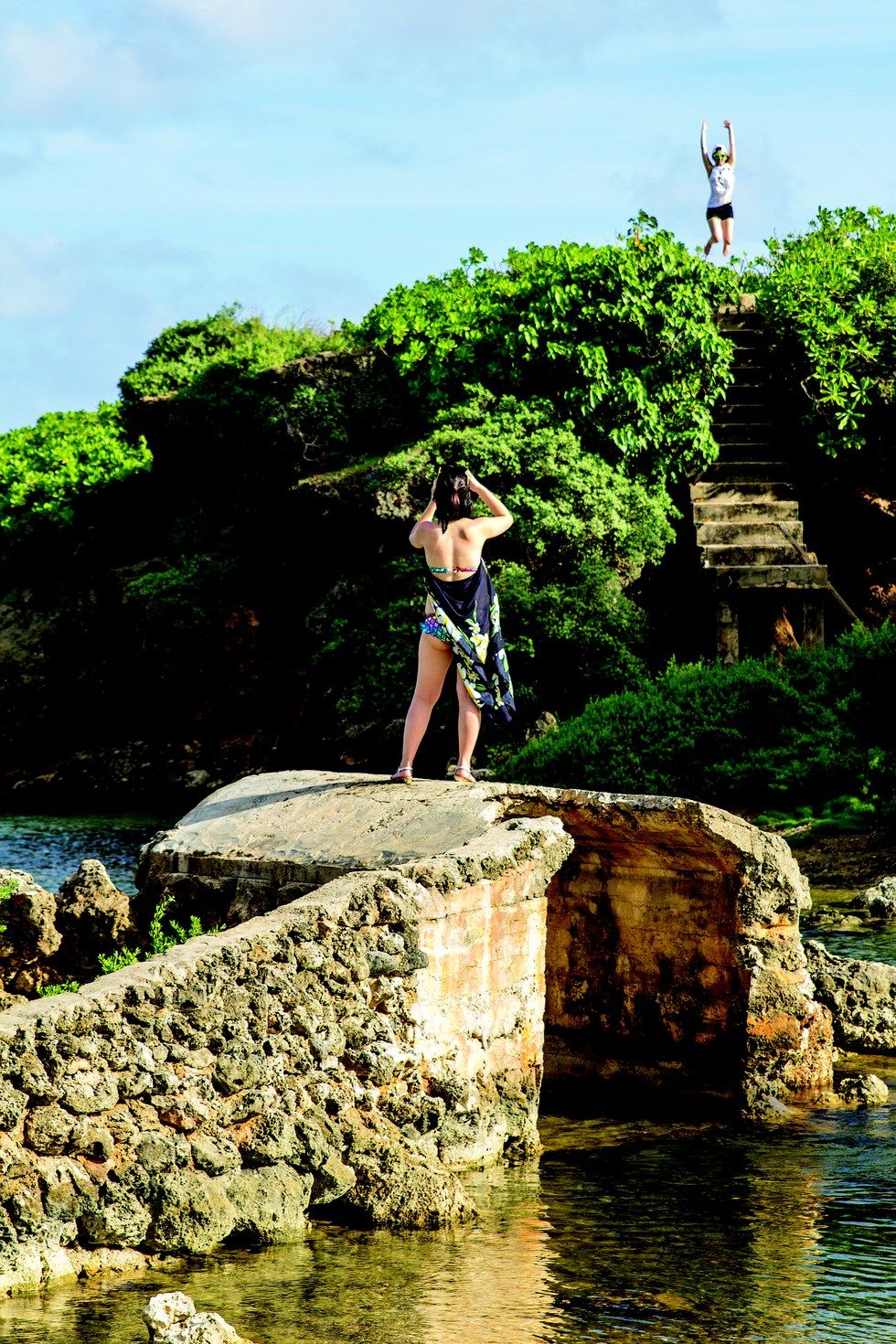 Tourists at the pools in Inarajan
You're tempted to go back to the beach, but you have a very different kind of aquatic experience in store. You hop in your car and head south, following the signs to Fish Eye Marine Park, where you're booked for an activity they call Seawalker. It starts in a circular building at the end of a narrow pier, where you are fitted with a sort of spaceman's helmet. Like those old diving suits, your helmet has a constant stream of air pumped in so you can breathe. Next, you descend a ladder, which takes you about 20 feet under the surface of Piti Bay. Your guide walks you out to a feeding area and hands you a clump of fish food. Immediately, you are surrounded by a rabble of impossibly bright and chummy creatures. No funny looks here.

Next, after an appetite-honing kayak trip, you head for Tumon's Gun Beach, home to The Beach Bar & Grill. On the deck, blaring reggae provides an odd soundtrack to a view dominated by a large rusty gun (one of the island's many reminders of its World War II battles). You start with a Beach Sunset—rum, amaretto, orange, pineapple, banana liqueur, grenadine and, uh, more rum—followed by a Tinian Beach Burger, a mammoth patty topped with cheese and bacon. Lunch over, you slide into a padded beach chair, lower your sunglasses and (yep) fall asleep.
Just next door is Lina'la' Beach & Culture Park, the centerpiece of which is a reproduction of a traditional thatch-and-latte Chamorro village. A man with one cheek full of betelnut hunches over a flat stone, grinding noni leaf. He hands you a sample. "Mm!" you say, thinking "Ew!" A moment later, a muscular man with coarse black hair wearing only a red loincloth shimmies up a coconut tree, tilts his torso parallel to the ground, then slides down. "That looked painful," you say. "Well," he replies, smiling, "maybe a little."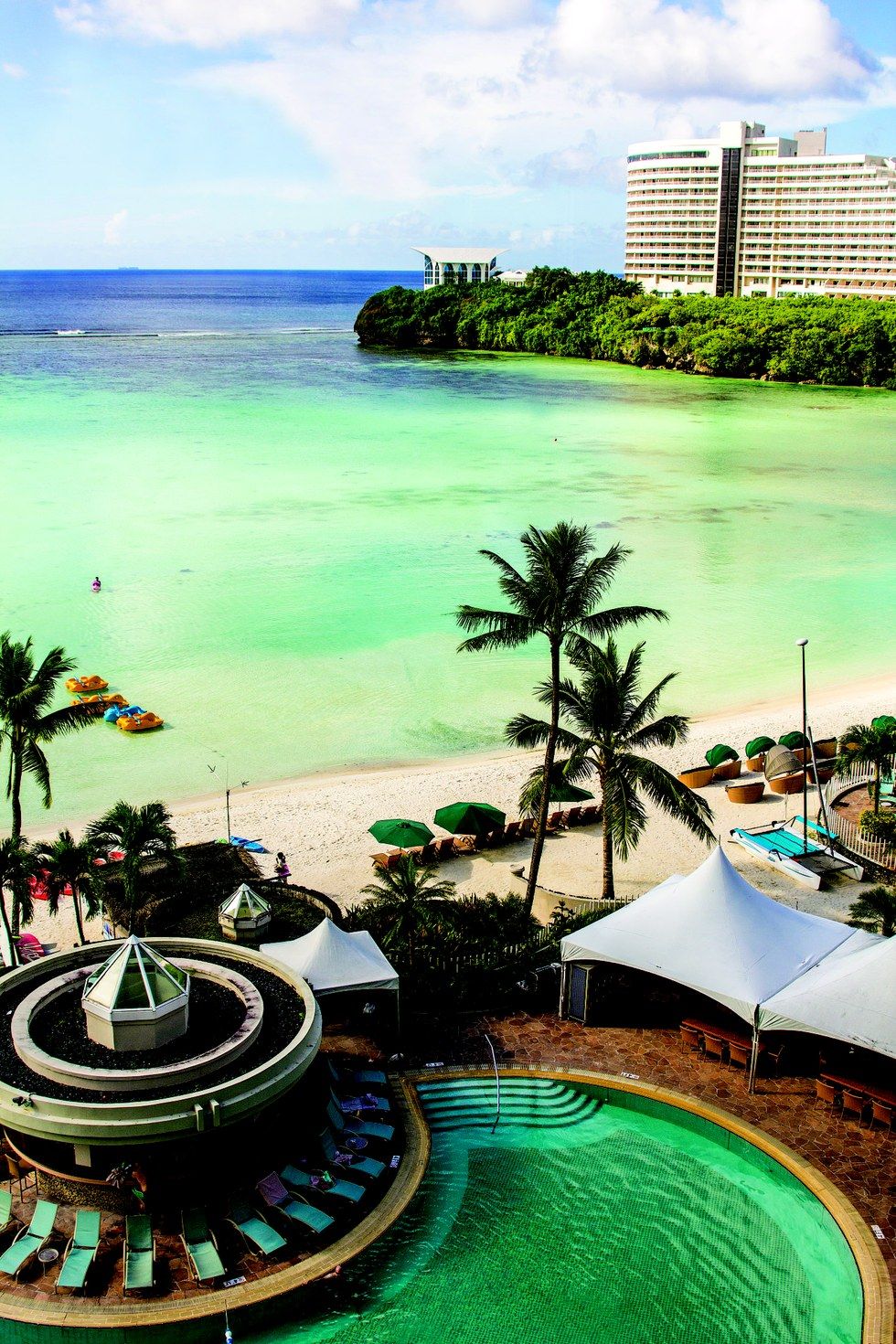 The view of the pool
As the sun sets, you drive south, to the capital city of Hagåtña, where you find Chamorro Village, Guam's largest indoor/outdoor market. Tables are piled with jewelry, paintings and straw baskets. The air is thick with the aroma of smoked meat. You head to Åsu Smokehouse and order a fiesta plate, which includes tender caramelized beef brisket, red rice and crisp cabbage slaw. Despite the large burger you tackled earlier, you eat it all.

From here, you find the only empty seat in the market's central pavilion. A band is playing a classic rock set that, oddly, involves a tuba and a ukulele. On the dance floor, a local woman is swaying her hips beside a man in a top hat lined with tinsel. She giggles as he twirls her around. You get the feeling these two are a staple here.
The narrow arteries of Hagåtña are filling with tourists sipping coconut milk from the shell. A grinning young man poses for a picture with a coconut crab that's about the size of a toddler. When they're not sipping and posing, the tourists are spending. It is tchotchke heaven here, an endless array of beads, baubles and wooden carvings. You are not immune. A stocky middle-age man dressed in a loincloth and holding a spear beckons you to his shop. You walk out with a clamshell pendant.
As you're readying yourself to leave, you spot a makeshift stage, upon which dancers with spears and grass skirts chant and sway to the furious beat of drums. Surrounded by chattering tourists, you cannot help but think of the island's knotted jungles, its mazy reefs and half-forgotten rituals. It strikes you now just how far away from home you are, and just how happy you are to be here.
Writer Jessica Peterson has called Guam home for five years, but her friends still ask her which "nesia" she lives on.
Around the web
In the midst of mobilizing our cargo operations, our teams at New York/Newark (EWR) and Jacksonville (JAX) stepped in to assist Roche Diagnostics with transporting a vital component for an instrument being used for COVID-19 testing.
The component was stuck at EWR en route to the Mayo Clinic in Florida after another airline's flights were cancelled. A Roche employee contacted us asking for help and, within a few hours, our teams had the piece loaded onto a Jacksonville-bound aircraft, with arrangements in place to deliver it to the Mayo Clinic.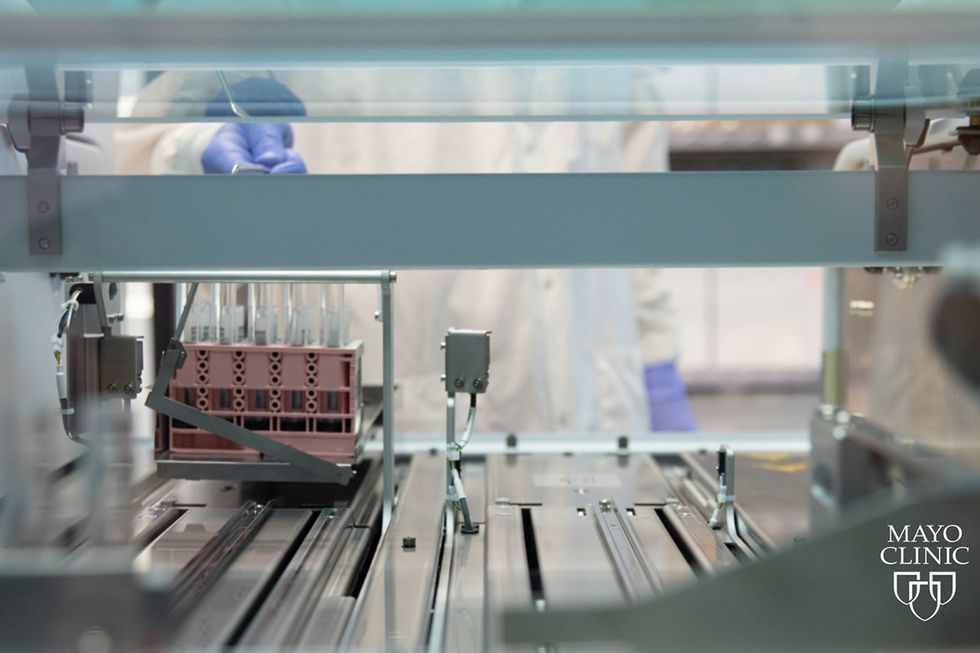 The item we shipped will allow the Mayo Clinic in Florida to process hundreds of COVID-19 tests per day. Mayo Clinic Laboratories has been on the front lines of increasing testing capacity to expedite caring for patients at this critical time and working to ease the burden being felt at test processing laboratories in a growing number of areas.

We are helping to keep military families connected by increasing the frequency of cargo
-only flights between the United States and military bases in
various parts of the world —
including Guam,
Kwajalein
,
and several countries in
Europe
.
Last week
we
began
operating
a minimum of 40 cargo-
only
flights
weekly —
using Boeing 777 and 787 aircraft to fly freight
and mail
to and from U.S. hubs and key international business
and military
locations.
We are going above and beyond to find creative ways to transport fresh food and produce, as well as basic essentials from the U.S. mainland to military and their families in Guam/Micronesia. On Saturday, March 28, we operated an exclusive cargo-only B777-300 charter to transport nearly 100,000 pounds of food essentials to Guam to support our troops.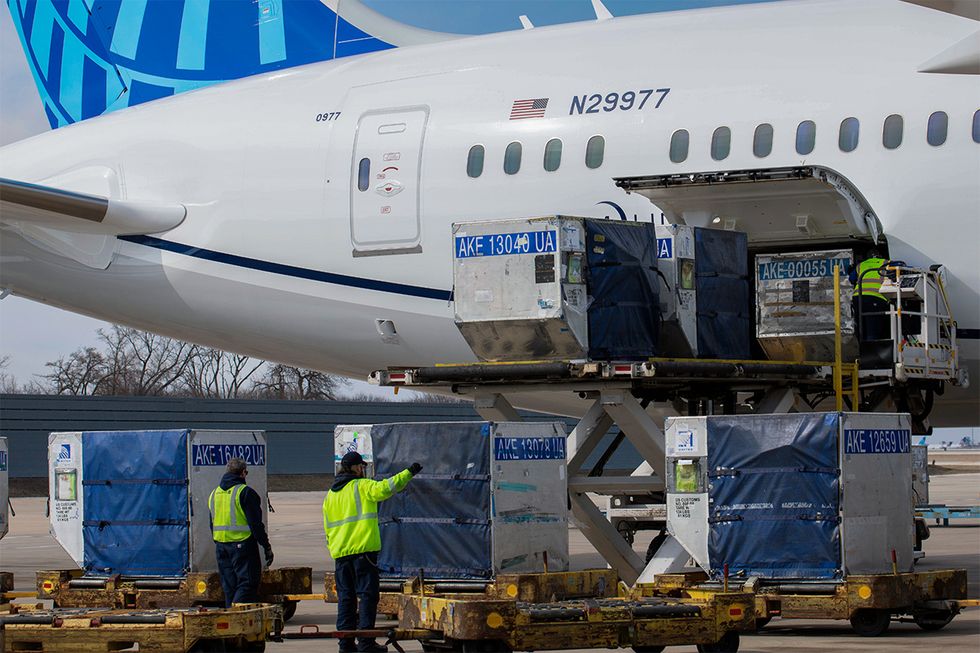 In addition, we move mail year-round all over the world. In response to COVID-19, and in support of the military members and their families overseas, we implemented a charter network, transporting military mail to Frankfurt, which is then transported all over Europe and the Middle East. Since March 20, we have flown 30,000+ pounds of military mail every day between Chicago O'Hare (ORD) and Frankfurt (FRA). On the return flight from Frankfurt to Chicago, we have carried an average of 35,000 pounds of mail to help families stay connected.

"Connecting products and mail to people around the world is the United Cargo mission," said United Cargo President Jan Krems. "Keeping our military families connected with the goods they need, and keeping them connected with loved ones to feel a sense of home, is of critical importance. As a company that has long supported our military families and veterans, our teams are proud to mobilize to lend a hand."
On average, we ship more than 1 billion pounds of cargo every year on behalf of domestic and international customers. For more information, visit unitedcargo.com.
To our customers,
I hope this note finds you and your loved ones healthy and well.
It is safe to say these past weeks have been among some of the most tumultuous and emotional that any of us can remember in our lifetimes. The impact of the coronavirus outbreak has been felt by individuals and families, companies and communities, across the United States and around the world.
The response to this crisis has been extraordinary; as much for what it has required from our society as for what it has revealed of us as a people.
Far from causing division and discord, this crisis and the social distancing it has required, has allowed us to witness something profound and moving about ourselves: our fond and deeply felt wish to be connected with one another.
The role of connector is one we're privileged to play in the moments that matter most in your life – weddings and graduations, birthdays and business trips, events large and small – and it's that responsibility that motivates us most to get back to our regular service, as soon as possible.
That is why it is so important our government acted on a comprehensive relief act to ensure our airline – and our industry – are ready and able to serve you again when this crisis abates.
I want to relay to you, in as deeply personal a way I can, the heartfelt appreciation of my 100,000 United team members and their families for this vital public assistance to keep America and United flying for you.
This support will save jobs in our business and many others. And it allows us time to make decisions about the future of our airline to ensure that we can offer you the service you deserve and have come to expect as our customers.
While consumer demand has fallen, we have seen the need for our service and capabilities shifted. And, we've adapted to help meet those needs.
Right now, aircraft flying the United livery and insignia, flown by our aviation professionals, have been repurposed to deliver vital medical supplies and goods to some of the places that need it most. We're also using several of our idle widebody aircraft to use as dedicated charter cargo flights, at least 40 times per week, to transfer freight to and from U.S. locations as well as to key international business locations. At the same time, we are working in concert with the U.S. State Department to bring stranded Americans who are trying to return home back to their loved ones.
While much remains uncertain right now, one thing is for sure: this crisis will pass. Our nation and communities will recover and United will return to service you, our customers. When that happens, we want you to fly United with even greater pride because of the actions we took on behalf of our customers, our employees and everyone we serve.
Stay safe and be well,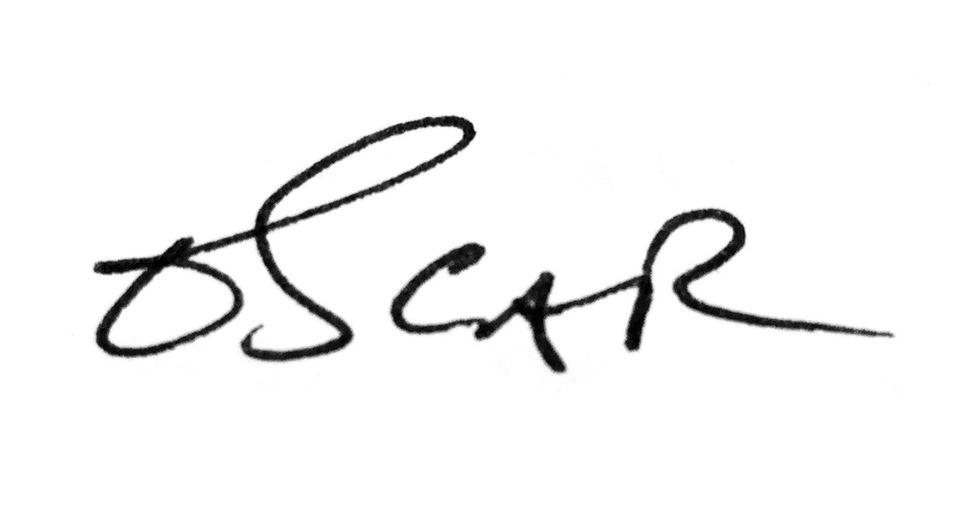 Oscar Munoz
CEO
Together, we are facing an unprecedented challenge. United Together, we rise to meet that challenge.
Check out our newest destinations
United Airlines
united
When
@RocheDia
needed to ship a vital component of a COVID-19 testing unit from New Jersey to Florida, United Cargo jumped in to help. Read about how this part will allow
@MayoClinic
to process hundreds of tests per day for cases in the Southeastern U.S.
uafly.co/2UzOAGW
United Airlines
united
International schedule update: We know some people around the globe are displaced and still need to get home. We are reinstating some international flights over the next few days and will continue to fly six daily international flights through May.
uafly.co/3a5Dj6p
United Airlines
united
We have extended our change fee waiver to cover travel through May 31, 2020: - You can change or cancel your flight on
united.com
or through the app – a phone call is not required - For the latest on our commitment to your safety, visit
united.com/coronavirus
United Airlines
united
Our site,
united.com/coronavirus
, is regularly updated with the latest on travel restrictions, rebooking instructions and health and safety information. Today's updates: - An expanded, more flexible international rebooking policy - Schedule changes for U.K. & Ireland
We Are United
weareunited
Shoutout to our operations team, who are working to properly park, maintain and store many aircraft in the
#BeingUnited
fleet. These aircraft are being housed across our seven hubs, maintenance facilities in CLE and MCO as well as at offsite facilities in New Mexico and Arizona.
We Are United
weareunited
Tomorrow, Oscar and Scott will host a companywide town hall to discuss the latest developments in managing the effects of the coronavirus (COVID-19). You can join the livestream event at 1:20 p.m. CT here:
uafly.co/39AV25m
We Are United
weareunited
Tomorrow, Oscar and Scott will host a companywide town hall to discuss the latest developments in managing the effects of the coronavirus (COVID-19). You can join the livestream event at 1:20 p.m. CT here:
uafly.co/39AV25m
.
Watch our most popular videos
Copyright © 2020 United Airlines, Inc.
All rights reserved.
Indicates an external site that may or may not meet accessibility guidelines.
Scroll to top
Scroll to top