Three Perfect Days: Island of Hawaii
Story by Nicholas DeRenzo | Photography by Daeja Fallas | Hemispheres, February 2018
They don't call Hawaii "The Big Island" for nothing. At 4,028 square miles, it is more than twice the size of all its archipelago-mates combined, comprising tropical rainforests, black-sand beaches, barren deserts, and even snowcapped volcanoes. Along with being the chain's (and the country's) largest island, Hawaii is also, in geological terms, its youngest. It's like a brash teenager, constantly growing and changing and flaunting its youth. This isn't a process measured in millennial increments, either—it's a pyrotechnic display of cracking earth and oozing lava. But what else would you expect from the home of Pele, the feared and fickle goddess of fire?
Day 1
We should probably stop first and ask Pele's permission." It's early morning in MacKenzie State Recreation Area, a park of ironwood trees and volcanic cliffs on Hawaii's quiet eastern coast. I'm here with Mark Frost, who owns the Kipuka guesthouse, where I'm staying; his dog, Cosmo; and his friend Kanani Aton. Before we enter the forest, Aton pauses to chant a passage from an ancient saga. "I love when we ask permission," she says, "because then things just unfold beautifully."
As we bounce across spongy pine needles, Aton points out medicinal fruits, ferns that she weaves into leis, and lava alcoves that were once believed to house pixie-like Menehune. Like the rest of the island, the area is perpetually being reshaped by lava, a danger that's quite a boon for tourism. "You know that saying, 'If you build it, they will come'?" Aton asks. "Well, Pele's building, and they're all coming!"
A sustainable bamboo guesthouse at Kipuka
After an hour of exploring, we return to Kipuka, four off-the-grid bamboo houses built in a palm garden with more than 5,000 trees from 350 species. Frost brews me coffee with beans from Ka'u, a burgeoning coffee destination on the island's southern flank. Enlivened, I head out for a drive up the coast.
This island is two-faced: The windward Hilo side, where I've started my trip, is all mist and rain, lush jungles and crashing waterfalls; the leeward Kona side is white-sand beaches and sun and big resorts. About an hour after my start, I'm driving into Hilo, the island's biggest town, at about 50,000 residents, and one of America's wettest, with nearly 200 inches of rain per year. The onetime sugarcane center feels a bit like a Wild West boomtown or some tropical Twin Peaks.
"The landscape drains of color and turns to black as we fly over miles of hardened lava."
I stop at the 110-year-old Suisan Fish Market for poke, the local dish of raw marinated fish that's having a moment on the mainland, and order a heaping mixed plate—marlin, salmon, ahi, and hamachi—topped with umami-rich furikake. I make sure to save room for a shave ice at Wilson's by the Bay. The friendly woman behind the counter packs vanilla ice cream into a paper cone and tops it with a softball-size mound of ice, fresh-shaved by a vintage contraption, plus coconut, lilikoi (passion fruit), and li hing mui (salty dried plum) syrups. Outside, an old man solemnly wishes me good luck, but I still end up licking syrup off my forearm.
Next, I'll be exploring the island from a different perspective, with Blue Hawaiian Helicopters. I check in at Hilo's pint-size airport, where I'm asked to step onto a scale like a piece of luggage (maybe I didn't need that shave ice) to ensure inflight weight distribution. On the chopper, to a soundtrack of Enya and the Jurassic Park theme, we dart around like a dragonfly, buzzing up the Hamakua Coast, past waterfalls carving troughs through fertile valleys, and then south, over neat grids of macadamia trees.

Poke at Suisan Fish Market
The landscape drains of color and turns to black as we fly over miles of hardened lava. We keep our eyes peeled for new breakouts, like kids on a road trip playing the license plate game. Lava is slow, but it's no laughing matter: This flow swallowed up the village of Kalapana less than three decades ago, incinerating everything in its path and forming acres of new land. The grand finale is the Kamokuna ocean entry, where red-hot lava pours into the sea, kicking up great plumes of steam. Some visitors choose to approach the area on boats, or even by foot or bike, but I'm happy to keep a healthy distance. After all, on New Year's Eve 2016, about 17 football fields' worth of newly formed land came crashing down into the Pacific.

Back in Hilo, I stop into Sig Zane Designs to browse the collection of upscale aloha shirts while entertaining thoughts of growing a Magnum, P.I. mustache. I'm also thinking about dinner, which is at Moon and Turtle, the passion project of Hilo-born chef Mark Pomaski, who worked as a sushi chef at New York's Nobu Fifty Seven, and his wife, Soni.
The King's Pond at the Four Seasons Resort Hualalai
"I love the combo of high and low," Pomaski says. "I want to elevate the humble soul food dish and bring the avant-garde back down to earth." I order seared beef tataki dressed with a tapenade made from mushrooms grown up the coast, plus a meaty collar of local hapu'upu'u sea bass, flash-fried and served with a savory ponzu garlic butter. The highlight is raw kanpachi (yellowtail), dressed with extra virgin olive oil, chili pepper water, and soy sauce that's been smoked with kiawe (Hawaiian mesquite). "Chili pepper water and soy sauce are like salt and pepper here," Pomaski says. "This is like my childhood and my adulthood on a plate."
I finish up with a custardy slice of lilikoi pie from the nearby Papa'a Palaoa Bakery, and begin the hourlong drive back to Kipuka. The roads are dark, with nothing but the distant glow of lava to guide me home.
Poke, Please—And Hold The Accent Mark
Centuries before Western contact, Hawaiians were dressing chopped reef fish with sea salt, limu (edible algae), and roasted kukui nuts—local flavorings still found in markets across the island. By the late 1800s, ahi had emerged as a tastier go-to base, and poke (Hawaiian for "to cut crosswise into pieces") became a symbol of the changing face of Hawaii: Westerners added onions and chili peppers, Asian workers brought soy sauce and sesame oil, and 21st-century Americans added the unnecessary accent mark you see on the mainland.
The Roast With The Most
Thanks to near-perfect growing conditions, Kona coffee is one of the most prized and expensive varieties on the planet. At the UCC Kona Coffee Estate, which is owned by one of Japan's largest coffee companies, you can tour a working plantation and roast your own beans. Bonus: They'll even print your proud face right on the label.
Day 2
My body is still on mainland time, which comes in handy as many of Hawaii's most memorable experiences happen before sunrise. A case in point is Hawaii Volcanoes National Park, located an hour's drive west of Kipuka, where I awake to a chorus of invasive coqui frogs outside my window.
It's still dark when I arrive at the park, which takes its plural name from Mauna Loa, the planet's largest shield volcano, and Kilauea, one of its most active. In the pitch-black visitor center parking lot, I meet Tours by Locals guide Scott Wiggers. He ushers me to a point overlooking the Halema'uma'u Crater, where a lava lake flickers red and spits up mini molten geysers. There are only five or six other visitors, so it's silent except for the rumbling and hissing of roiling lava. "This is my favorite time to visit the park," Wiggers whispers. "We practically have it all to ourselves."
As the sun rises, we climb into a truck and head off to see the park's greatest hits, including the Thurston Lava Tube, a subway tunnel–size cave through which lava once flowed, and the Kilauea Iki Overlook, which offers views of a crater that produced 1,900-foot molten fountains during an eruption in 1959. That's about 100 feet higher than One World Trade Center.
We pull over and walk to a series of steam vents, formed when rainwater gets trapped in the porous rock and superheated, and warm our hands in a plume of fog (it's surprisingly chilly out here). "It smells just like boiling pasta," Wiggers says with a laugh. He bends down and rummages around for a few seconds, and then picks up a strand of glass. Lava from the crater gets caught in the wind, stretched, and spun like cotton candy, landing all throughout the park. "This is called Pele's hair," Wiggers says as he drops the glass back onto the ground. If you've ever seen the Brady Bunch Hawaiian vacation episode, you know it'd be bad luck to pocket anything from the park. (Plus, it's a federal offense.)
A lava lake at Halema'uma'u Crater in Hawaii Volcanoes National Park
We continue along Chain of Craters Road, which is flanked on either side by endless expanses of hardened lava. "You'll notice two types," says Wiggers as we trek over a crunchy lava field. "Pahoehoe, the hotter lava, is flat and easy to walk on." To me, it looks like a pan of overcooked brownies. "A'a is chunky and impossible to walk on." More like a bulldozed pile of Oreo chunks.
As we drive, mongooses and pheasants dart across the road, but I'm on the lookout for the state bird, the nene. In the early 1950s, this cousin of the Canada goose was close to extinction, with only about 30 birds left (it didn't help that the old Volcano House hotel used to have them on the menu), but a captive breeding program has returned their numbers to about 2,500. I'm happy to check them off my bird-nerd bucket list after I spot a pair foraging by the side of the road.
I say goodbye to Wiggers and head to Volcano Village for lunch at Ohelo Café, where I order pan-seared ono—the Hawaiian name, meaning "good to eat," for the game fish wahoo. Southwest of here, the landscape changes, opening up into the Ka'u Desert, which is deprived of vegetation by Mauna Loa's rain shadow, the only precipitation being acid rain caused by volcanic gases. I skirt the coast, pulling over to dip my toes at Punalu'u black-sand beach, where green sea turtles bob in the surf, munching algae from the rocks.
Lifeguards at Punalu'u black-sand beach
Fifteen minutes down the road, I reach Punalu'u Bake Shop, America's southernmost bakery (in these parts, everything is America's southernmost something) for pillowy taro sweetbread and fried malasadas, doughnuts brought to the island by 19th-century Portuguese sugar workers. I drive past the U.S.'s southernmost point (it's all ocean from here to Antarctica) and start to head up the coast, past hillside coffee farms.
Soon, I'm emerging on the island's resort-rich Kona side and pulling into the Sheraton Kona Resort & Spa at Keauhou Bay, which is known for its manta ray–related activities. The wildlife viewing started as a happy accident: A spotlight shining from the hotel's seafront restaurant attracted light-loving plankton, which in turn caused hungry mantas to turn up in droves. Now adventurous types meet at sunset on a nearby dock for a Fair Wind Cruises night snorkel with these balletic behemoths. They're harmless (no teeth, no barbs), but they are intimidatingly large, with wingspans of up to 14 feet.
"My body is still on mainland time, which comes in handy as many of Hawaii's most memorable experiences happen before sunrise."
Our boat, the Hula Kai, putters out a few hundred yards as our guide rattles off the rays we might encounter—Sugar Ray, Darth Ray-der, Big Bertha—each identified by its unique markings. Snorkels and fins on, we plunk into the water and line up along a floating platform, our feet buoyed by foam floaties, which makes us look like rows of Supermen in flight. Lights on the bottom of the platform draw a cosmos of phytoplankton, which in turn attract zooplankton—a catch-all term for minuscule, sea monkey–like creatures—and the mantas turn all of the above into a buffet.
A manta ray in the dark water off the Kona-Kohala coast
We wait five minutes, 10 minutes, lulled into a meditative state by passing fish. Suddenly, the peace is broken by a chorus of snorkel-muffled screams, whimpers, oohs, and aahs. People, it seems, have varying responses to Volkswagen-size sea creatures. Below me, an immense manta is gliding upward. It flips onto its back, skimming inches from my mask, scooping up plankton with its gaping mouth. For the next half hour, we watch rays loop in and out of the light, snacking on bucketfuls of microscopic critters.
Staying afloat in bobbing waves is a surprisingly effective core workout, and it leaves me tuckered out. Back on dry land, I grab a quick dinner of kalua pork potstickers, hearts of palm salad, and a much-needed mai tai at the Sheraton's Rays on the Bay, then head straight to bed, drifting off as waves crash on the lava rocks outside my window. Tomorrow will be a big day.
Trail Guide: Tips from Hawaii Volcanoes National Park public affairs specialist Jessica Ferracane
"Get to Jaggar Museum before sunrise. When no one is around, you can sometimes hear the rumbling of rocks exploding as the lava lake rises and falls."'
"Remember to dress in layers—it's much colder at 4,000 feet than you think, despite the proximity to molten rock!"
"The Kilauea Iki Trail blows my mind. My favorite section is where molten rock drained back into the vent and piled up like clumps of black satin bedsheets."
Day 3
Hawaii vacations conjure images of sunbathing and tiki drinks, but mine is shaping up differently. I know this because it's 1:45 a.m. and I'm getting dressed in the dark. I'm about to be picked up by the tour company Hawaii Forest & Trail to witness sunrise on the summit of Mauna Kea, a dormant volcano that's so tall it's been known to see snow in the middle of summer. At 13,796 feet, Mauna Kea is the highest point in the state; measured from the ocean floor, it tops out at about 32,000 feet, making it the tallest mountain in the world. (Everest rises 29,029 feet above sea level but rests atop a plateau—which many Hawaiians think is a bit like measuring a basketball player's height while he sits on his teammate's shoulders.)
Accompanied by our cheerful guide, Kim Nichols, we exit the van at 9,200 feet to adjust to the altitude before making the final ascent—a doozy for the human body even if you're not hiking. Far from the city lights, the stars are shockingly bright. We zip into our parkas and look up to see Orion and the Pleiades, the hazy swath of the Milky Way, the reddish pinpoint of Mars. Satellites whiz by, along with the occasional meteor. Just as Venus—the morning star—peers over the horizon, we squeeze back into the van and head to the summit.
A green sea turtle crawls onto shore
A short, bumpy nap later, I awake on the mountaintop, surrounded on all sides by massive telescopes. We jump out to catch the first rays of sun gilding the horizon. We're above the cloudline, so the sun seems to emerge out of the ether, like a scoop of orange sherbet melting in reverse.
Nichols reminds us to take it easy. Oxygen levels are low up here; anything faster than a slow crawl will leave you gasping."Your body is redirecting resources to vital organs," she says, meaning motor skills, eyesight, and speech will take a back seat. "We call it 'the two-mai-tai effect.'" I mumble a garbled question, and she responds, "See!" I can't be sure if my incoherence is due to a lack of oxygen or a lack of caffeine. The return-trip nap, as the van bounces downwards, is possibly the best I've ever had.
"I wander along a path that skirts the beach, watching Pacific golden plovers dart in and out of the surf."
Back in Kailua-Kona, I drive a rental up the sunny Kona-Kohala coast, then drop off my bags at the luxe Four Seasons Resort Hualalai. Still a bit groggy, I head north for breakfast/lunch/last-night's-dinner in the village of Waimea. This is cowboy country, the land of the paniolos, who came from California and Mexico in the 1800s to tend cattle. (The name might be derived from the Spanish for handkerchief, pañuelo, or it could be a version of español.) At Village Burger, an unassuming strip mall spot, I order my hamburger rare, served with Swiss cheese, tomato marmalade, and 60-minute onions. Perfect.
I drive farther up the Kohala Mountain Road, a picturesque route that zigzags through cattle pastures. A few miles past a towering roadside statue of Kamehameha the Great, the founder of the Kingdom of Hawaii, I pull into a lot overlooking Pololu Valley. A guy selling freshly cracked coconuts is telling tourists he has the best corner office in America. I can't argue. His patch looks down on palm-smothered valleys and cliffs, which billow out toward the horizon like a green curtain. I hear that the real treasure is on the valley floor, so I grab a coconut and brave a series of slippery switchbacks to a secluded black-sand beach, where I lie back and take in the oddly relaxing sound of waves battering the shore.
More relaxation is in store for me back at the Four Seasons, in its extravagant pools: sipping cocktails from the swim-up bar at the Palm Grove Pool; wading in the Ocean Pool, which is protected from the waves by a lava-rock breakwater; and snorkeling with a spotted eagle ray and 4,000 tropical fish in King's Pond, a 1.8-million-gallon aquarium.
Later, at the hotel's chic 'Ulu Ocean Grill + Sushi Lounge, I sit at the sushi counter next to executive chef Thomas Bellec, who was born and raised in Brittany. Despite the distance, Bellec sees a kinship between Hawaii and coastal France. "I didn't even know how to walk yet, and I knew how to eat oysters," he says. "Everything here is related to the ocean. I feel like I'm back home."
They take the locally sourced thing seriously here. "We're raising our own oysters," Bellec says, "in a pond on the 15th hole of our golf course." We start our meal with buttery Molokai sweet potato bread and hummus made from 'ulu, or breadfruit, one of the staple "canoe plants" brought to Hawaii by Polynesian wayfinders. Next up is a flurry of fresh seafood, in the form of delicately dressed sashimis and sushis. Kanpachi is served seared with a slick of truffled ponzu. Local abalone is poached in dashi with a miso-mustard aioli and served on the half shell (a play on oysters Rockefeller). One standout is a twist on the classic loco moco, a hearty staple traditionally consisting of white rice topped with a hamburger patty, brown gravy, and a fried egg. Here, tuna tartare sits atop sushi rice and is paired with a quail egg, a squid ink tuille, and sweet kabayaki gravy. The sake pairings—and the fact that I've been awake for what feels like a week—have me ready to try out those crisp white sheets in my room.
I wander back along a path that skirts the beach, watching koleas, or Pacific golden plovers, dart in and out of the surf. These little waders don't look like much, but they're partly responsible for the discovery of the Hawaiian islands. Nearly a millennium ago, Polynesians watched these migratory birds come and go, charting their courses and mapping the entire Pacific before setting out on outrigger canoes and using the constellations to land on these shores. I may not be as coordinated as these birds (who travel 3,000 miles to their arctic breeding grounds every year) or those ancient voyagers, but the lesson is clear: Hawaii has a gravitational pull, and I'm sure I'll be brought back into its orbit soon.
Where To Stay
Kipuka
Kapoho, on the island's secluded eastern tip, is a haven for off-the-grid types. Here, set among more than 5,000 rare and exotic palms, Mark Frost built four sustainable bamboo guesthouses. If you can tear yourself away from the hammocks and the saltwater pool, the property is minutes from teeming tidepools and geothermally heated pond.
Sheraton Kona Resort & Spa at Keauhou Bay
Perched on jagged lava cliffs, this 508-room hotel features all the perks—hula lessons, waterslides—you'd expect from a big Kona resort. What sets it apart are thoughtful design touches by the king of the aloha shirt, Sig Zane, who created staff uniforms, textiles, and art for the property.
Four Seasons Resort Hualalai
Sure, you know about the seven pools, the Jack Nicklaus–designed golf course, and the outdoor lava-rock showers. But the greatest amenity here is the Ka'upulehu Cultural Center, run by "Uncle" Earl Kamakaonaona Regidor, where you can take ukulele lessons, learn how to make leis, or brush up on Hawaiian phrases.
Discover Kansas City: The City of Fountains
To those unfamiliar with the Missouri metropolis, Kansas City might call to mind a few associations: Barbecue. Jazz. The fact that there's another, smaller Kansas City in Kansas (it's all part of the same metro area…yeah, we were confused, too). And while it absolutely has all those things, it also boasts wide boulevards, world-class art and really good tacos. Here's everything you need to add to your agenda on a visit to the vibrant Midwestern hot spot.
RELATED: The Best (and Most Wallet-Friendly) Places to Travel in October
Wallaceweeks/Getty Images
Make a wish at one of the many, many fountains
If you notice an abundance of water features around town, that's because K.C. has, oh, 200 of them. (Its official nickname is The City of Fountains.) Among the most notable are the equestrian-themed J.C. Nichols Memorial Fountain (built by a French sculptor in 1910) and the Henry Wollman Bloch Fountain in front of Union Station, whose 232 concentric water jets put on an ever-changing display.
Don Ipock/Courtesy of Visit KC
Get artsy
Spend an afternoon wandering the Nelson-Atkins Museum of Art, notable for, among other things, distinctive architecture, an extensive Asian art collection and a sculpture garden that includes four giant badminton shuttlecocks. The nearby Kemper Museum of Contemporary Art houses more than 700 works from artists like Jasper Johns, Helen Frankenthaler and Frank Stella. You'll find an extra dose of culture throughout the city through October 28, thanks to Open Spaces, the city's newly inaugurated biennial arts festival.
Courtesy of Boulevard Brewing
Drink like a local
Fun fact: Kansas City famously said "nah, we're good" to Prohibition, so drinking is effectively part of the city's cultural fabric. Take a tour at Boulevard Brewing; beer geeks should be sure to sample the complex, extra-boozy pours from the Smokestack Series. If spirits are your jam, head to J. Rieger & Co., a legendary pre-Prohibition distillery that was resurrected in 2010 (with help from a descendant of J. Rieger himself), for whiskey, gin, vodka and Caffe Amaro (a bittersweet coffee liqueur).
Brian Paulette/Courtesy of Visit KC
Soak up the city's jazz past (and present)
Thanks in part to its unique, nightclub-friendly status in the '20s and '30s (see above), and heavyweights like K.C. native Charlie Parker, the city boasts a rich musical history, much of it centered around the 18th and Vine neighborhood. Pay homage at the Charlie Parker memorial and the American Jazz Museum, then catch a live show at the Blue Room (inside the museum) or the Green Lady Lounge.
Courtesy of Visit KC
Check out City Market
There are farmers' markets, and then there's this massive institution, which has been operating as a hub for local vendors since 1857. Along with a bounty of produce and flowers from nearby farms, you'll find dozens of eateries ranging from Ethiopian to Brazilian. It also shares the space with a surprising tenant: the Arabia Steamboat Museum, which showcases 200 tons of artifacts salvaged from an 1856 shipwreck in the Missouri River.
DAVID D. MORRIS/COURTESY OF VISIT KC
Eat barbecue
Anthony Bourdain called Joe's Kansas City Bar-B-Que one of the 13 places you need to eat before you die. The legendary spot—located in a gas station—is famous for its burnt ends and Z-man sandwich (brisket, Provolone and onion rings). For a new-school take on smoked meat, check out Q39, where the chef taps both his classical culinary training and years on the barbecue competition circuit to perfect dishes like a burnt-end burger and house-made chipotle sausage.
Zach Bauman/Courtesy of Visit KC
…And not barbecue
Feast on globally influenced small plates (think gochujang-dressed cauliflower and duck confit with za'atar) at The Antler Room, opened by a husband-and-wife team who brought their far-flung restaurant training back to their hometown. If the weather's nice, grab a seat on the patio at Gram & Dun for creative cocktails and comfort food with a twist like Asian pig "wings" with sake-soy glaze or loaded baked potato gnocchi. Also of note? The town's serious Mexican food scene. Order a whole wood-fired chicken at El Pollo Rey or walk into any of the great taquerias clustered around Southwest Boulevard.
Courtesy of Visit KC
Take a stroll in Swope Park
At 1,805 acres, the city's largest green space is more than twice the size of NYC's Central Park, and houses the Kansas City Zoo, a gorgeous outdoor amphitheater that presents Broadway shows and concerts, a zip-line adventure course, soccer pitches (where both the men's and women's pro teams train), a wildlife rehabilitation center and miles of hiking trails and picnicking spots.
Courtesy of Visit KC
Explore the Crossroads Arts District
Creatives flock to this historic neighborhood, filled with galleries, design shops and buzzy restaurants. If you can, time your visit for the first Friday of the month, when you'll find pop-up parties at galleries and shops, live performers on every corner and food trucks galore. Also in the area is the gorgeous Kaufmann Center for the Performing Arts, should you wish to cap your evening off with some ballet, symphony or opera.
RELATED: 20 Cities Where Travelers Get the Best Value
This article was from PureWow and was legally licensed through the NewsCred publisher network. Please direct all licensing questions to legal@newscred.com.
United and Special Olympics
Taking inclusion to new heights
Our shared purpose is to connect people and unite the world — and no organization better embodies that principle than Special Olympics.
Learn more
Where to eat and drink in Salem
While Salem, Massachusetts will be forever famous for its 1692 witch trials—and the associated spooky attractions that always make the streets quite crowded this time of year—its culinary scene is starting to become an attraction unto itself. Here are the beverage spots, bakeries, and restaurants to check out next time you're in town.
The Roof at Hotel Salem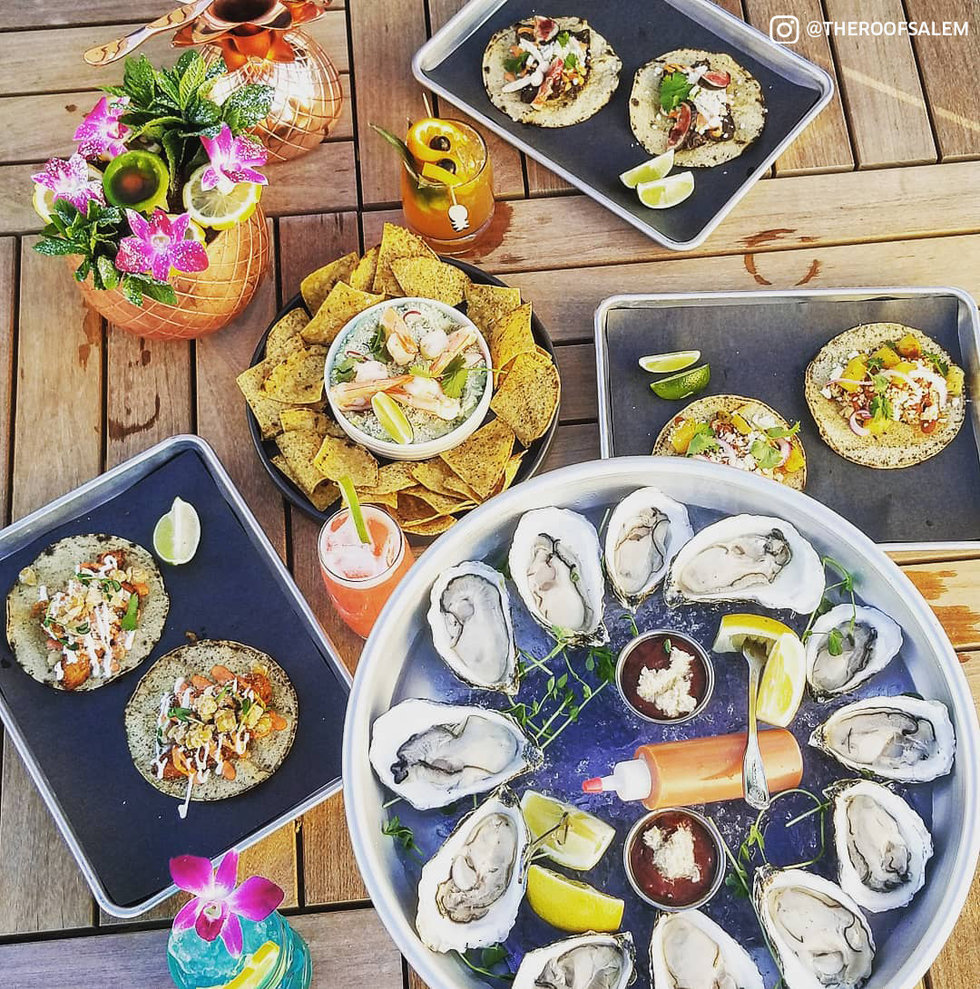 Today is the day. We will be open 2-11! #wayup \Roof Salem
When the mid-century modern Hotel Salem opened recently, it had a draw for locals, too: Salem's first-ever roof deck, with views of the harbor, church steeples, and historic rooftops for miles around. Open at least through the end of October (request a blanket from a host if you get chilly), the open-air lounge keeps the warm weather vibes going with a mostly Mexican-inspired food and drink menu, including margaritas and tacos. In colder months, retreat downstairs for a double burger from the open-concept lunch and dinner bar, Counter.
Kokeshi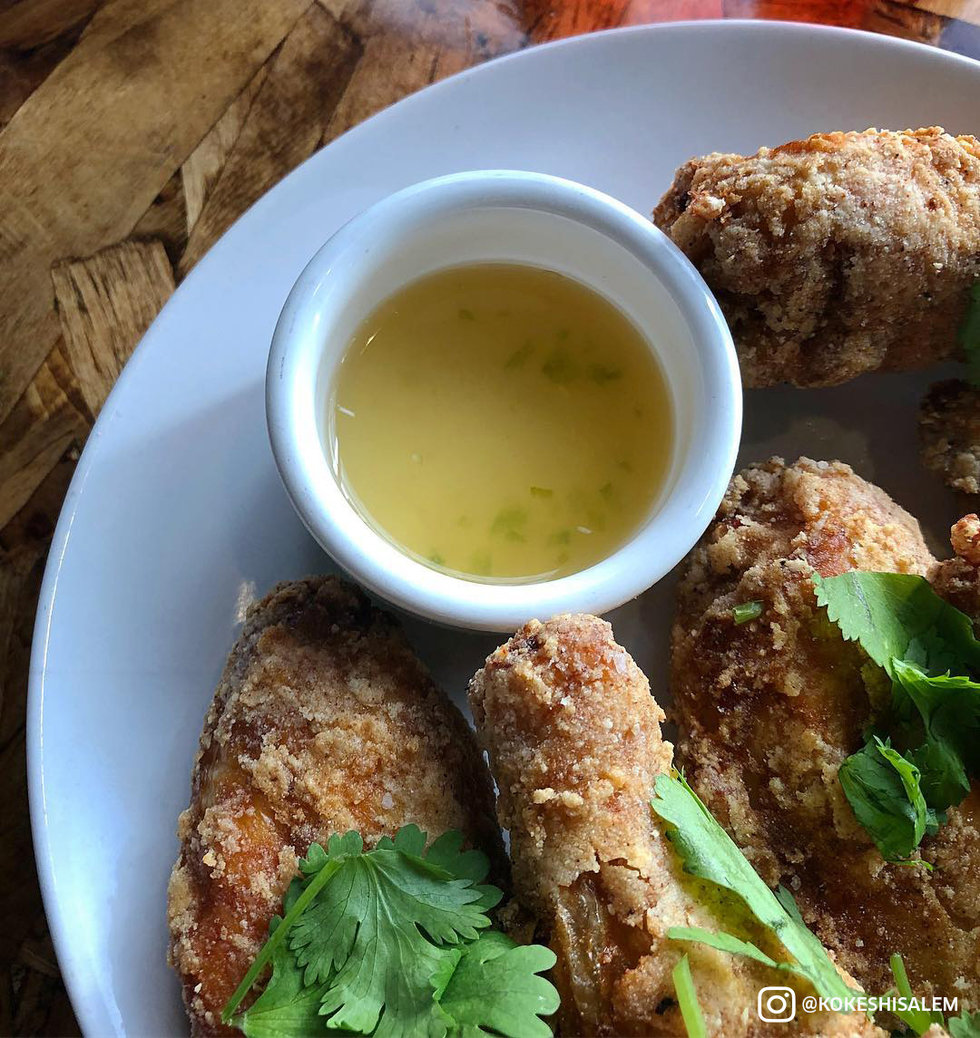 Fried chicken wings... one of four courses offered during the first ever Ramen Mile this Thursday. What's a Ramen Mile? Check the link in our profile for info and sign ups. 🍗 \Kokeshi
With its flashy atmosphere (graffiti-lined walls, more than a dozen colorful paper umbrellas hanging from the rafters) and bold Asian street food menu, Kokeshi is nothing if not vibrant. Head here for surprising starters like an octopus hot dog sprinkled with daikon slaw and comforting bowls of rice noodles and ramen, including the Colonel Sanders, topped with fried chicken. If you're more in the mood for pizza, take note that the owners also serve perfectly crispy-chewy Neapolitan pies at their other spot, Bambolina.
Ledger Restaurant & Bar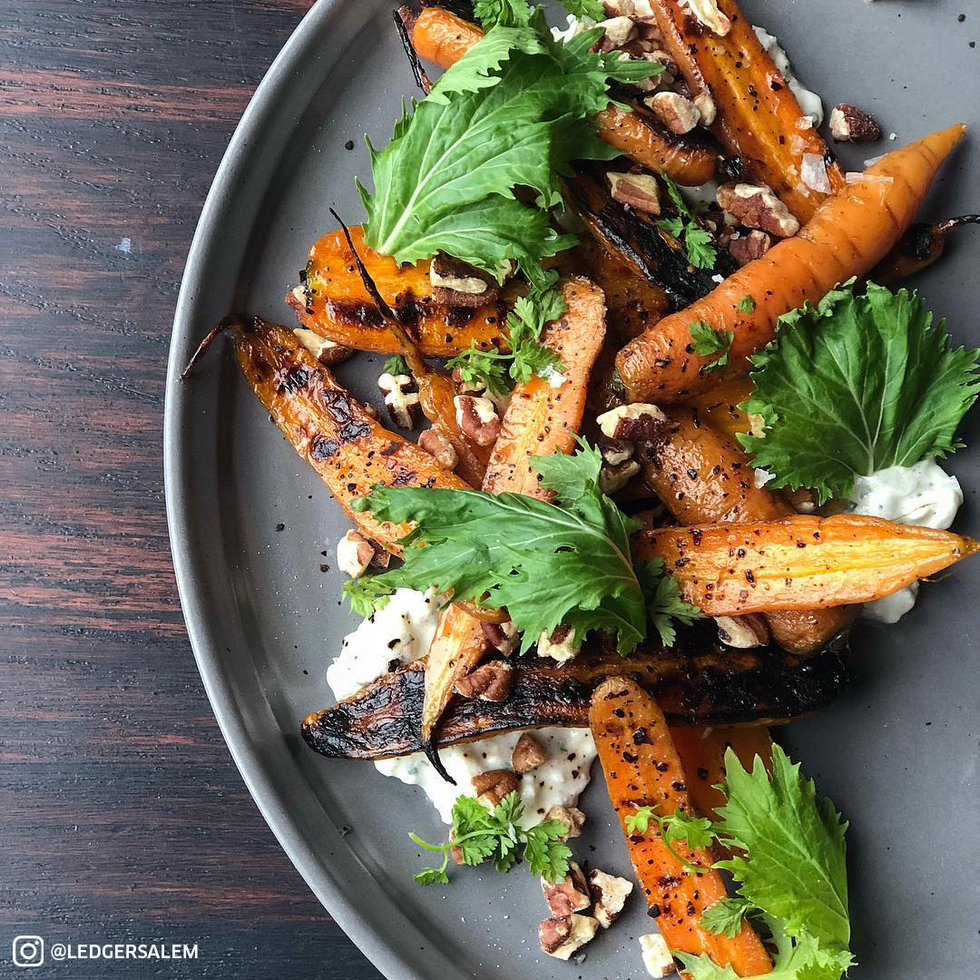 One of the favorites from last summer is back on the menu. Wood fire grilled carrots, house made herbed ricotta, maple, urfa, toasted pecans, chervil. \Ledger Restaurant
A circa-1818 former savings bank found new life recently when chef-owner Matt O'Neil oversaw its thoughtful renovation into a gleaming restaurant space. Rustic touches like exposed original brick, a wall of repurposed deposit boxes, and a long, wooden communal table sit alongside more polished elements, including a sweeping open kitchen with a custom wood-fire grill and a dramatic, oversized chandelier over the bar. The menu has a new-New England vibe, with seasonal, locally sourced sides like cornbread and succotash, and hearty mains like a Berkshire pork chop with marinated peaches.
Life Alive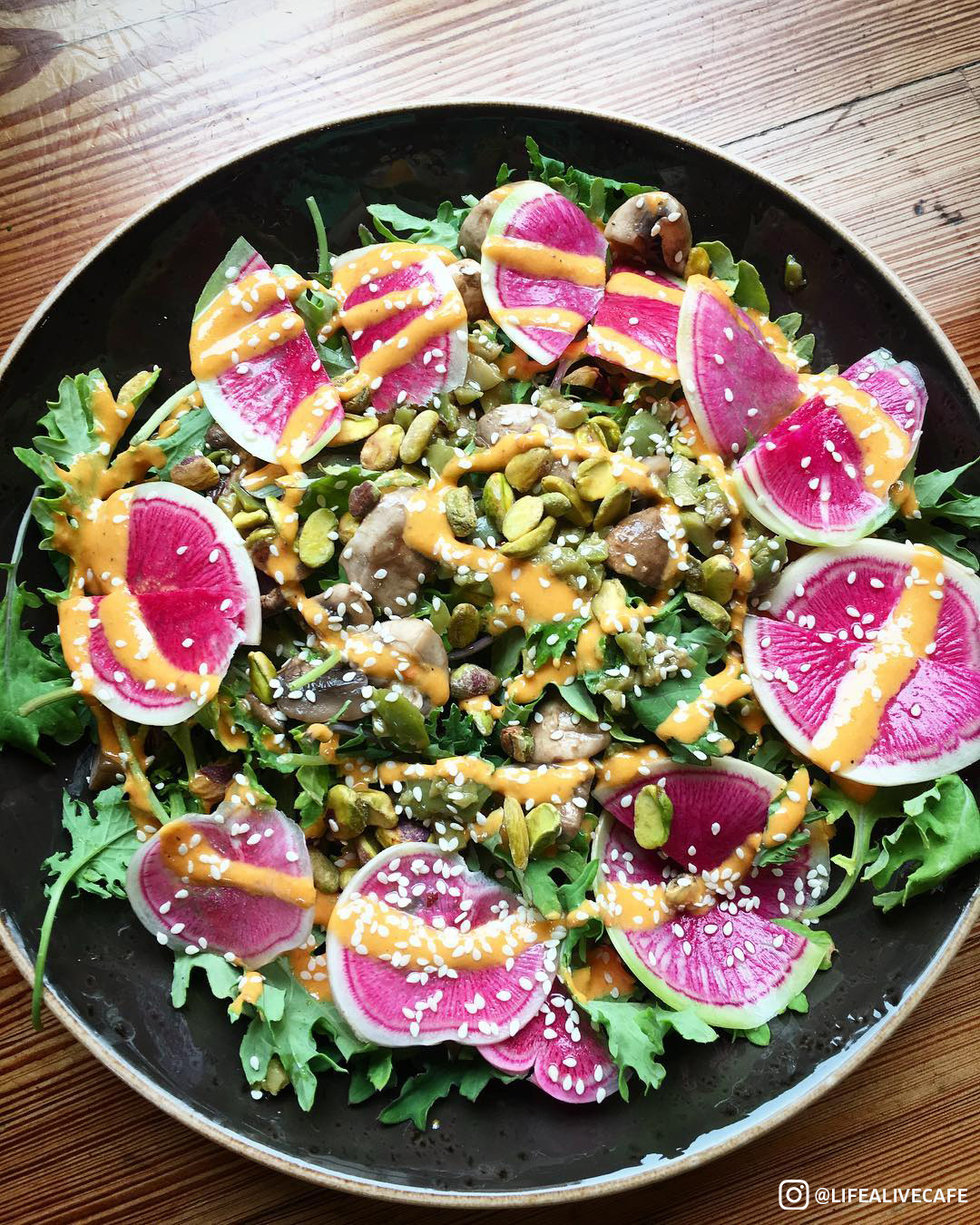 The Thinker salad mindfully composed exquisite red bell pepper tahini dressed baby kale with paper thin Winter Moon Root radishes pistachios green olives & marinated mushrooms.Life Alive Organic Cafe
Long before "plant-based" was a buzz-phrase and juice bars were popping up by the minute in downtowns everywhere, Life Alive was spreading its version of veggie love in the Boston area in the form of nutrient-packed smoothies, salads, and grain bowls (try the Goddess, with ginger shoyu sauce and sprouted legumes). Now four shops strong, including an outpost in Salem, this casual, organic cafe serves up the type of clean eats you'd expect to find at pricey yoga retreat.
Far from The Tree Hard Cider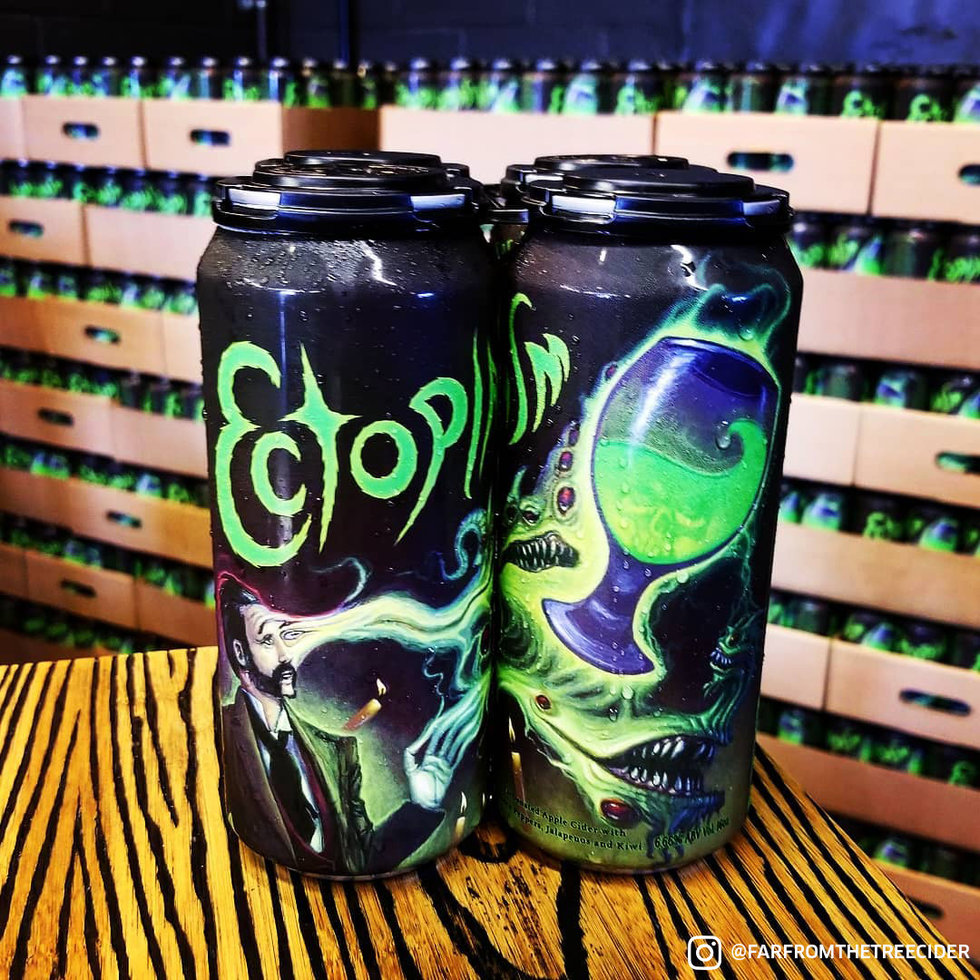 It's on! 1 case limit per person. \Far From The Tree Cider
When you need a break from the witch museums and haunted graveyard tours, retreat to Far from the Tree's decidedly more mellow taproom. Pull up a stool in the rustic indoor space or perch on a picnic table on the patio outside, and sample hard ciders that run the gamut from off-dry heritage blends and Citra-hopped versions to out-there creations such as the limited edition Ecotoplasm, a bright green sipper spiked with jalapeno and green pepper out just in time for Halloween.
Notch Brewing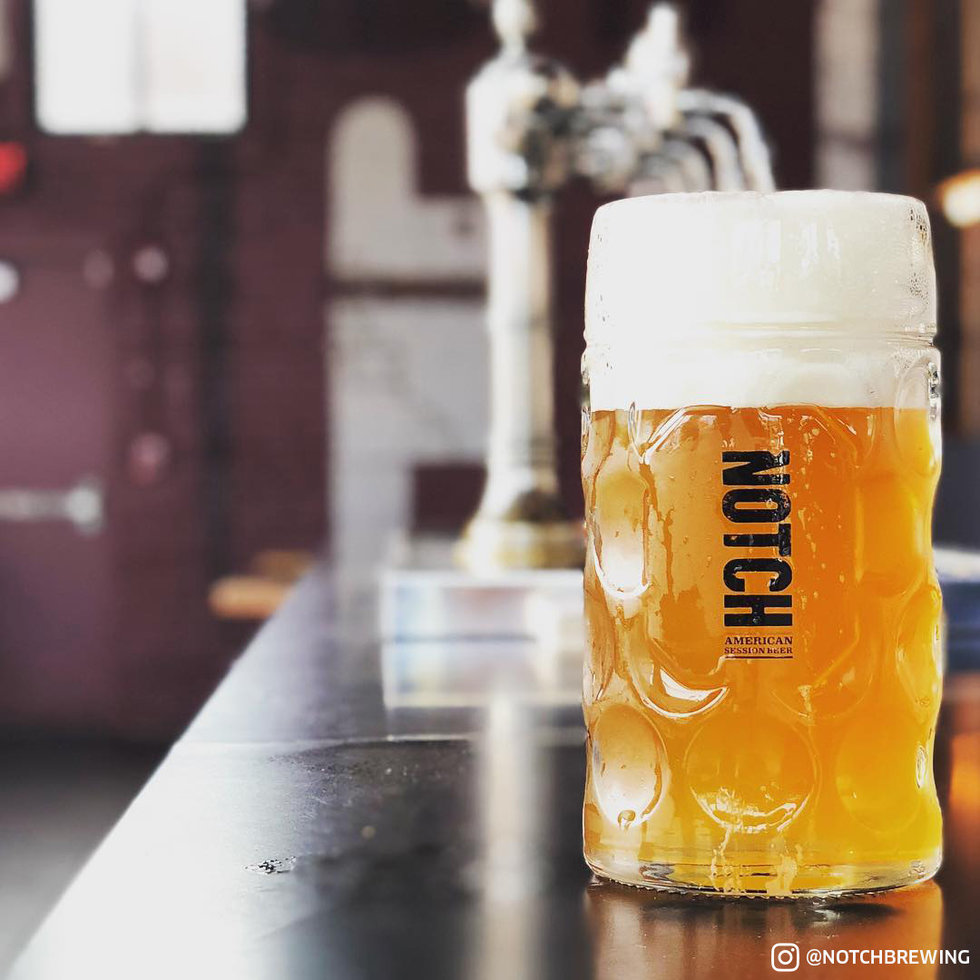 Voll Projekt Festbier on tap today for our annual Oktoberfest. \Notch Brewing
Not that we're recommending it, but if you insist on drinking by the bootfull, these are the kind of beers you want to reach for. This ahead-of-the-curve session brewer specializes in low-abv German and Czech-style lagers and ales, like the signature "session IPA" Left of the Dial and even more quaffable pale ale Zwickel. In between rounds of Skee-Ball in the taproom, also check out Notch's Voll Projekt, the a new foray into full-strength brews.
A&J King Artisan Bakers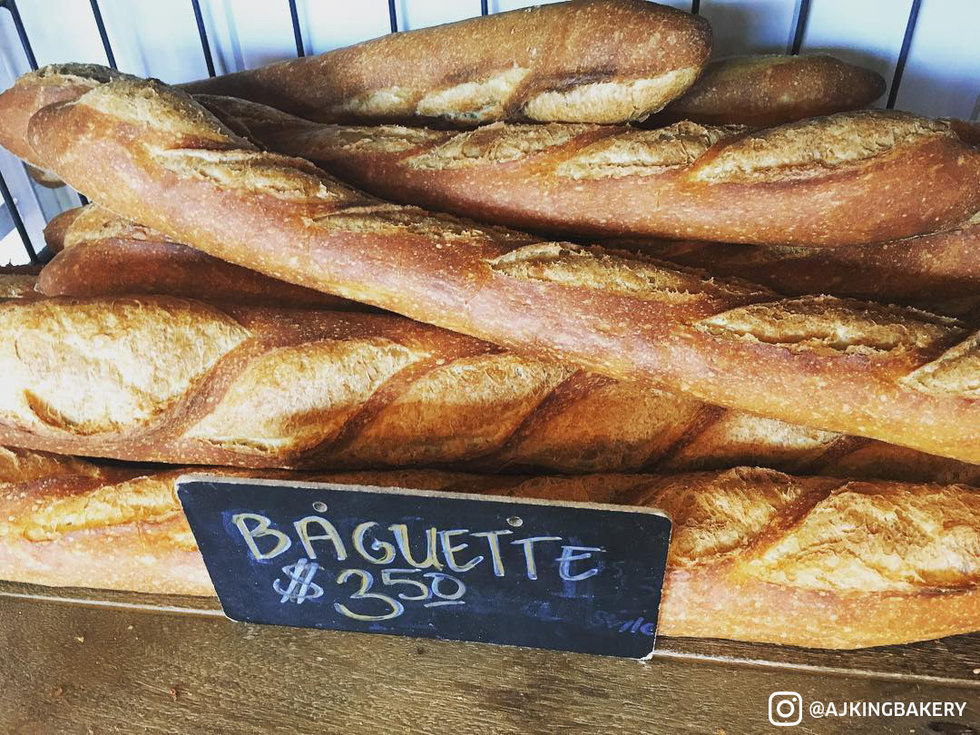 Baguettes! \A&J King Artisan Bakers
Master makers of all things crusty and buttery, artisan bakers Jackie and Andy King have earned themselves cult culinary status in this city—one croissant at a time. Stop by their original location or recently opened second bakery for a flaky apple tart or cinnamon bun, then fill your arms with as many rustic loaves of sourdough and baguettes as you can possibly tote home.
Caramel Patisserie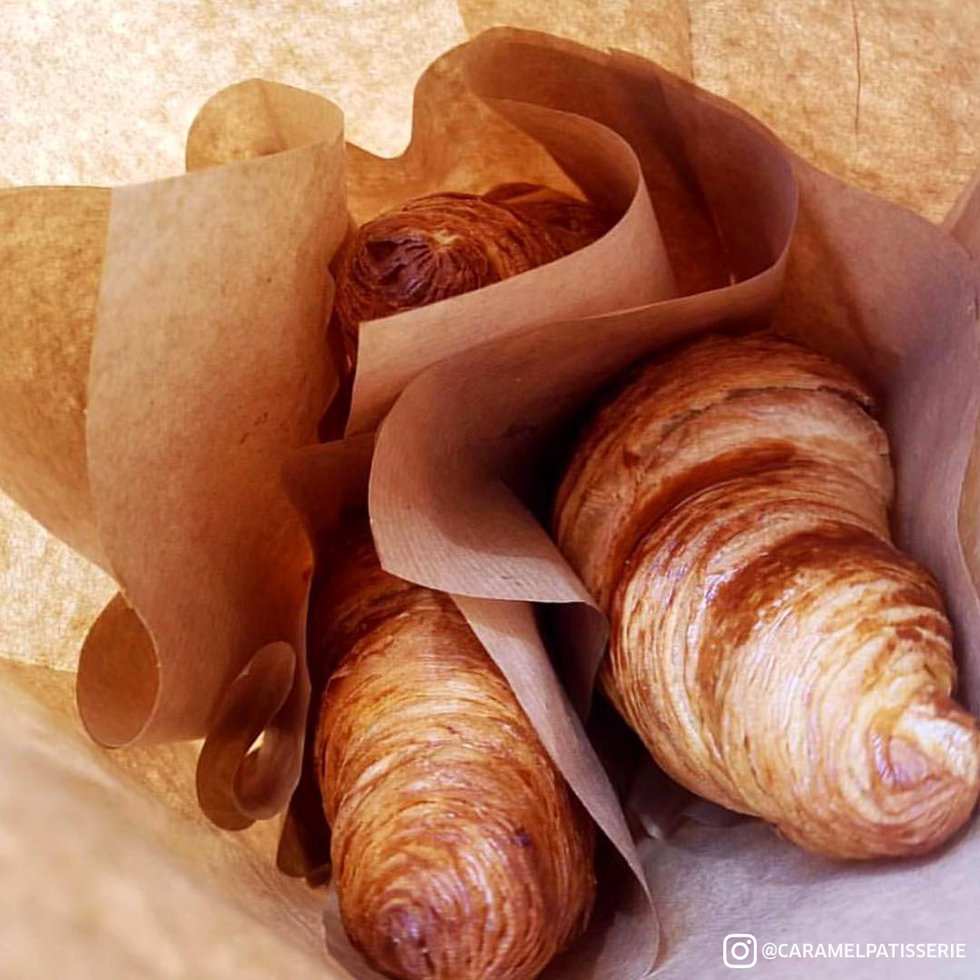 Morning 🥐🥐🥐 Patisserie & Macaron
French-born and clasically-trained pastry chef Dimitri Vallier makes some of the best treats in town—apparent by one glance at his picture-perfect pastry case. His elegant sweets, including Paris-brest eclairs and triangles of caramel mousse with poached pears are simply transportive. The only sign you're still in Salem? Alongside more traditional almond and rose macarons, you'll also find orange and black ones, too.
This article was written by Jenna Pelletier from Food & Wine and was legally licensed through the NewsCred publisher network. Please direct all licensing questions to legal@newscred.com.
Introducing travel experiences with PlacePass
Now that you've booked your flight, it's time to start planning out your trip itinerary. With so many options and endless websites to research, it can be a taxing task to take on. And if you're planning activities for everyone involved, it can be even more difficult to balance out the right amount of fun with the right number of touristy sites to visit.
With so many things to experience, research shows that travelers are seeking bespoke, local recommendations when it comes to planning their vacation itinerary. From activities like skip-the-line passes to museums, walking tours, water activities and more, our partnership with PlacePass provides top-rated recommendations when it comes to planning out your next trip. With over 100,000 travel experiences, you're sure to find something to do whether you're planning a family vacation, a trip with friends or tacking on a few extra days to your business trip.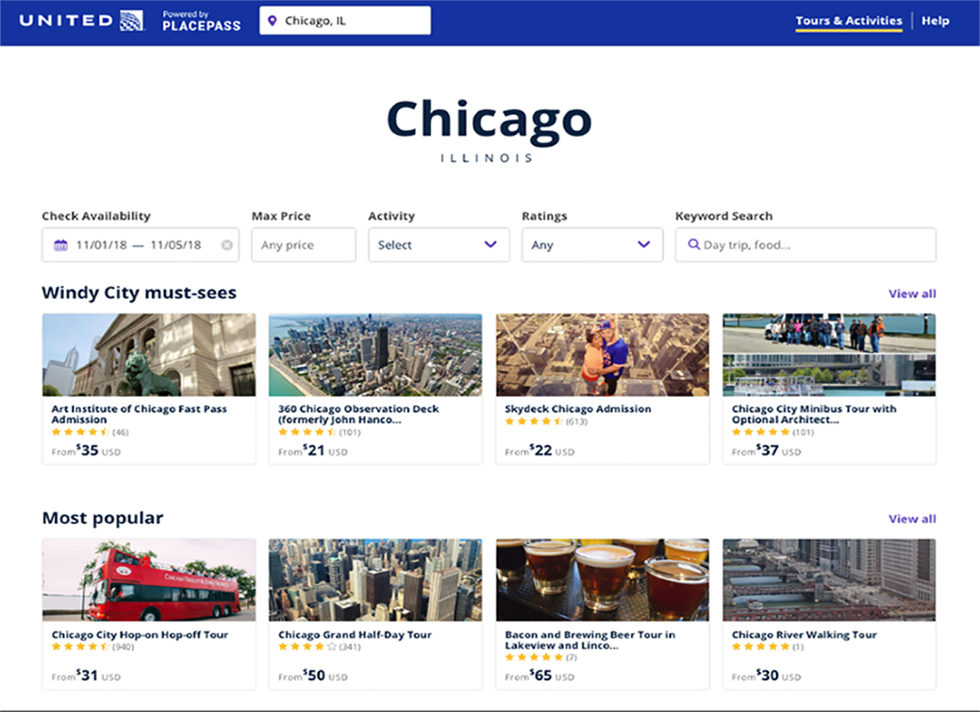 To start, enter in your destination to browse categories of activities specific to that location. Activities are categorized by "most popular," "food and drinks," "family fun," "wine country" and more for nearly every destination we fly to, making it easy to find what you're looking for or discover new things to do.
`q
Our partnership with PlacePass
is one of the ways we're bring more personalized experiences to our customers. As a leading technology solutions provider, PlacePass leads the way in bringing travelers in-destination experiences. Look out for more enhancements to our partnership early next year.
9 things to do in Maui for families
With 120 miles of shoreline and 80 beaches in hues ranging from eggshell to ebony, there would be plenty for families to love about Maui, even if you didn't factor in the fascinating volcanic crater at Haleakala National Park. Here are nine fun-filled ways for your family to say Aloha to Maui.

Gaze into a volcano
Shutterstock
Haleakala National Park is a literal high point of a visit to Maui: rising 10,000 feet above sea level, it's the world's largest dormant volcano. (If you plan to go before 7 a.m. to watch the sunrise, be sure to make a reservation ahead of time.) Once you've gazed into the crater and taken in the views over the entire island, there's plenty to explore in the otherworldly park filled with fascinating rock formations. Bring a jacket (it can be chilly up there) and stop at the ranger station as soon as you arrive for a free Junior Ranger Activity Booklet. Kids can complete the fun games based on sights around the park. Return to the ranger station when they're done and they'll be sworn in as Junior Rangers, complete with a plastic badge, the ultimate souvenir of a day up spent up in the clouds.
Take a flowery scavenger hunt
Shutterstock
While you're Up Country, amid the lush green slopes of Haleakala, visit the lovely and fragrant Alii Kula Lavender Farm. A free scavenger hunt will keep keikei (kids) busy wandering through the flowers and fruit trees — the reward for finishing is complimentary lavender cookies. Parents will love the gorgeous views and a relaxing stroll through the colorful grounds.
Pet a goat
Zach Stovall
Near the lavender garden is another Up Country family highlight: Surfing Goat Dairy. The goats don't actually surf unfortunately, but you can feed and pet them, and even sign up for a late afternoon milking tour to really get hands on.
Enjoy an authentic luau
Shutterstock
You'll want to arrive early for the popular Old Lahaina Luau, when traditional artisans demonstrate crafts such as palm weaving and wood carving, and your family can learn how to hula and play traditional instruments. The luau kicks off with the unveiling of the kalua pig that roasts all day in an underground pit, then the night unfolds as the sun sets, with live musicians and dozens of costumed dancers. Expect a massive, all-inclusive buffet where you can sample local tastes such as poi, pork, and poke, plus kid-palate friendly items including fried rice and barbecued "Moa" chicken.
Go on a whale watching tour
Shutterstock
Hit the seas with the marine biologists at Pacific Whale Foundation during humpback whale season, November through April, when nearly 10,000 of the mammoth mammals travel from Alaska to mate and give birth in the warm Hawaiian waters. Spotting a car-size tail shooting out of the water or witnessing an acrobatic out-of-water breach is the kind of spectacle your kids will remember for a long while, and PWF even offers a Jr. Naturalist Program for kids on their sailings.
See sharks at the aquarium
Shutterstock
Are your kids not ready for a boat adventure but still want to see amazing sea life? The Maui Ocean Center has a colorful Living Reef exhibit where you can spot unique swimmers like Hawaii's state fish, the humuhumu nukunuku apuaa. You can also see sea turtles, visit touch tanks, and walk through a 750,000 gallon tank filled with sharks.
Soak up the sun at Kaanapali Beach
Shutterstock
There's a beach for every mood on Maui, and of them Kaanapali is a top spot for families, especially the section just south of Black Rock — a landmark where a torch is lit and a diver plunges into the sea at sunset every night. Rent snorkel equipment and within seconds you'll spot tropical fish. Grab a bite to eat at the open-air Whaler's Village shopping center that has access right from the beach walkway. Plan to stay in the quieter area of North Kaanapali, north of Black Rock, where the Westin Nanea Ocean Villas offers multi-bedroom suites with full kitchens and washer dryers, a fabulous lagoon pool, cultural activities, a kids club, and communal grills where you can make an easy stay-in dinner for the family.
Explore the largest Banyan Tree
Shutterstock
The historic town of Lahaina is filled with original buildings from the 1800s when it was a bustling whaling town. The biggest attention grabber for kids is the massive, 60-foot high banyan tree (the largest in the United States), which has branches that extend across an entire block. There's always shade under the tree, making it the perfect spot to savor a tropical syrup-infused shave ice from one of the shops nearby.
Take a road trip
Shutterstock
The Road to Hana is legendary: 50 miles of hairpin turns and one lane bridges that test a driver's mettle, even without a car full of kids who might succumb to motion sickness. Instead of plunging down the entire drive, turn it into a road trip exploration that suits your family. Going just a third of the drive (less than an hour without stops), you can have lunch in the funky beach town of Paia (kids love the pizza at Flatbreads), watch the windsurfers at Hookipa Beach, feel the cooling spray at Twin Falls, take a mini hike at Waikamoi Ridge Trail, and stop to see the colorful painted eucalyptus and enjoy some fresh fruit at Garden of Eden. Then turn around and head back to the beach.
This article was written by Melissa Klurman from Islands and was legally licensed through the NewsCred publisher network. Please direct all licensing questions to legal@newscred.com.
Fun and spooky travel destinations for Halloween
For many people, Halloween travel typically involves a stroll around the neighborhood with the kids as they go trick-or-treating, or perhaps a drive across the city to a costume party. But for adventurous travelers who are searching for genuine thrills and chills on October 31st, a trip to one of these seven destinations is the perfect way to celebrate the spookiest day of the year.
Sleepy Hollow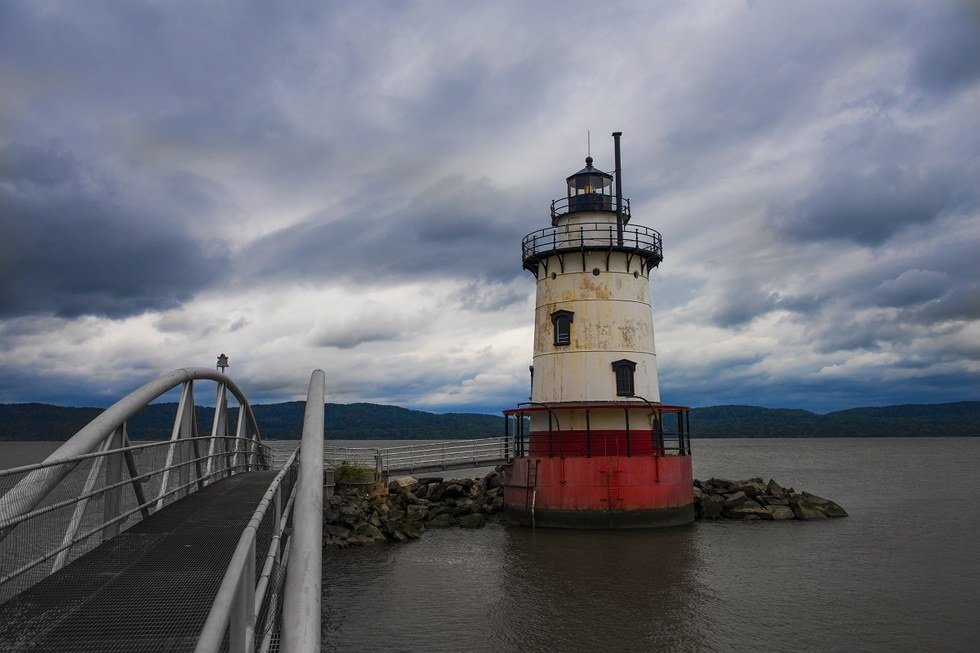 Washington Irving's classic story "The Legend of Sleepy Hollow" tells the eerie tale of an unlucky schoolteacher who encounters a pumpkin-headed phantom while walking through the woods at night. In actuality, the fictional town of Sleepy Hollow is based on the real-life village of Tarrytown, New York. Every October, the residents of Tarrytown pay tribute to Irving's fable with a series of family-friendly events that attract visitors from far and wide. This year's celebration includes a spooky cemetery tour, an elaborate haunted hayride, vintage horror movies at the historic Tarrytown Music Hall and a possible visit from the Headless Horseman himself.
New Orleans Haunted History Tour
New Orleans is widely considered the ghost capital of the United States, and for very good reason. Founded as a French colony in 1718, the city has a rich history of attracting immigrants from Spain, Africa and Haiti, each of whom brought with them a unique set of superstitions and religious practices. Today, voodoo rituals, vampire legends and zombie tales abound in The Big Easy, and the best way to experience them is by taking one of the popular Haunted History Tours. Choose between the classic ghost tour, the haunted pub crawl, the creepy cemetery stroll and the authentic voodoo tour.
The Stanley Hotel
Nestled amid the glorious Rocky Mountains of Colorado, the beautiful Stanley Hotel is the real-life inspiration for Stephen King's terrifying bestseller "The Shining." In 1974, King and his wife Tabitha spent a night at The Stanley and quickly discovered that they were the only guests in the entire hotel. This sparked the author's fiendish imagination, and he began outlining the novel's chilling plot that same evening. Though he changed its name to The Overlook Hotel for the book, The Stanley remains the true setting. Today, fans of "The Shining" can celebrate Halloween at the hotel with a series of horror-themed events, including a murder mystery dinner, a lavish masquerade party and an official Shining Ball.
The Paris Catacombs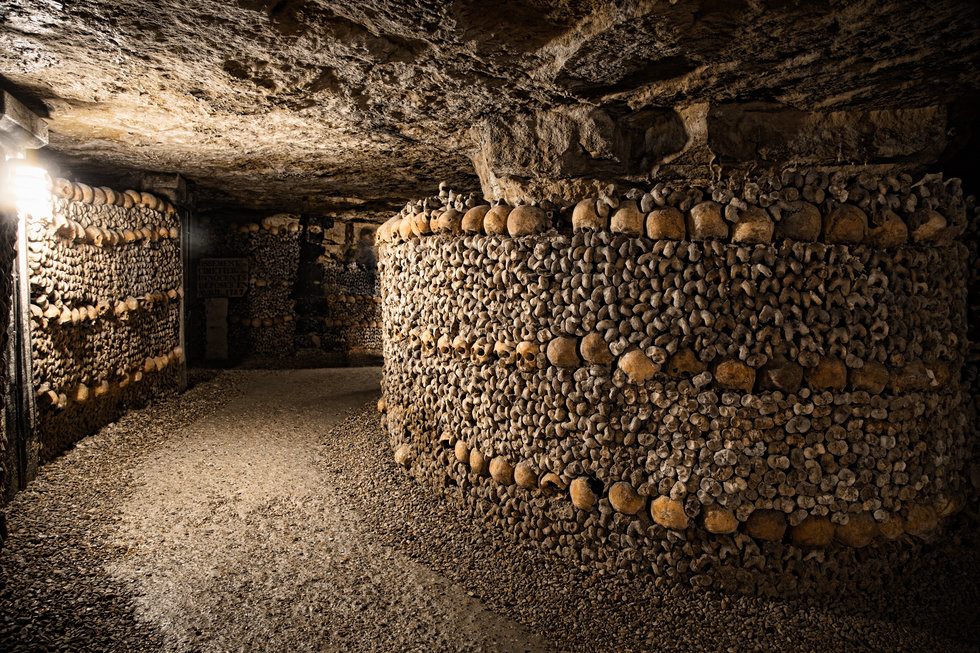 Throughout much of its history, Paris has been known as the City of Lights. Yet beneath its lovely streets, a more accurate description would be the City of Bones. That's because the skeletal remains of more than 6 million bodies are buried in the network of underground tunnels and narrow passages that wind their way below Paris. Since it was first opened to the public in 1874, this macabre labyrinth has become one of the most popular attractions in all of Europe. Catering to demand, a variety of catacomb tours are available for travelers who want to explore the hidden world of the dead.
Poenari Castle
Perched high on a cliff in the Arefu village of Romania, this atmospheric castle is considered by many to be the original home of Count Dracula himself. In reality, it was an imposing stone fortress belonging to the infamous warlord Vlad the Impaler, who was the inspiration for Bram Stoker's legendary vampire character. Built at the beginning of the 13th century, Poenari Castle is in a state of perpetual ruin, yet tours are still available to brave souls who are willing to climb the 1400 steps to reach its crumbling citadel.
Newgrange Tomb
The first people to celebrate Halloween (then known as the Festival of Samhain) were the ancient Druids of Ireland, so a trip to this 5,200-year old Druid tomb in Ireland's Boyne Valley is the perfect place to spend the holiday. Constructed during the Neolithic period by Stone Age farmers, Newgrange consists of a massive circular mound divided by a long stone passageway and filled with multiple burial chambers. According to Irish folklore, it was believed to be the dwelling of a god called Dagda, who wielded a massive club that was capable of raising the dead. Tours of the prehistoric monument are available to the public.
Loch Ness
If you've ever dreamed of coming face to face with a genuine monster, why not spend this Halloween searching for aquatic sea creatures in Scotland? The legendary beast, affectionately nicknamed Nessie, was first spotted in the freshwater Loch as far back as the 6th century AD. Since then, there have been countless sightings, but aside from a handful of grainy photos, no actual proof has been captured. So grab a camera and reserve a seat on the Jacobite Loch Ness Tour. You just might be the one to prove its existence, once and for all!
If you go
Halloween can be frightening, but planning your next trip doesn't have to be. Book your tickets by visiting united.com, or by using the convenient united app.
Celebrating Girls in Aviation Day
We are proud to work with Women in Aviation so that together we can help break down barriers and promote inclusion while also inspiring a future generation of aviation leaders that includes women.
We kicked off Girls in Aviation Day by bringing in young women from Girls Inc. to meet a group of our female pilots and to try the flight simulators at our new flight training center in Denver.
We are continuously working to build a workforce as diverse as the communities we serve, which is why we are excited to hold Girls in Aviation Day events in a record number of 12 locations around the world. Through this event in Denver and the other events held across the globe, we are working to engage girls as they begin to think about their own futures so we can ensure a strong future of women in the industry.
Cuba: A city filled with culture and heart
Each week we will profile one of our employee's adventures across the globe, featuring a new location for every employee's story. Follow along every week to learn more about their travel experiences.
By Remote Reservations Sales and Service Representative Susie Grisley
My favorite travel experience was visiting the beautiful city of Havana, Cuba. My strong curiosity persisted when the U.S. and Cuban governments finally agreed to cooperate on U.S. citizens traveling to this previously forbidden place. Reviewing the documents, I learned we could go in under the "Humanitarian" category, as the borders had not been opened to come and go as any American pleased. A group of us gathered, including some of my Boston-based colleagues and my three sons. We purchased a ton of toys and goodies for the children of Cuba.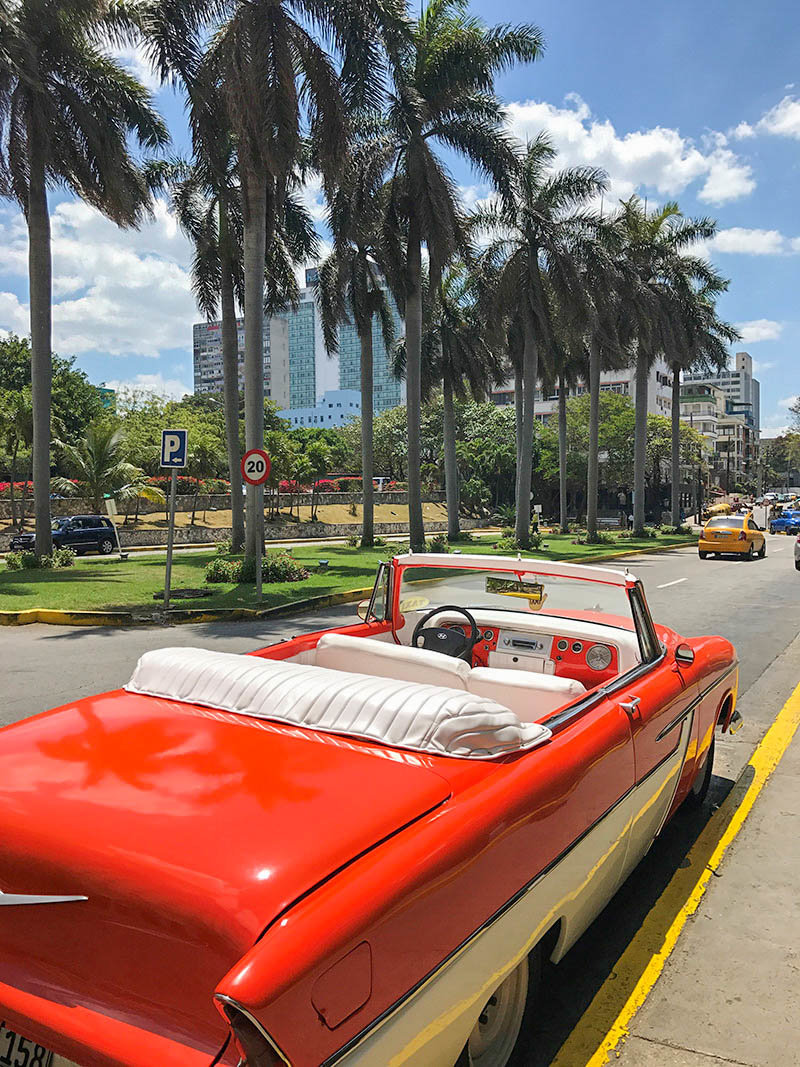 Upon arriving in this fortress of deteriorating concrete, old buildings and damaged structures, we found an amazing city full of culture and heart. The Cuban people were glowing with an unmatched happiness and welcomed us with open arms. They were friendly, hospitable and very excited to see us, the Americans. They are extremely proud of their city, which despite the broken sidewalks and crumbling walls, was insanely beautiful. The colorful buildings and the colorful working vintage Chevys are among the amazing things to see. They are so proud of their old cars. Out of necessity, they have learned to work on their own cars with very simple tools. If the car breaks down while driving, they simply get out, open the hood, twist and bang and get it running as they know how to do. No one honks at them if they are in the road. This is just their way. The insides of the cars are simple, yet they maintain them as their prized possessions. They all, however, have music! They love driving proudly through the streets in their shiny old cars with music pouring out the open windows. Riding in many of them, each "taxi" was a new experience of its own.
Despite the gorgeous architecture and the classic cars, it truly was heart-warming getting to mingle with the Cuban people and learning their way of life. They are a beautiful people with beautiful, happy hearts ready to greet every American.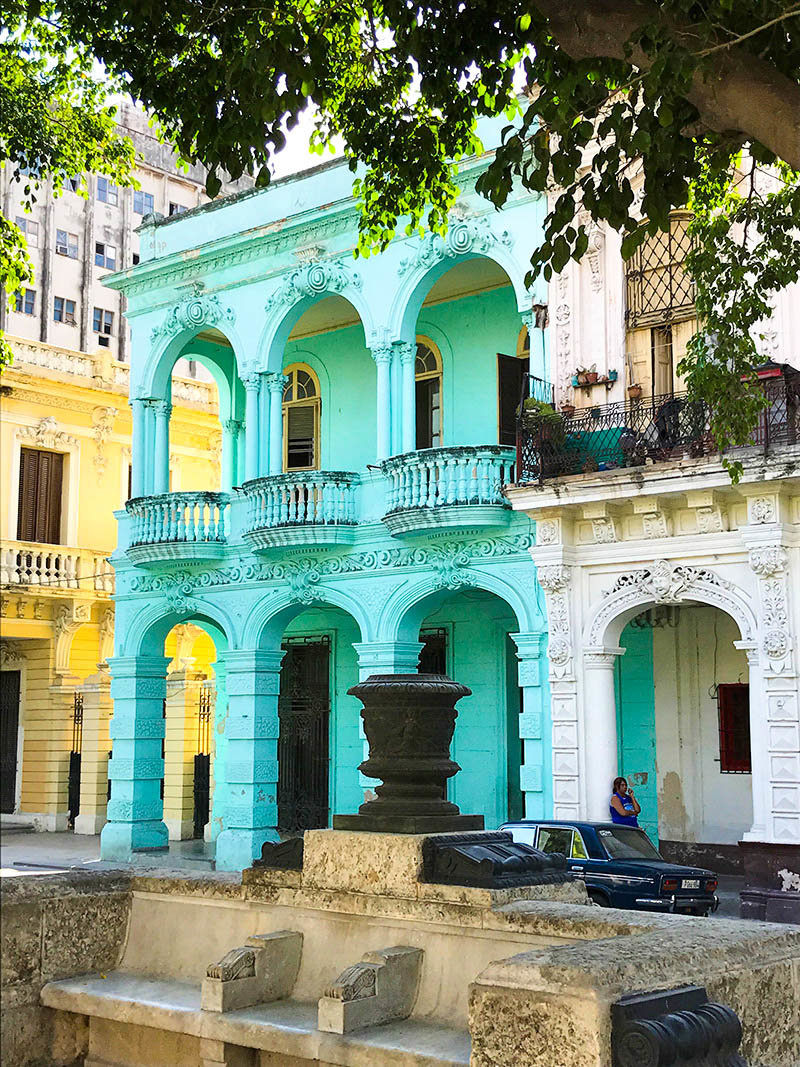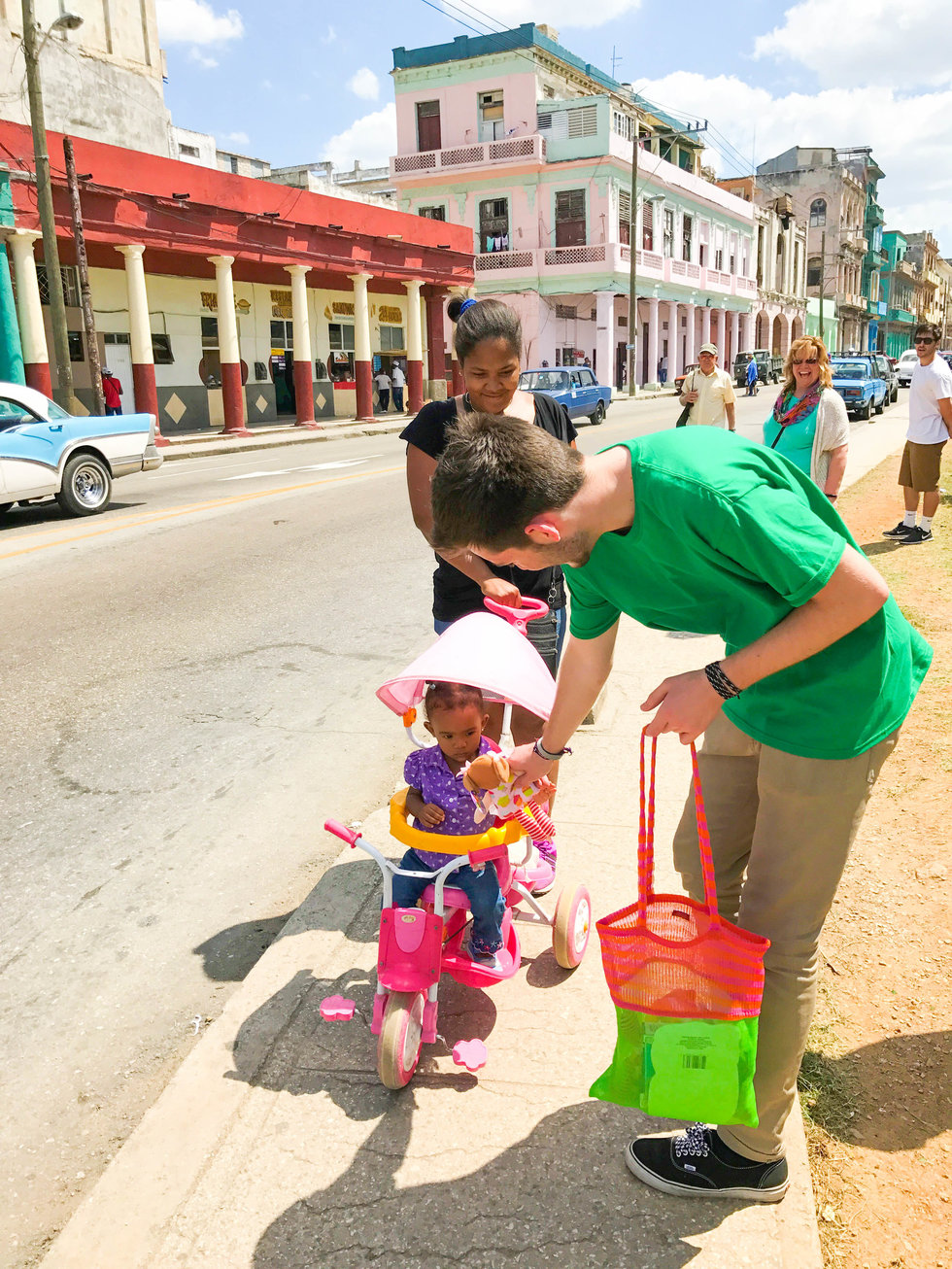 When it came time to hand out toys and gifts, we carried our toy bag through the streets, and it was apparent to us the children did not live with much. The delight and smiles on their faces were unimaginable. Their gratitude was evident, and my only regret was that we did not have enough for every child we saw. I thought my heart would explode at their excitement and appreciation.
Havana, Cuba is a travel must. It is an unbelievable place with an unbelievable story.
I left Cuba with a new realization of what it is like to live in a closed nation. I found a vibrant society of happy people full of fun, music and culture. I came home with a love of Havana and its people forever in my heart.
It was a trip of a life time and an experience we will never forget.
7 family-friendly activities to celebrate fall
Ask someone to name their favorite thing about fall and you'll likely get a different answer depending on where they live. For many people, the mosaic of vibrantly colored leaves and foliage is what defines the months of September through mid-December. Others find the scent of autumnal spices like cinnamon, nutmeg and turmeric is what makes the fall so special. And for some, it's the cooler temperatures that make being outside even more enjoyable. Plus, fall is full of fun activities no matter where you are — from pumpkin patches and apple picking to watching football and enjoying a bowl of chili. All of these things, and more, make the fall so magical. To help you celebrate the season, here are seven fall-themed activities to try this year.
Go apple picking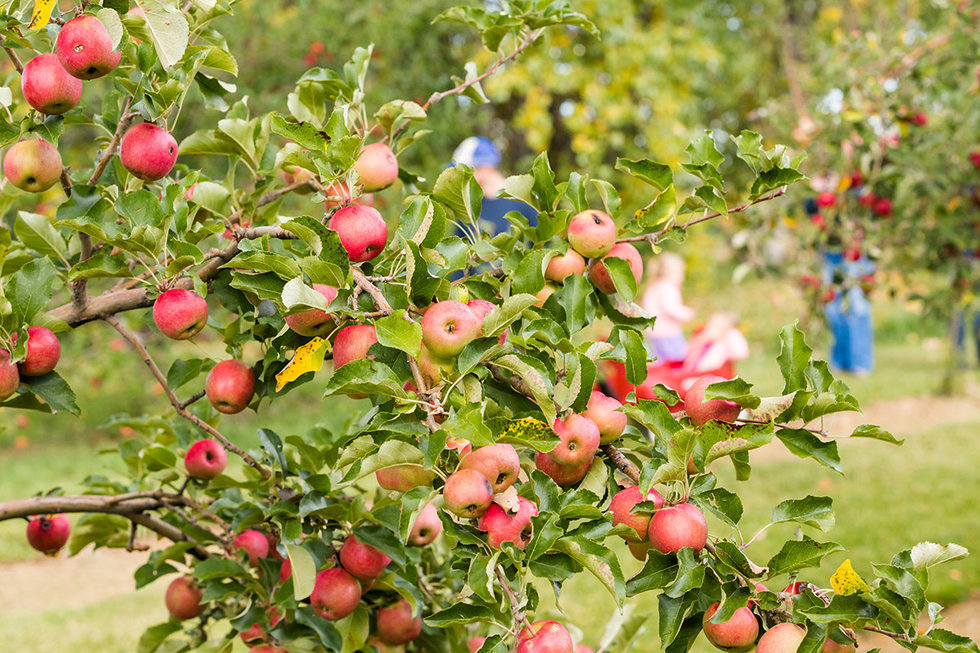 Apple picking combines outdoor fun with delicious and healthy snacks that can be used in a variety of ways, making it the perfect fall activity for adults and children of all ages.. Though you'll find countless orchards around the country worth visiting this season, New England is widely considered a prime apple picking destination with over 120 varieties found in the region. It can be argued that the variety they are best known for is the McIntosh apple. This type of apple and many more can be found at Honey Pot Hill Orchards in the lovely town of Stow, Massachusetts, so be sure to stop in and take home a bushel that you pluck from the trees yourself. Picking times are from 9:30 a.m. until 5:00 p.m. daily, making it easy to schedule a trip.
Meanwhile in California, apple season runs until the end of November, giving you plenty of time to pick a few baskets of Red Delicious or Gala apples before winter. Riley's at Los Rios Rancho in the city of Yucaipa is one of the largest farms of its kind in Southern California and has been welcoming apple pickers to their 10,000-tree farm for more than 100 years. If you're considering a visit, you might want to plan to be there on November 23, since that's when they're hosting their famous Apple Butter Festival this year.
Visit a pumpkin patch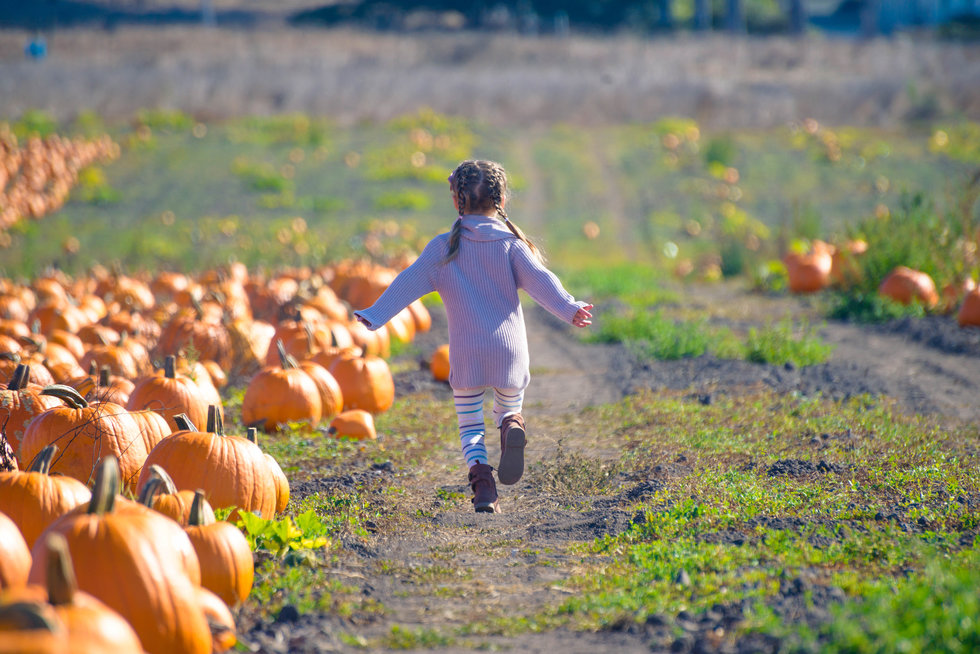 If there was a fall mascot, it would be a pumpkin, so to celebrate the true essence of the season, it's hard to beat a trip to a colorful pumpkin patch. A pumpkin patch is more than just a place to find the perfect candidate for this year's prize-winning jack-o'-lantern, it's a wonderful way to create cherished new memories with your children or friends. The Great Pumpkin Farm in Clarence, New York, is perfect for pumpkin picking, but also offers weekend activities throughout the fall, including scarecrow making lessons, cider brewing demonstrations, pumpkin pie eating contests, and live music and barbecues.
If you're traveling through the Midwest this season, hop aboard a vintage farm wagon at Polly's Pumpkin Patch in Chilton, Wisconsin, and make your way out into their scenic fields where you can pick as many pumpkins as you want for only $3 each. Other activities at Polly's include a livestock petting zoo, a 40-foot slide and a popular corn cannon that lets older kids launch corn cobs at targets for cash prizes.
Enjoy a harvest festival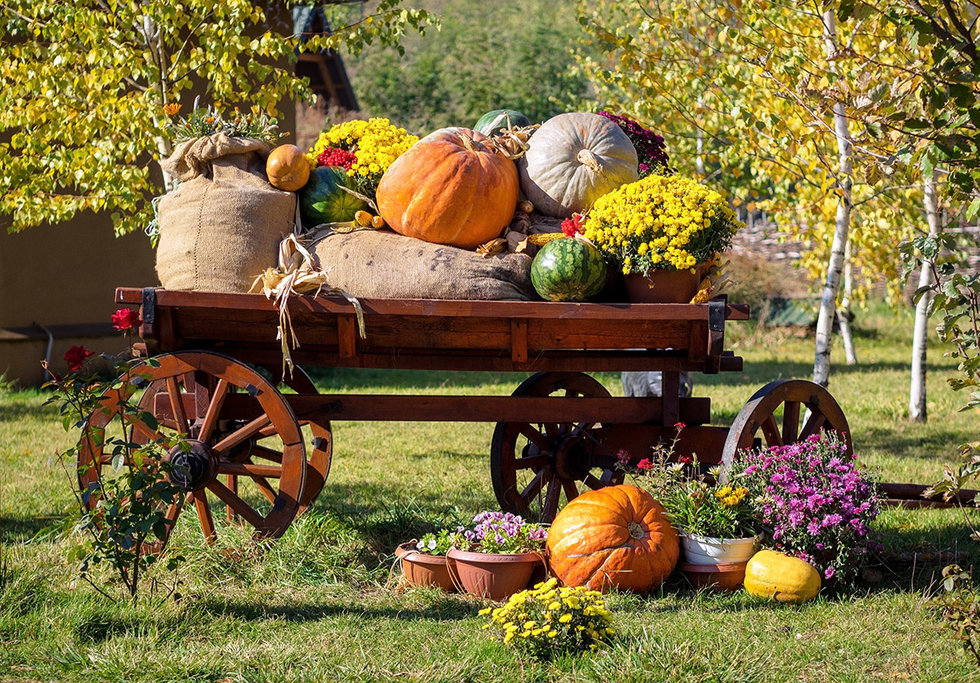 An annual tradition in America that dates back to 1613, harvest festivals are outdoor celebrations that coincide with the growing and reaping seasons we all enjoy. Filled with food, fun, music and dance, you haven't truly experienced the wonder of the fall season until you've participated in a local harvest fest. The good news is that there are plenty to choose from around the country this year. Two of the most popular are the Autumn at the Arboretum festival in Dallas, Texas, which runs until October 31, and the incredible North Carolina Pecan Harvest Festival in Whiteville, North Carolina, which ends on November 3. Both of these festivals have been drawing huge crowds for years.
For a harvest fest that's slightly spookier, head to Wisconsin where you'll find the classic Jack O' Lantern Days celebration in the cozy town of Fish Creek, and the Halloween-themed Zombie Days festival on the coast of Chequamegon Bay. Ghoulish activities include an undead musical show, a zombie pub crawl and a traditional harvest festival pumpkin parade. The scary fun lasts from October 26 through October 27.
Hit the trails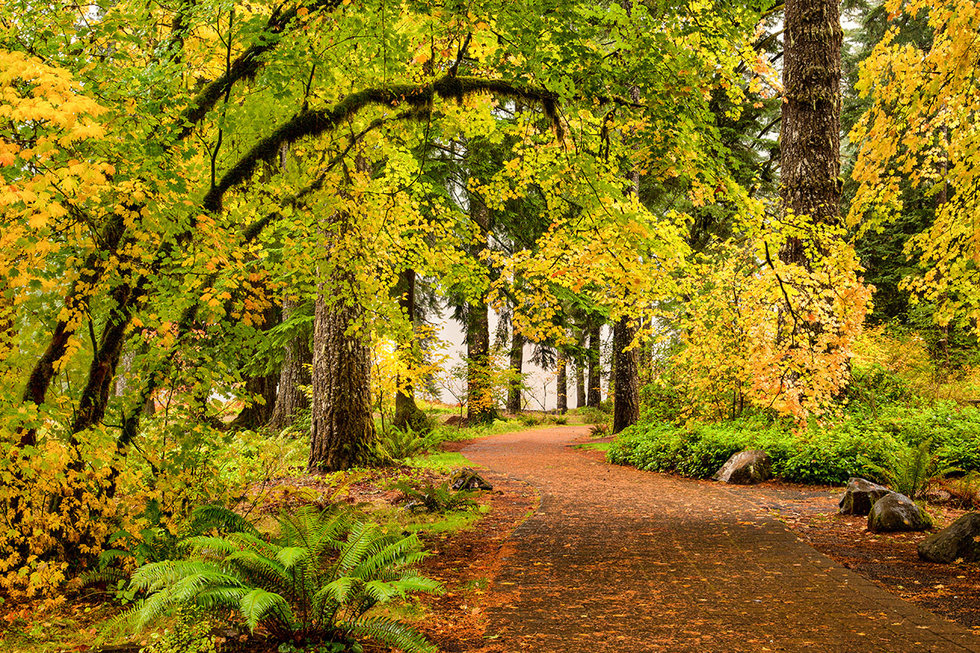 Hiking is more than just great exercise; it's an excellent way to bring the whole family together during the fall. And since the leaves are changing colors, it's also a great way to snap some incredible nature photos. So lace up your hiking boots, grab your kids and your camera, and find a trail that's right for you. If you're looking for suggestions, Sterling Point Trail in Vermont and Rome Point Trail in Rhode Island are impossible to beat when it comes to picturesque fall hiking.
On the opposite side of the country, the trails at Dry Creek Falls in Portland, Oregon, were voted one of the most photogenic hiking spots on the west coast by BuzzFeed, and it's easy to see why once you've been there. Covering a distance of just over 4 miles, this beautiful trail is perfect for all skill levels, making it a solid choice for families with kids.
Roll in the hay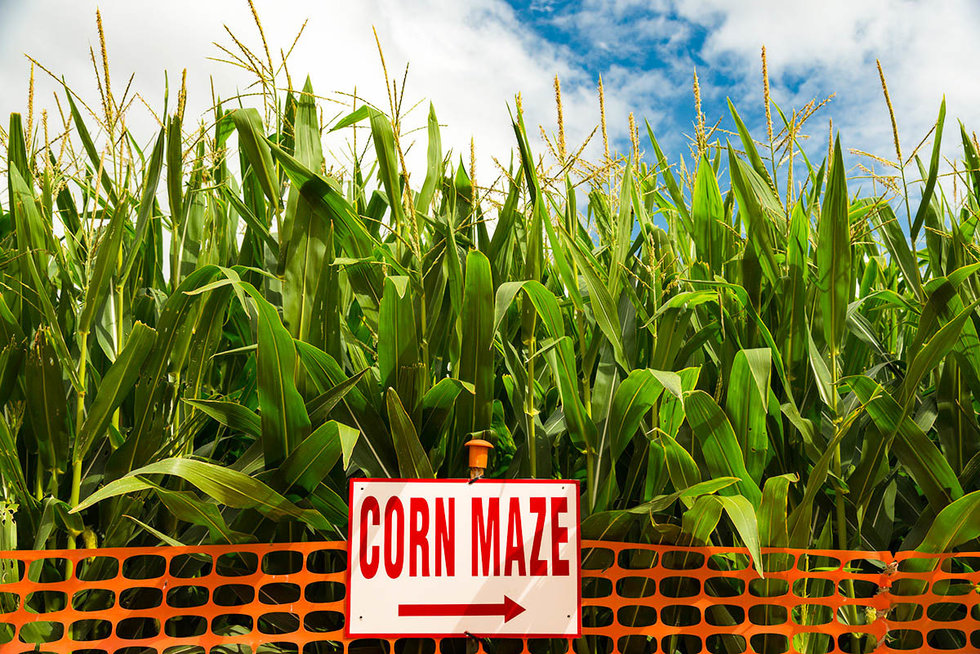 Hayrides and corn mazes are traditional fall activities that have never gone out of style, and for very good reason. There's just something wonderfully nostalgic about introducing a new generation of children to the simple pleasures of wandering through an overgrown corn maze, and with so many participating farms scattered across the country, there's a plethora of options to choose from. The Johnny Appleseed corn maze at Shady Brook Farm in Yardley, Pennsylvania, and the popular horse-drawn hayride at Papa's Pumpkin Patch in Bismarck, North Dakota, are two of the best.
In honor of Halloween, the massive haunted hayride at Fear Farm in Phoenix, Arizona, brings an assortment of ghosts, goblins and ghouls to life from early October until the first week in November. Filled with sinister special effects, creepy costumes and macabre makeup, this Hollywood-worthy hayride is recommended for adults and children over the age of 12. With five terrifying corn mazes to choose from, Fear Farm certainly lives up to its name!
Up, up and away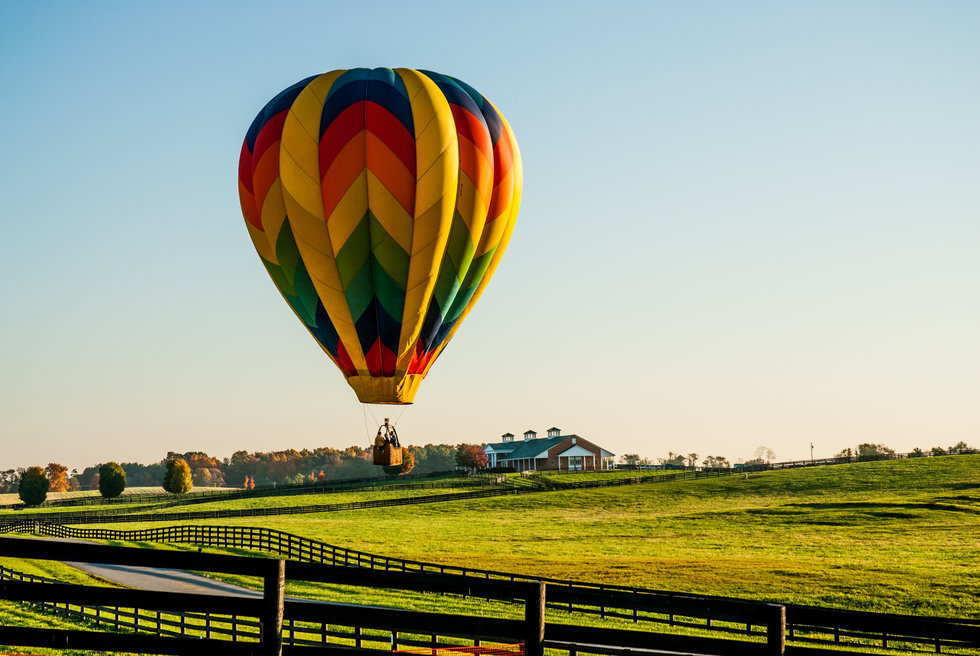 Hot air ballooning during the fall is a dazzling way to experience the season in all its natural splendor. After all, how else can you get a spectacular birds-eye view of the colorful trees as their leaves change from green to golden orange? Balloons Over Letchworth, located near New York's Letchworth State Park, offers astonishing views of the surrounding area, including majestic waterfalls and stunning forests. Best of all, they offer a variety of family tour packages, so you'll find just what you're looking for, regardless of the size of your group.
If you're visiting Southern California's wine region this fall, reserve a balloon ride with the fine folks at California Dreamin'. Their friendly FAA commercial licensed pilots will take you and your family on an unforgettable balloon voyage high above the vineyards of Temecula wine country.
Pitch a tent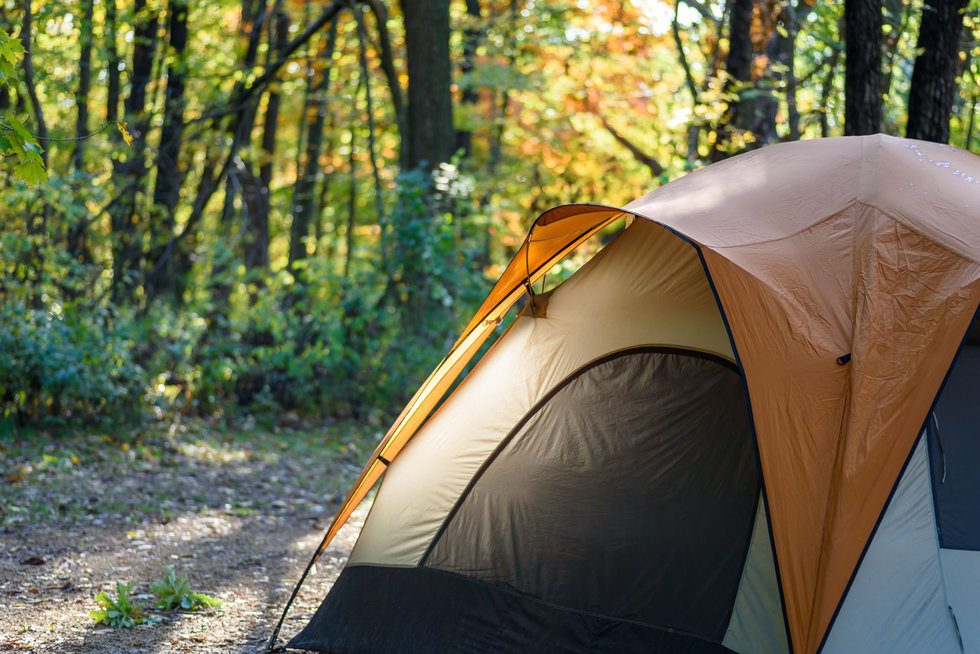 Though typically associated with summer, in many ways the fall is truly the best time of year to go camping. Thanks to the cooler weather, there are few — if any — insects to bother you and your family. Plus, there are less people claiming all the best spots, so you should have no problem picking a prime location to pitch your tent. And when it comes to toasting marshmallow for s'mores over an open campfire, everyone agrees that they simply taste better when eaten on a brisk autumn night.
For the ultimate fall camping trip, book a spot at Earth First Farms in southwest Michigan and set up your tent in an actual organic apple orchard. The 49-acre farm provides campers with complimentary firewood and plenty of fresh produce to pick.
Getting there
Regardless of where you plan to celebrate the fall, book your flight at united.com or by using the convenient United app, and share your story on social media with the #UnitedJourney hashtag.
Join United in helping disaster relief efforts and earn miles
Donate now
We're listening
Check out our newest destinations
United Airlines
united
To the 🌕 and back... and then to London. Thrilled to fly Apollo 15 Command Module Pilot, Col. Al Worden and the flag that flew to the moon and back in 1971.
United Airlines
united
To the 🌕 and back... and then to London. Thrilled to fly Apollo 15 Command Module Pilot, Col. Al Worden and the flag that flew to the moon and back in 1971
We Are United
weareunited
Last week EQUAL celebrated the launch of their first international chapter! We're thrilled to see you grow and foster diversity & inclusion around the 🌍.
#BeingUnited
We Are United
weareunited
EWR & LHR teammates had a hand in history this week by flying Apollo 15 Command Module Pilot, Col. Al Worden & the flag that flew to the 🌕 and back in 1971.
Watch our most popular videos
Flying the flame, igniting inclusion
It was an unusual sight: a flame on a plane -- but that's exactly what passengers on a flight from Boston to Chicago witnessed as we transported the very special cargo on July 18. The flame was enclosed in a secure lantern and accompanied by a Special Olympic athlete and two Guardians of the Flame – members of a group of more than 100,000 law enforcement officers whose role is to protect and ensure the delivery of the Special Olympics Flame wherever it travels.
This wasn't just any flame, however; it was the Special Olympics' Flame of Hope, the flame which lit the Eternal Flame of Hope to kick off Special Olympics' 50th anniversary celebration Friday morning.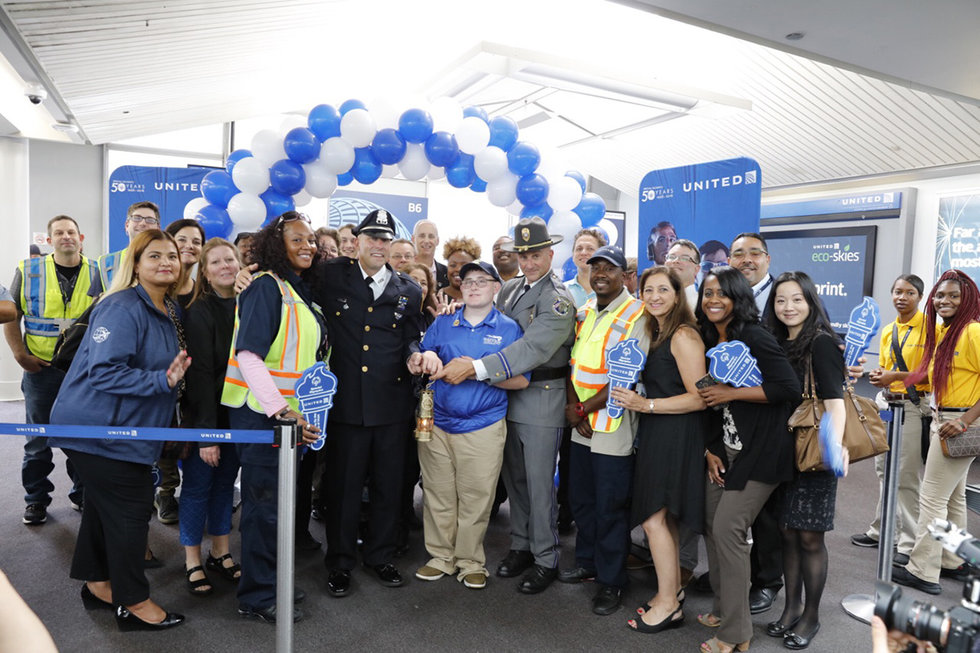 CEO Oscar Munoz, General Counsel and EVP Brett Hart; and Community Affairs VP Sharon Grant, along with many employees and customers, greeted the Flame upon arrival to O'Hare International Airport, where it was presented to local Guardians of the Flame.
We didn't just transport the Flame of Hope on board one of our flights, said Oscar. "That flight symbolized how we are taking the values of inclusion and respect, which that Flame represents, fully on board as a company."
From O'Hare, the Flame traveled to Soldier Field, the site of the very first International Special Olympics Summer Games 50 years ago, and where the Law Enforcement Torch Run® took place the morning of Friday, July 20. More than 100 employees participated in the event, a four-mile course along the lakefront in downtown Chicago, along with hundreds of law enforcement officers and Special Olympics athletes from throughout Illinois and the world.
I saw people from all over the world come together for a great cause, said Global Catering Operations Projects and Performance Manager Yana Strutz, who participated in the Torch Run, "It is wonderful to see my colleagues take time out of their busy schedules to ensure that Special Olympics athletes get the time and attention they deserve."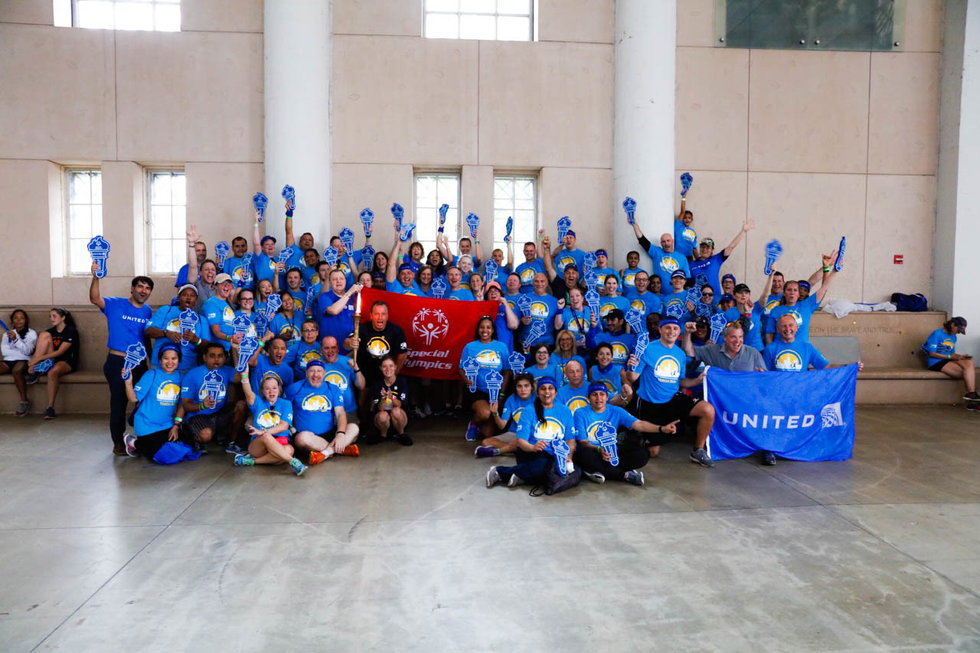 The run concluded with the lighting of the Eternal Flame of Hope monument, a flame that symbolizes the eternal hope that Special Olympics provides to athletes and their families. The flame will stay forever ignited inside the permanent, 30-foot monument outside of Soldier Field.
United will go beyond just flying the Flame of Hope on one flight, we will 'carry the torch' everywhere we fly and spread the light of this inclusion revolution. We intend to be ambassadors for this movement everywhere we operate, said Oscar.
Our partnership with Special Olympics represents our continuing effort to break down barriers and further build on Special Olympics' remarkable legacy of inclusion by engaging our employees around the world.
Image of United & Special Olympics: Taking inclusion to new heights
United & Special Olympics: Taking inclusion to new heights
Learn more
United & Special Olympics: Taking inclusion to new heights
On March 8, 2018, we announced a new global relationship with Special Olympics, an organization we've partnered with for many years focusing on supporting the spirit of inclusion with our employees through local communities and through our Charity Miles Program. United's increased sponsorship includes support for major Special Olympics events, including the Special Olympics 50th Anniversary celebrations in Chicago, site of the very first International Special Olympics Summer Games in 1968, and the 2018 Special Olympics USA Games in Seattle.
In addition, United will engage with local Programs in our key markets around the world. Special Olympics embodies our shared purpose to connect people and unite the world. With more than 5 million athletes and 1 million coaches and volunteers in 172 countries, our employees and customers will join forces with Special Olympics to achieve our shared vision of inclusion. Together, we hope to end discrimination against people with intellectual disabilities.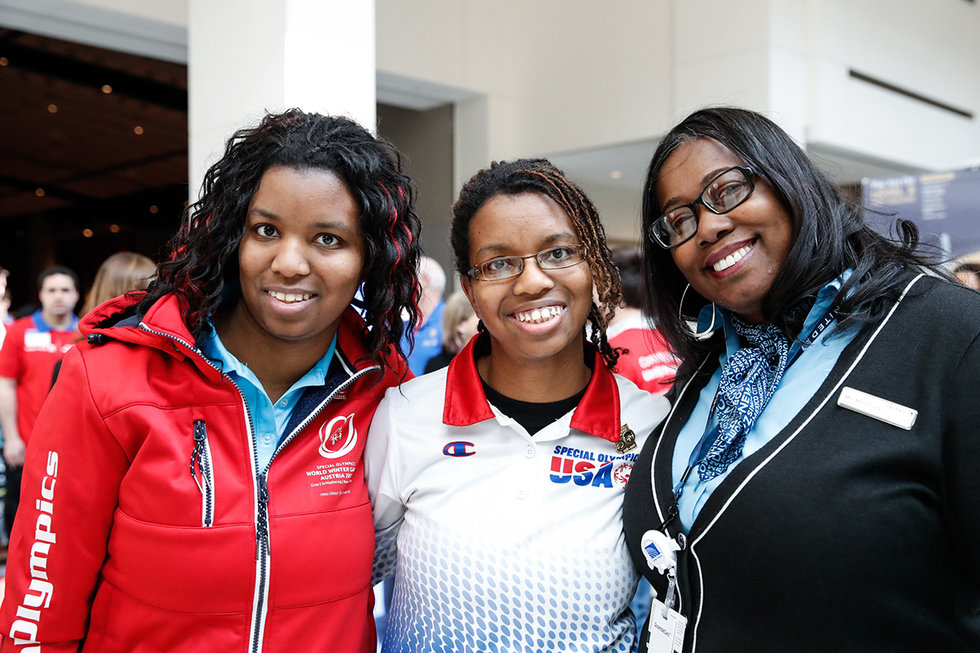 Our relationship with Special Olympics represents a continued effort to break down barriers and further build on the organization's remarkable legacy by engaging our customers and employees around the world. Working together, we created new training that specifically reflects insights from Special Olympics, including training scenarios with real-life situations that individuals with intellectual disabilities face when traveling. By the end of 2018, more than 60,000 United frontline employees will have participated in the new training modules that reflect Special Olympics insights as United takes steps to deliver a world full of inclusion.

Check back this summer for coverage from Special Olympics 50th Anniversary celebrations in Chicago and 2018 Special Olympics USA Games in Seattle.
Copyright © 2018 United Airlines, Inc.
All rights reserved.
Indicates an external site that may or may not meet accessibility guidelines.
Scroll to top
Scroll to top