Three Perfect Days: Island of Hawaii
Story by Nicholas DeRenzo | Photography by Daeja Fallas | Hemispheres, February 2018
They don't call Hawaii "The Big Island" for nothing. At 4,028 square miles, it is more than twice the size of all its archipelago-mates combined, comprising tropical rainforests, black-sand beaches, barren deserts, and even snowcapped volcanoes. Along with being the chain's (and the country's) largest island, Hawaii is also, in geological terms, its youngest. It's like a brash teenager, constantly growing and changing and flaunting its youth. This isn't a process measured in millennial increments, either—it's a pyrotechnic display of cracking earth and oozing lava. But what else would you expect from the home of Pele, the feared and fickle goddess of fire?
Day 1
We should probably stop first and ask Pele's permission." It's early morning in MacKenzie State Recreation Area, a park of ironwood trees and volcanic cliffs on Hawaii's quiet eastern coast. I'm here with Mark Frost, who owns the Kipuka guesthouse, where I'm staying; his dog, Cosmo; and his friend Kanani Aton. Before we enter the forest, Aton pauses to chant a passage from an ancient saga. "I love when we ask permission," she says, "because then things just unfold beautifully."
As we bounce across spongy pine needles, Aton points out medicinal fruits, ferns that she weaves into leis, and lava alcoves that were once believed to house pixie-like Menehune. Like the rest of the island, the area is perpetually being reshaped by lava, a danger that's quite a boon for tourism. "You know that saying, 'If you build it, they will come'?" Aton asks. "Well, Pele's building, and they're all coming!"
A sustainable bamboo guesthouse at Kipuka
After an hour of exploring, we return to Kipuka, four off-the-grid bamboo houses built in a palm garden with more than 5,000 trees from 350 species. Frost brews me coffee with beans from Ka'u, a burgeoning coffee destination on the island's southern flank. Enlivened, I head out for a drive up the coast.
This island is two-faced: The windward Hilo side, where I've started my trip, is all mist and rain, lush jungles and crashing waterfalls; the leeward Kona side is white-sand beaches and sun and big resorts. About an hour after my start, I'm driving into Hilo, the island's biggest town, at about 50,000 residents, and one of America's wettest, with nearly 200 inches of rain per year. The onetime sugarcane center feels a bit like a Wild West boomtown or some tropical Twin Peaks.
"The landscape drains of color and turns to black as we fly over miles of hardened lava."
I stop at the 110-year-old Suisan Fish Market for poke, the local dish of raw marinated fish that's having a moment on the mainland, and order a heaping mixed plate—marlin, salmon, ahi, and hamachi—topped with umami-rich furikake. I make sure to save room for a shave ice at Wilson's by the Bay. The friendly woman behind the counter packs vanilla ice cream into a paper cone and tops it with a softball-size mound of ice, fresh-shaved by a vintage contraption, plus coconut, lilikoi (passion fruit), and li hing mui (salty dried plum) syrups. Outside, an old man solemnly wishes me good luck, but I still end up licking syrup off my forearm.
Next, I'll be exploring the island from a different perspective, with Blue Hawaiian Helicopters. I check in at Hilo's pint-size airport, where I'm asked to step onto a scale like a piece of luggage (maybe I didn't need that shave ice) to ensure inflight weight distribution. On the chopper, to a soundtrack of Enya and the Jurassic Park theme, we dart around like a dragonfly, buzzing up the Hamakua Coast, past waterfalls carving troughs through fertile valleys, and then south, over neat grids of macadamia trees.

Poke at Suisan Fish Market
The landscape drains of color and turns to black as we fly over miles of hardened lava. We keep our eyes peeled for new breakouts, like kids on a road trip playing the license plate game. Lava is slow, but it's no laughing matter: This flow swallowed up the village of Kalapana less than three decades ago, incinerating everything in its path and forming acres of new land. The grand finale is the Kamokuna ocean entry, where red-hot lava pours into the sea, kicking up great plumes of steam. Some visitors choose to approach the area on boats, or even by foot or bike, but I'm happy to keep a healthy distance. After all, on New Year's Eve 2016, about 17 football fields' worth of newly formed land came crashing down into the Pacific.

Back in Hilo, I stop into Sig Zane Designs to browse the collection of upscale aloha shirts while entertaining thoughts of growing a Magnum, P.I. mustache. I'm also thinking about dinner, which is at Moon and Turtle, the passion project of Hilo-born chef Mark Pomaski, who worked as a sushi chef at New York's Nobu Fifty Seven, and his wife, Soni.
The King's Pond at the Four Seasons Resort Hualalai
"I love the combo of high and low," Pomaski says. "I want to elevate the humble soul food dish and bring the avant-garde back down to earth." I order seared beef tataki dressed with a tapenade made from mushrooms grown up the coast, plus a meaty collar of local hapu'upu'u sea bass, flash-fried and served with a savory ponzu garlic butter. The highlight is raw kanpachi (yellowtail), dressed with extra virgin olive oil, chili pepper water, and soy sauce that's been smoked with kiawe (Hawaiian mesquite). "Chili pepper water and soy sauce are like salt and pepper here," Pomaski says. "This is like my childhood and my adulthood on a plate."
I finish up with a custardy slice of lilikoi pie from the nearby Papa'a Palaoa Bakery, and begin the hourlong drive back to Kipuka. The roads are dark, with nothing but the distant glow of lava to guide me home.
Poke, Please—And Hold The Accent Mark
Centuries before Western contact, Hawaiians were dressing chopped reef fish with sea salt, limu (edible algae), and roasted kukui nuts—local flavorings still found in markets across the island. By the late 1800s, ahi had emerged as a tastier go-to base, and poke (Hawaiian for "to cut crosswise into pieces") became a symbol of the changing face of Hawaii: Westerners added onions and chili peppers, Asian workers brought soy sauce and sesame oil, and 21st-century Americans added the unnecessary accent mark you see on the mainland.
The Roast With The Most
Thanks to near-perfect growing conditions, Kona coffee is one of the most prized and expensive varieties on the planet. At the UCC Kona Coffee Estate, which is owned by one of Japan's largest coffee companies, you can tour a working plantation and roast your own beans. Bonus: They'll even print your proud face right on the label.
Day 2
My body is still on mainland time, which comes in handy as many of Hawaii's most memorable experiences happen before sunrise. A case in point is Hawaii Volcanoes National Park, located an hour's drive west of Kipuka, where I awake to a chorus of invasive coqui frogs outside my window.
It's still dark when I arrive at the park, which takes its plural name from Mauna Loa, the planet's largest shield volcano, and Kilauea, one of its most active. In the pitch-black visitor center parking lot, I meet Tours by Locals guide Scott Wiggers. He ushers me to a point overlooking the Halema'uma'u Crater, where a lava lake flickers red and spits up mini molten geysers. There are only five or six other visitors, so it's silent except for the rumbling and hissing of roiling lava. "This is my favorite time to visit the park," Wiggers whispers. "We practically have it all to ourselves."
As the sun rises, we climb into a truck and head off to see the park's greatest hits, including the Thurston Lava Tube, a subway tunnel–size cave through which lava once flowed, and the Kilauea Iki Overlook, which offers views of a crater that produced 1,900-foot molten fountains during an eruption in 1959. That's about 100 feet higher than One World Trade Center.
We pull over and walk to a series of steam vents, formed when rainwater gets trapped in the porous rock and superheated, and warm our hands in a plume of fog (it's surprisingly chilly out here). "It smells just like boiling pasta," Wiggers says with a laugh. He bends down and rummages around for a few seconds, and then picks up a strand of glass. Lava from the crater gets caught in the wind, stretched, and spun like cotton candy, landing all throughout the park. "This is called Pele's hair," Wiggers says as he drops the glass back onto the ground. If you've ever seen the Brady Bunch Hawaiian vacation episode, you know it'd be bad luck to pocket anything from the park. (Plus, it's a federal offense.)
A lava lake at Halema'uma'u Crater in Hawaii Volcanoes National Park
We continue along Chain of Craters Road, which is flanked on either side by endless expanses of hardened lava. "You'll notice two types," says Wiggers as we trek over a crunchy lava field. "Pahoehoe, the hotter lava, is flat and easy to walk on." To me, it looks like a pan of overcooked brownies. "A'a is chunky and impossible to walk on." More like a bulldozed pile of Oreo chunks.
As we drive, mongooses and pheasants dart across the road, but I'm on the lookout for the state bird, the nene. In the early 1950s, this cousin of the Canada goose was close to extinction, with only about 30 birds left (it didn't help that the old Volcano House hotel used to have them on the menu), but a captive breeding program has returned their numbers to about 2,500. I'm happy to check them off my bird-nerd bucket list after I spot a pair foraging by the side of the road.
I say goodbye to Wiggers and head to Volcano Village for lunch at Ohelo Café, where I order pan-seared ono—the Hawaiian name, meaning "good to eat," for the game fish wahoo. Southwest of here, the landscape changes, opening up into the Ka'u Desert, which is deprived of vegetation by Mauna Loa's rain shadow, the only precipitation being acid rain caused by volcanic gases. I skirt the coast, pulling over to dip my toes at Punalu'u black-sand beach, where green sea turtles bob in the surf, munching algae from the rocks.
Lifeguards at Punalu'u black-sand beach
Fifteen minutes down the road, I reach Punalu'u Bake Shop, America's southernmost bakery (in these parts, everything is America's southernmost something) for pillowy taro sweetbread and fried malasadas, doughnuts brought to the island by 19th-century Portuguese sugar workers. I drive past the U.S.'s southernmost point (it's all ocean from here to Antarctica) and start to head up the coast, past hillside coffee farms.
Soon, I'm emerging on the island's resort-rich Kona side and pulling into the Sheraton Kona Resort & Spa at Keauhou Bay, which is known for its manta ray–related activities. The wildlife viewing started as a happy accident: A spotlight shining from the hotel's seafront restaurant attracted light-loving plankton, which in turn caused hungry mantas to turn up in droves. Now adventurous types meet at sunset on a nearby dock for a Fair Wind Cruises night snorkel with these balletic behemoths. They're harmless (no teeth, no barbs), but they are intimidatingly large, with wingspans of up to 14 feet.
"My body is still on mainland time, which comes in handy as many of Hawaii's most memorable experiences happen before sunrise."
Our boat, the Hula Kai, putters out a few hundred yards as our guide rattles off the rays we might encounter—Sugar Ray, Darth Ray-der, Big Bertha—each identified by its unique markings. Snorkels and fins on, we plunk into the water and line up along a floating platform, our feet buoyed by foam floaties, which makes us look like rows of Supermen in flight. Lights on the bottom of the platform draw a cosmos of phytoplankton, which in turn attract zooplankton—a catch-all term for minuscule, sea monkey–like creatures—and the mantas turn all of the above into a buffet.
A manta ray in the dark water off the Kona-Kohala coast
We wait five minutes, 10 minutes, lulled into a meditative state by passing fish. Suddenly, the peace is broken by a chorus of snorkel-muffled screams, whimpers, oohs, and aahs. People, it seems, have varying responses to Volkswagen-size sea creatures. Below me, an immense manta is gliding upward. It flips onto its back, skimming inches from my mask, scooping up plankton with its gaping mouth. For the next half hour, we watch rays loop in and out of the light, snacking on bucketfuls of microscopic critters.
Staying afloat in bobbing waves is a surprisingly effective core workout, and it leaves me tuckered out. Back on dry land, I grab a quick dinner of kalua pork potstickers, hearts of palm salad, and a much-needed mai tai at the Sheraton's Rays on the Bay, then head straight to bed, drifting off as waves crash on the lava rocks outside my window. Tomorrow will be a big day.
Trail Guide: Tips from Hawaii Volcanoes National Park public affairs specialist Jessica Ferracane
"Get to Jaggar Museum before sunrise. When no one is around, you can sometimes hear the rumbling of rocks exploding as the lava lake rises and falls."'
"Remember to dress in layers—it's much colder at 4,000 feet than you think, despite the proximity to molten rock!"
"The Kilauea Iki Trail blows my mind. My favorite section is where molten rock drained back into the vent and piled up like clumps of black satin bedsheets."
Day 3
Hawaii vacations conjure images of sunbathing and tiki drinks, but mine is shaping up differently. I know this because it's 1:45 a.m. and I'm getting dressed in the dark. I'm about to be picked up by the tour company Hawaii Forest & Trail to witness sunrise on the summit of Mauna Kea, a dormant volcano that's so tall it's been known to see snow in the middle of summer. At 13,796 feet, Mauna Kea is the highest point in the state; measured from the ocean floor, it tops out at about 32,000 feet, making it the tallest mountain in the world. (Everest rises 29,029 feet above sea level but rests atop a plateau—which many Hawaiians think is a bit like measuring a basketball player's height while he sits on his teammate's shoulders.)
Accompanied by our cheerful guide, Kim Nichols, we exit the van at 9,200 feet to adjust to the altitude before making the final ascent—a doozy for the human body even if you're not hiking. Far from the city lights, the stars are shockingly bright. We zip into our parkas and look up to see Orion and the Pleiades, the hazy swath of the Milky Way, the reddish pinpoint of Mars. Satellites whiz by, along with the occasional meteor. Just as Venus—the morning star—peers over the horizon, we squeeze back into the van and head to the summit.
A green sea turtle crawls onto shore
A short, bumpy nap later, I awake on the mountaintop, surrounded on all sides by massive telescopes. We jump out to catch the first rays of sun gilding the horizon. We're above the cloudline, so the sun seems to emerge out of the ether, like a scoop of orange sherbet melting in reverse.
Nichols reminds us to take it easy. Oxygen levels are low up here; anything faster than a slow crawl will leave you gasping."Your body is redirecting resources to vital organs," she says, meaning motor skills, eyesight, and speech will take a back seat. "We call it 'the two-mai-tai effect.'" I mumble a garbled question, and she responds, "See!" I can't be sure if my incoherence is due to a lack of oxygen or a lack of caffeine. The return-trip nap, as the van bounces downwards, is possibly the best I've ever had.
"I wander along a path that skirts the beach, watching Pacific golden plovers dart in and out of the surf."
Back in Kailua-Kona, I drive a rental up the sunny Kona-Kohala coast, then drop off my bags at the luxe Four Seasons Resort Hualalai. Still a bit groggy, I head north for breakfast/lunch/last-night's-dinner in the village of Waimea. This is cowboy country, the land of the paniolos, who came from California and Mexico in the 1800s to tend cattle. (The name might be derived from the Spanish for handkerchief, pañuelo, or it could be a version of español.) At Village Burger, an unassuming strip mall spot, I order my hamburger rare, served with Swiss cheese, tomato marmalade, and 60-minute onions. Perfect.
I drive farther up the Kohala Mountain Road, a picturesque route that zigzags through cattle pastures. A few miles past a towering roadside statue of Kamehameha the Great, the founder of the Kingdom of Hawaii, I pull into a lot overlooking Pololu Valley. A guy selling freshly cracked coconuts is telling tourists he has the best corner office in America. I can't argue. His patch looks down on palm-smothered valleys and cliffs, which billow out toward the horizon like a green curtain. I hear that the real treasure is on the valley floor, so I grab a coconut and brave a series of slippery switchbacks to a secluded black-sand beach, where I lie back and take in the oddly relaxing sound of waves battering the shore.
More relaxation is in store for me back at the Four Seasons, in its extravagant pools: sipping cocktails from the swim-up bar at the Palm Grove Pool; wading in the Ocean Pool, which is protected from the waves by a lava-rock breakwater; and snorkeling with a spotted eagle ray and 4,000 tropical fish in King's Pond, a 1.8-million-gallon aquarium.
Later, at the hotel's chic 'Ulu Ocean Grill + Sushi Lounge, I sit at the sushi counter next to executive chef Thomas Bellec, who was born and raised in Brittany. Despite the distance, Bellec sees a kinship between Hawaii and coastal France. "I didn't even know how to walk yet, and I knew how to eat oysters," he says. "Everything here is related to the ocean. I feel like I'm back home."
They take the locally sourced thing seriously here. "We're raising our own oysters," Bellec says, "in a pond on the 15th hole of our golf course." We start our meal with buttery Molokai sweet potato bread and hummus made from 'ulu, or breadfruit, one of the staple "canoe plants" brought to Hawaii by Polynesian wayfinders. Next up is a flurry of fresh seafood, in the form of delicately dressed sashimis and sushis. Kanpachi is served seared with a slick of truffled ponzu. Local abalone is poached in dashi with a miso-mustard aioli and served on the half shell (a play on oysters Rockefeller). One standout is a twist on the classic loco moco, a hearty staple traditionally consisting of white rice topped with a hamburger patty, brown gravy, and a fried egg. Here, tuna tartare sits atop sushi rice and is paired with a quail egg, a squid ink tuille, and sweet kabayaki gravy. The sake pairings—and the fact that I've been awake for what feels like a week—have me ready to try out those crisp white sheets in my room.
I wander back along a path that skirts the beach, watching koleas, or Pacific golden plovers, dart in and out of the surf. These little waders don't look like much, but they're partly responsible for the discovery of the Hawaiian islands. Nearly a millennium ago, Polynesians watched these migratory birds come and go, charting their courses and mapping the entire Pacific before setting out on outrigger canoes and using the constellations to land on these shores. I may not be as coordinated as these birds (who travel 3,000 miles to their arctic breeding grounds every year) or those ancient voyagers, but the lesson is clear: Hawaii has a gravitational pull, and I'm sure I'll be brought back into its orbit soon.
Where To Stay
Kipuka
Kapoho, on the island's secluded eastern tip, is a haven for off-the-grid types. Here, set among more than 5,000 rare and exotic palms, Mark Frost built four sustainable bamboo guesthouses. If you can tear yourself away from the hammocks and the saltwater pool, the property is minutes from teeming tidepools and geothermally heated pond.
Sheraton Kona Resort & Spa at Keauhou Bay
Perched on jagged lava cliffs, this 508-room hotel features all the perks—hula lessons, waterslides—you'd expect from a big Kona resort. What sets it apart are thoughtful design touches by the king of the aloha shirt, Sig Zane, who created staff uniforms, textiles, and art for the property.
Four Seasons Resort Hualalai
Sure, you know about the seven pools, the Jack Nicklaus–designed golf course, and the outdoor lava-rock showers. But the greatest amenity here is the Ka'upulehu Cultural Center, run by "Uncle" Earl Kamakaonaona Regidor, where you can take ukulele lessons, learn how to make leis, or brush up on Hawaiian phrases.
Porto: Portugal's surprising second city
"Second cities" or those that rank #2 in population often surprise world travelers. And second doesn't mean second-rate. Porto is Portugal's second city — so off-the-radar that many world travelers haven't even heard of it. Yet, Porto and nearby spots in northern Portugal can be delightful destinations even if you don't visit the more well-known city of Lisbon.
Old city by day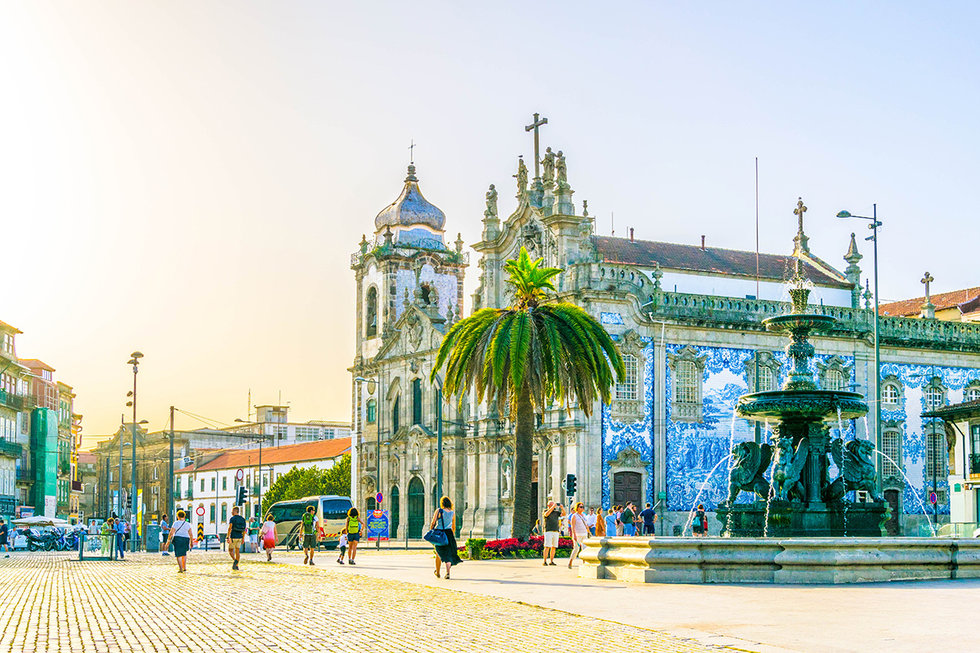 The best place to get oriented, as in most European cities, is in the old city center. Porto's Old City is so well-preserved that it's a UNESCO World Heritage Site. A 12th-century cathedral and the 15th-century Church of St. Francis, notable for interior wood carvings gilded by hundreds of pounds of gold, are mixed in with a rich collection of imposing granite, red-roofed Baroque buildings. Add 225 stairs and a stirring view to your walking tour by ascending the 250-foot-high Clérigos Church bell tower, built in 1754, which dominates the Porto skyline. Historic bridges over the Douro River and Soares dos Reis National Museum, an art museum housed in a palace, are also excellent sites to see.

Food and music by night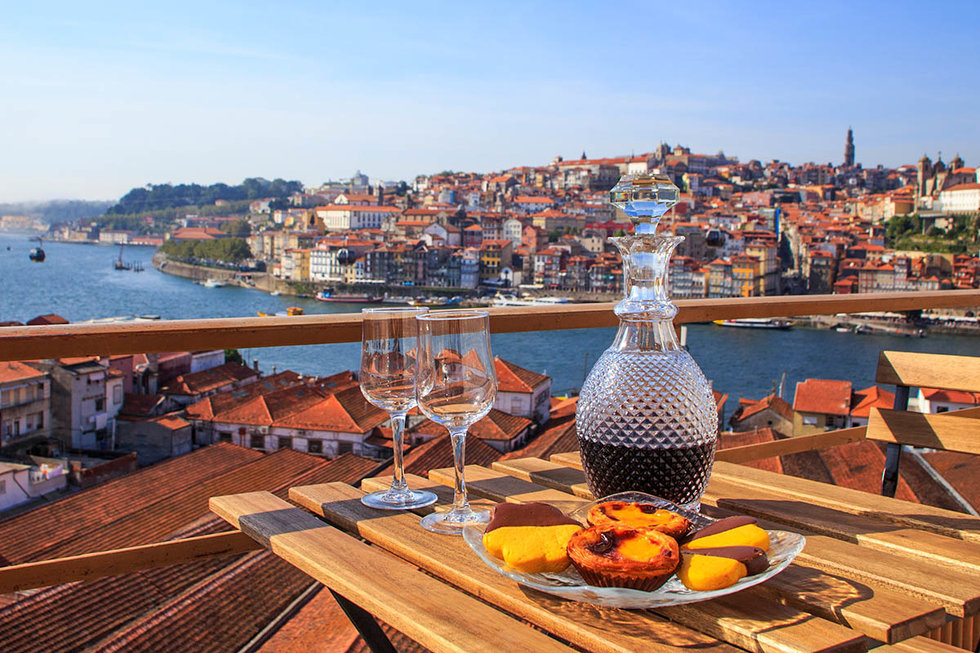 Porto's youthful population has turned it into a lively city after dark. You might start off the evening in the Old City at Abadia do Porto, a 1939 restaurant that serves traditional Portuguese dishes like roasted lamb and grilled octopus, or at Astoria, with its modern Portuguese fare served inside a former palace. Whether you choose a Portuguese, French or fusion restaurant, seafood is likely to be highlighted, drawing on Porto's proximity to the Atlantic and the Douro. Then, you can head to the large collection of bars and nightclubs in the nearby Galerias district, which includes Radio Bar, inside a former court building, and Gare, a disco in a tunnel that stays open until 6 a.m.
Head west to the beaches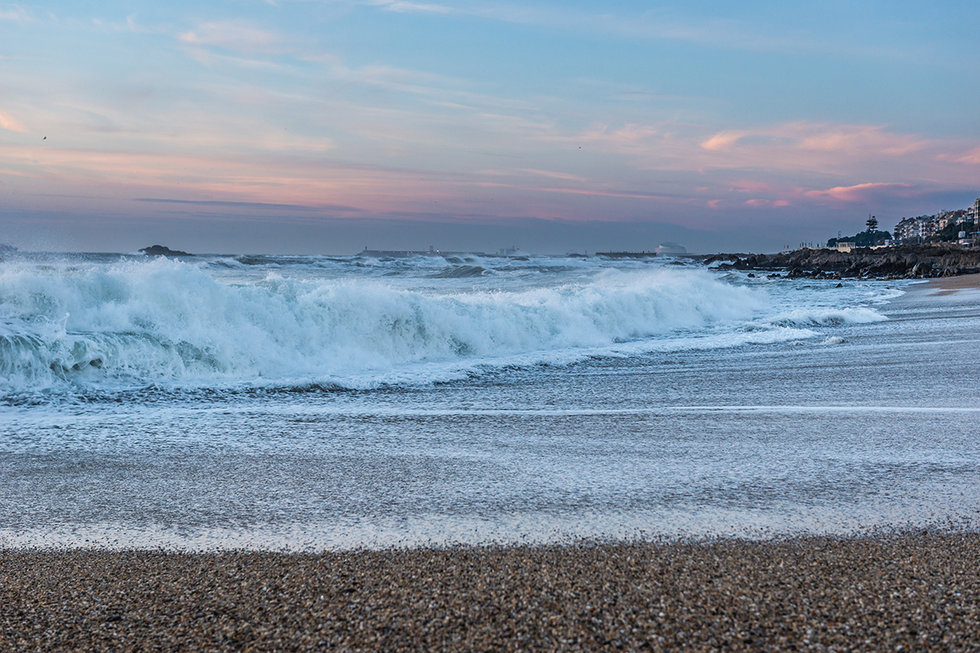 The closest Atlantic beaches to central Porto are at Foz do Douro (mouth of the Douro), just 20 minutes away by city bus. But why settle? In a rental car you can explore Atlantic beaches and beach towns that extend for hundreds of miles along Portugal's coastline. Two of the best are Foz do Minho, the nation's northernmost oceanic beach that's just across the Minho River from Spain, and Quiaios, a dune-fringed paradise of sand south of Porto. Many beaches in northern Portugal are cradled in coves protected by rocky promontories, similar to northern California and Oregon beaches.

Or east to the wine country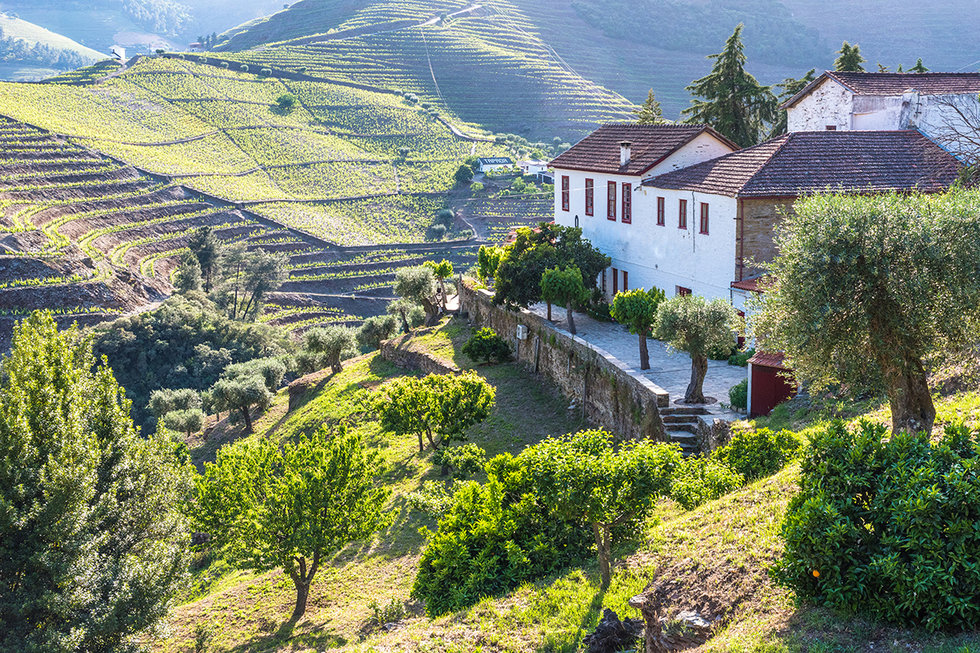 The Douro Valley wine region is another World Heritage Site and one of the world's best and most scenic wine regions. It's up the Douro River from Porto by boat or 90 minutes by road. Namesake port wines and other fortified wines are the region's signature beverages, which can be sampled at tasting rooms on the Douro along N-222, a wine road that's been called the world's most scenic drive. While you're in the area, check out the wine and anthropology museums in the wine towns and yet another World Heritage Site — Coa Valley Archaeological Park — known for its prehistoric rock carvings.
The basics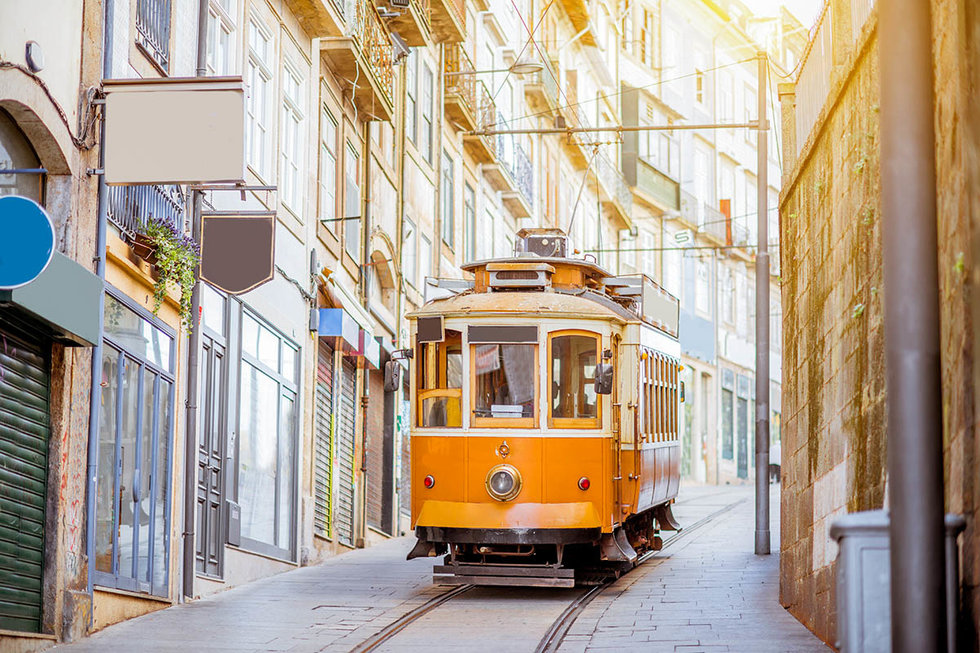 Portugal's Mediterranean climate and coastal breezes bless it with mild weather year round, as the average temperature ranges from 57 degrees (and rain) in January to 78 degrees (and a little rain) in August. Whenever you come, there's no need to learn Portuguese as English is spoken even more widely than elsewhere in Western Europe. Once you arrive, rent a car only if you don't mind ridiculous drivers. The trains are more relaxing — light-rail and subway trains crisscross the Porto area and funicular cable cars climb its steepest hills. There's even a scenic train that follows the Douro nearly to Spain, with a roundtrip fare of only about $30.
Getting there
Portugal requires that visitor passports don't expire until at least three months after the arrival date, so check that. Next, buy some Euros (for a great exchange rate) and reserve a flight. United Airlines flies nonstop from New York/Newark to Porto and MileagePlus® award miles can be redeemed to cover accommodations and Hertz rentals. Go to united.com or use the United app to plan your trip.

United 787-10 Dreamliner launch
Story was contributed by: Jennifer Lake | Photography: Alicia of Aesthetica
It was a typical Monday morning. I'm sitting at my desk at work, drinking coffee, reviewing my to-do list for the week. All around me, heels are clacking through the office and phones ring intermittently. However, this particular Monday morning was different. Ultimately, I would receive an offer from my favorite airline for a collaboration to participate in the United 787-10 Dreamliner launch from Los Angeles LAX to New York/Newark EWR. Read the full story here featured on Style Charade.
Fit for the runway: We begin testing new uniforms
Last year we announced new partnerships with Tracy Reese, Brooks Brothers and Carhartt — best-in-class fashion and apparel designers — to help reimagine uniforms for more than 70,000 of our employees. Focusing on high quality fabrics, improved breathability and overall enhanced fit, our goal is to design and develop a more cohesive collection that looks good, feels good and enables employees to perform at their best on behalf of our customers.
United employees can learn more on the uniform designs by visiting Flying Together.
An insider's guide to Boston
Boston is a pack-it-all-in kind of place. Founded in 1630, one of America's oldest cities does many things well. Boston's many claims to fame include many of America's oldest historic landmarks and one of its oldest ballparks. It's a destination for history buffs, culture vultures, foodies, sports fans, families and more. No matter who your travel companions are or what they're interested in, everyone will find something to pique their interest in Beantown.

Getting there & around town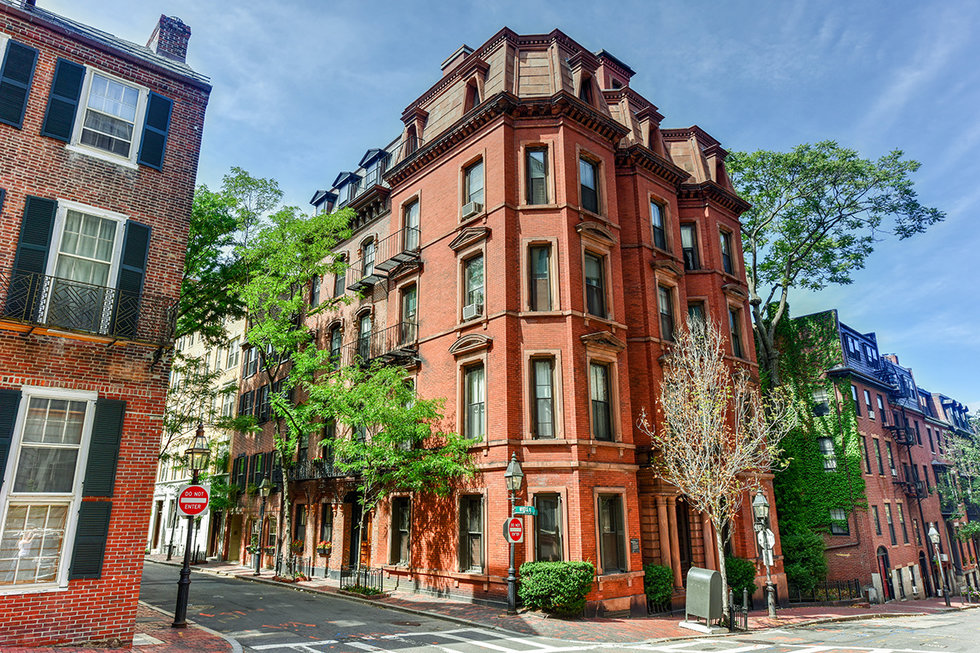 Fly direct to Boston's Logan International Airport (BOS) from many U.S. cities — visit united.com or use the United app to book your flight. Flights are 90 minutes from New York, two hours from Cleveland and five to six hours from California. From Logan International Airport, it's easy to hail a taxi, use ridesharing apps or take public transportation. If you want to take the scenic route, take a water taxi across Boston Harbor directly into downtown.
Downtown Boston is easy to navigate. It's walkable and taxis are plentiful. The MBTA, Boston's public transportation system, offers affordable access to Cambridge, many attractions and the suburbs. Keep in mind it's one of the oldest transportation systems in the country, so expect a few bumps. Because the city is dense, parking can be expensive or hard to find, so avoid driving if you can.
When to visit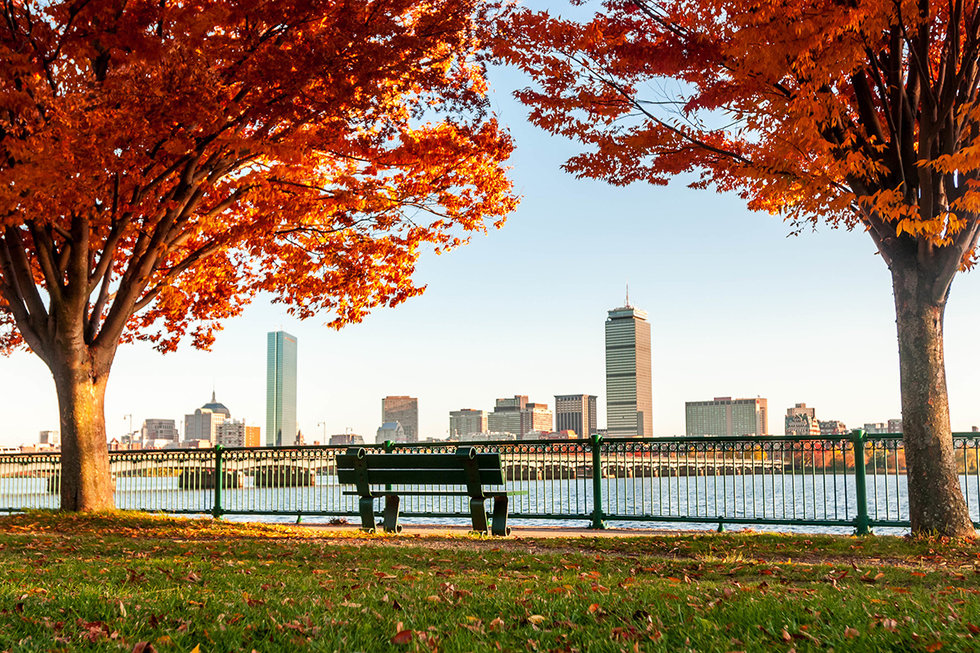 Summer and fall are the most popular seasons to visit. Summer is prime time to enjoy Boston's many parks, outdoor eateries, open-air concerts and baseball games at Fenway Park. Mild fall weather, beautiful autumn foliage and Halloween festivities in nearby Salem, Massachusetts make October one of Boston's busiest months. The city also sees an influx of visitors for the Boston Marathon in April. You'll find smaller crowds and more affordable prices in winter, but brace yourself for the cold.
What to do
There's so much to take in just by walking through Boston's cobblestoned streets. Downtown is quaint, compact and easy to explore by foot. The small city is packed with historic sites, New England's finest food, proud sports fans and friendly locals.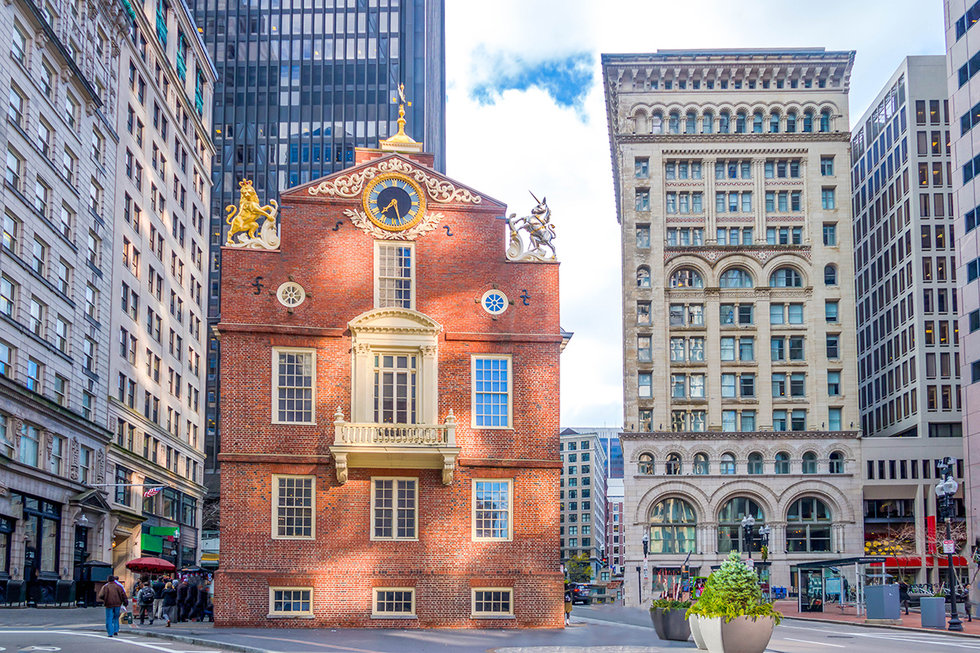 As the birthplace of the American Revolution, Boston's historic sites are an attraction in themselves. Walk the 2.5-mile Freedom Trail to visit 16 of them around the city, including Revolutionary-era museums, churches, buildings and an impressive warship. Faneuil Hall Marketplace is on the trail, too, and is one of Boston's top attractions, with plentiful shopping, dining and live music. Not much of a walker? Boston Duck Tours operate land-and-water historic tours on World War II-inspired vehicles, which transform from truck to boat mid-tour.
Many museums and sites are tucked along Boston Harbor. The waterfront is always bustling with activity year-round. The harborwalk is the perfect place to meander and explore without a strict agenda. Plan to visit a major attraction or two, but leave time to enjoy the scenery or to pop into a café for a coffee and sweet treat (award-winning Flour Bakery + Cafe is a local favorite).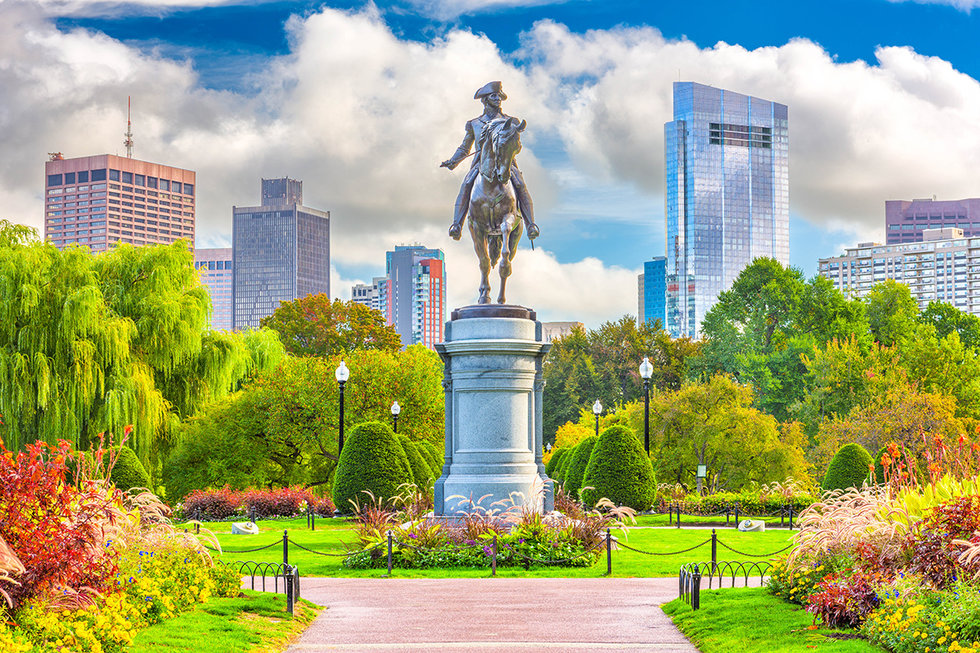 Deemed the "Athens of America," Boston boasts not only some of the country's oldest and most architecturally significant buildings, but also a thriving arts and culture scene. You could spend your entire trip touring its dozens of world-class museums. Take in classical music at the famous Boston Symphony Orchestra, or take a leisurely stroll through Boston Public Garden and Boston Common, the city's most well-known public parks. Riding the giant Swan Boats through the Public Garden lagoon is a kitschy, yet delightful experience, especially for kids.
What to eat
What must you absolutely eat in Boston? In short, everything. Long ago the city was nicknamed Beantown, allegedly after slow-cooked molasses baked beans served to sailors and traders. Today, Boston continues its reputation as a great eating city. From clam chowder to cannoli, the most popular dishes here are often hearty and decadent. Boston is also known for fresh lobster rolls, roast beef sandwiches and, of course, Boston cream pie.
Ask any Bostonian where to find "the best" of anything, and everyone will recommend a different spot. Cannoli from Mike's Pastry, Boston cream pie from Omni Parker House (where it was invented) and the roast beef 1000 sandwich from Cutty's frequently top the must-try lists. If you make it to a ball game at Fenway Park, Fenway Franks are a Boston staple.
Our role in 'Spider-Man™: Far From Home'
In Columbia Pictures upcoming release in association with Marvel Studios, "Spider-Man™: Far From Home," our web-slinging hero finds himself – yep, you guessed it – far from his home in New York City. And since flying is one of the few superpowers Spider-Man doesn't possess, we gave him a little help, meaning United is featured in the film.
The scenes of Peter Parker and his pals traveling to Europe take place on one of our Boeing 777s with the all-new United Polaris® business class, and several of our employees – including members of our Tech Ops, Inflight, Flight Operations and Airport Operations teams – served as actors and production support during shoots at New York/Newark (EWR) and London-Stansted (STN).
London-Heathrow (LHR) Customer Service Representative Manjit Heer and LHR Cargo Warehouse Operations Manager Richard Miller were background extras on board, and multiple flight attendants had a role, including San Francisco (SFO) Flight Attendant Tammy Harris.
"It was extremely surreal," said Tammy. "I was in my element because I was on the plane in uniform, but not really, because I'm not an actor."
Tammy said she hit her mark and delivered her line with gusto, and she's excited to see if she made the final cut when "Spider-Man™: Far From Home" hits worldwide theaters this summer.
"Hopefully, I'll have my two seconds of fame and all will be well," she joked.
Los Angeles (LAX) Aircraft Maintenance Supervisor Fernando Melendez is a veteran of several film shoots but said this one was his favorite. When the production went to London, he was one of five members of LAX Tech Ops who went over to look after our airplane and make adjustments to its interior based on the filmmaker's needs.
"When we parked the plane at Stanstead, there were lights and cameras surrounding us. It was like the plane was the star of the movie," he said. "Each day, we would work with the assistant director; he would go through and say, 'Okay, for this shoot we need these seats, or these panels removed,' so they could get the camera angles. Pretty much, the airplane was our responsibility; we opened it in the morning and closed it at night. We were the first ones there and the last ones to leave every day."
Fernando said the actors were all very gracious and engaging, and said the whole experience was fantastic from start to finish. It also earned him a little cooler cred with his 18-year-old son, who is a massive Marvel fan.
Leading up to the film's premiere this year, there will be plenty of ways for employees and customers to get into the Spidey spirit in anticipation of our cameo. Stay tuned for more details.
---
Peter Parker returns in "Spider-Man™: Far From Home," the next chapter of the Spider-Man™: Homecoming series! Our friendly neighborhood Super Hero decides to join his best friends Ned, MJ, and the rest of the gang on a European vacation. However, Peter's plan to leave super heroics behind for a few weeks are quickly scrapped when he begrudgingly agrees to help Nick Fury uncover the mystery of several elemental creature attacks, creating havoc across the continent!
Directed by Jon Watts, the film is written by Chris McKenna and Erik Sommers based on the Marvel Comic Book by Stan Lee and Steve Ditko. The film is produced by Kevin Feige and Amy Pascal. Louis D'Esposito, Victoria Alonso, Thomas M. Hammel, Eric Hauserman Carroll, Stan Lee, Avi Arad and Matt Tolmach serve as executive producers. The film stars Tom Holland, Samuel L. Jackson, Zendaya, Cobie Smulders, Jon Favreau, JB Smoove, Jacob Batalon, Martin Starr, with Marisa Tomei and Jake Gyllenhaal.
"Spider-Man™: Far From Home" makes its way to North American theaters on July 5, 2019.
What to expect from our improved app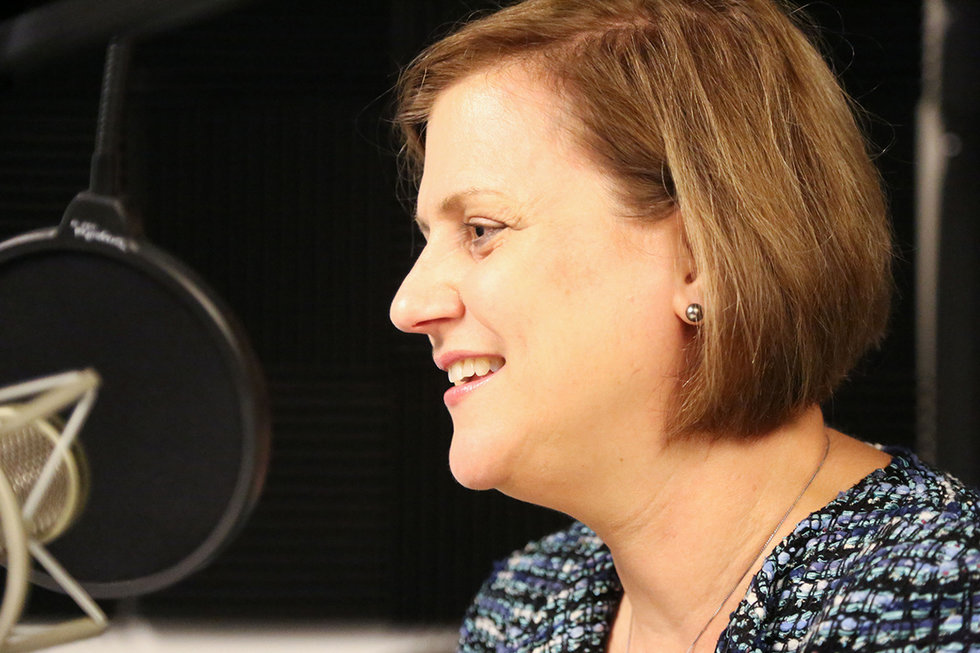 "Talking Points," host Brian Kelly, aka The Points Guy, is joined by Linda Jojo, Executive Vice President for Technology and Chief Digital Officer at United Airlines to discuss what passengers can expect from our improved app.
Read more about the improvements to the United app here.

20 million miles and counting...
On November 7, while flying from Newark Liberty International Airport to Los Angeles International Airport, United customer Tom Stuker made history when he reached 20 million miles flown on a single airline. We were fortunate enough to capture the milestone he reached with us.
To mark the special occasion, we hosted a celebration in Mr. Stuker's honor at the United Polaris lounge at O'Hare International Airport on Saturday. The celebration was delayed a couple of months, so Mr. Stuker could celebrate the event with his family.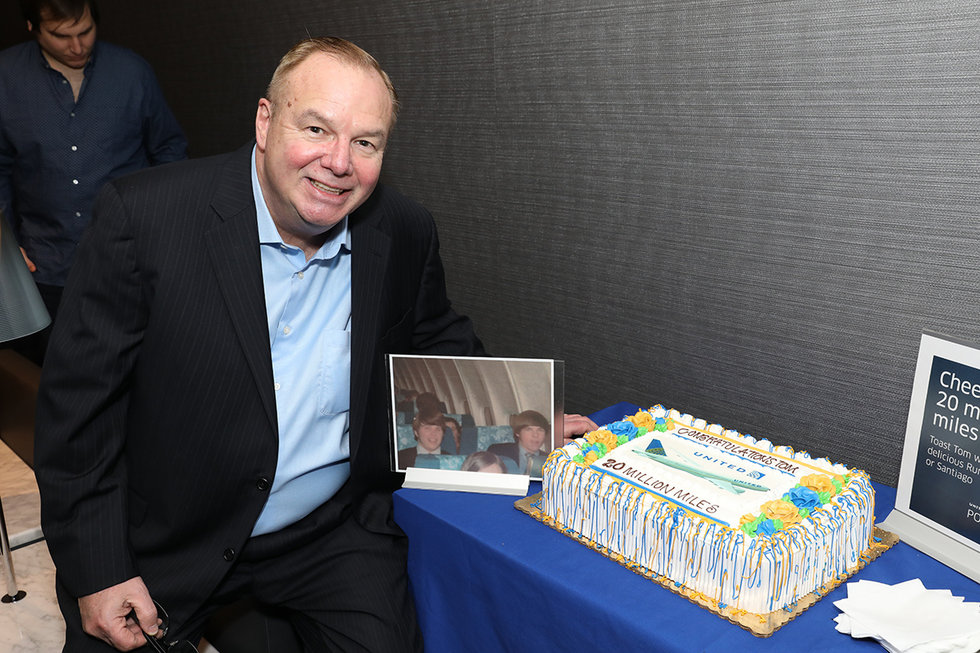 The party included a room full of employees, media members and Mr. Stuker's friends and family enjoying food, cocktails, stories and laughs. To thank him for his long-standing loyalty to United, we also presented Mr. Stuker with gifts made specially for him.
"United makes my dreams come true," Mr. Stuker said to the room full of people.
He also praised United's MileagePlus program, the United Polaris lounges across our system and Oscar's leadership of the airline but, most of all, he praised the service he receives from our employees.
"My favorite part of United is the people. United is such a big part of my life…you are a family to me," he said addressing the United employees. "It would take me days and days and days to say thank you in the right way to the right people. They all know me by now and know how much I care about them as people, how much I care about this airline and its success, and how much I care about the greatest leader this airline has ever had, Oscar."
Bora Bora: The most beautiful island in the world
Each week we will profile one of our employee's adventures across the globe, featuring a new location for every employee's story. Follow along every week to learn more about their travel experiences.
By Chicago-based United Club Customer Service Representative Amile Ribeiro.
They say beauty is in the eye of the beholder. I know it can be very subjective but, once you set your eyes on it, I'm sure you'll agree with me: Bora Bora is the most beautiful island in the world.
There are very few things that can get me out of bed early in the morning, and airplanes are one of those things. We were already in Tahiti and woke up at the crack of dawn to catch our quick flight to Bora Bora. After checking in at the airport and getting a quick breakfast, we headed over to the gate to line up for our flight. Air Tahiti has an open seating arrangement, and we wanted to make sure we got the best possible seats. We were able to secure two windows seats. Travel tip: Sit on the left side of the plane when landing in Bora Bora. We took off from Papeete and within minutes we were flying over Mo'orea. Then we flew around Ra'i ātea and Taha'a, and finally arrived in Bora Bora, the island that Polynesians call "First Born." Pora Pora is the actual local pronunciation, but the first explorers misunderstood it and 'Bora Bora' stuck. Though after setting foot on the island, I've come to call it "Paradise on Earth."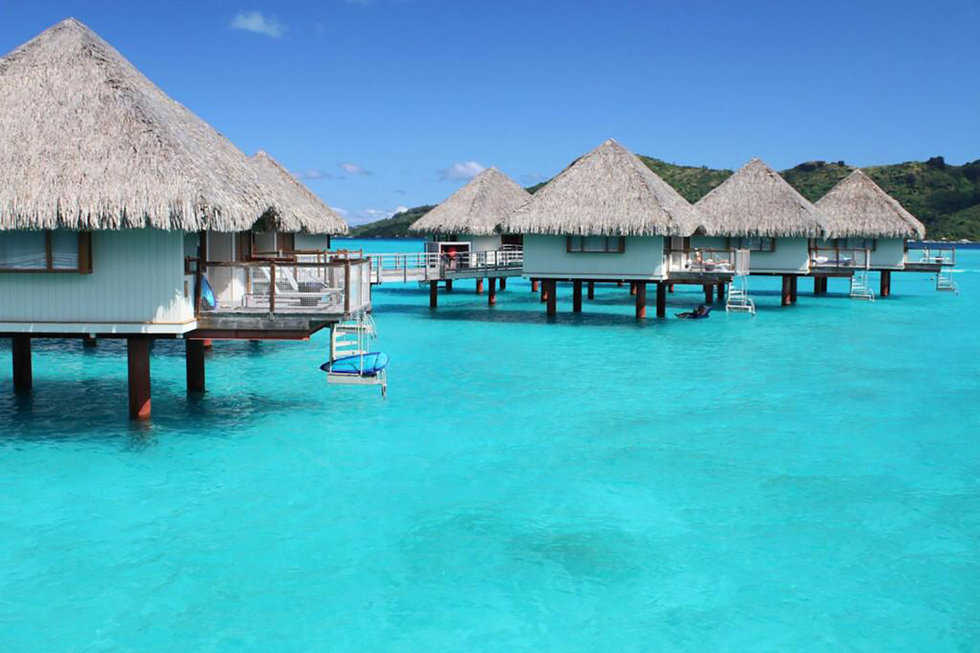 At the airport we were met by a representative of our resort, given flower leis and directed to our high-speed boat. I couldn't believe the color of the water; it was as if Paul Gauguin himself had painted it. After a thrilling ride, we reached our hotel's dock, where a local playing the ukulele welcomed us. We were then given a tour of the astonishing property and were taken by golf cart to our overwater bungalow. We have stayed in many beautiful properties around the world, but when we opened the door of our bungalow our jaws dropped. It is truly a one-of-a-kind experience that all should have at least once in their lifetimes. And worth every penny. The view of majestic Mount Otemanu is something right out of a fairy tale. After the sun set, the nighttime dance show was equally enchanting.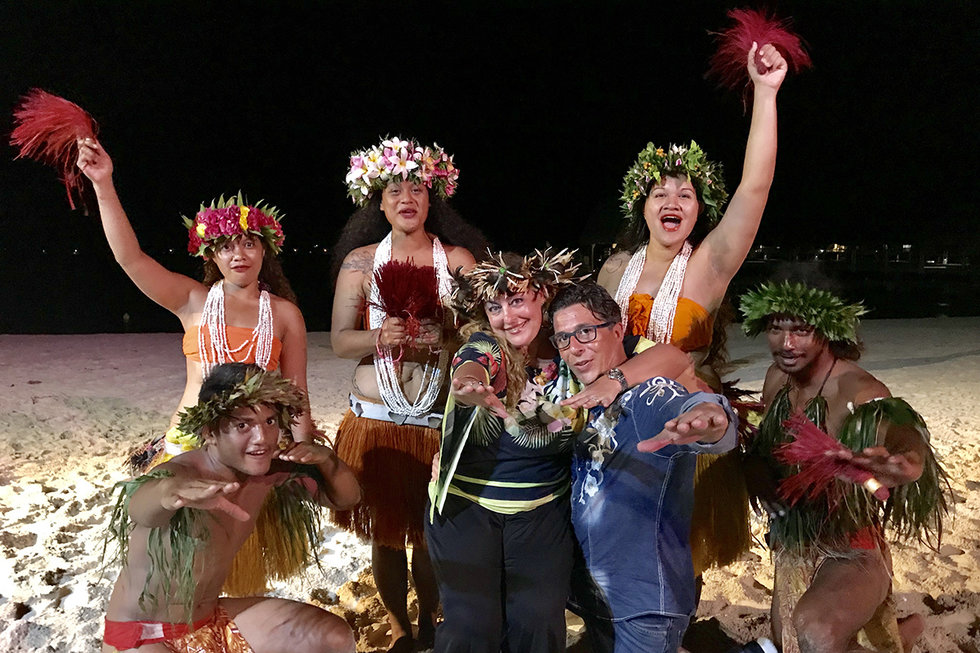 We had planned to be in Bora Bora during the final leg of the famous Hawaiki Nui Va'a canoe competition, which happens to be a major event in the cultural life of French Polynesia and has the reputation for being the toughest canoe race in the world. The center stage was at the island's most beautiful beach, Matira. We stood in awe as the winners reached the finish line after several hours (and days before that) of frantic paddling from island to island, showcasing the power of human strength and endurance. Besides being an incredible sporting challenge, it is also a colorful spectacle that filled the beach with flower-clad women and the air with the pulsating beat of drums. We were also able to celebrate and dance with them later that night at the local ball in Vaitape (Bora Bora's largest city). It was a marvelous way to get a deeper understanding of another culture!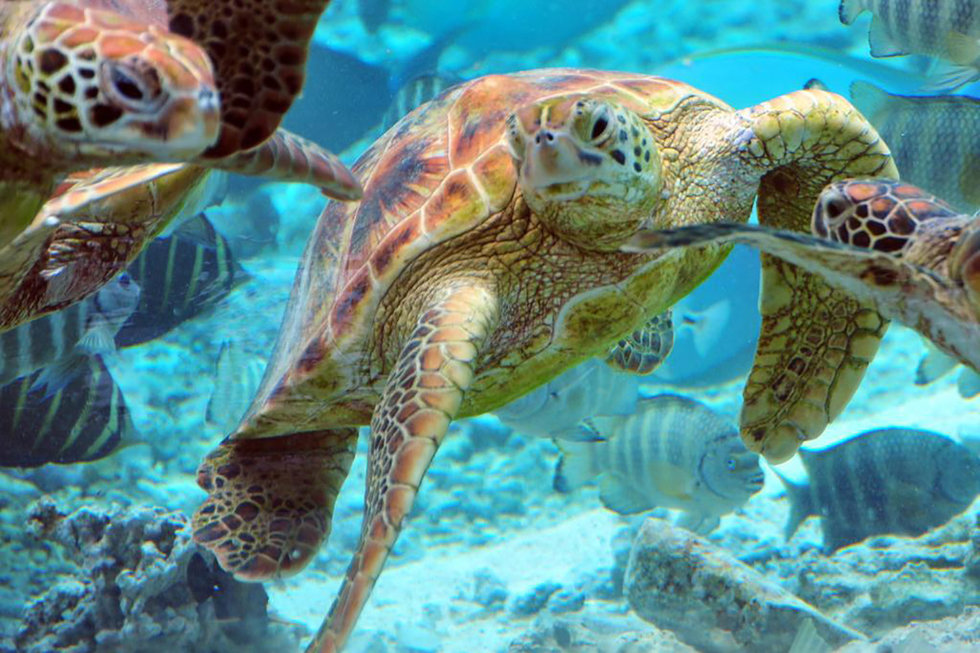 Besides having the time of our lives at the resort's infinity pools, inner lagoons and beach, we also went to the Turtle Center and had a chance to feed these amazing creatures while they're being rehabilitated to go back into open waters. From there, we took a boat tour of the main lagoon and went swimming with stingrays and sharks. Few things scare me in life, and sharks are on the very top of that short list, but I mustered the courage and what a thrill it was! To commemorate my bravery on the last day of our trip, I got my very first tattoo: a hammerhead shark. Polynesians believe that such sharks act as guardian angels to humans and protect us from the Great White. My husband got a Polynesian design that was custom made just for him, and it represents travel, freedom and courage. We also got a set of matching Polynesian wedding bands. Since the art of tattoo originated in Polynesia, this is the most enduring souvenir one can get from such an amazing culture, but I'm sure the memories of our trip will also stay with us forever!

Scroll to top