Three Perfect Days: Iceland
Story by Diane Vadino | Photography by Adrienne Pitts | Hemispheres May 2019
Not long ago, Iceland was a spectacularly beautiful but seldom visited wonderland of waterfalls, volcanoes, and geysers in the lonely North Atlantic, still finding its national feet after centuries of Norwegian and Danish rule. Then, an unlikely confluence of events: The economic crisis of 2008–09 turned the country upside down—and paradoxically made the once prohibitively expensive destination affordable for visitors. A year later, the air traffic–halting eruptions of the Eyjafjallajökull volcano landed Iceland, in all its geothermal splendor, on news broadcasts around the world. Now, the word is truly out, and the supremely photogenic country welcomes so many tourists—2.3 million in 2018—that visitors outnumber residents by a ratio of seven to one. How to find a place for yourself, away from the crowds? Make a break for the majestic north, where whales sidle up to sightseeing boats, and the aurora borealis can be viewed from the comfort of geothermally heated pools. Then cap things off with a day in the picturesque capital, Reykjavík, home to a world-class art and dining scene, dramatic seascapes, and a pretzel that's possibly worth the trip itself. These days, the sun barely sets. The lupine is blooming. Paradise awaits.
Day 1
Tailing whales across Skjálfandi Bay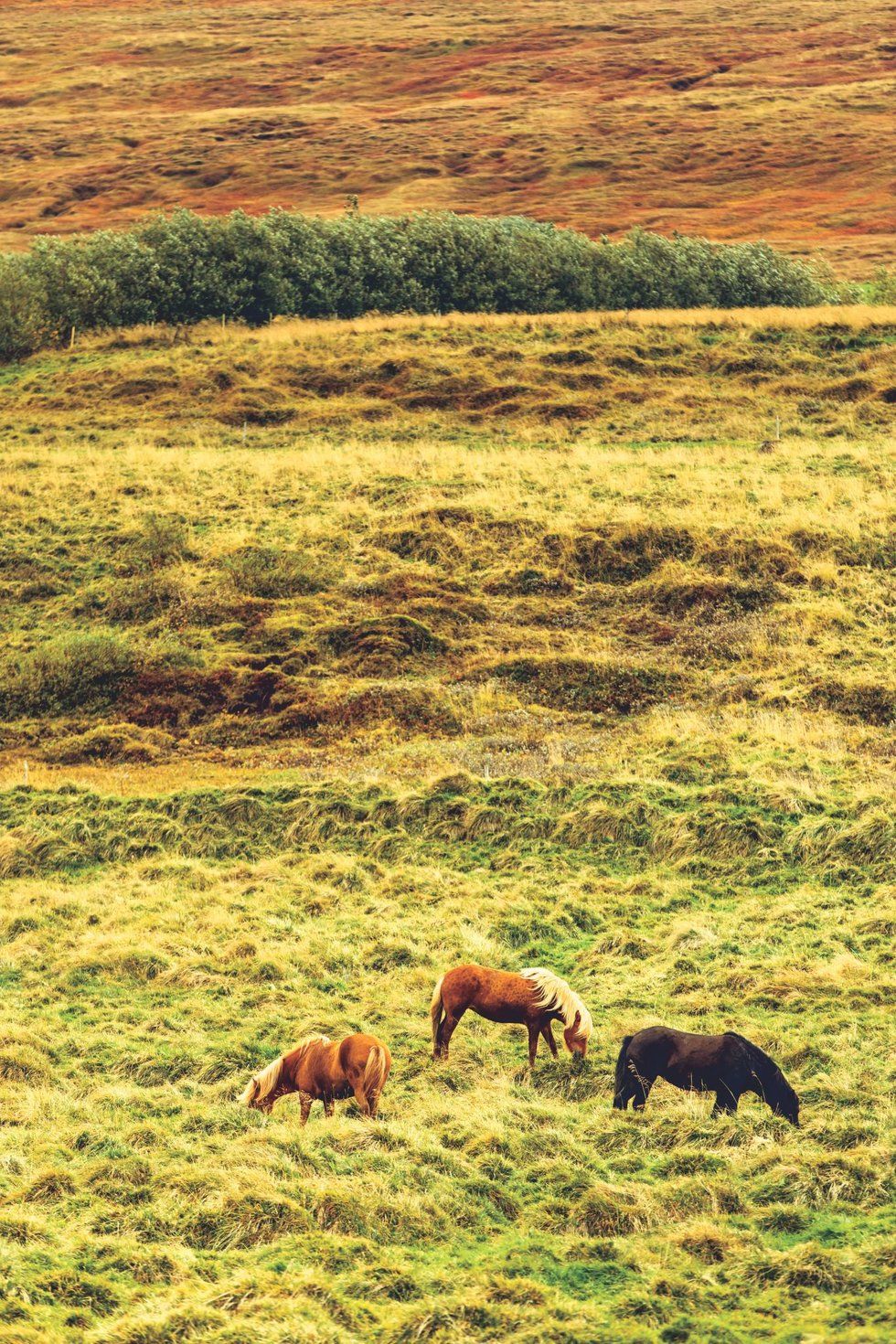 The GeoSea Geothermal Sea Baths
All is quiet, and all is magnificent.

We have sailed west, into the center of Skjálfandi Bay. Everything around our ship—land, sea, sky—is some variation of gray, except for our full-length, cherry-red survival suits, which resemble the gear crabbers wear during blizzards on Deadliest Catch. My seasick fellow passengers, unsteady on their feet, haul themselves to the guardrail and peer stoically into the distance.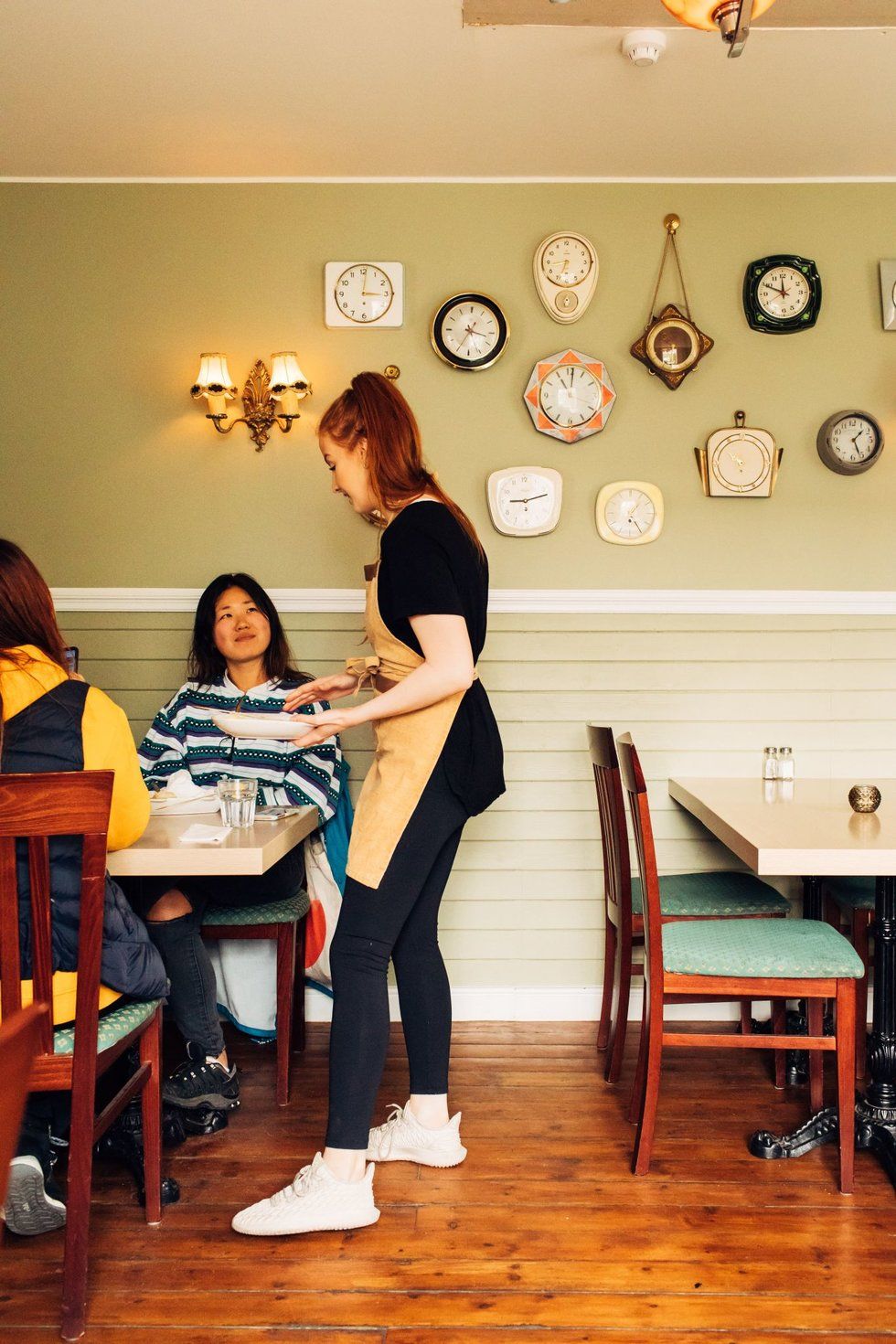 Naustið, a restaurant in Húsavík
At first, the wildlife is limited to birds: gannets, Arctic terns, black guillemots with white patches on their wings.

But we are not here for birds. All of us—I hear Japanese, French, English, German, Scandinavian languages that I can't distinguish from one another—are here for whales.
The whales cannot be trusted to appear on cue, our North Sailing guide says over the ship's loudspeaker. We rely on their favor. This is the North Atlantic, not SeaWorld.
And so we wait. I email my landlord, my boss, and a woman who wants to buy an antique pitcher from me. But then we hear it: a whale surfacing, blowing air through its spout, and, all at once, it's magical. (It sounds like a massive, wet poof.) We hear it again. Then, suddenly, we see the source of the sound, as a slick black tail flips up and then down into the water. Everyone on the boat rushes in the direction of the whale, slipping on the wet deck, jockeying for a place at the rail. The whale, a humpback, skims the surface desultorily before diving again. It's soon trailed by a boat from a competing tour company, whose passengers look exactly like us, except their suits are black and fluorescent yellow. At times, the whale swims just below the surface, perhaps 50 feet from us and sinking fast, so we see only its massive outline. Another boat arrives, its passengers clad in neon orange. The boats follow the whales. Sometimes we get the best view; sometimes another boat does.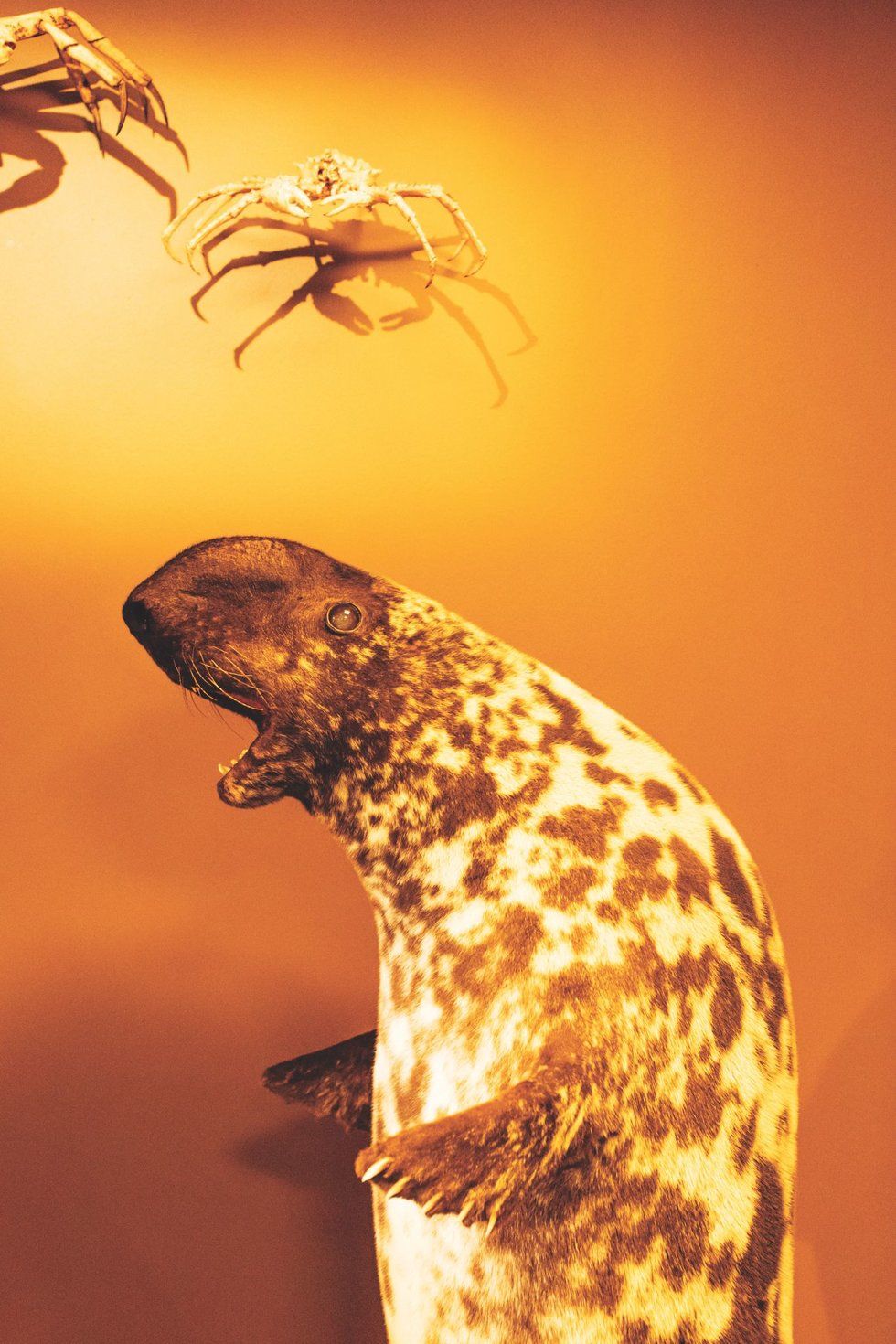 A stuffed hooded seal at the Húsavík Culture House
A rhythm establishes itself: tedium, the majesty of whales, tedium, the majesty of whales. The majesty, though, is cumulative: Before we turn and head back to the small port at the town of Húsavík, Iceland's whale-watching capital, we have seen a dozen of them (or the same whale a dozen times; who can say for sure?), flipping and swimming and turning tail in the water. As we disembark, I feel strangely euphoric, enchanted. I want whales everywhere to be happy and safe.

In summary, my dominant impulse is not to eat them. I discover at the nearby Húsavík Whale Museum that not everyone shares this response. "People go on the tours, come into the museum, and ask where they can eat it," says Garðar Þröstur Einarsson, a whale specialist and former guide. "Sixty percent of the minke whale meat in Iceland is eaten by tourists."
We're surrounded by exhibits that testify to the immense humanity of whales. "That is bananas," I reply.
No restaurants in Húsavík serve whale meat—certainly not Naustið, with its bright, mid-century mariner design. What it does serve: potatoes and wild arctic char, caught that day in a lake named Kálfborgarárvatn. (When Naustið's owner tells me the lake's name, I write down "K-???????" in my notebook.)
"Then we hear it: a whale surfacing blowing air through its spout, and, all at once, it's magical."
From there, I drive to the other end of Húsavík, to the GeoSea Geothermal Sea Baths, a brand-new pool complex perched on a cliff above the harbor. Pools are central to Iceland's idea of itself—as primary to its national identity as pubs are to Britain or cafés are to France, according to Icelandic author Alda Sigmundsdóttir. The Blue Lagoon, a massive bathing complex near the airport in Keflavík, is the best known, but it's just one of many in towns large and small across the country. None are as beautiful as Húsavík's.
Or, at least, I think they're the most beautiful. By the time I get to the pools, it's pitch-black. (It's hard to imagine a better place to view the northern lights, though the optimal viewing time is late September through March.)
The air is cold, so I sit as low as I can in the naturally heated water. The Icelanders are less delicate, walking between the pool and the bar, picking
up beers through a service window and drinking them at leisure.
I have seen my fill of whales, but I know that it should be possible to hear them from the pool, so I stay in the water much too long, waiting for another of those spouting poofs.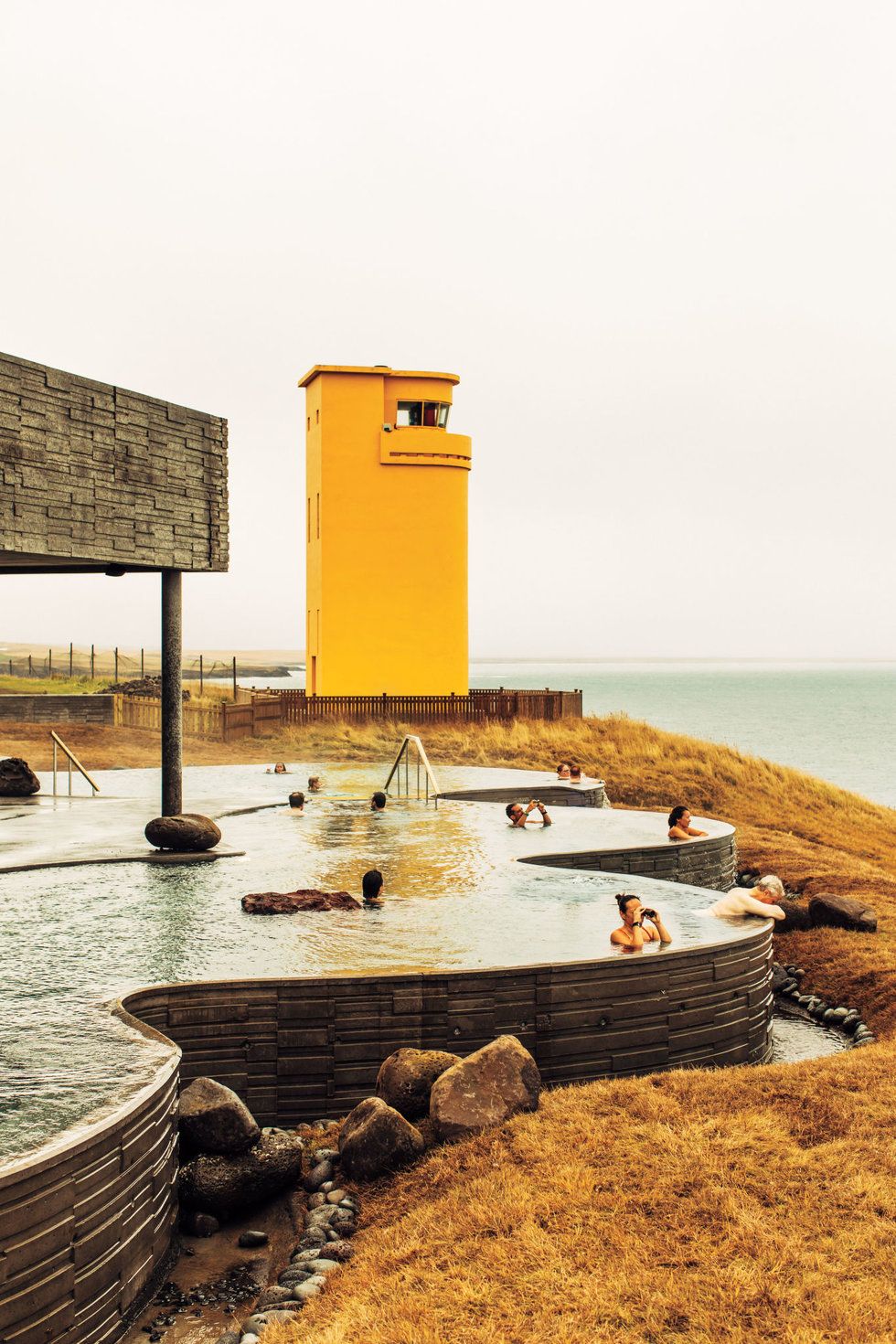 The GeoSea Geothermal Sea Baths
Pool Etiquette

Of the wide array of Icelandic souvenirs—from the ubiquitous wool sweaters to every iteration of puffin memorabilia—none will offer a window onto the national view on visitors like Alda Sigmundsdóttir's The Little Book of Tourists in Iceland, a collection of essays on local sensibilities. If you heed just one of her advisories, let it be this: Before entering a public pool, take a shower. (No clothes. Not optional.) "You need to shower, naked, at the pool before going in," she says. "It sounds kind of facetious and silly, but not showering really does upset the local population." Swimming pools, Sigmundsdóttir says, are crucial to the culture—and their customs must be respected.
Day 2
A pair of waterfalls and Iceland's biggest toy box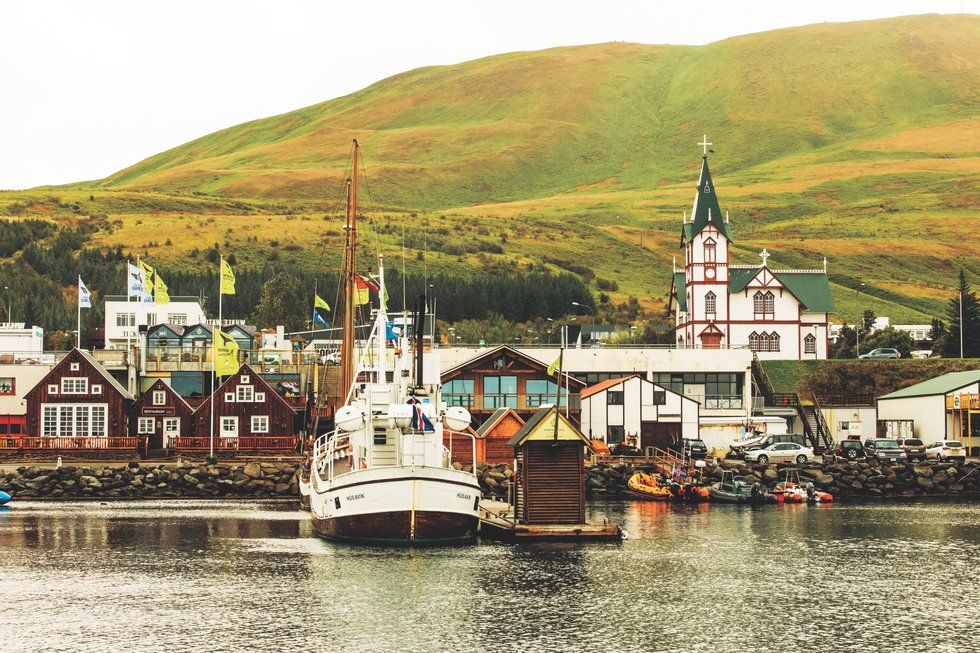 The grand Goðafass waterfall
I've been to Iceland several times before, but like many visitors, I stayed in and around the capital, Reykjavík, exploring only as far as the Golden Circle. The attractions on this well-worn circuit—Þingvellir National Park, the Gullfoss waterfall, Geysir—are spectacular. They are also very, very popular, meaning that they are in some ways victims of their own exceptional success.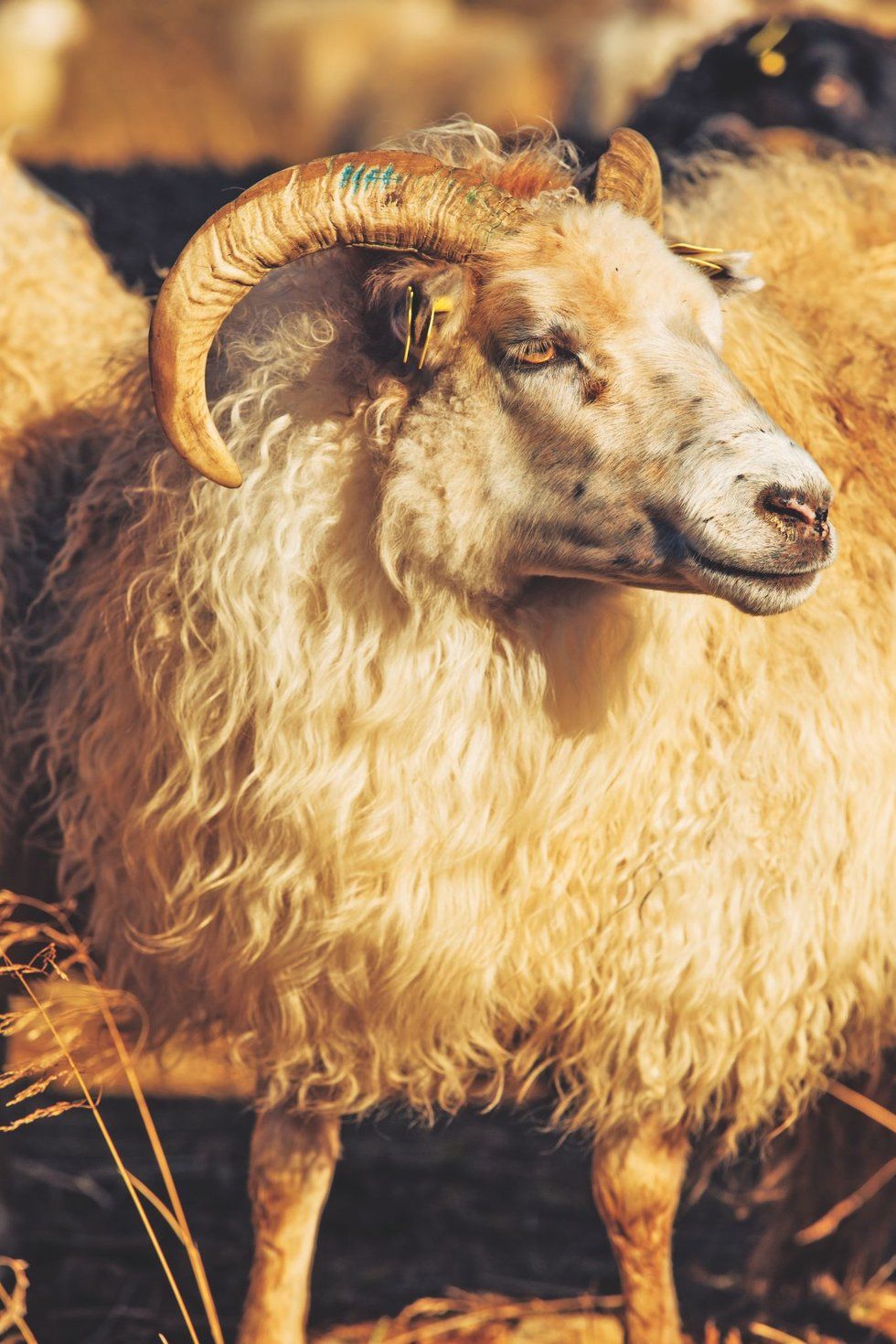 A ram at Deplar Farm
So, instead, today I've decided to embark on a self-drive version of the north's equivalent of the Golden Circle: the Diamond Circle tour. (There is also a Silver Circle tour, near Reykjavík; Iceland will run out of gem names before it runs out of scenic excursion possibilities.) To see as much as I want to today, I leave at 6:30 a.m., before anything (including Húsavík's bakeries) is open.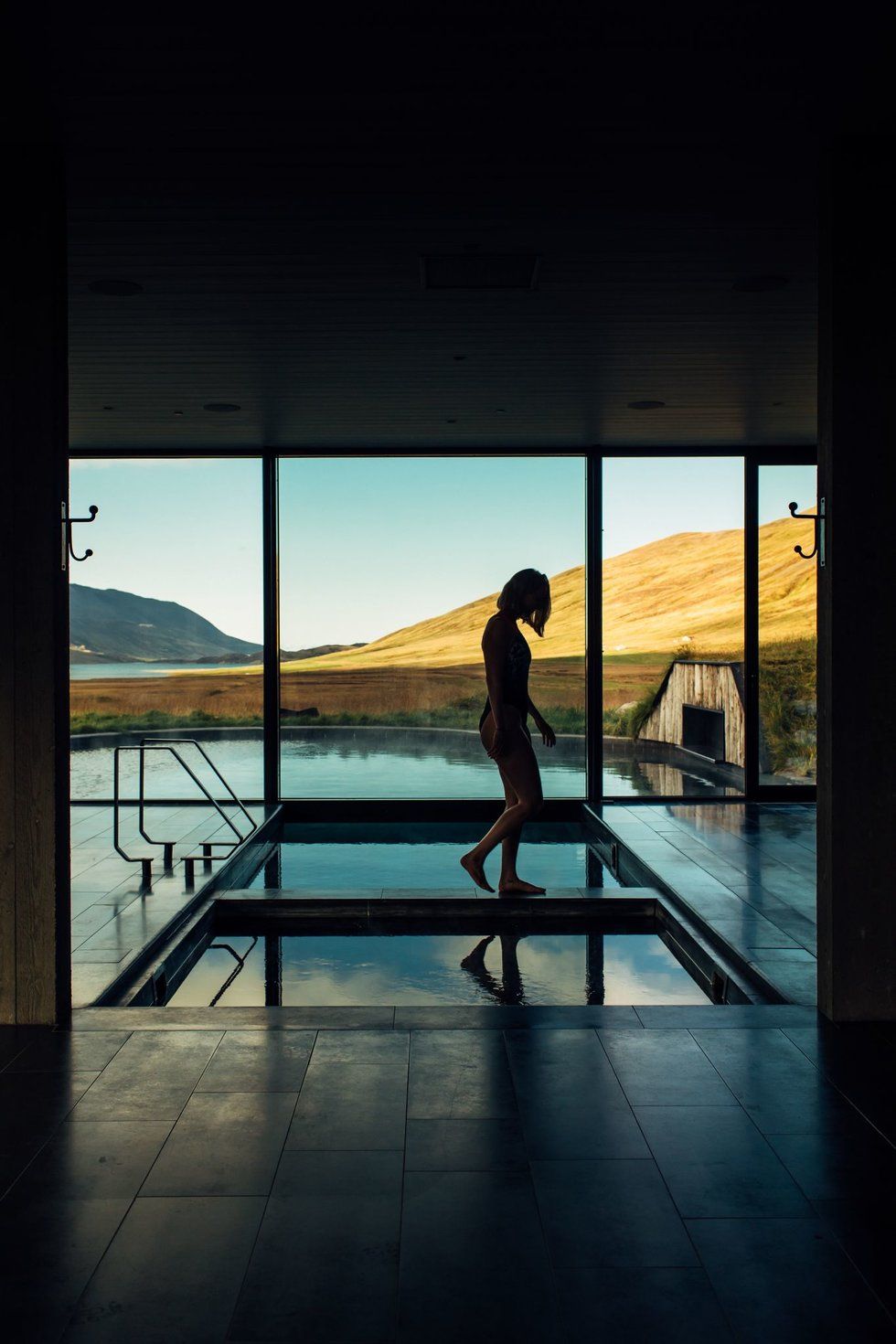 The spa at Deplar Farm
I begin with a 50-mile drive that meanders north (and then south) to Dettifoss, Europe's most powerful waterfall by volume and the location used for the opening scene in Ridley Scott's Prometheus. It is staggering, monumental. From there, I head south to the Ring Road, which circles the entire island: If I turn east and go about 500 miles, I'll hit Reykjavík. I go west, though, to Mývatn, a wild expanse of a lake that looks broody and Scottish when the sun ducks behind the clouds and like a sparkling turquoise field when it emerges. My third stop is Goðafoss, another waterfall. It's more approachable than Dettifoss—literally, in that it seems less like the sort of thing you fall into by accident, never to be seen again. All things being equal, I prefer Goðafoss (pretty) to Dettifoss (existential).
North Atlantic salon at Depler Farm
My fourth stop is the reason for my non-leisurely pace: Deplar Farm, an unassuming yet gorgeous hotel in the Fljót Valley run by Eleven Experience that's a magnet for the sort of finance executive or celebrity seeking a no-expense-spared vacation. "You're going to Deplar!" a guide I meet at Mývatn exclaims when I share my itinerary. "They've got the biggest toy box in the country." Justin Timberlake, he adds, is a fan.
I don't understand what "toy box" means until a couple of hours later, when I see it while trailing behind my guide, a mountaineer/artist named Thorlakur Ingolfsson. He goes by Laki, which is pronounced "Loki," like the god/Avengers villain. (Tom Hiddleston has some serious competition.) Guests at Deplar are paired with a guide, and I am lucky Laki is mine. The lodge offers myriad activities, from helicopter skiing in the winter to salmon fishing and kayaking the nearby fjord in warmer months. Equipment for all these activities is stored in the "toy box," a hut stocked with snowmobiles, hiking boots, snowshoes—anything you might need for expeditions big and small.
"Imagine the adventure you'd have if you just rent a car and follow the weather."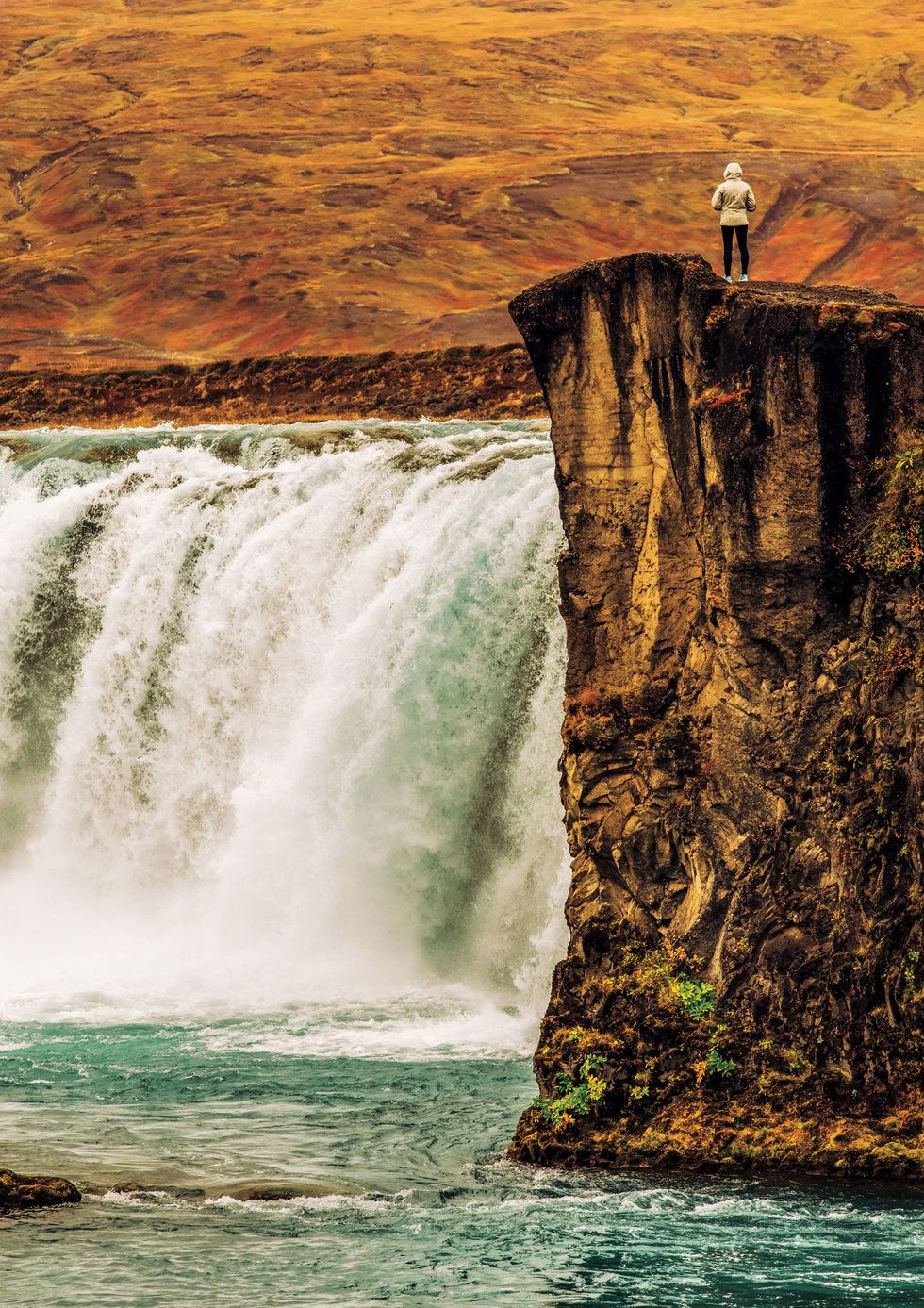 The grand Goðafass waterfall
Not feeling particularly sporty, I opt for an easy hike into the surrounding hills, followed by a very late lunch of North Atlantic salmon with lentils and beets at the property's Ghost Farm. This gives Laki and I plenty of time to discuss the best way to travel through Iceland. "The weather has such a huge impact on what you're able to do here," he says. "Really, the thing to do is check the weather in the morning and go where it's good." That's easy, I say, if you're not coming from far away and if you didn't have to make hotel reservations six months in advance. "If you can, being flexible is better," he replies. "Imagine the sort of adventure you'd have if you just rent a car and follow the weather, if you truly go and explore a world that's beautiful, pristine." I can imagine it.
Afterward, there is yoga, a massage, and the opportunity to soak in an outdoor pool. (Clouds scupper my northern lights ambitions.) Dinner is served at 9, and it is tremendous: beef medallions with beets and sunchokes, all locally sourced.
I've stayed in hotels all over the world, and Deplar just might be the best. Even before I fall asleep, I am sending imploring emails to my friends, with pictures of the property—even in an all-day mist, with low, gray clouds, it is stunning—asking them to return with me.
Day 3
Reykjavík from land and sky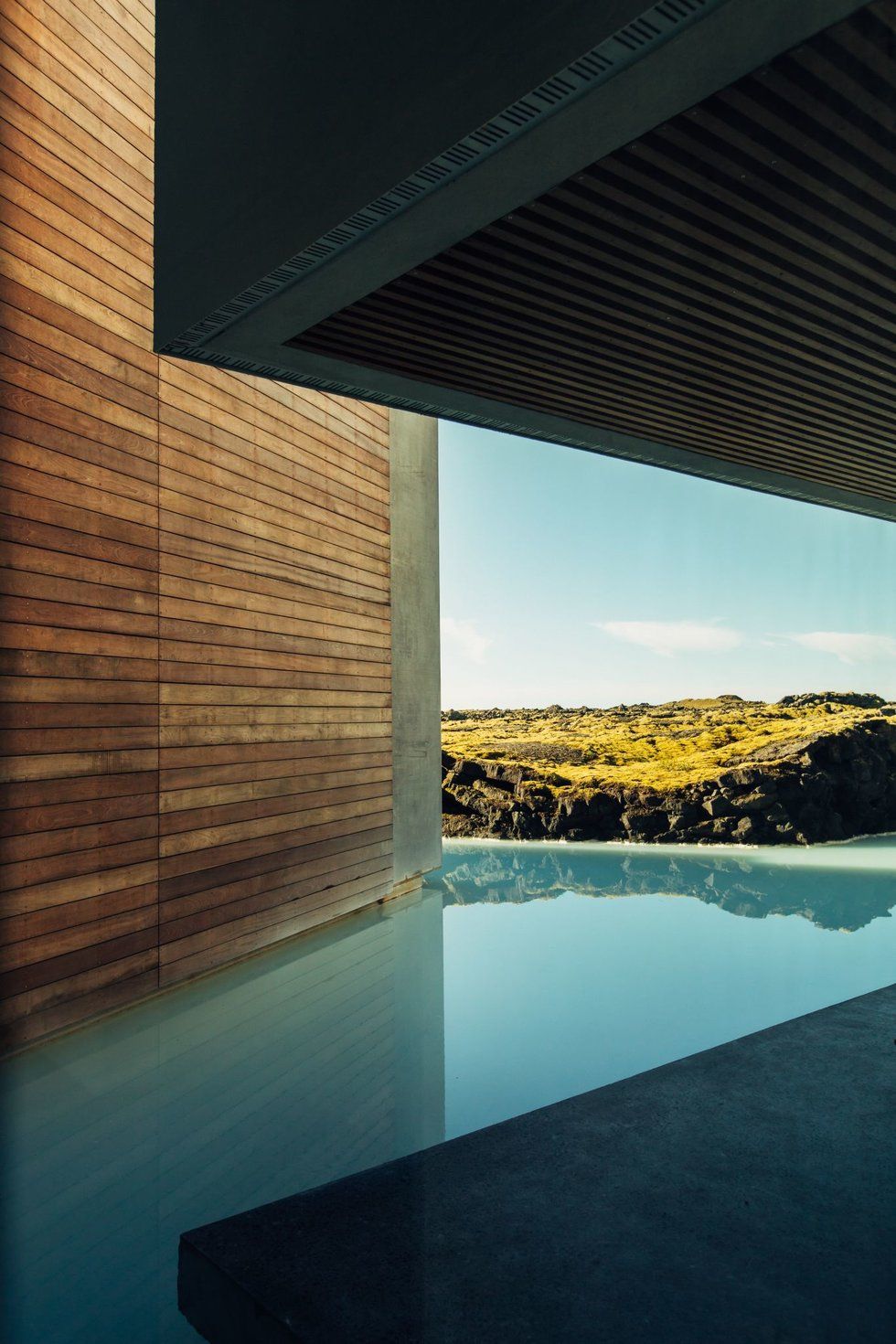 In the morning, I leave Deplar Farm with regret, after a breakfast of delicious, crepe-like Icelandic pancakes with powdered sugar and berries. From here, it's either a tidy helicopter ride or a straightforward drive to Reykjavík. Not being Justin Timberlake, I opt for the latter: a five-hour trek I make under sullen skies. Even without any sunshine, the scenery is dizzying; I have to fight the impulse to pull over and take photos at every turn.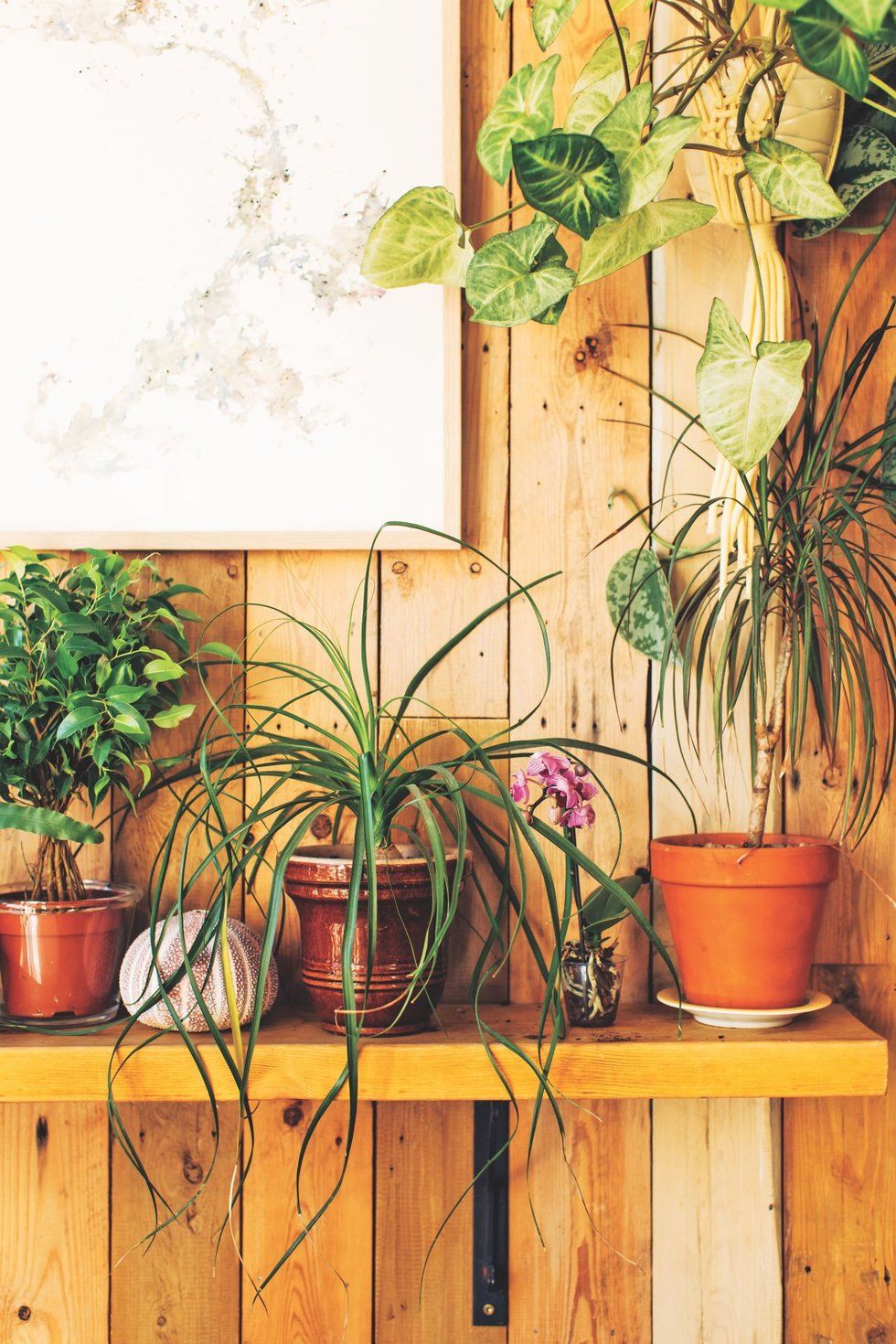 A green corner at the Coocoo's Nest in Reykjavik
Reykjavík is so compact that it's easy to see a lot, fast. I begin with the city's most distinctive landmark: Hallgrímskirkja, which looks somehow both Art Deco and ancient. The exterior is striking—it looks like a fighter jet sitting upright or, equally, where elves in a Tolkien book might worship—while the interior resembles the Lutheran churches of my childhood (read: like a suburban hotel ballroom). It's well worth the wait to go to the observation tower: At 240 feet, it offers superb, 360-degree views of Reykjavík, the harbor, and the mountains to the north.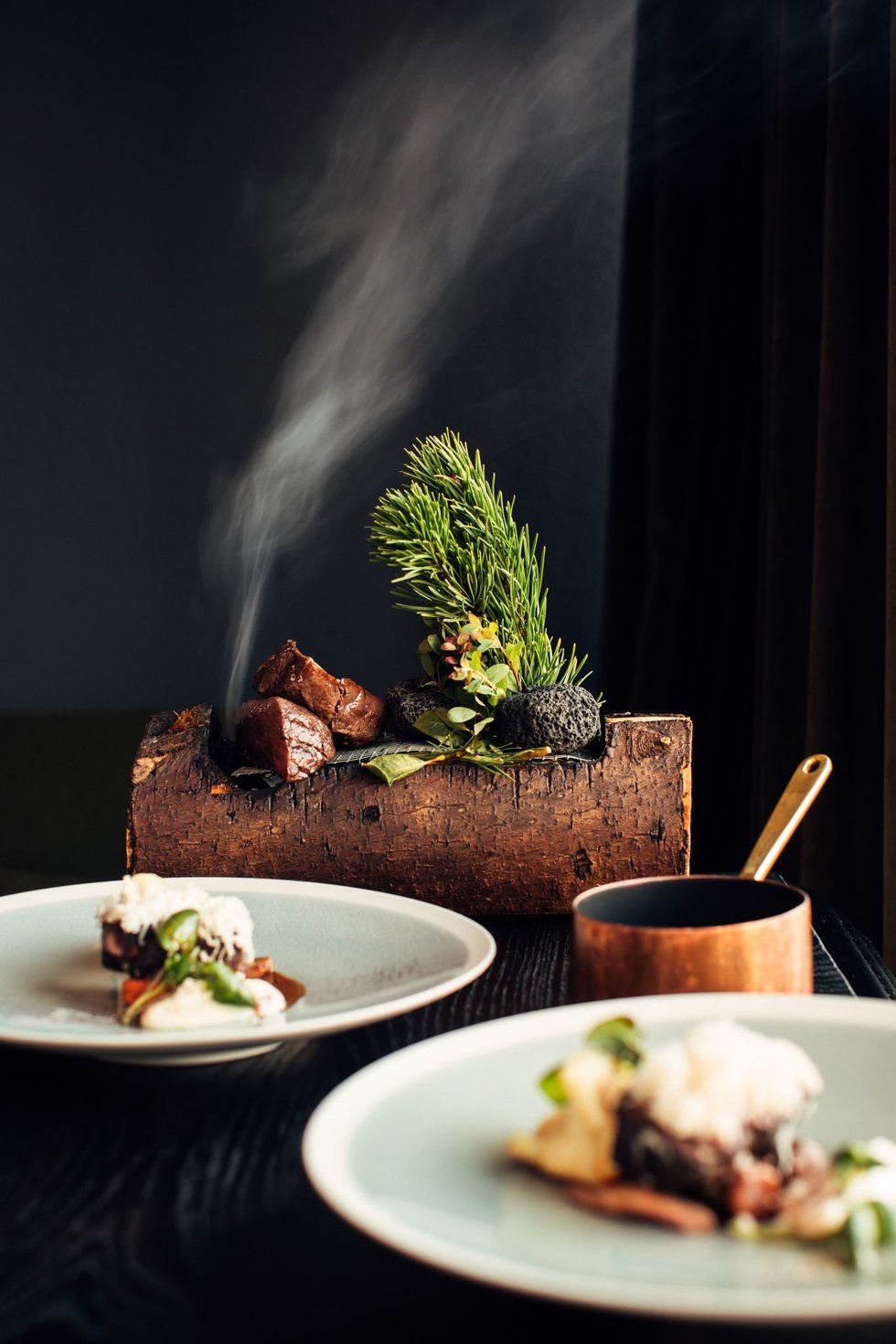 Smoked beef fillet at Moss
Two hundred miles of driving followed by some intense church viewing means that I'm both (a) ready for a walk and (b) starving—so I head toward Grandi, a onetime industrial, now up-and-coming area by the harbor that's home to a popular ice cream shop, Valdís, and a buzzy brunch spot, Coocoo's Nest, as well as Reykjavík's oldest restaurant, Kaffivagninn, where I have a plate of light and crisp fish and chips (basically the official meal of Reykjavík).
Sufficiently reenergized, I head to my second stop in Grandi: Studio Olafur Eliasson. If you don't recognize Eliasson's name, you may know his work: He installed waterfalls that seemed to hover 100 feet above New York City's East River in 2008—and, later, above the Grand Canal at the Palace of Versailles. He is also the author of my favorite book about Iceland, a collection of 35 images, submitted by Icelanders, of their cars stuck in rivers (title: Cars in Rivers), and the designer of the glass facade at Harpa, Reykjavík's concert hall.
"If there's a problem with Iceland, it's that the spectacular becomes everyday."
The studio, which is open to the public, is at Marshall House, a former fish factory. I wander past Eliasson's works, including Untitled (Spiral), a tall spiral of metal spinning up (or down), and then I see the artist himself. (If you couldn't tell, I'm a fan.) I know it makes sense that an artist would be working in his own studio—and would be involved, it seems, with the taking down of one installation or the setup of another—but it is too great. I stop and stare and then run away as quickly as I can, before anyone catches me staring.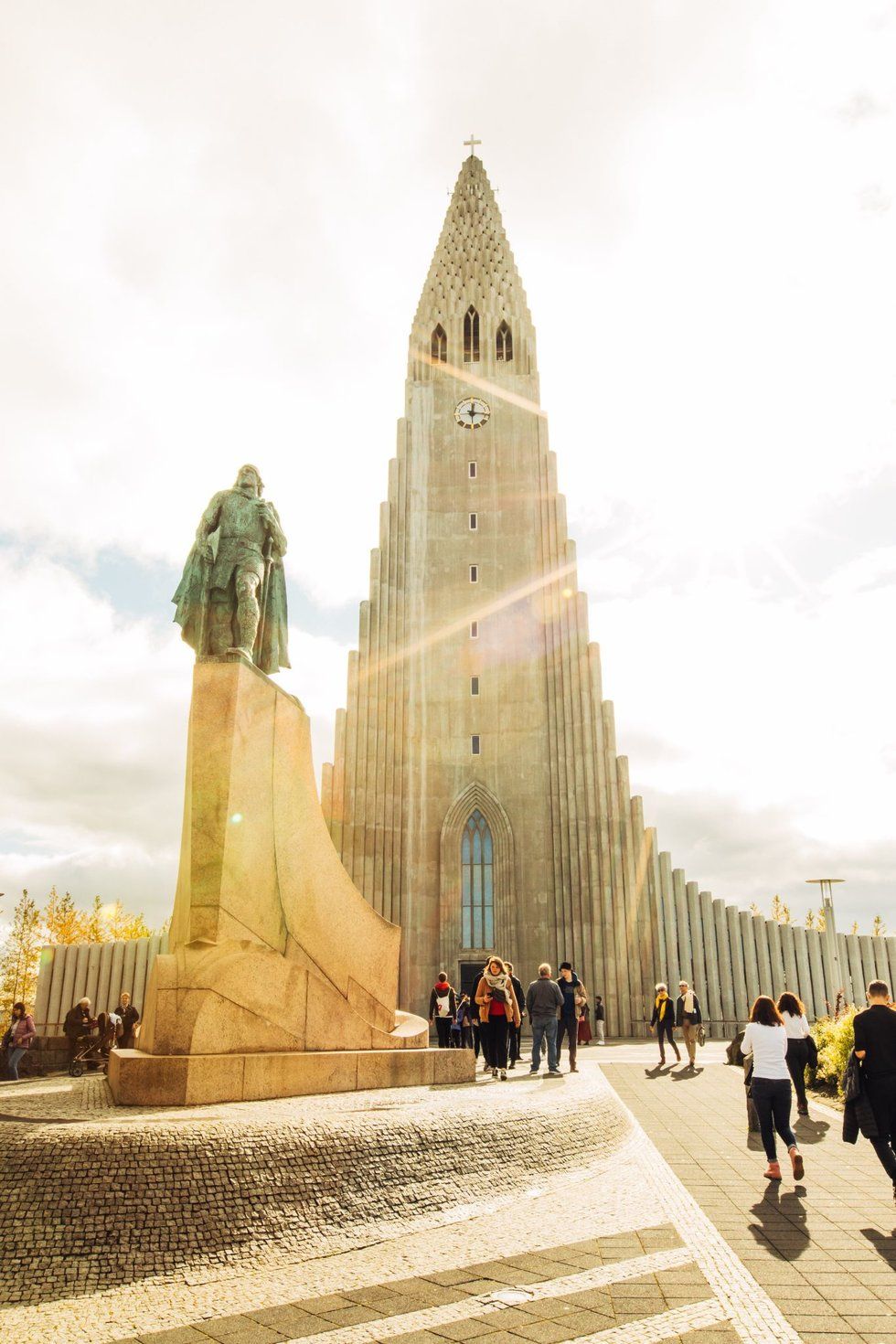 A statue of Leif Erikson in front of Hallgrímskirkja
I have one more stop in Reykjavik: Brauð & Co., which makes pretzels that might be the finest anywhere in the world. I buy three (one for now, one for the very near future, one I will save for a post-dinner snack) and head to the heliport. The weather has cleared, and the sky is cloudless for my flight with Reykjavík Helicopters, which I share with a British woman and her teenage daughter. We fly from the city to a geothermal area, with burbling hot pots and steam vents. Sheep cling to the side of a hill, undoubtedly enjoying the warmth: It's like standing above a laundry vent, except it smells of sulfur instead of fabric softener. The Brits and I trade travel suggestions (as well as seats on the way back so that both the daughter and I have a chance to sit in the front, next to the pilot, an Austrian who trained in Oregon). They report particular enthusiasm for their northern lights tour. "We saw them the first night, and it was nothing special," the mother says. "But the second night—truly one of the most wonderful things I've ever seen." They show me an app that provides a positive forecast for tonight's aurora: Like the whales, the northern lights may appear. Or, they may not.
Iceland by Cruise

Have nine perfect days to spend in Iceland? Circumnavigate the country on Hurtigruten's expedition voyage and explore every aspect of the wild landscape, from the Westfjords and northern volcanic lakes to picturesque coastal towns like Bakkagerði, where some of the 100 or so residents might regale you with tales of elves and trolls. Onboard, enjoy in-depth biology lectures and a photography workshop (gotta get that whale shot!) along with locally sourced meals. There are also on-deck hot tubs and a sauna—this is Iceland, after all. From $4,444, hurtigruten.com
As we fly back to Reykjavík, we agree that it's all spectacular: the lakes and mountains, the Eyjafjallajökull volcano in the distance. But is this more marvelous than the whales? The cliffside pools? The continent's most powerful waterfall? The other, less obviously murderous waterfall? The sheep, the hotel, the view from Hallgrímskirkja?
If there is a problem with Iceland, it's that the spectacular becomes everyday. (Confession: I spend the last 10 minutes of our time at this geothermal area, one of the most dazzling places I have ever seen, playing Candy Crush.) Can you burn out on natural beauty? Is there a point when too much is too much?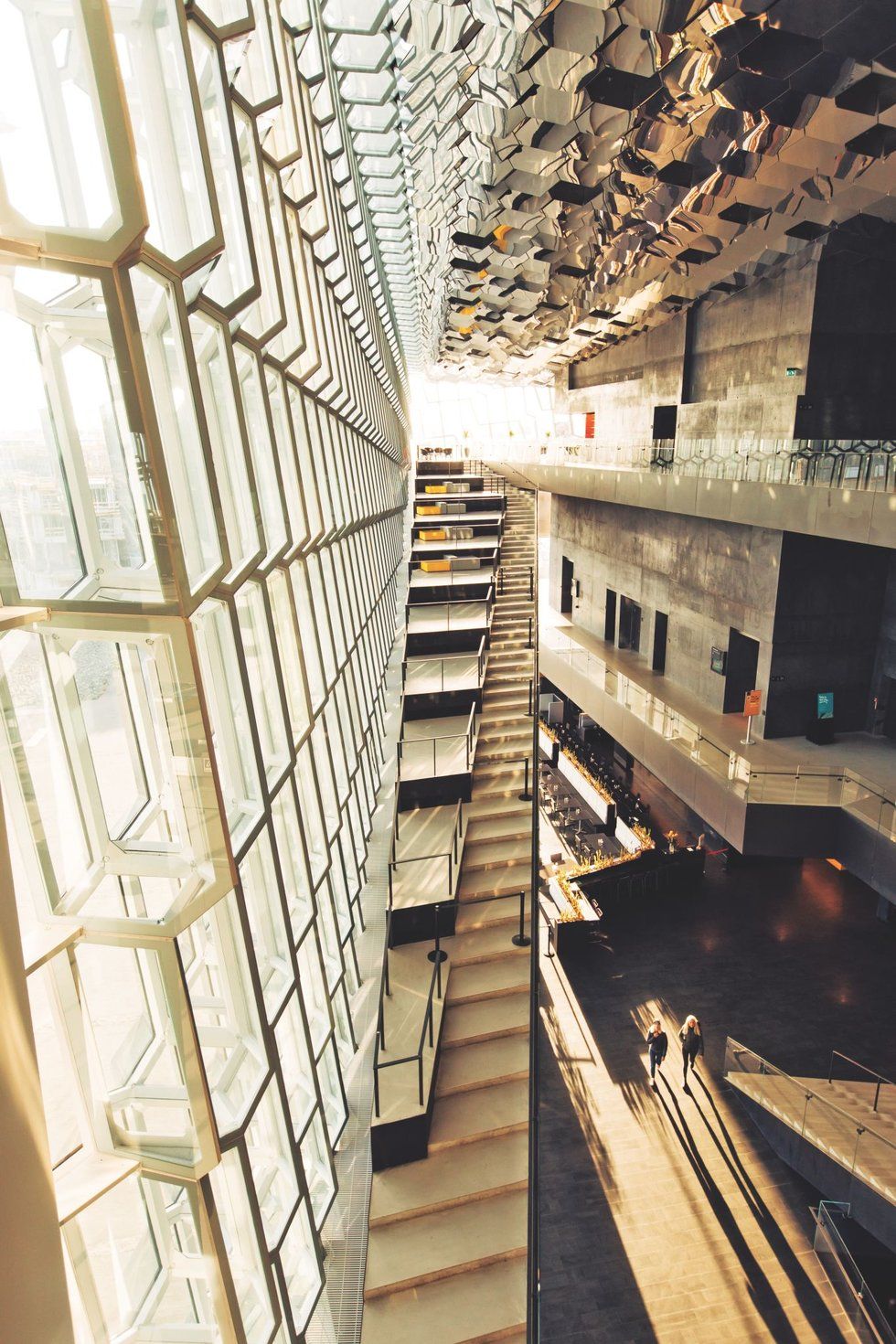 Inside the Harpa concert hall in Reykjavík
As it turns out, I may be at that point. I head to The Retreat, the new five-star hotel attached to the Blue Lagoon, which offers a more exclusive experience of this exceptionally popular attraction. In the pool, I watch an Instagram influencer do a photoshoot, surely a daily occurrence here. Another vote for northern Iceland! At this point, I take my directions from the hotel's name and retreat to my room—specifically, to the tub positioned in front of floor-to-ceiling windows and the shockingly turquoise water outside—before going to chef Ingi Þórarinn Friðriksson's showcase restaurant, Moss.
Where to Stay
Grindavik
The Retreat at Blue Lagoon
The minimalist 62-suite Retreat opened last year, offering a super-exclusive experience of the popular geothermal day spa. Retreat guests can enter the adjoining Blue Lagoon, but Blue Lagoon day-trippers have to pay for access to the Retreat, where every angle reveals an Instagram-ready vista of the turquoise, mineral-rich water or the surrounding lava field. The staff, four restaurants, and spa treatment options are all top-notch. From $1,350,
bluelagoon.com


Reykjavík
Alda Hotel
Ideally located on Laugavegur street, surrounded by the city's best shopping and restaurants, Alda is within easy walking distance of all of Reykjavík's attractions. In addition to the spacious rooms, this boutique property offers a sauna and outdoor hot tub, plus three buzzing spots on the ground floor: a design-y lounge, the busy Brass restaurant, and a hip, award-winning barber shop (book a cut in advance). From $135, aldahotel.is
Kefalvík
Hotel Berg
Nearly all foreign visitors arrive in Iceland through Keflavík, home to the international airport, but few stick around to explore the surrounding Reykjanes Peninsula beyond the Blue Lagoon. Ease your arrival by staying nearish to the airport at the super-stylish Hotel Berg, which offers a rooftop pool (ideal for northern lights viewing), free airport transfers, and a master class in Scandi design. From $131, hotelberg.is
Troll Peninsula
Depler Farm
At Deplar Farm, an all-inclusive resort on the remote Troll Peninsula in northern Iceland, experience is the key word. The 13 rooms in the turf-roofed lodge are cozy, but visitors will spend most of their time taking advantage of the outdoor activities: heli-skiing, fat-tire biking, fly-fishing, and much more.
elevenexperience.com
Remember the north.United offers daily service from New York/Newark to Reykjavík, Iceland, between June 6 and October 3. Visit united.com or check the United mobile app for details and schedule.
We will continue building out our already expansive route network next year, adding flights to some attractive leisure destinations in the United States and the Caribbean.
Our hometown hub, Chicago O'Hare International Airport, will be the beneficiary of three of those new routes, which include Santa Barbara, California; Pasco, Washington; and Vail, Colorado. Rounding it out, United will add service from Denver to Nassau, Bahamas, and from Houston to Spokane, Washington. Tickets for all of these destinations are on sale now.
The Denver-Nassau route will begin on March 7, 2020, followed by Chicago-Santa Barbara, Chicago-Pasco, Chicago-Vail and Houston-Spokane on June 4. When that time comes, United will be the only airline offering nonstop service between Denver and Nassau and Chicago and Pasco.
All of these routes will open up a world of connection possibilities for customers living in each market. They'll also be scheduled to give flyers optimal arrival and departure time options. For instance, a passenger going from Chicago to Santa Barbara will have a flight option that departs O'Hare at 7:45 p.m. local time, arriving at Santa Barbara Airport at 10:30 p.m. That's ideal for business travelers.
"We want to offer customers the very best schedule, the best network and the most flight options in the industry," said Ankit Gupta, United's vice president of Domestic Network Planning.
The Boeing 737-800 aircraft will serve the Denver-Nassau route. Passengers going from Chicago to Santa Barbara and from Chicago to Vail will fly on the 737-700. United's 76-seat Embraer 175 aircraft, equipped with United First, Economy Plus and United Economy class seats, will operate on the Chicago-Pasco and Houston-Spokane routes.
You'll find flight times and additional details in the grid below. For more information and to book your tickets, visit
united.com
or download the United mobile app.
Depart

Arrive

Frequency

Duration

Chicago (ORD)

7:45 p.m.

Santa Barbara (SBA)

10:30 p.m.

Daily

Year-round

SBA

11:20 p.m.

ORD

5:20 a.m.

Daily

Year-round

ORD

8:00 p.m.

Pasco (PSC)

10:24 p.m.

Daily

Year-round

PSC

11:38 p.m.

ORD

5:20 a.m.

Daily

Year-round

ORD

4:00 p.m.

Vail/Eagle (EGE)

5:54 p.m.

Daily

Summer seasonal

(June 4 through September 6, 2020)

EGE

9:00 a.m.




ORD

12:45 p.m.

Daily

Summer seasonal

(June 4 through September 7, 2020)

Denver (DEN)

9:56 a.m.

Nassau (NAS)

4:00 p.m.

Once a week on Saturdays

Year-round

(with a break from mid-August through late-October)

NAS

11:37 a.m.

DEN

2:43 p.m.

Once a week on Saturdays

Year-round

(with a break from mid-August through late-October)

Houston (IAH)

9:32 p.m.

Spokane (GEG)

11:32 p.m.

Daily

Summer seasonal

(June 4 through August 17, 2020)

GEG

11:55 p.m.

IAH

6:17 a.m.

Daily

Summer seasonal

(June 4 through August 17, 2020)
Right now, around the world, brave members of America's armed forces are on duty, defending our freedom and upholding our values.
When not laser-focused on the mission at hand, they're looking forward to the day when their service to our nation is fulfilled and they can reunite with their families.
They are also imagining how they can use their hard-earned skills to build an exciting, rewarding and important career when they return home.
I want them to look no further than United Airlines.
That's why we are focused on recruiting, developing and championing veterans across our company, demonstrating to our returning women and men in uniform that United is the best possible place for them to put their training, knowledge, discipline and character to the noblest use.
They've developed their knowledge and skills in some of the worst of times. We hope they will use those skills to keep United performing at our best, all of the time.
That's why we are accelerating our efforts to onboard the best and the brightest, and substantially increasing our overall recruitment numbers each year.
We recently launched a new sponsorship program to support onboarding veterans into United and a new care package program to support deployed employees. It's one more reason why United continues to rank high - and rise higher - as a top workplace for veterans. In fact, we jumped 21 spots this year on Indeed.com's list of the top U.S workplaces for veterans. This is a testament to our increased recruiting efforts, as well as our efforts to create a culture where veterans feel valued and supported.
We use the special reach and resources of our global operations to partner with outstanding organizations. This is our way of stepping up and going the extra mile for all those who've stepped forward to answer our nation's call.
We do this year-round, and the month of November is no exception; however, it is exceptional, especially as we mark Veterans Day.
As we pay tribute to all Americans who have served in uniform and carried our flag into battle throughout our history, let's also keep our thoughts with the women and men who are serving around the world, now. They belong to a generation of post-9/11 veterans who've taken part in the longest sustained period of conflict in our history.

Never has so much been asked by so many of so few.... for so long. These heroes represent every color and creed. They are drawn from across the country and many immigrated to our shores.

They then freely choose to serve in the most distant and dangerous regions of the world, to protect democracy in its moments of maximum danger.
Wherever they serve - however they serve - whether they put on a uniform each day, or serve in ways which may never be fully known, these Americans wake up each morning willing to offer the "last full measure of devotion" on our behalf.
Every time they do so, they provide a stunning rebuke to the kinds of voices around the world who doubt freedom and democracy's ability to defend itself.
Unfortunately, we know there are those who seem to not understand – or say they do not - what it is that inspires a free people to step forward, willing to lay down their lives so that their country and fellow citizens might live.
But, we – who are both the wards and stewards of the democracy which has been preserved and handed down to us by veterans throughout our history – do understand.
We know that inciting fear and hatred of others is a source of weakness, not strength. And such divisive rhetoric can never inspire solidarity or sacrifice like love for others and love of country can.
It is this quality of devotion that we most honor in our veterans - those who have served, do serve and will serve.
On behalf of a grateful family of 96,000, thank you for your service.
Humbly,
Oscar
Each year around Veterans Day, Indeed, one of the world's largest job search engines, rates companies based on actual employee reviews to identify which ones offer the best opportunities and benefits for current and former U.S. military members. Our dramatic improvement in the rankings this year reflects a stronger commitment than ever before to actively recruiting, developing and nurturing veteran talent.
"We've spent a lot of time over the past 12 months looking for ways to better connect with our employees who served and attract new employees from the military ranks," said Global Catering Operations and Logistics Managing Director Ryan Melby, a U.S. Army veteran and the president of our United for Veterans business resource group.
"Our group is launching a mentorship program, for instance, where we'll assign existing employee-veterans to work with new hires who come to us from the armed forces. Having a friend and an ally like that, someone who can help you translate the skills you picked up in the military to what we do as a civilian company, is invaluable. That initiative is still in its infancy, but I'm really optimistic about what it can do for United and for our veteran population here."
Impressively, we were the only one of our industry peers to move up on the list, further evidence that we're on a good track as a company.
Scroll to top