Three Perfect Days: London
Story by Chris Wright | Photography by Tom Parker | Hemispheres, April 2018
Every city has its intriguing juxtapositions—the trendy cocktail bar overlooking the crumbling palace, the high-end fashion boutique next to the hardware store—and every city works to find a suitable blend of these things. London, however, is a little bit different. There has always been a mix-and-match quality to this place, which is not so much a city as a patchwork of villages. While Londoners do value their traditions and institutions, they are also restless, preoccupied with novelty and change. As a result, the city is constantly sticking new bits onto the old, very often without any discernible logic, creating a jumble of styles and sensibilities that can leave visitors feeling utterly confused. How do you make sense of the chaos? You don't. Rather, you adopt the organizing principle of the city as a whole: Get out there, give it a go, see what happens.
Day 1
Skipping and sipping around stylish Soho
The odd thing about waking up at the Ham Yard Hotel is that your room tends to be more dreamlike than your dreams.Tucked away in a courtyard in Soho, central London, the property is one of the latest projects from exuberant British designer Kit Kemp, and she has gone full-on March Hare with this one: life-size crocodile sculptures applied to an expanse of butterfly-print wallpaper; a 20-foot spiral of cascading oranges in the basement bar. The arrival of the Ham Yard, in turn, speaks to the ongoing transformation of this neighborhood, which used to be a place of burlesque shows and boho boozers, and which today, it seems, cannot go a week without someone opening a hot new shop, restaurant, or drinking establishment.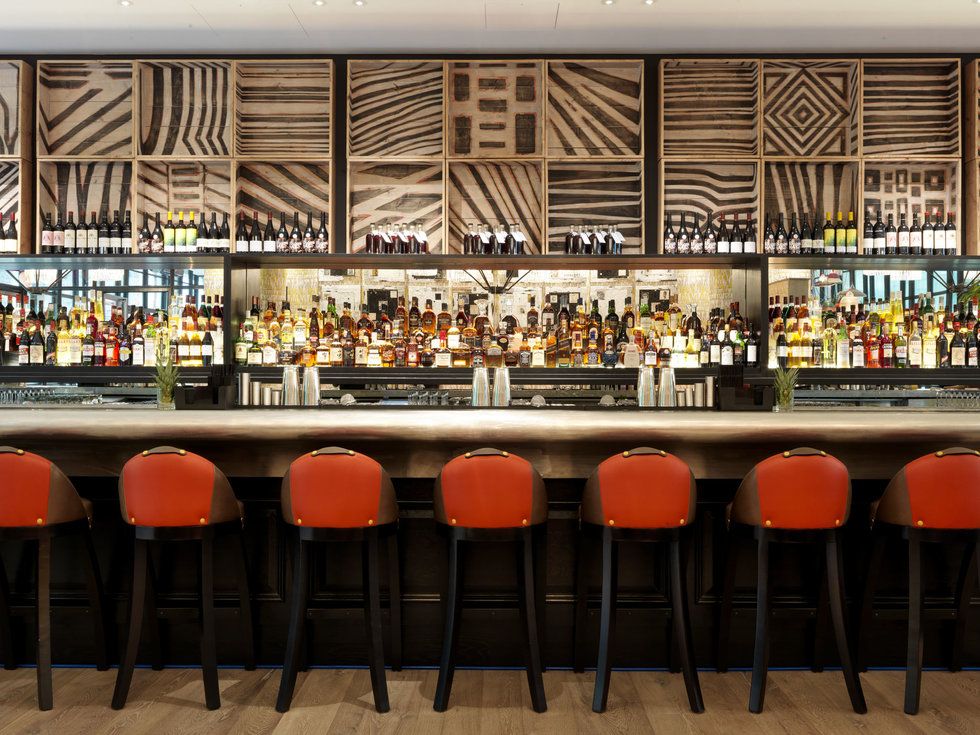 The Bar at the Ham Yard Hotel
I have plans to explore the neighborhood later, but first I want to take a look at an even more surreal example of interior design. So, after a hasty breakfast—chili beans on granary toast, served with chorizo and Greek yogurt, eaten below a cluster of mismatched light fixtures—I head off toward Holborn, home to Sir John Soane's Museum.
Soane, a distinguished 19th-century architect, had a hoarding problem. Luckily, he tended to hoard things like statues and paintings rather than receipts. Today, his former home is packed to the rafters with so many marvelous antiquities it makes your head spin. I particularly enjoy the candlelit crypt, which has an ancient sarcophagus and a set of rusty manacles on the wall—although the Canaletto upstairs isn't bad either.
From here, I head south, past the Gothic Royal Courts of Justice, to Temple Church, built in the 12th century by the Knights Templar. Inside are effigies of these knights, many bearing the scars of a World War II bombing, which also scattered the bones buried below. (When I ask an attendant where I can find the remains of über-knight William Marshal, he replies, pointing: "There, there, and there.")
My next stop is Piccadilly Circus and the nearby Dover Street Market, a multi-story emporium selling high-concept clothing via art-installation floor displays. It's a must-visit for anyone interested in being the least fashionable person within a 200-yard radius. The shop is also within sashaying distance of the place I'm having lunch: Ikoyi, a new West African–inspired eatery that's been getting rave reviews.
After the visual excess of Dover Street, the interior of Ikoyi seems almost stark. The food, though, is sensational, not to mention eye-wateringly spicy. To start, I have dambu nama (dried beef floss) and whipped bone-marrow tarts, followed by succulent grilled octopus with ndolé (stewed greens with nuts). Now and then, the chef pops up to explain to a diner what banga is, or moin moin, which gives the meal a theatrical feel.
"The French House has two rules: Beer comes in half-pints, and no being boring."
From here it's on to The French House, a storied pub in the heart of Soho. You could fill a book with the notable people who have drunk here: Brendan Behan, Francis Bacon, Lucian Freud, Salvador Dalí. Charles de Gaulle is said to have written his wartime rallying cry on the premises, while Dylan Thomas reportedly mislaid his manuscript for Under Milk Wood here in 1953. One of the regulars now is Russell Norman, a restaurateur, author, and TV personality who has been called "The King of Soho."
"The French House is probably the last remaining drinking hole that connects directly with the heyday of Soho," he says. "It's eccentric, it's authentic, and I love it."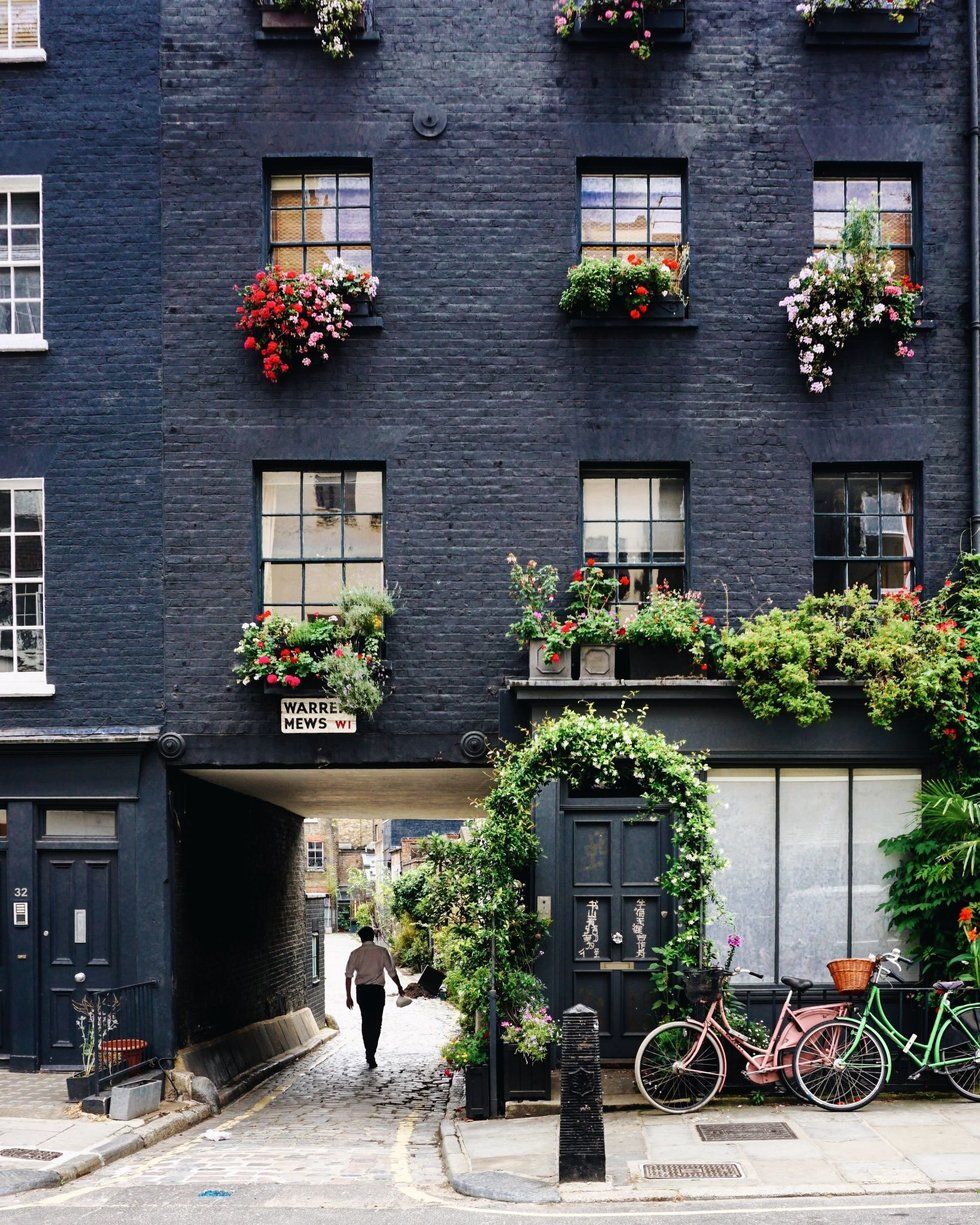 The entrance to Warren Mews, in Fitzrovia
There are a couple of rules here: They sell beer only by the half-pint, and patrons are not allowed to be boring (said to be "a bannable offense"). So it's with some trepidation that I strike up conversation with Lesley Lewis, the pub's garrulous landlady, who is sitting at the bar with a white wine.
Lewis took over the French House in 1989—one of only three owners in a hundred years—and did not set about trying to jazz things up. "We've tried to keep the essence," she says, taking a sip of wine. "Everything is changing so fast around here. There's not many old-school places left." Another sip. "But I still believe in Soho." Sip. "You have to be positive about what is rising out of the ruins."
Things liven up when the anecdotes start, the best of which belongs to Lewis: "There was a guy named Billy, who owned a [burlesque] club. One day, the council told him he had to black out the windows, so he's standing on the street outside with a tin of paint when Francis Bacon comes by and offers to help. That was Billy's only claim to fame. He'd go around telling people, 'I have an original Francis Bacon.'"
"There aren't many old-school places left. You have to be positive about what is rising out of the ruins."
Leaving The French House, I follow Norman up Compton Street—"The main river running through Soho"—for a caffeine boost at Bar Termini. A stylish coffee shop/cocktail bar located in a former strip club, Termini is owned by one of Britain's most famous mixologists, Tony Conigliaro, a lapsed artist who describes his job as "painting with flavor." He's certainly adventurous—one of his cocktails is infused with clay, flint, and lichen to evoke the taste of the earth. A more recent creation is a drink he calls Snow. "The premise is, wouldn't it be amazing if we could recreate the experience of catching a snowflake on your tongue?" he says. "That took two years to work out."
I'm catching a show later, so, after a bit of people-watching and boutique-browsing, I head for an early dinner at Kettner's Townhouse, which was founded in the 19th century by a man who was rumored to be a former chef to Napoleon III and has entertained the likes of Oscar Wilde, Agatha Christie, and Robert De Niro. This year, it was refurbished and reopened as a hotel and restaurant by the people behind the achingly fashionable Soho House members club. The restaurant has more or less kept the feel of the original: a tinkling piano near the entrance, thin candles on the tables. I order rillettes of rabbit with pickled radishes, followed by a vol-au-vent of kidneys, sweetbreads, black truffles, and baby carrots. It's a fine meal, but the real star here is the place's see-and-be-seen energy. Speaking of which…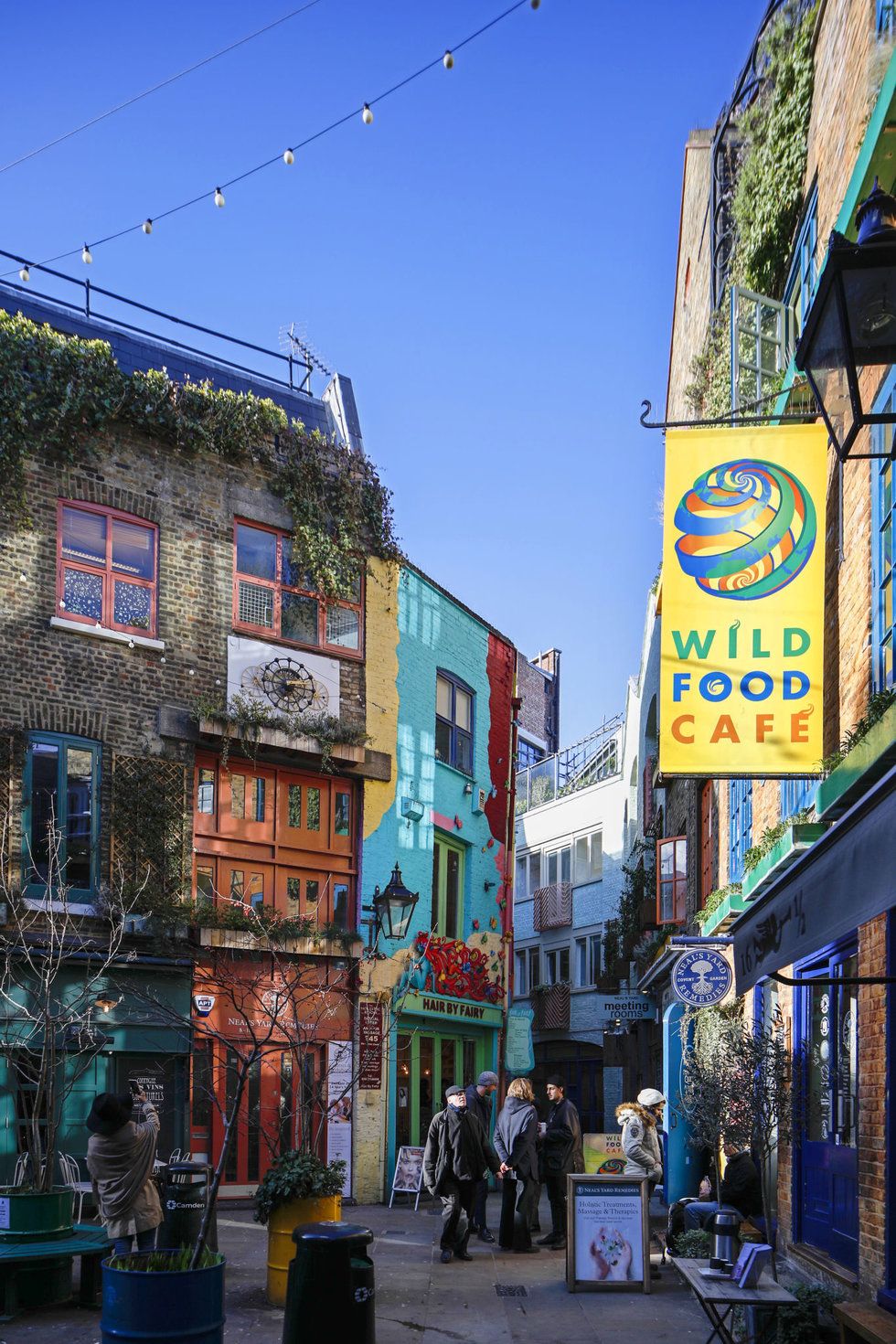 Neal's Yard, a colorful bohemian alley in Covent Garden
A quick hop west takes me to the Apollo Theatre, which is running the hit musical Everybody's Talking About Jamie, a coming-of-age story about a schoolboy who longs to become a drag queen—basically, Billy Elliot in heels. It's a charming, lively production that has people grinning and bobbing in their seats.
I end the night at the Rosewood London's jazz bar, Scarfes, named for satirical cartoonist Gerald Scarfe, whose creations decorate the walls. While there's a clubby refinement to the place—high ceilings, low lighting, antique books—the atmosphere is far from stuffy. I take an armchair in a shadowy corner and attempt to read the menu. The cocktails are named after celebrities the bar's namesake has lampooned; I summon the waiter, point at a sketch of Alfred Hitchcock, and say I'll have one of those. The drink, a tequila-based concoction called A Bird in the Hand (get it?), comes topped with a bird's nest. It looks cozy.
An hour or so later, I'm in my room at the Ham Yard, gazing at the tailor's dummy standing near the gray-green striped wall, the forest-scene fabric on the headboard, the small monkey riding a unicycle across the carpet. In fairness, that final touch may have happened after I fell asleep.
Day 2
Perusing the posh shops and restaurants of Chelsea and Notting Hill
Certainly, there was nothing like Chel-Ski back then. Situated in a former warehouse for the Christopher Wray interiors store, this indoor ski center was opened a few years ago by Wray's son, Ben. So it is I find myself, before breakfast, slaloming on a huge lubricated treadmill. The velocity and gradient are adjusted according to the ability of the skier. For me, the instructor keeps the dial on "Nervous Baby," but I still emit a succession of noises that call to mind Johnny Rotten's debut gig at the Roebuck pub, circa 1975.
Brunch is a more sedate affair, in a plant-filled atrium in the popular Ivy Chelsea Garden, where I have a juicy rib eye, seated across from the impeccable Olivia Newman-Young, who has agreed to show me around the neighborhood. A makeup artist and onetime cast member of the reality show Made in Chelsea, Newman-Young has a pedigree such that even the chillingly exclusive nightclub Raffles doesn't faze her. "It's meant to be members-only," she says, barely looking up from her tuna carpaccio, "but you can get in if you're the right kind of person."
"As well as being a playground for punks and princesses, the Kings Road has long served as a catwalk for local kooks."
With this, she leads me along the Kings Road, pointing out stuff she likes along the way—The Kooples for fashion, the Bluebird ("obviously") for food. She's been going out here since her teens and recalls many a fun night at places like Jak's Bar, "where all the posh kids go to let loose." As well as being a playground for punks and princesses, the Kings Road has long served as a catwalk for local kooks. "I love the Chelsea grandmas, wearing the clothes of a 20-year-old and looking fabulous," Newman-Young says. "You don't get that in Shoreditch."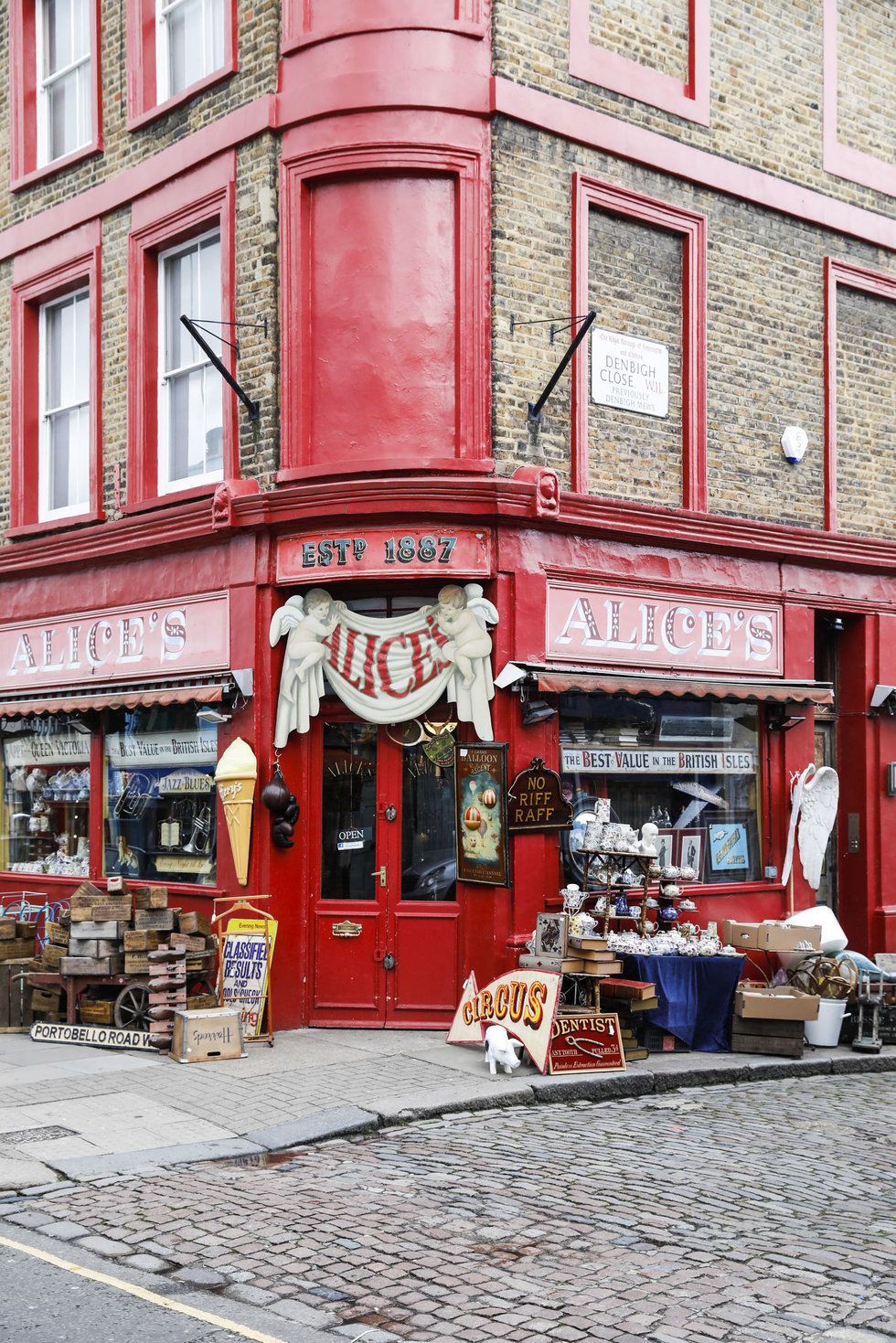 An antiques shop on Portobello Road
I leave Newman-Young at Sloane Square and head into the Saatchi Gallery, which is housed in a grand 19th-century building and puts on exhibitions that skew heavily toward the inscrutable. The first thing I see upon entering is a huge canvas by Los Angeles–based English painter Danny Fox, a naïve depiction of two seated women titled Planned Parenthood Waiting Room. It has a touch of Gauguin to it, but also a touch of off-kilter dilettante. Very Saatchi.
Wandering toward Kensington, I come across The Map House, a treasure trove that has counted Winston Churchill and Ernest Shackleton among its customers. One wall contains a 19th-century "Poverty Map of London" with a color-coded index ranging from yellow ("wealthy") to black ("vicious, semi-criminal"). Nearby is a 17th-century map of the world—which, the dignified store clerk informs me, is valued at £950,000. I ask how long it has been hanging there, and he gives me a thin smile: "A while."
If it's an impulse buy you're after, you may be better off at the nearby Conran Shop, a colorful lifestyle showroom established by one of Britain's most influential designers, Sir Terence Conran. The store is located in the Michelin House, a tiled-and-domed Art Nouveau masterpiece that was built as the tire company's British headquarters in 1911.
In the same building is another celebrated Conran enterprise, Bibendum. Opened three decades ago and recently relaunched with French master Claude Bosi at the helm, the restaurant has already earned two Michelin stars. However, I opt to eat downstairs, in the building's old forecourt, at the Bibendum Oyster Bar, a less formal space with intricate tilework and a menu that makes you eat like a whale (I get a seafood platter over-flowing with fresh crab, oysters, shrimp, and cockles).
Next, I head to the new Harry's Dolce Vita, which looks like a bar from a 1930s railway station and has a staff that greets you like a long-lost friend. As I scan the menu, a white-coated bartender suggests I try an Infinite Negroni, explaining that the ingredients are determined by rolling three dice—one for the type of gin, one for the vermouth, and one for the aperitivo. "It is a gamble," the bartender says, deadpan. I roll the dice (Occitan London Dry, Bordiga, Aperol), raise my glass to a photo of Sophia Loren, and take a sip. We have a winner!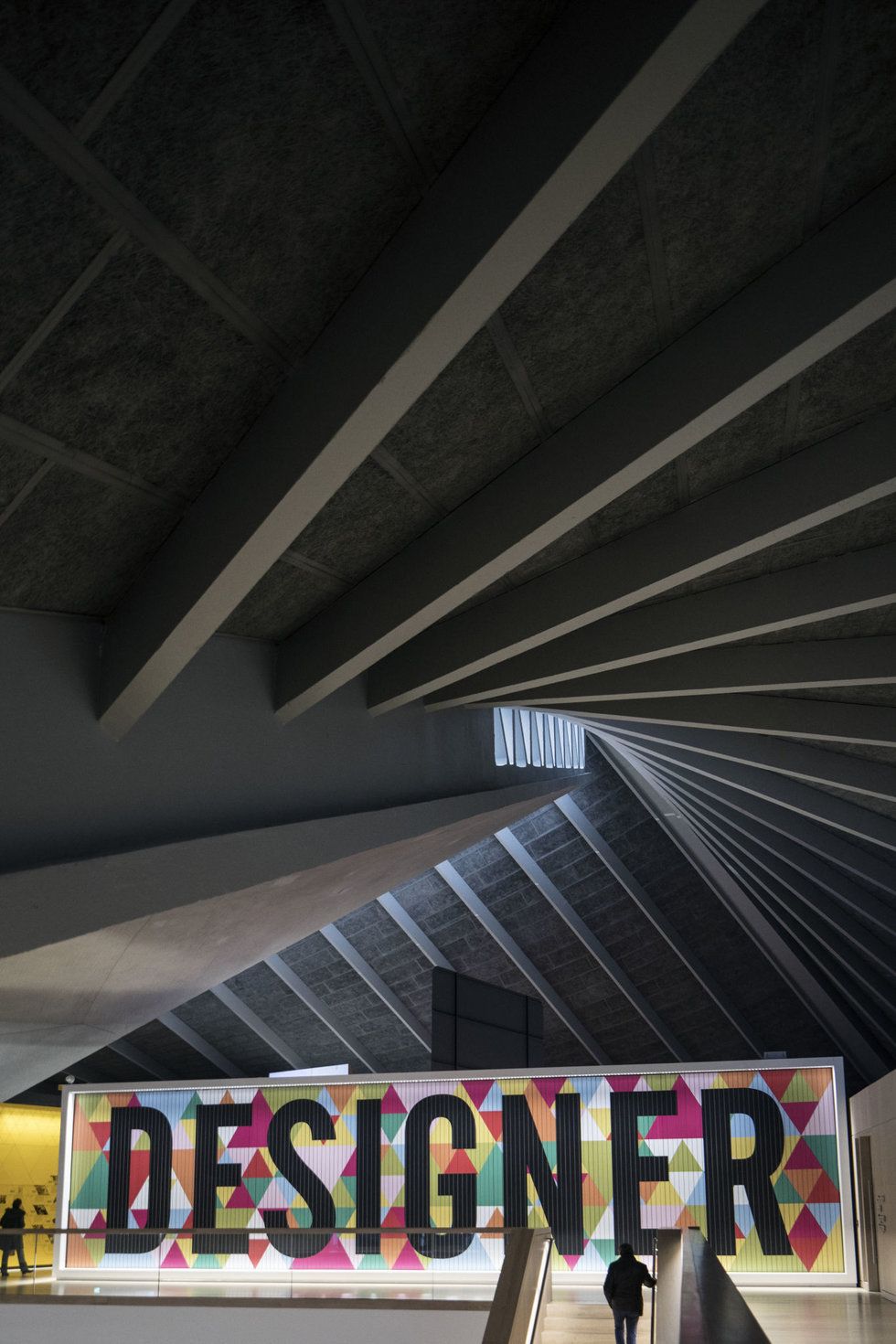 The Design Museum
A quick cab ride takes me to the Design Museum, which opened its new Kensington home to great fanfare in 2016. The museum pays homage to high design (there's a Ferrari exhibition on when I visit), but the real joy is in the everyday objects—telephones and turntables, computers and cameras—that have become redundant in terms of function but have been saved from the trash heap thanks to their being easy on the eye.
Next, I cut through Holland Park, whose narrow pathways crisscross thick woodland, creating the illusion that you're in the countryside—until you come across the refined Japanese garden, or the remnants of a Jacobean mansion, or one of the many peacocks roaming around. Emerging from the park's northern end, I head up toward Notting Hill, stopping to ogle a gorgeous aqua-marine overcoat at Paul Smith Westbourne House, then hit Portobello Road, which on the weekends is a carnival of musicians, antiques stalls, and street food vendors, and is also home to scores of trendy shops, restaurants, and bars.
"Portobello Road on the weekends is a carnival of musicians, antiques stalls, and street food vendors."
For a pre-prandial drink, I've opted for Trailer Happiness, a quirky basement tiki joint that's become a local institution. I sit at the bar and order a Hell in the Pacific, a sweet and alarmingly potent rum drink that, the bartender tells me, will pick me up. "Or knock you down," says the Irish guy next to me.
Dinner is at 108 Garage, a refurbished auto shop with industrial-chic decor that's offset by a large portrait of Henry the Pious. Chef Chris Denney, a onetime art student and pot washer, opened this spot along with his colorful business partner, Luca Longobardi, in 2016, with little money and almost no advance publicity. Yet, within a few months, 108 Garage had emerged as one of London's hottest eateries (it claimed Tatler's Restaurant of the Year prize for 2018) and Denney as one of its hottest chefs.
Tonight, Denney works the kitchen as if playing an extended game of whack-a-mole. I sit at the counter, trying to keep up with the hail of dishes placed before me: hogget loin with a lamb-tongue lollipop; crispy pig head with wild watercress; octopus with black garlic, kohlrabi, and harissa. It's a bold, creative meal, but Denney is not one of those chefs who see themselves as the star of the show. "I know it sounds corny, but it's the farmer who does all the work," he says. "We just send the produce on its merry way the best we can."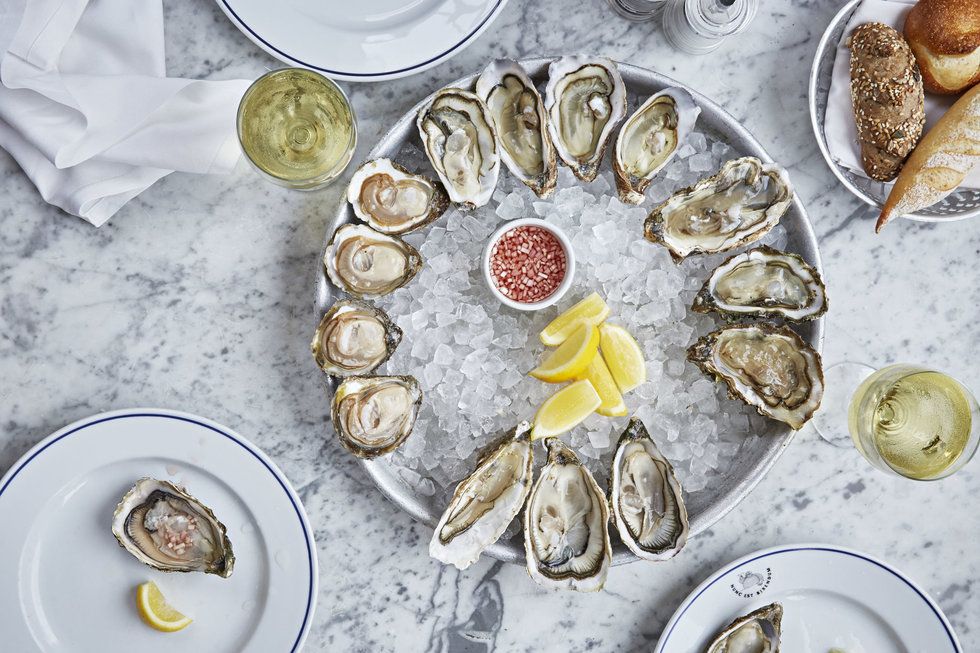 Bivalves at the Bibendum Oyster Bar
Flagging, I head out for Mayfair and The Connaught, one of the loveliest hotels in London, where I'm met in my lavish suite by James, the butler. I tell him I'd like to check out the famous Connaught Bar before turning in, and he offers to show me the way. I decline but tell him I might need someone to guide me back to my room afterward, a weak gag that elicits a big laugh. Now that's what I call service.
I start the day in Chelsea, at the western end of the Kings Road, contemplating a morning on the slopes. Forty-odd years ago, not far from where I'm standing now, a rabble of proto-punks started milling around a tiny boutique run by a designer named Vivienne Westwood. The World's End shop is still there, its storefront clock spinning backward, but little else remains to remind us that the swanky Kings Road was the birthplace of the Sex Pistols.
Day 3
Getting hip in East London
Today's adventure starts in Shoreditch, an East London industrial area that most people used to avoid but which now boasts the densest concentration of street art and flamboyant facial hair in the city. I exit the Old Street Tube station amid a stream of coffee-clutching humanity—employees, for the most part, of the many tech firms that have set up shop around what is now called Silicon Roundabout.
For breakfast, I pop into Passo, a new venture from the Goodlife Projects, the outfit behind London crowd-pleasers like Love Brunch, Foley's, and Rum Kitchen (a reputed favorite of Prince Harry). Billed as "contemporary LA-inspired Italian," it's a bright, airy restaurant with huge wicker lampshades and soft reggae on the sound system. I order Passo's spin on the Full English: poached eggs, Italian sausage, pancetta, tomato, mushroom, baked borlotti beans. It's a hugely fulfilling meal, but it's going to play havoc with my skinny jeans.
"East London boasts the densest concentration of flamboyant facial hair in the city."
There's time for a coffee at the nearby Strongroom Bar & Kitchen, which is now in its 20th year and has an interior adorned with original works by Jamie Reid, the artist who designed the cover for Never Mind the Bollocks, Here's the Sex Pistols.
Recharged, I keep on toward Brick Lane, which is known for having some of the best curry houses and bagel shops in town, along with a bunch of very cool galleries and shops. The centerpiece is the Old Truman Brewery, a complex of restaurants, bars, and indie retailers, including the Vintage Market, a subterranean warren of multicolored boots, psychedelic shirts, leopard-print skirts, sloganeering T-shirts, and floppy felt hats.
I could spend all day down there, but I have lunch booked at Red Rooster, so I unwind the feather boa from my neck and point myself back in the direction of Shoreditch. An offshoot of Marcus Samuelsson's beloved Harlem soul-food eatery, Red Rooster is located in The Curtain, a hip new hotel with street-style art on the walls, a heated pool on the roof, and a dogsitting service for jet-setting pups.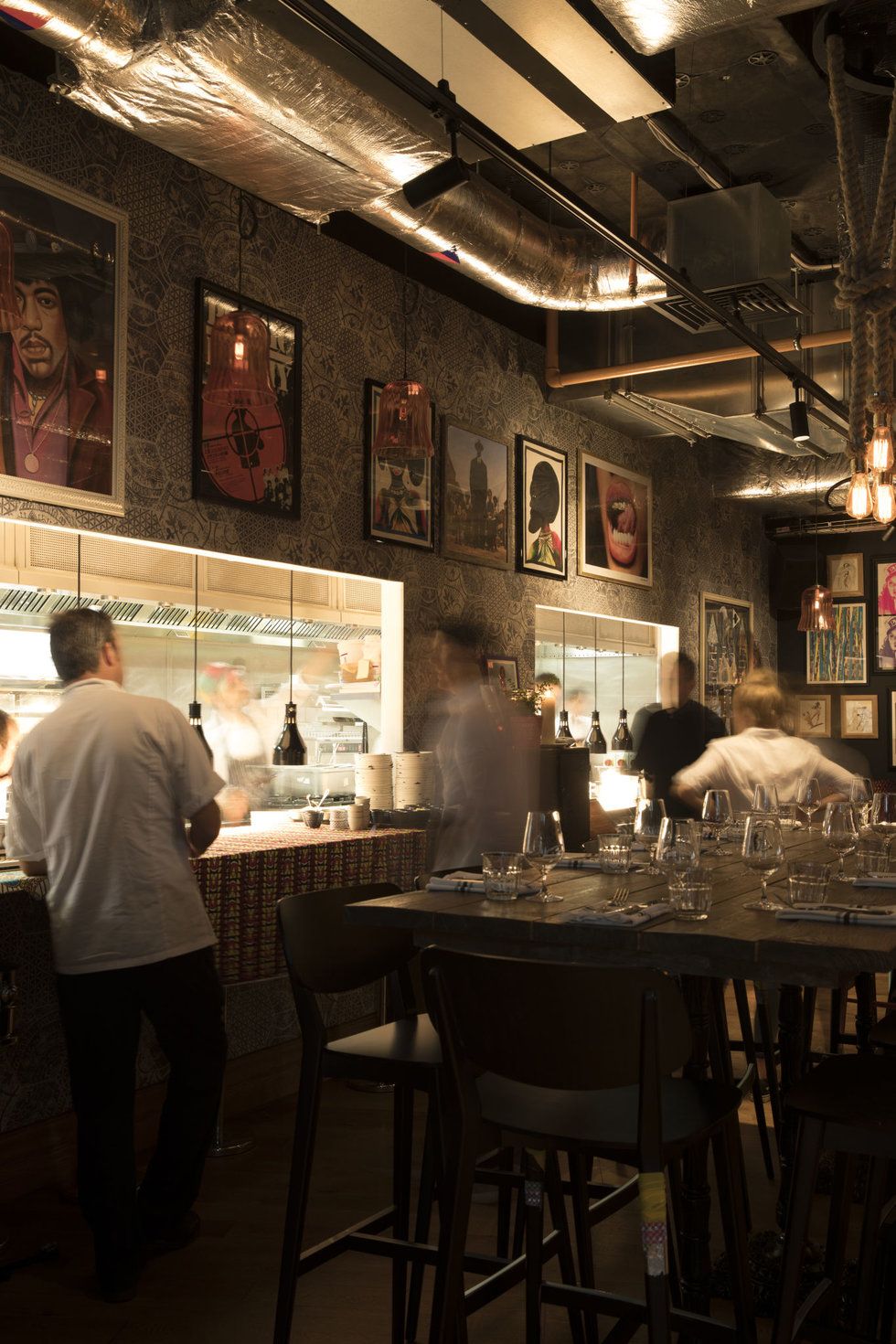 Marcus Samuelsson's Red Rooster
The restaurant's interior is an artful clutter of mismatched furniture and playful signage presided over by an unflaggingly cheerful wait staff. I order the B.E.C. Biscuit to start (with pork belly, egg, and parmesan), followed by the Fried Yard Bird, crisped to perfection and served with yams, hot honey, collards, and green beans. After a meal like that, a man should really undo his trouser button and go sit on a porch. But I'm going to go get my hair cut in a pub.

The Gunmakers, in nearby Clerkenwell, has a lot going for it: great beer, delicious food. It also has a tiny hairdressing studio in the attic. Sipping a Banana Boulevardier (bourbon and banana liqueur), I ask the owner, Tim, to give me something a little different—buzzed at the sides, shaggy on top—after which the talk turns to the collision of barbering and booze, and whether this is a good idea. "If someone comes in a little drunk and asks me to do something dramatic," he says, "I might suggest they come back another time." That said, he gives me the 'do I asked for, and everyone's happy.
From here I stroll over to Farringdon, another area that has seen a slew of hip openings in recent years. I pop into Fergus Henderson's nose-to-tail eatery, St. John, near the historic Smithfield meat market, for a cup of tea with Max Fraser, a consultant for the London Design Festival and author of several books on the subject. A local, he has offered to show me around the area.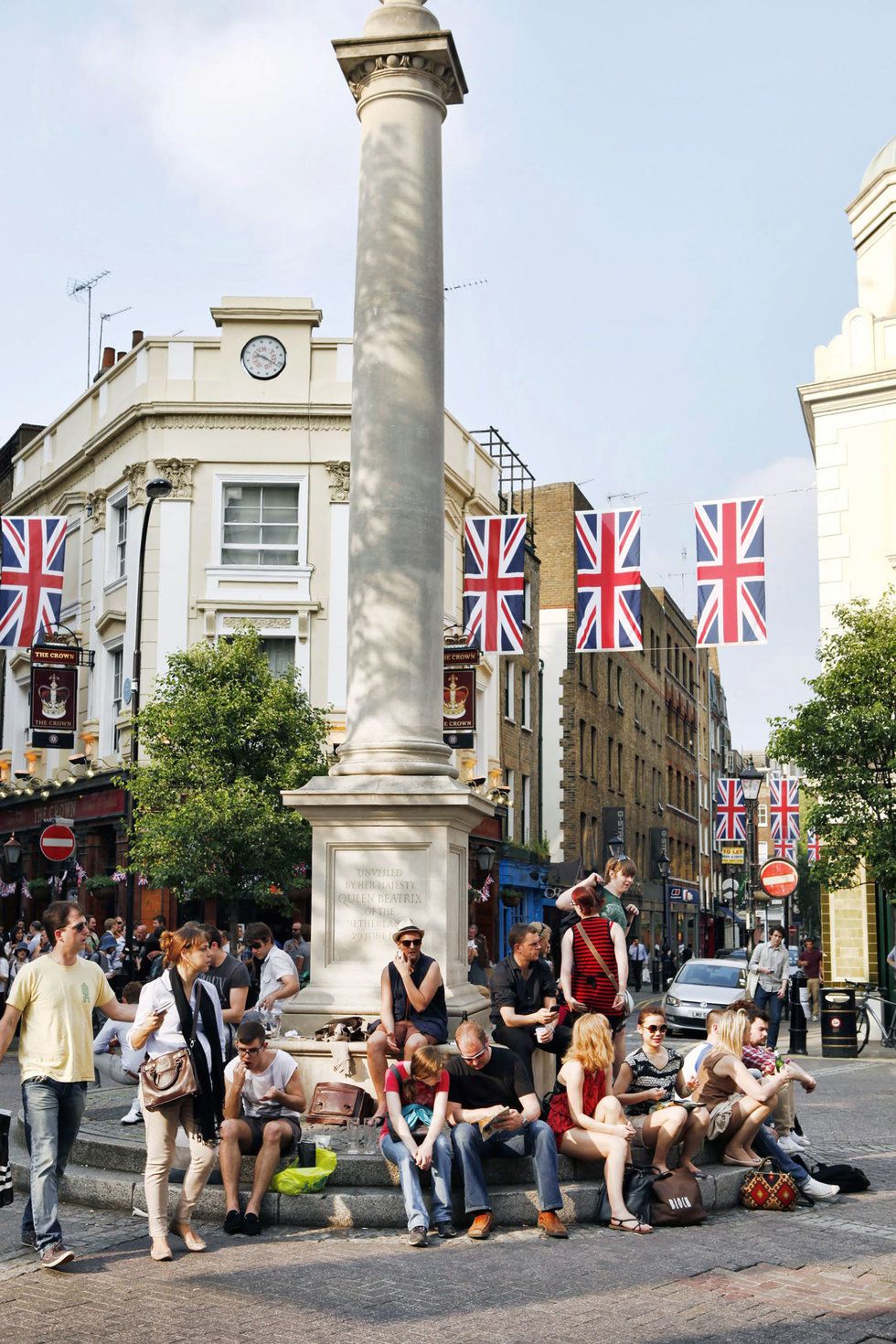 The sundial in Covent Garden's Seven Dials
"London has so many layers," he says, nodding at the restaurant window. "Just outside here they used to march the cattle into Smithfield, then sold them upstairs. This restaurant is built under a smokehouse. The city moves on." So do we: to The Charterhouse, a complex of buildings dating back to the 14th century. "Charterhouse is built on a plague pit," Fraser says, pointing at a patch of grass. "Now there's a Crossrail station being built here. Imagine what they found!"

From The Charterhouse, we walk past the Fox & Anchor pub, where the doors open at 7 a.m. on weekdays to accommodate the Smithfield porters who have been drinking here for generations, then make our way to St Bartholomew the Great, which was founded in 1123 and today stands as one of the finest Norman churches in England. Inside, amid the pitted pillars and Romanesque arches, is a fresh, eye-catching addition: a gilded statue of a man holding a scalpel and a pair of scissors, with his skin draped over his right shoulder. This is Damien Hirst's Saint Bartholomew, Exquisite Pain, on loan from the shark-pickling artist.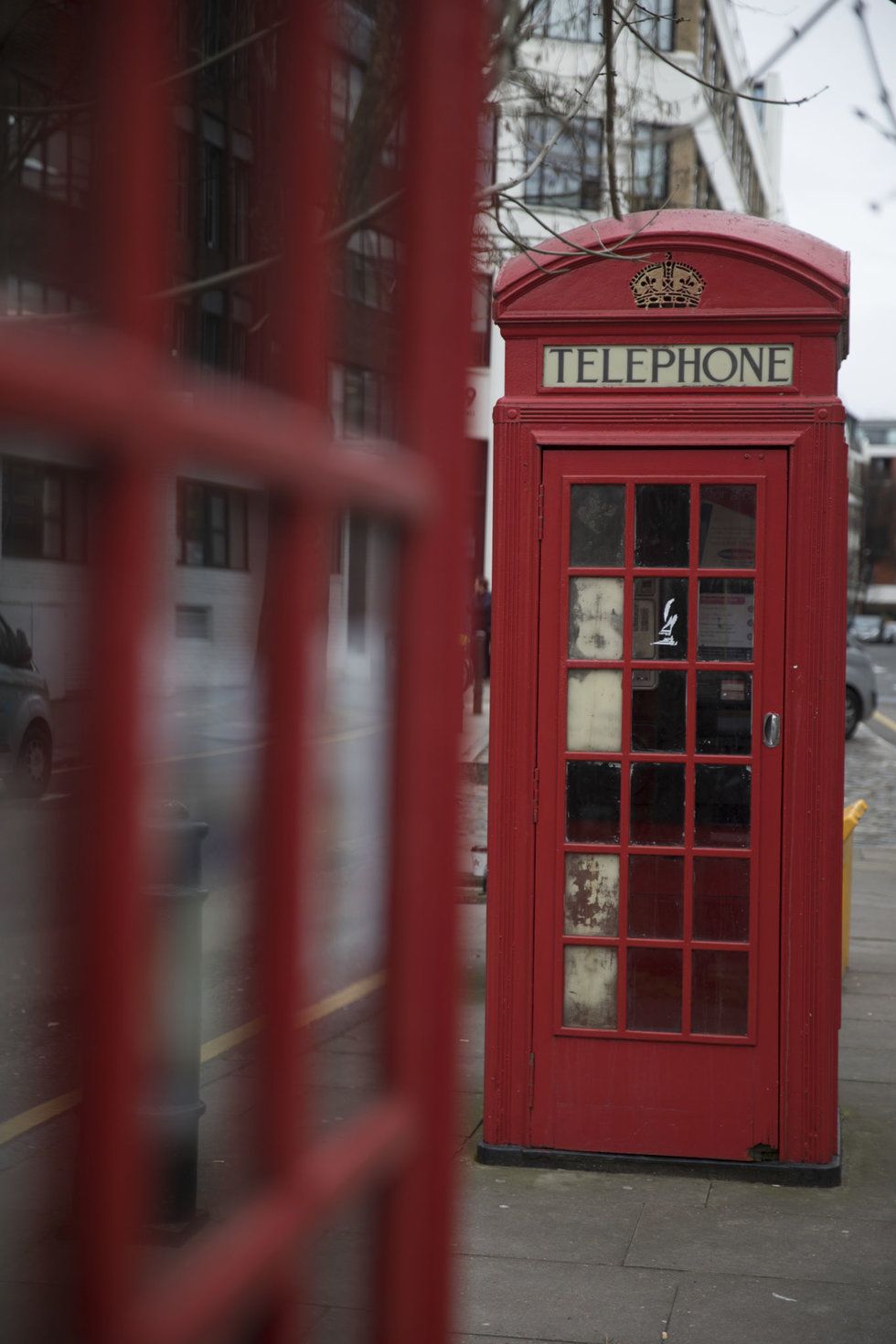 One of the city's enduring red phone booths
I say goodbye to Fraser and head off to the recently opened Smoking Goat, a "Nu-Thai" eatery that serves small dishes inspired by Bangkok's late-night canteens. The stripped-down dining area is jammed with a chatty after-work crowd, which makes life complicated for the servers, who bustle back and forth with plastic plates of "drinking food"—chicken hearts, Cornish octopus, beef sausage, chili fish sauce chicken wings, crispy mackerel, steamed oysters. Eating this food feels like an adventure, and not only because there's so much of it—apparently, Bangkok's after-hours diners like their snacks with a zing.

I have a comfortable bed waiting for me at The Curtain, but all that drinking food has left me wanting a nightcap. The best place to get one, I decide, is the stylish basement bar Happiness Forgets (motto: Great Cocktails, No Wallies). I plant myself on a stool and order a Two Doors Down. I don't recall what went into the drink, but I do remember that I enjoyed it, and that I was happy, and that I stayed that way long after the night had come to an end.
Apple issues recall for batteries in some MacBook Pro laptops
Apple has identified that some of its MacBook Pro Retina display 15-inch computers sold between 2015 and 2017 contain a defective battery that needs to be replaced. Please note that the recall does not impact other 15-inch MacBook Pro laptops or other Mac notebooks. If you do have one of these laptops and are planning to travel, we ask that you power them down before carrying them on board, and they must remain off and unplugged throughout the entirety of the flight.
Helpful tips:
Apple has provided guidance about identifying whether your laptop is subject to the recall. To do so, please visit Apple's recall page for more information and it's also where you can enter your laptop's serial number to determine if your device needs repair.
The safety of our customers and employees is our highest priority. We plan to provide updates and will reach out directly to those with upcoming travel plans.
Story by Ellen Carpenter | Hemispheres August 2019
Austin makes a better case than anyplace for being the next Silicon Valley. Last year, Apple said it would invest $1 billion to build a new campus, and Google is leasing an entire 35-story tower that's currently under construction downtown. Regardless, Austinites are doing everything they can to keep Texas's capital city as weird as ever.
9:00 a.m.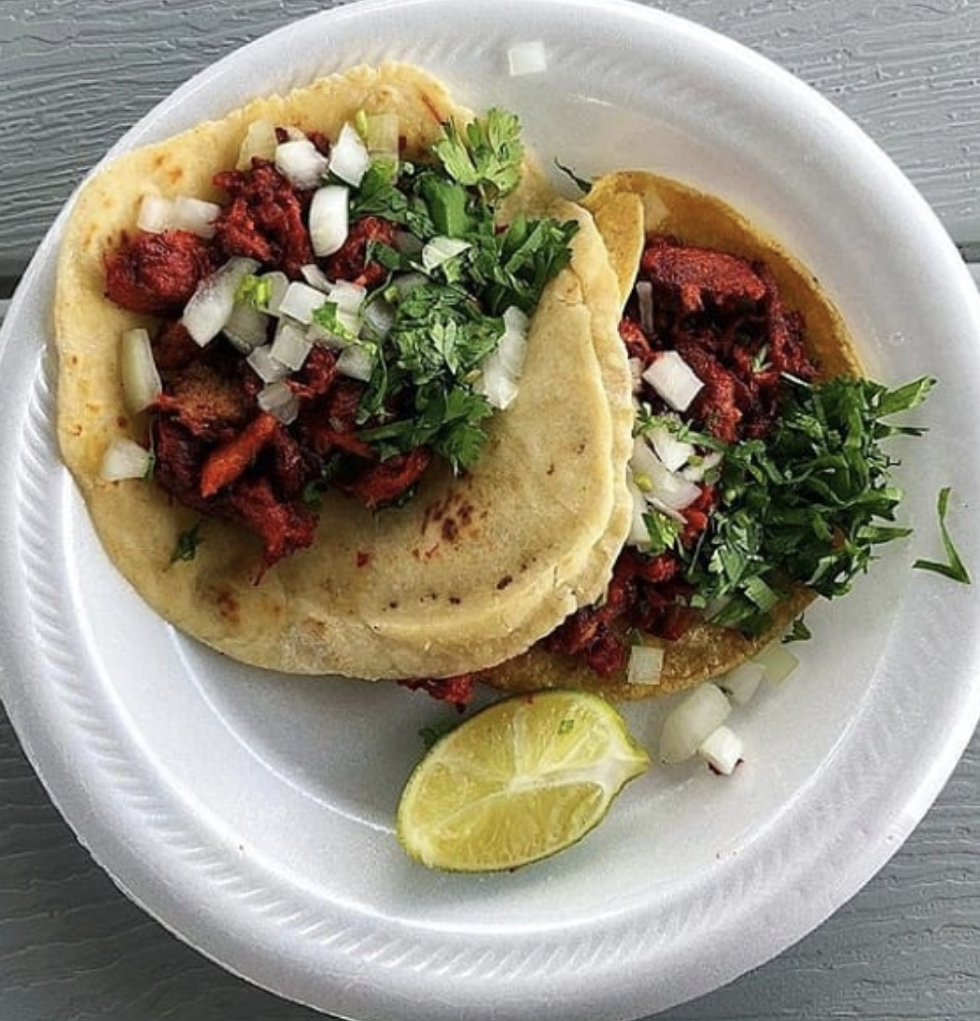 In the Land of the Breakfast Taco, there are many choices. The correct one is Rosita's Al Pastor, a trailer parked in front of a strip-mall bingo hall on East Riverside. Feast on spicy chorizo and migas tacos, with optional salsa that is not optional.
10:00 a.m.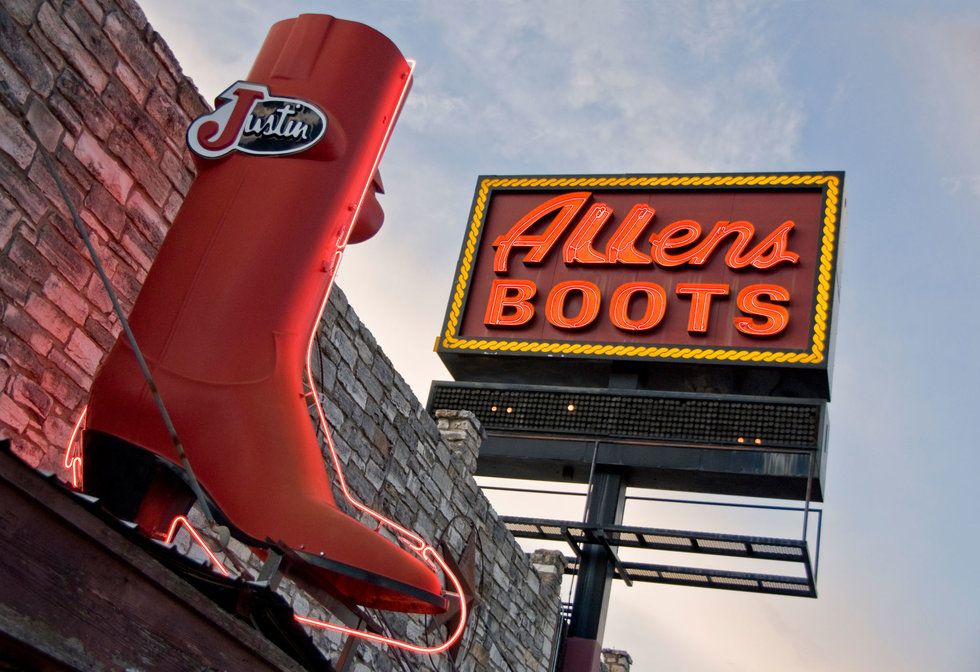 Photo: Dennis Cox/Alamy
Pick up a Pace bike (download the app; rides cost just $1 for every 15 minutes) and pedal the Ann and Roy Butler Bike-and-Hike Trail along Lady Bird Lake. Park on South First and visit Esby, a boutique with breezy linen tops and minimalist leather bags, then pop over to local mainstay Allens Boots on South Congress to make your cowboy dreams come true with a pair of Luccheses.

12:30 a.m.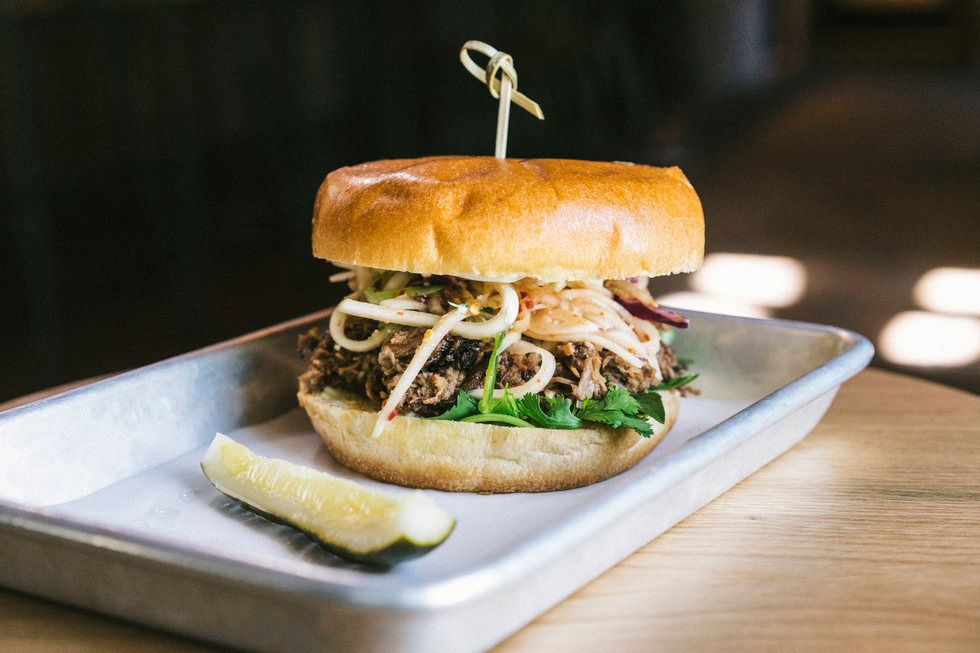 Photo: Logan Crable
Even cowboys need to eat, so ride another 10 minutes to new Asian smokehouse Loro, the love child of James Beard Award darlings Franklin Barbecue and Uchi. Devour the lunch-only brisket sandwich and the burnt ends–laden candied kettle corn like there's no tomorrow, and wash it all down with a lychee Arnold Palmer.

2:00 p.m.
Trade the bike for a taxi and head over to The Bullock Texas State History Museum. Enjoy galleries covering the fall of the Alamo and the rise of oil production, plus a special exhibit about sci-fi Westerns, Cowboys in Space and Fantastic Worlds. You'll leave with clear eyes and a full heart—and a better understanding of Lone Star pride.
4:30 p.m.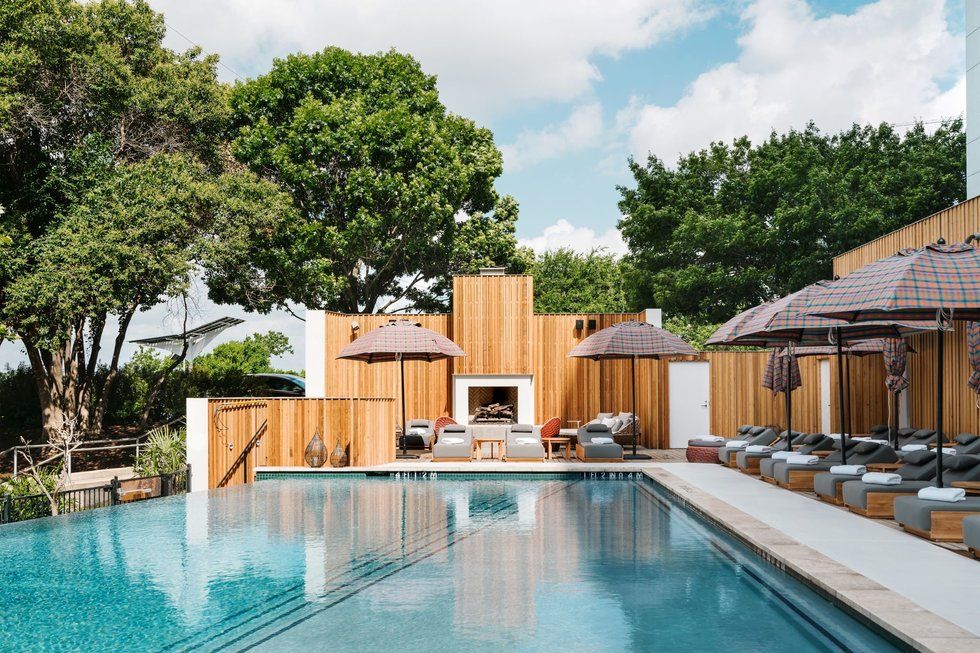 Photo: Chase Daniel
A quick taxi ride gets you back to your digs at The Line, which opened on the enviable corner of Cesar Chavez and Congress in 2018. (Book now for SXSW 2020.) Drop those Luccheses in your bright, minimalist room (you'll love the topographically patterned headboard) and take a dip in the infinity pool overlooking Lady Bird Lake.

7:00 p.m.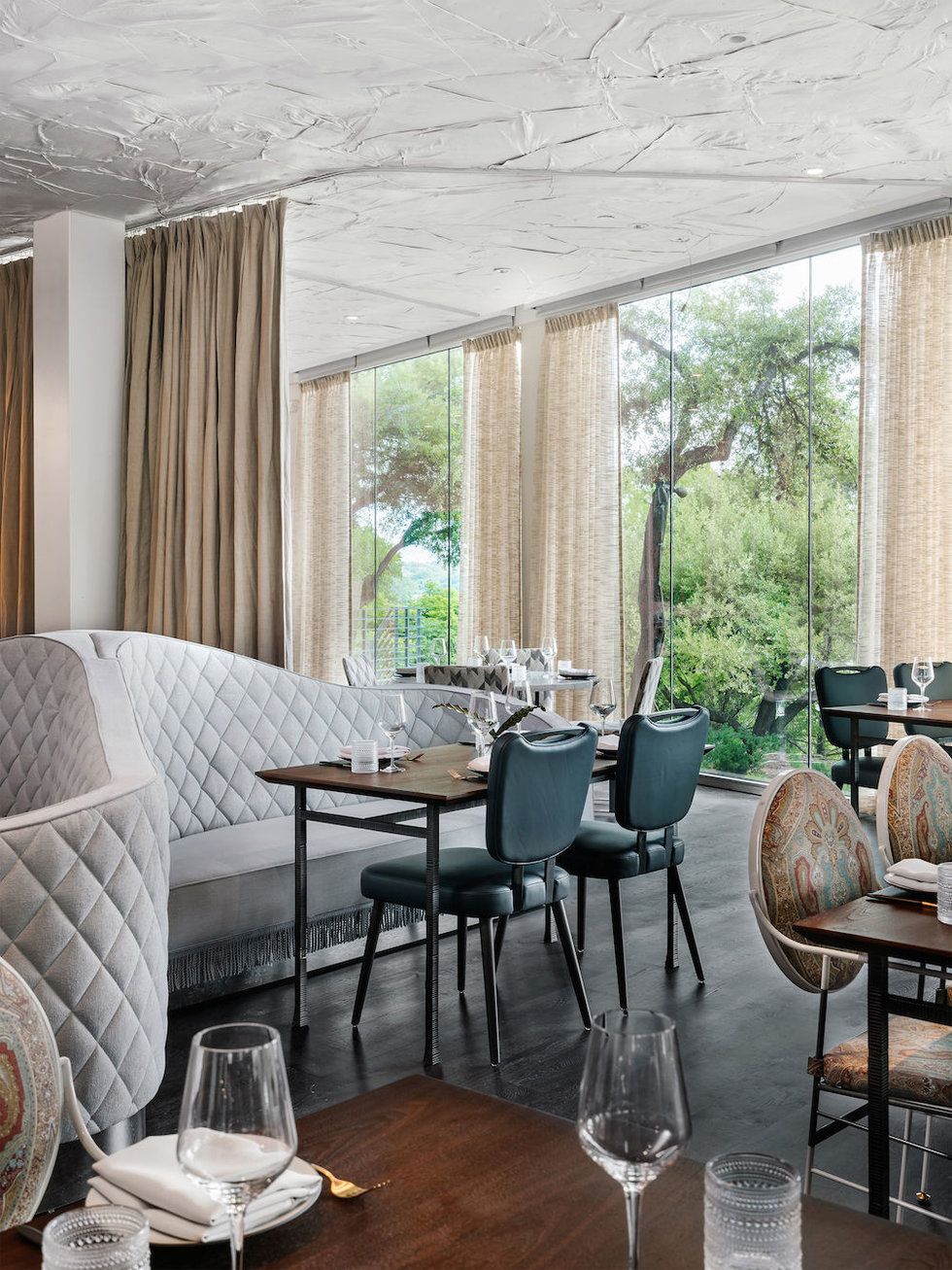 Photo: Courtesy of The Line Austin
You're not going far for dinner. Just off the lobby is Top Chef winner Kristen Kish's Arlo Grey, a dimly lit oasis with pale pink walls and white leather banquettes. Start with the luscious burrata, followed by the rabbit and dumplings nestled in an umami-rich broth you'll want to drink.

9:00 p.m.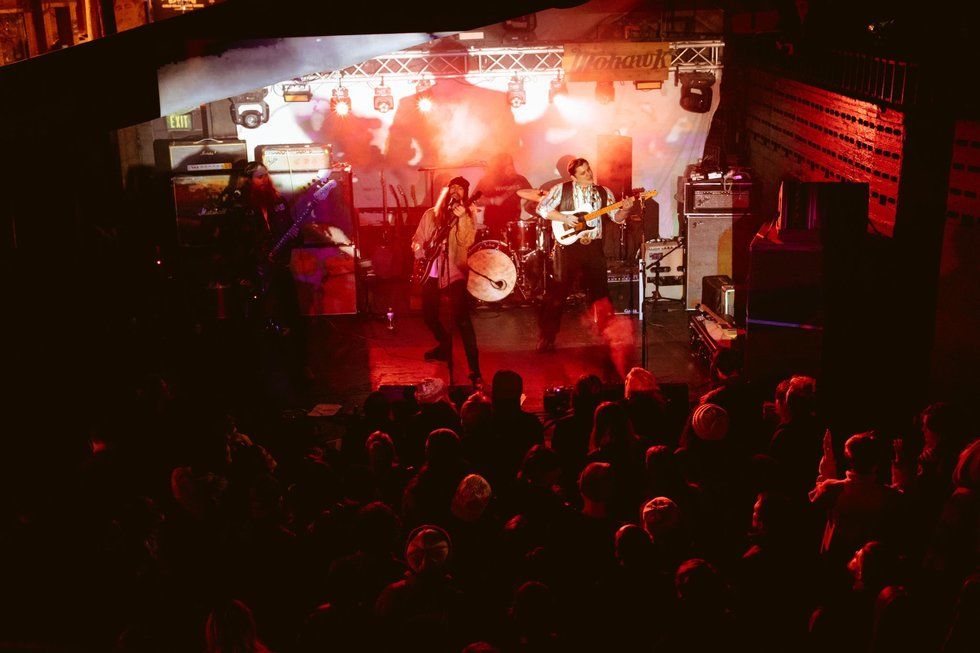 Photo: Cody Cowan/crc.images
You can't come to Austin and not catch some live music. Cab over to Mohawk, a venerable club with indoor and outdoor stages on Red River Street, near the Capitol. Grab a Shiner Bock at the bar outside, wiggle up to the front, and end your night on a high note.

Customers traveling through the Raleigh-Durham International Airport can now partake in a little rest and relaxation along with enjoying local food options and an extensive drink selection at the newest United Club℠. It's the first time in 15 years we've added a new airport location to our United Club network. Located in terminal 2 across from gates D1 and D3, the new club offers customers a customized and relaxing experience.
At 3,800 square feet, the new club offers customers a place to unwind with 93 seats and 53 outlets ensuring your devices are charged and ready for the next leg of your journey. The menu selection was also curated with the cuisine of North Carolina in mind, from the Carolina BBQ with golden cornbread served in the evening to the homestyle biscuits and gravy served in the morning. There is also a Greek Yogurt bar for those looking for a healthier option along with libations served all day at the club's bar.
Hours of operation are from 5:00am to 7:30pm daily.
From the Andes to the Amazon and so many points in between, Peru is a land of magical mystery, ancient Incan ruins, lost civilizations and remarkable landscapes. To most first-time visitors, however, it's first and foremost the place where you'll find Machu Picchu. Of course, Peru is much more than that, but the ancient citadel is something you have to see at least once in a lifetime. Unlike many other tourist attractions, it exceeds almost every expectation. You have numerous options to reach the summit, but our recommendation is an easy and almost essential seven-night journey, taking you from touch down in Lima to the summit and back.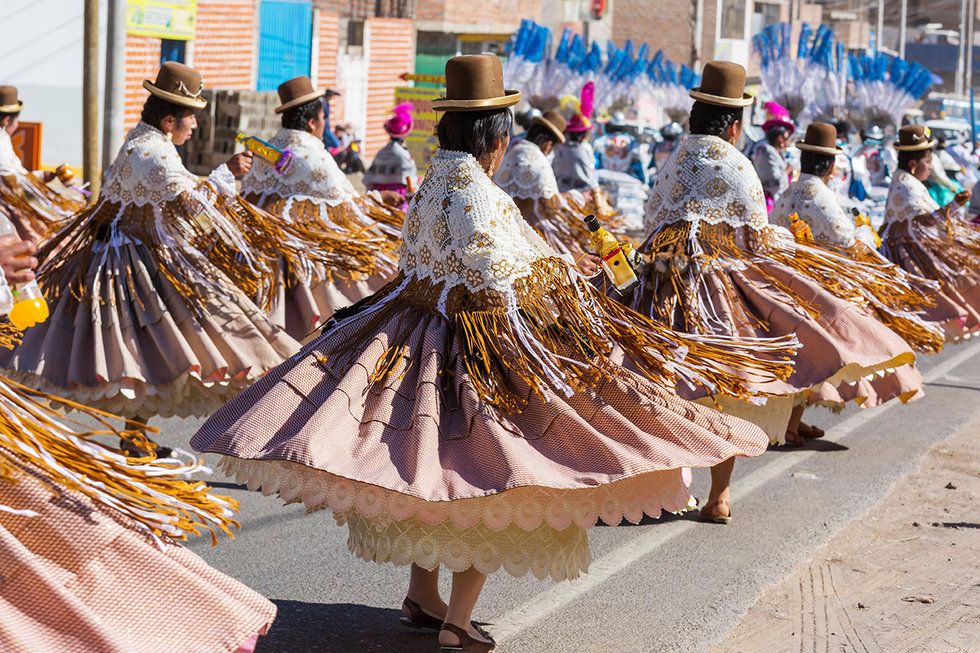 Dancers dressed in traditional Peruvian clothing
Lima for two nights
Your first taste of Peru should be its capital, the "City of Kings." Once little more than a stop-off en route to Machu Picchu, Lima has enjoyed a resurgence in recent years. The capital city has been revitalized by new hotels and bars, and it's fueled by museums and galleries that tell the story of a city dating back to 1535. Best of all, Lima has become the gastronomic capital of South America, with two entries inside the top 10 of the coveted World's 50 Best Restaurants list. The cuisine of Lima is inspired by indigenous ingredients, flavors and traditions from every corner of the globe. Stay at the grand, elegant and centrally-located Hilton Miraflores and get your bearings early by taking a half-day Lima Walks tour around the historic center. Then, attempt to get a table at one of those two celebrated restaurants — Central (the world's 6th best) and Maido (the 10th).

After two nights of exploration and glorious gluttony, it's time to depart and fly east.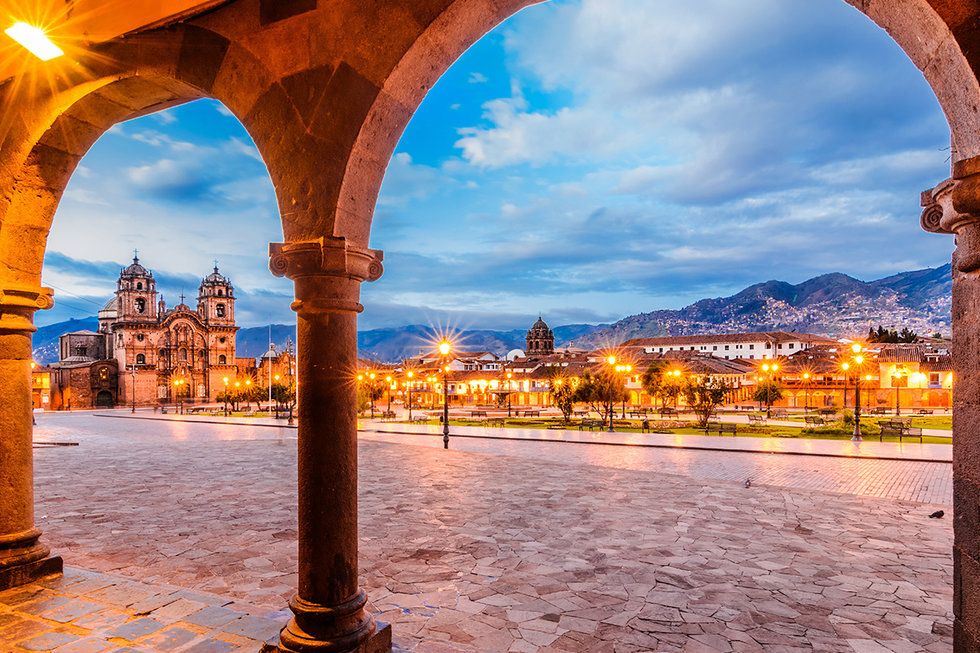 Plaza de Armas in Cusco
Cusco for two nights
An hour's flight from Lima lies Cusco, a UNESCO World Heritage Site and key stop-off on the way to Machu Picchu. Climbing from Lima to Machu Picchu's near 8,000-foot altitude in one trip will likely bring on altitude sickness, so head to Cusco first. It's 11,000 feet above sea level, giving you the chance to acclimate at leisure as you explore what was once the capital of the Inca Empire. Check in at the historic Marriott hotel, Palacio Del Inka, built in 1438 and once part of the Inca Temple of the Sun. It's located close to the Plaza de Armas, the square at the heart of a very walkable city. Purchase a Boleto Turistico del Cusco pass, which gives you access to most of the historic sites in Cusco and along the Sacred Valley, excluding Machu Picchu. Take the 45-minute walk out to the remarkable Inca ruins of Sacsayhuaman that overlook the city, then walk back to Cusco via San Blas, a charming neighborhood full of galleries and boutiques. You'll want to reward yourself for the effort by stopping in at the Museo del Pisco for at least one pisco sour.
Soon enough, your thoughts will turn again to Machu Picchu. It's possible to do a day trip from Cusco to Machu Picchu and back. It's also possible (and very popular) to trek along the Sacred Valley, taking the classic Inca Trail over five days. But for this vacation, we're suggesting the more leisurely route, first taking a train from Cusco to Ollantaytambo.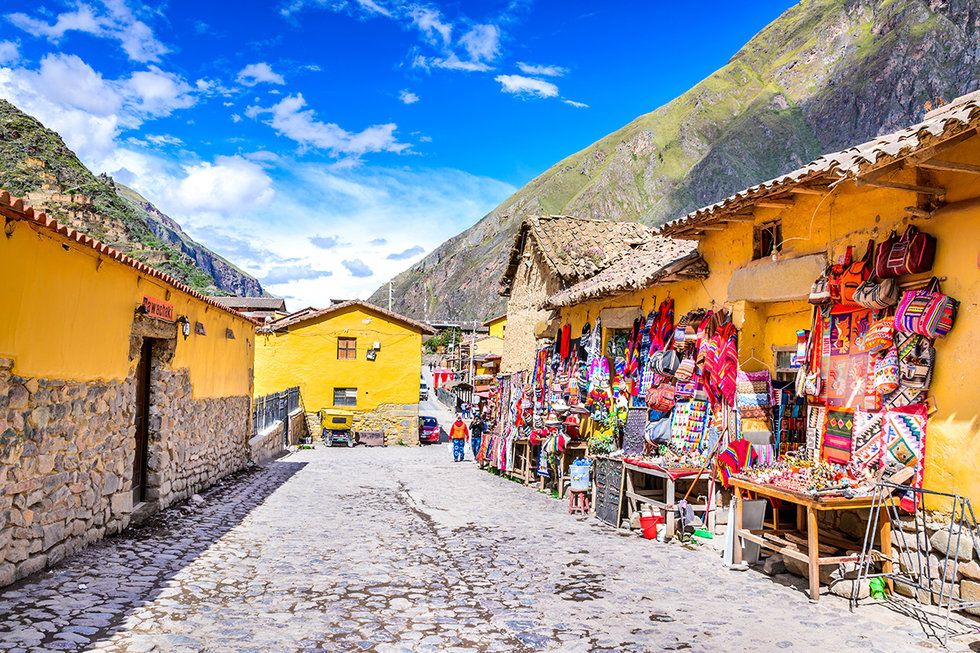 The cobbled streets of Ollantaytambo
Ollantaytambo for one night
Check out early and take a train 90 minutes northwest to "Ollanta," a beautiful small town full of cobbled streets and charming cafes deep in the Sacred Valley — the lush green valley just north of Cusco. Staying in the town will allow you to explore the incredible Inca ruins that dot the surrounding area when many of the other day-tripping tourists have gone. Apu Lodge and Casa de Wow are two excellent options for a brief overnight stay.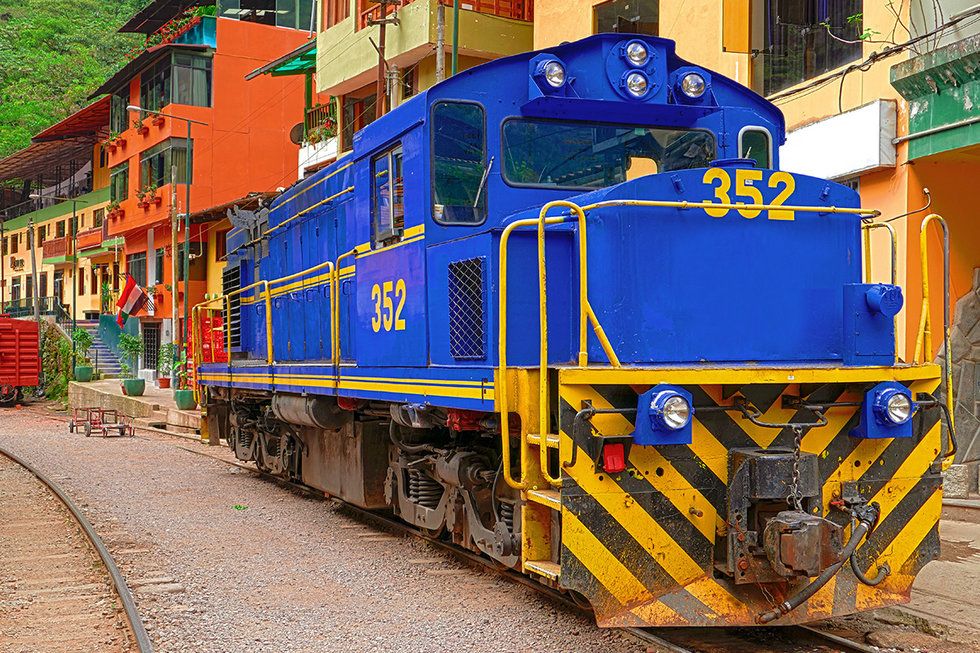 Peru train
Aguas Calientes for one night
From Ollantaytambo, jump back on the train that will take you to Aguas Calientes, the last stop before Machu Picchu. Book at the town's standout hotel, the Inkaterra Machu Picchu Pueblo, and from there begin your climb up into the clouds — a strenuous 90-minute walk or 25-minute bus ride.
Machu Picchu gets crowded quickly, so make sure you book your tickets via the Ministerio de Cultura's website as far in advance as possible. Basic entry will get you into Machu Picchu's main ruins, terraces and temples. For more elevated views, you'll need to upgrade your ticket to include Montaña Machu Picchu, a mountain with no ruins but fewer crowds, or the smaller Huayna Picchu, where you'll find the ceremonial Temple of the Moon. Staying a night in Aguas Calientes allows you to return to Machu Picchu when it reopens at 6:00 a.m. to see it in a different light, and with less tourists.
After lunch, and perhaps an afternoon at Aguas Calientes' open-air thermal springs, catch the train back to Cusco for the final leg of your journey.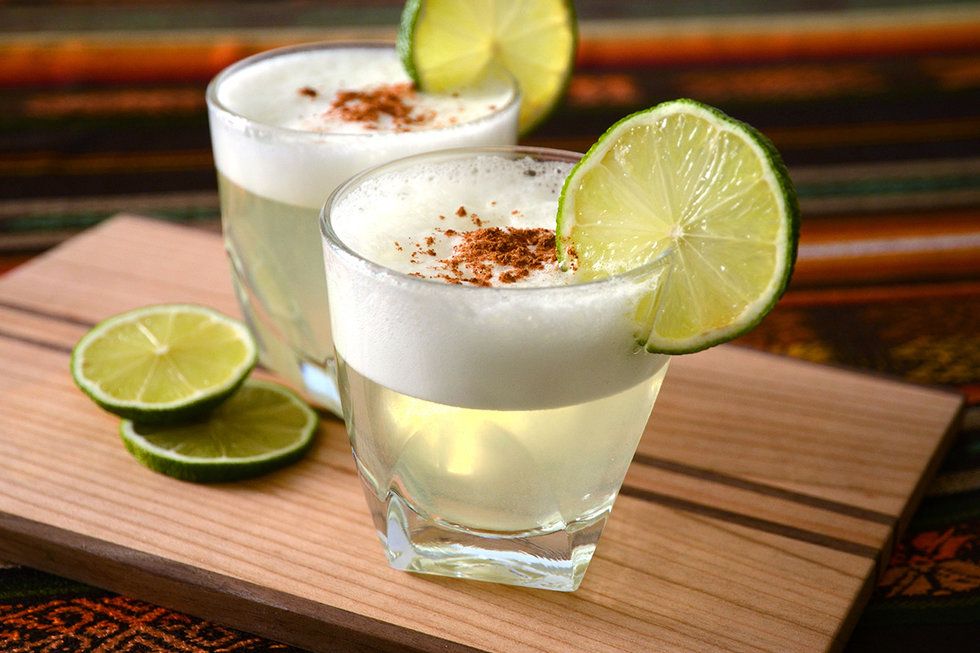 Pisco sour cocktail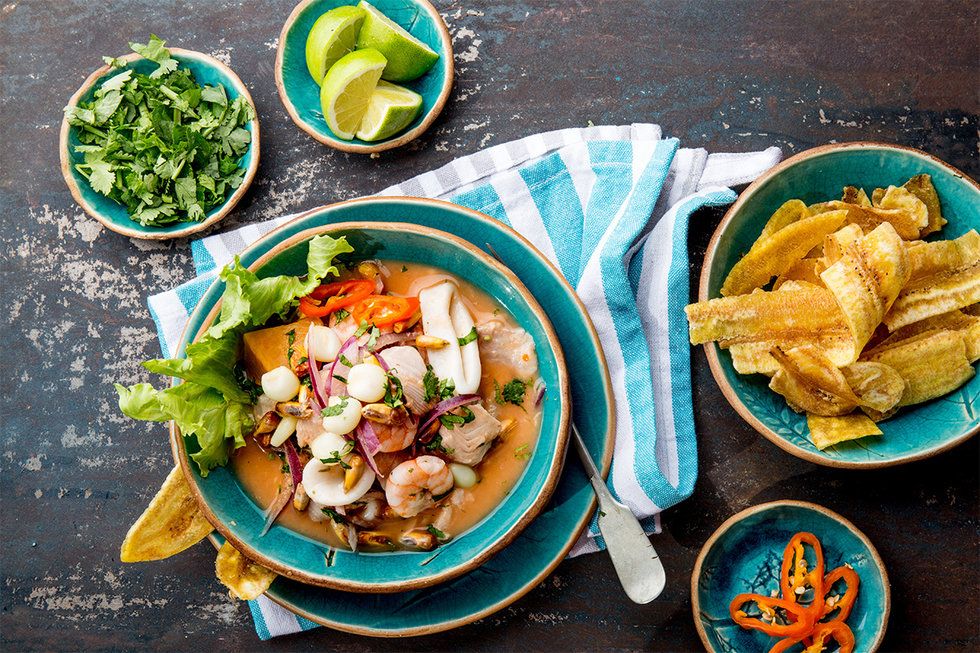 Seafood Ceviche
Lima for one night
If time and budget allow, you can keep exploring Peru's other experiences: an Amazon boat cruise, hiking Cañón del Colca or rafting the Urubamba River. Our suggestion is to return to Cusco and fly back to Lima for one final night, purely to remind yourself of the city's standing as South America's gastronomic capital. Eat well once more and sleep in luxury at Hotel B, then fly home with a happy heart.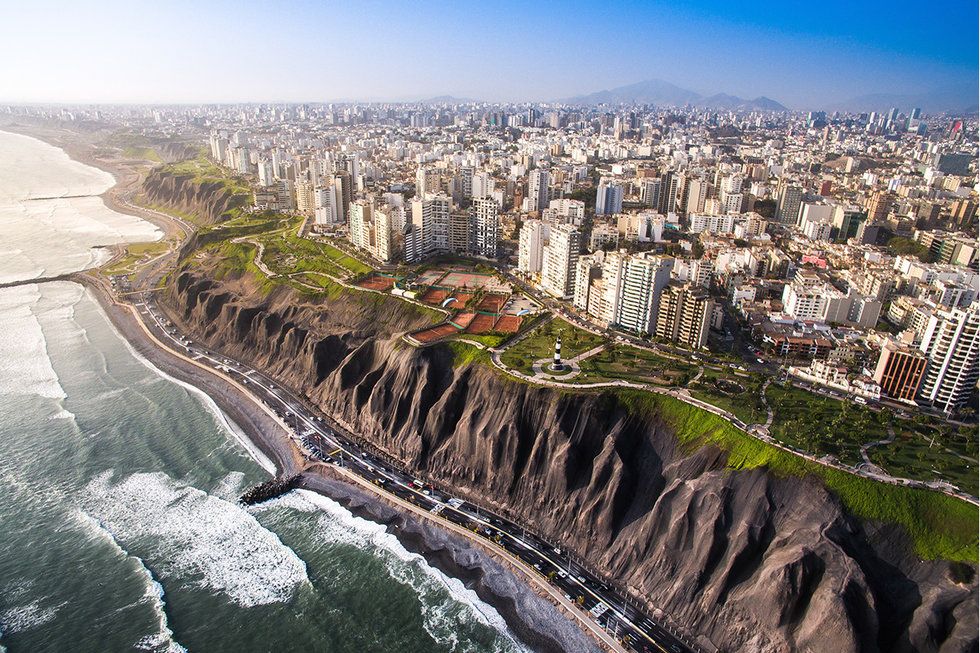 View of Lima from Miraflores
When to visit
Being a large country with many microclimates, there is no right time to visit Peru. However, if your whole journey revolves around Machu Picchu and making sure your photos have clear blue skies and sun-lit ruins, aim to visit between May and October when the weather is at its best. Avoid November through March during the rainy season.


Things to know while visiting
Machu Picchu translates as "Old Peak" or "Ancient Mountain," and its ruins were rediscovered in 1911 by the American archeologist Hiram Bingham.
The Cerro Blanco in the Sechura Desert is the highest sand dune in the world, measuring 3,860 feet at its summit. It's perfect for sand boarding, and the descent takes four minutes at top speed.
Peru is said to be home to more than 3,000 different varieties of potato.
Memorize the popular phrase: "Soy mas Peruano que la papa." Translation: "I am more Peruvian than the potato".
United flies to Lima's Jorge Chavez International Airport (LIM), located just west of the city. To find out more or begin your adventure, visit www.united.com or use the United app.
Even frequent visitors to Los Angeles rarely visit the city's colorful, energetic neighborhoods. More often than not, they're too busy fighting traffic on the way to Disneyland, the beach cities and L.A.'s other major attractions. But they're missing out on the appeal of the city's unique districts. Angelenos know that these seven in particular — all within a 30-minute drive from downtown — are fun and unique places to experience. Find out for yourself on your next trip to L.A.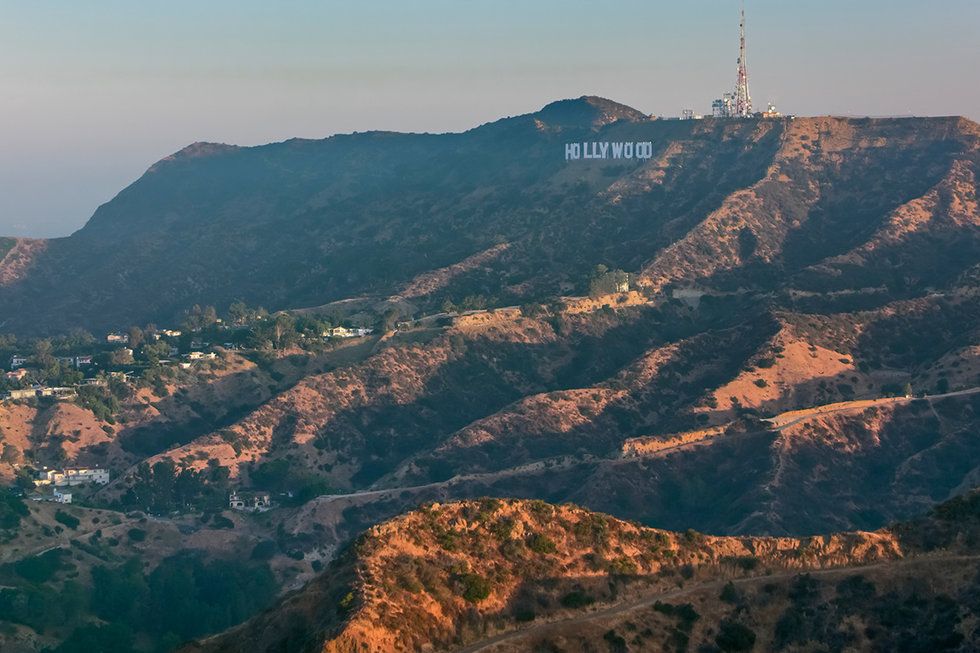 Hollywood Hills sign overlooking L.A.
The Hollywoods
There are four Hollywoods, each with its own flavor. West Hollywood (WeHo) hosts a thriving LGBTQ+ community with countless dance clubs and rooftop bars. North Hollywood's NoHo Arts District features dozens of theaters and galleries, especially on Lankershim Boulevard. Funky and ethnically diverse East Hollywood is home to Frank Lloyd Wright's Hollyhock House, a new UNESCO World Heritage Site, in Barnsdall Art Park. Then there's Hollywood itself, the birthplace of the film industry. It also boasts many theaters, a young and diverse population and attractions like the Hollywood Walk of Fame, Hollywood Museum and Hollywood Wax Museum on Hollywood Boulevard.
Arts District
Eleven art museums and galleries crowd the trendy, walkable Arts District near downtown L.A., including the Institute of Contemporary Art and the a+d (architecture and design) museum, which both opened since 2015. The district's abandoned warehouses now serve as canvasses for dozens of murals. Inside, there are artists' lofts, coffeehouses, restaurants, wine bars, distilleries and ROW DTLA, a former apparel factory now bursting with restaurants and specialty shops.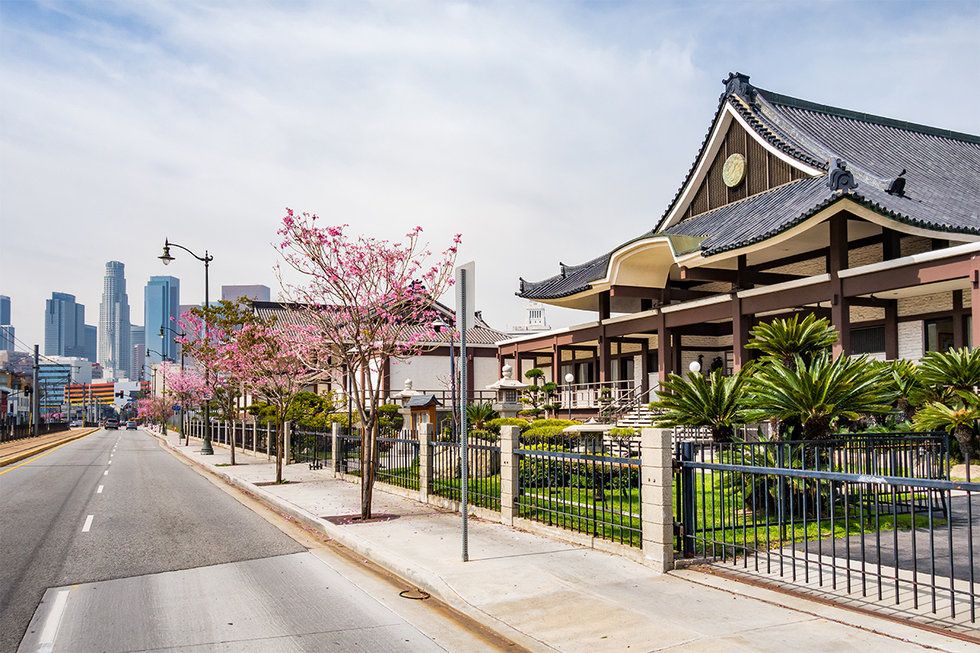 Nishi Hongwanji Buddhist Temple in Little Tokyo
Little Tokyo
L.A.'s Chinatown has appeared in more movies and Koreatown is more populous, but Little Tokyo is the most visitor-friendly of the three downtown-area neighborhoods in L.A. once dominated by Asian immigrants. Although the percentage of Asian-American residents in Little Tokyo has shrunk to 40 percent, it's still America's largest "Japantown" and the city's cultural hub for Japanese-Americans. Discover why on First and Second Streets, home to many Japanese restaurants and shops housed in century-old buildings, and at the Japanese Village Plaza mall and Japanese American National Museum.
Silver Lake
Forbes has called it L.A.'s hippest neighborhood, but Silver Lake has more to offer than the chic-funky shops where Sunset and Santa Monica Boulevards converge. One block apart on Sunset, for example, you'll find one of L.A.'s best coffee bars (Intelligentsia) and gelaterias (Pazzo Gelato). Both are open late, so after browsing shops that sell everything a hipster needs, from surf-shop fashions to sassy sunglasses, you can get your caffeine or sugar fix at those spots before hitting The Black Cat for a craft cocktail.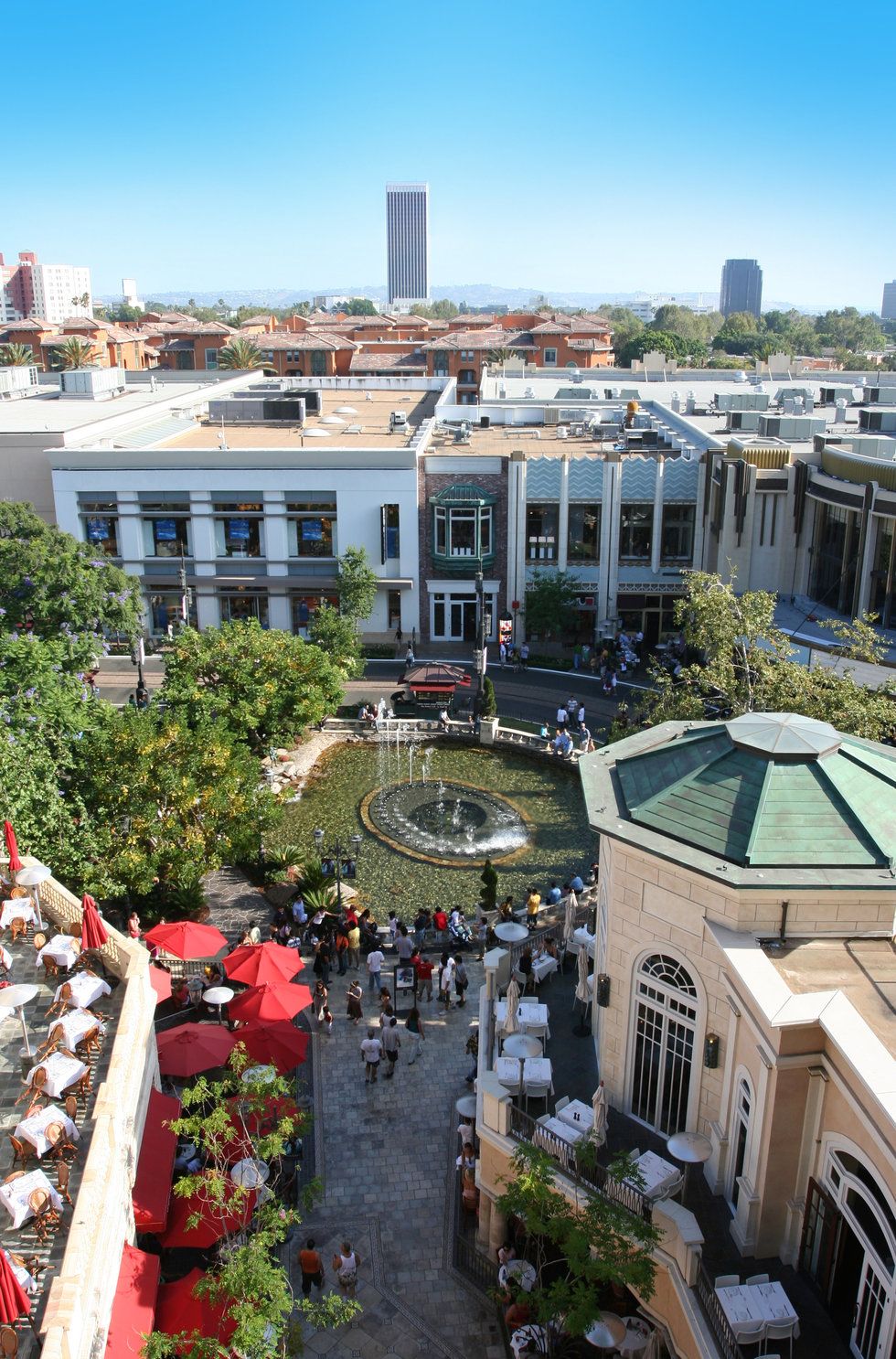 Shopping and eating at The Grove
Fairfax
Only New York City and Jerusalem have larger Jewish populations than L.A., and "Fairfax Village" — named for the commercial strip along Fairfax Avenue — is the city's historic center of Jewish culture. This includes the Los Angeles Museum of the Holocaust and Jewish/Israeli eateries that include a deli, bakery, bagelry, café and market. Also noteworthy in the district are L.A.'s original Farmers Market (open daily) and The Grove, an outdoor retail and entertainment complex. Young visitors favor the district's numerous streetwear and skate shops.
Highland Park
Highland Park, a neighborhood between downtown L.A. and Pasadena, is filled with stately Victorians and Craftsman homes, gastropubs and galleries, nightspots and artisan-pizza spots and a new marionette theater along York Boulevard and Figueroa Street. Then there's Highland Park Bowl, L.A.'s oldest bowling alley. The place, which opened in 1927, was recently transformed into one of America's classiest spots to roll a strike, with leather couches, chandeliers, wood-fired pizza and live music on most nights.
Westwood
Young travelers — and those who want to feel young again — must visit L.A.'s leading "college town," even though Westwood is only a district (not a town) and UCLA isn't even within its boundaries. It's right next to campus, though, and on weekend nights it seems that the entire student population of 45,000 fills the restaurants, pubs and shops on Westwood Boulevard. Even if you don't catch a play at Westwood's landmark Geffen Playhouse, you can choose among more than 1,000 annual events at UCLA.
If you go
L.A. boasts mild weather year-round — heat waves and rainstorms are rare — so anytime is a good time to visit. United Airlines offers numerous flights to Los Angeles from cities throughout the U.S. and worldwide. MileagePlus® Rewards can help pay for your hotel room. Go to united.com or use the United app to plan your L.A. getaway.
Starting July 29, United MileagePlus® members will have the opportunity to enroll in the CLEAR®program as part of a discount offered to all members.
CLEAR allows travelers the ability to get through security faster by using biometrics to confirm your identity instead of traditional ID documents. Once you're at a CLEAR pod, biometric identifiers such as your eyes and fingertips are used to verify your identity to expedite entry into airports and other venues. CLEAR's platform is SAFETY Act Certified by the Department of Homeland Security.
CLEAR is currently available at 30+ airports with Newark Liberty International Airport and Houston George Bush International Airport coming later this summer. We are working with CLEAR and airport authorities to expand to other key locations including Chicago's O'Hare International Airport in the coming months. You can also find CLEAR at a number of major stadiums and venues across the U.S with new locations being added throughout the year.
United MileagePlus members interested in CLEAR can begin their enrollment online at clearme.com/united. To complete your CLEAR enrollment, please visit a CLEAR checkpoint for a 5-minute, one time collection of your fingerprints, iris and photo. Once enrollment is completed, CLEAR members can access the program anywhere they see a CLEAR pod. A full list of CLEAR locations can be found here: https://www.clearme.com/where-we-are.
See the chart below for discounted member rates. The non-discounted rate for CLEAR is $179.
| | |
| --- | --- |
| Member status | Annual cost |
| Premier 1K® members | Free |
| Premier Platinum, Premier Gold, Premier Silver and U.S. Credit Cardmembers | $109 |
| MileagePlus members | $119 |
For more information on our CLEAR partnership, visit united.com/clear.
Each week we profile one of our employee's adventures across the globe, featuring a new location for every employee's story. Follow along every week to learn more about their travel experiences.
By Los Angeles Flight Attendant Kimberly Atkins
As a flight attendant, I have mastered the art of visiting a city in 24 hours. However, there are some cities where it would take a lifetime of exploration to truly see it all. Rome, the Eternal City, is definitely one of those. Here are my Rome essentials, 24-hour tips, and the best way to conquer the Roman Empire in the shortest amount of time.
My husband Marco was born and raised in Rome, and we met on the Roma-Firenze Eurostar train when I was living in Italy right after college. I then became a flight attendant and worked as an onboard Italian language speaker from 2008-2014. In that time, I commuted to Rome from my base in Washington, D.C. I've spent countless hours wandering the streets of this magical city, exploring hidden alleyways and major tourist attractions and hunting down special works of art tucked in the corners of old churches. Rome, to me, is enchanting. And, while we will probably never get to see it all, here is my favorite game plan to explore La Cittá Eterna.
Safety
First things first, leave the expensive jewelry at home, and watch your pockets. Violent crime isn't prevalent in Rome, but pickpocketing is huge, so watch your purse, backpack and pockets, especially in crowded areas and on public transit. That being said, I feel very safe walking around the historic center of the city at most times of day and night, but when I'm alone I try to stick to well-lit, populated areas. Avoid walking around the Termini train station area at night, and, if you have to, watch yourself, and maybe opt for a cab.
How to get there
When we go to Rome, we fly directly into Rome from Chicago, Newark or Washington D.C.'s Dulles Airport. If you aren't familiar with driving in the madness of Bella Roma, and you don't absolutely need a car, then avoid renting one and go with public transit. The public transit is incredible in Italy, and everything is fairly well connected. Also, taxis and Uber are reasonably priced and available at all hours of the day and night.
Hotel Romanico Palace and Spa
On this trip we had the pleasure of staying at the Hotel Romanico Palace and Spa. The hotel is in the city center, about a 40 to 60-minute drive from the airport. If you have a car, the staff at Hotel Romanico were extremely helpful and informative with parking options. The lobby and lobby bar are beautiful with a great selection of fairly priced drinks and a glass window in the floor that showcases some ancient Roman ruins. Just below the lobby level, the hotel is equipped with a small gym with all the essentials (free to use during your stay) and a beautiful spa — a little oasis in the center of a bustling city. They've recreated the atmosphere of ancient Roman thermal baths, and you can't help but relax and feel like royalty in this spa. After a few days running around the city seeing all the sites, this spa is the perfect way to spend a relaxing afternoon.
The rooms at the Hotel Romanico Palace are the stuff of dreams — decorated in palatial Italian decor, some more classic, some more modern. Ours was an end room with classic Roman Palace decor and a huge bathroom equipped with a jacuzzi tub, WC and bidet, and a three-way shower that felt like a luxurious, ancient Roman bath. Not only did the shower have a traditional shower head and rain shower but a travertine waterfall that cascaded out of the ceiling and onto a marble throne (bonus waterfall shoulder massage). It was pure magic. If you're interested, they also have themed rooms and suites.
Recommended walking tour
There are an infinite number of ways to explore this city… so, by all means, plan the route that works best for you. This route just happens to be my favorite, and Hotel Romanico is the perfect starting point.
For our first stop, set your sights on the Spanish Steps. Piazza di Spagna is a 15-min stroll from the Hotel Romanico. Turn right out of the hotel to start your walk and hang a left on Via Vittorio Veneto. You'll pass by the American Embassy and Piazza Barberini on your way. If you're ready for a snack, my favorite forno is along your route. A forno or oven in Italian, is basically just an old-school bakery that sells simple but incredibly delicious breads, pizzas, focaccia, baked goods and occasionally other snacks like arancini (a breaded and stuffed risotto ball of yumminess). A traditional forno is affordable, quick and very popular with the locals.
Piazza di Spagna, The Spanish Steps
When you get to the Spanish Steps (named for the Embassy of Spain located in the Piazza), be sure to check out the church at the top of the steps, the famed Trinità dei Monti. Walk down the iconic steps to the boat-shaped Fountain of the Barcaccia, and snap some epic pictures of the fountain built by the famous Baroque sculptor Gian Lorenzo Bernini and his father Pietro Bernini. The water in the fountain is supplied by an ancient Roman aqueduct from 19 BC. Legend has it that the Tiber river had an epic overflow in 1598 and carried an adrift boat to the center of this Piazza. That boat inspired Bernini's design. The Shelly/Keats house is also in the Piazza on the east side of the steps.
Head down Via Dei Condotti where you can window shop the best of high fashion and luxury stores like Dior, Bulgari and Ferragamo. If you need an espresso, check out Antica Cafe Greco, a favorite of expat poets and writers like Keats and Byron. Start heading to the east (your left), and follow the signs for your next stop, the Fontana di Trevi.
Fontana di Trevi, The Trevi Fountain
This breathtaking and world-famous fountain is the largest Baroque fountain in Rome. Built in 1762 and designed by Roman sculptor Nicola Salvi, it has been featured in numerous films, including Fellini's "La Dolce Vita" where Silvia and Marcello go for a jaunt in the fountain. WARNING: Don't follow Silvia's lead…it is strictly forbidden to dangle your feet or hands in the sparkling, crystal-clear water.
The travertine used to construct the fountain comes from nearby Tivoli, an incredible place to go for a day trip if time allows. Be sure to throw coins into the fountain. The proper way is to hold the coin in your right hand and throw it over the left shoulder. Legend says you should always throw three coins… the first to return to Rome, the second to bring you love, and the third to ensure marriage. An estimated €1.4 million is thrown into the fountain every year. The money from the fountain is donated to subsidize a supermarket for the city's needy. Good job, Roma.
Once you've thrown your coins, follow the signs toward your next stop: Il Pantheon.
The Pantheon
Enjoy the winding cobblestone streets lined with charming shops, gelaterias and street performers. When you come into the Piazza della Rotonda, you can't miss the impressive church built in circa 113 AD. It was built on the site of an earlier pagan temple originally commissioned by Emperor Augustus in 27 BC. The Pantheon is most famous for its large hole at the center of the dome, and it is still to this day the largest unreinforced concrete dome in the world. This building is even more special, because it is one of the only ancient buildings in Rome that has been in continuous use throughout history, so it is perfectly preserved. It is absolutely breathtaking and free to enter, so go in and enjoy. When you're done, head on over to Piazza Navona.
Piazza Navona
Just 5 minutes from the Pantheon, you'll find one of the most famous piazzas in Rome. Used by the ancient Romans as a stadium, and flooded to recreate "show" naval battles, Piazza Navona is now home to street artists and musicians.
During the Christmas season, it's a must see for its specialty Christmas Market. The focal point of this long, oval piazza is the central Fountain of the Four rivers, representing four of the largest rivers of the four major continents; the Nile (Africa), the Danube (Europe), the Ganges (Asia) and the Plata (America). It was built in 1651 by none other than the famous Roman sculptor Gian Lorenzo Bernini, who won the commission of the fountain in a design competition. Enjoy the live music and art as you walk around the piazza. Don't miss the smaller fountains on either end of the piazza, the Museo di Roma, and the church of Saint Agnes.
Campo de Fiori
Campo de Fiori, literally meaning "field of flowers," is exactly what this piazza was in the Middle Ages. Today it is a bustling piazza with a daily farmers market that has everything you could need from fresh fruits and veggies to specialty pastas and spice mixes, fresh pressed juices, souvenirs and even gourmet Italian truffle products. At night this is one of the more popular and rowdy piazzas for aperitivi (happy hour) and nightcaps.
If you head out the back end of the piazza down Via dei Giubbonari, you can enjoy the numerous Italian shoe shops and clothing stores on this quaint street. And don't forget to hang a right on Via dell'Arco del Monte to head toward Ponte Sisto and Trastevere.
Trastevere
Trastevere literally means "across the Tiber," and while crossing the Tiber River, or Il Tevere, you'll be walking across Ponte Sisto. This famous walking bridge was built in the 1470s and is a favorite spot for more alternative musicians. The views from the bridge are gorgeous, and you can even catch a glimpse of the glowing Vatican dome to your right as you cross the bridge.
You'll be entering Trastevere through Piazza Trilussa, a popular evening hangout. You'll find young Italians and international students meeting up here and occasionally enjoying a drink on the steps of the popular piazza. Head into Trastevere, and just get lost. This Bohemian wonderland has maintained so much of the character and soul of Rome. Ancient homes and apartments line the tiny, winding cobblestones streets that are packed with amazing cafes, bars, restaurants and pizzerias at every turn. Piazza Santa Maria in Trastevere holds the namesake church that dates back to the year 340. This is definitely the part of town to put away your map and wander, and just enjoy the dolce vita.
We've come to the end of today's roaming. Trastevere is where I leave you. If I'm in town, you can probably find me sipping on a Campari Spritz at Caffè della Scala or having a traditional Roman Tonarelli al Cacio e Pepe (handmade egg pasta with a simple but decadent dressing of Pecorino Romano and black pepper) at Osteria da Otello. From here, you're a 20-minute cab ride or a 25-minute bus ride back to the Hotel Romanico. If you're up for an after-dinner stroll, head up the river and check out the Vatican illuminated at night.
When you're ready to keep exploring the city, I've got a few more tips, recommended restaurants and day trips on my blog, Kimmie Flies.
Thanks for joining me on this adventure, and have a great time roaming around Roma.
"Houston," the first word spoken from the surface of the moon by astronaut Neil Armstrong in 1969. It is also the place nicknamed "Space City" and where we commemorated the 50th anniversary of the Apollo 11 lunar landing.
The festivities began at Newark International Airport early Wednesday morning, where customers on Flight 355, our celebratory Space City flight to Houston, were surprised to walk up to a lively and decorated gate. For customer Rosemary Herron, the surprise was particularly special. Her father was part of the team that assembled Apollo 11's lunar module. "What are the chances that I'd be on this flight?!" Mrs. Herron exclaimed. "I feel like my father is with me today." Customers were also thrilled to learn they'd be flying with two special guests, former NASA astronauts Peggy Whitson and Kevin Ford, who is now a United Boeing 767/757 First Officer in Houston.

"I was nine years old when Apollo 11 landed on the moon, and I remember the first steps they took. I thought, 'Wow, what a cool job! I'd love to be an astronaut,'" said Peggy. "It's really meaningful to me to be here today to commemorate that time. As we celebrate the anniversary, it's important to look back at the impact and the innovations that space has had on our society… it changed the way we live."
The celebrations continued onto the flight where customers found goodie bags on their seats, enjoyed space ice cream and participated in a trivia contest. NASA enthusiasts Flight Dispatcher Courtney Schaaf and Houston-based Ramp Service Employee Michael Caldwell jumped at the opportunity to be on the flight when they learned about United's commemorative event. "As a young kid, I was inspired by watching the moon landing, and I've enjoyed following anything to do with the space program ever since," said Michael. "When I saw that United was putting on this flight, I immediately jumped on it and bought a ticket so that I could be a part of it."Upon landing in Houston, the flight was met with a water cannon salute, which wowed both customers on the flight and ones looking on from the concourse.
Mission Space City: Accomplished
"Houston," the first word spoken from the surface of the moon by astronaut Neil Armstrong in 1969. It is also the place nicknamed "Space City" and where we commemorated the 50th anniversary of the Apollo 11 lunar landing.
The festivities began at Newark International Airport early Wednesday morning, where customers on Flight 355, our celebratory Space City flight to Houston, were surprised to walk up to a lively and decorated gate. For customer Rosemary Herron, the surprise was particularly special. Her father was part of the team that assembled Apollo 11's lunar module. "What are the chances that I'd be on this flight?!" Mrs. Herron exclaimed. "I feel like my father is with me today." Customers were also thrilled to learn they'd be flying with two special guests, former NASA astronauts Peggy Whitson and Kevin Ford, who is now a United Boeing 767/757 First Officer in Houston.

"I was nine years old when Apollo 11 landed on the moon, and I remember the first steps they took. I thought, 'Wow, what a cool job! I'd love to be an astronaut,'" said Peggy. "It's really meaningful to me to be here today to commemorate that time. As we celebrate the anniversary, it's important to look back at the impact and the innovations that space has had on our society… it changed the way we live."
The celebrations continued onto the flight where customers found goodie bags on their seats, enjoyed space ice cream and participated in a trivia contest. NASA enthusiasts Flight Dispatcher Courtney Schaaf and Houston-based Ramp Service Employee Michael Caldwell jumped at the opportunity to be on the flight when they learned about United's commemorative event. "As a young kid, I was inspired by watching the moon landing, and I've enjoyed following anything to do with the space program ever since," said Michael. "When I saw that United was putting on this flight, I immediately jumped on it and bought a ticket so that I could be a part of it."Upon landing in Houston, the flight was met with a water cannon salute, which wowed both customers on the flight and ones looking on from the concourse.
Scroll to top