Three Perfect Days: London
Story by Chris Wright | Photography by Tom Parker | Hemispheres, April 2018
Every city has its intriguing juxtapositions—the trendy cocktail bar overlooking the crumbling palace, the high-end fashion boutique next to the hardware store—and every city works to find a suitable blend of these things. London, however, is a little bit different. There has always been a mix-and-match quality to this place, which is not so much a city as a patchwork of villages. While Londoners do value their traditions and institutions, they are also restless, preoccupied with novelty and change. As a result, the city is constantly sticking new bits onto the old, very often without any discernible logic, creating a jumble of styles and sensibilities that can leave visitors feeling utterly confused. How do you make sense of the chaos? You don't. Rather, you adopt the organizing principle of the city as a whole: Get out there, give it a go, see what happens.
Day 1
Skipping and sipping around stylish Soho
The odd thing about waking up at the Ham Yard Hotel is that your room tends to be more dreamlike than your dreams.Tucked away in a courtyard in Soho, central London, the property is one of the latest projects from exuberant British designer Kit Kemp, and she has gone full-on March Hare with this one: life-size crocodile sculptures applied to an expanse of butterfly-print wallpaper; a 20-foot spiral of cascading oranges in the basement bar. The arrival of the Ham Yard, in turn, speaks to the ongoing transformation of this neighborhood, which used to be a place of burlesque shows and boho boozers, and which today, it seems, cannot go a week without someone opening a hot new shop, restaurant, or drinking establishment.
The Bar at the Ham Yard Hotel
I have plans to explore the neighborhood later, but first I want to take a look at an even more surreal example of interior design. So, after a hasty breakfast—chili beans on granary toast, served with chorizo and Greek yogurt, eaten below a cluster of mismatched light fixtures—I head off toward Holborn, home to Sir John Soane's Museum.
Soane, a distinguished 19th-century architect, had a hoarding problem. Luckily, he tended to hoard things like statues and paintings rather than receipts. Today, his former home is packed to the rafters with so many marvelous antiquities it makes your head spin. I particularly enjoy the candlelit crypt, which has an ancient sarcophagus and a set of rusty manacles on the wall—although the Canaletto upstairs isn't bad either.
From here, I head south, past the Gothic Royal Courts of Justice, to Temple Church, built in the 12th century by the Knights Templar. Inside are effigies of these knights, many bearing the scars of a World War II bombing, which also scattered the bones buried below. (When I ask an attendant where I can find the remains of über-knight William Marshal, he replies, pointing: "There, there, and there.")
My next stop is Piccadilly Circus and the nearby Dover Street Market, a multi-story emporium selling high-concept clothing via art-installation floor displays. It's a must-visit for anyone interested in being the least fashionable person within a 200-yard radius. The shop is also within sashaying distance of the place I'm having lunch: Ikoyi, a new West African–inspired eatery that's been getting rave reviews.
After the visual excess of Dover Street, the interior of Ikoyi seems almost stark. The food, though, is sensational, not to mention eye-wateringly spicy. To start, I have dambu nama (dried beef floss) and whipped bone-marrow tarts, followed by succulent grilled octopus with ndolé (stewed greens with nuts). Now and then, the chef pops up to explain to a diner what banga is, or moin moin, which gives the meal a theatrical feel.
"The French House has two rules: Beer comes in half-pints, and no being boring."
From here it's on to The French House, a storied pub in the heart of Soho. You could fill a book with the notable people who have drunk here: Brendan Behan, Francis Bacon, Lucian Freud, Salvador Dalí. Charles de Gaulle is said to have written his wartime rallying cry on the premises, while Dylan Thomas reportedly mislaid his manuscript for Under Milk Wood here in 1953. One of the regulars now is Russell Norman, a restaurateur, author, and TV personality who has been called "The King of Soho."
"The French House is probably the last remaining drinking hole that connects directly with the heyday of Soho," he says. "It's eccentric, it's authentic, and I love it."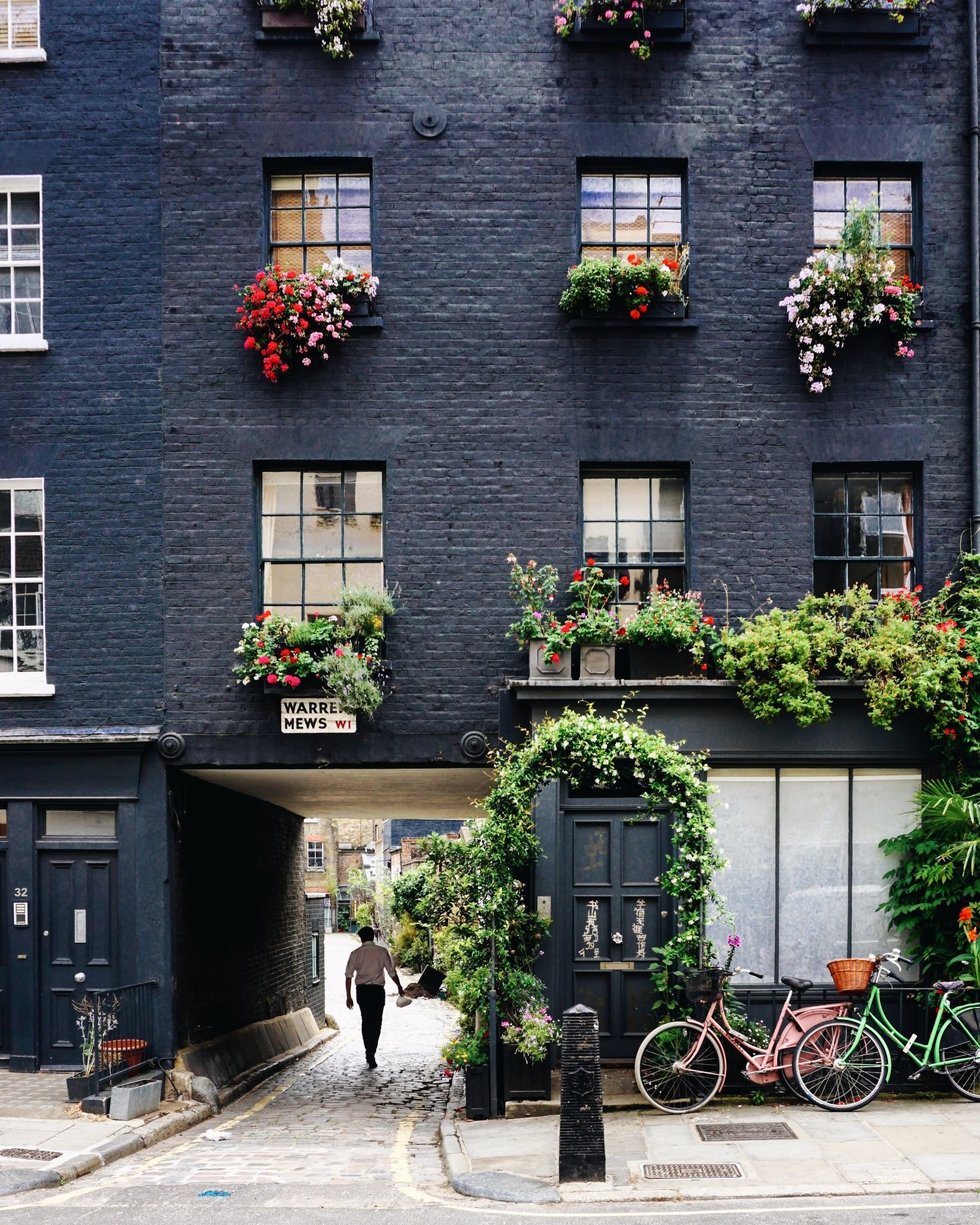 The entrance to Warren Mews, in Fitzrovia
There are a couple of rules here: They sell beer only by the half-pint, and patrons are not allowed to be boring (said to be "a bannable offense"). So it's with some trepidation that I strike up conversation with Lesley Lewis, the pub's garrulous landlady, who is sitting at the bar with a white wine.
Lewis took over the French House in 1989—one of only three owners in a hundred years—and did not set about trying to jazz things up. "We've tried to keep the essence," she says, taking a sip of wine. "Everything is changing so fast around here. There's not many old-school places left." Another sip. "But I still believe in Soho." Sip. "You have to be positive about what is rising out of the ruins."
Things liven up when the anecdotes start, the best of which belongs to Lewis: "There was a guy named Billy, who owned a [burlesque] club. One day, the council told him he had to black out the windows, so he's standing on the street outside with a tin of paint when Francis Bacon comes by and offers to help. That was Billy's only claim to fame. He'd go around telling people, 'I have an original Francis Bacon.'"
"There aren't many old-school places left. You have to be positive about what is rising out of the ruins."
Leaving The French House, I follow Norman up Compton Street—"The main river running through Soho"—for a caffeine boost at Bar Termini. A stylish coffee shop/cocktail bar located in a former strip club, Termini is owned by one of Britain's most famous mixologists, Tony Conigliaro, a lapsed artist who describes his job as "painting with flavor." He's certainly adventurous—one of his cocktails is infused with clay, flint, and lichen to evoke the taste of the earth. A more recent creation is a drink he calls Snow. "The premise is, wouldn't it be amazing if we could recreate the experience of catching a snowflake on your tongue?" he says. "That took two years to work out."
I'm catching a show later, so, after a bit of people-watching and boutique-browsing, I head for an early dinner at Kettner's Townhouse, which was founded in the 19th century by a man who was rumored to be a former chef to Napoleon III and has entertained the likes of Oscar Wilde, Agatha Christie, and Robert De Niro. This year, it was refurbished and reopened as a hotel and restaurant by the people behind the achingly fashionable Soho House members club. The restaurant has more or less kept the feel of the original: a tinkling piano near the entrance, thin candles on the tables. I order rillettes of rabbit with pickled radishes, followed by a vol-au-vent of kidneys, sweetbreads, black truffles, and baby carrots. It's a fine meal, but the real star here is the place's see-and-be-seen energy. Speaking of which…
Neal's Yard, a colorful bohemian alley in Covent Garden
A quick hop west takes me to the Apollo Theatre, which is running the hit musical Everybody's Talking About Jamie, a coming-of-age story about a schoolboy who longs to become a drag queen—basically, Billy Elliot in heels. It's a charming, lively production that has people grinning and bobbing in their seats.
I end the night at the Rosewood London's jazz bar, Scarfes, named for satirical cartoonist Gerald Scarfe, whose creations decorate the walls. While there's a clubby refinement to the place—high ceilings, low lighting, antique books—the atmosphere is far from stuffy. I take an armchair in a shadowy corner and attempt to read the menu. The cocktails are named after celebrities the bar's namesake has lampooned; I summon the waiter, point at a sketch of Alfred Hitchcock, and say I'll have one of those. The drink, a tequila-based concoction called A Bird in the Hand (get it?), comes topped with a bird's nest. It looks cozy.
An hour or so later, I'm in my room at the Ham Yard, gazing at the tailor's dummy standing near the gray-green striped wall, the forest-scene fabric on the headboard, the small monkey riding a unicycle across the carpet. In fairness, that final touch may have happened after I fell asleep.
Day 2
Perusing the posh shops and restaurants of Chelsea and Notting Hill
Certainly, there was nothing like Chel-Ski back then. Situated in a former warehouse for the Christopher Wray interiors store, this indoor ski center was opened a few years ago by Wray's son, Ben. So it is I find myself, before breakfast, slaloming on a huge lubricated treadmill. The velocity and gradient are adjusted according to the ability of the skier. For me, the instructor keeps the dial on "Nervous Baby," but I still emit a succession of noises that call to mind Johnny Rotten's debut gig at the Roebuck pub, circa 1975.
Brunch is a more sedate affair, in a plant-filled atrium in the popular Ivy Chelsea Garden, where I have a juicy rib eye, seated across from the impeccable Olivia Newman-Young, who has agreed to show me around the neighborhood. A makeup artist and onetime cast member of the reality show Made in Chelsea, Newman-Young has a pedigree such that even the chillingly exclusive nightclub Raffles doesn't faze her. "It's meant to be members-only," she says, barely looking up from her tuna carpaccio, "but you can get in if you're the right kind of person."
"As well as being a playground for punks and princesses, the Kings Road has long served as a catwalk for local kooks."
With this, she leads me along the Kings Road, pointing out stuff she likes along the way—The Kooples for fashion, the Bluebird ("obviously") for food. She's been going out here since her teens and recalls many a fun night at places like Jak's Bar, "where all the posh kids go to let loose." As well as being a playground for punks and princesses, the Kings Road has long served as a catwalk for local kooks. "I love the Chelsea grandmas, wearing the clothes of a 20-year-old and looking fabulous," Newman-Young says. "You don't get that in Shoreditch."
An antiques shop on Portobello Road
I leave Newman-Young at Sloane Square and head into the Saatchi Gallery, which is housed in a grand 19th-century building and puts on exhibitions that skew heavily toward the inscrutable. The first thing I see upon entering is a huge canvas by Los Angeles–based English painter Danny Fox, a naïve depiction of two seated women titled Planned Parenthood Waiting Room. It has a touch of Gauguin to it, but also a touch of off-kilter dilettante. Very Saatchi.
Wandering toward Kensington, I come across The Map House, a treasure trove that has counted Winston Churchill and Ernest Shackleton among its customers. One wall contains a 19th-century "Poverty Map of London" with a color-coded index ranging from yellow ("wealthy") to black ("vicious, semi-criminal"). Nearby is a 17th-century map of the world—which, the dignified store clerk informs me, is valued at £950,000. I ask how long it has been hanging there, and he gives me a thin smile: "A while."
If it's an impulse buy you're after, you may be better off at the nearby Conran Shop, a colorful lifestyle showroom established by one of Britain's most influential designers, Sir Terence Conran. The store is located in the Michelin House, a tiled-and-domed Art Nouveau masterpiece that was built as the tire company's British headquarters in 1911.
In the same building is another celebrated Conran enterprise, Bibendum. Opened three decades ago and recently relaunched with French master Claude Bosi at the helm, the restaurant has already earned two Michelin stars. However, I opt to eat downstairs, in the building's old forecourt, at the Bibendum Oyster Bar, a less formal space with intricate tilework and a menu that makes you eat like a whale (I get a seafood platter over-flowing with fresh crab, oysters, shrimp, and cockles).
Next, I head to the new Harry's Dolce Vita, which looks like a bar from a 1930s railway station and has a staff that greets you like a long-lost friend. As I scan the menu, a white-coated bartender suggests I try an Infinite Negroni, explaining that the ingredients are determined by rolling three dice—one for the type of gin, one for the vermouth, and one for the aperitivo. "It is a gamble," the bartender says, deadpan. I roll the dice (Occitan London Dry, Bordiga, Aperol), raise my glass to a photo of Sophia Loren, and take a sip. We have a winner!
The Design Museum
A quick cab ride takes me to the Design Museum, which opened its new Kensington home to great fanfare in 2016. The museum pays homage to high design (there's a Ferrari exhibition on when I visit), but the real joy is in the everyday objects—telephones and turntables, computers and cameras—that have become redundant in terms of function but have been saved from the trash heap thanks to their being easy on the eye.
Next, I cut through Holland Park, whose narrow pathways crisscross thick woodland, creating the illusion that you're in the countryside—until you come across the refined Japanese garden, or the remnants of a Jacobean mansion, or one of the many peacocks roaming around. Emerging from the park's northern end, I head up toward Notting Hill, stopping to ogle a gorgeous aqua-marine overcoat at Paul Smith Westbourne House, then hit Portobello Road, which on the weekends is a carnival of musicians, antiques stalls, and street food vendors, and is also home to scores of trendy shops, restaurants, and bars.
"Portobello Road on the weekends is a carnival of musicians, antiques stalls, and street food vendors."
For a pre-prandial drink, I've opted for Trailer Happiness, a quirky basement tiki joint that's become a local institution. I sit at the bar and order a Hell in the Pacific, a sweet and alarmingly potent rum drink that, the bartender tells me, will pick me up. "Or knock you down," says the Irish guy next to me.
Dinner is at 108 Garage, a refurbished auto shop with industrial-chic decor that's offset by a large portrait of Henry the Pious. Chef Chris Denney, a onetime art student and pot washer, opened this spot along with his colorful business partner, Luca Longobardi, in 2016, with little money and almost no advance publicity. Yet, within a few months, 108 Garage had emerged as one of London's hottest eateries (it claimed Tatler's Restaurant of the Year prize for 2018) and Denney as one of its hottest chefs.
Tonight, Denney works the kitchen as if playing an extended game of whack-a-mole. I sit at the counter, trying to keep up with the hail of dishes placed before me: hogget loin with a lamb-tongue lollipop; crispy pig head with wild watercress; octopus with black garlic, kohlrabi, and harissa. It's a bold, creative meal, but Denney is not one of those chefs who see themselves as the star of the show. "I know it sounds corny, but it's the farmer who does all the work," he says. "We just send the produce on its merry way the best we can."
Bivalves at the Bibendum Oyster Bar
Flagging, I head out for Mayfair and The Connaught, one of the loveliest hotels in London, where I'm met in my lavish suite by James, the butler. I tell him I'd like to check out the famous Connaught Bar before turning in, and he offers to show me the way. I decline but tell him I might need someone to guide me back to my room afterward, a weak gag that elicits a big laugh. Now that's what I call service.
I start the day in Chelsea, at the western end of the Kings Road, contemplating a morning on the slopes. Forty-odd years ago, not far from where I'm standing now, a rabble of proto-punks started milling around a tiny boutique run by a designer named Vivienne Westwood. The World's End shop is still there, its storefront clock spinning backward, but little else remains to remind us that the swanky Kings Road was the birthplace of the Sex Pistols.
Day 3
Getting hip in East London
Today's adventure starts in Shoreditch, an East London industrial area that most people used to avoid but which now boasts the densest concentration of street art and flamboyant facial hair in the city. I exit the Old Street Tube station amid a stream of coffee-clutching humanity—employees, for the most part, of the many tech firms that have set up shop around what is now called Silicon Roundabout.
For breakfast, I pop into Passo, a new venture from the Goodlife Projects, the outfit behind London crowd-pleasers like Love Brunch, Foley's, and Rum Kitchen (a reputed favorite of Prince Harry). Billed as "contemporary LA-inspired Italian," it's a bright, airy restaurant with huge wicker lampshades and soft reggae on the sound system. I order Passo's spin on the Full English: poached eggs, Italian sausage, pancetta, tomato, mushroom, baked borlotti beans. It's a hugely fulfilling meal, but it's going to play havoc with my skinny jeans.
"East London boasts the densest concentration of flamboyant facial hair in the city."
There's time for a coffee at the nearby Strongroom Bar & Kitchen, which is now in its 20th year and has an interior adorned with original works by Jamie Reid, the artist who designed the cover for Never Mind the Bollocks, Here's the Sex Pistols.
Recharged, I keep on toward Brick Lane, which is known for having some of the best curry houses and bagel shops in town, along with a bunch of very cool galleries and shops. The centerpiece is the Old Truman Brewery, a complex of restaurants, bars, and indie retailers, including the Vintage Market, a subterranean warren of multicolored boots, psychedelic shirts, leopard-print skirts, sloganeering T-shirts, and floppy felt hats.
I could spend all day down there, but I have lunch booked at Red Rooster, so I unwind the feather boa from my neck and point myself back in the direction of Shoreditch. An offshoot of Marcus Samuelsson's beloved Harlem soul-food eatery, Red Rooster is located in The Curtain, a hip new hotel with street-style art on the walls, a heated pool on the roof, and a dogsitting service for jet-setting pups.
Marcus Samuelsson's Red Rooster
The restaurant's interior is an artful clutter of mismatched furniture and playful signage presided over by an unflaggingly cheerful wait staff. I order the B.E.C. Biscuit to start (with pork belly, egg, and parmesan), followed by the Fried Yard Bird, crisped to perfection and served with yams, hot honey, collards, and green beans. After a meal like that, a man should really undo his trouser button and go sit on a porch. But I'm going to go get my hair cut in a pub.

The Gunmakers, in nearby Clerkenwell, has a lot going for it: great beer, delicious food. It also has a tiny hairdressing studio in the attic. Sipping a Banana Boulevardier (bourbon and banana liqueur), I ask the owner, Tim, to give me something a little different—buzzed at the sides, shaggy on top—after which the talk turns to the collision of barbering and booze, and whether this is a good idea. "If someone comes in a little drunk and asks me to do something dramatic," he says, "I might suggest they come back another time." That said, he gives me the 'do I asked for, and everyone's happy.
From here I stroll over to Farringdon, another area that has seen a slew of hip openings in recent years. I pop into Fergus Henderson's nose-to-tail eatery, St. John, near the historic Smithfield meat market, for a cup of tea with Max Fraser, a consultant for the London Design Festival and author of several books on the subject. A local, he has offered to show me around the area.
The sundial in Covent Garden's Seven Dials
"London has so many layers," he says, nodding at the restaurant window. "Just outside here they used to march the cattle into Smithfield, then sold them upstairs. This restaurant is built under a smokehouse. The city moves on." So do we: to The Charterhouse, a complex of buildings dating back to the 14th century. "Charterhouse is built on a plague pit," Fraser says, pointing at a patch of grass. "Now there's a Crossrail station being built here. Imagine what they found!"

From The Charterhouse, we walk past the Fox & Anchor pub, where the doors open at 7 a.m. on weekdays to accommodate the Smithfield porters who have been drinking here for generations, then make our way to St Bartholomew the Great, which was founded in 1123 and today stands as one of the finest Norman churches in England. Inside, amid the pitted pillars and Romanesque arches, is a fresh, eye-catching addition: a gilded statue of a man holding a scalpel and a pair of scissors, with his skin draped over his right shoulder. This is Damien Hirst's Saint Bartholomew, Exquisite Pain, on loan from the shark-pickling artist.
One of the city's enduring red phone booths
I say goodbye to Fraser and head off to the recently opened Smoking Goat, a "Nu-Thai" eatery that serves small dishes inspired by Bangkok's late-night canteens. The stripped-down dining area is jammed with a chatty after-work crowd, which makes life complicated for the servers, who bustle back and forth with plastic plates of "drinking food"—chicken hearts, Cornish octopus, beef sausage, chili fish sauce chicken wings, crispy mackerel, steamed oysters. Eating this food feels like an adventure, and not only because there's so much of it—apparently, Bangkok's after-hours diners like their snacks with a zing.

I have a comfortable bed waiting for me at The Curtain, but all that drinking food has left me wanting a nightcap. The best place to get one, I decide, is the stylish basement bar Happiness Forgets (motto: Great Cocktails, No Wallies). I plant myself on a stool and order a Two Doors Down. I don't recall what went into the drink, but I do remember that I enjoyed it, and that I was happy, and that I stayed that way long after the night had come to an end.
Rio: A dream come true
Each week we will profile one of our employee's adventures across the globe, featuring a new location for every employee's story. Follow along every week to learn more about their travel experiences.
By HOU Quality Control Aircraft Inspector Rey Sacueza
When I was a schoolboy, I wished and dreamt of visiting Rio de Janeiro. But wasn't sure it would ever happen. Though everything changes when you make a goal for yourself in life and pursue your dream. This dream finally became a reality a few days ago, and I thank United for giving us the opportunity for it to come true.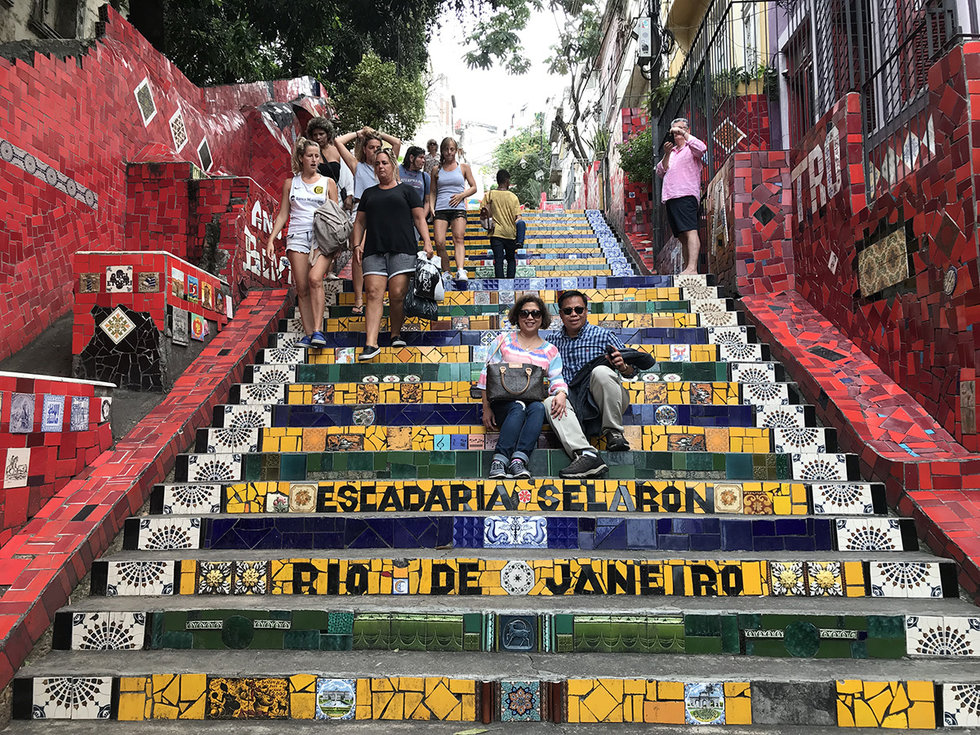 Our journey started when we flew to Rio de Janeiro from Houston, an overnight flight crossing the Gulf of Mexico, the Caribbean Sea, northern South America and part of Brazil. We landed late in the morning and, upon arrival, the adventure began. Everything was smooth, from the airport to our hotel, located in the center of Copacabana beach at the Avenida Atlantica. Along the way, the views were fantastic with both mountains and water in sight, which made me excited.
A few hours after arriving, I was so eager to explore and stroll the streets of Rio, which displayed different mosaic designs on sidewalks. We attended late afternoon mass at the Our Lady of Copacabana church and ate dinner at Marius Degustare, a Brazilian seafood and steakhouse located on the northern end of the beach, a few blocks from our hotel. Here, we drank local beer with our sumptuous meal and went back to the hotel with full stomachs for the night.
Over the next few days, we toured and explored the city with our first stop at the famous Christ the Redeemer (Cristo Redentor) statue, one of the New Seven Wonders of the World. It is located on the peak of the Corcovado Mountain, and there you can experience the amazing view of the city and surrounding area. The statue itself is unbelievable in size, and people from around the world, from all walks of life, come to see it. It is indeed one of the world wonders and an experience of a lifetime just to be there.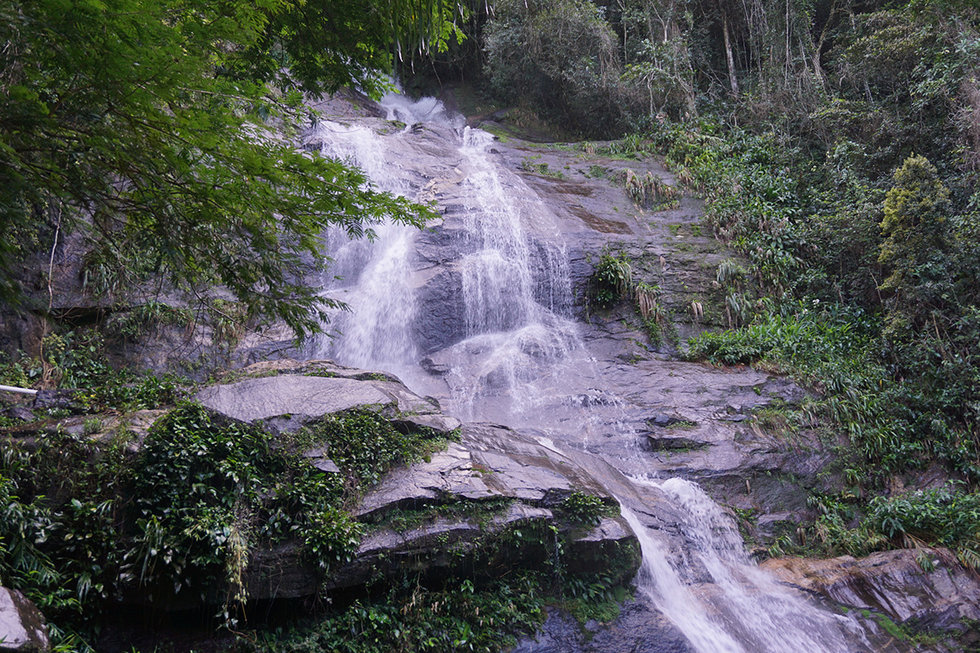 Next, we went to the Sugarloaf Mountain -- just hop on the cable car to reach the top. Along the way, on display at the Morro da Urca hill, you can see the cable car used in the making of the James Bond movie "Moonraker." At the top, we explored the 360-degree vista and unforgettable views of the Copacabana beach, Christ the Redeemer at the peak of Corcovado Mountain, Macaranã stadium and more. The view is amazing and picture perfect, it could've been a postcard.
We then headed to Macarana stadium, the venue that hosts Brazil's most popular sport, soccer, and where international, national and local games are held year round. We walked the Sambadrome, where samba parades are held during the carnival every year. Tens of thousands of people participate as either spectators or performers during this major event in the city. We also toured the cone-shaped cathedral known as the Metropolitan Cathedral, a major landmark and a masterpiece of modern art. We climbed the Escadaria Selaron, probably the most fascinating staircase in the world, where tiles from around the world were collected or donated for the project and now make up one of Rio's top attractions and touristic spots. The last place we visited on this tour was the Sao Bento Monastery, which is one of the most beautiful architectural complexes in Brazil.
Our adventures continued as we did an early morning hike through Tijuca Rainforest with our guide at the Bom Retiro trail, hiking through narrow trails, towering trees, passing by the waterfall and making our way to the "Pico da Tijuca." At 3,353 feet, it's the highest point of Rio de Janeiro. From this unparalleled vantage point, we enjoyed spectacular views of Rio, Guanabara Bay and other city sights like the Maracanã and Engenhão stadiums and surroundings. On the way down, we passed "Vista Chinesa" from where you can view the Corcovado and Two Brothers Mountains and the other part of the city.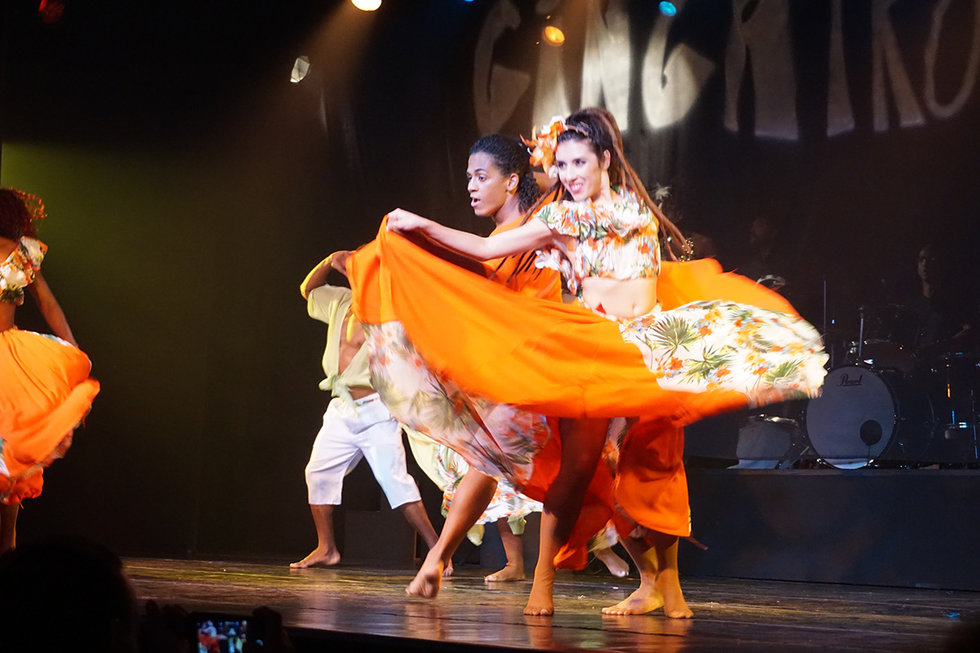 During the evening, we enjoyed an all-you-can-eat feast at a Brazilian steakhouse and washed our food down with the famous local drink caipirinha. Afterward, we experienced the Ginga Tropical, a Brazilian samba and folklore Show, with authentic Brazilian music and dance styles including samba, bossa nova and lambada. We got to experience the vitality of Carnival with dancers, festive costumes, live drumming and rituals from various regions of Brazil.
In search for a hang gliding experience, we took a trip to São Conrado Beach. The launch point is at Tijuca Forest National Park. You glide over the lush, verdant Mata Atlantica (Atlantic Forest) and touch down on the beach of São Conrado. During the glide, you see some of Rio's most famous landmarks such as Sugarloaf Mountain, the Rocinha Favela and the Christ the Redeemer statue atop Corcovado Mountain. It's an unforgettable and amazing experience with a bird's eye view of the city.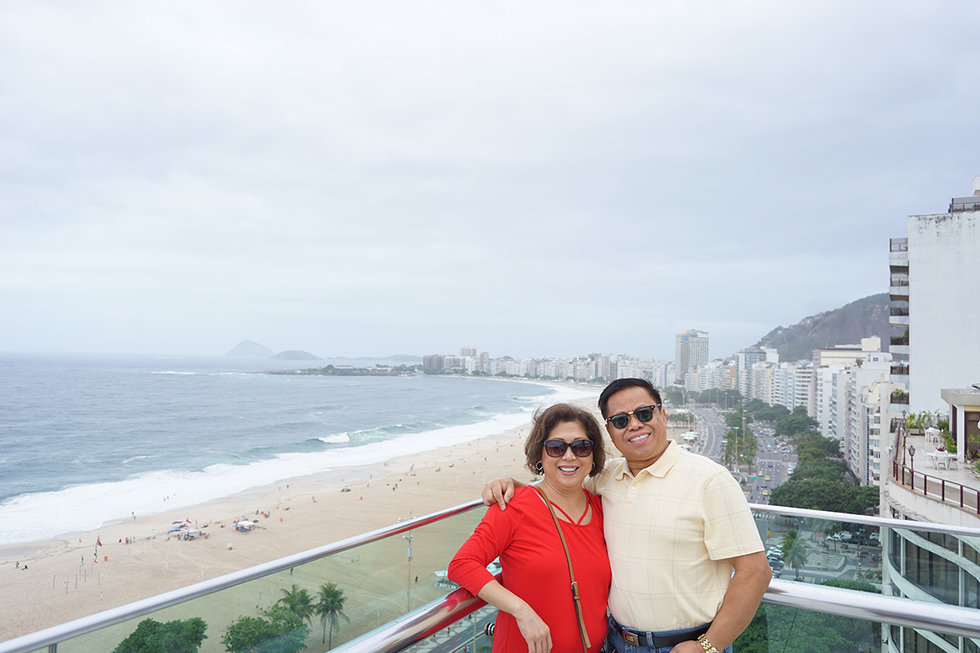 After days of exploring and adventures, we wound down with an early walk to one of the most famous beaches in the world, Copacabana Beach. We decided to stay and relax and enjoy the beach, sights and surroundings. At the beach, be prepared to see more skin than clothes – on men and women of all ages! There were also many peddlers trying to sell things to tourists. We swam in the cold water of the Atlantic Ocean and later slept with the sound of splashing waves on the shore. What a wonderful feeling, ending this trip on such a positive tune.
The city of Rio de Janeiro has a lot to offer, and there is never enough time to experience it all, but with the time we had we created a lifetime of wonderful memories in this amazing city.
United and Special Olympics
Taking inclusion to new heights
Our shared purpose is to connect people and unite the world — and no organization better embodies that principle than Special Olympics.
Learn more
3 under the radar places to travel to in October
For travelers who enjoy cooler temperatures and fall festivals, these are the perfect under-the-radar destinations to check out this October.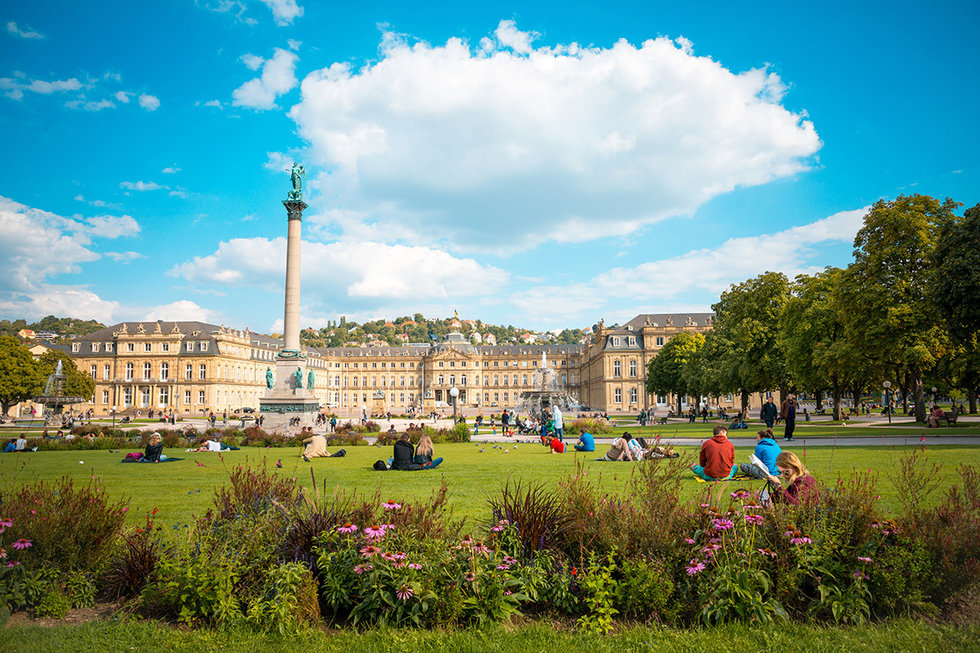 Stuttgart, Germany
Head to Stuttgart in Southern Germany to experience a combination of German culture and a passion for fast cars and innovation. Here, you'll also find the country's second largest beer festival. It's considered the ideal home base for exploring the Black Forest mountain range and its surrounding towns. Throughout the city, historic government buildings coexist with contemporary architecture with green spaces and parks galore. Germany's sixth largest city is also home to the Porsche and Mercedes-Benz headquarters, both of which have impressive automobile museums that are open to the public.
What to do
The main event attracting visitors in October is the Stuttgart Beer Festival. Second in size only to Munich's Oktoberfest, this fairground-style festival presents more activities for all ages. There are still plenty of beer tents for adults, as well as theme-park style rides for kids. Everyone will enjoy the authentic German food stalls, music and dancing.
Stuttgart is also home to two car museums, the Mercedes-Benz Museum and the Porsche Museum. You don't have to be a car buff to enjoy their contemporary architecture and elegant interiors, both of which feature impressive collections of pristine historic cars. Visit Market Hall Stuttgart in the city center to peruse booths and stalls from local farmers, restaurants, producers and artisans. Another unique Stuttgart attraction is the Wilhelma zoological-botanical garden, which houses the largest collection of exotic animal and plant species in Europe. Spend a leisurely afternoon strolling through Wilhelma's many gardens and footpaths, which were previously a king's private retreat.
Getting there
Our Star Alliance™ partner airlines offer service to Stuttgart (STR) from multiple U.S. cities, including direct flights from New York/Newark (EWR).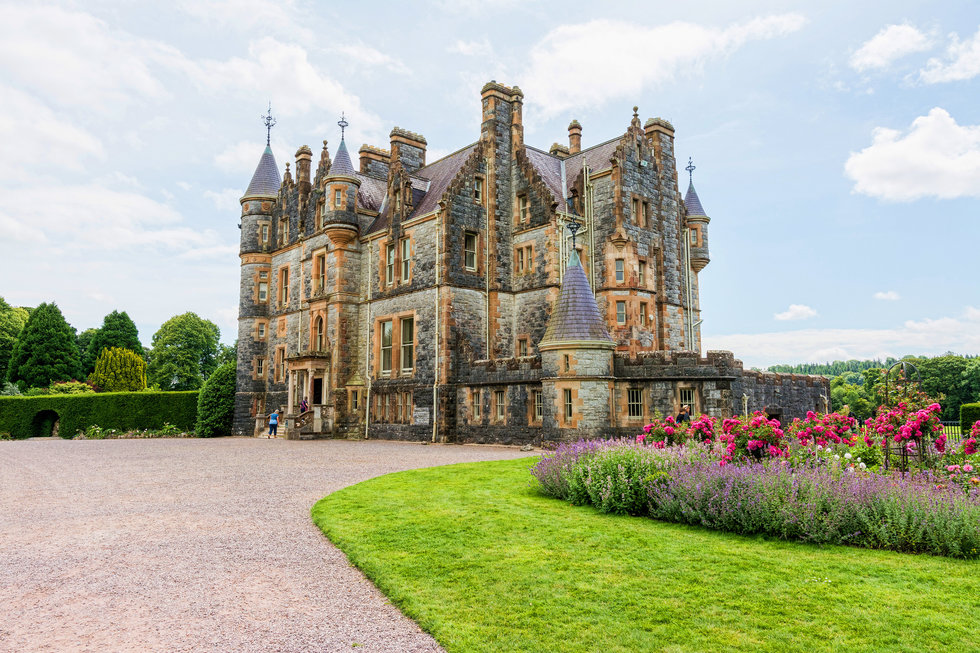 Cork, Ireland
Jazz, food and friendly locals in Ireland's unofficial capital
Often overshadowed by Dublin, you might be surprised by everything that Ireland's second-largest city has to offer. Some even refer to Cork as the unofficial capital of Ireland. The city's smaller footprint makes it easier to navigate, and Cork's genuinely friendly locals are more than happy to rub elbows with visitors at its cozy pubs and restaurants. Cork was even recently named the world's third friendliest city by Condé Nast Traveler, and October is an especially good time to visit. Cork's long-running jazz festival brings international talent and well-known acts to the stage. Lastly, Cork is known as Ireland's food capital thanks to its many world-class restaurants and delicious local specialties.
What to do
The Guinness Cork Jazz Festival held at the end of October gets a little bigger and better every year. The music festival has been running since 1978 and welcomes famous talent and up-and-coming jazz performers alike. It kicks off with a jazz parade that winds its way through the city streets. If you're not a jazz enthusiast, The Fringe Festival runs in parallel with live theater and musical performances from other genres.
The heart of the city's lively food scene is the English Market, an 18th-century covered market that's Ireland's most famous food emporium. Shop for produce, meat and other provisions alongside Cork's chefs on the ground level, or sample traditional Irish fare at restaurants on the second floor. After you've had your fill, make your way to one of Cork's most popular and peculiar attractions — Cork City Gaol — a castle-like building that was once a 19th-century prison. Ireland's famous Blarney Castle (and home of the Blarney Stone) is also just a 20-minute drive from Cork.
Getting there
United and our Star Alliance™ partner airlines offer services to Cork (ORK) from multiple U.S. cities.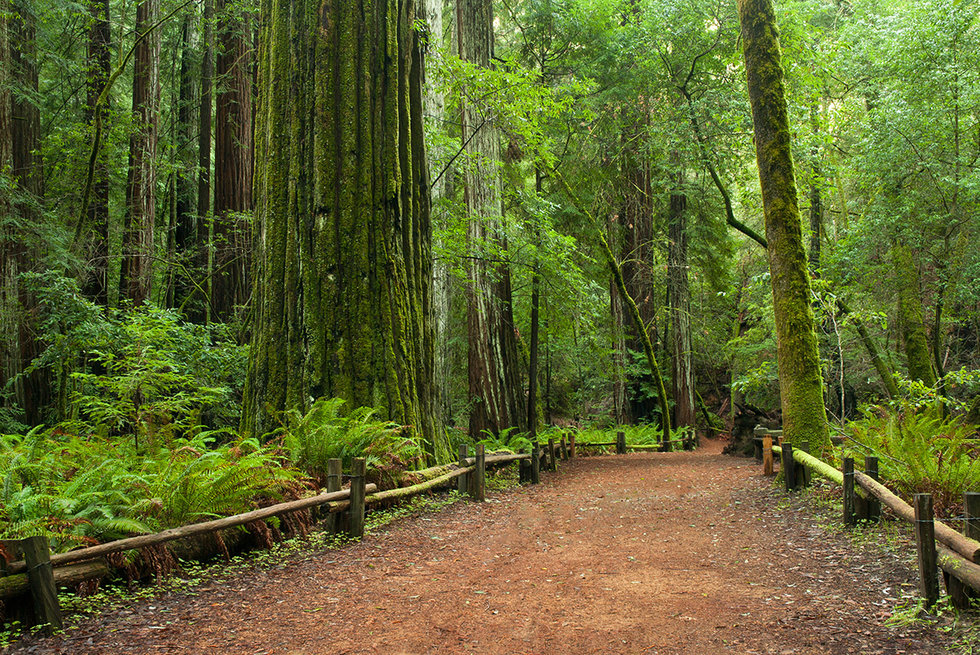 Guerneville, California
An underrated Sonoma destination with rustic charm
Though Sonoma welcomes fewer visitors come October, wine country is a popular year-round destination. Do as the locals do and head to Guerneville for a charming wine country getaway, just a 90-minute drive from San Francisco. This rustic ex-logging town in the Russian River Valley has welcomed several new restaurants, art galleries and shops over the last few years. Spend your time visiting tasting rooms at the many nearby wineries. Stroll underneath majestic coastal redwoods in the 806-acre state park just a few minutes from town, or pop into the eclectic storefronts along Guerneville's Main Street. This casual, unpretentious town is an ideal destination for a couple or a relaxing getaway with a group of friends.
What to do
Guerneville sits in the heart of the Russian River Valley, where pinot noir and chardonnay grow plentifully in the cool climate. More than 50 wineries are within a 20-minute drive. Between established Champagne houses like Korbel to the many family-owned wineries dotting the region, you can easily spend a day or two sampling the region's wines while taking in the valley's scenic vineyards. Beer lovers can make the short trip to Russian River Brewing Company, one of California's most well-known craft breweries.
Back in town, enjoy the retro vibe strolling along Guerneville's Main Street. From antiques and used books to clothing and collectibles, you'll find an eclectic variety of shops and boutiques. The Main Street dining scene has many options, including San Francisco-inspired farm-to-table bistros and more casual, laid-back eateries with live music. To see the nearby redwood forest, head north, just a short drive to the Armstrong Redwoods State Natural Reserve. The reserve has many self-guided trails ranging from an easy one-mile walk to a more strenuous nine-mile hike. The Russian River runs right next to Guerneville, where outdoor adventurers will enjoy fishing, kayaking or swimming.
Getting there
United offers service to San Francisco (SFO) from multiple U.S. cities. Guerneville is a quick 90-minute drive from San Francisco.
What to do in Zurich
Passion Passport is a community-based website that tells meaningful travel stories and facilitates global connections. Our team hails from across the United States and Canada and is always up for an adventure. To learn more about where we're going and what we're doing, visit our website: PassionPassport.com
On the surface, Zurich, Switzerland, is known for banking and finance — but those who dig a little deeper discover just how enchanting the city really is. If you have the opportunity to visit, check out some of our favorite spots in this charming, upscale destination.
Enjoy the view
Known for its scenic environments and outdoor attractions, Zurich is a perfectly walkable city. The waterfront is also a great location for picnicking and sailing. To refuel after your lakeside adventures, head to one of the area's charming restaurants — we loved Seerestaurant Quai 61 and Fischers Fritz.
After you've refueled, embark on a shopping trip for Swiss goods and souvenirs in Bahnhofstrasse, a thoroughfare that connects Lake Zurich with the city's main railway station. Home to an array of boutiques and department stores, this area presents countless opportunities to soak up the surrounding views.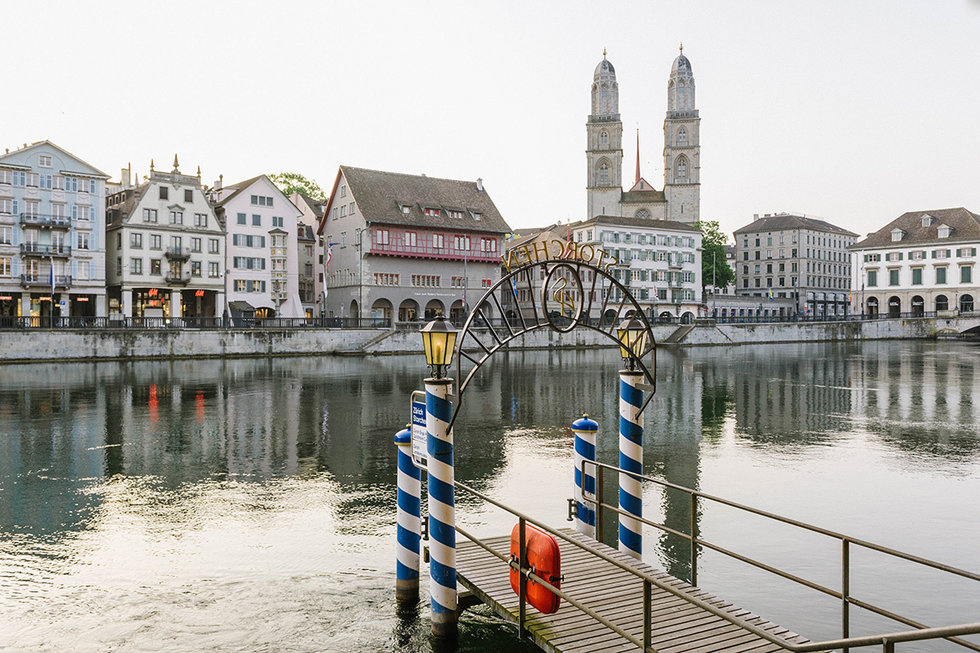 Since Bahnhofstrasse is a highly popular locale, you'll get a more intimate experience if you venture off of the main thoroughfare and explore the areas of Augustinergasse and Rennweg Street. While they are home to a number of beautiful shops, they also acted as the city's most significant streets during the Middle Ages. Today, the popular areas are filled with boutiques, but photographers will attest that the historic, pastel buildings are now the streets' biggest draw.
For a closer look at Zurich's history, visit one of the city's most famous landmarks: the Grossmünster Cathedral, a Protestant church dating back to 1100. If you climb to the top of one of the building's two towers, you'll be greeted with views of Zurich's lake and rooftops beyond.
Another one of Zurich's famed churches is St. Peterskirche, which also happens to be the oldest in the region. Built in the ninth century, St. Peterskirche is home to the largest clock face in all of Europe, measuring 28.5 feet (8.7 meters) in diameter. The tower also features five bells that date back to the late 1800s. Visitors can explore the stunning clocktower and tour the church's minimal — yet historical — interior, which features remnants of a medieval mural.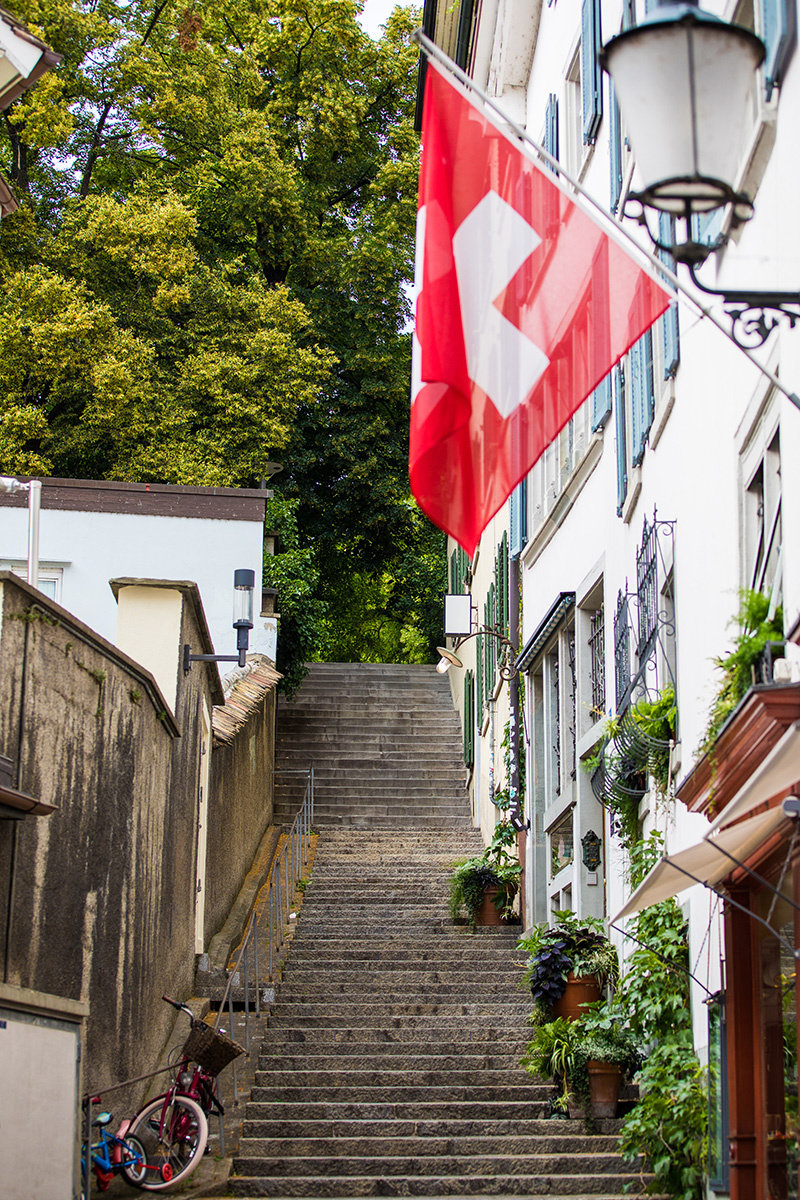 Swiss flag along stairwell in Zurch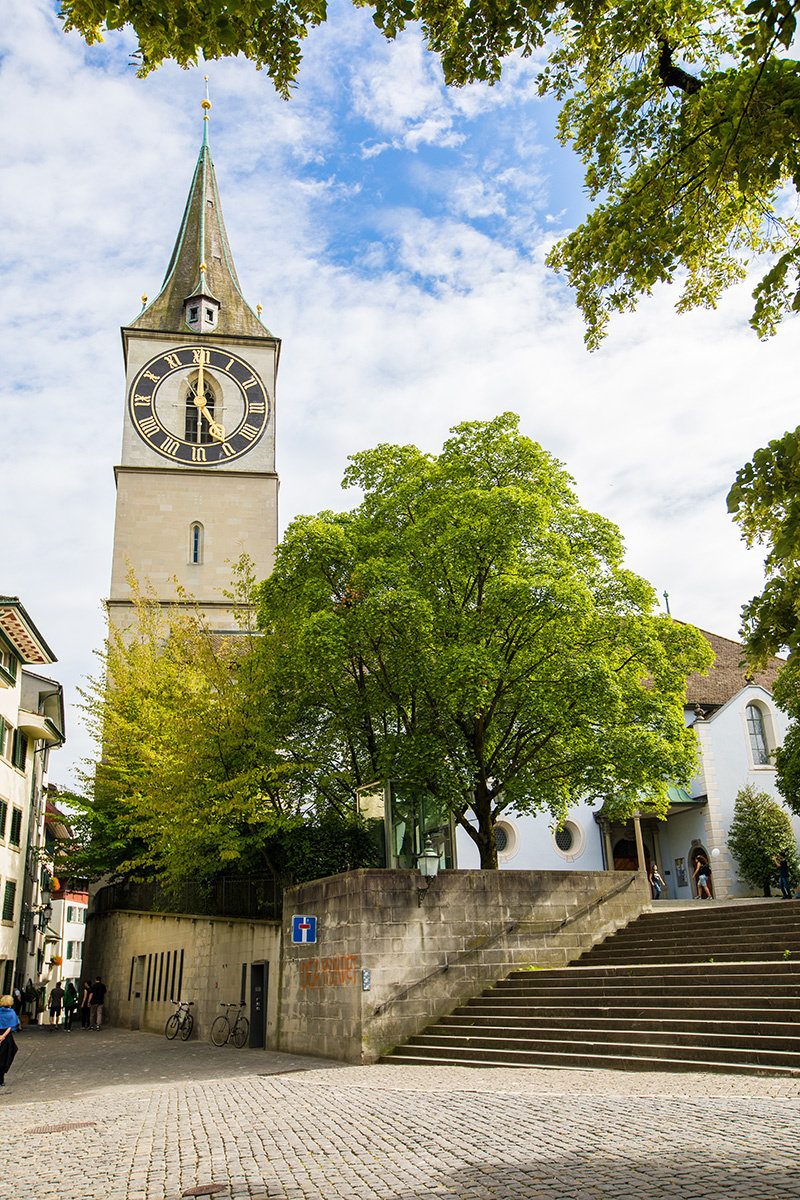 St. Peterskirche in Zurich
Taste the traditions

No visit to Switzerland would be complete without sampling the country's sweetest delicacy — chocolate. Zurich's famous confectioner Confiserie Sprungli is a dream for visitors with a sweet tooth. With a legacy of over 175 years, the shop's popularity endures with delicious handmade desserts ranging from truffles to cakes.
Another favorite of ours is Zeughauskeller, a locale serving traditional Swiss cuisine and local beer. Built in 1487, Zeughauskeller is also historically significant, as the building was initially used to store weapons in medieval times — though in 1926, it evolved to be a welcoming social spot for hungry patrons. As an added bonus, the menu is traveler-friendly — meaning it's written in eight different languages — and includes Zurich specialities like zürcher geschnetzeltes (sliced veal in gravy) and rösti (Swiss hash browns).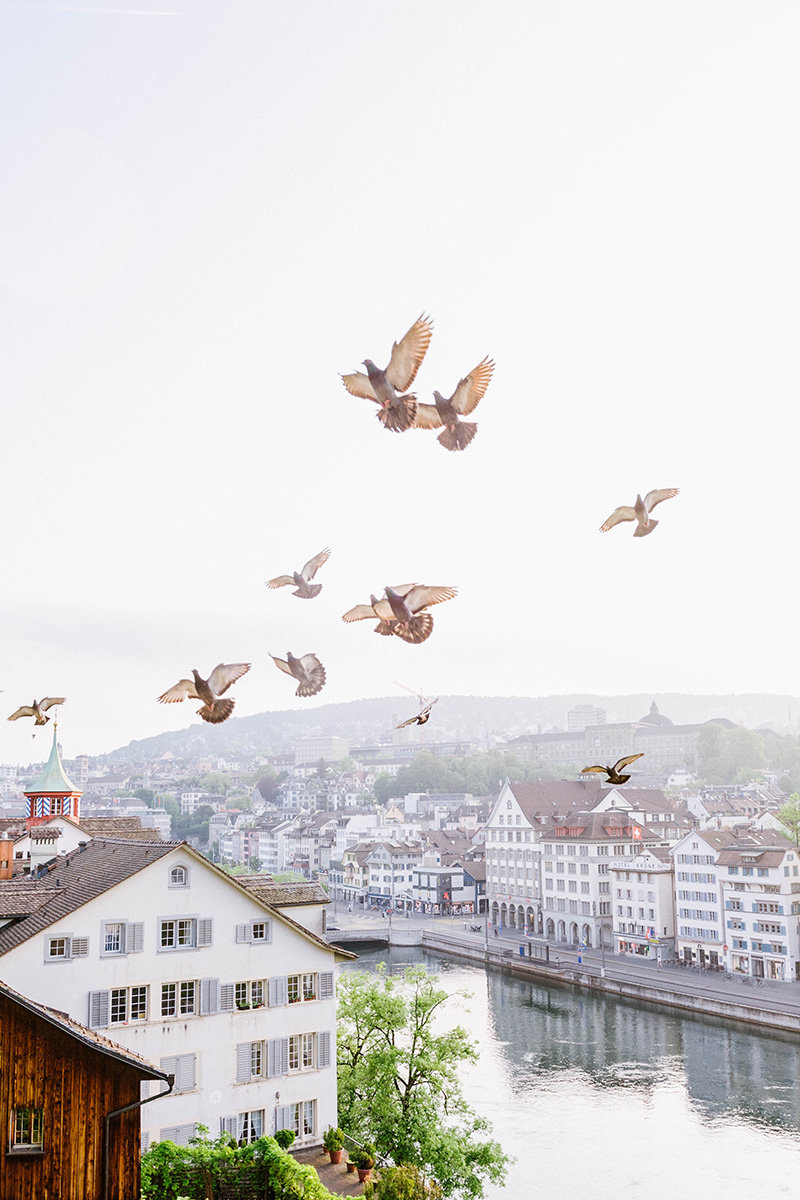 Bask in beauty
After taking in Zurich's stunning sights, you might want to view them from an entirely different perspective. If that's the case, consider embarking on a Limmat River Cruise. While riding a motorized boat along the Limmat River, you'll pass the quaint features of Old Town and Lake Zurich — so be sure to bring your camera along! A round-trip cruise lasts about 50 minutes and costs 4.40 CHF (roughly 4.43 USD) for adults.
Regardless of what time of year you visit, Zurich always has plenty to offer.
Great places to enjoy a Fall weekend
Just because summer is nearly over, it doesn't mean that the travel season is over. Cities across America continue their efforts to attract autumn tourists wanting to take a trip somewhere new. Here are seven cities that offer plenty of things for you to do over a weekend.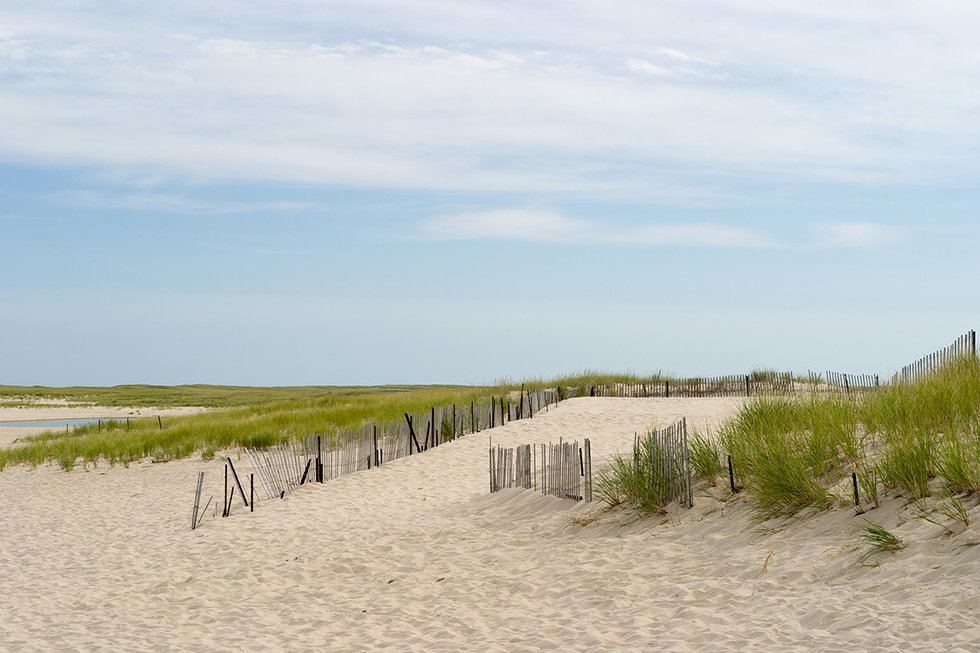 Cape Cod, Massachusetts
This region, located on a hook-shaped peninsula, is known mainly for its beaches and busy summer season. While fall is still warm enough to visit the beach, there's even more to do with less crowds and no "Cape traffic". There are plenty of fall festivals to choose from to celebrate the season. From the 6th Annual PumpkinFest to Martha's Vineyard Food and Wine Festival — there is no shortage of events. Additionally, take a free, self-guided walking tour on the 1.6 mile Kennedy Legacy Trail, which celebrates the role the family played in the history of Hyannis and Cape Cod. Or visit the Hyannis HyArts Cultural District, home to local artists, galleries, concerts, theatrical performances and classes year-round. Indulge in the bounty of the sea at restaurants like Hyannis institution Cooke's Seafood, known for its fried clam strips, or Ocean House if you want to enjoy a meal with a view.
Denver, Colorado
The Mile High City has recently become one of the hottest craft brew cities in the country. Be sure to check a few out on the Denver Beer Trail, which covers more than 100 brewpubs, breweries and taprooms. Beer lovers should plan their trip around the Great American Beer Festival that takes over Denver in September with brews from 800 breweries. Take a stroll or a shuttle bus down the 16th Street Mall and indulge in outdoor cafes, shopping and the D&F Tower, a two-thirds replica of the Campanile of St. Mark's in Venice built in 1909. Depending on the venue's schedule, you can also catch a concert at the city's famous Red Rocks Park & Amphitheatre or hike the trails around the park which is especially beautiful in the fall. Other must-see places include the Colorado Railroad Museum, Denver Union Station and Punch Bowl Social, a restaurant and entertainment venue that used to house the old Stapleton International Airport's air traffic control tower.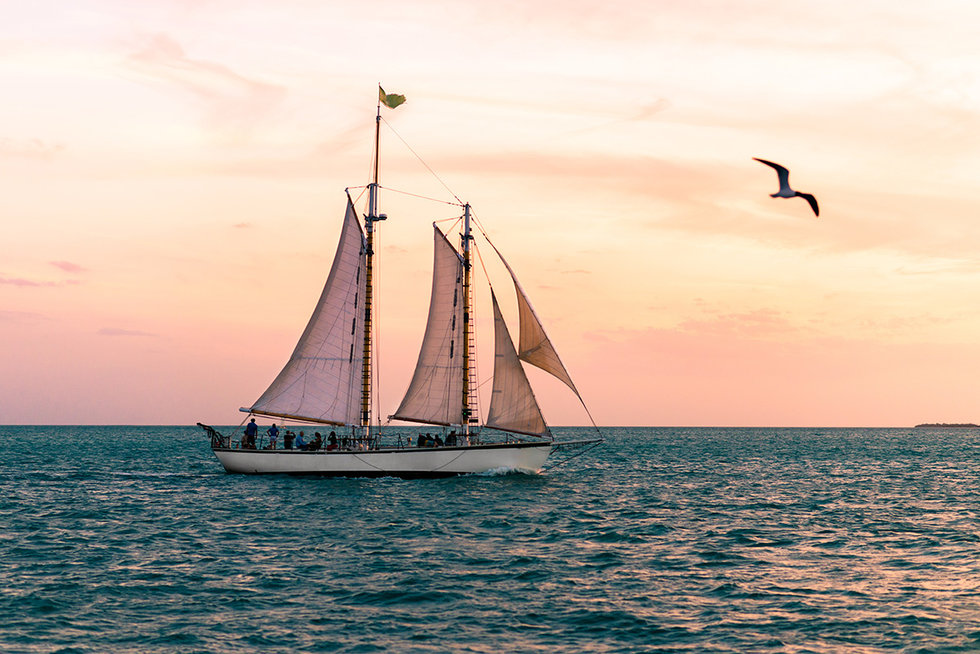 Key West, Florida
Florida's southernmost point — a mere 90 miles from Cuba — is known for its diving, snorkeling and beaches. And visiting during the fall means the humid summer months are over, bringing cooler ocean breezes and refreshing water temperatures making outdoor activities great options. Go on a sunset cruise, take a tour of the island on a wave runner, participate in a pub crawl or rent a moped, a scooter or a bike to explore the Keys. Sunbathe at beaches like Fort Zachary Taylor, an 87-acre state park that is home to a pre-Civil War Fort. And make sure to visit author Ernest Hemingway's home, where he lived from 1931 to 1939 and where he wrote a few classics including the novel, To Have And Have Not.
Memphis, Tennessee
The tagline for this Southern city is the Home of Blues, Soul and Rock 'n' Roll. You can hit iconic locations covering all three by visiting the Blues Hall of Fame, the Stax Museum of American Soul Music and Sun Studio, the birthplace of Rock 'N' Roll. Walk down the city's iconic Beale Street, where you can check out bars, restaurants, clubs and shops. Take a cruise on a Memphis Riverboat and indulge in a barbecue dinner at the famous Rendezvous. Cooler temperatures also mean a variety of festivals to choose from, including Gonerfest, — Goner Records' annual music festival —Mempho music festival, Memphis Pride Festival and more. And no visit to Memphis is complete without visits to the National Civil Rights Museum at the Lorraine Motel where Dr. Martin Luther King Jr. passed away and Elvis Presley's Graceland.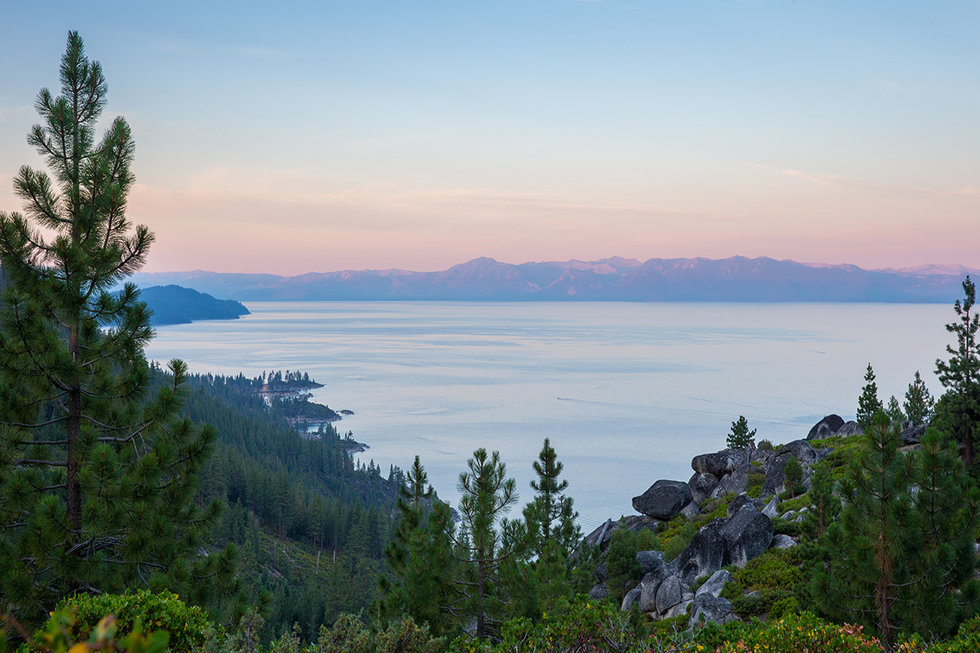 Lake Tahoe, Nevada
Located 154 miles north of San Francisco, this region is mostly known for ski resorts like Squaw Valley, home of the 1960 Winter Olympic Games. But there are still plenty of things to do in the fall with fewer crowds and off-season specials with lower prices. For example, take a hike along the 1.9-mile Lake of the Sky Trail, ride on the M.S. Dixie II Paddlewheeler or play a round of golf at the Lake Tahoe Golf Course. But the best way to take in all that Lake Tahoe has to offer is to do the 72-mile most beautiful drive in America, where you can take a ride on the Heavenly Gondola, visit the historic Donner Memorial State Park or try your luck at the Crystal Bay Casino.
Shenandoah National Park, Virginia
Shenandoah National Park is located 124 miles west of Washington, D.C. and one of the best places in the country to enjoy fall foliage along the 105-mile Skyline Drive. View the leaves changing colors and enjoy beautiful scenery by going on a hike in the park — home to 101 miles of the Appalachian Trail along the ridge of the Blue Ridge Mountains. Take a guided tour through Luray Caverns, a series of large rooms with 10-feet-high ceilings, stone columns and pools. Go horseback riding or do a tour of the Blue Ridge Whisky Wine Loop, which showcases the region's wineries, a whiskey distillery, breweries and dining.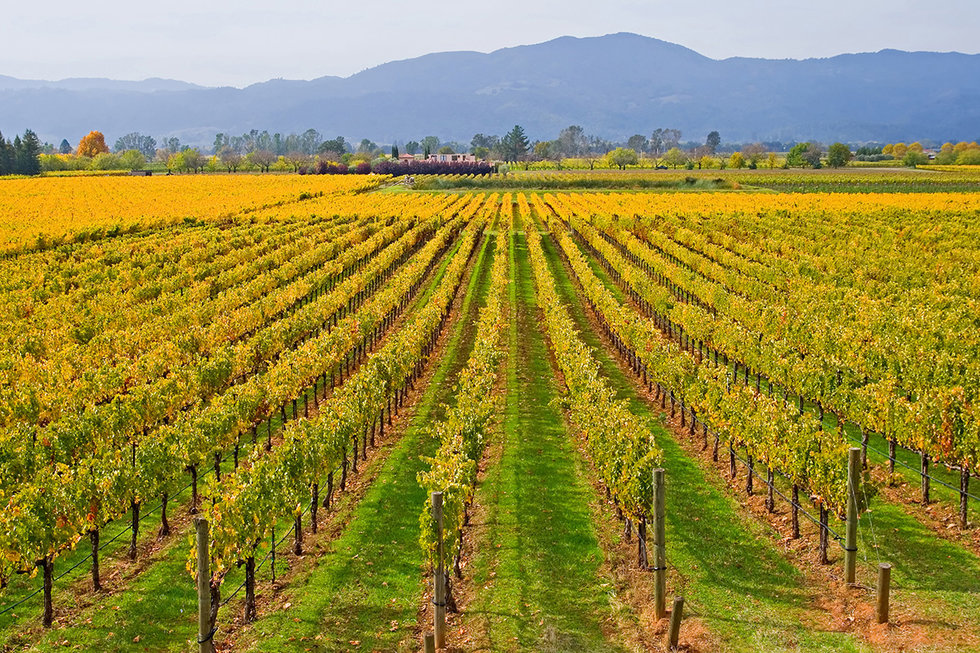 Napa, California
It's a given that you'll do a wine tasting or two in this world-famous region, though keep in mind that during fall months, wineries tend to close by 5 pm so plan to start early. And even if wine tasting isn't for you, witnessing the fall foliage while driving on the Silverado Trail from Napa to Calistoga is worth it. Or indulge yourself by visiting one of Calistoga's wonderful day spas, play a round of golf at the Vintner's Golf Club in Yountville or take a sunrise hot air balloon ride. There are no shortages of delicious restaurants — the valley is home to six Michelin-starred restaurants, including Chef Thomas Keller's French Laundry. Or you can scout out the next generation of dining talent at the Culinary Institute of America's The Restaurant at CIA Copia. If you're looking for a unique wine experience, consider doing the Art in the Afternoon tour at the Robert Mondavi Winery in Oakville, which pairs a tasting with a tour of its world-class collection.
Getting there
When you've decided where to go for your Fall weekend getaway, visit united.com or us the United app, and share your story on social media with the #myunitedjourney hashtag.
We view New Jersey's success and ours inextricably linked
As a proud resident of the New Jersey and New York area for the past thirty years, I know firsthand how vitally important Newark Liberty International Airport is to the success of the communities and families throughout the state – the jobs it creates, the economic activity it generates and the businesses and people it connects to markets around the globe.
We are one of the top ten employers in the state, with 14,000 employees as part of the United family and are Newark Airport's largest airline, together with our Star Alliance partners, account for more than two-thirds of both total flights and passengers. It's obvious that keeping Newark competitive requires a competitive United Airlines.
That's why we've invested more in Newark Airport than any other airline, making both our service and the airport better. We've committed $2 billion in unsubsidized airport investments since 2000 and nearly $400 million over the past two years alone.
Not only are we giving back at the airport, but we are also supporting the communities we call home. This July, we announced two new partnership grants totaling $1 million for the cities of Newark and Elizabeth supporting the Community Foodbank of New Jersey and Urban League of Essex County. These grants will greatly expand opportunities in each city, helping hundreds of young people and adults on the path to meaningful carriers and economic mobility. This commitment complements our longstanding support across New Jersey, from schools to local shelters, to vital community anchors such as the Newark Museum, the Liberty Science Center and New Jersey Performing Arts Center.
We view New Jersey's success and United's as inextricably linked, which is why the negative tone that's been adopted recently has been extremely disappointing. I am determined to get us back on the right track.
Case in point: the discussion regarding our recent decision to transition some of our operations from ABM Aviation to United Ground Express (UGE) has been unfair. Let me clarify a few things.
The current contract held by ABM was up for renewal and we began a competitive bidding process in order to improve our customers' experience at Newark Airport. After our review, we determined that UGE was the right vendor to achieve this for United's passengers and in turn, our overall operation at Newark airport.
To date, we've hosted seven job fairs and received hundreds of applications, many from current talented ABM employees and, we expect our employment figures to remain where they were before the transition to UGE. These newly created jobs will be represented by IAM, one of our union partners.
As a company we believe it's appropriate for the state to determine the minimum wage and as a good corporate citizen we continue to observe and comply with all applicable federal, state and local laws and regulations. We remain committed to treating all of our employees fairly, providing them with competitive compensation and benefit packages which feature a progression wage scale, paid time off (PTO), double-time holiday pay and company subsidized health care plan for full-time employees. Under UGE, employees also receive United flight benefits, which is a notable and unique addition to our employees' overall compensation.
United is important to the region. Without United's continuing investment in the airport, not only would jobs be lost, but also it would be a major blow to the state's economy and to the New Jersey taxpayer. We pay local taxes; the Corporate Business Tax (which was increased earlier this session); and the jet fuel tax and in addition, we pay more than $400 million a year in rates, charges and fees to the Port Authority to fund operations and infrastructure development at Newark airport. All told, United pays our fair share and creates nearly $16 billion in economic output in New Jersey and we're very proud to be doing our part to drive the New Jersey economy.
The stakes are too high for this issue to be turned into a political football and subject to overheated, misleading rhetoric.
We care deeply about our employees, our customers and our state and take our responsibilities as a good corporate citizen very seriously. We're determined to remain competitive so we can continue offering the service and standards our customers and this community deserve. United is proud to call Newark home, I hope you'll support our efforts to continue investing and growing in the great state of New Jersey.
Introducing Better Boarding
The feedback from customers and employees was clear: we needed to improve our boarding process. As part of our ongoing efforts to put customers at the center of everything we do, we identified boarding as an opportunity to improve the airport experience. We tested a variety of different boarding processes on thousands of flights across multiple airports. Best practices emerged from each test, and combined, they now form what we are calling "Better Boarding".
Better Boarding consists of three key improvements

Less time in line:
By reducing the number of boarding lanes, there is more space for customers to enjoy the gate areas, many of which have been completely remodeled with more comfortable seating and in some airports, the ability to have food and drinks from within the airport delivered directly to the gate area. Over the years, we have invested millions of dollars in our terminals, and now with less time spent standing in line, customers will have more time to dine, shop, relax, work or enjoy a United Club℠.
Simplified gate layout
Say goodbye to the five long lines we see today
Group 1 will board through the blue lane.
Group 2 will board through the green lane, followed by groups 3, 4, and 5.

Late arriving customers in Group 1 and 2 will use the blue lane.
Customers in groups 3, 4, and 5 always use the green lane.
Better information:
We are providing customers with more information throughout the boarding process so that they feel more at ease, and more equipped with the latest information about their flight. Customers with the United app can receive a push notification once their flight starts boarding. Customers will only receive the notification if they've opted in for push notifications and have a mobile boarding pass in the app's wallet.
Enhanced communications
Be in the know about boarding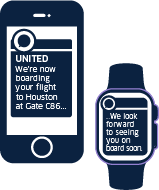 Customers will receive boarding notifications through the United app (if they've opted in for notifications).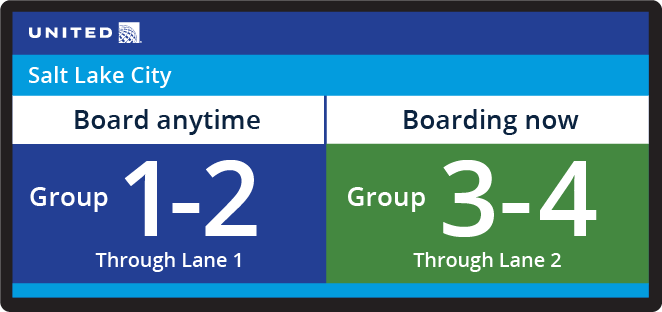 Improved gate area digital signage to guide customers through boarding.
Balanced groups and better recognition:
United MileagePlus® Premier 1K® customers will now pre-board and United MileagePlus Premier Gold customers will be boarding in Group 1. For more information on our boarding groups, visit: https://www.united.com/web/en-us/content/travel/airport/boarding-process.aspx
Improved premier customer recognition
We're happy to make them happy

Improved premier recognition and better positioning of customers to create balanced boarding groups.
The new Better Boarding process is just one of the steps we are taking to improve the customer experience. We will continue to collect feedback from customers on ways we can further improve boarding and you may receive a post-travel survey to tell us more about your experience
Towns in the U.S. with unusual names
You don't have to travel to Timbuktu or Dull, Scotland to check out a uniquely named place — there are plenty in the United States. It's true that you might not find much to do in Boring, Oregon, or anything peculiar about Peculiar, Missouri — and who wants to go to Hell, Michigan? But there are even more places with strange names worth seeing.
Lake Chargoggagoggmanchauggagoggchaubunagungamaugg, Massachusetts
And you thought "supercalifragilisticexpialidocious" was a mouthful. The 45 letters in the name of this lake in Webster, Massachusetts, makes it America's longest-named place. The lake's name means, "English knifeman and Nipmuck Indians at the boundary or neutral fishing place." Hundreds of pricey homes on its shoreline can be seen during a ride aboard the Indian Princess, one of America's last authentic paddle wheel boats. For those looking to do more than laze along the shorelines, unique fishing spots and a range of water activities are popular attractions in this town. The nearest airports are Boston and Hartford/Springfield (Bradley), each a 75-minute drive away.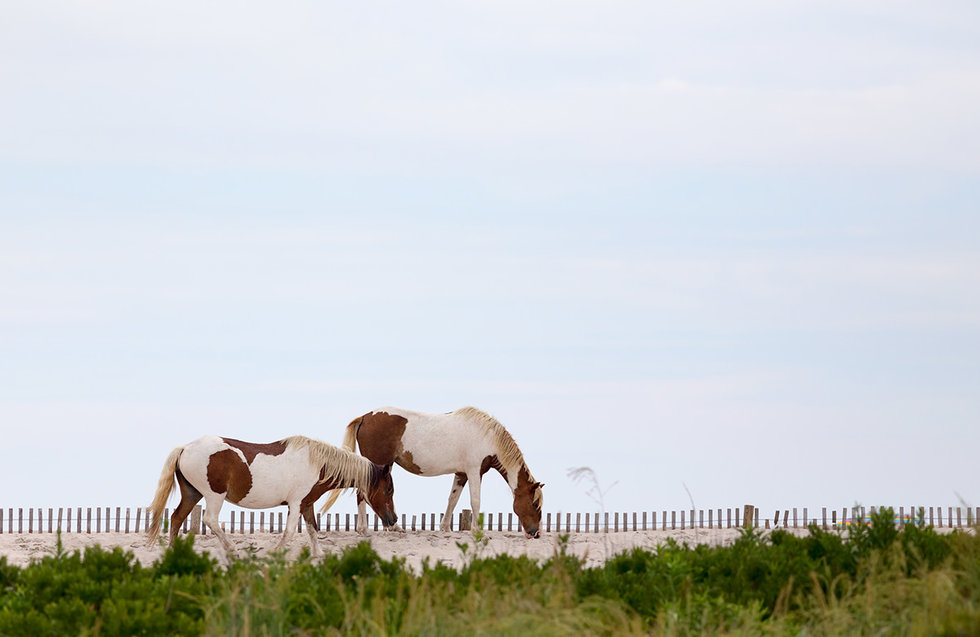 Chincoteague, Virginia
This easternmost town in Virginia, with a name derived from its Native American name, is the southern gateway to Assateague Island National Seashore, best known for its wild horses. About 150 Chincoteague ponies, which stand only four-and-a-half feet tall, roam the island where visitors also can tour Assateague Lighthouse, a candy cane-striped 1867 national landmark that stands 142 feet tall. The nearest airport to Chincoteague is Norfolk, Virginia, approximately a two-hour drive away.
Kalamazoo, Michigan
The Glenn Miller Orchestra's "(I've Got a Gal in) Kalamazoo" was the #1 hit song of 1942, putting the Michigan town on the map. How can you not like a song with lyrics like, "I liked her looks / when I carried her books / in Kalamazoo"? Even now, it's performed by the Western Michigan University marching band at football games. The college town is also known for being home to prestigious Kalamazoo College, many brewpubs, the nearby wine village of Paw Paw and the Gilmore Car Museum. United flies to Kalamazoo/Battle Creek International Airport.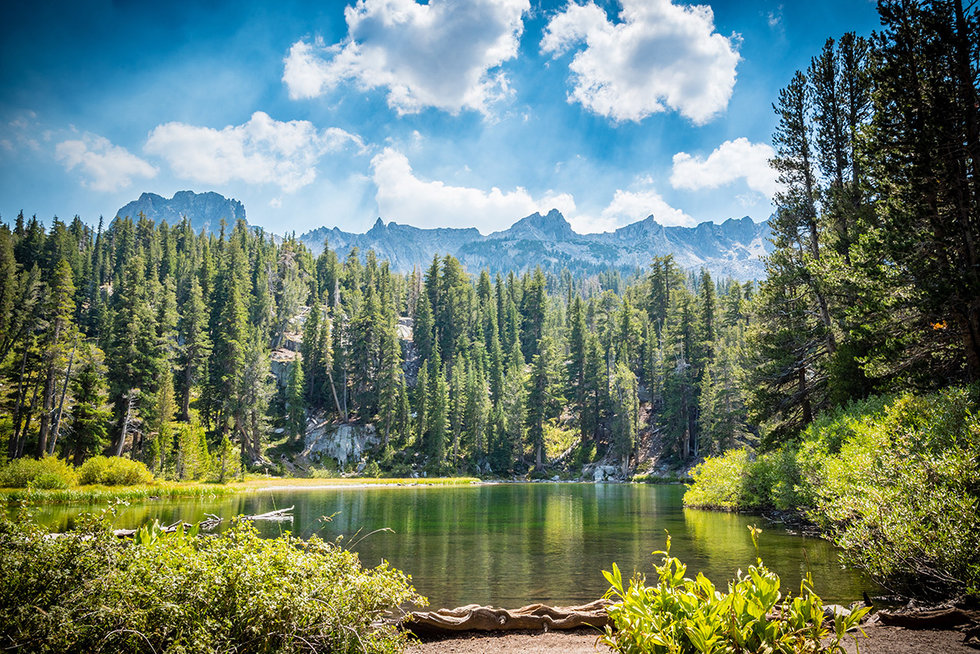 Mammoth Lakes, California
Mammoth Lakes was named after the Mammoth Mining Company, which brought it into existence as a gold rush boomtown. It's a fitting name because it also describes the mammoth-sized Sierra Nevada mountains that surround it, including the famed granite rock faces of nearby Yosemite National Park. Mammoth Lakes has emerged as one of America's leading destinations for trout fishing, hiking, mountain biking — and most of all — snowboarding and skiing. The Mammoth Ski Museum is a big draw. United flies into Mammoth Yosemite Airport from San Francisco December through April.
Wahoo, Nebraska
It's not a tech company or an expression of joy. Wahoo is a town named after the native eastern wahoo shrub. The town of 4,500 is best known for being named "home office" of the David Letterman Wahoo Gazette Top-10 List after town boosters bribed Dave with a wall clock made of cow dung and free checkups at Wahoo Medical Center. Wahoo Creek feeds into the town's biggest attraction, Lake Wanahoo, where you can hike, kayak, fish and camp. The nearest airport is in Omaha, Nebraska, a one-hour drive away.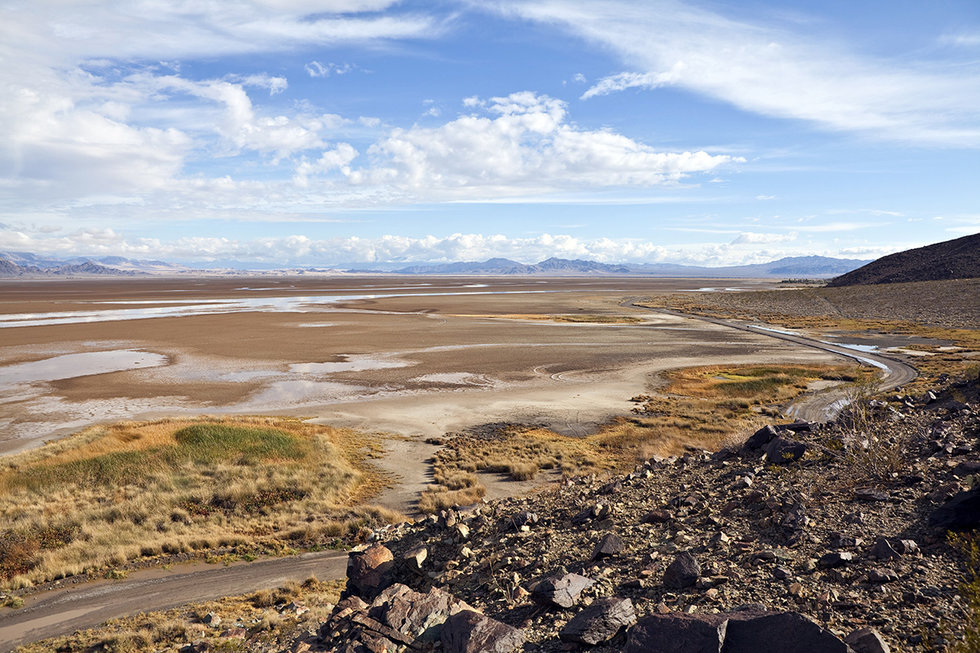 Zzyzx, California
This spot in the Mojave National Preserve is last on any alphabetical list of places and not far behind on any list of Southern California hotspots (except literally in the heat of summer). Many drive past Zzyzx Road on road trips from Las Vegas to L.A., but few know what's at the end of the road or the history behind the small town. Today, the only thing you'll find there, after taking Zzyzx Road off I-15, is the California State University-run Desert Studies Center on the land of a former hot springs resort. But the hiking is a treat if you like desert-mountain solitude. The nearest airport is an 80-minute drive away in Las Vegas.
Getting there
United Airlines flies to these places or to airports within a two-hour drive. MileagePlus® Rewards can help pay for your accommodations. Go to united.com or use the United app to plan your trip,
Spending a week in Iceland
Passion Passport is a community-based website that tells meaningful travel stories and facilitates global connections. Our team hails from across the United States and Canada and is always up for an adventure. To learn more about where we're going and what we're doing, visit our website: PassionPassport.com
Iceland is a place of incomparable beauty. We recently visited some of the country's most popular destinations and explored the stunning landscapes that it is most known for. If you have the opportunity to travel to this country full of otherworldly views, be sure to check out some of our favorite places.
Visit the capital city
Reykjavík may not be a large city, but it still offers plenty to do and see. The capital's relatively small size makes it easy to visit its most notable attractions on foot or by bicycle. Architecture enthusiasts should stop by Harpa Concert Hall to marvel at the iconic glass building, while music lovers should check out the hall's events and enjoy its array of shows, such as Iceland's Symphony Orchestra performances.
For great photo opportunities and gravity defying architecture, seek out Hallgrimskirikja, the largest church in all of Iceland. Designed by Guðjón Samúelsson in 1937 and inspired by the shapes that emerge when lava cools, the church can be spotted from almost anywhere in the city. Visitors can also climb to the top of its tower for the best views of the city below — so don't forget your camera! Once you've seen this architectural beauty, explore the city center on foot. If you're looking for a place to shop, visit Laugavegur Street, Bankastræti, Skólavörðustígur, and Lækjargata.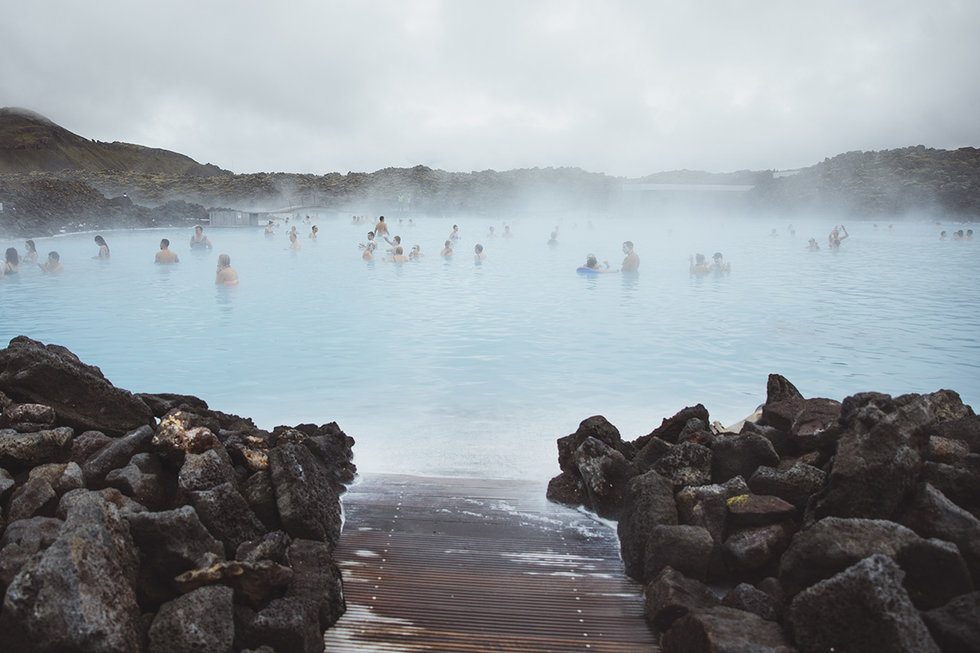 If you want a truly Icelandic experience, visit one of the many swimming pools in the Reykjavík area. Located behind Hallgrimskirikja, Sundhöll Reykjavíkur is the country's oldest public bath. Or, take some time to relax at Iceland's famous Blue Lagoon Geothermal Spa, located just 30 minutes from the capital city by car — though, if you're not looking to rent a car, you can also take a bus from Reykjavík to the spa. The locale is open year-round, and the water in the large lake is always warm and beautifully hued. Experience the seemingly magical powers of geothermal seawater at this natural spa and enjoy a mask bar, a massage, an in-water bar, and a sauna and steam room. Note: this is a popular activity, so be sure to book in advance.
Travel along the Golden Circle
If you want to road-trip around iceland, the Golden Circle is the perfect route for you. It features three of Iceland's most popular destinations: Thingvellir National Park, Geysir Hot Springs Area, and Gullfoss Waterfall. There are also many Golden Circle tours to choose from, if you prefer to sit back, relax, and enjoy the scenery without the hassle of driving.
Your first stop will likely be Thingvellir, which became a national park in 1930 and later, a UNESCO World Heritage Site. Due to Thingvellir's fascinating geology and unique history, visitors are often enchanted by its proximity to tectonic plates, lava rocks, and surrounding volcanoes. Interestingly, the land was once used as a meeting place for the parliament of the Viking Age commonwealth (its name actually means "the fields of parliament"). Today, the park is also a popular draw for those interested in bird-watching, diving, snorkeling, and viewing the Northern Lights (come winter).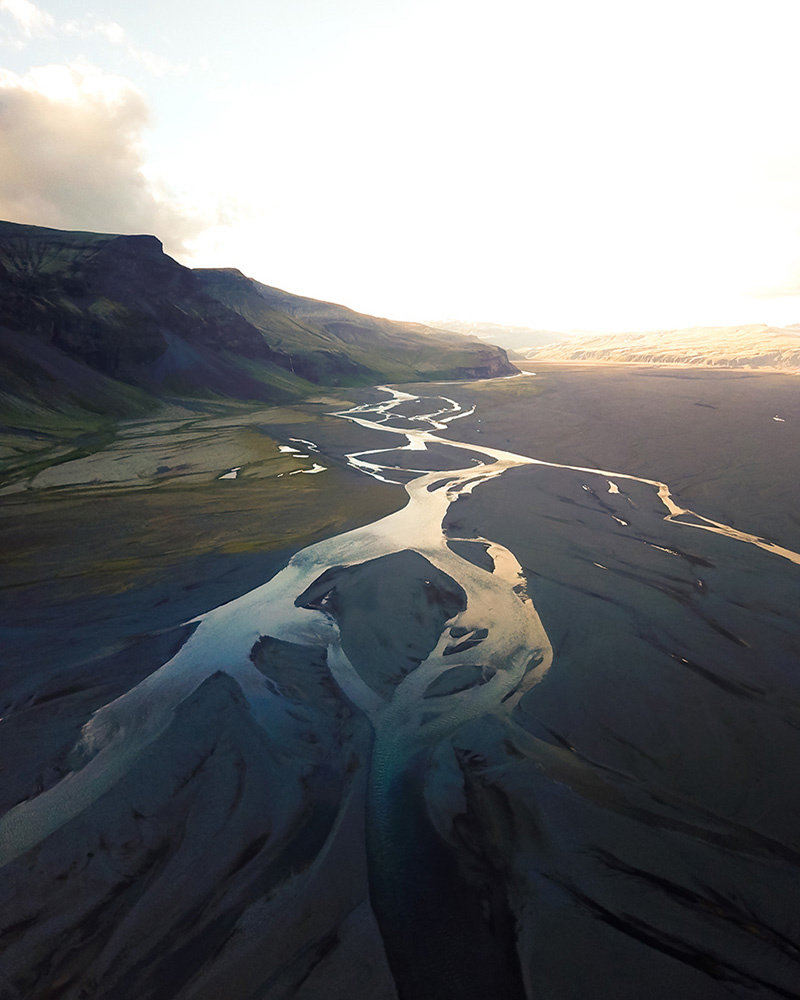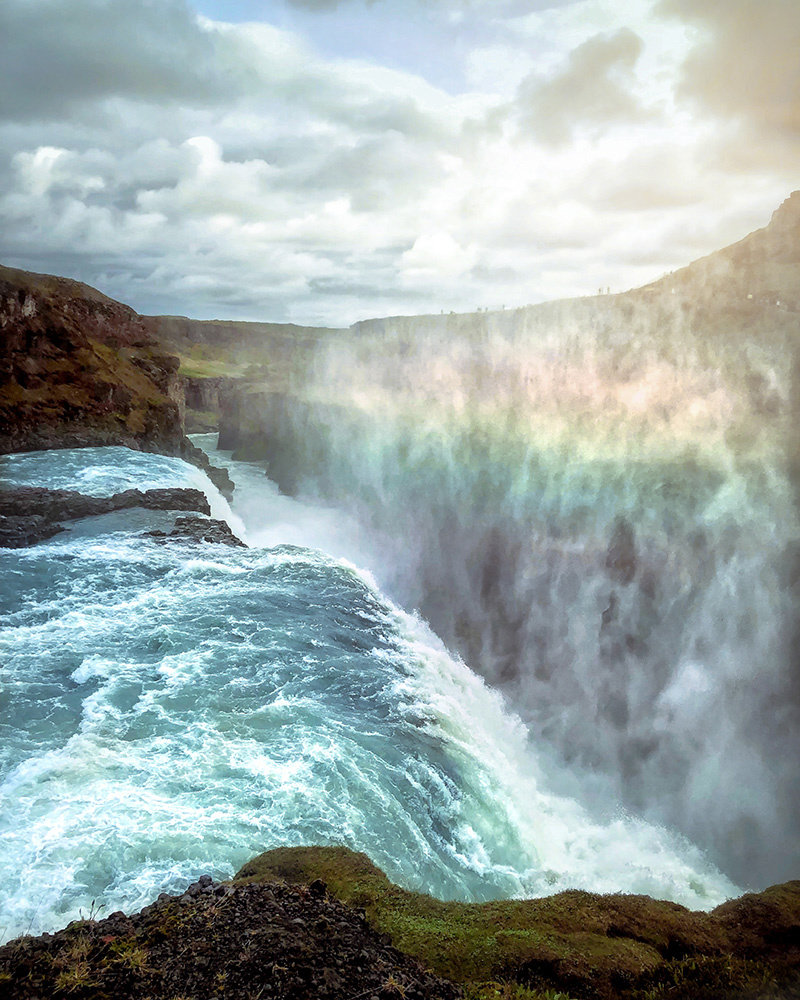 The second stop along the route is Gullfoss Waterfall, a stunning waterfall located in an ancient valley. The two-tiered fall is beautiful during both the winter and the summer, offering cascades of ice in cold weather and an abundance of rainbows just after the spring thaw.

From here, Geysir Hot Springs Area is just a short drive away and a 50-minute trip from Thingvellir. Although the geysir is a famous hot spring, it isn't the only geyser in this geothermal area. Keep an eye out for the region's most active, Strokkur, which sprouts hot water approximately every few minutes. Have your camera ready and keep a safe distance from the boiling eruption.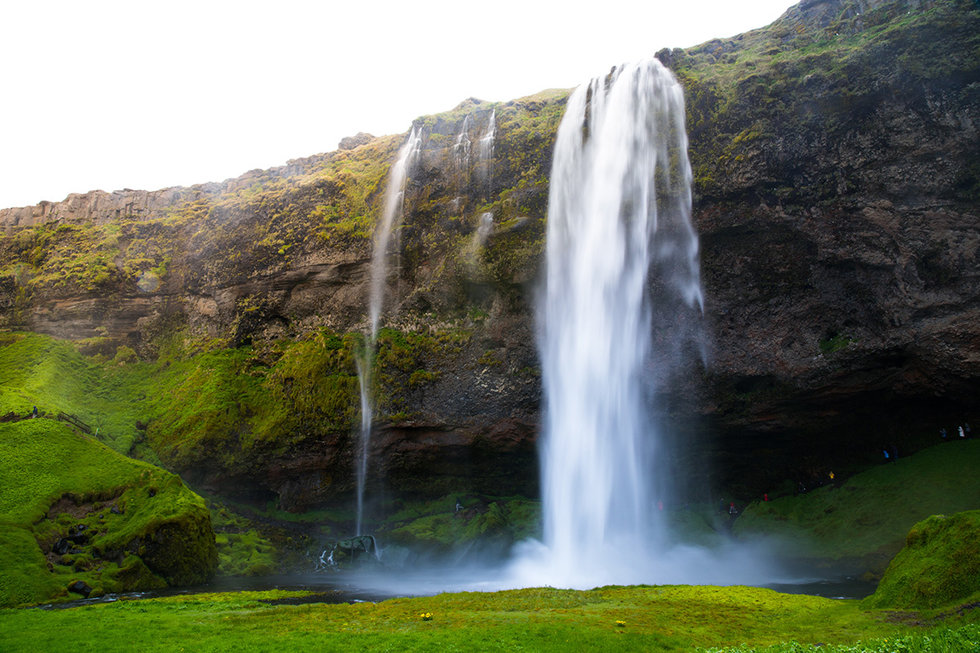 Immerse yourself in beauty
Stunning vistas are not uncommon in Iceland. It seems like everywhere you look, there are natural wonders to observe and photograph. One of Iceland's most beautiful destinations is Jokulsarlon Glacier Lagoon, an area filled with blue waters dotted with glistening icebergs. What's more, this particular location is also popular among those aspiring to spot the Northern Lights. If you want to get up close and personal with the frozen landscape, the lagoon hosts amphibian boat tours, which allow you to sail alongside the icebergs. You might even spot some seals leading the way. While the lagoon is nearly six hours from Iceland's capital, it's a beautiful drive, which offers roadtrippers the chance to observe a range of Icelandic scenery along the way.
Join United in helping disaster relief efforts
Donate now
We're listening
Check out our newest destinations
United Airlines
united
To the 🌕 and back... and then to London. Thrilled to fly Apollo 15 Command Module Pilot, Col. Al Worden and the flag that flew to the moon and back in 1971.
United Airlines
united
To the 🌕 and back... and then to London. Thrilled to fly Apollo 15 Command Module Pilot, Col. Al Worden and the flag that flew to the moon and back in 1971
We Are United
weareunited
Last week EQUAL celebrated the launch of their first international chapter! We're thrilled to see you grow and foster diversity & inclusion around the 🌍.
#BeingUnited
We Are United
weareunited
EWR & LHR teammates had a hand in history this week by flying Apollo 15 Command Module Pilot, Col. Al Worden & the flag that flew to the 🌕 and back in 1971.
Watch our most popular videos
Flying the flame, igniting inclusion
It was an unusual sight: a flame on a plane -- but that's exactly what passengers on a flight from Boston to Chicago witnessed as we transported the very special cargo on July 18. The flame was enclosed in a secure lantern and accompanied by a Special Olympic athlete and two Guardians of the Flame – members of a group of more than 100,000 law enforcement officers whose role is to protect and ensure the delivery of the Special Olympics Flame wherever it travels.
This wasn't just any flame, however; it was the Special Olympics' Flame of Hope, the flame which lit the Eternal Flame of Hope to kick off Special Olympics' 50th anniversary celebration Friday morning.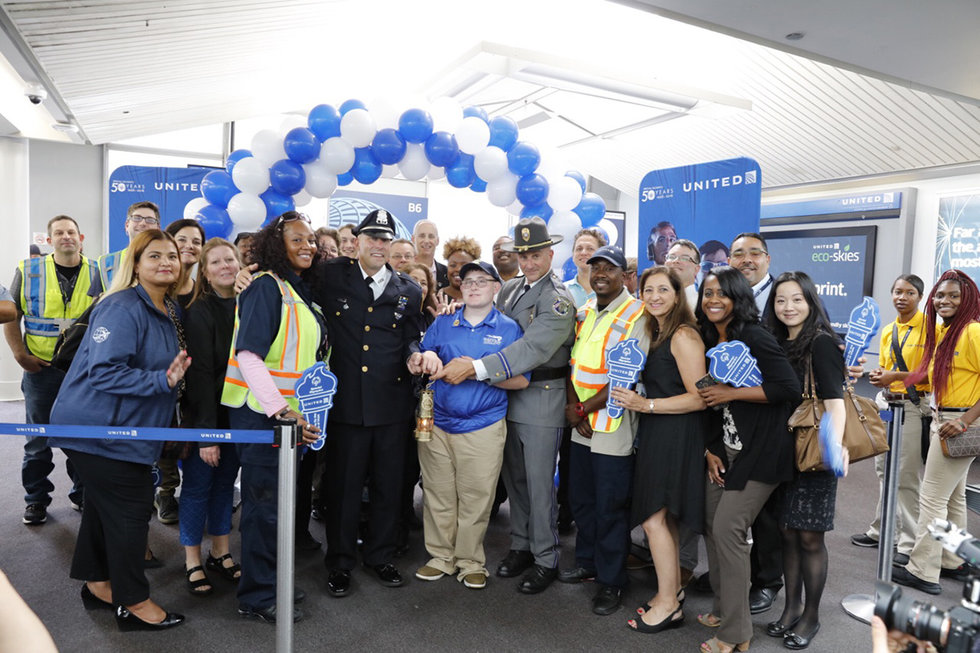 CEO Oscar Munoz, General Counsel and EVP Brett Hart; and Community Affairs VP Sharon Grant, along with many employees and customers, greeted the Flame upon arrival to O'Hare International Airport, where it was presented to local Guardians of the Flame.
We didn't just transport the Flame of Hope on board one of our flights, said Oscar. "That flight symbolized how we are taking the values of inclusion and respect, which that Flame represents, fully on board as a company."
From O'Hare, the Flame traveled to Soldier Field, the site of the very first International Special Olympics Summer Games 50 years ago, and where the Law Enforcement Torch Run® took place the morning of Friday, July 20. More than 100 employees participated in the event, a four-mile course along the lakefront in downtown Chicago, along with hundreds of law enforcement officers and Special Olympics athletes from throughout Illinois and the world.
I saw people from all over the world come together for a great cause, said Global Catering Operations Projects and Performance Manager Yana Strutz, who participated in the Torch Run, "It is wonderful to see my colleagues take time out of their busy schedules to ensure that Special Olympics athletes get the time and attention they deserve."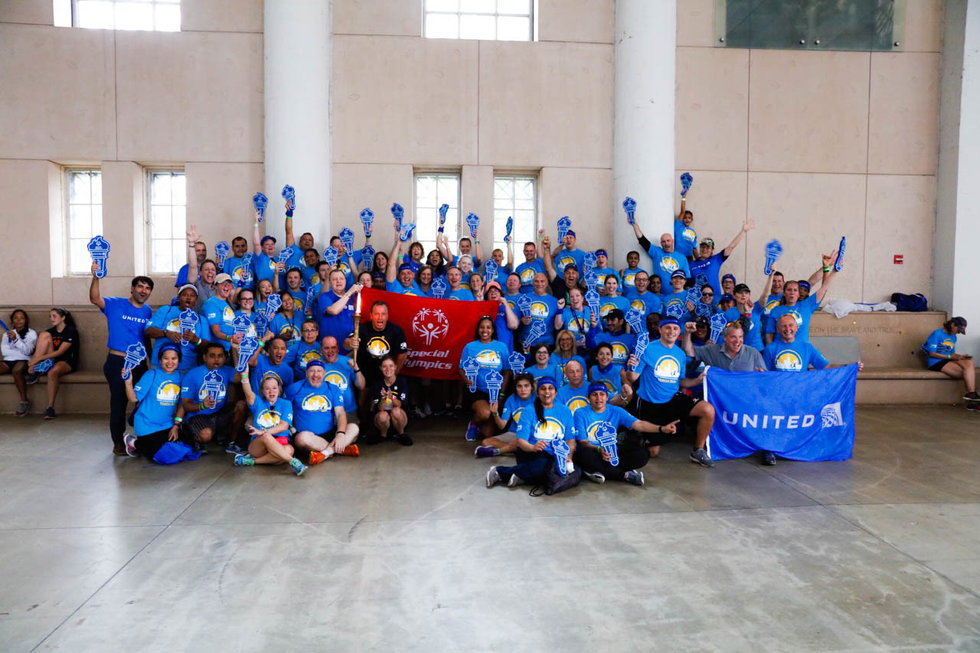 The run concluded with the lighting of the Eternal Flame of Hope monument, a flame that symbolizes the eternal hope that Special Olympics provides to athletes and their families. The flame will stay forever ignited inside the permanent, 30-foot monument outside of Soldier Field.
United will go beyond just flying the Flame of Hope on one flight, we will 'carry the torch' everywhere we fly and spread the light of this inclusion revolution. We intend to be ambassadors for this movement everywhere we operate, said Oscar.
Our partnership with Special Olympics represents our continuing effort to break down barriers and further build on Special Olympics' remarkable legacy of inclusion by engaging our employees around the world.
Image of United & Special Olympics: Taking inclusion to new heights
United & Special Olympics: Taking inclusion to new heights
Learn more
United & Special Olympics: Taking inclusion to new heights
On March 8, 2018, we announced a new global relationship with Special Olympics, an organization we've partnered with for many years focusing on supporting the spirit of inclusion with our employees through local communities and through our Charity Miles Program. United's increased sponsorship includes support for major Special Olympics events, including the Special Olympics 50th Anniversary celebrations in Chicago, site of the very first International Special Olympics Summer Games in 1968, and the 2018 Special Olympics USA Games in Seattle.
In addition, United will engage with local Programs in our key markets around the world. Special Olympics embodies our shared purpose to connect people and unite the world. With more than 5 million athletes and 1 million coaches and volunteers in 172 countries, our employees and customers will join forces with Special Olympics to achieve our shared vision of inclusion. Together, we hope to end discrimination against people with intellectual disabilities.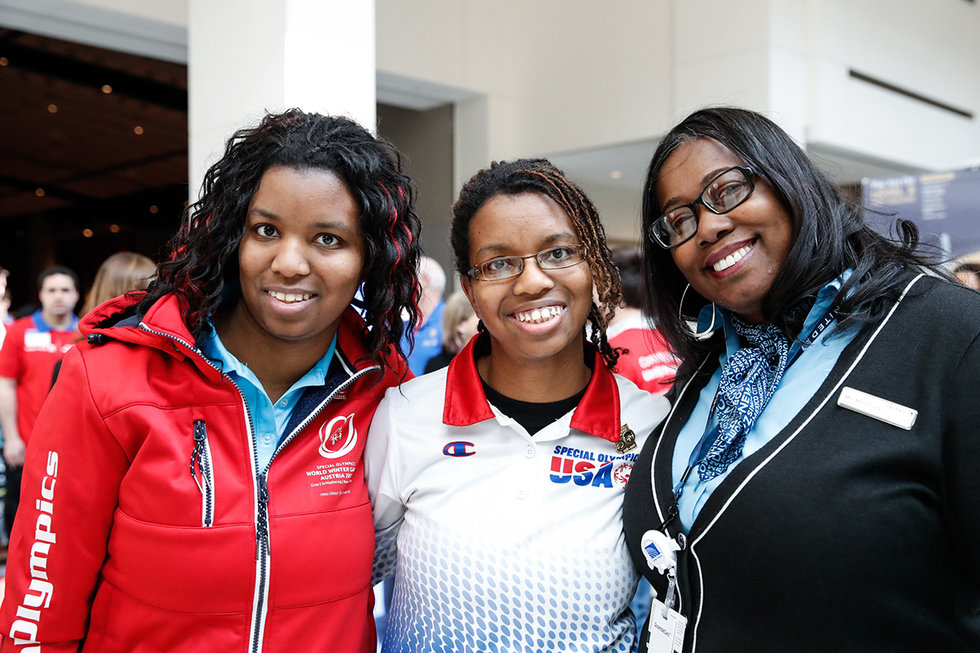 Our relationship with Special Olympics represents a continued effort to break down barriers and further build on the organization's remarkable legacy by engaging our customers and employees around the world. Working together, we created new training that specifically reflects insights from Special Olympics, including training scenarios with real-life situations that individuals with intellectual disabilities face when traveling. By the end of 2018, more than 60,000 United frontline employees will have participated in the new training modules that reflect Special Olympics insights as United takes steps to deliver a world full of inclusion.

Check back this summer for coverage from Special Olympics 50th Anniversary celebrations in Chicago and 2018 Special Olympics USA Games in Seattle.
Copyright © 2018 United Airlines, Inc.
All rights reserved.
Indicates an external site that may or may not meet accessibility guidelines.
Scroll to top
Scroll to top