Three Perfect Days: London
Story by Chris Wright | Photography by Tom Parker | Hemispheres, April 2018
Every city has its intriguing juxtapositions—the trendy cocktail bar overlooking the crumbling palace, the high-end fashion boutique next to the hardware store—and every city works to find a suitable blend of these things. London, however, is a little bit different. There has always been a mix-and-match quality to this place, which is not so much a city as a patchwork of villages. While Londoners do value their traditions and institutions, they are also restless, preoccupied with novelty and change. As a result, the city is constantly sticking new bits onto the old, very often without any discernible logic, creating a jumble of styles and sensibilities that can leave visitors feeling utterly confused. How do you make sense of the chaos? You don't. Rather, you adopt the organizing principle of the city as a whole: Get out there, give it a go, see what happens.
Day 1
Skipping and sipping around stylish Soho
The odd thing about waking up at the Ham Yard Hotel is that your room tends to be more dreamlike than your dreams.Tucked away in a courtyard in Soho, central London, the property is one of the latest projects from exuberant British designer Kit Kemp, and she has gone full-on March Hare with this one: life-size crocodile sculptures applied to an expanse of butterfly-print wallpaper; a 20-foot spiral of cascading oranges in the basement bar. The arrival of the Ham Yard, in turn, speaks to the ongoing transformation of this neighborhood, which used to be a place of burlesque shows and boho boozers, and which today, it seems, cannot go a week without someone opening a hot new shop, restaurant, or drinking establishment.
The Bar at the Ham Yard Hotel
I have plans to explore the neighborhood later, but first I want to take a look at an even more surreal example of interior design. So, after a hasty breakfast—chili beans on granary toast, served with chorizo and Greek yogurt, eaten below a cluster of mismatched light fixtures—I head off toward Holborn, home to Sir John Soane's Museum.
Soane, a distinguished 19th-century architect, had a hoarding problem. Luckily, he tended to hoard things like statues and paintings rather than receipts. Today, his former home is packed to the rafters with so many marvelous antiquities it makes your head spin. I particularly enjoy the candlelit crypt, which has an ancient sarcophagus and a set of rusty manacles on the wall—although the Canaletto upstairs isn't bad either.
From here, I head south, past the Gothic Royal Courts of Justice, to Temple Church, built in the 12th century by the Knights Templar. Inside are effigies of these knights, many bearing the scars of a World War II bombing, which also scattered the bones buried below. (When I ask an attendant where I can find the remains of über-knight William Marshal, he replies, pointing: "There, there, and there.")
My next stop is Piccadilly Circus and the nearby Dover Street Market, a multi-story emporium selling high-concept clothing via art-installation floor displays. It's a must-visit for anyone interested in being the least fashionable person within a 200-yard radius. The shop is also within sashaying distance of the place I'm having lunch: Ikoyi, a new West African–inspired eatery that's been getting rave reviews.
After the visual excess of Dover Street, the interior of Ikoyi seems almost stark. The food, though, is sensational, not to mention eye-wateringly spicy. To start, I have dambu nama (dried beef floss) and whipped bone-marrow tarts, followed by succulent grilled octopus with ndolé (stewed greens with nuts). Now and then, the chef pops up to explain to a diner what banga is, or moin moin, which gives the meal a theatrical feel.
"The French House has two rules: Beer comes in half-pints, and no being boring."
From here it's on to The French House, a storied pub in the heart of Soho. You could fill a book with the notable people who have drunk here: Brendan Behan, Francis Bacon, Lucian Freud, Salvador Dalí. Charles de Gaulle is said to have written his wartime rallying cry on the premises, while Dylan Thomas reportedly mislaid his manuscript for Under Milk Wood here in 1953. One of the regulars now is Russell Norman, a restaurateur, author, and TV personality who has been called "The King of Soho."
"The French House is probably the last remaining drinking hole that connects directly with the heyday of Soho," he says. "It's eccentric, it's authentic, and I love it."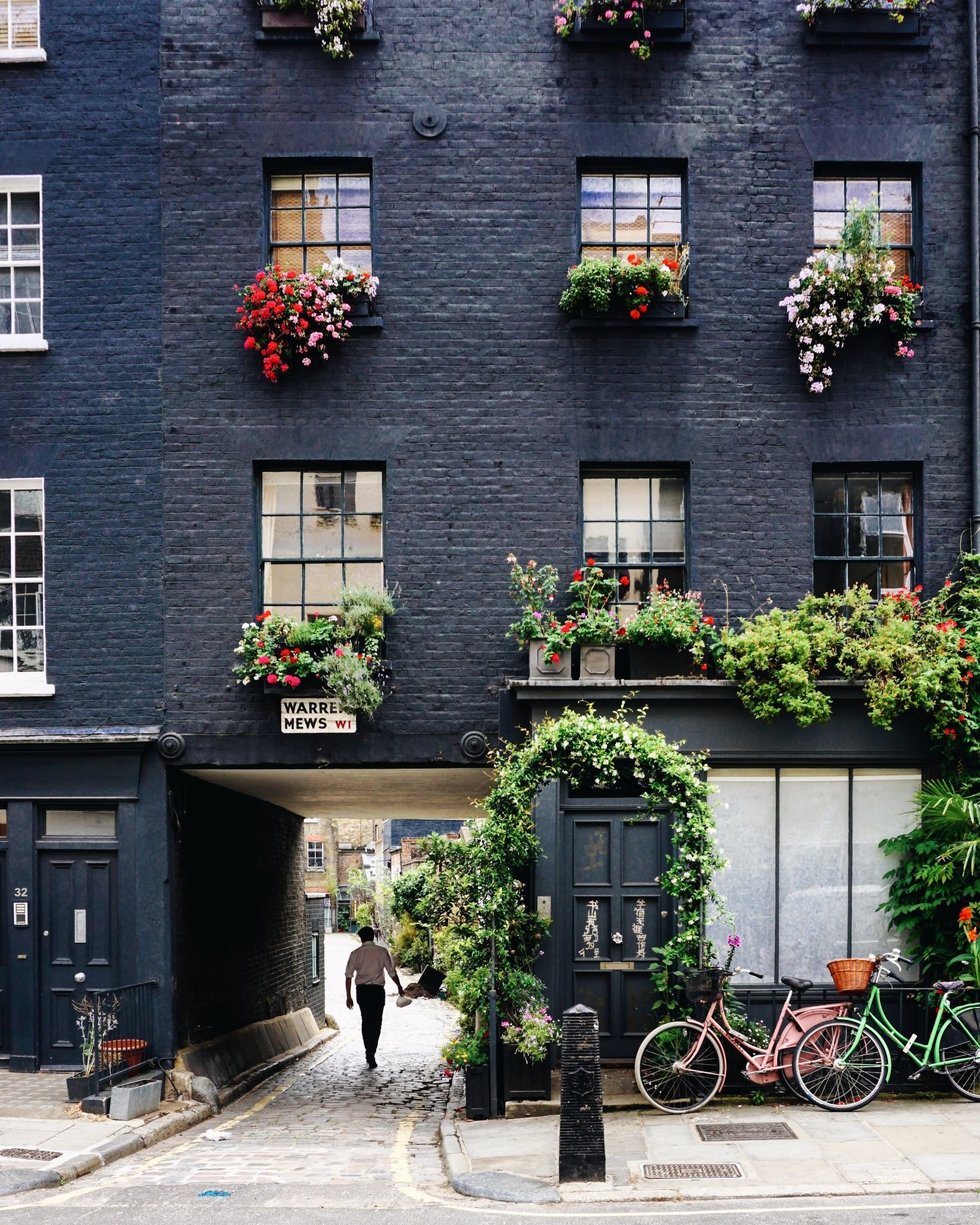 The entrance to Warren Mews, in Fitzrovia
There are a couple of rules here: They sell beer only by the half-pint, and patrons are not allowed to be boring (said to be "a bannable offense"). So it's with some trepidation that I strike up conversation with Lesley Lewis, the pub's garrulous landlady, who is sitting at the bar with a white wine.
Lewis took over the French House in 1989—one of only three owners in a hundred years—and did not set about trying to jazz things up. "We've tried to keep the essence," she says, taking a sip of wine. "Everything is changing so fast around here. There's not many old-school places left." Another sip. "But I still believe in Soho." Sip. "You have to be positive about what is rising out of the ruins."
Things liven up when the anecdotes start, the best of which belongs to Lewis: "There was a guy named Billy, who owned a [burlesque] club. One day, the council told him he had to black out the windows, so he's standing on the street outside with a tin of paint when Francis Bacon comes by and offers to help. That was Billy's only claim to fame. He'd go around telling people, 'I have an original Francis Bacon.'"
"There aren't many old-school places left. You have to be positive about what is rising out of the ruins."
Leaving The French House, I follow Norman up Compton Street—"The main river running through Soho"—for a caffeine boost at Bar Termini. A stylish coffee shop/cocktail bar located in a former strip club, Termini is owned by one of Britain's most famous mixologists, Tony Conigliaro, a lapsed artist who describes his job as "painting with flavor." He's certainly adventurous—one of his cocktails is infused with clay, flint, and lichen to evoke the taste of the earth. A more recent creation is a drink he calls Snow. "The premise is, wouldn't it be amazing if we could recreate the experience of catching a snowflake on your tongue?" he says. "That took two years to work out."
I'm catching a show later, so, after a bit of people-watching and boutique-browsing, I head for an early dinner at Kettner's Townhouse, which was founded in the 19th century by a man who was rumored to be a former chef to Napoleon III and has entertained the likes of Oscar Wilde, Agatha Christie, and Robert De Niro. This year, it was refurbished and reopened as a hotel and restaurant by the people behind the achingly fashionable Soho House members club. The restaurant has more or less kept the feel of the original: a tinkling piano near the entrance, thin candles on the tables. I order rillettes of rabbit with pickled radishes, followed by a vol-au-vent of kidneys, sweetbreads, black truffles, and baby carrots. It's a fine meal, but the real star here is the place's see-and-be-seen energy. Speaking of which…
Neal's Yard, a colorful bohemian alley in Covent Garden
A quick hop west takes me to the Apollo Theatre, which is running the hit musical Everybody's Talking About Jamie, a coming-of-age story about a schoolboy who longs to become a drag queen—basically, Billy Elliot in heels. It's a charming, lively production that has people grinning and bobbing in their seats.
I end the night at the Rosewood London's jazz bar, Scarfes, named for satirical cartoonist Gerald Scarfe, whose creations decorate the walls. While there's a clubby refinement to the place—high ceilings, low lighting, antique books—the atmosphere is far from stuffy. I take an armchair in a shadowy corner and attempt to read the menu. The cocktails are named after celebrities the bar's namesake has lampooned; I summon the waiter, point at a sketch of Alfred Hitchcock, and say I'll have one of those. The drink, a tequila-based concoction called A Bird in the Hand (get it?), comes topped with a bird's nest. It looks cozy.
An hour or so later, I'm in my room at the Ham Yard, gazing at the tailor's dummy standing near the gray-green striped wall, the forest-scene fabric on the headboard, the small monkey riding a unicycle across the carpet. In fairness, that final touch may have happened after I fell asleep.
Day 2
Perusing the posh shops and restaurants of Chelsea and Notting Hill
Certainly, there was nothing like Chel-Ski back then. Situated in a former warehouse for the Christopher Wray interiors store, this indoor ski center was opened a few years ago by Wray's son, Ben. So it is I find myself, before breakfast, slaloming on a huge lubricated treadmill. The velocity and gradient are adjusted according to the ability of the skier. For me, the instructor keeps the dial on "Nervous Baby," but I still emit a succession of noises that call to mind Johnny Rotten's debut gig at the Roebuck pub, circa 1975.
Brunch is a more sedate affair, in a plant-filled atrium in the popular Ivy Chelsea Garden, where I have a juicy rib eye, seated across from the impeccable Olivia Newman-Young, who has agreed to show me around the neighborhood. A makeup artist and onetime cast member of the reality show Made in Chelsea, Newman-Young has a pedigree such that even the chillingly exclusive nightclub Raffles doesn't faze her. "It's meant to be members-only," she says, barely looking up from her tuna carpaccio, "but you can get in if you're the right kind of person."
"As well as being a playground for punks and princesses, the Kings Road has long served as a catwalk for local kooks."
With this, she leads me along the Kings Road, pointing out stuff she likes along the way—The Kooples for fashion, the Bluebird ("obviously") for food. She's been going out here since her teens and recalls many a fun night at places like Jak's Bar, "where all the posh kids go to let loose." As well as being a playground for punks and princesses, the Kings Road has long served as a catwalk for local kooks. "I love the Chelsea grandmas, wearing the clothes of a 20-year-old and looking fabulous," Newman-Young says. "You don't get that in Shoreditch."
An antiques shop on Portobello Road
I leave Newman-Young at Sloane Square and head into the Saatchi Gallery, which is housed in a grand 19th-century building and puts on exhibitions that skew heavily toward the inscrutable. The first thing I see upon entering is a huge canvas by Los Angeles–based English painter Danny Fox, a naïve depiction of two seated women titled Planned Parenthood Waiting Room. It has a touch of Gauguin to it, but also a touch of off-kilter dilettante. Very Saatchi.
Wandering toward Kensington, I come across The Map House, a treasure trove that has counted Winston Churchill and Ernest Shackleton among its customers. One wall contains a 19th-century "Poverty Map of London" with a color-coded index ranging from yellow ("wealthy") to black ("vicious, semi-criminal"). Nearby is a 17th-century map of the world—which, the dignified store clerk informs me, is valued at £950,000. I ask how long it has been hanging there, and he gives me a thin smile: "A while."
If it's an impulse buy you're after, you may be better off at the nearby Conran Shop, a colorful lifestyle showroom established by one of Britain's most influential designers, Sir Terence Conran. The store is located in the Michelin House, a tiled-and-domed Art Nouveau masterpiece that was built as the tire company's British headquarters in 1911.
In the same building is another celebrated Conran enterprise, Bibendum. Opened three decades ago and recently relaunched with French master Claude Bosi at the helm, the restaurant has already earned two Michelin stars. However, I opt to eat downstairs, in the building's old forecourt, at the Bibendum Oyster Bar, a less formal space with intricate tilework and a menu that makes you eat like a whale (I get a seafood platter over-flowing with fresh crab, oysters, shrimp, and cockles).
Next, I head to the new Harry's Dolce Vita, which looks like a bar from a 1930s railway station and has a staff that greets you like a long-lost friend. As I scan the menu, a white-coated bartender suggests I try an Infinite Negroni, explaining that the ingredients are determined by rolling three dice—one for the type of gin, one for the vermouth, and one for the aperitivo. "It is a gamble," the bartender says, deadpan. I roll the dice (Occitan London Dry, Bordiga, Aperol), raise my glass to a photo of Sophia Loren, and take a sip. We have a winner!
The Design Museum
A quick cab ride takes me to the Design Museum, which opened its new Kensington home to great fanfare in 2016. The museum pays homage to high design (there's a Ferrari exhibition on when I visit), but the real joy is in the everyday objects—telephones and turntables, computers and cameras—that have become redundant in terms of function but have been saved from the trash heap thanks to their being easy on the eye.
Next, I cut through Holland Park, whose narrow pathways crisscross thick woodland, creating the illusion that you're in the countryside—until you come across the refined Japanese garden, or the remnants of a Jacobean mansion, or one of the many peacocks roaming around. Emerging from the park's northern end, I head up toward Notting Hill, stopping to ogle a gorgeous aqua-marine overcoat at Paul Smith Westbourne House, then hit Portobello Road, which on the weekends is a carnival of musicians, antiques stalls, and street food vendors, and is also home to scores of trendy shops, restaurants, and bars.
"Portobello Road on the weekends is a carnival of musicians, antiques stalls, and street food vendors."
For a pre-prandial drink, I've opted for Trailer Happiness, a quirky basement tiki joint that's become a local institution. I sit at the bar and order a Hell in the Pacific, a sweet and alarmingly potent rum drink that, the bartender tells me, will pick me up. "Or knock you down," says the Irish guy next to me.
Dinner is at 108 Garage, a refurbished auto shop with industrial-chic decor that's offset by a large portrait of Henry the Pious. Chef Chris Denney, a onetime art student and pot washer, opened this spot along with his colorful business partner, Luca Longobardi, in 2016, with little money and almost no advance publicity. Yet, within a few months, 108 Garage had emerged as one of London's hottest eateries (it claimed Tatler's Restaurant of the Year prize for 2018) and Denney as one of its hottest chefs.
Tonight, Denney works the kitchen as if playing an extended game of whack-a-mole. I sit at the counter, trying to keep up with the hail of dishes placed before me: hogget loin with a lamb-tongue lollipop; crispy pig head with wild watercress; octopus with black garlic, kohlrabi, and harissa. It's a bold, creative meal, but Denney is not one of those chefs who see themselves as the star of the show. "I know it sounds corny, but it's the farmer who does all the work," he says. "We just send the produce on its merry way the best we can."
Bivalves at the Bibendum Oyster Bar
Flagging, I head out for Mayfair and The Connaught, one of the loveliest hotels in London, where I'm met in my lavish suite by James, the butler. I tell him I'd like to check out the famous Connaught Bar before turning in, and he offers to show me the way. I decline but tell him I might need someone to guide me back to my room afterward, a weak gag that elicits a big laugh. Now that's what I call service.
I start the day in Chelsea, at the western end of the Kings Road, contemplating a morning on the slopes. Forty-odd years ago, not far from where I'm standing now, a rabble of proto-punks started milling around a tiny boutique run by a designer named Vivienne Westwood. The World's End shop is still there, its storefront clock spinning backward, but little else remains to remind us that the swanky Kings Road was the birthplace of the Sex Pistols.
Day 3
Getting hip in East London
Today's adventure starts in Shoreditch, an East London industrial area that most people used to avoid but which now boasts the densest concentration of street art and flamboyant facial hair in the city. I exit the Old Street Tube station amid a stream of coffee-clutching humanity—employees, for the most part, of the many tech firms that have set up shop around what is now called Silicon Roundabout.
For breakfast, I pop into Passo, a new venture from the Goodlife Projects, the outfit behind London crowd-pleasers like Love Brunch, Foley's, and Rum Kitchen (a reputed favorite of Prince Harry). Billed as "contemporary LA-inspired Italian," it's a bright, airy restaurant with huge wicker lampshades and soft reggae on the sound system. I order Passo's spin on the Full English: poached eggs, Italian sausage, pancetta, tomato, mushroom, baked borlotti beans. It's a hugely fulfilling meal, but it's going to play havoc with my skinny jeans.
"East London boasts the densest concentration of flamboyant facial hair in the city."
There's time for a coffee at the nearby Strongroom Bar & Kitchen, which is now in its 20th year and has an interior adorned with original works by Jamie Reid, the artist who designed the cover for Never Mind the Bollocks, Here's the Sex Pistols.
Recharged, I keep on toward Brick Lane, which is known for having some of the best curry houses and bagel shops in town, along with a bunch of very cool galleries and shops. The centerpiece is the Old Truman Brewery, a complex of restaurants, bars, and indie retailers, including the Vintage Market, a subterranean warren of multicolored boots, psychedelic shirts, leopard-print skirts, sloganeering T-shirts, and floppy felt hats.
I could spend all day down there, but I have lunch booked at Red Rooster, so I unwind the feather boa from my neck and point myself back in the direction of Shoreditch. An offshoot of Marcus Samuelsson's beloved Harlem soul-food eatery, Red Rooster is located in The Curtain, a hip new hotel with street-style art on the walls, a heated pool on the roof, and a dogsitting service for jet-setting pups.
Marcus Samuelsson's Red Rooster
The restaurant's interior is an artful clutter of mismatched furniture and playful signage presided over by an unflaggingly cheerful wait staff. I order the B.E.C. Biscuit to start (with pork belly, egg, and parmesan), followed by the Fried Yard Bird, crisped to perfection and served with yams, hot honey, collards, and green beans. After a meal like that, a man should really undo his trouser button and go sit on a porch. But I'm going to go get my hair cut in a pub.

The Gunmakers, in nearby Clerkenwell, has a lot going for it: great beer, delicious food. It also has a tiny hairdressing studio in the attic. Sipping a Banana Boulevardier (bourbon and banana liqueur), I ask the owner, Tim, to give me something a little different—buzzed at the sides, shaggy on top—after which the talk turns to the collision of barbering and booze, and whether this is a good idea. "If someone comes in a little drunk and asks me to do something dramatic," he says, "I might suggest they come back another time." That said, he gives me the 'do I asked for, and everyone's happy.
From here I stroll over to Farringdon, another area that has seen a slew of hip openings in recent years. I pop into Fergus Henderson's nose-to-tail eatery, St. John, near the historic Smithfield meat market, for a cup of tea with Max Fraser, a consultant for the London Design Festival and author of several books on the subject. A local, he has offered to show me around the area.
The sundial in Covent Garden's Seven Dials
"London has so many layers," he says, nodding at the restaurant window. "Just outside here they used to march the cattle into Smithfield, then sold them upstairs. This restaurant is built under a smokehouse. The city moves on." So do we: to The Charterhouse, a complex of buildings dating back to the 14th century. "Charterhouse is built on a plague pit," Fraser says, pointing at a patch of grass. "Now there's a Crossrail station being built here. Imagine what they found!"

From The Charterhouse, we walk past the Fox & Anchor pub, where the doors open at 7 a.m. on weekdays to accommodate the Smithfield porters who have been drinking here for generations, then make our way to St Bartholomew the Great, which was founded in 1123 and today stands as one of the finest Norman churches in England. Inside, amid the pitted pillars and Romanesque arches, is a fresh, eye-catching addition: a gilded statue of a man holding a scalpel and a pair of scissors, with his skin draped over his right shoulder. This is Damien Hirst's Saint Bartholomew, Exquisite Pain, on loan from the shark-pickling artist.
One of the city's enduring red phone booths
I say goodbye to Fraser and head off to the recently opened Smoking Goat, a "Nu-Thai" eatery that serves small dishes inspired by Bangkok's late-night canteens. The stripped-down dining area is jammed with a chatty after-work crowd, which makes life complicated for the servers, who bustle back and forth with plastic plates of "drinking food"—chicken hearts, Cornish octopus, beef sausage, chili fish sauce chicken wings, crispy mackerel, steamed oysters. Eating this food feels like an adventure, and not only because there's so much of it—apparently, Bangkok's after-hours diners like their snacks with a zing.

I have a comfortable bed waiting for me at The Curtain, but all that drinking food has left me wanting a nightcap. The best place to get one, I decide, is the stylish basement bar Happiness Forgets (motto: Great Cocktails, No Wallies). I plant myself on a stool and order a Two Doors Down. I don't recall what went into the drink, but I do remember that I enjoyed it, and that I was happy, and that I stayed that way long after the night had come to an end.
Weekend inspiration: Sydney
Sydney continues to be one of our favorite cities in the world – vibrant, stunning, with an amazing foodie scene and genuinely nice people. Each year we try to schedule a few street art jobs in Australia so we can spend the Northern Hemisphere's winter in the summer sun of Australia. If you're in town for a few days, here are some of our favorite spots.
Friday evening
If you're looking for places to stay, we recommend anywhere near or on Sydney Harbour. If you can swing it financially, our two favorites are The Pier on Sydney Harbour and the Park Hyatt. Both are majestic hotels set out on the water with equally magnificent views of the Sydney Harbour Bridge and the Opera House.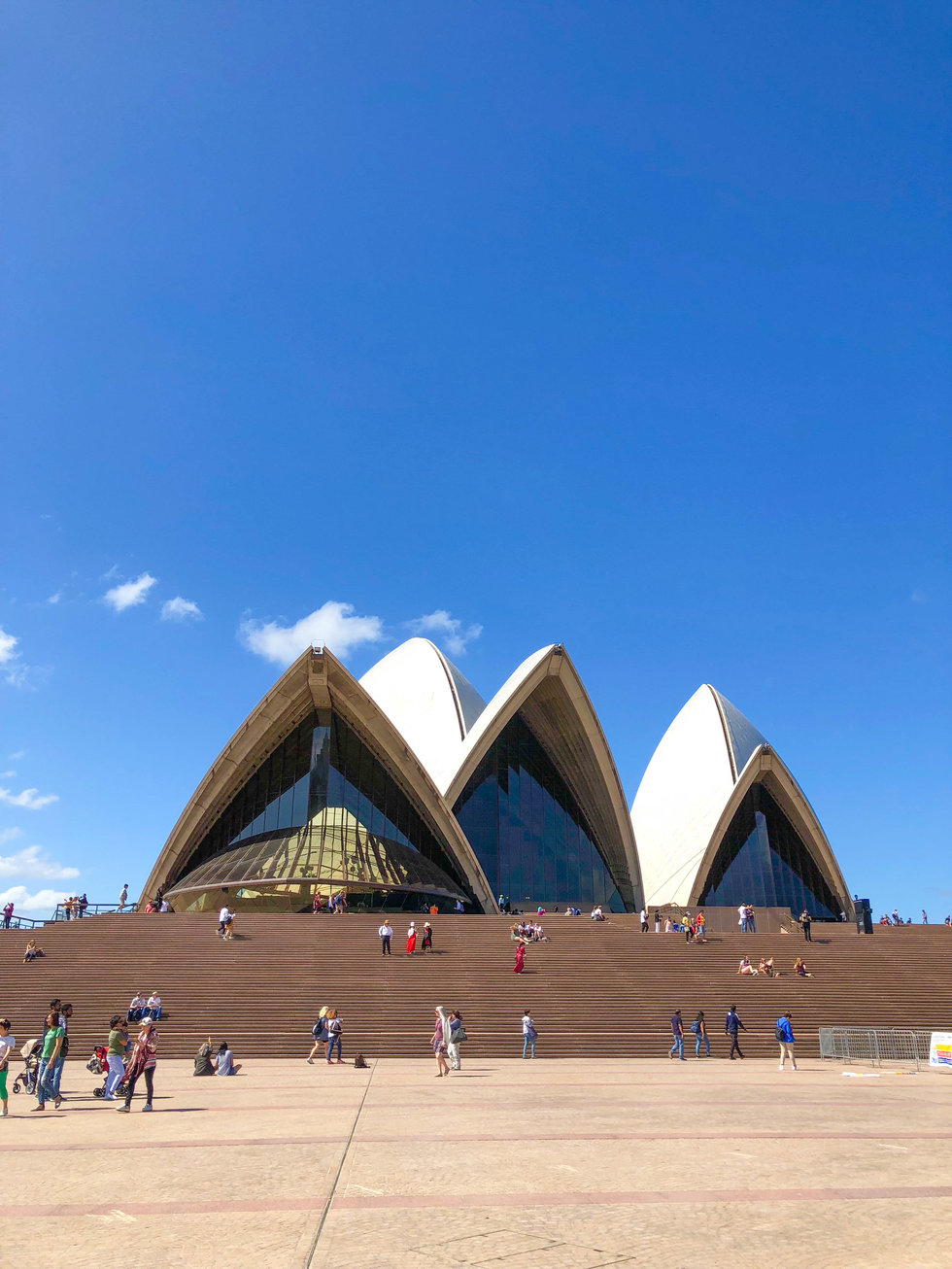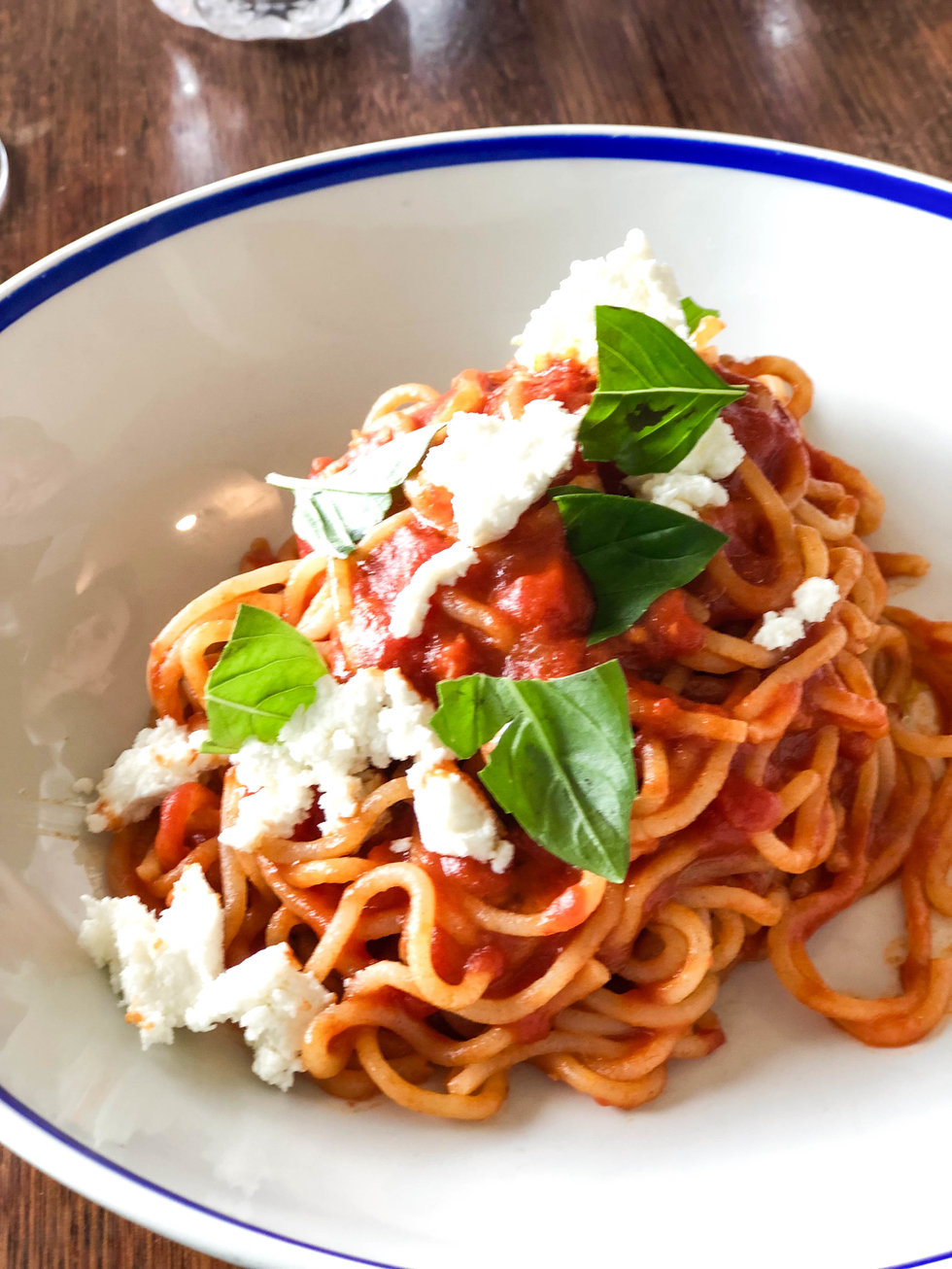 We find that we crave comfort food after a long flight, and there's no better place to enjoy it than Kindred. It's a warm cozy space with pasta and bread made in-house. The lasagna and the burnt butter triangoli can't be beat, and be sure to order a loaf of homemade sourdough with dinner.
Saturday
Wake up early for a full day of exploring the city. Take a short cab or Uber ride to Lorraine's Patisserie – their croissants are warm and buttery and their coffee is strong.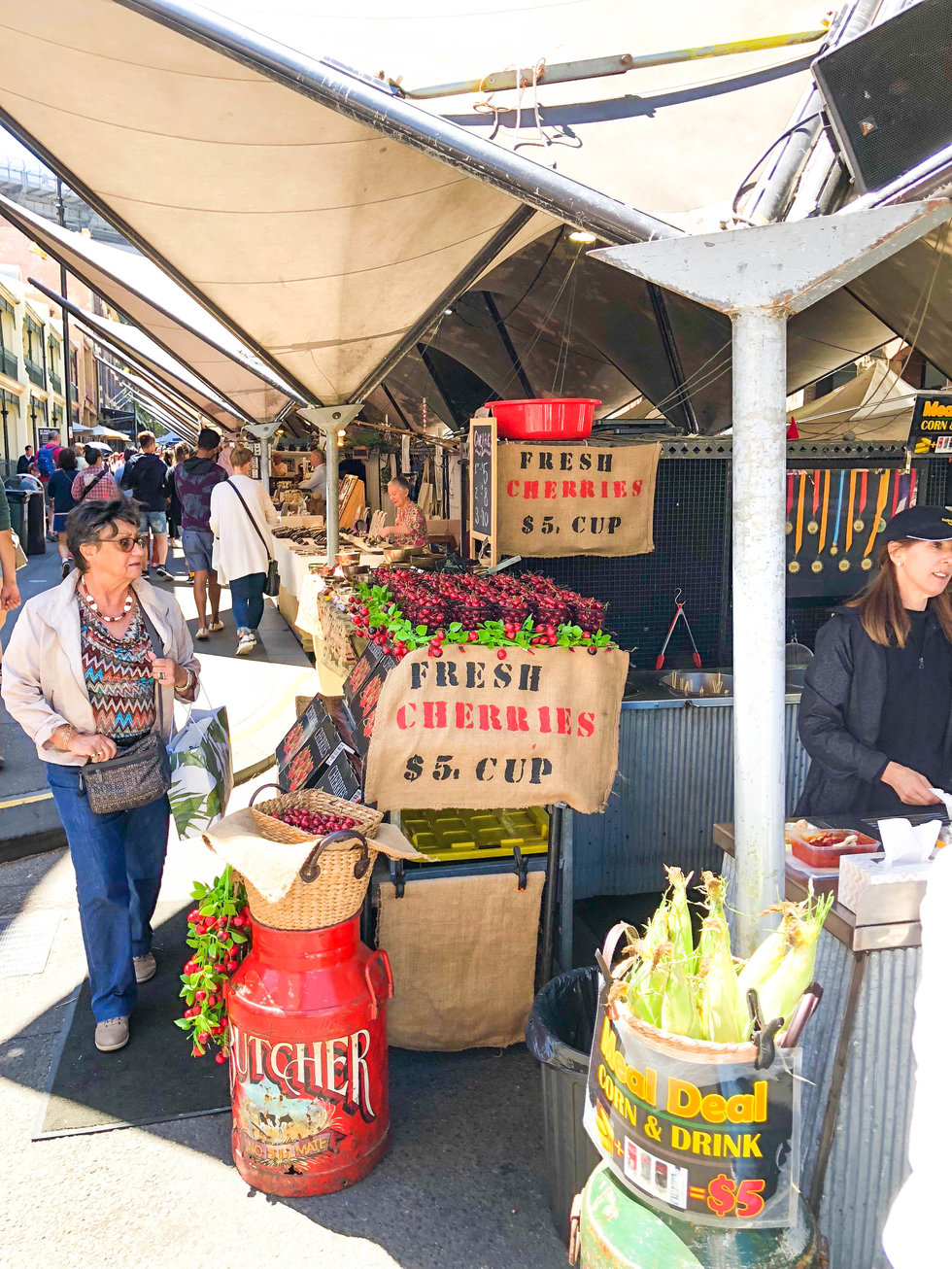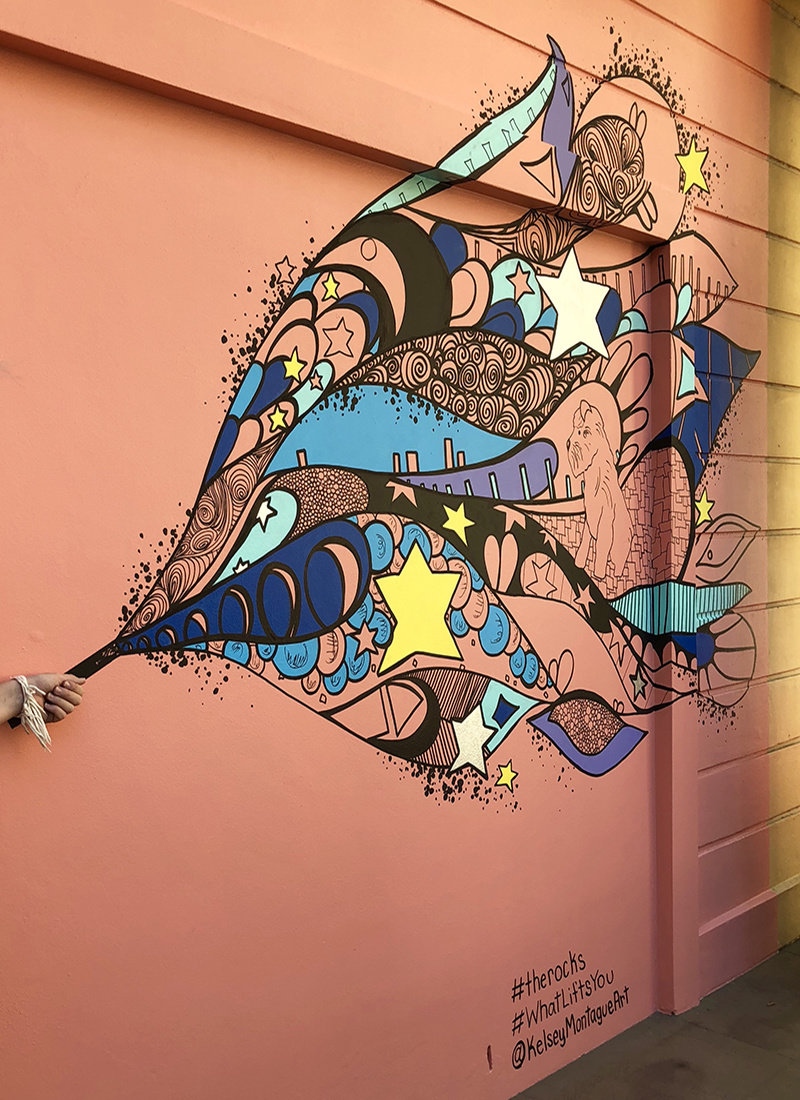 After breakfast, head over to The Rocks Market where they have a stunning array of locally crafted art, jewelry, house ware and beauty products. The homey, cozy cobblestone lanes lead you to some of the best local artisans that Sydney has to offer. Be sure to also take a moment to pose with our Magic Wand street art piece on Atherdan Street.
We recommend The Glenmore Hotel's pub for lunch. This pub, built in 1921, has incredible views of the harbour from their rooftop. Grab one of their Australian Brewery Session IPA's, play a game of pool and end up on the roof with a Glenmore Burger in hand.
Following lunch, grab your swimsuit and take a 30-minute Uber to Bondi Beach – Sydney's most iconic beach. There's more to Bondi than just a beach, beyond is a village full of cafes, restaurants and shops worth exploring.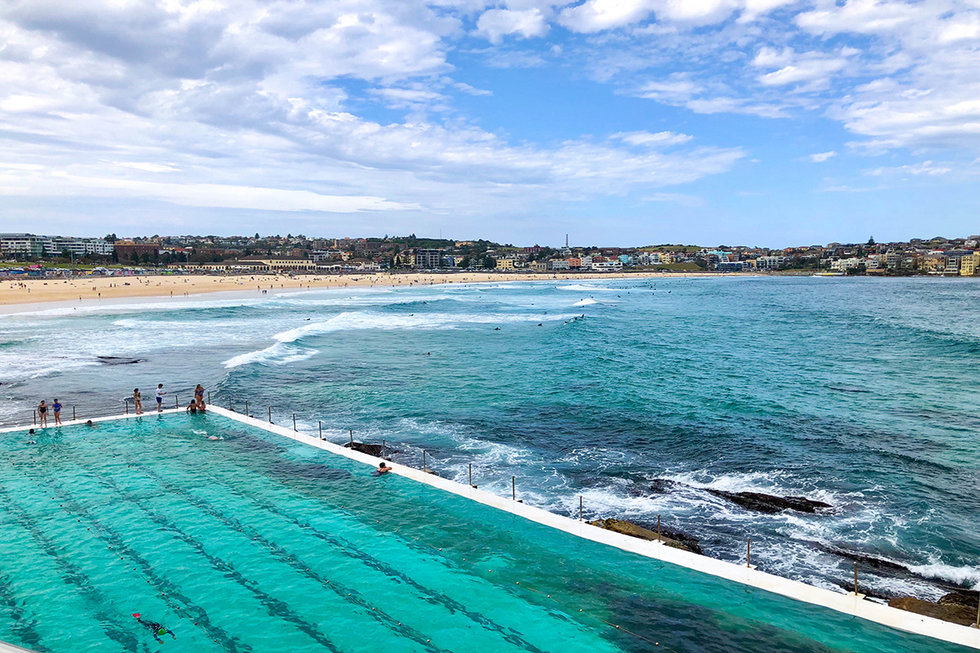 Bring a towel and start off with a cold swim at the Instagram-worthy Icebergs Club swimming pool. When in need of some warmth, lay in the sun on the white sand beach while watching the surfers – you can even take surfing lessons if you'd like.
If you have time, there's a wonderful walk between Bondi and Coogee Beach. This walk takes you along the rocky coast to hidden beaches and swimming holes. It's a beautiful walk that will get your heart pumping.
For dinner walk up the hill to the trendy Bondi Trattoria for great local eats. If you're still awake when you get back to Sydney and looking for a drink, we highly recommend stopping by the Sydney Opera House Bar.
Sunday
Head over to Paramount Coffee Project to grab some caffeine and breakfast. Take a moment to check out the workout schedule for the recreation club on the roof to see if there is a class that interests you.
If you're looking to pet a wallaby or hold a quokka (quite possibly the cutest creature you have ever seen) we highly recommend signing up for the Featherdale Wildlife Park Mammal Encounter. It's about an hour drive from Sydney, but it's definitely worth it.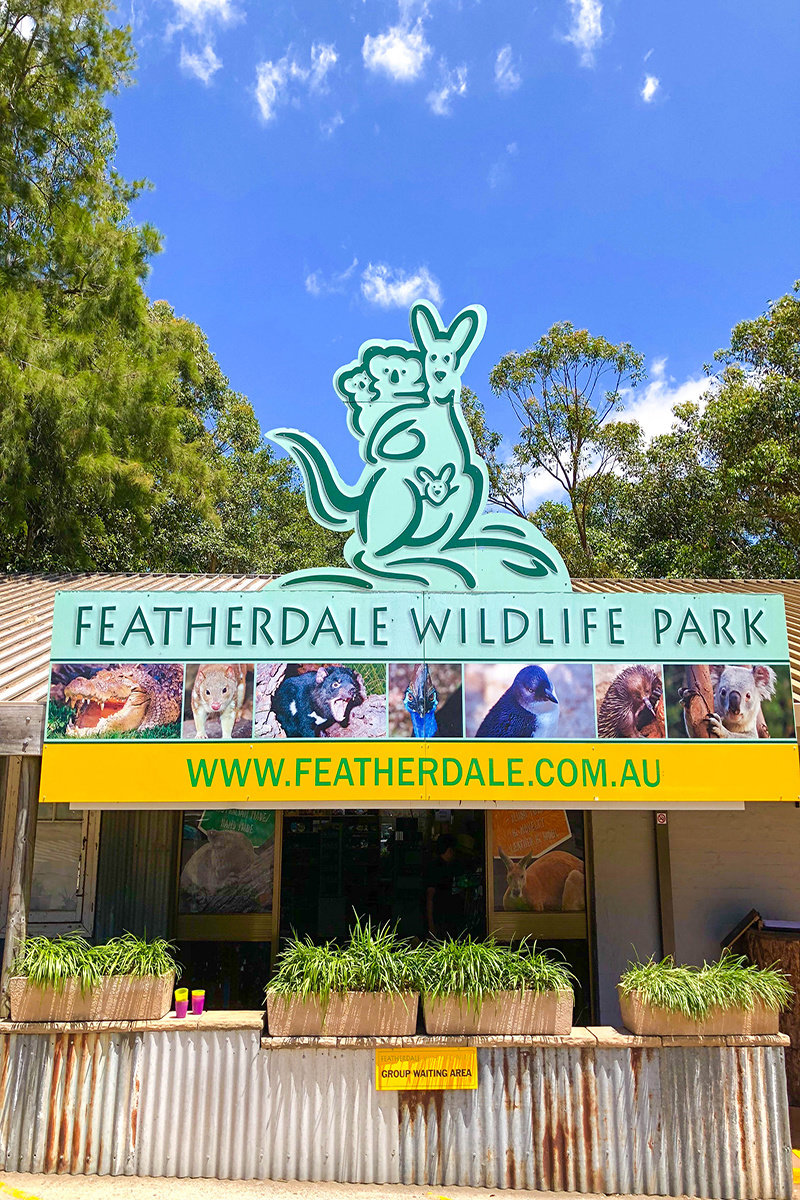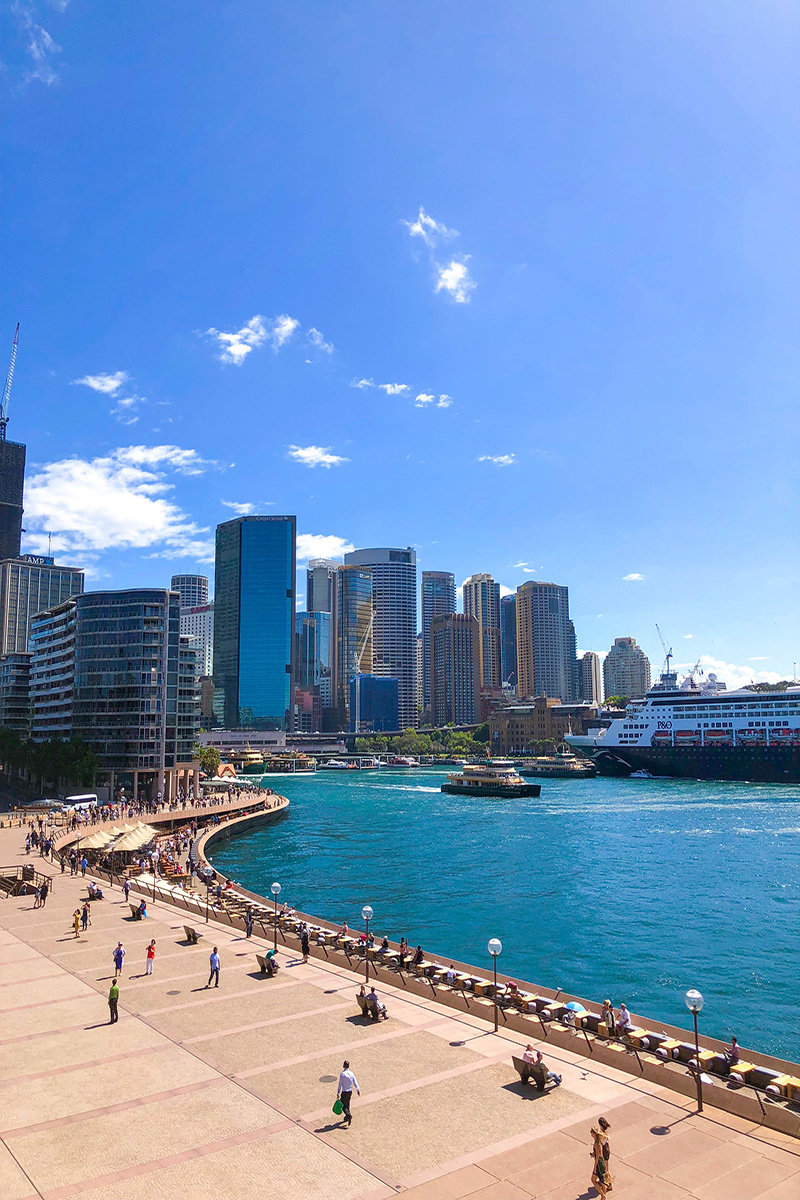 When you get back to Sydney check out Ribs & Burgers on The Rocks for a hearty lunch. In the afternoon, check off two essential experiences by booking an Opera House Tour and, if you're not afraid of heights, the Sydney Harbour Bridge climb. Both offer stunning views and completely unique experiences.

After a somewhat exhausting day we love when we can come back to a hotel and dine there. Park Hyatt offers wonderful dining options, including The Dining Room, which is their signature restaurant. Finish your weekend with stunning harbour views and elegant food.
The reimagined United app: What you need to know
Starting on January 24, customers will be able to access the updated United app. With useful enhancements that provide intuitive assistance every step of the way, the United app still includes the features you know and love. And now, thanks to dynamic messaging, the updated app provides useful information throughout your journey whether at the airport or on the go.
How to install the updated app
If you've enabled automatic updates, the United app will automatically update. Otherwise, you'll need to manually update the app to see the updated version. Once you've updated the app, you'll no longer be able to use the previous version. If your phone is set to auto-update, the app will automatically appear on your device and stay. Otherwise, you'll have the previous mobile experience until you manually update.
Dynamic messaging
The United app will now display the most useful and relevant information throughout your journey. For example, 24 hours before departure, the home screen on the United app will prompt you to check-in. Once checked in, an option to get your boarding pass will populate right on the home screen so you'll no longer need to access it via the boarding pass tab on the current version of the app.
Locating your boarding pass
If you're signed in to your MileagePlus® account, access to your boarding pass will appear on the app's home screen along with other details about the flight. If you're not signed in to a MileagePlus account, you'll need to go to "My Trips" on the bottom navigation bar. (Please note that mobile boarding passes are available for flights departing from all U.S. airports and select international airports.)
Accessing your profile and United Club℠ card
All this information will now be accessible from a "My Profile" section, so you can see everything in one place. You can find the "My Profile" section by selecting the icon of a person in the top right corner.
New options on the navigation bar

The new bottom navigation bar provides quick access to the most popular and helpful features. Find information about upcoming flights under the "My Trips" section that houses important information like your boarding passes and flight details. You'll also find an inbox icon section that stores important and useful information including gate changes, flight status updates and boarding alerts. You can also easily toggle back to your home screen from the bottom navigation bar.
Personal device entertainment
If personal device entertainment is offered on your flight, you'll see a tile titled Inflight Entertainment within the "Just for you" section on the home screen. The "Just for you" section will also give you access to other features such as how you can locate a United Club or how to earn award miles. You can also select "Wi-Fi & entertainment" from the More menu, located at the upper left hand of the app's home screen.
Finding the seat map
You can access the seat map for your flight via Flight Status on the bottom navigation bar or within Trip Details — when you have an upcoming flight there will be an option to view the seat map.
How to add or remove flights from your Flights Status list
Any upcoming flights will be displayed in the Flight Status section of the app. There is no option to remove a flight as the Flight Status section will be automatically update itself two days after your travel is completed.
Changing the image on the home screen
There is no way to change the image on your home screen manually. Instead, the image will update once a day based on the destinations most commonly searched for by our customers.
Porto: Portugal's surprising second city
"Second cities" or those that rank #2 in population often surprise world travelers. And second doesn't mean second-rate. Porto is Portugal's second city — so off-the-radar that many world travelers haven't even heard of it. Yet, Porto and nearby spots in northern Portugal can be delightful destinations even if you don't visit the more well-known city of Lisbon.
Old city by day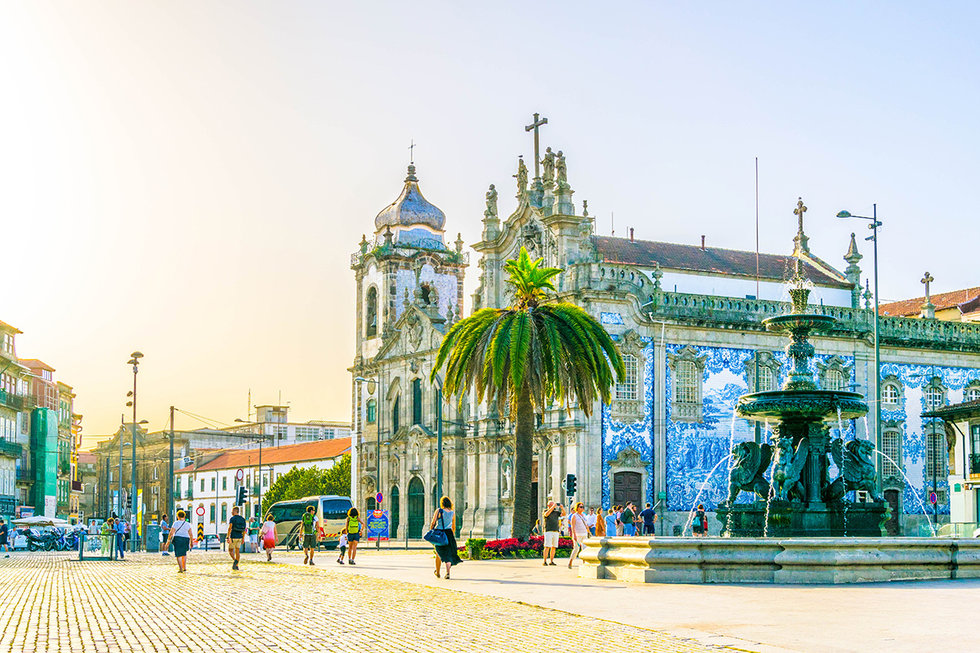 The best place to get oriented, as in most European cities, is in the old city center. Porto's Old City is so well-preserved that it's a UNESCO World Heritage Site. A 12th-century cathedral and the 15th-century Church of St. Francis, notable for interior wood carvings gilded by hundreds of pounds of gold, are mixed in with a rich collection of imposing granite, red-roofed Baroque buildings. Add 225 stairs and a stirring view to your walking tour by ascending the 250-foot-high Clérigos Church bell tower, built in 1754, which dominates the Porto skyline. Historic bridges over the Douro River and Soares dos Reis National Museum, an art museum housed in a palace, are also excellent sites to see.

Food and music by night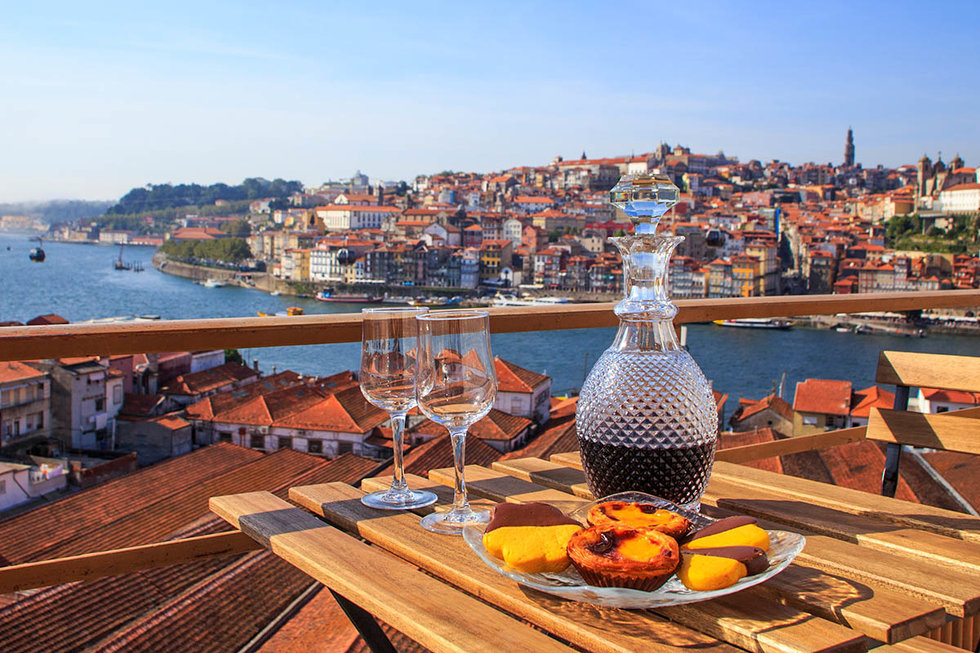 Porto's youthful population has turned it into a lively city after dark. You might start off the evening in the Old City at Abadia do Porto, a 1939 restaurant that serves traditional Portuguese dishes like roasted lamb and grilled octopus, or at Astoria, with its modern Portuguese fare served inside a former palace. Whether you choose a Portuguese, French or fusion restaurant, seafood is likely to be highlighted, drawing on Porto's proximity to the Atlantic and the Douro. Then, you can head to the large collection of bars and nightclubs in the nearby Galerias district, which includes Radio Bar, inside a former court building, and Gare, a disco in a tunnel that stays open until 6 a.m.
Head west to the beaches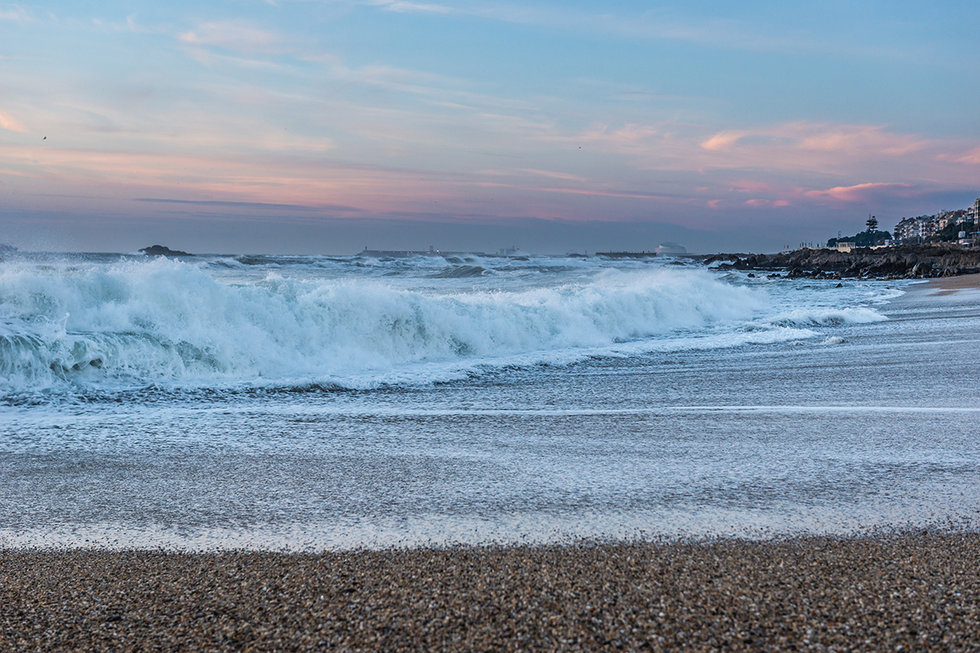 The closest Atlantic beaches to central Porto are at Foz do Douro (mouth of the Douro), just 20 minutes away by city bus. But why settle? In a rental car you can explore Atlantic beaches and beach towns that extend for hundreds of miles along Portugal's coastline. Two of the best are Foz do Minho, the nation's northernmost oceanic beach that's just across the Minho River from Spain, and Quiaios, a dune-fringed paradise of sand south of Porto. Many beaches in northern Portugal are cradled in coves protected by rocky promontories, similar to northern California and Oregon beaches.

Or east to the wine country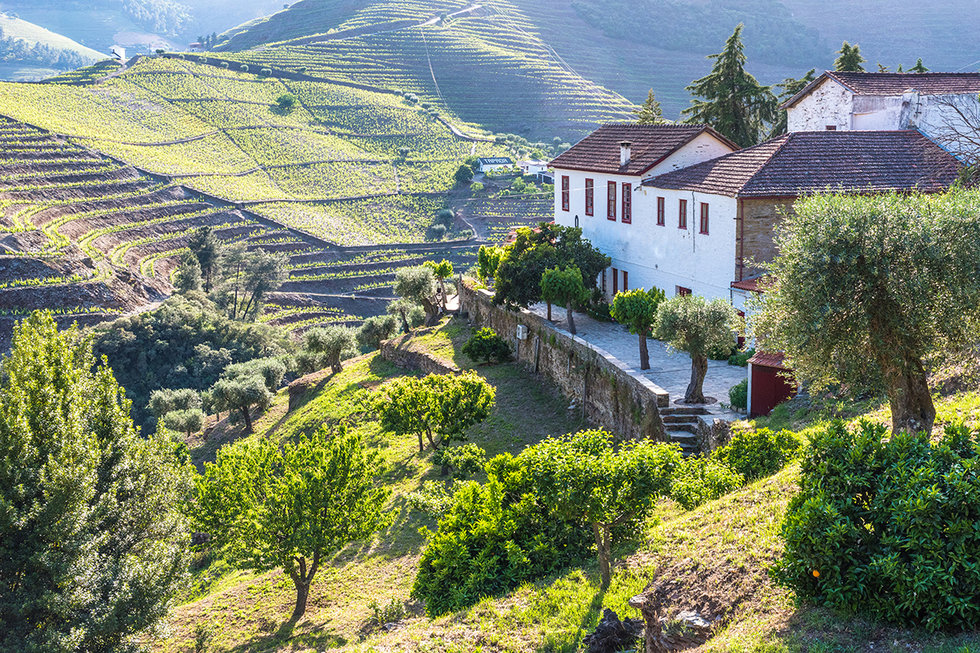 The Douro Valley wine region is another World Heritage Site and one of the world's best and most scenic wine regions. It's up the Douro River from Porto by boat or 90 minutes by road. Namesake port wines and other fortified wines are the region's signature beverages, which can be sampled at tasting rooms on the Douro along N-222, a wine road that's been called the world's most scenic drive. While you're in the area, check out the wine and anthropology museums in the wine towns and yet another World Heritage Site — Coa Valley Archaeological Park — known for its prehistoric rock carvings.
The basics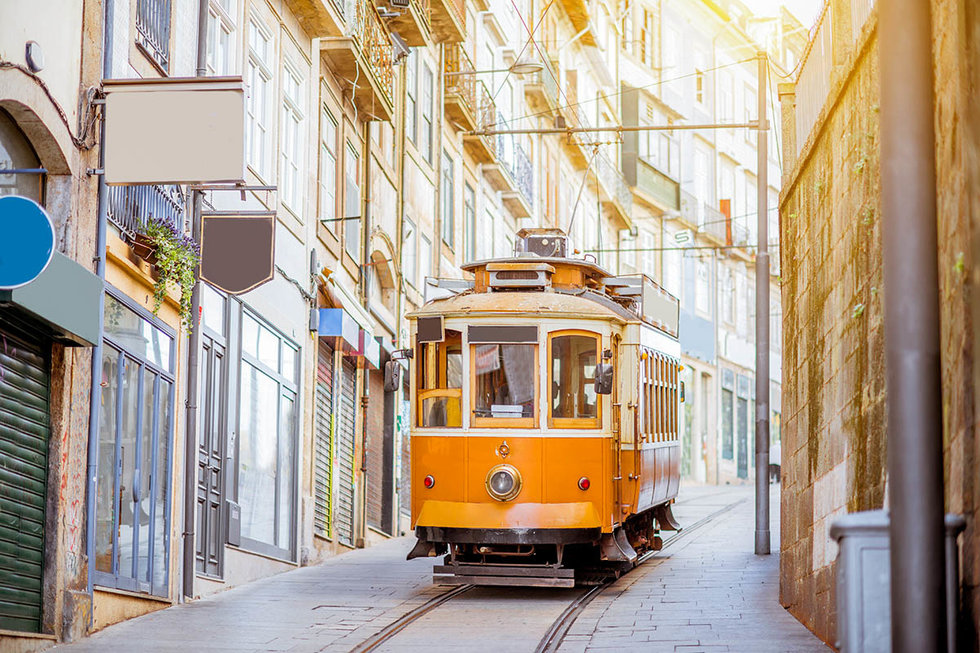 Portugal's Mediterranean climate and coastal breezes bless it with mild weather year round, as the average temperature ranges from 57 degrees (and rain) in January to 78 degrees (and a little rain) in August. Whenever you come, there's no need to learn Portuguese as English is spoken even more widely than elsewhere in Western Europe. Once you arrive, rent a car only if you don't mind ridiculous drivers. The trains are more relaxing — light-rail and subway trains crisscross the Porto area and funicular cable cars climb its steepest hills. There's even a scenic train that follows the Douro nearly to Spain, with a roundtrip fare of only about $30.
Getting there
Portugal requires that visitor passports don't expire until at least three months after the arrival date, so check that. Next, buy some Euros (for a great exchange rate) and reserve a flight. United Airlines flies nonstop from New York/Newark to Porto and MileagePlus® award miles can be redeemed to cover accommodations and Hertz rentals. Go to united.com or use the United app to plan your trip.

United 787-10 Dreamliner launch
Story was contributed by: Jennifer Lake | Photography: Alicia of Aesthetica
It was a typical Monday morning. I'm sitting at my desk at work, drinking coffee, reviewing my to-do list for the week. All around me, heels are clacking through the office and phones ring intermittently. However, this particular Monday morning was different. Ultimately, I would receive an offer from my favorite airline for a collaboration to participate in the United 787-10 Dreamliner launch from Los Angeles LAX to New York/Newark EWR. Read the full story here featured on Style Charade.
Fit for the runway: We begin testing new uniforms
Last year we announced new partnerships with Tracy Reese, Brooks Brothers and Carhartt — best-in-class fashion and apparel designers — to help reimagine uniforms for more than 70,000 of our employees. Focusing on high quality fabrics, improved breathability and overall enhanced fit, our goal is to design and develop a more cohesive collection that looks good, feels good and enables employees to perform at their best on behalf of our customers.
United employees can learn more on the uniform designs by visiting Flying Together.
An insider's guide to Boston
Boston is a pack-it-all-in kind of place. Founded in 1630, one of America's oldest cities does many things well. Boston's many claims to fame include many of America's oldest historic landmarks and one of its oldest ballparks. It's a destination for history buffs, culture vultures, foodies, sports fans, families and more. No matter who your travel companions are or what they're interested in, everyone will find something to pique their interest in Beantown.

Getting there & around town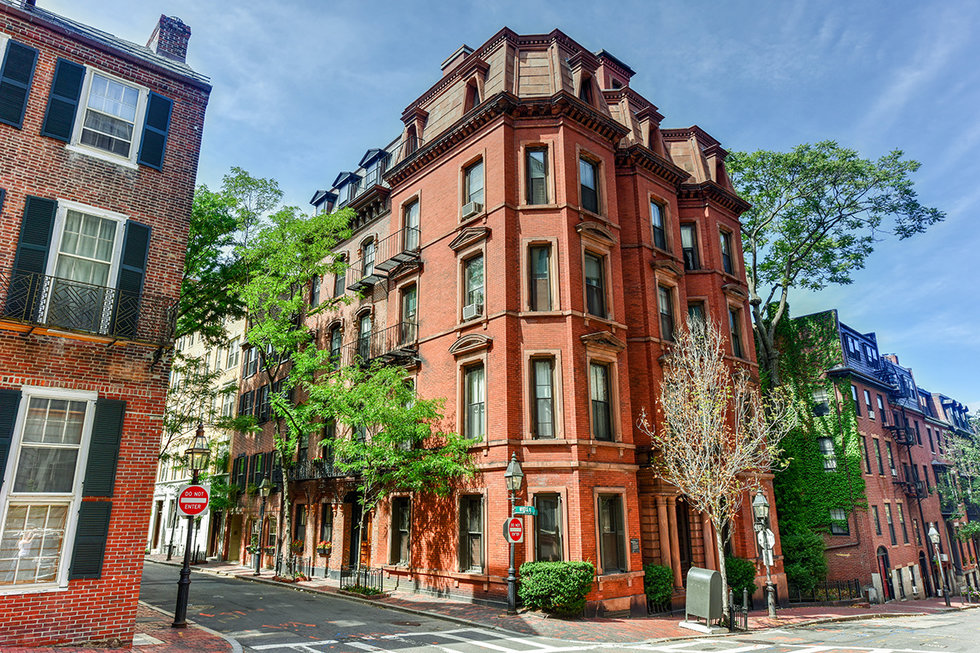 Fly direct to Boston's Logan International Airport (BOS) from many U.S. cities — visit united.com or use the United app to book your flight. Flights are 90 minutes from New York, two hours from Cleveland and five to six hours from California. From Logan International Airport, it's easy to hail a taxi, use ridesharing apps or take public transportation. If you want to take the scenic route, take a water taxi across Boston Harbor directly into downtown.
Downtown Boston is easy to navigate. It's walkable and taxis are plentiful. The MBTA, Boston's public transportation system, offers affordable access to Cambridge, many attractions and the suburbs. Keep in mind it's one of the oldest transportation systems in the country, so expect a few bumps. Because the city is dense, parking can be expensive or hard to find, so avoid driving if you can.
When to visit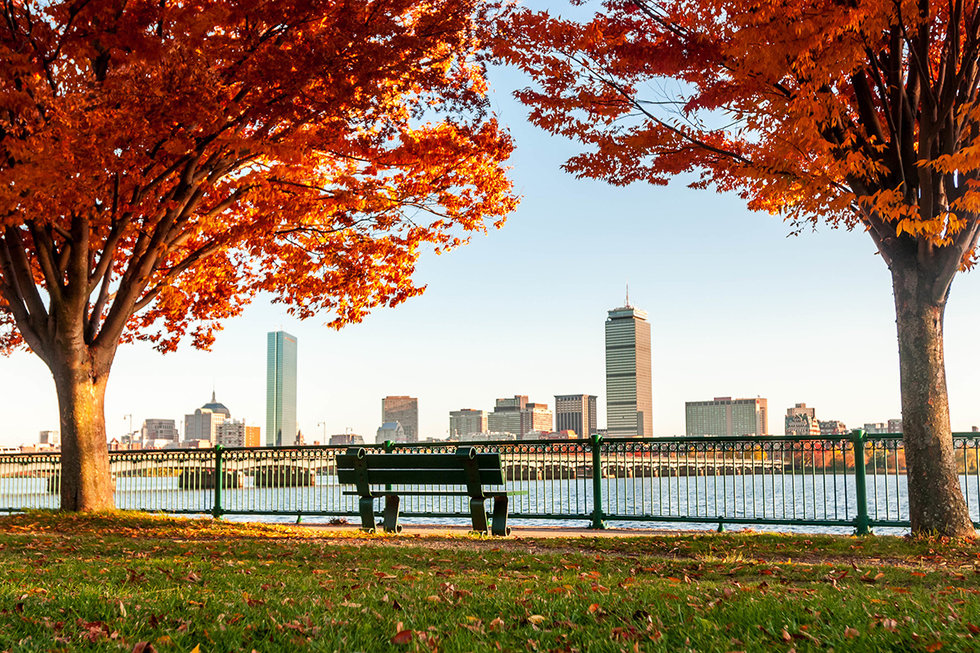 Summer and fall are the most popular seasons to visit. Summer is prime time to enjoy Boston's many parks, outdoor eateries, open-air concerts and baseball games at Fenway Park. Mild fall weather, beautiful autumn foliage and Halloween festivities in nearby Salem, Massachusetts make October one of Boston's busiest months. The city also sees an influx of visitors for the Boston Marathon in April. You'll find smaller crowds and more affordable prices in winter, but brace yourself for the cold.
What to do
There's so much to take in just by walking through Boston's cobblestoned streets. Downtown is quaint, compact and easy to explore by foot. The small city is packed with historic sites, New England's finest food, proud sports fans and friendly locals.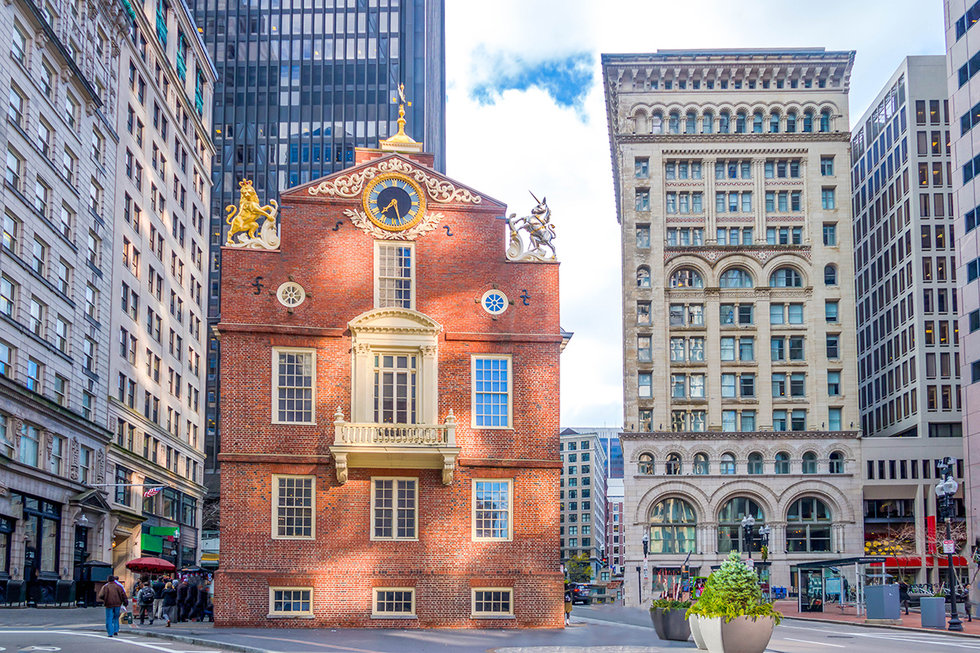 As the birthplace of the American Revolution, Boston's historic sites are an attraction in themselves. Walk the 2.5-mile Freedom Trail to visit 16 of them around the city, including Revolutionary-era museums, churches, buildings and an impressive warship. Faneuil Hall Marketplace is on the trail, too, and is one of Boston's top attractions, with plentiful shopping, dining and live music. Not much of a walker? Boston Duck Tours operate land-and-water historic tours on World War II-inspired vehicles, which transform from truck to boat mid-tour.
Many museums and sites are tucked along Boston Harbor. The waterfront is always bustling with activity year-round. The harborwalk is the perfect place to meander and explore without a strict agenda. Plan to visit a major attraction or two, but leave time to enjoy the scenery or to pop into a café for a coffee and sweet treat (award-winning Flour Bakery + Cafe is a local favorite).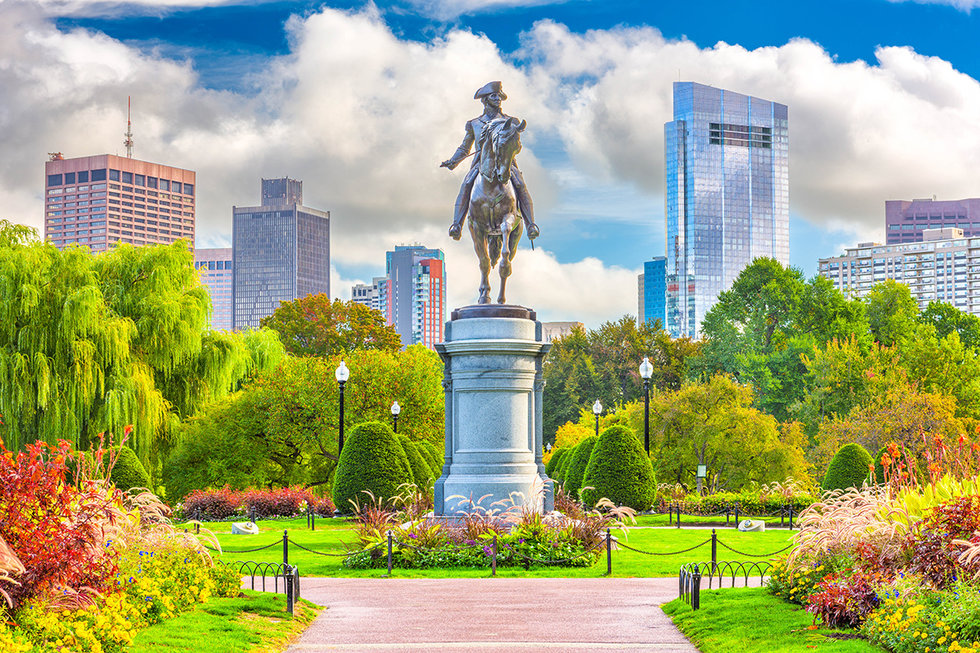 Deemed the "Athens of America," Boston boasts not only some of the country's oldest and most architecturally significant buildings, but also a thriving arts and culture scene. You could spend your entire trip touring its dozens of world-class museums. Take in classical music at the famous Boston Symphony Orchestra, or take a leisurely stroll through Boston Public Garden and Boston Common, the city's most well-known public parks. Riding the giant Swan Boats through the Public Garden lagoon is a kitschy, yet delightful experience, especially for kids.
What to eat
What must you absolutely eat in Boston? In short, everything. Long ago the city was nicknamed Beantown, allegedly after slow-cooked molasses baked beans served to sailors and traders. Today, Boston continues its reputation as a great eating city. From clam chowder to cannoli, the most popular dishes here are often hearty and decadent. Boston is also known for fresh lobster rolls, roast beef sandwiches and, of course, Boston cream pie.
Ask any Bostonian where to find "the best" of anything, and everyone will recommend a different spot. Cannoli from Mike's Pastry, Boston cream pie from Omni Parker House (where it was invented) and the roast beef 1000 sandwich from Cutty's frequently top the must-try lists. If you make it to a ball game at Fenway Park, Fenway Franks are a Boston staple.
Our role in 'Spider-Man™: Far From Home'
In Columbia Pictures upcoming release in association with Marvel Studios, "Spider-Man™: Far From Home," our web-slinging hero finds himself – yep, you guessed it – far from his home in New York City. And since flying is one of the few superpowers Spider-Man doesn't possess, we gave him a little help, meaning United is featured in the film.
The scenes of Peter Parker and his pals traveling to Europe take place on one of our Boeing 777s with the all-new United Polaris® business class, and several of our employees – including members of our Tech Ops, Inflight, Flight Operations and Airport Operations teams – served as actors and production support during shoots at New York/Newark (EWR) and London-Stansted (STN).
London-Heathrow (LHR) Customer Service Representative Manjit Heer and LHR Cargo Warehouse Operations Manager Richard Miller were background extras on board, and multiple flight attendants had a role, including San Francisco (SFO) Flight Attendant Tammy Harris.
"It was extremely surreal," said Tammy. "I was in my element because I was on the plane in uniform, but not really, because I'm not an actor."
Tammy said she hit her mark and delivered her line with gusto, and she's excited to see if she made the final cut when "Spider-Man™: Far From Home" hits worldwide theaters this summer.
"Hopefully, I'll have my two seconds of fame and all will be well," she joked.
Los Angeles (LAX) Aircraft Maintenance Supervisor Fernando Melendez is a veteran of several film shoots but said this one was his favorite. When the production went to London, he was one of five members of LAX Tech Ops who went over to look after our airplane and make adjustments to its interior based on the filmmaker's needs.
"When we parked the plane at Stanstead, there were lights and cameras surrounding us. It was like the plane was the star of the movie," he said. "Each day, we would work with the assistant director; he would go through and say, 'Okay, for this shoot we need these seats, or these panels removed,' so they could get the camera angles. Pretty much, the airplane was our responsibility; we opened it in the morning and closed it at night. We were the first ones there and the last ones to leave every day."
Fernando said the actors were all very gracious and engaging, and said the whole experience was fantastic from start to finish. It also earned him a little cooler cred with his 18-year-old son, who is a massive Marvel fan.
Leading up to the film's premiere this year, there will be plenty of ways for employees and customers to get into the Spidey spirit in anticipation of our cameo. Stay tuned for more details.
---
Peter Parker returns in "Spider-Man™: Far From Home," the next chapter of the Spider-Man™: Homecoming series! Our friendly neighborhood Super Hero decides to join his best friends Ned, MJ, and the rest of the gang on a European vacation. However, Peter's plan to leave super heroics behind for a few weeks are quickly scrapped when he begrudgingly agrees to help Nick Fury uncover the mystery of several elemental creature attacks, creating havoc across the continent!
Directed by Jon Watts, the film is written by Chris McKenna and Erik Sommers based on the Marvel Comic Book by Stan Lee and Steve Ditko. The film is produced by Kevin Feige and Amy Pascal. Louis D'Esposito, Victoria Alonso, Thomas M. Hammel, Eric Hauserman Carroll, Stan Lee, Avi Arad and Matt Tolmach serve as executive producers. The film stars Tom Holland, Samuel L. Jackson, Zendaya, Cobie Smulders, Jon Favreau, JB Smoove, Jacob Batalon, Martin Starr, with Marisa Tomei and Jake Gyllenhaal.
"Spider-Man™: Far From Home" makes its way to North American theaters on July 5, 2019.
What to expect from our improved app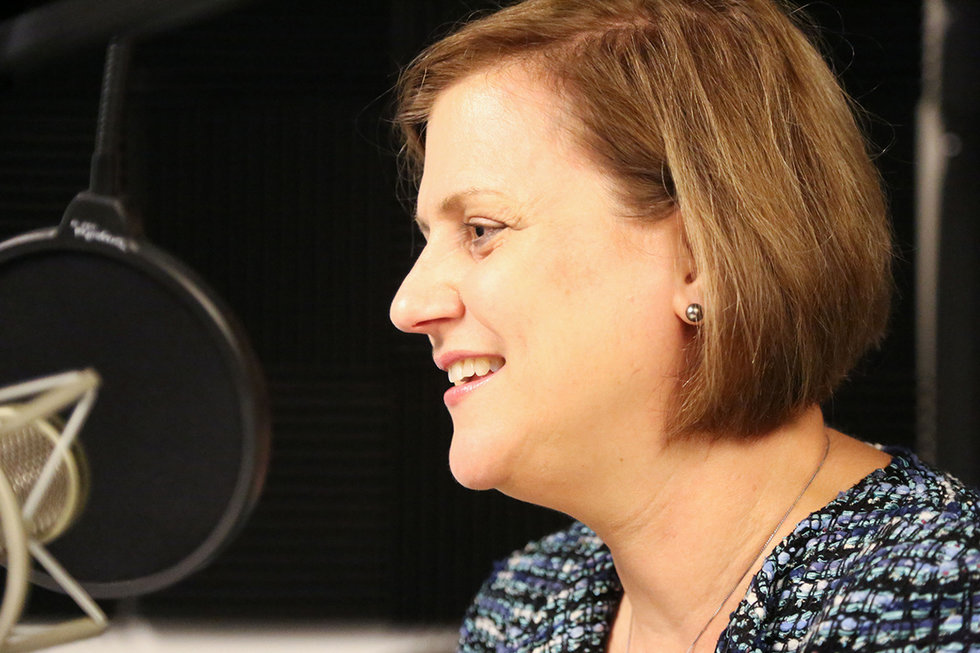 "Talking Points," host Brian Kelly, aka The Points Guy, is joined by Linda Jojo, Executive Vice President for Technology and Chief Digital Officer at United Airlines to discuss what passengers can expect from our improved app.
Read more about the improvements to the United app here.

Scroll to top