Three Perfect Days: Los Cabos
Story by Joshua David Stein | Photography by Brad Torchia | Hemispheres, December 2017
Due to linguistic laziness, perhaps, the diverse cluster of settlements on the southern tip of Baja California have been bundled into one word: Cabo. But cabo simply means "cape." Dotted along this spit of land, the Pacific Ocean on one side and the Sea of Cortez on the other, the towns are uniform only in their seaside beauty. Cabo San Lucas, the best-known, is commonly associated with youthful hedonism. San José del Cabo, 20 miles up the coast, has always been the shy sister with artistic ambitions. Farther still, past some of Mexico's best surfing beaches, is the village of Cabo Pulmo, whose lifeblood is a majestic marine preserve. What this all means is that while Cabo may not have something for everybody, Los Cabos probably does.

The Middle-Aged Man and the Sea
I see the marlin twice, but only once alive. Jostled from a fitful nap on the deck of a fishing boat, the Valerie, 25 miles off the coast of Cabo San Lucas, I awake to see the fish arcing in the air, its cobalt skin iridescent against the brilliant sky. The captain, a wiry 55-year-old named Roberto Sandez, and his somewhat broader first mate, 54-year-old Salvador Flores, clomp down the steep ladder from the bridge to secure the rod. The boat ride, which had previously felt like a pleasure cruise, is now a hunt.
Earlier this morning, under a sky the color of a ripe eggplant, I drove to the Cabo San Lucas Marina. My family was still asleep under comforters in the battlements of the nearby Westin as I headed toward a body of water teeming with life: great shimmering masses of tuna and marlin, dorado, roosterfish, crevalle jack, and hundreds of other gamefish that have made Cabo the sportfishing capital of the world.
The sea began it all. Before Cabo San Lucas became known simply as "Cabo" in the mid-20th century, it was a fishing village of about 100 inhabitants. In 1955, the owners of Empresas Panado, the largest tuna cannery in Mexico, brought in a young Spaniard named Luis Bulnes Molleda to manage the plant. One day, Bulnes saw a boy catch a marlin on a handline from the dock and this, so big a fish caught by so young a boy so close to shore, made an impression on him. He later bought a stretch of undeveloped land and he and a partner built a hotel, Finisterra (now the Sandos Finisterra). He was convinced crowds would come for the marlin.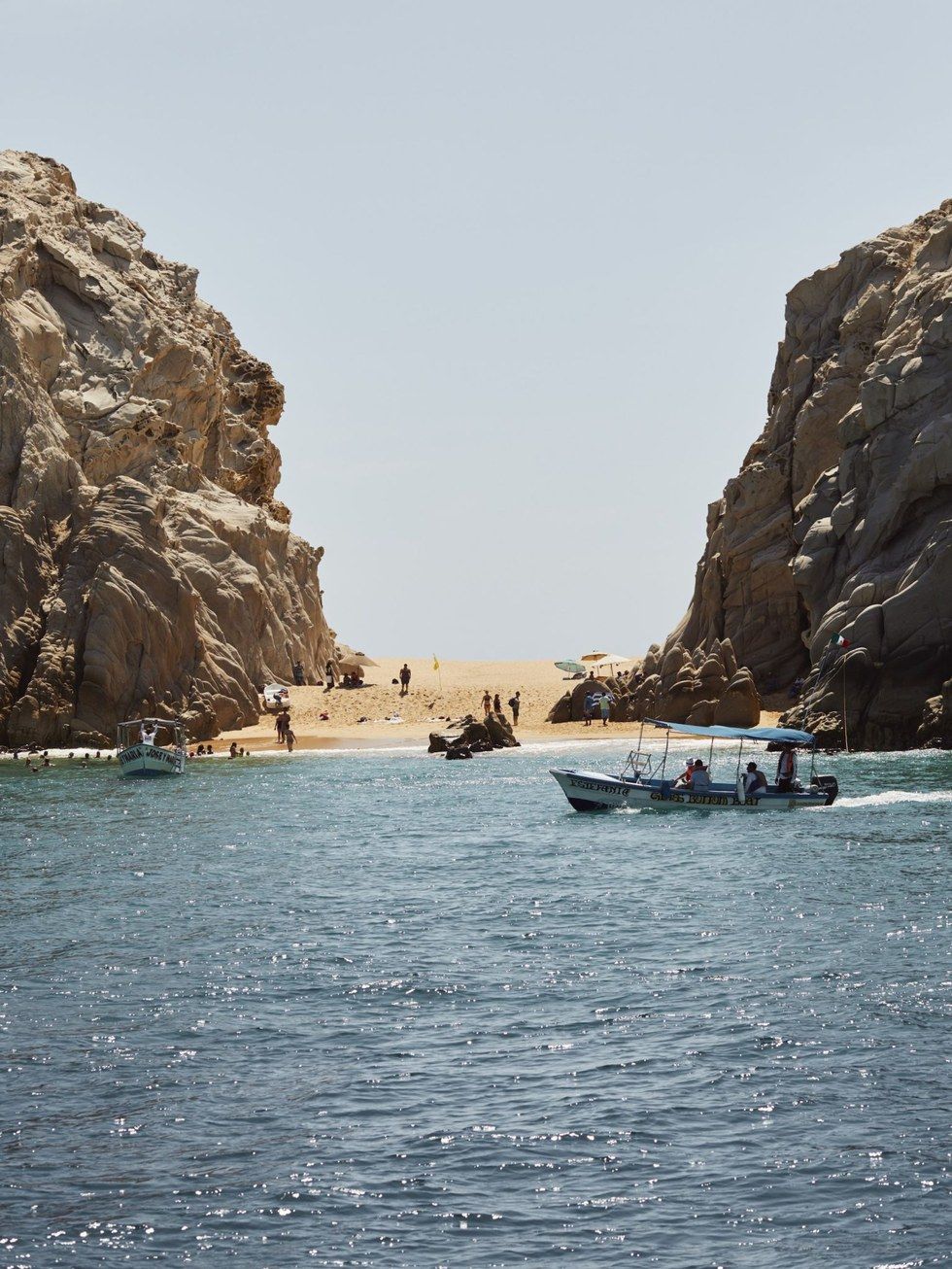 Playa del Amor, next to El Arco
When I climb aboard the Valerie this morning, there are no empty slips or vacant lots near the shore. Hotels occupy every sun-kissed plot of land, like turtles on a log, and on the water all types of vessel, from huge pleasure yachts to dented old pangas, bob gently, packed tightly. As we head out to sea, a lone pelican peers from the famous rock formation El Arco del Fin del Mundo (the Arch at the End of the World) into an ocean uninterrupted until Antarctica. I wonder if Molleda could have possibly imagined how right he would be. Marlin no longer swim shoreside, says Captain Roberto, who has been running charters here for more than 30 years. "I remember when we used to fish close to the land," he notes. "Now we have to go out for miles." Knowing this, I take a quick doze on the deck.
"Back at the marina, the fish causes a stir. It's nearly 350 pounds, too heavy to lift."
Then it happens: the shimmering marlin taking to the air and the clamor that follows. The men gesture for me to take my place in the fighting chair, a swiveling contraption at the stern. Rod in hand, I realize that I have no idea what to do. They mime reeling in the line, then pulling up on the rod, which is nowhere near as easy as it sounds. I vaguely recall that it took the old man from Hemingway's The Old Man and the Sea three days to haul in his marlin. I ask the captain how long it might take me. He shrugs. "Anywhere from 45 minutes to eight hours." It's hot. I'm sweaty. I'm fighting an animal. I hope it doesn't take that long.
An hour or so later, the epic struggle over and the onboard selfies taken (the fish, which normally would have been released, died of exhaustion), I ask the captain what he'd be doing if not for sportfishing. "Nothing," he says, his eyes fixed on the horizon. "There'd be nothing to do."
Back at the marina, the fish causes a stir. It's nearly 350 pounds, too heavy to lift by hand. A crowd gathers as the dockmaster wraps a loop of rope around its tail and winches it up. Next, we haul the fish across the harbor to be filleted. As a guy with broad shoulders and a sharp knife gets to work, a kitten waits under the table for scraps. Outside, a wrinkled old man hangs his hands on a gate. "Nice fish you got there, brother," he says. "Can you spare any?" His name is Ernesto. He was born in Chiapas, Mexico's southernmost state, but spent 30 years in Dallas before being deported a few weeks ago. I take a small portion of the fish for myself and give the rest to Ernesto and the crew.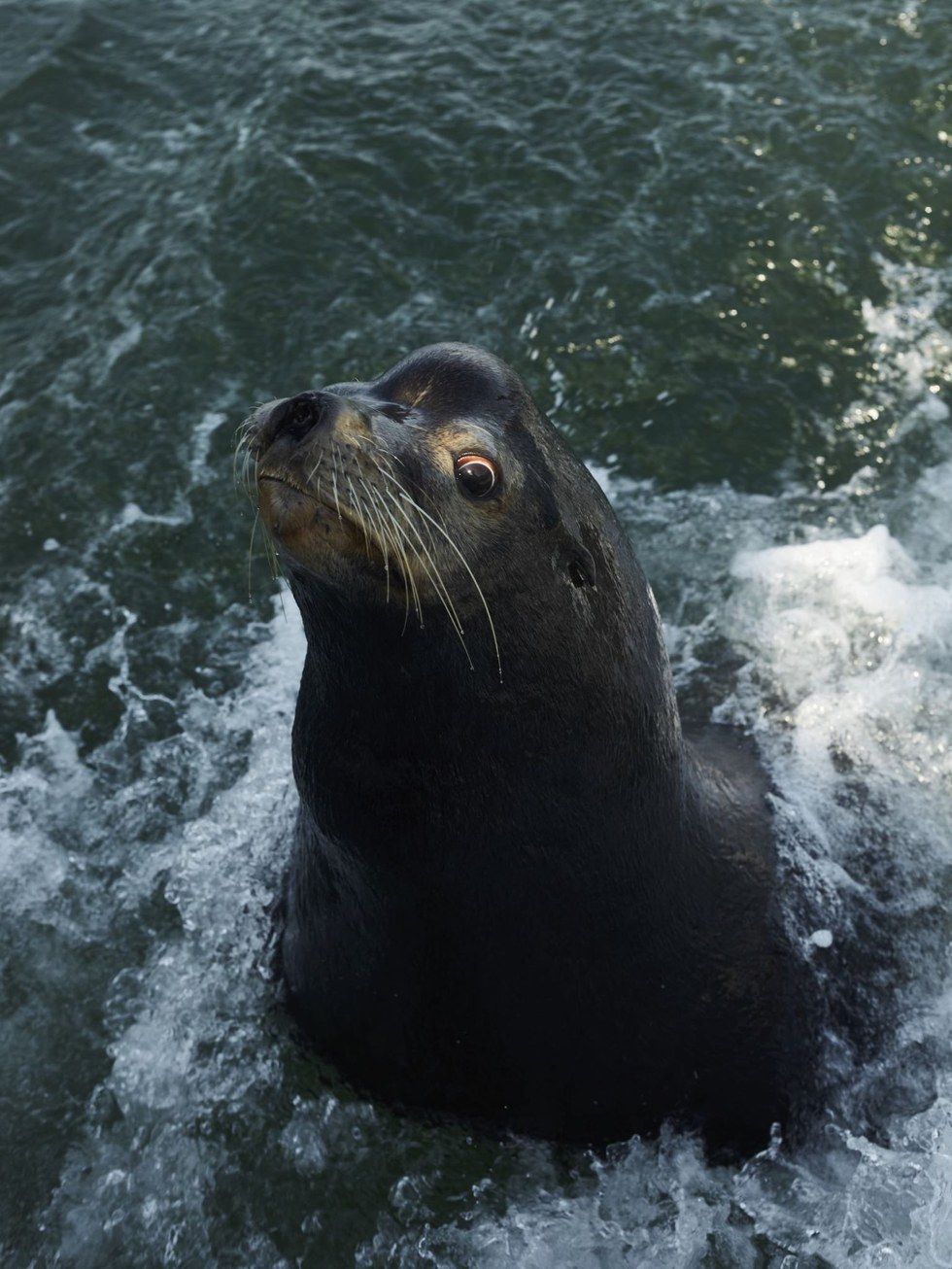 A sea lion hoping for fish from the day's catch
With a marlin steak in a plastic bag in the trunk—an ignominious end, I suppose, for so great a fish—I drive 10 miles north of town to the Chileno Bay resort. For the last six hours, my wife, Ana, and two children have been splashing in the resort's cascading infinity pool, which forms a sort of cabana-flanked stairway to the ocean. In our suite, which is much larger than our home in Brooklyn, my sons Auggie and Achilles—ages 4 and 5—keep repeating "This is sooo fancy," as they jump on all the beds and open every closet door.
After a delicious sunset dinner—chicken fingers my kids declare the ideal form; tremendously flavorful totoaba, a type of drum fish, for my wife and I—at Comal, the resort's fantastic restaurant, I head back into Cabo, alone, to party. Post-dusk is very different from pre-dawn. Neon signs blink. Young women in tube tops drink from outsize goblets while young men in cargo shorts gawk and sip beer. But it's not all lurid indulgence. I head past the kitschy Señor Frog's club to a new bar called the Blind Boar, which is said to have some of the best cocktails in town. These come from the hands of William Fox, a second-generation transplant from Chicago whose repertoire runs from classics like the Vieux Carré to in-house creations like the Hemingway, a play on the daiquiri.
"Basically," Fox tells me, "a bunch of us local bartenders were tired of making margaritas and shots." Later, sipping a tequila negroni, a neat twist on the classic, my thoughts turn to that marlin, caught for a moment in the light and then caught for good by my line. I step out into the hot night, amid shoals of tourists and neon lures, and quietly make my way back to my family.

Sea-to-Field-to-Table in San José del Cabo
Where Cabo San Lucas is most itself at night, the quiet cobblestone streets of San José del Cabo are best explored during the morning hours, before the sun sizzles the plazas. After an early breakfast of huevos motuleños, a Yucatecan dish with poached eggs, tortilla, and ham, at the Cape Hotel—a two-year-old Thompson property just outside Cabo San Lucas—we make the half-hour drive north to the party town's artsy sister.
Walking through streets lined with bougainvillea, we find the Gallery District, a few blocks behind the old town square. The two most prominent artists here—that is, those with eponymous galleries—are Frank Arnold and Ivan Guaderrama. Both specialize in cheerful, colorful, and crowd-pleasing paintings. Their galleries are worth a detour—especially Arnold's, as it comes with the offer of a glass of mezcal—but I'm drawn more to the traditional galleries that line the town's narrow streets.
Admittedly, the man-size fiberglass giraffe sitting on a pile of books at La Sacristía gallery is a bit schlocky. Ditto the hippo playing a tuba. But in the back room, we find some gorgeously intricate beadwork. Nearby, an elderly woman with a weathered face and nut-brown eyes sits on a folding chair, focused intently on a half-beaded mask. The woman doesn't speak English or even Spanish but Huichol, an Uto-Aztecan language used by around 35,000 people. She is here from the state of Nayarit, the gallery owner tells me, and will soon head back into the mountains. Crouching in the middle of the room is a brilliant psychedelic jaguar; she spent months turning its hide Technicolor. That piece is out of my price range, so I settle for a small beaded ornament and head into the blazing sun.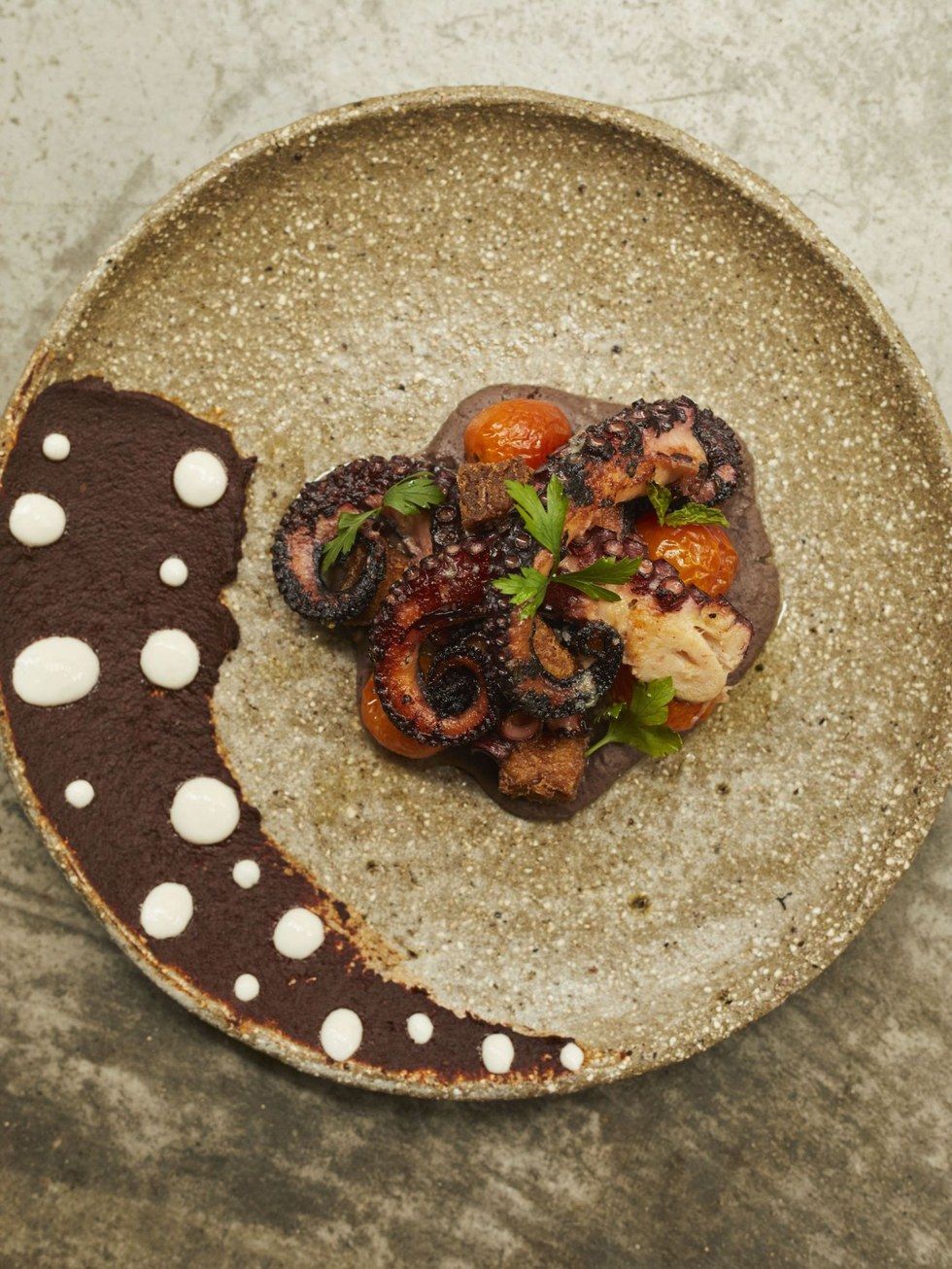 Octopus at Acre
Luckily, we spot El Tropical Paleteria on the town square, which has been selling handmade fruit popsicles, or paletas, for 50 years. There are four of us, with two hands each, and so we depart with eight popsicles. The kids wonder if this is what heaven is like. A few minutes later, under the sun's furnace-like rays, we are wandering around licking guava juice from our wrists. We are cooled and sticky but still hungry so we head off in the direction of Acre, one of the few lauded farm-to-table restaurants near San José.
A few minutes outside of town, it feels as if we're in the desert, but following the signs along a steep bumpy road we come to what looks like an Amazonian jungle. This is Acre, the project of two Vancouverites who fell in love with Los Cabos four years ago. Today, in a thicket of mango and palm trees, they've built a modern restaurant with an emphasis on local cuisine. As my wife and I eat, we let the kids wander. Eventually they return, red-faced and happy. "Daddy! Daddy! Come see!" I follow them past the pool to the shade of the palms, where a scraggly dog looks after her litter of newborn puppies falling over themselves in the dirt.
"The peach-colored cliffs are at my back; the sun-dappled sea stretches before me. Who needs adrenaline?"
The kids are tired out, so I deposit the family back at The Cape to lounge poolside and to drink virgin daiquiris. I, meanwhile, quickly change into a bathing suit and head to the beach, because it would be unconscionable to come here and not surf.
Perhaps the most famous surf spot in Los Cabos is a fast right break called Zippers in San José del Cabo. But I go over to a mellow right-hand break a bit farther west, in Costa Azul, to join a class of newbies from the High Tide Los Cabos surf school. As Alex, our laid-back instructor, helps a family of South Korean beginners, I paddle farther out. We're on the watery equivalent of a bunny slope, but that's OK. The peach-colored cliffs are at my back; the sun-dappled sea stretches before me. Who needs adrenaline?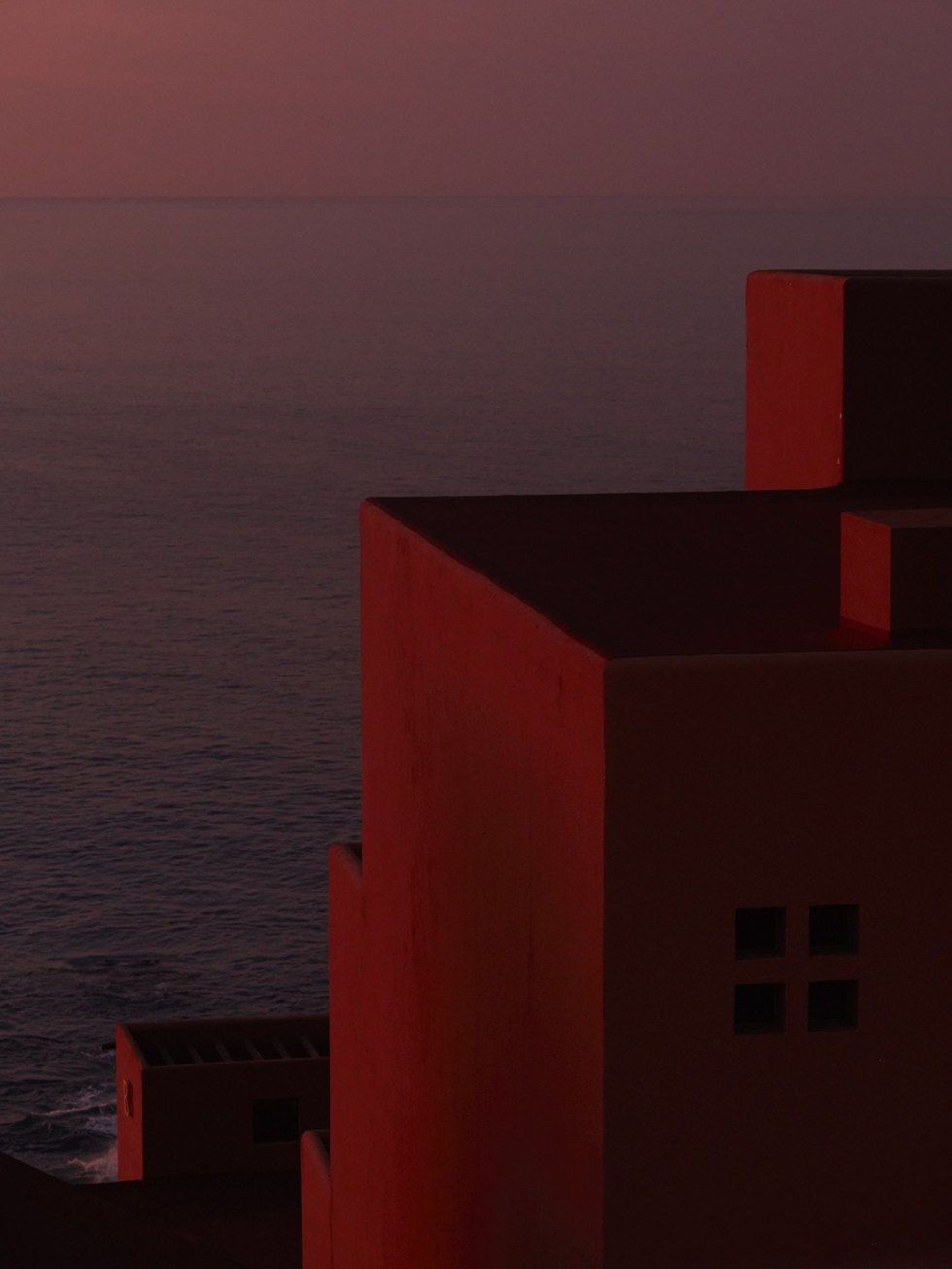 Casting shadows on San José del Cabo
Mildly amped, I head back to the family, to their pool-shrunk toes and fingers and cries for dinner. I'm ready to eat too—and particularly excited to check out Flora Farms, one of the oldest organic farms in Baja California. Founded in 1996 by expats from Sonoma, California, Gloria Wallace Greene and her husband, Patrick, it has become a Mexican Chez Panisse, a restaurant wrapped in a philosophy of something bigger. But even I am not prepared when we pull up. The owners seem to have cut a deal with Horus, because the sun filters in gold, piercing a small pond full of turtles. Off to one side, there's a mango orchard, and on the other, a boutique by James Perse.
It's hot in the sprawling outdoor restaurant, and periodically the diners are misted like produce in a supermarket. The cocktails, served in Mason jars, are photogenic and herbal. The menu nods to all of Mexico but gazes primarily at the fields a few feet away. As the night grows deeper, the children drift off to sleep in our laps, and a local band, three handsome surfers who call themselves the Shamans, break into a mellow version of "Hotel California." I sing quietly along—"such a lovely place (such a lovely place)"—and then, because those are the only words I know, I remain silent, sipping my margarita in the golden light.

Just Me and the Seals
A long and bumpy car ride takes us from San José to Cabo Pulmo, a tiny village about 60 miles up the coast. We could have jumped on the highway, and it would have been smooth sailing. But at Flora Farms last night, Cecilia Escribano, a tall, stylish Argentine who handles the restaurant's media, told us to snake up the coast: "You'll find the most beautiful beaches in the world."
So, crabbity-scrabble, we bounce up the unpaved road that runs alongside the beach. Our rented sedan complains of the bumps, though not nearly as loudly as the kids. We pass scrub brush and tall cardón cacti, but luxury resorts are nowhere to be seen. This is exactly what I had hoped for.
The story of Cabo Pulmo is uplifting. In the mid-1990s, a group of fishermen, realizing local fisheries were in danger, petitioned the government to preserve the area. In 1996 they prevailed, and Cabo Pulmo, with its astonishing coral reef, was declared a National Marine Park. It's now home to more than 200 species of marine animal.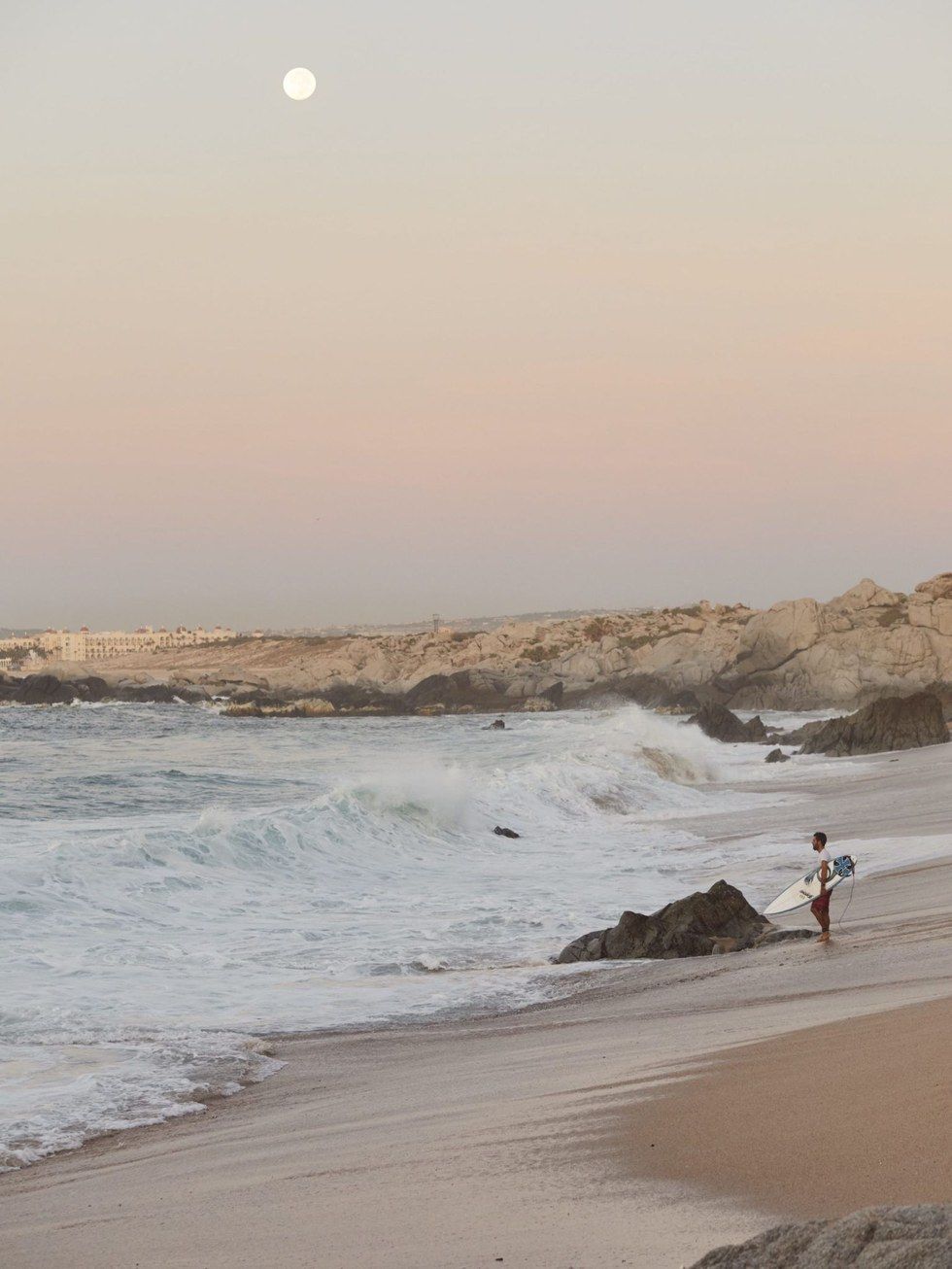 A surfer ready to hit the waves at Costa Azul
As we sit in the second-floor restaurant of Cabo Pulmo Beach Resort, owner Cole Barrymore tells me how his dad, Dick, first came across the area. Barrymore is something of a local celebrity, although that isn't hard when there are only 130 people in town. He calls for a Tecate and begins: "My dad was a ski filmmaker, but he loved to come down here. One day in the early 1980s, we were flying our little Cessna, and we looked down and saw a small runway. We landed, pulled everything out of the plane, pumped up the boat, and went out to the first reef." Barrymore remembers the welter of fish just below the surface. His father dove in, forming caverns as the fish fled. He then surfaced, demanded his spearfishing gun, and said, "It's lunchtime!"
"I can see my wife and kids walking the shoreline, their tiny figures hopping inch-high waves, peals of laughter in the air."
A few years later, Dick Barrymore bought a tract of land and built many of the thatch-roofed, open-sided, palapa-style houses that make up the village today. In the '90s, Cole joined him, and today he runs the Cabo Pulmo Beach Resort. (Dick passed in 2008.) With fishing off the table, activities in the sea are confined to SCUBA diving and snorkeling. Untrained in the former, I opt for the latter. As I head out to sea, I can see my wife and kids walking the quiet shoreline, their tiny figures hopping inch-high waves, peals of laughter in the air.
A few minutes later, I'm facedown in the water, peering at a shoal of big-eye jacks. I trail the fish for a while, interested to see how those on the periphery act as bouncers, herders, and guides. I also come across a shoal of black-striped sergeant majors that, collectively, look like a jailbreak. I poke my head above water, and for a moment the vastness of the mountains on the shore, the sky above, and the sea all around is overwhelming. I climb back into the boat.
In Brooklyn, where I'll be tomorrow, there are a few sea lions at the Prospect Park Zoo. My kids and I go see them sometimes and watch them gulp fish from the trainer's hand. But those sea lions and the ones who live here are very different. As I jump back into the water, a few feet from a colony, their amusing ungainliness is gone. A large male clambers off the rock, becoming immediately graceful as he hits the water. I duck my head under the surface to watch him dart and loop. We're only a few hundred feet from the shore, but it feels otherworldly. Then he surfaces and I do too. Both of us blink a few times to accustom ourselves to the brilliant sun, the jagged rock crashed upon by the roiling sea, and the vibrant blue sky above. For him, it is home. For me, it's as close to paradise as I'll ever get.
Right now, around the world, brave members of America's armed forces are on duty, defending our freedom and upholding our values.
When not laser-focused on the mission at hand, they're looking forward to the day when their service to our nation is fulfilled and they can reunite with their families.
They are also imagining how they can use their hard-earned skills to build an exciting, rewarding and important career when they return home.
I want them to look no further than United Airlines.
That's why we are focused on recruiting, developing and championing veterans across our company, demonstrating to our returning women and men in uniform that United is the best possible place for them to put their training, knowledge, discipline and character to the noblest use.
They've developed their knowledge and skills in some of the worst of times. We hope they will use those skills to keep United performing at our best, all of the time.
That's why we are accelerating our efforts to onboard the best and the brightest, and substantially increasing our overall recruitment numbers each year.
We recently launched a new sponsorship program to support onboarding veterans into United and a new care package program to support deployed employees. It's one more reason why United continues to rank high - and rise higher - as a top workplace for veterans. In fact, we jumped 21 spots this year on Indeed.com's list of the top U.S workplaces for veterans. This is a testament to our increased recruiting efforts, as well as our efforts to create a culture where veterans feel valued and supported.
We use the special reach and resources of our global operations to partner with outstanding organizations. This is our way of stepping up and going the extra mile for all those who've stepped forward to answer our nation's call.
We do this year-round, and the month of November is no exception; however, it is exceptional, especially as we mark Veterans Day.
As we pay tribute to all Americans who have served in uniform and carried our flag into battle throughout our history, let's also keep our thoughts with the women and men who are serving around the world, now. They belong to a generation of post-9/11 veterans who've taken part in the longest sustained period of conflict in our history.

Never has so much been asked by so many of so few.... for so long. These heroes represent every color and creed. They are drawn from across the country and many immigrated to our shores.

They then freely choose to serve in the most distant and dangerous regions of the world, to protect democracy in its moments of maximum danger.
Wherever they serve - however they serve - whether they put on a uniform each day, or serve in ways which may never be fully known, these Americans wake up each morning willing to offer the "last full measure of devotion" on our behalf.
Every time they do so, they provide a stunning rebuke to the kinds of voices around the world who doubt freedom and democracy's ability to defend itself.
Unfortunately, we know there are those who seem to not understand – or say they do not - what it is that inspires a free people to step forward, willing to lay down their lives so that their country and fellow citizens might live.
But, we – who are both the wards and stewards of the democracy which has been preserved and handed down to us by veterans throughout our history – do understand.
We know that inciting fear and hatred of others is a source of weakness, not strength. And such divisive rhetoric can never inspire solidarity or sacrifice like love for others and love of country can.
It is this quality of devotion that we most honor in our veterans - those who have served, do serve and will serve.
On behalf of a grateful family of 96,000, thank you for your service.
Humbly,
Oscar
Each year around Veterans Day, Indeed, one of the world's largest job search engines, rates companies based on actual employee reviews to identify which ones offer the best opportunities and benefits for current and former U.S. military members. Our dramatic improvement in the rankings this year reflects a stronger commitment than ever before to actively recruiting, developing and nurturing veteran talent.
"We've spent a lot of time over the past 12 months looking for ways to better connect with our employees who served and attract new employees from the military ranks," said Global Catering Operations and Logistics Managing Director Ryan Melby, a U.S. Army veteran and the president of our United for Veterans business resource group.
"Our group is launching a mentorship program, for instance, where we'll assign existing employee-veterans to work with new hires who come to us from the armed forces. Having a friend and an ally like that, someone who can help you translate the skills you picked up in the military to what we do as a civilian company, is invaluable. That initiative is still in its infancy, but I'm really optimistic about what it can do for United and for our veteran population here."
Impressively, we were the only one of our industry peers to move up on the list, further evidence that we're on a good track as a company.
The question of where David Ferrari was had haunted retired U.S. Army Sergeant Major Vincent Salceto for the better part of 66 years.
Rarely did a week go by that Salceto didn't think about his old friend. Often, he relived their last moments together in a recurring nightmare. In it, it's once again 1953 and Salceto and Ferrari are patrolling a valley in what is now North Korea. Suddenly, explosions shatter the silence and flares light up the night sky.
Crouching under a barrage of bullets, Salceto, the squad's leader, drags two of his men to safety, then he sees Ferrari lying face down on the ground. He runs out to help him, but he's too late. And that's when he always wakes up.
Italian Americans from opposite coasts – Salceto from Philadelphia, Ferrari from San Francisco – the two became close, almost like brothers, after being assigned to the same unit during the Korean War. When Ferrari died, it hit Salceto hard.
"After that, I never let anyone get close to me like I did with Dave," he says. "I couldn't; I didn't want to go through that again."
When the war ended, Salceto wanted to tell Ferrari's family how brave their son and brother had been in battle. Most of all, he wanted to salute his friend at his gravesite and give him a proper farewell.
For decades, though, Salceto had no luck finding his final resting place or locating any of his relatives. Then, in June of this year, he uncovered a clue that led him to the Italian Cemetary in Colma, California, where Ferrari is buried.
Within days, Salceto, who lives in Franklinville, New Jersey, was packed and sitting aboard United Flight 731 from Philadelphia to San Francisco with his wife, Amy, and daughter, Donna Decker, on his way to Colma. For such a meaningful trip, he even wore his Army dress uniform.
That's how San Francisco-based flight attendant Noreen Baldwin spotted him as he walked down the jet bridge to get on the plane.
"I saw him and said to the other crew members, 'Oh my goodness, look at this guy,'" she says. "I knew there had to be a story."
The two struck up a conversation and Salceto told Baldwin why he was traveling. She got emotional listening to him talk and made a point of fussing over him, making sure he and his family had everything they needed.
About halfway through the flight, Baldwin had an idea. She and her fellow crew members would write messages of encouragement to Salceto and invite his fellow passengers to do the same.
"We did it discreetly," says Baldwin. "I asked the customers if they saw the man in uniform, which most had, and asked them if they wanted to write a few words for him on a cocktail napkin. A lot of people did; families did it together, parents got their kids to write something. After the first few rows, I was so choked up that I could barely talk."
When Baldwin surprised Salceto with dozens of hand-written notes, he, too, was speechless. He laid the stack on his lap and read each one. At the same time, the pilots made an announcement about the veteran over the loud speaker, after which the customers on board burst into applause.
"It seems contrived, and I hate using the word organic, but that's what it was; it just happened," Baldwin says. "Mr. Salceto was so loveable and humble, and what he was doing was so incredible, it felt like the right thing to do. And you could tell he was touched."
On June 27, Salceto finally stood before Ferrari's grave and said that long-awaited goodbye. As a trumpeter played "Taps," he unpinned a medal from his jacket and laid it reverently on the headstone.
"I had gotten a Bronze Star for my actions [the night Ferrari died] with a 'V' for valor, and that was the medal I put on Dave's grave," says Salceto, pausing to fight back tears. "I thought he was more deserving of it than I was."
For the first time in years, Salceto felt at peace. His mission was accomplished.
Scroll to top