Three Perfect Days: Madrid
Story by Chris Wright| Hemispheres, April 2015
Madrileños have a saying: De Madrid al cielo—From Madrid to heaven. What they mean is, here on Earth, this city is as good as it gets. That might sound like a bit of a stretch. Madrid doesn't lead the world in any single aspect—architecture, the arts, nightlife, food, fashion, music, the friendliness of its people or the purity of its air—but bundle all these things together and there are few places to rival it. Its appeal creeps up on you, and once you're bitten, that's it. "I was born here and you landed here," one local told me, "but you belong to this city as much as I do." I really do hope that's true.

In which Chris takes a stroll with an Almodóvar actor and purchases cookies from an invisible nun
Tucking into a breakfast of Iberian ham and rustic bread in the café at Hotel Orfila, located in a 19th-century mansion just north of the city center, I cannot help but be charmed by the hotel's old-school approach to refinement and comfort: heavy curtains, carved columns, antique vases, formal chairs. The waiters wear bow ties. The rooms have actual keys, with red tassels. I eat under the gaze of a parrot in a gilded frame.
Such traditionalism is not a rarity in this city. As the local actor and musician Leonor Watling tells me, "Madrid does change, but at its own pace." We're taking a post-breakfast stroll along a side street off Gran Vía, Madrid's main shopping drag, which slices across the city's bewildering gnarl of alleys and byways—a labyrinth that can flummox the most seasoned Madrileño. "I lived in one neighborhood for six years," Leonor says with a laugh, "before I realized I was walking in circles to go less than a block."
The lead singer of the rock band Marlango and an actor whose credits include Pedro Almodóvar's Talk to Her ("It wasn't a difficult role: I was in a coma"), Leonor was raised in the working-class district of Prosperidad, "the kind of neighborhood where you know the guy who sells bread." But this, again, is not rare here. Madrid is known as being a big city with a small-town feel—the sophisticates of Barcelona sniff at what they see as its provincialism.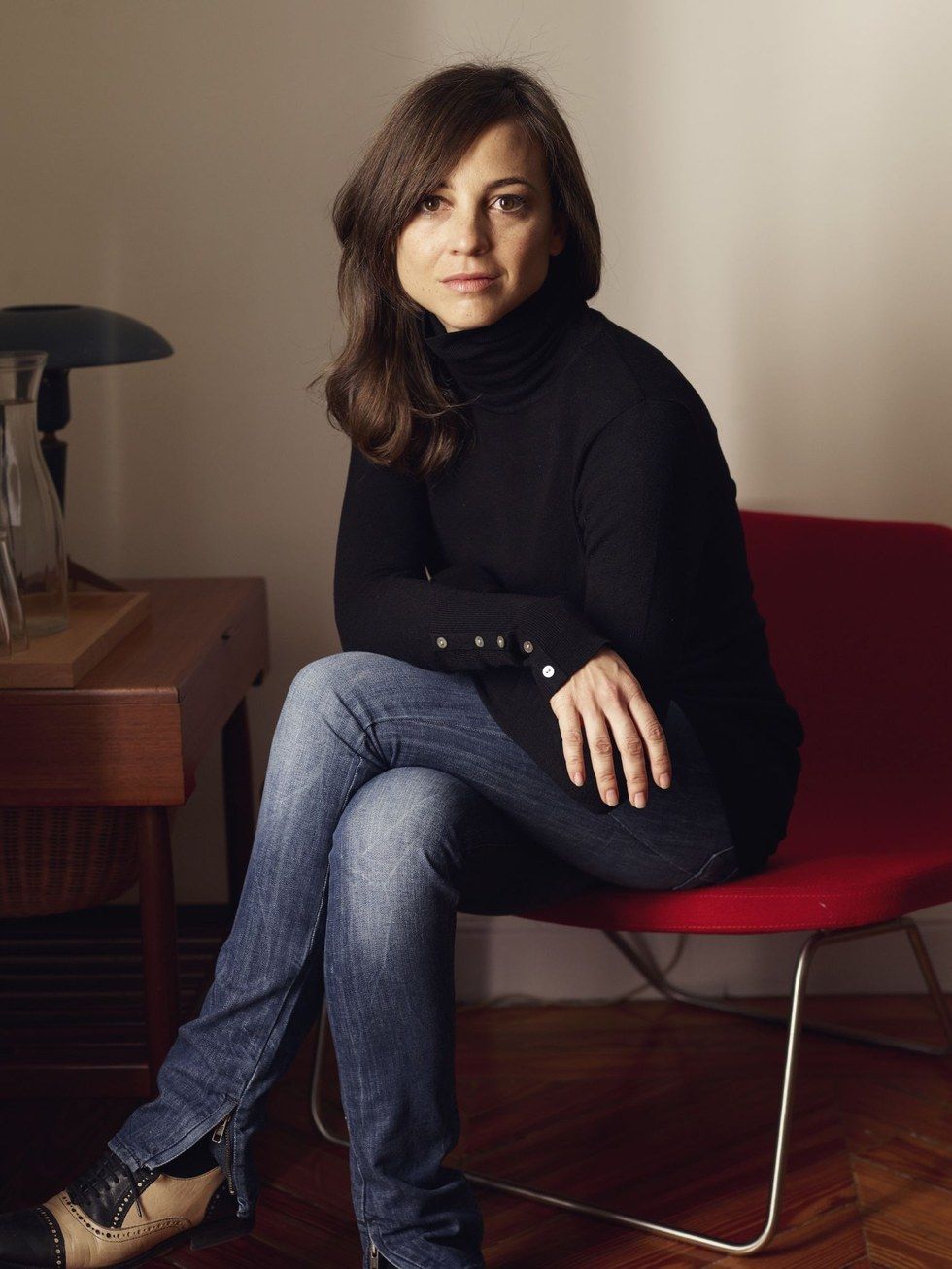 Leonor Watling, Actor and Musician | Photo by: Mariano Herrera
Leonor is having none of this. She cites hip barrios like La Latina, Malasaña and Chueca ("Madrid as I'd like it to be") as evidence that the city is catching up with buzzier capitals like London and Berlin. The cultural upgrade she describes is evident in two of the city's relatively new art institutions—Matadero Madrid, located in a renovated slaughterhouse, and La Tabacalera, which is in an 18th-century tobacco factory. I decide to visit the latter, in part because the short walk south will take me through chic La Latina and the scruffy bohemian neighborhood of Lavapiés—possibly the only part of town where you can order dim sum with zebra meat (Gau&Café).

First, I have to run the gauntlet of human statues and Bart Simpson balloon sellers at Puerta del Sol, Madrid's biggest, rowdiest square. "Psst!" hisses a raggedy woman holding out a sprig of something, presumably in the belief that I'd be interested in buying it. The rustle of 10,000 tourist maps drowns out the afternoon traffic. I hurry through the crowds, dodging the selfie sticks as I go.
"No one here feels that the city belongs to them. It's hard to fit in with Parisians, next to impossible with Londoners—if such a thing exists—but in Madrid, you'll never feel like an outsider." —Leonor Watling
Finally, after a primer in colorful local language at a Lavapiés sports bar (Ronaldo, Real Madrid's star player, has been sent off for slapping an opponent), I arrive at La Tabacalera, an imposing, block-size building that doesn't get any cheerier on the inside. The entry hall is filled with dangling, red-splattered bunches of cloth. Farther in, a giant eyeball stares out from a gloomy antechamber. I stop and rub my chin in front of a case with a fire hose coiled inside, mainly for the benefit of a serious-looking couple passing by.
I've got another kind of aesthetic experience in store at my next stop, the Museo del Prado, part of Madrid's troika of superstar art institutions (along with the Reina Sofía and Thyssen-Bornemisza museums). The Prado is located east of the city center, amid a parade of monumental structures, the most impressive of which is Palacio de Cibeles, a huge wedding cake of a building that doubles as a cultural center and the city's town hall, and which has a viewing deck and a fine-dining restaurant on the upper levels.
Set in a sprawling, colonnaded building, the Prado is home to one of the world's finest collections of European art, which includes the Hieronymus Bosch triptych "The Garden of Earthly Delights," whose panel depicting hell is possibly the weirdest work of art ever created. More upbeat is "Goya in Madrid," an exhibition of the Spanish master's work that provides a fly-on-the-wall look at 18th-century Madrileño life (they hunted a lot, apparently).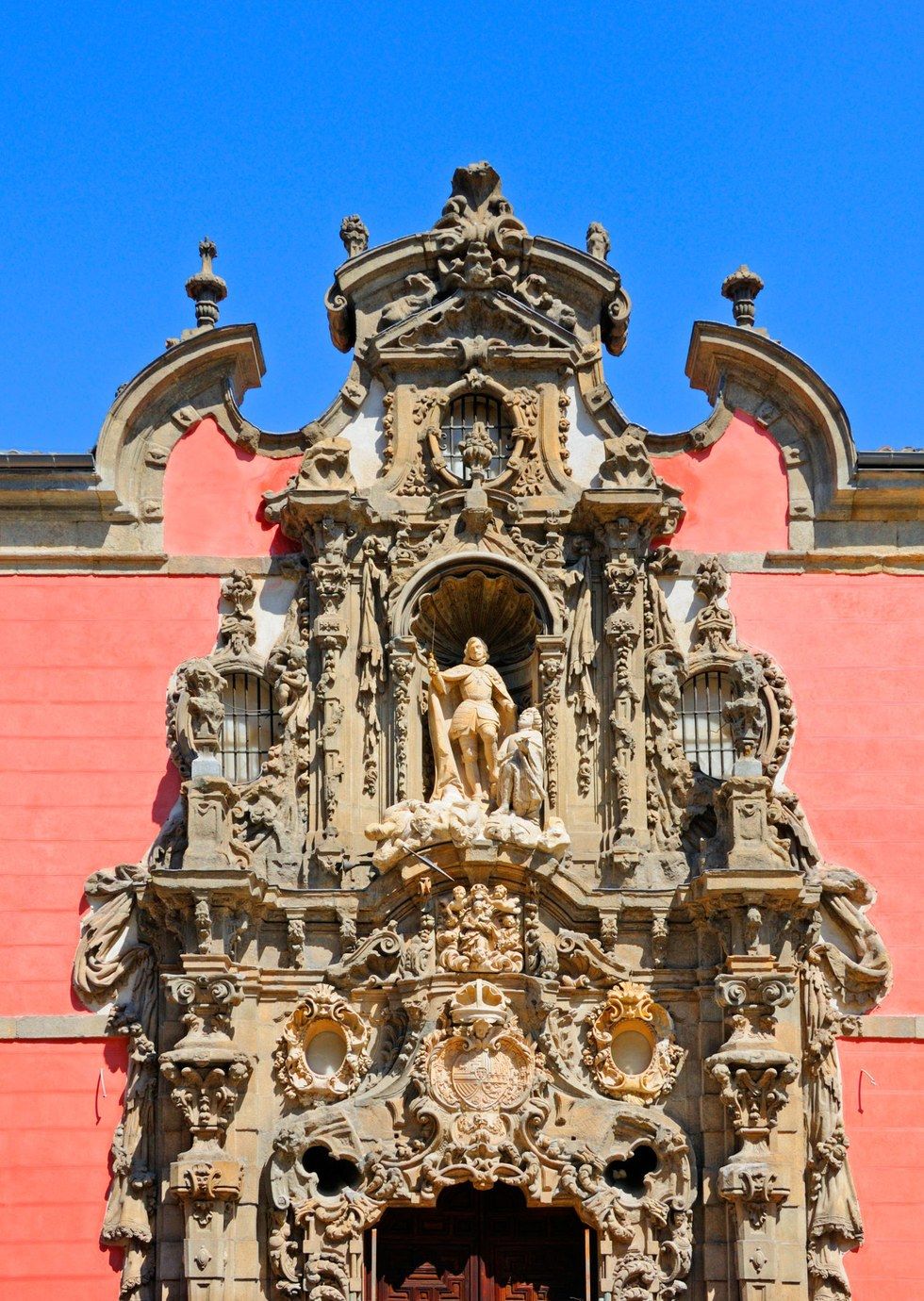 The Baroque entrance of the Museo de Historia | Photo by: Alamy
Outside, I cross broad Paseo del Prado and enter a warren of streets that, within minutes, has me wondering which way is up, let alone east or west. Still, if you're going to get lost, this isn't a bad place to do it. My quick pre-lunch stroll becomes an epic, leading me past a succession of A-list edificios—the glass-and-steel Mercado de San Miguel, the stately Basílica de San Francisco el Grande, the fairy-tale spires of Casa de la Villa—along with countless examples of Madrid's knack for elevating the everyday: resplendent cinemas, photogenic shoe shops, museum-quality doorknobs.

By the time I stumble into La Bola Taberna, I'm almost too hungry to eat. A red-fronted eatery dating back to 1870, it's known for its cocido Madrileño, a traditional stew with chickpeas, slow-cooked beef, cabbage and pasta. I tell Mara, my server, that I'm thinking about other options, and she gives me a look. "Right," I say, "cocido Madrileño." Good choice.
My next stop is Plaza de la Ópera, where I'm meeting Fran Hernández, a gregarious young man who works for Madrid Segway, an outfit that invites visitors to scoot around the city going "Whee!" and "Argh!" Fran immediately reveals himself to be a kind of superguide—he has a near-fanatical interest in Madrid's history and culture. As we zip along, he tells me to sniff the air. "A city of more than three million people," he says, "and it smells like a village."
Our first stop is Plaza Mayor, which has been a focal point of Madrid life for centuries. The square's redbrick buildings reflect one of the city's prevailing architectural styles, one that dates back to the 16th century: Herrerian, a blend of angular austerity and Baroque grandiosity. It's a wide, beautiful space, skirted by gift shops and cafés, with decorative lampposts and the requisite statue of a royal on a horse. It's also a very good spot to show off my extreme Segway skills. "Come," Fran says, rolling his eyes.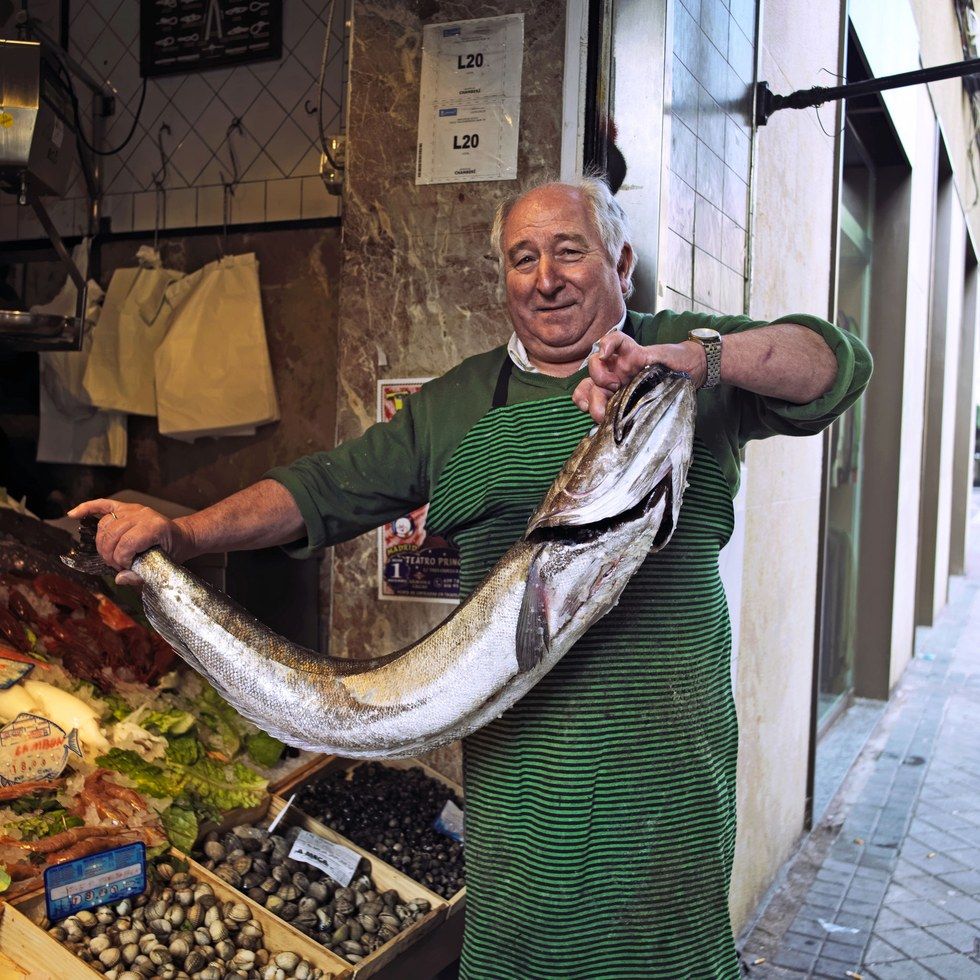 A fishmonger at the Marisquería El 79 market | Photo by: Ana Nance
Just south of here he stops at another brick building, a former jail, which is topped by a statue of an angel. There's a warning parents use, Fran says, when their kids are misbehaving: "You want to sleep below the angel?" So it goes for the rest of the tour—my obsessively knowledgeable guide pointing out fountains and churches and arches, telling the stories that surround them. In Plaza Santa Ana, we stop at the dazzling turreted building housing the ME hotel. Manolete, Spain's greatest bullfighter, used to stay in room 406, Fran tells me. "Now everyone wants to be in that room."

A highlight of the tour is Monasterio del Corpus Christi, a 17th-century convent that supports itself by making and selling cookies—commerce that's complicated by the fact that the nuns must never be seen by non-nuns. I wander the hallways in search of a nun-run cookie shop, then come across a murky little room with a hole in the wall, inside of which stands a circular wooden contraption. The contraption spins and a box appears. I put 10 euros down and it spins again. "Receipt?" I shout into the hole. Nothing. I tell Fran this, and he rolls his eyes again.
I manage to resist ramming the cookies into my mouth, which is good, as I'm about to indulge in a dining bonanza at the Iberian-Asian eatery Sudestada. My meal includes spicy pork and shrimp dumplings; a platter of Japanese rice, egg, mushroom and eel; tandoori quail; a Thai curry with aged beef; and lots of wine. Each course, meanwhile, comes with a tableside disquisition, ranging from the provenance of the ingredients to how best to consume them ("Mix in the mouth, not on the plate"). It's a flavorful, fascinating meal—and a very long one.
I end the night with my new friend Fran at La Venencia, a onetime haunt of Hemingway's. This sounds like a hook, but the bar turns out to be wonderfully and genuinely run-down, a quality shared by most of its patrons. They serve only sherry here, and they keep tabs with chalk on the bar top.
An old black cat falls asleep in my lap. "The village I was born, there was a place just like this," Fran says. "It's like time has stopped." Right now, I kind of wish that it would.

In which Chris has a tipple with a local celebrity DJ and samples a €150 shot of mezcal
I start the day with a classic ballast—sorry, breakfast of Spanish eggs, served in a pan with spicy tomato sauce and chorizo. Less traditional is the place serving the dish: the swish, geometrically patterned eatery at Hotel Villa Magna. Egged up, I head out onto Paseo de la Castellana, passing a guy unloading a van singing "If You Don't Know Me By Now" in the local language.
I walk between the legs of a large bronze frog and cut right into Chueca, a once-shoddy, now-gentrified area just north of Gran Vía that's become a hotbed of fashion, food, music and gay culture. I twist and turn in the direction (I hope) of Plaza de Chueca, where I'm meeting the musician and DJ Miguel Barros—a.k.a. Pional—a local boy and one of European electronica's rising stars.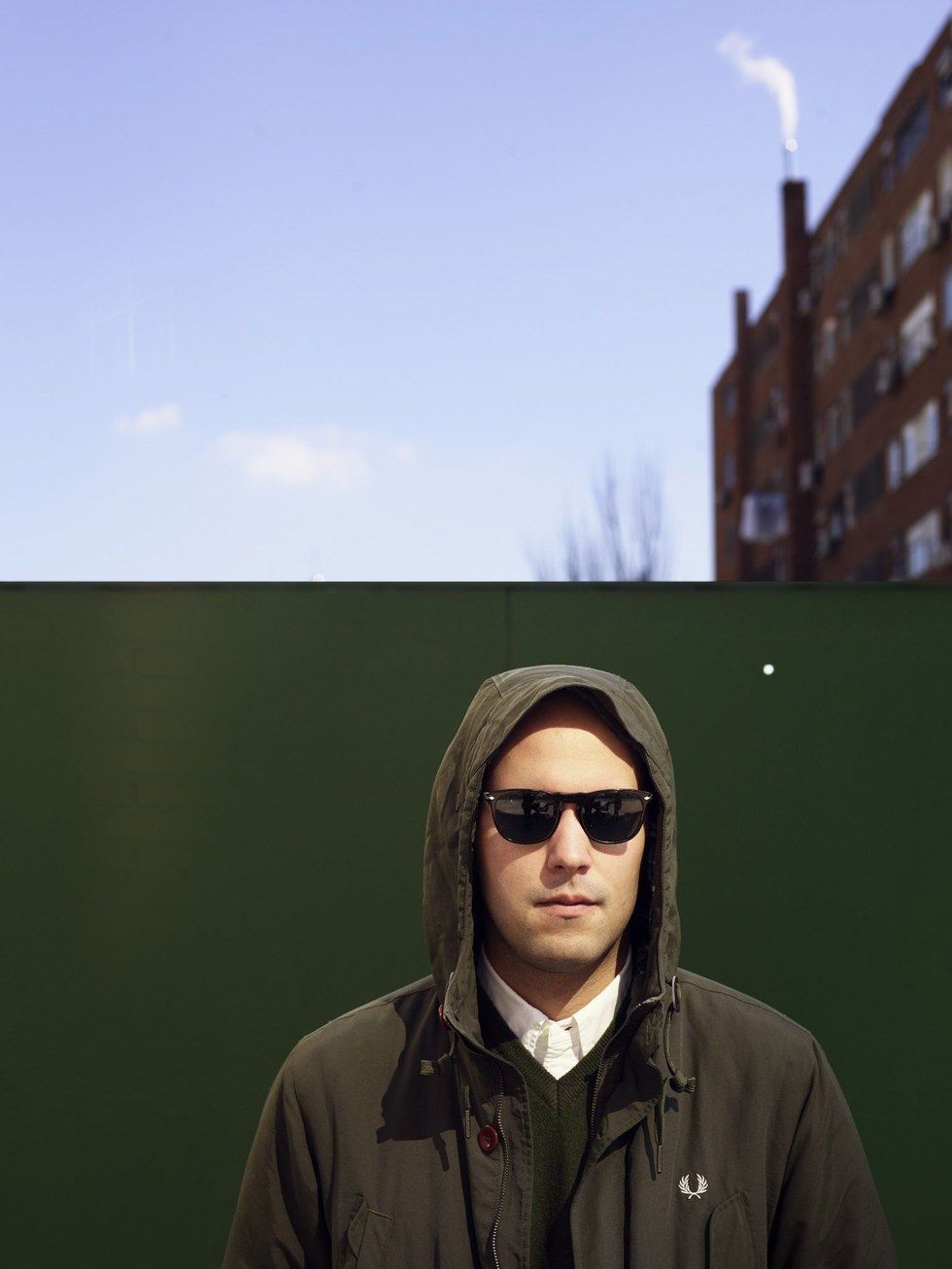 Pional, Musician and DJ / Photo by Mariano Herrera
It's a lovely day, so we sit at an outdoor table and order a beer. "Not long ago, this area wasn't 100 percent safe," Miguel says. "Now it's very chic, very expensive." To prove his point, he nods in the direction of a middle-age woman sitting at the next table: "She's a TV actress." Seconds later, a willowy fashion designer approaches Miguel to say hello.

Miguel, like Leonor Watling, says Madrid is defined by its youthful, transient population. "I'm from here," he says, "but almost everyone I know came from somewhere else." And, like Leonor, he believes that this fact has lent the city an air of inclusiveness. "I was born here and you landed here," she had told me, "but you belong to this city as much as I do." Miguel puts it a little more plainly: "It's a very welcoming town."
I ask him to recommend a local nightspot, expecting a flickering techno club. "Toni 2," he says. "It's a weird piano bar with 20-year-old kids sitting next to 70-year-old women." We make our way out of Chueca, pausing to look at the disco balls in the quirky electronics shop Lámparas Especiales. "I love this area," Miguel says. "I feel at home."
"Once, Chueca wasn't a place you wanted to spend time. You'd run out of the station into a bar, then run out of the bar into the station when it was time to go home. Now it's my favorite part of town." —Pional
From here, it's a few blocks northeast into the funky Malasaña district, a jumble of streets jammed with dive bars, organic cafés, pop-up art spaces and shops selling Sex Pistols throw pillows. It's not as fastidiously fashionable as Chueca or La Latina, but the grunginess is part of the appeal.
This is where I'll be having lunch, at La Bicicleta Café, a popular morning-after spot that combines raw, Brooklyny design with rustic cuisine. My Ploughman's Brunch comes on a cutting board and involves pastrami, Spanish omelet, cheeses, pickles and bread. It's a good, hearty meal, nicely (if incongruously) rounded off with a gin and tonic. I linger for a while, eavesdropping on two women sitting across the workbench, one of whom is trying to teach the other English. She walks to the shops … She werkess doo-a chops … Etc.
Next I'm off to neighboring Tribunal, another slightly grungy but increasingly trendy area. I'm here to see Museo de Historia, a former hospice that now serves as a city museum, and which has Madrid's most outlandishly ornate entryway—an explosion of Baroque detailing that hardly seems real. Inside, Madrid's story is told via architectural models of its landmarks, portraits of its erstwhile citizens and various household items. "Ooh," says an Englishwoman, eyeing a case of decorative fans. "We'll go shopping later," her husband says. "Pick up a few."
Madrid's Royal Palace stands as a testament to inordinate wealth, limitless power and blinding interior design / Photo by Jose Manuel Azcona
From here, I spend a while crisscrossing the bustling lanes of Malasaña, buying a few essentials along the way: a poster depicting a crudely drawn carton of leche (milk), an arty T-shirt bearing the cracked outline of a bull. Malasaña, as one local put it to me earlier, is "the multicolored heart of the city," and there's no doubting the place has character. And yet, when it comes to falling in love with a place, character will only go so far. Looks are always going to be important.

I head back down to Gran Vía, the city's main architectural catwalk, a parade of Art Deco/Beaux-Arts/Moorish Revival masterpieces that incorporates some of Madrid's most recognizable landmarks: the black dome of the Metropolis building, the Manhattan-esque facade of Edificio Telefónica. If you can ignore the fact that many of these buildings are occupied by fashion franchises, the spectacle approaches the sublime.
Near the western tip of Gran Vía is Parque del Oeste, where I wheezingly climb a hill to take a look at the Temple of Debod, a transplanted 2nd-century Egyptian relic featuring blocky stone arches and a squat, pillared sanctuary. This is also a great place to look out over the city, especially when, as now, the sun is going down, lending the buildings a shimmering violet hue. But man cannot live on sightseeing alone. It's dinnertime.
I descend the hill and catch a cab to Punto MX, the first Mexican restaurant in Europe, I'm told, with a Michelin star. I enter the narrow, understated dining room and brace myself. My meal will consist of a five-course taster, and each course will be paired with a mezcal. In the upstairs bar (the "Mezcal Lab") they stock 30 varieties of the drink, including one—God's Eye—that goes for 150 euros a shot.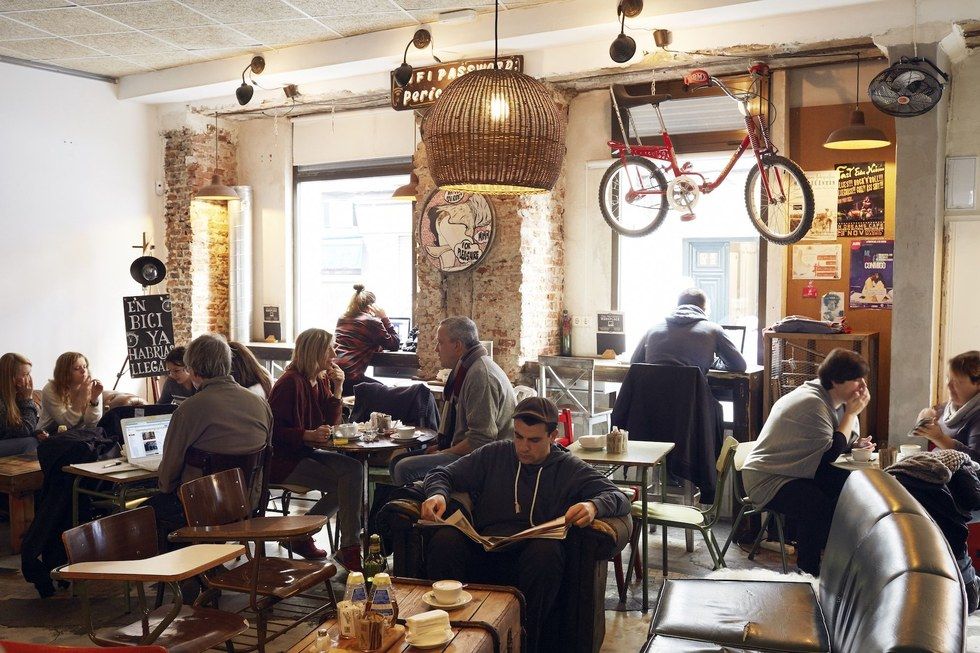 Working-the-fields cuisine meets beardy-Brooklyn decor at the fashionable brunch joint La Bicicleta Café / Photo by Mariano Herrera
"Just leave the bottle on my table," I quip.

"Ha ha," the waiter responds, as though he hasn't heard that one before.
Things get off to a promising start with the guacamole, which is prepared at the table and is the best I've ever had. The rest of the meal, too, is eye-wateringly good: sole and shrimp in a chili broth; a braised duck and green salsa enchilada; "bullock tacos, northern style"; charbroiled sea bream with pineapple pico de gallo; charred marrow, served in the bone. Finally—drumroll—I am invited to sample the God's Eye. I'm no expert, but I can tell this is a quality drink, smooth but with a bite, a warm buzz that starts in your stomach and spreads through the veins.
"You like it?" the waiter asks.
I do.
"Welcome to Mexico!"

In which Chris meets up with a local artisan and experiences flamenco just as Pablo Picasso once did
I wake up in the second hotel of my stay, the boutique-y Hotel Urban, bang in the center of town. Not far from my bed there's a small sandstone bust, an 11th-century Khmer depiction of Buddha. (I have a vision of the departing pilferer: shampoo, bathrobe, vanity kit, priceless cultural artifact…). The hotel continues in a similar vein in the lobby, an achingly modern space with an illuminated white spine running up the atrium and a bunch of large New Guinean tribal sculptures placed throughout. The bar, closed right now, will later on buzz with Madrid's beautiful people.
In order to avoid exploding, I'm skipping breakfast. Instead, I take a brisk 10-minute walk to Parque del Retiro, a 17th-century royal retreat that ranks among the world's great urban parks. I enter via the northwest gate, near the ceremonial arch called the Puerta de Alcalá, and join a stream of strollers on the promenade. Then, having paused for a while to ogle the massive, elaborate monument to Alfonso XII, I cut down one of the pathways to Palacio de Cristal, a hothouse-like 19th-century structure that serves as an art exhibition hall. Before leaving the park, I have an alfresco coffee overlooking a statue of Satan. The garden of earthly delights.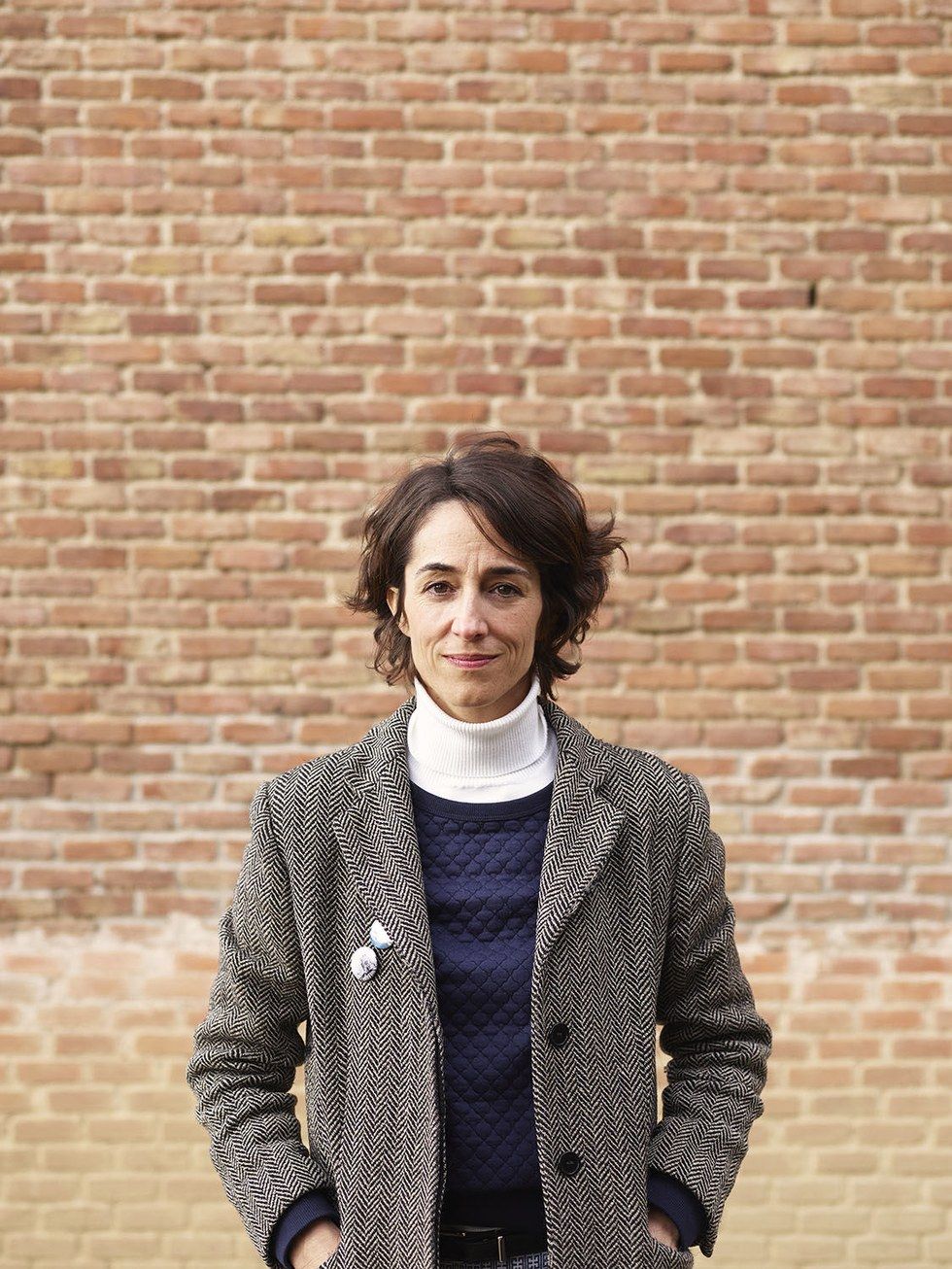 Belén Fernández-Vega, Jeweler / Photo by Mariano Herrera
Next, I take a cab to the district of Chamberi, just north of the park, where I find the creatively cluttered apartment of Belén Fernández-Vega. A local artist who transforms discarded objects—cuff links, belt buckles—into an elegant line of jewelry, Belén is part of the thriving creative community in the city. "There are lots of artistic people in Madrid," she says. "It's the light that attracts them, I think."

There's a place near Belén's home that she wants me to see. A few minutes later we're in a small herb garden, looking up at the brick Residencia Estudiantes, a building that hosts art exhibitions and literary events, and which once served as a salon for the likes of Salvador Dalí, Igor Stravinsky and H.G. Wells. "This is a very powerful place for me," she says. "I feel very well when I come here." She picks a sprig of rosemary and hands it to me. "Put it in your pocket."
I say goodbye to Belén and head down to Restaurante Taberneros, a hole-in-the-wall eatery known for its selection of wines. I start the meal with salmorejo cordobés, the Córdoba take on gazpacho, topped with ham and eggs. A flurry of courses and paired wines later, the final dish arrives: callos, or tripe stew with crayfish, which is far better than a bowl of stomach and intestines has any right to be. I wash it down with another glass of very agreeable wine and head out into the afternoon sunshine.
"The best thing about Madrid is the light. The painter Joaquín Sorolla found the light in Madrid very good. Look at the sky; the sky is changing all the time." —Belén Fernández-Vega
I walk a few blocks west, aiming for the Royal Palace. Built in the heady days of the 18th century, the former royal residence is a glorious expression of imperial power, a blend of solemn bulk and manic detailing—but that doesn't quite explain the huddled masses outside. "We are waiting for the king to come out," explains an old lady. Oh.
King Felipe VI doesn't come out, so I go in. Whoa. I move between rooms (there are 3,418 of them) trying to process the froth of gold, the frenzy of frescoes. Everything is either gilded or bejeweled or carved into the shape of a mythical beast. Were we allowed to visit the royal restrooms, I'd fully expect to find a golden sphinx hand sanitizer with emeralds for eyes. "We're rich!" the place says. "Rich!"
Speaking of the high life, from here I'm off to nearby Parque del Oeste, and the terminal for Teleférico cable cars. Riding this 50-year-old system requires that I climb into a small box, which dangle-trundles for two miles into an expanse of urban countryside called Casa de Campo. At one point, I pass so close to an apartment building I could high-five the tenants. At the other side, I stand on a viewing deck for a bit, then take another box back, a speaker emitting the easy listening hits of Phil Collins.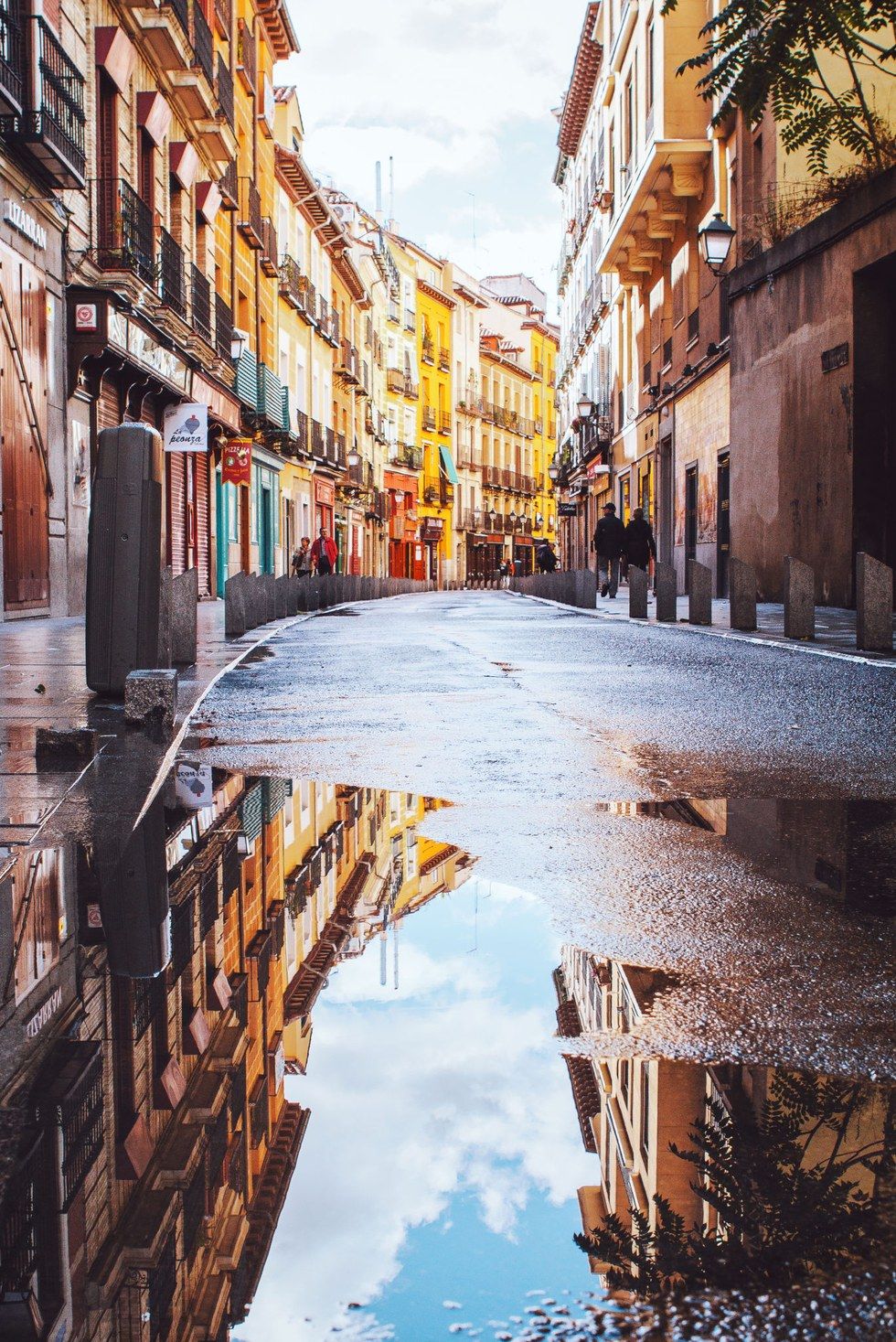 Madrid's winding streets are perfect for a confusing stroll / Photo by Julia Davila-Lampe
Back on terra firma, I catch a cab to tony Serrano, where I'll be experiencing one of Madrid's more unusual dining locations. Set in a refurbished cinema, Platea amounts to the world's fanciest food court (or at least the only one with six Michelin stars to its name), its swank eateries serving all manner of regional and international cuisine. I have six fantastically fresh oysters, gorgeously marbled lomo Ibérico ham, and the addictive cod fritters known as buñuelos de bacalao, along with several glasses of sweet vermouth.

This sets me up nicely for my visit to Corral de la Morería, a tiny flamenco club tucked away on a side street on the west side of town, whose previous guests have included everyone from Pablo Picasso to Jennifer Aniston. To the ululations of a backing group and a couple of furious guitars, a duo of dancers strut, bicker, flirt, stomp, clap and twirl. At times, the show becomes a frenzy, but there are also moments of tenderness, the mournful solos from the lady at the back. The only downside is that it has to end.
Outside, unable to find a cab, I jump onto a bus. In broken English, the driver explains that he can't take me where I want to go, but this might not be a problem. "You can get off here," he says, "or come with me and see Madrid." So, I spend my last moments in town moving slowly along its narrow streets, the driver pointing at this and that, the rest of the passengers hardly paying attention, as if this sort of thing happens every day.
Wouldn't that be something?
Around the web

Right now, around the world, brave members of America's armed forces are on duty, defending our freedom and upholding our values.
When not laser-focused on the mission at hand, they're looking forward to the day when their service to our nation is fulfilled and they can reunite with their families.
They are also imagining how they can use their hard-earned skills to build an exciting, rewarding and important career when they return home.
I want them to look no further than United Airlines.
That's why we are focused on recruiting, developing and championing veterans across our company, demonstrating to our returning women and men in uniform that United is the best possible place for them to put their training, knowledge, discipline and character to the noblest use.
They've developed their knowledge and skills in some of the worst of times. We hope they will use those skills to keep United performing at our best, all of the time.
That's why we are accelerating our efforts to onboard the best and the brightest, and substantially increasing our overall recruitment numbers each year.
We recently launched a new sponsorship program to support onboarding veterans into United and a new care package program to support deployed employees. It's one more reason why United continues to rank high - and rise higher - as a top workplace for veterans. In fact, we jumped 21 spots this year on Indeed.com's list of the top U.S workplaces for veterans. This is a testament to our increased recruiting efforts, as well as our efforts to create a culture where veterans feel valued and supported.
We use the special reach and resources of our global operations to partner with outstanding organizations. This is our way of stepping up and going the extra mile for all those who've stepped forward to answer our nation's call.
We do this year-round, and the month of November is no exception; however, it is exceptional, especially as we mark Veterans Day.
As we pay tribute to all Americans who have served in uniform and carried our flag into battle throughout our history, let's also keep our thoughts with the women and men who are serving around the world, now. They belong to a generation of post-9/11 veterans who've taken part in the longest sustained period of conflict in our history.

Never has so much been asked by so many of so few.... for so long. These heroes represent every color and creed. They are drawn from across the country and many immigrated to our shores.

They then freely choose to serve in the most distant and dangerous regions of the world, to protect democracy in its moments of maximum danger.
Wherever they serve - however they serve - whether they put on a uniform each day, or serve in ways which may never be fully known, these Americans wake up each morning willing to offer the "last full measure of devotion" on our behalf.
Every time they do so, they provide a stunning rebuke to the kinds of voices around the world who doubt freedom and democracy's ability to defend itself.
Unfortunately, we know there are those who seem to not understand – or say they do not - what it is that inspires a free people to step forward, willing to lay down their lives so that their country and fellow citizens might live.
But, we – who are both the wards and stewards of the democracy which has been preserved and handed down to us by veterans throughout our history – do understand.
We know that inciting fear and hatred of others is a source of weakness, not strength. And such divisive rhetoric can never inspire solidarity or sacrifice like love for others and love of country can.
It is this quality of devotion that we most honor in our veterans - those who have served, do serve and will serve.
On behalf of a grateful family of 96,000, thank you for your service.
Humbly,
Oscar
Each year around Veterans Day, Indeed, one of the world's largest job search engines, rates companies based on actual employee reviews to identify which ones offer the best opportunities and benefits for current and former U.S. military members. Our dramatic improvement in the rankings this year reflects a stronger commitment than ever before to actively recruiting, developing and nurturing veteran talent.
"We've spent a lot of time over the past 12 months looking for ways to better connect with our employees who served and attract new employees from the military ranks," said Global Catering Operations and Logistics Managing Director Ryan Melby, a U.S. Army veteran and the president of our United for Veterans business resource group.
"Our group is launching a mentorship program, for instance, where we'll assign existing employee-veterans to work with new hires who come to us from the armed forces. Having a friend and an ally like that, someone who can help you translate the skills you picked up in the military to what we do as a civilian company, is invaluable. That initiative is still in its infancy, but I'm really optimistic about what it can do for United and for our veteran population here."
Impressively, we were the only one of our industry peers to move up on the list, further evidence that we're on a good track as a company.
The question of where David Ferrari was had haunted retired U.S. Army Sergeant Major Vincent Salceto for the better part of 66 years.
Rarely did a week go by that Salceto didn't think about his old friend. Often, he relived their last moments together in a recurring nightmare. In it, it's once again 1953 and Salceto and Ferrari are patrolling a valley in what is now North Korea. Suddenly, explosions shatter the silence and flares light up the night sky.
Crouching under a barrage of bullets, Salceto, the squad's leader, drags two of his men to safety, then he sees Ferrari lying face down on the ground. He runs out to help him, but he's too late. And that's when he always wakes up.
Italian Americans from opposite coasts – Salceto from Philadelphia, Ferrari from San Francisco – the two became close, almost like brothers, after being assigned to the same unit during the Korean War. When Ferrari died, it hit Salceto hard.
"After that, I never let anyone get close to me like I did with Dave," he says. "I couldn't; I didn't want to go through that again."
When the war ended, Salceto wanted to tell Ferrari's family how brave their son and brother had been in battle. Most of all, he wanted to salute his friend at his gravesite and give him a proper farewell.
For decades, though, Salceto had no luck finding his final resting place or locating any of his relatives. Then, in June of this year, he uncovered a clue that led him to the Italian Cemetary in Colma, California, where Ferrari is buried.
Within days, Salceto, who lives in Franklinville, New Jersey, was packed and sitting aboard United Flight 731 from Philadelphia to San Francisco with his wife, Amy, and daughter, Donna Decker, on his way to Colma. For such a meaningful trip, he even wore his Army dress uniform.
That's how San Francisco-based flight attendant Noreen Baldwin spotted him as he walked down the jet bridge to get on the plane.
"I saw him and said to the other crew members, 'Oh my goodness, look at this guy,'" she says. "I knew there had to be a story."
The two struck up a conversation and Salceto told Baldwin why he was traveling. She got emotional listening to him talk and made a point of fussing over him, making sure he and his family had everything they needed.
About halfway through the flight, Baldwin had an idea. She and her fellow crew members would write messages of encouragement to Salceto and invite his fellow passengers to do the same.
"We did it discreetly," says Baldwin. "I asked the customers if they saw the man in uniform, which most had, and asked them if they wanted to write a few words for him on a cocktail napkin. A lot of people did; families did it together, parents got their kids to write something. After the first few rows, I was so choked up that I could barely talk."
When Baldwin surprised Salceto with dozens of hand-written notes, he, too, was speechless. He laid the stack on his lap and read each one. At the same time, the pilots made an announcement about the veteran over the loud speaker, after which the customers on board burst into applause.
"It seems contrived, and I hate using the word organic, but that's what it was; it just happened," Baldwin says. "Mr. Salceto was so loveable and humble, and what he was doing was so incredible, it felt like the right thing to do. And you could tell he was touched."
On June 27, Salceto finally stood before Ferrari's grave and said that long-awaited goodbye. As a trumpeter played "Taps," he unpinned a medal from his jacket and laid it reverently on the headstone.
"I had gotten a Bronze Star for my actions [the night Ferrari died] with a 'V' for valor, and that was the medal I put on Dave's grave," says Salceto, pausing to fight back tears. "I thought he was more deserving of it than I was."
For the first time in years, Salceto felt at peace. His mission was accomplished.
Scroll to top