Three Perfect Days: Madrid
Story by Chris Wright| Hemispheres, April 2015
Madrileños have a saying: De Madrid al cielo—From Madrid to heaven. What they mean is, here on Earth, this city is as good as it gets. That might sound like a bit of a stretch. Madrid doesn't lead the world in any single aspect—architecture, the arts, nightlife, food, fashion, music, the friendliness of its people or the purity of its air—but bundle all these things together and there are few places to rival it. Its appeal creeps up on you, and once you're bitten, that's it. "I was born here and you landed here," one local told me, "but you belong to this city as much as I do." I really do hope that's true.

In which Chris takes a stroll with an Almodóvar actor and purchases cookies from an invisible nun
Tucking into a breakfast of Iberian ham and rustic bread in the café at Hotel Orfila, located in a 19th-century mansion just north of the city center, I cannot help but be charmed by the hotel's old-school approach to refinement and comfort: heavy curtains, carved columns, antique vases, formal chairs. The waiters wear bow ties. The rooms have actual keys, with red tassels. I eat under the gaze of a parrot in a gilded frame.
Such traditionalism is not a rarity in this city. As the local actor and musician Leonor Watling tells me, "Madrid does change, but at its own pace." We're taking a post-breakfast stroll along a side street off Gran Vía, Madrid's main shopping drag, which slices across the city's bewildering gnarl of alleys and byways—a labyrinth that can flummox the most seasoned Madrileño. "I lived in one neighborhood for six years," Leonor says with a laugh, "before I realized I was walking in circles to go less than a block."
The lead singer of the rock band Marlango and an actor whose credits include Pedro Almodóvar's Talk to Her ("It wasn't a difficult role: I was in a coma"), Leonor was raised in the working-class district of Prosperidad, "the kind of neighborhood where you know the guy who sells bread." But this, again, is not rare here. Madrid is known as being a big city with a small-town feel—the sophisticates of Barcelona sniff at what they see as its provincialism.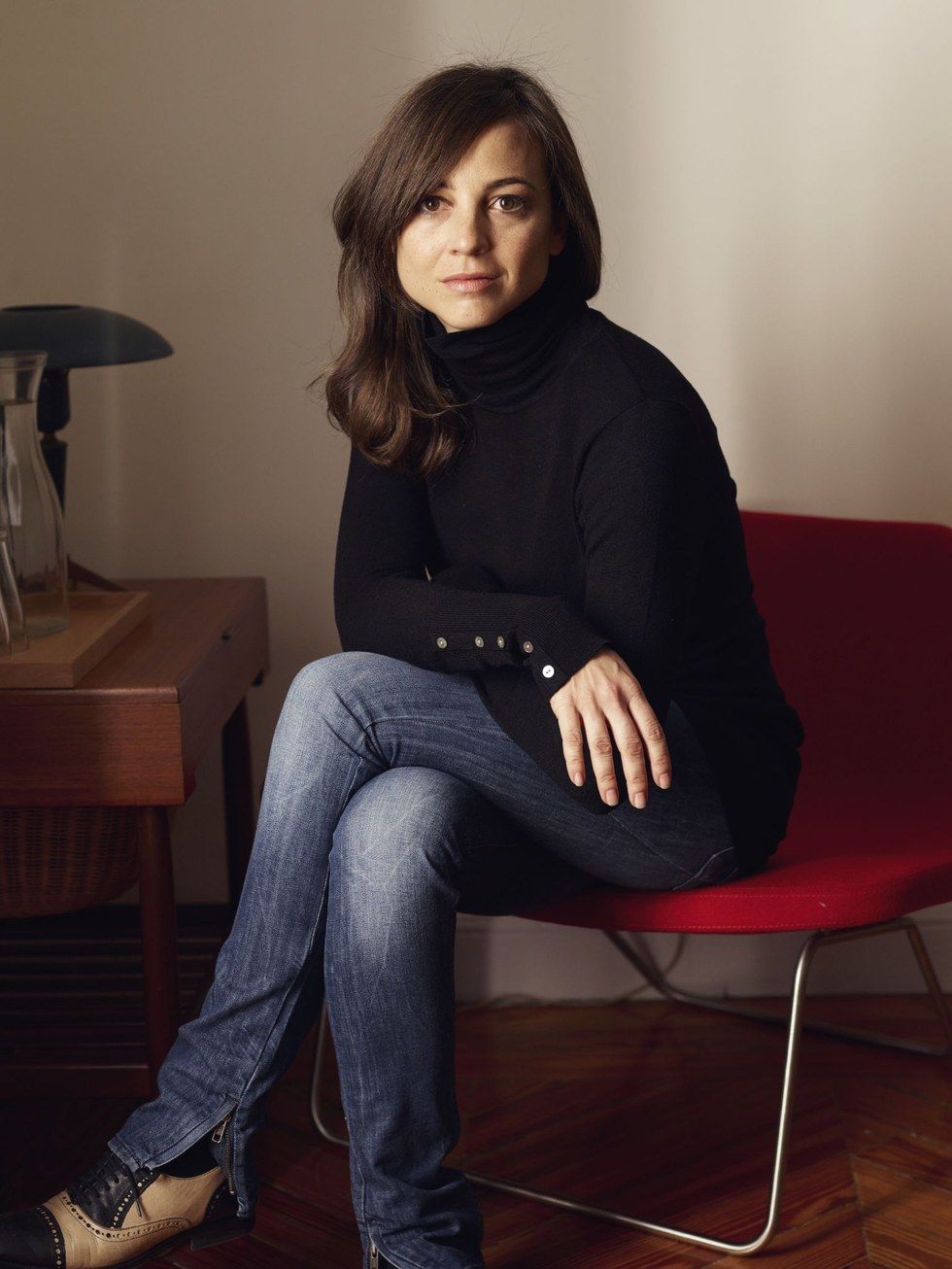 Leonor Watling, Actor and Musician | Photo by: Mariano Herrera
Leonor is having none of this. She cites hip barrios like La Latina, Malasaña and Chueca ("Madrid as I'd like it to be") as evidence that the city is catching up with buzzier capitals like London and Berlin. The cultural upgrade she describes is evident in two of the city's relatively new art institutions—Matadero Madrid, located in a renovated slaughterhouse, and La Tabacalera, which is in an 18th-century tobacco factory. I decide to visit the latter, in part because the short walk south will take me through chic La Latina and the scruffy bohemian neighborhood of Lavapiés—possibly the only part of town where you can order dim sum with zebra meat (Gau&Café).

First, I have to run the gauntlet of human statues and Bart Simpson balloon sellers at Puerta del Sol, Madrid's biggest, rowdiest square. "Psst!" hisses a raggedy woman holding out a sprig of something, presumably in the belief that I'd be interested in buying it. The rustle of 10,000 tourist maps drowns out the afternoon traffic. I hurry through the crowds, dodging the selfie sticks as I go.
"No one here feels that the city belongs to them. It's hard to fit in with Parisians, next to impossible with Londoners—if such a thing exists—but in Madrid, you'll never feel like an outsider." —Leonor Watling
Finally, after a primer in colorful local language at a Lavapiés sports bar (Ronaldo, Real Madrid's star player, has been sent off for slapping an opponent), I arrive at La Tabacalera, an imposing, block-size building that doesn't get any cheerier on the inside. The entry hall is filled with dangling, red-splattered bunches of cloth. Farther in, a giant eyeball stares out from a gloomy antechamber. I stop and rub my chin in front of a case with a fire hose coiled inside, mainly for the benefit of a serious-looking couple passing by.
I've got another kind of aesthetic experience in store at my next stop, the Museo del Prado, part of Madrid's troika of superstar art institutions (along with the Reina Sofía and Thyssen-Bornemisza museums). The Prado is located east of the city center, amid a parade of monumental structures, the most impressive of which is Palacio de Cibeles, a huge wedding cake of a building that doubles as a cultural center and the city's town hall, and which has a viewing deck and a fine-dining restaurant on the upper levels.
Set in a sprawling, colonnaded building, the Prado is home to one of the world's finest collections of European art, which includes the Hieronymus Bosch triptych "The Garden of Earthly Delights," whose panel depicting hell is possibly the weirdest work of art ever created. More upbeat is "Goya in Madrid," an exhibition of the Spanish master's work that provides a fly-on-the-wall look at 18th-century Madrileño life (they hunted a lot, apparently).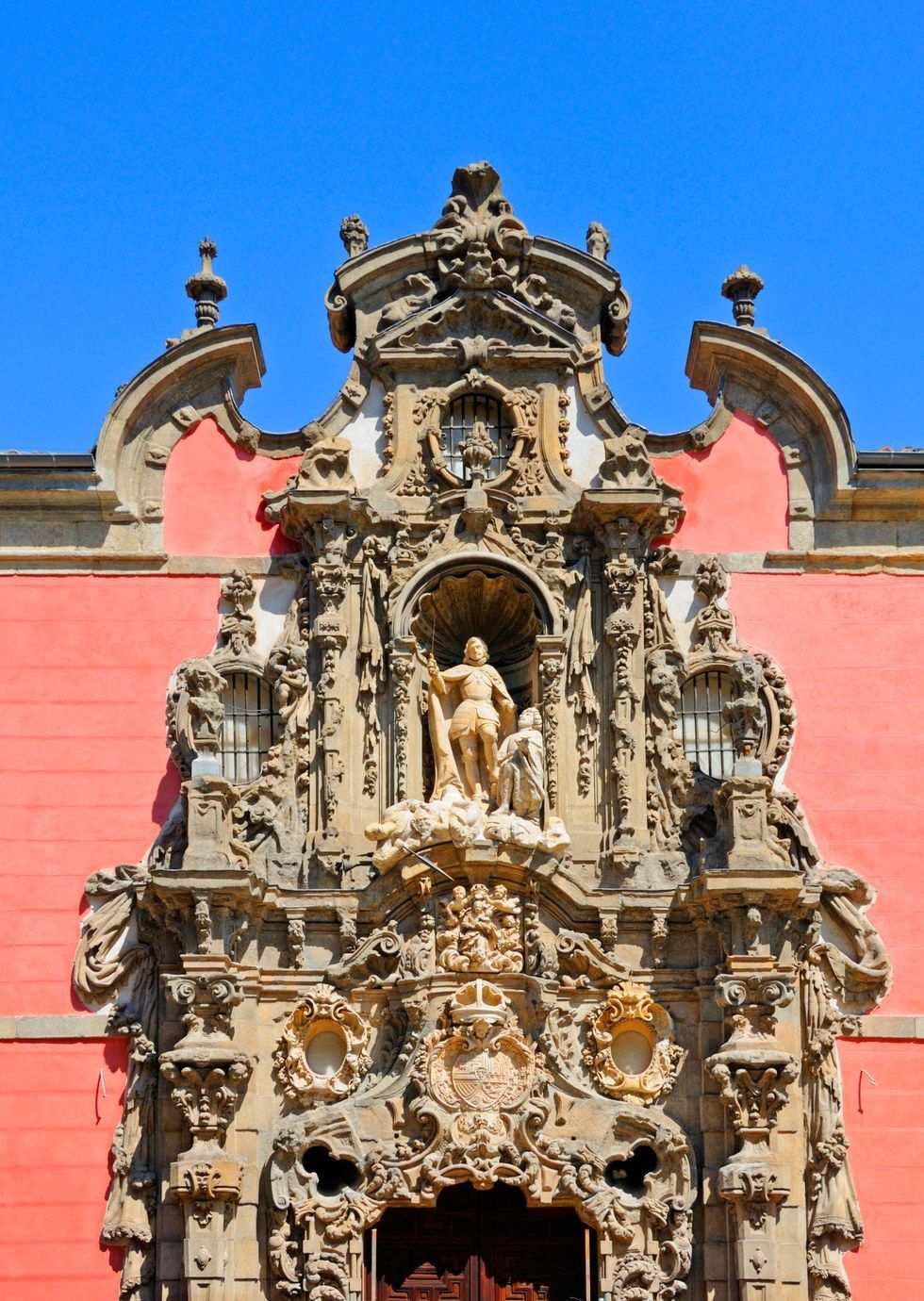 The Baroque entrance of the Museo de Historia | Photo by: Alamy
Outside, I cross broad Paseo del Prado and enter a warren of streets that, within minutes, has me wondering which way is up, let alone east or west. Still, if you're going to get lost, this isn't a bad place to do it. My quick pre-lunch stroll becomes an epic, leading me past a succession of A-list edificios—the glass-and-steel Mercado de San Miguel, the stately Basílica de San Francisco el Grande, the fairy-tale spires of Casa de la Villa—along with countless examples of Madrid's knack for elevating the everyday: resplendent cinemas, photogenic shoe shops, museum-quality doorknobs.

By the time I stumble into La Bola Taberna, I'm almost too hungry to eat. A red-fronted eatery dating back to 1870, it's known for its cocido Madrileño, a traditional stew with chickpeas, slow-cooked beef, cabbage and pasta. I tell Mara, my server, that I'm thinking about other options, and she gives me a look. "Right," I say, "cocido Madrileño." Good choice.
My next stop is Plaza de la Ópera, where I'm meeting Fran Hernández, a gregarious young man who works for Madrid Segway, an outfit that invites visitors to scoot around the city going "Whee!" and "Argh!" Fran immediately reveals himself to be a kind of superguide—he has a near-fanatical interest in Madrid's history and culture. As we zip along, he tells me to sniff the air. "A city of more than three million people," he says, "and it smells like a village."
Our first stop is Plaza Mayor, which has been a focal point of Madrid life for centuries. The square's redbrick buildings reflect one of the city's prevailing architectural styles, one that dates back to the 16th century: Herrerian, a blend of angular austerity and Baroque grandiosity. It's a wide, beautiful space, skirted by gift shops and cafés, with decorative lampposts and the requisite statue of a royal on a horse. It's also a very good spot to show off my extreme Segway skills. "Come," Fran says, rolling his eyes.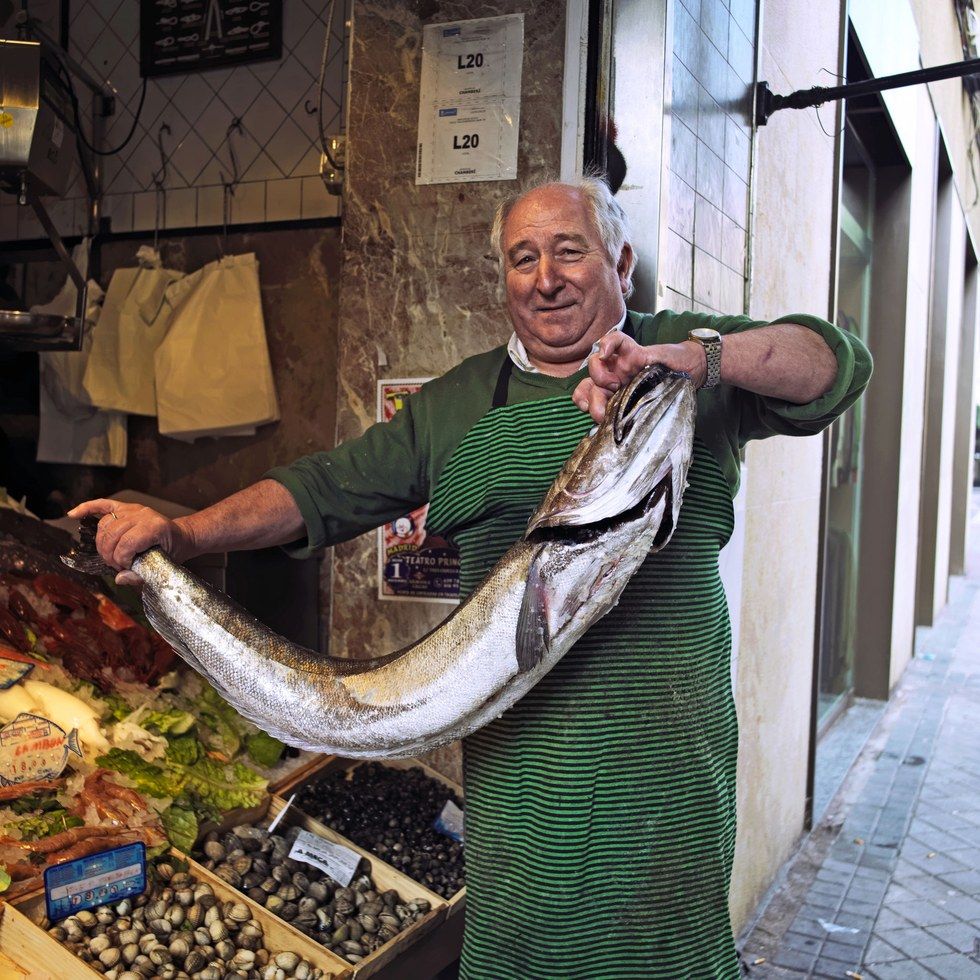 A fishmonger at the Marisquería El 79 market | Photo by: Ana Nance
Just south of here he stops at another brick building, a former jail, which is topped by a statue of an angel. There's a warning parents use, Fran says, when their kids are misbehaving: "You want to sleep below the angel?" So it goes for the rest of the tour—my obsessively knowledgeable guide pointing out fountains and churches and arches, telling the stories that surround them. In Plaza Santa Ana, we stop at the dazzling turreted building housing the ME hotel. Manolete, Spain's greatest bullfighter, used to stay in room 406, Fran tells me. "Now everyone wants to be in that room."

A highlight of the tour is Monasterio del Corpus Christi, a 17th-century convent that supports itself by making and selling cookies—commerce that's complicated by the fact that the nuns must never be seen by non-nuns. I wander the hallways in search of a nun-run cookie shop, then come across a murky little room with a hole in the wall, inside of which stands a circular wooden contraption. The contraption spins and a box appears. I put 10 euros down and it spins again. "Receipt?" I shout into the hole. Nothing. I tell Fran this, and he rolls his eyes again.
I manage to resist ramming the cookies into my mouth, which is good, as I'm about to indulge in a dining bonanza at the Iberian-Asian eatery Sudestada. My meal includes spicy pork and shrimp dumplings; a platter of Japanese rice, egg, mushroom and eel; tandoori quail; a Thai curry with aged beef; and lots of wine. Each course, meanwhile, comes with a tableside disquisition, ranging from the provenance of the ingredients to how best to consume them ("Mix in the mouth, not on the plate"). It's a flavorful, fascinating meal—and a very long one.
I end the night with my new friend Fran at La Venencia, a onetime haunt of Hemingway's. This sounds like a hook, but the bar turns out to be wonderfully and genuinely run-down, a quality shared by most of its patrons. They serve only sherry here, and they keep tabs with chalk on the bar top.
An old black cat falls asleep in my lap. "The village I was born, there was a place just like this," Fran says. "It's like time has stopped." Right now, I kind of wish that it would.

In which Chris has a tipple with a local celebrity DJ and samples a €150 shot of mezcal
I start the day with a classic ballast—sorry, breakfast of Spanish eggs, served in a pan with spicy tomato sauce and chorizo. Less traditional is the place serving the dish: the swish, geometrically patterned eatery at Hotel Villa Magna. Egged up, I head out onto Paseo de la Castellana, passing a guy unloading a van singing "If You Don't Know Me By Now" in the local language.
I walk between the legs of a large bronze frog and cut right into Chueca, a once-shoddy, now-gentrified area just north of Gran Vía that's become a hotbed of fashion, food, music and gay culture. I twist and turn in the direction (I hope) of Plaza de Chueca, where I'm meeting the musician and DJ Miguel Barros—a.k.a. Pional—a local boy and one of European electronica's rising stars.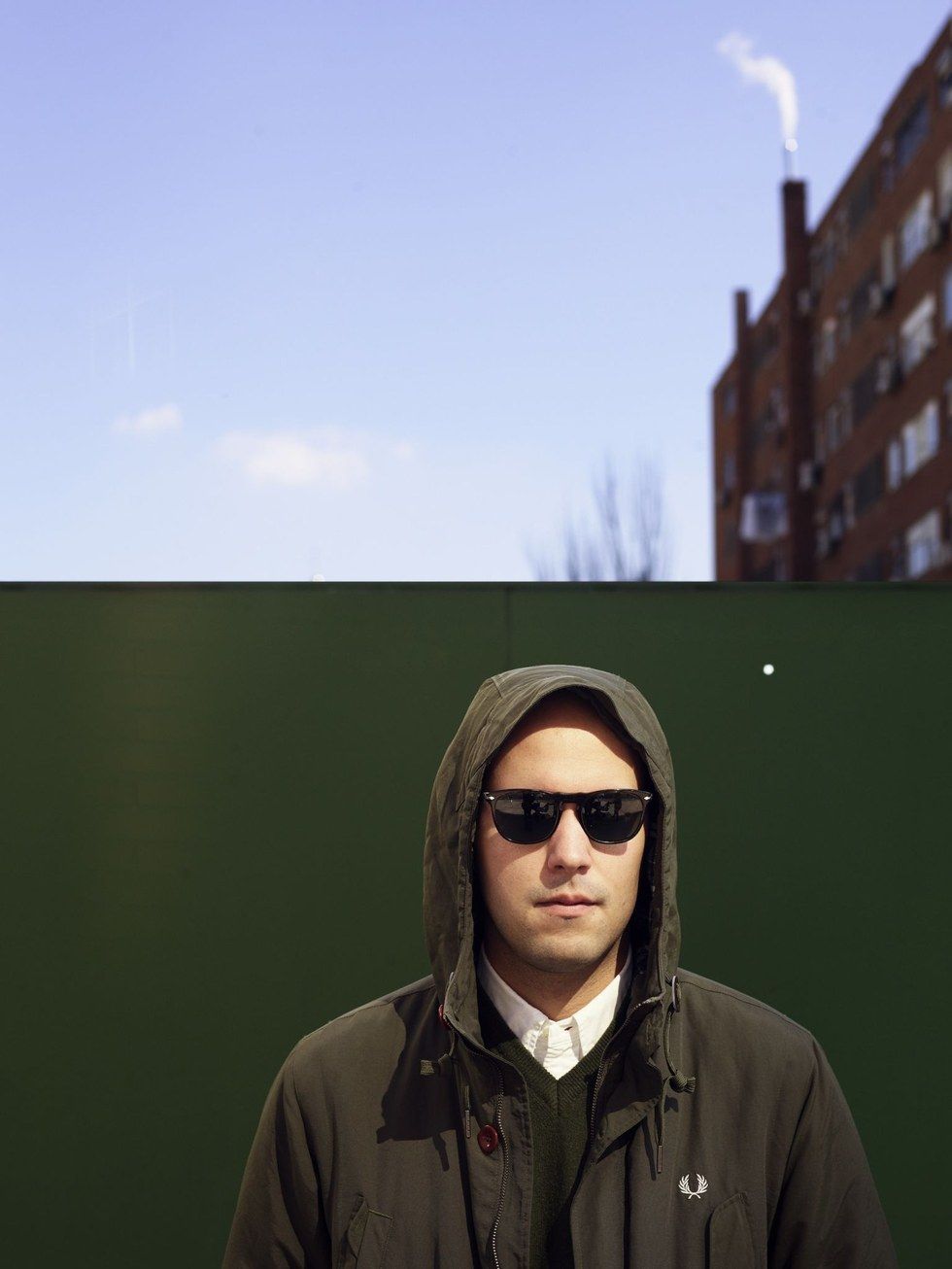 Pional, Musician and DJ / Photo by Mariano Herrera
It's a lovely day, so we sit at an outdoor table and order a beer. "Not long ago, this area wasn't 100 percent safe," Miguel says. "Now it's very chic, very expensive." To prove his point, he nods in the direction of a middle-age woman sitting at the next table: "She's a TV actress." Seconds later, a willowy fashion designer approaches Miguel to say hello.

Miguel, like Leonor Watling, says Madrid is defined by its youthful, transient population. "I'm from here," he says, "but almost everyone I know came from somewhere else." And, like Leonor, he believes that this fact has lent the city an air of inclusiveness. "I was born here and you landed here," she had told me, "but you belong to this city as much as I do." Miguel puts it a little more plainly: "It's a very welcoming town."
I ask him to recommend a local nightspot, expecting a flickering techno club. "Toni 2," he says. "It's a weird piano bar with 20-year-old kids sitting next to 70-year-old women." We make our way out of Chueca, pausing to look at the disco balls in the quirky electronics shop Lámparas Especiales. "I love this area," Miguel says. "I feel at home."
"Once, Chueca wasn't a place you wanted to spend time. You'd run out of the station into a bar, then run out of the bar into the station when it was time to go home. Now it's my favorite part of town." —Pional
From here, it's a few blocks northeast into the funky Malasaña district, a jumble of streets jammed with dive bars, organic cafés, pop-up art spaces and shops selling Sex Pistols throw pillows. It's not as fastidiously fashionable as Chueca or La Latina, but the grunginess is part of the appeal.
This is where I'll be having lunch, at La Bicicleta Café, a popular morning-after spot that combines raw, Brooklyny design with rustic cuisine. My Ploughman's Brunch comes on a cutting board and involves pastrami, Spanish omelet, cheeses, pickles and bread. It's a good, hearty meal, nicely (if incongruously) rounded off with a gin and tonic. I linger for a while, eavesdropping on two women sitting across the workbench, one of whom is trying to teach the other English. She walks to the shops … She werkess doo-a chops … Etc.
Next I'm off to neighboring Tribunal, another slightly grungy but increasingly trendy area. I'm here to see Museo de Historia, a former hospice that now serves as a city museum, and which has Madrid's most outlandishly ornate entryway—an explosion of Baroque detailing that hardly seems real. Inside, Madrid's story is told via architectural models of its landmarks, portraits of its erstwhile citizens and various household items. "Ooh," says an Englishwoman, eyeing a case of decorative fans. "We'll go shopping later," her husband says. "Pick up a few."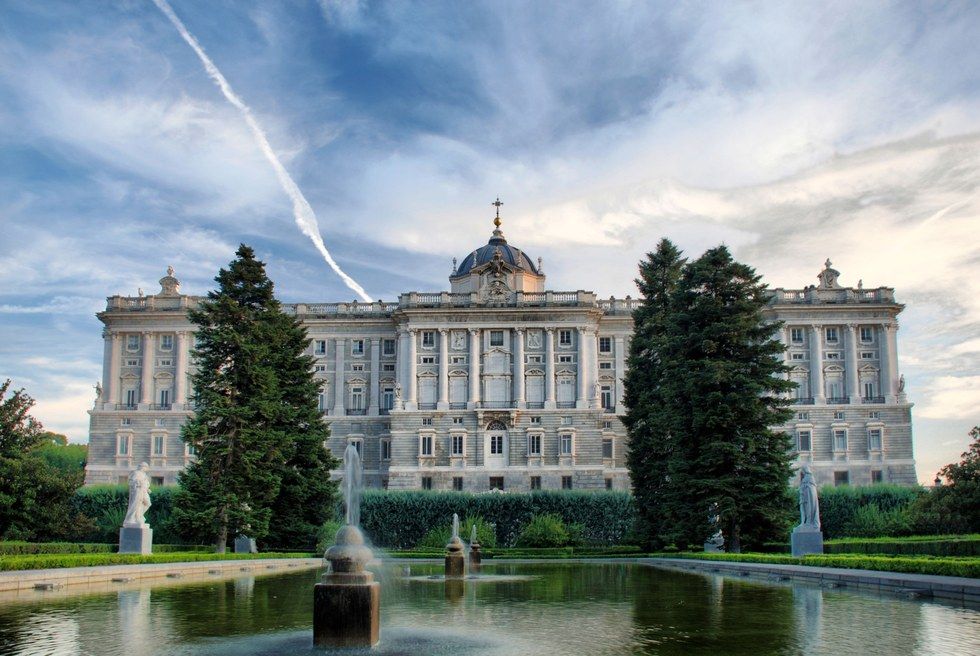 Madrid's Royal Palace stands as a testament to inordinate wealth, limitless power and blinding interior design / Photo by Jose Manuel Azcona
From here, I spend a while crisscrossing the bustling lanes of Malasaña, buying a few essentials along the way: a poster depicting a crudely drawn carton of leche (milk), an arty T-shirt bearing the cracked outline of a bull. Malasaña, as one local put it to me earlier, is "the multicolored heart of the city," and there's no doubting the place has character. And yet, when it comes to falling in love with a place, character will only go so far. Looks are always going to be important.

I head back down to Gran Vía, the city's main architectural catwalk, a parade of Art Deco/Beaux-Arts/Moorish Revival masterpieces that incorporates some of Madrid's most recognizable landmarks: the black dome of the Metropolis building, the Manhattan-esque facade of Edificio Telefónica. If you can ignore the fact that many of these buildings are occupied by fashion franchises, the spectacle approaches the sublime.
Near the western tip of Gran Vía is Parque del Oeste, where I wheezingly climb a hill to take a look at the Temple of Debod, a transplanted 2nd-century Egyptian relic featuring blocky stone arches and a squat, pillared sanctuary. This is also a great place to look out over the city, especially when, as now, the sun is going down, lending the buildings a shimmering violet hue. But man cannot live on sightseeing alone. It's dinnertime.
I descend the hill and catch a cab to Punto MX, the first Mexican restaurant in Europe, I'm told, with a Michelin star. I enter the narrow, understated dining room and brace myself. My meal will consist of a five-course taster, and each course will be paired with a mezcal. In the upstairs bar (the "Mezcal Lab") they stock 30 varieties of the drink, including one—God's Eye—that goes for 150 euros a shot.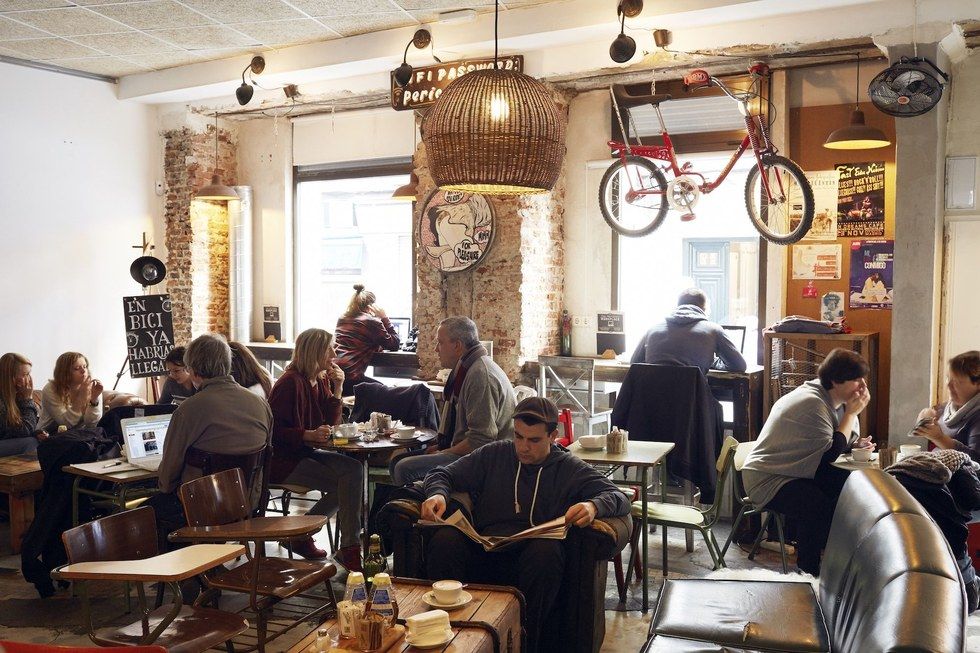 Working-the-fields cuisine meets beardy-Brooklyn decor at the fashionable brunch joint La Bicicleta Café / Photo by Mariano Herrera
"Just leave the bottle on my table," I quip.

"Ha ha," the waiter responds, as though he hasn't heard that one before.
Things get off to a promising start with the guacamole, which is prepared at the table and is the best I've ever had. The rest of the meal, too, is eye-wateringly good: sole and shrimp in a chili broth; a braised duck and green salsa enchilada; "bullock tacos, northern style"; charbroiled sea bream with pineapple pico de gallo; charred marrow, served in the bone. Finally—drumroll—I am invited to sample the God's Eye. I'm no expert, but I can tell this is a quality drink, smooth but with a bite, a warm buzz that starts in your stomach and spreads through the veins.
"You like it?" the waiter asks.
I do.
"Welcome to Mexico!"

In which Chris meets up with a local artisan and experiences flamenco just as Pablo Picasso once did
I wake up in the second hotel of my stay, the boutique-y Hotel Urban, bang in the center of town. Not far from my bed there's a small sandstone bust, an 11th-century Khmer depiction of Buddha. (I have a vision of the departing pilferer: shampoo, bathrobe, vanity kit, priceless cultural artifact…). The hotel continues in a similar vein in the lobby, an achingly modern space with an illuminated white spine running up the atrium and a bunch of large New Guinean tribal sculptures placed throughout. The bar, closed right now, will later on buzz with Madrid's beautiful people.
In order to avoid exploding, I'm skipping breakfast. Instead, I take a brisk 10-minute walk to Parque del Retiro, a 17th-century royal retreat that ranks among the world's great urban parks. I enter via the northwest gate, near the ceremonial arch called the Puerta de Alcalá, and join a stream of strollers on the promenade. Then, having paused for a while to ogle the massive, elaborate monument to Alfonso XII, I cut down one of the pathways to Palacio de Cristal, a hothouse-like 19th-century structure that serves as an art exhibition hall. Before leaving the park, I have an alfresco coffee overlooking a statue of Satan. The garden of earthly delights.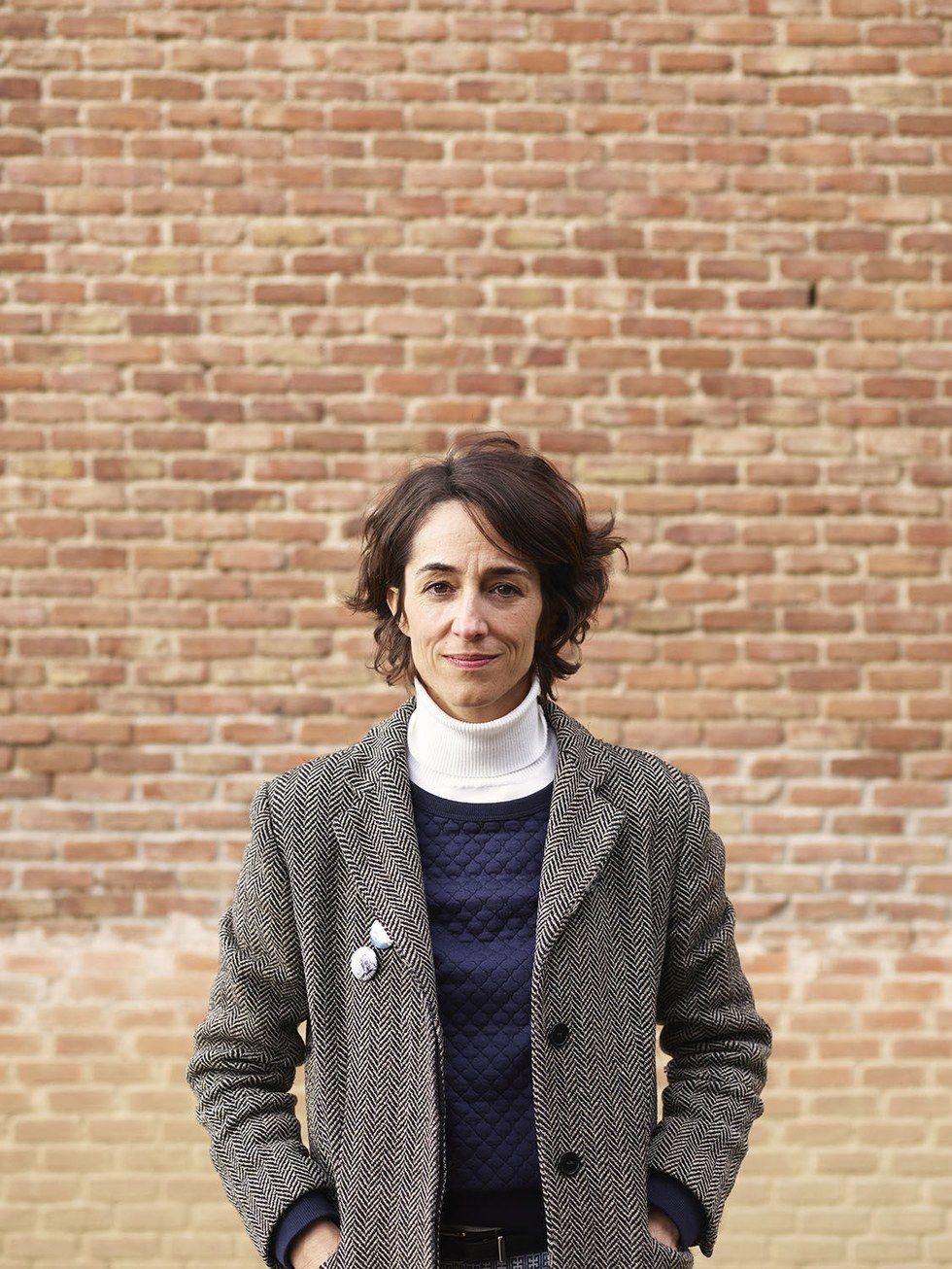 Belén Fernández-Vega, Jeweler / Photo by Mariano Herrera
Next, I take a cab to the district of Chamberi, just north of the park, where I find the creatively cluttered apartment of Belén Fernández-Vega. A local artist who transforms discarded objects—cuff links, belt buckles—into an elegant line of jewelry, Belén is part of the thriving creative community in the city. "There are lots of artistic people in Madrid," she says. "It's the light that attracts them, I think."

There's a place near Belén's home that she wants me to see. A few minutes later we're in a small herb garden, looking up at the brick Residencia Estudiantes, a building that hosts art exhibitions and literary events, and which once served as a salon for the likes of Salvador Dalí, Igor Stravinsky and H.G. Wells. "This is a very powerful place for me," she says. "I feel very well when I come here." She picks a sprig of rosemary and hands it to me. "Put it in your pocket."
I say goodbye to Belén and head down to Restaurante Taberneros, a hole-in-the-wall eatery known for its selection of wines. I start the meal with salmorejo cordobés, the Córdoba take on gazpacho, topped with ham and eggs. A flurry of courses and paired wines later, the final dish arrives: callos, or tripe stew with crayfish, which is far better than a bowl of stomach and intestines has any right to be. I wash it down with another glass of very agreeable wine and head out into the afternoon sunshine.
"The best thing about Madrid is the light. The painter Joaquín Sorolla found the light in Madrid very good. Look at the sky; the sky is changing all the time." —Belén Fernández-Vega
I walk a few blocks west, aiming for the Royal Palace. Built in the heady days of the 18th century, the former royal residence is a glorious expression of imperial power, a blend of solemn bulk and manic detailing—but that doesn't quite explain the huddled masses outside. "We are waiting for the king to come out," explains an old lady. Oh.
King Felipe VI doesn't come out, so I go in. Whoa. I move between rooms (there are 3,418 of them) trying to process the froth of gold, the frenzy of frescoes. Everything is either gilded or bejeweled or carved into the shape of a mythical beast. Were we allowed to visit the royal restrooms, I'd fully expect to find a golden sphinx hand sanitizer with emeralds for eyes. "We're rich!" the place says. "Rich!"
Speaking of the high life, from here I'm off to nearby Parque del Oeste, and the terminal for Teleférico cable cars. Riding this 50-year-old system requires that I climb into a small box, which dangle-trundles for two miles into an expanse of urban countryside called Casa de Campo. At one point, I pass so close to an apartment building I could high-five the tenants. At the other side, I stand on a viewing deck for a bit, then take another box back, a speaker emitting the easy listening hits of Phil Collins.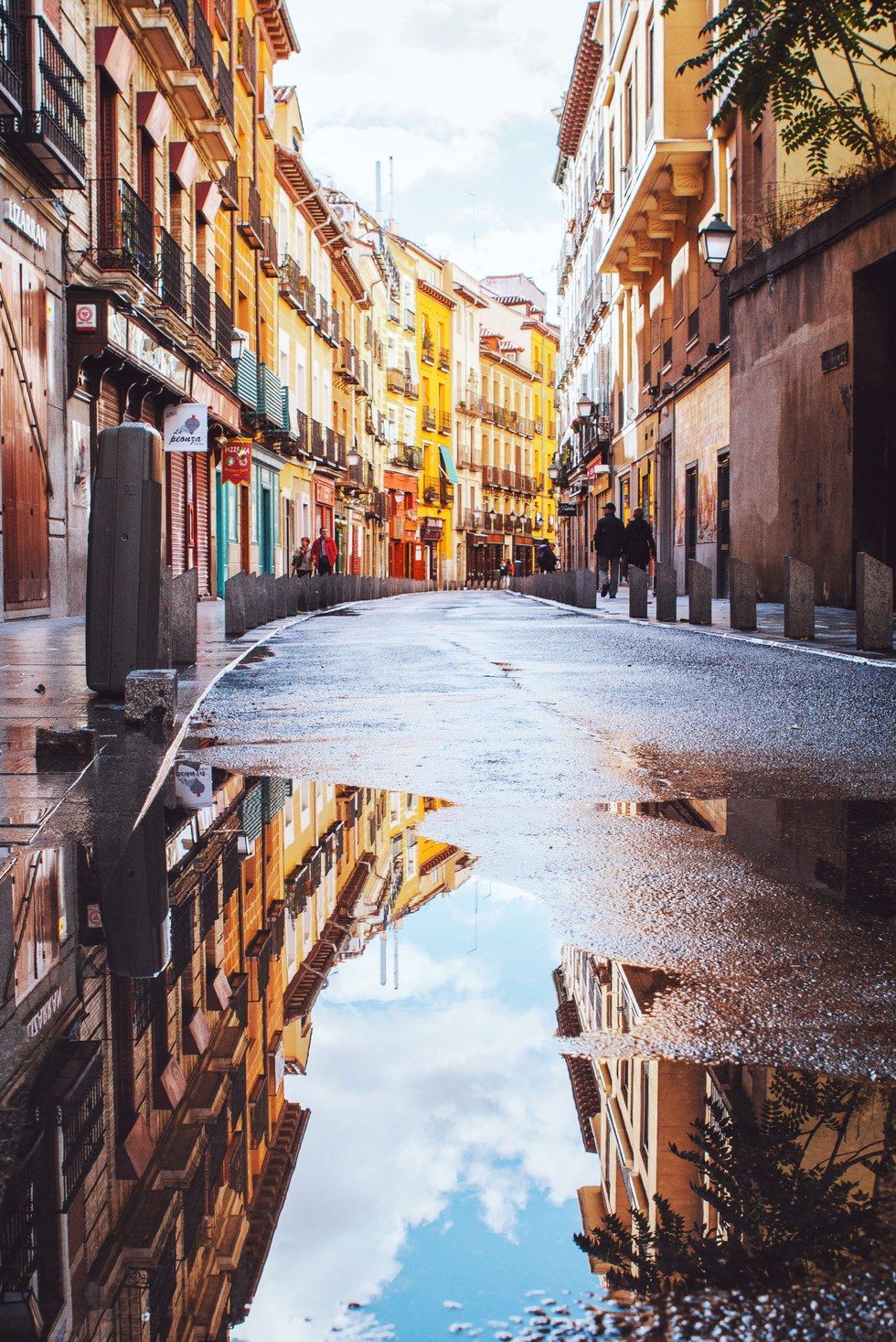 Madrid's winding streets are perfect for a confusing stroll / Photo by Julia Davila-Lampe
Back on terra firma, I catch a cab to tony Serrano, where I'll be experiencing one of Madrid's more unusual dining locations. Set in a refurbished cinema, Platea amounts to the world's fanciest food court (or at least the only one with six Michelin stars to its name), its swank eateries serving all manner of regional and international cuisine. I have six fantastically fresh oysters, gorgeously marbled lomo Ibérico ham, and the addictive cod fritters known as buñuelos de bacalao, along with several glasses of sweet vermouth.

This sets me up nicely for my visit to Corral de la Morería, a tiny flamenco club tucked away on a side street on the west side of town, whose previous guests have included everyone from Pablo Picasso to Jennifer Aniston. To the ululations of a backing group and a couple of furious guitars, a duo of dancers strut, bicker, flirt, stomp, clap and twirl. At times, the show becomes a frenzy, but there are also moments of tenderness, the mournful solos from the lady at the back. The only downside is that it has to end.
Outside, unable to find a cab, I jump onto a bus. In broken English, the driver explains that he can't take me where I want to go, but this might not be a problem. "You can get off here," he says, "or come with me and see Madrid." So, I spend my last moments in town moving slowly along its narrow streets, the driver pointing at this and that, the rest of the passengers hardly paying attention, as if this sort of thing happens every day.
Wouldn't that be something?
Around the web

As the COVID-19 crisis has evolved, United's cargo operation has emerged as a critical conduit for getting life-saving goods where they're needed most.
Last week, we helped Flexport.org, the social impact arm of a freight forwarder based in San Francisco, import two shipments of medical and personal protective equipment (PPE) destined for New York and California. The first of those loads arrived in San Francisco from Shanghai aboard a chartered United Boeing 787-9 on Wednesday. It contained 1,000 ventilators, 70,000 goggles and 300,000 masks, all of which were donated by Alibaba cofounder and Brooklyn Nets owner Joe Tsai and his wife, Clara Wu Tsai. Those items were then put on a United 777 and flown to EWR, where they were distributed to 14 hospitals, medical centers and nursing homes in the New York City region.
The second shipment came into San Francisco the following day containing surgical gowns, hazmat suits and several million more masks for first responders in California. United employees unloaded that aircraft upon arrival and helped get the PPE onto trucks for delivery to Bay Area hospitals.

We are operating, on average, 20 cargo-only flights each day between six U.S. hubs and cities in Asia, Australia, Europe and the Middle East. In the process of doing so, we are moving thousands of pounds of medical supplies, pharmaceuticals and PPE, in addition to those mentioned above, to help stem the spread of COVID-19 and treat those afflicted.
While travel demand and government restrictions continue to impact our schedule, we know some people around the globe are displaced and still need to get home. We continue to operate dozens of repatriation flights in an effort to get customers where they need to be. This remains a fluid situation, but United continues to play a role in connecting people and uniting the world, especially in these challenging times. Learn more about what we're doing to keep customers and employees safe.
Flights continuing from now into May:
Atlantic
Operating:
New York/Newark – Frankfurt (Flights 960/961)
New York/Newark – London (Flights 16/17)
New York/Newark – Tel Aviv (Flights 90/91)
Pacific
Operating:
San Francisco – Tokyo-Narita (Flights 837/838)
San Francisco – Sydney (Flights 863/870
Select Guam routes, including daily Guam – Honolulu (Flights 200/201)
Latin America/South America
Operating:
Houston – Sao Paulo (1x daily)
Houston – Cancun (3x daily)
Houston – Mexico City and Monterrey (2x daily)
Houston – Guanajuato, Guadalajara, Puerto Vallarta and Los Cabos (1x daily)
Suspended:
All other hub flying to Mexico is canceled.
Caribbean
We are suspending all remaining Caribbean service: NAS (Nassau, Bahamas) through May 3, SJU (San Juan) and STT (St. Thomas) April 7 – May 3 (at the earliest).
Canada
All flying to Canada is suspended.
To help with the uncertainty around future travel — be it summer vacations, conferences, events and more — customers now have until April 30 to make changes to, or cancel, any travel they have booked through the end of the year without fees. This is in addition to existing waivers already in place which allow customers to change or cancel plans for travel through May 31.
Please visit united.com for more information, or reference our step-by-step guide on how to change your flight, cancel and rebook later.
Domestic schedule
We have taken every opportunity to continue offering service to as many airports as possible through other United hubs as we have reduced our domestic flying. Effective April 8, we will suspend service between the mainland and Hilo, Maui, Kona and Lihue - and we will maintain our daily service between our San Francisco hub and Honolulu, which has been reduced to one flight daily. We will continue to operate daily service between Honolulu and Guam. These suspensions will run through April 22.

We are closely monitoring demand as well as changes in state and local curfews and government restrictions across the U.S. and will adjust our schedule accordingly.
Hub city
Route suspensions
Remaining service
Chicago
Albuquerque, NM
Asheville, NC
Bismarck/Mandan, ND
Bozeman, MT
Eugene, OR
Fresno, CA
Hilton Head, SC
Honolulu, HI
Jackson, MS
Kahului, HI
Kearney, NE
Palm Springs, CA
Panama City, FL
Reno, NV
San Jose, CA
Spokane, WA
Valparaiso, FL
Wilmington, NC

DEN, IAH
IAD
DEN
DEN
DEN, SFO
DEN, SFO
IAD
SFO
IAH
Market Suspension
DEN
DEN, SFO
IAH
DEN, SFO
DEN
DEN
IAH
IAD

New York/Newark
Appleton, WI
Arcata/Eureka, CA
Charleston, SC
Grand Rapids, MI
Hartford, CT
Hobbs, NM
Honolulu, HI
Jacksonville, FL
Kahului, HI
Kona, HI
Lihue, HI
New York, NY (LaGuardia)
Santa Rosa, CA
Shreveport, LA
Syracuse, NY

ORD
SFO
IAD, IAH, ORD
ORD
IAD, ORD
IAH
SFO
IAD, IAH, ORD
Market Suspension
Market Suspension
Market Suspension
ORD
SFO
IAH
IAD, ORD
Houston
Akron/Canton, OH
Boise, ID
Grand Rapids, MI
Hartford, CT
Honolulu, HI
Lexington, KY
New York, NY (LaGuardia)
Norfolk, VA
Ontario, CA
Palm Springs, CA
Reno, NV
Richmond, VA
San Jose, CA
St Louis, MO

ORD
DEN, ORD, SFO
ORD
IAD, ORD
SFO
IAD, ORD
ORD
DEN, IAD, ORD
DEN, SFO
DEN, SFO
DEN, SFO
DEN, IAD, ORD
DEN
DEN, IAD, ORD
Los Angeles
Arcata/Eureka, CA
Austin, TX
Baltimore, DC
Bend/Redmond, OR
Boise, ID
Boston, MA
Bozeman, MT
Cleveland, OH
Colorado Springs, CO
Eugene, OR
Fresno, CA
Hilo, HI
Honolulu, HI
Kahului, HI
Kona, HI
Las Vegas, NV
Lihue, HI
Madison, WI
Mammoth Lakes, CA
Medford, OR
Monterey, CA
Orlando, FL
Palm Springs, CA
Phoenix, AZ
Prescott, AZ
Redding, CA
Reno, NV
Sacramento, CA
Salt Lake City, UT
San Antonio, TX
San Diego, CA
San Luis Obispo, CA
Santa Barbara, CA
Seattle, WA
St George, UT
Stockton, CA
SFO
DEN, IAH, ORD
DEN, IAH, ORD
DEN, SFO
DEN, ORD, SFO
DEN, IAD, IAH, ORD
DEN
DEN, IAD, IAH, ORD
DEN, IAH, ORD
DEN, SFO
DEN, SFO
Market Suspension
SFO
Market Suspension
Market Suspension
DEN, IAD, IAH, ORD, SFO
Market Suspension
DEN, ORD
Market Suspension
DEN, SFO
DEN, SFO
DEN, IAD, IAH, ORD
DEN, SFO
DEN, IAD, IAH, ORD, SFO
DEN
SFO
DEN, SFO
DEN, IAH, ORD, SFO
DEN, IAH, ORD, SFO
DEN, IAD, IAH, ORD
DEN, IAD, IAH, ORD, SFO
DEN, SFO
DEN, SFO
DEN, IAD, IAH, ORD, SFO
DEN
Market Suspension
New York/Newark
Akron/Canton, OH
Albany, NY
Atlanta, GA
Austin, TX
Bangor, ME
Boston, MA
Buffalo, NY
Burlington, VT
Charleston, SC
Charlotte, NC
Cincinnati, OH
Cleveland, OH
Columbus, OH
Dallas/Fort Worth, TX
Detroit, MI
Fayetteville, AR
Fort Lauderdale, FL
Fort Myers, FL
Grand Rapids, MI
Greensboro, NC
Greenville, SC
Hilton Head, SC
Honolulu, HI
Indianapolis, IN
Jacksonville, FL
Kansas City, MO
Key West, FL
Knoxville, TN
Las Vegas, NV
Louisville, KY
Madison, WI
Memphis, TN
Miami, FL
Milwaukee, WI
Minneapolis, MN
Myrtle Beach, SC
Nashville, TN
New Orleans, LA
Norfolk, VA
Omaha, NE
Orange County, CA
Orlando, FL
Phoenix, AZ
Pittsburgh, PA
Portland, ME
Portland, OR
Presque Isle, ME
Providence, RI
Raleigh/Durham, NC
Richmond, VA
Rochester, NY
Sacramento, CA
Salt Lake City, UT
San Antonio, TX
San Diego, CA
Sarasota, FL
Savannah, GA
Seattle, WA
St Louis, MO
Syracuse, NY
Tampa, FL
Washington, DC (Reagan National)
West Palm Beach, FL

ORD
IAD, ORD
DEN, IAD, IAH, ORD
DEN, IAH, ORD
IAD
DEN, IAD, IAH, ORD
IAD, ORD
IAD, ORD
IAD, IAH, ORD
DEN, IAD, IAH, ORD
DEN, IAD, IAH, ORD
DEN, IAD, IAH, ORD
DEN, IAD, IAH, ORD
DEN, IAD, IAH, ORD
DEN, IAD, IAH, ORD
DEN, IAH, ORD
DEN, IAD, IAH, ORD
DEN, IAD, IAH, ORD
ORD
IAD, ORD
DEN, IAD, IAH, ORD
IAD
SFO
DEN, IAD, IAH, ORD
IAD, IAH, ORD
DEN, IAD, IAH, ORD
ORD
DEN, IAD, IAH, ORD
DEN, IAD, IAH, ORD, SFO
DEN, IAD, IAH, ORD
DEN, ORD
DEN, IAH, ORD
IAD, IAH, ORD
DEN, IAH, ORD
DEN, IAD, IAH, ORD
IAD
DEN, IAD, IAH, ORD
DEN, IAD, IAH, ORD
DEN, IAD, ORD
DEN, IAH, ORD
DEN, IAH, ORD, SFO
DEN, IAD, IAH, ORD
DEN, IAD, IAH, ORD, SFO
DEN, IAD, IAH, ORD
IAD, ORD
DEN, IAH, ORD, SFO
IAD
IAD, ORD
DEN, IAD, IAH, ORD
DEN, IAD, ORD
IAD, ORD
DEN, IAH, ORD, SFO
DEN, IAH, ORD, SFO
DEN, IAD, IAH, ORD
DEN, IAD, IAH, ORD, SFO
IAD, ORD
DEN, IAD, IAH, ORD
DEN, IAD, IAH, ORD, SFO
DEN, IAD, ORD
IAD, ORD
DEN, IAD, IAH, ORD
DEN, IAH, ORD, SFO
IAD, IAH, ORD
San Francisco
Albuquerque, NM
Atlanta, GA
Austin, TX
Baltimore, DC
Boston, MA
Bozeman, MT
Cleveland, OH
Columbus, OH
Dallas/Fort Worth, TX
Detroit, MI
Fayetteville, AR
Fort Lauderdale, FL
Indianapolis, IN
Kahului, HI
Kansas City, MO
Kona, HI
Lihue, HI
Madison, WI
Mammoth Lakes, CA
Minneapolis, MN
Nashville, TN
New Orleans, LA
Oklahoma City, OK
Omaha, NE
Orlando, FL
Philadelphia, PA
Pittsburgh, PA
Raleigh/Durham, NC
San Antonio, TX
Spokane, WA
St Louis, MO
Tampa, FL
DEN, IAH
DEN, IAD, IAH, ORD
DEN, IAH, ORD
DEN, IAH, ORD
DEN, IAD, IAH, ORD
DEN
DEN, IAD, IAH, ORD
DEN, IAD, IAH, ORD
DEN, IAD, IAH, ORD
DEN, IAD, IAH, ORD
DEN, IAH, ORD
DEN, IAD, IAH, ORD
DEN, IAD, IAH, ORD
Market Suspension
DEN, IAD, IAH, ORD
Market Suspension
Market Suspension
DEN, ORD
Market Suspension
DEN, IAD, IAH, ORD
DEN, IAD, IAH, ORD
DEN, IAD, IAH, ORD
DEN, IAD, IAH, ORD
DEN, IAH, ORD
DEN, IAD, IAH, ORD
DEN, IAH, ORD
DEN, IAD, IAH, ORD
DEN, IAD, IAH, ORD
DEN, IAD, IAH, ORD
DEN
DEN, IAD, ORD
DEN, IAD, IAH, ORD
Washington-Dulles
Austin, TX
Grand Rapids, MI
Honolulu, HI
New York, NY (LaGuardia)
Portland, OR
Sacramento, CA
DEN, IAH, ORD
ORD
SFO
ORD
DEN, IAH, ORD, SFO
DEN, IAH, ORD, SFO
When and where possible, we are working to repatriate travelers who are stranded abroad in the wake of the COVID-19 crisis. Our teams are working closely with government officials here in the U.S. as well as in other countries where flying has been restricted to gain the necessary approvals to operate service. In regions where government actions have barred international flying, we have coordinated with the the U.S. State Department and local government officials to re-instate some flights. Additionally, we have been operating several extra flights to countries in Central America and South America as we continue to play a role in connecting people and uniting the world.
We have operated more than 85 repatriation flights from Panama City, Guatemala City, Quito, Lima, San Pedro Sula, Tegucigalpa and Roatan, bringing nearly 12,000 people home. We will continue working with government officials to operate extra flights to Houston from Quito, San Pedro Sula, Tegucigalpa and from Lima to Washington Dulles and beginning April 5, we will begin operating multiple charter flights between Delhi and San Francisco. We continue to review more opportunities for flights between the United States and other countries to bring citizens home.
Video provided by the U.S. Embassy Ecuador of Americans returning home on United.

Additionally, our Customer Solutions and Recovery team is working with customers in the following markets to rebook them on flights back to the United States as capacity allows, either on our aircraft or on one of our airline partners' planes:

Quito, Ecuador
Managua, Nicaragua
Roatan, Honduras
San Pedro Sula, Honduras
Amsterdam
Brussels
Munich
Singapore
Tokyo-Haneda
Seoul, South Korea
Melbourne, Australia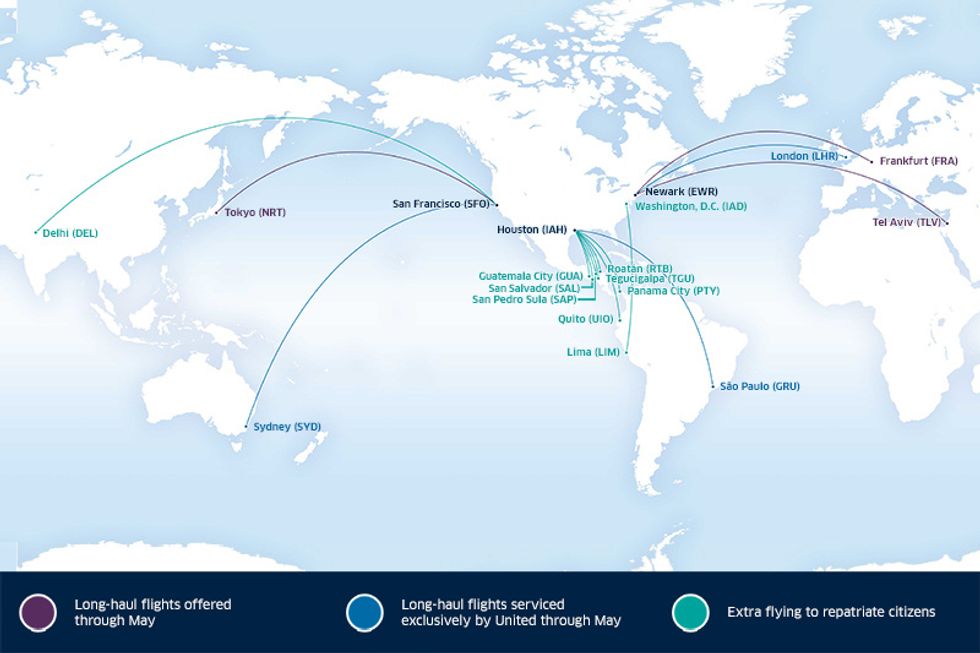 We also recently reinstated several international flights back into our schedule to support customers and essential businesses which depend on these routes. As a result, we will be the only airline to offer service between Newark/New York and London, San Francisco and Sydney, as well as Houston and São Paulo, Brazil.

Together, we are facing an unprecedented challenge. United Together, we rise to meet that challenge.
Check out our newest destinations
United Airlines
united
When you're ready to start flying again, your benefits will be there. We're extending United Club memberships purchased directly from United and purchased subscriptions for Economy Plus, United Wi-Fi and checked bags by six months.
uafly.co/3bUwJQw
United Airlines
united
To help with uncertainty around future travel – summer vacations, conferences & more – customers have until 4/30 to make changes to, or cancel, any travel they have booked through the end of the year without fees. This is in addition to existing waivers:
uafly.co/2vmnkSk
United Airlines
united
This is what a charter flight, carrying 100% medical equipment, looks like. We've been flying millions of units of personal protective equipment (PPE) from China to help get supplies to frontline responders across the country.
#WorldHealthDay
#UnitedTogether
United Airlines
united
For 200 Australian citizens who have been stuck on cruise ships for the past few weeks, our flight crew was a welcome sight. We operated a special charter flight from SFO - MEL on Sunday night, reuniting these travelers with their home and their families.
#UnitedTogether
👏💙
United Airlines
united
We're extending current MileagePlus Premier status levels to January 31, 2022 and lowering thresholds for status to help you reach an even higher tier. Learn more about the other steps we're taking, like extending PlusPoints, to thank you for your loyalty:
uafly.co/2xVfvnm
United Airlines
united
If your travel plans have been disrupted, and you have an electronic travel certificate for the value of your ticket, you now have two years from the date it was issued to book a new flight + up to an additional 11 months to travel. Learn more:
uafly.co/2RbdgDq
We Are United
weareunited
Shoutout to our operations team, who are working to properly park, maintain and store many aircraft in the
#BeingUnited
fleet. These aircraft are being housed across our seven hubs, maintenance facilities in CLE and MCO as well as at offsite facilities in New Mexico and Arizona.
Watch our most popular videos
A happy, Hollywood ending
This is the story of Jason and Shantel. You see, Jason and Shantel love each other very much. They also love traveling and they love the classic Adam Sandler film, The Wedding Singer.
It all began when Jason reached out to United's social media team, hoping for assistance with his upcoming plan to propose. Some phone calls and one borrowed guitar later, the stage was set for Jason. Put all that together, mix in some helpful United employees and, voila, you have a truly memorable marriage proposal. Congratulations to this fun-loving and happy couple, and here's to many more years of making beautiful music together.
A big thank you to Chicago-based flight attendants Donna W., Marie M., Karen J. and Mark K. for making this proposal come to life.
Image of United's female technicians making history
United's female technicians making history
Learn more
United's female technicians making history
"Many years ago at an air show, I saw a T-shirt that said 'Chicks fly,'" said Orlando-based Aircraft Maintenance Supervisor and Chix Fix team coach Laura Spolar. "And I told my husband, 'Chicks can fly, but chicks can also fix!' A lot of people don't know that women are aircraft mechanics."
Laura didn't know it at the time, but that conversation would serve as the inspiration for the team name of our history-making, all-female team of technicians that competed in the
2018 Aerospace Maintenance Competition (AMC). Of 69 teams at this year's AMC, only three were made up entirely of women, and Chix Fix was the only one representing a commercial airline.
"It's so important for us to show young girls and women that this is a career option for them," said Airframe Overhaul and Repair Managing Director Bonnie Turner, the Chix Fix team captain.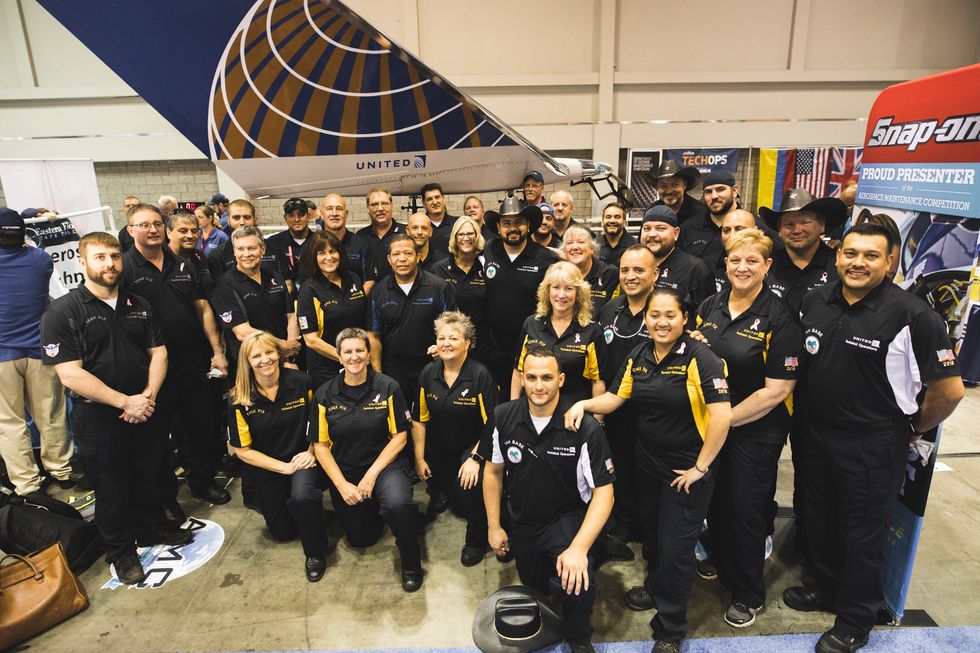 Chix Fix is made up of technicians from five stations. As a group, they only practiced together three times before the competition, but they bonded instantly.
"I feel like I've known these women my whole career," said Denver-based Line Technician Janelle Bendt. "It's been a lot of fun getting to know them and learning from them."
"As a team we just communicate really well; we all respect each other," said San Francisco-based Base Technician Katrina Oyer. "The biggest thing I've taken away from this experience is confidence. Working with these ladies is an eye opener. We really can do anything."
Watch the video above to learn more about Chix Fix and their journey to the AMC.
Copyright © 2020 United Airlines, Inc.
All rights reserved.
Indicates an external site that may or may not meet accessibility guidelines.
Scroll to top
Scroll to top