Three Perfect Days: Munich
Story by Boyd Farrow | Photography by Bert Heinzmeier | Hemispheres, July 2018
Named after a settlement of monks, one of whom appears on its coat of arms, Munich was born in 1158 out of an ungodly battle between feudal rulers over the right to impose tolls on a salt-trading route. Today, the city's clashes are not quite as grave. Yes, there's the Alpine kitsch of lederhosen and oompah bands, but they bump along happily with the upscale shops, progressive restaurants, and trendy tech startups. Even the temperate climate seems oddly out of place, as Mitteleuropa yields to a languorous Mediterranean lifestyle. But locals wouldn't have it any other way. Having exfoliated much of its fraught history, this is a confident, modern city, well aware of its outrageous fortune and eager to share.
Day 1
Gothic landmarks, ancient taverns, and museum-quality espresso machines
Apart from the famously beery Oktoberfest, we are generally reminded of Munich only when it pops up on one of those most-livable city lists. And boy, are locals thrilled to be here. This is the northern-most city of Italy, they say, only half-joking, referring to the classical architecture, the alfresco lifestyle, and the great food. They whip out maps to show how close they are to the Bavarian Alps or Lake Constance. They extol the convenience of having Zurich and Salzburg on their doorstep for when they need investment advice or a waltz.
They seem to have hit the jackpot—maybe literally—here on the shores of the winding Isar River. In the parking bays of glitzy Maximilianstrasse, Lamborghinis nuzzle Ferraris, Bentleys spoon Porsches. A necklace of showroom-shiny Mercedes roadsters slinks around the corner. These are just the cars I can see from my table in the elegant, wood-paneled breakfast room of the Hotel Vier Jahreszeiten Kempinski. I only manage to gulp down some juice, however, because I've overslept and my Tours By Locals guide, Stefan, is in front of me at 9 o'clock sharp. We're not actually in Italy, after all. The plan is to wander around the Altstadt (Old Town), which, conveniently, is right outside.
Marienplatz, the city's main square since 1158, is dominated by its neo-Gothic New Town Hall, built at the turn of the 20th century. The architect did not hold back: The 300-foot wide facade is a riot of spouting gargoyles, bristling pinnacles, and carvings of the Wittelsbach dynasty, which ruled Bavaria from 1180 to 1918. The star attraction is the Glockenspiel, with its 32 life-size figures enacting folk tales, along with a dance to celebrate the end of the Black Death.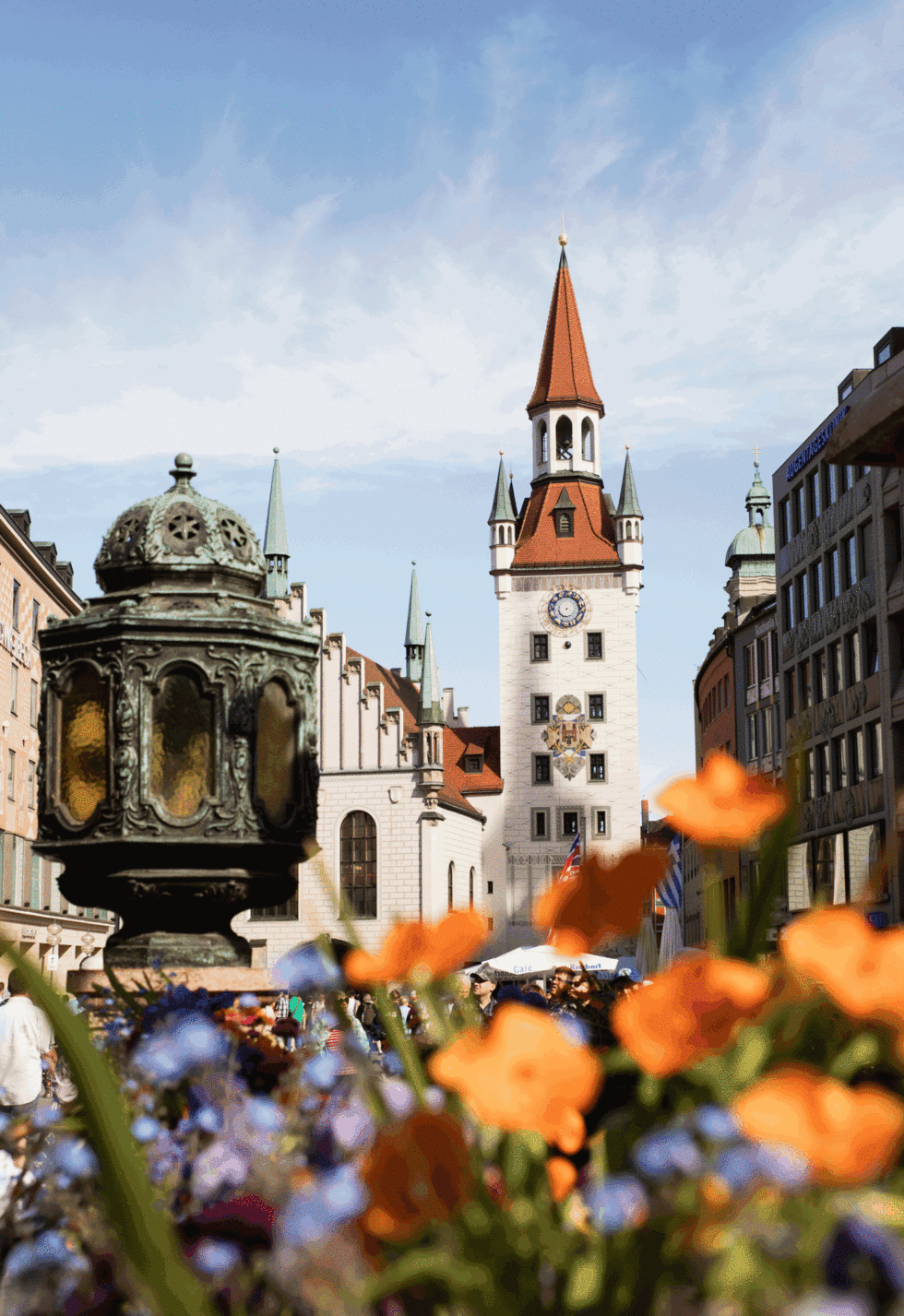 The Gothic Old Town Hall
On the square's east side is the Old Town Hall. This spired building was constructed in the 1470s but badly damaged during World War II, after which it was patched up, apparently with the same materials used by Walt Disney for Cinderella's castle. Around the corner is the Hofbräuhaus brewery, established in 1607 by Duke Wilhelm V to supply beer for the royal family. It's now Munich's most famous tavern, which is some feat. Some of the patrons today are wearing lederhosen, or trachten vests and felt Alpine hats. Barmaids twirl around in dirndl dresses, balancing trays of pork knuckles. I feel as if I'm hanging out with the townsfolk from Shrek in a medieval Hooters. (The brewery also has a dark history: This is where, in 1920, Hitler laid out his 25-point plan, essentially founding the Nazi party.)
Walking southeast, we hit Viktualienmarkt, a 19th-century farmers market that has evolved into a global gourmet destination. Around a striped maypole—an ancient symbol of seasonal rebirth—shoppers appraise the latest exotic superfoods. I sample the local delicacy leberkäse, which means "liver cheese" but is really a meatloaf made from corned beef and pork. Let's just say it's an acquired taste.
Zigzagging around the medieval lanes, we come to the city's oldest church, St. Peter's, built circa 1180 but best known for its lantern-dome tower, attached as part of a Baroque facelift 500 years later. The church is also famous for its relics: On one aisle is a glass case containing the reclining skeleton of Christian martyr Saint Munditia dressed in her finery. It looks like a magic trick gone horribly wrong.
After a spin past numerous other ecclesiastical marvels, I find myself peckish again. At the Dallmayr Delicatessen, I have sea bass with mashed potatoes, as I watch the local burghers select deli treats and visitors buy souvenir tins of white sausage soup and jars of sweet mustard.
From here, the efficient U-Bahn metro system whisks me to where the university district meets Neuhausen, a leafy section of 19th-century residences, northwest of the city center. I'm here to visit the new European HQ of Montreal special effects house RodeoFX, which has worked on everything from Game of Thrones to Star Wars.
Thomas Hullin, the head of the Munich studio, is keen to show me around the area, which smells of malt, thanks to the nearby Löwenbräu brewery. We walk down Brienner Strasse, with its two stately squares, Königsplatz—housing the Glyptothek, where Ludwig I stashed Greek and Roman statues—and Karolinenplatz, which has an obelisk made from the bronze of captured cannons to honor soldiers who died fighting Napoleon.
I love Munich's diversity, Hullin says. "Within an hour, you can be in the Alps or doing outdoorsy stuff in the forests. And the city itself is so varied—you can travel five centuries in a couple of subway stops."
Lively Türkenstrasse takes us past Asian street food vendors, Middle Eastern falafel counters, and English tea rooms. We stop for a coffee outside Café Soda, whose wicker chairs remind Hullin of Paris. "Munich is a city with a soul," he says, sipping an espresso.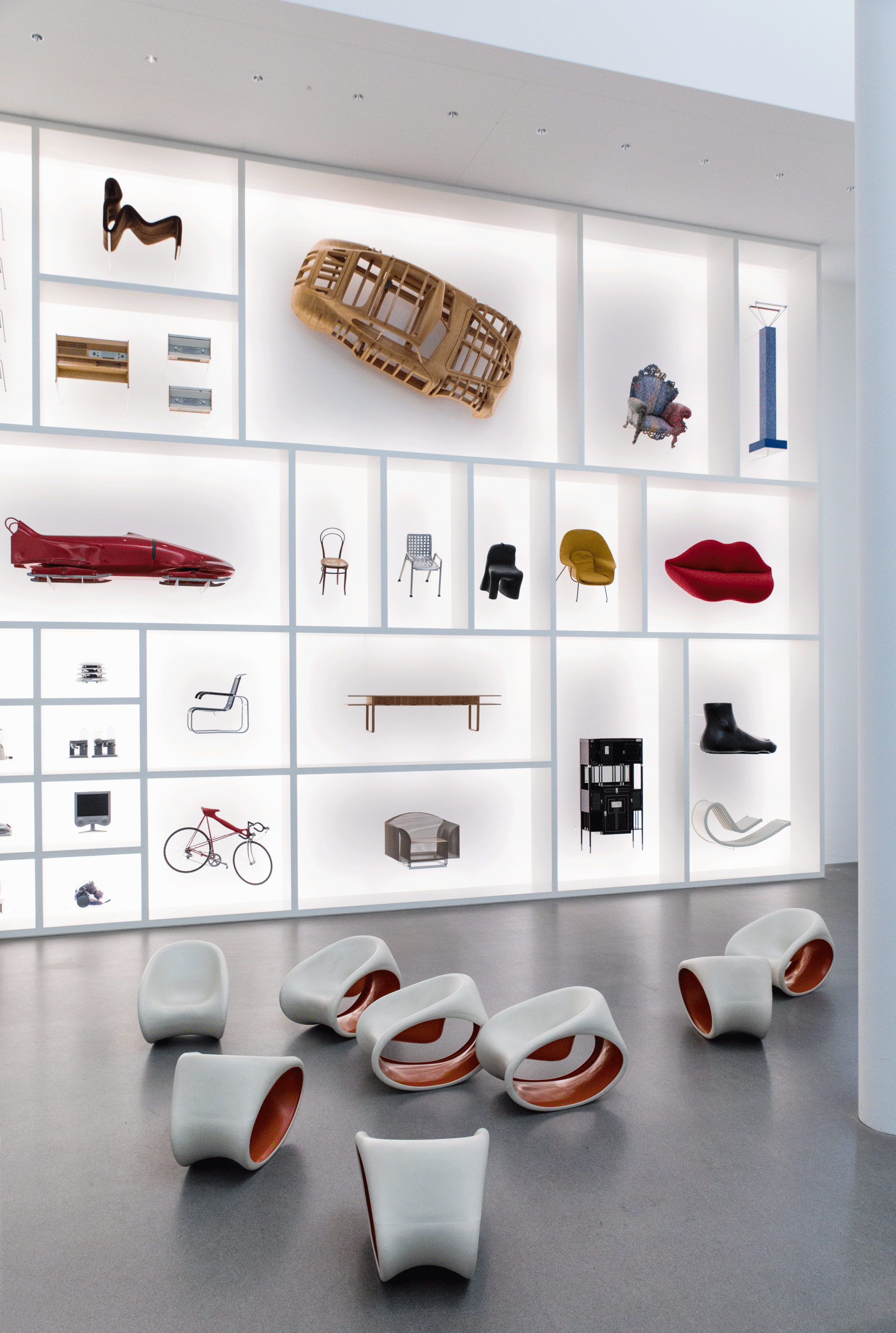 A display at The Design Museum
I say goodbye and head to The Design Museum, a repository of cool 20th-century stuff. I check out the architectural typewriters and sculptural espresso machines; then I'm gripped by a sudden desire to sit down, possibly because I've reached the chair section. I take a cab back to the Vier Jahreszeiten, where I float for a bit in the rooftop pool, then head for dinner at the hotel's Schwarzreiter Tagesbar & Restaurant. Here, in unfussy surroundings, the kitchen serves up what it calls Young Bavarian Cuisine. The thinking is "satt, nicht platt," or "full, but not too full."
I don't believe there is such a thing as "too full," so I work my way through plump Bavarian prawns with crab, pink lamb with salsify and mushrooms, and a dessert of bananas, whiskey, chocolate, and pecans. Upstairs in my room, I fall asleep almost instantly—counting BMWs.
Day 2
Submarines, fashionable dirndls, and the world's best baby food
I start the day west of the hotel, in up-and-coming Schwanthalerhöhe (SchwoHo, anyone?). I have coffee and apple cake at Marais, a café in a former haberdashery. It's full of hipsters who seem entranced by the chintzy crockery and doilies.
Until a few years ago, this area was home to families from Turkey, Greece, and the Balkans. Now young professionals are moving in, followed by shops selling single-origin coffee and ironic clothing. I watch boys in kufis kicking a soccer ball on a street, then pop into the concept store Raumwerk, where I lust over a $100 artisanal tool for chopping herbs.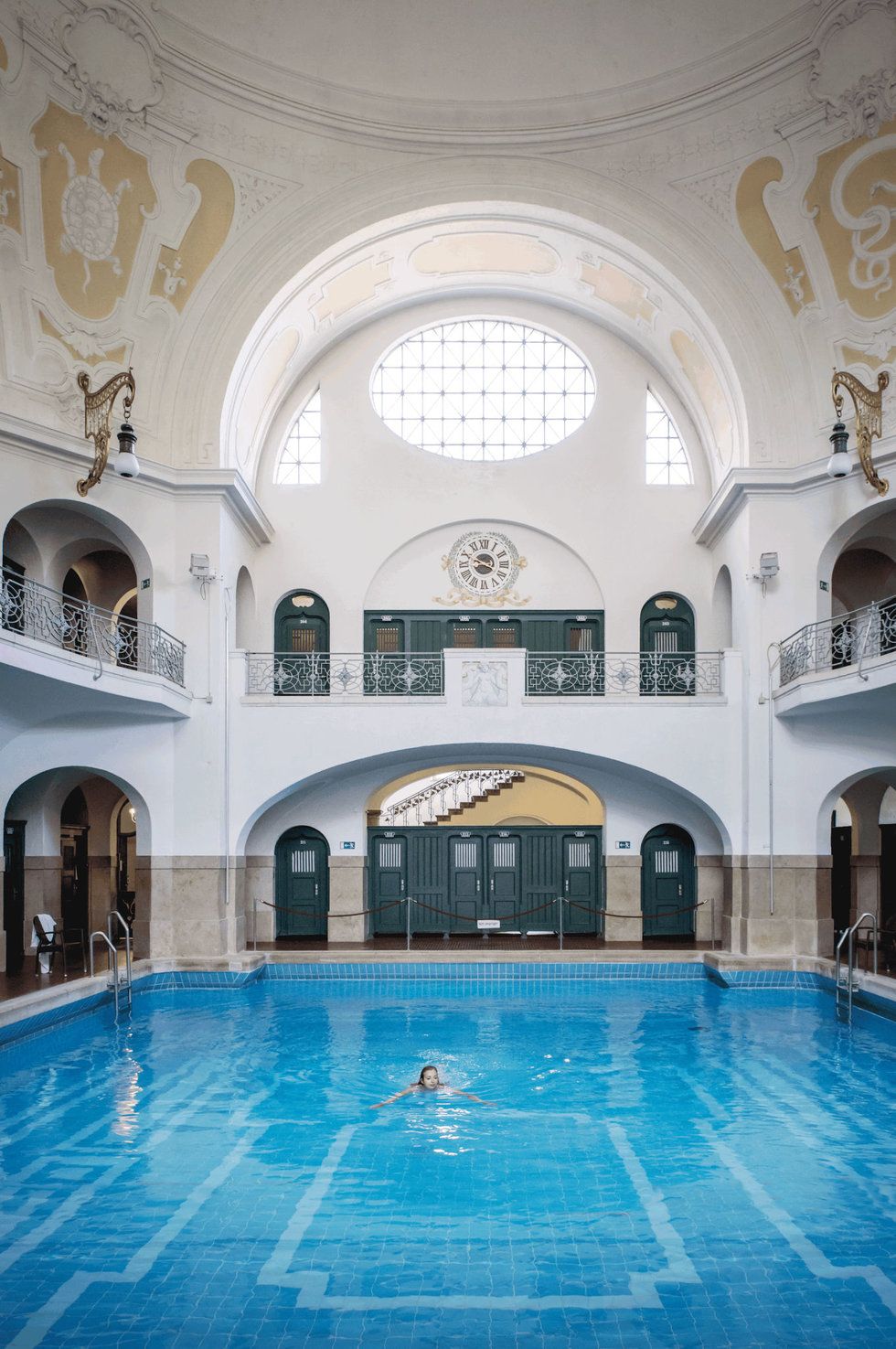 From Central Station, it's three stops to the Deutsches Museum, a sprawling century-old building where more than 100,000 objects relating to science and technology are displayed chronologically. This figure does not convey the scale of the place: The maritime floor contains dozens of vessels, including a 137-foot U1 submarine; the aeronautics collection has more than 70 planes, among them the first motorized aircraft built by the Wright brothers. Elsewhere, steam generators and combustion engines are displayed like art installations. I spend an unexpectedly fun half-hour down a reconstructed coal mine, then watch two men create lightning in a lab straight out of Frankenstein. This must be one of those rare museums where kids hassle their parents to stay longer.
A cab takes me back to Schwanthalerhöhe, where I check into Roomers, a buzzy new design hotel with a cinema screen in its moodily lit spa. My room has an open bathroom with a circular tub so large I could use one of those brass diving suits from the museum. Instead, I visit the hotel's Japanese–Latin American restaurant, Izakaya, where I order a lunchtime bento box containing beef with coriander and spicy lime dressing, ceviche, and corn tempura—which is possibly the best thing since popcorn.
My next stop is Glockenbachviertel, the artsy district that runs along the north bank of the Isar. Once filled with Jewish families and millworkers, this area was the center of Munich's gay scene in the 1980s. Today, it teems with artisan jewelers, chocolatiers, and cafés that employ convoluted ways to brew matcha. At tiny Club Do Vinho, a woman named Ana Maria makes me taste vintage port and force-feeds me madeira cake. It is too good. I flee before she can open a vat of sardines.
On trendy Jahnstrasse, I meet dress designer Svenja Jander at her eponymous atelier. Jander specializes in making traditional dirndls using modern designs and colors. Inside, three serious-looking people with pins in their mouths are cutting paper shapes. Others are a blur of elbows, reaching for bolts of cotton and silk. It all looks terribly urgent.
"Unlike the rest of Germany, women in Munich love dressing up," Jander tells me at Aroma, a café and retro toy shop close by. "I think most would always choose clothes over holidays." We are eating flourless pistachio brownies that look like pieces of soggy lawn but taste delicious. "This is by far my favorite part of the city," Jander adds. "It is like a village here."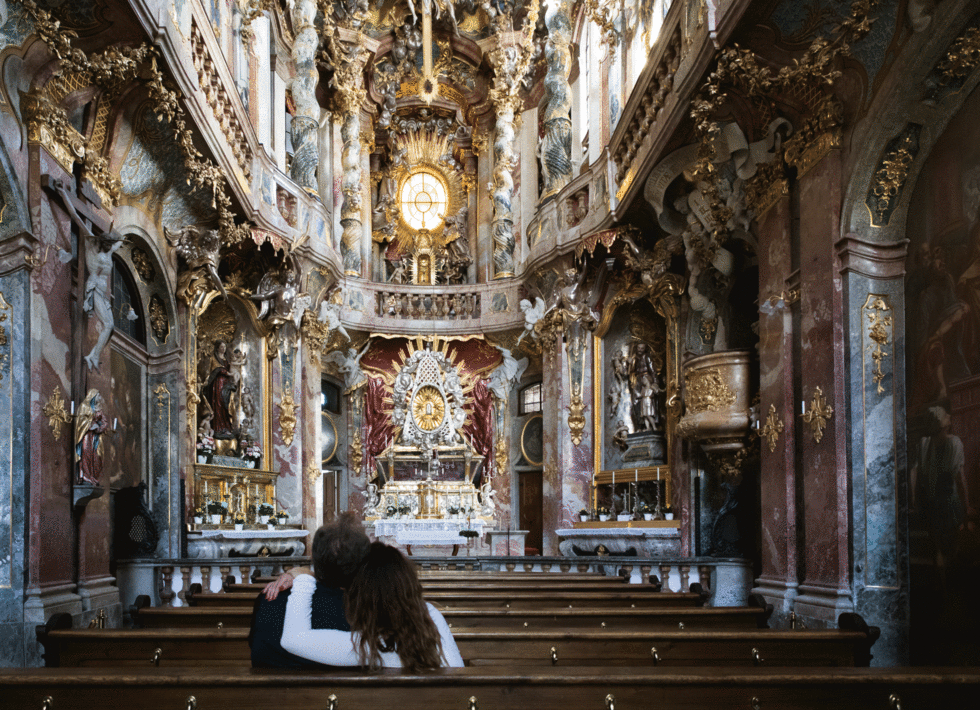 Inside the Baroque Asam Chruch
It certainly is relaxed. On nearby Stephansplatz, people laze around eating ice cream or drinking beer at the dinky taverns around Sendlinger Tor, the Gothic gate that marked the Old Town's southern entrance. On Sendlinger Strasse, I stumble across Asam Church, an 18th-century Baroque structure sandwiched between two apartment blocks. Inside is a glaring ceiling fresco by Cosmas Damian Asam, one of the two artist brothers who built the church. It fits neatly with the overall design ethos, which could be summed up as: If it doesn't move, gild it.
My next stop is another local institution known for its bold style. Tantris is a two-Michelin-starred restaurant that opened in 1971 and has stuck with its original look for so long it's bang on-trend again. The walls are lined with orange carpet, and the tables are lit by plastic globe lamps. I half expect Roger Moore to crash through a skylight with a Walther PPK and a double entendre.
The glaring ceiling fresco at Asam Church fits neatly with the overall design ethos: If it doesn't move, gild it.
Chef Hans Haas, who has worked here since 1991, has a knack for making complex dishes using hardly any ingredients. The octopus carpaccio has a powerful kick (or possibly eight). Then comes the leek puree with caviar, which must be the best baby food ever. Langoustines and king prawns follow, served with asparagus and yuzu. Then roasted veal with fresh morels. I finish with rhubarb panna cotta, just to keep my server happy.
For a nightcap, I cab to Schumann's Bar, which is based on "the perfect American cocktail bar." All dark wood, amber lighting, and Miles Davis, it's a place that makes you a little cooler just for having walked in. The owner for 36 years, Charles Schumann—in an impeccable white shirt and with slicked-back hair—greets everyone as if he is throwing a party for his most fabulous friends.
And, in a way, he is. I ask if he has a signature cocktail. "Every drink made well is my signature," he says, then produces one based on my preferences—whiskey and citrus—adding egg white and honey. It's fantastic, and I have a couple more. "You must come back tomorrow," Schumann says as I stumble out. "I'm making my famous seared steak tartare."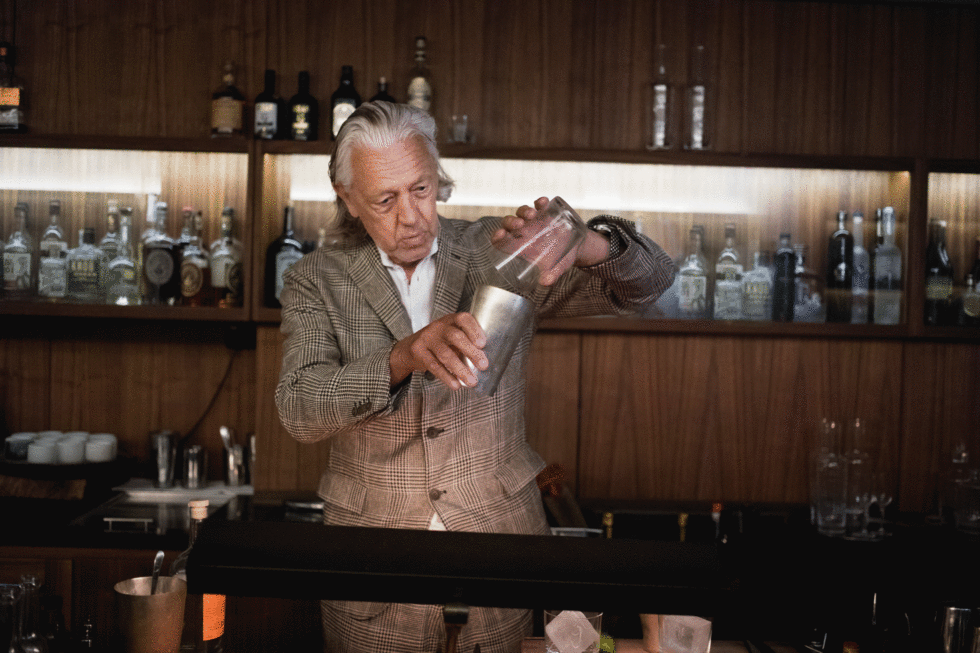 Charles Schumann mixes a drink
Day 3
Fancy cars, urban surfing, and hip dive bars
With my luggage dispatched to the Mandarin Oriental, I catch an early metro train to beat the traffic—which is ironic, as I'm off to visit the headquarters of BMW. This is Disneyland for car buffs, featuring the BMW Museum, whose exhibits include a gleaming 303 runabout made in 1933, and the BMW Welt, where visitors can see current models and concept cars.
Future cars will have a hard time outdoing the curvy BMW 507 roadster bought by Elvis Presley while he was stationed in Germany in the late '50s. Elvis had the chalk-white vehicle painted red, because so many fans were leaving lipstick marks on it. Here, before less amorous admirers, it has been restored to its former color.
I am offered a chance to be driven around the campus in an Isetta, an egg-shaped three-wheeler from the '50s. The car is so tiny its entire front end hinges outward to allow entry. Climbing into the thing is not a dignified procedure, particularly for those who share the car's body type. Inevitably, 200 Japanese visitors are on hand to capture my efforts on their phones. I am surely a YouTube sensation throughout Asia.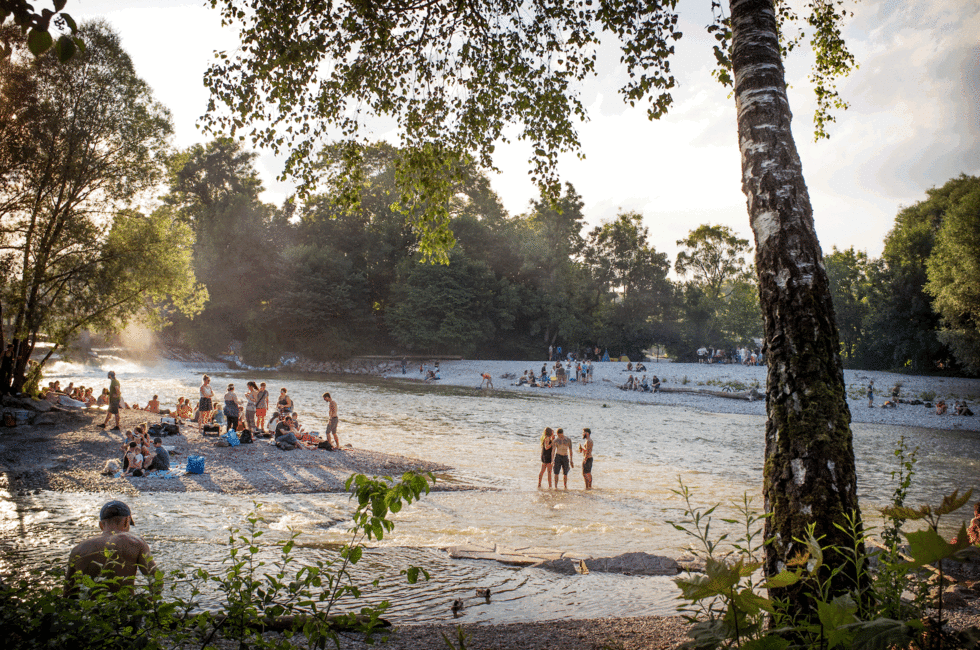 Sunbathers by the Isar River
I ask Domagoj Dukec, BMW's design supremo, why drivers in Munich seem to be more courteous than in other cities. "Germans are taught from an early age that there are consequences if they don't follow rules," he replies. "They are also very practical: They don't want to damage their cars."
Having successfully extracted myself from the Isetta, I treat myself to schnitzel and a mound of potato salad at Bavarie Brasserie, one of five restaurants at the carmaker's campus. Unfortunately, I now need a shoehorn to get out of my chair.
Heading back to the university district, I pass the Siegestor, Ludwig I's 69-foot-high triumphal arch, topped by a statue of a woman—the personification of Bavaria—with four lions on leashes. She looks as if she's taking them for walkies.
I'm here to visit the Neue Pinakothek, which was established in the mid-19th century as Europe's first public contemporary art museum. After the building's destruction during World War II, a replacement was built to house the collection. Big draws include one of Van Gogh's five Sunflower paintings, plus works by Manet, Monet, Renoir, Degas, and Gauguin. There are also some terrific paintings from lesser-known artists, such as Johan Christian Dahl's Morning After a Stormy Night, a Romantic study of nature's fury and the inherent gloominess of Norwegians.
After a dip in the rooftop pool, I realize I can now find my way around the whole of Munich—but only from the air.
From here, a 20-minute stroll takes me to the south end of the English Garden, a park best known for its beer gardens, Chinese pagoda, and nude sunbathers. From a bridge overlooking a fast-flowing stretch of the Eisbach River, I spot something even odder: dozens of surfers in full wetsuits riding waves.
Sitting on the long grass by a calmer stretch of the river, I get to talking to a young couple: Martina, a high-school teacher, and Wolfgang, an architect. They seem eager to dispel the notion that nightlife in Munich involves clanking steins together while shouting " Prost!" so they invite me to join them this evening at a couple of the city's trendier establishments.
First, I need to relax. This is easy to do in my room at the Mandarin Oriental, with its cherrywood furnishings, plush fabrics, and earth-tone walls. After a dip in the rooftop pool, taking in the views, I realize I can now find my way around the whole of Munich—but only from the air.
Dinner is at the hotel restaurant, Matsuhisa Munich, opened a couple of years ago by world-conquering chef Nobu Matsuhisa, whose slick decor and Japanese-Peruvian menu have had Bavarians climbing over each other to get in. I go for the signature black cod, mind-blowing yellowtail-jalapeño sashimi, and a rib-eye anticucho. It is all extraordinary.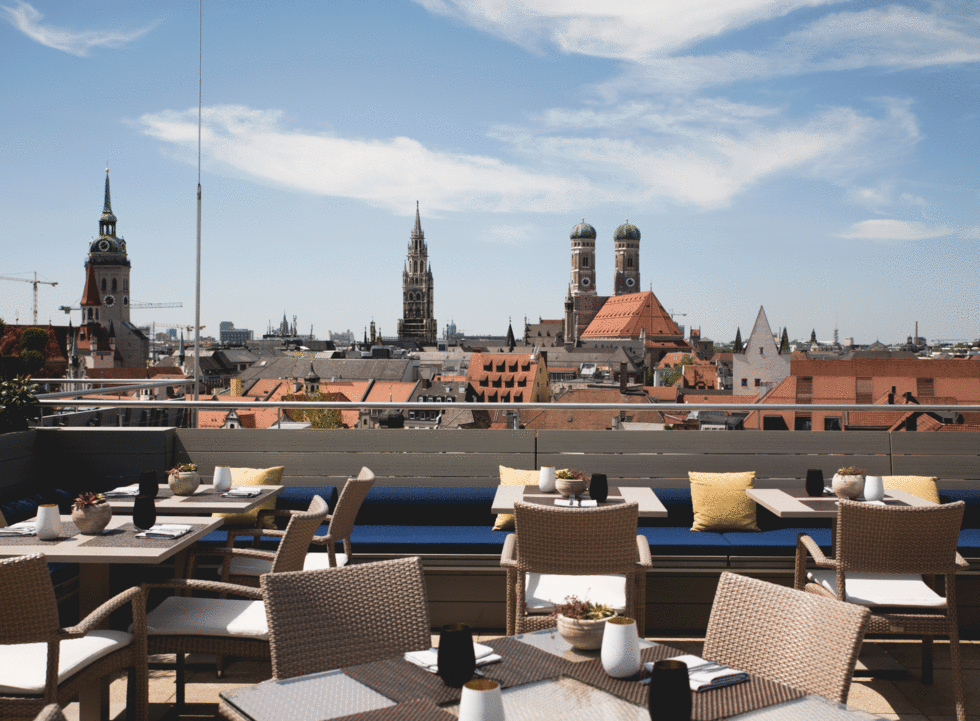 The view from the rooftop at the Mandarin Oriental
Later, having forced myself into a pair of semi-skinny jeans, I meet Martina and Wolfgang at the café-fringed Gartnerplatz. The streets are filled with young people holding beer bottles. It seems rude not to join them, so we grab some brews and head off in search of these fashionable bars my new friends have been telling me about.

Our first stop is a dive called Klenze 17, which has an equal number of look-at-me hipsters and don't-dare-look-at-me old-timers, but which turns out to be surprisingly relaxed. Afterward, we head to The Flushing Meadows Bar, on the top floor of a "hidden" hotel in an industrial building. In a room crammed with people in their 20s, on a sofa that might have been found on the sidewalk, we drink whiskey gingers in near darkness, trying to hear each other over the thud-thud of electronic music.
At closing time, we queue for the elevator. There are whispers about a club in converted shipping containers. There are murmurs of kebabs and currywurst. I am sure Munich has many other hidden delights, but I suddenly have the urge to climb into my comfortable hotel bed—not just because I'm tired, but because I'm eager for tomorrow, when I'll wake to the sun rising over the toy-town roofs, a breakfast tray within reach, and a few precious hours left to explore what is, I have discovered, a very livable city indeed.
To our customers,
I hope this note finds you and your loved ones healthy and well.
It is safe to say these past weeks have been among some of the most tumultuous and emotional that any of us can remember in our lifetimes. The impact of the coronavirus outbreak has been felt by individuals and families, companies and communities, across the United States and around the world.
The response to this crisis has been extraordinary; as much for what it has required from our society as for what it has revealed of us as a people.
Far from causing division and discord, this crisis and the social distancing it has required, has allowed us to witness something profound and moving about ourselves: our fond and deeply felt wish to be connected with one another.
The role of connector is one we're privileged to play in the moments that matter most in your life – weddings and graduations, birthdays and business trips, events large and small – and it's that responsibility that motivates us most to get back to our regular service, as soon as possible.
That is why it is so important our government acted on a comprehensive relief act to ensure our airline – and our industry – are ready and able to serve you again when this crisis abates.
I want to relay to you, in as deeply personal a way I can, the heartfelt appreciation of my 100,000 United team members and their families for this vital public assistance to keep America and United flying for you.
This support will save jobs in our business and many others. And it allows us time to make decisions about the future of our airline to ensure that we can offer you the service you deserve and have come to expect as our customers.
While consumer demand has fallen, we have seen the need for our service and capabilities shifted. And, we've adapted to help meet those needs.
Right now, aircraft flying the United livery and insignia, flown by our aviation professionals, have been repurposed to deliver vital medical supplies and goods to some of the places that need it most. We're also using several of our idle widebody aircraft to use as dedicated charter cargo flights, at least 40 times per week, to transfer freight to and from U.S. locations as well as to key international business locations. At the same time, we are working in concert with the U.S. State Department to bring stranded Americans who are trying to return home back to their loved ones.
While much remains uncertain right now, one thing is for sure: this crisis will pass. Our nation and communities will recover and United will return to service you, our customers. When that happens, we want you to fly United with even greater pride because of the actions we took on behalf of our customers, our employees and everyone we serve.
Stay safe and be well,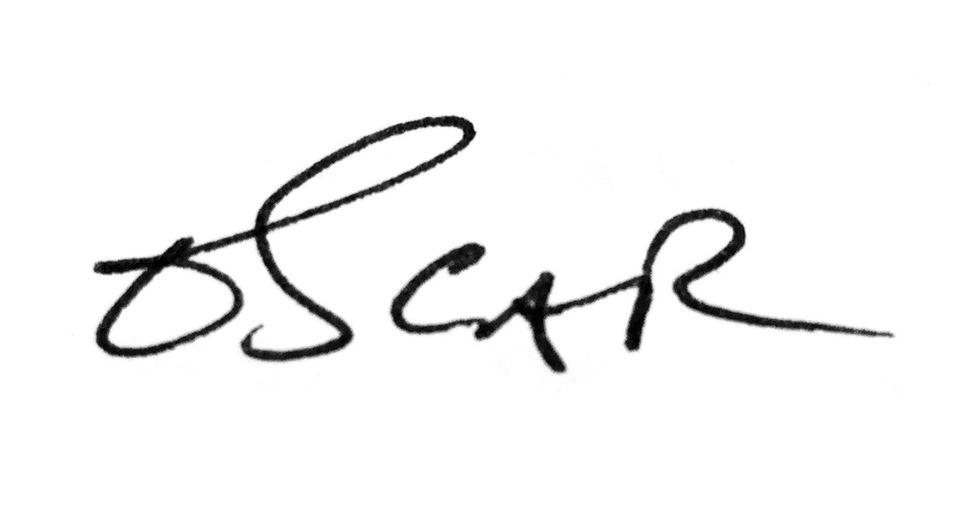 Oscar Munoz
CEO
When and where possible, we are working to repatriate travelers who are stranded abroad in the wake of the COVID-19 crisis. Our teams are working closely with government officials here in the U.S. as well as in other countries where flying has been restricted to gain the necessary approvals to operate service. In regions where government actions have barred international flying, we have coordinated with the the U.S. State Department and local government officials to re-instate some flights. Additionally, we have been operating several extra flights to countries in Central America and South America as we continue to play a role in connecting people and uniting the world.
This week, we are operating 21 flights from Panama City, Quito, Lima, San Pedro Sula, Tegucigalpa and Roatan, to bring nearly 2,500 Americans home. We will continue working with government officials to operate extra flights to Houston from Quito, San Pedro Sula, Tegucigalpa and from Lima to Washington Dulles. We continue to review more opportunities for flights between the United States and other countries to bring citizens home.
Video provided by the U.S. Embassy Ecuador of Americans returning home on United.

Additionally, our Customer Solutions and Recovery team is working with customers in the following markets to rebook them on flights back to the United States as capacity allows, either on our aircraft or on one of our airline partners' planes:

Quito, Ecuador
Managua, Nicaragua
Roatan, Honduras
San Pedro Sula, Honduras
Amsterdam
Brussels
Munich
Singapore
Tokyo-Haneda
Seoul, South Korea
Melbourne, Australia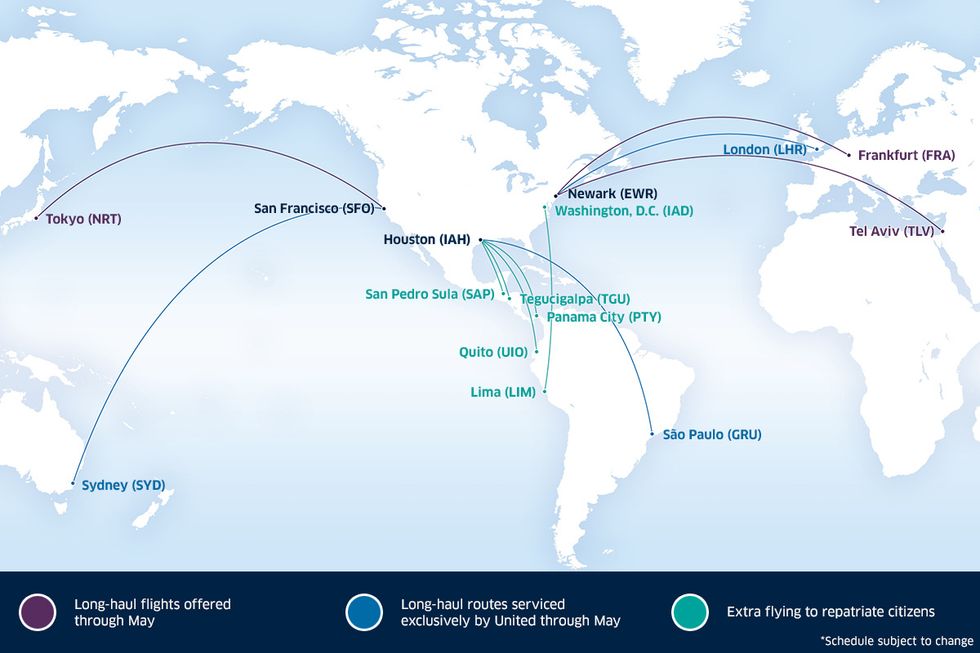 We also recently reinstated several international flights back into our schedule to support customers and essential businesses which depend on these routes. As a result, we will be the only airline to offer service between Newark/New York and London, San Francisco and Sydney, as well as Houston and São Paulo, Brazil.
While travel demand and government restrictions continue to impact our schedule, we know some people around the globe are displaced and still need to get home. While our international schedule will be reduced by about 90% in April, we will continue flying six daily operations to and from the following destinations — covering Asia, Australia, Latin America, the Middle East and Europe — in an effort to get customers where they need to be. This remains a fluid situation, but United continues to play a role in connecting people and uniting the world, especially in these challenging times. Learn more about what we're doing to keep customers and employees safe.
Flights continuing from now through May schedule:
New York/Newark – Frankfurt (Flights 960/961)
New York/Newark – London (Flights 16/17)
New York/Newark – Tel Aviv (Flights 90/91)
Houston – Sao Paulo (Flights 62/63)
San Francisco – Tokyo-Narita (Flights 837/838)
San Francisco – Sydney (Flights 863/870)
In addition to the above, we will continue to operate the following flights to help displaced customers who still need to get home. In destinations where government actions have barred us from flying, we are actively looking for ways to bring customers who have been impacted by travel restrictions back to the United States. This includes working with the U.S. State Department and the local governments to gain permission to operate service.
Atlantic
The following flights will continue through March 28 westbound:

New York/Newark – Amsterdam (Flights 70/71)
New York/Newark – Munich (Flights 30/31)
New York/Newark – Brussels (Flights 999/998)
New York/Newark – Cape Town (Flights 1122/1123)
Washington-Dulles – London (Flights 918/919)
San Francisco – Frankfurt (Flights 58/59)
The final westbound departures on all other Atlantic routes will take place on March 25.
Pacific
We will continue to fly San Francisco-Seoul (Flights 893/892) through March 29 and San Francisco-Tahiti (Flights 115/114) through March 28.
Our final eastbound departures on all other Pacific routes will take place on March 25.
We will maintain some Guam flights as well as a portion of our Island Hopper service.
Hawaii's governor issued a mandatory 14-day self-quarantine order for all travelers arriving or returning to Hawaii. Travelers must complete a Hawaii Department of Agriculture form that will be distributed on board their flight which will also include the requirements for the 14-day quarantine, as well as the penalties. You must show a government issued ID upon arrival along with your form. You can find more information on the governor's website.
Latin America/South America
We will continue to fly Newark/New York – Sao Paulo (Flights 149/148) through March 27 outbound.
The last southbound departures on most other routes will take place March 24.
Mexico
We will reduce our Mexico operation over the next five days. After March 24, we will maintain a small number of daytime flights to certain destinations in Mexico — more to come in the next few days.
Canada
We will suspend all flying to Canada effective April 1.
In destinations where government actions have barred us from flying, we are actively looking for ways to bring customers who have been impacted by travel restrictions back to the United States. This includes working with the U.S. State Department and the local governments to gain permission to operate service.
The revised international schedule will be viewable on united.com on Sunday, March 22. We will continue to update our customers with information as it's available.
If you're scheduled to travel through May 31, 2020, and would like to change your plans, there is no fee to do so, regardless of when you purchased your ticket or where you're traveling. Please visit united.com for more information, or reference our step-by-step guide on how to change your flight, cancel and rebook later.
For any customer, including residents from other countries, whose international travel is disrupted by more than six hours because of schedule changes resulting from government restrictions, they will retain a travel credit equal to the value of their ticket. That credit can be used towards any flight, to any destination, for 12 months from the time of purchase. If the customer chooses not to use the credit, they will receive a cash refund at the end of that 12-month period.We continue to aggressively manage the impact of the coronavirus (COVID-19) outbreak on our employees, our customers and our business. Due to government mandates or restrictions in place prohibiting travel, we are reducing our international schedule by 95% for April. The revised international schedule will be viewable on united.com on Sunday, March 22.
Domestic schedule
We're also making changes to our domestic schedule. While we don't plan to suspend service to any single U.S. city now — with the exception of Mammoth Lakes and Stockton, CA — we are closely monitoring demand as well as changes in state and local curfews and government restrictions across the U.S. and will adjust our schedule accordingly throughout the month.
Additionally, today we announced a further reduction in our domestic schedule — the changes will result in a 52% overall domestic reduction from a previous 42%, and our overall capacity will now be down 68% overall.
Hub city
Route suspensions
Remaining service
Denver
Arcata/Eureka
Amarillo
Kona
Kauai Island
SFO
IAH
SFO
SFO
New York/Newark
Akron/Canton
Grand Rapids
Hilton Head
Honolulu
Milwaukee
Madison
Omaha
Portland, Oregon
Providence
Seattle
Salt Lake City
Sacramento
Knoxville
Fayetteville

ORD
ORD, DEN
IAD
ORD, IAH, DEN, SFO, LAX
ORD, IAH, DEN
ORD, DEN
ORD, IAH, DEN
ORD, IAH, DEN, SFO
IAD, ORD
IAD, ORD, IAH, DEN, SFO, LAX
ORD, IAH, DEN, SFO, LAX
ORD, IAH, DEN, SFO, LAX
IAD, ORD, IAH, DEN, SFO, LAX
ORD, IAH, DEN
Washington-Dulles
Grand Rapids
Portland, Oregon
Sacramento
ORD, DEN
ORD, IAH, DEN, SFO, LAX
ORD, IAH, DEN, SFO, LAX
Houston
Hartford
Boise
Grand Rapids
Lexington
Ontario, California
Palm Springs
San Jose, California
Akron/Canton
Reno

IAD, ORD, DEN
ORD, DEN, SFO, LAX
ORD
ORD, DEN
IAD, ORD
DEN, SFO
DEN, SFO, LAX
DEN, SFO
DEN
Los Angeles
Arcata/Eureka
Austin
Boston
Baltimore
Bozeman
Cleveland
Kona
Kauai Island
Orlando
Madison
Kahului
Redding
Reno
San Antonio
St George

SFO
EWR, IAD, ORD, IAH, DEN, SFO
EWR, IAD, ORD, IAH, DEN, SFO
ORD, IAH, DEN
DEN
EWR, IAD, ORD, IAH, DEN, SFO
SFO
SFO
EWR, IAD, ORD, IAH, DEN, SFO
ORD, DEN
DEN, SFO
SFO
DEN, SFO
EWR, IAD, ORD, IAH, DEN
DEN

Chicago
Asheville
Bismarck/Mandan
Bozeman
Kearney
Panama City
Eugene
Fresno
Spokane
Hilton Head
Wilmington
Jackson
Kahului
Palm Springs
Reno
San Jose
Valparaiso
IAD
DEN
DEN
DEN
IAH
DEN, SFO, LAX
DEN, SFO, LAX
DEN, SFO
IAD
IAD
IAH
DEN, SFO
DEN, SFO, LAX
DEN, SFO
DEN
IAH
San Francisco
Atlanta
Nashville
Baltimore
Bozeman
Columbus
Detroit
Fort Lauderdale
Indianapolis
Kansas City
Madison
New Orleans
Omaha
Philadelphia
Pittsburgh
Raleigh/Durham
San Antonio
St Louis
Tampa
Fayetteville
EWR, IAD, ORD, IAH, DEN
EWR, IAD, ORD, IAH, DEN
ORD, IAH, DEN
DEN
EWR, IAD, ORD, IAH, DEN
EWR, IAD, ORD, IAH, DEN
EWR, IAD, ORD, IAH, DEN
EWR, IAD, ORD, IAH, DEN
EWR, IAD, ORD, IAH, DEN
ORD, DEN
EWR, IAD, ORD, IAH, DEN
ORD, IAH, DEN
ORD, IAH, DEN
ORD, IAH, DEN
EWR, IAD, ORD, IAH, DEN
EWR, IAD, ORD, IAH, DEN
EWR, IAD, ORD, IAH, DEN
EWR, IAD, ORD, IAH, DEN
ORD, IAH, DEN
Together, we are facing an unprecedented challenge. United Together, we rise to meet that challenge.
Check out our newest destinations
United Airlines
united
International schedule update: We know some people around the globe are displaced and still need to get home. We are reinstating some international flights over the next few days and will continue to fly six daily international flights through May.
uafly.co/3a5Dj6p
United Airlines
united
We have extended our change fee waiver to cover travel through May 31, 2020: - You can change or cancel your flight on
united.com
or through the app – a phone call is not required - For the latest on our commitment to your safety, visit
united.com/coronavirus
United Airlines
united
Our site,
united.com/coronavirus
, is regularly updated with the latest on travel restrictions, rebooking instructions and health and safety information. Today's updates: - An expanded, more flexible international rebooking policy - Schedule changes for U.K. & Ireland
United Airlines
united
If you're scheduled to travel March 10 - April 30, 2020 and would like to change your plans, there is no fee to do so, regardless of when you purchased your ticket or where you're traveling. Learn more:
uafly.co/2IpMCBX
We Are United
weareunited
Tomorrow, Oscar and Scott will host a companywide town hall to discuss the latest developments in managing the effects of the coronavirus (COVID-19). You can join the livestream event at 1:20 p.m. CT here:
uafly.co/39AV25m
We Are United
weareunited
Tomorrow, Oscar and Scott will host a companywide town hall to discuss the latest developments in managing the effects of the coronavirus (COVID-19). You can join the livestream event at 1:20 p.m. CT here:
uafly.co/39AV25m
.
Watch our most popular videos
Copyright © 2020 United Airlines, Inc.
All rights reserved.
Indicates an external site that may or may not meet accessibility guidelines.
Scroll to top
Scroll to top