Three Perfect Days: Porto
Story by Chris Wright | Photography by Natalia Horinkova | Hemispheres April 2019
To the extent that Porto has an established global profile, it's as the gateway to the Douro Valley wine region, the home of port. But in recent years, travelers have begun to discover that Portugal's second city has so much more to offer. Sure, there's the exquisite architecture, the stunning views, the winding alleys, the Michelin-starred meals. More than all that, though, there's the communal feeling that befits a city with a population of just over 235,000. Porto has been named the top city in Europe by the European Best Destinations organization three times since 2012 and now draws 1.6 million visitors each year, but as you walk through the UNESCO-designated neighborhood of Ribeira, you can still go into a mom-and-pop café and help yourself to a cheap beer from the fridge—proving that, here at least, you can be the best while still being yourself.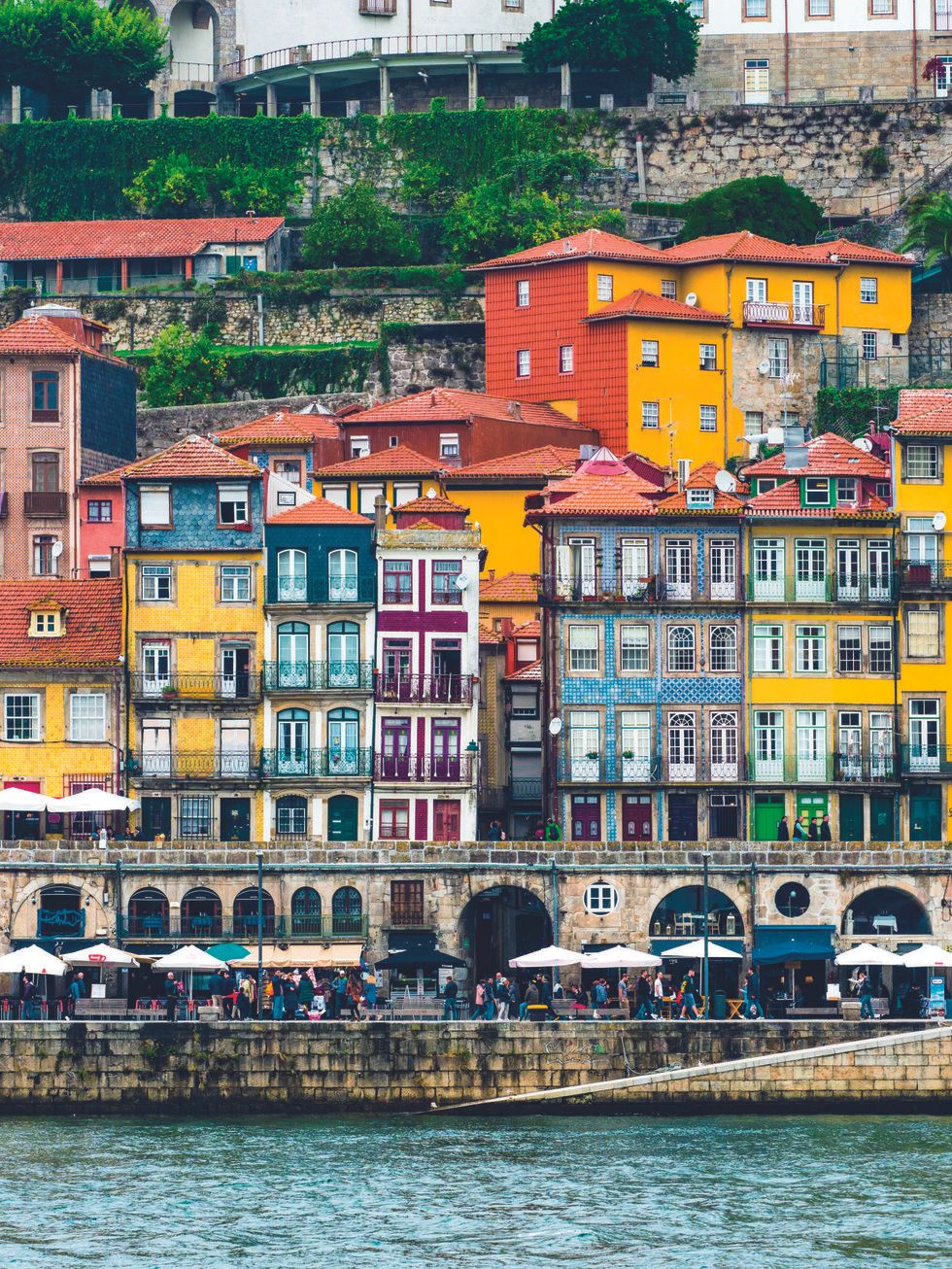 The Ribeira neighborhood, a UNESCO World Heritage Site along the Douro
Day 1
Sampling seafood, sipping port, and enjoying the views
I'm eating eggs on the deck of the Torel Avantgarde hotel, looking down on the lazy boat traffic on the Douro River and beyond to the tumbling orange rooftops of Vila Nova de Gaia, Porto's sister city across the water. Or I would be if a seagull hadn't plonked itself two inches from my face. The bird is regarding my omelet with a severe expression—whether out of envy or avian solidarity, I'm not sure. I toss a bit of granary bread over the rail, narrowly missing a nun picking cabbages in the garden next door, and the gull follows.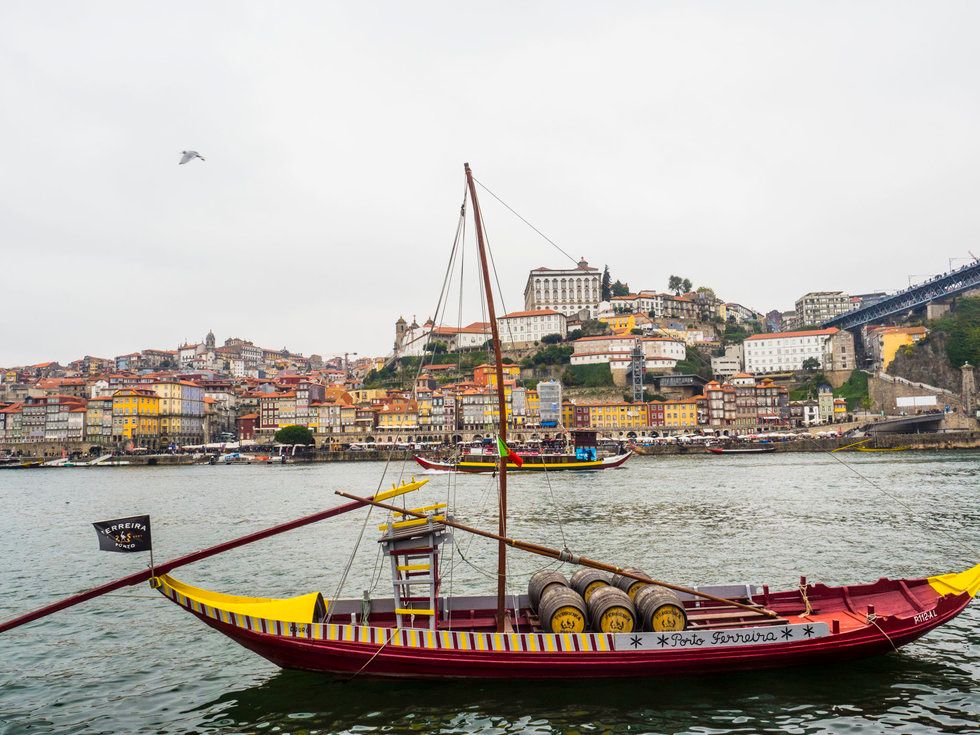 A boat carrying port barrels on the Douro
This won't be the only time I find myself occupying a scenic lookout. Porto and Gaia rise sharply on either side of the Douro, creating a kind of amphitheater, with each opposing district the star of the show. If you go 10 minutes here without encountering a commanding view of bell towers, palaces, and blue- tiled row houses—all tilting toward the shimmering River of Gold—then you're not paying attention.
The Douro doesn't only serve as a centerpiece for sightseers, however. Dotting the Gaia waterfront are a dozen or so rustic buildings bearing names that will be familiar to anyone who ever raided his granny's drink cabinet: Sandeman, Cockburn's, Taylor's. Snaking east into the Douro Valley wine region, the river is the source of Porto's main con- tribution to humankind: port. It also played a role in the Voyages of Discovery in the 15th century and the acquisition of wealth that followed.
"If you go 10 minutes here without encountering a view, then you're not paying attention."
My plan today is to explore Porto's seats of power— commerce, religion, wine— starting with a tour of the nearby Palácio da Bolsa, a Neoclassical edifice whose interior is a succession of lavish halls, culminating in the Arab Room, a huge, mosque- like chamber embellished with a riot of gold and blue detailing. While the design had less to do with Islam than with the projection of power, it did not go down well with church leaders. "It was meant to be a provocation," my guide tells me. "They were saying, 'We are rich, and we do what we want.'"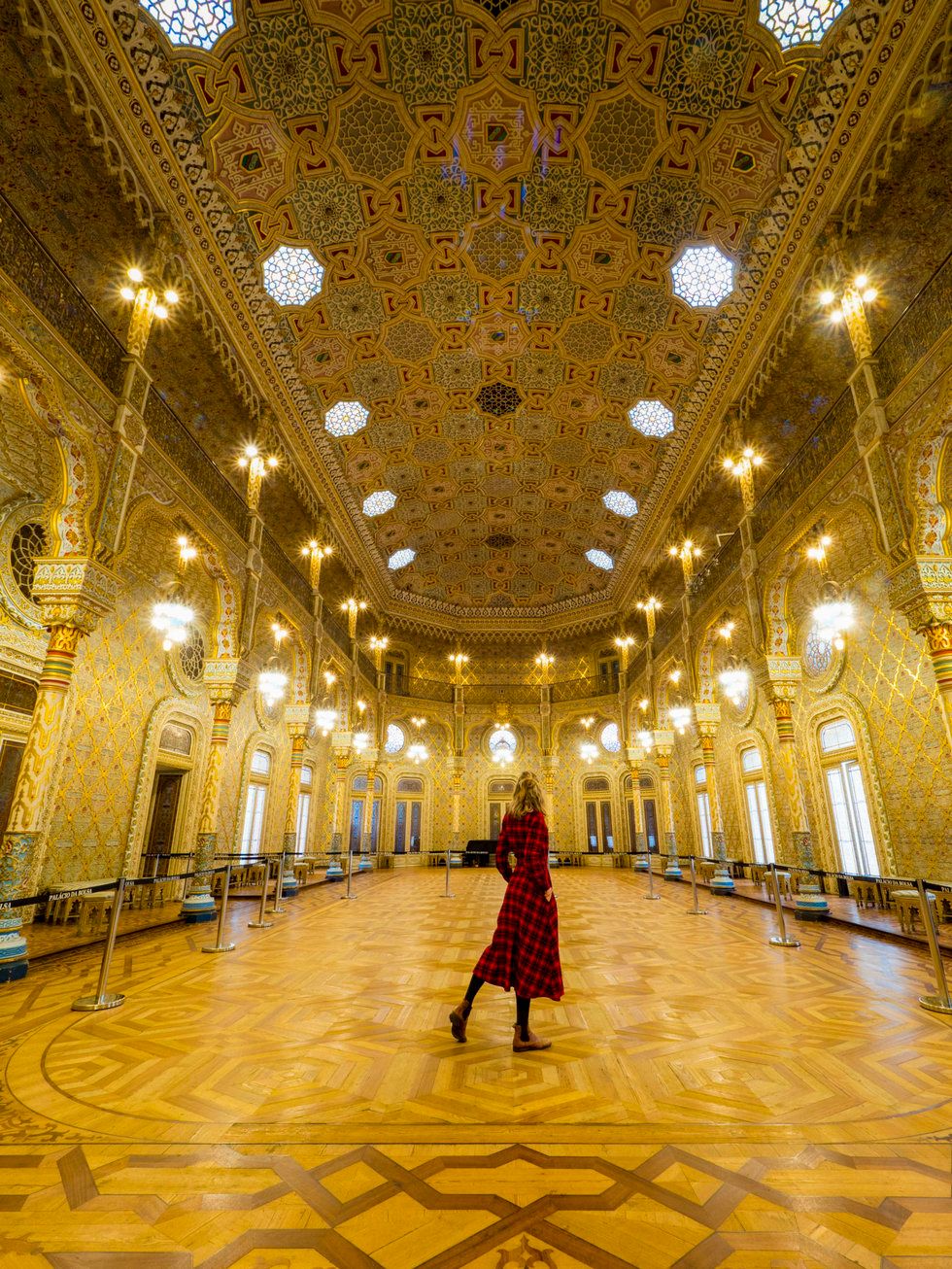 The opulent Arab room at the Palacio de Bolsa
Compared to the Igreja de São Francisco next door, the Arab Room is a paragon of moderation. The gothic exterior of the building, which dates to the 14th century, does not prepare you for what's inside. The Voyagers brought a great deal of gold home with them, and it seems the bulk of it was applied to the inte- rior of this church. It's like the Cave of Wonders in Aladdin, with a few suffering saints thrown in. I head into the gloomy crypt, where I encounter eerily lifelike effigies, artworks with titles like Our Lady of the Good Death, and, in the darkest recesses, a window in the floor, beyond which is a mass of human bones and skulls. Lunch time!
I cross the iron-arched Dom Luís I bridge and enter Gaia, climbing up-up-up to The Blini, which was opened in 2016 by Michelin-starred chef José Cordeiro. The eatery's wraparound windows offer me my first glimpse of Porto from afar. Directly across the river are the houses lining Praça Ribeira, no two alike in color, size, or shape. This is a signature feature of Porto—the city is a captivating shamble of mismatched elements, with its crown the Baroque Clérigos Tower, which still dominates the skyline 250-odd years after it was built.
The emphasis at Blini is on seafood, with a few contemporary flourishes like "lime air" foam. The waiter asks if I'd like to do the chef's choice, and I say sure. It's a great lunch, a big lunch, a parade of courses that includes oysters with lemon butter, tuna tartare with popadam, butterfish soup topped by a huge puff pastry, and baked seabass with pumpkin puree. Between the soup and the seabass I ask my waiter if I can take a quick breather. He smiles and looks at his watch: "You have two minutes!"
"You never know whether your ascent will lead to a point of interest or someone's front door, but that's half the fun."
From here, I waddle down to the Porto Cálem port house for a tour and a tasting. Along with the musty-smelling cellars and the rows of oak barrels are a number of modern doodads, including a 5-D cinema and a guess-the-aroma sniffing station (I get one out of 12: vanilla). In the sipping room, my guide grows contemplative. "A good wine speaks to you," he says. "This is not a fairy tale. You need to close your eyes to understand the message." I'm a bit concerned about closing my eyes and not opening them again, so I sip up and head out.
A highlight of any trip to Porto is Ribeira, a squiggle of alleys lined with gorgeous old buildings, some dating to the Middle Ages. This neighborhood is not glammed-up—you're more likely to come across a physiotherapist's office than you are a fridge-magnet emporium. Look up on Rua da Reboleira and you'll see medieval battlements, but also laundry flapping in the breeze. Riverside Praça Ribeira is the most picturesque spot, with its colorful jumble of houses, but I get more joy out of roaming the alleys behind, which are so narrow at times you can touch both sides. This walk is not for the faint of knee, and it's a bit of a crapshoot; you never know whether a grueling ascent will lead you to a point of historical interest or someone's front door, but that's half the fun.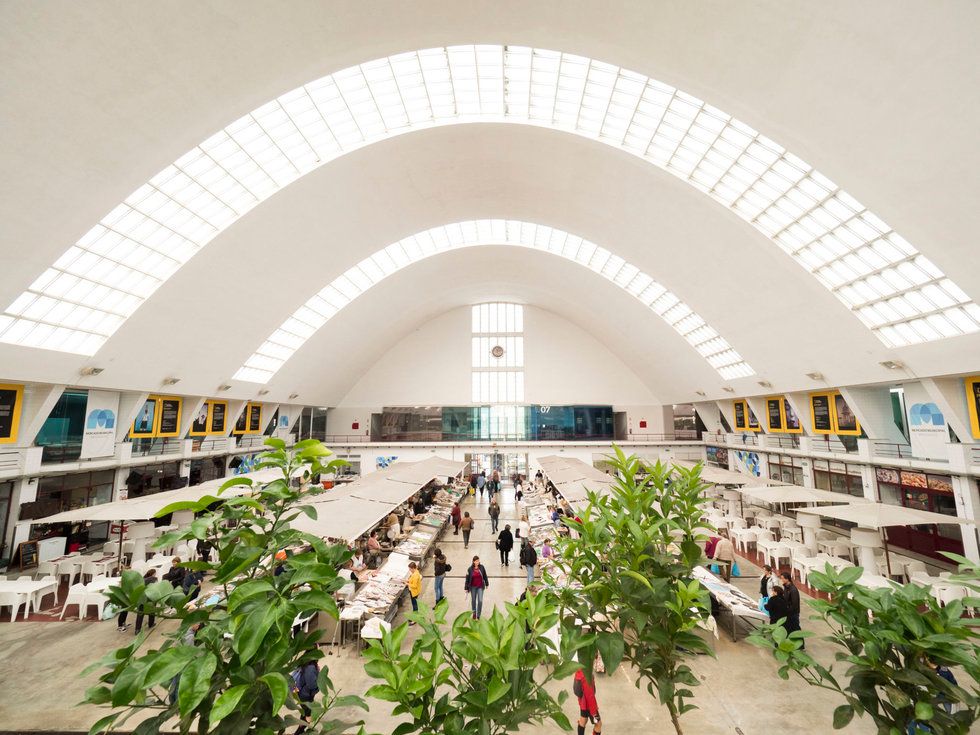 The Mercado Municipal in Matosinhos
I have time for one more religious edifice before dinner, so I march upward to the granddaddy of them all: the 12th century cathedral, the Sé do Porto, a hulking mish-mash of Gothic, Baroque, and Romanesque designs whose defining feature is a brood- ing, muscular solidity, as if it were built to withstand attack. The square outside, which affords (you guessed it) wonderful views, is also overlooked by the magnificent Paço Episcopal, home to the men who wore the gold-thread vestments and bejeweled miters displayed in the church next door.
From here, I head west, pausing to look at a bunch of straight-back chairs stuck to the wall outside Armazém, a funky indoor market with a clutter of stalls selling everything from patterned tiles to a vintage Vespa. There is also a bar, where I chat with the friendly bartender, who warns me not to drink too much: "We've had a few people who bought things they didn't want."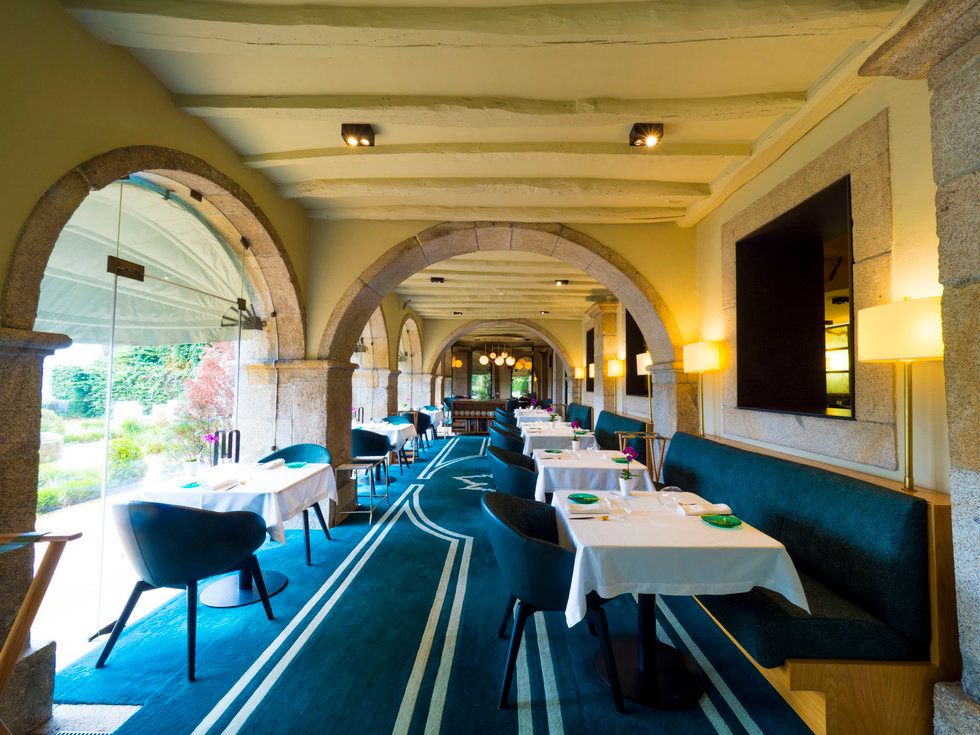 The dining room an Antiqvvm
After another precipitous trudge, I arrive at the Michelin-starred restaurant Antiqvvm, which occupies a lovely old villa near the cultivated Crystal Palace gardens. The views up here are exquisite, but you forget about that when the food arrives. My tasting menu involves a flurry of artfully presented dishes whose ingredients include scallops, shrimp, brill, pike, squid, oyster leaves, plankton, parsnip, caviar, fennel, roasted celery, and Iberian pork, all washed down with a succession of wonderful wines. Hic.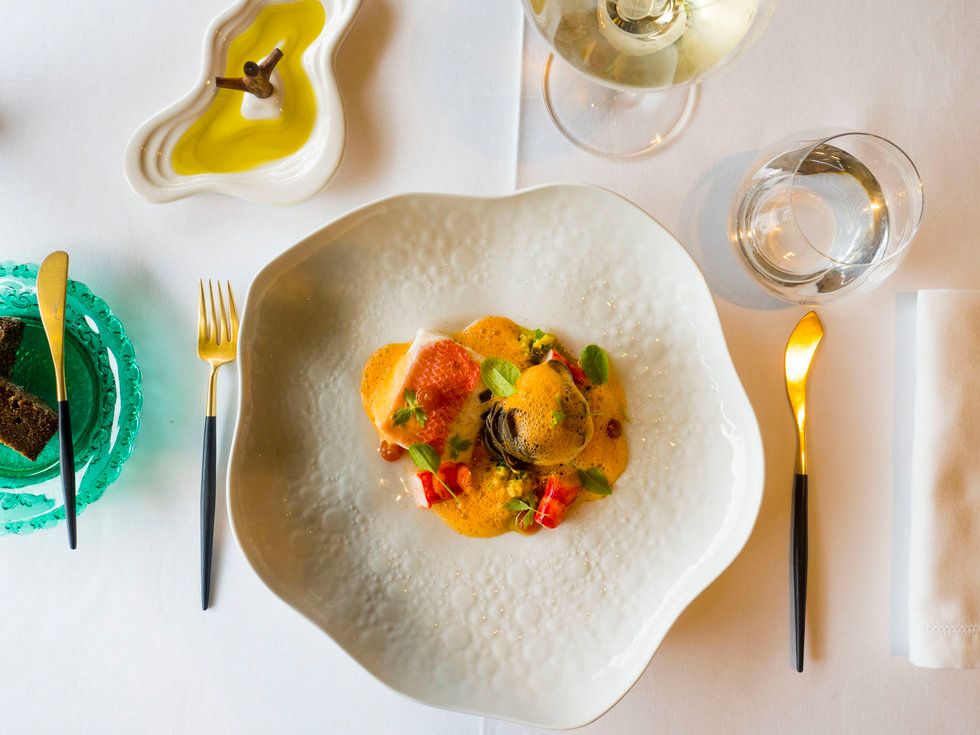 Seafood fish at Antiqvvm
I make my way back to the Torel Avantgarde, intent on collapsing onto my bed, but cannot resist having a quick nightcap on the balcony. It's a moonless night, and I have trouble distinguishing the river from the hillside from the sky.I try to focus on a cluster of lights dancing on the water, but before long these too are gone.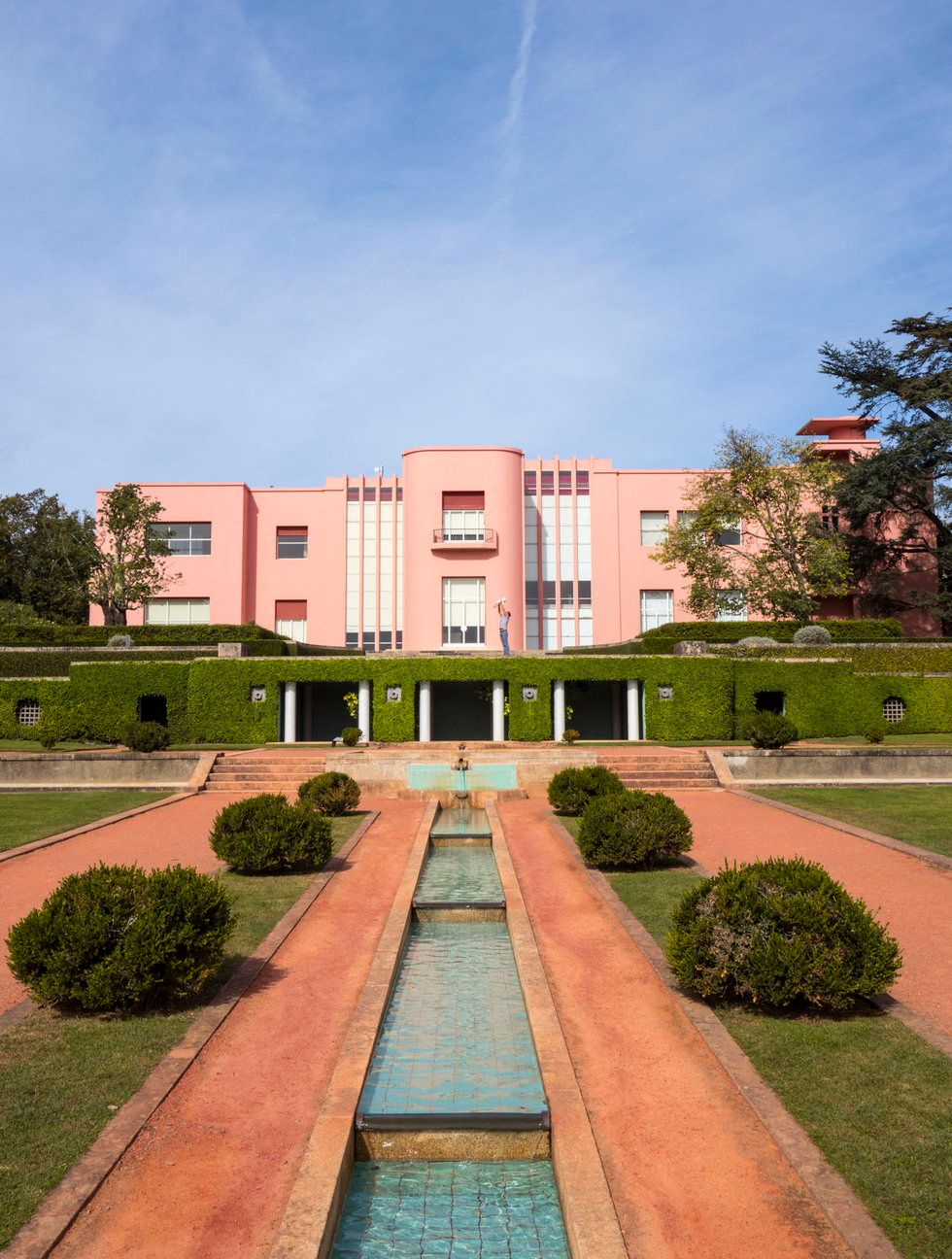 The view from Alves de Sousa Vineyard
Modern Love
Porto is renowned for its Baroque landmarks, but if your architectural tastes run more toward the modern, don't miss Serralves, a cultural institution set in lush, landscaped gardens in the city's western suburbs. Among the highlights are the Museu de Serralves, a contemporary art museum that was designed by Pritzker Prize–winner Álvaro Siza and opened in 1999, and the bubblegum-pink Casa de Serralves (pictured at right), a former count's villa that was completed in 1944 and is one of the few Streamline Moderne– style buildings in Portugal.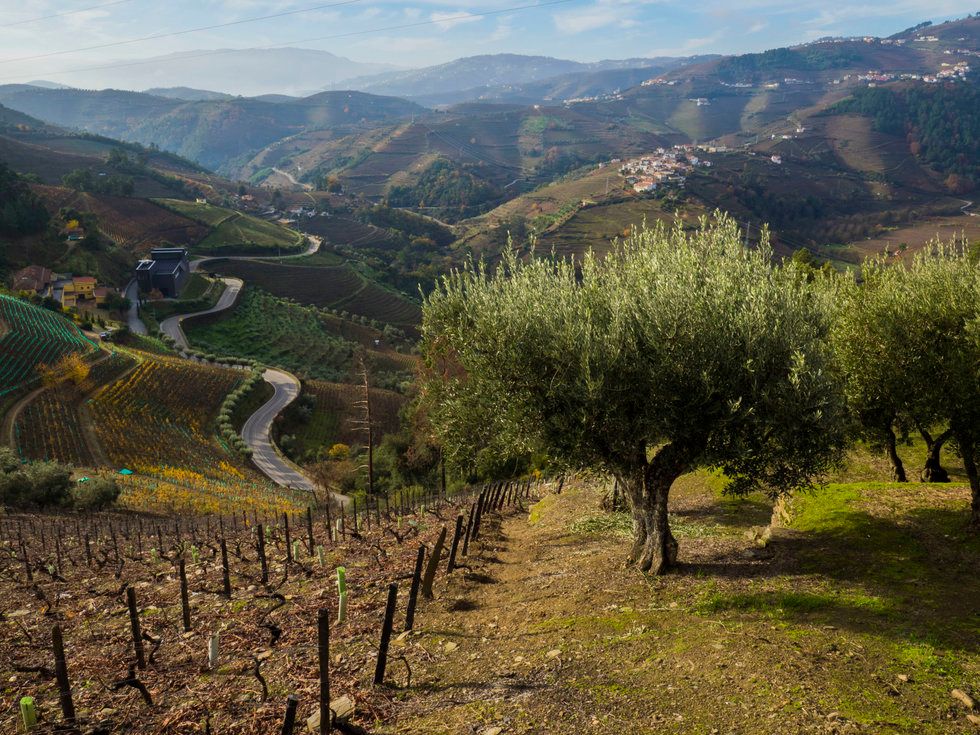 Day 2
Driving through Douro Valley and listening to fado
If there's anything that can shake the piety of Porto residents, it's pride in their beloved Douro Valley. "God created Earth," they say, "but man made the Douro." I'll be driving out to the UNESCO World Heritage region this morning, but first I have to pack up and head over to Gaia, home to the second hotel of my stay.
A luxurious, resort-like property, The Yeatman occupies a hillside overlooking the port houses, its terraced design echoing the sculpted hillsides of the Douro. I sit outside for a while, nibbling on pastries and looking down at the muddled rooftops, then head out to meet Miguel, the Tours By Locals guide who will be driving me today. "Get ready," he says with a smile. "You're about to see one of the most beautiful things in your life."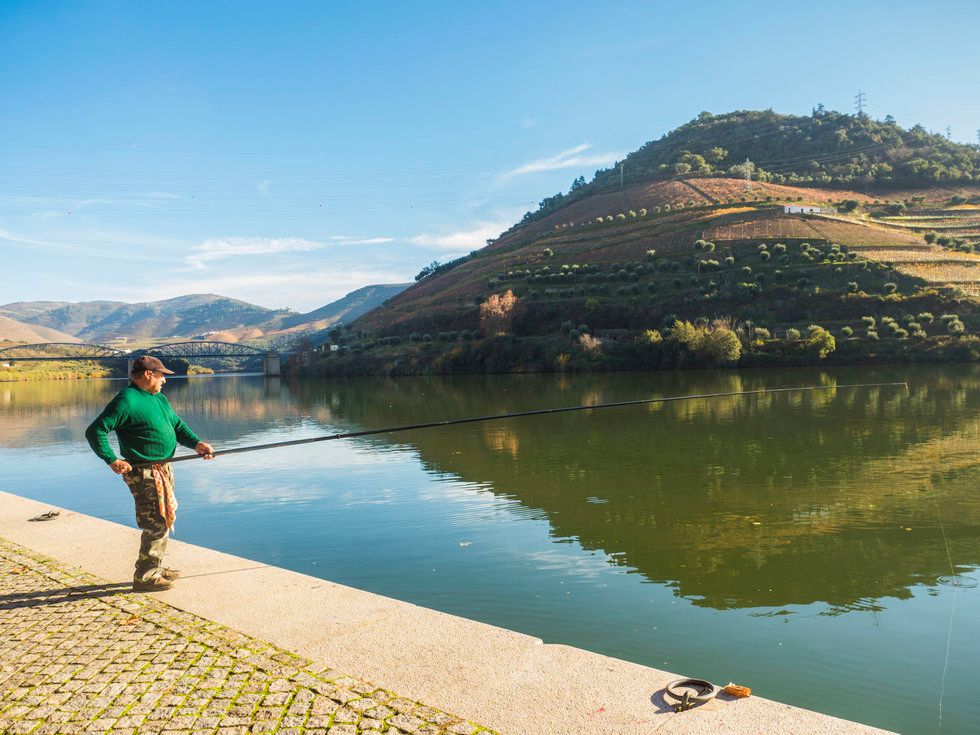 Fishing in the Douro Pinhao
We make our way along a series of ever-narrowing roads, emerging into a landscape that doesn't quite seem real. First, the perspectives are all off, the lines of the terraced slopes meeting at odd angles, creating a geometric jumble that would do Escher proud. The vines, lit by the morning sun, appear as a Pointillist fluorescence of red, gold, and green. Now and then, the terraces dip into a misty valley, their muted colors somehow lovelier than before. Even Miguel, who up until now has been delivering a running commentary on historical treaties and grape varieties, falls silent.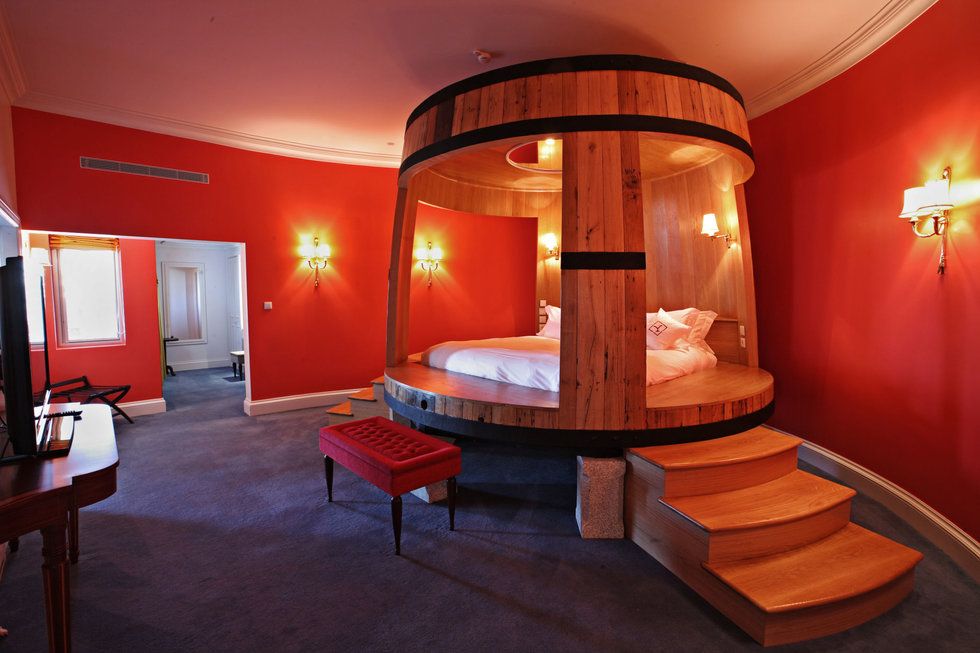 A Dionysian repose at the Yeatman
A half hour later we arrive at Amarante, a pretty town on the banks of the Tâmega River. The centerpiece is the 16th-century Igreja de São Gonçalo, named after the town's patron saint. As a miracle worker, Gonçalo is said to have had a knack for fertility and virility. (The hands and feet of an effigy in the church have been worn smooth by centuries of hopeful rub- bing.) Outside, an old lady presides over a stall selling the town's signature confection: doces fálicos, anatomical cakes that, according to Miguel, "are given by young men to young women to signal their intent." Indeed.

Another scenic drive brings us to our second stop, the Alves de Sousa vineyard. We are greeted in the main building by a young man named Tiago, a fifth-generation winemaker who leads us to a window overlooking a dappled valley. Below, wisps of bonfire smoke rise through the mist (as if the place needed any more atmosphere). "You can see why we don't need paintings on the walls," Tiago says.
From here, we climb into a 4x4 and head along a narrow, rutted path. To our right is a steep, probably lethal drop, but Tiago seems unconcerned, pointing this way and that while discussing soil acidity, sun variation, and olive trees. "They were planted to mark the boundaries between vineyards," he says. "But it's been so long that people now argue over who owns the olives." It's a good line, but I'm too concerned with staying alive to laugh.
Finally, we stop at a high rocky patch they call Abandonado because the family long ago gave up trying to grow anything on it. In 2004, Tiago badgered his dad into letting him give the disused plot one last try and planted a variety of grapes that has produced some of the winery's best bottles. "It has so much character, full of love," the young man says, sip- ping a glass back at home base. "The wine from Abandonado is very special."
"The terraced slopes create a geometric jumble that would do Escher proud"
Lunch is at DOC, Michelin-starred chef Rui Paula's restaurant in nearby Folgosa. On a riverside dock, we eat crab, confit of duck leg, and Abade de Priscos, a traditional crème caramel pudding served with bacon. While much of Paula's food derives from his grandmother's recipes, he likes to throw in the odd subversive element, which he puts down to the vagaries of memory rather than new-fangled theory. "Memory is the basis for everything I do," he says. "A meal, a journey, a book—if something is beauti- ful, I put it in my head."
Our last activity of the day is a boat ride along the Douro, an hour-long trip that takes us past a patchwork of fiery red terraces and small wine houses, interspersed with the green puffs of olive trees. It's a glorious spectacle. I wonder what it would taste like.
We arrive back at the Yeatman an hour or so before dinner, leaving me with just enough time for the wine-bath spa treatment I've booked. The wine extract is supposed to relax the muscles and hydrate the skin, but, given that there's a stranger behind me massaging my head and I'm clad in nothing but a flimsy pouch, I'm just happy for its water-clouding qualities.
I'm dining tonight at the hotel's Michelin-starred The Restaurant, a gastronomic experience that starts with my napkin being deposited onto my lap with tongs and ends with a glass of prized 1955 Croft port. In between, seated before yet another panoramic window, I am served a multicourse menu that includes oysters with jalapeño foam, cockles in xarém (corn-flour mash), veal with Jerusalem artichoke, and suckling pig. The highlight for me is the chicken oysters served with crispy skin. "I'll never look at a chicken the same way," I tell the waiter, who smiles politely at the sentiment.
I end the night in the hotel lounge, serenaded by a young woman singing fado, the mournful Portuguese folk music whose dominant themes are love and loss. She clutches her hands before her chest, crooning about souls who sailed away, the golden leaves of home, stuff like that—but otherwise she seems perfectly happy. I suppose you'd have to be: As Miguel put it on our boat ride earlier, "This is where we live."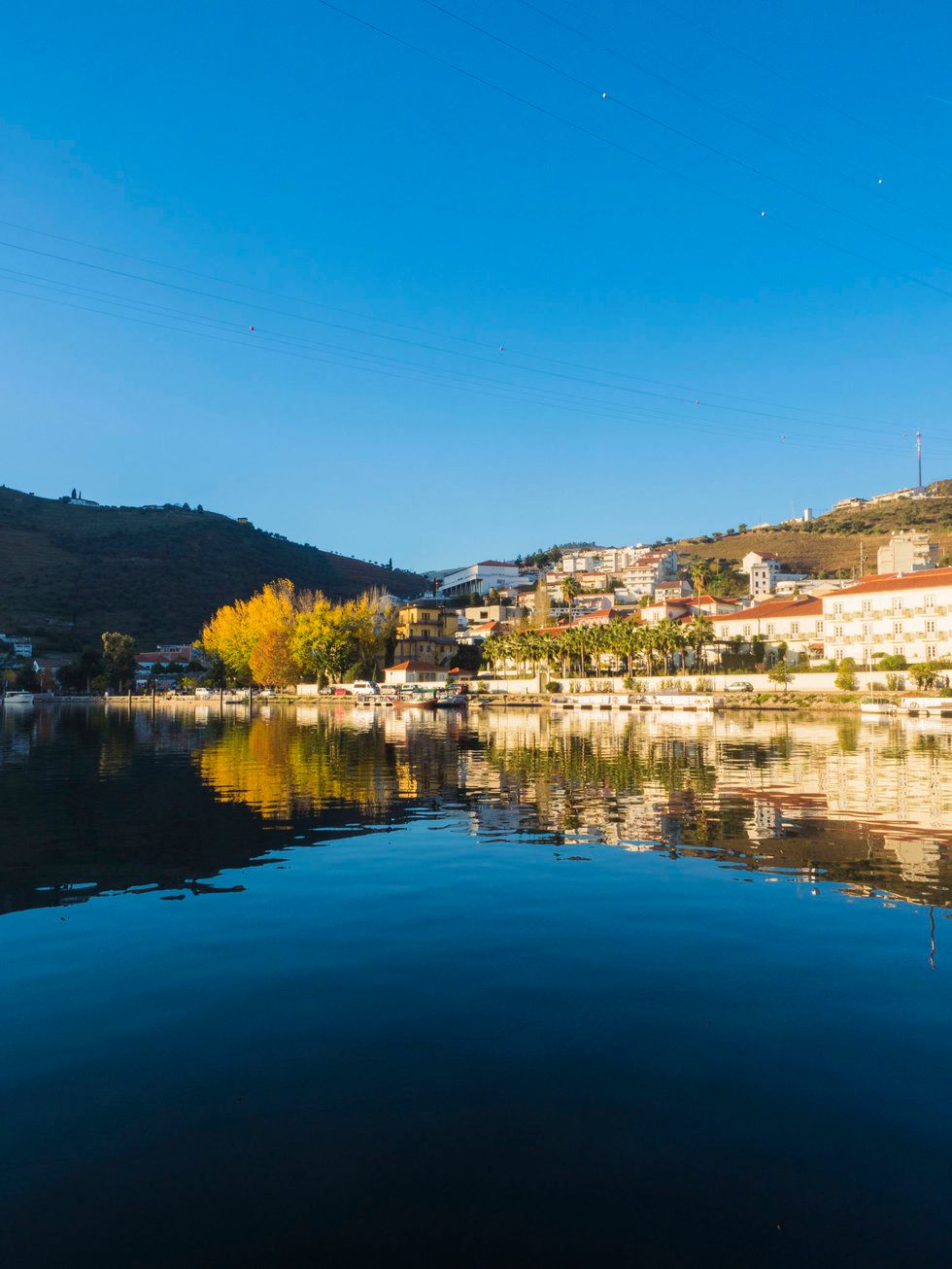 Day 3
Browsing a beautiful bookstore and witnessing the power of the sea
I check out of the Yeatman and head into town for one last bout of sightseeing, which begins in the exquisite lobby of the Infante Sagres, the grande dame of Porto's hotels. From here, I go in search of breakfast, passing the broad Avenida dos Aliados, which is dominated by the 230-foot clock tower of the Câmara Municipal. This area is littered with majestic buildings—the Teatro São João, the Igreja de Santo Ildefonso, the São Bento railway station—but I'm most interested in the Majestic Café, which promises to feed my body as well as my soul.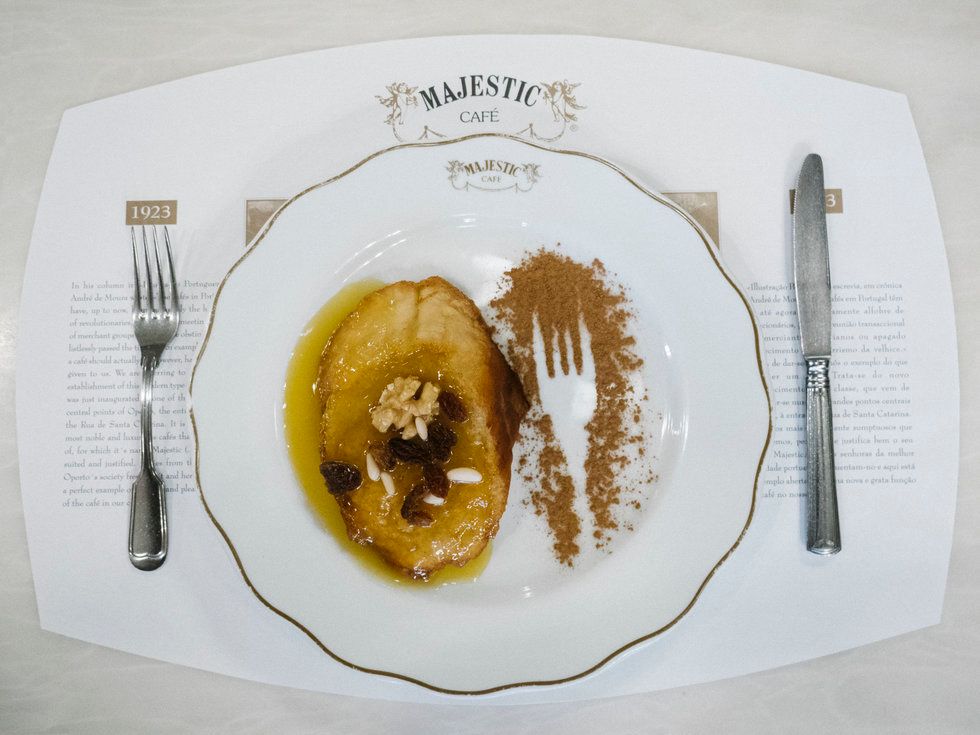 Which is not to say that the soul goes hungry. The Majestic opened in 1921, and beyond its Art Nouveau doorway you enter a beguiling world of carved wood, burnished mirrors, white-coated waiters, and smiling cherubs. I sit at a marble-topped table and orderrabanadas, a rich and creamy spin on French toast, and a super-sweet bombón coffee.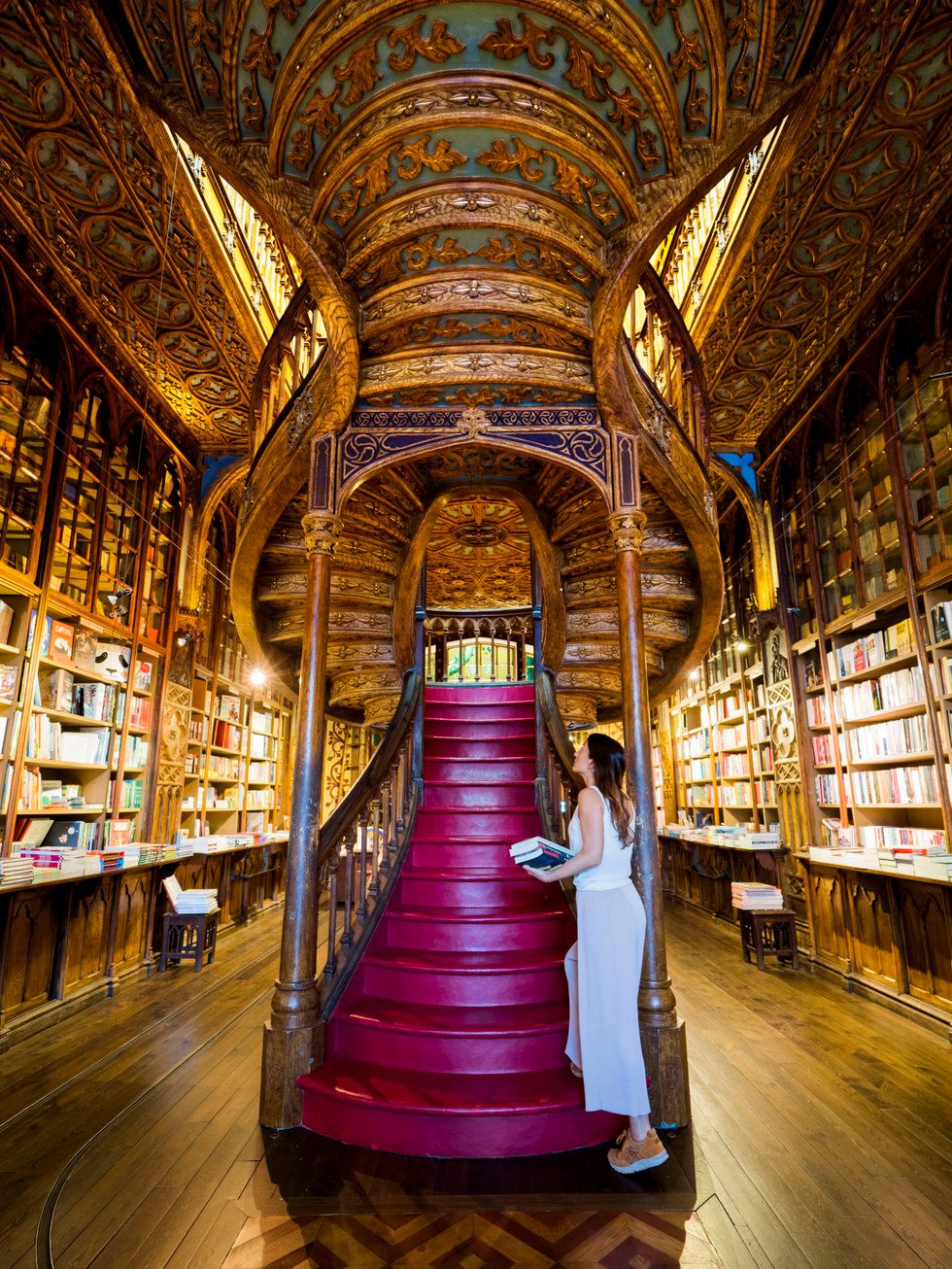 The Hogwarts-esque Livraria Lello
Buzzing with sugar, I could probably sprint to my next destination, but instead I hop on a rickety old tram, which judders toward the Livraria Lello, yet another local institution that routinely makes "most beautiful" lists. Dating back to 1906, the Lello is still the heart of the city's cultural scene, despite the hordes of Instagrammers who descend on the place today, bent on snapping the stained-glass roof, elaborate carvings, and swirling double-sided stairway. (It's so popular that there's now a €5 entry fee.) A young J.K. Rowling used to spend a lot of time here, and it's impossible not to see Hogwarts at every turn.

From here, it's a short walk to Rua de Cedofeita, a funky shopping street full of dining options such as Dream Pills (a pharmacy-themed candy store) and the Pop Cereal Café. Just up from here is Rua de Miguel Bombarda, a buzzy strip where the walls are adorned with graffiti and every other shopfront is an independent gallery. Also nearby is the Museu Nacional Soares dos Reis, with a collection ranging from 17th-century ceramics to 20th-century portraits to, um, a life-size sculpture of a horse with a wooden leg and a pair of silvery underpants hanging off its rear end.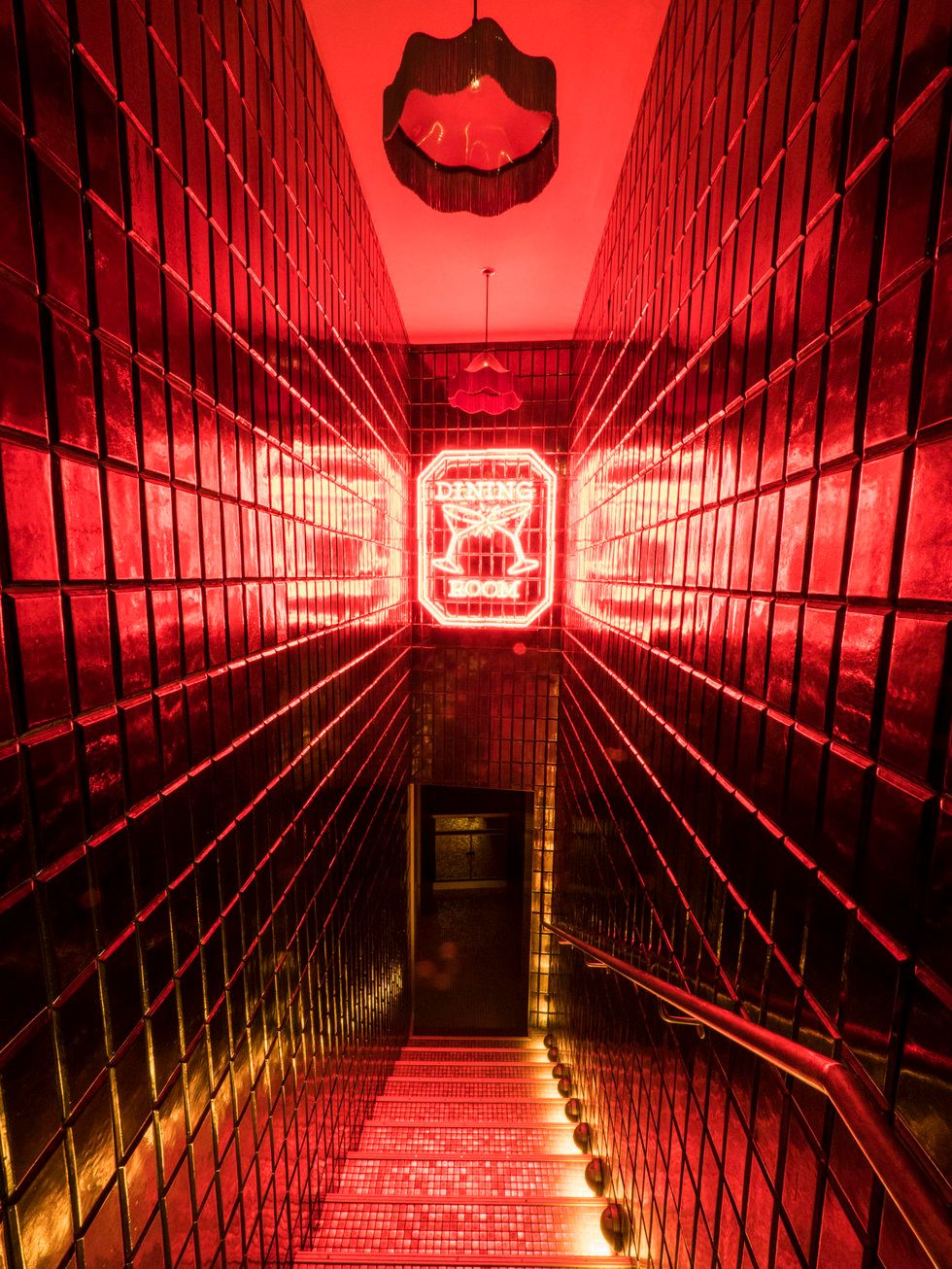 A stairway from the ultra-hip Mini Bar
My next stop is Restaurante Tripeiro, for a bowl of tripas à moda do Porto, the city's sig- nature dish. The tradition is said to date back to the Age of Discovery, when intrepid explorers sailed away with the choice cuts of meat and those who stayed behind got everything else. Ever since, locals have been known throughout Portugal as tripeiros, or "tripe eaters"—although the name doesn't begin to cap- ture the meal I receive at my small alfresco table. At one point, the chef comes out and I ask him what's in the bowl. "White beans, chorizo, chicken, tripe, and the end of the cow." I ask him which end and he looks at me: "Both." As I chew, an old guy walking by looks at my bowl, smiles, and says, "Bon appetit!"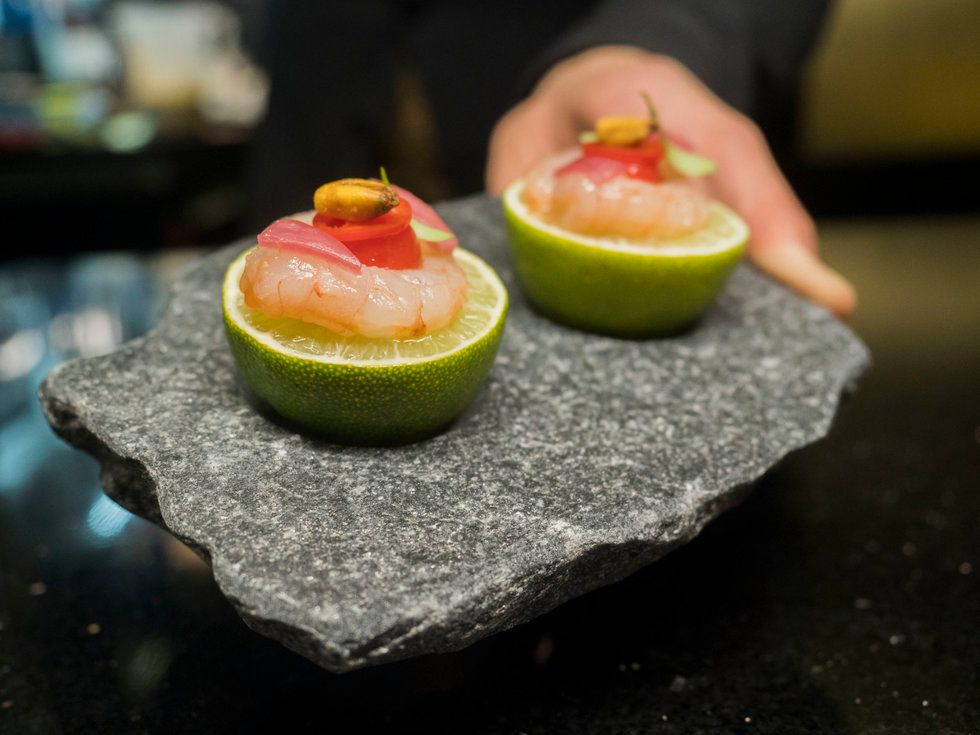 The Mini Bar's shrimp ceviche
I decide to burn off the offal with a stroll along the Atlantic coast, so I take a cab to Matosinhos, a fishing town a few miles north of the city, then walk south, dodging the massive waves battering the sea wall. At the end of one broad beach I find Lais de Guia, a small bar with a sea- front patio, where I stand and watch the churning water. My walk ends at Foz do Douro, a colorful district dotted with bars and restaurants. Here, next to a squat fort, I join a crowd of locals watching as the waves engulf a nearby lighthouse. "Nature has put on a show for you," one of them says.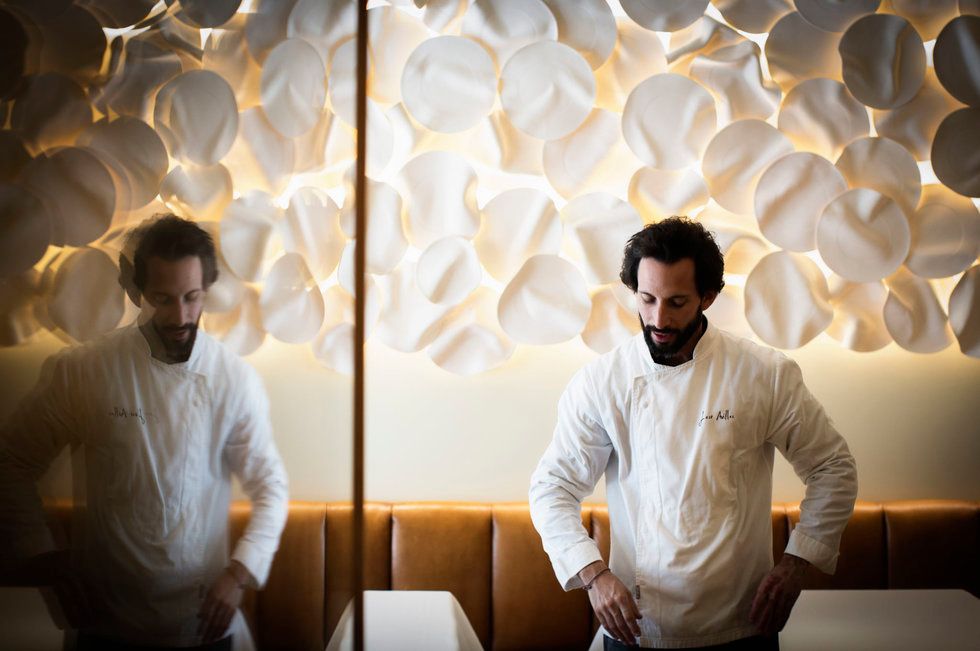 Chef Jose Avillez
Damp, I catch another cab back into town for a pre-prandial Negroni at the Royal Cocktail Club, a hip, low-lit bar just around the corner from my hotel. Dinner tonight is at the equally fashionable Mini Bar, the latest venture from José Avillez, who is best-known for his Michelin-starred Belcanto, in Lisbon. Seated in the corner of the red-hued dining area, chill-out music ringing in my ears, I inspect the menu, which lists a starter called Ferrero Rocher (like the chocolate). I ask the waiter about it, and he says, "We try to play with the senses. Nothing is as it seems." Out of curiosity, I order it, along with a tuna tartare temaki cone, roasted chicken with avocado cream, fish and chips with kimchi yogurt, and shrimp ceviche. After the onslaught of food I've received during my time here, I'm relieved that these are all small plates. I'm also happy to find that the playfulness of the menu doesn't come at the expense of taste. Everything—even the chocolate starter, which is actually made of foie gras—is delicious.
I end the night at Bonaparte Downtown, a lively, quirky bar filled to the rafters with bric-a-brac: tennis rackets, cowbells, creepy dolls, vintage walkie-talkies, a black-and-white photo of a chimp eating soup with a spoon. It's a fantastic place, but it's also late, and there's a large, comfortable bed waiting for me nearby. But then, just as I stand to leave, I hear the opening beats of The Clash's punk anthem, "Should I Stay or Should I Go."
The rest is a bit of a blur.
Where to stay
Torel Avantgarde
Located just west of the city center, this new boutique hotel places a premium on spectacle. Just off the bar is the Flower Room, which contains a profusion of dangling artificial blossoms, and each of the 47 guest rooms is decorated in the style of a famous artist (Poppy portraits for Andy Warhol, muted classicism for Leonardo da Vinci). If that's not enough visual stimulation for you, book a room with a balcony overlooking the Douro.From $215, torelavantgarde.com
The Yeatman
This Gaia hotel has 109 river-facing rooms, each with its own terrace or balcony. Named after a local port-producing family, The Yeatman boasts a formidable cellar, and its rooms contain subtle wine-related details. (Or not so subtle: The bed in the Presidential Suite is fashioned from a huge barrel.) Despite the luxurious spa, Michelin- starred restaurant, and elegant public spaces, the hotel's biggest selling point is its refreshingly unstuffy approach to service.From $290, the-yeatman-hotel.com
Infante Sagres
Situated in the center of Porto, this 85-room hotel opened in 1951 and immediately set the standard for luxury in the city. A recent renovation introduced a few mod flourishes—most visibly in the adjoining Vogue Café, with its "fashion fusion" food and super-stylish décor— but the old grace and glamour remain in the elaborate ironwork, stained-glass windows, gold-hued dining room, and marvelously rickety vintage elevator.From $220, infantesagres.com
Right now, around the world, brave members of America's armed forces are on duty, defending our freedom and upholding our values.
When not laser-focused on the mission at hand, they're looking forward to the day when their service to our nation is fulfilled and they can reunite with their families.
They are also imagining how they can use their hard-earned skills to build an exciting, rewarding and important career when they return home.
I want them to look no further than United Airlines.
That's why we are focused on recruiting, developing and championing veterans across our company, demonstrating to our returning women and men in uniform that United is the best possible place for them to put their training, knowledge, discipline and character to the noblest use.
They've developed their knowledge and skills in some of the worst of times. We hope they will use those skills to keep United performing at our best, all of the time.
That's why we are accelerating our efforts to onboard the best and the brightest, and substantially increasing our overall recruitment numbers each year.
We recently launched a new sponsorship program to support onboarding veterans into United and a new care package program to support deployed employees. It's one more reason why United continues to rank high - and rise higher - as a top workplace for veterans. In fact, we jumped 21 spots this year on Indeed.com's list of the top U.S workplaces for veterans. This is a testament to our increased recruiting efforts, as well as our efforts to create a culture where veterans feel valued and supported.
We use the special reach and resources of our global operations to partner with outstanding organizations. This is our way of stepping up and going the extra mile for all those who've stepped forward to answer our nation's call.
We do this year-round, and the month of November is no exception; however, it is exceptional, especially as we mark Veterans Day.
As we pay tribute to all Americans who have served in uniform and carried our flag into battle throughout our history, let's also keep our thoughts with the women and men who are serving around the world, now. They belong to a generation of post-9/11 veterans who've taken part in the longest sustained period of conflict in our history.

Never has so much been asked by so many of so few.... for so long. These heroes represent every color and creed. They are drawn from across the country and many immigrated to our shores.

They then freely choose to serve in the most distant and dangerous regions of the world, to protect democracy in its moments of maximum danger.
Wherever they serve - however they serve - whether they put on a uniform each day, or serve in ways which may never be fully known, these Americans wake up each morning willing to offer the "last full measure of devotion" on our behalf.
Every time they do so, they provide a stunning rebuke to the kinds of voices around the world who doubt freedom and democracy's ability to defend itself.
Unfortunately, we know there are those who seem to not understand – or say they do not - what it is that inspires a free people to step forward, willing to lay down their lives so that their country and fellow citizens might live.
But, we – who are both the wards and stewards of the democracy which has been preserved and handed down to us by veterans throughout our history – do understand.
We know that inciting fear and hatred of others is a source of weakness, not strength. And such divisive rhetoric can never inspire solidarity or sacrifice like love for others and love of country can.
It is this quality of devotion that we most honor in our veterans - those who have served, do serve and will serve.
On behalf of a grateful family of 96,000, thank you for your service.
Humbly,
Oscar
Each year around Veterans Day, Indeed, one of the world's largest job search engines, rates companies based on actual employee reviews to identify which ones offer the best opportunities and benefits for current and former U.S. military members. Our dramatic improvement in the rankings this year reflects a stronger commitment than ever before to actively recruiting, developing and nurturing veteran talent.
"We've spent a lot of time over the past 12 months looking for ways to better connect with our employees who served and attract new employees from the military ranks," said Global Catering Operations and Logistics Managing Director Ryan Melby, a U.S. Army veteran and the president of our United for Veterans business resource group.
"Our group is launching a mentorship program, for instance, where we'll assign existing employee-veterans to work with new hires who come to us from the armed forces. Having a friend and an ally like that, someone who can help you translate the skills you picked up in the military to what we do as a civilian company, is invaluable. That initiative is still in its infancy, but I'm really optimistic about what it can do for United and for our veteran population here."
Impressively, we were the only one of our industry peers to move up on the list, further evidence that we're on a good track as a company.
The question of where David Ferrari was had haunted retired U.S. Army Sergeant Major Vincent Salceto for the better part of 66 years.
Rarely did a week go by that Salceto didn't think about his old friend. Often, he relived their last moments together in a recurring nightmare. In it, it's once again 1953 and Salceto and Ferrari are patrolling a valley in what is now North Korea. Suddenly, explosions shatter the silence and flares light up the night sky.
Crouching under a barrage of bullets, Salceto, the squad's leader, drags two of his men to safety, then he sees Ferrari lying face down on the ground. He runs out to help him, but he's too late. And that's when he always wakes up.
Italian Americans from opposite coasts – Salceto from Philadelphia, Ferrari from San Francisco – the two became close, almost like brothers, after being assigned to the same unit during the Korean War. When Ferrari died, it hit Salceto hard.
"After that, I never let anyone get close to me like I did with Dave," he says. "I couldn't; I didn't want to go through that again."
When the war ended, Salceto wanted to tell Ferrari's family how brave their son and brother had been in battle. Most of all, he wanted to salute his friend at his gravesite and give him a proper farewell.
For decades, though, Salceto had no luck finding his final resting place or locating any of his relatives. Then, in June of this year, he uncovered a clue that led him to the Italian Cemetary in Colma, California, where Ferrari is buried.
Within days, Salceto, who lives in Franklinville, New Jersey, was packed and sitting aboard United Flight 731 from Philadelphia to San Francisco with his wife, Amy, and daughter, Donna Decker, on his way to Colma. For such a meaningful trip, he even wore his Army dress uniform.
That's how San Francisco-based flight attendant Noreen Baldwin spotted him as he walked down the jet bridge to get on the plane.
"I saw him and said to the other crew members, 'Oh my goodness, look at this guy,'" she says. "I knew there had to be a story."
The two struck up a conversation and Salceto told Baldwin why he was traveling. She got emotional listening to him talk and made a point of fussing over him, making sure he and his family had everything they needed.
About halfway through the flight, Baldwin had an idea. She and her fellow crew members would write messages of encouragement to Salceto and invite his fellow passengers to do the same.
"We did it discreetly," says Baldwin. "I asked the customers if they saw the man in uniform, which most had, and asked them if they wanted to write a few words for him on a cocktail napkin. A lot of people did; families did it together, parents got their kids to write something. After the first few rows, I was so choked up that I could barely talk."
When Baldwin surprised Salceto with dozens of hand-written notes, he, too, was speechless. He laid the stack on his lap and read each one. At the same time, the pilots made an announcement about the veteran over the loud speaker, after which the customers on board burst into applause.
"It seems contrived, and I hate using the word organic, but that's what it was; it just happened," Baldwin says. "Mr. Salceto was so loveable and humble, and what he was doing was so incredible, it felt like the right thing to do. And you could tell he was touched."
On June 27, Salceto finally stood before Ferrari's grave and said that long-awaited goodbye. As a trumpeter played "Taps," he unpinned a medal from his jacket and laid it reverently on the headstone.
"I had gotten a Bronze Star for my actions [the night Ferrari died] with a 'V' for valor, and that was the medal I put on Dave's grave," says Salceto, pausing to fight back tears. "I thought he was more deserving of it than I was."
For the first time in years, Salceto felt at peace. His mission was accomplished.
Scroll to top