Three Perfect Days: Quito
Quito is a breathtaking city—but not in the usual sense. Sure, the Ecuadorian capital is gilded and gorgeous, a painstakingly preserved jewel box of Baroque excess that was named one of the first UNESCO World Heritage Sites in 1978. But, at 9,350 feet above sea level, the world's second-highest capital (after La Paz, Bolivia) is also a place that literally takes your breath away. Not helping matters are the gasp-inducing natural surroundings that cluster on either side of the Equator: the alpine páramo grasslands, the snowcapped volcanoes, the misty cloud forests, the swarms of buzzing hummingbirds. So inhale deeply, and dig in.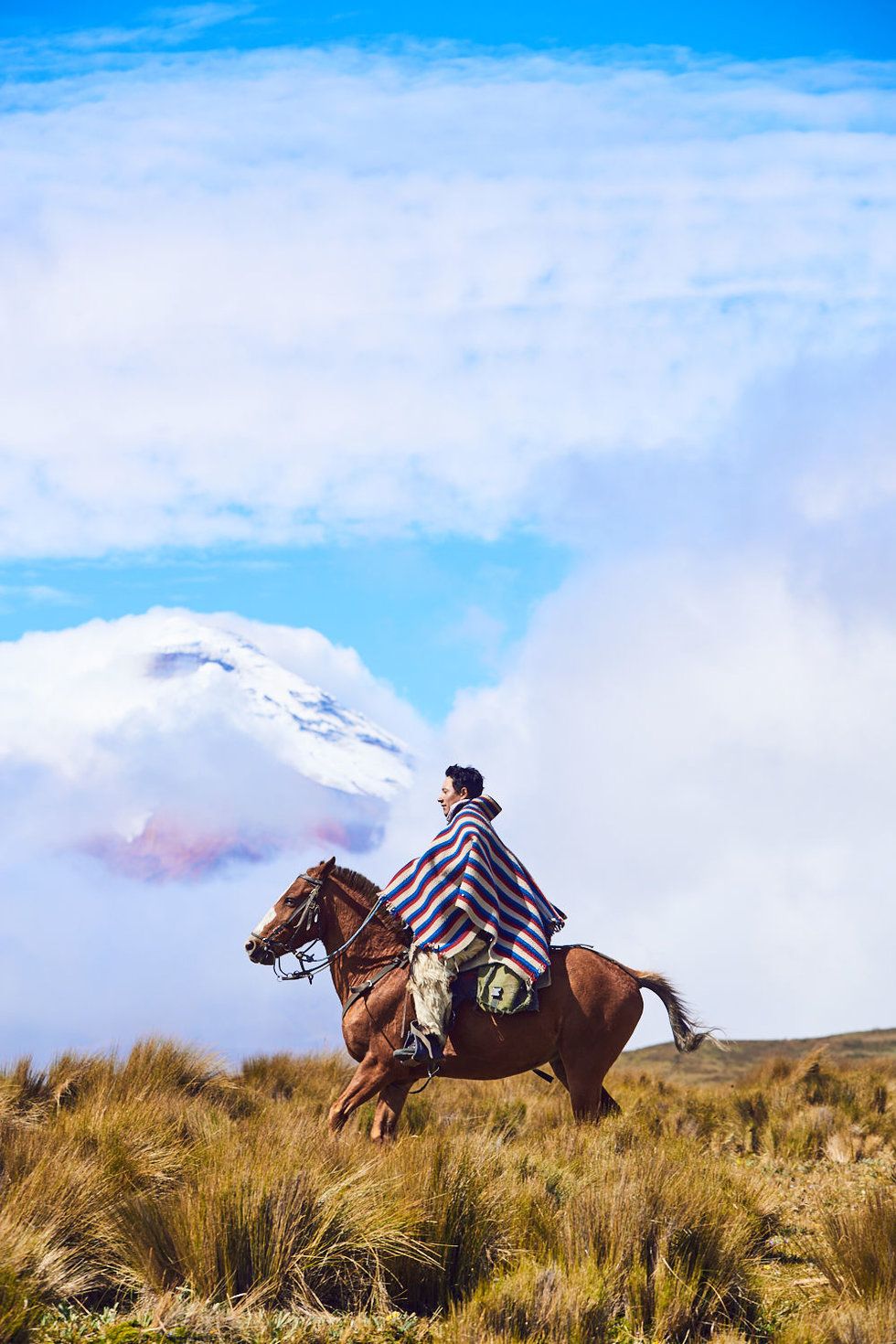 A chagra cowboy in the shadow of the volcano Cotopaxi at Tierra del Volcan
Day 1:
Exploring gold-dipped churches and trying on misnamed hats
Tucked as they are into a volcanic valley, the cobblestone streets of Quito rise and fall like stock charts. Having caffeinated with Ecuador-grown coffee at Café Galletti—an industrial-chic hipster haunt inside a former Art Nouveau theater—I tramp up a steep avenue to the Basílica del Voto Nacional for one of the city's best views. If you squint, you might think you're looking at a buttressed behemoth from France or Germany. But look closer at those gargoyles flanking the facade. They're marine iguanas, crocodiles, howler monkeys, armadillos, pumas, tortoises…
Construction began in 1892, but the church is still technically unfinished; I can't help but feel this menagerie trapped in stone is God's way of saying, "Why go on an expensive cruise to the Galápagos when you can donate to the building fund instead?" But be warned: According to local legend, the world will end when the church is finally completed.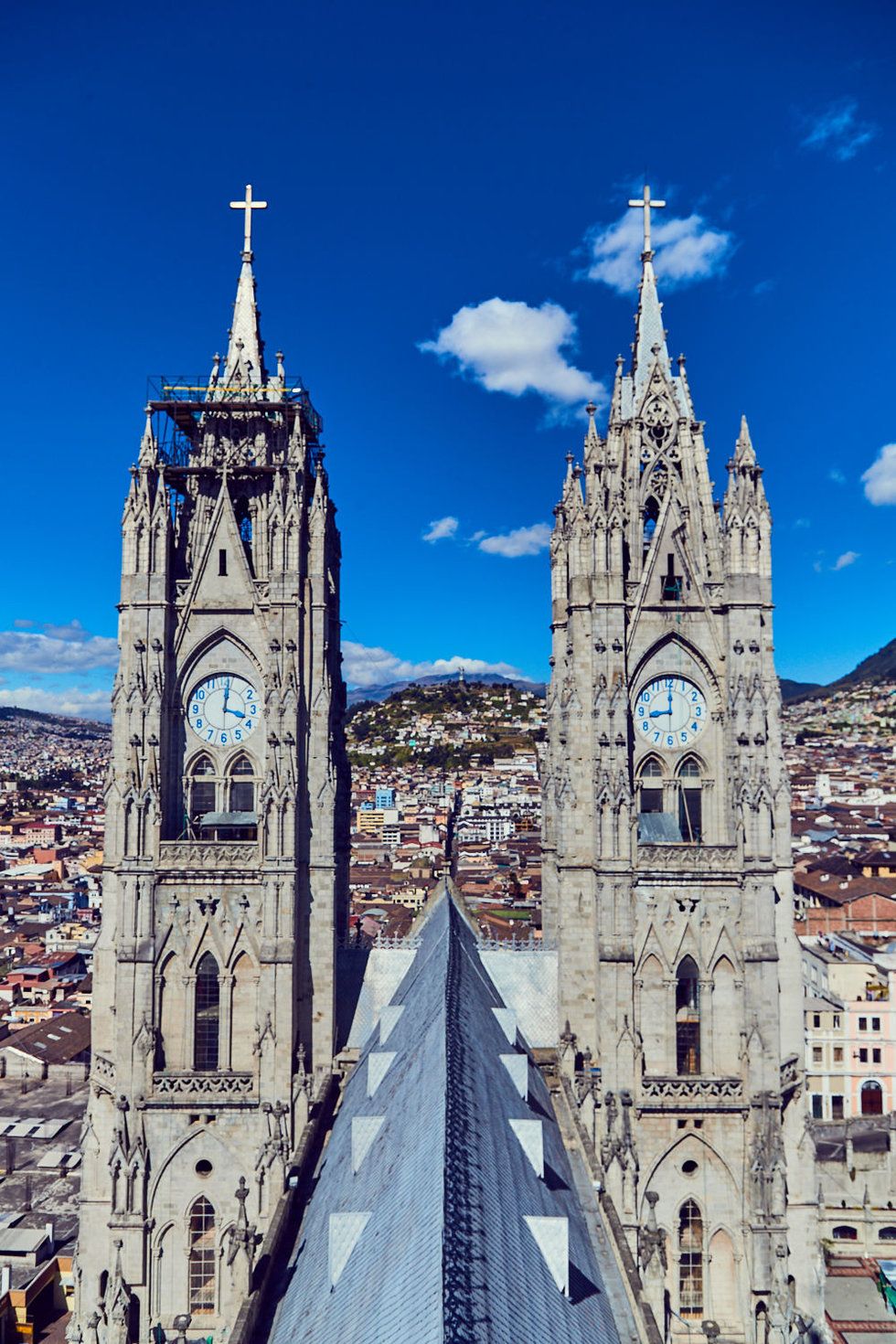 The clock towers of the Basílica del Voto Nacional
From inside the church tower I can see the whole historic center, clear to El Panecillo ("bread roll") hill and its 135-foot-tall Virgin of Quito, an aluminum-winged Madonna meant to represent the biblical Woman of the Apocalypse. Despite these doom-and-gloom bookends, the city between is full of life, perhaps nowhere more than at the Mercado Central. A sleek 1950s Art Deco building with abundant sunlight, the market sticks out amid its Baroque-heavy surroundings.
Inside, as elderly quiteña women dance to a folk band, I meet Miguel Xavier Monar, an Ecuadorian chef who has been spreading the gospel of his native cuisine at restaurants in Madrid and Shanghai. It's early, but we grab plastic cups of fortifying canelazo, a hot and dangerously delicious concoction of aguardiente (sugar cane liquor), cinnamon, and naranjilla (a tart fruit related to the tomato). "This drink," says Monar, "is the party of Quito."
"Tucked as they are into a volcanic valley, the cobblestone streets of Quito rise and fall like stock charts."
While alta cocina is on the rise in cities like Lima and Bogotá, Monar says people in Quito are resistant to changing tastes. "We've been eating the same foods for maybe 500 years," he quips. "The problem of Ecuadorian gastronomy is that we are a very, very, very traditional country. Ecuadorians don't like new tastes. If a recipe has oregano and I put in parsley, people say, 'This is not Ecuadorian food.'"
We wander, chatting with vendors and scooping up dishes that may have been eaten in these parts back when Francisco Pizarro and his conquistador pals lived down the block: llapingachos, cheese-stuffed potato cakes; offal-filled menudo soup; and fritada, fried pork belly with mote (hominy). Monar tells me about la yapa, an Andean practice that comes from the Quechua word for "a little extra." So, for instance, when we order our fritada, it comes with la yapa: a plastic baggie full of extra pork.
At a rickety table, we top our fritada with little spoonfuls from a bowl of ají, a hot sauce as ubiquitous as salt and pepper. "If you don't have ají on the table, it's a disaster," says Monar. "You'll have a civil war." We wash everything down with a fresh-pressed juice that contains a kitchen sink assortment of alfalfa, naranjilla, malt beer, quail eggs, raspberries, and coconut—though this juice-mad city's most fashionable option, according to Monar, is energizing, antioxidant-rich guanabana. (The juice, of course, comes with a Dixie cup–size yapa.)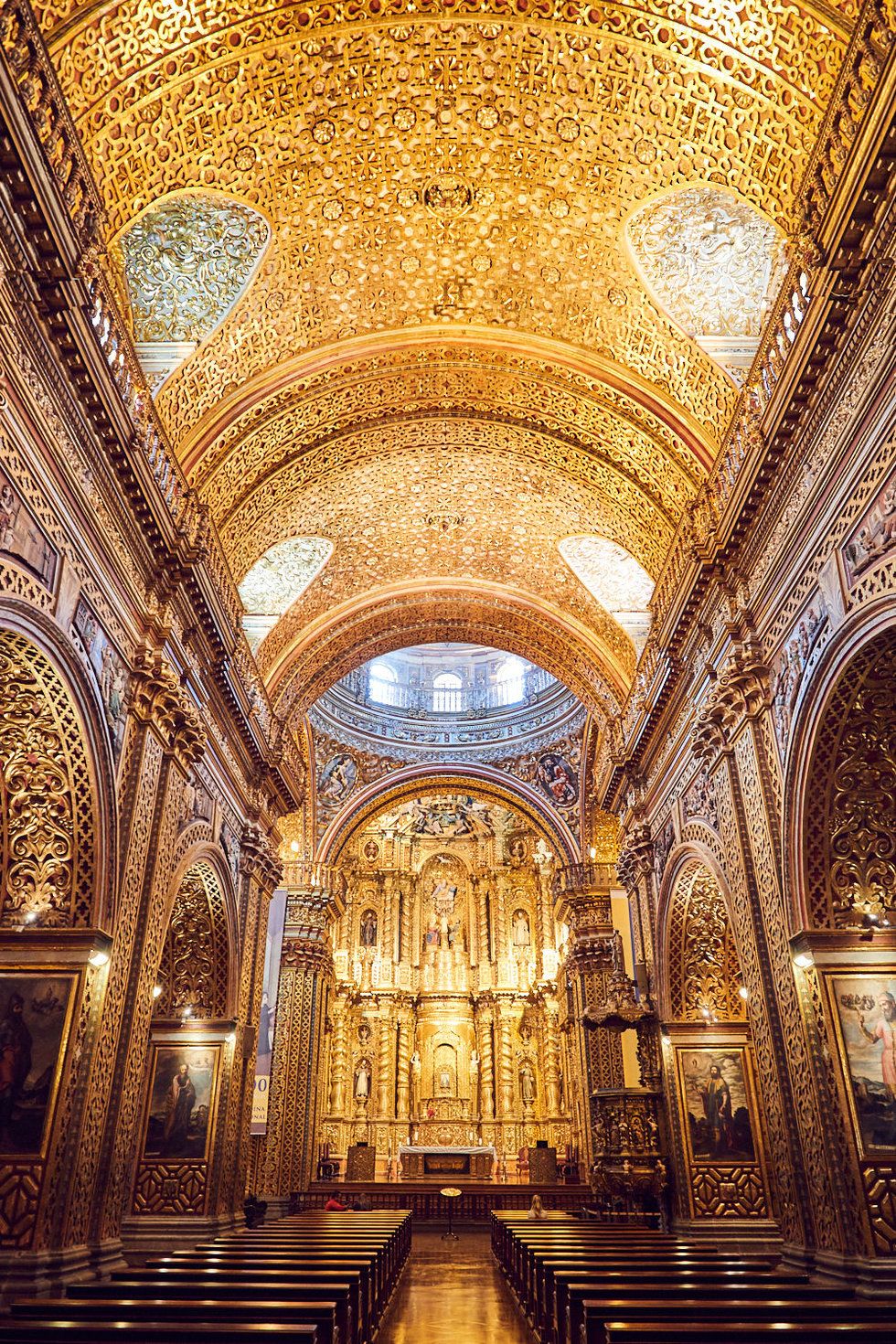 The gilded interior of La Compañía de Jesús church
We stroll past Lincoln Log piles of cow femurs and creamy mounds of mapahuira, pork lard studded with crisp bits from the bottom of the roasting pan. Next up are heaps of what Monar calls "ancestral magic herbs," many grown in the Amazon, that the vendor can prescribe based on your needs. "If you need a husband, if you hate your boyfriend, if you're opening a new business, if you have a bad stomach, if you have a pain in your head," he rattles off. "Maybe it's not real, but all of the Ecuadorians believe it."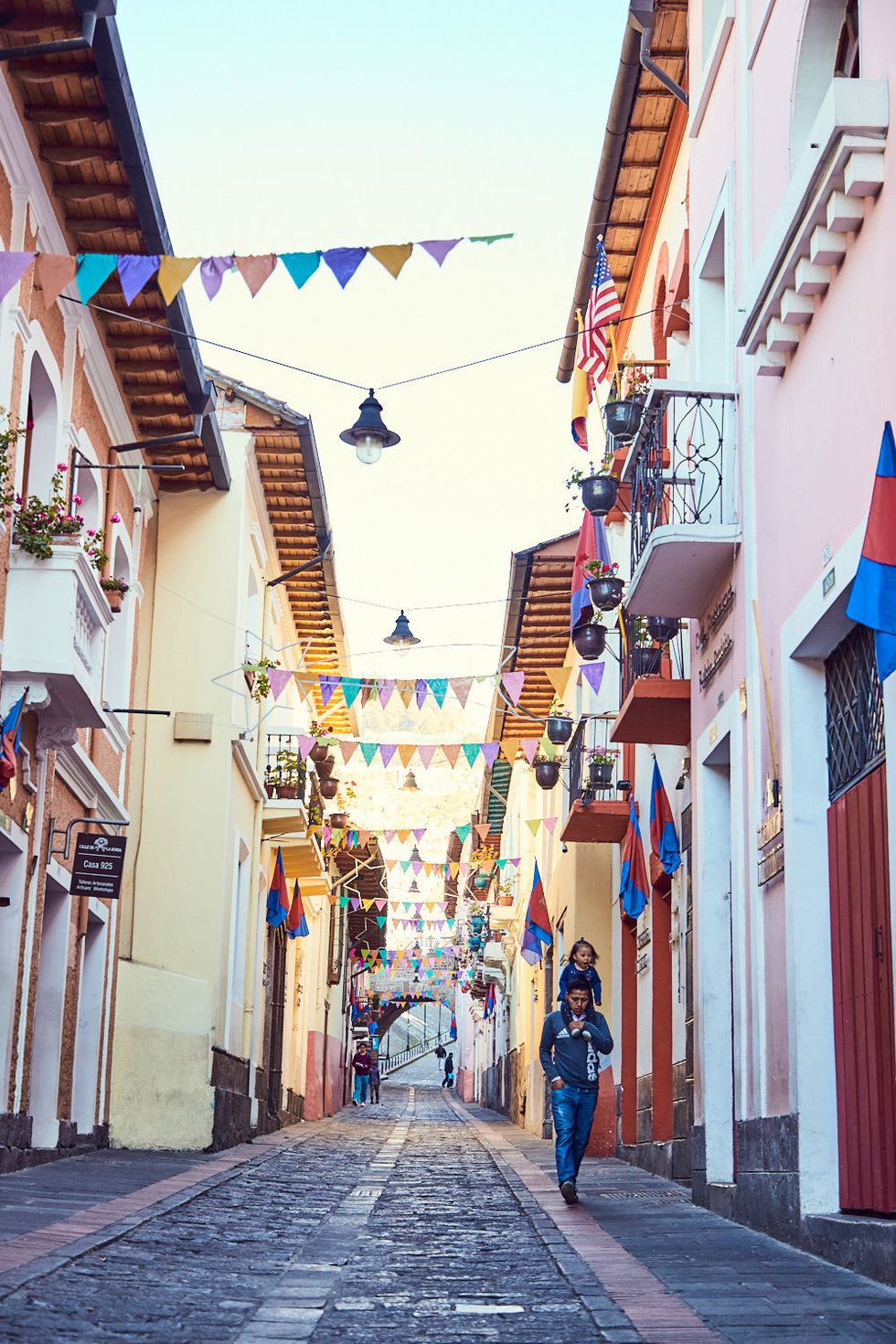 Calle La Ronda
I say goodbye to Monar and duck into the green-domed La Compañía de Jesús church, a Baroque-Moorish masterpiece slathered with more than 100 pounds of gold leaf. For Baroque-inspired ornamentation on a smaller scale, I head to the handicrafts workshops on curving Calle La Ronda. In one crowded nook, José Luis Jiménez is carving bargueños, which look like chests of drawers reimagined by M.C. Escher. Dating back to the colonial era, these boxes contain hidden doors inside hidden doors inside hidden doors; an unassuming, shoebox-size piece of furniture can hide dozens of compartments. Next, I grab a cone of canelazo ice cream—I want to sneak this drink into every meal now—at the sunny Dulce Placer Heladería, which serves locally inspired flavors, such as morocho (drinkable corn pudding) and Zhumir Pink (essentially a watermelon wine cooler that's popular among Ecuadorian teens).
"I duck into La Compañía de Jesús church, which is slathered with more than 100 pounds of gold leaf."
I continue to Humacatama Sombrería, where artisan Luis López shows me how to craft Ecuador's most famous—and misunderstood—export: the misnamed Panama (or toquilla) hat. Teddy Roosevelt was photographed wearing one of these wide-brimmed straw hats while visiting the canal construction site, which boosted their popularity, but make no mistake: These hats are an Ecuadorian creation, with a spot on the UNESCO Intangible Cultural Heritage List to show for it.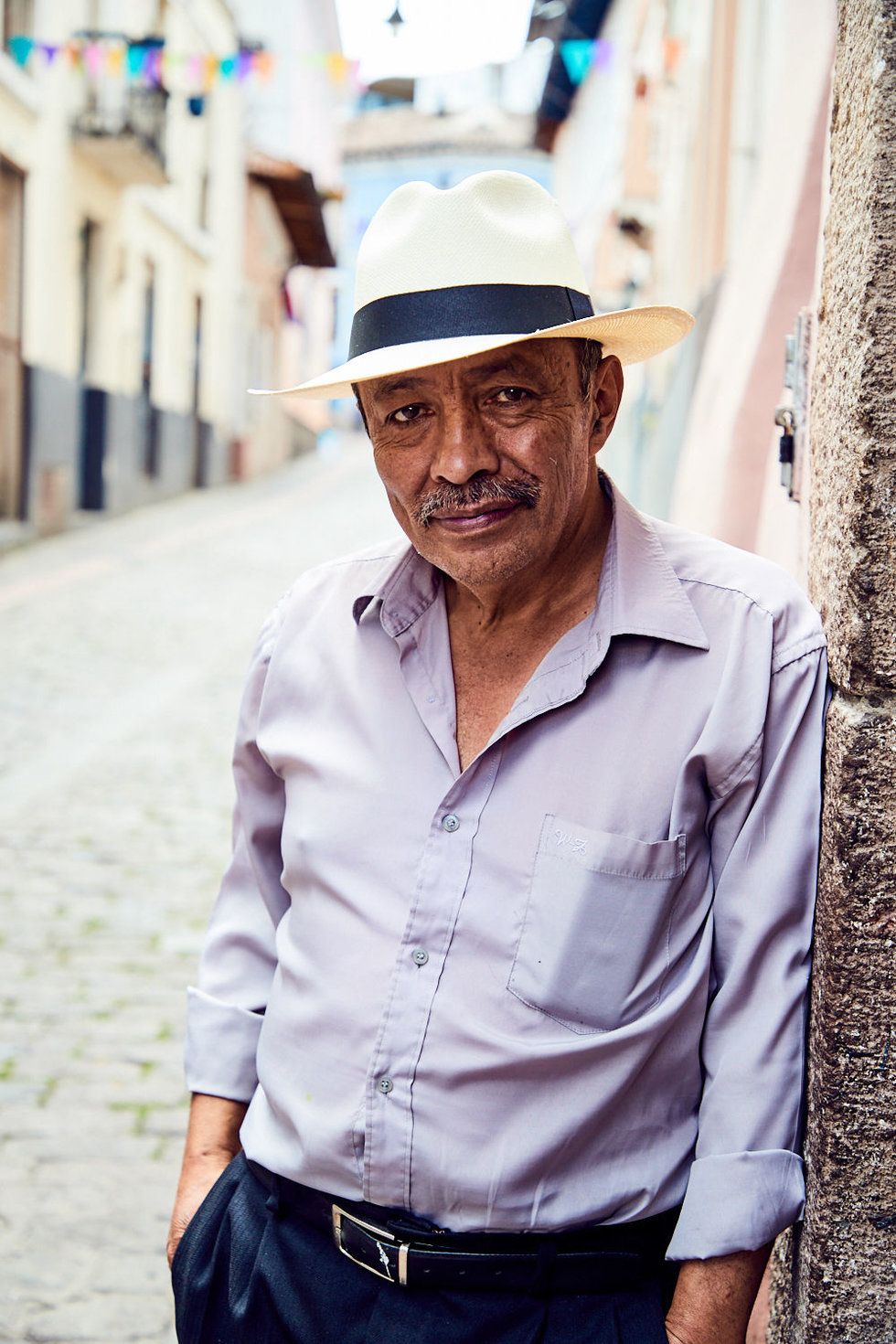 Humacatama Sombrería hatmaker Luis López
López strips the fibers of a jipijapa palm frond with his fingernails. The thinner the strands and tighter the weave, the finer the hat. "You don't get any light through the hat," he says in Spanish, holding one of his creations up to the window. "It takes a year to make the finest hats. But we need to start calling them Ecuador hats!" The highest-quality ones, he tells me, can go for $25,000. It should be noted that these popular souvenirs aren't often seen around town. The preferred head covering, especially among the indigenous women selling fruit and textiles on street corners, are felt fedoras, often decorated with a jaunty plume.
Quito's historic center seems delightfully trapped in time, but there's a vibrant modern city beyond the cobblestones. I hop a cab to Quitu Identidad Culinaria, where chef Juan Sebastián Pérez's tasting menu takes me to the far reaches of this biodiverse country: from the Amazon, paiche, a man-size, air-breathing fish, served with hearts of palm and passion-fruit juice; from the coast, cassava with shrimp and sweet crab; from the Andes—or the petting zoo?—a 72-hour sous-vide llama, an indigenous meat source that's not especially common here in the capital. (For the record, it's very lean and lamb-like.) My three dessert courses include, among other flavors, 72-hour cold brew coffee, a 70 percent chocolate terrine, and both a meringue and a carbonated drink made from guayusa, the highly caffeinated leaf of an Amazonian holly tree…
Which means that, despite the long day, I have plenty of energy for a nightcap on the roof of the Hotel Carlota, a sustainably designed property in a 1905 mansion that was the former HQ of Ecuador's conservative party. After a couple of cocktails, however, I don't even need to count llamas before nodding off.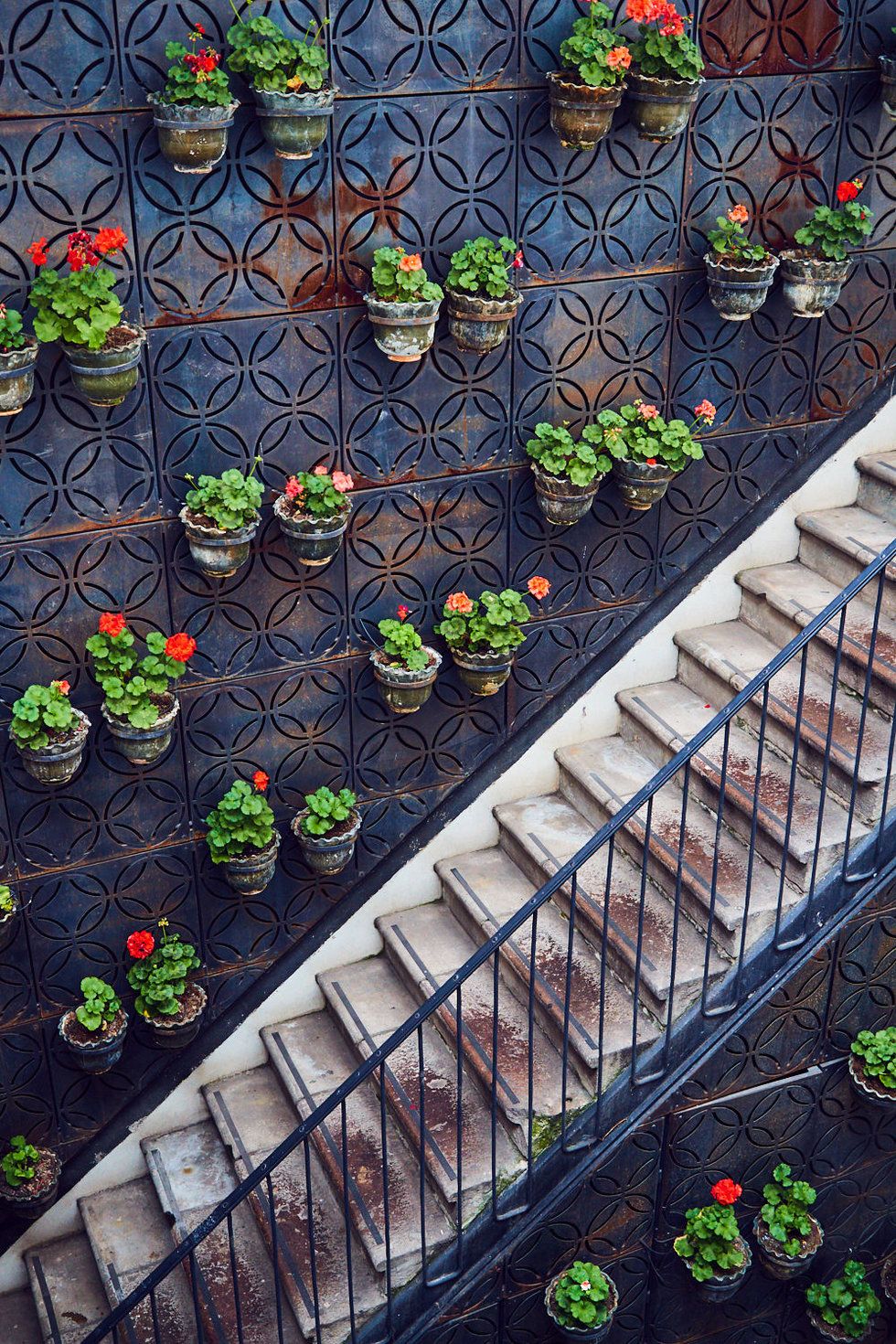 The staircase at the Hotel Carlota
Day 2:
Straddling the Earth, stalking hummingbirds, and sipping cervezas
Ecuador's star attraction is right there in the name. This is the middle of the world, and Quito practically shouts its location from the rooftops. My goal for the morning is the nation's most obligatory tourist stop: the photo op at the Equator, about 15 miles north of the Old Town, where every grinning backpacker must, by law, bestride the narrow yellow line like a selfie-ing Colossus. I've hired a driver for the day, Jairo Lobo, who whisks us out of town, past miles of pastel houses tumbling Tetris-like down hillsides, to the roadside restaurant Rincón Quevedeño #2, where we have tigrillo, a coastal breakfast of mashed green plantains with stewed pork, queso blanco, and a fried egg, along with frothy blackberry juice.
Fully carbo-loaded, I pay the $2 entry fee to the Mitad del Mundo monument, a 98-foot-tall obelisk topped with a globe that looks a bit like the Daily Planet building. The monument was built in 1982 to commemorate an 18th-century French mission to find the true Equator, but it hides a dirty little secret: The honest-to-goodness 0 degrees latitude is 787.4 feet away.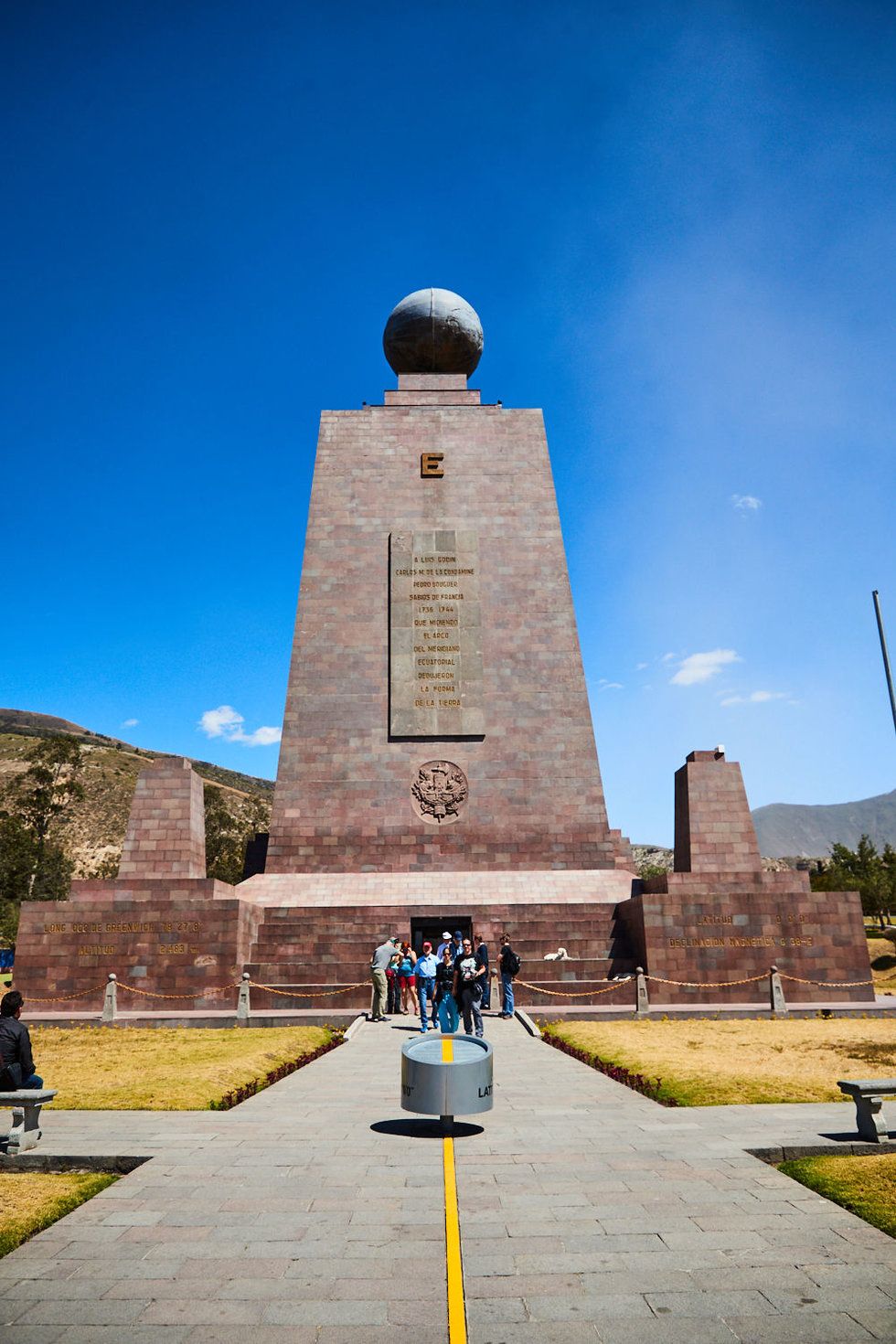 The Mitad del Mundo monument near the Equator
Down the road sits the scrappy Intiñan Solar Museum. I join a tour that's already in progress, as the guide shows off a case holding a 180-year-old shrunken witch doctor's head that looks like a ham hock in a wig. "They stopped the practice around the 1980s and '90s, because it was turning into a mafia," he says. "They used to sell the heads for $80,000. If it was a shaman, you could pay even more." As we shuffle on to the next exhibit, a Chinese priest in a robe and white collar next to me whispers, with concern in his voice, "But why has it gotten so small?"
The museum's centerpiece is, naturally, the centerpiece of the world. Here, on the magnetic Equator, which was calculated by army GPS 17 years ago, reality operates slightly differently. To prove it, the museum has set up a series of experiments that feel like a school science fair but still earn their oohs and aahs. Water pours straight down a drain without spinning! I can't heel-toe walk along the line with my eyes closed without tipping over! I can balance a raw egg on the head of a nail! Whether these demonstrations are real or show—the mythbusting Snopes.com has some strong opinions on the matter—I leave with a smile and a handwritten egg-balancing certificate.
Lunch is 15 minutes away, at Hotel El Cráter, a pumice stone building perched on the lip of the Pululahua volcanic crater, one of only two populated calderas on the planet. I grab a seat by the window and watch fluffy clouds barrel like freight trains through the valley below. We're (very) close to the Equator, but that doesn't mean it feels like the tropics. High up here in the Andes, the food skews hearty. I order locro de papa, an achiote-dyed potato soup served with shredded cheese, hunks of buttery avocado, and maíz tostada—corn kernels that crunch like the ones you find at the bottom of a bag of microwavable popcorn.
"Here, on the magnetic Equator, reality operates slightly differently. I leave with a handwritten egg-balancing certificate."
Past Hotel El Cráter, the road shifts; mist envelops the shoulders as we descend into the Mindo Cloudforest, a high-altitude jungle that attracts whitewater rafters and zipliners. We pull into the Alambi Reserve, a sanctuary for more than a dozen hummingbird species. I grab a seat on the porch and look out on a yard lined with feeders and flowers that—there's only one word for it—swarms with birds. They come in droves, buzzing, dive-bombing, darting, slurping sugar water. I practice my wildcat-stalking skills as I slink like a moving statue to within inches of the feeders to snap photos. Nectar-drunk, the birds barely react.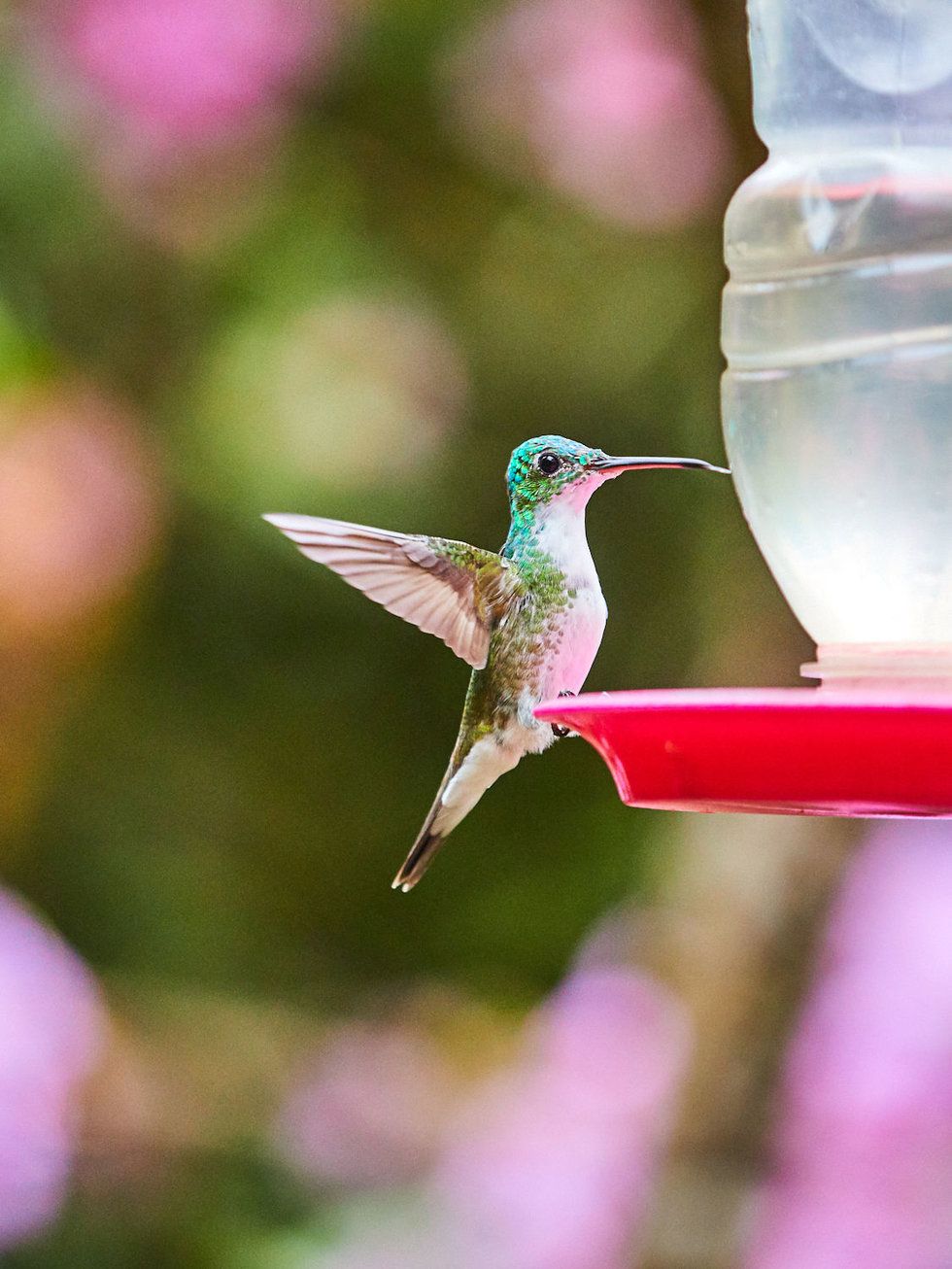 A hummingbird at the Alambi Reserve
Down a hill, I meet Brian Krohnke, an American expat who runs Cloud Coffees. Here, on five acres of the reserve, he's growing seedlings that will help to reforest this area. "We're one of the highest growers in the world," he says, as he sorts beans drying in the sun. "These come from 1,800 meters." I buy a bag of his shade-grown coffee from a makeshift wooden structure. Krohnke tells me to expect citrus, lilac, and vanilla notes, but the biggest selling point for me is the label: a dreamy-eyed sloth holding a mug of joe.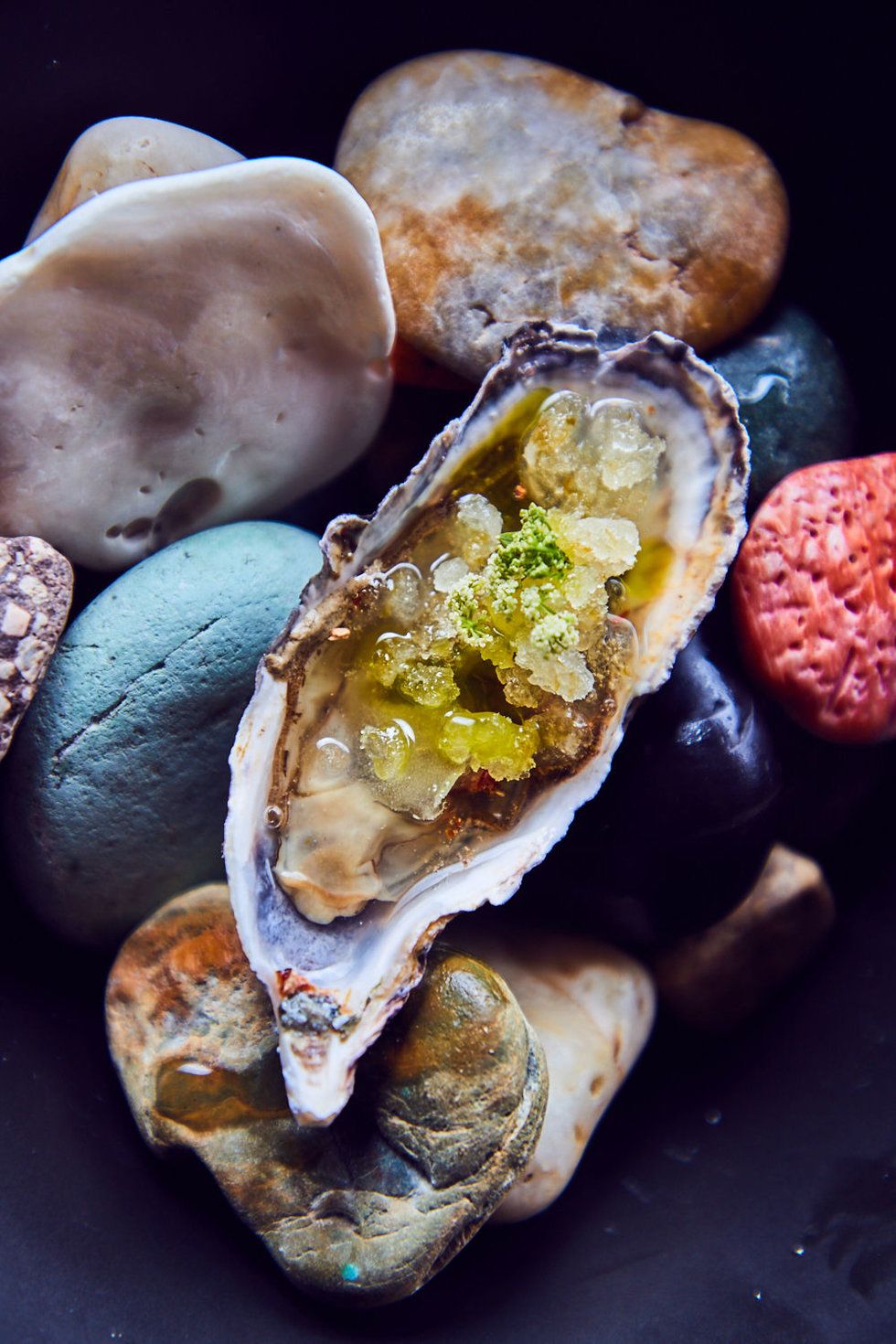 A pacific oyster with Amazonian jelly at Urko Cocina Local
I get back into town in time for dinner at Urko Cocina Local, in the buzzing La Floresta district. I order a frozen canelazo (of course) and then dig into a tasting menu that sees chef Daniel Maldonado remixing Andean staples. An octopus ceviche dotted with roasted peanuts is followed by lamb croquettes in a naranjilla beer sauce and spoon-tender suckling pig with cheese foam. I finish my meal with an ode to the nation's beloved corn, a deconstructed dessert of corn mousse, corn with cheese, and purple corn biscuits.
Back in the historic center, I seek out a different staple grain at Santa Rosa Cerveza Artesanal, one of a growing roster of craft breweries in the city. I order a peach sour beer and grab a seat in the Scandi-chic taproom, by a window that looks out on the illuminated Baroque church of St. Augustine. I'm confident that the patron saint of brewers would have enjoyed this next chapter in Quito's development.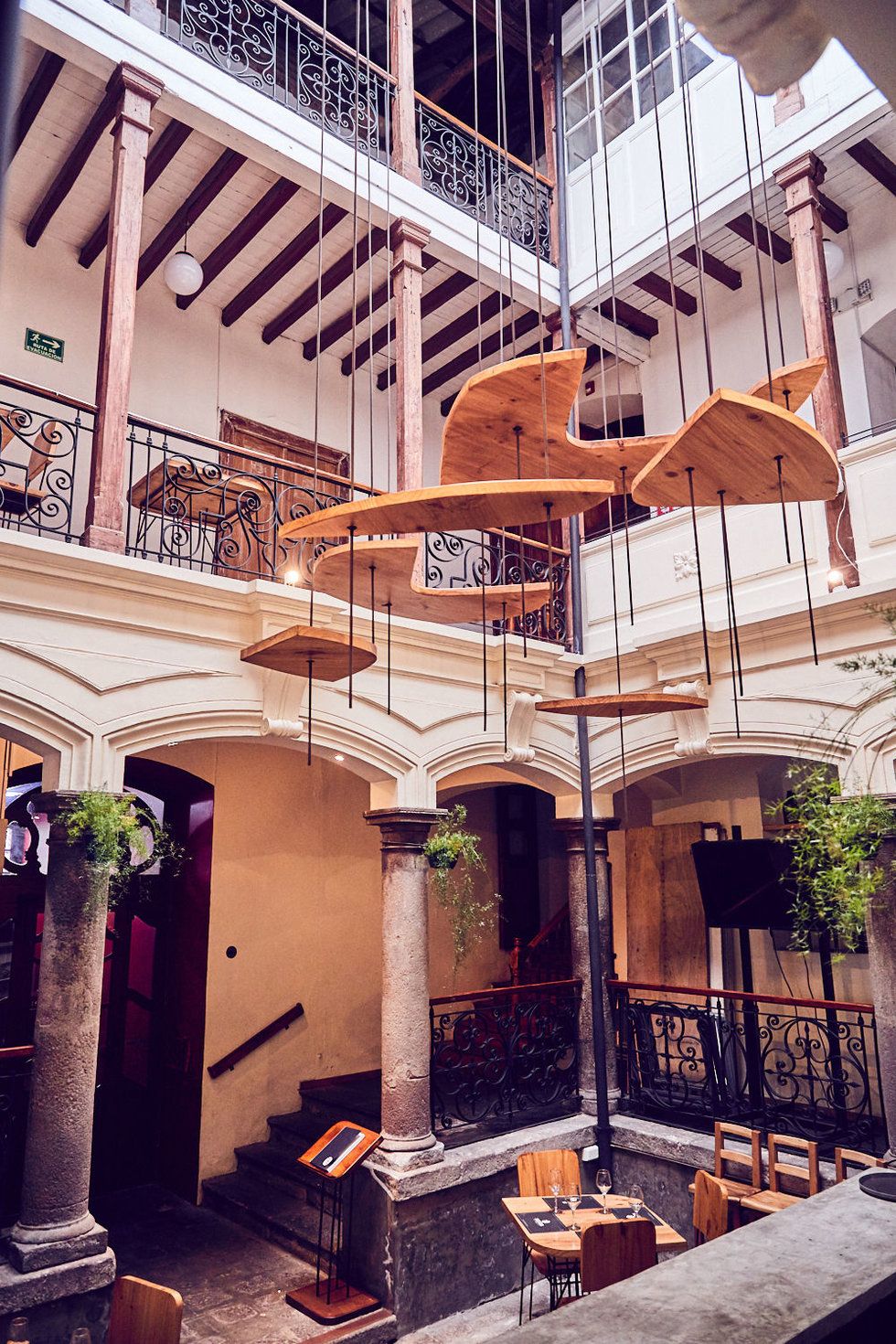 The modern taproom at Santa Rosa Cerveza Artesanal
Day 3:
Scaling a volcano and playing cowboy for a day
"You feel OK?" I'm in the TelefériQo, a glass gondola that's rapidly ascending the side of the Pichincha volcano. It's only natural that my tour guide for the day, Gaby Cifuentes, is checking on me. Within 18 minutes we'll be gliding up, over eucalyptus forests and cattle pastures, to a preposterous 12,943 feet. This is prime altitude sickness territory, but I assure her that, save for a few ear pops and some slightly shallow breathing, I will survive.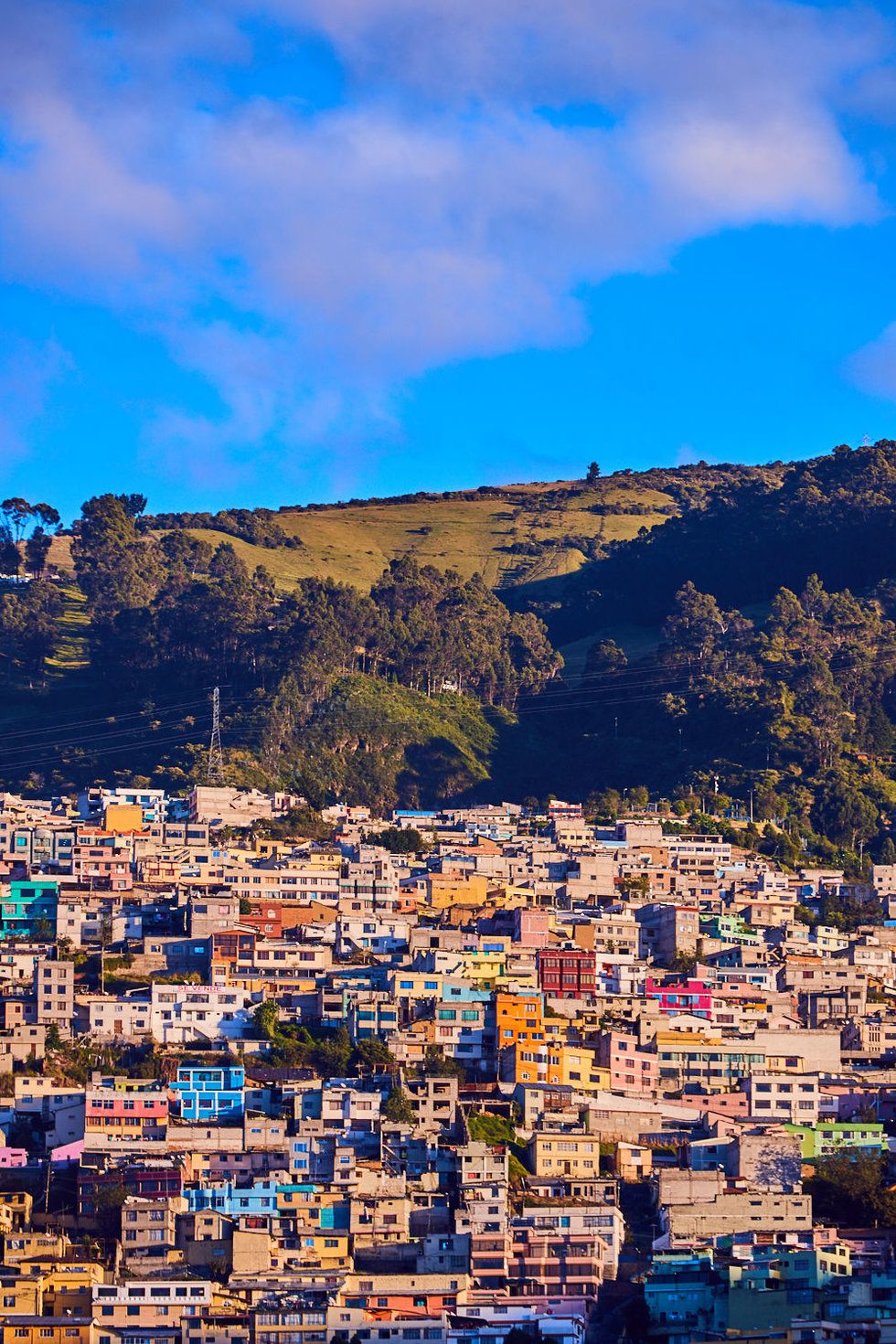 Colorful houses built into the hillsides of Quito's volcanic valley
We hop out at the summit, where we can see our breath in the cold morning air. From here, we hike, slowly, up a scruffy hillside to 13,287 feet, where we have a clear view of the city's contained sprawl, which snakes for 25 miles through the volcanic valley below. We keep our pace glacial to fight, you know, passing out, as more adventurous types surround us on all sides: above, hikers follow a trail that tops out at 15,406 feet, while below us hang gliders catch the wind.
"We feel OK now, but we have to remember to drink water," says Cifuentes. At the summit café, next to a seemingly empty oxygen bar where you can inhale flavored air, we rehydrate with coca tea and munch on melcochas, a sugarcane candy that's said to help with altitude sickness.
"We drive out of town, past miles of pastel houses tumbling Tetris-like down hillsides."
Now that we've gotten our sea legs—sky legs?—Cifuentes wants to show me an even more impressive landscape. We head south on the Pan-American Highway, which stretches nearly uninterrupted for 19,000 miles from Alaska to Tierra del Fuego. This part, which is perfumed by Tasmanian blue gum eucalyptus trees and skirts seven mountains, is called the Avenue of the Volcanoes. As we continue along, Cifuentes and my trusty driver, Lobo, tell me about their side gigs (her family has been making guitar strings since 1906; he works for a line of infused spirits named, appropriately, Los Volcanes). We pass fields of black-and-white Holsteins. "The beef from here is tough," says Cifuentes. "It's the Andes, so our cows have to be athletic."
We turn off the highway and onto an exceedingly bumpy road—staying upright in the back seat is an intense core workout—which opens up into an alpine tundra grassland, or páramo, where we find the thatch-roofed Hacienda el Porvenir, on the sprawling ranch and eco-resort operated by the tour company Tierra del Volcán. Inside, we warm up with empanadas and mugs of—what else?—canelazos in front of the fireplace. I'm here to hit the trails on horseback. But before I do, I refuel in the hacienda dining room with owner Jorge Pérez.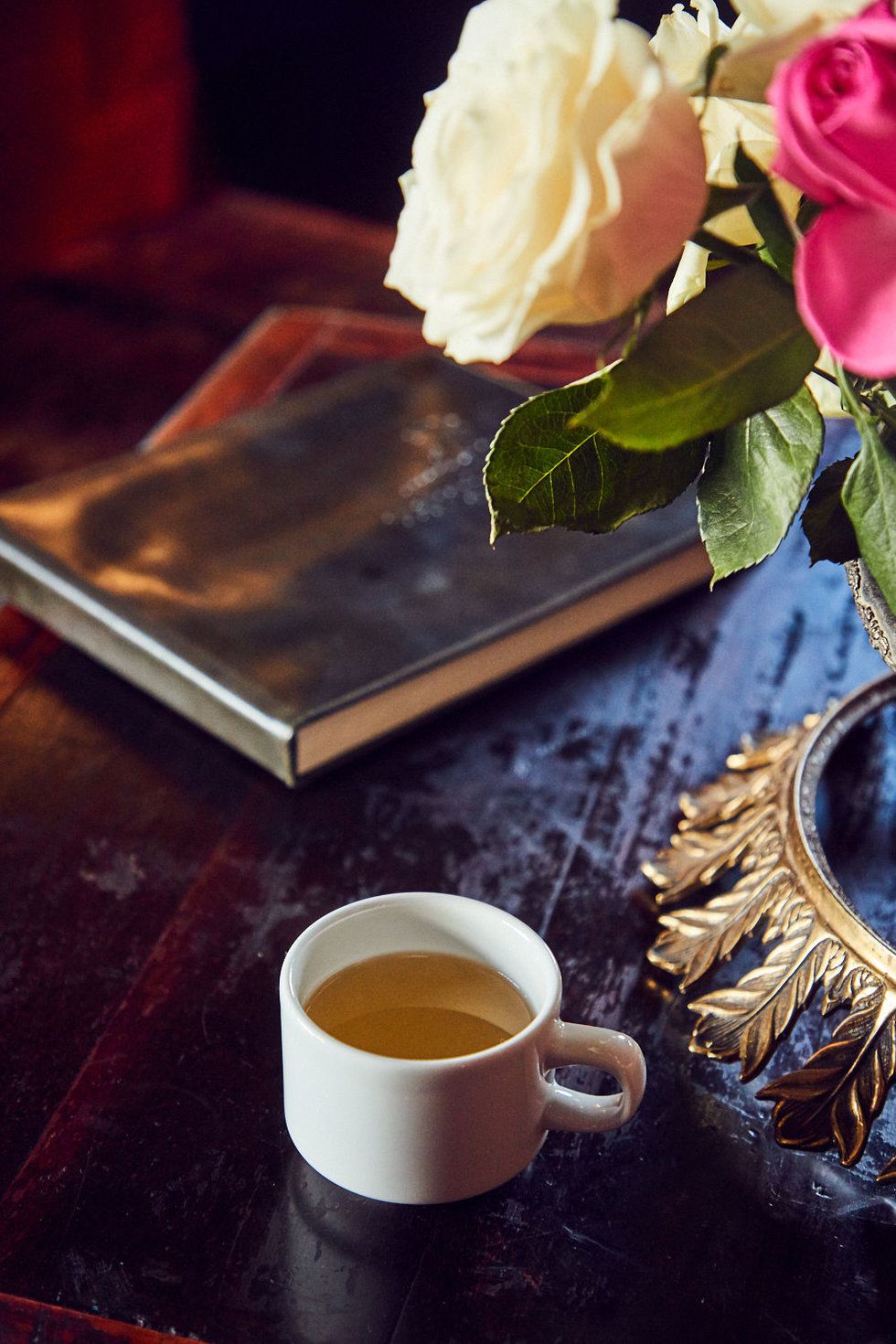 A mug of canelazo at Hacienda el Porvenir
"This hacienda was bought by my great-great-grandmother," says Pérez. "Porvenir translates to 'what's to come.'" This plot was first settled in the 17th century by Jesuits who raised sheep and llamas. When indigenous people started stealing their livestock, they brought in sleek black fighting bulls from Spain to ward off intruders. "They taught their most trusted employees to ride horses to handle the bulls," says Pérez. Thus, the high-Andean cowboy, or chagra, was born. "They became the first indigenous peoples to be allowed to ride horses in all of the colonies. Being a chagra became a status symbol."
After a lunch of Andean ceviche (marinated lupini beans and hearts of palm) and beef tenderloin with Andean huckleberry sauce and ishpingo (a dried flower that tastes like cinnamon), I'm ready to hit the trails. Laura, a volunteer who moved here from Seattle to escape American politics, looks me over as I head toward the paddock. "We have to get you to look like a chagra," she says. I step into a pair of chaps and slip on a wool poncho that's as heavy as one of those lead vests at the dentist. In place of a cowboy hat, I'm fitted (thankfully) with a helmet.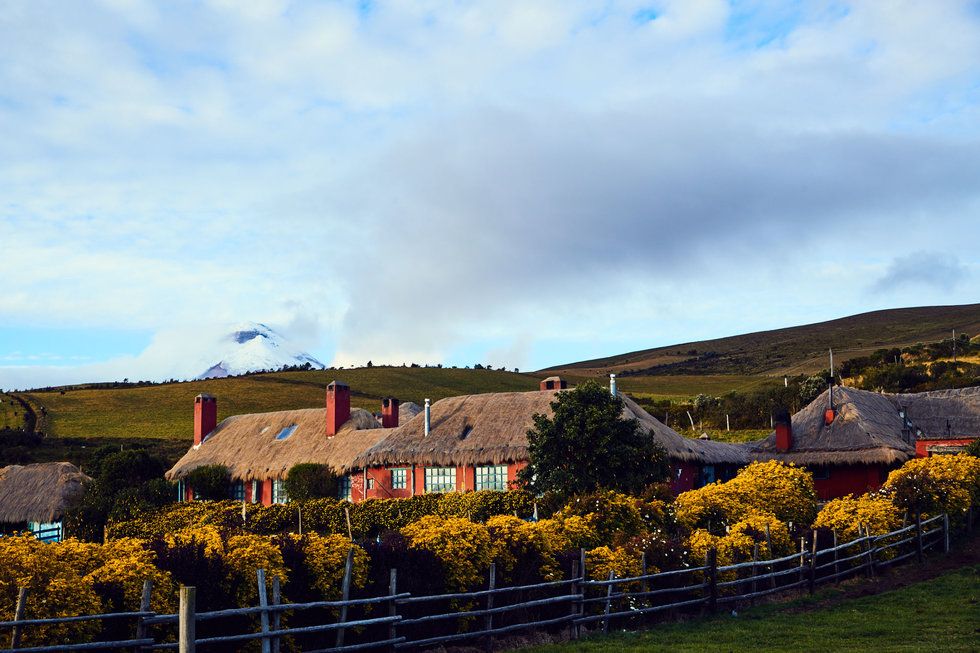 The thatch-roofed Hacienda el Porvenir
"What's his name?" I ask, stepping up to a criollo horse, a breed known for being compact but strong.
"Piquero," says my guide.
"What's that mean?"
"Booby."
"Booby?"
"Not that kind of booby." (Oh right, I think: the blue-footed kind.)
We trot out into the resort's nearly 2,500 acres of grassland in the shadow of Cotopaxi, a snowcapped active volcano.
As we pass through fields of llamas and fighting bulls, I look down to make sure my striped poncho doesn't have any bright red to antagonize them. Safe. My eyes are peeled for ultra-rare condors, but I keep getting tricked by carunculated caracaras, black birds of prey that, while beautiful, don't rank as high on my birdwatching bucket list. Piquero, unimpressed and docile, keeps stopping to munch the grass, the same scruffy brush that makes up the hacienda roof.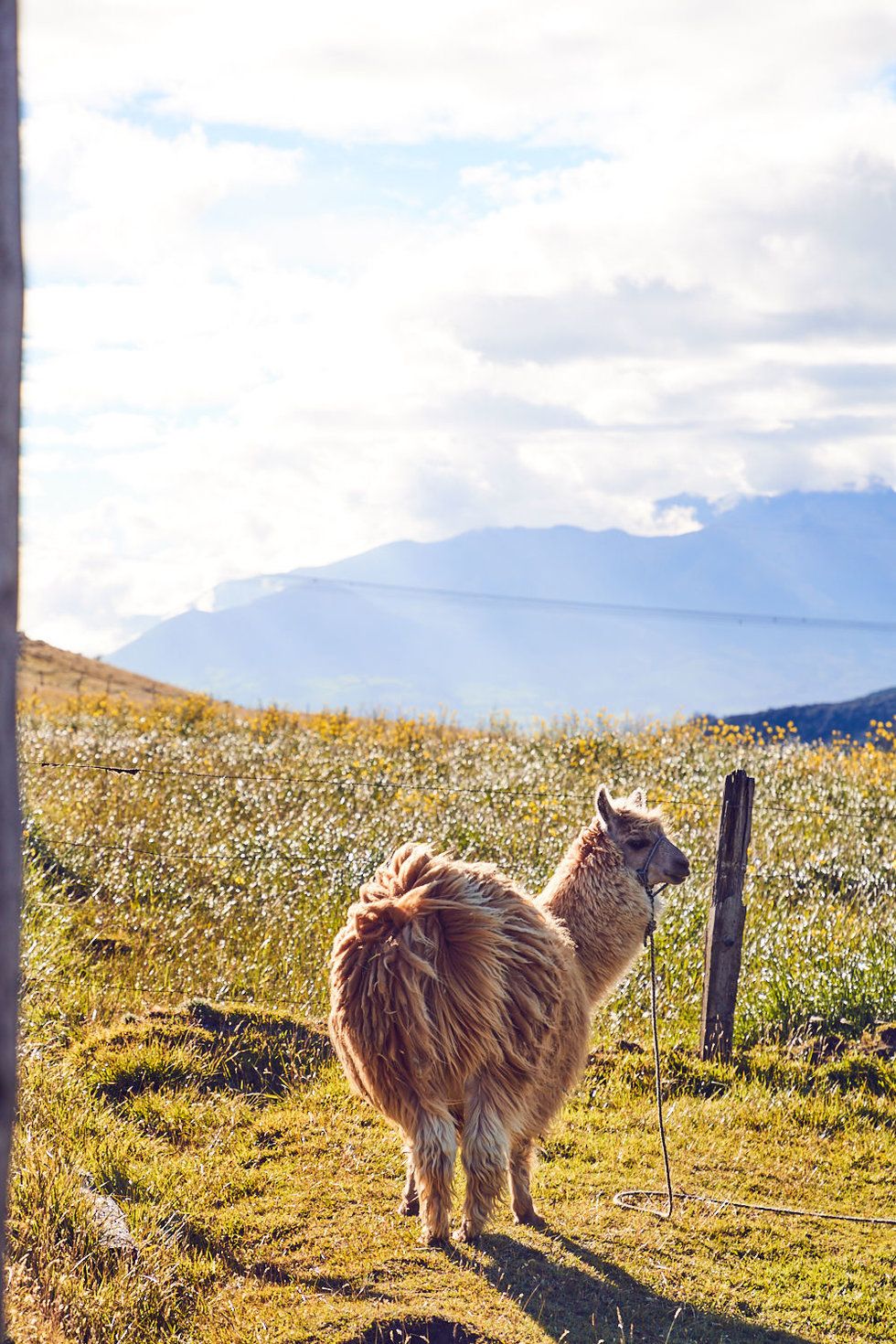 A llama at the Tierra del Volcán resort
Horseback riding sounds like a mosey in the park, but it's surprisingly tiring. (My poor thighs!) Back in Quito by sundown, I've more than earned my dinner at the impossibly lavish La Belle Epoque. This French-Ecuadorian restaurant, dripping with red velvet curtains and towering candelabras, sits on the second floor of the Hotel Plaza Grande, which occupies Pizarro's old digs on the Plaza de la Independencia. While the setting is Continental, the menu offers perfect takes on Andean classics. I order a sangria-like rosero, made with orange-blossom water, pineapple, lemongrass, strawberries, and hominy that's been sliced with a razor blade, Goodfellas-style. After a creamy locro de papa and roast pork with peanut salsa, the lights suddenly go out, and music starts blasting through the dining room.
From the kitchen emerges a cucurucho, a purple-robed figure in the cone-shaped hood that gives him his name (an outfit that would certainly not fly in America) . These penitent sinners usually walk through Quito's Old Town during Holy Week, carrying cripplingly heavy crosses, some whipping their own backs, some bleeding from the barbed wire they've wrapped around their bare chests. This cucurucho, however, is carrying a copper pan, foggy with dry ice, that holds three little scoops of ice cream: blackberry, guanabana, and fig and cheese. Should we repent for the sin of gluttony?
It feels like an oddly blasphemous interlude for a place with this much reverence for history and tradition and faith. But in a city with nearly a half millennium of history under its belt, it's not uncommon to see the old butt up against the new, the sacred against the profane, the Baroque against the bargain basement. I pull out my phone to try to capture the scene, but the lighting is all wrong and the music doesn't translate. This, I realize, is the kind of off-kilter experience you just have to sit back and enjoy, in a place where even the dessert course comes with a little something extra—la yapa.
Canada's largest city spreads out along the northwestern shore of Lake Ontario, and it's a dynamic, multicultural and inclusive experience like almost no other place on earth. Not only is Toronto a thriving living city,it's also become one of the world's truly must-visit destinations. Regularly ranked as one of the greatest places to live, Toronto is the cultural center of the country and home to the biggest events, the most pro sports and the greatest concentration of theaters and restaurants.
Recent decades have seen regular multi-million-dollar upgrades to the city's public spaces, with a slew of great museums, iconic architecture and the redevelopment of the now glittering lakefront adding to the city's appeal.

Add in an ever-growing number of world-class hotels, upbeat nightlife that runs from dusk until dawn and a vibrant and diverse culinary scene influenced by the eclectic makeup of the city's people. Bright and bustling, cosmopolitan and cultured, unpredictable and energetic, Toronto has become one of the greatest cities on earth.
What you see and where you go will depend on the length of your stay. A week is good, longer is better. But even a long weekend will give you a taste of 'The Six' — one of the city's many nicknames, reworked recently as 'The 6ix' by one of its most famous sons, Drake.

However long you stay, you can't hope to see it all. So, consider what follows a starting point for your first visit…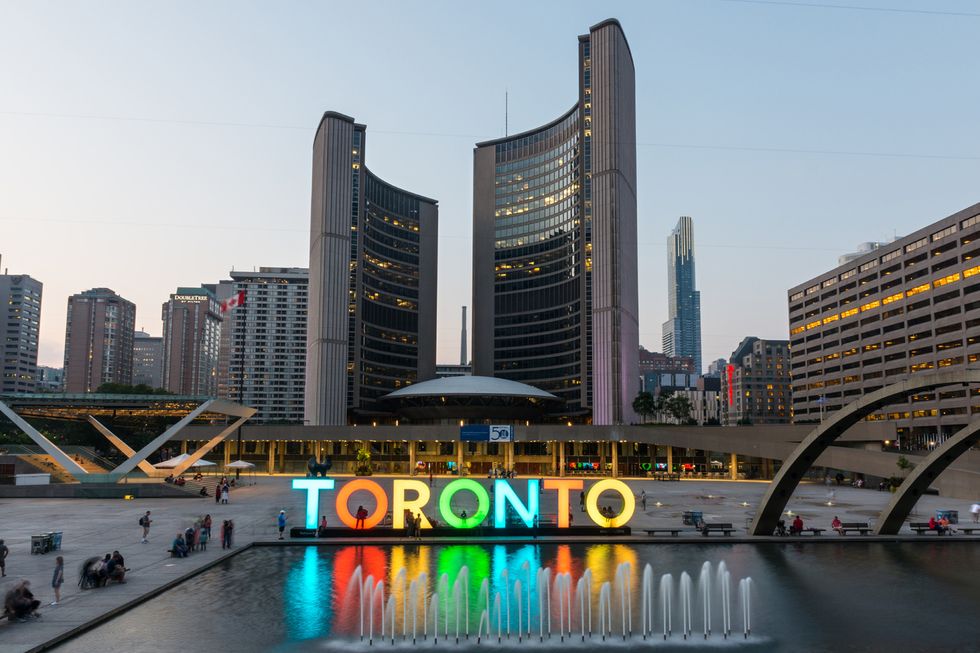 City Hall, Toronto
The checklist sites

No visit to The Six can be considered complete without ticking off several of Toronto's true heavyweight sights. All of the following are in or within easy reach of the city's compact, walk-able and very vibrant center.
The CN Tower is unmissable in every sense, a vast freestanding spire that looks down upon the city and takes its place as one of the 'Seven Wonders of the Modern World'. Head up for the city's best 360-degree views, or get your heart racing on the EdgeWalk — a journey around the circumference of the tower's main pod, 116 stories high and tethered by a harness.

Back on solid ground, Ripley's Aquarium is almost right next door to the CN Tower and is home to 16,000 aquatic animals and the Dangerous Lagoon. A moving sidewalk that whisks you through a long tunnel surrounded by sharks and stingrays is guaranteed to make your heart race all over again.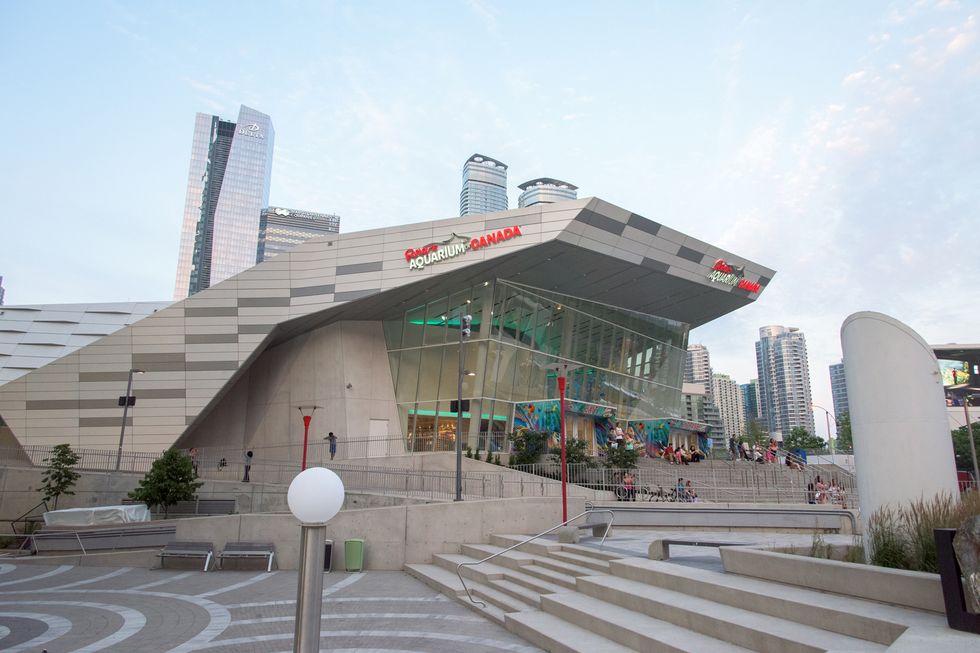 Ripleys Aquarium
Also close to the CN Tower is the Rogers Center, home to Canada's only baseball team, the Toronto Blue Jays. Visit on game day for the full experience, or take the stadium tour to go behind the scenes and through closed doors.

In a city of so many museums and galleries, the Royal Ontario Museum stands out. Not just because it's home to a world-class collection of 13 million artworks, cultural objects and natural history specimens, but as much because it hosts exciting Friday night events that include dance, drink and top DJs.

Two other must ticks include the Art Gallery of Ontario, which houses 95,000 works of art and is free for visitors under 25, and the Hockey Hall of Fame, which taps into Canada's national obsession in stunning depth.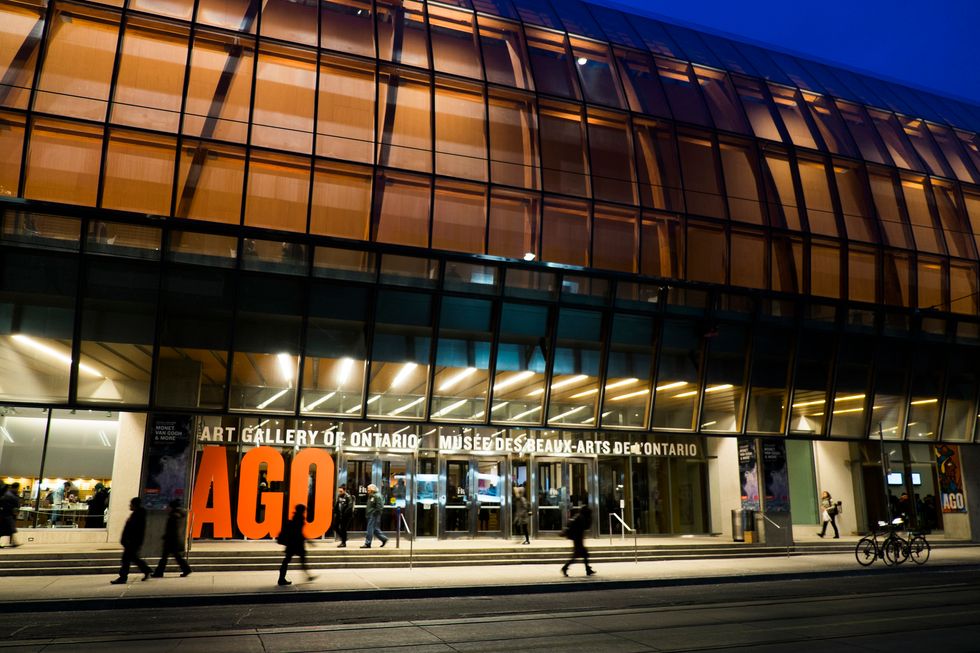 Art Gallery of Ontario
Casa Loma is a must-visit Gothic castle in the heart of the city. North America's only castle is filled with artworks and treasures from Canada and beyond, but its big pull is the network of hidden tunnels to explore as they stretch out beneath the city.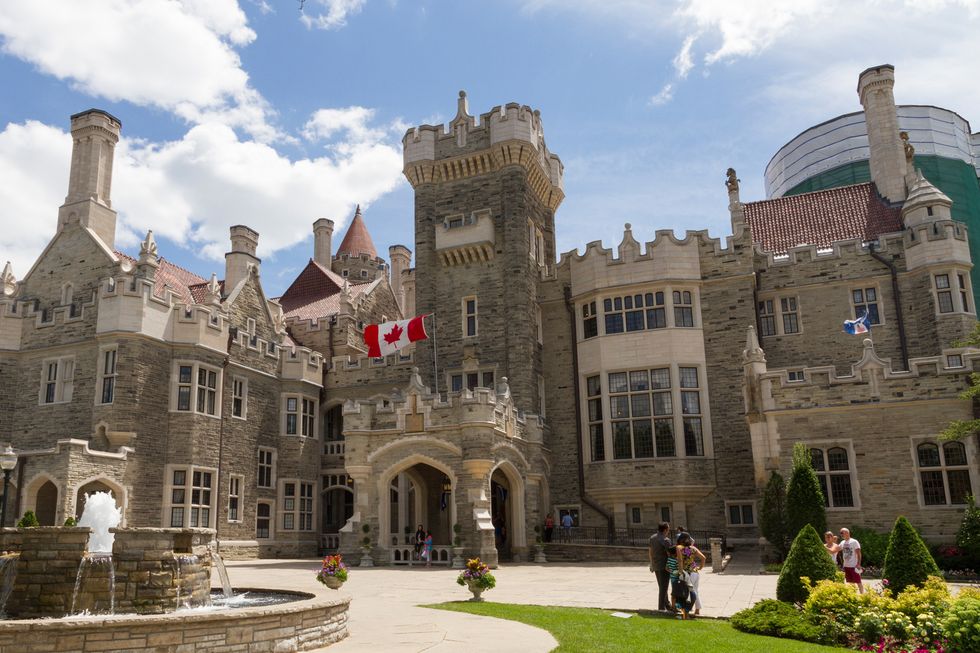 Casa Loma
Toronto's multi-cultural makeup is visible all across the city but reflected best in its remarkable culinary scene (see Where to eat and drink). The city's 'fresh and local' mantra is perfectly showcased at St. Lawrence Market, one of the world's greatest food experiences. Pay it a visit and grab a peameal bacon sandwich — a Canadian staple invented in Toronto and now considered the city's signature dish.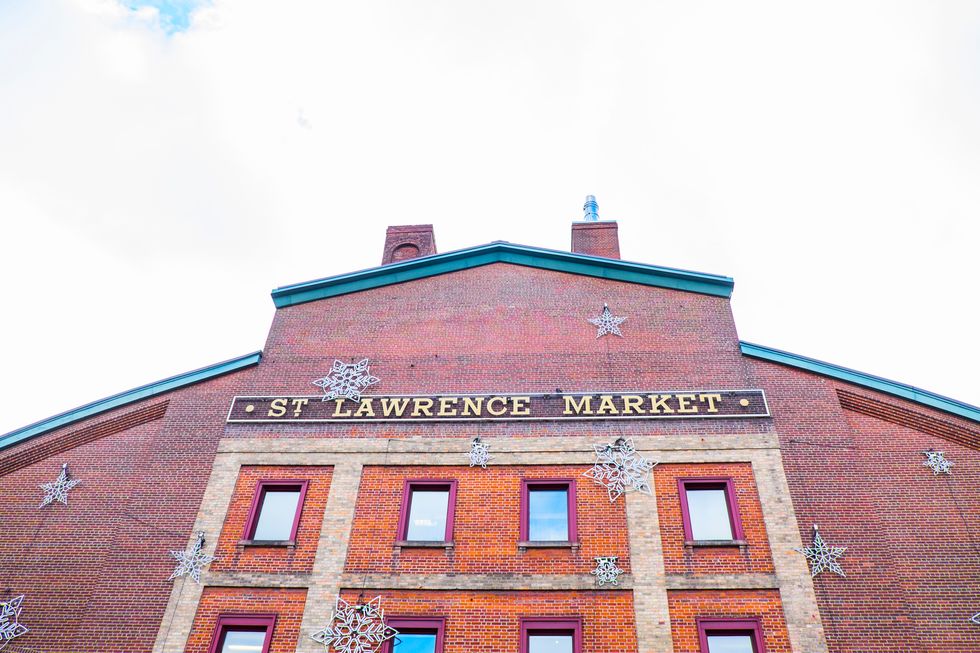 St. Lawrence Market
Afterwards, walk off the calories by wandering the historic cobblestone and car-free Distillery District. Once a vast whiskey distillery and an important spot during prohibition, historians mention that even Al Capone would visit the Distillery to load alcohol destined for the States[9] . This iconic landmark now distils creativity within the 19th century buildings now home to hip restaurants, bars, independent boutique stores, galleries and theaters. Visit in December for the Toronto Christmas Market.

Finally, don't even think about returning home without having had a picture taken with your head poking through an 'O' of the multicolored, 3D Toronto sign at City Hall — the most Insta-worthy location in a city of so many. You'll need to head there early in the morning to avoid the crowds.

If you stay long enough, take a ferry and hop across to Toronto Islands, a chain of 15 small islands in Lake Ontario just south of the mainland. They're home to beaches, a theme park and a breathtaking view of the city's skyline and will very happily fill a full day of your stay.
The bucket list
You absolutely cannot leave Toronto without having witnessed the power of the Niagara Falls and its hypnotic mist up close. Trying to visit the Falls from the States is a trip on its own, but it's almost non-optional when you're less than two hours away in Toronto. Take the trip, buy the T-shirt and tick off one of the world's must-see sights.
Explore like a local
Away from the sleek, gleaming towers of downtown lie many of Toronto's less obvious but no less essential attractions. West Queen West is Toronto's hippest neighborhood and artistic heart, a one-mile strip of very chic galleries, stores, restaurants and boutique hotels. Kensington Market is a fantastically chaotic neighborhood and perhaps the best example of the city's famous multiculturalism. It's not a market as the name implies, but a collection of independent shops, vintage boutiques, art spaces, cafés, bars and restaurants from every corner of the globe.
The Bata Shoe Museum is one of the city's quirkiest collections, an unexpectedly fascinating exhibit that retraces the 4,500-year history of footwear. And as you wander the city, you can't fail to notice that Toronto's walls are alive with graffiti. Take a free 90-minute walking tour through the back alleys of Queen Street West and down Graffiti Alley to gain a better understanding of the city's street art scene. If you visit during the sunnier months, escape the hustle by heading just east of the center to High Park, the green heart of the city where forests, walking trails, picnic spots and even a zoo await you. Ideal to unwind after a long day of urban adventures.
The essentials
When to go With the sun shining, May through October is a great time to visit, but the city is alive through all four seasons. The Spring and Autumn months are ideal as the humidity and visitor numbers are lighter, while Toronto comes alive through the colder months through a wide array of winter celebrations. One of the most spectacular is the Aurora Winter Festival, a six-week celebration that sees the Ontario Place, West Island transformed into four mystical worlds. Whichever season you choose, plan to stay for at least five nights to get a true flavor of the city.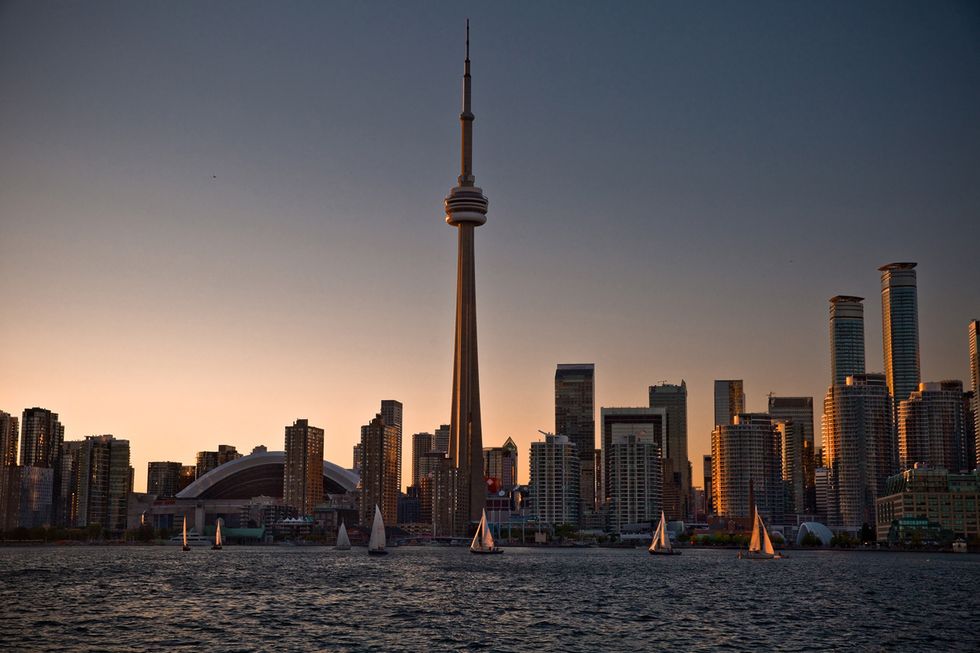 Toronto skyline view
Where to stay To be at the heart of most of the attractions you'll want to see, aim for downtown. One of the best options is the Marriott City Center, not only because it's located right next to the CN Tower but also because it's attached to the iconic Rogers Center where the Toronto Blue Jays play and countless concerts and popular events are held.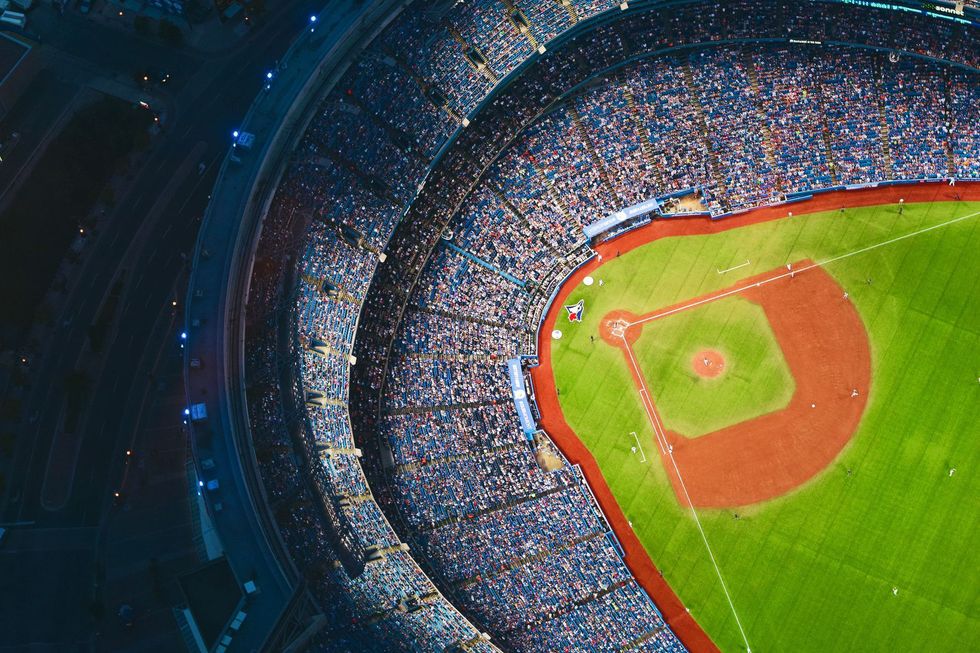 Toronto Blue Jay stadium
Opt for a Stadium room and you'll look out onto the field. If you want to experience Toronto's non-stop nightlife, the Entertainment District is the place to be. If you're looking for a luxury experience, discover Canada's first St. Regis hotel in the heart of downtown.

Where to eat and drink Nowhere is Toronto's incredible diversity more evident than in its food scene — taste Toronto and you're tasting the world. The city is brimming with restaurants and cafés serving everything from high-end fine dining to comfort food from an informal neighborhood joint — plus every option imaginable in between.

For fine dining, consider Alo, Canis and Edulis. Book a table at Canoe, Lavelle, The One Eighty or 360 at the CN Tower and you're guaranteeing a view as spectacular as the food. Or experience the city's remarkable fusion food at DaiLo (French-Cantonese), El Catrin (Mexican-French) and the unexpected mashup of Rasta Pasta (Jamaican-Italian).
The above suggestions don't even scratch the surface of a food scene to rival any city on earth, with options to suit every taste and any budget.
How to get around Toronto is perfect to explore on foot or via a growing network of cycle routes. For a quicker journey, buy a Presto card to use the TTC, Toronto's subway, streetcar and bus system.

How to get there Fly into Toronto Pearson International Airport (YYZ) with United and you're around 15 miles west of the city center. The most comfortable route in is via the Union Pearson Express, which runs every 15 minutes and gets you downtown in 25 minutes ($13).The TTC is a cheaper option at under $5, but it can take an hour and a half and involves a number of transfers, while a taxi will take around 30 minutes and cost $45.
United flies to Toronto from numerous U.S. cities including our Hub city locations. Book your trip via united.com or by downloading the United app.



Following the devastating wildfires in Australia and powerful earthquakes that shook Puerto Rico last week, we're taking action to make a global impact through our international partnerships as well as nonprofit organizations Afya Foundation and ADRA (Adventist Development and Relief Agency).
Helping Puerto Rico recover from earthquakes
Last week, Puerto Rico was hit with a 5.2 magnitude earthquake, following a 6.4 magnitude earthquake it experienced just days before. The island has been experiencing hundreds of smaller quakes during the past few weeks.
These earthquakes destroyed crucial infrastructure and left 4,000 people sleeping outside or in shelters after losing their homes. We've donated $50,000 to our partner charity organization Airlink and through them, we've helped transport disaster relief experts and medical supplies for residents, as well as tents and blankets for those who have lost their homes. Funding will go towards organizations within Airlink's partner network, which includes Habitat for Humanity, Mercy Corps and Americares, to help with relief efforts and long-term recovery.
Australian wildfire relief efforts

Our efforts to help Australia have inspired others to make their own positive impact. In addition to teaming up with Ellen DeGeneres to donate $250,000 and launching a fundraising campaign with GlobalGiving to benefit those impacted by the devastating wildfires in the country known for its open spaces and wildlife, our cargo team is helping to send more than 600 pounds of medical supplies to treat injured animals in the region.
Helping us send these supplies is the Afya Foundation, a New York-based nonprofit that seeks to improve global health by collecting surplus medical supplies and delivering them to parts of the world where they are most needed. Through Airlink, the Afya Foundation will send more than $18,000 worth of materials that will be used to treat animals injured in the Australian fires.
These medical supplies will fly to Melbourne (MEL) and delivered to The Rescue Collective. This Australian organization is currently focused on treating the massive population of wildlife, such as koalas, kangaroos, and birds, that have had their habitats destroyed by the recent wildfires. The supplies being sent include wound dressings, gloves, catheters, syringes and other items that are unused but would otherwise be disposed of.
By working together, we can continue to make a global impact and help those affected by natural disasters to rebuild and restore their lives
Australia needs our help as wildfires continue to devastate the continent that's beloved by locals and travelers alike. In times like these, the world gets a little smaller and we all have a responsibility to do what we can.
On Monday, The Ellen DeGeneres Show announced a campaign to raise $5 million to aid in relief efforts. When we heard about Ellen's effort, we immediately reached out to see how we could help.
Today, we're committing $250,000 toward Ellen's campaign so we can offer support now and help with rebuilding. For more on The Ellen DeGeneres Show efforts and to donate yourself, you can visit www.gofundme.com/f/ellenaustraliafund
We're also matching donations made to the Australian Wildfire Relief Fund, created by GlobalGiving's Disaster Recovery Network. This fund will support immediate relief efforts for people impacted by the fires in the form of emergency supplies like food, water and medicine. Funds will also go toward long-term recovery assistance, helping residents recover and rebuild. United will match up to $50,000 USD in donations, and MileagePlus® members who donate $50 or more will receive up to 1,000 award miles from United. Donate to GlobalGiving.
Please note: Donations made toward GlobalGiving's fund are only eligible for the MileagePlus miles match.
In addition to helping with fundraising, we're staying in touch with our employees and customers in Australia. Together, we'll help keep Australia a beautiful place to live and visit in the years to come.
Scroll to top