Three Perfect Days: Quito
Quito is a breathtaking city—but not in the usual sense. Sure, the Ecuadorian capital is gilded and gorgeous, a painstakingly preserved jewel box of Baroque excess that was named one of the first UNESCO World Heritage Sites in 1978. But, at 9,350 feet above sea level, the world's second-highest capital (after La Paz, Bolivia) is also a place that literally takes your breath away. Not helping matters are the gasp-inducing natural surroundings that cluster on either side of the Equator: the alpine páramo grasslands, the snowcapped volcanoes, the misty cloud forests, the swarms of buzzing hummingbirds. So inhale deeply, and dig in.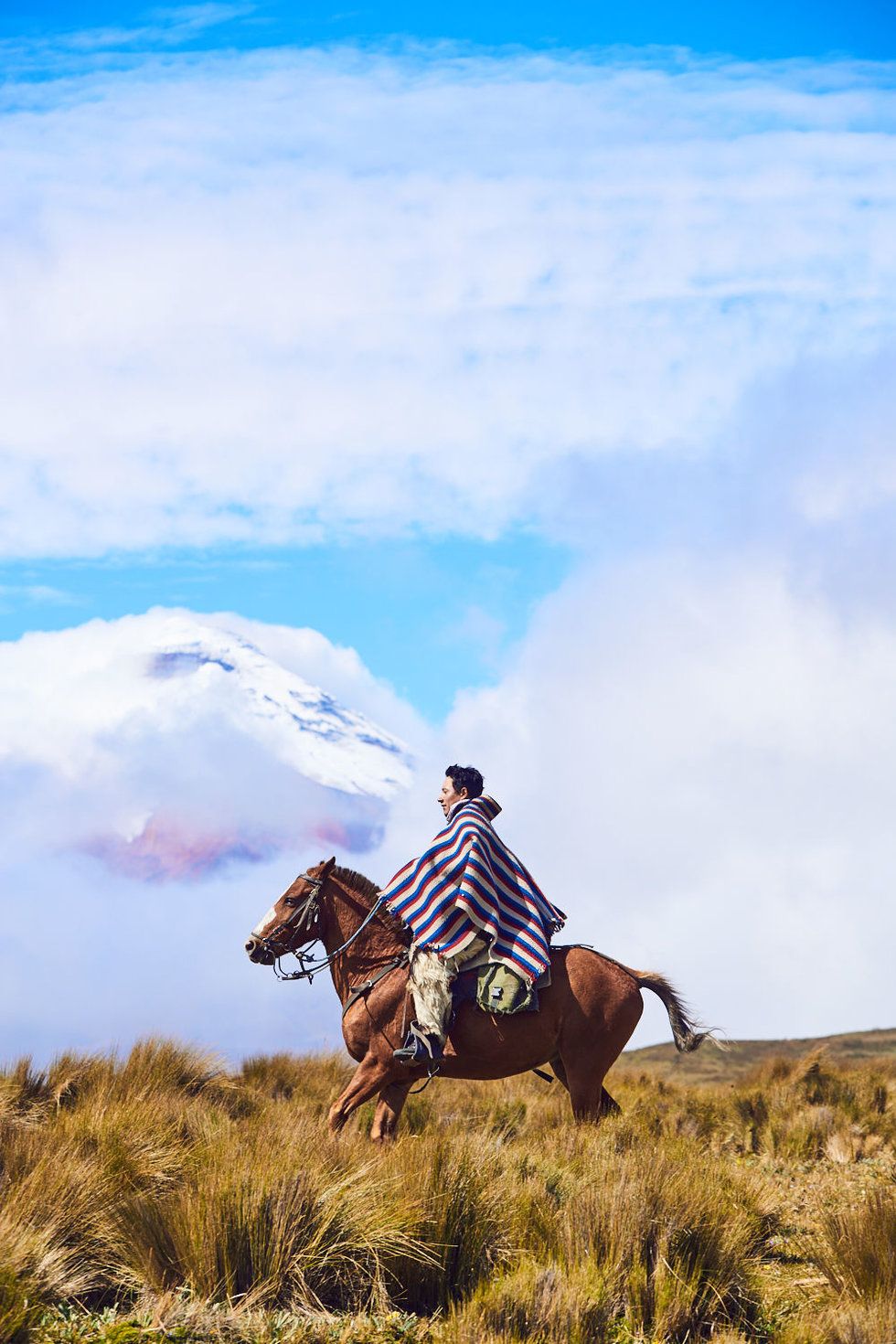 A chagra cowboy in the shadow of the volcano Cotopaxi at Tierra del Volcan
Day 1:
Exploring gold-dipped churches and trying on misnamed hats
Tucked as they are into a volcanic valley, the cobblestone streets of Quito rise and fall like stock charts. Having caffeinated with Ecuador-grown coffee at Café Galletti—an industrial-chic hipster haunt inside a former Art Nouveau theater—I tramp up a steep avenue to the Basílica del Voto Nacional for one of the city's best views. If you squint, you might think you're looking at a buttressed behemoth from France or Germany. But look closer at those gargoyles flanking the facade. They're marine iguanas, crocodiles, howler monkeys, armadillos, pumas, tortoises…
Construction began in 1892, but the church is still technically unfinished; I can't help but feel this menagerie trapped in stone is God's way of saying, "Why go on an expensive cruise to the Galápagos when you can donate to the building fund instead?" But be warned: According to local legend, the world will end when the church is finally completed.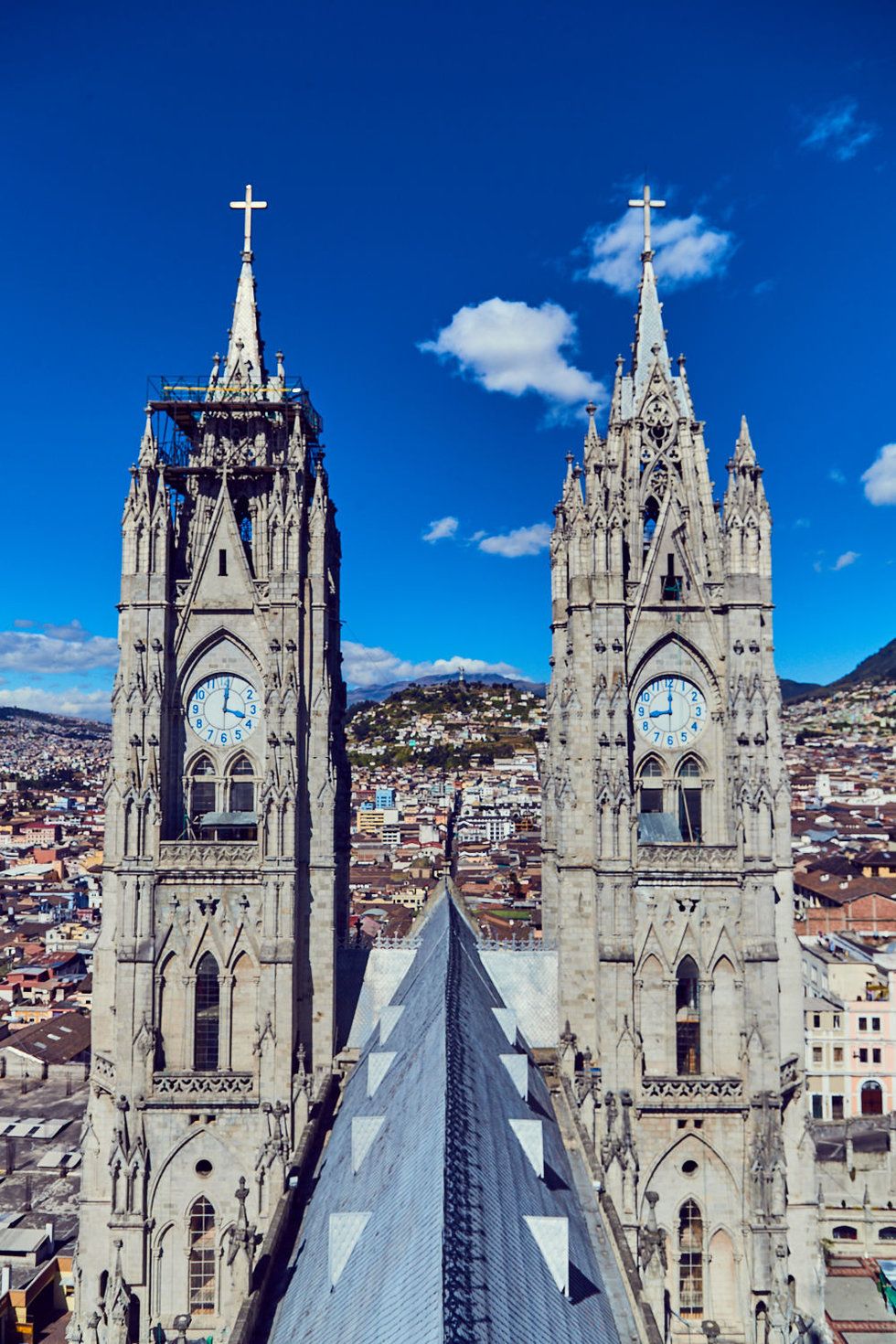 The clock towers of the Basílica del Voto Nacional
From inside the church tower I can see the whole historic center, clear to El Panecillo ("bread roll") hill and its 135-foot-tall Virgin of Quito, an aluminum-winged Madonna meant to represent the biblical Woman of the Apocalypse. Despite these doom-and-gloom bookends, the city between is full of life, perhaps nowhere more than at the Mercado Central. A sleek 1950s Art Deco building with abundant sunlight, the market sticks out amid its Baroque-heavy surroundings.
Inside, as elderly quiteña women dance to a folk band, I meet Miguel Xavier Monar, an Ecuadorian chef who has been spreading the gospel of his native cuisine at restaurants in Madrid and Shanghai. It's early, but we grab plastic cups of fortifying canelazo, a hot and dangerously delicious concoction of aguardiente (sugar cane liquor), cinnamon, and naranjilla (a tart fruit related to the tomato). "This drink," says Monar, "is the party of Quito."
"Tucked as they are into a volcanic valley, the cobblestone streets of Quito rise and fall like stock charts."
While alta cocina is on the rise in cities like Lima and Bogotá, Monar says people in Quito are resistant to changing tastes. "We've been eating the same foods for maybe 500 years," he quips. "The problem of Ecuadorian gastronomy is that we are a very, very, very traditional country. Ecuadorians don't like new tastes. If a recipe has oregano and I put in parsley, people say, 'This is not Ecuadorian food.'"
We wander, chatting with vendors and scooping up dishes that may have been eaten in these parts back when Francisco Pizarro and his conquistador pals lived down the block: llapingachos, cheese-stuffed potato cakes; offal-filled menudo soup; and fritada, fried pork belly with mote (hominy). Monar tells me about la yapa, an Andean practice that comes from the Quechua word for "a little extra." So, for instance, when we order our fritada, it comes with la yapa: a plastic baggie full of extra pork.
At a rickety table, we top our fritada with little spoonfuls from a bowl of ají, a hot sauce as ubiquitous as salt and pepper. "If you don't have ají on the table, it's a disaster," says Monar. "You'll have a civil war." We wash everything down with a fresh-pressed juice that contains a kitchen sink assortment of alfalfa, naranjilla, malt beer, quail eggs, raspberries, and coconut—though this juice-mad city's most fashionable option, according to Monar, is energizing, antioxidant-rich guanabana. (The juice, of course, comes with a Dixie cup–size yapa.)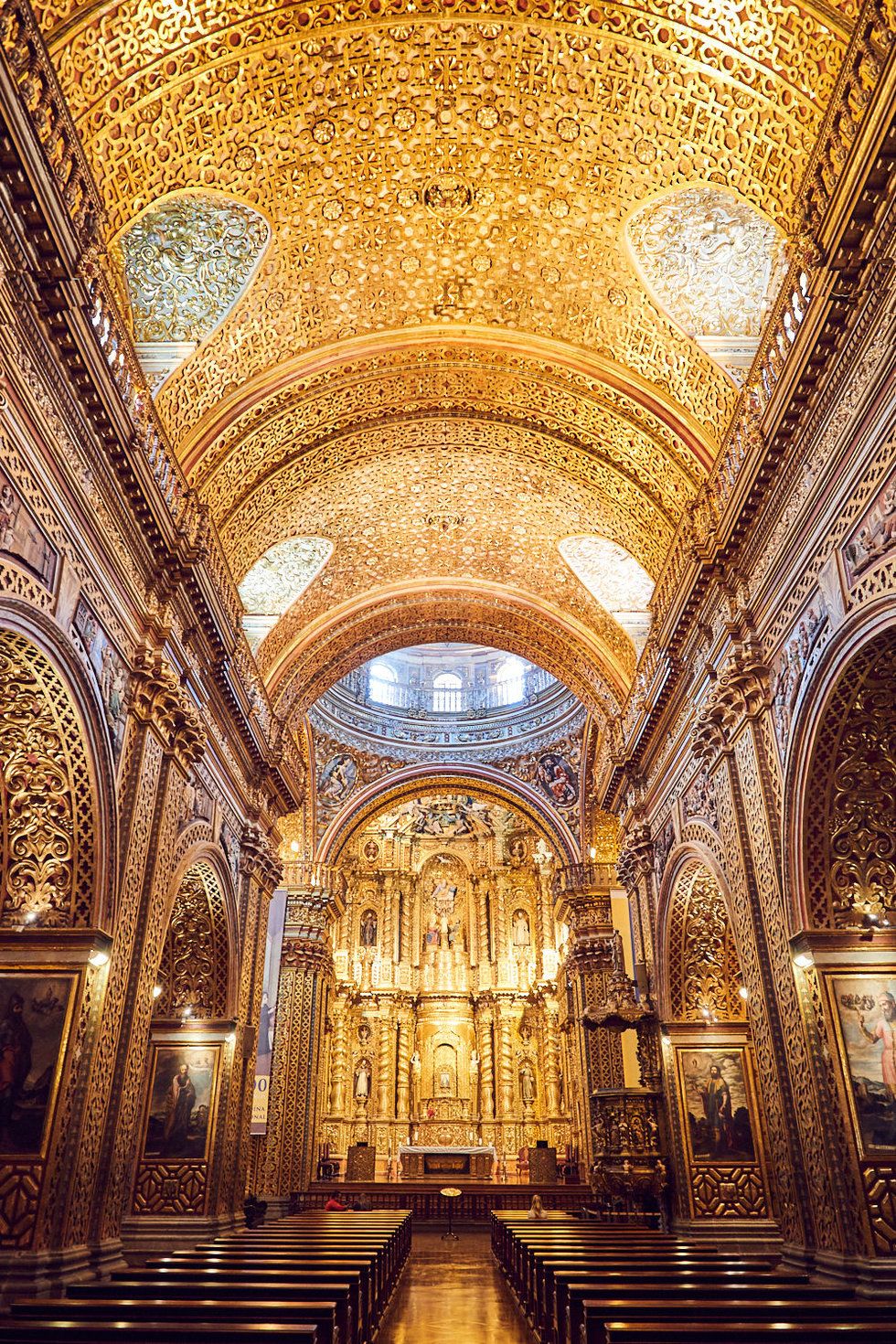 The gilded interior of La Compañía de Jesús church
We stroll past Lincoln Log piles of cow femurs and creamy mounds of mapahuira, pork lard studded with crisp bits from the bottom of the roasting pan. Next up are heaps of what Monar calls "ancestral magic herbs," many grown in the Amazon, that the vendor can prescribe based on your needs. "If you need a husband, if you hate your boyfriend, if you're opening a new business, if you have a bad stomach, if you have a pain in your head," he rattles off. "Maybe it's not real, but all of the Ecuadorians believe it."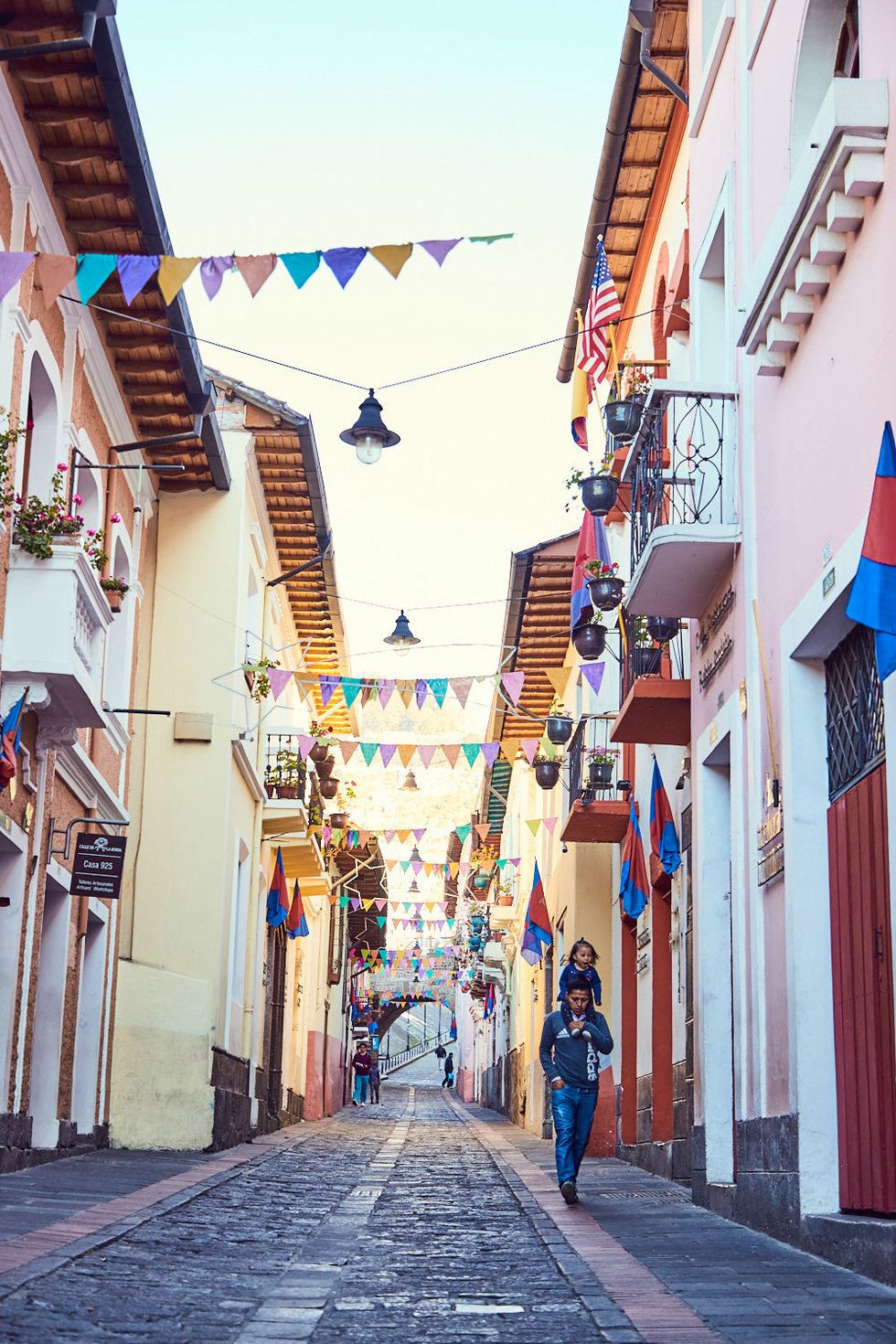 Calle La Ronda
I say goodbye to Monar and duck into the green-domed La Compañía de Jesús church, a Baroque-Moorish masterpiece slathered with more than 100 pounds of gold leaf. For Baroque-inspired ornamentation on a smaller scale, I head to the handicrafts workshops on curving Calle La Ronda. In one crowded nook, José Luis Jiménez is carving bargueños, which look like chests of drawers reimagined by M.C. Escher. Dating back to the colonial era, these boxes contain hidden doors inside hidden doors inside hidden doors; an unassuming, shoebox-size piece of furniture can hide dozens of compartments. Next, I grab a cone of canelazo ice cream—I want to sneak this drink into every meal now—at the sunny Dulce Placer Heladería, which serves locally inspired flavors, such as morocho (drinkable corn pudding) and Zhumir Pink (essentially a watermelon wine cooler that's popular among Ecuadorian teens).
"I duck into La Compañía de Jesús church, which is slathered with more than 100 pounds of gold leaf."
I continue to Humacatama Sombrería, where artisan Luis López shows me how to craft Ecuador's most famous—and misunderstood—export: the misnamed Panama (or toquilla) hat. Teddy Roosevelt was photographed wearing one of these wide-brimmed straw hats while visiting the canal construction site, which boosted their popularity, but make no mistake: These hats are an Ecuadorian creation, with a spot on the UNESCO Intangible Cultural Heritage List to show for it.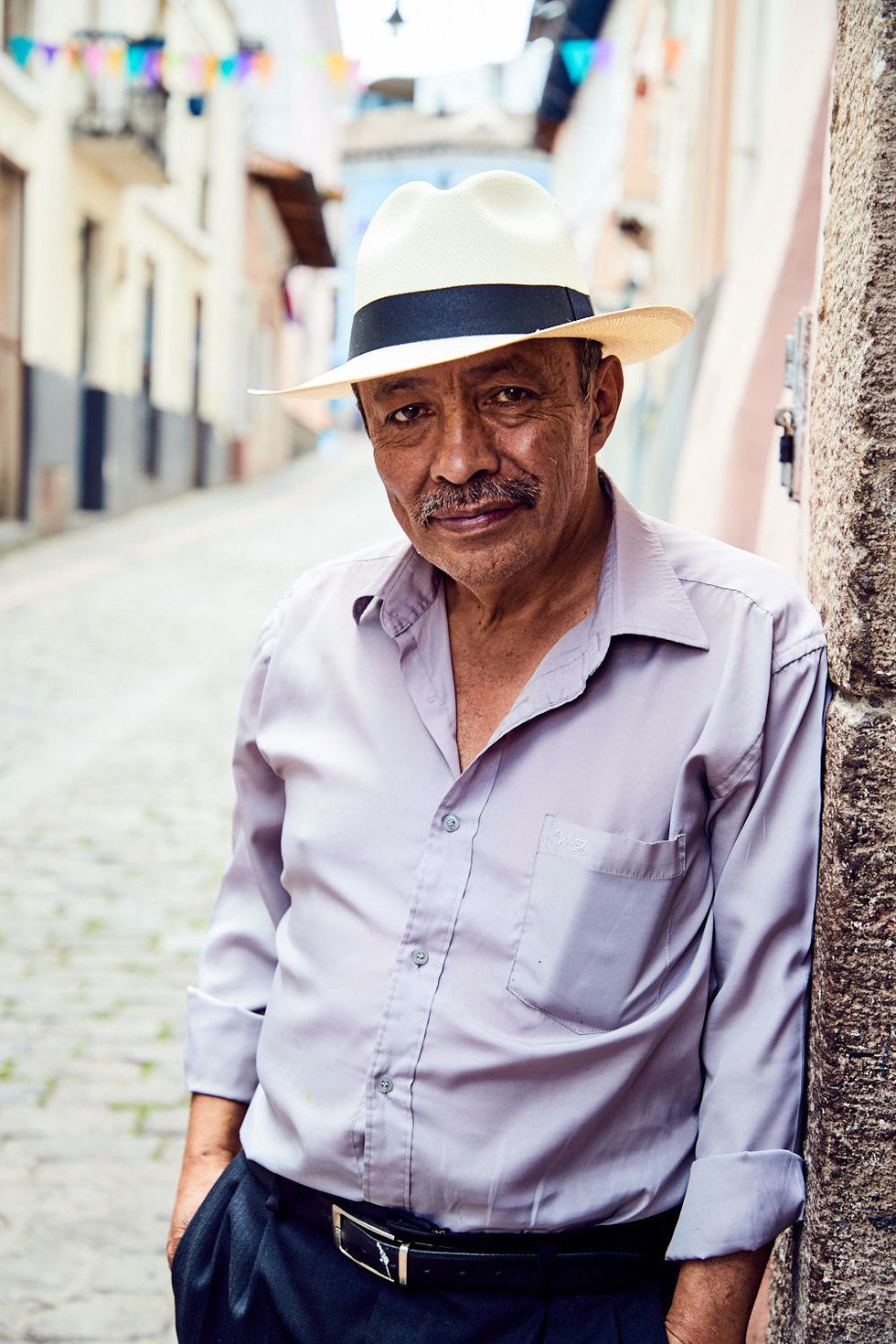 Humacatama Sombrería hatmaker Luis López
López strips the fibers of a jipijapa palm frond with his fingernails. The thinner the strands and tighter the weave, the finer the hat. "You don't get any light through the hat," he says in Spanish, holding one of his creations up to the window. "It takes a year to make the finest hats. But we need to start calling them Ecuador hats!" The highest-quality ones, he tells me, can go for $25,000. It should be noted that these popular souvenirs aren't often seen around town. The preferred head covering, especially among the indigenous women selling fruit and textiles on street corners, are felt fedoras, often decorated with a jaunty plume.
Quito's historic center seems delightfully trapped in time, but there's a vibrant modern city beyond the cobblestones. I hop a cab to Quitu Identidad Culinaria, where chef Juan Sebastián Pérez's tasting menu takes me to the far reaches of this biodiverse country: from the Amazon, paiche, a man-size, air-breathing fish, served with hearts of palm and passion-fruit juice; from the coast, cassava with shrimp and sweet crab; from the Andes—or the petting zoo?—a 72-hour sous-vide llama, an indigenous meat source that's not especially common here in the capital. (For the record, it's very lean and lamb-like.) My three dessert courses include, among other flavors, 72-hour cold brew coffee, a 70 percent chocolate terrine, and both a meringue and a carbonated drink made from guayusa, the highly caffeinated leaf of an Amazonian holly tree…
Which means that, despite the long day, I have plenty of energy for a nightcap on the roof of the Hotel Carlota, a sustainably designed property in a 1905 mansion that was the former HQ of Ecuador's conservative party. After a couple of cocktails, however, I don't even need to count llamas before nodding off.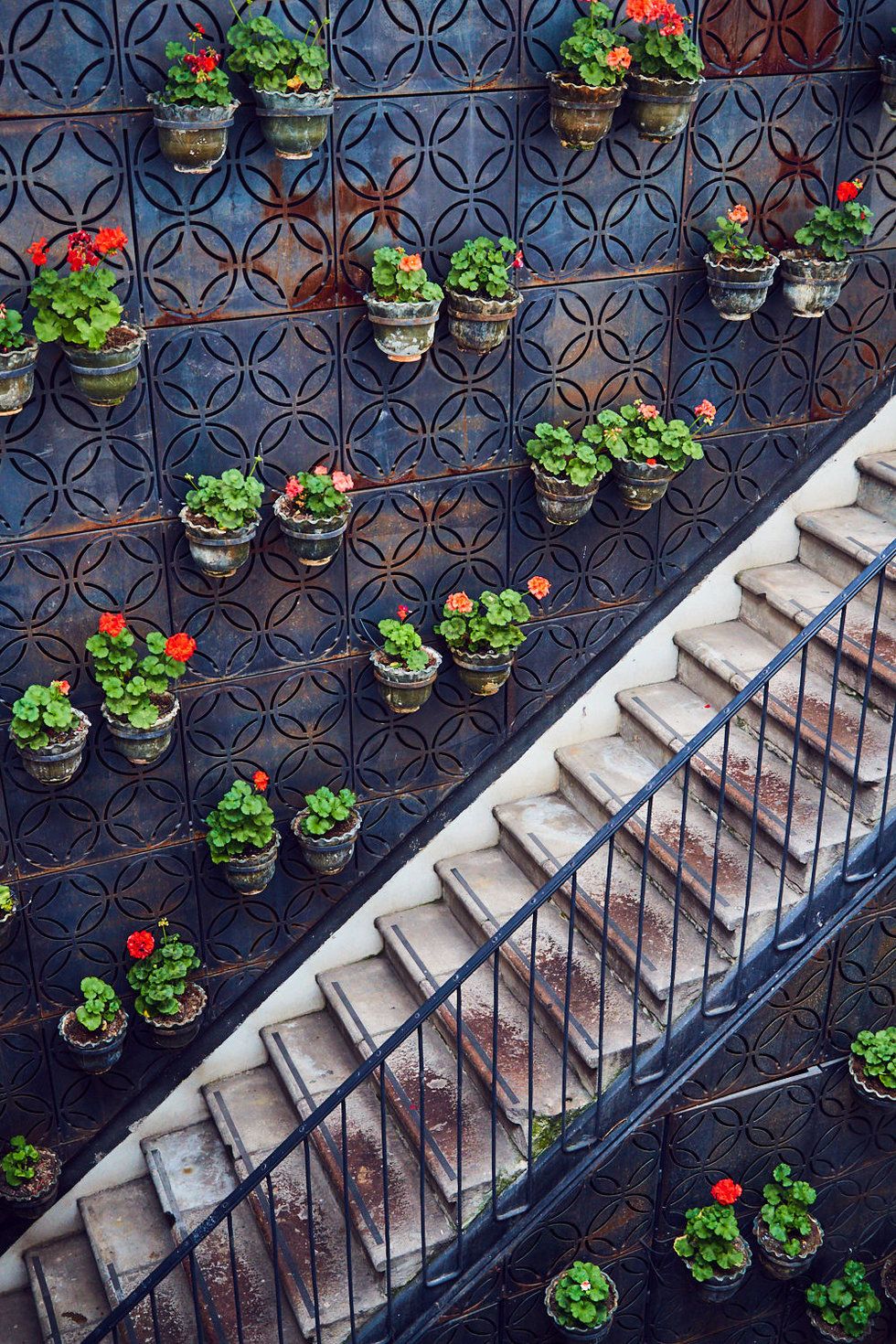 The staircase at the Hotel Carlota
Day 2:
Straddling the Earth, stalking hummingbirds, and sipping cervezas
Ecuador's star attraction is right there in the name. This is the middle of the world, and Quito practically shouts its location from the rooftops. My goal for the morning is the nation's most obligatory tourist stop: the photo op at the Equator, about 15 miles north of the Old Town, where every grinning backpacker must, by law, bestride the narrow yellow line like a selfie-ing Colossus. I've hired a driver for the day, Jairo Lobo, who whisks us out of town, past miles of pastel houses tumbling Tetris-like down hillsides, to the roadside restaurant Rincón Quevedeño #2, where we have tigrillo, a coastal breakfast of mashed green plantains with stewed pork, queso blanco, and a fried egg, along with frothy blackberry juice.
Fully carbo-loaded, I pay the $2 entry fee to the Mitad del Mundo monument, a 98-foot-tall obelisk topped with a globe that looks a bit like the Daily Planet building. The monument was built in 1982 to commemorate an 18th-century French mission to find the true Equator, but it hides a dirty little secret: The honest-to-goodness 0 degrees latitude is 787.4 feet away.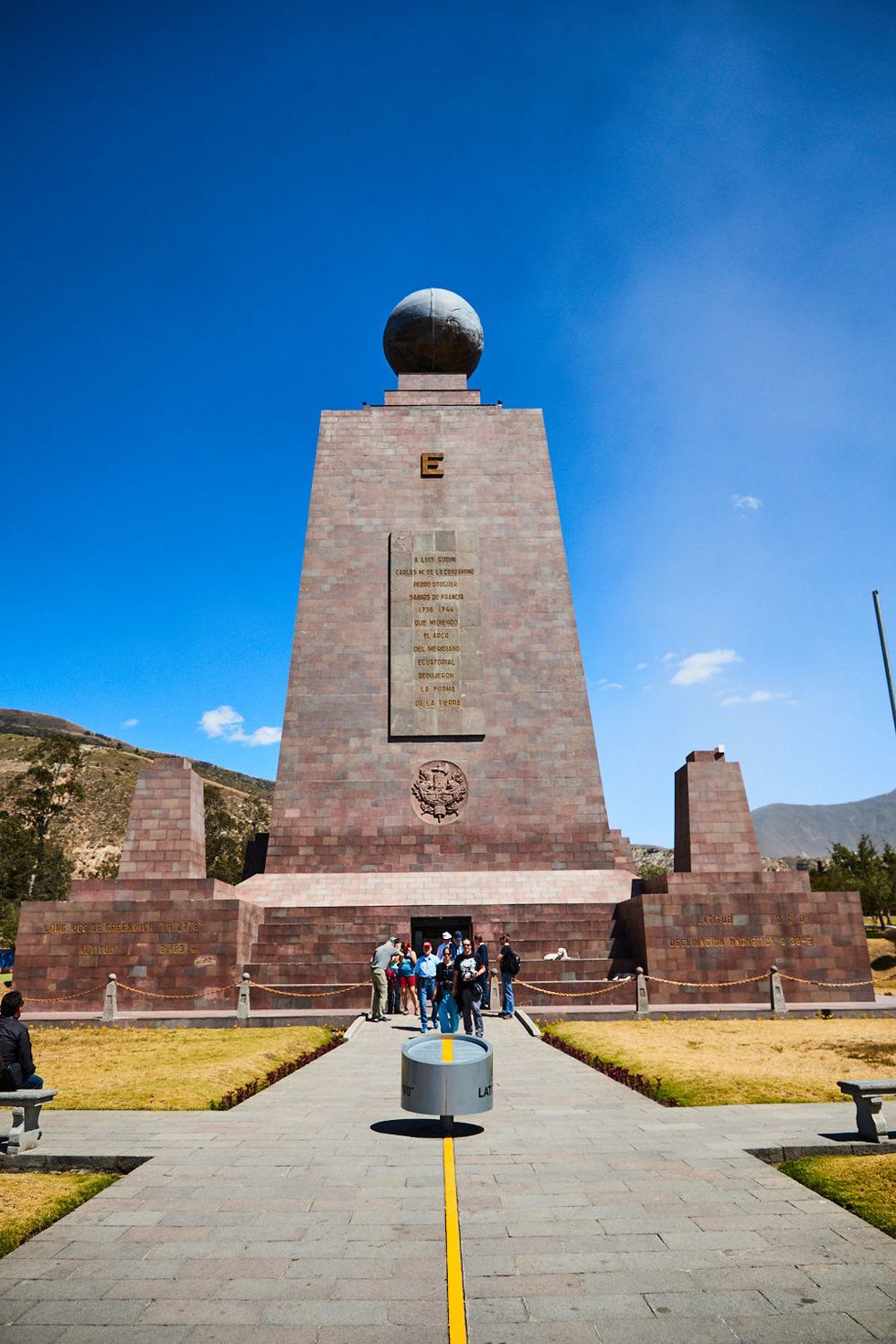 The Mitad del Mundo monument near the Equator
Down the road sits the scrappy Intiñan Solar Museum. I join a tour that's already in progress, as the guide shows off a case holding a 180-year-old shrunken witch doctor's head that looks like a ham hock in a wig. "They stopped the practice around the 1980s and '90s, because it was turning into a mafia," he says. "They used to sell the heads for $80,000. If it was a shaman, you could pay even more." As we shuffle on to the next exhibit, a Chinese priest in a robe and white collar next to me whispers, with concern in his voice, "But why has it gotten so small?"
The museum's centerpiece is, naturally, the centerpiece of the world. Here, on the magnetic Equator, which was calculated by army GPS 17 years ago, reality operates slightly differently. To prove it, the museum has set up a series of experiments that feel like a school science fair but still earn their oohs and aahs. Water pours straight down a drain without spinning! I can't heel-toe walk along the line with my eyes closed without tipping over! I can balance a raw egg on the head of a nail! Whether these demonstrations are real or show—the mythbusting Snopes.com has some strong opinions on the matter—I leave with a smile and a handwritten egg-balancing certificate.
Lunch is 15 minutes away, at Hotel El Cráter, a pumice stone building perched on the lip of the Pululahua volcanic crater, one of only two populated calderas on the planet. I grab a seat by the window and watch fluffy clouds barrel like freight trains through the valley below. We're (very) close to the Equator, but that doesn't mean it feels like the tropics. High up here in the Andes, the food skews hearty. I order locro de papa, an achiote-dyed potato soup served with shredded cheese, hunks of buttery avocado, and maíz tostada—corn kernels that crunch like the ones you find at the bottom of a bag of microwavable popcorn.
"Here, on the magnetic Equator, reality operates slightly differently. I leave with a handwritten egg-balancing certificate."
Past Hotel El Cráter, the road shifts; mist envelops the shoulders as we descend into the Mindo Cloudforest, a high-altitude jungle that attracts whitewater rafters and zipliners. We pull into the Alambi Reserve, a sanctuary for more than a dozen hummingbird species. I grab a seat on the porch and look out on a yard lined with feeders and flowers that—there's only one word for it—swarms with birds. They come in droves, buzzing, dive-bombing, darting, slurping sugar water. I practice my wildcat-stalking skills as I slink like a moving statue to within inches of the feeders to snap photos. Nectar-drunk, the birds barely react.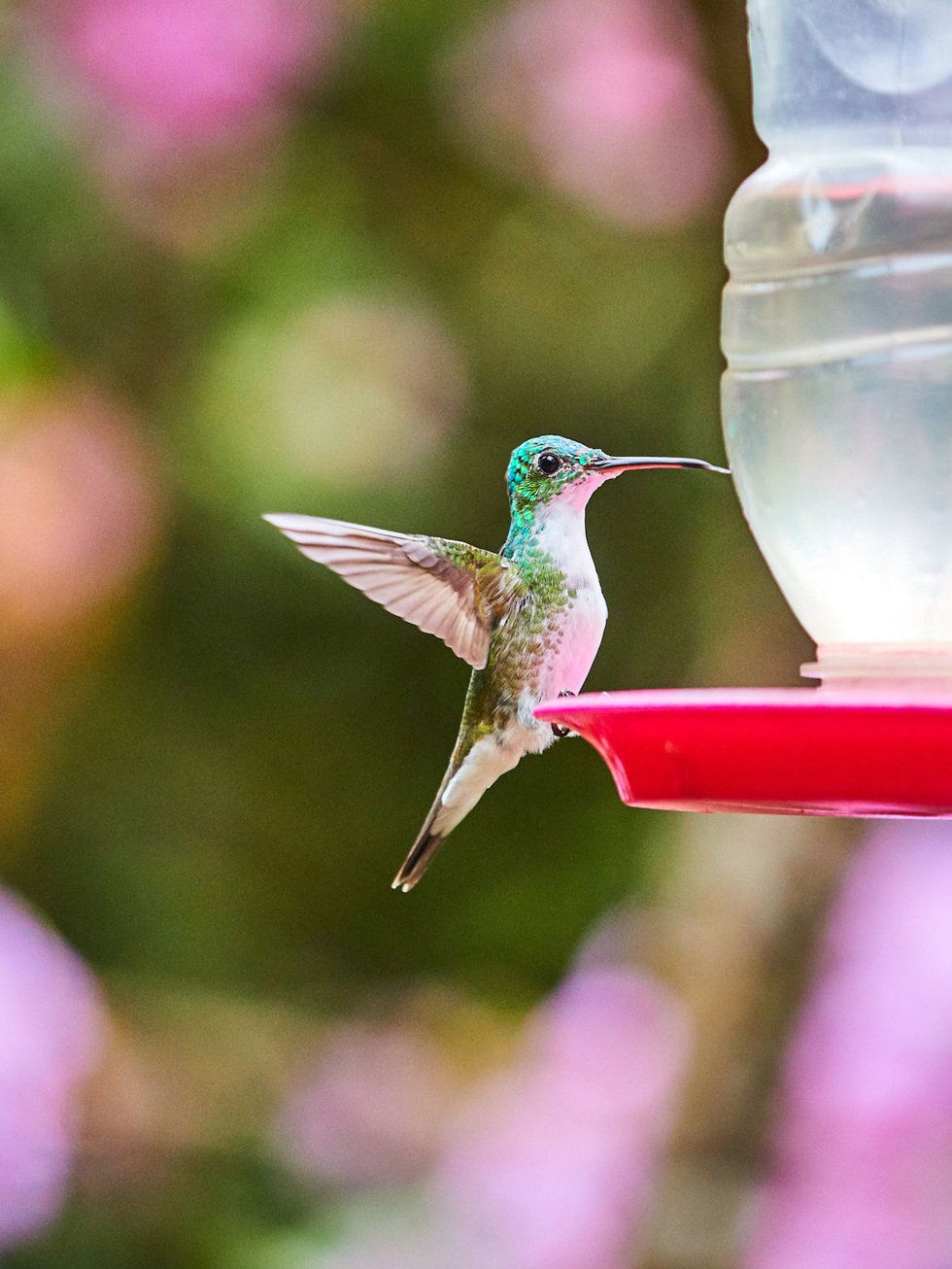 A hummingbird at the Alambi Reserve
Down a hill, I meet Brian Krohnke, an American expat who runs Cloud Coffees. Here, on five acres of the reserve, he's growing seedlings that will help to reforest this area. "We're one of the highest growers in the world," he says, as he sorts beans drying in the sun. "These come from 1,800 meters." I buy a bag of his shade-grown coffee from a makeshift wooden structure. Krohnke tells me to expect citrus, lilac, and vanilla notes, but the biggest selling point for me is the label: a dreamy-eyed sloth holding a mug of joe.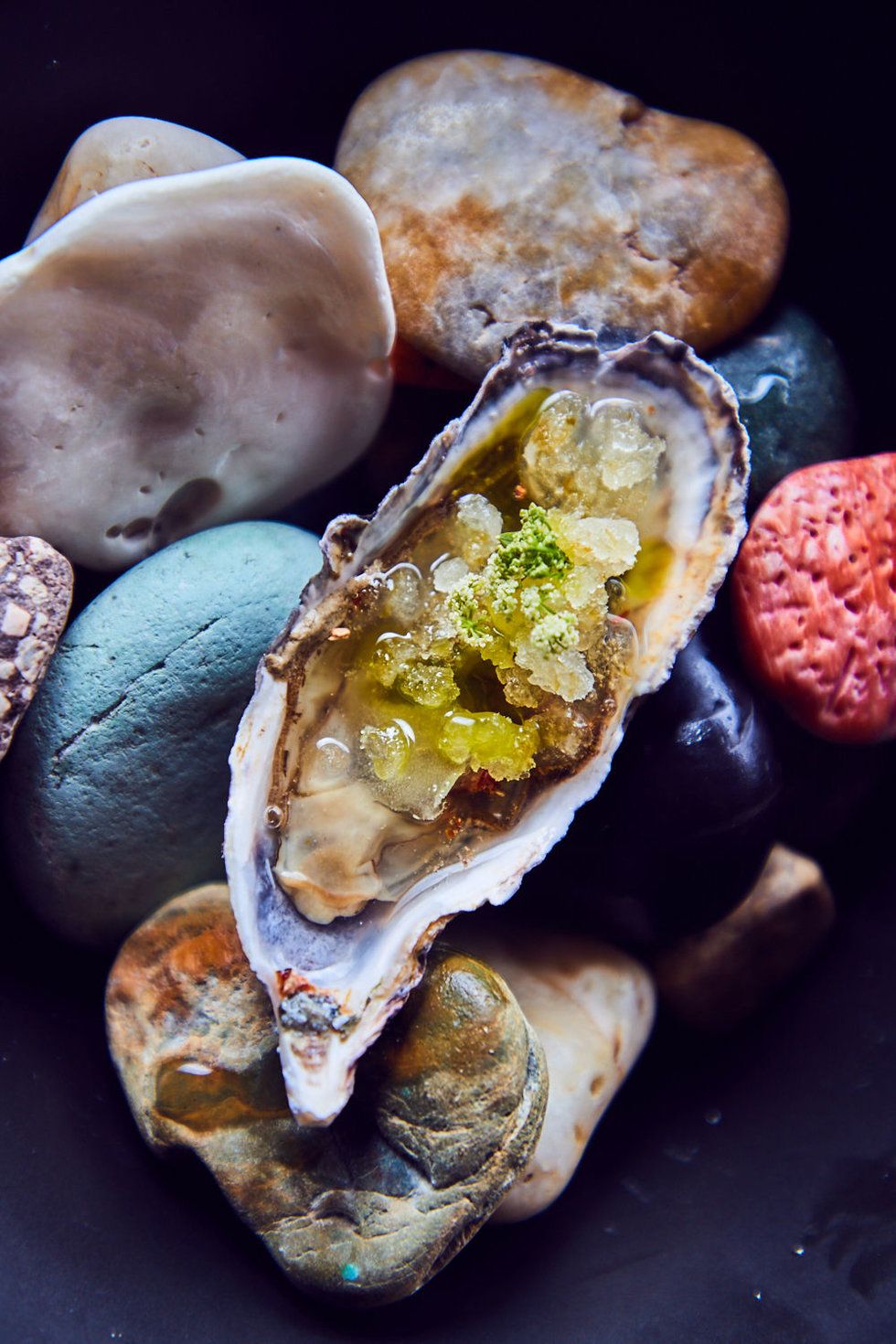 A pacific oyster with Amazonian jelly at Urko Cocina Local
I get back into town in time for dinner at Urko Cocina Local, in the buzzing La Floresta district. I order a frozen canelazo (of course) and then dig into a tasting menu that sees chef Daniel Maldonado remixing Andean staples. An octopus ceviche dotted with roasted peanuts is followed by lamb croquettes in a naranjilla beer sauce and spoon-tender suckling pig with cheese foam. I finish my meal with an ode to the nation's beloved corn, a deconstructed dessert of corn mousse, corn with cheese, and purple corn biscuits.
Back in the historic center, I seek out a different staple grain at Santa Rosa Cerveza Artesanal, one of a growing roster of craft breweries in the city. I order a peach sour beer and grab a seat in the Scandi-chic taproom, by a window that looks out on the illuminated Baroque church of St. Augustine. I'm confident that the patron saint of brewers would have enjoyed this next chapter in Quito's development.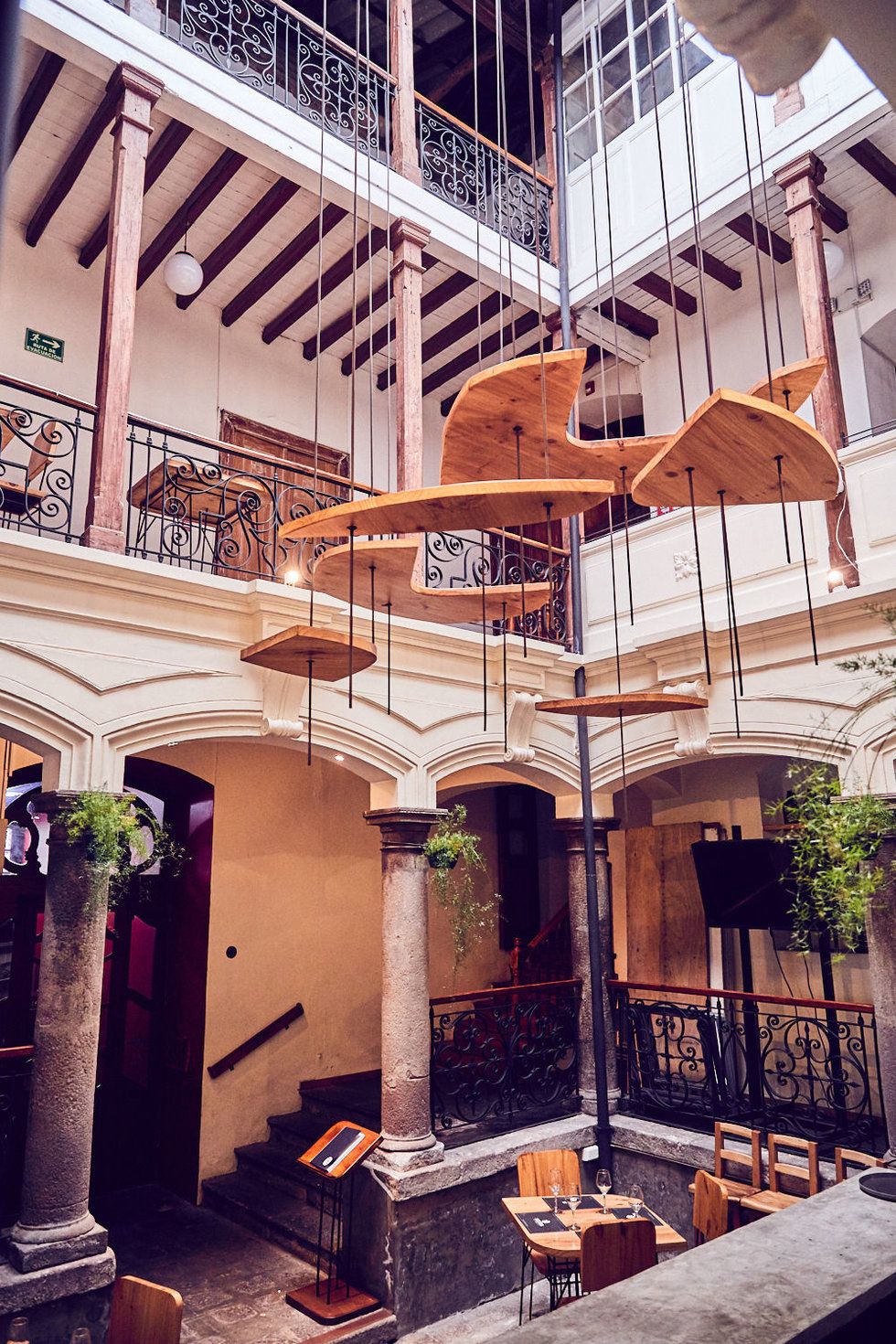 The modern taproom at Santa Rosa Cerveza Artesanal
Day 3:
Scaling a volcano and playing cowboy for a day
"You feel OK?" I'm in the TelefériQo, a glass gondola that's rapidly ascending the side of the Pichincha volcano. It's only natural that my tour guide for the day, Gaby Cifuentes, is checking on me. Within 18 minutes we'll be gliding up, over eucalyptus forests and cattle pastures, to a preposterous 12,943 feet. This is prime altitude sickness territory, but I assure her that, save for a few ear pops and some slightly shallow breathing, I will survive.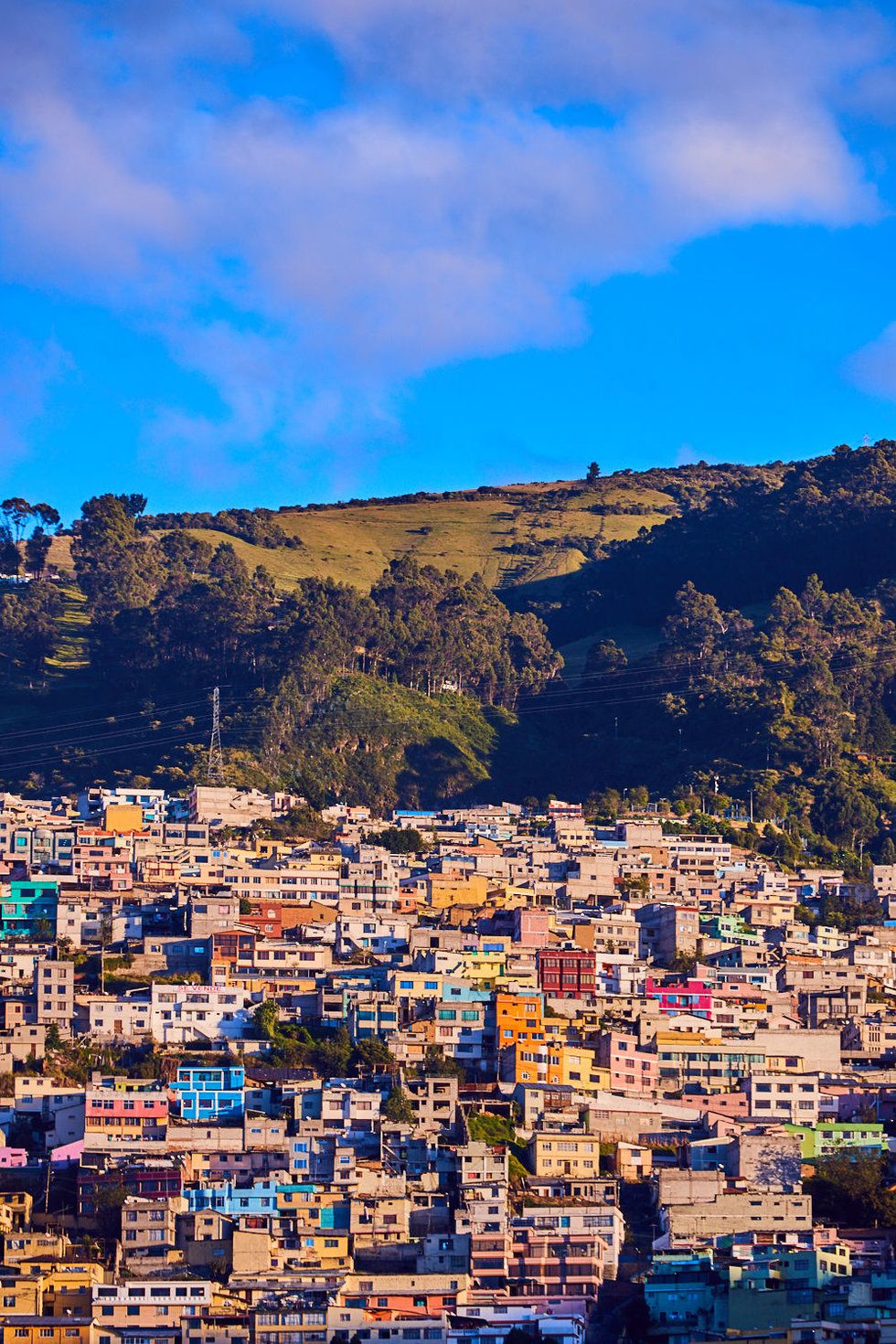 Colorful houses built into the hillsides of Quito's volcanic valley
We hop out at the summit, where we can see our breath in the cold morning air. From here, we hike, slowly, up a scruffy hillside to 13,287 feet, where we have a clear view of the city's contained sprawl, which snakes for 25 miles through the volcanic valley below. We keep our pace glacial to fight, you know, passing out, as more adventurous types surround us on all sides: above, hikers follow a trail that tops out at 15,406 feet, while below us hang gliders catch the wind.
"We feel OK now, but we have to remember to drink water," says Cifuentes. At the summit café, next to a seemingly empty oxygen bar where you can inhale flavored air, we rehydrate with coca tea and munch on melcochas, a sugarcane candy that's said to help with altitude sickness.
"We drive out of town, past miles of pastel houses tumbling Tetris-like down hillsides."
Now that we've gotten our sea legs—sky legs?—Cifuentes wants to show me an even more impressive landscape. We head south on the Pan-American Highway, which stretches nearly uninterrupted for 19,000 miles from Alaska to Tierra del Fuego. This part, which is perfumed by Tasmanian blue gum eucalyptus trees and skirts seven mountains, is called the Avenue of the Volcanoes. As we continue along, Cifuentes and my trusty driver, Lobo, tell me about their side gigs (her family has been making guitar strings since 1906; he works for a line of infused spirits named, appropriately, Los Volcanes). We pass fields of black-and-white Holsteins. "The beef from here is tough," says Cifuentes. "It's the Andes, so our cows have to be athletic."
We turn off the highway and onto an exceedingly bumpy road—staying upright in the back seat is an intense core workout—which opens up into an alpine tundra grassland, or páramo, where we find the thatch-roofed Hacienda el Porvenir, on the sprawling ranch and eco-resort operated by the tour company Tierra del Volcán. Inside, we warm up with empanadas and mugs of—what else?—canelazos in front of the fireplace. I'm here to hit the trails on horseback. But before I do, I refuel in the hacienda dining room with owner Jorge Pérez.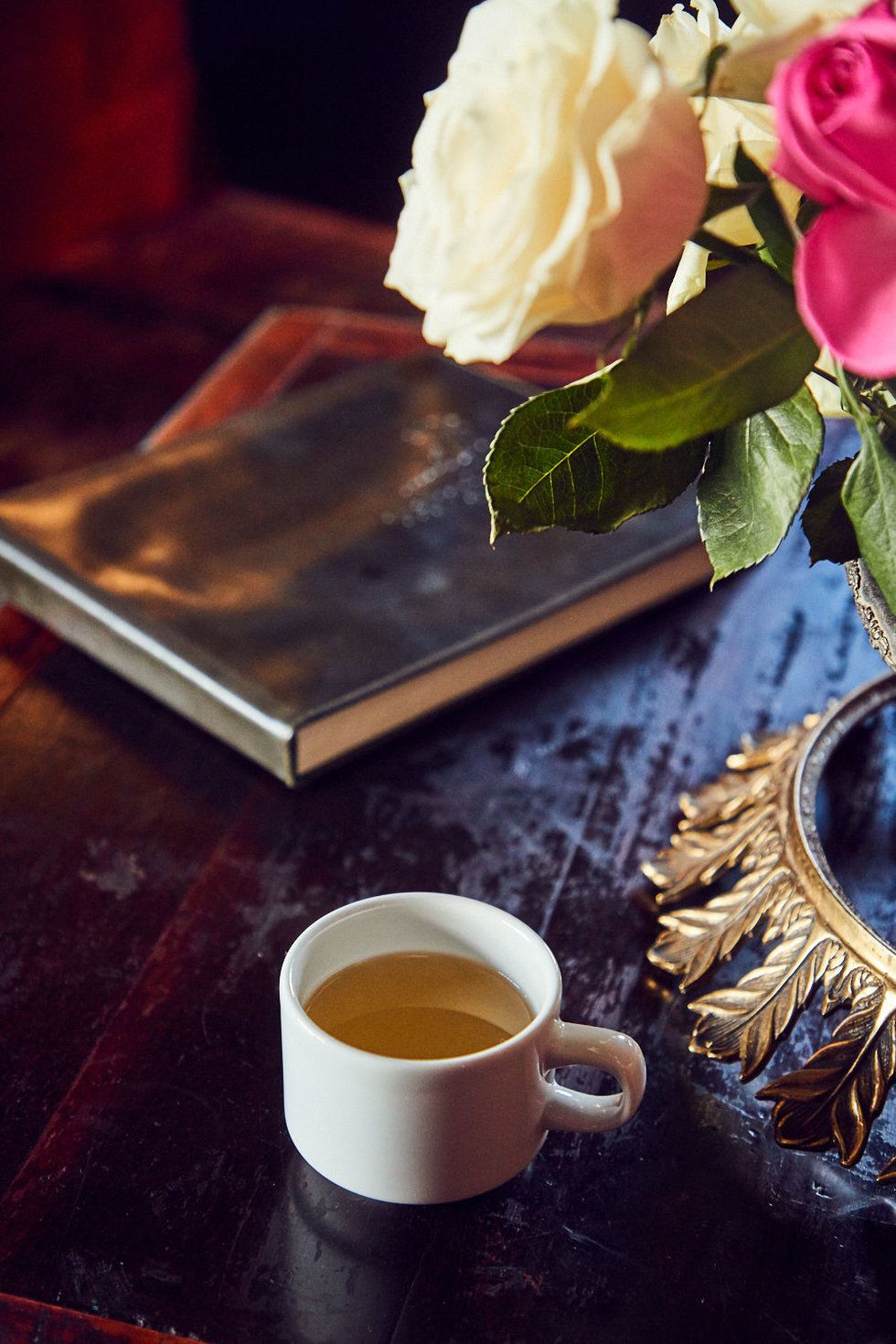 A mug of canelazo at Hacienda el Porvenir
"This hacienda was bought by my great-great-grandmother," says Pérez. "Porvenir translates to 'what's to come.'" This plot was first settled in the 17th century by Jesuits who raised sheep and llamas. When indigenous people started stealing their livestock, they brought in sleek black fighting bulls from Spain to ward off intruders. "They taught their most trusted employees to ride horses to handle the bulls," says Pérez. Thus, the high-Andean cowboy, or chagra, was born. "They became the first indigenous peoples to be allowed to ride horses in all of the colonies. Being a chagra became a status symbol."
After a lunch of Andean ceviche (marinated lupini beans and hearts of palm) and beef tenderloin with Andean huckleberry sauce and ishpingo (a dried flower that tastes like cinnamon), I'm ready to hit the trails. Laura, a volunteer who moved here from Seattle to escape American politics, looks me over as I head toward the paddock. "We have to get you to look like a chagra," she says. I step into a pair of chaps and slip on a wool poncho that's as heavy as one of those lead vests at the dentist. In place of a cowboy hat, I'm fitted (thankfully) with a helmet.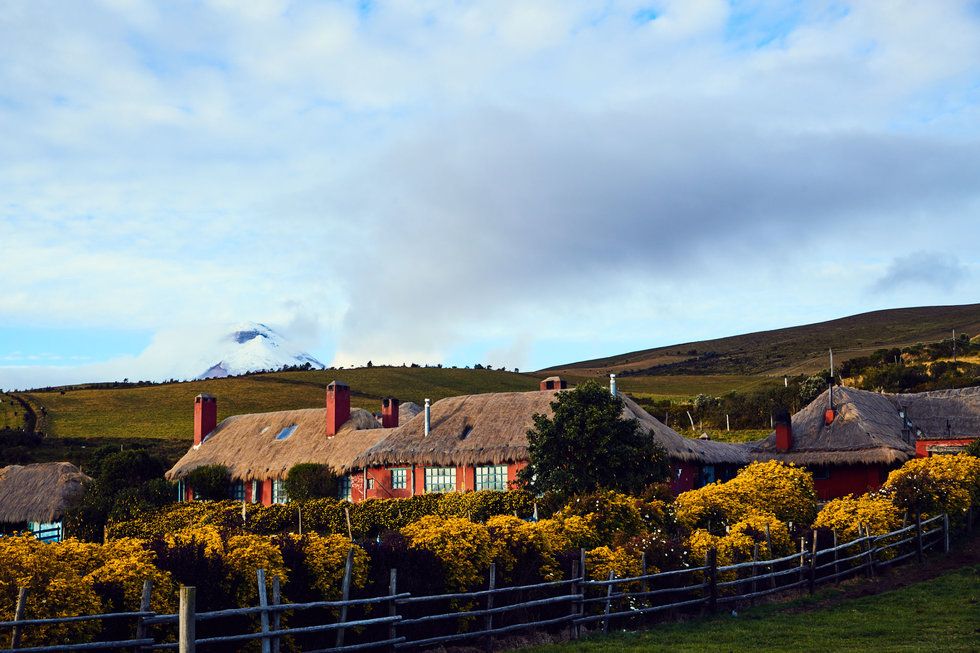 The thatch-roofed Hacienda el Porvenir
"What's his name?" I ask, stepping up to a criollo horse, a breed known for being compact but strong.
"Piquero," says my guide.
"What's that mean?"
"Booby."
"Booby?"
"Not that kind of booby." (Oh right, I think: the blue-footed kind.)
We trot out into the resort's nearly 2,500 acres of grassland in the shadow of Cotopaxi, a snowcapped active volcano.
As we pass through fields of llamas and fighting bulls, I look down to make sure my striped poncho doesn't have any bright red to antagonize them. Safe. My eyes are peeled for ultra-rare condors, but I keep getting tricked by carunculated caracaras, black birds of prey that, while beautiful, don't rank as high on my birdwatching bucket list. Piquero, unimpressed and docile, keeps stopping to munch the grass, the same scruffy brush that makes up the hacienda roof.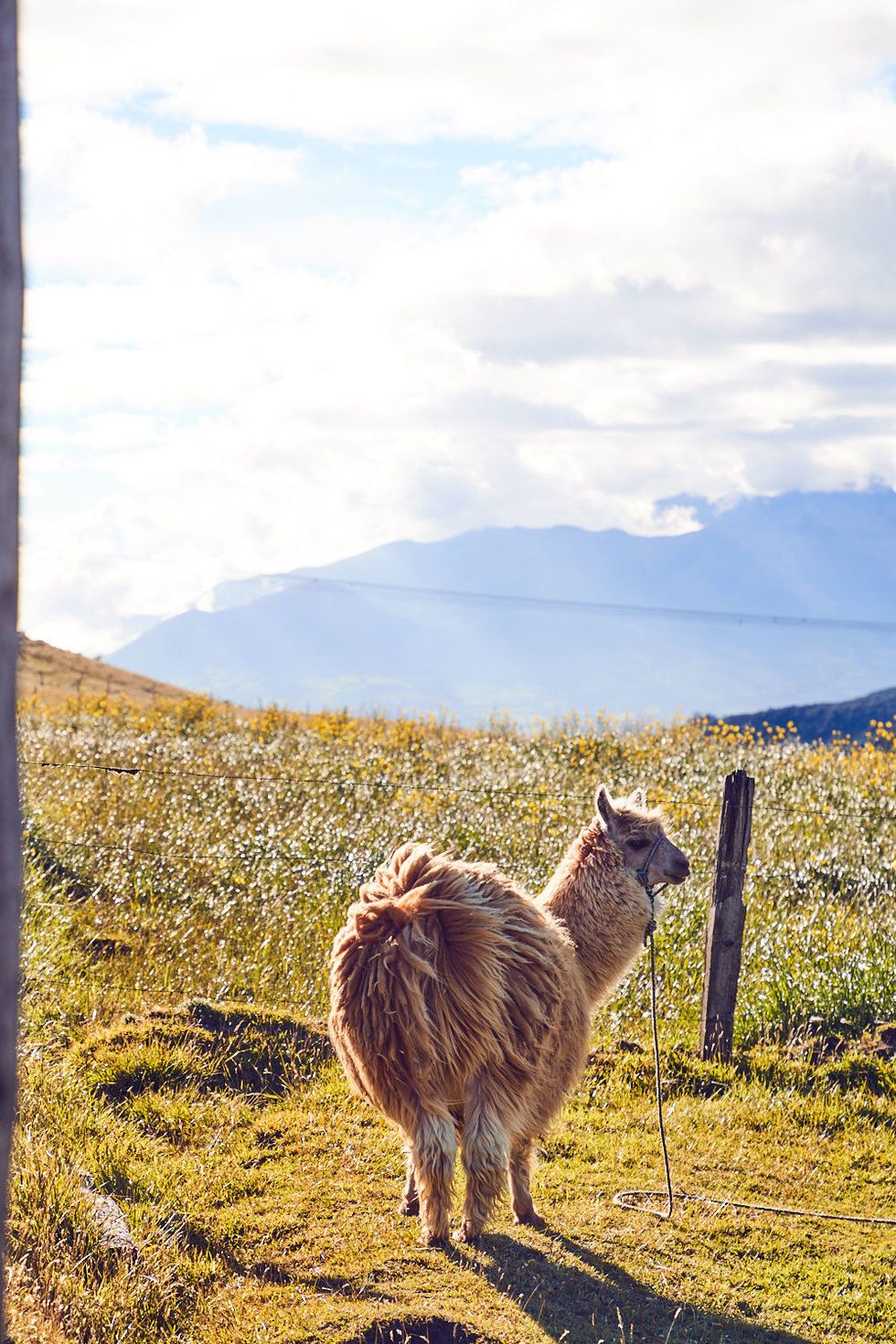 A llama at the Tierra del Volcán resort
Horseback riding sounds like a mosey in the park, but it's surprisingly tiring. (My poor thighs!) Back in Quito by sundown, I've more than earned my dinner at the impossibly lavish La Belle Epoque. This French-Ecuadorian restaurant, dripping with red velvet curtains and towering candelabras, sits on the second floor of the Hotel Plaza Grande, which occupies Pizarro's old digs on the Plaza de la Independencia. While the setting is Continental, the menu offers perfect takes on Andean classics. I order a sangria-like rosero, made with orange-blossom water, pineapple, lemongrass, strawberries, and hominy that's been sliced with a razor blade, Goodfellas-style. After a creamy locro de papa and roast pork with peanut salsa, the lights suddenly go out, and music starts blasting through the dining room.
From the kitchen emerges a cucurucho, a purple-robed figure in the cone-shaped hood that gives him his name (an outfit that would certainly not fly in America) . These penitent sinners usually walk through Quito's Old Town during Holy Week, carrying cripplingly heavy crosses, some whipping their own backs, some bleeding from the barbed wire they've wrapped around their bare chests. This cucurucho, however, is carrying a copper pan, foggy with dry ice, that holds three little scoops of ice cream: blackberry, guanabana, and fig and cheese. Should we repent for the sin of gluttony?
It feels like an oddly blasphemous interlude for a place with this much reverence for history and tradition and faith. But in a city with nearly a half millennium of history under its belt, it's not uncommon to see the old butt up against the new, the sacred against the profane, the Baroque against the bargain basement. I pull out my phone to try to capture the scene, but the lighting is all wrong and the music doesn't translate. This, I realize, is the kind of off-kilter experience you just have to sit back and enjoy, in a place where even the dessert course comes with a little something extra—la yapa.
Right now, around the world, brave members of America's armed forces are on duty, defending our freedom and upholding our values.
When not laser-focused on the mission at hand, they're looking forward to the day when their service to our nation is fulfilled and they can reunite with their families.
They are also imagining how they can use their hard-earned skills to build an exciting, rewarding and important career when they return home.
I want them to look no further than United Airlines.
That's why we are focused on recruiting, developing and championing veterans across our company, demonstrating to our returning women and men in uniform that United is the best possible place for them to put their training, knowledge, discipline and character to the noblest use.
They've developed their knowledge and skills in some of the worst of times. We hope they will use those skills to keep United performing at our best, all of the time.
That's why we are accelerating our efforts to onboard the best and the brightest, and substantially increasing our overall recruitment numbers each year.
We recently launched a new sponsorship program to support onboarding veterans into United and a new care package program to support deployed employees. It's one more reason why United continues to rank high - and rise higher - as a top workplace for veterans. In fact, we jumped 21 spots this year on Indeed.com's list of the top U.S workplaces for veterans. This is a testament to our increased recruiting efforts, as well as our efforts to create a culture where veterans feel valued and supported.
We use the special reach and resources of our global operations to partner with outstanding organizations. This is our way of stepping up and going the extra mile for all those who've stepped forward to answer our nation's call.
We do this year-round, and the month of November is no exception; however, it is exceptional, especially as we mark Veterans Day.
As we pay tribute to all Americans who have served in uniform and carried our flag into battle throughout our history, let's also keep our thoughts with the women and men who are serving around the world, now. They belong to a generation of post-9/11 veterans who've taken part in the longest sustained period of conflict in our history.

Never has so much been asked by so many of so few.... for so long. These heroes represent every color and creed. They are drawn from across the country and many immigrated to our shores.

They then freely choose to serve in the most distant and dangerous regions of the world, to protect democracy in its moments of maximum danger.
Wherever they serve - however they serve - whether they put on a uniform each day, or serve in ways which may never be fully known, these Americans wake up each morning willing to offer the "last full measure of devotion" on our behalf.
Every time they do so, they provide a stunning rebuke to the kinds of voices around the world who doubt freedom and democracy's ability to defend itself.
Unfortunately, we know there are those who seem to not understand – or say they do not - what it is that inspires a free people to step forward, willing to lay down their lives so that their country and fellow citizens might live.
But, we – who are both the wards and stewards of the democracy which has been preserved and handed down to us by veterans throughout our history – do understand.
We know that inciting fear and hatred of others is a source of weakness, not strength. And such divisive rhetoric can never inspire solidarity or sacrifice like love for others and love of country can.
It is this quality of devotion that we most honor in our veterans - those who have served, do serve and will serve.
On behalf of a grateful family of 96,000, thank you for your service.
Humbly,
Oscar
Each year around Veterans Day, Indeed, one of the world's largest job search engines, rates companies based on actual employee reviews to identify which ones offer the best opportunities and benefits for current and former U.S. military members. Our dramatic improvement in the rankings this year reflects a stronger commitment than ever before to actively recruiting, developing and nurturing veteran talent.
"We've spent a lot of time over the past 12 months looking for ways to better connect with our employees who served and attract new employees from the military ranks," said Global Catering Operations and Logistics Managing Director Ryan Melby, a U.S. Army veteran and the president of our United for Veterans business resource group.
"Our group is launching a mentorship program, for instance, where we'll assign existing employee-veterans to work with new hires who come to us from the armed forces. Having a friend and an ally like that, someone who can help you translate the skills you picked up in the military to what we do as a civilian company, is invaluable. That initiative is still in its infancy, but I'm really optimistic about what it can do for United and for our veteran population here."
Impressively, we were the only one of our industry peers to move up on the list, further evidence that we're on a good track as a company.
The question of where David Ferrari was had haunted retired U.S. Army Sergeant Major Vincent Salceto for the better part of 66 years.
Rarely did a week go by that Salceto didn't think about his old friend. Often, he relived their last moments together in a recurring nightmare. In it, it's once again 1953 and Salceto and Ferrari are patrolling a valley in what is now North Korea. Suddenly, explosions shatter the silence and flares light up the night sky.
Crouching under a barrage of bullets, Salceto, the squad's leader, drags two of his men to safety, then he sees Ferrari lying face down on the ground. He runs out to help him, but he's too late. And that's when he always wakes up.
Italian Americans from opposite coasts – Salceto from Philadelphia, Ferrari from San Francisco – the two became close, almost like brothers, after being assigned to the same unit during the Korean War. When Ferrari died, it hit Salceto hard.
"After that, I never let anyone get close to me like I did with Dave," he says. "I couldn't; I didn't want to go through that again."
When the war ended, Salceto wanted to tell Ferrari's family how brave their son and brother had been in battle. Most of all, he wanted to salute his friend at his gravesite and give him a proper farewell.
For decades, though, Salceto had no luck finding his final resting place or locating any of his relatives. Then, in June of this year, he uncovered a clue that led him to the Italian Cemetary in Colma, California, where Ferrari is buried.
Within days, Salceto, who lives in Franklinville, New Jersey, was packed and sitting aboard United Flight 731 from Philadelphia to San Francisco with his wife, Amy, and daughter, Donna Decker, on his way to Colma. For such a meaningful trip, he even wore his Army dress uniform.
That's how San Francisco-based flight attendant Noreen Baldwin spotted him as he walked down the jet bridge to get on the plane.
"I saw him and said to the other crew members, 'Oh my goodness, look at this guy,'" she says. "I knew there had to be a story."
The two struck up a conversation and Salceto told Baldwin why he was traveling. She got emotional listening to him talk and made a point of fussing over him, making sure he and his family had everything they needed.
About halfway through the flight, Baldwin had an idea. She and her fellow crew members would write messages of encouragement to Salceto and invite his fellow passengers to do the same.
"We did it discreetly," says Baldwin. "I asked the customers if they saw the man in uniform, which most had, and asked them if they wanted to write a few words for him on a cocktail napkin. A lot of people did; families did it together, parents got their kids to write something. After the first few rows, I was so choked up that I could barely talk."
When Baldwin surprised Salceto with dozens of hand-written notes, he, too, was speechless. He laid the stack on his lap and read each one. At the same time, the pilots made an announcement about the veteran over the loud speaker, after which the customers on board burst into applause.
"It seems contrived, and I hate using the word organic, but that's what it was; it just happened," Baldwin says. "Mr. Salceto was so loveable and humble, and what he was doing was so incredible, it felt like the right thing to do. And you could tell he was touched."
On June 27, Salceto finally stood before Ferrari's grave and said that long-awaited goodbye. As a trumpeter played "Taps," he unpinned a medal from his jacket and laid it reverently on the headstone.
"I had gotten a Bronze Star for my actions [the night Ferrari died] with a 'V' for valor, and that was the medal I put on Dave's grave," says Salceto, pausing to fight back tears. "I thought he was more deserving of it than I was."
For the first time in years, Salceto felt at peace. His mission was accomplished.
Scroll to top