Three Perfect Days: Riviera Maya
Story by Jordan Heller | Photography by Lindsay Lauckner Gundlock | Hemispheres, December 2018
There is some dispute as to how Playa del Carmen, the metropolitan heart of the Riviera Maya just 40 miles south of Cancún, got its name. Some say it's after Our Lady of Carmel, the title given to the Blessed Virgin Mary in her role as patroness of the Carmelites. But the more compelling story is the one told by locals.
As legend has it, in the 1970s and '80s, when the area first became a destination, tourists traveling by boat from neighboring Cozumel would disembark in Playa—then known as Xaman-Ha—on their way to the ruins of Tulum. A local Maya woman named Carmen would happily invite these travelers into her modest home for a traditional meal of fresh-caught seafood. She may not have had any experience with immaculate conception, but when it comes to Playa, this Carmen is definitely a matron saint. Today, her spirit can be felt throughout the Riviera Maya, which also includes the village of Tulum, the ruins of Cobá, and a number of small Maya communities on the Caribbean side of the Yucatán Peninsula where, if you're lucky, a woman not unlike Carmen will happily invite you into her home for a meal.
Day 1
Exploring a Maya temple, befriending a butler and feasting on cochinita pibil
I eat grasshoppers for breakfast. No, this is not my way of saying I know how to handle a subordinate. I'm literally eating toasted grasshoppers sprinkled onto a dish of huevos rancheros with green tomatillo salsa, hoja santa, and goat cheese. I've just woken up at Playa del Carmen's Rosewood Mayakoba, which is perhaps the most luxurious resort I've ever stayed in (and I'm a travel writer). There's a private heated plunge pool outside my back door looking over a secluded lagoon, a spa Forbes rated one of the best in the world, and Tavo, my personal butler, who is at my beck and call through a Rosewood messaging app.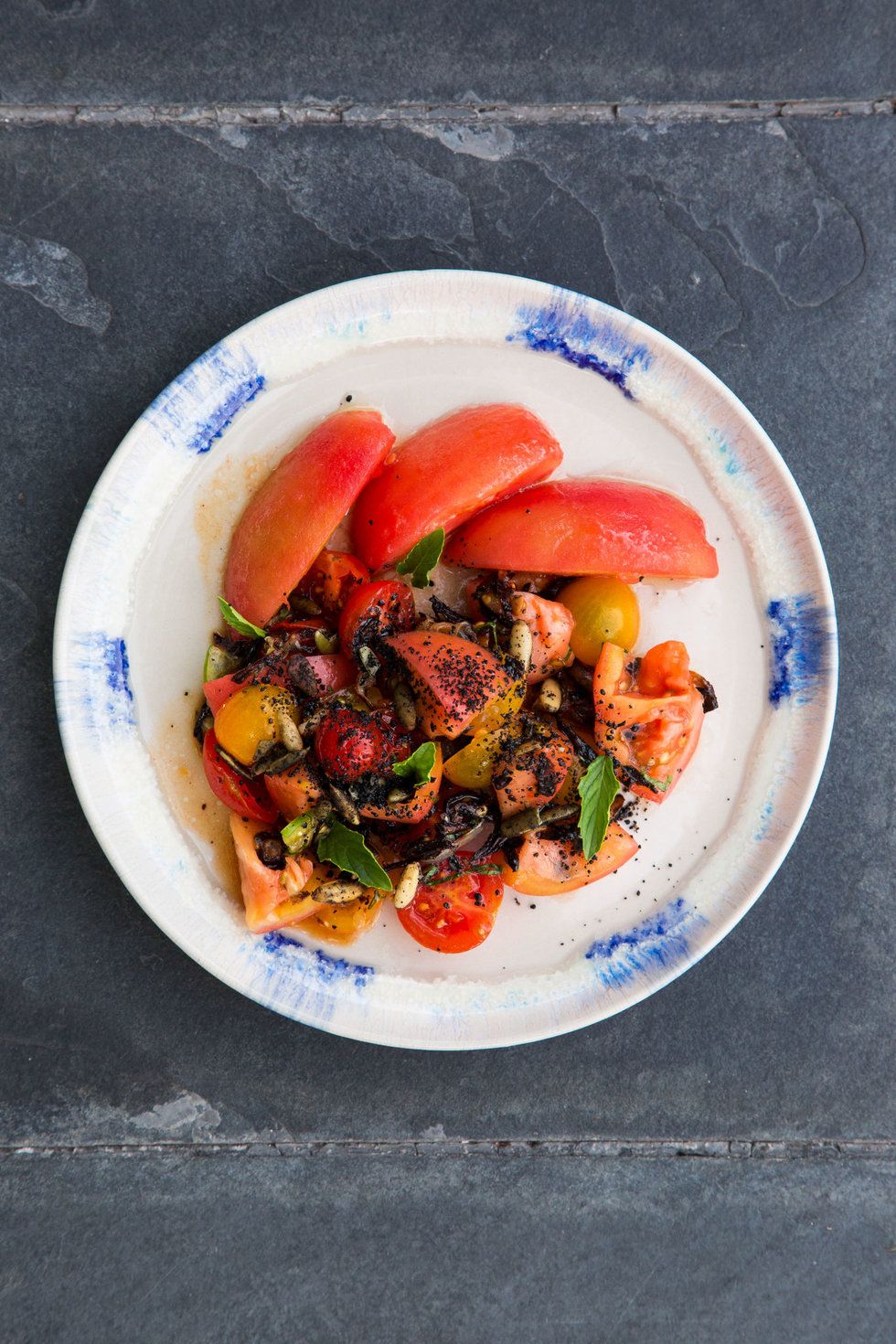 The sikil-p'aak tomato salad at La Ceiba Garden & Kitchen
A bottle of tequila and some toothpaste?

Certainly, Mr. Heller.
Despite all this luxury, I'm eating bugs—albeit with a Bloody Mary at a beachside restaurant overlooking the Caribbean. The toasted grasshoppers are crunchy (like perfectly burnt popcorn), incredibly delicious, and an appropriately indigenous start to a morning in which I'll be exploring the ruins of an ancient civilization.
After traveling inland to the village of Cobá, I trade my rental car for a "Maya taxi." It's the Yucatán version of a rickshaw—a padded bench fashioned atop the front wheel of a bicycle with a beach umbrella protecting me from the rain. My driver, Gustino, is transporting me through a mile of jungle and more than a millennium back in time, to the Late Classic (AD 550–830) Maya ruin of the Nohoch Mul Pyramid. The dirt path bustles with all manner of tourists riding Maya taxis, pedaling rented beach cruisers, or walking, excitedly talking about the sites of this ancient city in English, Spanish, German, Russian, and who knows what else.
As Gustino struggles to pedal through a particularly rough patch of mud, I ask him what nationality of tourist is the hardest to transport.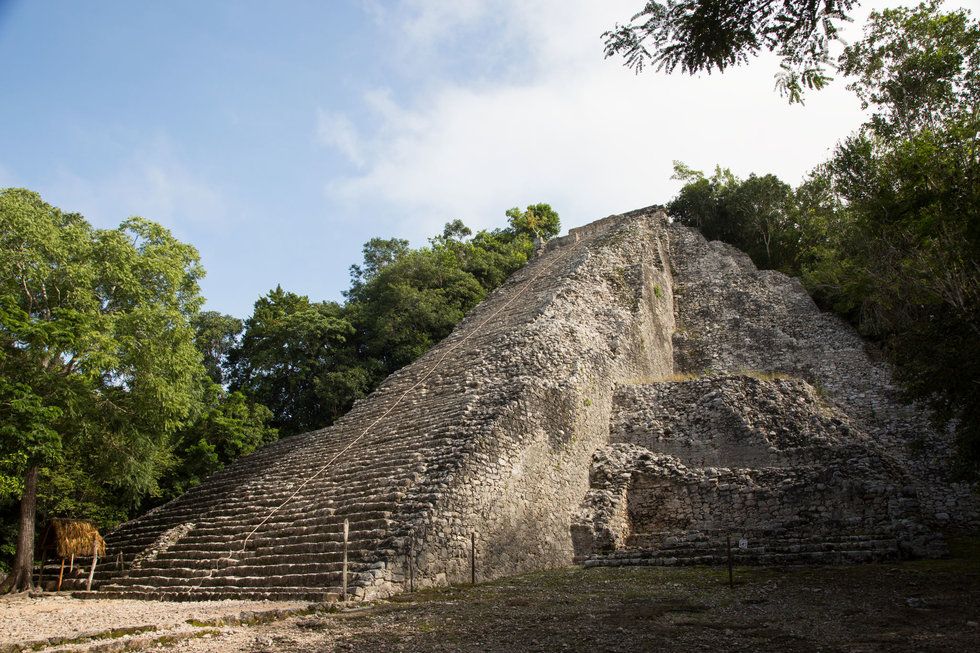 The Ixmoja pyramid at Cobá
"The Germans," he says. "It's not that they're overweight. They're just a very sturdy people. Americans are preferred: very easygoing and friendly people. Everybody wants an American fare."
When we arrive at Nohoch Mul, the panoply of tourists is suddenly speaking the same language: speechless. At 138 feet tall, the sheer scale of this temple is rivaled only by the gleaming hotels going up on the coast. But out here in the Cobá jungle, after I break the canopy and reach Nohoch Mul's summit, it's nothing but green as far as the eye can see, under which is apparently some 30 square miles of ancient city, most of it still obscured by the jungle. I'm told that just 5 percent of Cobá has been excavated since the project started in the 1970s.
"Today, if you come early in the morning, you find corn and beans here left by the local Maya, who continue to offer sacrifices to the gods."
"And what did they do with this little platform?" I ask Diego Viadero, my knowledgeable Tours by Locals guide, who's been schooling me on all manner of Maya history.
"Ah, yes," he says. "That's where the rulers would offer sacrifices to the gods, in hopes that they could avoid a collapse of the city."
"You mean like in the movie Apocalypto, where they chopped off the heads?" I ask.
"Just like in Apocalypto," says Viadero, doing his best to hold back an eye-roll. "Today, if you come early in the morning, you'll find corn and beans here left by the local Maya, who continue to offer sacrifices to the gods."
"Do you think it's enough?" I ask, making the comparison to the more (ahem) substantial offerings of yore. Let the eye-rolling commence.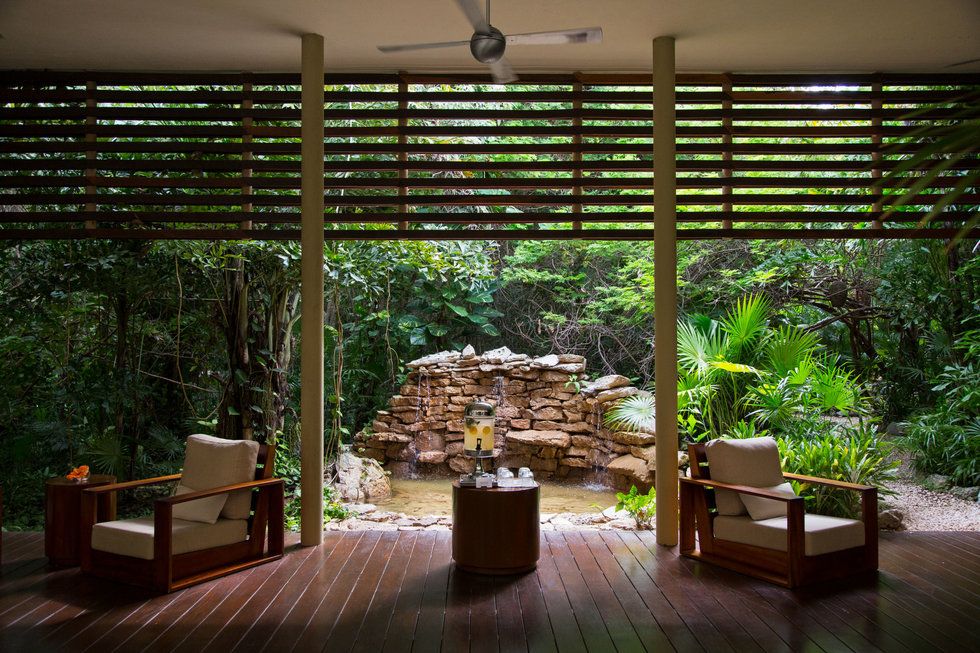 The Rosewood Mayakoba's Sense Spa
Next, Viadero takes me to Nojoch Keej, which is Mayan for El Venado Grande, which is Spanish for "The Big Deer." It's a sanctuary for endangered animals run by a Maya man named Manuel Poot Dzib out of his back yard in the village of Nuevo Durango. Poot Dzib started the sanctuary in 2005, after Hurricane Wilma destroyed the habitats of many local animals. He now looks after bees (which produce honey that's said to have healing qualities), white-tail deer, paca, curassow, and ocellated turkeys, which he aims to repopulate in areas that are protected from hunters. From the looks of these turkeys, I think ocellated must be Mayan for peacock. They're vibrant, multicolored, and beautiful to look at.
"Tavo leaves me to my plunge pool, where I enjoy my cocktail to the sound of a rainbow-billed toucan flapping around the lagoon."
Poot Dzib asks us to stay for lunch, which is great, because I'm starving. "We're having cochinita pibil—es muy delicioso," he adds, giving off some of that Carmen spirit.
I breathe a sigh of relief when I learn that cochinita pibil is not Spanish for ocellated turkey. It's achiote-marinated pork that's been cooking with banana leaf in a hole in the ground in Poot Dzib's front yard since 8 this morning.
"They normally only do this for the Day of the Dead or other special occasions," Viadero says as we watch Poot Dzib remove the dirt and corrugated metal covering his subterranean oven.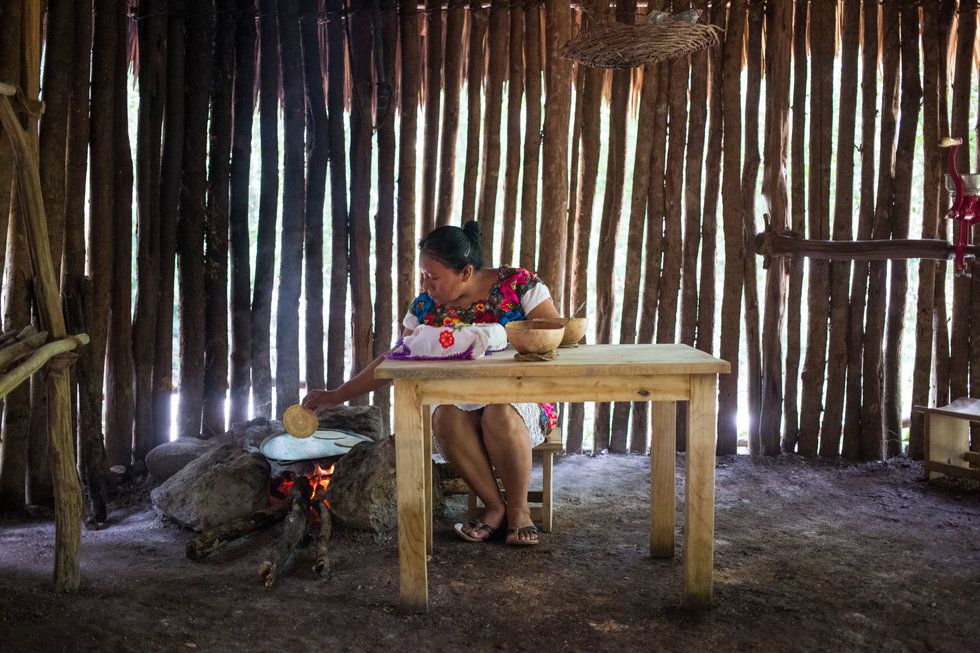 A home-cooked meal, Maya-style
"We used to cover it with banana leaf instead of metal, but that's a much harder and longer process," says Poot Dzib. "This is more modern."
Modern? I'm not so sure, but I grant Poot Dzib that it's certainly an update. In any event, when put on a handmade tortilla with pickled onions and habanero, this cochinita pibil is definitely mouthwatering.
I say "Taakulak k'iin" ("See ya later" in Mayan) to Poot Dzib and his ocellated turkeys and head back to the Rosewood, where Tavo the butler awaits with that bottle of tequila, plus some fresh lime juice and agave nectar for mixers.
Gracias, Tavo!
Certainly, Mr. Heller.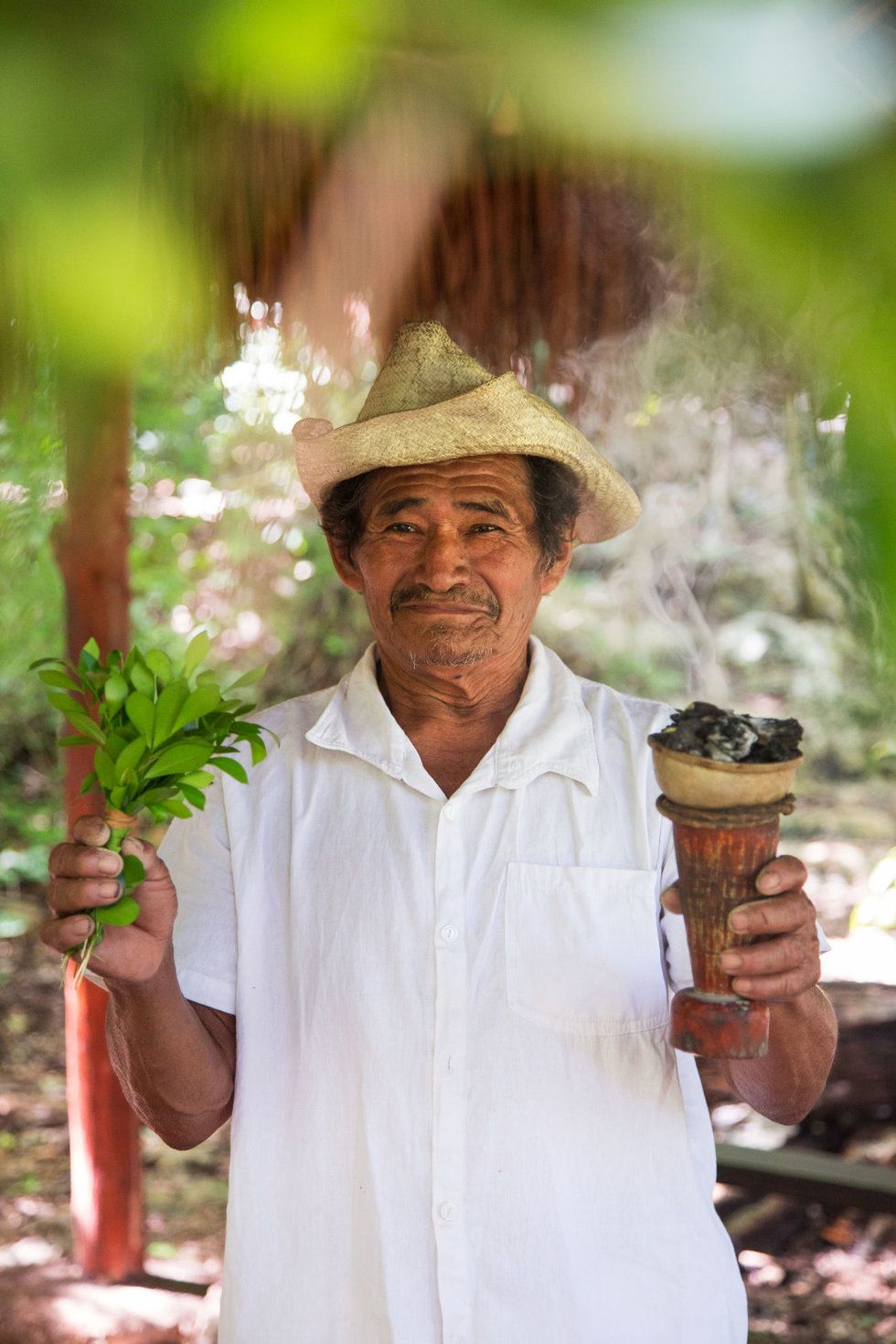 Tavo leaves me to my plunge pool, where I enjoy my drink to the sound of a rainbow-billed toucan flapping around the lagoon. Just one cocktail, however, as I'm hopping onto my complimentary beach cruiser (every guest gets one) to take a spin around the property, where geckos, iguanas, and even a tarantula skitter into the mangroves as I come rolling down the jungle path.
Appetite sufficiently worked up, I'm off to the Rosewood's La Ceiba Garden & Kitchen, where executive chef Juan Pablo Loza serves a communal dinner of Maya-inspired dishes with a contemporary touch. Seated at a long wooden table with 17 other guests, I ask the chef what he's learned from the local Maya villages, which he visits often to pick up cooking techniques.
"My top lesson from the Maya is less about food than it is about perspective," he says, before recounting a delicious meal he had with one family. "The woman who cooked for me had referred to her neighbor as poor. I found it an odd comment, because the assumption in a Maya village is that nobody is exactly rich. 'Why do you say your neighbor is poor?' I asked. She said because she has no family and no garden. If you don't have a garden, you can't get food from it, and if you don't have a family you have nobody to share it with. For them, having a family and a connection to nature is what it means to be rich."
"And now you have this beautiful garden," I say, pointing to his planters of lemongrass.
"And a family, too," he replies. "Including a daughter named Maya."
And then we feast. There's grilled octopus with black recado and burnt lime vinaigrette, zarandeado-style lobster, roasted plantains, and a k'úum salad of squash, arugula, orange, oregano, and ocosingo cheese, finished off with fresh fruits in guava honey and lemongrass.
Tavo, I'm stuffed! Turn out the light and have a pot of coffee waiting for me in the morning, please.
Certainly, Mr. Heller.
Day 2
Scaling ruins, swimming in cenotes, and taking a turn on the karaoke mic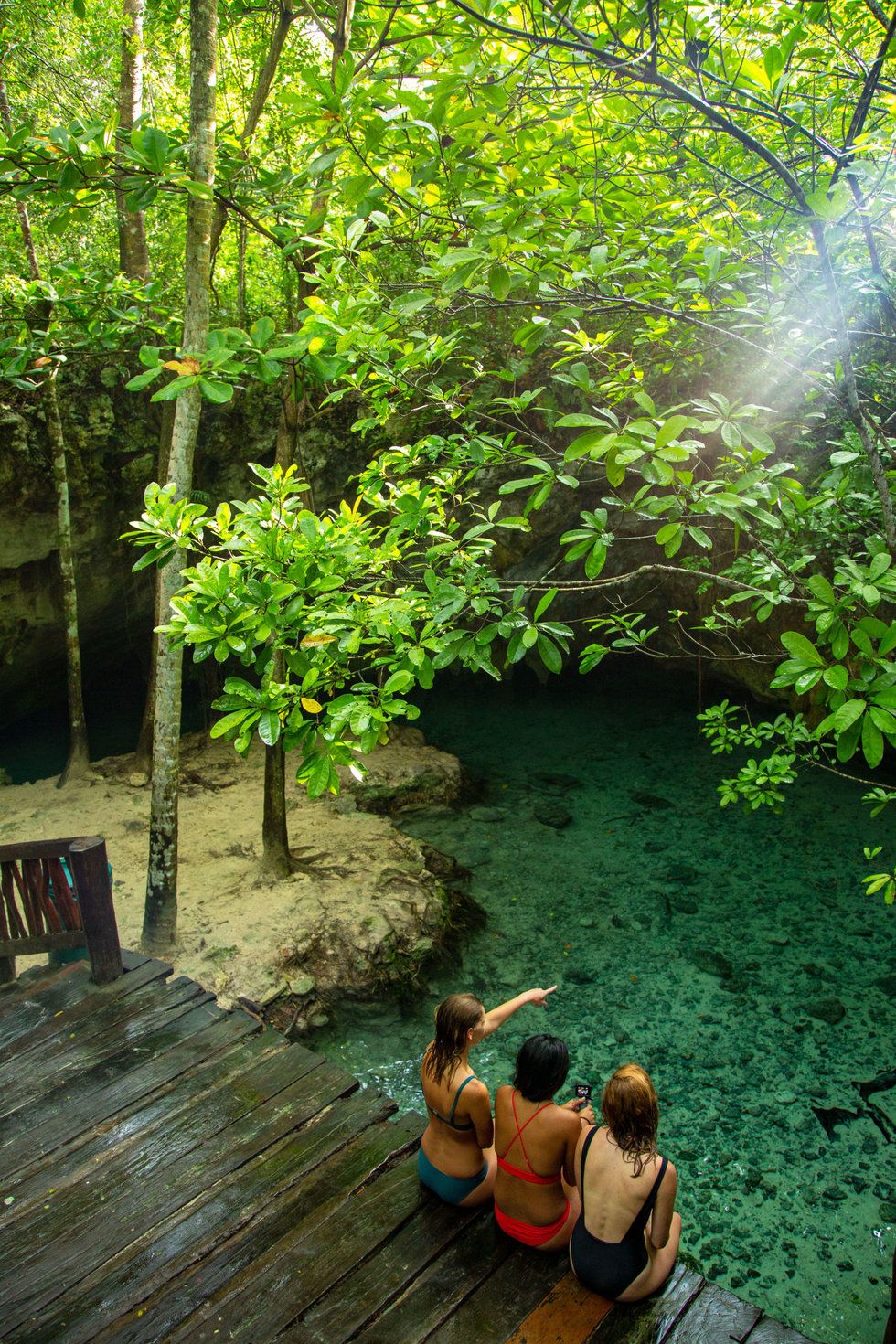 Gran Cenote
In the small village square outside Tulum National Park, the Voladores de Papantla are performing their ancient fertility ritual, or rain ceremony—named an "intangible cultural heritage" by UNESCO. Five men in traditional bright red pants and flowing white blouses with multicolored adornments sit atop a 90-foot pole. The man in the center taps an adagio beat on a simple drum and blows a gentle bird-like tune on a wooden flute while the other four men tie ropes around their waists. When the musician ups the tempo to allegretto, the other two men fall backward, like scuba divers dropping into water, and slowly descend upside down in a merry-go-round fashion, the spinning top ceding rope like a reel feeding line to a fish. It's absolutely beautiful.
On a path cutting through the mangroves and almond trees on the way to the park entrance, a guide shares a mnemonic device that will be helpful should I run into any venomous coral snakes: "red on yellow, kill a fellow; red on black, friend of Jack." I assume I'm a Jack.
"The water is high and crisp as we float past stalagmites growing ever so slowly out of the cave floor."
Thankfully, there are no snakes to be seen in the ancient Maya city of Tulum, an open patch of manicured lawns and stone ruins protected by walls to the north, west, and south, and an ocean reef to the east. Or so it was protected until around 1500, when the Spanish came ashore. This beachside community, established circa 1200, was populated by a few hundred of Tulum's elite (and the sea turtles that still come ashore to lay their eggs), with thousands of people living outside the walls. It wasn't until the 20th century, when archaeologists began studying the region's various Maya sites, that we began to understand how advanced their civilization was—especially in the area of astronomy. As I walk the city's white gravel paths, I can imagine a well-heeled society covered in jade and obsidian jewelry enjoying the same ocean breeze and studying the same night sky. One glance at the view, and it's clear the Maya knew something about real estate. This plot right here, with a lighthouse perched on the cliff, would go for a boatload of jade and obsidian.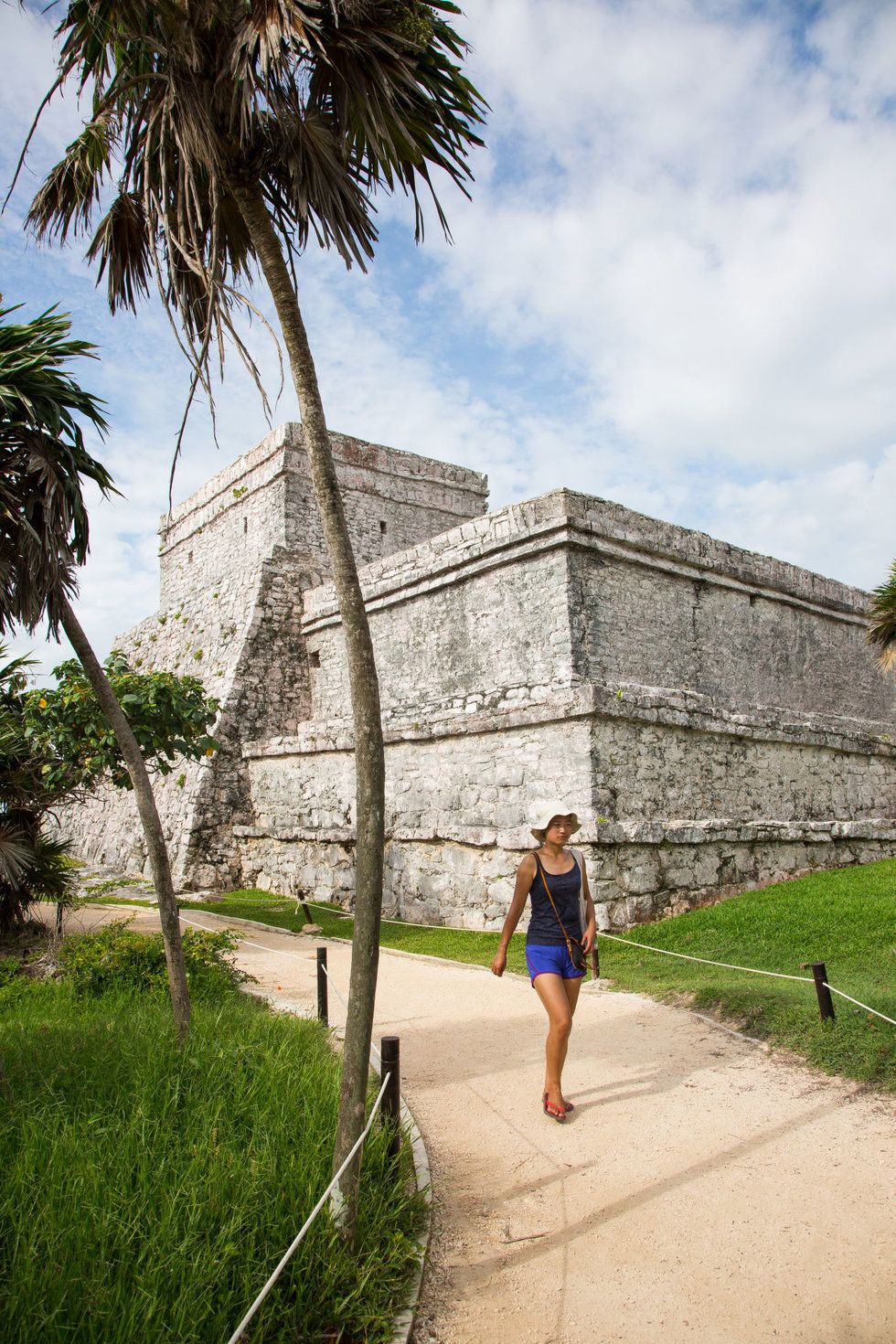 Maya ruins at Tulum
After fortifying my stomach with a few al pastor tacos (don't forget the guacamole) at Tropi Tacos in Tulum Pueblo, I meet back up with Diego Viadero for a drive out to Sistema Sac Actun (White Cave System), one of the world's largest underground cave systems, a 164-mile maze of freshwater flowing through subterranean limestone. This afternoon, we're exploring just one mile of the system. The rain-conjuring Voladores de Papantla must be in top form lately; the water is high and crisp as we float past stalagmites growing ever so slowly (less than 10 centimeters every 1,000 years) out of the cave floor and reaching up toward stalactites hanging like icicles from the cave ceiling. It's like the setting of a science fiction movie, so otherworldly I try to prolong my stay by floating as slowly as the calcium deposits are forming in front of me.
"Be careful," says Viadero, as I get a little too close to a stalagmite that's been a million years in the making. "You wouldn't want to break it."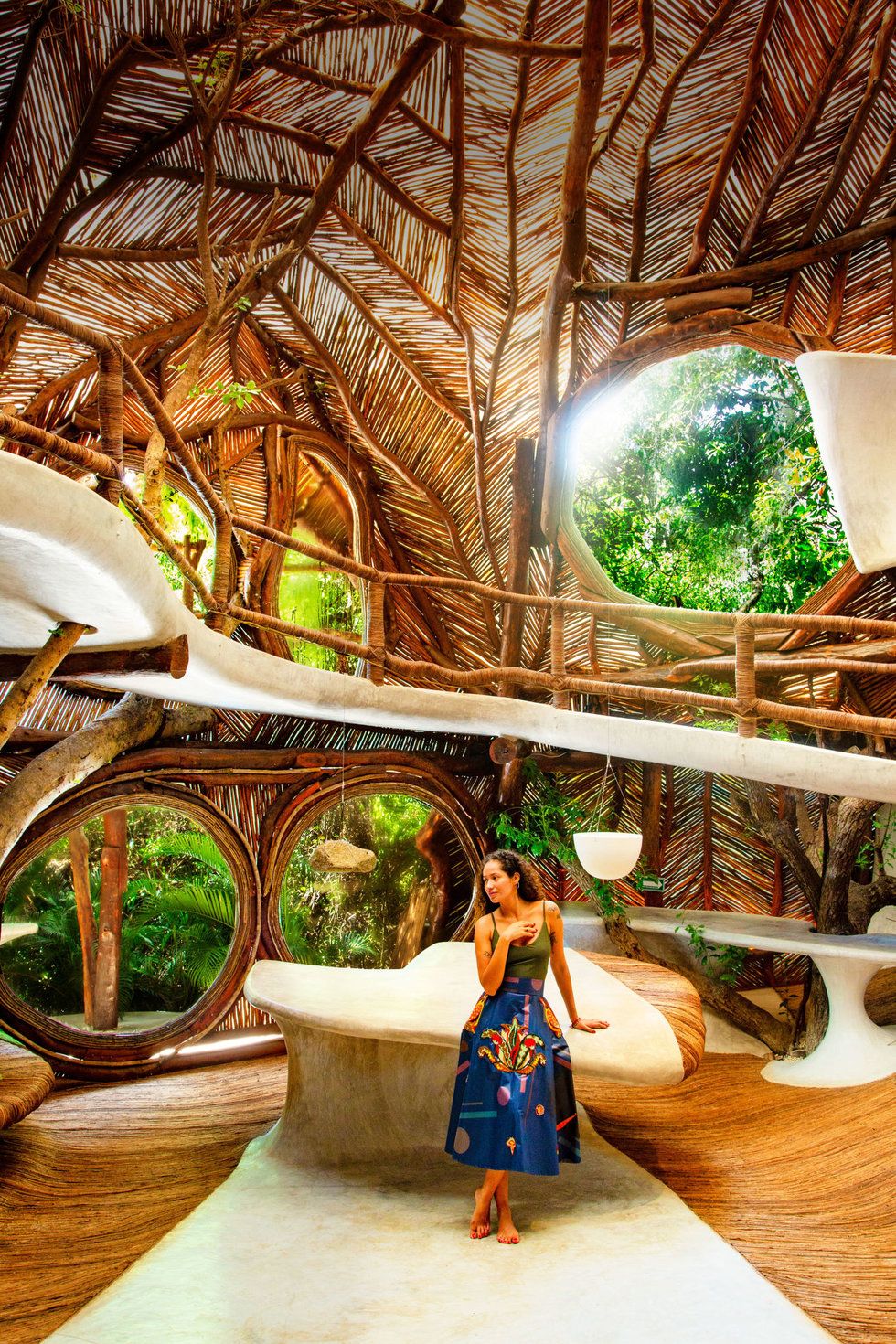 IK Lab
"I certainly wouldn't want that on my conscience," I agree.
After emerging from a cenote (a natural sinkhole where groundwater is exposed to the sky), I offer an adiós to Viadero and make my way to Tulum's Route 15—the narrow street that cuts through the jungle, parallel to the shore, and is lined with trendy restaurants, bars, and "eco-chic" (their word, not mine) hotels. Twenty years ago, this strip wasn't much, but now there's not a speck of beachfront that isn't occupied by an Instagram-ready boutique property. (The number of rope swings is astounding.) In recent years, Route 15 has played host to Demi Moore, Leonardo DiCaprio, Naomi Watts, Gina Rodriguez, Reese Witherspoon, and, after today, me. I'm staying at Sanará, a stylish wellness hotel that attracts young and hip sunworshippers from around the world who like partying and yoga in equal measure.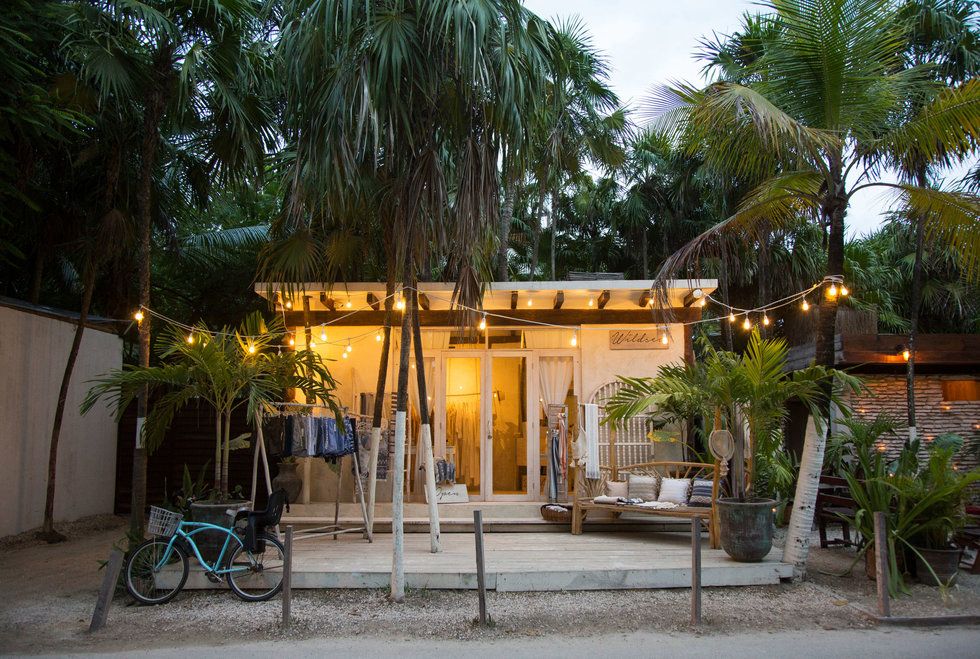 A shop on Tulum's Route 15
I check into my beachside room (furnished with my very own yoga mat and dream catcher), flop down on the bed, and open up the "Wellness Menu." On offer are a Pudzyah Mayan Healing that "transforms pain to love at the cellular level … It harmonizes your DNA by applying fractal geometry energy"; a Multivibrational Massage and Chakra Balancing; and a Solar Plexus Healer. I opt for the complimentary "Sound Bath" of light yoga and didgeridoo before balancing out my chakras with a burger, a beer, and some fresh ceviche at Clan Destino.
This laid-back spot is all about the ambience: a wooden deck with chandeliers hanging from the jungle canopy and a cenote smack dab in the middle of the club, should you need refreshing after one too many cervezas. The bar offers a free shot of mezcal for those who take a turn on the karaoke mic ("Suspicious Minds" for me, thank you very much); after accepting my applause and draining my shot, I turn the glass over on the bar and take the plunge.
Day 3
Floating down a canal, swimming in the Caribbean, and eating gelato on the beach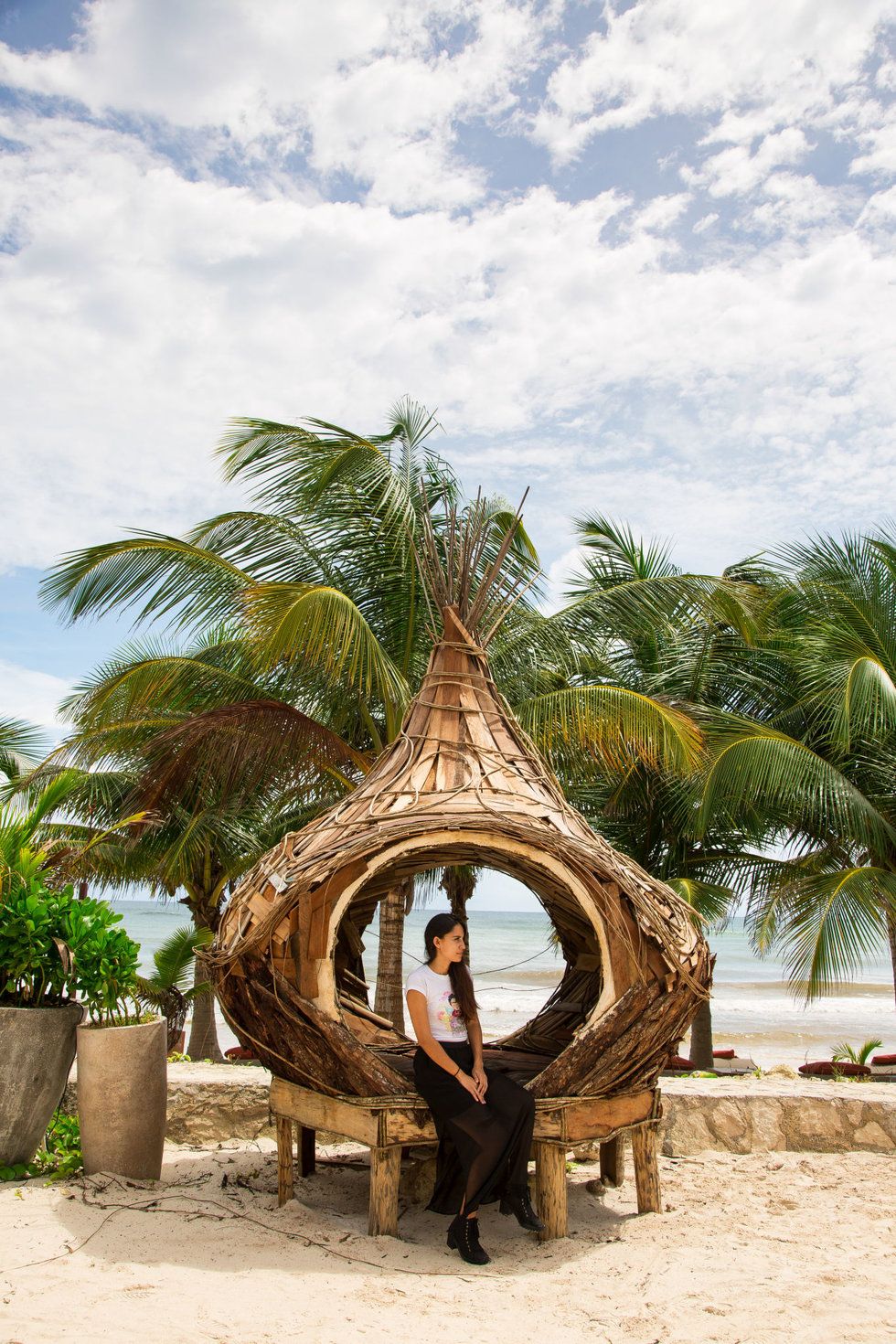 A cabana at Mía
At The Real Coconut, Sanará's beachside restaurant, I dig into a light breakfast of coffee and avocado toast (piled high like Nohoch Mul with a squirt of lime and a sprinkling of red pepper flakes). It's a deliciously healthy start to a morning that's going to include traipsing through the Sian Ka'an biosphere reserve and swimming in Laguna Chunyaxché.

At Sian Ka'an—a protected area of tropical forest, marshes, and lagoons about a 40-minute drive from my hotel—I follow my guide, Joaquin Balam of Community Tours, down the narrow boardwalk of Sendero Muyil, which cuts through a forest of zapote and ficus trees. I'm told there are jaguars, pumas, and howler monkeys about, as well as some 330 species of birds.
"Are those the howler monkeys?" I ask of a muted rumbling in the distance.
"We're floating in the current like a couple of astronauts in space, limbs slowly twirling."
"Oh no," says Balam. "When you hear them, you'll know it."
The closest we get to this array of wildlife, however, is some jaguar claw marks on a ficus tree. By the looks of the marks, I'm happy that we're strolling alone.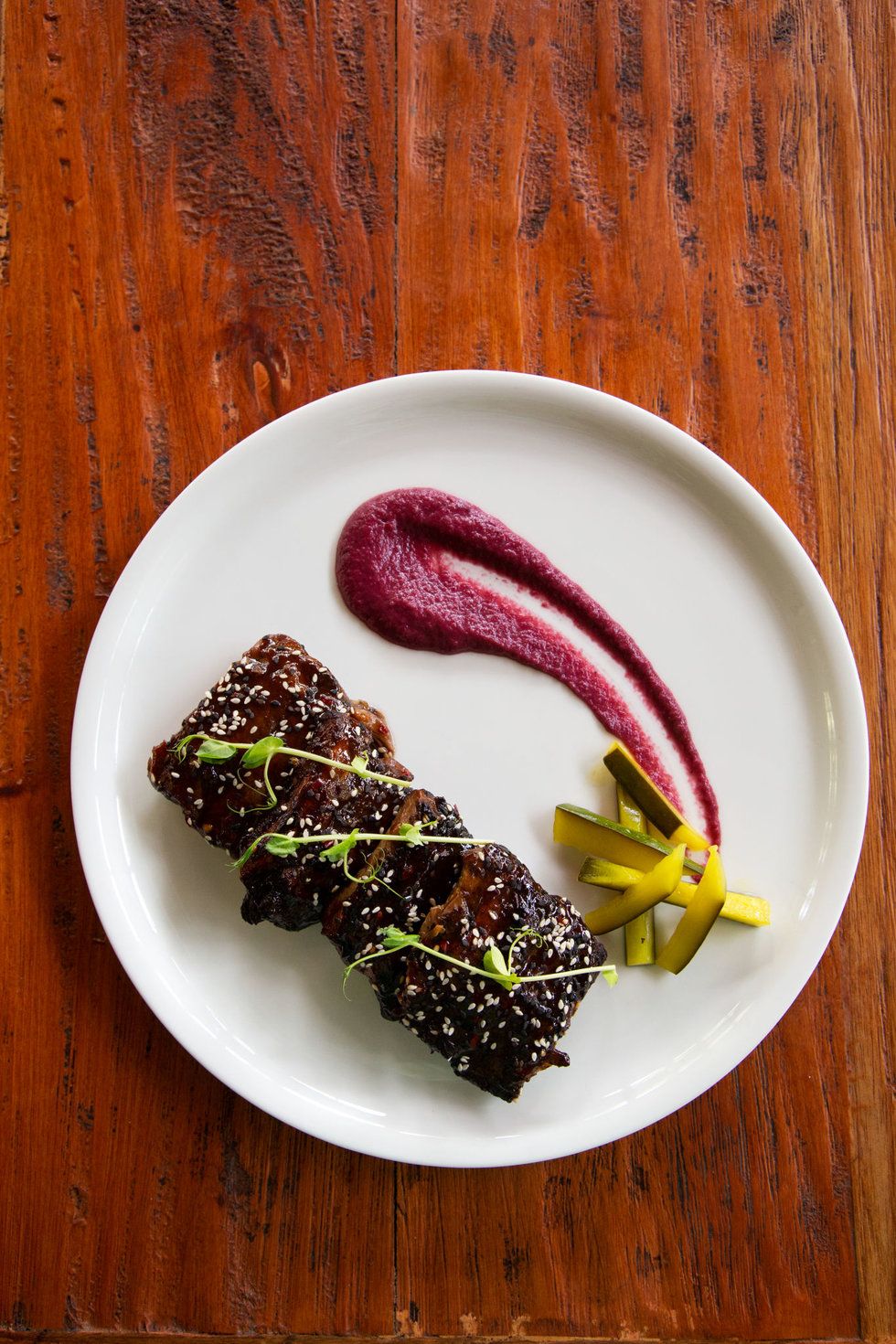 Baby back ribs at Mía Restaurant & Beach Club
At the end of the path, we reach the sandy shoreline of Laguna Chunyaxché, a bright body of water that reflects both the green wetlands and the blue sky above. We cross the lagoon by boat, to a shoreline of mangroves and seagrass, and step onto a dock at the entrance to a canal.
"Take your life vest off and wear it like this," Balam says, putting his legs through the arm holes of the vest, as if it were a diaper.
"If you say so."
Balam jumps into the canal and I follow, and I immediately understand the Baby Huey getup. We're floating in the current like a couple of astronauts in space, limbs slowly twirling as our seemingly weightless bodies travel down the canal. Cue the opening horns of the score to 2001: A Space Odyssey.
Back on Route 15, I stop in at Mía Restaurant & Beach Club for baby back ribs rubbed with chili and tamarind, washed down with a glass of Château Gloria St Julien Bordeaux from the restaurant's wine cave—the biggest collection of fine wines in Tulum. It's as decadent as the beachgoers lazing in the sun not far from my table.
Head still swimming in that lovely Château Gloria, I decide to take the rest of my body for a little dip. The Caribbean is bathwater warm and crystal clear—in other words, perfect. I walk out for what seems like half a mile, and the water still only comes up to my waist.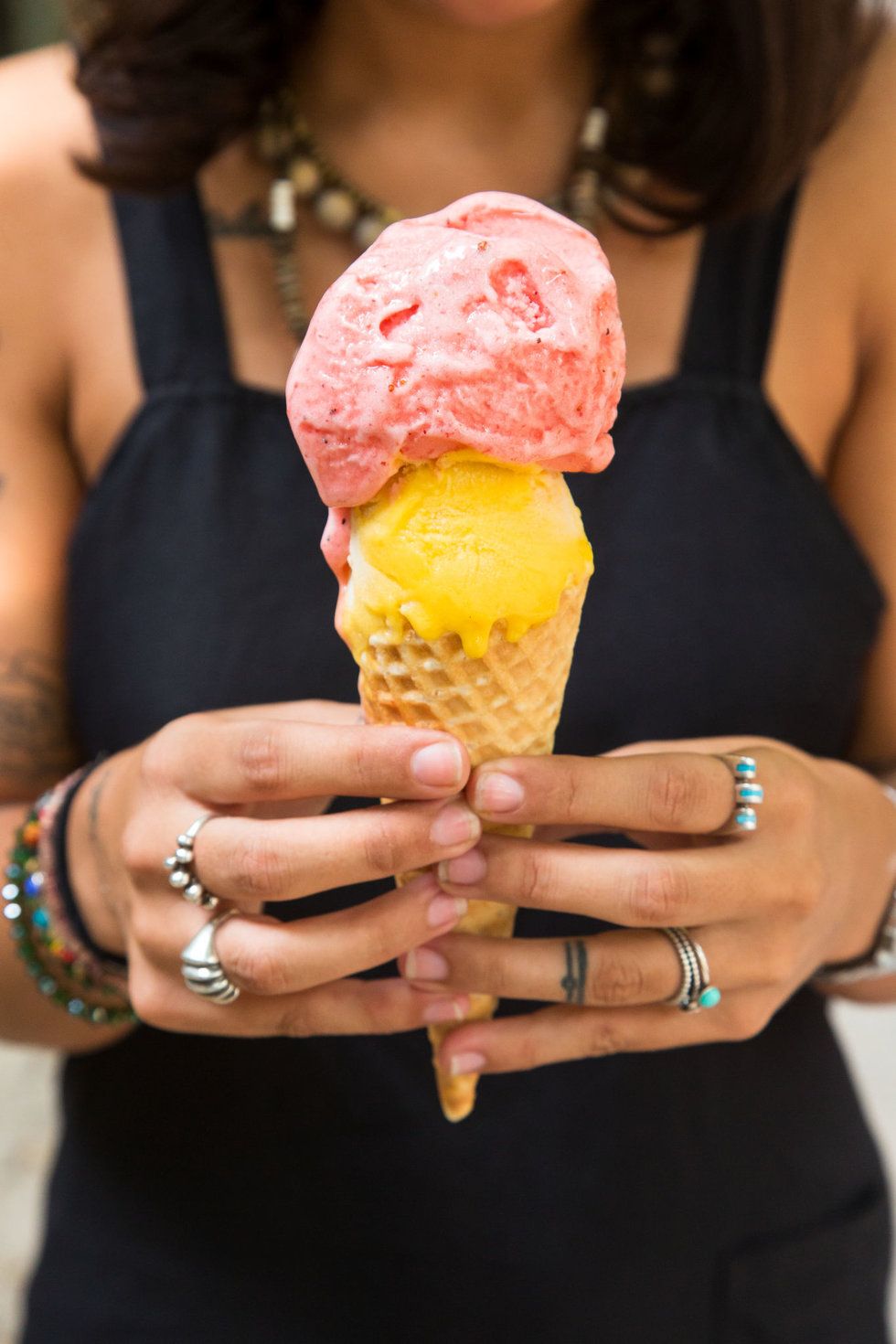 Gelato at Origami
Refreshed and sun-dried, I'm ready to trade in the historical and ecological sights of the last few days for the fashion runway of Route 15. The women wear bikinis and sarongs, the men wear linen shorts and loafers, and everybody wears designer shades, brimmed hats made of straw, and suntans of golden bronze. Origami, a beautifully designed gelato shop, is the perfect place to have a seat and watch the catwalk. I have a Ferrero Rocher and crunch on the hazelnuts drenched in icy chocolate and cream while the fashion models play street chicken with Vespas and the delivery trucks distributing tanks of fresh water to the five-star eateries
If Route 15 is for the well-heeled, then Calle Centauro Sur is for the flip-flop set. It's a strip in the center of town, about two miles inland from the beach, where the more casual tourists and locals congregate. Call it the Brooklyn to Route 15's Manhattan. At Batey—a hip, open-air bar and music venue decorated with paintings of Miles Davis and the Beatles—I take a sidewalk seat and listen to a Mexican Elvis impersonator singing Simple Minds' "Don't You (Forget About Me)." As I sip on a Don Julio Reposado, a patchouli-scented parade of 5 o'clock shadows and hot pink hair dye ambles by.
"Are you going dancing tonight?" a young man in a tank top, cut-off jean shorts, and tattered Chuck Taylors asks a friend sitting at the table next to me.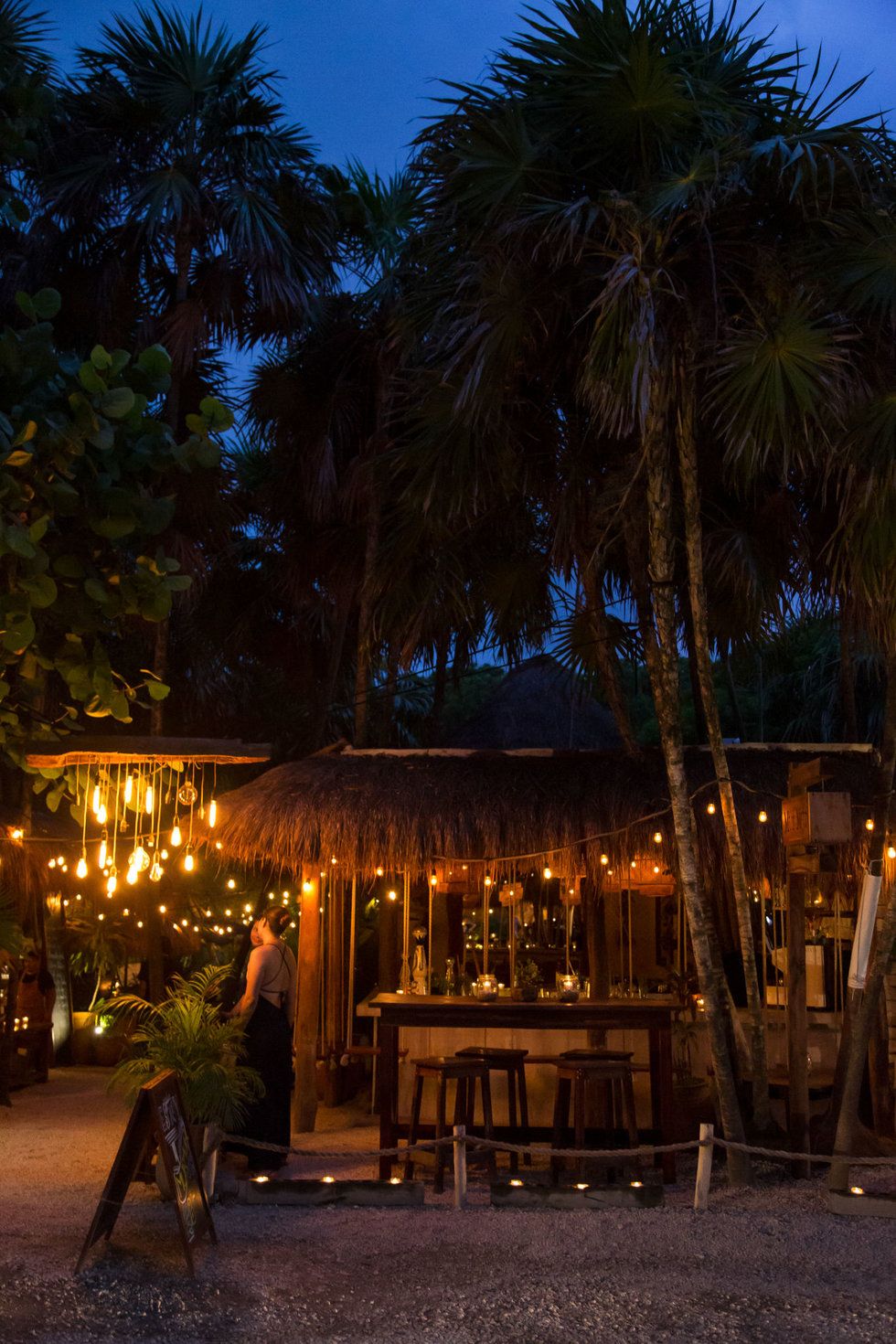 The bar at Mur Mur, in Tulum
"Are you?"
"I'm dressed and ready to go."
Back on Route 15, the revelers are stepping out as if their outfits are going to be scrutinized by bouncers holding clipboards and manning red velvet ropes. Thankfully, no such velvet ropes exist as I enter Rosa Negra for an indulgent meal of burrata, besugo sashimi with black salt and citrus, soft-shell crab tacos, and Pescadores—a fine craft beer made right here in Riviera Maya.
The food is as comely as the patrons, who are bopping their well-coiffed heads to a drum-and-bass DJ. But before I have a chance to pass judgment on an ambience that may appear a touch too buttoned-up, a live conga player steps in front of the DJ.
A rat-a-tat tat, bop ba-da ba-bop, dup du-duh dup du-dup!
The congas add a touch of that Carmen spirit—their organic vibrations reminding me that despite all the Manolo Blahniks and slinky black dresses, my T-shirt and flip-flops are welcome at the party. I shimmy my shoulders, take a swig of my Pescadores, and nod to the beat as I dig into my tacos.
A rat-a-tat tat, ba dop ba-da ba-dop, dup du-buh dup bu-dup!
Canada's largest city spreads out along the northwestern shore of Lake Ontario, and it's a dynamic, multicultural and inclusive experience like almost no other place on earth. Not only is Toronto a thriving living city,it's also become one of the world's truly must-visit destinations. Regularly ranked as one of the greatest places to live, Toronto is the cultural center of the country and home to the biggest events, the most pro sports and the greatest concentration of theaters and restaurants.
Recent decades have seen regular multi-million-dollar upgrades to the city's public spaces, with a slew of great museums, iconic architecture and the redevelopment of the now glittering lakefront adding to the city's appeal.

Add in an ever-growing number of world-class hotels, upbeat nightlife that runs from dusk until dawn and a vibrant and diverse culinary scene influenced by the eclectic makeup of the city's people. Bright and bustling, cosmopolitan and cultured, unpredictable and energetic, Toronto has become one of the greatest cities on earth.
What you see and where you go will depend on the length of your stay. A week is good, longer is better. But even a long weekend will give you a taste of 'The Six' — one of the city's many nicknames, reworked recently as 'The 6ix' by one of its most famous sons, Drake.

However long you stay, you can't hope to see it all. So, consider what follows a starting point for your first visit…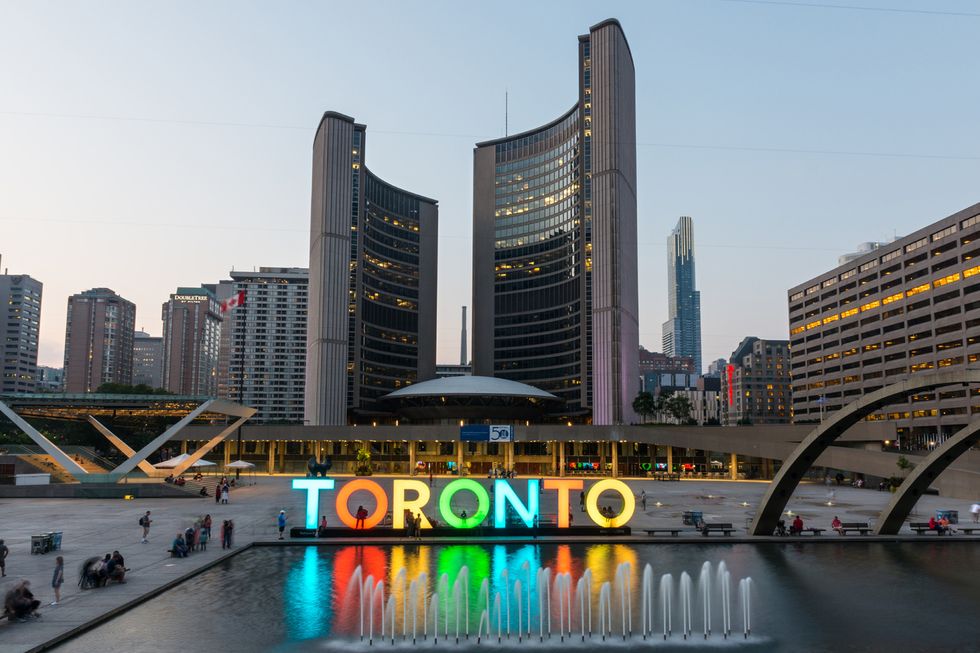 City Hall, Toronto
The checklist sites

No visit to The Six can be considered complete without ticking off several of Toronto's true heavyweight sights. All of the following are in or within easy reach of the city's compact, walk-able and very vibrant center.
The CN Tower is unmissable in every sense, a vast freestanding spire that looks down upon the city and takes its place as one of the 'Seven Wonders of the Modern World'. Head up for the city's best 360-degree views, or get your heart racing on the EdgeWalk — a journey around the circumference of the tower's main pod, 116 stories high and tethered by a harness.

Back on solid ground, Ripley's Aquarium is almost right next door to the CN Tower and is home to 16,000 aquatic animals and the Dangerous Lagoon. A moving sidewalk that whisks you through a long tunnel surrounded by sharks and stingrays is guaranteed to make your heart race all over again.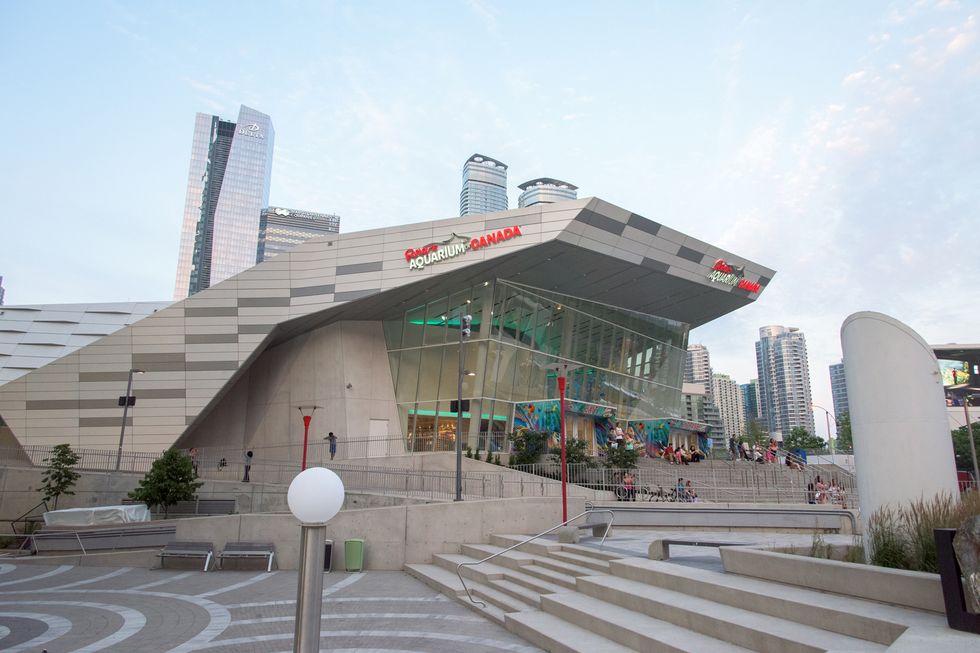 Ripleys Aquarium
Also close to the CN Tower is the Rogers Center, home to Canada's only baseball team, the Toronto Blue Jays. Visit on game day for the full experience, or take the stadium tour to go behind the scenes and through closed doors.

In a city of so many museums and galleries, the Royal Ontario Museum stands out. Not just because it's home to a world-class collection of 13 million artworks, cultural objects and natural history specimens, but as much because it hosts exciting Friday night events that include dance, drink and top DJs.

Two other must ticks include the Art Gallery of Ontario, which houses 95,000 works of art and is free for visitors under 25, and the Hockey Hall of Fame, which taps into Canada's national obsession in stunning depth.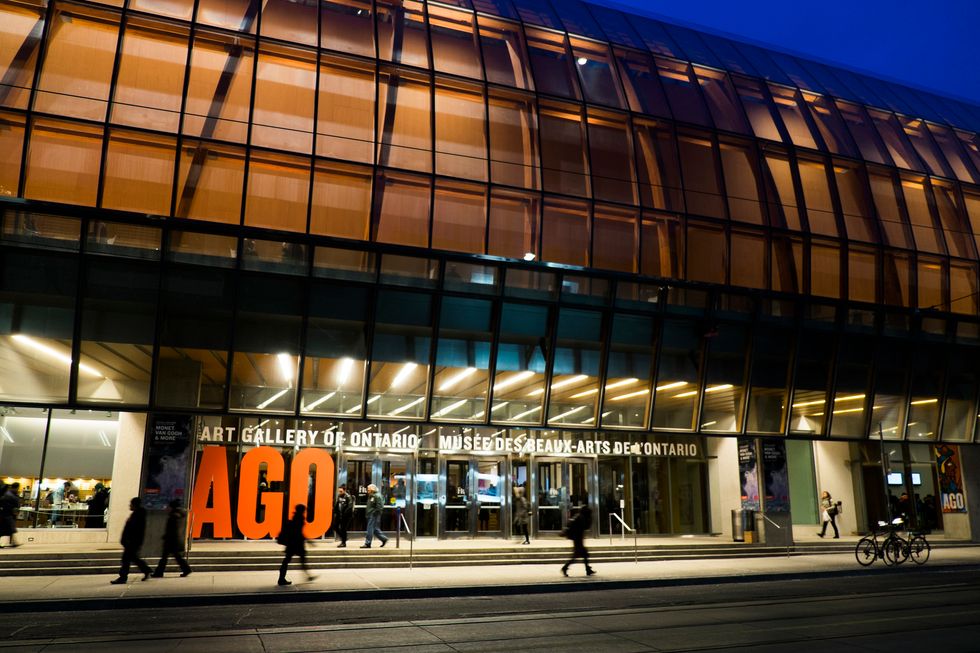 Art Gallery of Ontario
Casa Loma is a must-visit Gothic castle in the heart of the city. North America's only castle is filled with artworks and treasures from Canada and beyond, but its big pull is the network of hidden tunnels to explore as they stretch out beneath the city.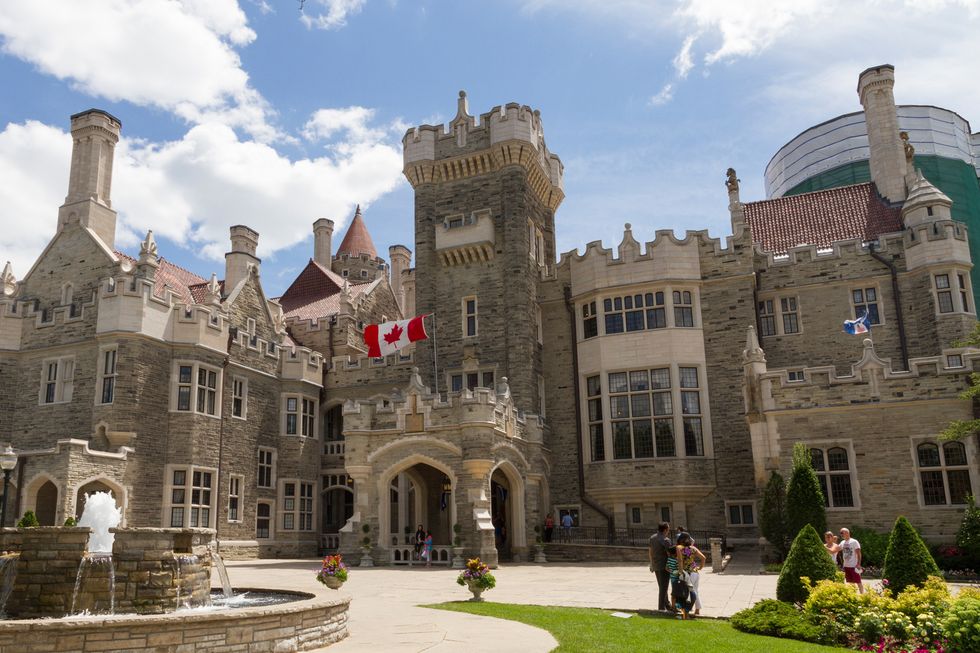 Casa Loma
Toronto's multi-cultural makeup is visible all across the city but reflected best in its remarkable culinary scene (see Where to eat and drink). The city's 'fresh and local' mantra is perfectly showcased at St. Lawrence Market, one of the world's greatest food experiences. Pay it a visit and grab a peameal bacon sandwich — a Canadian staple invented in Toronto and now considered the city's signature dish.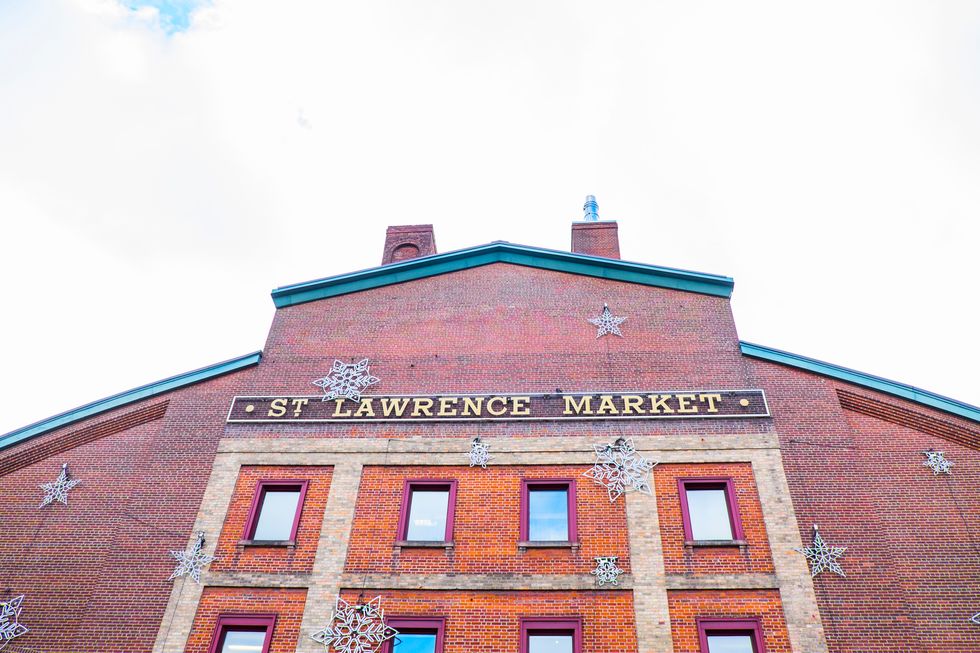 St. Lawrence Market
Afterwards, walk off the calories by wandering the historic cobblestone and car-free Distillery District. Once a vast whiskey distillery and an important spot during prohibition, historians mention that even Al Capone would visit the Distillery to load alcohol destined for the States[9] . This iconic landmark now distils creativity within the 19th century buildings now home to hip restaurants, bars, independent boutique stores, galleries and theaters. Visit in December for the Toronto Christmas Market.

Finally, don't even think about returning home without having had a picture taken with your head poking through an 'O' of the multicolored, 3D Toronto sign at City Hall — the most Insta-worthy location in a city of so many. You'll need to head there early in the morning to avoid the crowds.

If you stay long enough, take a ferry and hop across to Toronto Islands, a chain of 15 small islands in Lake Ontario just south of the mainland. They're home to beaches, a theme park and a breathtaking view of the city's skyline and will very happily fill a full day of your stay.
The bucket list
You absolutely cannot leave Toronto without having witnessed the power of the Niagara Falls and its hypnotic mist up close. Trying to visit the Falls from the States is a trip on its own, but it's almost non-optional when you're less than two hours away in Toronto. Take the trip, buy the T-shirt and tick off one of the world's must-see sights.
Explore like a local
Away from the sleek, gleaming towers of downtown lie many of Toronto's less obvious but no less essential attractions. West Queen West is Toronto's hippest neighborhood and artistic heart, a one-mile strip of very chic galleries, stores, restaurants and boutique hotels. Kensington Market is a fantastically chaotic neighborhood and perhaps the best example of the city's famous multiculturalism. It's not a market as the name implies, but a collection of independent shops, vintage boutiques, art spaces, cafés, bars and restaurants from every corner of the globe.
The Bata Shoe Museum is one of the city's quirkiest collections, an unexpectedly fascinating exhibit that retraces the 4,500-year history of footwear. And as you wander the city, you can't fail to notice that Toronto's walls are alive with graffiti. Take a free 90-minute walking tour through the back alleys of Queen Street West and down Graffiti Alley to gain a better understanding of the city's street art scene. If you visit during the sunnier months, escape the hustle by heading just east of the center to High Park, the green heart of the city where forests, walking trails, picnic spots and even a zoo await you. Ideal to unwind after a long day of urban adventures.
The essentials
When to go With the sun shining, May through October is a great time to visit, but the city is alive through all four seasons. The Spring and Autumn months are ideal as the humidity and visitor numbers are lighter, while Toronto comes alive through the colder months through a wide array of winter celebrations. One of the most spectacular is the Aurora Winter Festival, a six-week celebration that sees the Ontario Place, West Island transformed into four mystical worlds. Whichever season you choose, plan to stay for at least five nights to get a true flavor of the city.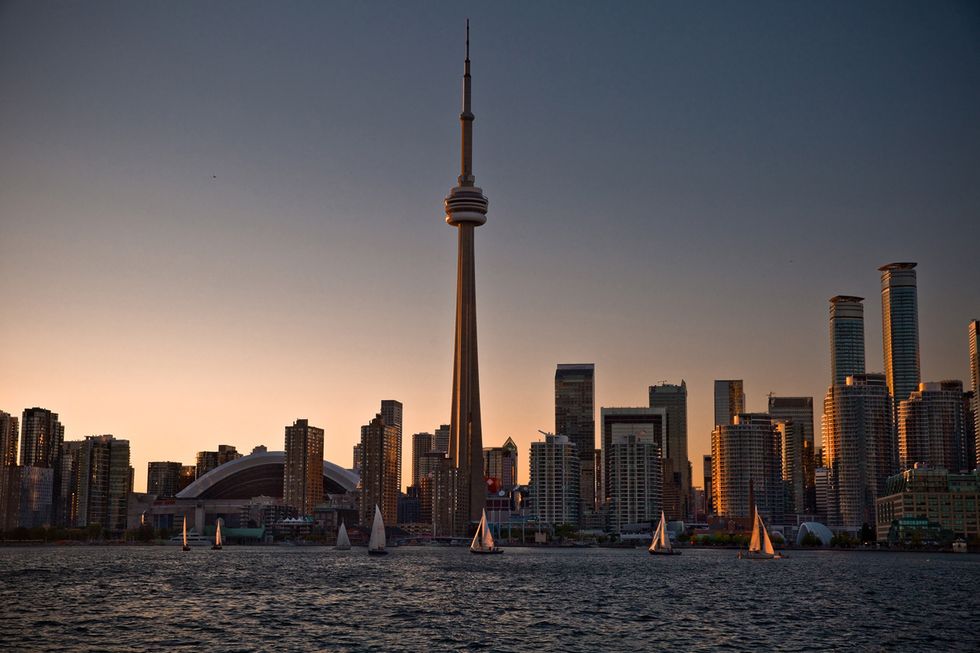 Toronto skyline view
Where to stay To be at the heart of most of the attractions you'll want to see, aim for downtown. One of the best options is the Marriott City Center, not only because it's located right next to the CN Tower but also because it's attached to the iconic Rogers Center where the Toronto Blue Jays play and countless concerts and popular events are held.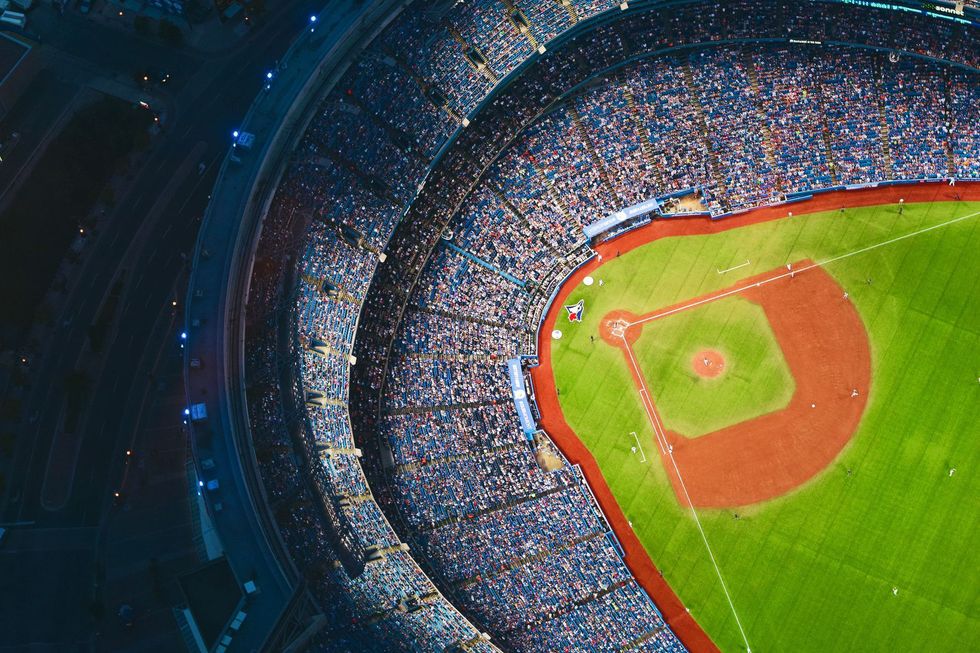 Toronto Blue Jay stadium
Opt for a Stadium room and you'll look out onto the field. If you want to experience Toronto's non-stop nightlife, the Entertainment District is the place to be. If you're looking for a luxury experience, discover Canada's first St. Regis hotel in the heart of downtown.

Where to eat and drink Nowhere is Toronto's incredible diversity more evident than in its food scene — taste Toronto and you're tasting the world. The city is brimming with restaurants and cafés serving everything from high-end fine dining to comfort food from an informal neighborhood joint — plus every option imaginable in between.

For fine dining, consider Alo, Canis and Edulis. Book a table at Canoe, Lavelle, The One Eighty or 360 at the CN Tower and you're guaranteeing a view as spectacular as the food. Or experience the city's remarkable fusion food at DaiLo (French-Cantonese), El Catrin (Mexican-French) and the unexpected mashup of Rasta Pasta (Jamaican-Italian).
The above suggestions don't even scratch the surface of a food scene to rival any city on earth, with options to suit every taste and any budget.
How to get around Toronto is perfect to explore on foot or via a growing network of cycle routes. For a quicker journey, buy a Presto card to use the TTC, Toronto's subway, streetcar and bus system.

How to get there Fly into Toronto Pearson International Airport (YYZ) with United and you're around 15 miles west of the city center. The most comfortable route in is via the Union Pearson Express, which runs every 15 minutes and gets you downtown in 25 minutes ($13).The TTC is a cheaper option at under $5, but it can take an hour and a half and involves a number of transfers, while a taxi will take around 30 minutes and cost $45.
United flies to Toronto from numerous U.S. cities including our Hub city locations. Book your trip via united.com or by downloading the United app.



Following the devastating wildfires in Australia and powerful earthquakes that shook Puerto Rico last week, we're taking action to make a global impact through our international partnerships as well as nonprofit organizations Afya Foundation and ADRA (Adventist Development and Relief Agency).
Helping Puerto Rico recover from earthquakes
Last week, Puerto Rico was hit with a 5.2 magnitude earthquake, following a 6.4 magnitude earthquake it experienced just days before. The island has been experiencing hundreds of smaller quakes during the past few weeks.
These earthquakes destroyed crucial infrastructure and left 4,000 people sleeping outside or in shelters after losing their homes. We've donated $50,000 to our partner charity organization Airlink and through them, we've helped transport disaster relief experts and medical supplies for residents, as well as tents and blankets for those who have lost their homes. Funding will go towards organizations within Airlink's partner network, which includes Habitat for Humanity, Mercy Corps and Americares, to help with relief efforts and long-term recovery.
Australian wildfire relief efforts

Our efforts to help Australia have inspired others to make their own positive impact. In addition to teaming up with Ellen DeGeneres to donate $250,000 and launching a fundraising campaign with GlobalGiving to benefit those impacted by the devastating wildfires in the country known for its open spaces and wildlife, our cargo team is helping to send more than 600 pounds of medical supplies to treat injured animals in the region.
Helping us send these supplies is the Afya Foundation, a New York-based nonprofit that seeks to improve global health by collecting surplus medical supplies and delivering them to parts of the world where they are most needed. Through Airlink, the Afya Foundation will send more than $18,000 worth of materials that will be used to treat animals injured in the Australian fires.
These medical supplies will fly to Melbourne (MEL) and delivered to The Rescue Collective. This Australian organization is currently focused on treating the massive population of wildlife, such as koalas, kangaroos, and birds, that have had their habitats destroyed by the recent wildfires. The supplies being sent include wound dressings, gloves, catheters, syringes and other items that are unused but would otherwise be disposed of.
By working together, we can continue to make a global impact and help those affected by natural disasters to rebuild and restore their lives
Australia needs our help as wildfires continue to devastate the continent that's beloved by locals and travelers alike. In times like these, the world gets a little smaller and we all have a responsibility to do what we can.
On Monday, The Ellen DeGeneres Show announced a campaign to raise $5 million to aid in relief efforts. When we heard about Ellen's effort, we immediately reached out to see how we could help.
Today, we're committing $250,000 toward Ellen's campaign so we can offer support now and help with rebuilding. For more on The Ellen DeGeneres Show efforts and to donate yourself, you can visit www.gofundme.com/f/ellenaustraliafund
We're also matching donations made to the Australian Wildfire Relief Fund, created by GlobalGiving's Disaster Recovery Network. This fund will support immediate relief efforts for people impacted by the fires in the form of emergency supplies like food, water and medicine. Funds will also go toward long-term recovery assistance, helping residents recover and rebuild. United will match up to $50,000 USD in donations, and MileagePlus® members who donate $50 or more will receive up to 1,000 award miles from United. Donate to GlobalGiving.
Please note: Donations made toward GlobalGiving's fund are only eligible for the MileagePlus miles match.
In addition to helping with fundraising, we're staying in touch with our employees and customers in Australia. Together, we'll help keep Australia a beautiful place to live and visit in the years to come.
Scroll to top