Three Perfect Days: Riviera Maya
Story by Jordan Heller | Photography by Lindsay Lauckner Gundlock | Hemispheres, December 2018
There is some dispute as to how Playa del Carmen, the metropolitan heart of the Riviera Maya just 40 miles south of Cancún, got its name. Some say it's after Our Lady of Carmel, the title given to the Blessed Virgin Mary in her role as patroness of the Carmelites. But the more compelling story is the one told by locals.
As legend has it, in the 1970s and '80s, when the area first became a destination, tourists traveling by boat from neighboring Cozumel would disembark in Playa—then known as Xaman-Ha—on their way to the ruins of Tulum. A local Maya woman named Carmen would happily invite these travelers into her modest home for a traditional meal of fresh-caught seafood. She may not have had any experience with immaculate conception, but when it comes to Playa, this Carmen is definitely a matron saint. Today, her spirit can be felt throughout the Riviera Maya, which also includes the village of Tulum, the ruins of Cobá, and a number of small Maya communities on the Caribbean side of the Yucatán Peninsula where, if you're lucky, a woman not unlike Carmen will happily invite you into her home for a meal.
Day 1
Exploring a Maya temple, befriending a butler and feasting on cochinita pibil
I eat grasshoppers for breakfast. No, this is not my way of saying I know how to handle a subordinate. I'm literally eating toasted grasshoppers sprinkled onto a dish of huevos rancheros with green tomatillo salsa, hoja santa, and goat cheese. I've just woken up at Playa del Carmen's Rosewood Mayakoba, which is perhaps the most luxurious resort I've ever stayed in (and I'm a travel writer). There's a private heated plunge pool outside my back door looking over a secluded lagoon, a spa Forbes rated one of the best in the world, and Tavo, my personal butler, who is at my beck and call through a Rosewood messaging app.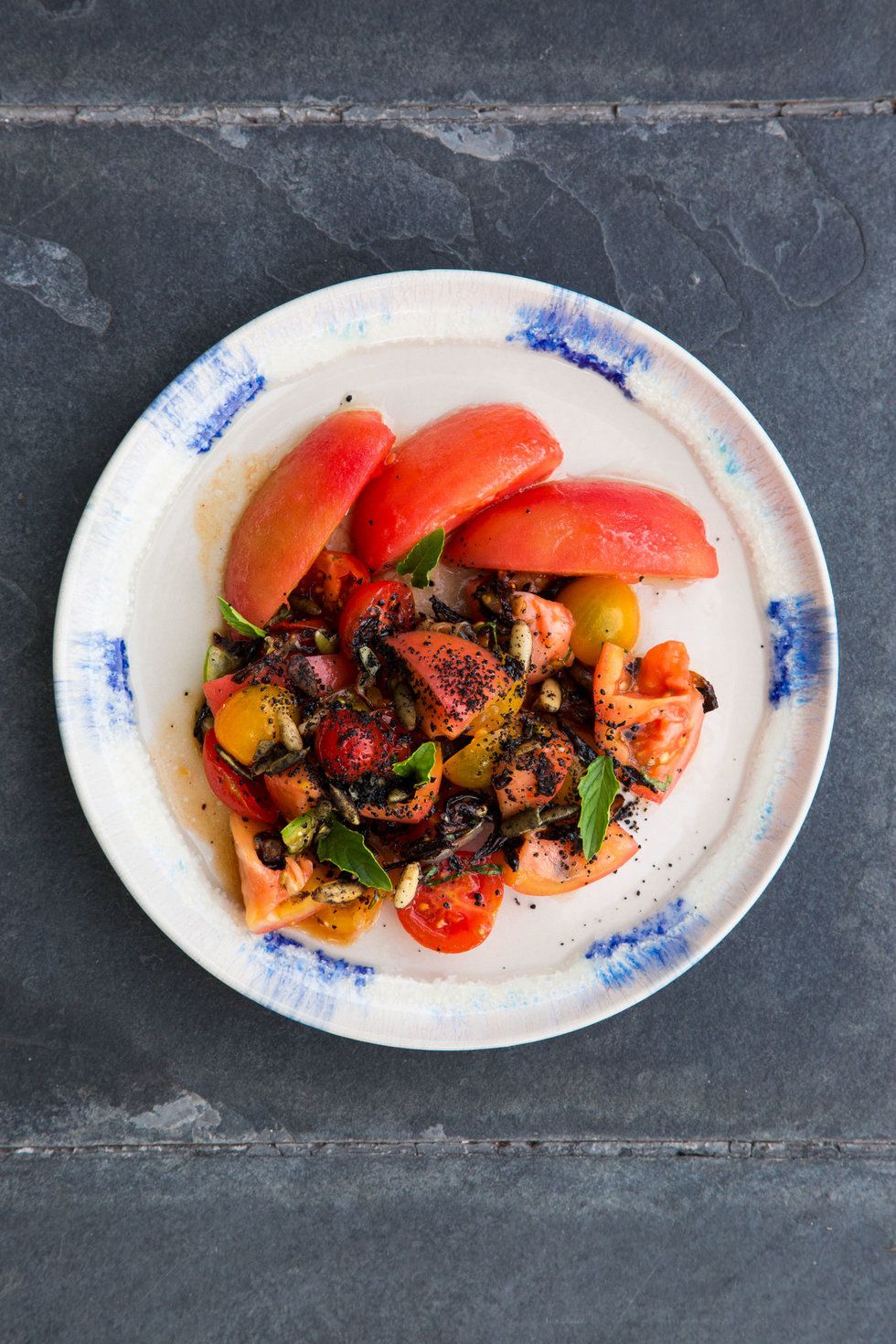 The sikil-p'aak tomato salad at La Ceiba Garden & Kitchen
A bottle of tequila and some toothpaste?

Certainly, Mr. Heller.
Despite all this luxury, I'm eating bugs—albeit with a Bloody Mary at a beachside restaurant overlooking the Caribbean. The toasted grasshoppers are crunchy (like perfectly burnt popcorn), incredibly delicious, and an appropriately indigenous start to a morning in which I'll be exploring the ruins of an ancient civilization.
After traveling inland to the village of Cobá, I trade my rental car for a "Maya taxi." It's the Yucatán version of a rickshaw—a padded bench fashioned atop the front wheel of a bicycle with a beach umbrella protecting me from the rain. My driver, Gustino, is transporting me through a mile of jungle and more than a millennium back in time, to the Late Classic (AD 550–830) Maya ruin of the Nohoch Mul Pyramid. The dirt path bustles with all manner of tourists riding Maya taxis, pedaling rented beach cruisers, or walking, excitedly talking about the sites of this ancient city in English, Spanish, German, Russian, and who knows what else.
As Gustino struggles to pedal through a particularly rough patch of mud, I ask him what nationality of tourist is the hardest to transport.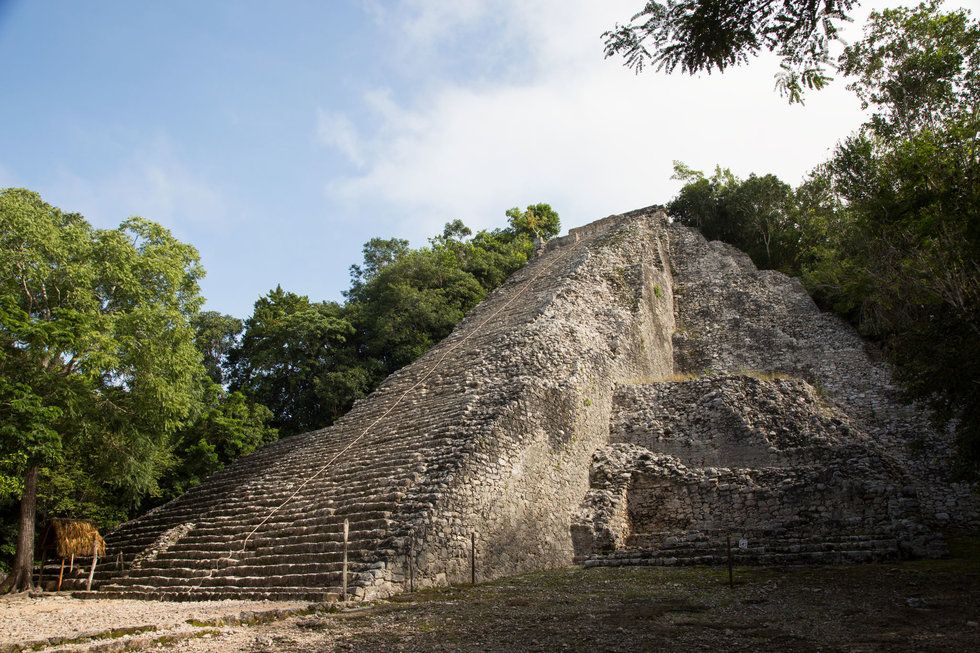 The Ixmoja pyramid at Cobá
"The Germans," he says. "It's not that they're overweight. They're just a very sturdy people. Americans are preferred: very easygoing and friendly people. Everybody wants an American fare."
When we arrive at Nohoch Mul, the panoply of tourists is suddenly speaking the same language: speechless. At 138 feet tall, the sheer scale of this temple is rivaled only by the gleaming hotels going up on the coast. But out here in the Cobá jungle, after I break the canopy and reach Nohoch Mul's summit, it's nothing but green as far as the eye can see, under which is apparently some 30 square miles of ancient city, most of it still obscured by the jungle. I'm told that just 5 percent of Cobá has been excavated since the project started in the 1970s.
"Today, if you come early in the morning, you find corn and beans here left by the local Maya, who continue to offer sacrifices to the gods."
"And what did they do with this little platform?" I ask Diego Viadero, my knowledgeable Tours by Locals guide, who's been schooling me on all manner of Maya history.
"Ah, yes," he says. "That's where the rulers would offer sacrifices to the gods, in hopes that they could avoid a collapse of the city."
"You mean like in the movie Apocalypto, where they chopped off the heads?" I ask.
"Just like in Apocalypto," says Viadero, doing his best to hold back an eye-roll. "Today, if you come early in the morning, you'll find corn and beans here left by the local Maya, who continue to offer sacrifices to the gods."
"Do you think it's enough?" I ask, making the comparison to the more (ahem) substantial offerings of yore. Let the eye-rolling commence.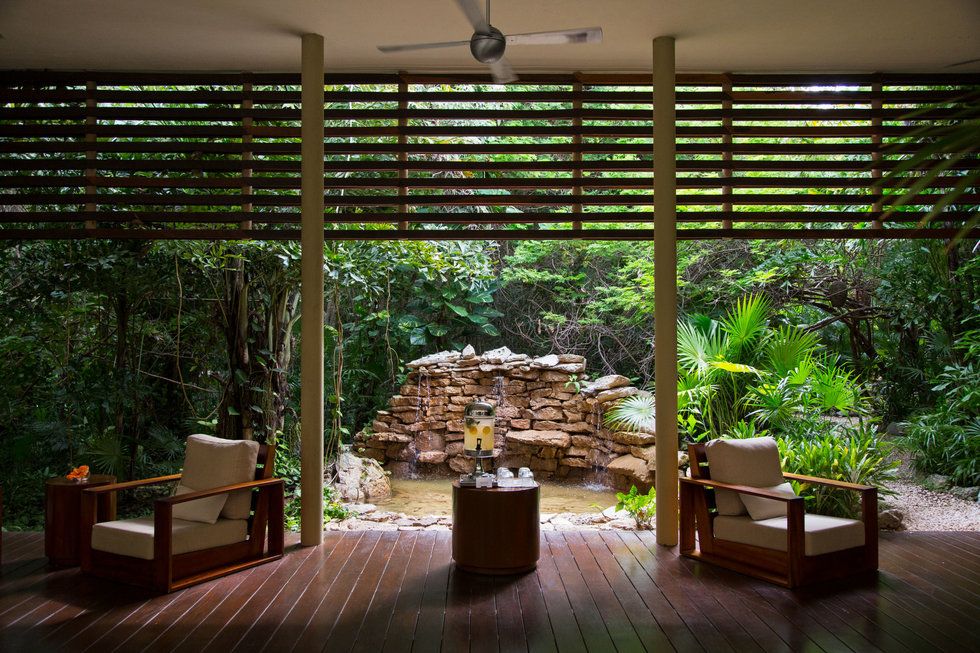 The Rosewood Mayakoba's Sense Spa
Next, Viadero takes me to Nojoch Keej, which is Mayan for El Venado Grande, which is Spanish for "The Big Deer." It's a sanctuary for endangered animals run by a Maya man named Manuel Poot Dzib out of his back yard in the village of Nuevo Durango. Poot Dzib started the sanctuary in 2005, after Hurricane Wilma destroyed the habitats of many local animals. He now looks after bees (which produce honey that's said to have healing qualities), white-tail deer, paca, curassow, and ocellated turkeys, which he aims to repopulate in areas that are protected from hunters. From the looks of these turkeys, I think ocellated must be Mayan for peacock. They're vibrant, multicolored, and beautiful to look at.
"Tavo leaves me to my plunge pool, where I enjoy my cocktail to the sound of a rainbow-billed toucan flapping around the lagoon."
Poot Dzib asks us to stay for lunch, which is great, because I'm starving. "We're having cochinita pibil—es muy delicioso," he adds, giving off some of that Carmen spirit.
I breathe a sigh of relief when I learn that cochinita pibil is not Spanish for ocellated turkey. It's achiote-marinated pork that's been cooking with banana leaf in a hole in the ground in Poot Dzib's front yard since 8 this morning.
"They normally only do this for the Day of the Dead or other special occasions," Viadero says as we watch Poot Dzib remove the dirt and corrugated metal covering his subterranean oven.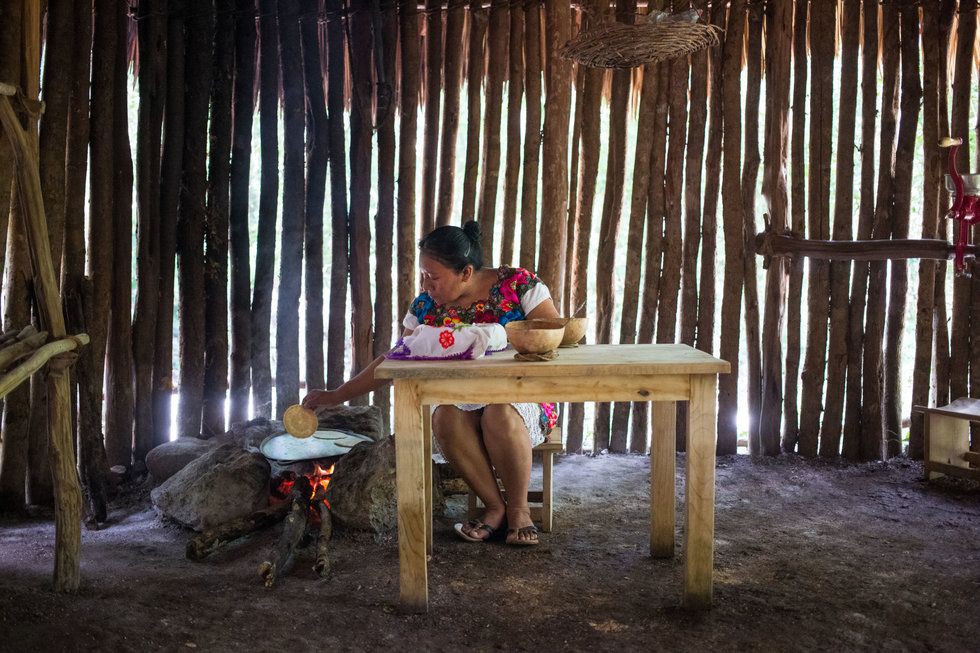 A home-cooked meal, Maya-style
"We used to cover it with banana leaf instead of metal, but that's a much harder and longer process," says Poot Dzib. "This is more modern."
Modern? I'm not so sure, but I grant Poot Dzib that it's certainly an update. In any event, when put on a handmade tortilla with pickled onions and habanero, this cochinita pibil is definitely mouthwatering.
I say "Taakulak k'iin" ("See ya later" in Mayan) to Poot Dzib and his ocellated turkeys and head back to the Rosewood, where Tavo the butler awaits with that bottle of tequila, plus some fresh lime juice and agave nectar for mixers.
Gracias, Tavo!
Certainly, Mr. Heller.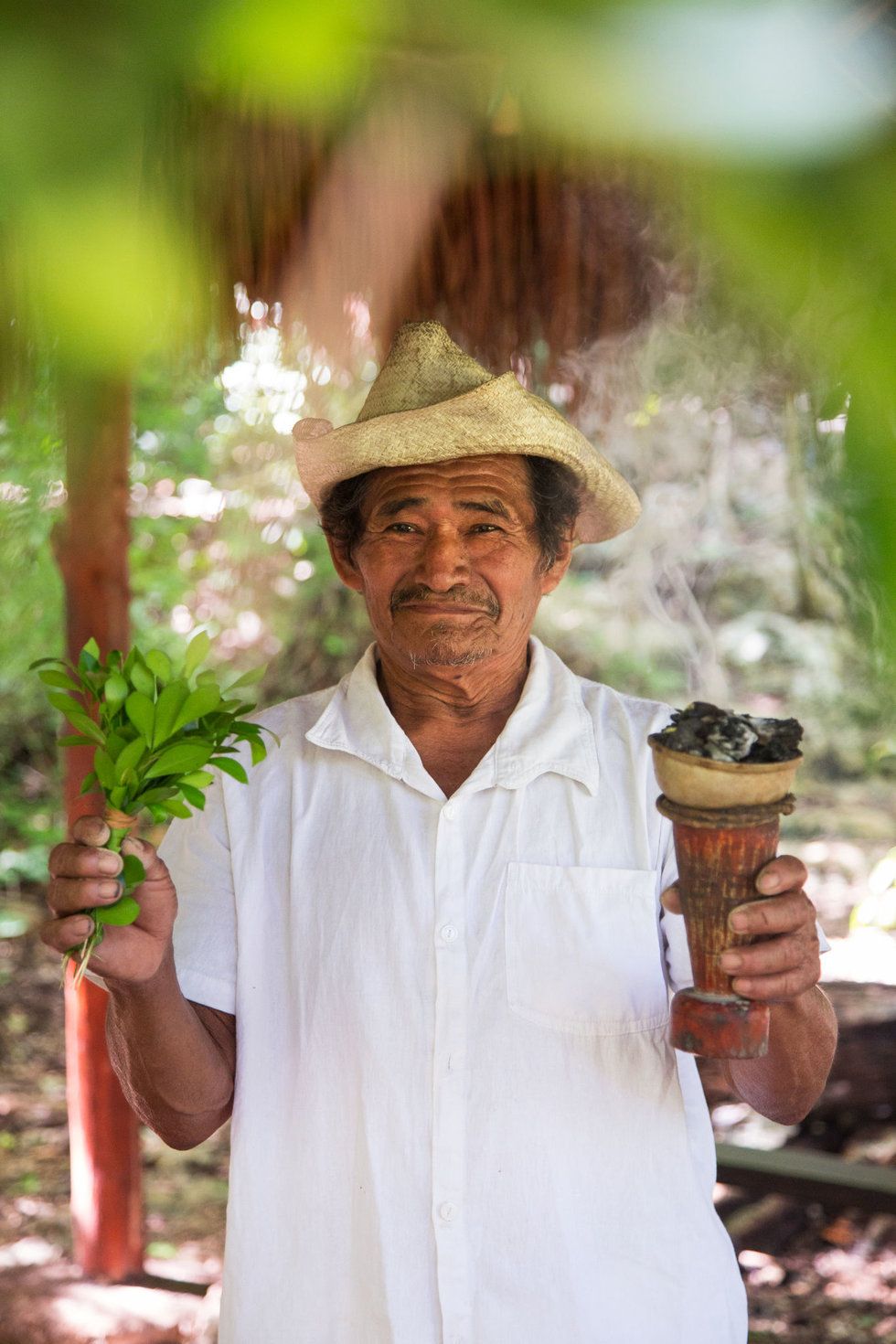 Tavo leaves me to my plunge pool, where I enjoy my drink to the sound of a rainbow-billed toucan flapping around the lagoon. Just one cocktail, however, as I'm hopping onto my complimentary beach cruiser (every guest gets one) to take a spin around the property, where geckos, iguanas, and even a tarantula skitter into the mangroves as I come rolling down the jungle path.
Appetite sufficiently worked up, I'm off to the Rosewood's La Ceiba Garden & Kitchen, where executive chef Juan Pablo Loza serves a communal dinner of Maya-inspired dishes with a contemporary touch. Seated at a long wooden table with 17 other guests, I ask the chef what he's learned from the local Maya villages, which he visits often to pick up cooking techniques.
"My top lesson from the Maya is less about food than it is about perspective," he says, before recounting a delicious meal he had with one family. "The woman who cooked for me had referred to her neighbor as poor. I found it an odd comment, because the assumption in a Maya village is that nobody is exactly rich. 'Why do you say your neighbor is poor?' I asked. She said because she has no family and no garden. If you don't have a garden, you can't get food from it, and if you don't have a family you have nobody to share it with. For them, having a family and a connection to nature is what it means to be rich."
"And now you have this beautiful garden," I say, pointing to his planters of lemongrass.
"And a family, too," he replies. "Including a daughter named Maya."
And then we feast. There's grilled octopus with black recado and burnt lime vinaigrette, zarandeado-style lobster, roasted plantains, and a k'úum salad of squash, arugula, orange, oregano, and ocosingo cheese, finished off with fresh fruits in guava honey and lemongrass.
Tavo, I'm stuffed! Turn out the light and have a pot of coffee waiting for me in the morning, please.
Certainly, Mr. Heller.
Day 2
Scaling ruins, swimming in cenotes, and taking a turn on the karaoke mic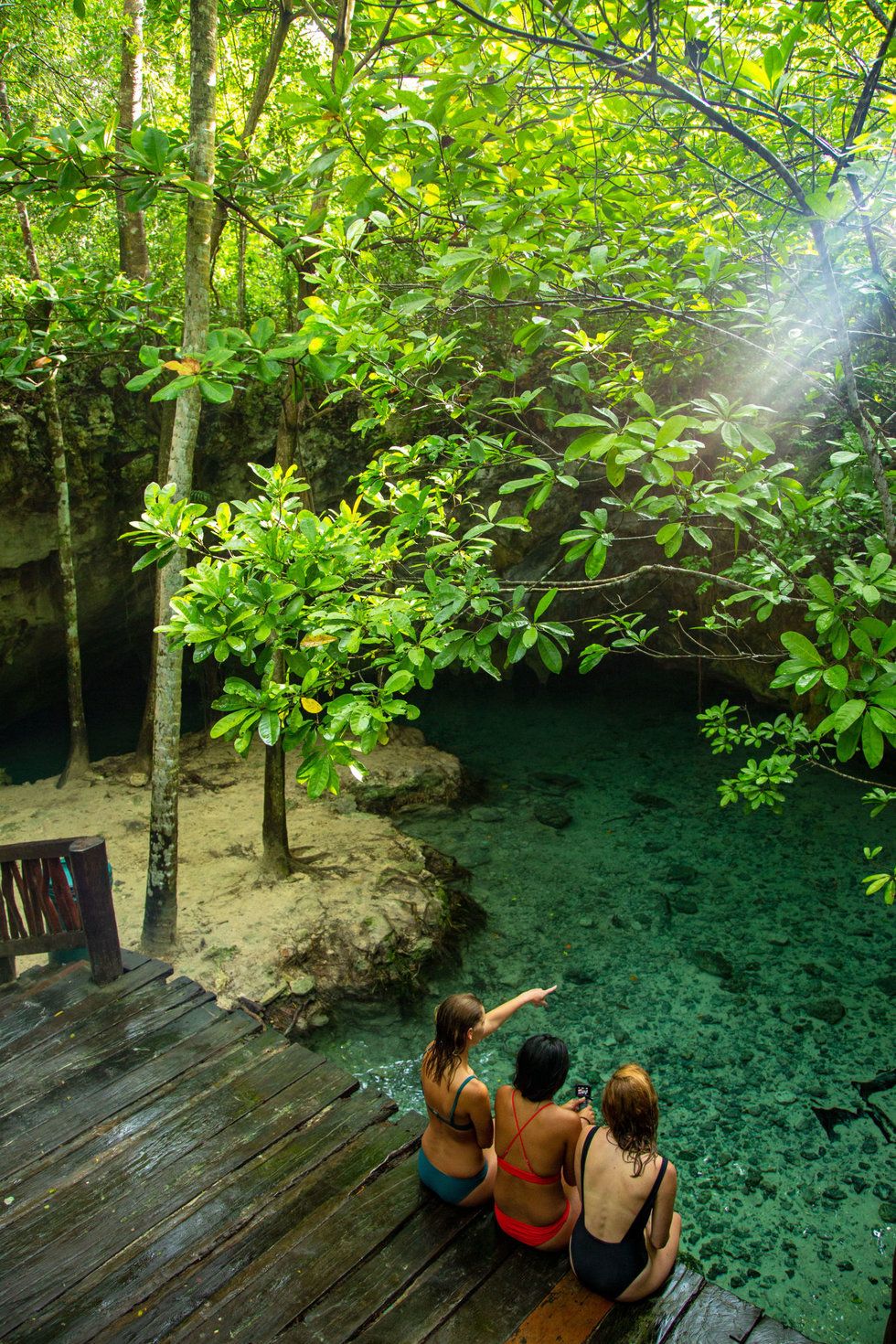 Gran Cenote
In the small village square outside Tulum National Park, the Voladores de Papantla are performing their ancient fertility ritual, or rain ceremony—named an "intangible cultural heritage" by UNESCO. Five men in traditional bright red pants and flowing white blouses with multicolored adornments sit atop a 90-foot pole. The man in the center taps an adagio beat on a simple drum and blows a gentle bird-like tune on a wooden flute while the other four men tie ropes around their waists. When the musician ups the tempo to allegretto, the other two men fall backward, like scuba divers dropping into water, and slowly descend upside down in a merry-go-round fashion, the spinning top ceding rope like a reel feeding line to a fish. It's absolutely beautiful.
On a path cutting through the mangroves and almond trees on the way to the park entrance, a guide shares a mnemonic device that will be helpful should I run into any venomous coral snakes: "red on yellow, kill a fellow; red on black, friend of Jack." I assume I'm a Jack.
"The water is high and crisp as we float past stalagmites growing ever so slowly out of the cave floor."
Thankfully, there are no snakes to be seen in the ancient Maya city of Tulum, an open patch of manicured lawns and stone ruins protected by walls to the north, west, and south, and an ocean reef to the east. Or so it was protected until around 1500, when the Spanish came ashore. This beachside community, established circa 1200, was populated by a few hundred of Tulum's elite (and the sea turtles that still come ashore to lay their eggs), with thousands of people living outside the walls. It wasn't until the 20th century, when archaeologists began studying the region's various Maya sites, that we began to understand how advanced their civilization was—especially in the area of astronomy. As I walk the city's white gravel paths, I can imagine a well-heeled society covered in jade and obsidian jewelry enjoying the same ocean breeze and studying the same night sky. One glance at the view, and it's clear the Maya knew something about real estate. This plot right here, with a lighthouse perched on the cliff, would go for a boatload of jade and obsidian.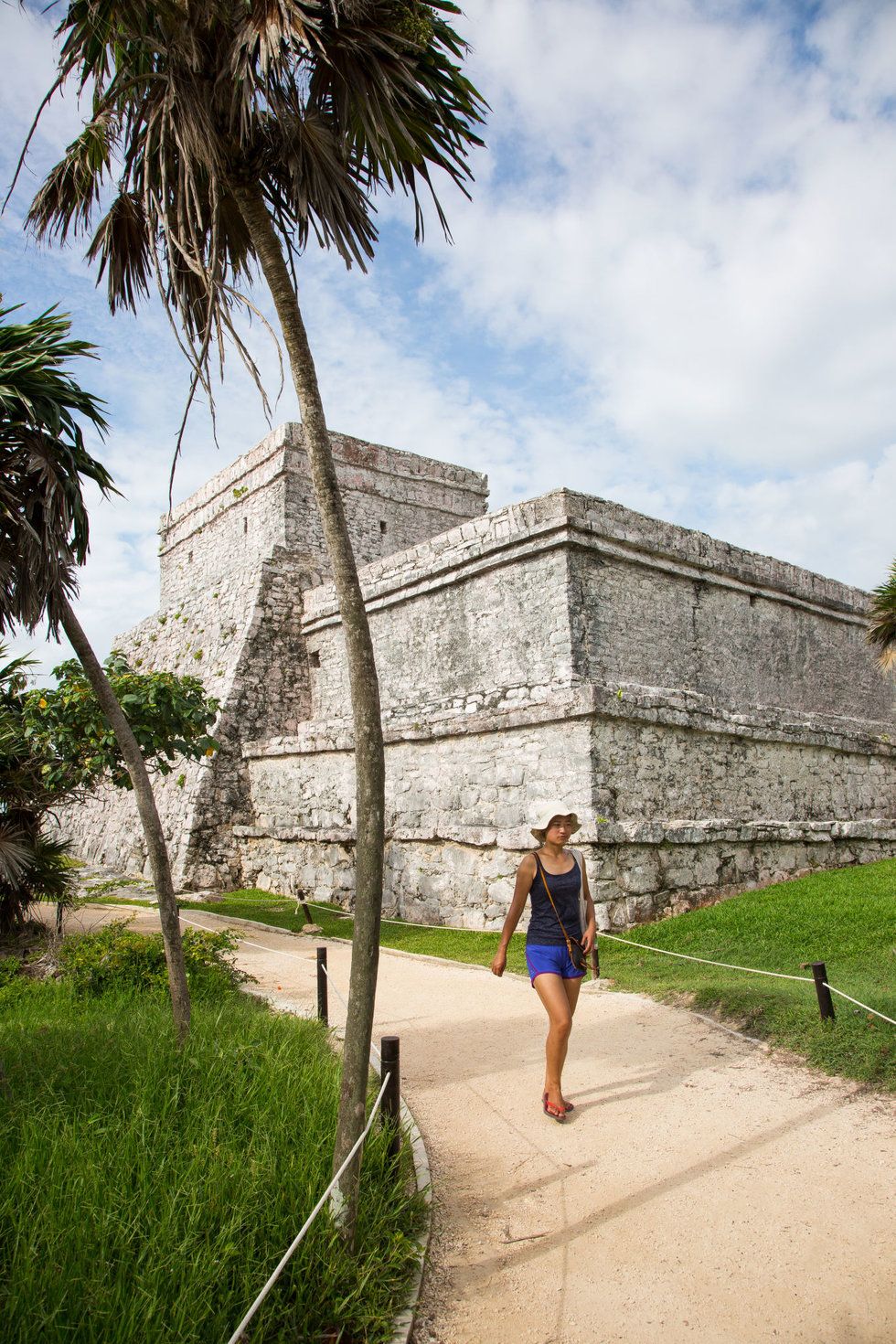 Maya ruins at Tulum
After fortifying my stomach with a few al pastor tacos (don't forget the guacamole) at Tropi Tacos in Tulum Pueblo, I meet back up with Diego Viadero for a drive out to Sistema Sac Actun (White Cave System), one of the world's largest underground cave systems, a 164-mile maze of freshwater flowing through subterranean limestone. This afternoon, we're exploring just one mile of the system. The rain-conjuring Voladores de Papantla must be in top form lately; the water is high and crisp as we float past stalagmites growing ever so slowly (less than 10 centimeters every 1,000 years) out of the cave floor and reaching up toward stalactites hanging like icicles from the cave ceiling. It's like the setting of a science fiction movie, so otherworldly I try to prolong my stay by floating as slowly as the calcium deposits are forming in front of me.
"Be careful," says Viadero, as I get a little too close to a stalagmite that's been a million years in the making. "You wouldn't want to break it."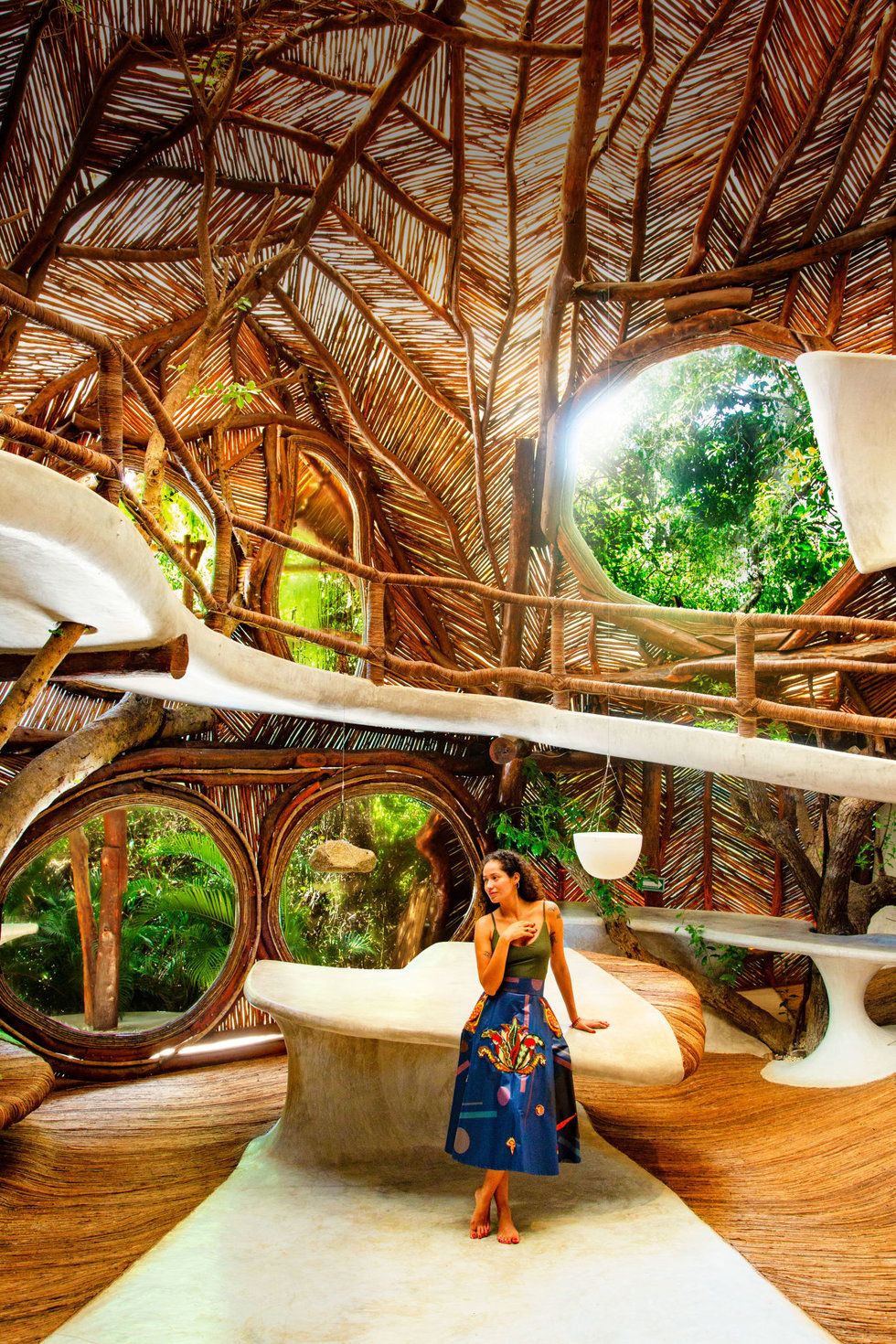 IK Lab
"I certainly wouldn't want that on my conscience," I agree.
After emerging from a cenote (a natural sinkhole where groundwater is exposed to the sky), I offer an adiós to Viadero and make my way to Tulum's Route 15—the narrow street that cuts through the jungle, parallel to the shore, and is lined with trendy restaurants, bars, and "eco-chic" (their word, not mine) hotels. Twenty years ago, this strip wasn't much, but now there's not a speck of beachfront that isn't occupied by an Instagram-ready boutique property. (The number of rope swings is astounding.) In recent years, Route 15 has played host to Demi Moore, Leonardo DiCaprio, Naomi Watts, Gina Rodriguez, Reese Witherspoon, and, after today, me. I'm staying at Sanará, a stylish wellness hotel that attracts young and hip sunworshippers from around the world who like partying and yoga in equal measure.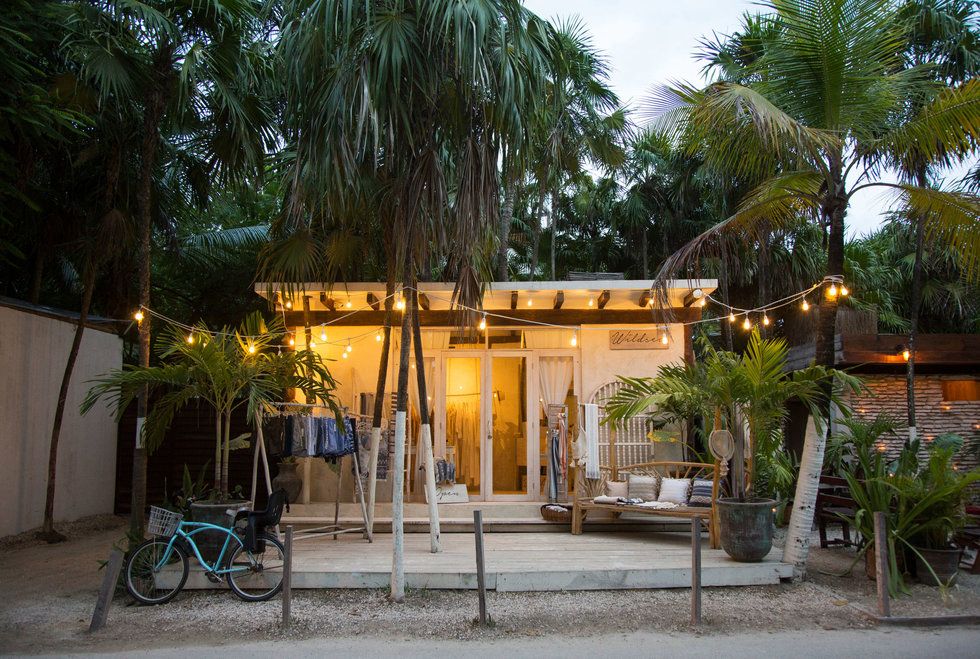 A shop on Tulum's Route 15
I check into my beachside room (furnished with my very own yoga mat and dream catcher), flop down on the bed, and open up the "Wellness Menu." On offer are a Pudzyah Mayan Healing that "transforms pain to love at the cellular level … It harmonizes your DNA by applying fractal geometry energy"; a Multivibrational Massage and Chakra Balancing; and a Solar Plexus Healer. I opt for the complimentary "Sound Bath" of light yoga and didgeridoo before balancing out my chakras with a burger, a beer, and some fresh ceviche at Clan Destino.
This laid-back spot is all about the ambience: a wooden deck with chandeliers hanging from the jungle canopy and a cenote smack dab in the middle of the club, should you need refreshing after one too many cervezas. The bar offers a free shot of mezcal for those who take a turn on the karaoke mic ("Suspicious Minds" for me, thank you very much); after accepting my applause and draining my shot, I turn the glass over on the bar and take the plunge.
Day 3
Floating down a canal, swimming in the Caribbean, and eating gelato on the beach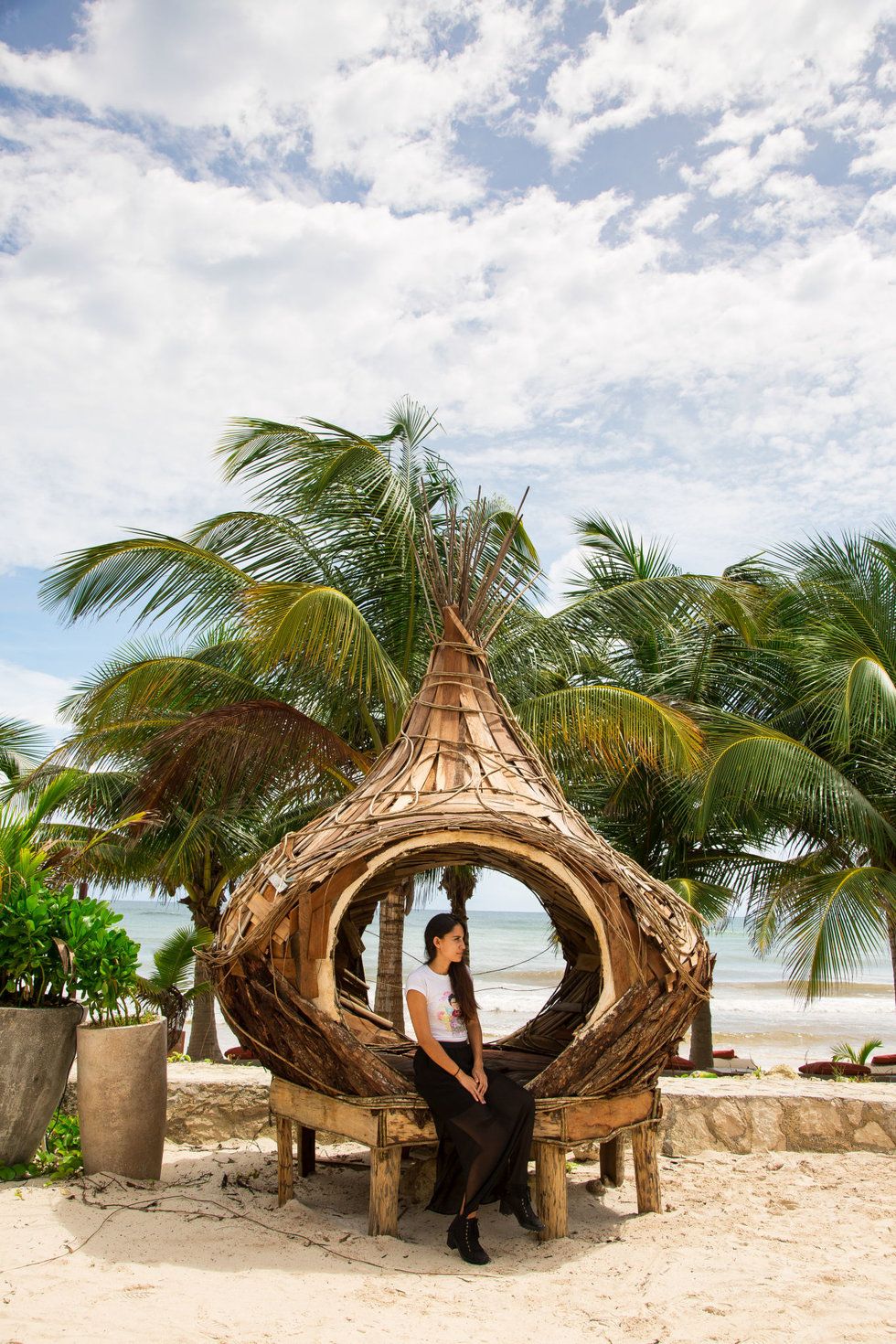 A cabana at Mía
At The Real Coconut, Sanará's beachside restaurant, I dig into a light breakfast of coffee and avocado toast (piled high like Nohoch Mul with a squirt of lime and a sprinkling of red pepper flakes). It's a deliciously healthy start to a morning that's going to include traipsing through the Sian Ka'an biosphere reserve and swimming in Laguna Chunyaxché.

At Sian Ka'an—a protected area of tropical forest, marshes, and lagoons about a 40-minute drive from my hotel—I follow my guide, Joaquin Balam of Community Tours, down the narrow boardwalk of Sendero Muyil, which cuts through a forest of zapote and ficus trees. I'm told there are jaguars, pumas, and howler monkeys about, as well as some 330 species of birds.
"Are those the howler monkeys?" I ask of a muted rumbling in the distance.
"We're floating in the current like a couple of astronauts in space, limbs slowly twirling."
"Oh no," says Balam. "When you hear them, you'll know it."
The closest we get to this array of wildlife, however, is some jaguar claw marks on a ficus tree. By the looks of the marks, I'm happy that we're strolling alone.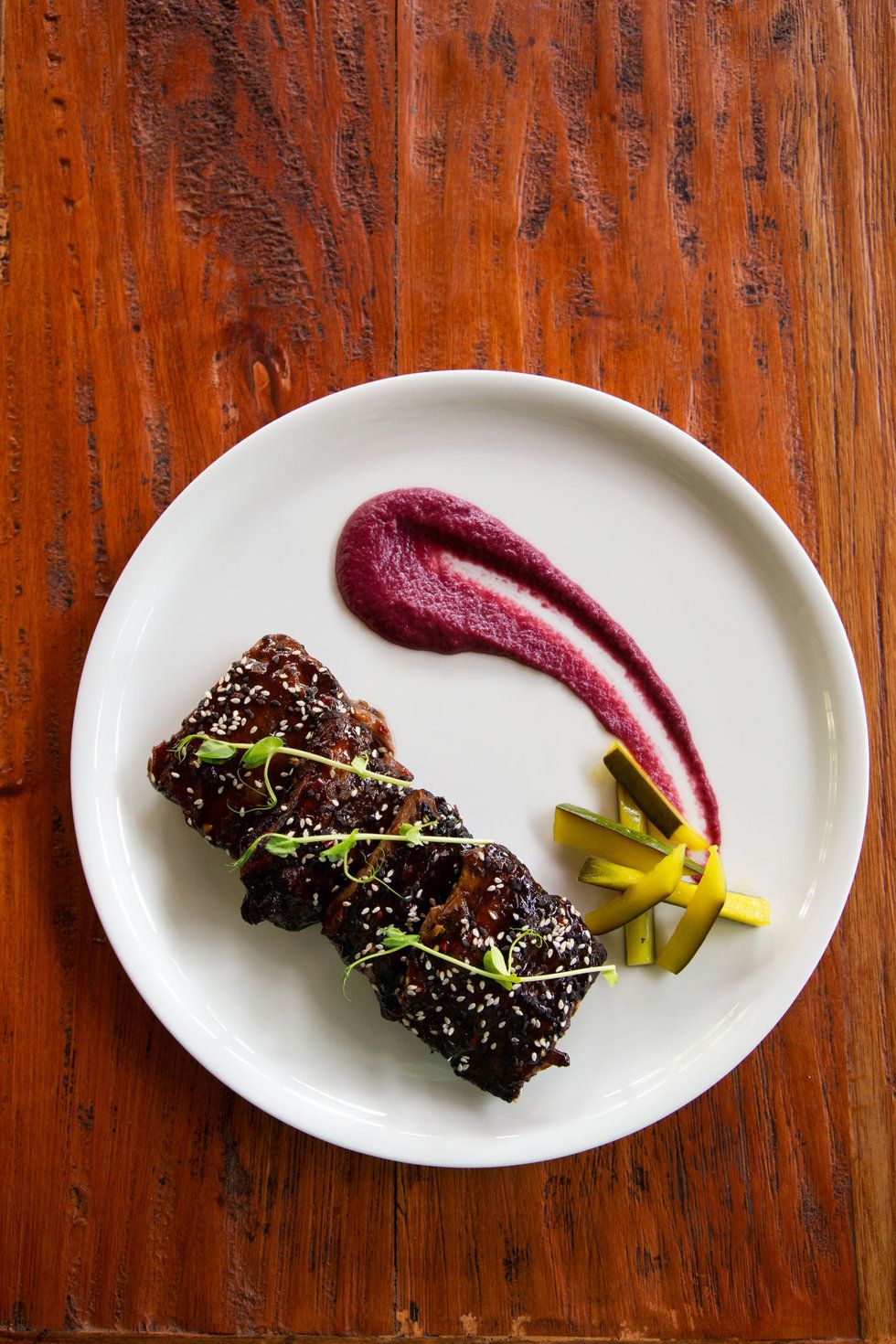 Baby back ribs at Mía Restaurant & Beach Club
At the end of the path, we reach the sandy shoreline of Laguna Chunyaxché, a bright body of water that reflects both the green wetlands and the blue sky above. We cross the lagoon by boat, to a shoreline of mangroves and seagrass, and step onto a dock at the entrance to a canal.
"Take your life vest off and wear it like this," Balam says, putting his legs through the arm holes of the vest, as if it were a diaper.
"If you say so."
Balam jumps into the canal and I follow, and I immediately understand the Baby Huey getup. We're floating in the current like a couple of astronauts in space, limbs slowly twirling as our seemingly weightless bodies travel down the canal. Cue the opening horns of the score to 2001: A Space Odyssey.
Back on Route 15, I stop in at Mía Restaurant & Beach Club for baby back ribs rubbed with chili and tamarind, washed down with a glass of Château Gloria St Julien Bordeaux from the restaurant's wine cave—the biggest collection of fine wines in Tulum. It's as decadent as the beachgoers lazing in the sun not far from my table.
Head still swimming in that lovely Château Gloria, I decide to take the rest of my body for a little dip. The Caribbean is bathwater warm and crystal clear—in other words, perfect. I walk out for what seems like half a mile, and the water still only comes up to my waist.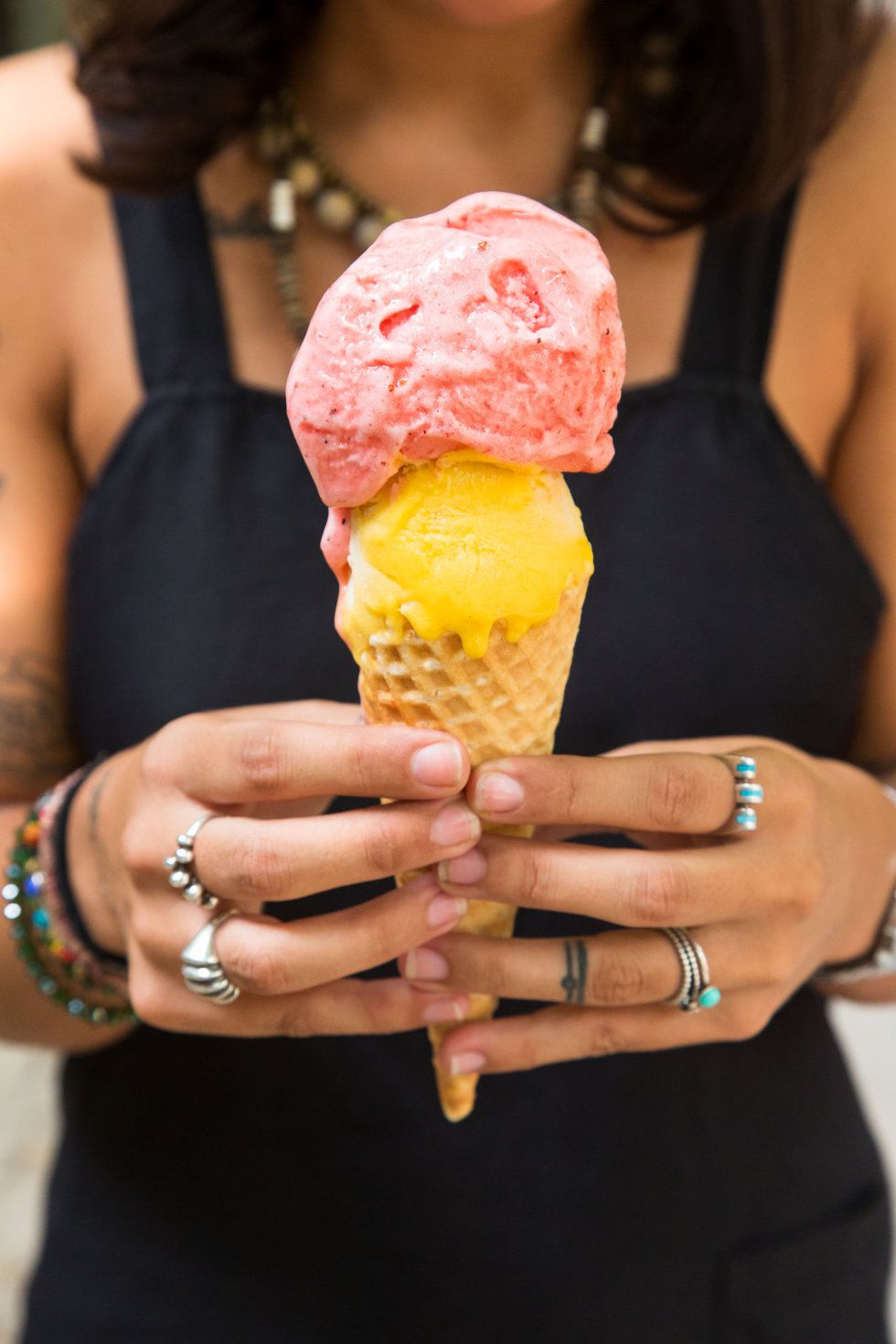 Gelato at Origami
Refreshed and sun-dried, I'm ready to trade in the historical and ecological sights of the last few days for the fashion runway of Route 15. The women wear bikinis and sarongs, the men wear linen shorts and loafers, and everybody wears designer shades, brimmed hats made of straw, and suntans of golden bronze. Origami, a beautifully designed gelato shop, is the perfect place to have a seat and watch the catwalk. I have a Ferrero Rocher and crunch on the hazelnuts drenched in icy chocolate and cream while the fashion models play street chicken with Vespas and the delivery trucks distributing tanks of fresh water to the five-star eateries
If Route 15 is for the well-heeled, then Calle Centauro Sur is for the flip-flop set. It's a strip in the center of town, about two miles inland from the beach, where the more casual tourists and locals congregate. Call it the Brooklyn to Route 15's Manhattan. At Batey—a hip, open-air bar and music venue decorated with paintings of Miles Davis and the Beatles—I take a sidewalk seat and listen to a Mexican Elvis impersonator singing Simple Minds' "Don't You (Forget About Me)." As I sip on a Don Julio Reposado, a patchouli-scented parade of 5 o'clock shadows and hot pink hair dye ambles by.
"Are you going dancing tonight?" a young man in a tank top, cut-off jean shorts, and tattered Chuck Taylors asks a friend sitting at the table next to me.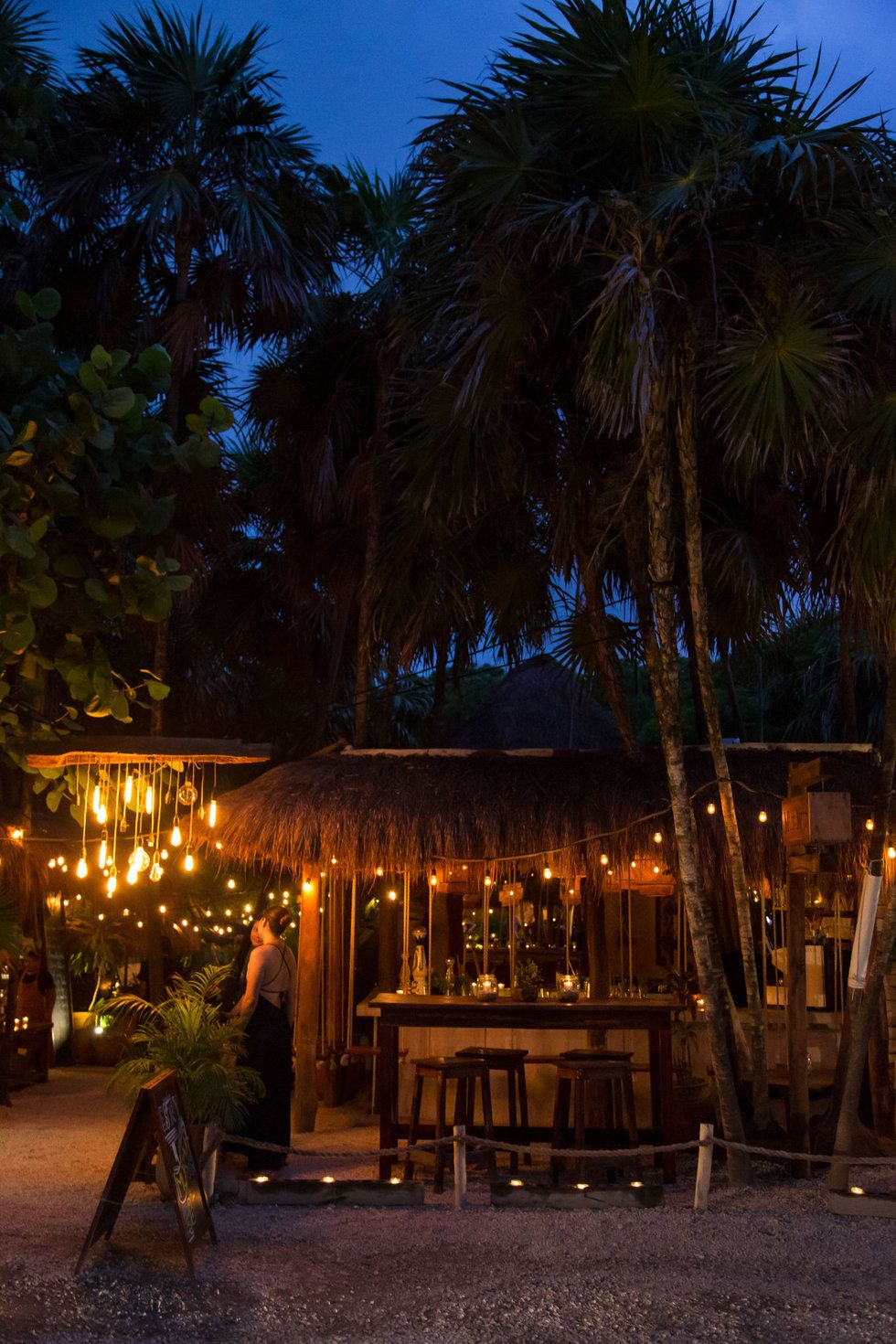 The bar at Mur Mur, in Tulum
"Are you?"
"I'm dressed and ready to go."
Back on Route 15, the revelers are stepping out as if their outfits are going to be scrutinized by bouncers holding clipboards and manning red velvet ropes. Thankfully, no such velvet ropes exist as I enter Rosa Negra for an indulgent meal of burrata, besugo sashimi with black salt and citrus, soft-shell crab tacos, and Pescadores—a fine craft beer made right here in Riviera Maya.
The food is as comely as the patrons, who are bopping their well-coiffed heads to a drum-and-bass DJ. But before I have a chance to pass judgment on an ambience that may appear a touch too buttoned-up, a live conga player steps in front of the DJ.
A rat-a-tat tat, bop ba-da ba-bop, dup du-duh dup du-dup!
The congas add a touch of that Carmen spirit—their organic vibrations reminding me that despite all the Manolo Blahniks and slinky black dresses, my T-shirt and flip-flops are welcome at the party. I shimmy my shoulders, take a swig of my Pescadores, and nod to the beat as I dig into my tacos.
A rat-a-tat tat, ba dop ba-da ba-dop, dup du-buh dup bu-dup!
Expanding our commitment to powering more flights with biofuel
Today, we strengthened our emerging reputation as the world's most environmentally conscious airline by expanding our contract with Boston-based World Energy, agreeing to purchase up to 10 million gallons of cost-competitive, commercial-scale, sustainable aviation biofuel over the next two years. The biofuel, which we currently use to help sustainably power every flight departing out of our Los Angeles Airport hub (LAX), achieves more than a 60 percent reduction in greenhouse gas emissions on a lifecycle basis.
Our contract extension follows our original purchase agreement in 2013, helping us to make history in 2016 when we became the first airline in the world to use sustainable aviation biofuel on a continuous basis. We are still currently the only U.S. airline to use biofuel in our regular operations. World Energy's biofuel is made from agricultural waste and has received sustainability certification from the Roundtable on Sustainable Biomaterials.
Recently announced, World Energy will invest $350 million to fully convert its Paramount, California facility to renewable diesel and sustainable aviation jet fuel, bringing its total capacity to 300 million gallons of production annually at that location, one of the company's six low-carbon fuel manufacturing plants.
"Investing in sustainable aviation biofuel is one of the most effective measures a commercial airline can take to reduce its impact on the environment," said Scott Kirby, United's president. "As leaders in this space, United and World Energy are setting an example for the industry on how innovators can work together to bring our customers, colleagues and communities toward a more sustainable future."
"Great companies lead," said Gene Gebolys, World Energy's chief executive officer. "We are honored to extend our commitment to United to advance their efforts to drive change to a lower carbon future."
Our contract renewal with World Energy will further assist us in achieving our commitment to reduce our greenhouse gas emissions by 50 percent by 2050. Our pledge to reduce emissions by 50 percent relative to 2005 represents the equivalent of removing 4.5 million vehicles from the road, or the total number of cars in New York City and Los Angeles combined. Our biofuel supply agreements represent more than 50 percent of the commercial aviation industry's total agreements for sustainable aviation biofuel.
In addition to our purchase agreement with World Energy, we have invested in more than $30 million in California-based sustainable fuel developer Fulcrum BioEnergy. Our investment remains the single largest investment by any airline globally in sustainable fuels. And our agreement to purchase nearly 1 billion gallons from Fulcrum BioEnergy is also the largest offtake agreement for biofuel in the airline industry.
Our biofuel supply agreements represent more than 50 percent of the commercial aviation industry's total agreements for sustainable aviation biofuel.


Visit our United Eco-Skies® page to learn more about our ongoing commitment to the environment.
Love flies with us: Upcoming Pride month events
To help celebrate Pride Month, we're offering customers the opportunity to use their MileagePlus® award miles to bid on exclusive Pride packages. All proceeds will benefit our charity partner, The Trevor Project, a nonprofit that provides crisis intervention and suicide prevention services for LGBTQ youth.
Bid on one of our exclusive Pride packages including:
Attend a Drag Queen Brunch in Chicago
Pride getaway package + walk in the parade with United in Chicago, Los Angeles, Houston or San Francisco
WorldPride New York City getaway package + walk in the parade with United
VIP Family movie night in the park in NYC
Attend a Drag Queen Brunch at Newark Airport
"As Pride Month approaches, we invite MileagePlus members to show their pride, embrace the LGBTQ+ community and join United in saying 'all routes lead to love'," said Luc Bondar, United's president of MileagePlus and vice president of Loyalty. "United is thrilled to offer these unique Pride experiences and help The Trevor Project in their mission to support LGBTQ youth."
Additionally, on June 28, in partnership with iHeartMedia's Z100, we will celebrate PRIDE LIVE's Stonewall Day, the 50th anniversary of Stonewall. The Stonewall Foundation will be inducting key community members including United into PRIDE LIVE's STONEWALL ambassador program at Stonewall Day.
"Supporting LGBTQ youth in crisis from every state across the country takes significant travel resources, and we're grateful to United Airlines for contributing to our mission in such a valuable way," said Muneer Panjwani, Head of Corporate Development for The Trevor Project. "Their commitment to our mission of ending suicide among LGBTQ youth makes them a valued partner throughout the year, helping us save young LGBTQ lives every day."
Be sure to look out for United throughout the month of June as we'll be participating in Pride events across the globe including Pride parades in Washington, D.C. on 6/8, LA on 6/9, Denver on 6/16, Houston on 6/22, San Jose (Costa Rica) on 6/23, Mexico City on 6/29, Bogota on 6/30, San Francisco on 6/30, Chicago on 6/30, World Pride in New York City on 6/30 and then on 7/6 in London and 10/19 in Honolulu.
We team up with Audubon International to save owls in San Francisco
Today, we strengthened our emerging reputation as the world's most environmentally conscious airline by announcing that we are expanding our successful Raptor Relocation Network to our premier West Coast hub, San Francisco International Airport. We are teaming up with Audubon International to trap raptors — primarily barn owls — residing near the airport and resettle these birds of prey at suitable golf course habitats where the species are more likely to thrive.
We initially partnered with Audubon International to launch the Raptor Relocation Network in 2017 at Newark Liberty International Airport, where it has successfully resettled more than 80 birds — including several American kestrels, a species of concern in New Jersey. We will now work in tandem with Audubon International and San Francisco airport officials to resettle the barn owls and other at-risk species at Bay Area golf courses certified within the Audubon Cooperative Sanctuary Program. As an official sponsor of the PGA Tour, we are uniquely positioned to help connect wildlife professionals at airports with the suitable golf course habitats identified by Audubon International for relocation purposes and to help inform the public on the importance of environmental sustainability.
Our expansion of the Raptor Relocation Network follows our recent announcement in San Francisco that we have committed to reducing our greenhouse gas emissions by 50% by 2050. Our pledge to reduce emissions by 50% relative to 2005 represents the equivalent of removing 4.5 million vehicles from the road, or the total number of cars in New York City and Los Angeles combined.
"Being environmentally conscious means more than just reducing our footprint; it means convening different groups to develop new and innovative ways to actively protect vulnerable species," said Janet Lamkin, United's president of California. "As we continue our commitment to protect raptors in the New York area, we are excited to expand our efforts to San Francisco and further underscore our industry-leading efforts to operate sustainably and responsibly."
"Audubon International is excited to be working with United Airlines' Eco-Skies program to expand the Raptor Relocation Network to the West Coast," said Christine Kane, Audubon International's chief executive officer. "Thousands of golf courses across the world have adopted environmentally sustainable property management practices that support wildlife habitat through our Audubon Cooperative Sanctuary Program. Bringing this all together to provide safe, high-quality habitat for raptors is a great success."

For more information on our commitment to environmental sustainability, visit united.com/ecoskies.

Escape to Cape Town: Waves, wines and lions at the "bottom of the world"
The reasons world travelers give when calling Cape Town their favorite African city are as abundant as the African Penguins (about 3,000) that waddle the beaches of Table Mountain National Park. Besides that park, which stretches from the city to the southwestern tip of Africa, these reasons include a wow-worthy waterfront, great restaurants and easy access to wonderful wineries.
Cape Town becomes more accessible beginning in December 2019, when United is due to become the first U.S. airline to offer nonstop flights to Cape Town, subject to government approval. The Boeing 787-9 Dreamliner flights will depart New York/Newark on Sundays, Wednesdays and Fridays, and return from Cape Town on Mondays, Thursdays and Saturdays. They will reduce travel time by at least four hours and allow one-stop service to Cape Town from more than 80 U.S. cities.
Settling in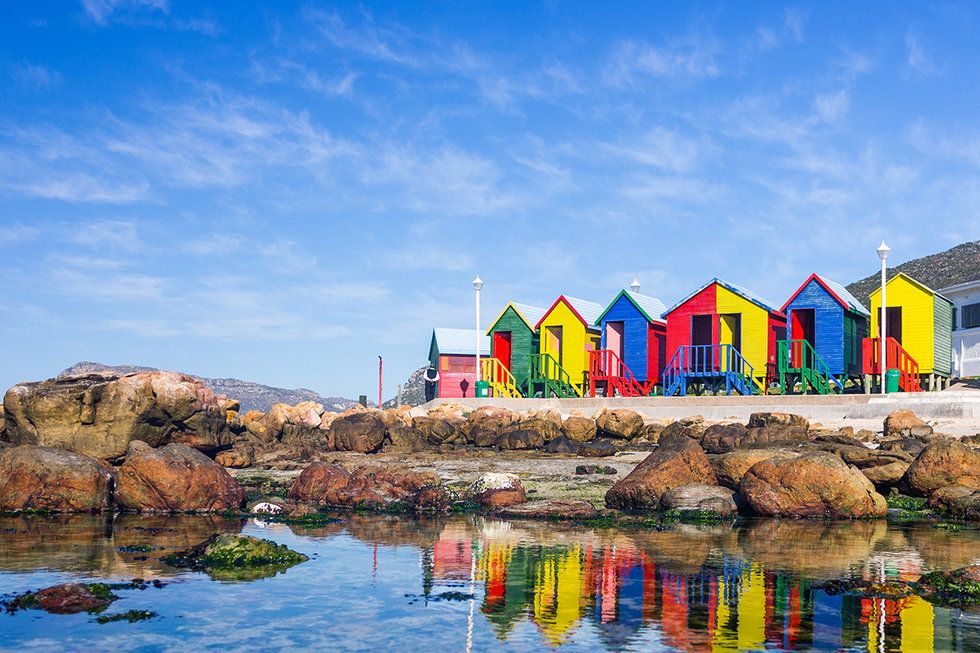 Every accommodation type can be found, from quiet B&Bs; to chic urban hotels. Central Cape Town and waterfront hotels are ideal if you want the convenience of being close to restaurants and shopping. Simon's Town district guesthouses bring you within waddling distance of penguins and False Bay beaches. Table Mountain views are relished at Gardens district hotels. Then there are coastal hideaways like Monkey Valley Resort, wedged between a milkwood forest and a beach, and The Twelve Apostles, a seaside hotel named for the mountains that tower above it.
Under the Table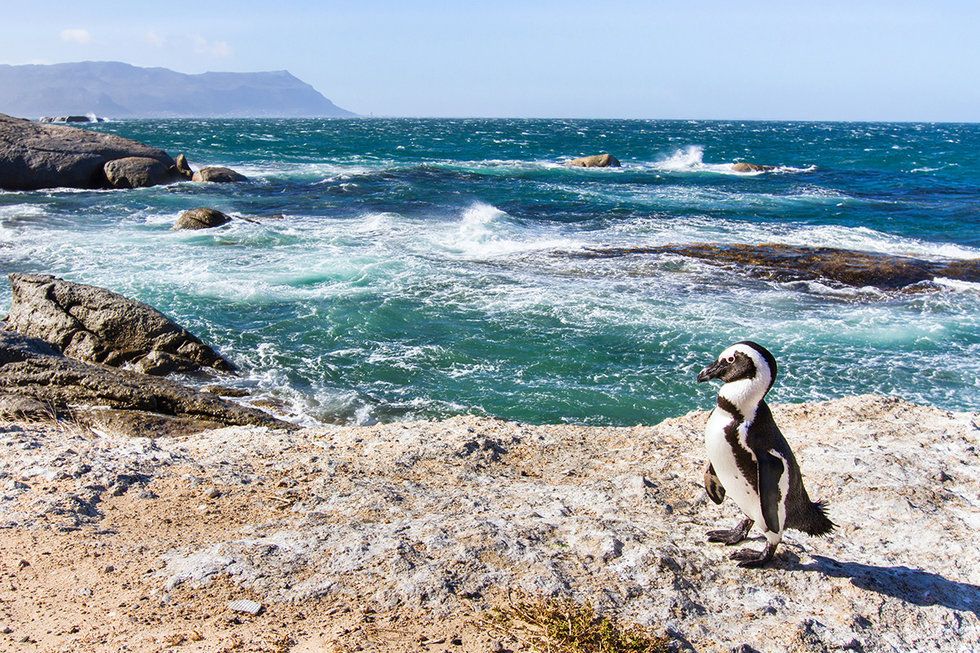 Table Mountain National Park is as diverse as the flora and fauna that populate its 85 square miles. The piece of the park within city limits is a stunning swath of evergreens that soar up to the flat-topped, 3,500-foot namesake peak. The day hike or cable car ride to the summit is an exhilarating use of a few hours to shake off your jet lag. The two other main sections of the national park are Tokai Park, filled with birds and baboons, and Cape Peninsula, which extends along the Atlantic Ocean (including the Boulders Beach Penguin Colony) all the way to the Cape of Good Hope at the "bottom of the world."
On the waterfront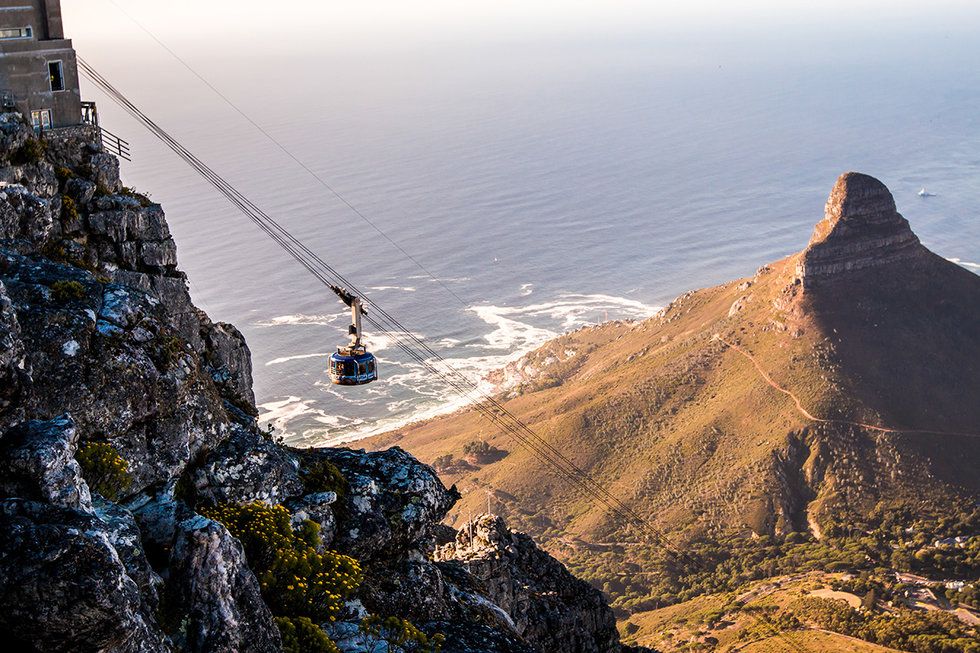 It's hard to beat simple pleasures like hiking up Table Mountain or Lion's Head, lazing on Cape Town's beaches or visiting the world-class Kirstenbosch National Botanical Garden. But, visitors should also spend time on Cape Town's Table Bay waterfront, home to a dizzying array of restaurants, shops, museums, galleries and attractions. Zeitz MOCAA houses the world's largest collection of contemporary African art in a 10-story former grain silo that was repurposed in 2017. Also on the waterfront are the Two Oceans Aquarium and ferries that whisk you to Robben Island, where the museum tells the inspiring story of Nelson Mandela's journey from prisoner to president.
Wining and dining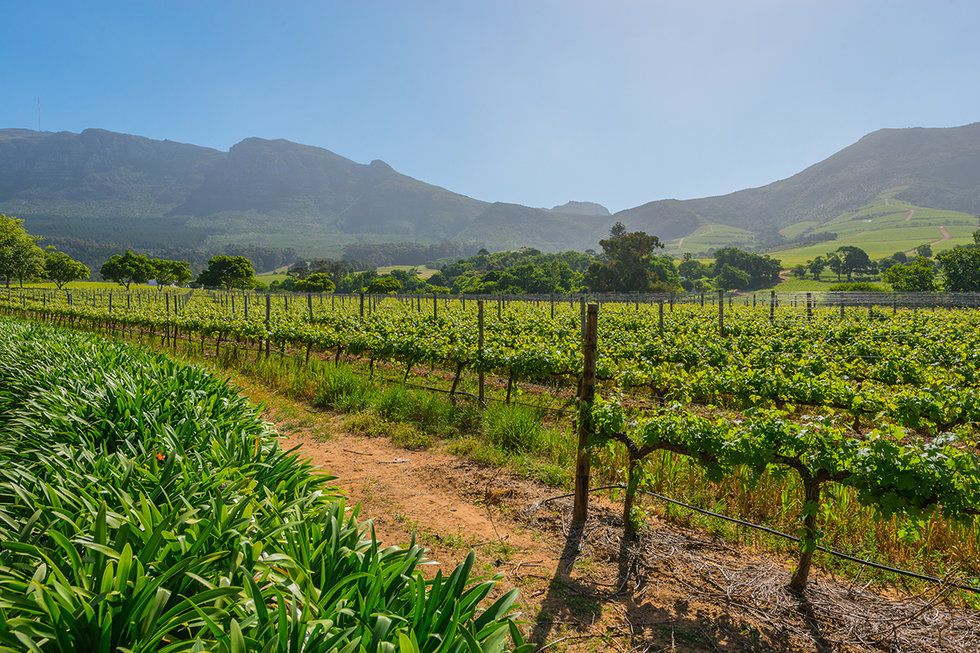 Constantia grape wineland countryside landscape background of hills with mountain backdrop in Cape Town South Africa
The Cape Winelands, among the world's leading wine regions, is within 40 miles of Cape Town, centered around the 17th-century towns of Stellenbosch and Paarl. Excellent restaurants are found at many Winelands wineries (as well as in Cape Town), but perhaps the best spot to wine and dine is even closer to the city — Groot Constantia, where wines have been produced since 1685. Visitors can enjoy tastings or food pairings of the award-winning wines; tour the Manor House, wine museum and history museum; and dine at one of two restaurants.
Lions, leopards and rhinos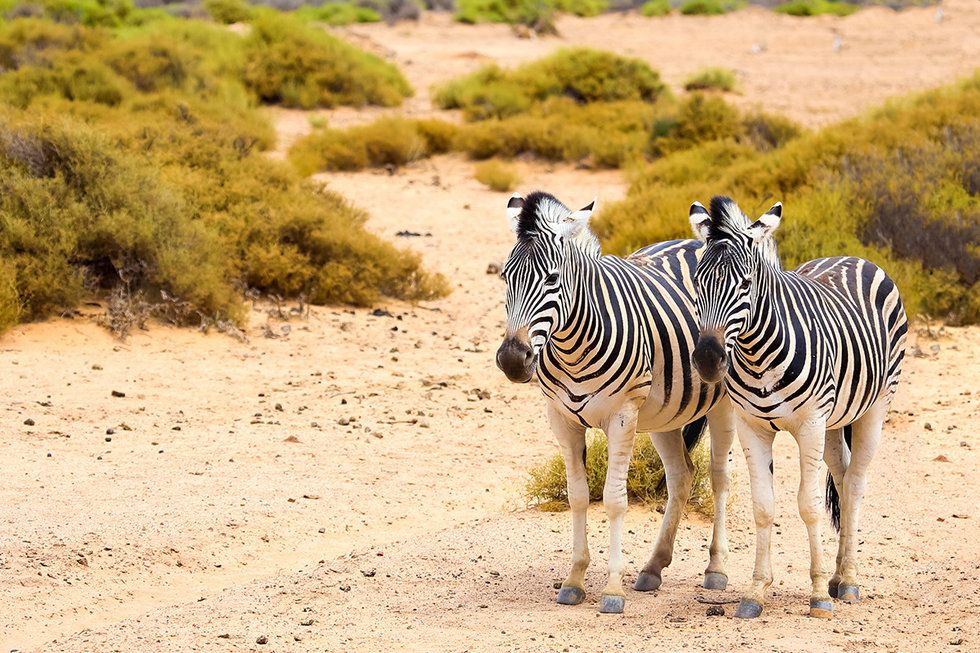 Several game reserves within a three-hour drive of Cape Town allow visitors to see African wildlife in their native habitat. The 25,000-acre Inverdoorn and Aquila reserves each offer half-day safaris on which you may spot all of the "big five" — lions, leopards, rhinos, elephants and buffalo — as well as cheetahs, giraffes and wildebeests, from open-air vehicles. The Sanbona Reserve is even larger (but a bit farther out), while the Grootbros Reserve specializes in boating safaris that deliver sightings of southern right whales, great white sharks, bottlenose dolphins, African penguins and Cape fur seals.
When to go and how to get around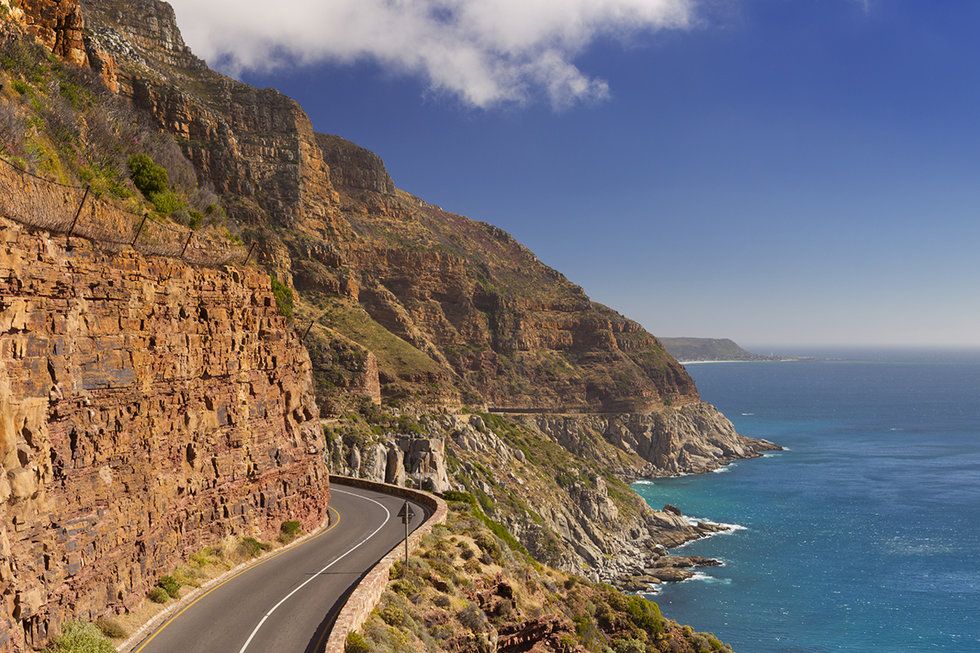 The first United nonstop flights and South Africa's summer both begin in December. Rain is rare from December to March, when high temperatures are typically in the high seventies, so Cape Town is a perfect warm-weather escape. Once you arrive, Uber, taxis, rental cars (driven on the left side), sightseeing buses and trains and are all convenient transportation options. And oh yeah, South Africans speak English.
If you go
You can purchase tickets now at united.com or on the United app for three weekly nonstop flights from New York/Newark to Cape Town beginning December 15, subject to government approval. Redeem MileagePlus® Rewards points to cover your hotel and car.
Chicago's 10 best outdoor bars and restaurants
Don't let its Windy City nickname fool you. During the spring and summer months, Chicago is the perfect destination to enjoy some outdoor fun. And there's no better way to do that than by catching a few rays on one of the city's rooftop bars or restaurant patios. As the weather brightens, here's a guide to Chicago's most exciting outdoor drinking and dining spots.
Cabra
Located on the roof of the Hoxton hotel, Cabra is one of Chicago's newest rooftop bars and restaurants that is sure to be a busy summer hangout spot. This Peruvian restaurant is colorful and vibrant with a menu filled with reinvented and traditional Peruvian dishes. The open designed dining room is filled with plush seating, bright colors and plants hanging over the bar, giving the restaurant a lively yet relaxing atmosphere.
Raised
Offering an elevated view of the Chicago River, this stylish rooftop bar more than lives up to its name. Located on the third floor of the Renaissance Chicago Downtown Hotel, Raised combines a modern industrial aesthetic with all the comforts of a sophisticated hotel bar. The beverage menu includes a wide variety of local microbrews, plus seasonal cocktails served by the glass or decanter for larger groups.
Cerise Rooftop
Fun is on tap at Cerise, the playful rooftop bar on the 26th floor of Chicago's Virgin Hotel. Inspired by Japan's popular izakaya gastropubs, this hip lounge features a colorful cocktail menu filled with sparkling spritzers and fruity fizzes. Famed designer Paola Navone helped craft the whimsical decor, making Cerise one of the most Instagrammable bars in the city.
The J. Parker
It's difficult to decide what's most impressive about The J. Parker. From the signature mixed drinks inspired by the flavors of Mexico, Cuba and Spain, to the sharing menu created by award-winning chef Paul Vivant, every aspect of this rooftop bar is worth experiencing. Above all, the bird's eye view of Lake Michigan and Lincoln Park make it truly spectacular.
Cindy's
Located on the 13th floor of the historic Chicago Athletic Association building, Cindy's is one of the most popular spots in the city, and for very good reason. Sporting incredible views of Lake Michigan and Millennium Park, this gorgeous rooftop bar and restaurant welcomes patrons with a constantly evolving food and drink menu, including summery treats like boozy popsicles and amaretto ice cream pops.
Parlor
Can't decide whether to try a rooftop beer garden or a street-level patio? Parlor has you covered either way. With two locations in Chicago, this comfortable pizza bar offers multiple outdoor dining options. On the menu, Parlor has some of the most creative pizzas you'll ever try, like Eggs Benedict (Canadian ham, three eggs, and lemon Hollandaise sauce) and Pork-Q Pie (cherry peppers, BBQ pork, pineapple and smoked mozzarella).
El Cid
Combining traditional and modern Mexican food with killer margaritas that you can order by the pitcher, El Cid has been a mainstay of Chicago's Logan Square neighborhood for more than 15 years. Their outdoor front patio is great for people-watching, while their discrete back patio provides an intimate atmosphere that's perfect for a romantic dinner.
Gather
Open on three sides at the back of the restaurant, the private terrace at Gather is a relaxing alternative to the elegant inner dining room. Seating on the terrace is first come, first served, so you might run into an occasional wait. But rest assured, it's well worth it. To help distinguish the space, Executive Chef Ken Carter has crafted a separate menu designed to be shared outdoors.
Chop Shop
Chicago carnivores, rejoice! You're in for a treat at this restaurant, bar and butcher shop in the city's Wicker Park neighborhood. The menu is loaded with steaks, chops, burgers and charcuterie, all of which are available to order on the upstairs patio. For a full night's entertainment, check out a live concert in Chop Shop's popular event space after your meal.
The Dawson
With its lush outdoor patio and upscale menu, The Dawson is a place you'll want to return to repeatedly. Tucked away in the River West neighborhood, it's an ideal spot for large groups of friends looking to unwind after a day of exploring the city. The patio includes a full outdoor bar and a fireplace for cooler nights.
If you go
Get the most from your next trip to Chicago by booking your tickets at united.com or by using the convenient United app.
An insiders' tour of Fishtown, Philadelphia
Story by Lauren Itzkowitz | Illustrations by Francesco Zorzi | Hemispheres, May 2019
Named for the shad fisheries that once lined the Delaware River, this working-class Irish, German, and Polish neighborhood has drawn creative types for years. New restaurants and lodging options may be raising Fishtown's profile, but it's still a tight-knit community—as evinced by these six locals, who showed us the area's hot spots.
Cheu Fishtown chef and co-owner Ben Puchowitz recommends…
"Suraya has great healthy lunch options that don't drag you down the rest of the day. It's a beautiful space, and the food is ambitious."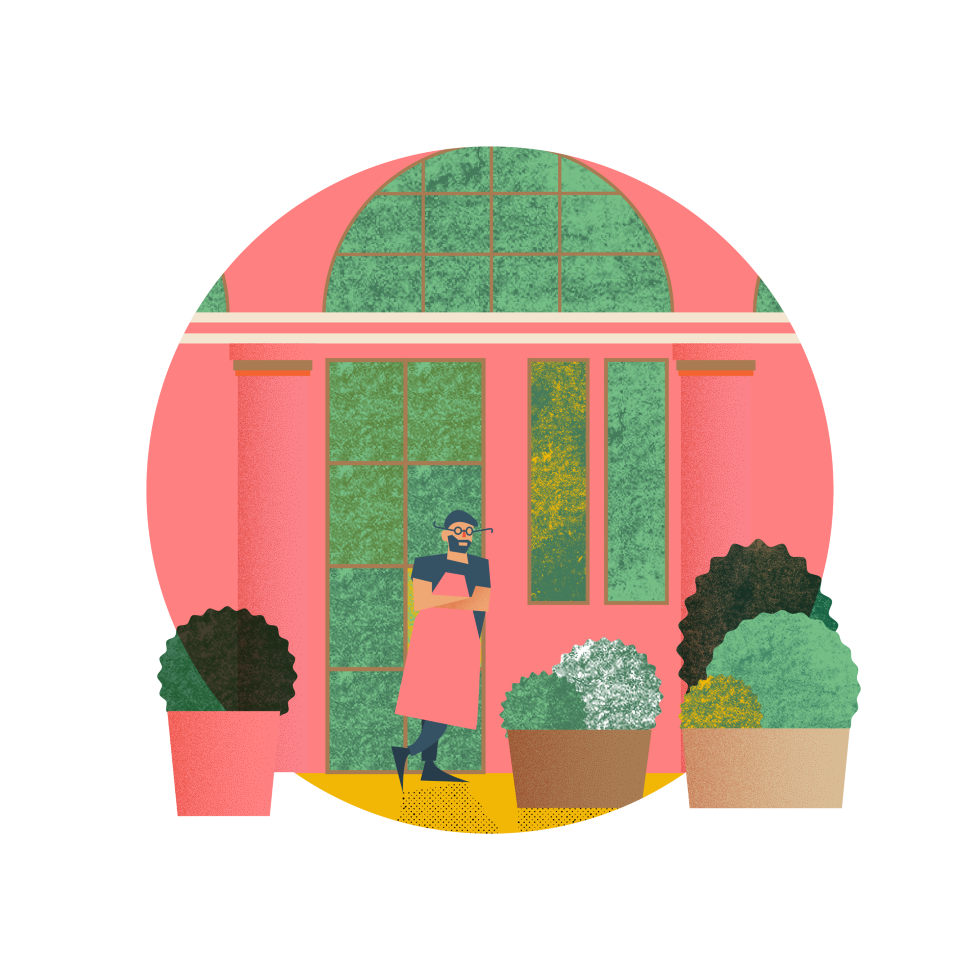 Suraya executive chef and co-owner Nick Kennedy recommends…
"Riverwards Produce is a go-to when my family is planning dinner. I love their produce and cheese—they have what I find myself needing."
Riverwards Produce owner Vincent Finazzo recommends…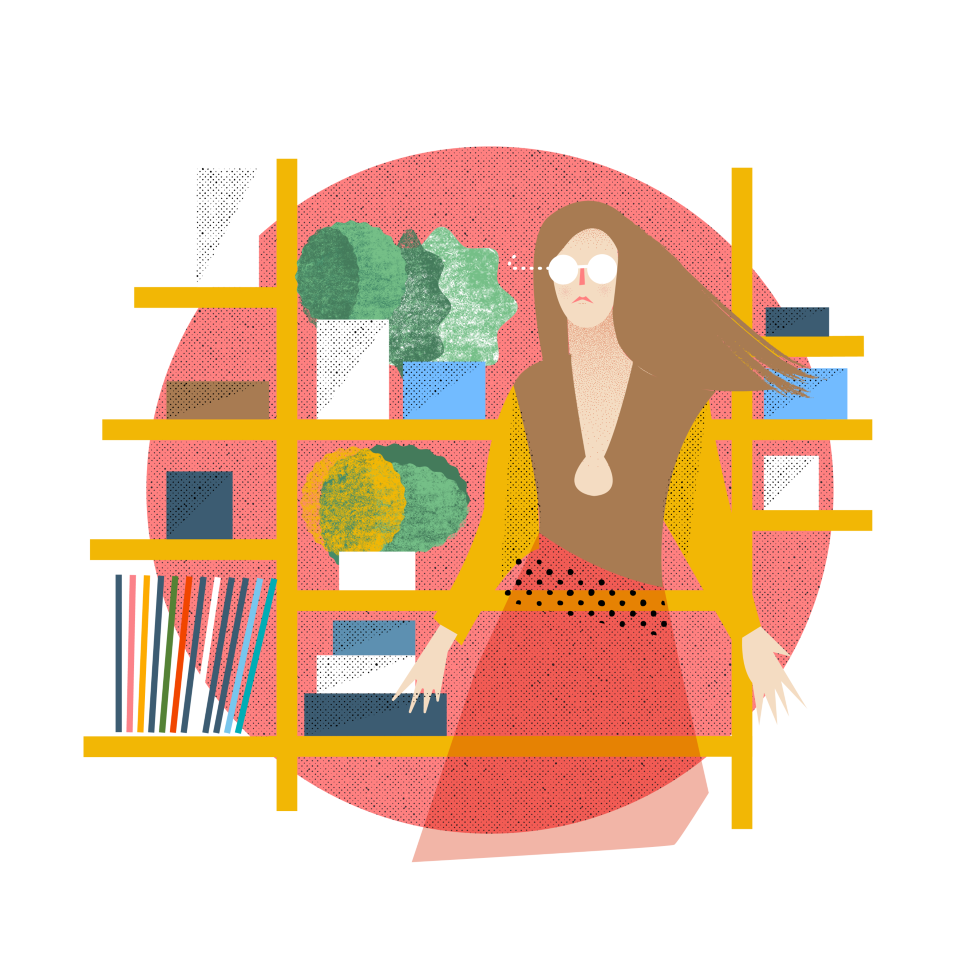 "I send people to Vestige to experience a boutique that feels like it's from the desert in California. With jewelry, candles, and a curated body-care section, Vestige transports you to a better place."
Vestige owner Ashley Gleason recommends…
"I like La Colombe [the coffee brand's flagship café] for people-watching and spending a few hours staring into my laptop. They also have the best bread in the city."
La Colombe president and cofounder JP Iberti recommends…
"Wm. Mulherin's Sons is a great place to grab a drink, mostly because a drink always turns into dinner, and Mulherin's offers one of the best meals in Philly. Their hotel is always booked, much like the restaurant."
Wm. Mulherin's Sons co-owner Randall Cook recommends…
"Cheu is great when I'm in the mood for a midday treat. A counter seat at the bar lets you see all the action, the ramen is killer, and the draft beer is ice cold."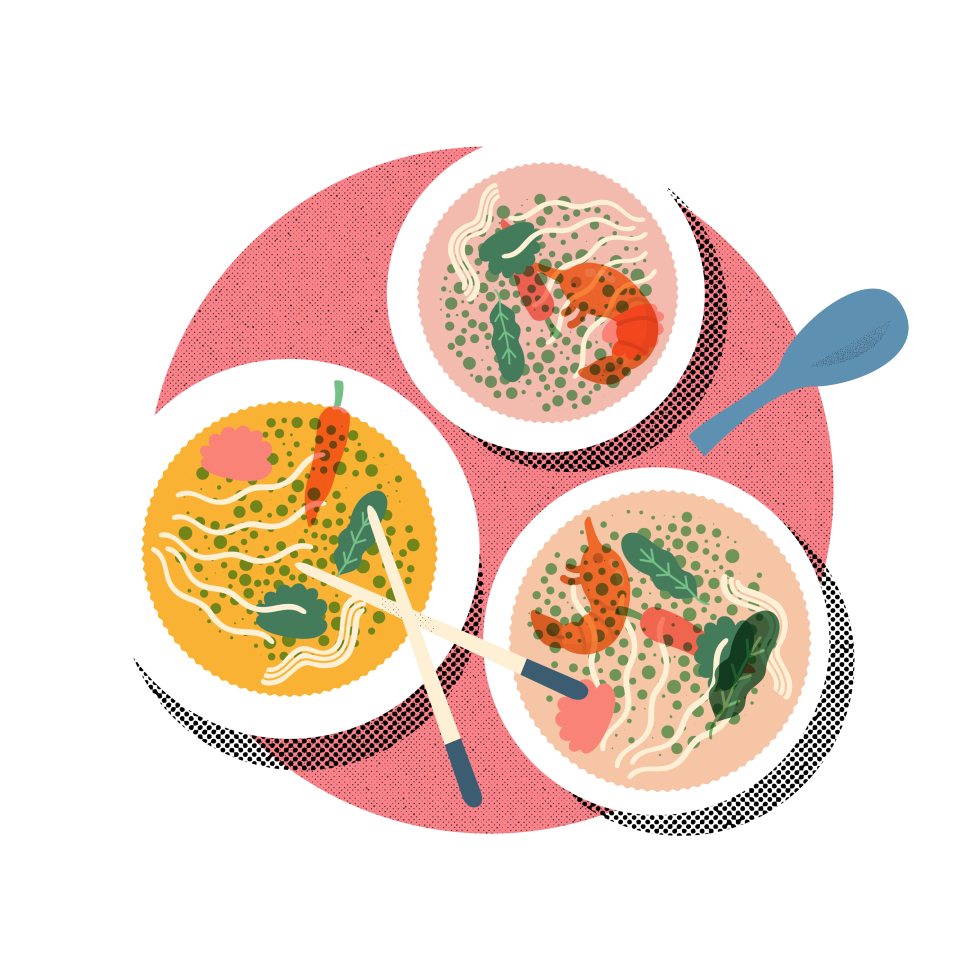 The 2019 Hemispheres hotel top 20
Story by Nicolas DeRenzo | Hemispheres May 2019
Our annual compendium of the best new hotels in the world takes us from from Rio to ryokan, Savannah to surf club. No matter where you're going, in these pages, you'll find a place where you'll want to stay.
Hotel Amparo San Miguel de Allende, Mexico
For Social Media Influencers
Just in time for its designation as the 2019 American Capital of Culture, San Miguel de Allende—which is practically an artists' colony unto itself—welcomed this five-room hideaway in the 300-year-old former mayor's residence. Thanks to co-owner Mariana Barran Goodall, who grew up in Monterrey, Mexico, and runs Houston-based Hibiscus Linens, every tiny detail here is ready for its close-up. It won't take long for you to fill up your Instagram grid with shots of gold room keys, hand-stitched napkins, custom bathroom tiles made by local artisans, and even the coasters.
WE LOVE the flower-filled courtyard, a great place to take a selfie or sit with an espresso from the on-site café, which sources Mexican beans from Buna roasters. From $250, hotelamparo.com
Eastwind Hotel & Bar Windham, New York
For Hip Hikers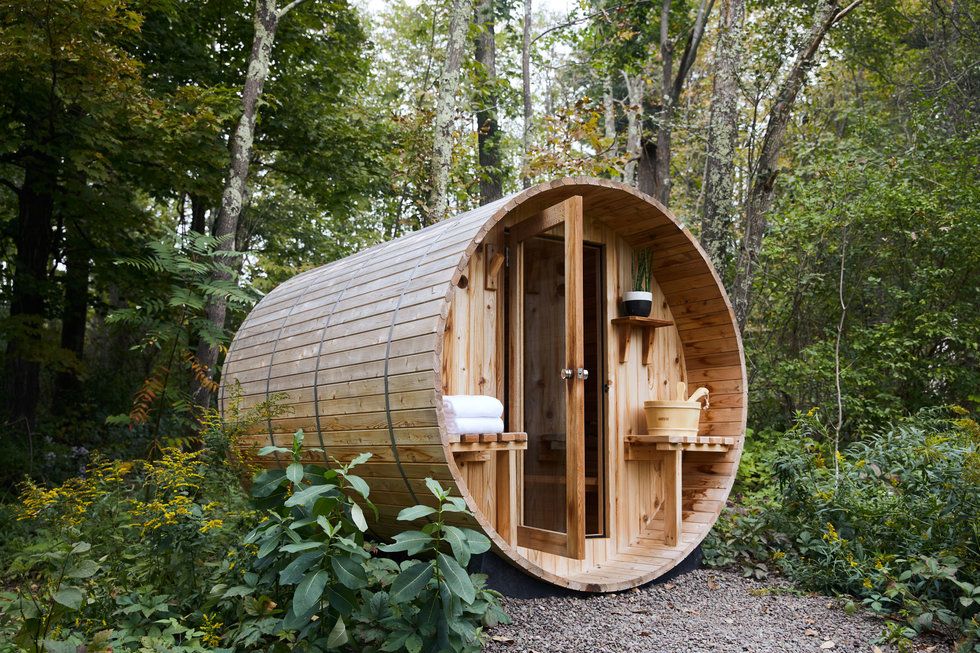 For many vacationers, the Catskills conjure images of 1950s summer camp resorts and Dirty Dancing. The Eastwind provides a sleek, Scandinavian-style counterpoint to those Borscht Belt spots of old. Opened last June on the site of a 1920s bunkhouse about 150 miles north of New York City, the 19-room retreat is a perfect jumping-off point for hiking, fly-fishing, and snowshoeing excursions. If you're feeling creative, write a few jokes—these are the stomping grounds of Joan Rivers and Henny Youngman, after all—on a vintage typewriter in one of the writer's studio suites. Or take a load off under a Faribault Woolen Mills plaid throw in one of the spartan-chic A-frame Lushna cabins.
WE LOVE the barrel sauna, which is even more amazing when you have to run through the snow to get there. From $219, eastwindny.com
Six Senses Maxwell Singapore
For Environmentalists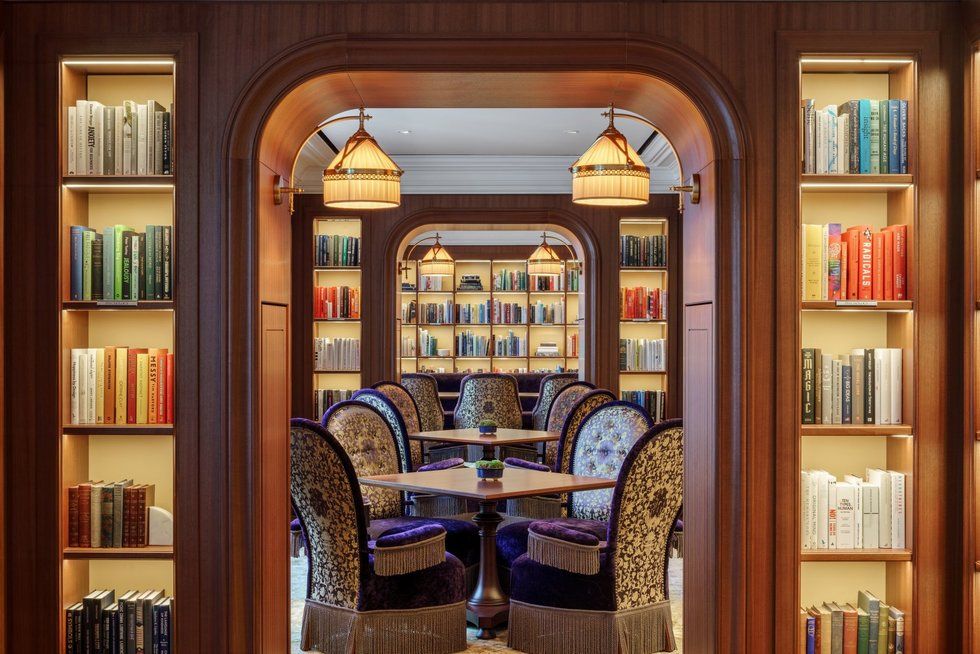 The second of two Six Senses urban resorts to open in the Lion City last year doesn't immediately scream "eco-friendly." The posh 138-room property across from the Maxwell Food Centre occupies a 1929 Art Deco heritage building and exudes Old World opulence with fixtures such as brocade headboards, silk lampshades, and damask velvet chairs. However, befitting its home in Asia's greenest city, the hotel is also home to a series of sustainable touches: reusable glass water bottles, biodegradable cornstarch toothbrushes, locally sourced minibar items, and a restaurant that serves responsibly caught fish.
WE LOVE the traditional ice cream tricycle, from which guests can order free organic ice cream sandwiches (in flavors like durian, red bean, and sweet corn) on soft, colorful bread, kept cold by a solar-powered refrigerator. From $240, sixsenses.com
The Middle House Shanghai
For Fashionistas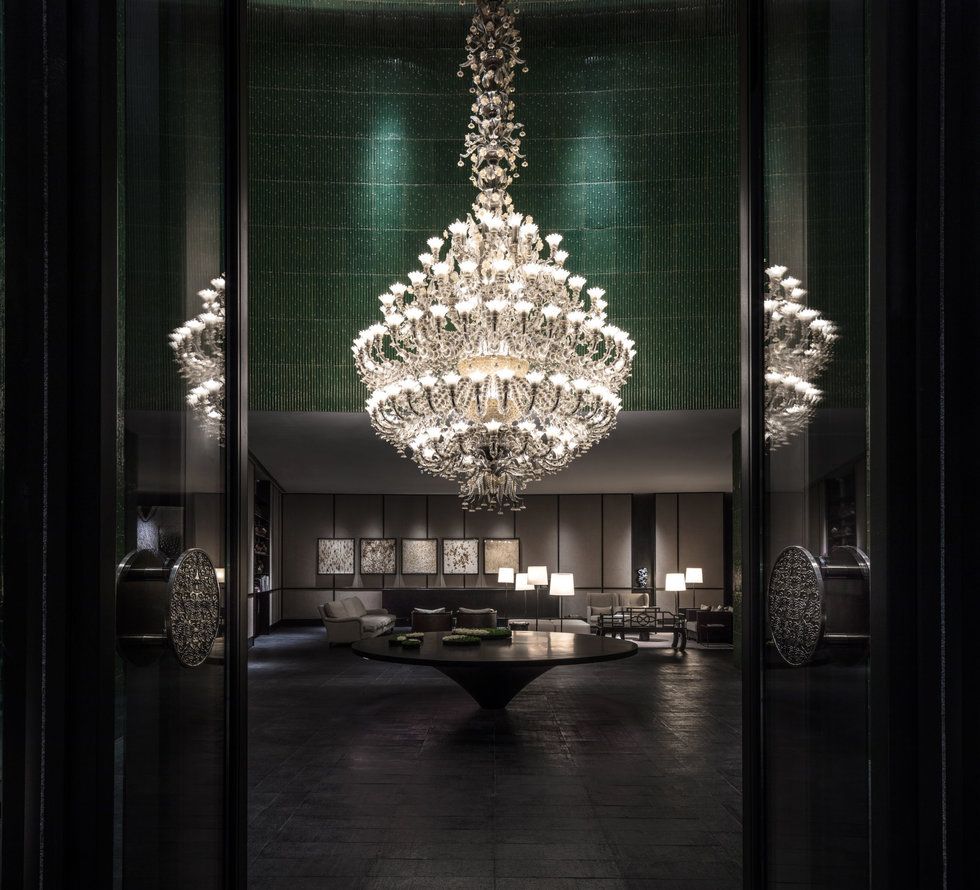 Set just off Shanghai's main shopping street, West Nanjing Road, the newest member of Swire Hotels' House Collective is a polished den of understated glamour, courtesy of Milan-based interior designer Piero Lissoni. The entryway is as heart-stoppingly dramatic as any couture runway show: A 3,760-piece Venetian glass chandelier hangs surrounded by emerald-green, bamboo-patterned tiles. The 111-room hotel, which opened last spring, boasts a nearly 700-work art collection—over half of which is Chinese—loosely inspired by the curatorial theme "I Dream of China."
WE LOVE Caroline Cheng's lobby installation, Prosperity, a black robe covered with 12,000 tiny butterfly figurines crafted in China's porcelain-making capital, Jingdezhen. From $268, themiddlehousehotel.com
Palihotel Seattle Seattle
For Stylish Seafarers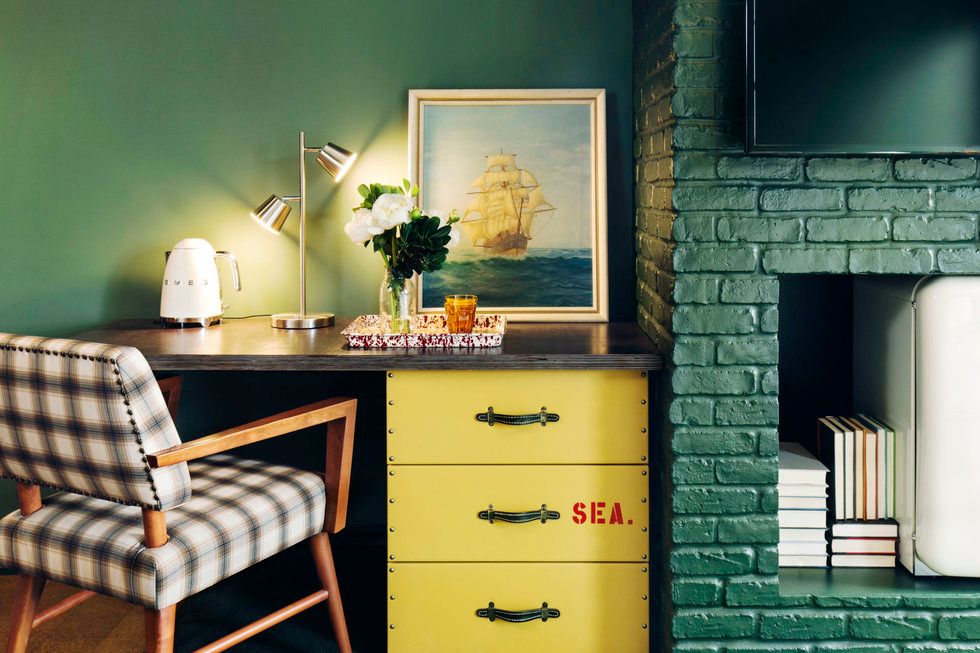 Guests arriving at the check-in desk at the first Palisociety hotel outside of Los Angeles are greeted by a portrait of a raincoat-clad, pipe-smoking sailor—a perfect introduction to the subtly nautical vibe that permeates Seattle's newest hotel, which opened in November one block from the bustling Pike Place Market. The prime location means the seafood (sweet-and-spicy salmon jerky, littleneck clams, local oysters) at the on-site restaurant, The Hart and the Hunter, is always as fresh and invigorating as the Puget Sound views from the landmark 1895 building's upper floors.
WE LOVE The Hart and the Hunter's briny Elliott Bay Gibson, which includes oyster-shell-infused gin, Maldon sea salt, bay leaf olive oil, and a pickled onion. From $175, palisociety.com
Perry Lane Hotel Savannah, Georgia
For Aspiring Southern Belles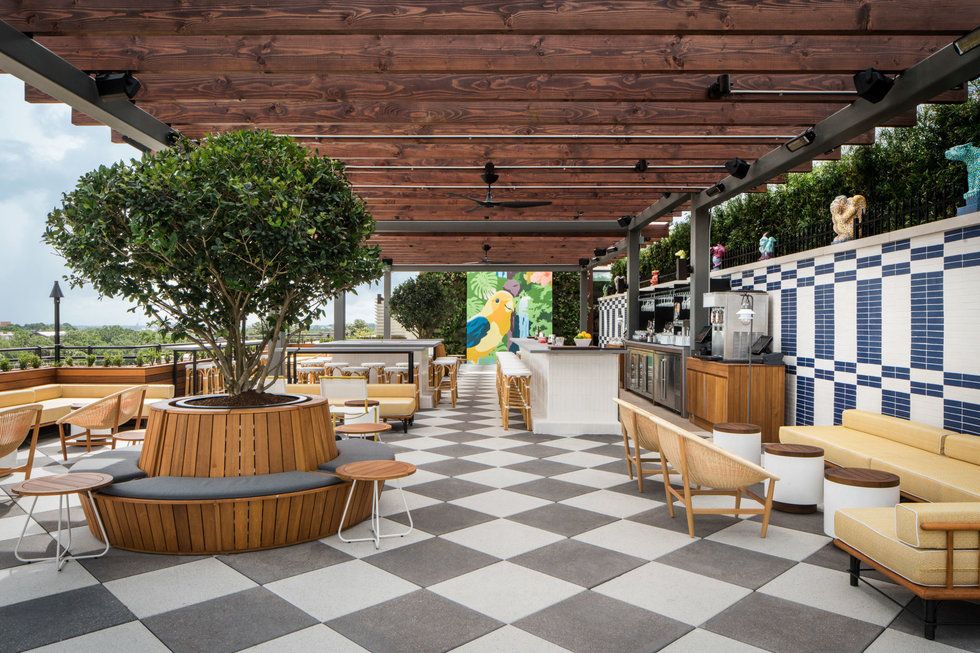 Few American cities are better preserved than Savannah, with its centuries-old squares and statues and hanging Spanish moss. Last June, the city's Historic District got a rare new addition, the 167-room Perry Lane Hotel. The Luxury Collection property pays such deep homage to the Hostess City of the South that— aside from a loaner jazz guitar from local luthier Benedetto and an art collection that includes works by 81 artists with ties to the Savannah College of Art and Design—it invented a fictional grande dame named Adelaide Harcourt to help define its aesthetic. (Look for her portrait above the lobby fireplace.)
WE LOVE the polka-dotted Gargoyle Artillery statues at the rooftop bar, Peregrin; you'll keep turning away from the views of the Historic District to consider their Gothic-psychedelic visages. From $187, perrylanehotel.com
Hôtel de Berri Paris

For Art Connoisseurs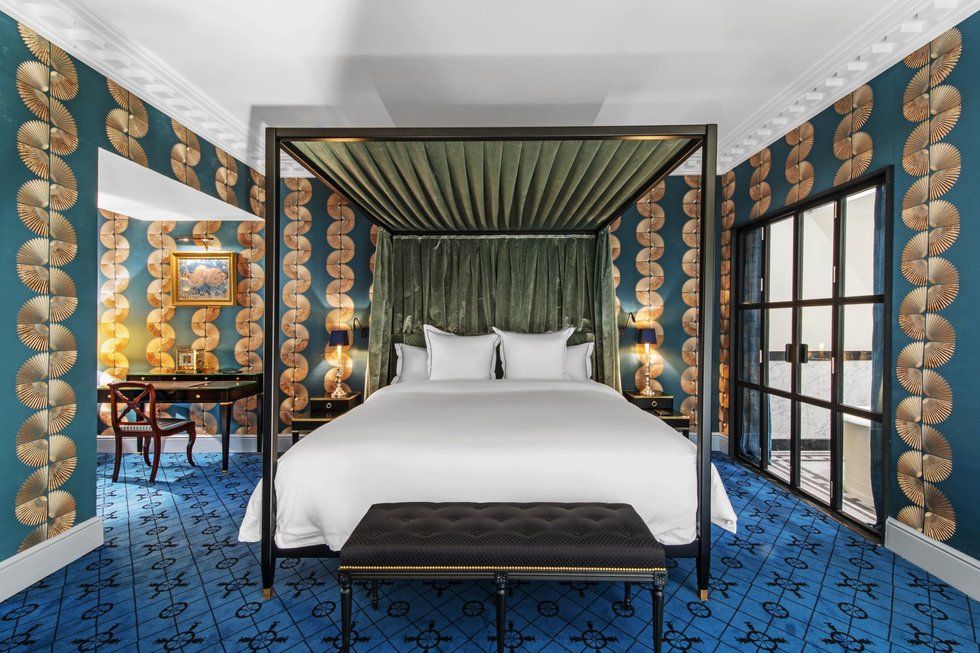 The City of Light isn't short on artful luxury accommodations, but how many Parisian palaces look like they were born in a Rodin fever dream? The lobby at this Luxury Collection property, which opened last May just steps from the Champs-Élysées, is scattered with sculpted figures and busts, many of them reproductions from the Louvre's molding workshop. Designer Philippe Renaud gave each of the 40 rooms and 35 suites a unique color scheme and art theme; one might have red-and-yellow-striped walls hung with simple figurative line drawings, while another's matte olive-green walls boast Cubist paintings. No matter the decor, reserve a room with a view of the lush garden.
WE LOVE the Bemelmans Bar–meets–Ralph Steadman mural of Parisian street scenes that wraps around the Michelin-recommended Italian restaurant Le Schiap (named for couturier Elsa Schiaparelli, who once lived at this address). From $445, marriott.com
The Ramble Hotel Denver
For Barflies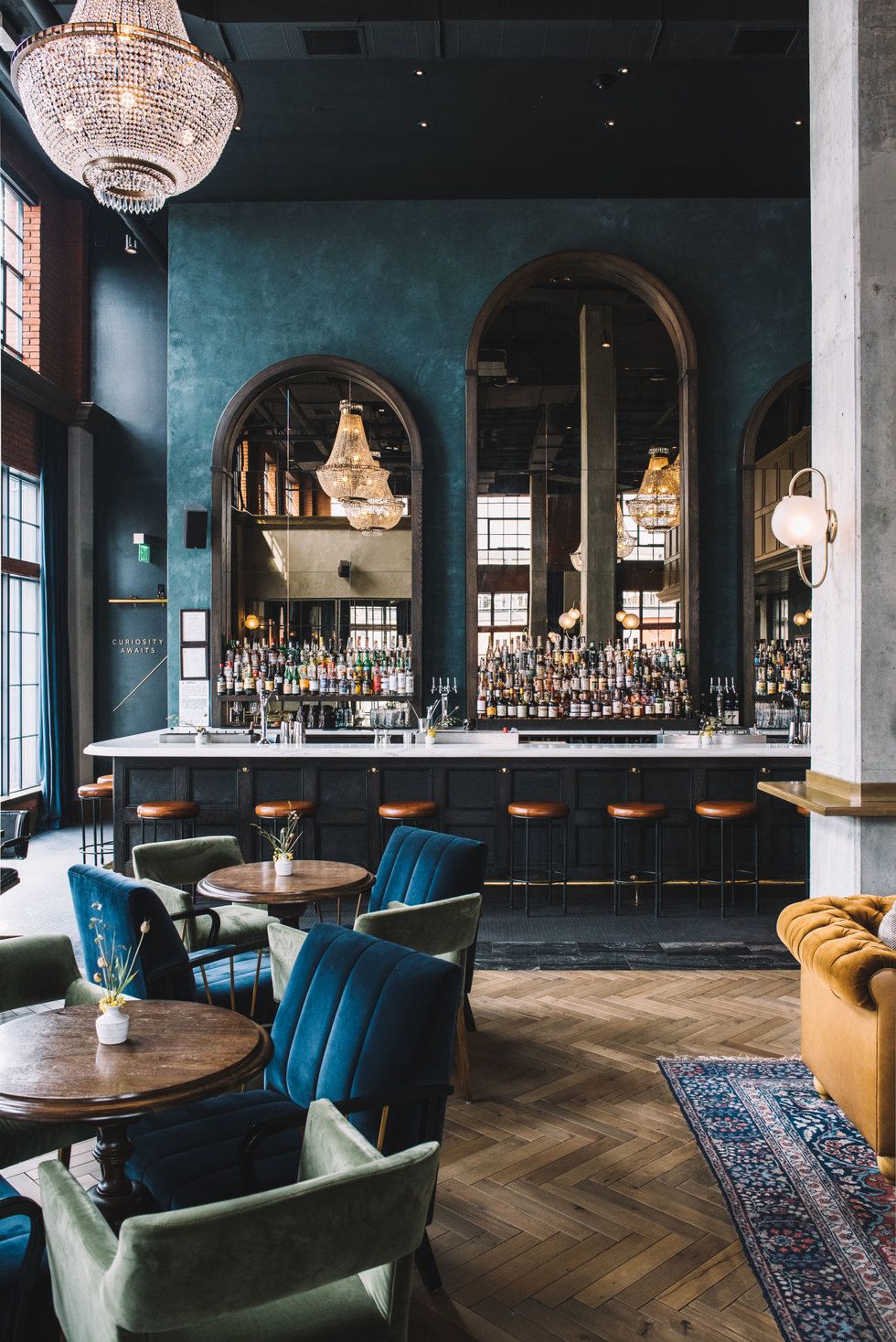 Most travelers are happy if their hotel has one great bar; at this new 50-room boutique property, there are four, all of them run by the team behind New York's award-winning cocktail den Death & Co. By night, the grand lobby's sunny café transforms into a swanky lounge with velvet curtains and spangly chandeliers. Hidden upstairs is Suite 6A, an intimate 21-seat bar. A ballroom/venue/theater, Vauxhall, is aimed directly at the surrounding River North Art District's culturati. Finally, outside, under the glow of artist Scott Young's neon Wish You Were Her(e) sign, The Garden serves up patio classics such as Aperol spritzes and mojitos.
WE LOVE that the bartenders are so willing to chat about their favorite unsung ingredients, like a French fortified wine called Pineau des Charentes that's featured in the Black Poodle alongside Irish whiskey, amaro, aloe, and sparkling mineral water. From $209, theramblehotel.com
Skylark Negril Beach Resort Negril, Jamaica
For Boho Beach Bums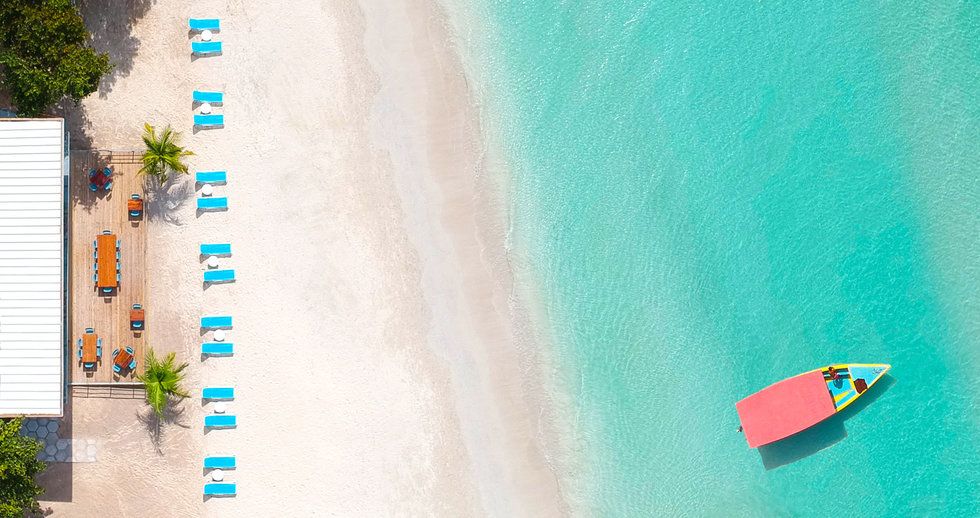 In Jamaican slang, to skylark is to goof off, mess around, or make mischief. Ironically, that's an activity that the designers at the impeccable Skylark Negril Beach Resort seem not to have pursued. The sister property to the nearby Rockhouse Hotel opened in June on Seven Mile Beach and pairs modernist touches—geometric breeze-block, whitewashed concrete—with pops of color from retro travel posters and throw pillows emblazoned with a print of the island's favorite fruit, bright-red ackee.
WE LOVE the outpost of NYC restaurant Miss Lily's, which serves up Caribbean rums and jerk favorites smoked over pimento wood to a soundtrack of reggae and dancehall hits. From $95, skylarknegril.com


The Hoxton, Williamsburg Brooklyn
For Digital Nomads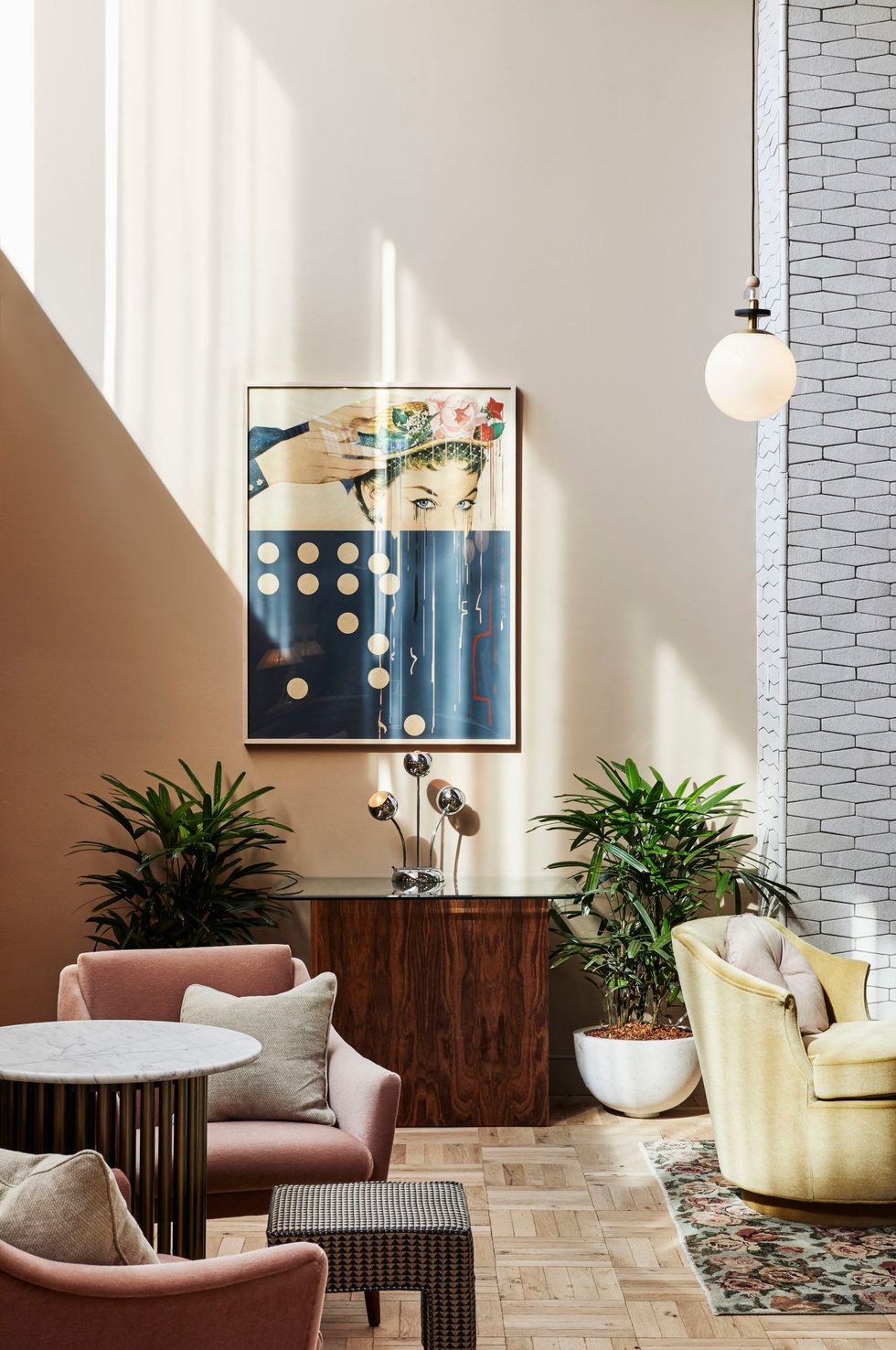 The London-based Hoxton chain brought its trademark combination of high design and low rates to the States last fall, with the debut of this 175-room outpost—a perfect spot for freelancers and creative types who aren't chained to a cubicle (i.e., Brooklynites). You and your laptop will feel at home in your cheerily appointed room, which features a smart wall-mounted desk and a retro Roberts Radio. If you're more productive surrounded by others, head down to the beehive-busy sunken lobby, which is done up in eclectic, sherbet-hued furniture.
WE LOVE procrastinating by perusing the Best of Brooklyn line of locally made products—such as Pintrill pizza slice pins, Brins strawberry vanilla jam, and Sesame Letterpress notecards—for sale in the lobby. From $159, thehoxton.com
Woodlark Hotel Portland, Oregon
For Plant Lovers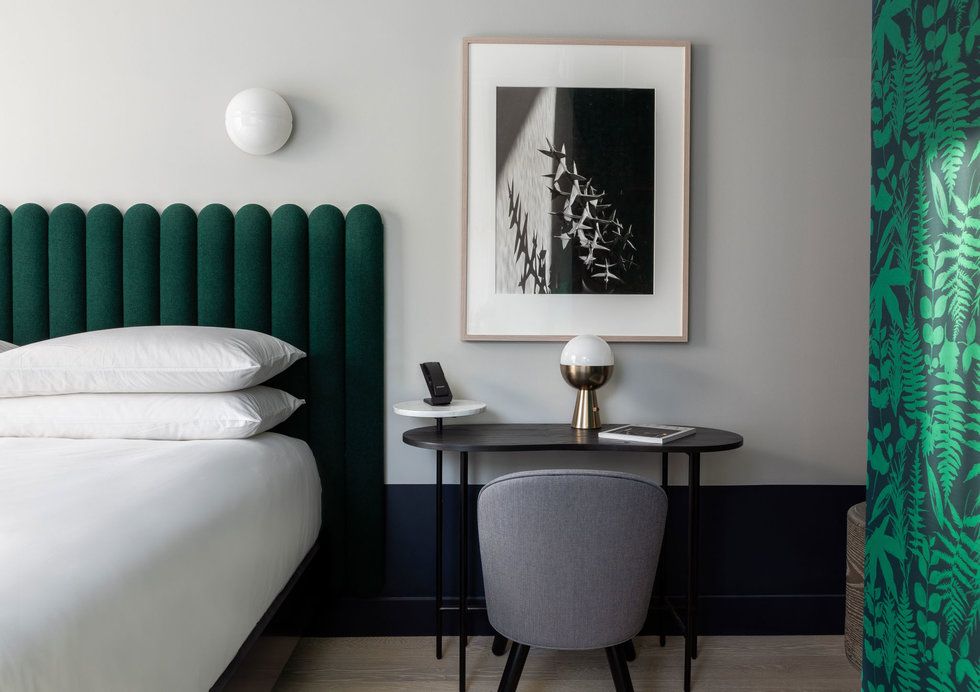 It's fitting that the latest hip lodging in a town known as the Rose City would be aimed at green thumbs. Opened in December in side-by-side landmark buildings downtown, the 150-room Woodlark Hotel is decorated with moody black-and-white botanical photos by Imogen Cunningham, while the conservatory-like foyer teems with a greenhouse's worth of potted trees. In this pattern-obsessed city—remember the famous PDX airport carpet?—the guest rooms' custom wallpaper, featuring the sort of native Pacific Northwest flora you'd find in nearby Forest Park, is sure to become iconic.
WE LOVE the artfully composed bouquets for sale at the lobby outpost of Colibri, an elegant flower shop co-owned by James Beard Award–winning chef Naomi Pomeroy. From $125, woodlarkhotel.com
Janeiro Rio de Janeiro
For Sun Seekers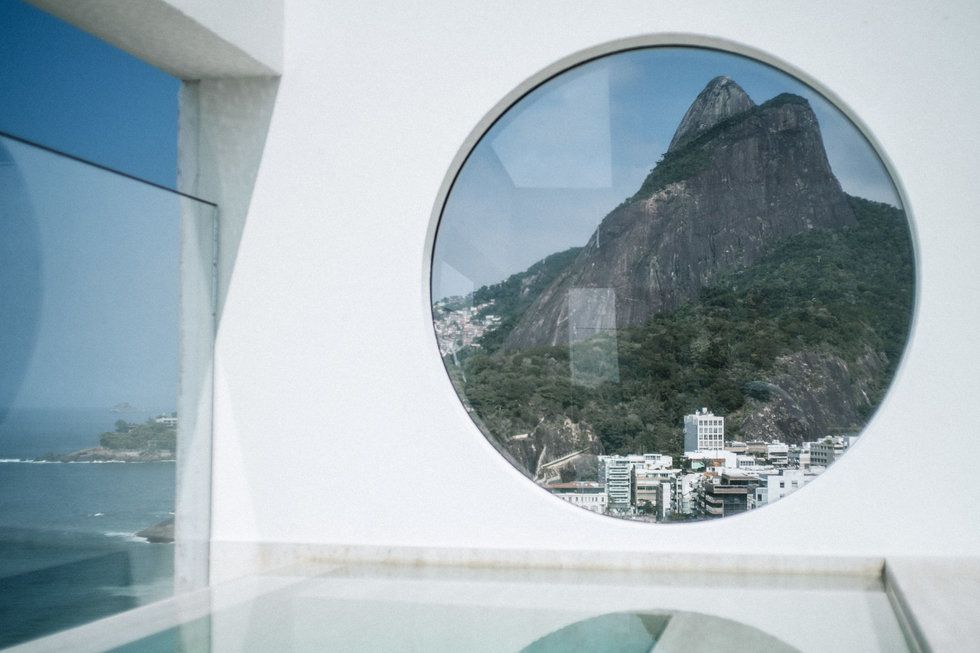 This 53-room hotel in beachside Leblon was opened last fall by fashion designer and Osklen founder Oskar Metsavaht, but its stark, sun-bleached, minimalist aesthetic owes a great deal to another Brazilian Oscar: architect Oscar Niemeyer, the Rio-born genius best known for New York City's UN headquarters and Brasília's space-age government buildings. In a city beloved for the ostentatious vibrancy of Carnaval, the Janeiro's sandy earth tones, blond freijo wood, travertine limestone, and sculptural rattan pieces offer an oasis of calm.
WE LOVE the 18th-floor infinity pool, which overlooks the white cliffs of the Cagarras Islands and the Morro Dois Irmãos (Two Brothers Hill). From $288, janeirohotel.rio
United Places Botanic Gardens Melbourne, Australia
For Homebodies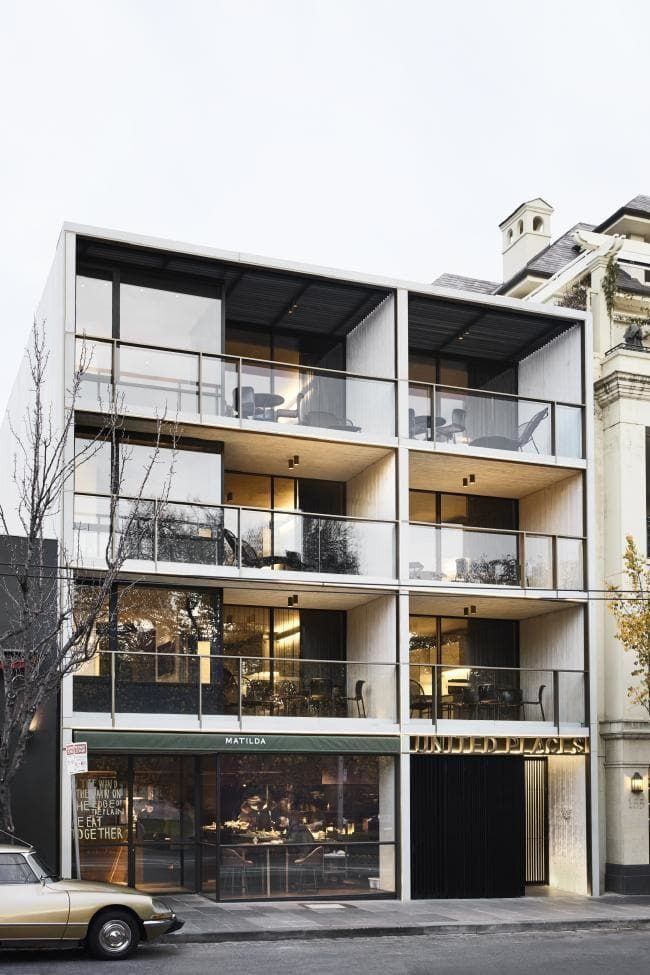 Many new hotels tout their live-like-a-local bona fides, but few feel as much like a posh apartment block as this 12-suite bolthole, which opened last June in Melbourne's gallery-filled South Yarra neighborhood. If location is everything, you can't do much better than a property overlooking the Royal Botanic Gardens Victoria, while suites include all the trappings of a dream flat: rain showers with Le Labo products, oak parquet floors, sleek furnishings from Patricia Urquiola and Grant Featherston, and a bar cart stocked with Tasmania's award-winning Sullivans Cove whiskey. Best of all, each suite comes with personalized concierge service.
WE LOVE the in-room breakfasts from the team downstairs at Matilda 159, an open-fire restaurant serving such creative dishes as sea bream tartare and spanner crab with prawn butter. From $461, unitedplaces.com.au
Shinola Hotel Detroit
For American Artisans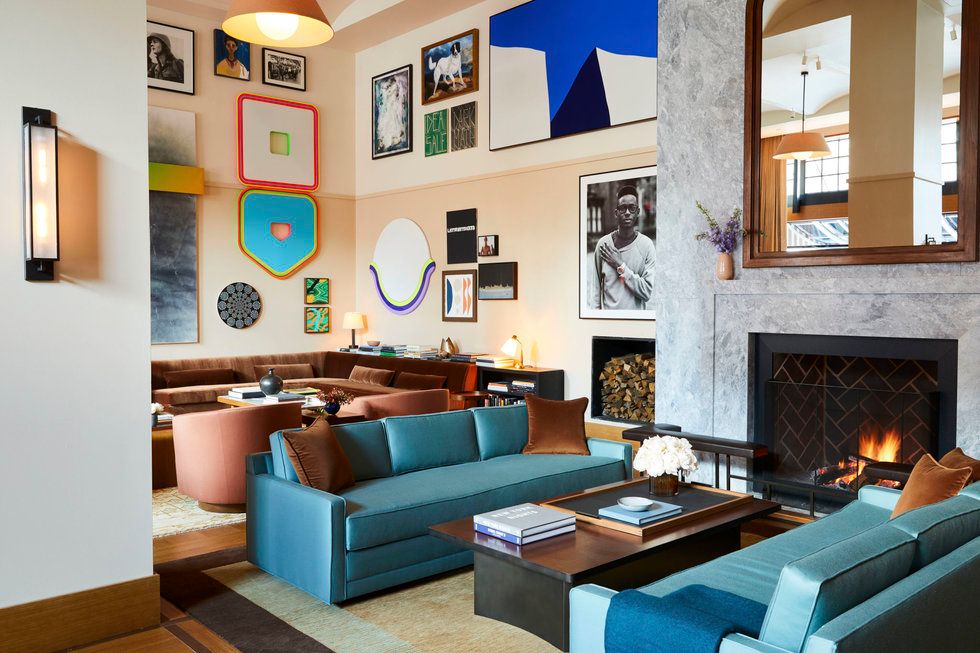 A lot is riding on the shoulders of Shinola, the Detroit-based watchmaker that has become synonymous with the Rust Belt's renaissance. In January, the company got into the hotel game with a 129-room space that sprawls across three new buildings and two downtown landmarks—the former Singer Sewing Machine shop and the T.B. Rayl Co. hardware store. Throughout the property, you'll find products made exclusively for the hotel, such as scented candles with notes of cherry blossom, leather, and smoke, and Shinola-branded cola in the Michigan-centric minibar.
WE LOVE the in-room Runwell desk clocks, scaled-up versions of the first watch the company ever produced. From $255, shinolahotel.com
Belmond Cadogan Hotel London
For Bookworms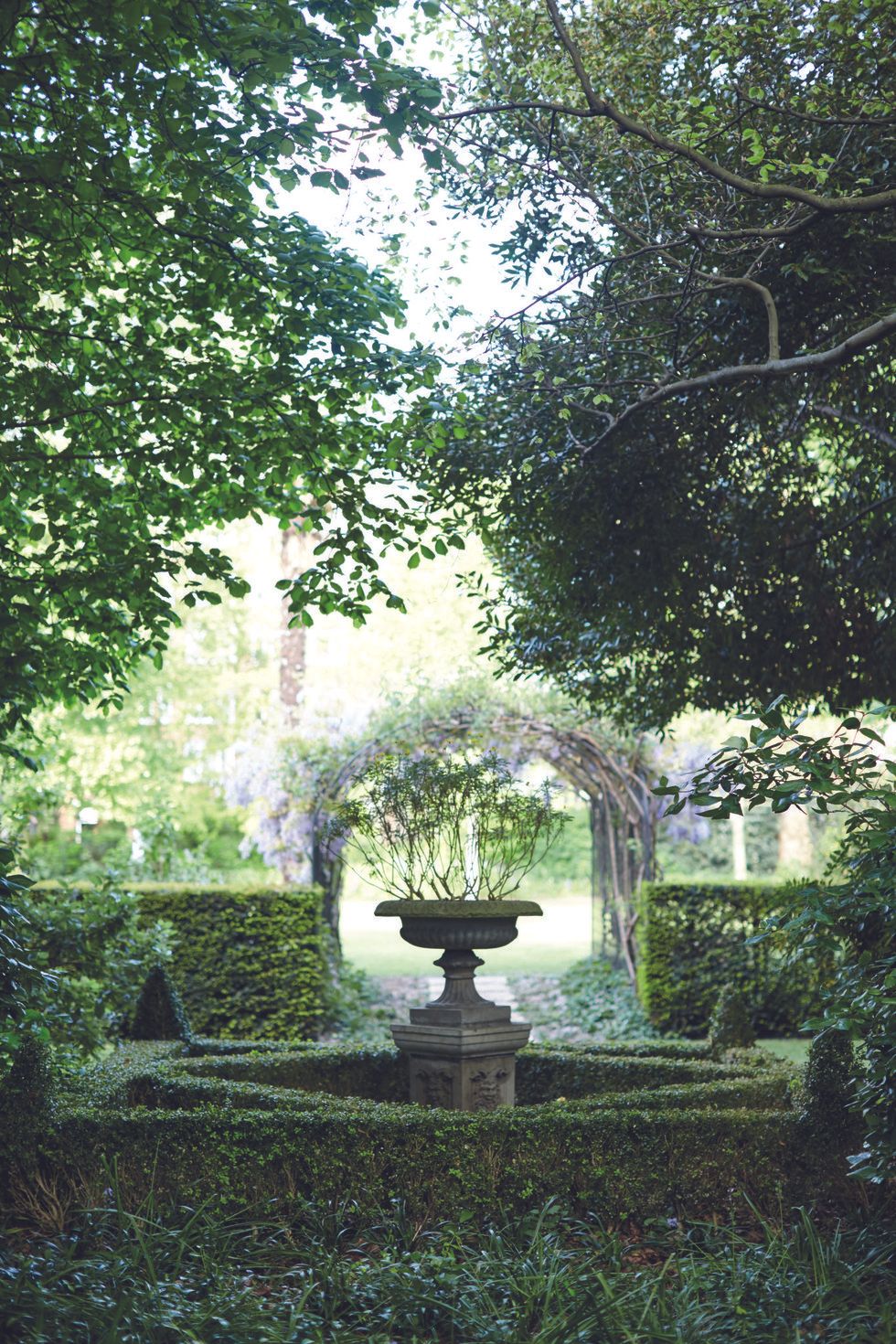 You'll be inspired to put pen to paper at this reimagined Chelsea property, which opened in February after a flawless $48 million renovation of the 1887 Cadogan Hotel. Oscar Wilde's former pied-à-terre is now part of the Royal Suite, in-room libraries are curated by family-owned John Sandoe Books, and an installation of 600 bronze-cast hardbacks encases the lobby elevator bank. Guests of the 54 rooms and suites are granted a key to Cadogan Place Gardens across the street, where they can sit under a mulberry tree with a notebook and sketch their own picture of Dorian Gray. Need inspiration? One taste of the decadent chicken butter at chef Adam Handling's eponymous restaurant will do the trick.
WE LOVE that reading in the bath is encouraged: The deep Victoria + Albert soaking tubs feature a bamboo bathtub tray complete with a book stand—and a holder for your Champagne flute. From $620, belmond.com
Eaton DC Washington, D.C.
For Social Activists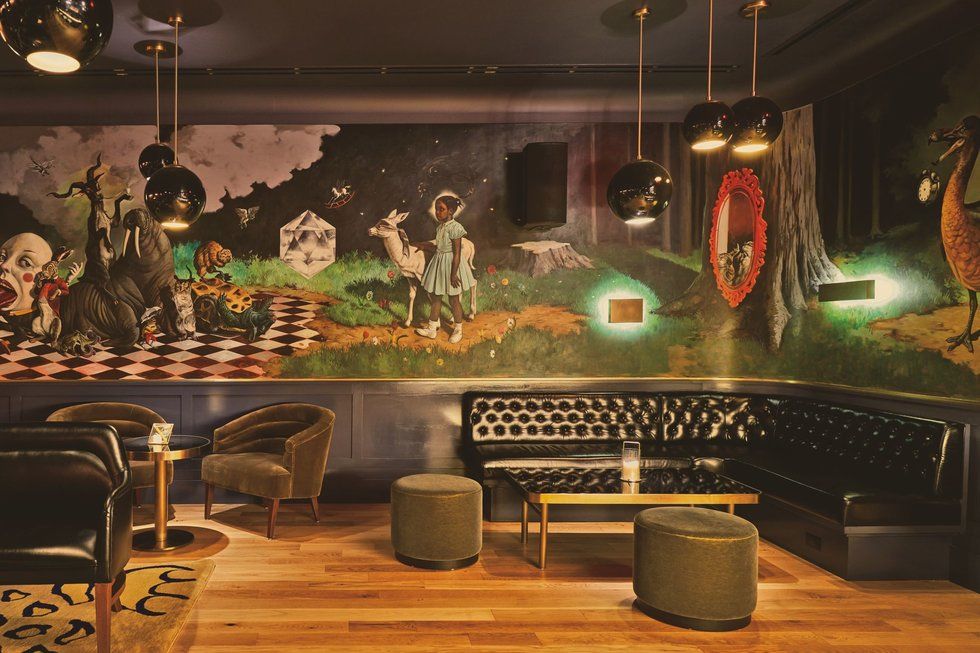 K Street may be synonymous with D.C. lobbyists, but, as of last September, it's also home to a new hub for budding activists. Katherine Lo—the daughter of the Langham hotel group's chairman—designed her 209-room Eaton DC to inspire the next RBG or AOC at every turn. Tune in to the house radio station, grab a book from the Radical Library (which features works by Roxane Gay and Langston Hughes), or brainstorm with fellow progressives over turmeric lattes at the Kintsugi café. You can even call down to the front desk for a nightstand copy of the UN Universal Declaration of Human Rights.
WE LOVE Erik Thor Sandberg's Wonderland-themed lobby mural, Allegory, which replaces Alice with civil rights icon Ruby Bridges, the first black child to desegregate an all-white elementary school. From $199, eatonworkshop.com
Noah Surf House Santa Cruz, Portugal
For Surfers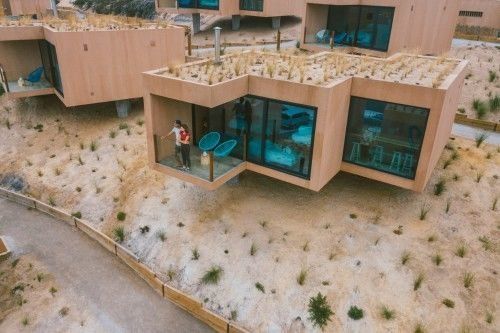 You'll want to learn the Portuguese word for "to chill" (relaxar) before you set foot in this surf-bum paradise, which opened on the Silver Coast, 50 minutes from Lisbon, last July. Its 21 rooms are divided between a central surfhouse that features hostel-style bunk accommodations and 13 boxy bungalows that dot the hilly dunes. There's an inescapably '70s SoCal vibe here, from the beanbag chairs and rope swings to a skate park and an organic garden filled with a small brood of hens.
WE LOVE the upcycled decor, which incorporates traffic signs, old boats, octopus traps, and fishing nets. From $182, noahsurfhouseportugal.com
KAI Sengokuhara Kanagawa, Japan
For Zen Seekers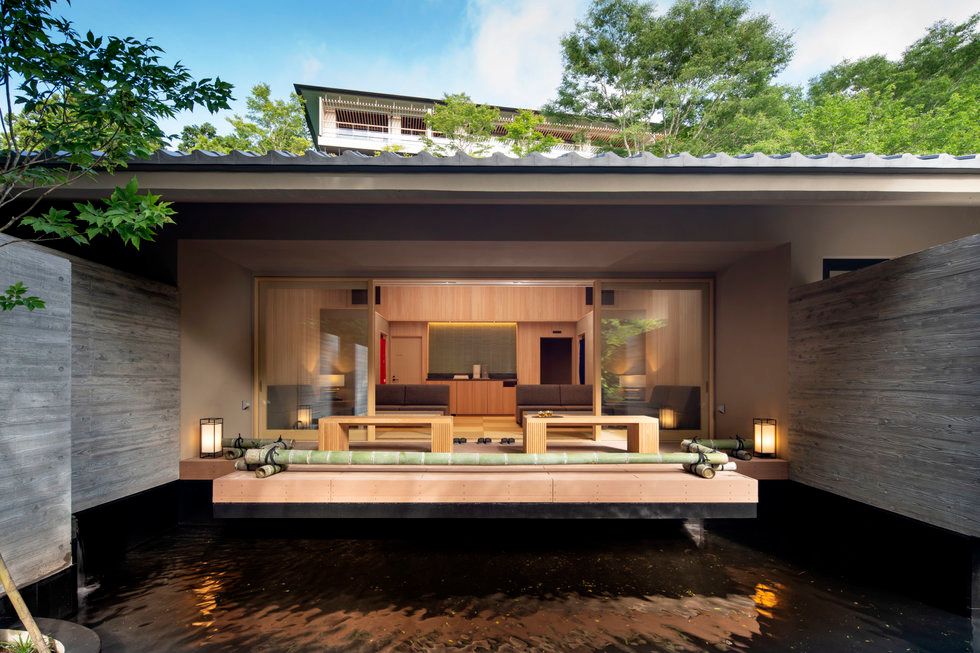 It's impossible not to relax at Japan's newest onsen (hot spring) resort, which opened last July in Fuji-Hakone-Izu National Park, two hours by train from Tokyo. The art-themed ryokan invites you to slip into a yukata (cotton robe) and then do absolutely nothing—except soak in the milky, mineral-rich water piped from the Owakudani volcanic valley into a communal bathhouse and private guest room soaking tubs. Equally invigorating are 24-year-old chef Akari Sash's inspired kaiseki dinners; with dishes like abalone grilled over nearly 400-degree stones, she'll have you forgetting all about Western-style spa meals.
WE LOVE the tenugui (cotton towel) decorating workshop, which feels like a sophisticated answer to the adult coloring book trend. From $332 per person, including breakfasts and dinners, kai-ryokan.jp
The Carpenter Hotel Austin, Texas
For Foodies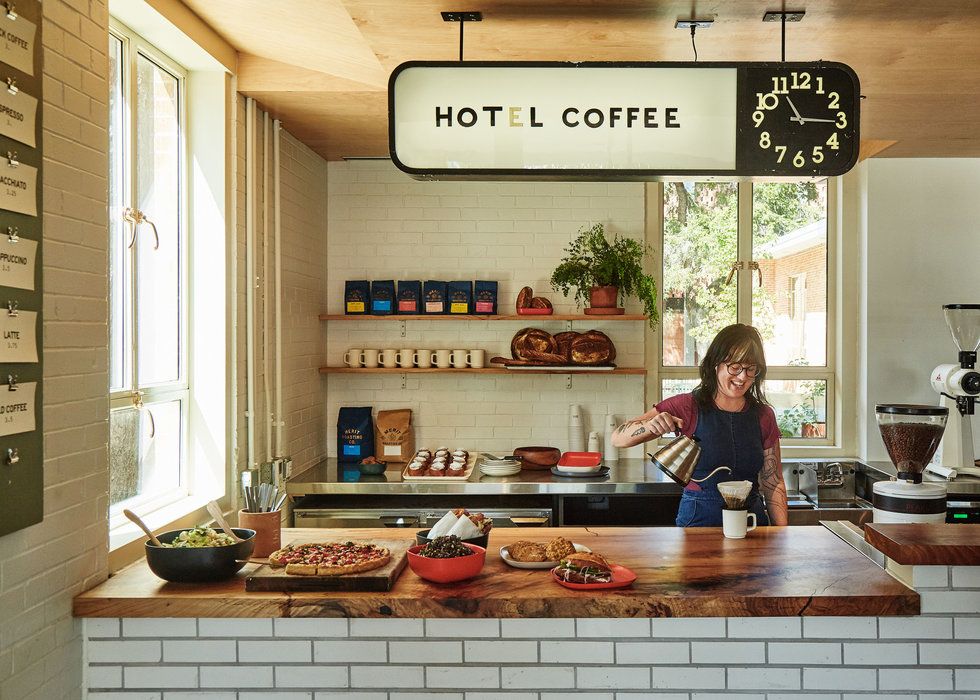 You'll wish you could sign up for a meal plan at this millennially minded hotel, just steps from Zilker Park. Food-world power couple Christina Skogly Knowlton and Andrew Knowlton (the host of Netflix's The Final Table) are behind the offerings at Hot L Coffee and Carpenters Hall, a restaurant located in, yes, a former union hall. Start with huckleberry butter–topped waffles, snack poolside on the best chocolate chip cookies ever, then sip a pear brandy–based Kind Eyes cocktail before a dinner of big-as-your-head chicken schnitzel. The 93 rooms are just as delectable, with custom-designed striped cotton blankets, blue-and-terracotta-tiled bathrooms, and thoughtful, vintage-inspired over-bed lights.
WE LOVE that each room has a terrace, outfitted simply with two folding chairs—the perfect place to sip a surprisingly inexpensive minibar Lone Star at the end of the evening.From $175, carpenterhotel.com
7Pines Resort Ibiza Ibiza, Spain
For Swanky Swimmers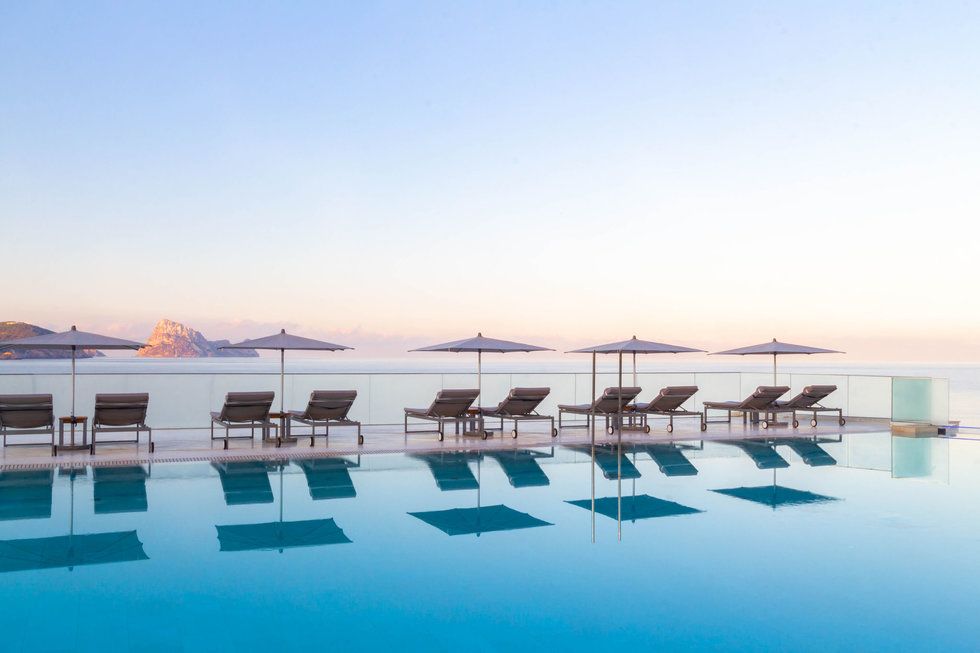 Forget Ibiza's party-hearty reputation: At 7Pines, on the Mediterranean island's quieter west coast, relaxation is key. Guests at the 186-suite property from The Leading Hotels of the World don't need to pack much more than a bathing suit (and a dinner-appropriate outfit or two) because they'll want to spend all day snapping mermaid-inspired Instagram shots along the infinity pool's glass wall. Need a change of scenery? A five-minute walk down a stone staircase leads to secluded Cala Codolar beach, where all the sunbathers look like they stepped out of an Antonioni film. Finish the day with a massage at the Pure Seven Spa, which, of course, has its own pool.
WE LOVE that no matter where you dine—on modern Asian cuisine at The View, prawn tartare at the Cone Club, or piña coladas at the Pershing Yacht Terrace—the Balearic Sea is always in sight. From $448, 7pines.com
Photo Credits: Marcus Jolly (Hotel Amparos); Jordan Layon (Eastwind Hotel); © E Leong (The Middle House);Eric Laignet/Paris Images (Hotel de Berri); Adam Szafranski (The Ramble Hotel) Nicole Franzen (Shinola Hotel); Courtesy of Belmond Cadogen Hotel (Belmond Cadogen Hotel); Adrian Gaut (Eaton DC); Noah Surf House Portugal (Noah Surf House); Akifumi Yamabe (KAI Sengokuhara); Alex Lau (Carpenter Hotel); Tomas Alonso Salvador (7Pines)
The day off: Nashville
Story by Nicolas DeRenzo | Hemispheres May 2019
Music City's burgeoning tech scene is tapping into the Tennessean capital's creative energy with outposts for such brands as Lyft, Postmates, Warby Parker, and Amazon, which is opening a 1 million-square-foot operations center complete with 5,000 jobs. "Silicon Honky Tonk," anyone?
9 a.m.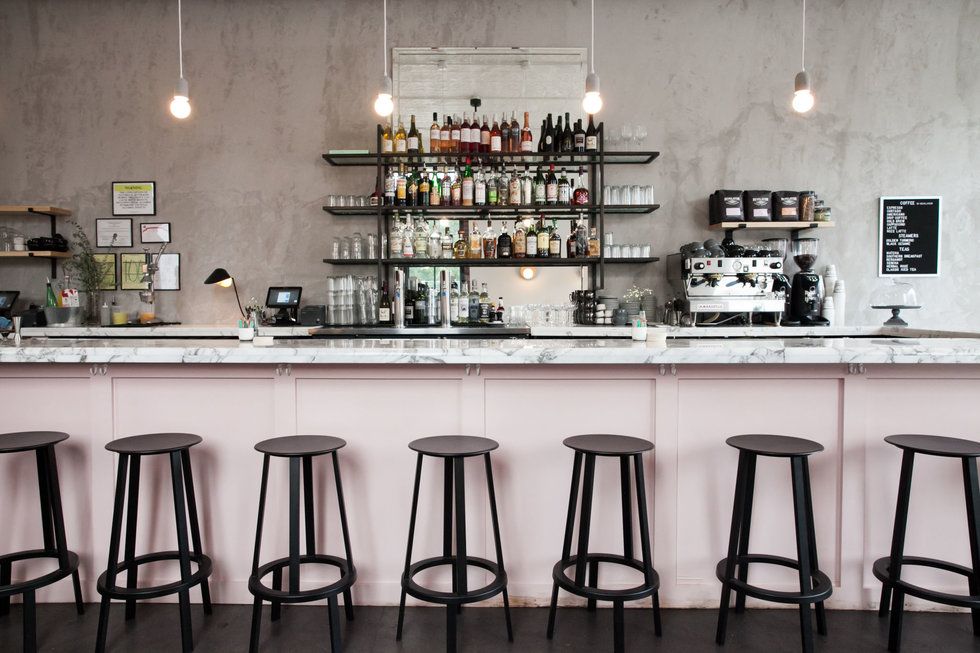 Cafe Roze chef Julia Jaksic named her East Nashville eatery after the Croatian word for "pink," a color that dominates the sunny space. Grab a bar seat and order a cardamom-rose latte and a country ham toast—a slab of sourdough heaped with soft-scrambled eggs, paper-thin Benton's ham, and snowdrifts of parmesan.
11 a.m.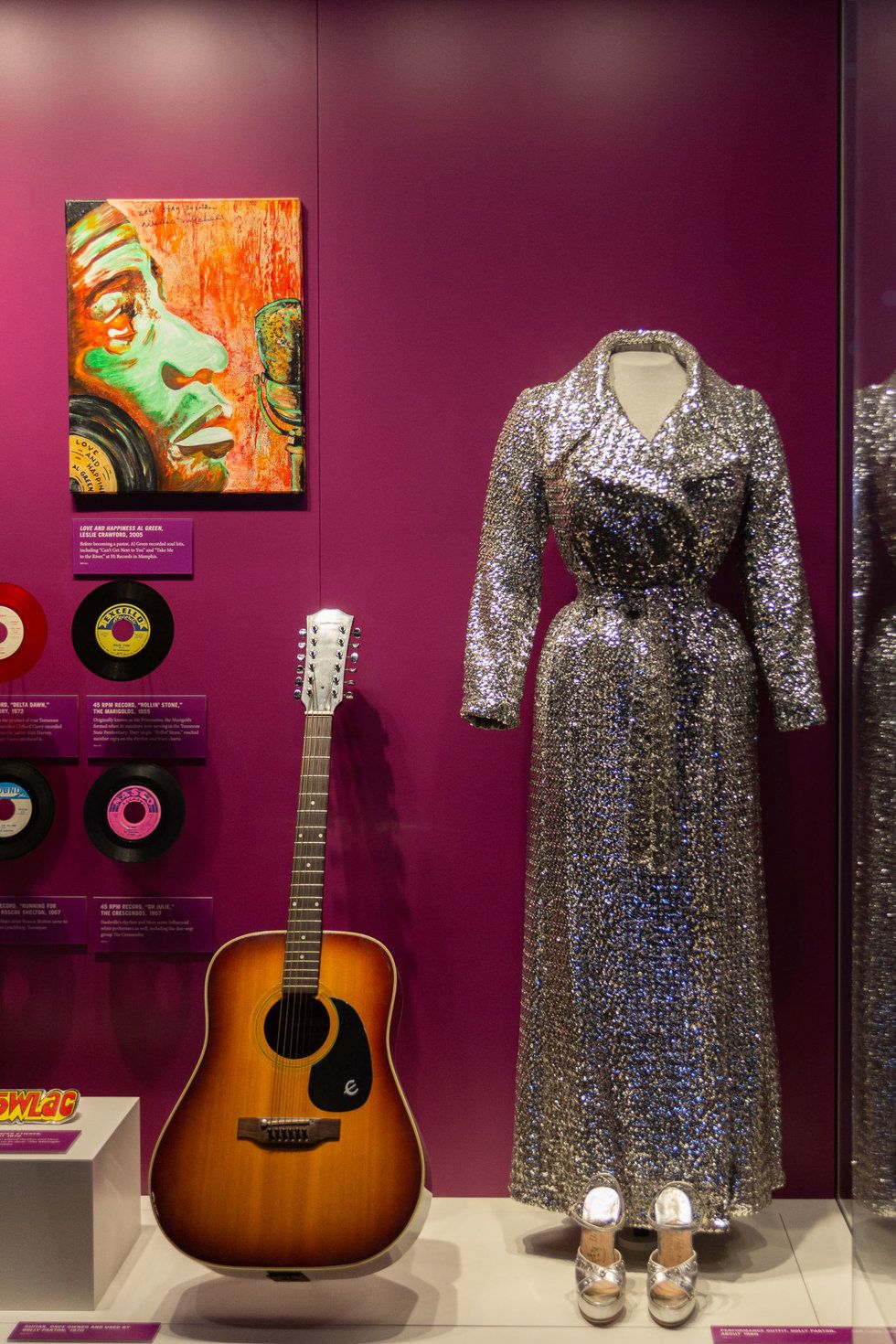 Cross the Cumberland River and head to the Tennessee State Museum, which moved into its new $160 million digs last fall. The collection, which covers 13,000 years of area history, features such objects as Andrew Jackson's inauguration hat and a spangly Dolly Parton outfit and guitar.
1 p.m.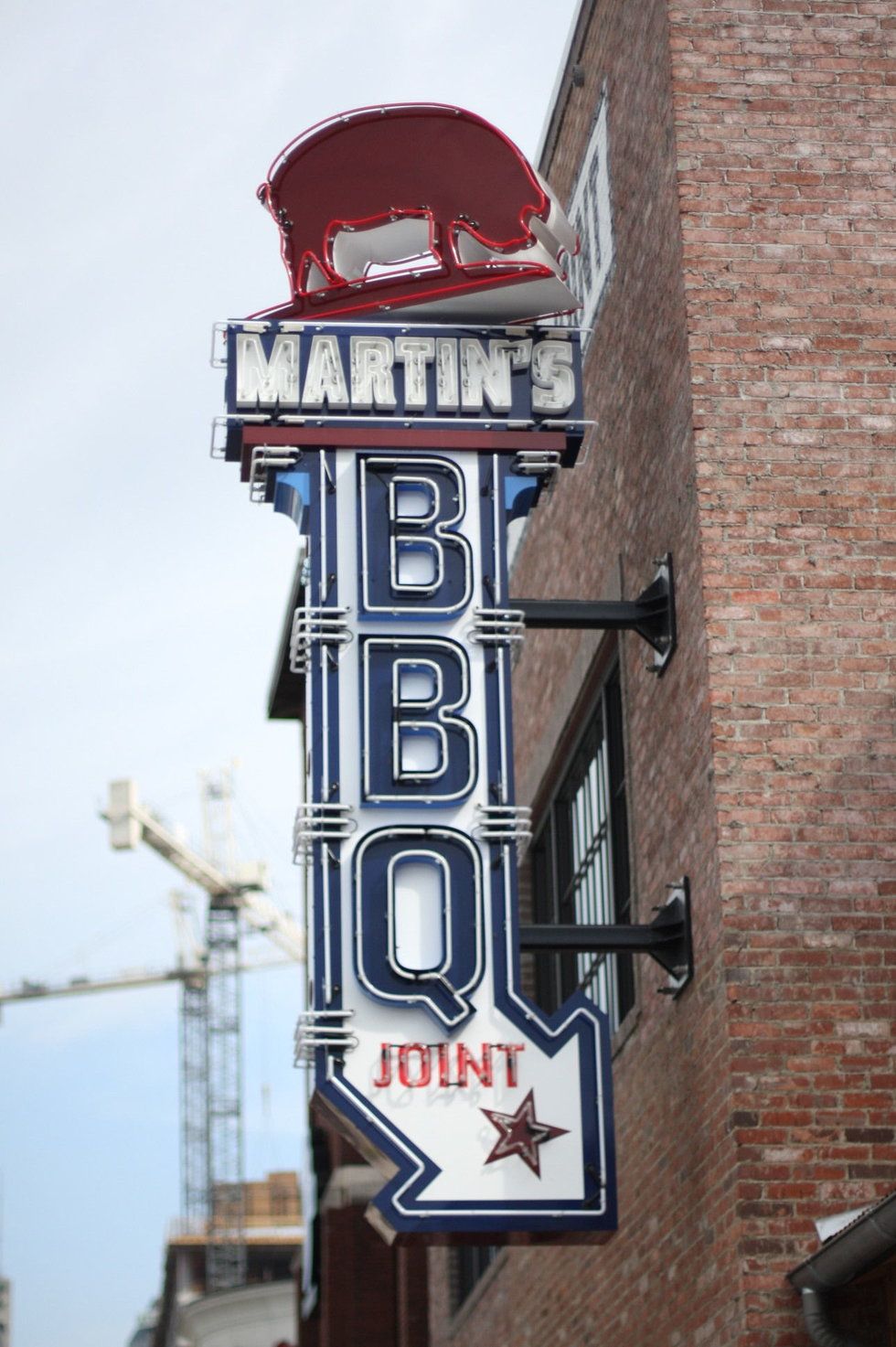 Hot chicken is a staple here, but Martin's Bar-B-Que Joint makes the case that Nashville is an unsung BBQ town, too. Pitmaster Pat Martin got his start in nearby Nolensville, but his downtown location is a 13,000-square-foot ode to hickory-smoked, Western Tennessee–style whole hog.
3 p.m.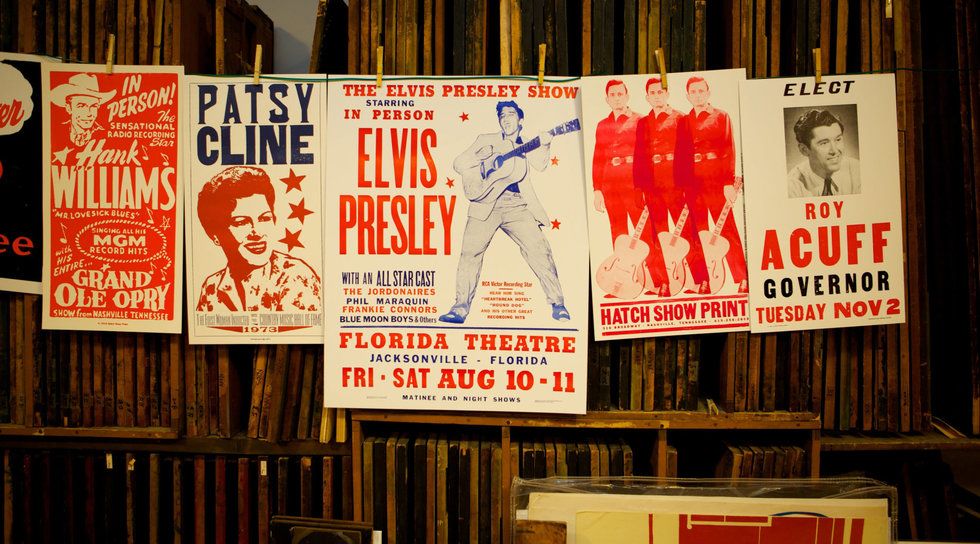 Let's face it: You're going to the Country Music Hall of Fame and Museum. Once you're there, don't skip Hatch Show Print, which moved into the same building in 2013. America's oldest letterpress print shop, which turns 140 this year, has churned out bold concert posters for everyone from Elvis Presley to Kacey Musgraves. Try pressing your own on one of the store's guided tours.
5 p.m.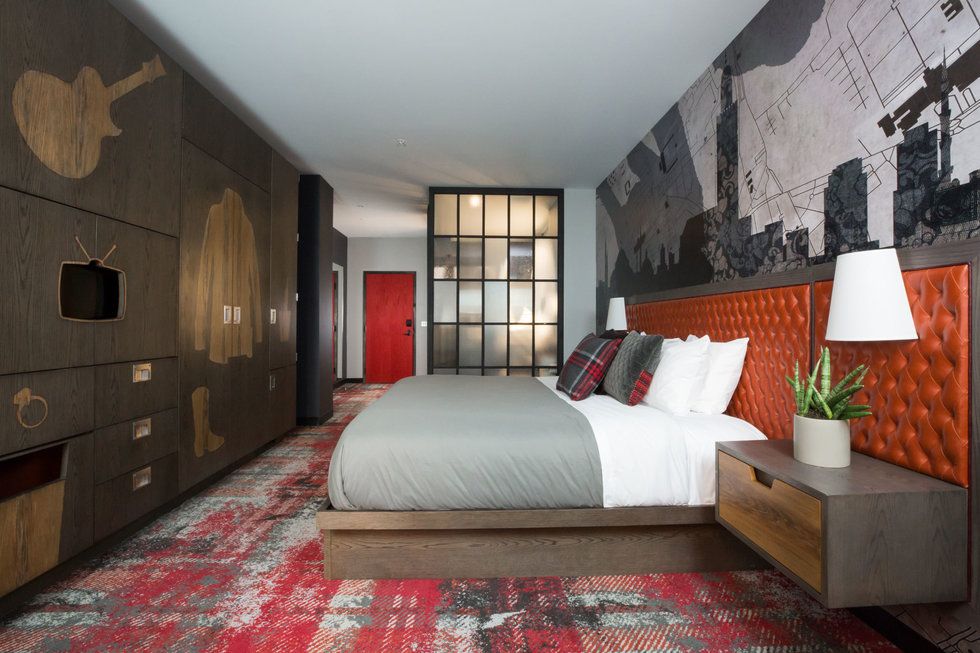 Stroll over to historic Printers Alley to freshen up in your room at the new Bobby Hotel. Stop to greet the staff—in particular, the hotel's mascot, Sasha the rescue dog—and check out lyricist Bernie Taupin's mixed-media artworks in the lobby before heading up to the rooftop lounge, which offers seating in a 1956 Scenicruiser tour bus.
7:30 p.m.
Dinner is at Bastion, former Catbird Seat chef Josh Habiger's 24-seat spot, which is hidden, speakeasy-style, in a cocktail bar/nacho joint in the Wedgewood-Houston warehouse district. Go for the "Let's Try Everything" tasting menu option, offering a flurry of small plates with deceptively simple names, such as Raw Lamb + Sunflower, Mackerel + Barley, and Apple + Foie Gras.
10 p.m.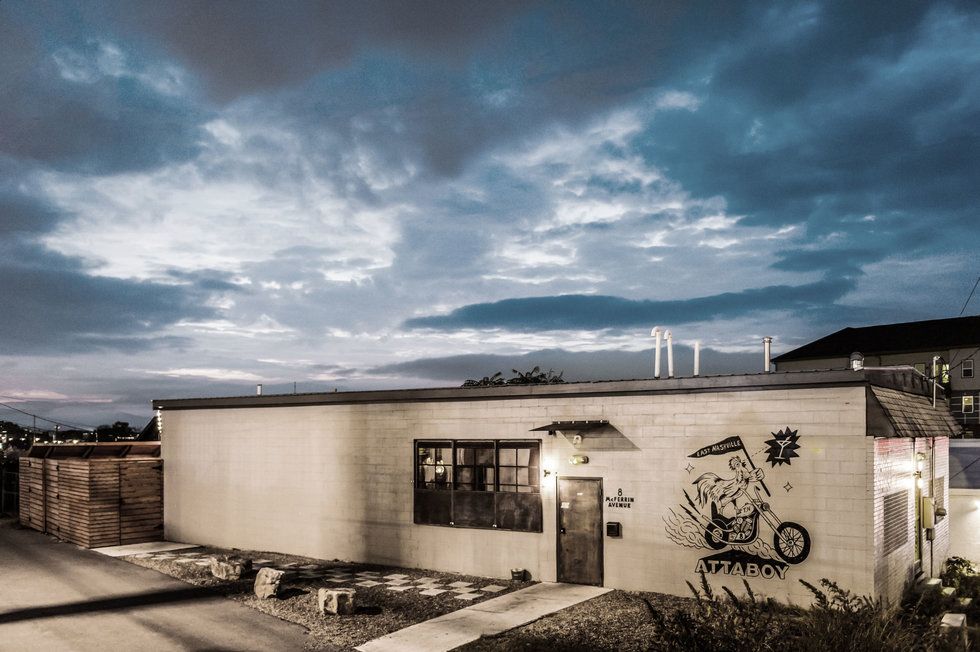 Back on the east side, duck into a different sort of speakeasy, the Southern outpost of NYC cocktail den Attaboy. There's no menu, so your server will ask you a series of questions, and then, in the words of Grand Ole Opry member Carrie Underwood, let Jesus—or whoever's behind the bar—take the wheel to craft you a perfectly bespoke drink.
Photo Credit: Lisa Diederich Photography (Cafe Roze); courtesy of the Tennessee State Museum (guitar); courtesy of Martin's BBQ (sign); Andrea Behrends (Bastion); CK Photo/courtesy of the Country Music Hall of Fame and Museum (vintage posters); Aaron Ingrao (Attaboy)
We're listening
Check out our newest destinations
United Airlines
united
We've issued a travel waiver for the New York City area due to severe weather. If you're traveling 5/23, you can change your flight at no cost on our mobile app, by direct messaging us here or calling Reservations at 1-800-864-8331. Waiver:
uafly.co/Z04CmP
We Are United
weareunited
Last week, our Third Thursday events were in full-swing across the globe with
#BeingUnited
volunteers at DFW, IAH, LHR and 2 locations in Chicago all packing meals for organizations focused on alleviating food insecurity.
@Rise2030
We Are United
weareunited
Ren, an Australian filmmaker, is traveling to America for a film festival and about to land in the wrong town! Susan, an IAH-based Flight Attendant, stars as the hero in this real-life drama.
#BeingUnited
We Are United
weareunited
This summer we will operate over 500 flights per day at
@DENAirport
, a record for the hub! Team DEN is all-in to reach this feat, moving to new gates on A-East Concourse to accommodate gate expansion on the B-Concourse. 🙌👏🙌
#BeingUnited
We Are United
weareunited
The United Premium Plus product took the show on the road this week and wound up in... Beijing! 🇨🇳 Thanks to the APAC Team for activating. 👏👏
We Are United
weareunited
We recently sponsored
@Hace_Online
's Annual Leadership Summit and had over a dozen
#BeingUnited
Hispanic leaders participate and lead discussions. Our very own Diversity and Inclusion Manager, David Romero, was presented with an award for redefining leadership in his community.
Watch our most popular videos
Watch the new Big Metal Bird: Veterans
Neighbors, coworkers, parents, protectors, heroes. All of these labels and more encompass the men and women whose devotion to our country serves as the truest embodiment of the American spirit. We're talking about Veterans. Join host Phil Torres as he heads to our nation's capital to learn more about these heroes and to explore just how many United employees are veterans on this Big Metal Bird.
Watch the new Big Metal Bird: Charters
From players and personnel to thousands of pounds of equipment, it takes not only a game plan, but a team to get the San Francisco 49ers to their next game and back all within 24 hours. This process is a little thing in the airline business we call chartering. Learn more about how our Charter team gets professional sports teams to their away games and back on the newest episode of Big Metal Bird.
Copyright © 2019 United Airlines, Inc.
All rights reserved.
Indicates an external site that may or may not meet accessibility guidelines.
Scroll to top
Scroll to top