Three Perfect Days: San Francisco
Story by Justin Goldman | Photography by Amy Harrity | Hemispheres, October 2017
San Francisco is a city of booms. The first came in the mid-19th century, when prospectors were drawn by rumors of gold in California's mountains. Fifty years ago, hippies streamed to Haight-Ashbury in search of love-ins and electric Kool-Aid. And in the last decade, the tech boom has seen a flood of young entrepreneurs who are using Silicon Valley cash to change how we communicate with each other—and to imagine the city of the future. This latest influx has sparked controversy, as skyrocketing rents have priced out many of the people who gave the city its bohemian, devil-may-care spirit—an exoticism that inspired journalist Herb Caen's 1949 book, Baghdad by the Bay. So how is the old San Francisco (per Caen's instructions, don't call it "Frisco") blending with the new? Hemispheres sent this former SF resident home to find out.

In which Justin squeezes through Chinatown's alleys, channels the Beats, and gets rained on inside a bar
I open my visit the way it seems all San Franciscans begin their days: Standing in line for breakfast. I'm on Polk Street, the main thoroughfare of Nob Hill, waiting for the morning fog to burn off and for Swan Oyster Depot to open. This storied seafood market has been in business for more than 100 years, and if you want to get a spot at its 18-seat counter, you'd better get here well before the 10:30 a.m. opening. The front window teases me with a display of freshly caught fare on ice, and once inside I do my best to consume all of it: briny, creamy West Coast oysters; a beautiful sashimi plate with salmon, tuna, hamachi, and scallops; sourdough dipped in crab fat; and perfect smoked salmon. I wash it down with the city's favorite brew, an Anchor Steam. Hey, it's almost noon.
A short cab ride takes me to the tech industry haven of South of Market (SOMA), where I'll be walking off my meal in the galleries of the San Francisco Museum of Modern Art. SFMOMA reopened last year after a three-year renovation that made it one of the largest modern and contemporary art museums in America. The permanent collection features Diego Rivera's Flower Carrier, Andy Warhol's Marilyn Monroe, and Marcel Duchamp's urinal, but my favorite part of the new building is the sculpture garden's lush Living Wall, which, at almost 30 feet tall and holding nearly 20,000 plants, is the largest of its kind in the U.S.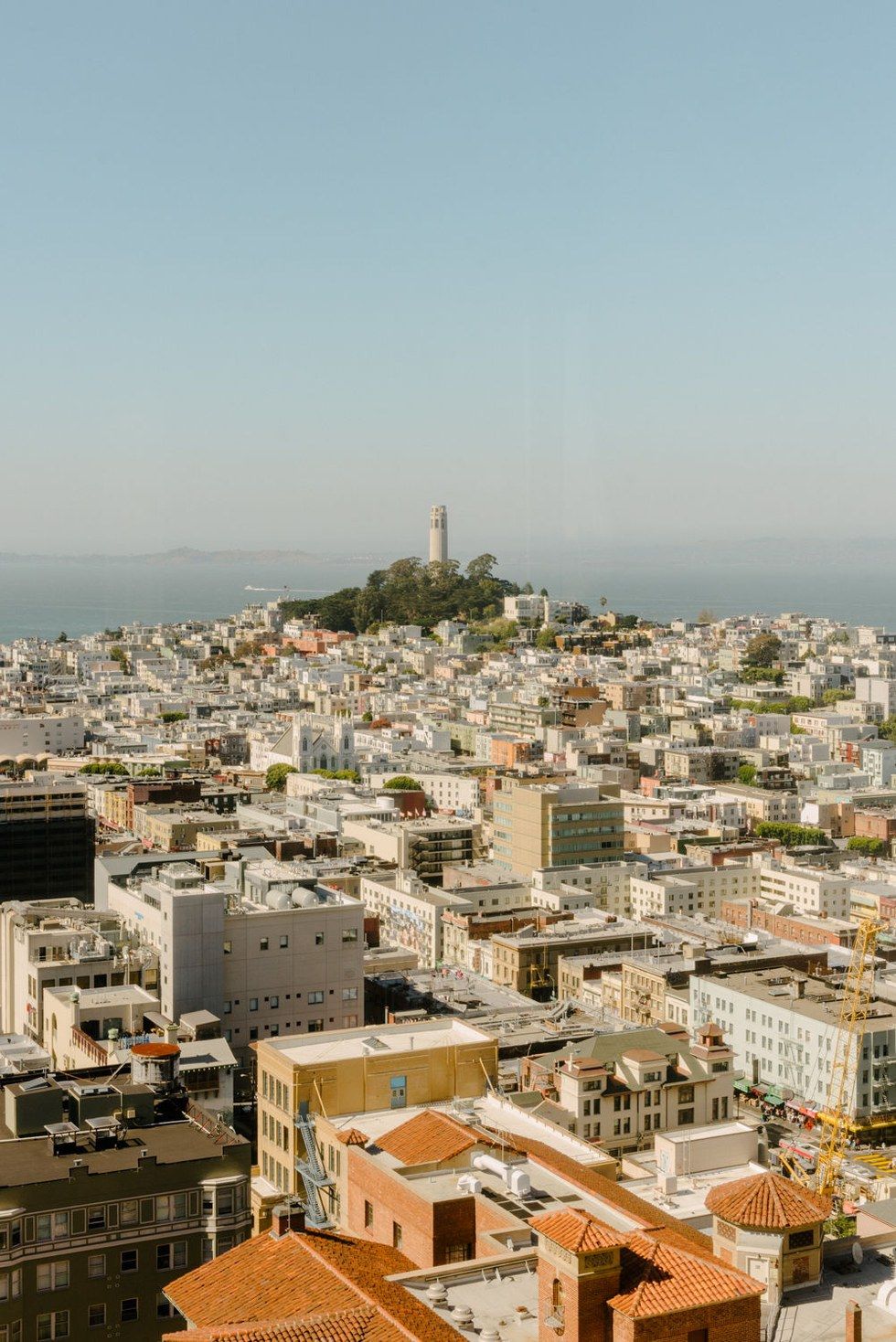 Coit Tower rises from the top of Telegraph Hill
It's a short walk across Market Street and through the towers of the Financial District to reach the oldest, largest Chinatown in the Americas. In Portsmouth Square, surrounded by huddles of elderly Asian men playing cards, I meet Sharon Traeger, a Tours by Locals guide who has agreed to tell me a bit about the neighborhood's history. The city—then known as Yerba Buena—established its first public square here in the early 19th century, and the Chinese, Traeger notes, moved in at the beginning of the gold rush. After the 1906 earthquake destroyed much of San Francisco, officials tried to push the Chinese community farther from downtown, but after protests, Traeger says, "the city eventually allowed them to stay here, on the condition they rebuilt it to look Chinese."
We exit the square and zigzag through crowded alleys, below colored balconies and alongside shops carrying everything from sea cucumbers to giant mushrooms. After tasting samples at the Golden Gate Fortune Cookie Factory, we climb three flights of stairs to the 1852 Tin How Temple, a tiny space decorated with lanterns, embroidered fabrics, and bowls of fruit left as offerings to the goddess who controls the wind and the waves.
Our next stop is China Live, a food hall that's aiming to bring this historic neighborhood into the future. Founder and executive chef George Chen meets us at the entrance. "China's changing, yet Chinatown's the same as it was 50 years ago," he says. "And Chinese food hasn't changed in this country that much. I wanted to do a marketplace to show that Chinese food can be ingredient-driven, just like any other cuisine. When I saw the success of Eataly"—Mario Batali's palatial Italian food emporia—"I said, 'If they can do it with Italian, why not here with Chinese?'"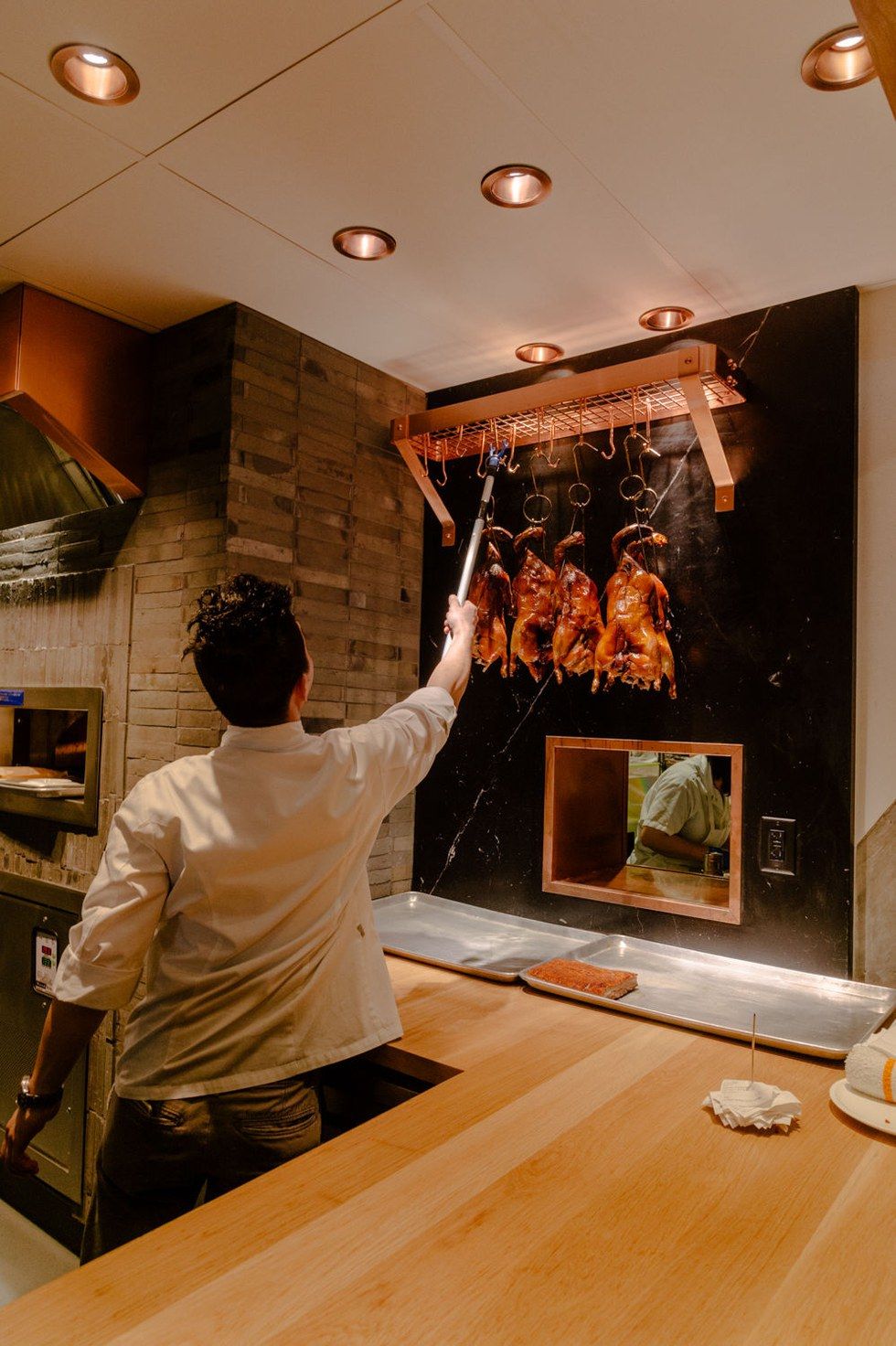 Hanging Peking ducks at China Live
Chen shows us around the tea bar, decorated with hand-painted blue and white tiles, and the retail shop, where we sniff Eight Treasures tea and Sichuan peppercorns, then offers us a seat at the Marketplace Restaurant. He sends over a slew of small plates: xiao long bao soup dumplings, black tree ear mushrooms, roasted Peking duck served in sesame pockets, and richly spiced mapo tofu. We cool off with sesame soft-serve ice cream topped with mango shaved ice, which Traeger keeps inching closer to her. I can't say I blame her.
From here, it's only a block downhill to North Beach, SF's Little Italy. This city has a rich literary history—everyone from Mark Twain to Jack London to Alice Walker has called it home—and the center of it all is Lawrence Ferlinghetti's City Lights Bookstore. The poet published Allen Ginsberg's Howl in 1956 and then was put on trial for obscenity (he was acquitted), and City Lights has continued to distinguish itself by selling and publishing experimental works. I find a novel by a grad school classmate of mine, Marc Anthony Richardson, which I take across Jack Kerouac Alley to Vesuvio Cafe, the bar that the Beats favored back in the '50s. I wind up the stairs, past old fliers for readings by Kerouac and Bukowski and photos of Ginsberg and Dylan, and sit at a window table, sipping an Anchor Steam and flipping through my book. It's a perfect San Francisco happy hour.
"Chinese food can be ingredient-driven, just like any other cuisine. If they can do it with Italian, why not here with Chinese?"
Dinner is right across the street at Tosca Cafe. This nearly century-old neighborhood bar and restaurant was bought and updated in 2013 by the owners of New York's famed The Spotted Pig. Bon Appétit named Tosca one of the 10 best new restaurants in America in 2014, but it retains a homey feel. The bar in front has the air of an old dive, while the dining space looks like a classic red-sauce joint, with wine bottles lining the walls and a mural of Venice's Grand Canal. I meet my monthly calorie requirement with orders of tender meatballs, lumaconi pasta shells in beurre blanc, and a delicious roasted chicken. There's only one legitimate drink order: the House Cappuccino, a Tosca original that blends armagnac, bourbon, chocolate ganache, and milk. They were so busy putting all that good stuff in the "cappuccino," they forgot one thing: the coffee.
It's a five-minute cab ride up to my hotel, the Fairmont San Francisco. At the peak of Nob Hill, this old palace is a part of Bay Area lore. It was here, in 1961, that Tony Bennett first performed "I Left My Heart in San Francisco." The lobby, with its grand staircase and expanses of marble, is impressive, but I'm looking for a kitschy kick, so I take the elevator down to the Tonga Room, the beloved tiki bar that dates to 1945, when an MGM set director converted an indoor pool into a lagoon with a thatch-roofed bandstand in the middle, surrounded by ship's rigging and Polynesian artifacts. I sit at the railing and sip a mai tai—a tropical drink that was actually invented across the Bay at Trader Vic's—until lights begin to flash overhead, thunder rolls over the house speakers, and finally rain streams down from the ceiling onto the lagoon. Uh, did someone put some of that electric Kool-Aid in my drink? Either way, it's time for bed.

In which Justin takes a mural tour in the Mission, ponders where to put a taxidermied giraffe, and drinks a really, really old whiskey
I'm not sure if it's the clanging of the cable cars or the sun pouring into the 10th-floor Funston Suite that wakes me, but I open my eyes to a panoramic view of the Bay Bridge, Transamerica Pyramid, Coit Tower, Alcatraz, and Golden Gate Bridge—you know, all the landmarks that make this America's most beautiful city.
Even with the early start, I'm not down the hill and into the Mission District quick enough to beat the line at Tartine Manufactory, the new industrial outpost from the owners of America's most famous bakery. I make my way to the counter, where I order smørrebrød—a Danish open-face sandwich, made here with multi-grain bread, avocado, poblano peppers, and sunflower seeds—and cold-brew coffee, which gets me ready for my next stop.
I stroll down to 24th Street, the taqueria-lined heart of the Mission, the Latino quarter and hipster redoubt that has been the biggest flashpoint in the city's fight over gentrification (if you want to see a scowl, say the words "Google bus" here). One of the oldest arts organizations in the neighborhood, Precita Eyes, is here, in a bright blue storefront above which hangs a portrait of Frida Kahlo. The center has spent the last 40 years preserving and producing street art, and this morning I'm taking a neighborhood tour with Henry Sultan, a 79-year-old former muralist and occasional tour guide.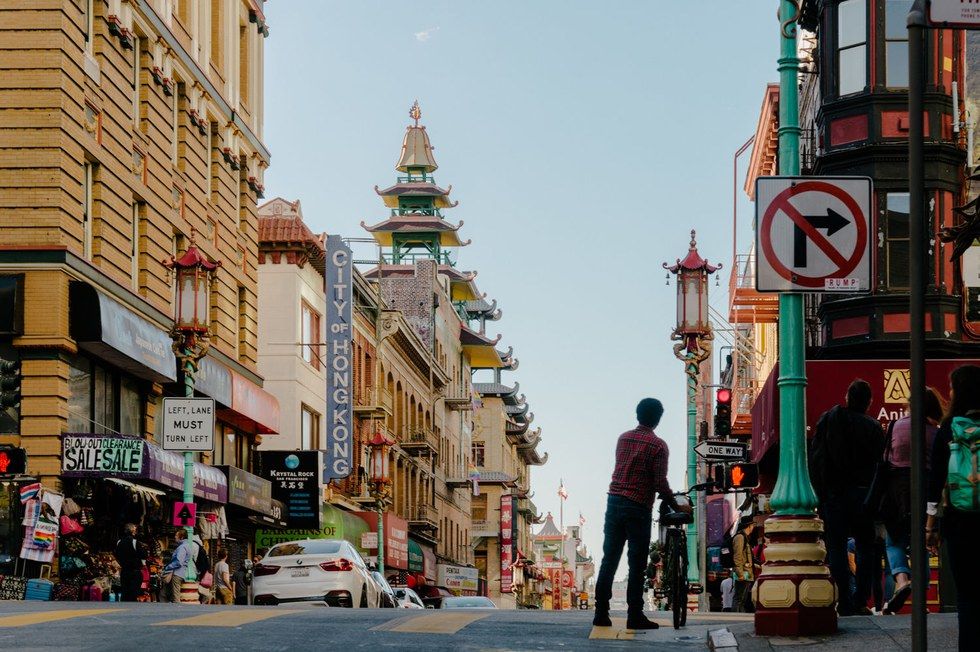 As we head around the corner to Balmy Alley, Sultan explains how San Francisco's street art scene started with Mexico's great muralists—including Diego Rivera, who came here in the '30s—and picked up during the '70s, thanks in part to the Mujeres Muralistas, a collective of female artists. We inch down the alley, where nearly every sliver of wall and fence and garage door bears an artwork. Some address the AIDS crisis, which hit this city hard; some, including one by Precita Eyes founder Susan Kelk Cervantes, show migrants fleeing the civil wars of Central America; some comment on gentrification. "The Mission has always had a strong political group of activists," Sultan tells me, "and I just don't think people are going to be pushed away." He points to a mural. "Like that says: 'We're not going anywhere.'"
Aside from these murals and the guitar licks of Carlos Santana, the greatest contribution this neighborhood has made to world culture has to be the Mission burrito. Locals fiercely debate which one is the best, but my favorite is Taqueria Cancún's burrito mojado al pastor, which comes not foil-wrapped, like most Mission burritos, but on a plate, slathered with red and green salsas and sour cream, à la the Mexican flag. It is fiery hot and the size of a football, and after eating it you will need to douse your tastebuds with a Pacifico, which I do at a picnic table in the bright yellow restaurant while listening to a mariachi band play for tips.
Rarely in my life have I needed a walk as much as I do after that gut bomb. The sun's shining on me as I pass the fruit stands and thrift stores on Mission and head over to hip Valencia Street. My first stop is the City Art Cooperative Gallery, which is showing paintings of classic SF dive bars, including the dearly departed Lexington Club. Next I wander into Paxton Gate, a store that's bursting with taxidermied animals. When I wonder aloud where someone would put an $8,000 giraffe's head, the clerk, polishing a vase, says, "I'd put it in a circular stairwell, with a mirror at the top." I raise an eyebrow. "I have a lot of time to think about that sort of thing," he explains.
"We zigzag through crowded alleys, below colored balconies, and alongside shops carrying everything from sea cucumbers to giant mushrooms."
I continue on across palm tree–lined Dolores Street to Mission Dolores Park. On a warm Saturday afternoon, this green space, which reopened last year after a $20 million renovation, resembles a hipster fashion show. I climb past skinny jeans and rompers and bangs to the top of the grassy hill, which yields a jaw-dropping view of the city skyline and the underrated Bay Bridge. I think I'll stay a while.
I continue on across palm tree–lined Dolores Street to Mission Dolores Park. On a warm Saturday afternoon, this green space, which reopened last year after a $20 million renovation, resembles a hipster fashion show. I climb past skinny jeans and rompers and bangs to the top of the grassy hill, which yields a jaw-dropping view of the city skyline and the underrated Bay Bridge. I think I'll stay a while.
When I find myself dozing, I pop to my feet, because I've got a ticket to San Francisco's most exclusive dinner party. An unadorned doorway on 19th Street leads to Lazy Bear. Chef-owner David Barzelay (the restaurant's name is an anagram of his surname) began throwing dinner parties after he was laid off from his job as a lawyer in 2009. He opened this space in 2014, and the hype and Michelin stars followed.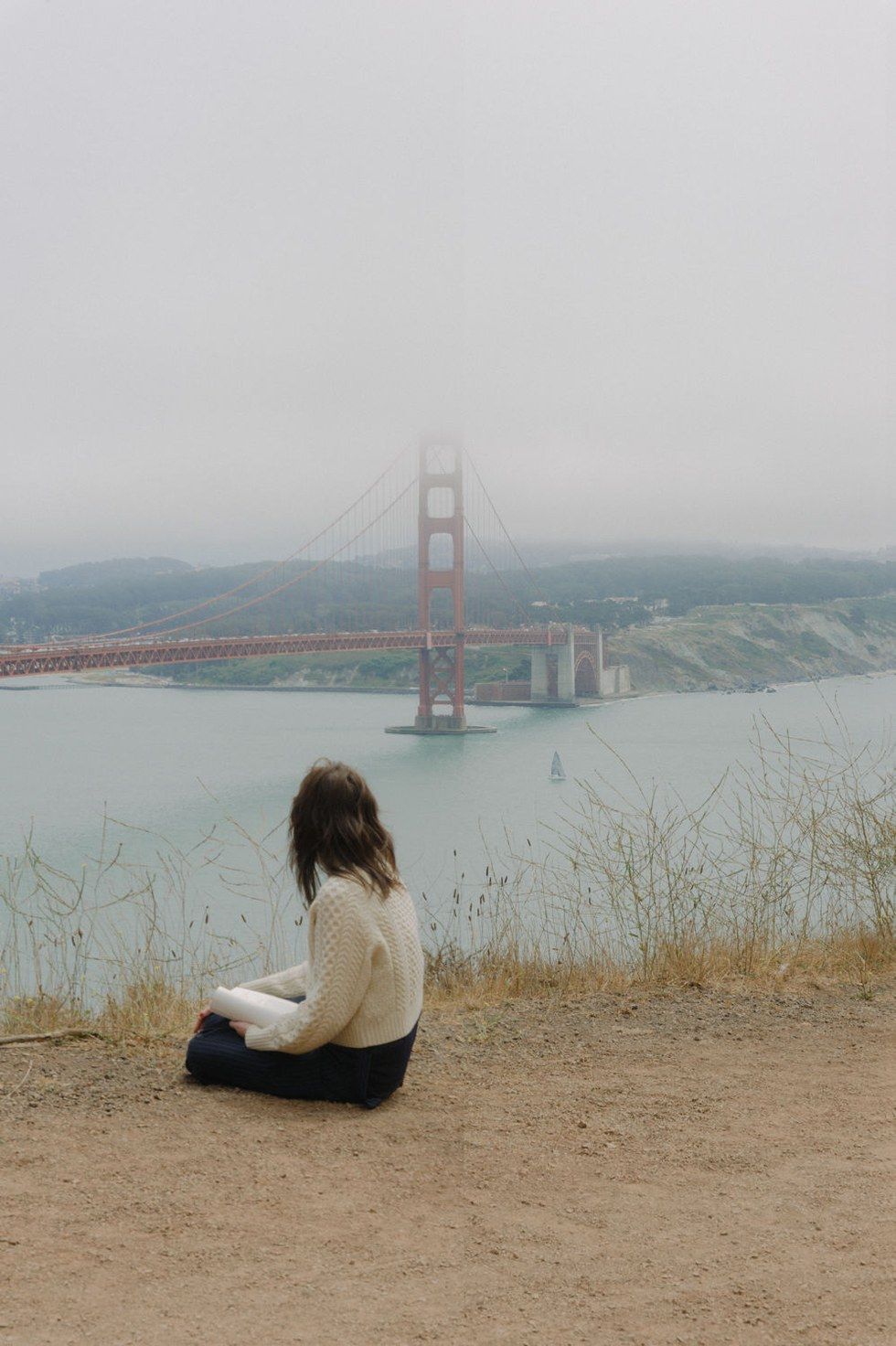 The city and Land's End seen from the Marin Headlands, across the foggy Golden Gate
Upon entering, I'm shown upstairs, where I'm served Marc Hébrart Special Club Champagne and Morro Bay oysters topped with elderflowers. Downstairs are two long communal tables, next to an open kitchen where an army of chefs prepares each course. Each dish is served with an introduction from one of the chefs, often in amusing fashion. ("These eggs were raised by a lady named Kitty.") The food is inventive—grilled halibut with artichoke and blood orange, morel mushrooms with egg-yolk fudge—and the restaurant provides a small plaid notebook for each diner to take notes. I neglect to use mine (some journalist I am) due to the wine pairings, which run the gamut from Bordeaux to Rioja to Napa. Dessert? An Old Overholt rye that was distilled in nineteen-thirty-six. I am now as dead as the guy who made that whiskey.
I don't really need another drink, but right up the block is the hot new cocktail spot Wildhawk. The latest bar in former mayor Gavin Newsom's PlumpJack empire opened last year to some neighborhood displeasure, as it replaced the aforementioned Lexington Club, a longtime lesbian bar. (A plaque on the sidewalk out front commemorates the old institution.) I take a seat beneath the floral Victorian wallpaper and order a cocktail from Jacques Bezuidenhout, a South African expat who has lived here for almost 20 years and has been voted the city's best bartender. He brings me a Breakfast Negroni—Cocoa Puffs–infused Beefeater gin, Campari, Cinzano, and chocolate salt bitters—and stays to tell me about the changing of the guard at the bar. "We have some old regulars now that come back, and they're like, 'We really want to hate you, but we just can't,'" he says. I agree: That would be impossible.

In which Justin crosses the Golden Gate, gets a crick in his neck looking at trees, and rocks out at a legendary concert hall
My rented Hyundai may not be the Mustang from Bullitt, but I still feel like Steve McQueen as I zip up and down SF's famous hills, past the painted ladies of Alamo Square—the colorful Victorians from Full House—and along Golden Gate Park to the fog-blanketed Outer Sunset district.
I've lucked out and caught a rare morning when there's no line at Outerlands. The dining room, which horseshoes around an open kitchen beneath an undulating, driftwood-inspired ceiling, is about half full, mostly young people in surf hoodies. I get an egg sandwich with zucchini, asparagus, broccolini, and rich onion jam, served open-face on a thick slice of fresh house-baked bread, followed by the doughnut of the day: salted caramel with chocolate crumble. Yum.
Fueled up, I'm back in the car and cruising north on the Great Highway, with gusty Ocean Beach and the choppy Pacific on my left. By the time I reach the Golden Gate Bridge, the fog has burned off, and it's all I can do to stay on the road as I sneak peeks over my shoulder at the city. A few miles up U.S. 101, I steer through the town of Mill Valley and descend into a canyon, through a series of buttonhook curves—now feeling more student driver than McQueen—to Muir Woods National Monument.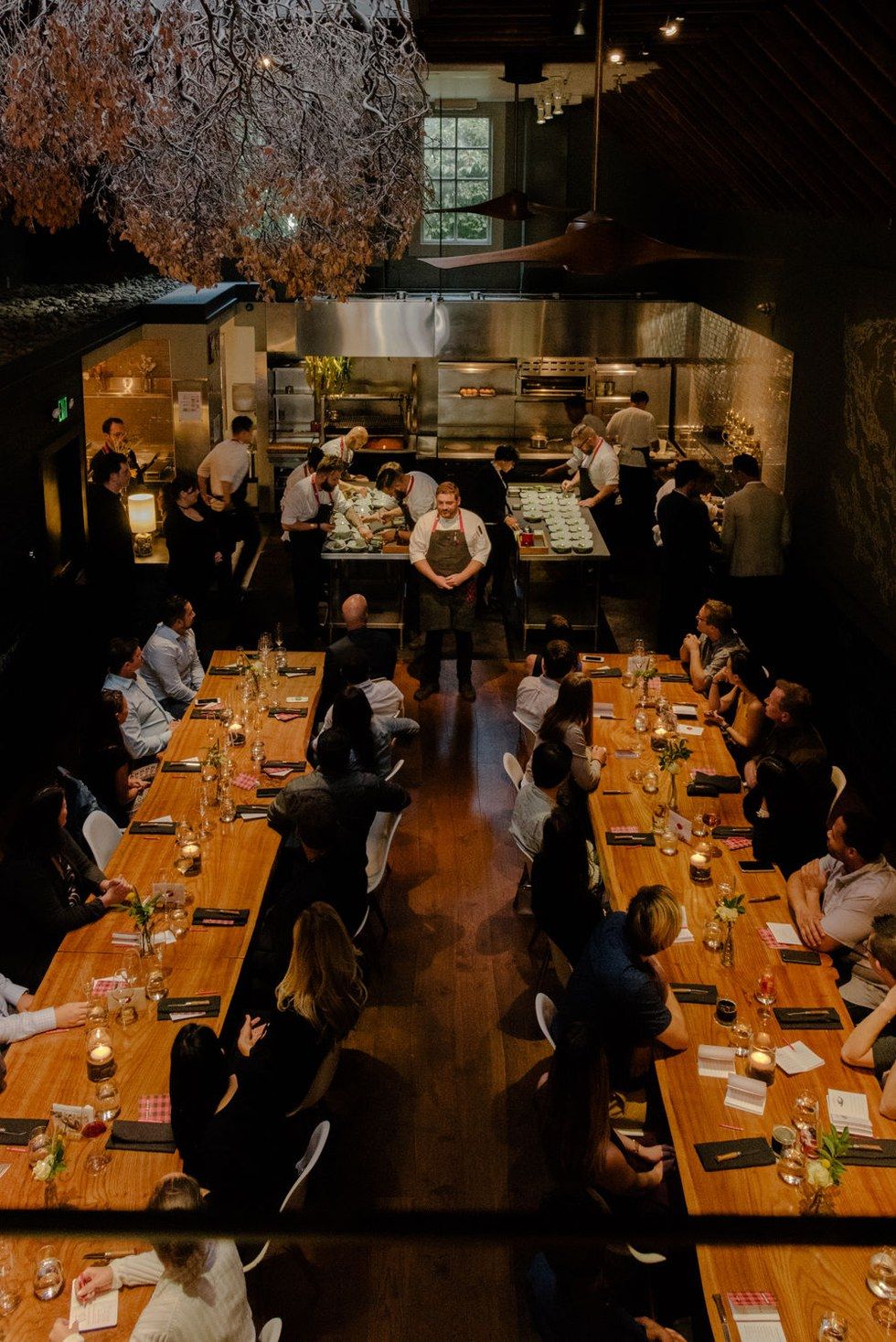 The communal dining room and bustling open kitchen at Lazy Bear
The park, which Teddy Roosevelt consecrated in 1908, includes 240 acres of old-growth coast redwoods, the tallest trees in the world. A wooden walkway guides me through these titans, some of which sprouted more than 700 years ago. In Cathedral Grove, signs urge visitors to keep their voices down, so I can hear creaking branches, burbling Redwood Creek, and a woodpecker somewhere hammering away for his lunch. By the end of the two-mile loop trail, I've spent so much time with my head craned back toward the canopy that my neck's as sore as that woodpecker's.
After that breath of fresh forest air, I'm ready to get back to the urban grit. I head across the bridge and over to the east side of the city, past red-brick AT&T Park, the Giants' home stadium since it opened in 2000 and a harbinger of the building boom in SoMa over the last 15 years. I continue on through condos, past the site where the NBA champion Golden State Warriors are building a new arena, and into Dogpatch, the once rundown industrial 'hood near where America's most famous Heisman Trophy winner/double-murder acquittee grew up.
I park in front of the Minnesota Street Project, a three-warehouse space that's home to around a dozen galleries and 40 artist studios. I'm feeling peckish now, so I hang a quick right into Alta, the compound's restaurant from star Bay Area chef Daniel Patterson. As I dig into a wonderfully spicy fried chicken sandwich and a tangy housemade ginger beer, I'm joined by Deborah Rappaport, who opened the MSP along with her tech entrepreneur husband, Andy, last year.
"In February of '14, the real estate crisis in San Francisco was getting to its peak," she tells me. "It was having a really deleterious effect on galleries and artists and nonprofits. It just felt like nobody cared—all of these big tech companies were gobbling everything up and leaving the arts community, among others, in their wake." Don't think Rappaport is the gloom-and-doom type, though. The MSP is her bet that the city's creative spirit will endure. "If I didn't believe that San Francisco was going to remain an international center of exciting art, my husband and I would have stayed retired," she says with a laugh. "Things have to evolve. What I hope we are doing is helping to keep a vibrant arts scene happening."
Duly inspired, I go on a gallery crawl around the warehouse. The works at the MSP range from famed photographer Larry Sultan's celebrity shoots to Tabitha Soren's modified stills of adult film stars to Manny Prieres' recreations of banned books to student paintings in the SF Arts Education Project space. The diverse works on hand give me hope that Rappaport is right, and that the city's art scene will indeed survive.
In need of a breather, I valet the car at the Palace Hotel, smack in the heart of the Financial District at Market and New Montgomery. I stop for a moment to gawk at the ceiling of the landmark Garden Court restaurant, which is made of 72,000 pieces of glass. Originally built in 1875, the Palace was destroyed in the fires that followed the 1906 earthquake; it reopened in 1909, and despite a huge renovation in 2015, it has maintained many fixtures, from that ceiling to the doorknob I turn to enter my seventh-floor suite. My corner window looks straight up Montgomery to the Transamerica Pyramid, but I'm more concerned with my bed. As the Bay Area's own Metallica would say: exit light, enter night.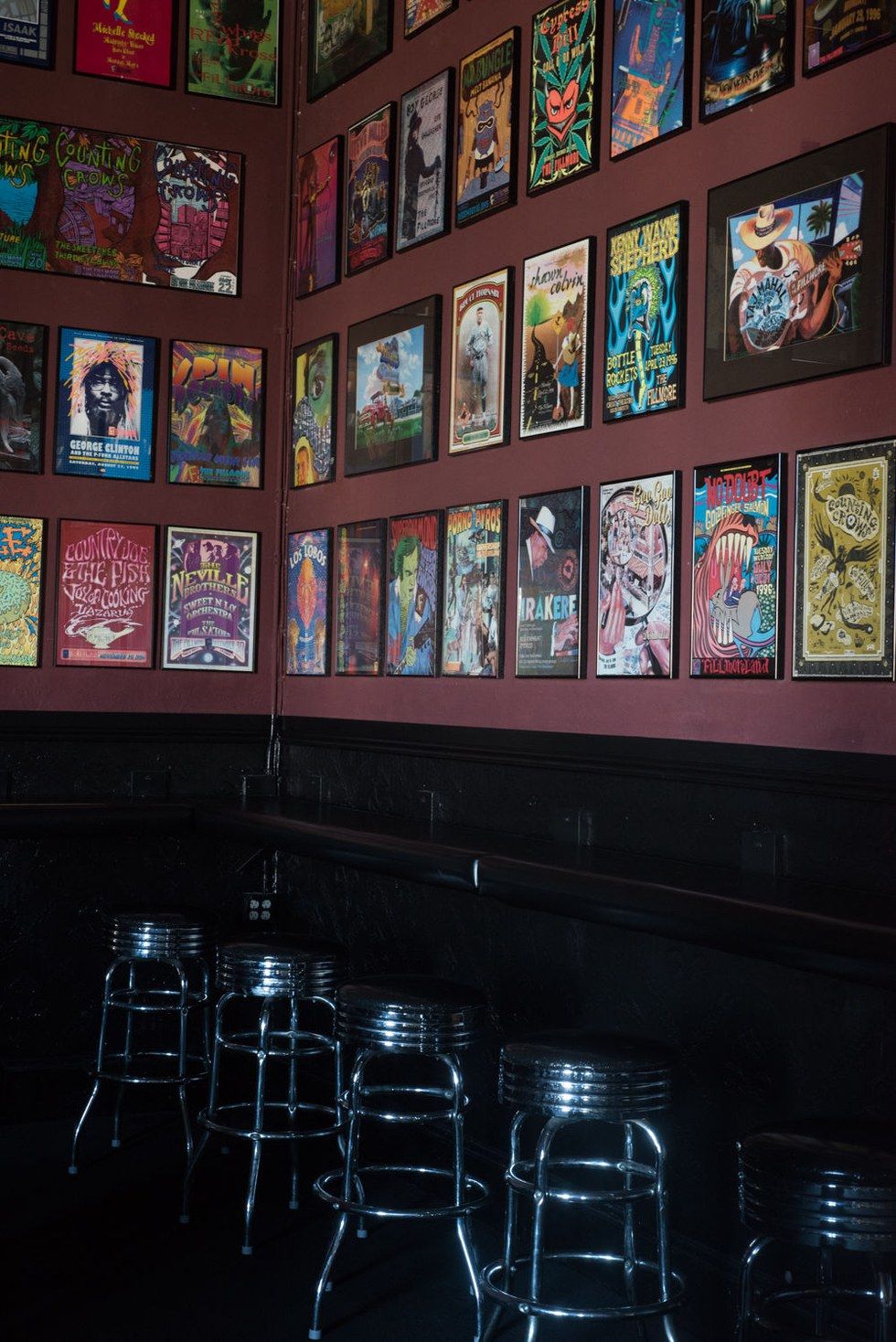 Historic concert posters at The Fillmore
I wake up refreshed and ready to rock—literally. I hop the N-Judah Muni train, and a few minutes later I'm in the Haight, the neighborhood that teemed with musicians, flower children, and burnouts 50 years ago during the Summer of Love. I wander into Amoeba Music, a cavernous record shop dedicated to the analog in a city now dominated by all things digital. I pick up a live album recorded by former Haight resident Janis Joplin and her band, Big Brother and the Holding Company, in 1968 at the now-demolished Winterland Ballroom.
I'm humming "Piece of My Heart" as I strut back down Haight Street, past head shops and vintage stores and panhandlers. I stop at Held Over, where I find a pair of worn cowboy boots that fit just right, and I can hear Janis singing, "You know you got it, if it makes you feel good," so I toss out the old Chuck Taylors that I've walked holes in this weekend.
Even used, a new pair of boots takes a toll on the feet, so I get a Lyft over to the Fillmore District. I reach State Bird Provisions just in time to encounter—you guessed it—a line. The wait is no surprise, given that Stuart Brioza and Nicole Krasinski's place has been one of the toughest tables in town since Bon Appétit named it the best new restaurant in America in 2012. Fortunately, its sister restaurant next door, The Progress, has a seat open at the bar, so after I get my name in at State Bird, I'm able to kill some time with a plate of perfect local anchovies and fried butter beans and a silky Manhattan made with brown butter bourbon.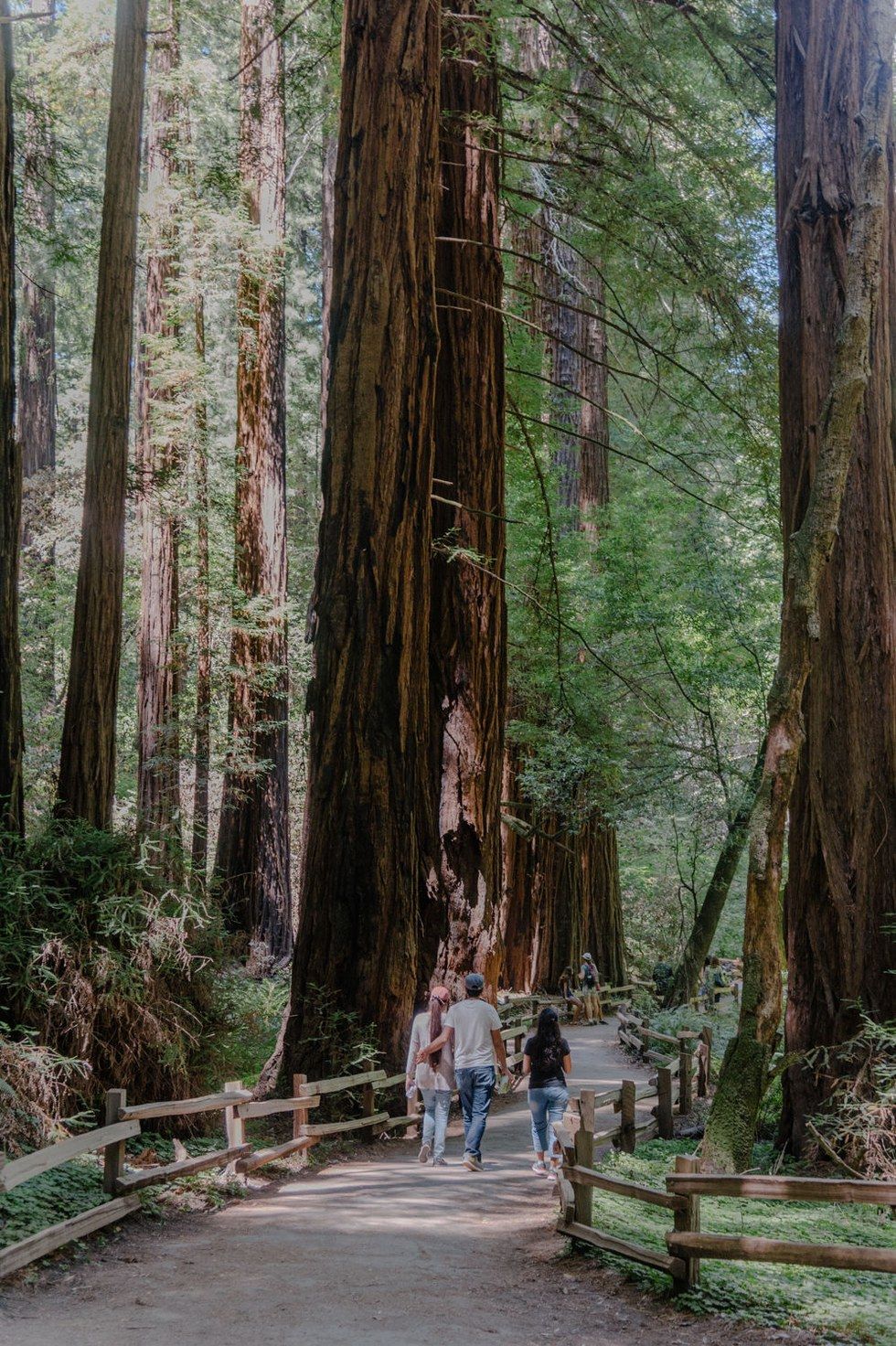 Ancient redwood trees at Muir Woods
When my seat opens up next door, it's in an extremely dangerous locale: at the kitchen counter, right next to the server's station. Much of the menu at State Bird is offered dim sum–style, and I get right of first refusal on every one of the small plates being carted out of the kitchen: guinea hen dumplings, smoked avocado with charred allium, Hog Island oysters topped with kohlrabi kraut.
"We didn't want to be held back by tradition," Brioza stops by to tell me. "We wanted there to be a lot of freedom in our food. It's high energy, it's frenetic, it's got so much passion from the staff." Take the anchovies: "Those are a religious experience for me. We have anchovy protocol. Twelve man-hours get put into that dish."
Brioza's menu knows no bounds, and by the end of the meal, neither do I, as I find myself hugging the cart-pushing waitress goodbye. Perhaps I'm hoping she'll clear off the cart and roll me out of here on it?
Luckily, I'm not going far. Right around the corner is The Fillmore, the concert hall that once hosted legends including Janis, the Grateful Dead, and Jimi Hendrix. I climb the red-carpeted stairs to the second-floor bar, which is hung from floor to ceiling with trippy concert posters for these artists and many, many others.
When I hear a roar from the ballroom, I join the crowd on the packed floor. The acclaimed rock group the Mountain Goats takes the stage, and between songs, singer John Darnielle pauses to look out across the dark, smoky room. "You get these moments at The Fillmore when you say, 'This is the best room to play in the U.S.,'" he says, and we scream, because yes, a gold rush is on, and all the new money may be changing Baghdad by the Bay, but at the end of the day, San Francisco still rocks.
Hemispheres deputy editor Justin Goldman yells at his coworkers anytime one of them calls it "Frisco."
This article was written by Justin Goldman from Rhapsody Magazine and was legally licensed through the NewsCred publisher network. Please direct all licensing questions to legal@newscred.com.
Around the web
When the pandemic began, United Cargo knew it would be critical to utilize its fleet, network and industry-leading pharmaceutical handling processes to transport a COVID-19 vaccine when the time came.
Connecting vaccines to the world: United responds to mass distribution effort
December 22, 2020
On November 27, United Airlines became the first commercial airline to safely deliver the first batch of Pfizer and BioNTech's COVID-19 vaccine into the U.S. thanks to a coordinated effort between United's cargo, safety, technical operations, flight operations, regulatory and legal teams.
Now as the entire shipping and logistics industry bands together to widely distribute vaccines, United is leveraging all of its flights, including cargo-only and those carrying passengers, to transport millions of vaccines to destinations throughout our network, including Honolulu, Guam and Saipan – the first of any carrier to do so.
"United's cargo service has helped safely deliver many essential goods during this pandemic, but there is no shipment that gives me more personal pride than helping bring this life-saving vaccine to our communities," said Jan Krems, United Cargo President. "While we still face a long road ahead the promise of a widely distributed vaccine gives us hope that we are one step closer to putting this pandemic behind us and moving forward together toward a brighter future."
And United is shipping more than just vaccines to help during the pandemic in keeping the lines of commerce flowing and goods getting to where they need to be. Since mid-March, United has operated 9,000 cargo-only flights carrying more than 435 million pounds of cargo. By using a combination of cargo-only flights and passenger flights, United Cargo has also transported 80 million pounds of medical supplies this year.
In coordination with our shipping and logistics partners, United will continue to distribute COVID-19 treatments to destinations throughout its network. The real heroes are the scientists who created these life-saving vaccines and the frontline workers who are not only administering them, but also helping care for and tend to those suffering from this virus. United is proud to do its part in helping to get this precious cargo to the people and communities who need them, and looks forward to doing our part in the months ahead.
United Cargo responds to COVID-19 challenges, prepares for what's next

September 30, 2020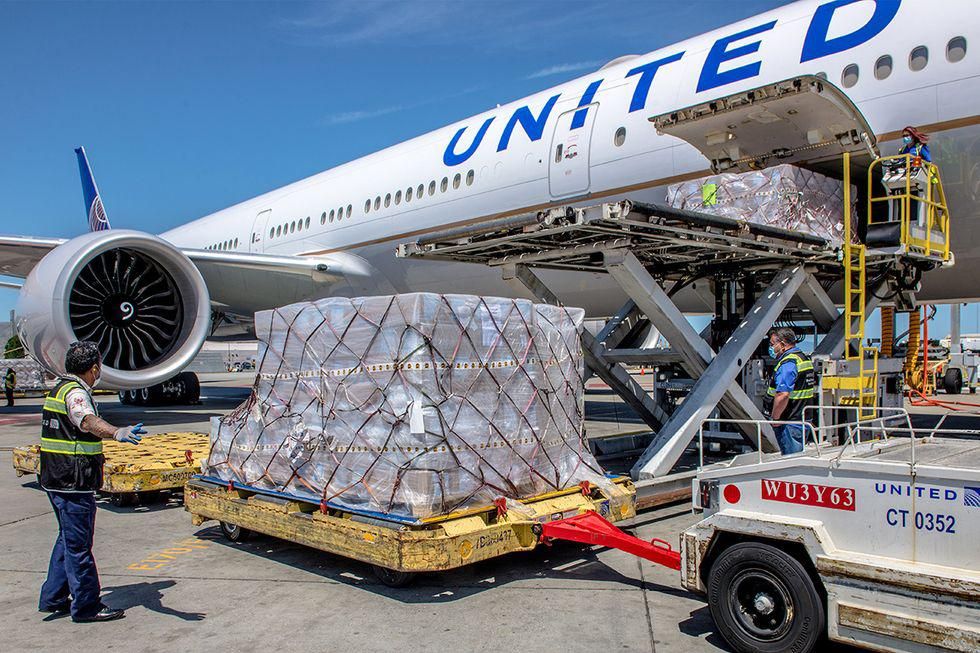 Even before the COVID-19 pandemic, United Cargo has supported a variety of customers within the healthcare industry for over 10 years. Three key solutions – TempControl, LifeGuard and QuickPak – protect the integrity of vital shipments such as precision medicine, pharmaceuticals, biologics, medical equipment and vaccines. By utilizing processes like temperature monitoring, thermodynamic management, and priority boarding and handling, United Cargo gives customers the peace of mind that their shipments will be protected throughout their journey.

With the global demand for tailored pharmaceutical solutions at an all-time high, we've made investments to help ensure we provide the most reliable air cargo options for cold chain shipping. In April this year, we became the first U.S. carrier to lease temperature-controlled shipping containers manufactured by DoKaSch Temperature Solutions. We continue to partner with state-of-the-art container providers to ensure we have options that meet our customers' ever-changing needs.
"Providing safe air cargo transport for essential shipments has been a top priority since the pandemic began. While the entire air cargo industry has had its challenges, I'm proud of how United Cargo has adapted and thrived despite a significant reduction in network capacity and supply," said United Cargo President Jan Krems. "We remain committed to helping our customers make it through the pandemic, as well as to doing everything we can to be prepared for the COVID-19 vaccine distribution when the time comes."
Our entire team continues to prioritize moving critical shipments as part of our commitment to supporting the global supply chain. We've assembled a COVID readiness task team to ensure we have the right people in place and are preparing our airports as we get ready for the industry-wide effort that comes next.
In cooperation with our partners all over the world, United Cargo has helped transport nearly 145 million pounds of medical supplies to aid in the fight against COVID-19, using a combination of cargo-only flights and passenger flig­hts. To date, United Cargo has operated more than 6,300 cargo-only flights and has transported more than 213 million pounds of cargo worldwide.
United Cargo responds to global needs, celebrates 5000th cargo-only flight

August 18, 2020
By Jan Krems, President, United Cargo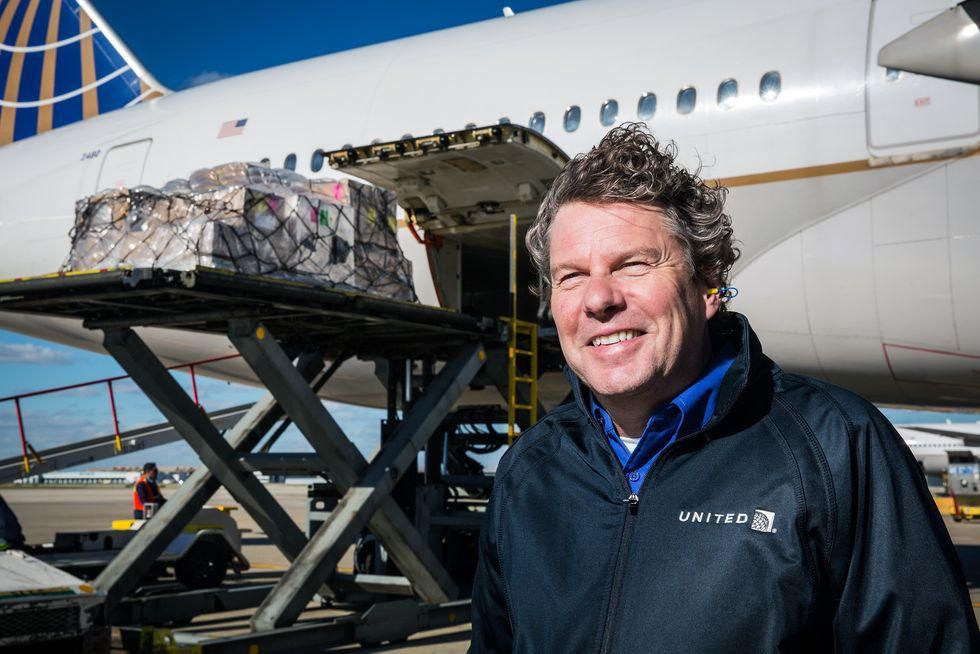 In mid-March, United took steps to manage the historic impact of COVID-19 and began flying a portion of our Boeing 777 and 787 fleets as dedicated cargo-only flights to transport air freight to and from U.S. hubs and key international business locations. More than ever, providing reliable cargo transportation was vitally important and I'm proud say our United Cargo team stepped up to support our customers.

Although we're facing the most challenging environment our industry has ever experienced, I'm very excited to celebrate a major milestone. Since March 19, United has operated over 5,000 cargo-only flights transporting nearly 170 million pounds of cargo on these flights alone. With an increased need to keep the global supply chain moving, and an even more urgent need for medical supplies, we knew we had to utilize our network capabilities and personnel to move vital shipments, such as medical kits, personal protective equipment (PPE), pharmaceuticals and medical equipment between U.S. hubs and key international destinations.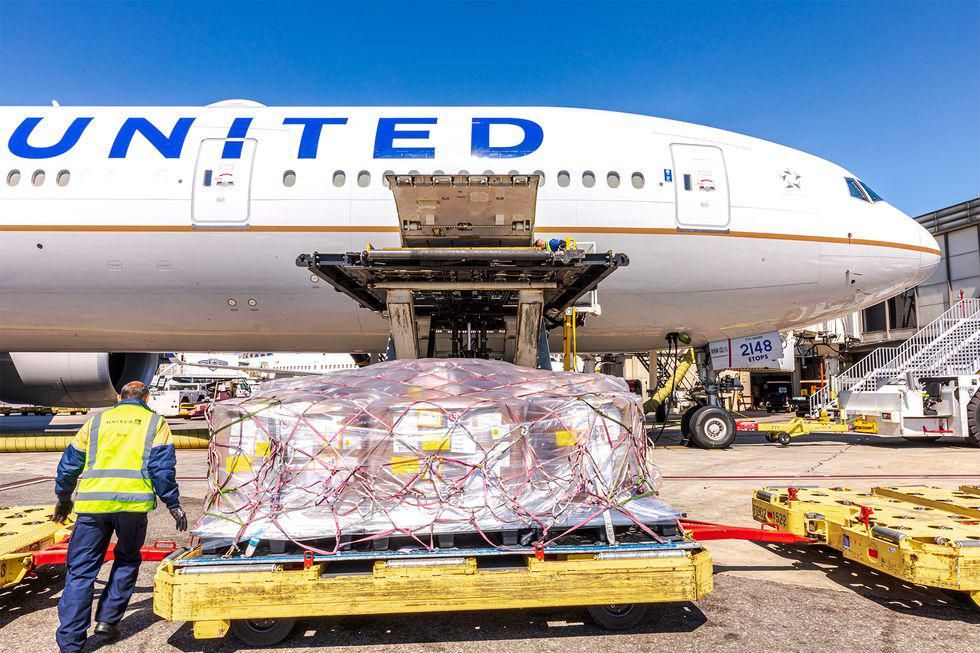 In cooperation with freight forwarders and partners all over the world, United Cargo helped transport more than 107 million pounds of medical supplies to aid in the fight against COVID-19 using a combination of cargo-only flights as well as passenger flights.

To keep military families connected, we increased the frequency of cargo-only flights between the U.S. and military bases in various parts of the world — including bases located in Guam, Kwajalein and several countries in Europe. We know how critically important it is for these families to stay connected, and I'm honored that we were able to utilize our network and our aircraft to fly nearly 3 million pounds of military supplies.
In collaboration with food-logistics company Commodity Forwarders Inc. (CFI), our cargo teams moved nearly 190,000 pounds of fresh produce to Guam for the U.S. Department of Agriculture's Coronavirus Farm Assistance Program. This new program was created to provide critical support to consumers impacted by the coronavirus pandemic.
United has played a critical role in keeping global supply chains stable during the pandemic as we deliver urgently needed goods around the world. These past few months have created challenges that I have never seen in my 30-plus years of experience working within the air cargo and freight forwarding industry. However, I'm proud of our teams for staying focused on our mission to provide high-quality service and to keep our customers connected with the goods they need most.
United Cargo and logistics partners keep critical medical shipments moving
July 02, 2020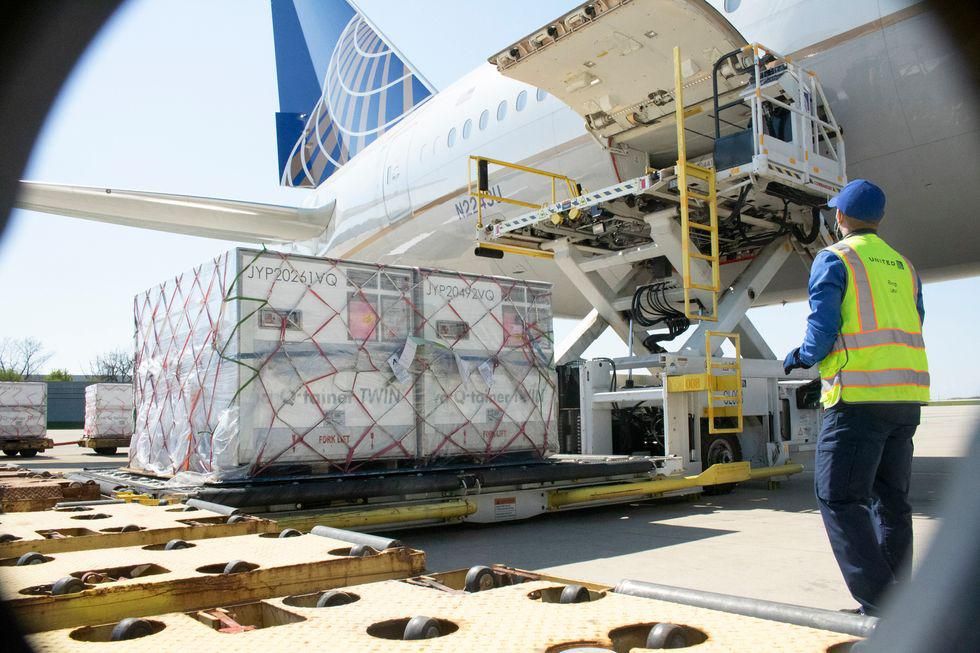 By working together and strengthening partnerships during these unprecedented times, our global community has overcome challenges and created solutions to keep the global supply chain moving. As COVID-19 continues to disrupt the shipping landscape, United and our industry partners have increasingly demonstrated our commitment to the mission of delivering critical medical supplies across the world.

United Cargo has partnered with DSV Air and Sea, a leading global logistics company, to transport important pharmaceutical materials to places all over the world. One of the items most critical during the current crisis is blood plasma.
Plasma is a fragile product that requires very careful handling. Frozen blood plasma must be kept at a very low, stable temperature of negative 20 degrees Celsius or less – no easy task considering it must be transported between trucks, warehouses and airplanes, all while moving through the climates of different countries. Fortunately, along with our well-developed operational procedures and oversight, temperature-controlled shipping containers from partners like va-Q-tec can help protect these sensitive blood plasma shipments from temperature changes.
A single TWINx shipping container from va-Q-tec can accommodate over 1,750 pounds of temperature-sensitive cargo. Every week, DSV delivers 20 TWINx containers, each one filled to capacity with human blood plasma, for loading onto a Boeing 787-9 for transport. The joint effort to move thousands of pounds of blood plasma demonstrates that despite the distance, challenges in moving temperature-sensitive cargo and COVID-19 obstacles, we continue to find creative solutions with the help of our strong partnerships.
United Cargo is proud to keep the commercial air bridges open between the U.S. and the rest of the world. Since March 19, we have operated over 3,200 cargo-only flights between six U.S. hubs and over 20 cities in Asia, Australia, Europe, South America, India, the Caribbean and the Middle East.
United further expands cargo-only operations to key international markets
June 9, 2020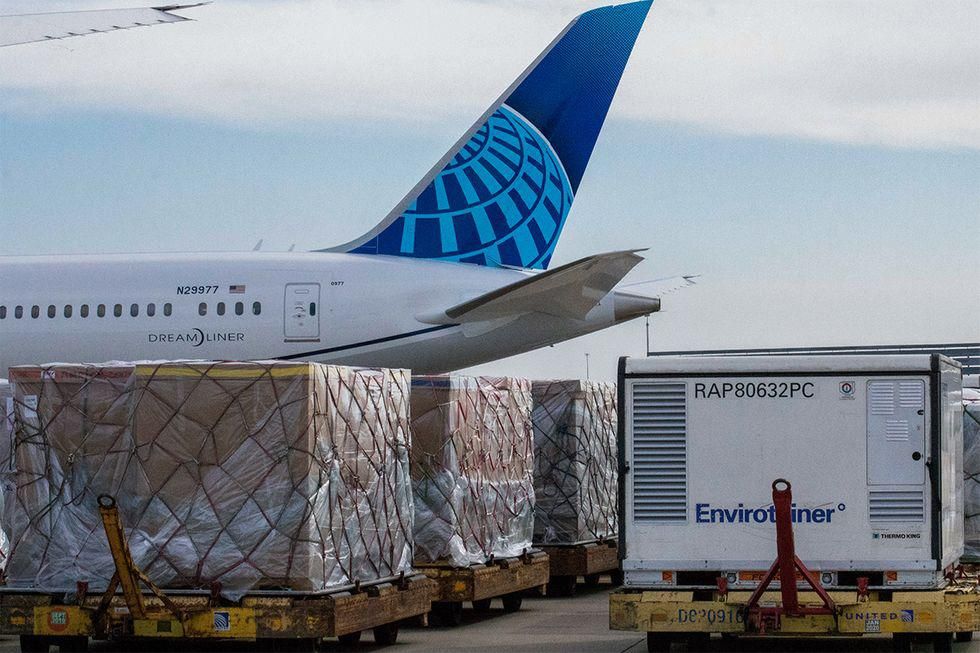 United has played a vital role in helping keep the global supply chains stable during the COVID-19 pandemic so urgently needed goods can get to the places that need them most.

In addition to current service from the U.S. to Asia, Australia, Europe, India, Latin America and the Middle East, we are proud to now offer cargo-only flights to key international markets including Dublin, Paris, Rome, Santiago and Zurich. These new routes will connect our freight customers and further extend our air cargo network throughout the world – for example connecting major pharmaceutical hubs in Europe and perishable markets in Latin America.
"Air cargo continues to be more important than ever," says United Cargo President Jan Krems. "This network expansion helps our customers continue to facilitate trade and contribute to global economic development and recovery. I'm proud of our team for mobilizing our cargo-only flights program that enables the shipment of critical goods that will support global economies."
Since we began our program March 19, we have completed more than 2,400 cargo-only flights, transporting over 77 million pounds of cargo. We have over 1,100 cargo-only flights scheduled for the month of June, operating between six U.S. hubs and over 20 cities all over the world.
United's first flight carrying cargo in-cabin takes off
May 13, 2020

United continues to keep supply chains moving and to meet the demand for critical shipments around the globe. Recently, United received approval from the Federal Aviation Administration (FAA) to carry cargo in approved storage areas in the passenger cabin.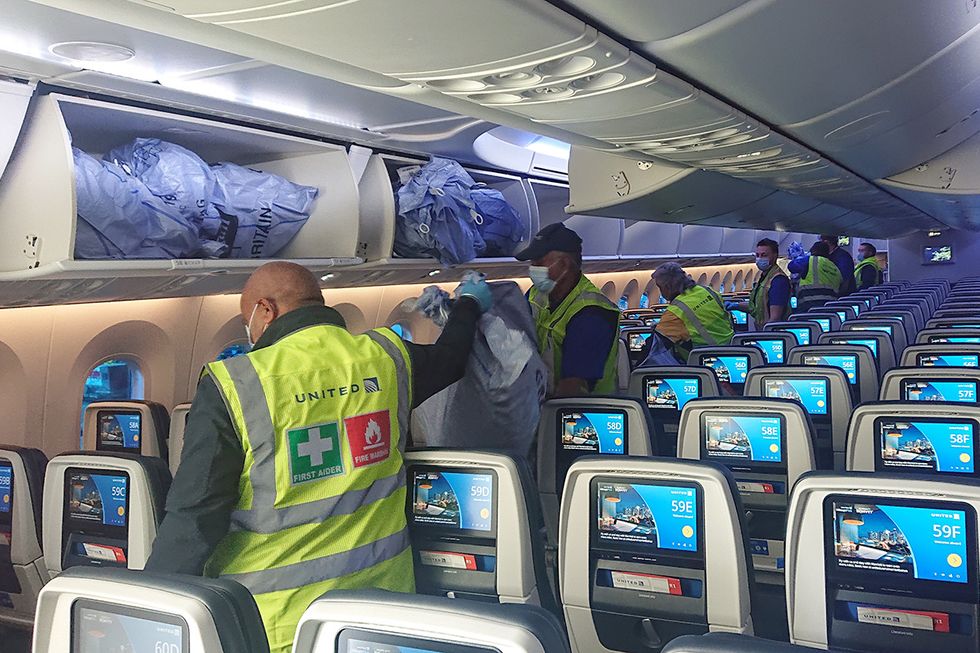 Our inaugural cargo-in-cabin flight flew from London (LHR) to Chicago (ORD) carrying over 4,200 pounds of mail in the passenger cabin, plus a full payload of freight in the belly of the aircraft. Initially, cargo-in-cabin shipments will be loaded on the 777 and 787 aircraft operating our cargo-only flights. We will continue to evaluate additional opportunities to use this space to meet the growing cargo demand.
"We send our sincere thanks to the FAA for working with our team to enable the transport of more critical goods on United's cargo-only flights," said Jan Krems, President of United Cargo. "By loading existing cabin storage areas with cargo and mail, we can move even more critical medical equipment, PPE, and other vital shipments the world needs to manage through the pandemic."

United's cargo-only network continues to expand in order to help bring vital shipments to the people that need it most. We're now offering service between six of our U.S. hubs and 18 airports worldwide: CTU, HKG, ICN, MEL, PEK, PVG, SIN, SYD and TPE in the Asia-Pacific; AMS, BOM, BRU, DUB, FRA, LHR, TLV and ZRH in EMEIA; and SJU in the Caribbean.
Since the start of its cargo-only flights program March 19, United has operated over 1,300 cargo-only flights transporting over 44 million pounds of cargo.
For more information, visit unitedcargo.com.
United expands cargo-only flights to additional global destinations
April 16, 2020
Getting vital goods, especially medical relief supplies, into the hands of the businesses and people who need them has never been more critically important. To meet the overwhelming demand, United began operating cargo-only flights on March 19. Since we began using Boeing 777 and 787 aircraft from United's passenger fleet for this purpose, we have operated over 400 flights carrying more than 6 million kilos of cargo.
"With the global community in need, we are doing everything we can to keep supply chains moving worldwide and support the battle against COVID-19," said United Cargo President Jan Krems. "We're proud to play an active role in connecting vital medical supplies like test kits and personal protective equipment with healthcare professionals around the world."
We are now operating more than 150 cargo-only flights per week between six of our U.S. hubs and 13 cities worldwide: CTU, HKG, PEK, PVG, SYD and TPE in the Asia Pacific; AMS, BRU, DUB, FRA and LHR in Europe; SJU in the Caribbean and TLV in the Middle East. We expect to add new cities soon and will continue to expand our cargo-only flights program.
Hub
Cargo-only flights operating through May
Chicago (ORD)
ORD - AMS (Amsterdam)
ORD - FRA (Frankfurt)
ORD - HKG (Hong Kong)
ORD - LHR (London)
ORD - NRT (Tokyo Narita) - PEK (Beijing)

Houston (IAH)
IAH - AMS (Amsterdam)
IAD - FRA (Frankfurt)
Los Angeles (LAX)
LAX - HKG (Hong Kong)
LAX - LHR (London Heathrow)
LAX - NRT (Tokyo Narita) - PVG (Shanghai)
LAX - SYD (Sydney)
New York/Newark (EWR)
EWR - AMS (Amsterdam)
EWR - FRA (Frankfurt)
EWR - LHR (London)
San Francisco (SFO)
SFO - AMS (Amsterdam)
SFO - NRT (Tokyo Narita) - PEK (Beijing)
SFO - NRT (Tokyo Narita) - PVG (Shanghai)
SFO - NRT (Tokyo Narita) - TPE (Taipei)
SFO - TLV (Tel Aviv)
SFO - SYD (Sydney)
Washington, D.C. (IAD)
IAD - BRU (Brussels)
IAD - DUB (Dublin)
IAD - FRA (Frankfurt)
IAD - NRT (Tokyo Narita) - PEK (Beijing)
IAD - SJU (San Juan)
Flight details are subject to change, for the most up-to-date schedules, please visit https://ual.unitedcargo.com/covid-updates.
Cargo-only flights support U.S. military and their families
March 30, 2020
We are helping to keep military families connected by increasing the frequency of cargo-only flights between the United States and military bases in various parts of the world — including Guam, Kwajalein, and several countries in Europe. Last week we began operating a minimum of 40 cargo-only flights weekly — using Boeing 777 and 787 aircraft to fly freight and mail to and from U.S. hubs and key international business and military locations.
We are going above and beyond to find creative ways to transport fresh food and produce, as well as basic essentials from the U.S. mainland to military and their families in Guam/Micronesia. On Saturday, March 28, we operated an exclusive cargo-only B777-300 charter to transport nearly 100,000 pounds of food essentials to Guam to support our troops.
In addition, we move mail year-round all over the world. In response to COVID-19, and in support of the military members and their families overseas, we implemented a charter network, transporting military mail to Frankfurt, which is then transported all over Europe and the Middle East. Since March 20, we have flown 30,000+ pounds of military mail every day between Chicago O'Hare (ORD) and Frankfurt (FRA). On the return flight from Frankfurt to Chicago, we have carried an average of 35,000 pounds of mail to help families stay connected.

"Keeping our military families connected with the goods they need, and keeping them connected with loved ones to feel a sense of home, is of critical importance. As a company that has long supported our military families and veterans, our teams are proud to mobilize to lend a hand." — United Cargo President Jan Krems.
Our cargo-only flights support customers, keep planes moving

March 22, 2020
We have begun flying a portion of our Boeing 777 and 787 fleet as dedicated cargo charter aircraft to transfer freight to and from U.S. hubs and key international business locations. The first of these freight-only flights departed on March 19 from Chicago O'Hare International Airport (ORD) to Frankfurt International Airport (FRA) with the cargo hold completely full, with more than 29,000 lbs. of goods.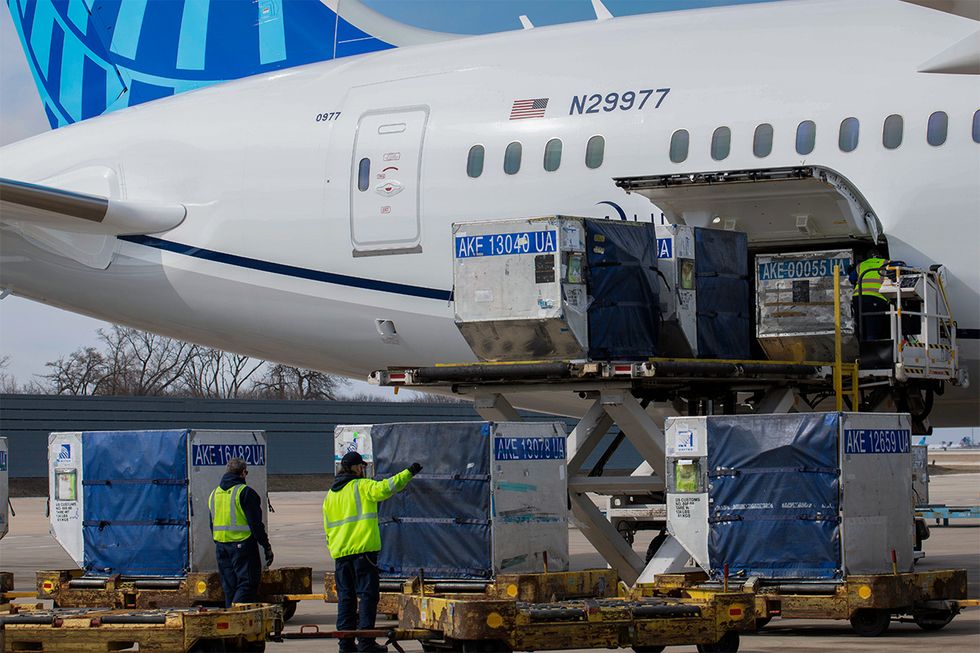 Getting critical goods into the hands of the businesses and people who need them most is extremely important right now. To support customers, employees and the global economy, we will initially operate a schedule of 40 cargo charters each week targeting international destinations and will continue to seek additional opportunities.

With coronavirus (COVID-19) creating an increased need to keep the global supply chain moving, we are utilizing our network capabilities and personnel to get vital shipments, such as medical supplies, to areas that need them most.
"Connecting products to people around the world is the United Cargo mission," said United Cargo President Jan Krems. "That role has never been more crucial than during the current crisis. Our team is working around the clock to provide innovative solutions for our customers and support the global community."
On average, we ship more than 1 billion pounds of cargo every year on behalf of domestic and international customers. For more information, visit unitedcargo.com.
Airline and its customers use crowdsourcing platform - Miles on a Mission - to donate more than 11 million miles for charities like the Thurgood Marshall College Fund, College to Congress and Compass to Care
CHICAGO, Dec. 1, 2020 /PRNewswire/ -- United is inviting MileagePlus members to give back on Giving Tuesday and throughout the holiday season by donating miles to nearly 40 non-profits through United Airlines' crowdsourcing platform, Miles on a Mission. Non-profits like Thurgood Marshall College Fund, College to Congress and Compass to Care are attempting to raise a total of more than 11 million miles to be used for travel for life-saving health care, continued education, humanitarian aid and more. United will match the first 125,000 miles raised for each of these organizations to help ensure they meet their goals.
"This year has posed unprecedented challenges for us all and has been especially devastating to some of the most vulnerable members within the communities we serve," said Suzi Cabo, managing director of global community engagement, United Airlines. "The need for charitable giving has not stopped during the pandemic, and neither has United. This Giving Tuesday marks an opportunity for us to all come together for the greater good and we are proud to provide a platform to support organizations with upcoming travel needs that will enable them to continue supporting the communities they serve."
The launch of these campaigns is part of United's ongoing Miles on a Mission program, which began in October 2019 and has raised more than 92 million miles to-date. Past campaigns have helped organizations travel children for life-saving medical treatment and unite parents with newly adopted children from foreign countries. Participating non-profits have 28-days to reach their mile raising goals through the platform.
The organizations that are raising miles in this campaign include:
College to Congress: The organization provides support including travel for disadvantaged college students who otherwise could not afford to intern in Washington, D.C.
Thurgood Marshall College Fund: This is the only national organization representing America's 47 publicly-supported Historically Black Colleges and Universities (HBCUs), and the nearly 300,000 students that attend them each year. The miles raised will cover the travel expenses to and from campus for students unable to afford them.
My Block, My Hood, My City: This organization provides underprivileged youth with an awareness of the world and opportunities beyond their neighborhood. Miles will be used to fund educational trips for Chicago youths to help them gain a greater understanding of the world outside of their comfort zones.
Compass to Care: The non-profit ensures all children, whose parents have a financial need, can access life-saving cancer treatment. Compass to Care is raising miles to fund travel to get children from their homes to hospitals for cancer treatment.
Luke's Wings: This organization is dedicated to the support of service members who have been wounded in battle. Raised miles will be used to purchase plane tickets for families to visit wounded soldiers recovering in Army medical centers.
Rainbow Railroad USA: The organization's mission is to help persecuted LGBTQI+ individuals around the world travel to safety as they seek a haven from persecution. Miles will support the organization's core Emergency Travel Support program.
This year, United's legal partner Kirkland & Ellis will also be donating $50,000 to My Block, My Hood, My City and the Thurgood Marshall College Fund. Other organizations launching campaigns on the platform include: Sisters of the Skies, Inc., Up2Us Sports, Airline Ambassadors International, Austin Smiles, AWS Foundation, Crazy Horse Memorial, FLYTE, Higher Orbits, Lily's Hope Foundation, Miles4Migrants, Support Utila Inc. and Watts of Love. MileagePlus members can also donate to United's 20 other existing partner charities including, Airlink, American Red Cross, Make-A-Wish, Shriners Hospitals; Clean the World, Special Olympics and more. To learn more or donate to these organizations, please visit donate.mileageplus.com.
Visit www.united.com/everyactioncounts to learn more about our pledge to put our people and planes to work for the greater good.
About United
United's shared purpose is "Connecting People. Uniting the World." For more information, visit united.com, follow @United on Twitter and Instagram or connect on Facebook. The common stock of United's parent, United Airlines Holdings, Inc., is traded on the Nasdaq under the symbol "UAL".

SOURCE United Airlines
For further information: United Airlines Worldwide Media Relations, +1-872-825-8640, media.relations@united.com

In October 2019, we launched a first-of-its-kind airline miles donation platform, Miles on a Mission. In the inaugural year, MileagePlus members donated over 70 million miles, with United matching over 20 million miles, to 51 organizations. These miles have allowed for these organizations to do important, life-changing, life-saving work in the communities we serve around the globe.
Whether it's visiting friends and relatives, traveling for work or simply exploring a new corner of the world, we all have a reason as to why we fly. No matter the reason you fly, the miles you earn and donate help our Miles on a Mission partners soar. Take a look at how some of our partner organizations have put our MileagePlus Members' donations to work.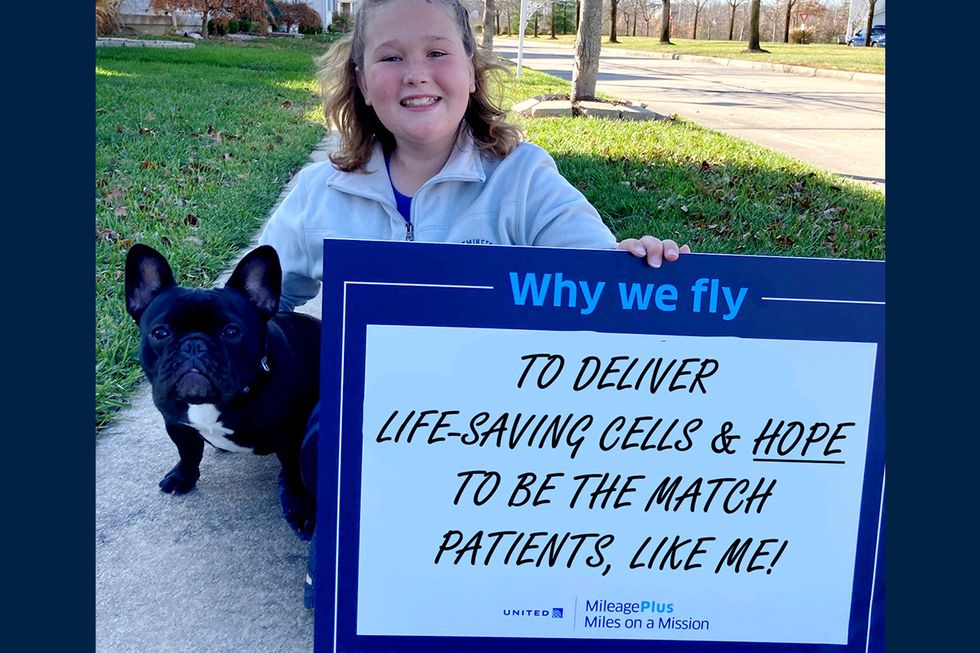 "To deliver life-saving cells and hope to Be the Match patients, like me!"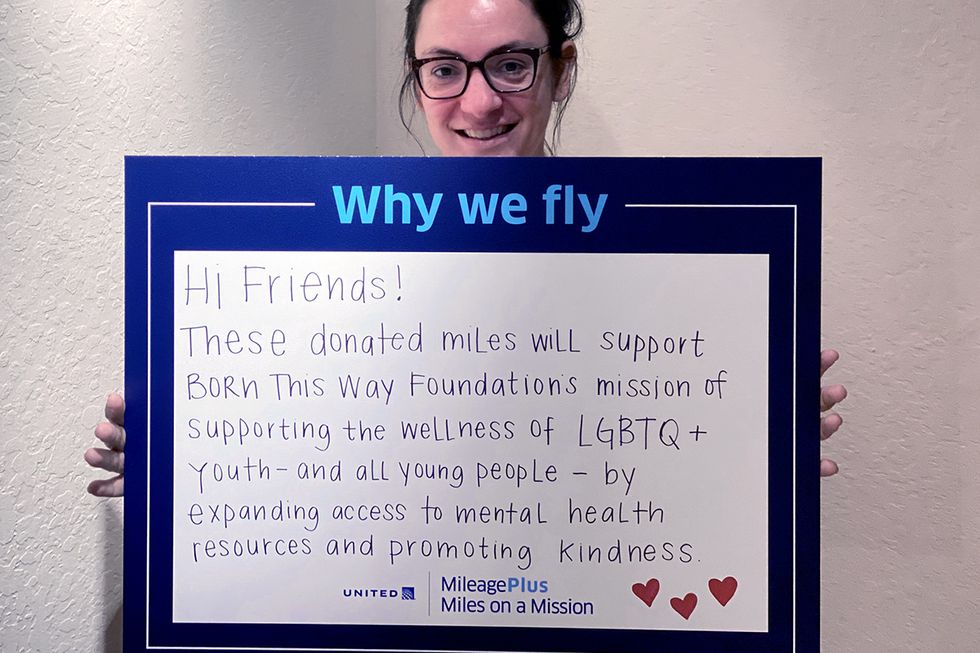 "These donated miles will support Born This Way Foundation's mission of supporting the wellness of LGBTQ+ youth — and all young people — by expanding access to mental health resources and promoting kindness."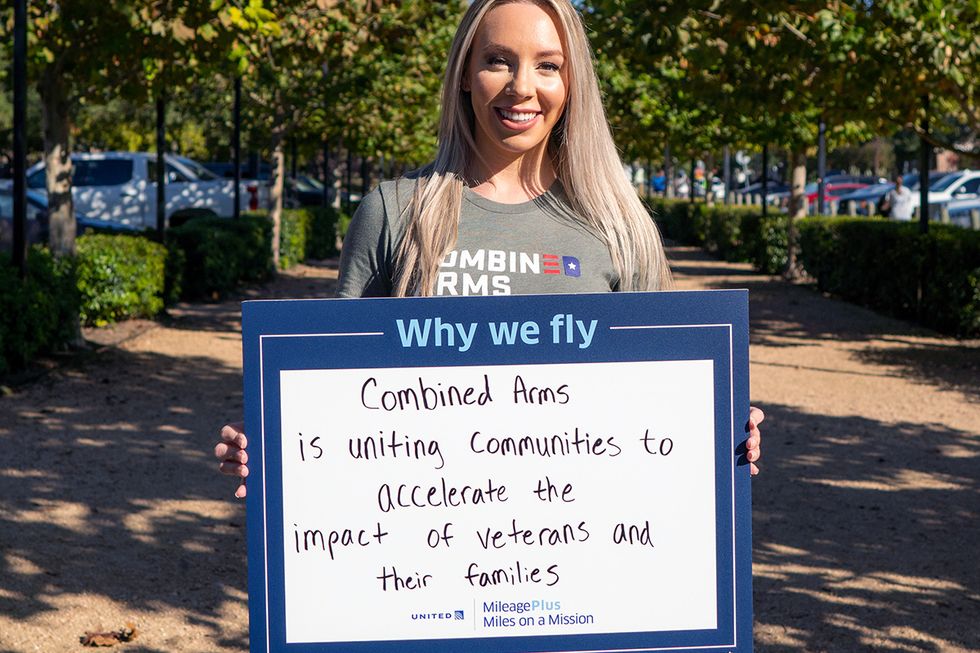 "Combined Arms is uniting communities to accelerate the impact of veterans and their families."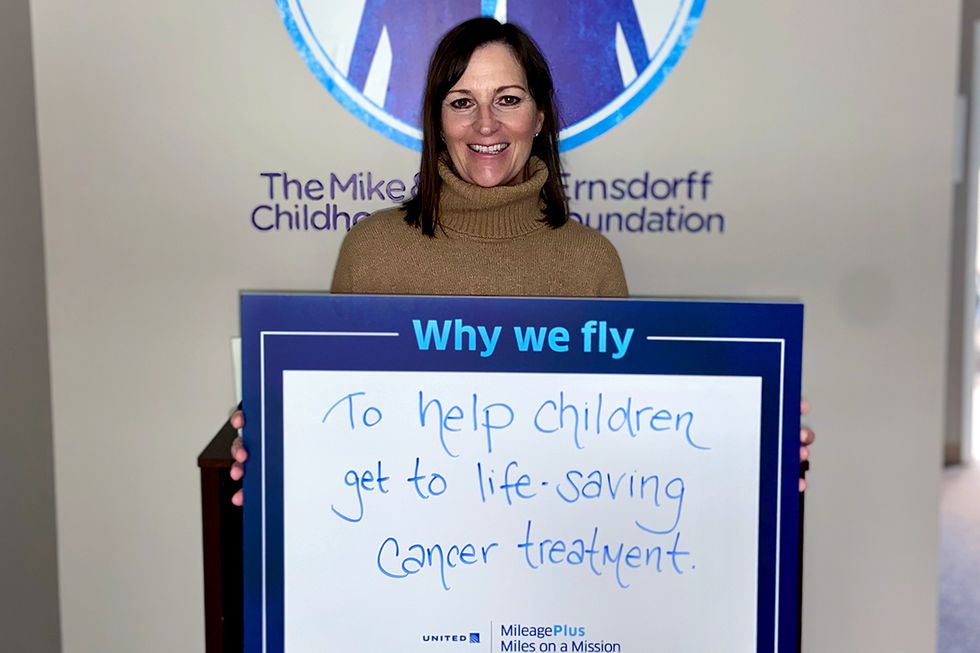 "To help children get to life-saving cancer treatment"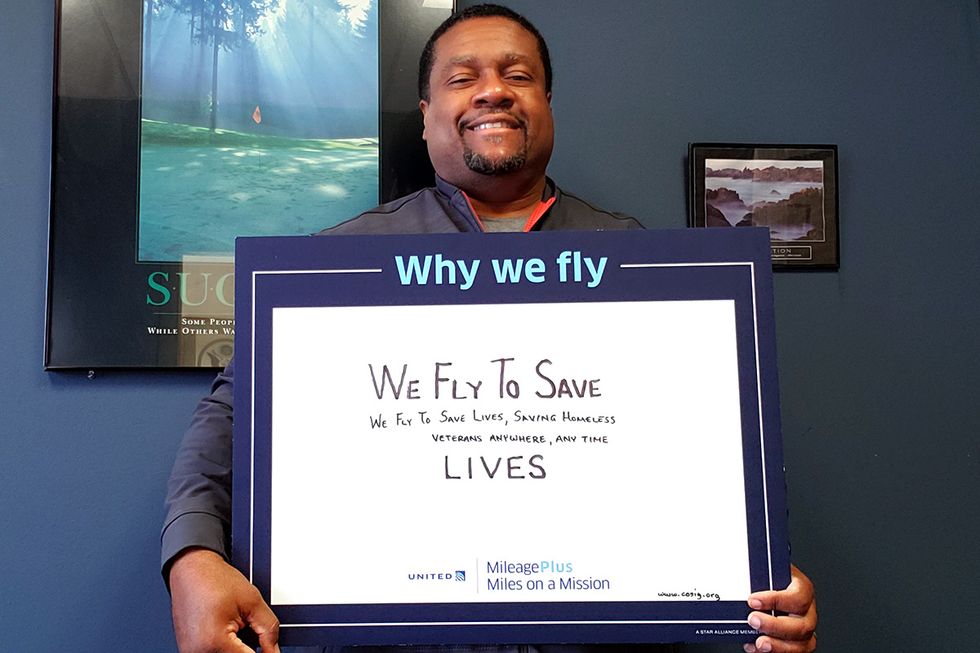 "We fly to save. We fly to save lives, saving homeless veterans anywhere, any time."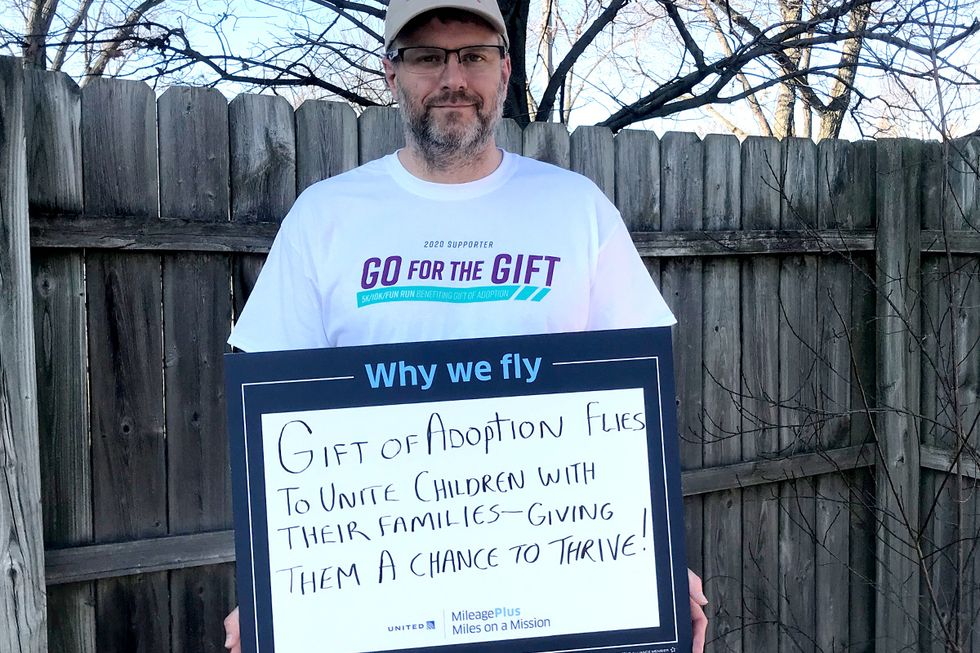 "Gift of Adoption flies to unite children with their families — giving them a chance to thrive!"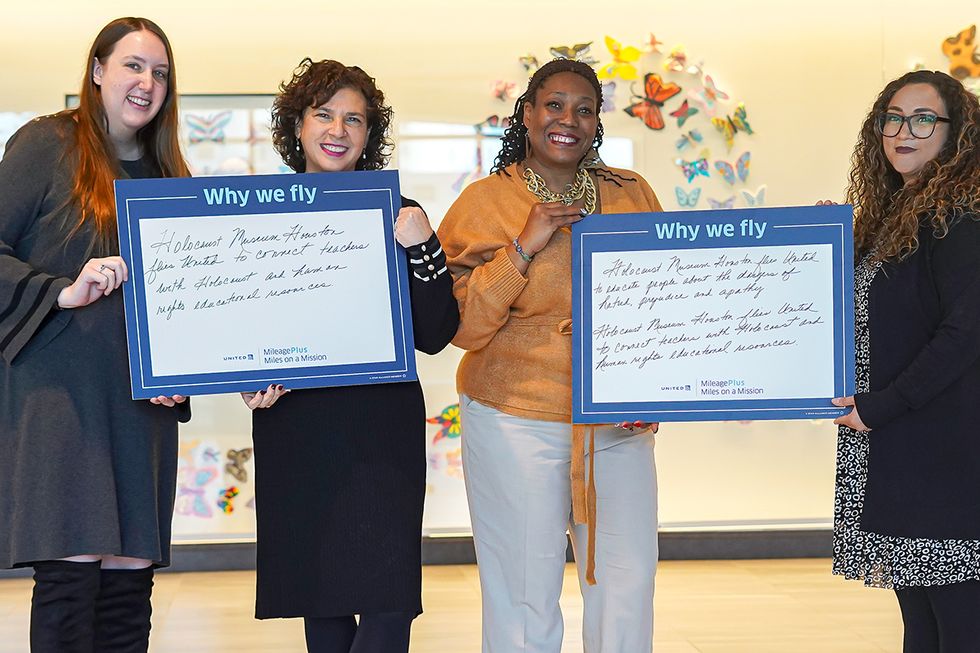 "Holocaust Museum Houston flies United to educate people about the dangers of hatred, prejudice and apathy. Holocaust Museum Houston flies United to connect teachers with Holocaust and human rights educational resources."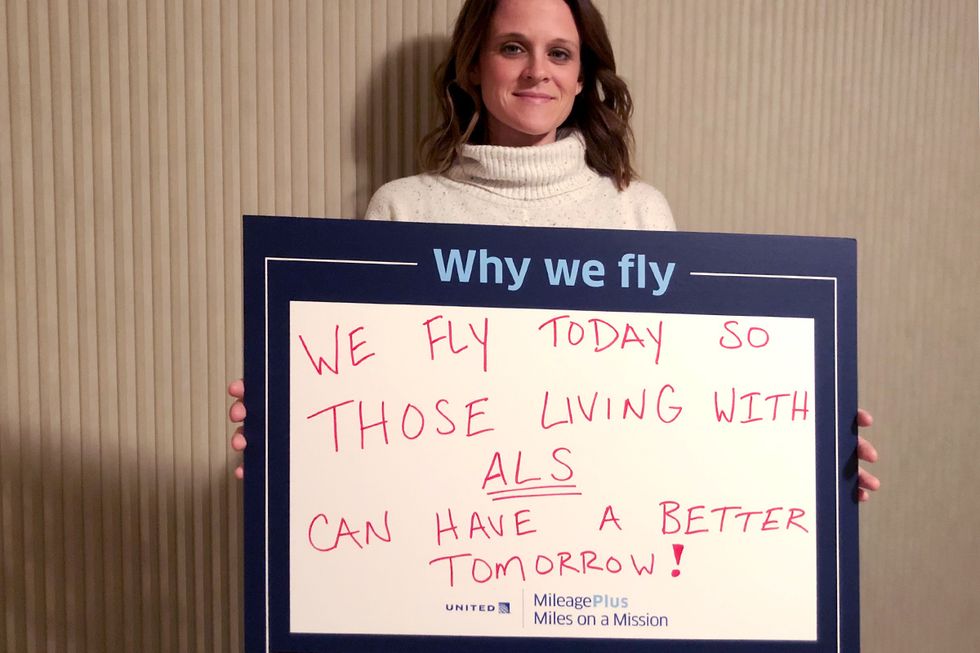 "We fly today so those living with ALS can have a better tomorrow."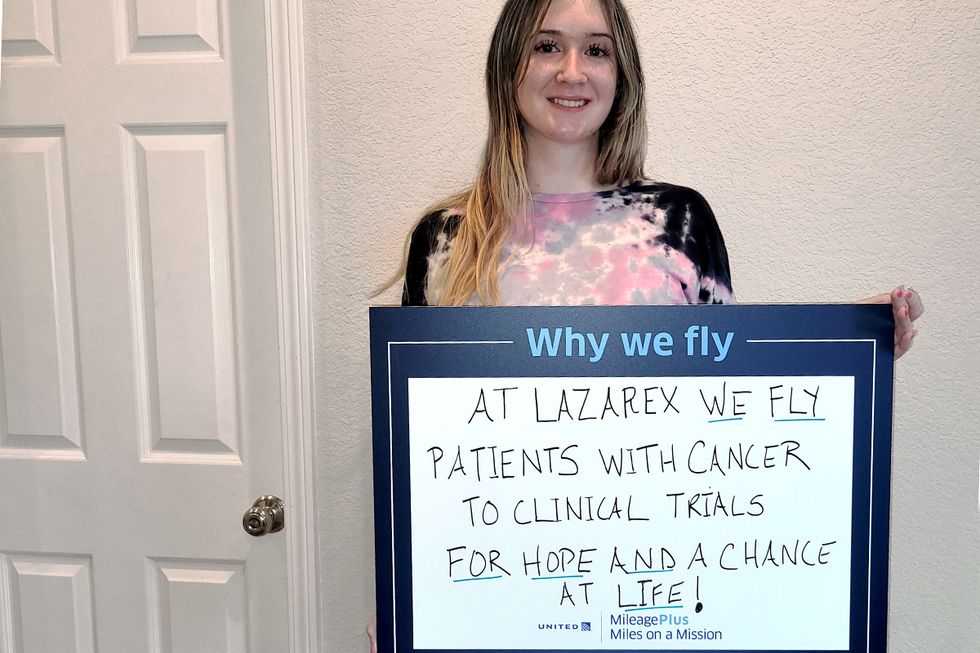 "At Lazarex we fly patients with cancer to clinical trials for hope and a chance at life!"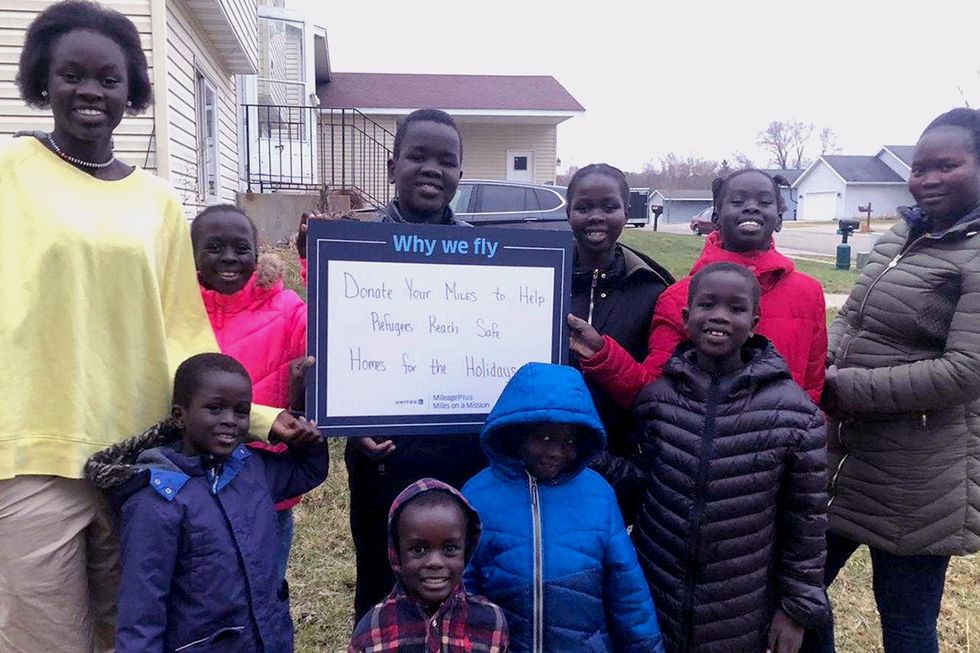 "Donate your miles to help refugees reach safe homes for the holidays."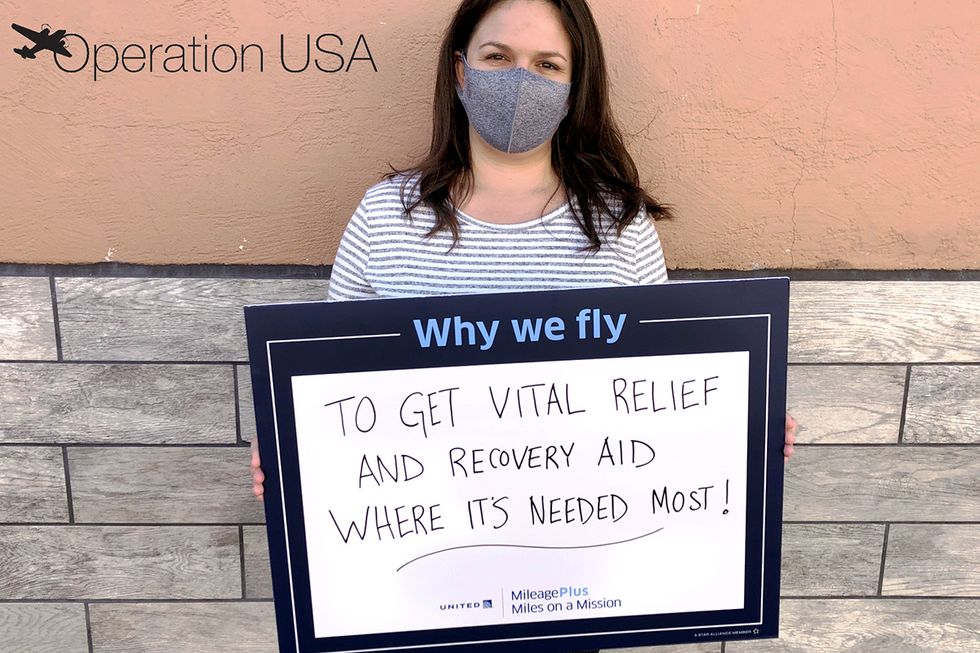 "To get vital relief and recovery aid where it's needed most!"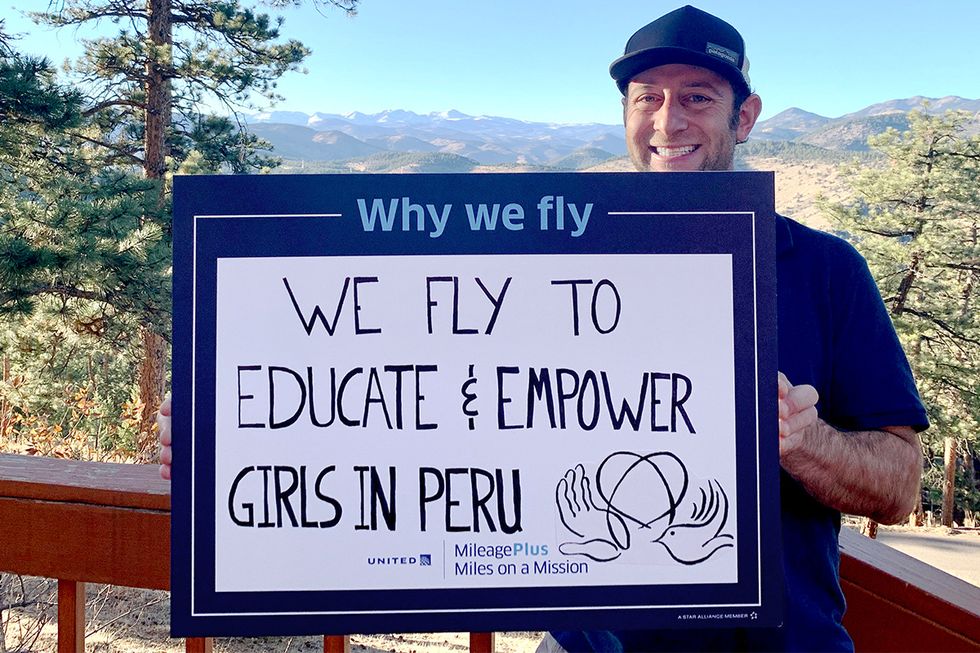 "We fly to educate and empower girls in Peru."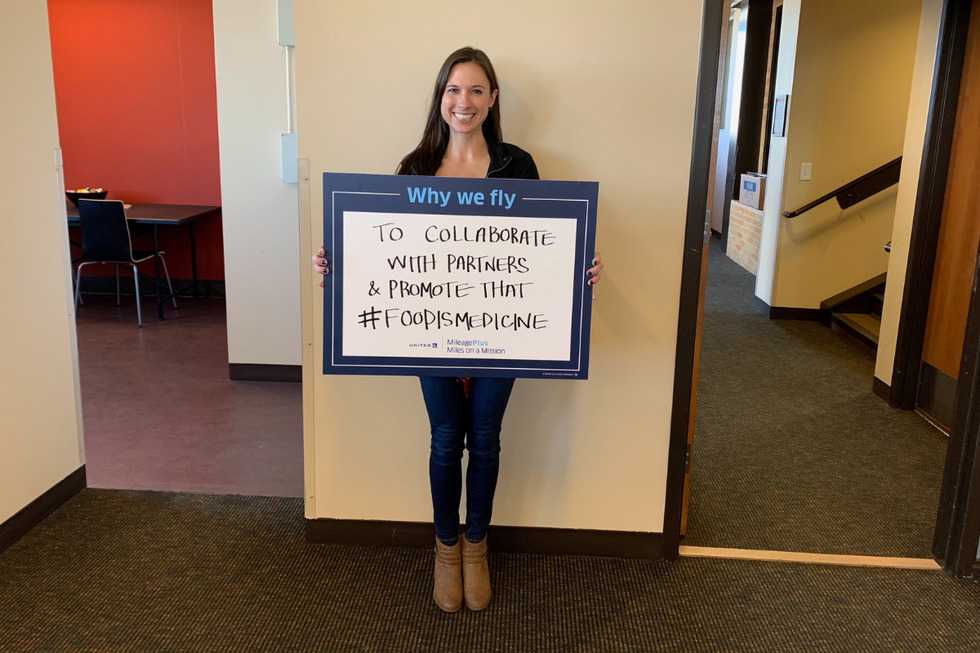 "To collaborate with partners & promote that #FoodIsMedicine"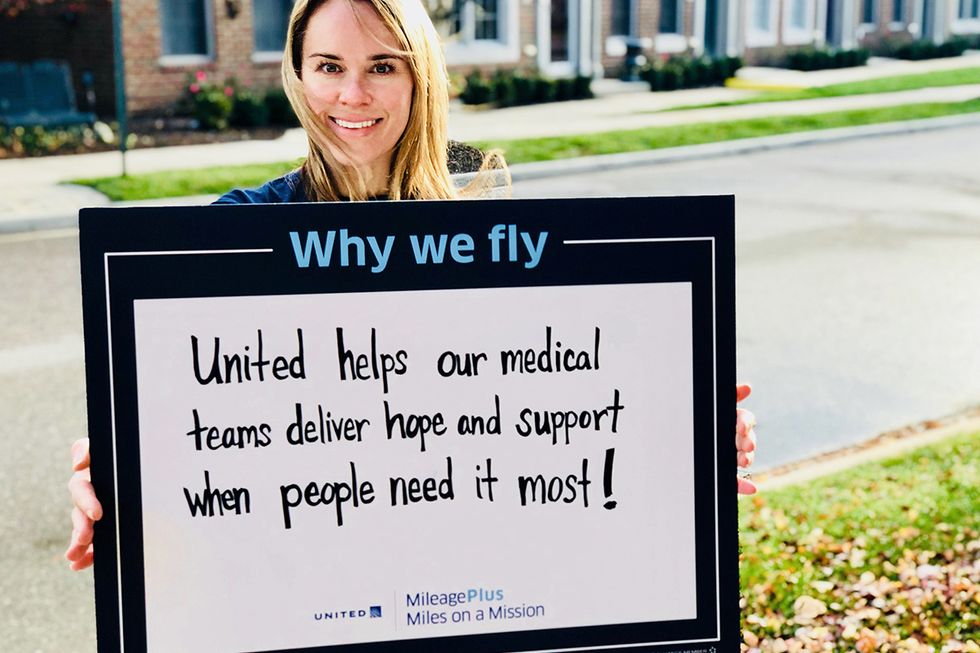 "United helps our medical teams deliver hope and support when people need it most!"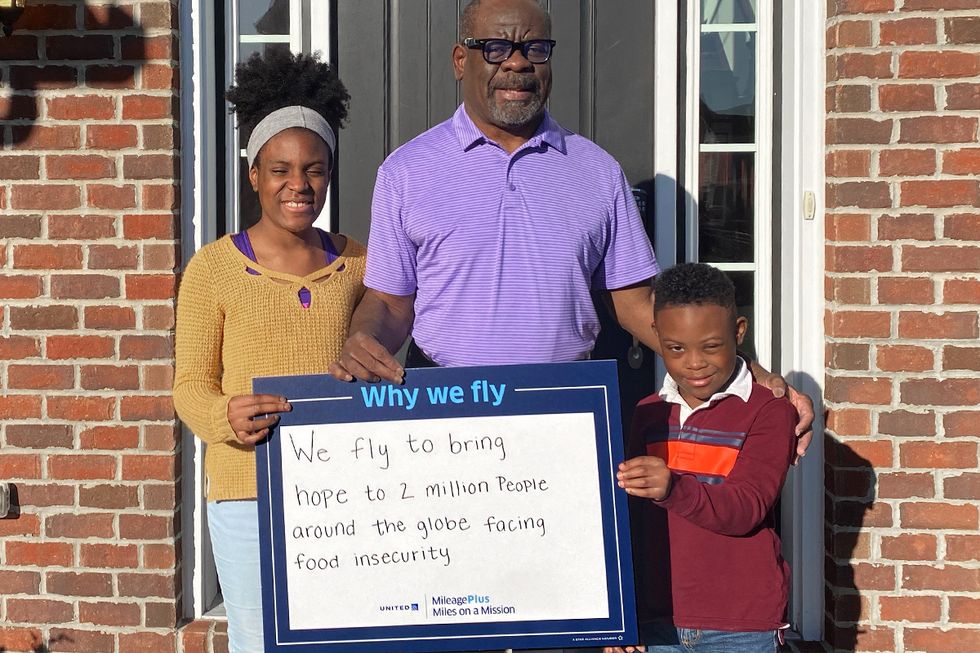 "We fly to bring hope to 2 million people around the globe facing food insecurity."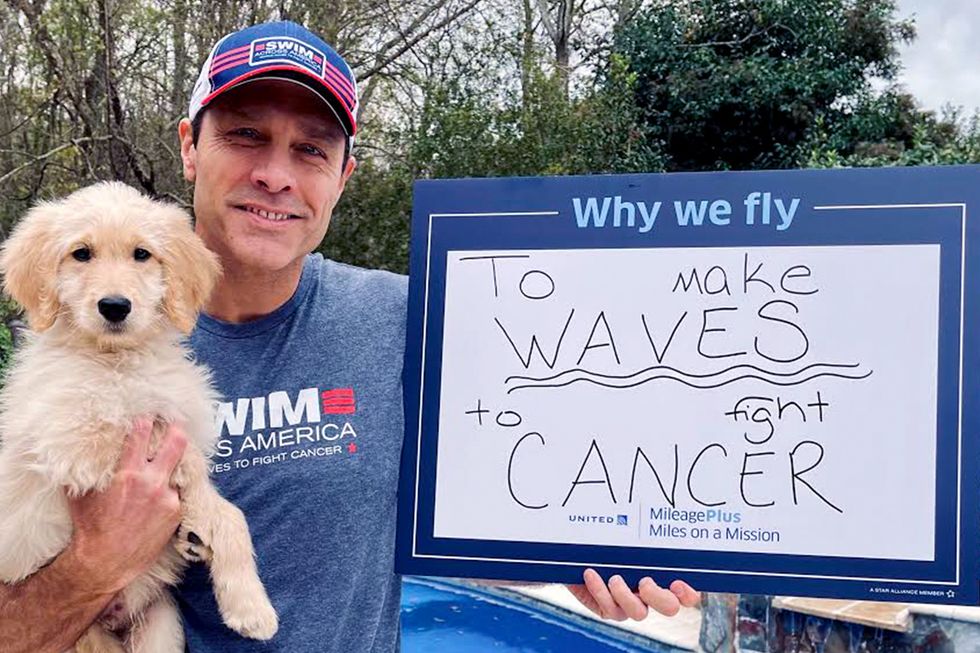 "To make waves to fight cancer."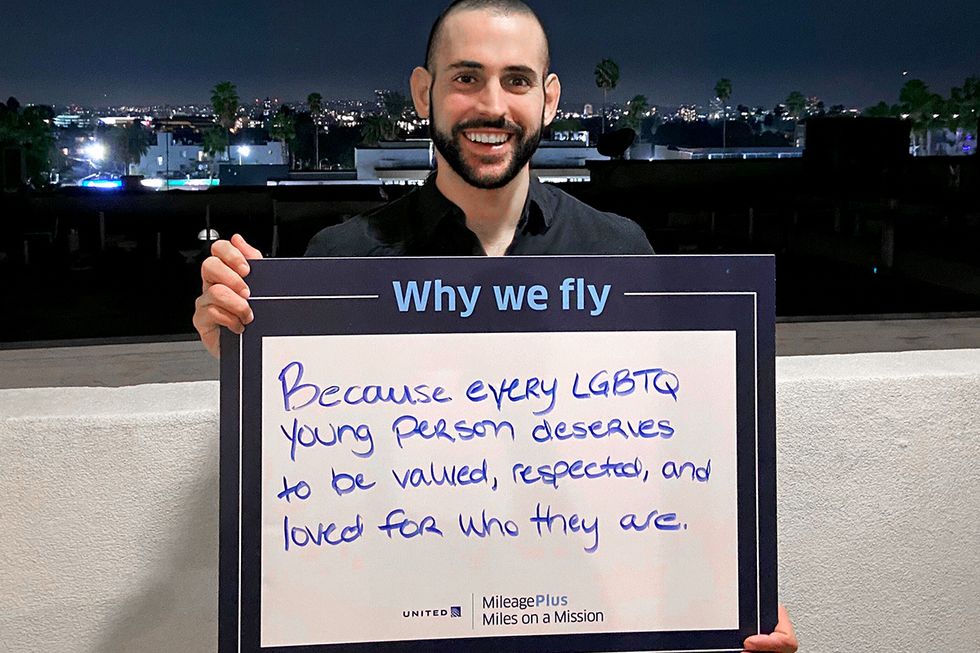 "Because every LGBTQ young person deserves to be valued, respected and loved for who they are."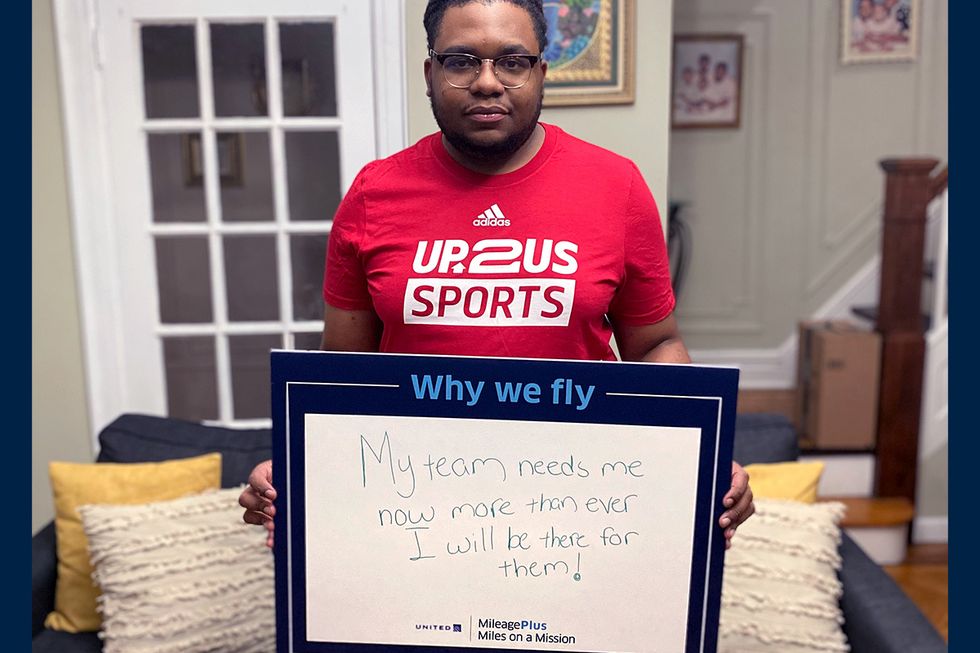 "My team needs me now more than ever. I will be there for them!"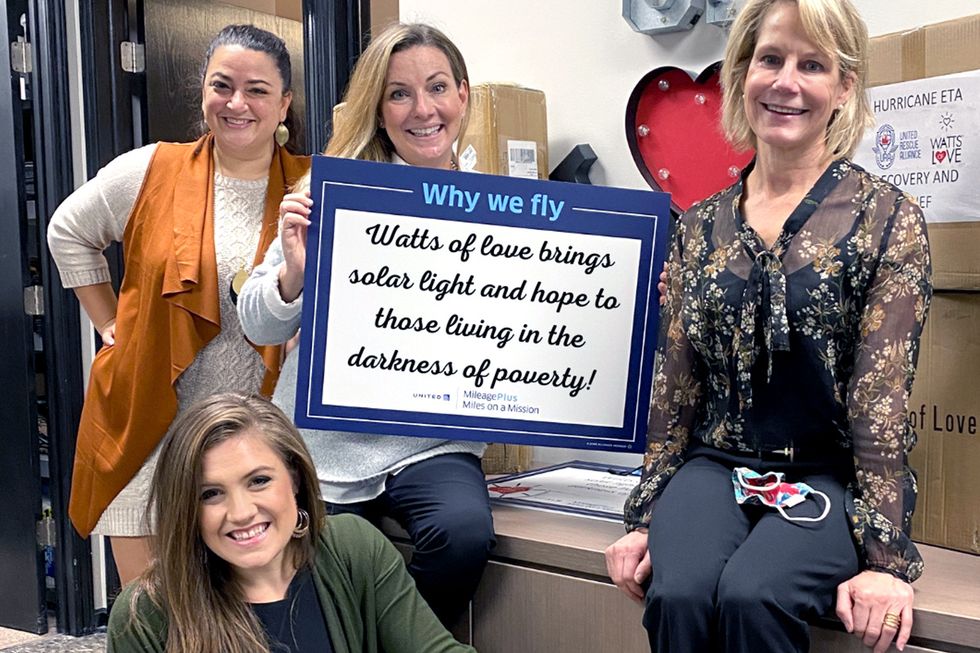 "Watts of Love brings solar light and hope to those living in the darkness of poverty!"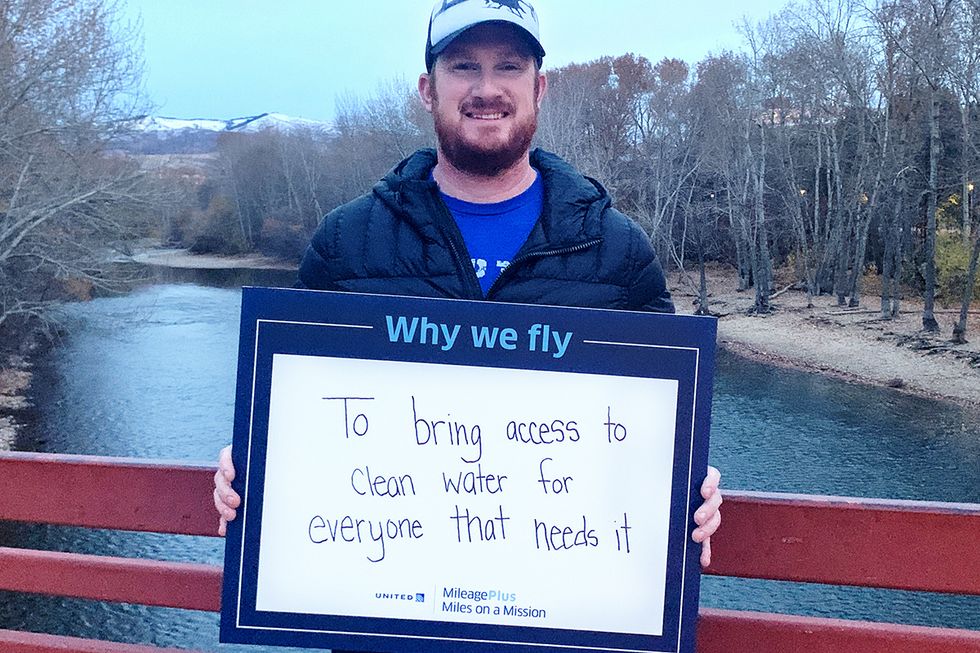 "To bring access to clean water for everyone that needs it."
Scroll to top