Three Perfect Days: San Francisco
Story by Justin Goldman | Photography by Amy Harrity | Hemispheres, October 2017
San Francisco is a city of booms. The first came in the mid-19th century, when prospectors were drawn by rumors of gold in California's mountains. Fifty years ago, hippies streamed to Haight-Ashbury in search of love-ins and electric Kool-Aid. And in the last decade, the tech boom has seen a flood of young entrepreneurs who are using Silicon Valley cash to change how we communicate with each other—and to imagine the city of the future. This latest influx has sparked controversy, as skyrocketing rents have priced out many of the people who gave the city its bohemian, devil-may-care spirit—an exoticism that inspired journalist Herb Caen's 1949 book, Baghdad by the Bay. So how is the old San Francisco (per Caen's instructions, don't call it "Frisco") blending with the new? Hemispheres sent this former SF resident home to find out.
In which Justin squeezes through Chinatown's alleys, channels the Beats, and gets rained on inside a bar
I open my visit the way it seems all San Franciscans begin their days: Standing in line for breakfast. I'm on Polk Street, the main thoroughfare of Nob Hill, waiting for the morning fog to burn off and for Swan Oyster Depot to open. This storied seafood market has been in business for more than 100 years, and if you want to get a spot at its 18-seat counter, you'd better get here well before the 10:30 a.m. opening. The front window teases me with a display of freshly caught fare on ice, and once inside I do my best to consume all of it: briny, creamy West Coast oysters; a beautiful sashimi plate with salmon, tuna, hamachi, and scallops; sourdough dipped in crab fat; and perfect smoked salmon. I wash it down with the city's favorite brew, an Anchor Steam. Hey, it's almost noon.
A short cab ride takes me to the tech industry haven of South of Market (SOMA), where I'll be walking off my meal in the galleries of the San Francisco Museum of Modern Art. SFMOMA reopened last year after a three-year renovation that made it one of the largest modern and contemporary art museums in America. The permanent collection features Diego Rivera's Flower Carrier, Andy Warhol's Marilyn Monroe, and Marcel Duchamp's urinal, but my favorite part of the new building is the sculpture garden's lush Living Wall, which, at almost 30 feet tall and holding nearly 20,000 plants, is the largest of its kind in the U.S.
Coit Tower rises from the top of Telegraph Hill
It's a short walk across Market Street and through the towers of the Financial District to reach the oldest, largest Chinatown in the Americas. In Portsmouth Square, surrounded by huddles of elderly Asian men playing cards, I meet Sharon Traeger, a Tours by Locals guide who has agreed to tell me a bit about the neighborhood's history. The city—then known as Yerba Buena—established its first public square here in the early 19th century, and the Chinese, Traeger notes, moved in at the beginning of the gold rush. After the 1906 earthquake destroyed much of San Francisco, officials tried to push the Chinese community farther from downtown, but after protests, Traeger says, "the city eventually allowed them to stay here, on the condition they rebuilt it to look Chinese."
We exit the square and zigzag through crowded alleys, below colored balconies and alongside shops carrying everything from sea cucumbers to giant mushrooms. After tasting samples at the Golden Gate Fortune Cookie Factory, we climb three flights of stairs to the 1852 Tin How Temple, a tiny space decorated with lanterns, embroidered fabrics, and bowls of fruit left as offerings to the goddess who controls the wind and the waves.
Our next stop is China Live, a food hall that's aiming to bring this historic neighborhood into the future. Founder and executive chef George Chen meets us at the entrance. "China's changing, yet Chinatown's the same as it was 50 years ago," he says. "And Chinese food hasn't changed in this country that much. I wanted to do a marketplace to show that Chinese food can be ingredient-driven, just like any other cuisine. When I saw the success of Eataly"—Mario Batali's palatial Italian food emporia—"I said, 'If they can do it with Italian, why not here with Chinese?'"
Hanging Peking ducks at China Live
Chen shows us around the tea bar, decorated with hand-painted blue and white tiles, and the retail shop, where we sniff Eight Treasures tea and Sichuan peppercorns, then offers us a seat at the Marketplace Restaurant. He sends over a slew of small plates: xiao long bao soup dumplings, black tree ear mushrooms, roasted Peking duck served in sesame pockets, and richly spiced mapo tofu. We cool off with sesame soft-serve ice cream topped with mango shaved ice, which Traeger keeps inching closer to her. I can't say I blame her.
From here, it's only a block downhill to North Beach, SF's Little Italy. This city has a rich literary history—everyone from Mark Twain to Jack London to Alice Walker has called it home—and the center of it all is Lawrence Ferlinghetti's City Lights Bookstore. The poet published Allen Ginsberg's Howl in 1956 and then was put on trial for obscenity (he was acquitted), and City Lights has continued to distinguish itself by selling and publishing experimental works. I find a novel by a grad school classmate of mine, Marc Anthony Richardson, which I take across Jack Kerouac Alley to Vesuvio Cafe, the bar that the Beats favored back in the '50s. I wind up the stairs, past old fliers for readings by Kerouac and Bukowski and photos of Ginsberg and Dylan, and sit at a window table, sipping an Anchor Steam and flipping through my book. It's a perfect San Francisco happy hour.
"Chinese food can be ingredient-driven, just like any other cuisine. If they can do it with Italian, why not here with Chinese?"
Dinner is right across the street at Tosca Cafe. This nearly century-old neighborhood bar and restaurant was bought and updated in 2013 by the owners of New York's famed The Spotted Pig. Bon Appétit named Tosca one of the 10 best new restaurants in America in 2014, but it retains a homey feel. The bar in front has the air of an old dive, while the dining space looks like a classic red-sauce joint, with wine bottles lining the walls and a mural of Venice's Grand Canal. I meet my monthly calorie requirement with orders of tender meatballs, lumaconi pasta shells in beurre blanc, and a delicious roasted chicken. There's only one legitimate drink order: the House Cappuccino, a Tosca original that blends armagnac, bourbon, chocolate ganache, and milk. They were so busy putting all that good stuff in the "cappuccino," they forgot one thing: the coffee.
It's a five-minute cab ride up to my hotel, the Fairmont San Francisco. At the peak of Nob Hill, this old palace is a part of Bay Area lore. It was here, in 1961, that Tony Bennett first performed "I Left My Heart in San Francisco." The lobby, with its grand staircase and expanses of marble, is impressive, but I'm looking for a kitschy kick, so I take the elevator down to the Tonga Room, the beloved tiki bar that dates to 1945, when an MGM set director converted an indoor pool into a lagoon with a thatch-roofed bandstand in the middle, surrounded by ship's rigging and Polynesian artifacts. I sit at the railing and sip a mai tai—a tropical drink that was actually invented across the Bay at Trader Vic's—until lights begin to flash overhead, thunder rolls over the house speakers, and finally rain streams down from the ceiling onto the lagoon. Uh, did someone put some of that electric Kool-Aid in my drink? Either way, it's time for bed.
In which Justin takes a mural tour in the Mission, ponders where to put a taxidermied giraffe, and drinks a really, really old whiskey
I'm not sure if it's the clanging of the cable cars or the sun pouring into the 10th-floor Funston Suite that wakes me, but I open my eyes to a panoramic view of the Bay Bridge, Transamerica Pyramid, Coit Tower, Alcatraz, and Golden Gate Bridge—you know, all the landmarks that make this America's most beautiful city.
Even with the early start, I'm not down the hill and into the Mission District quick enough to beat the line at Tartine Manufactory, the new industrial outpost from the owners of America's most famous bakery. I make my way to the counter, where I order smørrebrød—a Danish open-face sandwich, made here with multi-grain bread, avocado, poblano peppers, and sunflower seeds—and cold-brew coffee, which gets me ready for my next stop.
I stroll down to 24th Street, the taqueria-lined heart of the Mission, the Latino quarter and hipster redoubt that has been the biggest flashpoint in the city's fight over gentrification (if you want to see a scowl, say the words "Google bus" here). One of the oldest arts organizations in the neighborhood, Precita Eyes, is here, in a bright blue storefront above which hangs a portrait of Frida Kahlo. The center has spent the last 40 years preserving and producing street art, and this morning I'm taking a neighborhood tour with Henry Sultan, a 79-year-old former muralist and occasional tour guide.
As we head around the corner to Balmy Alley, Sultan explains how San Francisco's street art scene started with Mexico's great muralists—including Diego Rivera, who came here in the '30s—and picked up during the '70s, thanks in part to the Mujeres Muralistas, a collective of female artists. We inch down the alley, where nearly every sliver of wall and fence and garage door bears an artwork. Some address the AIDS crisis, which hit this city hard; some, including one by Precita Eyes founder Susan Kelk Cervantes, show migrants fleeing the civil wars of Central America; some comment on gentrification. "The Mission has always had a strong political group of activists," Sultan tells me, "and I just don't think people are going to be pushed away." He points to a mural. "Like that says: 'We're not going anywhere.'"
Aside from these murals and the guitar licks of Carlos Santana, the greatest contribution this neighborhood has made to world culture has to be the Mission burrito. Locals fiercely debate which one is the best, but my favorite is Taqueria Cancún's burrito mojado al pastor, which comes not foil-wrapped, like most Mission burritos, but on a plate, slathered with red and green salsas and sour cream, à la the Mexican flag. It is fiery hot and the size of a football, and after eating it you will need to douse your tastebuds with a Pacifico, which I do at a picnic table in the bright yellow restaurant while listening to a mariachi band play for tips.
Rarely in my life have I needed a walk as much as I do after that gut bomb. The sun's shining on me as I pass the fruit stands and thrift stores on Mission and head over to hip Valencia Street. My first stop is the City Art Cooperative Gallery, which is showing paintings of classic SF dive bars, including the dearly departed Lexington Club. Next I wander into Paxton Gate, a store that's bursting with taxidermied animals. When I wonder aloud where someone would put an $8,000 giraffe's head, the clerk, polishing a vase, says, "I'd put it in a circular stairwell, with a mirror at the top." I raise an eyebrow. "I have a lot of time to think about that sort of thing," he explains.
"We zigzag through crowded alleys, below colored balconies, and alongside shops carrying everything from sea cucumbers to giant mushrooms."
I continue on across palm tree–lined Dolores Street to Mission Dolores Park. On a warm Saturday afternoon, this green space, which reopened last year after a $20 million renovation, resembles a hipster fashion show. I climb past skinny jeans and rompers and bangs to the top of the grassy hill, which yields a jaw-dropping view of the city skyline and the underrated Bay Bridge. I think I'll stay a while.
I continue on across palm tree–lined Dolores Street to Mission Dolores Park. On a warm Saturday afternoon, this green space, which reopened last year after a $20 million renovation, resembles a hipster fashion show. I climb past skinny jeans and rompers and bangs to the top of the grassy hill, which yields a jaw-dropping view of the city skyline and the underrated Bay Bridge. I think I'll stay a while.
When I find myself dozing, I pop to my feet, because I've got a ticket to San Francisco's most exclusive dinner party. An unadorned doorway on 19th Street leads to Lazy Bear. Chef-owner David Barzelay (the restaurant's name is an anagram of his surname) began throwing dinner parties after he was laid off from his job as a lawyer in 2009. He opened this space in 2014, and the hype and Michelin stars followed.
The city and Land's End seen from the Marin Headlands, across the foggy Golden Gate
Upon entering, I'm shown upstairs, where I'm served Marc Hébrart Special Club Champagne and Morro Bay oysters topped with elderflowers. Downstairs are two long communal tables, next to an open kitchen where an army of chefs prepares each course. Each dish is served with an introduction from one of the chefs, often in amusing fashion. ("These eggs were raised by a lady named Kitty.") The food is inventive—grilled halibut with artichoke and blood orange, morel mushrooms with egg-yolk fudge—and the restaurant provides a small plaid notebook for each diner to take notes. I neglect to use mine (some journalist I am) due to the wine pairings, which run the gamut from Bordeaux to Rioja to Napa. Dessert? An Old Overholt rye that was distilled in nineteen-thirty-six. I am now as dead as the guy who made that whiskey.
I don't really need another drink, but right up the block is the hot new cocktail spot Wildhawk. The latest bar in former mayor Gavin Newsom's PlumpJack empire opened last year to some neighborhood displeasure, as it replaced the aforementioned Lexington Club, a longtime lesbian bar. (A plaque on the sidewalk out front commemorates the old institution.) I take a seat beneath the floral Victorian wallpaper and order a cocktail from Jacques Bezuidenhout, a South African expat who has lived here for almost 20 years and has been voted the city's best bartender. He brings me a Breakfast Negroni—Cocoa Puffs–infused Beefeater gin, Campari, Cinzano, and chocolate salt bitters—and stays to tell me about the changing of the guard at the bar. "We have some old regulars now that come back, and they're like, 'We really want to hate you, but we just can't,'" he says. I agree: That would be impossible.
In which Justin crosses the Golden Gate, gets a crick in his neck looking at trees, and rocks out at a legendary concert hall
My rented Hyundai may not be the Mustang from Bullitt, but I still feel like Steve McQueen as I zip up and down SF's famous hills, past the painted ladies of Alamo Square—the colorful Victorians from Full House—and along Golden Gate Park to the fog-blanketed Outer Sunset district.
I've lucked out and caught a rare morning when there's no line at Outerlands. The dining room, which horseshoes around an open kitchen beneath an undulating, driftwood-inspired ceiling, is about half full, mostly young people in surf hoodies. I get an egg sandwich with zucchini, asparagus, broccolini, and rich onion jam, served open-face on a thick slice of fresh house-baked bread, followed by the doughnut of the day: salted caramel with chocolate crumble. Yum.
Fueled up, I'm back in the car and cruising north on the Great Highway, with gusty Ocean Beach and the choppy Pacific on my left. By the time I reach the Golden Gate Bridge, the fog has burned off, and it's all I can do to stay on the road as I sneak peeks over my shoulder at the city. A few miles up U.S. 101, I steer through the town of Mill Valley and descend into a canyon, through a series of buttonhook curves—now feeling more student driver than McQueen—to Muir Woods National Monument.
The communal dining room and bustling open kitchen at Lazy Bear
The park, which Teddy Roosevelt consecrated in 1908, includes 240 acres of old-growth coast redwoods, the tallest trees in the world. A wooden walkway guides me through these titans, some of which sprouted more than 700 years ago. In Cathedral Grove, signs urge visitors to keep their voices down, so I can hear creaking branches, burbling Redwood Creek, and a woodpecker somewhere hammering away for his lunch. By the end of the two-mile loop trail, I've spent so much time with my head craned back toward the canopy that my neck's as sore as that woodpecker's.
After that breath of fresh forest air, I'm ready to get back to the urban grit. I head across the bridge and over to the east side of the city, past red-brick AT&T Park, the Giants' home stadium since it opened in 2000 and a harbinger of the building boom in SoMa over the last 15 years. I continue on through condos, past the site where the NBA champion Golden State Warriors are building a new arena, and into Dogpatch, the once rundown industrial 'hood near where America's most famous Heisman Trophy winner/double-murder acquittee grew up.
I park in front of the Minnesota Street Project, a three-warehouse space that's home to around a dozen galleries and 40 artist studios. I'm feeling peckish now, so I hang a quick right into Alta, the compound's restaurant from star Bay Area chef Daniel Patterson. As I dig into a wonderfully spicy fried chicken sandwich and a tangy housemade ginger beer, I'm joined by Deborah Rappaport, who opened the MSP along with her tech entrepreneur husband, Andy, last year.
"In February of '14, the real estate crisis in San Francisco was getting to its peak," she tells me. "It was having a really deleterious effect on galleries and artists and nonprofits. It just felt like nobody cared—all of these big tech companies were gobbling everything up and leaving the arts community, among others, in their wake." Don't think Rappaport is the gloom-and-doom type, though. The MSP is her bet that the city's creative spirit will endure. "If I didn't believe that San Francisco was going to remain an international center of exciting art, my husband and I would have stayed retired," she says with a laugh. "Things have to evolve. What I hope we are doing is helping to keep a vibrant arts scene happening."
Duly inspired, I go on a gallery crawl around the warehouse. The works at the MSP range from famed photographer Larry Sultan's celebrity shoots to Tabitha Soren's modified stills of adult film stars to Manny Prieres' recreations of banned books to student paintings in the SF Arts Education Project space. The diverse works on hand give me hope that Rappaport is right, and that the city's art scene will indeed survive.
In need of a breather, I valet the car at the Palace Hotel, smack in the heart of the Financial District at Market and New Montgomery. I stop for a moment to gawk at the ceiling of the landmark Garden Court restaurant, which is made of 72,000 pieces of glass. Originally built in 1875, the Palace was destroyed in the fires that followed the 1906 earthquake; it reopened in 1909, and despite a huge renovation in 2015, it has maintained many fixtures, from that ceiling to the doorknob I turn to enter my seventh-floor suite. My corner window looks straight up Montgomery to the Transamerica Pyramid, but I'm more concerned with my bed. As the Bay Area's own Metallica would say: exit light, enter night.
Historic concert posters at The Fillmore
I wake up refreshed and ready to rock—literally. I hop the N-Judah Muni train, and a few minutes later I'm in the Haight, the neighborhood that teemed with musicians, flower children, and burnouts 50 years ago during the Summer of Love. I wander into Amoeba Music, a cavernous record shop dedicated to the analog in a city now dominated by all things digital. I pick up a live album recorded by former Haight resident Janis Joplin and her band, Big Brother and the Holding Company, in 1968 at the now-demolished Winterland Ballroom.
I'm humming "Piece of My Heart" as I strut back down Haight Street, past head shops and vintage stores and panhandlers. I stop at Held Over, where I find a pair of worn cowboy boots that fit just right, and I can hear Janis singing, "You know you got it, if it makes you feel good," so I toss out the old Chuck Taylors that I've walked holes in this weekend.
Even used, a new pair of boots takes a toll on the feet, so I get a Lyft over to the Fillmore District. I reach State Bird Provisions just in time to encounter—you guessed it—a line. The wait is no surprise, given that Stuart Brioza and Nicole Krasinski's place has been one of the toughest tables in town since Bon Appétit named it the best new restaurant in America in 2012. Fortunately, its sister restaurant next door, The Progress, has a seat open at the bar, so after I get my name in at State Bird, I'm able to kill some time with a plate of perfect local anchovies and fried butter beans and a silky Manhattan made with brown butter bourbon.
Ancient redwood trees at Muir Woods
When my seat opens up next door, it's in an extremely dangerous locale: at the kitchen counter, right next to the server's station. Much of the menu at State Bird is offered dim sum–style, and I get right of first refusal on every one of the small plates being carted out of the kitchen: guinea hen dumplings, smoked avocado with charred allium, Hog Island oysters topped with kohlrabi kraut.
"We didn't want to be held back by tradition," Brioza stops by to tell me. "We wanted there to be a lot of freedom in our food. It's high energy, it's frenetic, it's got so much passion from the staff." Take the anchovies: "Those are a religious experience for me. We have anchovy protocol. Twelve man-hours get put into that dish."
Brioza's menu knows no bounds, and by the end of the meal, neither do I, as I find myself hugging the cart-pushing waitress goodbye. Perhaps I'm hoping she'll clear off the cart and roll me out of here on it?
Luckily, I'm not going far. Right around the corner is The Fillmore, the concert hall that once hosted legends including Janis, the Grateful Dead, and Jimi Hendrix. I climb the red-carpeted stairs to the second-floor bar, which is hung from floor to ceiling with trippy concert posters for these artists and many, many others.
When I hear a roar from the ballroom, I join the crowd on the packed floor. The acclaimed rock group the Mountain Goats takes the stage, and between songs, singer John Darnielle pauses to look out across the dark, smoky room. "You get these moments at The Fillmore when you say, 'This is the best room to play in the U.S.,'" he says, and we scream, because yes, a gold rush is on, and all the new money may be changing Baghdad by the Bay, but at the end of the day, San Francisco still rocks.
Hemispheres deputy editor Justin Goldman yells at his coworkers anytime one of them calls it "Frisco."
This article was written by Justin Goldman from Rhapsody Magazine and was legally licensed through the NewsCred publisher network. Please direct all licensing questions to legal@newscred.com.
Around the web
New year, new United: Inside our latest enhancements
It's said that the key to sticking to your New Year's resolutions is making a series of small changes. A couple of months into 2019, we've rolled out several enhancements (some small, some not-so-small) that will add up to make our service more caring, dependable and efficient. It's a new year, and a new United.
United® Premium Plus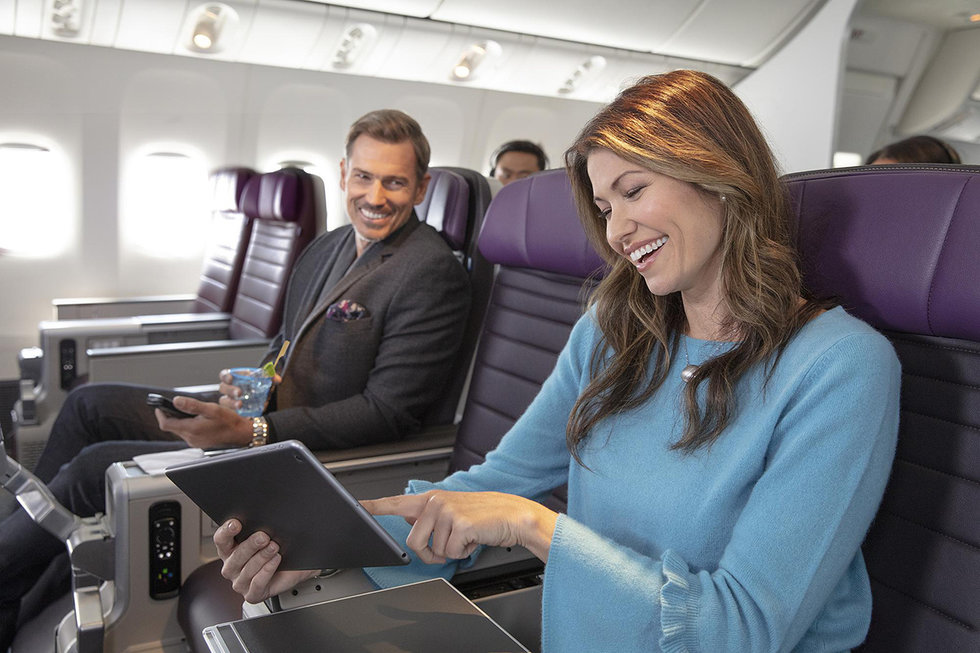 Different people have different needs when they travel, so for us, 2019 is all about providing more options and making it a little easier for you to customize your flight experience. Now, for travel starting March 30, you can book a United® Premium Plus seat for trans-Pacific or trans-Atlantic flights as well as flights from the U.S. to select destinations in South America.

United® Premium Plus seats are located closer to the front of the aircraft and offer a little more space to stretch your legs and arms, as well as more recline. There's also upgraded dining, free alcoholic beverages, larger entertainment screens, in-seat power and extra amenities to keep you comfortable and refreshed.
Free DIRECTV
We've all been that person trying to schedule a flight around the big game or the season premiere of our favorite TV show. Now, on all aircraft with seatback TVs (a little over 200 of the jets in our fleet), you'll be able to watch live television for free. More than 100 channels will be available to customers through DIRECTV®.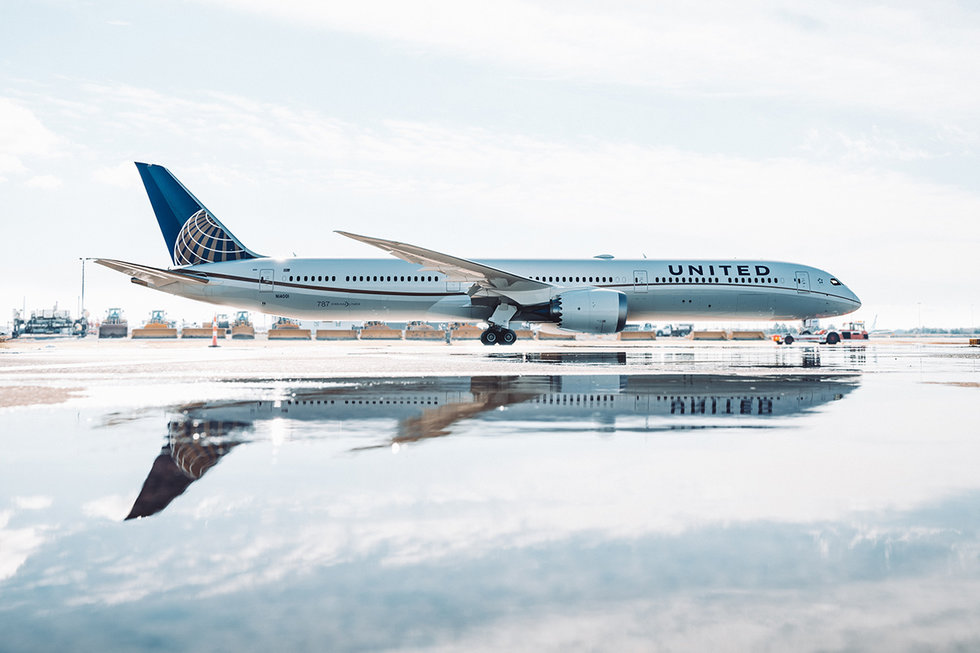 New aircraft
One of the most important aspects of being an airline is simply flying quality aircraft. This year, customers will see new additions to our fleet that are setting an even higher bar for reliability and fuel efficiency, meaning they'll help decrease our carbon emissions. And it's not just about operations — we're also working on ways to make flying more comfortable.
Re-imagined app
We're proud to have the most-downloaded app in the airline industry. And since so many people are looking at it, we decided to spruce it up a bit. If you haven't checked it out since we released the latest version, give the updated design and new content a spin.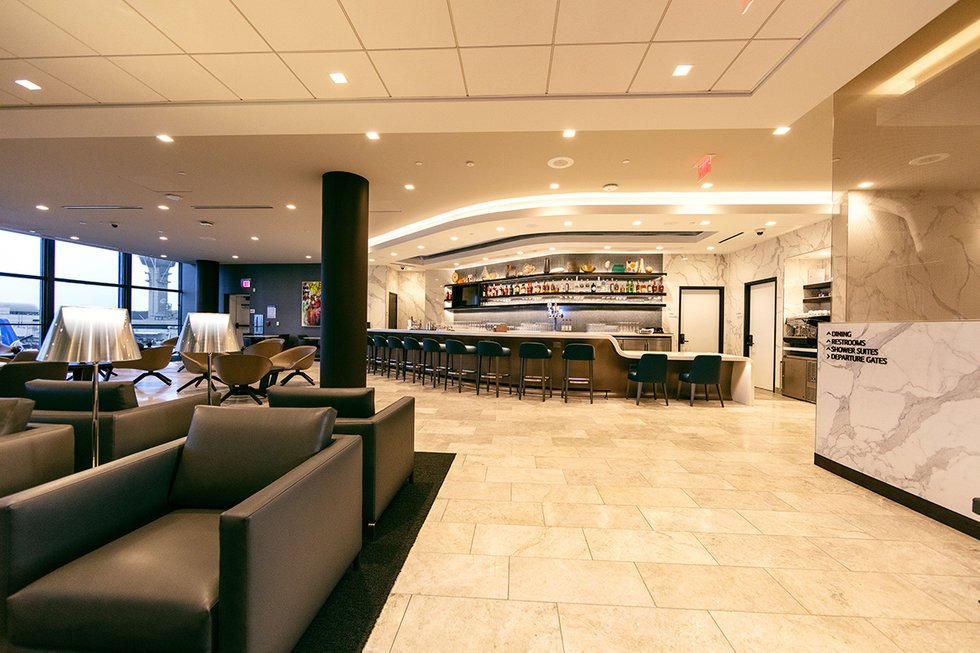 More space to lounge
The latest addition to our club and lounge network is the new United Polaris® lounge at Los Angeles (LAX). It offers daybeds with Saks Fifth Avenue amenities, shower suites and even a valet to steam your clothes upon request. Upscale food and beverage selections change seasonally with inspiration from local California cuisine.
On the opposite coast, the United Polaris lounge at New York/Newark (EWR) caught the eye of CNN Travel, which listed it among "super-luxe airport lounges that may make you miss your flight."
7 facts about the newest Dreamliner: The Boeing 787-10
The Boeing 787-10 Dreamliner, which officially launched at the 2013 Paris Air Show, is a long-range jet that features one of the most comfortable cabins on the market. From mood lighting to a state-of-the-art air filtration system, the new Dreamliner provides an improved experience allowing passengers to arrive at their destination feeling refreshed. As the first U.S.-based carrier to add the 787-10 to its fleet, United is also the first in the world to fly the entire 787 Dreamliner family — including the 787-8 and 787-9. The aircraft officially went into service on January 7, departing from Los Angeles to New York/Newark.
Read on for seven facts about United's newest Dreamliner.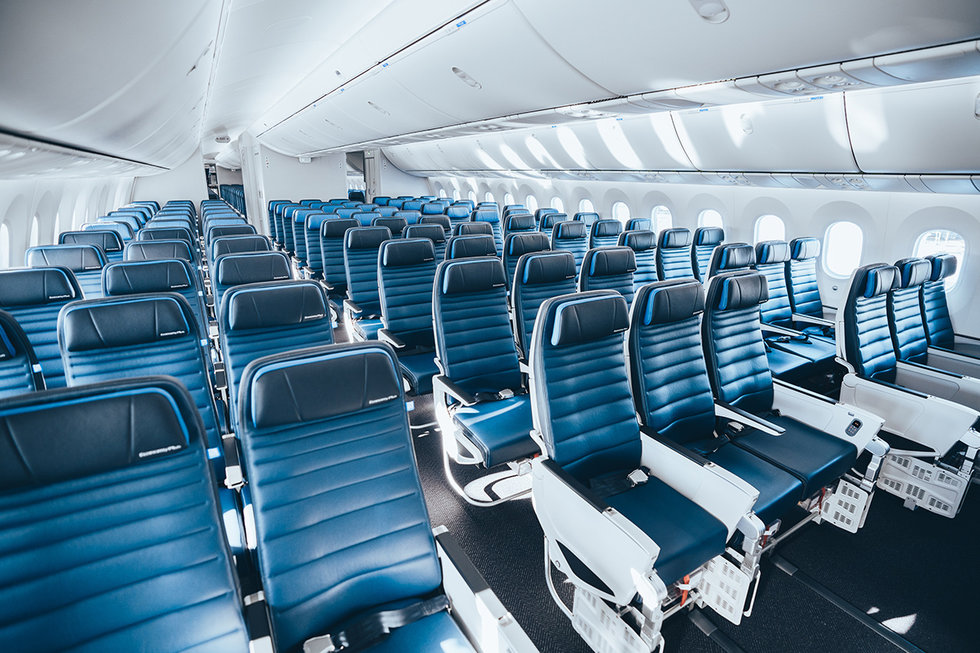 1. Going the distance
18 feet longer than the 787-9, the 787-10 can carry more passengers and more cargo than its predecessors. Flying up to 6,430 nautical miles, the 787-10 uses 20 percent less fuel than older generation airplanes, making it superior when it comes to fuel efficiency.
2. More seating options
Featuring more premium seating options, including 44 United Polaris® business class seats, 21 new United® Premium Plus seats, 54 Economy Plus® seats and 199 United Economy® seats. The 787-10 offers seating options to meet all preferences.
3. Improved cabin air
Thanks to a new air filtration system, the 787-10 boasts better air pressure and humidity, helping passengers fight dryness and fatigue on long flights.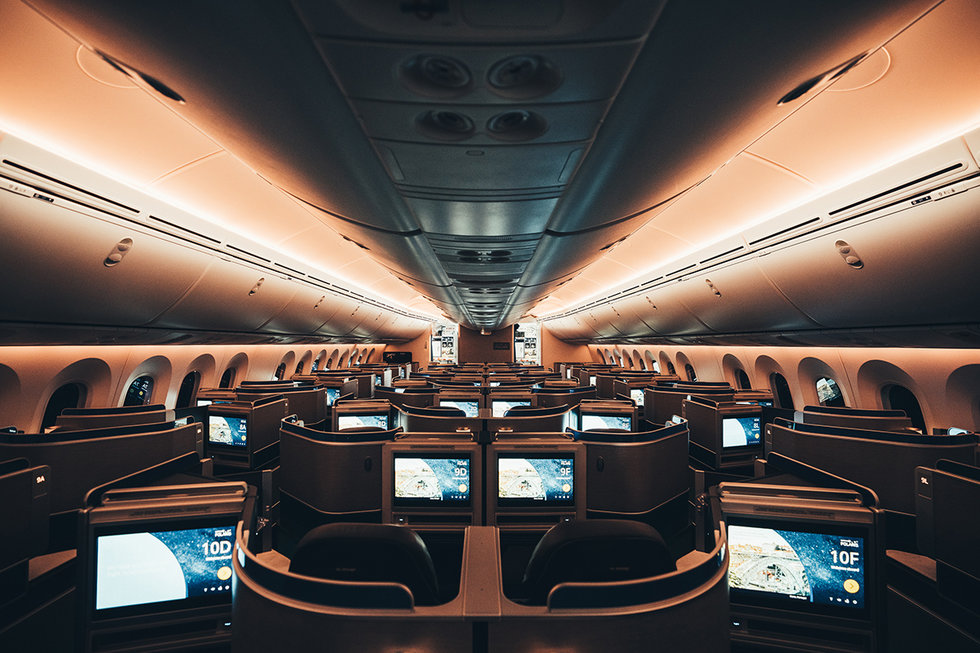 4. Mood lighting
The 787-10's cabin features lighting patterns that mimic sunrise and sunset, designed to help passengers fall asleep and wake up more adjusted after arriving in a new time zone.
5. A better ride
Smoother ride technology on the 787-10 helps to offset turbulence, resulting in less motion sickness and a more comfortable flight.
6. State-of-the-art windows
With 19-inch windows, the 787-10 has the largest of any aircraft in the market. The large windows allow views of the horizon, plus there's no need to shut the window shade as the Dreamliner's windows dim electronically with smart glass.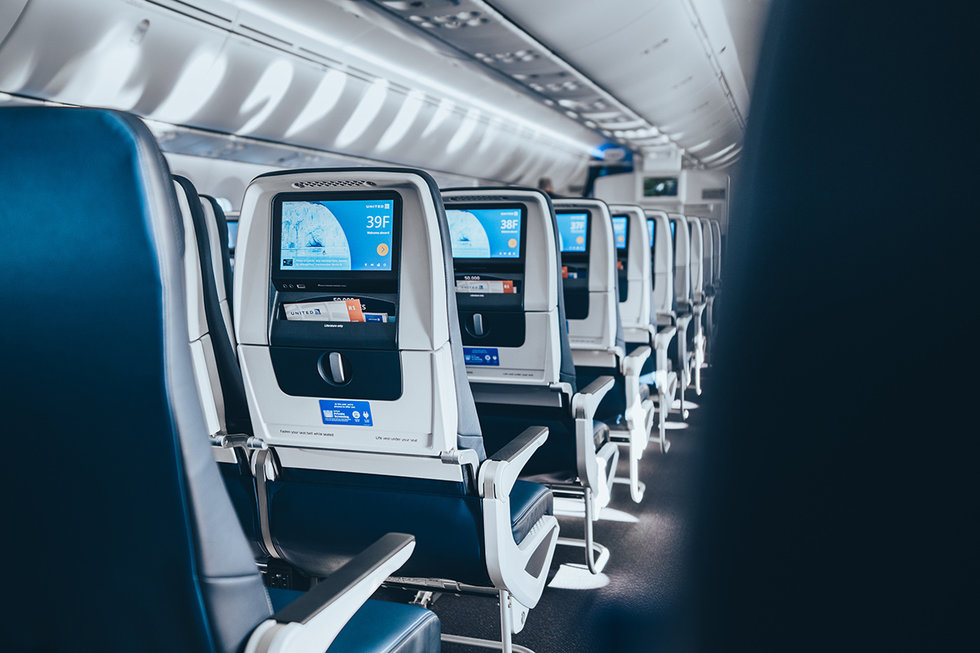 7. Entertainment at hand
Featuring a new seatback entertainment system with a split-screen function, passengers are now able view the flight map while watching a movie. They can also customize a list of soothing videos and relaxing audio playlists. Also, it makes movie and television recommendations based on your remaining flight time and previously-watched content.
The new system accommodates any level of vision and provides support for customers with hearing and mobility issues.
The 787-10 Dreamliner is now flying from Los Angeles to New York/Newark and it will begin service between San Francisco and New York/Newark this month, with international service starting in March.
Weekend inspiration: West side of Los Angeles
If you spend enough time in Los Angeles, you'll hear about the rivalry between East and West L.A. West L.A. residents will claim "west is best" due to the proximity to the beach, hip bars and restaurants. East Side residents claim their neighborhoods have more of a "small town" feel with more reasonable real estate prices and parking. Whether you're an East Side or West Side supporter, it's hard to argue that both sides of L.A. don't have wonderful things to offer. If you find yourself in the city for a weekend, here are our favorite things to do in the West Side of L.A., specifically Venice, Santa Monica and Malibu.
Friday evening
You won't have trouble finding a hotel on the West Side, but if you're looking for suggestions, our favorites include the funky Hotel Erwin and the contemporary and cute The Kinney in Venice. If you're looking for something a little higher-end we also love the Loews in Santa Monica.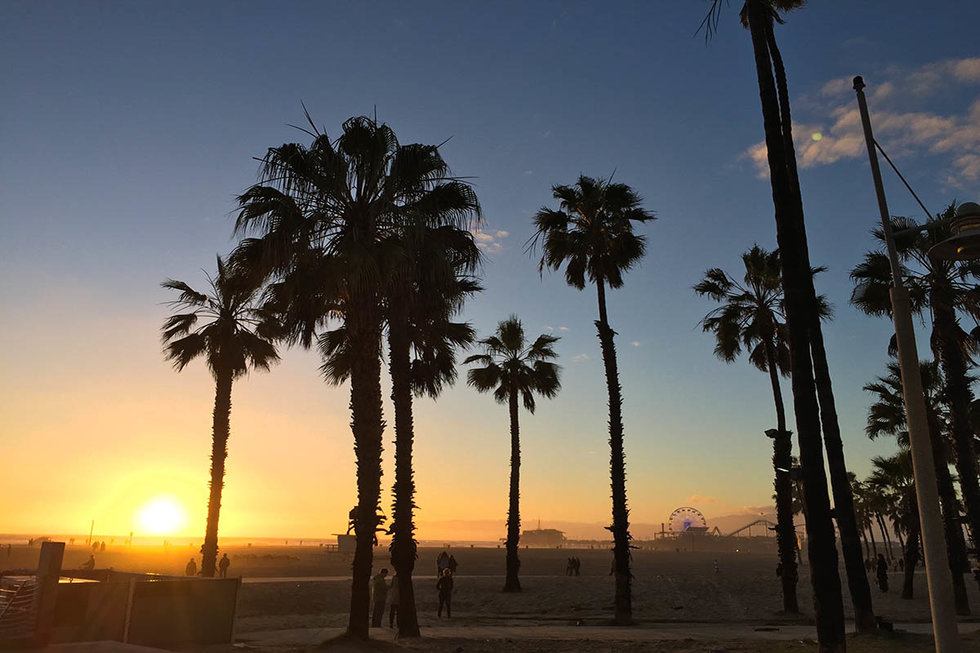 Don't expect to get a table at a hot restaurant in L.A. without a reservation, so be sure to make a few dinner reservations before you get into town. Whether you're staying at Hotel Erwin or not, we recommend heading up to their rooftop before dinner for a couple of cocktails and snacks so you can watch the brilliant Venice Beach sunset your first night in L.A.
Saturday
Wake up early, bring your swimsuit along for the day and hit the road for a fast-casual breakfast at Eggslut in Venice – get a delicious egg sandwich to go. Take the Pacific Coast highway up the coast, stopping along the way to take a dip in the ocean and buy fresh produce from street-side vendors.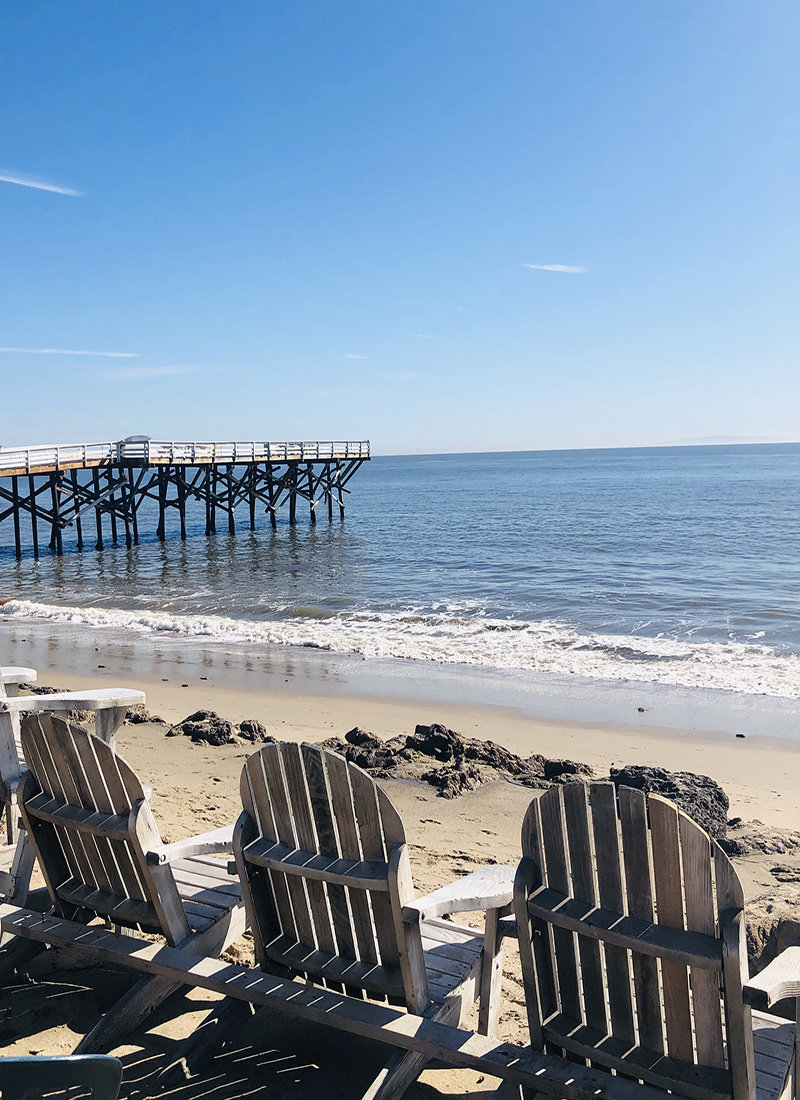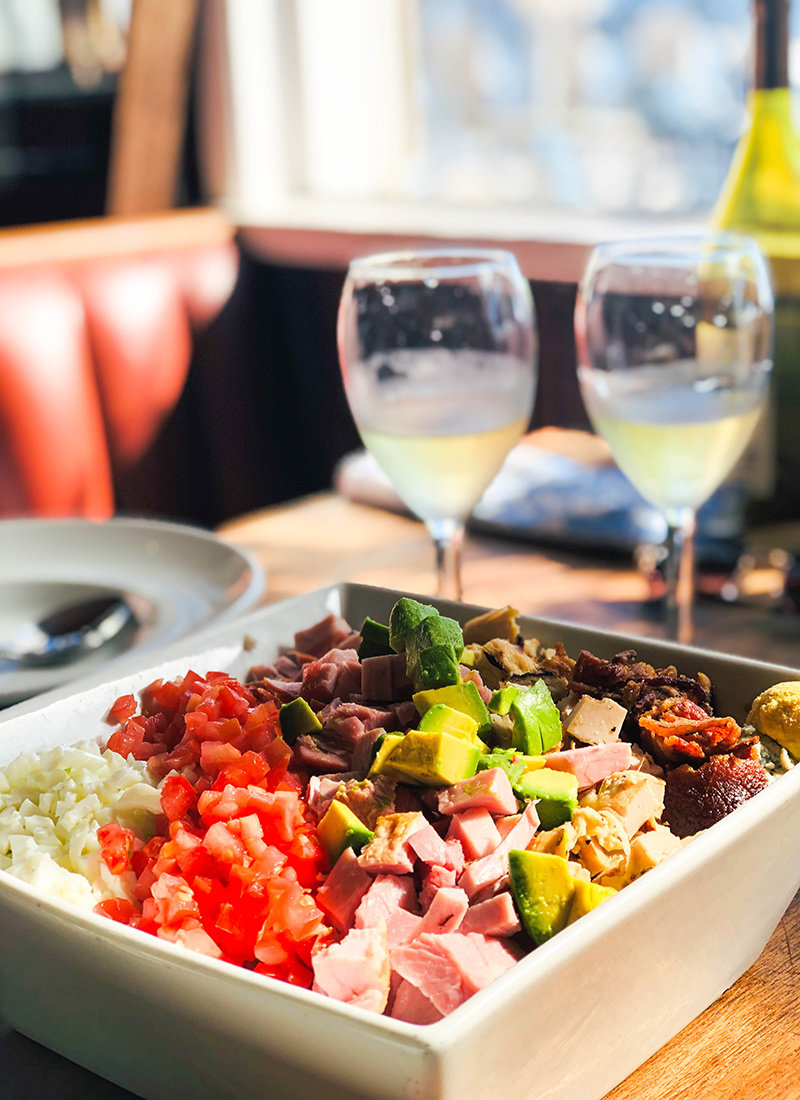 When you're ready for lunch, pay the $10 parking fee at The Paradise Cove Beach Café and grab a table. The food is good and the portions are large enough to share, leaving you satisfied and ready to explore their tide pools. Walk up and down the gorgeous, quiet Malibu getaway, taking in the views. When you've had enough walking, grab a beach chair (and a bottle of wine) to catch some southern California sun while taking a moment to relax.
After you've made your way back to your hotel and have freshened up, we recommend heading to Abbot Kinney Blvd for a bit of late afternoon shopping. This commercial street is tucked away in a Venice neighborhood and full of stylish shops, healthy juice bars, vibrant bars and trendy restaurants. While you wander, be sure to pose for a photo with our wing mural on the side of the funky' Principessa boutique. If you've brought your dog, we also created a dog wings mural, ready to transport your pooch to Instagram stardom.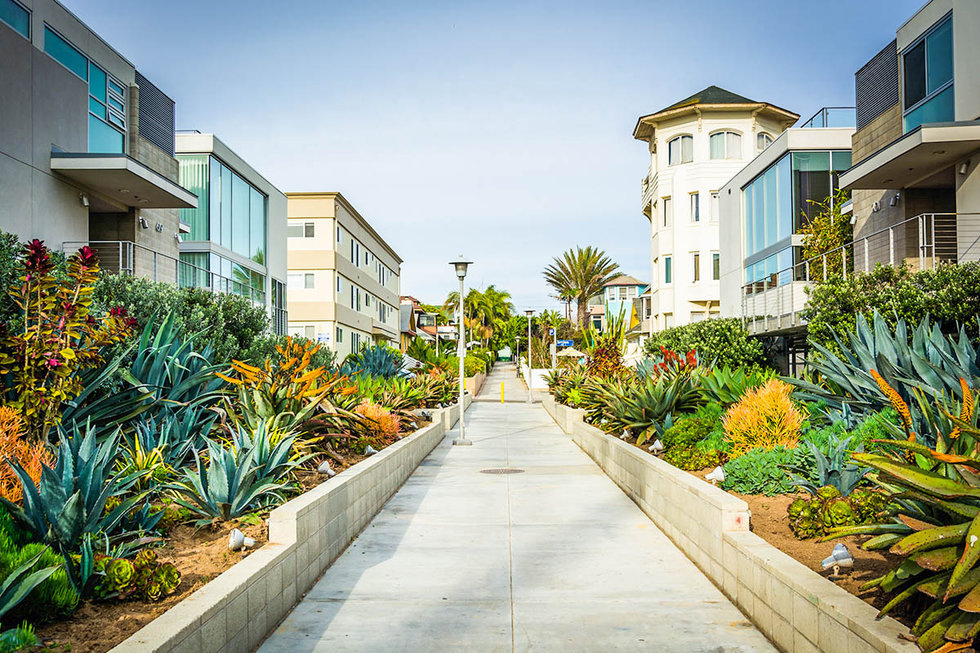 Have a pre-dinner glass of wine at Salt Air and then cross the street for arguably some of the best Italian we've ever had at The Tasting Kitchen. The pasta is hand-made on site, but the portions are small so get a few plates to share.
After dinner head over to The Brig, a bar next door, for a night cap and conversation with some of L.A.'s most beautiful people.
Sunday
For breakfast, check out a local skater and surfer favorite in Santa Monica: Dogtown Café. Grab a stellar coffee and a California breakfast burrito – it's a must.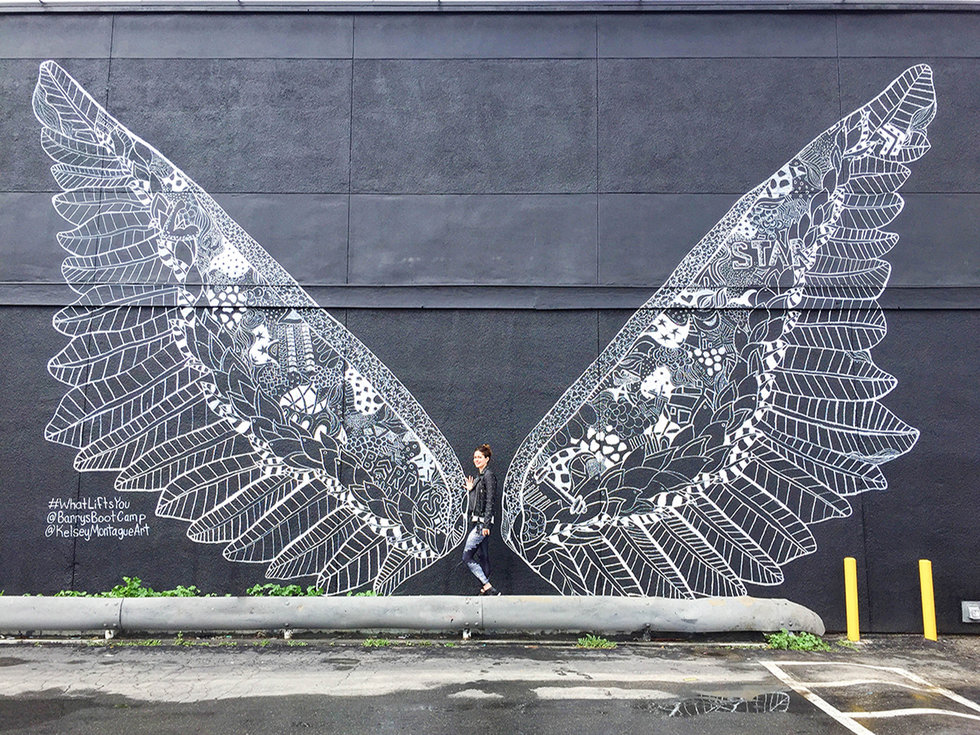 Sunday mornings are a great time to get up and get some exercise in. Santa Monica Beach has a plethora of options, from surfing lessons (Go Surf LA is a great option) and bike tours (book online at Joy Ride) to simple strolling along the beach. Try your hand at the high bar, the rings or rope climbing at Muscle Beach.
Following your morning workout, if you enjoy street art, check out our brand-new hidden dragon mural (the first of its kind) and our massive wings on Lincoln – both in Venice. If you're interested in a "Kelsey Montague Art" mural marathon during your time in L.A., be sure to check out our map of murals in L.A. and the surrounding areas. Kelsey has over 10 murals hidden around L.A. and its suburbs.
Spend the rest of your afternoon on the Santa Monica Pier. Grab some cotton candy, ride a roller coaster and then watch the sea lions frolic in the waves as trapeze trainees swing through the air.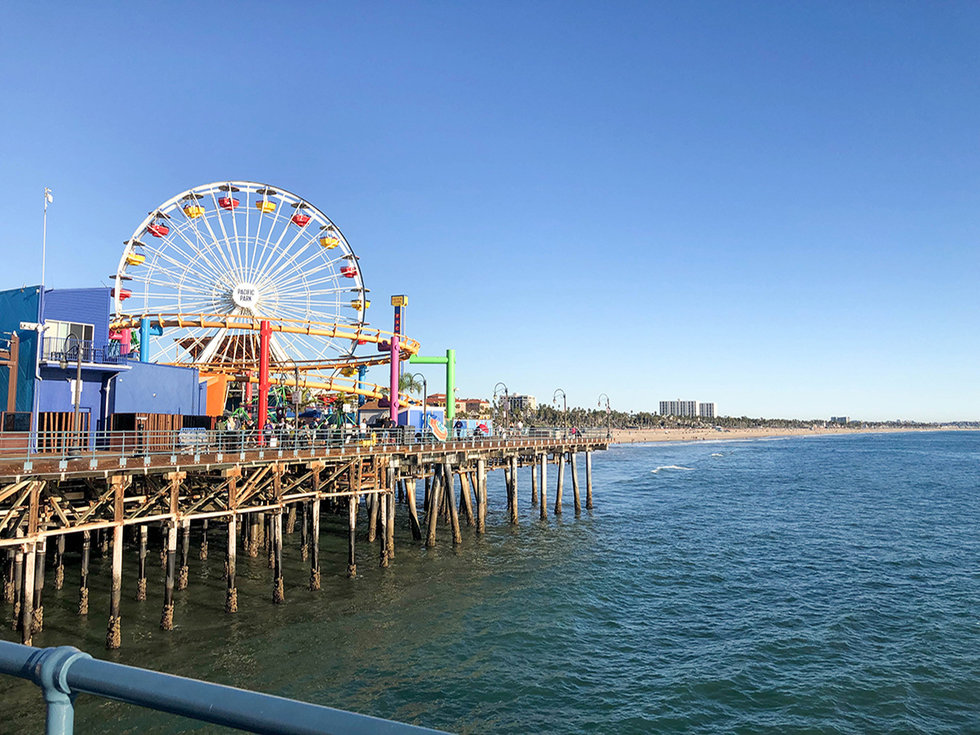 Walk down the beach for a pre-dinner drink at the lounge bar in the fancy Hotel Casa Del Mar to watch the sunset. If you pay attention to those around you, it's likely you'll see a celebrity or watch as a major movie deal goes down.
Walk up the street to the ocean facing Meat restaurant for dinner, where you'll find tremendous cuts of beef, yeast bread rolls and creamy mashed potatoes. Comfort food at its finest.
As you fall asleep on your last night in California, be prepared to dream of Ferris wheels, palm trees and celebrity sightings during your West Side weekend getaway.
Weekend inspiration: Scottsdale
There's something intoxicating about the desert to us. The heat and the austere landscape feel so foreign to two women from Colorado, and we think that might be why it feels so exotic. We fell in love with Scottsdale and had the opportunity to spend six weeks there for a series of art murals around the Phoenix area.
If you're in town for a few days, here are some of our favorite weekend adventures.
Friday night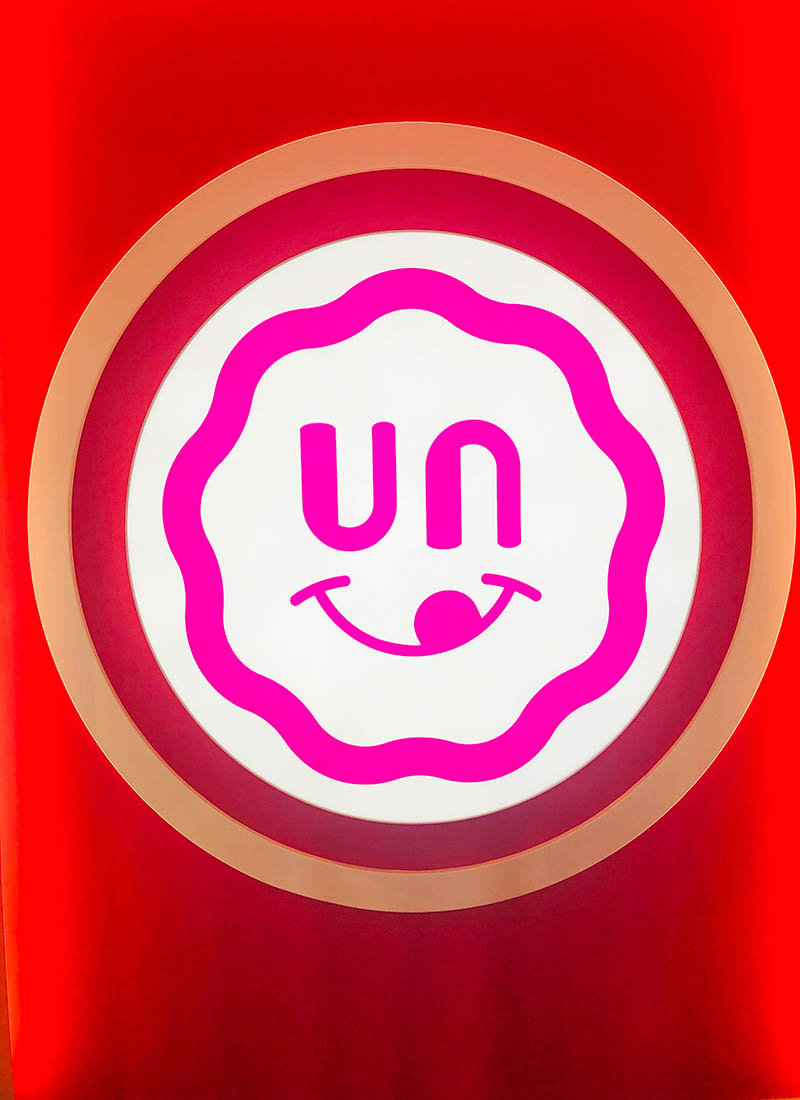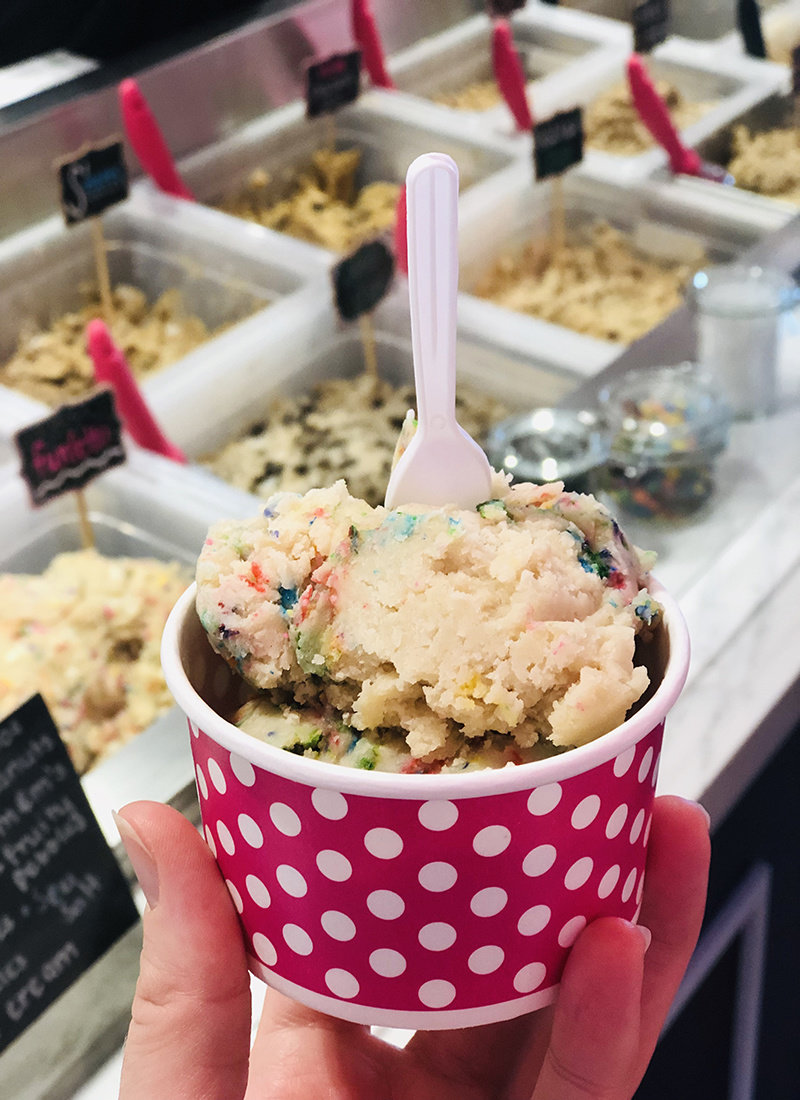 Upon arriving in Scottsdale, famished from traveling, head over to Rehab Burger Therapy – a wonderful local burger joint that sells high quality burgers with creative additions on tasty pretzel buns (the mac and cheese burger is absolutely decadent). If you have room for dessert after dinner, we recommend walking down the street to UnBaked for some edible cookie dough. The brownie and birthday cake flavors are our favorites.
Saturday
If you're looking for turntables, then stop by Hash Kitchen for brunch. They boast the largest bloody mary bar in Arizona and cater towards those who consider themselves foodies.
After breakfast, we recommend booking a tour at Taliesin West, where you'll explore Frank Lloyd Wright's stunning home. Wright was an architect and designer who believed architecture and nature could, and should, seamlessly co-exist. Walking through his home allows you to step into the world of one of America's most gifted artists and architects.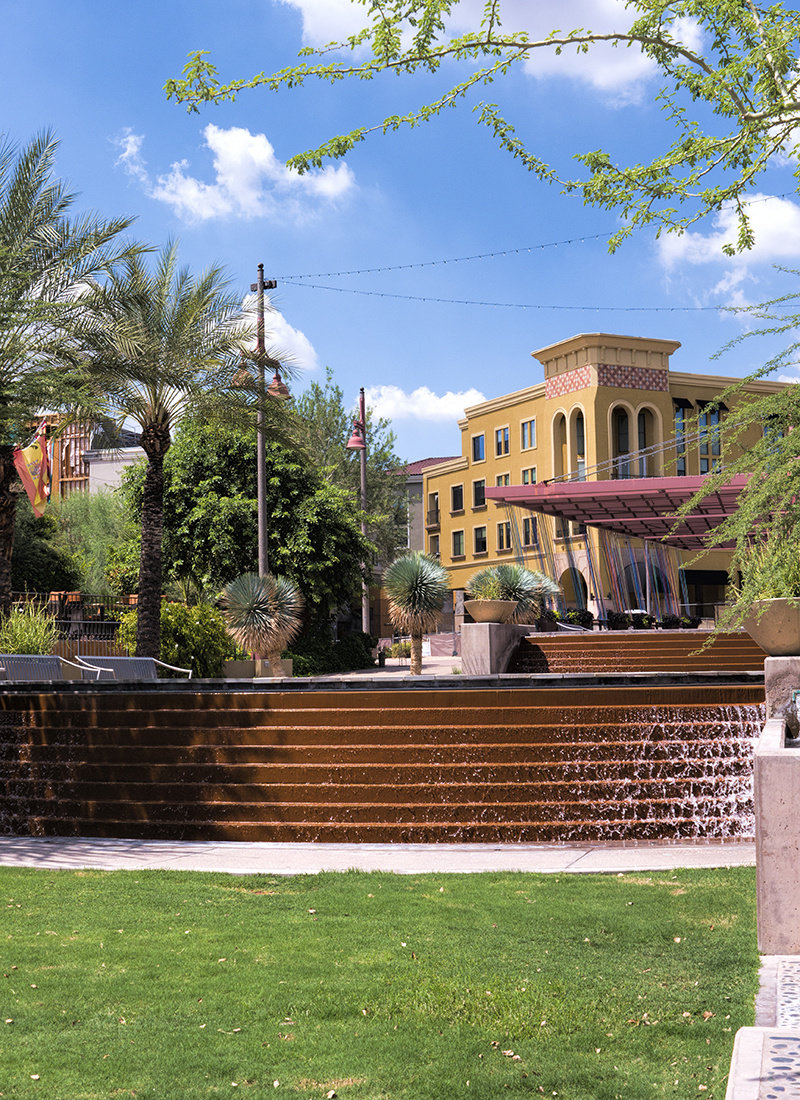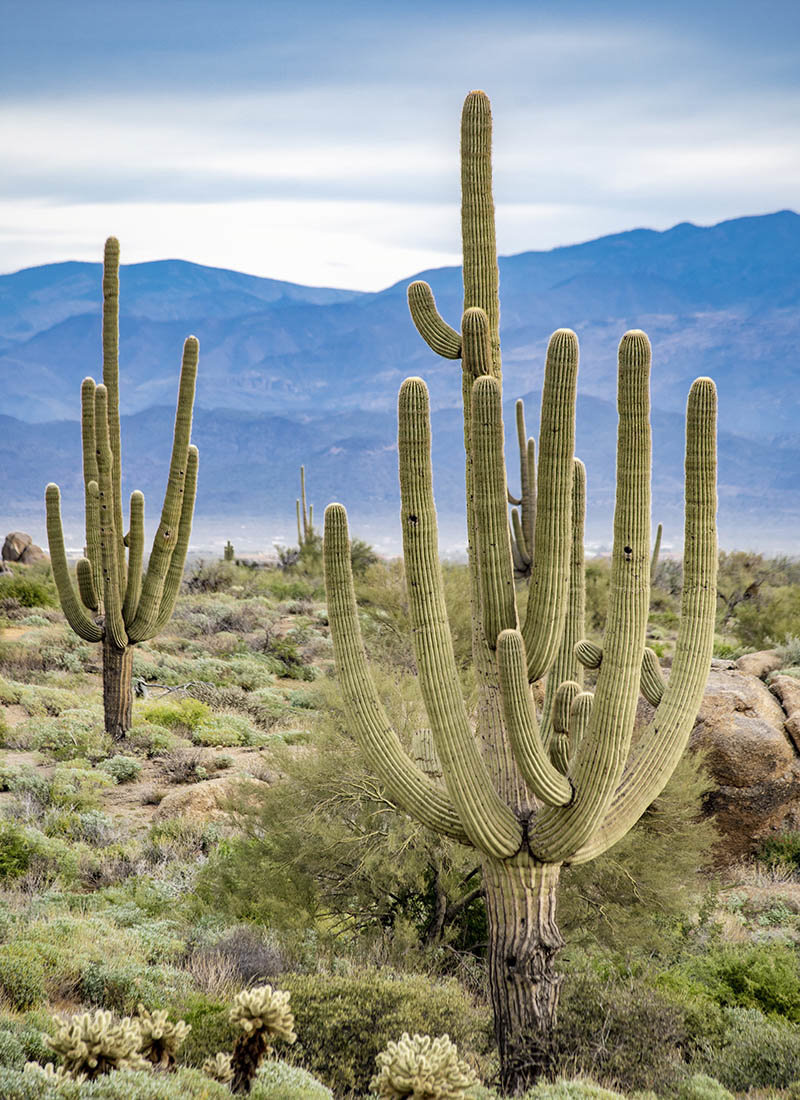 Continue enjoying the art scene here and stop by Cattle Track Arts Compound, where you can meet brilliant artists who are doing awesome and unique work that celebrates Scottsdale's authentic cultural heritage. This artist's colony is home to many accomplished artists (literally many artists live on-site) doing spectacular things. This is one of the few spaces in the country dedicated to supporting artists by providing them with a home and space to work on their creations. Mark McDowell's circus illustrations on birch are breathtaking, as are Mary Van Dusen's earthy ceramics.

Depending on what you're in the mood for dinner, we love the Mexican/Asian fusion food at the hip SumoMaya or, if you're looking for something a bit healthier, the meals at True Foods are tasty and guilt-free.
Sunday
Every local in Scottsdale, it seems, heads to The Breakfast Club on Sunday morning, so try to get there early. Choose from signature dishes or create your own masterpiece. Either way, the challah French toast is a must for the table.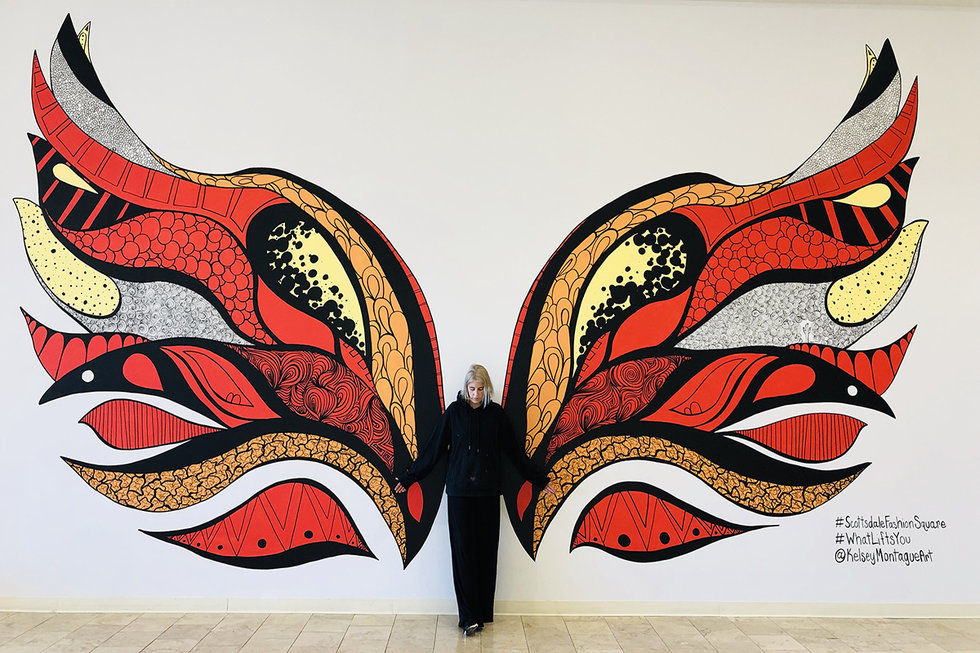 If you have a car or feel like renting one, and are up for a quick adventure, we have six art murals in and around the Phoenix area. Each mural is wildly different and unique to the area. Here's a list of their locations, if you have time to check them out:
Phoenix Wings: Near the Apple Store, 7014 E. Camelback Rd, Scottsdale, AZ 85251
Arrow Cloud: 7700 W. Arrowhead Towne Center, Glendale, AZ 85308
Balloons: Near Nordstrom, 3111 W. Chandler Blvd, Chandler, AZ 85226
Bubbles: 2180 E. Williams Field Rd, Gilbert, AZ 85296
Cactus Swing: 2502 E. Camelback Rd, Phoenix, AZ 85016
Wings: 6800 N. 95th Ave Glendale, AZ 85305
Once you're back from your brief road trip, we recommend stepping back in time and heading to the 1950's Sugar Bowl for a bite to eat. This old-fashioned soda shop was made popular by Bil Keane, the cartoonist who created the Family Circle cartoons, where they serve the similar '50s inspired food - quality milk shakes, egg salad sandwiches and burgers. After lunch, check out some of the cute boutiques and shops in Old Town Scottsdale – Bischoffs is by far the best if you're looking for unique Southwestern gifts (and moccasins).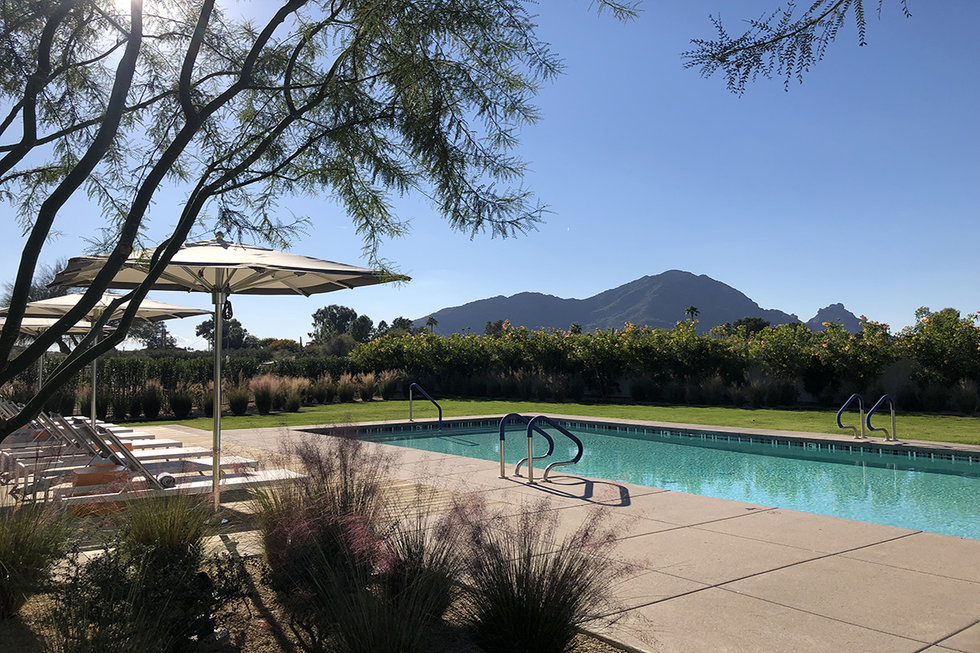 We also love a good spa-filled afternoon, and have found Andaz Hotel's Spa, Palo Verde, to be one of the best we've visited. This carefully curated spa is on the pricier end, but worth every penny. Be sure to go before your appointment because you'll have access to the amenities all day and there's a special pool in the back of the spa with views of Camelback Mountain you won't get anywhere else. All of the services we received were absolutely top-notch.
After you've relaxed and are rejuvenated, take a quick ride over to Blanco Tacos + Tequila and order their award winning BBQ Pork Tacos and guacamole. This restaurant consistently serves quality food, with a caring staff and is the perfect way to end a trip to the artistic desert of Scottsdale.
More comfort for more customers: 1,600 new premium seats added
Today, we announced the next step in our commitment to making more customers more comfortable by adding more than 1,600 United Polaris® business class and United First® seats to nearly 250 international and domestic aircraft. Additionally, we will revolutionize the regional flying experience by becoming the first airline in the world to welcome the two-cabin, 50-seat Bombardier CRJ 550 aircraft to our fleet, offering customers on key regional routes more legroom, storage and amenities than any other 50-seat regional aircraft operating today.
Introducing the first-of-its-kind

Bombardier CRJ 550
50
AIRCRAFT
delivery begins later this year

Offering a premium cabin experience at every step of your journey.
Aircraft will eventually feature:

Self-serve beverage and snack station for our United First
®
customers

More legroom in First and Economy Plus
®
than any other 50-seat aircraft in our fleet

Stay connected with United Wi-Fi

More storage for carry-on baggage
18 feet longer than current 50-seat aircraft in our fleet

10
United First
®
class seats
20
United Economy Plus
®
seats
This one-of-a-kind aircraft will operate routes to and from Chicago O'Hare this summer, followed by New York / Newark.
But that's not all.
We'll be further investing in the premium cabin experience by enhancing three additional aircraft types with more United First and United Polaris® business class seating.
21

767-300ERs

Current

30

United Polaris
business seats

NEW
46
United Polaris
business seats
+
22
United
®
Premium
Plus seats


with more routes to come
Our first 767-300ERs will be delivered 02/2019,
with all joining our fleet by the end of 2020.
All

A320s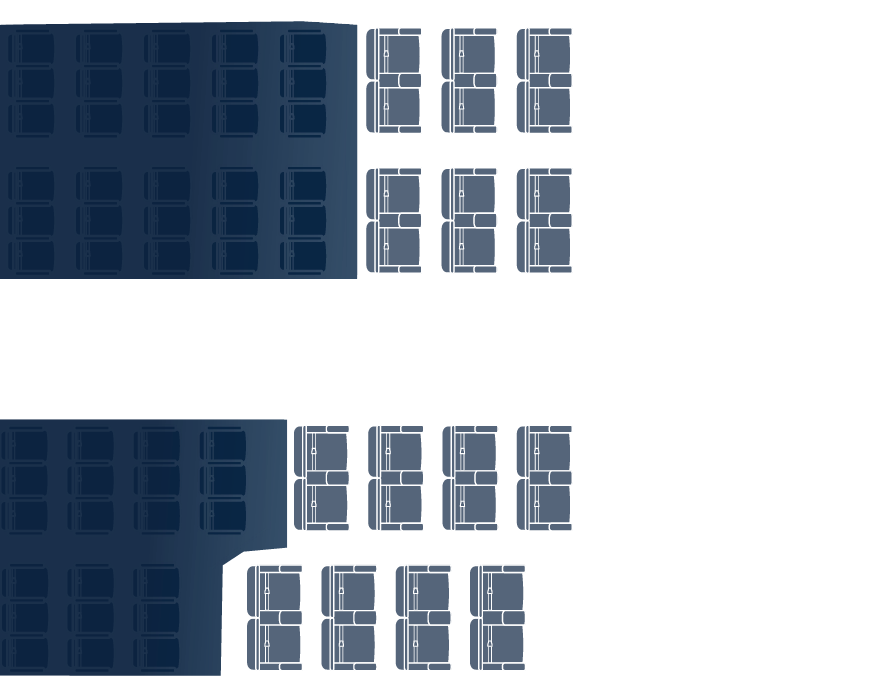 Current
12
First
class
seats

NEW
16
First
class
seats
All

A319s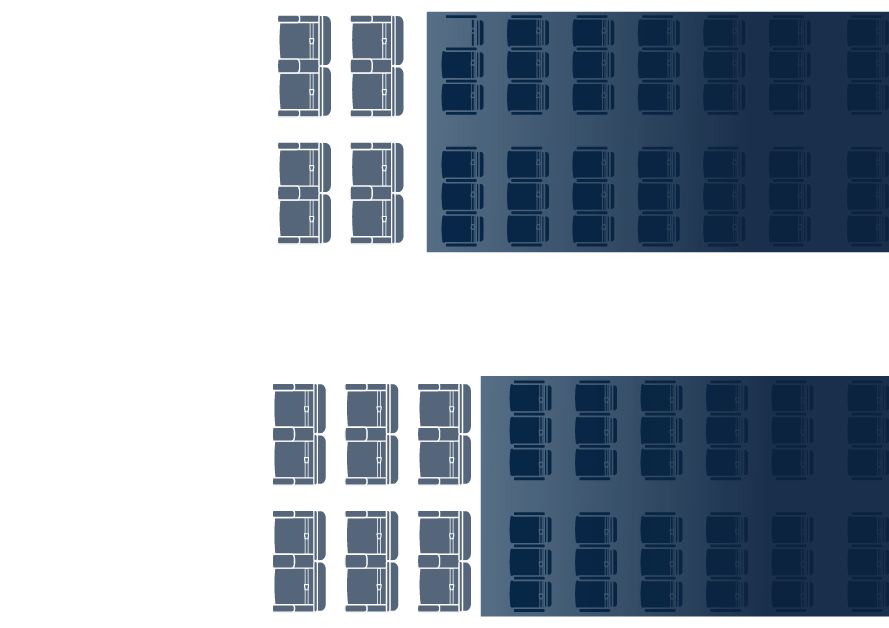 Current
8
First
class
seats

With these enhancements, we will add 50 percent more premium cabin seats to more than 100 aircraft.
Explore Asia's most magical temples
Similar to European cathedrals, Asian temples are impressive and intriguing. The history and religious traditions are as robust and complex as the architecture; some are taller than 20-story buildings and have stood for more than 1,000 years. These cities are the most accessible for explorations of many of Asia's most awe-inspiring houses of worship.

Japan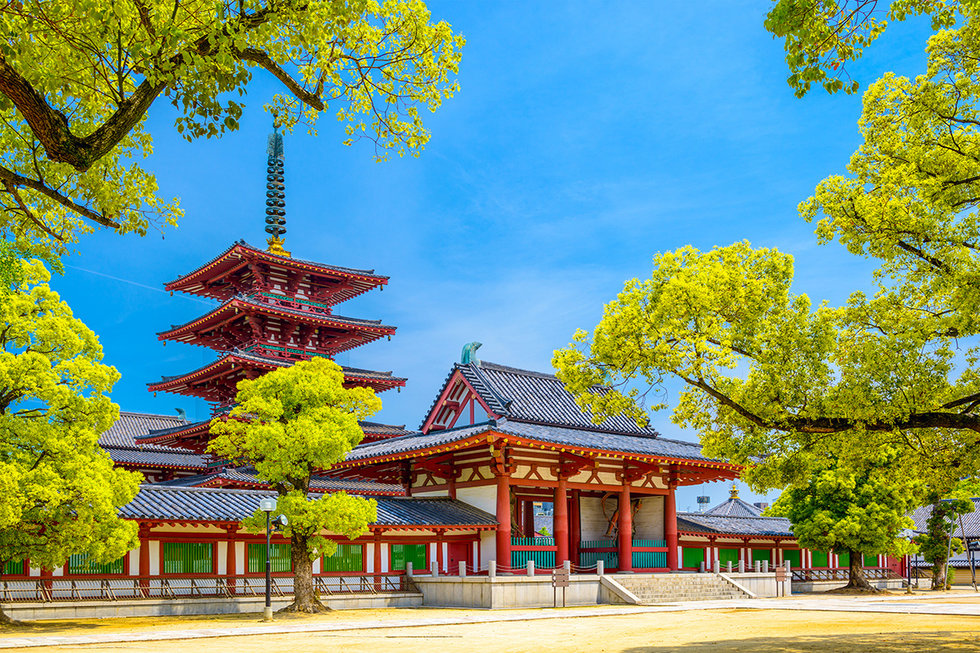 The 33-temple pilgrimage route in Japan's Kansai region is dominated by Kyoto's 12 Buddhist temples, but also includes five or six each in Shiga, Hyogo, Nara, and Osaka—all easily reached from Osaka International Airport. Kyoto's leading temples include the aesthetically beautiful Temple of the Golden Pavilion, the hillside Kiyomizu-dera Temple, and the 13th-century Chion-In Temple. In nearby Nara are the Seven Great Temples, notably the ancient imperial temple, Yakushi-ji, which like most of Kyoto's temples are UNESCO World Heritage Sites.
India
Many of Asia's most noteworthy temples are in India—mostly centuries-old Hindu temples. But Delhi's architecturally stunning Lotus Temple is the locus of the Baha'i faith and was completed in 1986. Twenty-seven massive marble "petals" envelop a 2,500-capacity hall that's open to visitors of any faith. It's been called the world's most visited building. Two of the country's other most renowned temples are also in northern India: the lakeside Golden Temple in Amritsar, the world's most revered Sikh temple, and the castle-like Jain Temple in Ranakpur, which is sacred to the Jains.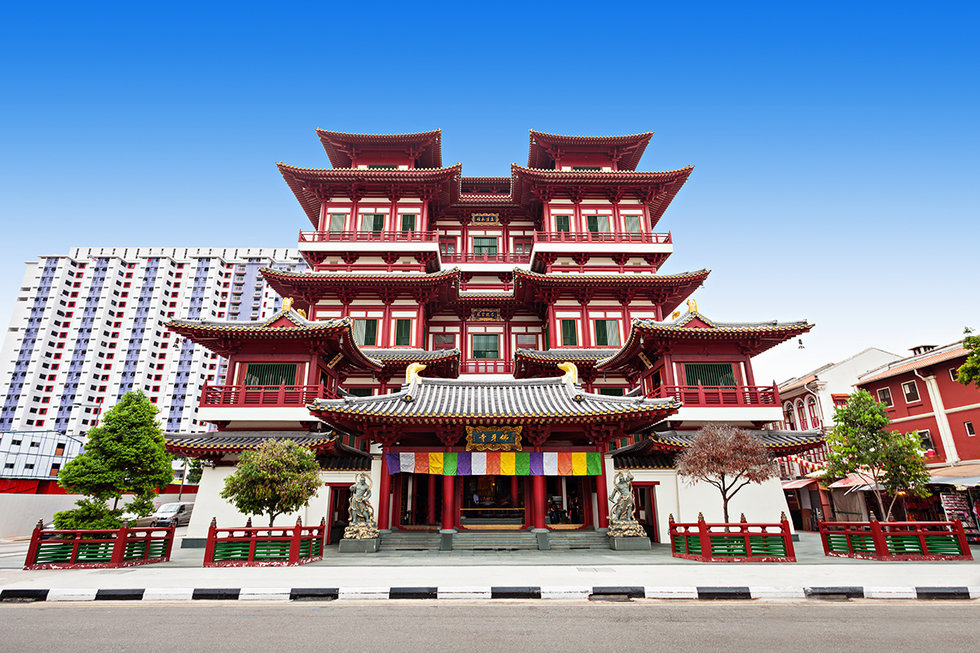 Singapore
Three special temples are found in Singapore, East Asia's wealthiest and smallest country — the country is smaller than New York City. The Buddhist Tooth Relic Temple and Museum is a visually dazzling building in Chinatown with a giant prayer wheel in the rooftop garden and what believers regard as the tooth of Buddha inside. The Sri Veeramakaliamman Temple in Little India is as lavishly colorful as its name is long. And Sri Mariamman is an exquisite white-and-gold temple that honors the goddess of rain.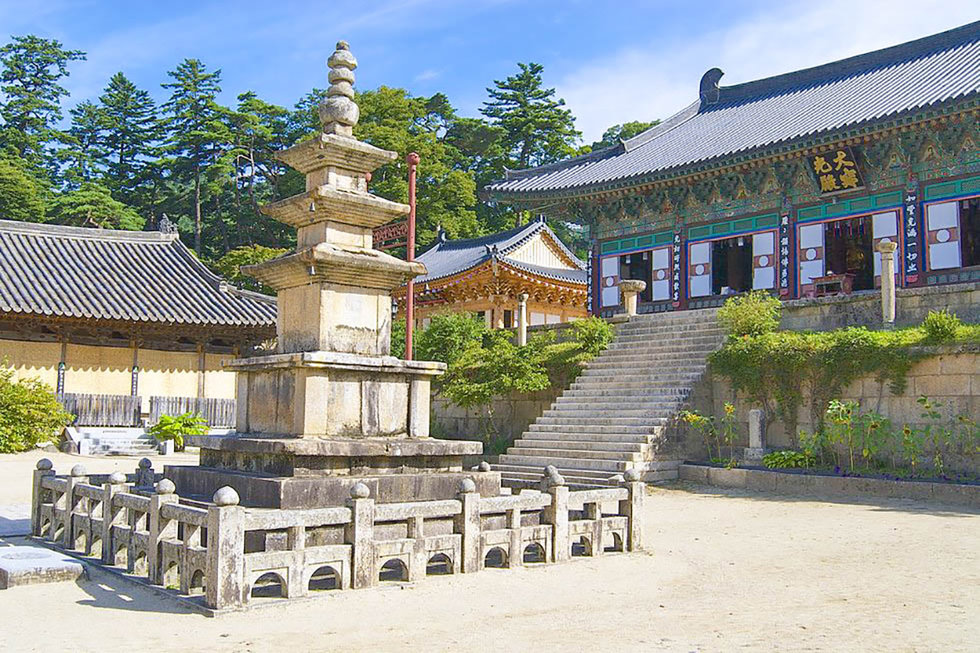 South Korea
Seoul is a densely populated city of 10 million, yet tucked right downtown is an island of tranquility — the Jogyesa Temple, which has preserved Korean Zen Buddhism over the years. In the southern mountains of South Korea, meanwhile, travelers can visit the Three Jewels Temples — the most revered Buddhist temples in the country. Tongdosa Temple includes one building that was built 2,600 years ago, the Haeinsa Temple houses all of the Buddhist Scriptures on 81,350 wooden blocks and the Songgwansa Temple is an active monastery in a coastal provincial park.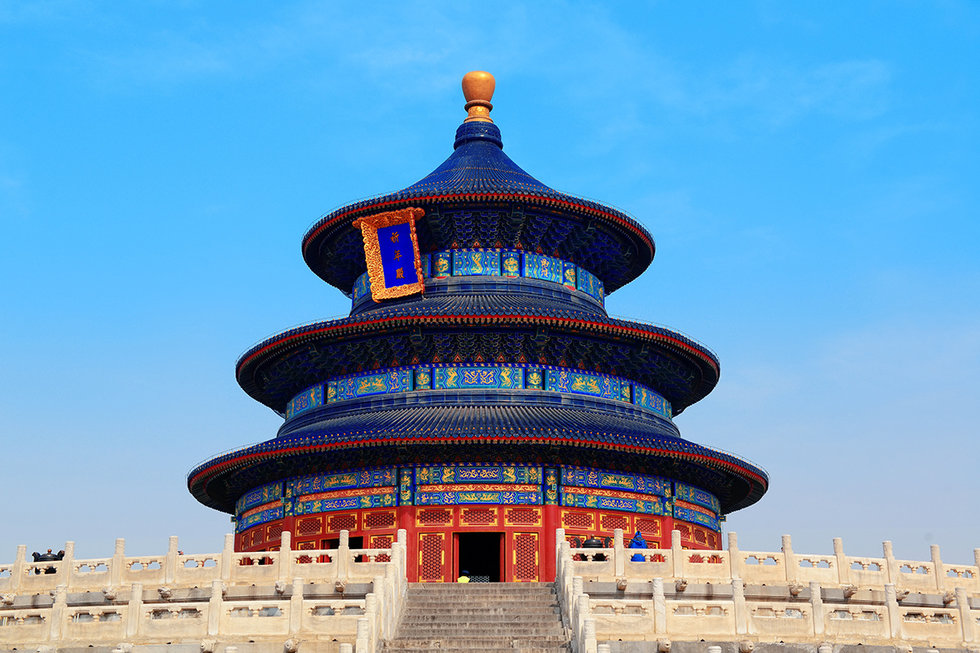 China
The same 15th-Century emperor who had the Forbidden City built — about 1,000 buildings which include his palace (now the Palace Museum) — also built the Temple of Heaven in Beijing. The central Beijing Taoist temple complex can only be described as mind-boggling. The park-like grounds include numerous ornate palaces, halls, pavilions, turrets, gates, gardens and ponds. Also in Beijing is the Lama (or Yonghe) Temple, a former imperial palace and now a temple and monastery for Tibetan Buddhists.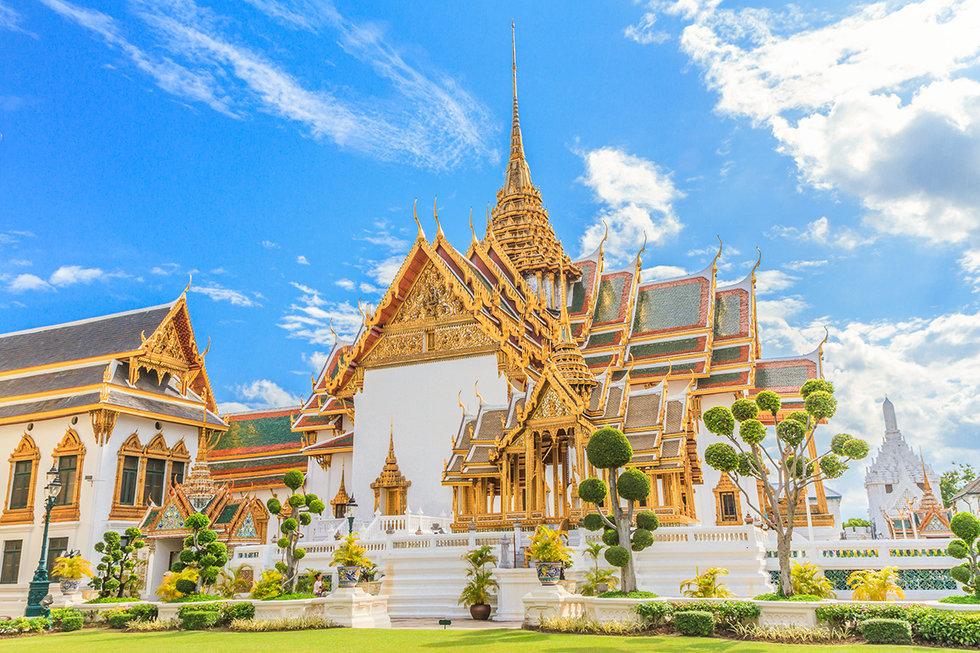 Thailand
Bangkok's three most popular attractions are conveniently all side by side in the city's historic district. One is the Grand Palace and the other two are grand temples. On one side of the palace is the Temple of the Reclining Buddha, named after the 150-foot-long golden Buddha that's housed in its own mural-decorated chapel. Also in the temple complex is Thailand's largest collection of Buddhas. On the other side of the palace is the Temple of the Emerald Buddha, named after a treasured Buddha carved from a single jade stone.
If you go
United® flies to Osaka, Delhi, Singapore, Seoul and Beijing. United partner All Nippon Airways flies to Bangkok. Visit united.comor use the United app to make your temple travel plans.
Three Perfect Days: Charleston
Story by Ellen Carpenter | Photography by Peter Frank/Edwards | Hemispheres, February 2019
Back in 1874, The Atlanta Daily Herald's Henry W. Grady coined the term "the New South" to encourage people to move beyond the fraught antebellum period and see the region in a fresh light, "thrilling with the consciousness of growing power and prosperity."
That tag has been bandied about in recent years—Nashville is the capital of the New South one day, Atlanta the next—but nowhere are that growing power and prosperity more evident than in South Carolina's largest city, where it seems as if 10 new (and great) restaurants open each month, where Volvo just set up shop with a $1.1 billion plant and Boeing is building its 787 Dreamliners, where 28 people move in each day. The Holy City is a mecca for tourists—6.9 million came in 2017, probably half of them for a wedding—who are just as hungry for rice grits and selfies in front of Georgian row houses as they are for a history lesson. What they'll find will fill them up and still leave them asking for seconds, albeit very politely.
Opener: The Historic District's colorful Elliott Street. Here: the backside of the Dock Street Theatre
Day 1:
Playing pirate, "firing" cannons, and plowing through pimento cheese
Eric Lavender of Charleston Pirate Tours
Let's go ahead and get the kid questions out of the way: Yes, I'm a real pirate. No, I'm not firing my gun. Yes, my parrot is real. No, we're not gonna take any ships. No, pirates did not make enemies walk the plank—that was Peter Pan."
Eric Lavender, swashbuckling chic in full pirate regalia—tricornered hat, knee-high suede boots, black breeches, regal gray captain's coat with pewter buttons, pistol at one hip, saber at the other—is standing in front of the Powder Magazine, the oldest government building in Charleston (built in 1713). He's about to lead me, my husband, Chris, our 6-year-old son, Calder, and five other history-hungry out-of-towners on one of his daily Charleston Pirate Tours, and to spin yarns about "the who's who of pirates that came through."
"What better way to get a first grader excited about history than having a guy with a parrot on his shoulder tell him about beheadings and pillaging?"
Charleston's history is intrinsically linked to piracy (did you know pirates introduced the rice that's so integral to Lowcountry grits, bringing it from Madagascar?), which is why we want to start our trip with Captain Eric. What better way to get a first-grader excited about history than handing him a foam sword and bandanna and having a guy with a parrot on his shoulder tell him about beheadings and pillaging? As we amble through the Historic District, down Unity Alley, where George Washington kept his mules when he was in town ("If it's good enough for Washington's ass, it's good enough for us," Eric jokes), and past the multicolored houses on Instagram-friendly Rainbow Row and the country's oldest liquor store ("Charleston is a drinking city with a history problem"), Eric tells us about famous pirates of yore—Mrs. Chang, Stede Bonnet, Anne Bonny, and, of course, Blackbeard, who marauded the port of Charleston before meeting his bitter end off of North Carolina's Outer Banks. "You know how he knows all that stuff?" Calder whispers, after Captain Eric lets each of us hold one of his weapons for a final group photo. "Because he's a real pirate." Success.
Rainbow Row, a series of pastel Georgian houses on East Bay Street dating back to 1740
After two hours of walking, we're ready to eat. Luckily, Husk is just four blocks from the Old Exchange Building, where our tour ends. Just as piracy put Charleston on the map back in the late 1600s, Husk ushered in the city's foodie era when it opened in 2010. Founding chef Sean Brock recently departed for Nashville, but the restaurant—located in a beautiful, late-19th-century Queen Anne–style home—and executive chef Travis Grimes still celebrate Lowcountry cooking with highfalutin technique. We start with addictively sharp pimento cheese toasts that are way better than pimento cheese has any business being. The fried chicken has the kind of crackly crust you only see on TV, and the Bibb lettuce salad is a lesson in simplicity. The only negative is that we're too full to eat dessert.
"We amble through the Historic District, past the multicolored houses on Instagram-friendly Rainbow Row and country's oldest liquor store."
Chris and I figure we should keep the history lesson going, so we take a cab to the waterfront and catch the ferry to Fort Sumter, where the first shots of the Civil War were fired in 1861. I grew up spending my spring breaks touring Civil War battlefields and forts with my American historian mother, but I'd forgotten how fascinating they are for kids. As soon as we reach the fort, Calder is off: hiding in the shadows of the munitions room, looking for enemy ships through peepholes, loading the cannons with imaginary gunpowder. When he sticks his head inside the barrel of a columbiad cannon, I explain how that's not proper protocol—but only after I snap a photo.
Before heading back on the ferry, everyone convenes for the lowering of the flag. A park ranger, James Drass, invites 20 volunteers to come help. "Don't ever take your freedom for granted," Drass says, as the group folds the flag, south to north, north to south, then in triangles. "I submit to you that America is an amazing country," he continues. "We are a diverse country. It's inherent we're going to have differences. But despite all of our differences, we have one common denominator: We are all Americans." The crowd is silent, and more than a few people wipe away tears, me included, and then everyone breaks into applause.
The meticulous garden at the Pineapple Gates House
The sun is already setting when we make it back to the mainland, but we decide to walk the 15 minutes back to the Historic District (it's easy to get around on foot downtown) and meander through the Charleston City Market before dinner. It seems as if every tourist in town has the same idea. The market, a series of sheds that stretches four city blocks, opened in 1804—statesman Charles Cotesworthy Pinckney gave the land to the city, stipulating that it had to be used as a market "in perpetuity." I doubt they had a Christmas shop open year-round in 1804, but they do now, along with 300 other spots, including a toy store, a haberdashery, and a handful of places selling traditional sweetgrass baskets. We stop to watch an artisan weave one, her nimble fingers methodically alternating strands of dried native sweetgrass. I want to buy one, but Calder is waning and I realize we better get him fed before a meltdown ensues. Traveling with kids!
"The addictively sharp pimento cheese toasts are way better than pimento cheese has any business being."
Fortunately, our hotel, the grand Belmond Charleston Place, is a block away, and dinner is just downstairs, at the Charleston Grill. We do a quick costume change—thank goodness for our spacious suite's two bathrooms—and make it to the restaurant only five minutes late for our reservation. Five minutes after that, I'm sipping a glass of Bone Dry rosé (Calder goes pink too, with a Shirley Temple) and we're enjoying the jazz trio's rendition of "Billie's Bounce."
I devour my crab cake, bathed in a lemony butter sauce, while Calder co-opts Chris's charred octopus. "Next time, you're getting your own appetizer," Chris tells him as he concedes the plate. We all trade bites of our mains—sea bass in a creamy curry sauce for me, scallops with salsa verde for Chris, kid's menu spaghetti for Calder—and then take turns choosing from the assortment of chocolates and gelées that our waiter brings us as a parting gift. We leave humming the strains of "The Very Thought of You," take the elevator upstairs, and promptly pass out.
The Charleston Grill, where a jazz trio plays every night
Day 2:
Making BBQ, rescuing sea turtles, and rocking out
I promised myself biscuits for breakfast every morning in Charleston, and by golly I'm starting out right at Hominy Grill, a beloved 23-year-old spot in the residential Cannonborough-Elliotborough neighborhood, just north of downtown, that serves breakfast all day. I go savory with biscuits and gravy while Chris and Calder both go for pancakes, fluffy and stacked high. The coffee refills keep coming, and in no time we're ready to tackle the day.
An 1857 Italinte home in the Historic District
We hop a cab back to the Historic District and climb into a different set of wheels: a carriage pulled by two brown and white horses, Sally and Deedee. Horse-drawn carriages seem to outnumber cars downtown—a trend Palmetto Carriage Works launched in 1972 when it became the first company to offer tours. And the horses, I've made sure, are well cared-for: They work only five hours a day and get to spend about five months a year relaxing on a farm on Johns Island. Our guide, Gay Spear, is brash and witty and an endless font of information. As we mosey along, past landmarks like the Circular Congregational Church on Meeting Street and dozens of perfectly preserved historic homes, she offers up funny one-liners ("If you dig here, you're gonna find one of two things: a cannonball or a body") and interesting design notes, like the origin of the pineapple as welcome sign. Turns out back in the 1700s women used to put pineapples out on the gate port to let people know their husbands were home from their sailing voyages—or "to let their lovers know not to come that night!"

Rodney Scott at his namesake BBQ spot
We bid farewell to Sally and Deedee, and then I bid farewell to Calder and Chris—they have a date with the rooftop pool at the Belmond, while I'm due to meet Mr. Rodney Scott BBQ himself for a lesson in whole hog cooking. Scott won the James Beard Award for Best Chef: Southeast in May, just a year after opening his restaurant in the North Central neighborhood. "Now I can't go anywhere without someone recognizing me," Scott says with an easy smile as he leads me from the bright restaurant to the pit out back. "People at the airport will be like, 'Are you that guy?'"
"When he opens the door to the pit, the smell of oak and hickory practically knocks me over."
When he opens the door to the pit, the smell of oak and hickory practically knocks me over—in the best way possible. He heads over to the fire and shovels a pile of wood coals into one of the five pits, something staffers do every 15 to 20 minutes. "It's more procedure than secret," he says, as one of his employees mops "Rodney Sauce" over the hogs.
I somehow refrain from ripping off a piece of meat to eat right then and there, and head back into the restaurant for a proper lunch: a big pile of pork, potato salad, and coleslaw with a sweet iced tea that is sweeter than any iced tea I've ever had (and I grew up in Kentucky). The vinegar tang of the Rodney Sauce cuts through the fat of the meat perfectly, and I'm in hog heaven.
The Great Ocean Tank at the South Carolina Aquarium
Now it's time to feed something else: We've arranged for Calder to get a behind-the-scenes tour of the South Carolina Aquarium, where he is literally able to feed the sharks. But first we check out the Zucker Family Sea Turtle Recovery, which the aquarium opened in 2017. Sea turtles are Calder's favorite animal, so he couldn't be more excited to play vet at the interactive stations where he can "diagnose" a sick turtle and also meet the rehabilitating patients currently swimming in individual tanks. Many of them are named for Harry Potter characters; Voldemort and Hagrid are dead ringers.
After a trip to the gift shop to buy a snap-bracelet sea turtle stuffie (yes, it's a thing), we meet our behind-the-scenes guide, Lea Caswell, who leads us to the top of the 42-foot Great Ocean Tank (the tallest in North America), where another aquarium worker has a bucket of fish ready to feed the blacktip, sand tiger, and nurse sharks. Calder asks why the sharks don't eat the other fish in the tank, and Caswell responds, "Would you rather take a free meal or cook your own?" "I'd rather have Mommy cook me a meal," Calder says. That's my boy.
"The turtles are named for Harry Potter characters; Voldemort and Hagrid are dead ringers."
A patient at the Zucker Family Sea Turtle Recovery
Tonight, however, Mommy's leaving the cooking to the pros. From the aquarium, we hop a ride up King Street—a 300-year-old thoroughfare that's now restaurant row, basically—for dinner at The Grocery, a farm-to-table spot that's a fixture on Eater Charleston's "essential" list. We start with the charcuterie plate, which features duck-liver mousse topped with watermelon-rind mostarda, sopressata, coppa, and an array of pickled vegetables, including okra, which Calder inhales. The manager notices his fondness for pickles and brings us another helping.

My glass of gamay pairs perfectly with my duck confit, cooked with shatteringly crisp skin. Chris is so into his snapper that he forgets to give me a bite, and Calder attacks his pizza as if he hasn't eaten all day. (Note for parents: There's a "verbal" kids menu.) We cap it off with a shared banana pudding topped with gorgeous peaks of toasted meringue.
The charcuterie spread at The Grocery
Calder's ready to pass out, but I have a big night ahead of me. While the boys roll back to the Belmond, I head down King Street for a night out on the town with the Grammy-nominated rock group Band of Horses. Shaggy-haired lead singer Ben Bridwell grew up in South Carolina, and he and mustachioed drummer Creighton Barrett relocated to Charleston in 2006 after a decade in Seattle. I meet them and James Hynes, the CEO of local recording studio and record label Rialto Row, at The Rarebit, which they tell me has "the best Moscow mules anywhere."
The band is in the thick of recording a new album, their first time doing so in Charleston. Bridwell actually rented a plantation—on Airbnb!—for a personal writer's retreat. "A real-a** plantation!" he says, eyes wide. "For $150 a night!" The music scene in Charleston, he says, has changed dramatically in the past few years—from "residual Dead hippie college stuff" to "indie rock, Americana, melodic punk…" So, basically, it's cool now.
To show me just how cool, they take me to the center of the scene: The Royal American, a former ironworks on the train tracks that's now a music club. A rock band is playing on a stage behind the bar, smoke machines in full effect, and the place is packed shoulder to shoulder with 20-somethings sipping beers. We grab a round and take a seat on the patio, where we compete with passing trains to be heard. It's approaching 11 now, bedtime for me—but the guys' night is just getting started. They're raring to head into Rialto Row to record. "We'll work until 3 or 4, go home and sleep a couple hours, and be up with our kids at 6," says Barrett. "It's great." Amazed at their stamina, I say g'night and leave them to it.
A band performs behind the bar at The Royal American
Day 3:
Catching waves, slurping oysters, and looking through an artist's lens
A brick walkway at Waterfront Park
A brick walkway at Waterfront ParkOh, biscuits, how I love you. This morning we feast at Callie's Hot Little Biscuit on King Street, where the line is already out the door by 8:30 a.m. We dig into a variety of fluffy buttermilk creations: plain, cheddar-chive, blackberry jam–topped. I pop the mini cinnamon ones like Cheetos. I want to get some to go, but I know we have a full day of eating ahead.
But first, a beach excursion to Sullivan's Island. We rent a car for the day and cruise over the Arthur Ravenel Jr. Bridge, with its two diamond-shaped cable towers, through Mount Pleasant, and on to the sand-lined streets of Sullivan's in just 25 minutes. On the agenda: roll up our pants and splash in the waves, hunt for seashells, and admire the gorgeous three-story cottages lining the wide beach. Calder keeps his eyes peeled for sea turtles to rescue and is amazed to learn that this ocean is the same one we have in New York.
All this oceanside action has us hungry for some seafood, so we drive back into town for lunch at Leon's Oyster Shop, a fun spot on the upper reaches of King Street famous for oysters, yes, but also fried chicken. The space, a former auto body shop, is kitted out in fairy lights and maritime paintings. Chris and I fight over the last of the chargrilled oysters, which taste like ocean and fire bathed in butter, while Calder happily munches his fried shrimp. I move on to the fried chicken sandwich, moist and crunchy and served with a cooling cucumber and sesame seed salad, and Chris opts for the seafood fry-up. Calder declares his rainbow sprinkle–topped soft-serve better than Mister Softee in New York.
Leon's Oyster Shop
We check into our new digs, The Dewberry, a hip Mid-Century Modern–style hotel that opened in 2016 in a former 1960s federal building, and while all we want to do is take a nap, we rally and cross Marion Square to The Halsey Institute of Contemporary Art at the College of Charleston. I'm eager to see the current exhibit, Southbound: Photographs of and About the New South, which runs through March and features images taken by 56 21st-century artists exploring their perceptions of the American South. The variety is astounding. There are shots of Civil War reenactors, Black Lives Matter marches, empty storefronts, migrant workers, and high school homecoming queens. Seeing all these snippets of life makes me think that there's not just one South—it's impossible to generalize about or judge such a wide swath of our country.

The pecan-smoked fish spread at Parcel 32
Calder's beat and not up for a restaurant meal; Chris gamely offers to take him back to the hotel for some takeout so I can keep my res at Parcel 32, a new Lowcountry-Caribbean restaurant with an airy, outside-in design. I take a seat at the bar and get the pirate-inspired Anne Bonny rum cocktail (and somehow refrain from making an "arrrr" joke). Serendipitously, Band of Horses' "The Funeral" plays over the stereo. Even though I'm dining alone, I order as if I'm with the fam: I start with a pecan-smoked fish spread served with Ritz crackers and pecan-meal hush puppies topped with pimento cheese and Benton's bacon powder. (I need a jar of that in my life.) Next are short ribs, fragrant with clove, allspice, and nutmeg atop a bed of creamy coconut-milk Carolina Gold rice grits.
The Panic Button cocktail at The Living Room, in Dewberry
Chef Shaun Brian, wearing a white apron and a bicycle cap, swings by to say hello. He grew up on St. John—he moved to Charleston after losing his restaurant there to hurricanes Irma and Maria—so he comes by the island influence in his cooking naturally. "It makes a lot more sense than I ever thought it would'" he says, giving me a thorough history of the spice trade and the Caribbean's influence on Charleston, going back to the 1600s. "At the end of the day, I still think of myself as an ambassador for my home islands, but I'm in a place where I have much more ability to make an impact."

I get a slice of sweet potato pie to go for Chris and walk back to The Dewberry. There's a wedding party going hard in the ballroom, but The Living Room, with its beautiful bronze bar, is calm and inviting, so I get a couple of drinks to take upstairs for us to enjoy with the pie. I tiptoe into our room, past Calder asleep on the velvet couch, turtle stuffie tucked under his arm, and join Chris in the four-post bed. We pass the pie back and forth—it goes great with my Dewberry Daiquiri—and share photos from the trip, laughing at the videos Calder took without our knowledge on the carriage tour. One starts on a perfectly preserved Federal-style home and then goes slo-mo (Calder's favorite video function), weaving down the street and stopping at a dump truck outside a derelict home ready to be remade. The significance—the city's constant push and pull to preserve and reinvent itself—doesn't hit me until we turn off the lights and say good night.
Sullivan's Island
An insider's guide to Hong Kong
A bustling, neon-soaked metropolis that floats effortlessly between the Old World and the future, Hong Kong is the most visited city on the planet – and for good reason.
What to know before you go
Visitors are usually drawn to two areas: the northern side of Hong Kong Island and Kowloon – the neighborhood attached to mainland China. The two areas are separated by Victoria Harbour, linked by the Star Ferry and the MTR.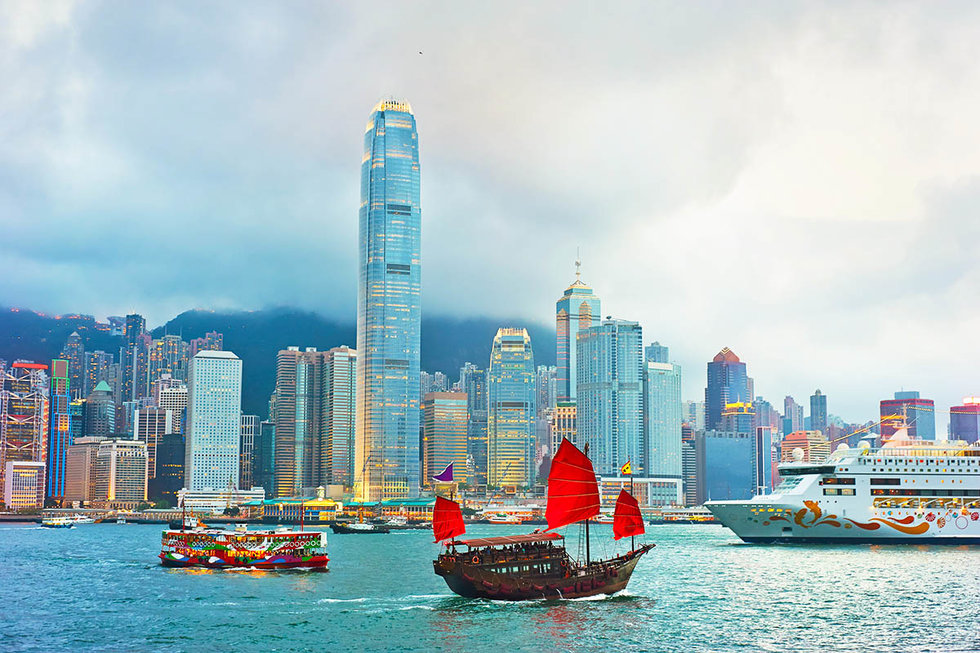 As a general rule, Hong Kong Island is the heart of Hong Kong's financial district and packed full of vast hotels and many of its best restaurants. Kowloon is more authentically Chinese, its streets narrower, its buildings less sleek and its prices generally lower.
In Kowloon…
Make time to visit Wong Tai Sin, a temple dedicated to Great Immortal Wong and home to three leading Chinese religions: Buddhism, Taosim and Confucianism. It's instragrammable, no question, but Wong Tai Sin's enduring popularity may be explained by the temple's claim that it can "make every wish come true upon request."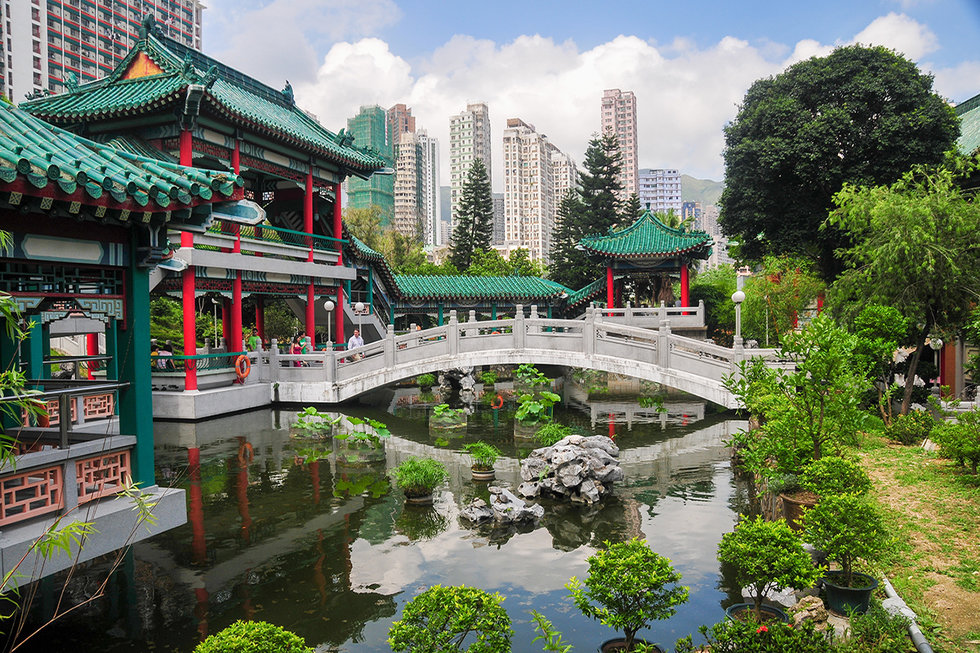 The area of Tsim Sha Tsui is home to many of Hong Kong's best museums, including the Museum of Art, the Space Museum, the Science Museum and the Museum of History, the latter managing to squeeze some 400 million years' worth of history into a 7,000 square meter space.
The markets of Kowloon are unmissable in both senses, particularly the Ladies' Market on Tung Choi Street. With more than 100 stalls stretching out for a kilometer, head here and haggle for that new watch, bag or pretty much anything else you didn't know you needed. If you still have space in your luggage, the streets around Sham Shui Po are lined with a bewildering array of markets and traditional Chinese pawn shops. If you're around when night falls, the Temple Street Night Market is Hong Kong's liveliest, awash with stalls selling everything from trinkets to antiques.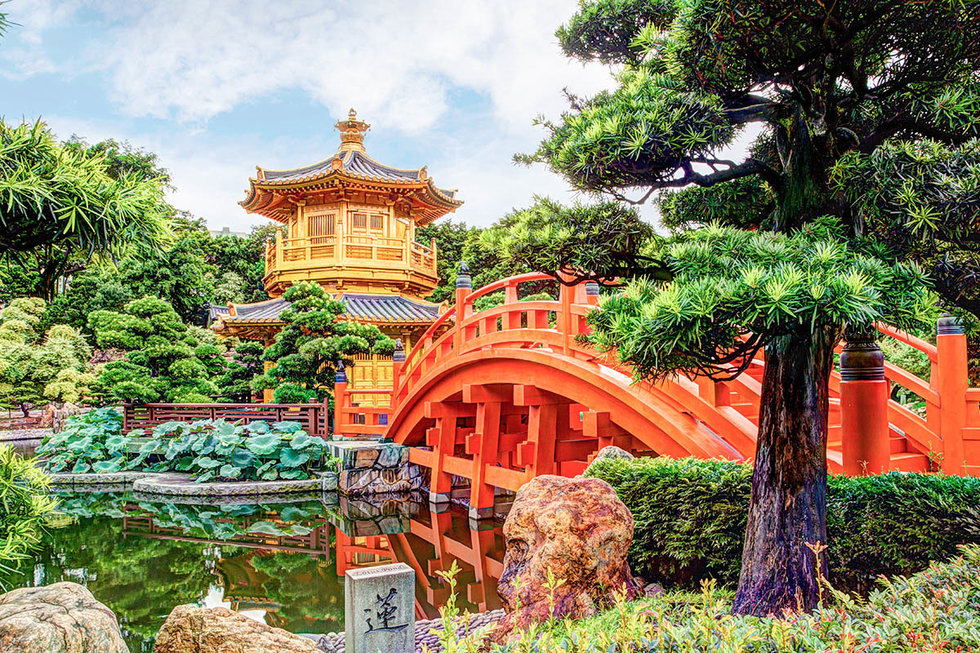 After exploring Kowloon, hop on the Star Ferry to get across Victoria Harbour to Hong Kong Island. If you time it right (around 8 p.m.), you'll be able to witness the Symphony of Lights up close, a nightly performance that includes lasers light up the skyscrapers on both sides of the harbor.
On Hong Kong Island…
Hong Kong's single-most essential experience involves taking the Peak Tram up Victoria Peak to get spectacular views looking down on Hong Kong Island and Kowloon Harbour. At 1,811 feet, it's the highest hill on the island. But the gravity-defying tram does most of the hard work for you, carrying you up towards the heavens and past some of the most expensive real estate on the planet.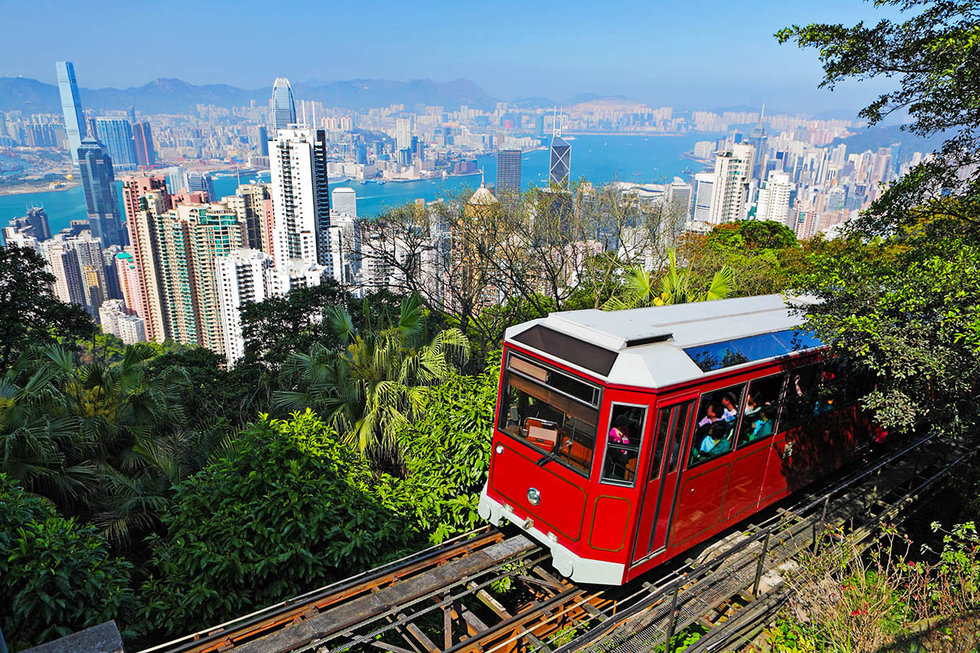 The Mid-Levels Escalator is a vast, interconnected system designed to ferry commuters up and down Hong Kong's steep hills. Wait for rush hour to pass, then hop on at the Central stop and off at any of the markets, bars or restaurants that catch your eye along the 25-minute route.
Another temple worth visiting is the Man Mo Temple in Sheung Wan. Honoring the gods of literature ('Man') and of war ('Mo'), it's one of Hong Kong's oldest temples, dating back to 1847 and somewhat incongruous among the super-structures of the island's financial district. Pause for thought under its giant hanging incense coils as the world moves all around you.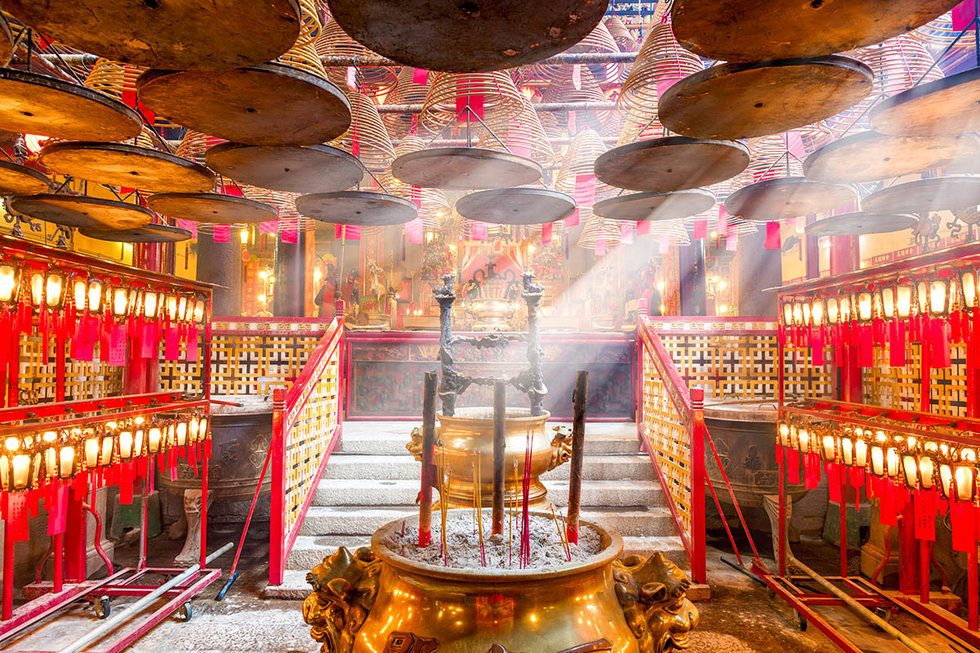 Take a short walk southeast of the temple, past the Zoological and Botanical Gardens, and you'll come to the "lungs of the city" in Hong Kong Park. An unexpected oasis of calm and tranquility, the park features museums, playgrounds and a "rainforest" aviary with more than 80 species of birds.
Where to eat
Wherever you roam, from the food stalls of Mongkok and Jordan to the uber fine-dining of Central, eating well and finding food to suit all budgets and tastes in Hong Kong is no problem at all.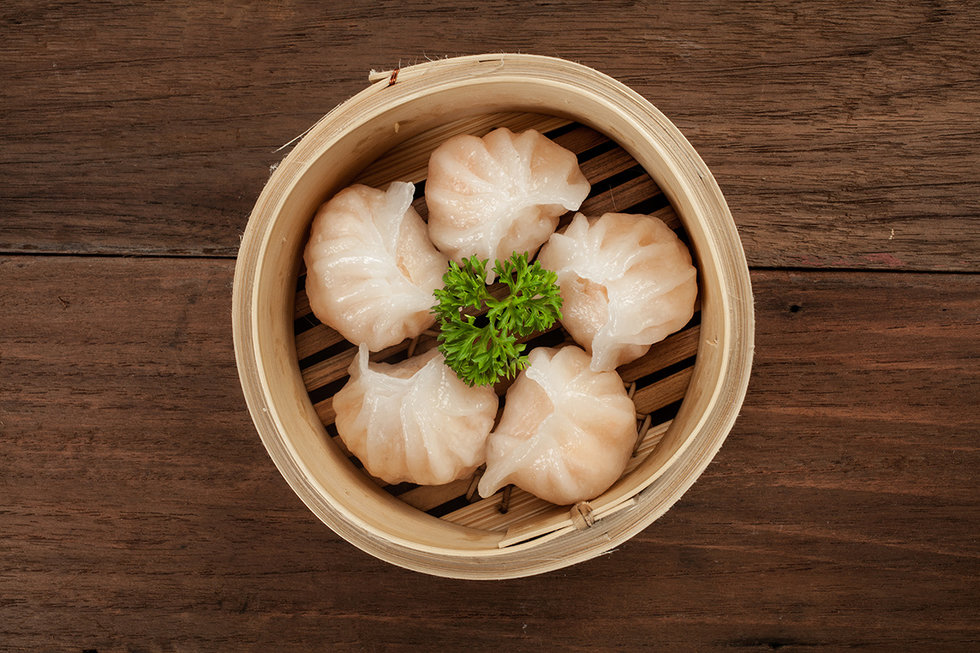 For high-end, consider any of the city's seven three-starred Michelin restaurants (one in Kowloon, six on the island), the top pick of which is the permanently fully-booked Lung King Heen. For some of the world's cheapest Michelin-starred dim sum, grab a seat at Tim Ho Wan and expect the best dim sum you've ever tasted for less than $10. Elsewhere, The Chairman and Spring Deer are both notable – the former for its signature dish of pigeon with loonjing tea and chrysanthemum, the latter for its sublime roast Peking duck.
As impressive as they are, however, don't leave Hong Kong without sampling at least a few local street stall delicacies. Curry fish balls, siumai dumplings and stinky tofu are entry-level staples; the deep-fried pig intestine is a more acquired taste.
Where to stay
To be within walking distance of many of Hong Kong's main attractions, plus its best bars and restaurants, aim to stay around Central on the north shore of the island.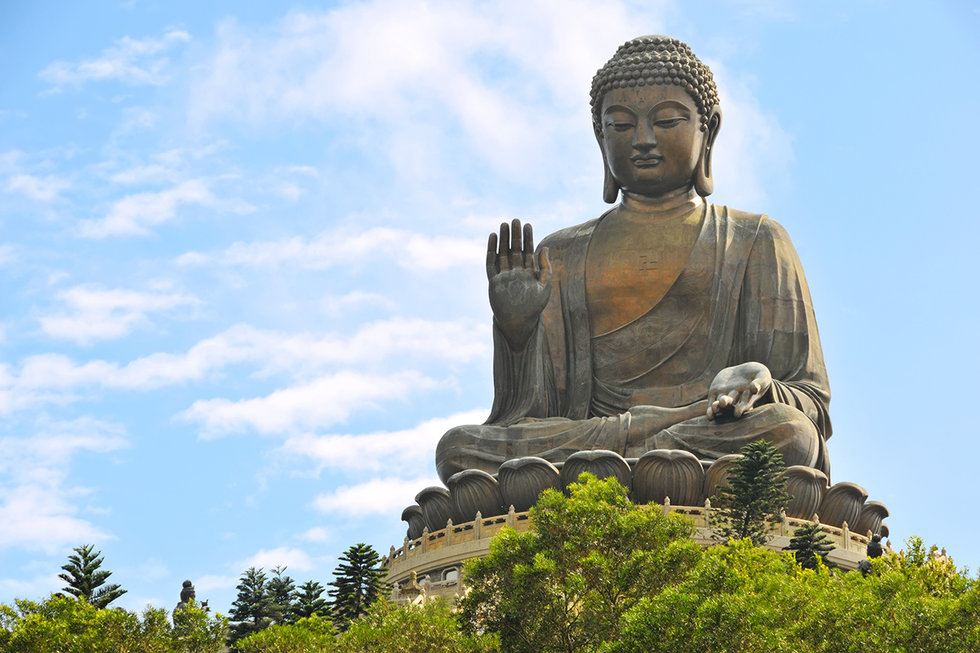 When to go
October through December is Hong Kong's dry season, with more comfortable temperatures and favorable room rates, but it's also when pollution can be at its highest. For better visibility (and more impressive scenery), come in July or August but be prepared for high humidity and summer showers. Unless you like higher prices and longer lines, avoid the Chinese national holidays ("golden weeks") in January, February and October.
Getting there & getting around
Fly into Hong Kong International Airport (Chek Lap Kok) from multiple cities in the U.S. From there, you're a quick 25-minute drive to Hong Kong's city center. The quickest way is by taxi or by hopping onto the Airport Express trains that depart every 10 minutes and drop you off at Kowloon and Central stations.
While much of Hong Kong's center is walkable, download the Mass Transit Railway app before you leave home. The MTR is the fastest way of getting around the city, its 90 stations covering all the areas you'll want to reach. Another good option is what the locals refer to as "the ding-ding" – Hong Kong's tram system that zig-zags throughout the city.
Visit united.com or download the convenient United app to book your flight.
Scroll to top