Three Perfect Days: San Francisco
Story by Justin Goldman | Photography by Amy Harrity | Hemispheres, October 2017
San Francisco is a city of booms. The first came in the mid-19th century, when prospectors were drawn by rumors of gold in California's mountains. Fifty years ago, hippies streamed to Haight-Ashbury in search of love-ins and electric Kool-Aid. And in the last decade, the tech boom has seen a flood of young entrepreneurs who are using Silicon Valley cash to change how we communicate with each other—and to imagine the city of the future. This latest influx has sparked controversy, as skyrocketing rents have priced out many of the people who gave the city its bohemian, devil-may-care spirit—an exoticism that inspired journalist Herb Caen's 1949 book, Baghdad by the Bay. So how is the old San Francisco (per Caen's instructions, don't call it "Frisco") blending with the new? Hemispheres sent this former SF resident home to find out.
In which Justin squeezes through Chinatown's alleys, channels the Beats, and gets rained on inside a bar
I open my visit the way it seems all San Franciscans begin their days: Standing in line for breakfast. I'm on Polk Street, the main thoroughfare of Nob Hill, waiting for the morning fog to burn off and for Swan Oyster Depot to open. This storied seafood market has been in business for more than 100 years, and if you want to get a spot at its 18-seat counter, you'd better get here well before the 10:30 a.m. opening. The front window teases me with a display of freshly caught fare on ice, and once inside I do my best to consume all of it: briny, creamy West Coast oysters; a beautiful sashimi plate with salmon, tuna, hamachi, and scallops; sourdough dipped in crab fat; and perfect smoked salmon. I wash it down with the city's favorite brew, an Anchor Steam. Hey, it's almost noon.
A short cab ride takes me to the tech industry haven of South of Market (SOMA), where I'll be walking off my meal in the galleries of the San Francisco Museum of Modern Art. SFMOMA reopened last year after a three-year renovation that made it one of the largest modern and contemporary art museums in America. The permanent collection features Diego Rivera's Flower Carrier, Andy Warhol's Marilyn Monroe, and Marcel Duchamp's urinal, but my favorite part of the new building is the sculpture garden's lush Living Wall, which, at almost 30 feet tall and holding nearly 20,000 plants, is the largest of its kind in the U.S.
Coit Tower rises from the top of Telegraph Hill
It's a short walk across Market Street and through the towers of the Financial District to reach the oldest, largest Chinatown in the Americas. In Portsmouth Square, surrounded by huddles of elderly Asian men playing cards, I meet Sharon Traeger, a Tours by Locals guide who has agreed to tell me a bit about the neighborhood's history. The city—then known as Yerba Buena—established its first public square here in the early 19th century, and the Chinese, Traeger notes, moved in at the beginning of the gold rush. After the 1906 earthquake destroyed much of San Francisco, officials tried to push the Chinese community farther from downtown, but after protests, Traeger says, "the city eventually allowed them to stay here, on the condition they rebuilt it to look Chinese."
We exit the square and zigzag through crowded alleys, below colored balconies and alongside shops carrying everything from sea cucumbers to giant mushrooms. After tasting samples at the Golden Gate Fortune Cookie Factory, we climb three flights of stairs to the 1852 Tin How Temple, a tiny space decorated with lanterns, embroidered fabrics, and bowls of fruit left as offerings to the goddess who controls the wind and the waves.
Our next stop is China Live, a food hall that's aiming to bring this historic neighborhood into the future. Founder and executive chef George Chen meets us at the entrance. "China's changing, yet Chinatown's the same as it was 50 years ago," he says. "And Chinese food hasn't changed in this country that much. I wanted to do a marketplace to show that Chinese food can be ingredient-driven, just like any other cuisine. When I saw the success of Eataly"—Mario Batali's palatial Italian food emporia—"I said, 'If they can do it with Italian, why not here with Chinese?'"
Hanging Peking ducks at China Live
Chen shows us around the tea bar, decorated with hand-painted blue and white tiles, and the retail shop, where we sniff Eight Treasures tea and Sichuan peppercorns, then offers us a seat at the Marketplace Restaurant. He sends over a slew of small plates: xiao long bao soup dumplings, black tree ear mushrooms, roasted Peking duck served in sesame pockets, and richly spiced mapo tofu. We cool off with sesame soft-serve ice cream topped with mango shaved ice, which Traeger keeps inching closer to her. I can't say I blame her.
From here, it's only a block downhill to North Beach, SF's Little Italy. This city has a rich literary history—everyone from Mark Twain to Jack London to Alice Walker has called it home—and the center of it all is Lawrence Ferlinghetti's City Lights Bookstore. The poet published Allen Ginsberg's Howl in 1956 and then was put on trial for obscenity (he was acquitted), and City Lights has continued to distinguish itself by selling and publishing experimental works. I find a novel by a grad school classmate of mine, Marc Anthony Richardson, which I take across Jack Kerouac Alley to Vesuvio Cafe, the bar that the Beats favored back in the '50s. I wind up the stairs, past old fliers for readings by Kerouac and Bukowski and photos of Ginsberg and Dylan, and sit at a window table, sipping an Anchor Steam and flipping through my book. It's a perfect San Francisco happy hour.
"Chinese food can be ingredient-driven, just like any other cuisine. If they can do it with Italian, why not here with Chinese?"
Dinner is right across the street at Tosca Cafe. This nearly century-old neighborhood bar and restaurant was bought and updated in 2013 by the owners of New York's famed The Spotted Pig. Bon Appétit named Tosca one of the 10 best new restaurants in America in 2014, but it retains a homey feel. The bar in front has the air of an old dive, while the dining space looks like a classic red-sauce joint, with wine bottles lining the walls and a mural of Venice's Grand Canal. I meet my monthly calorie requirement with orders of tender meatballs, lumaconi pasta shells in beurre blanc, and a delicious roasted chicken. There's only one legitimate drink order: the House Cappuccino, a Tosca original that blends armagnac, bourbon, chocolate ganache, and milk. They were so busy putting all that good stuff in the "cappuccino," they forgot one thing: the coffee.
It's a five-minute cab ride up to my hotel, the Fairmont San Francisco. At the peak of Nob Hill, this old palace is a part of Bay Area lore. It was here, in 1961, that Tony Bennett first performed "I Left My Heart in San Francisco." The lobby, with its grand staircase and expanses of marble, is impressive, but I'm looking for a kitschy kick, so I take the elevator down to the Tonga Room, the beloved tiki bar that dates to 1945, when an MGM set director converted an indoor pool into a lagoon with a thatch-roofed bandstand in the middle, surrounded by ship's rigging and Polynesian artifacts. I sit at the railing and sip a mai tai—a tropical drink that was actually invented across the Bay at Trader Vic's—until lights begin to flash overhead, thunder rolls over the house speakers, and finally rain streams down from the ceiling onto the lagoon. Uh, did someone put some of that electric Kool-Aid in my drink? Either way, it's time for bed.
In which Justin takes a mural tour in the Mission, ponders where to put a taxidermied giraffe, and drinks a really, really old whiskey
I'm not sure if it's the clanging of the cable cars or the sun pouring into the 10th-floor Funston Suite that wakes me, but I open my eyes to a panoramic view of the Bay Bridge, Transamerica Pyramid, Coit Tower, Alcatraz, and Golden Gate Bridge—you know, all the landmarks that make this America's most beautiful city.
Even with the early start, I'm not down the hill and into the Mission District quick enough to beat the line at Tartine Manufactory, the new industrial outpost from the owners of America's most famous bakery. I make my way to the counter, where I order smørrebrød—a Danish open-face sandwich, made here with multi-grain bread, avocado, poblano peppers, and sunflower seeds—and cold-brew coffee, which gets me ready for my next stop.
I stroll down to 24th Street, the taqueria-lined heart of the Mission, the Latino quarter and hipster redoubt that has been the biggest flashpoint in the city's fight over gentrification (if you want to see a scowl, say the words "Google bus" here). One of the oldest arts organizations in the neighborhood, Precita Eyes, is here, in a bright blue storefront above which hangs a portrait of Frida Kahlo. The center has spent the last 40 years preserving and producing street art, and this morning I'm taking a neighborhood tour with Henry Sultan, a 79-year-old former muralist and occasional tour guide.
As we head around the corner to Balmy Alley, Sultan explains how San Francisco's street art scene started with Mexico's great muralists—including Diego Rivera, who came here in the '30s—and picked up during the '70s, thanks in part to the Mujeres Muralistas, a collective of female artists. We inch down the alley, where nearly every sliver of wall and fence and garage door bears an artwork. Some address the AIDS crisis, which hit this city hard; some, including one by Precita Eyes founder Susan Kelk Cervantes, show migrants fleeing the civil wars of Central America; some comment on gentrification. "The Mission has always had a strong political group of activists," Sultan tells me, "and I just don't think people are going to be pushed away." He points to a mural. "Like that says: 'We're not going anywhere.'"
Aside from these murals and the guitar licks of Carlos Santana, the greatest contribution this neighborhood has made to world culture has to be the Mission burrito. Locals fiercely debate which one is the best, but my favorite is Taqueria Cancún's burrito mojado al pastor, which comes not foil-wrapped, like most Mission burritos, but on a plate, slathered with red and green salsas and sour cream, à la the Mexican flag. It is fiery hot and the size of a football, and after eating it you will need to douse your tastebuds with a Pacifico, which I do at a picnic table in the bright yellow restaurant while listening to a mariachi band play for tips.
Rarely in my life have I needed a walk as much as I do after that gut bomb. The sun's shining on me as I pass the fruit stands and thrift stores on Mission and head over to hip Valencia Street. My first stop is the City Art Cooperative Gallery, which is showing paintings of classic SF dive bars, including the dearly departed Lexington Club. Next I wander into Paxton Gate, a store that's bursting with taxidermied animals. When I wonder aloud where someone would put an $8,000 giraffe's head, the clerk, polishing a vase, says, "I'd put it in a circular stairwell, with a mirror at the top." I raise an eyebrow. "I have a lot of time to think about that sort of thing," he explains.
"We zigzag through crowded alleys, below colored balconies, and alongside shops carrying everything from sea cucumbers to giant mushrooms."
I continue on across palm tree–lined Dolores Street to Mission Dolores Park. On a warm Saturday afternoon, this green space, which reopened last year after a $20 million renovation, resembles a hipster fashion show. I climb past skinny jeans and rompers and bangs to the top of the grassy hill, which yields a jaw-dropping view of the city skyline and the underrated Bay Bridge. I think I'll stay a while.
I continue on across palm tree–lined Dolores Street to Mission Dolores Park. On a warm Saturday afternoon, this green space, which reopened last year after a $20 million renovation, resembles a hipster fashion show. I climb past skinny jeans and rompers and bangs to the top of the grassy hill, which yields a jaw-dropping view of the city skyline and the underrated Bay Bridge. I think I'll stay a while.
When I find myself dozing, I pop to my feet, because I've got a ticket to San Francisco's most exclusive dinner party. An unadorned doorway on 19th Street leads to Lazy Bear. Chef-owner David Barzelay (the restaurant's name is an anagram of his surname) began throwing dinner parties after he was laid off from his job as a lawyer in 2009. He opened this space in 2014, and the hype and Michelin stars followed.
The city and Land's End seen from the Marin Headlands, across the foggy Golden Gate
Upon entering, I'm shown upstairs, where I'm served Marc Hébrart Special Club Champagne and Morro Bay oysters topped with elderflowers. Downstairs are two long communal tables, next to an open kitchen where an army of chefs prepares each course. Each dish is served with an introduction from one of the chefs, often in amusing fashion. ("These eggs were raised by a lady named Kitty.") The food is inventive—grilled halibut with artichoke and blood orange, morel mushrooms with egg-yolk fudge—and the restaurant provides a small plaid notebook for each diner to take notes. I neglect to use mine (some journalist I am) due to the wine pairings, which run the gamut from Bordeaux to Rioja to Napa. Dessert? An Old Overholt rye that was distilled in nineteen-thirty-six. I am now as dead as the guy who made that whiskey.
I don't really need another drink, but right up the block is the hot new cocktail spot Wildhawk. The latest bar in former mayor Gavin Newsom's PlumpJack empire opened last year to some neighborhood displeasure, as it replaced the aforementioned Lexington Club, a longtime lesbian bar. (A plaque on the sidewalk out front commemorates the old institution.) I take a seat beneath the floral Victorian wallpaper and order a cocktail from Jacques Bezuidenhout, a South African expat who has lived here for almost 20 years and has been voted the city's best bartender. He brings me a Breakfast Negroni—Cocoa Puffs–infused Beefeater gin, Campari, Cinzano, and chocolate salt bitters—and stays to tell me about the changing of the guard at the bar. "We have some old regulars now that come back, and they're like, 'We really want to hate you, but we just can't,'" he says. I agree: That would be impossible.
In which Justin crosses the Golden Gate, gets a crick in his neck looking at trees, and rocks out at a legendary concert hall
My rented Hyundai may not be the Mustang from Bullitt, but I still feel like Steve McQueen as I zip up and down SF's famous hills, past the painted ladies of Alamo Square—the colorful Victorians from Full House—and along Golden Gate Park to the fog-blanketed Outer Sunset district.
I've lucked out and caught a rare morning when there's no line at Outerlands. The dining room, which horseshoes around an open kitchen beneath an undulating, driftwood-inspired ceiling, is about half full, mostly young people in surf hoodies. I get an egg sandwich with zucchini, asparagus, broccolini, and rich onion jam, served open-face on a thick slice of fresh house-baked bread, followed by the doughnut of the day: salted caramel with chocolate crumble. Yum.
Fueled up, I'm back in the car and cruising north on the Great Highway, with gusty Ocean Beach and the choppy Pacific on my left. By the time I reach the Golden Gate Bridge, the fog has burned off, and it's all I can do to stay on the road as I sneak peeks over my shoulder at the city. A few miles up U.S. 101, I steer through the town of Mill Valley and descend into a canyon, through a series of buttonhook curves—now feeling more student driver than McQueen—to Muir Woods National Monument.
The communal dining room and bustling open kitchen at Lazy Bear
The park, which Teddy Roosevelt consecrated in 1908, includes 240 acres of old-growth coast redwoods, the tallest trees in the world. A wooden walkway guides me through these titans, some of which sprouted more than 700 years ago. In Cathedral Grove, signs urge visitors to keep their voices down, so I can hear creaking branches, burbling Redwood Creek, and a woodpecker somewhere hammering away for his lunch. By the end of the two-mile loop trail, I've spent so much time with my head craned back toward the canopy that my neck's as sore as that woodpecker's.
After that breath of fresh forest air, I'm ready to get back to the urban grit. I head across the bridge and over to the east side of the city, past red-brick AT&T Park, the Giants' home stadium since it opened in 2000 and a harbinger of the building boom in SoMa over the last 15 years. I continue on through condos, past the site where the NBA champion Golden State Warriors are building a new arena, and into Dogpatch, the once rundown industrial 'hood near where America's most famous Heisman Trophy winner/double-murder acquittee grew up.
I park in front of the Minnesota Street Project, a three-warehouse space that's home to around a dozen galleries and 40 artist studios. I'm feeling peckish now, so I hang a quick right into Alta, the compound's restaurant from star Bay Area chef Daniel Patterson. As I dig into a wonderfully spicy fried chicken sandwich and a tangy housemade ginger beer, I'm joined by Deborah Rappaport, who opened the MSP along with her tech entrepreneur husband, Andy, last year.
"In February of '14, the real estate crisis in San Francisco was getting to its peak," she tells me. "It was having a really deleterious effect on galleries and artists and nonprofits. It just felt like nobody cared—all of these big tech companies were gobbling everything up and leaving the arts community, among others, in their wake." Don't think Rappaport is the gloom-and-doom type, though. The MSP is her bet that the city's creative spirit will endure. "If I didn't believe that San Francisco was going to remain an international center of exciting art, my husband and I would have stayed retired," she says with a laugh. "Things have to evolve. What I hope we are doing is helping to keep a vibrant arts scene happening."
Duly inspired, I go on a gallery crawl around the warehouse. The works at the MSP range from famed photographer Larry Sultan's celebrity shoots to Tabitha Soren's modified stills of adult film stars to Manny Prieres' recreations of banned books to student paintings in the SF Arts Education Project space. The diverse works on hand give me hope that Rappaport is right, and that the city's art scene will indeed survive.
In need of a breather, I valet the car at the Palace Hotel, smack in the heart of the Financial District at Market and New Montgomery. I stop for a moment to gawk at the ceiling of the landmark Garden Court restaurant, which is made of 72,000 pieces of glass. Originally built in 1875, the Palace was destroyed in the fires that followed the 1906 earthquake; it reopened in 1909, and despite a huge renovation in 2015, it has maintained many fixtures, from that ceiling to the doorknob I turn to enter my seventh-floor suite. My corner window looks straight up Montgomery to the Transamerica Pyramid, but I'm more concerned with my bed. As the Bay Area's own Metallica would say: exit light, enter night.
Historic concert posters at The Fillmore
I wake up refreshed and ready to rock—literally. I hop the N-Judah Muni train, and a few minutes later I'm in the Haight, the neighborhood that teemed with musicians, flower children, and burnouts 50 years ago during the Summer of Love. I wander into Amoeba Music, a cavernous record shop dedicated to the analog in a city now dominated by all things digital. I pick up a live album recorded by former Haight resident Janis Joplin and her band, Big Brother and the Holding Company, in 1968 at the now-demolished Winterland Ballroom.
I'm humming "Piece of My Heart" as I strut back down Haight Street, past head shops and vintage stores and panhandlers. I stop at Held Over, where I find a pair of worn cowboy boots that fit just right, and I can hear Janis singing, "You know you got it, if it makes you feel good," so I toss out the old Chuck Taylors that I've walked holes in this weekend.
Even used, a new pair of boots takes a toll on the feet, so I get a Lyft over to the Fillmore District. I reach State Bird Provisions just in time to encounter—you guessed it—a line. The wait is no surprise, given that Stuart Brioza and Nicole Krasinski's place has been one of the toughest tables in town since Bon Appétit named it the best new restaurant in America in 2012. Fortunately, its sister restaurant next door, The Progress, has a seat open at the bar, so after I get my name in at State Bird, I'm able to kill some time with a plate of perfect local anchovies and fried butter beans and a silky Manhattan made with brown butter bourbon.
Ancient redwood trees at Muir Woods
When my seat opens up next door, it's in an extremely dangerous locale: at the kitchen counter, right next to the server's station. Much of the menu at State Bird is offered dim sum–style, and I get right of first refusal on every one of the small plates being carted out of the kitchen: guinea hen dumplings, smoked avocado with charred allium, Hog Island oysters topped with kohlrabi kraut.
"We didn't want to be held back by tradition," Brioza stops by to tell me. "We wanted there to be a lot of freedom in our food. It's high energy, it's frenetic, it's got so much passion from the staff." Take the anchovies: "Those are a religious experience for me. We have anchovy protocol. Twelve man-hours get put into that dish."
Brioza's menu knows no bounds, and by the end of the meal, neither do I, as I find myself hugging the cart-pushing waitress goodbye. Perhaps I'm hoping she'll clear off the cart and roll me out of here on it?
Luckily, I'm not going far. Right around the corner is The Fillmore, the concert hall that once hosted legends including Janis, the Grateful Dead, and Jimi Hendrix. I climb the red-carpeted stairs to the second-floor bar, which is hung from floor to ceiling with trippy concert posters for these artists and many, many others.
When I hear a roar from the ballroom, I join the crowd on the packed floor. The acclaimed rock group the Mountain Goats takes the stage, and between songs, singer John Darnielle pauses to look out across the dark, smoky room. "You get these moments at The Fillmore when you say, 'This is the best room to play in the U.S.,'" he says, and we scream, because yes, a gold rush is on, and all the new money may be changing Baghdad by the Bay, but at the end of the day, San Francisco still rocks.
Hemispheres deputy editor Justin Goldman yells at his coworkers anytime one of them calls it "Frisco."
This article was written by Justin Goldman from Rhapsody Magazine and was legally licensed through the NewsCred publisher network. Please direct all licensing questions to legal@newscred.com.
Around the web
How traveling changed the course of our future
Travel is fatal to prejudice, bigotry, and narrow-mindedness…Mark Twain knew this, and anyone who travels and gets out of their comfort zone understands this same concept.
This is one of the reasons we love to travel — our perceptions and stereotypes are constantly being challenged. This is also probably why we've built a business that requires us to travel regularly — we create street art pieces in cities around the world.
But we weren't always like this. Our love of travel first began when our Mom took us backpacking through Europe for a month. At the time, we were both young teenagers who had never been out of the country. We carefully planned our outfits and fit them into one backpack each. Mom carried our Rick Steve's travel guide and off we went. We stayed in shabby hotels across the United Kingdom, France and Spain, visiting every museum we could find, eating every baguette, croissant and paella dish we could get our hands on, and loving every second of it.
We've been addicted to travel ever since.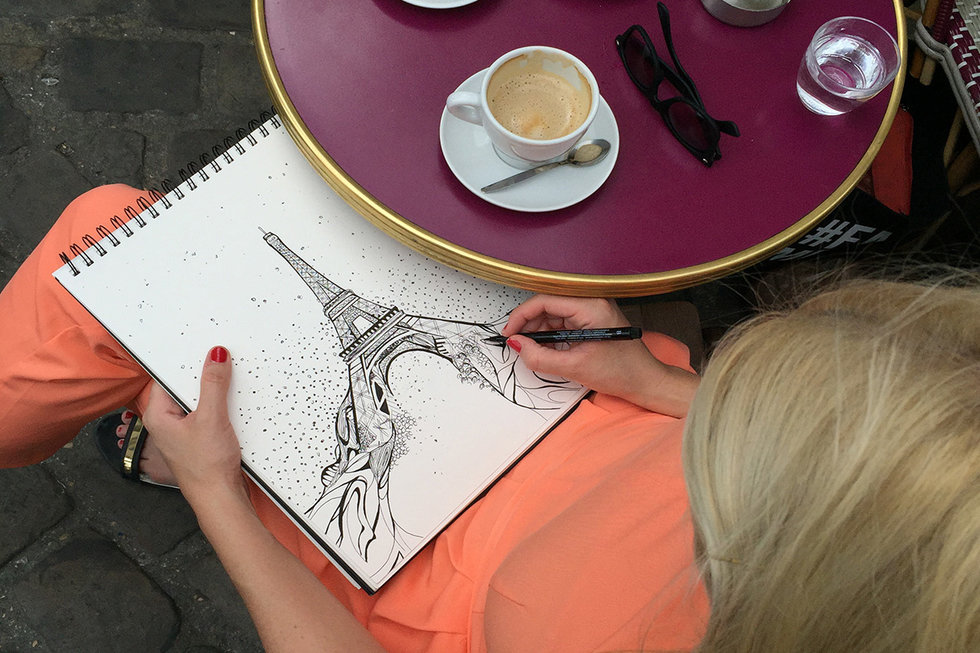 Kelsey sketches at a street cafe in Paris
I (Kelsey) fell so in love with London on that trip that I grew determined to study there. Fast forward to years later when I graduated from Richmond University in London. That trip changed the course of my life because I learned about and experienced street art during my studies in London. Courtney fell so in love with Paris that she learned French and graduated with a degree in comparative literature from the American University of Paris. That first trip changed the course of our lives forever and opened our eyes to how massive the world was. I don't think our Mom could have given us a better gift than that first trip abroad.
As adults who travel constantly we feel like a MileagePlus® membership is another important piece of the equation and something we've benefitted from tremendously over the years. The various United Club℠ locations are little refuges we escape to in busy and overwhelming airports. Being able to board early, getting upgraded and having nice flight attendants on long haul flights really can mean the difference between arriving well rested and having a good trip, or arriving tired and having a rough trip.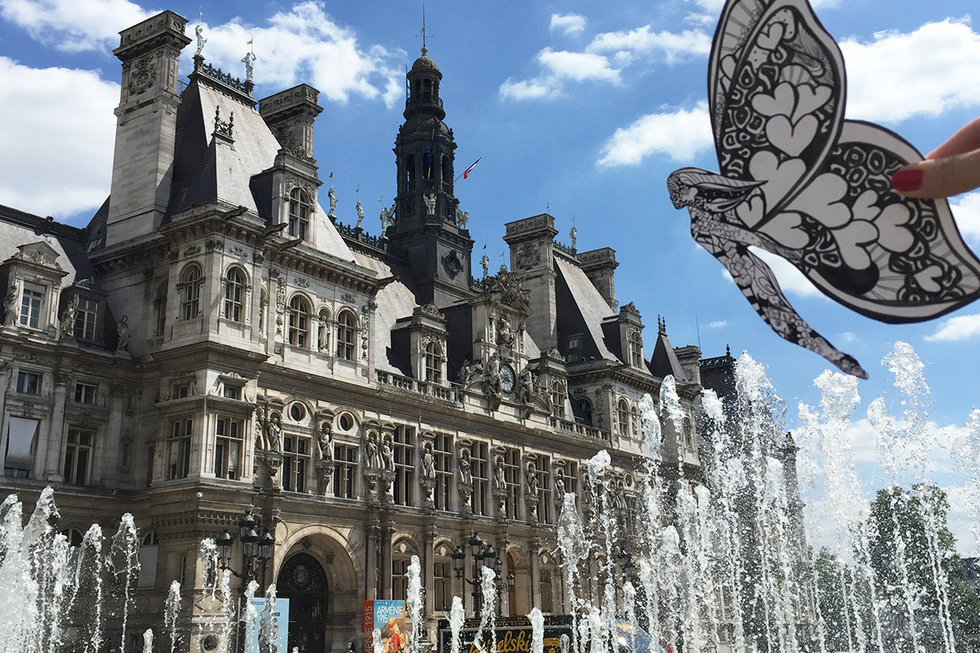 At the end of the day a company is all about the people in it and the kindness we have experienced on United flights has been wonderful. I remember once on a flight, one of our captains wrote a personal note thanking each passenger flying in United First® class for traveling on United. On another, a flight the attendant saw I was not feeling well and hunted down an Airborne (vitamin pack) for me. Still another flight attendant asked about my art (I was sketching on the plane) and when I explained what I do they committed to buying my coloring book. It's these connections that really make flying United so memorable for myself and my sister.
So if you're looking to give your child a gift, take them traveling. And if you're looking for a present for yourself, sign up to enjoy the benefits of a MileagePlus Membership. You won't regret either.
Join MileagePlus to start earning miles from the world's most rewarding loyalty program℠ and share your story with #UnitedJourney.
United and Special Olympics
Taking inclusion to new heights
Our shared purpose is to connect people and unite the world — and no organization better embodies that principle than Special Olympics.
Learn more
Welcome day brings employees and Special Olympics athletes together
As part of the weekend's festivities, our CEO, Oscar Munoz, joined a group of employees and retirees in greeting nearly 700 arriving athletes, coaches and volunteers at Seattle's Sea-Tac International Airport (SEA), as well as hundreds more at local light rail stations, all of which were decorated with our Special Olympics superhero campaign banners.
Oscar also had the honor of giving Special Olympics athlete Nikki Jones her first in person look at her superhero alter ego Lane Lightning, a moment that was captured on the video below.
Introducing a more personalized experience on united.com
Our united.com homepage is getting some big enhancements. Yesterday, we announced the launch of the new site, which will offer a more modern, user-friendly design, allowing users a more personalized digital experience.
Each one of our customers is unique and has different needs for his or her travel, and personalizing our digital offerings is just another step toward giving our customers the experience and the products that they ask for, said Digital Products and Analytics VP Praveen Sharma. "Our goal with this new homepage is to provide customers with a more seamless experience."
The new website will provide personalized content based on a customer's MileagePlus® status as well as upcoming, current or prior trips. It will also include a new display that will be fully responsive for optimal viewing on desktop and mobile devices. Later this year, the site will include a travel section that will provide customers with curated content from destinations United serves.
We began rolling out the new homepage in April and continued expanding it to more users while we added more functionality throughout the phased rollout. The site will be live to all customers in early August.
These efforts are part of our commitment to improve our customers' travel experience through every step of their journey. Earlier this year, we updated our mobile website, adding a more optimized display, additional flexibility to adjust flights throughout the site, Japanese language translations and more.
Our new homepage will also appear on our mobile website, creating a more seamless experience when customers are managing travel and bookings across multiple devices.
Transcending borders and languages in Tanzania
Story and photos by Davis Paul
I have been very fortunate to travel the world telling stories with a camera for the last decade. Being a United MileagePlus® member for many of those years has absolutely opened the world and eased my ability to get around. And, it enabled me to authentically document the way in which different people and cultures do life, which has now become an obsession. How can you make someone feel what you witnessed despite not being there?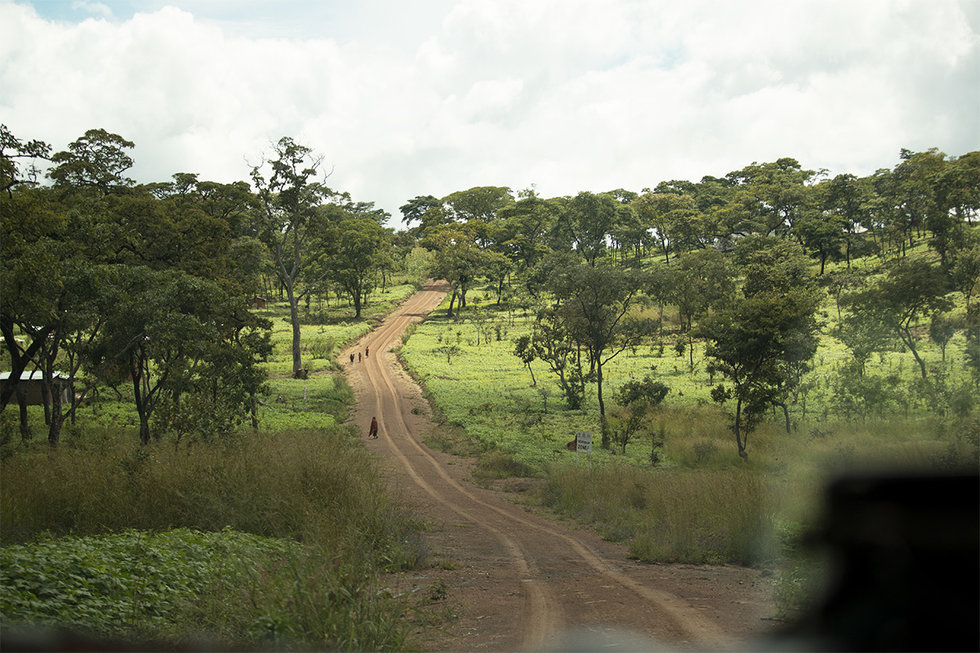 The world is full of amazing stories and incredible lessons that can transcend borders and languages. I believe every location is uniquely beautiful on it's own, we just need to see it for what it is and not in comparison to others. Bangladesh can be just as beautiful as Tahiti if we remove expectation and appreciate the uniqueness each location has to offer.

However, of all the trips I have ever taken, out of every project I have embarked on, from X Games to Real Madrid, there is one that hit me in a very different way. That was my trip to Tanzania to work on the border of Burundi out of two Refugee Camps. I was contracted to help train and build soccer programs within the camp as well as create content that would provide impactful insight into the circumstances taking place throughout the region as well as to connect the outside world with these amazing people fighting for their lives. I had zero preparation for the trip, having only booked my flight a week in advance. I had never traveled to Africa, let alone a refugee camp that couldn't be more difficult to get to. In fact, it was roughly 38 hours of travel by myself including having an 8 hour drive on something that barely resembled a road. Because it was so last minute, I actually wasn't able to secure a driver to take me to the town of Kibondo which meant once I landed, I had to find any local with a car who would be willing to take me the distance. Luckily, I found a man named Frankie who had a Toyota Corolla which consequently broke down within the first hour of our journey.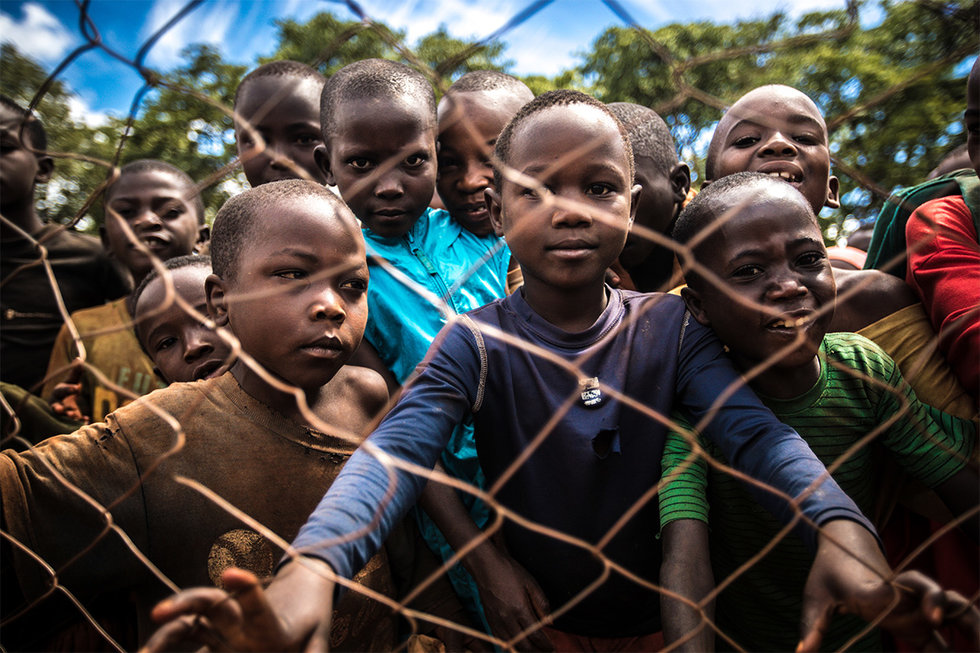 Once I arrived, I had never witnessed life in this manner. Hundreds of thousands of refugees all piled together within 2 square miles. Mud huts, tarps, tents, anything and everything to sustain life was being used. Almost everyone in this camp had lost a loved one to violence yet I had never seen so much hope and joy. It completely changed my perspective on life to live amongst these people for 3 weeks. I ate with them everyday in the camp, eating the local food with my hands. To hear their stories, to see how they live and to dream with them on the brighter future they all hope exists was truly humbling. I'll never forget the lessons I learned within this camp and from these people — their love and optimism despite having experienced unimaginable tragedy was uplifting. When I asked if there was one message I could bring back to the United States, they simply would say, "we just want people to know we exist". I hope that my time and efforts there at least provided that. Although I tried to make the biggest impact I could while there, it is safe to say I was the one impacted the most and I will be forever grateful for that. I just hope I can help in half of the way they helped me.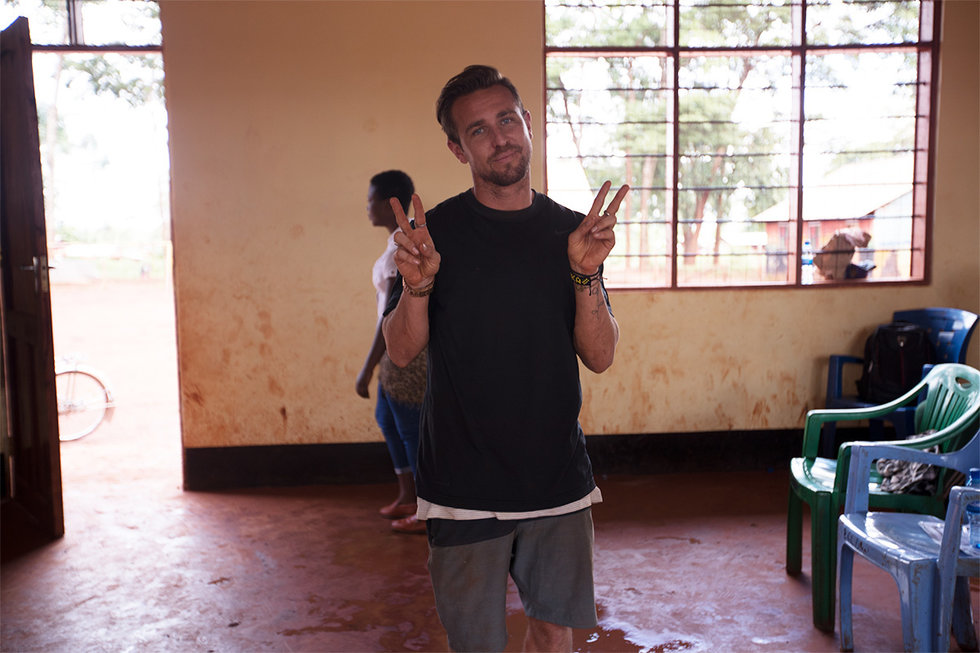 I'm never sure where the next story will exist, but I can guarantee you'll find me on the ground, always laughing with a camera in hand. Traveling is a gift that allows us insight into both our differences and similarities, and the more you travel, the more you realize we all share in the same struggles, same hopes and same dreams. I believe that despite bad things happening, the world is full of good — we just need to seek it in every situation.
Join MileagePlus to start earning miles from the world's most rewarding loyalty program℠ and share your story with #UnitedJourney.
How to experience the best of Prague in 3 days
Every bit as historic, as beautiful and as culturally enriching as the European heavyweights of Paris, London or Rome, Prague, the capital city of the Czech Republic has emerged over recent decades to be a jewel in the continent's crown.
The city escaped significant bomb damage during World War II and its historic center remains magnificently intact, with a maze of cobbled lanes, quiet courtyards, chic cafés and ancient chapels just waiting to be discovered. To see enough of the city, we suggest visiting for at least three days.
Getting into the city
Upon arrival, regular and reliable buses and trains will get you into the center of the city within 20 minutes. Unless you're heading outside of Prague, you shouldn't need to rent a car. The center of Prague is compact and easily to explore on foot, with excellent and cheap trams, buses and the subway if you don't want to walk.
Where to stay
Central Prague is broken down into 10 districts, with most visitors staying in Prague 1, the heart of the city. Here you have two good options: The Old Town or the Lesser Town – linked by Prague's most celebrated landmark, the Charles Bridge. The Old Town is at the heart of everything, full of historical sites, bars and restaurants but can be overpriced and often considered 'touristy' as a result. The Lesser Town is still close to the heart of everything but with a more tranquil atmosphere that's particularly good for families.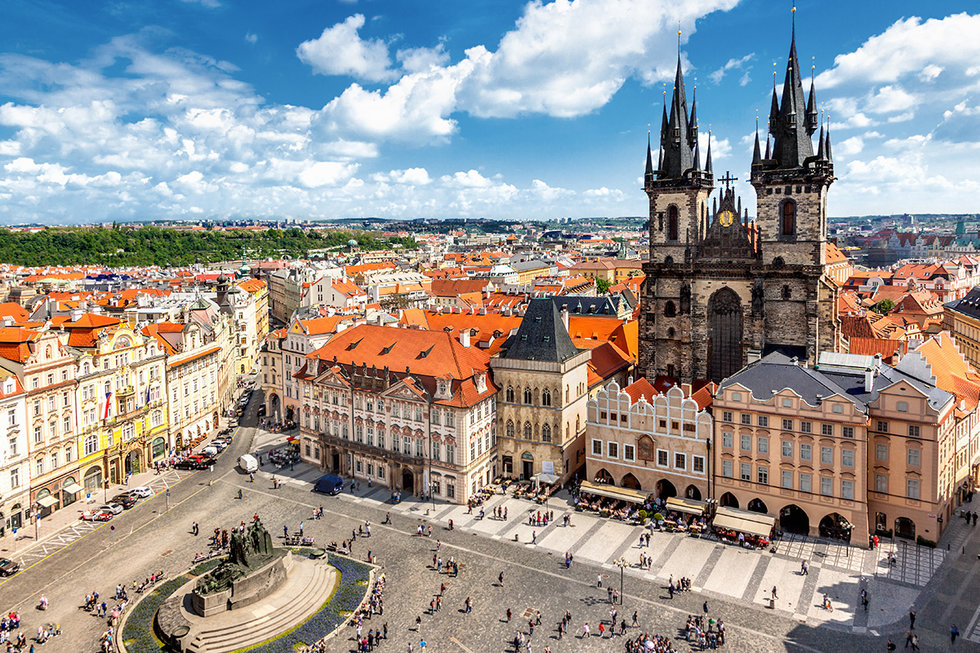 What to see
There's too much to see in a single visit, however, one of the absolute essentials has to be Prague Castle, which is literally unmissable. The largest castle complex in the world, it dates back to the 9th century and is also home to the presidential palace, the vast St. Vitus Cathedral and Golden Lane — an original 16th-century street of tiny cottages that was home to Franz Kafka. The lookout tower of St. Vitus Cathedral gives you a bird's eye view of the city, as does Petrin Lookout Tower at the top of Petrin Hill, which climbs 206 feet to look down on the city.
From there head to the Old Town Square, which is the medieval center of Prague, surrounded by cobbled streets awash with cafes and restaurants. It's home to the Old Town Hall and Astronomical Clock, the Rococo Kinsky Palace and the stunning Gothic Church of Our Lady before Týn. If you visit in December, it also hosts the city's largest Christmas market.
Also close by, Klementinum is a series of historic buildings worth visiting just to see what is arguably the most beautiful library in the world. If you're looking for a world-class collection of historical artifacts, minerals and zoological specimens, the National Museum ticks all of the boxes. It's located at the top of Wenceslas Square, which is not actually a square but a boulevard – and one of Prague's most popular shopping streets.
Kampa Island is a great alternative to the National Museum. Literally an island located beneath Charles Bridge, you'll find the museum of modern art, The John Lennon Wall and giant, slightly unnerving sculptures of crawling babies. Speaking of Charles Bridge, it is one of Prague's most popular and photographed sites for good reason. You'll no doubt use it to cross the Vltava River, but for the best photographs, visit at dawn, before the crowds arrive.
And if all this walking gets to be too much, see the city from a different perspective, floating gently down the Vltava on a river cruise.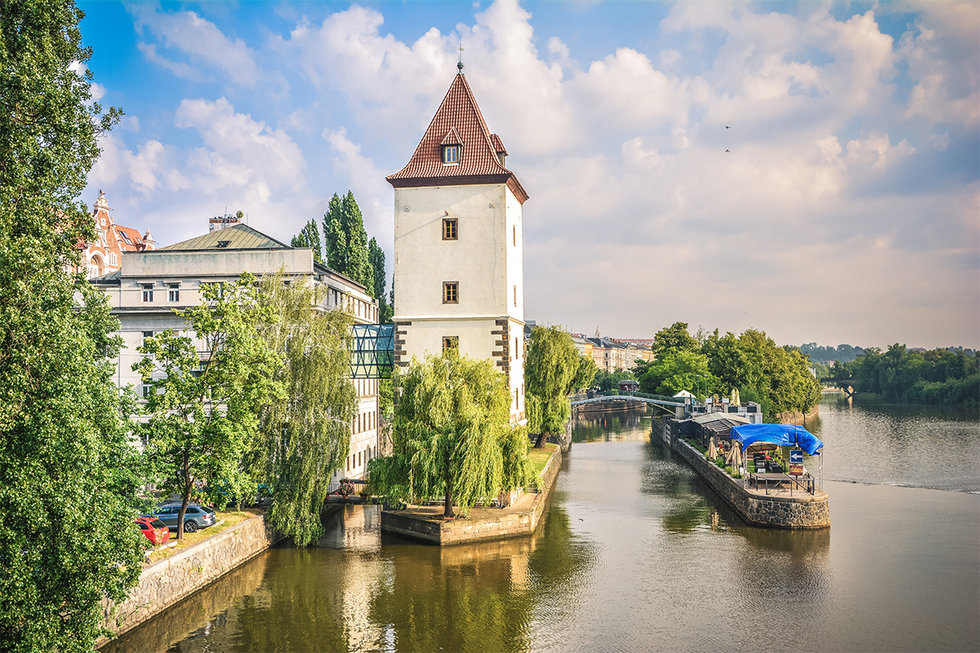 Where to eat
Restaurants to suit every taste and budget dot the center of Prague. Great breakfast options include Coffee Room, Mezi Srnky and the always-popular Café Savoy, which is also great for lunch or dinner.
In a city full of carnivores, the Real Meat Society's porchetta sandwich is a lunchtime highlight, Dish is a stylish little burger joint full of fashionable people, while Lokál Dlouhááá offers a beer hall feel and Czech classics of pork, sauerkraut and dumplings washed down with beer.
The city's only two Michelin-starred restaurants are Field and La Degustation Bohême Bourgeoise, the latter creating modern takes on old Czech recipes using the highest quality local produce. Both restaurants require a reservation. Highly recommended 'Bib Gourmand' restaurants within easy reach of Charles Bridge include Sansho, Divinis and Maso A Kobliha, where the salty caramel pie may elicit happy tears.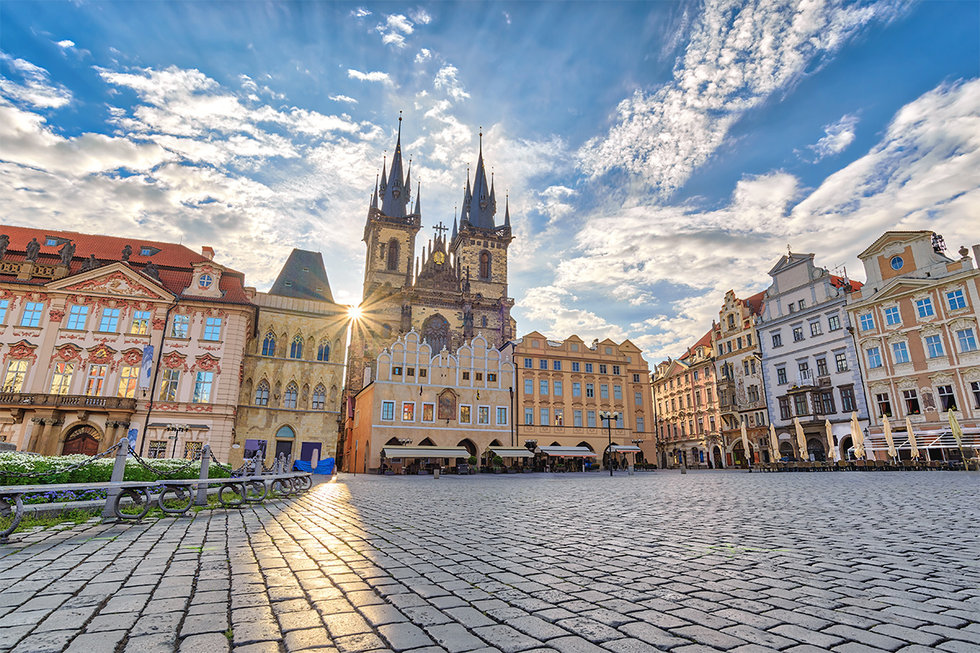 Where to drink
In the number one beer-drinking nation on the planet, the locals refer to it as 'Liquid bread.' Prague is home to many of the nation's finest bars and ale houses, many of which brew their own beers. Two of the most historic are U Zlateho Tygra, which President Clinton visited in 1994, and U Cerneho Vola, which stands in the shadow of the castle. Letná Beer Garden offers an outdoor setting where you can enjoy a beer and views of the Old Town below.
And keep an eye out for 'tankovna' – tank pubs – where the beer is not pasteurized, as most beers have to be to be transported around the globe. In tank pubs such as U Pinkasu, the beer is probably the freshest you'll ever taste. But if pilsner is not your preference, head to Hemingway Bar, one of the world's finest cocktail bars. You may have to wait in line as it is a popular with both locals and tourists alike, but it's well worth the wait.
When to go
Prague is the warmest and busiest during the summer months, from April until October and peak season starts in July through August. The longer nights of spring and summer will give you more time to explore, while the celebrated Beer Festival fills the city's Letná Park in May. Spring and autumn are generally quieter and can be less costly than the summer months. If you can cope with the colder temperatures and darker days, winter is a magical time to be in the city.
Getting there
United, together with many of its Star Alliance partner airlines, offers service from multiple cities in the U.S. to Prague. To explore all that Prague has to offer and to book your trip, visit united.com or use the United app.
The 10 best beach vacation destinations in Europe
These spots offer the perfect beach day with a side of art, history and nightlife.
Europe is home to some of the world's most-celebrated seas — the Mediterranean, the Adriatic, the Aegean — and its cultural mosaic makes it a top choice for beach lovers looking to mix sun, fun, art, history and nightlife. Windsurf in the morning, visit ancient ruins in the afternoon, shop for the season's hottest beachwear before enjoying sunset cocktails and then partying until dawn. Sound good? Read on to discover the 10 best beach vacation destinations in Europe.
Mykonos, Greece
Few places do charm and decadence better than Mykonos. This sunny Greek island's calling cards are almost-anything-goes beaches (expect plenty of skin), Instagram-worthy Cycladic architecture (whitewashed buildings with brightly hued shutters and cascading flower boxes), 16th-century windmills (a must-see at sunset) and legendary discos and dance clubs in Mykonos Town. As for the beaches, check out Ornos Bay for pretty views and excellent windsurfing, chic Psarou for celebrity spotting and Paradise and Super Paradise for hedonistic sun-worshipping and dancing until sunrise.
Mallorca, Spain
Mallorca, Spain | Shutterstock
This beautiful Mediterranean oasis, the largest of the Balearic Islands located off the east coast of Spain, is a hot spot for northern Europeans, who flock here in summer to enjoy long days of sunshine and fresh air. Once you get beyond the urban sprawl of the capital, Palma, mountainous, bay-fringed Mallorca delivers some of the region's most amazing azure water and soft-sand beaches — there are more than 250, from popular 3½-mile Playa de Muro to secluded Cala Mesquida. The view from the water is pretty incredible, too: centuries-old hilltop villages constructed of golden stone backed by peaceful olive groves and vineyards.
Hvar, Croatia
Hvar, Croatia | Shutterstock
In between swimming, sunning and windsurfing, visitors to this summer-resort island, located in the Adriatic off of Croatia's coast near Split, can tour a 13th-century fortress and cathedral, go wine tasting (if you haven't tried Croatian wine, you should) and in June and July, inhale the heavenly aroma of lavender, which grows in abundance here. Hvar's beaches are known for their intense scenic beauty — many are set in serene bays surrounded by cliffs and pine forests — and tempting options include Dubovica, Zavala and Ivan Dolac.

Saint-Malo, France
Saint-Malo, France | Shutterstock
If it's seaside drama you seek, consider Saint-Malo, a walled city in France's Brittany region where the cobblestone medieval streets of Old Town are surrounded by a series of sandy beaches, some of which are only walkable at low tide and offer access to rocky islands (timetables tell you when to visit). When the tide's high, tour the Cathedral of Saint-Vincent (constructed between the 12th and 17th centuries) and the city's landmark fortress with its four round towers. Or you can always kick back and relax on Plage du Sillon, a vast beach that stretches for almost 2 miles along the English Channel.
Ibiza, Spain
Ibiza, Spain | Shutterstock
It helps to be young to enjoy the 24/7 frenzy that is Ibiza — the wildest isle in the Med thanks to its world-famous clubs blasting dance music. Should you be awake when the sun's shining, top activities on Ibiza, which is also one of Spain's Balearic Islands, include music festivals, beach-going (Cala D'Hort has a view of the distinctive Es Vedra rock formation or hop over to neighboring island Formentera, known for its white sand) and scuba diving, since visibility here is superb.

Sicily, Italy
Sicily, Italy | Shutterstock
If you're a fan of old-school destinations — scenic, slow-paced and filled with tradition — you can't go wrong with Sicily. This Italian island, the largest in the Mediterranean, is home to stunning beaches, yummy treats such as ricotta-filled cannoli and meat-filled rice balls called arancini (both invented here) and ancient Greek and Roman ruins dating back several millennia. It also boasts Europe's most active volcano: Mt Etna. Book a beach resort for maximum access to sun and sand, or stay in charming hilltop Taormina and day trip to beaches such as Isola Bella or Giardini Naxos.

The Algarve, Portugal
The Algarve, Portugal | Shutterstock
The hot Iberian sun shines along the southern coast of Portugal 300 days a year — and in summer, the region receives very little rain — so it's no surprise that the Algarve ranks among the top beach destinations in Europe. It's also incredibly pretty and quite affordable, with a variety of hotels, rental apartments and homes located in cities and villages stretching from Sagres in the east to Villa Real in the west. In between are more than 150 beaches, with Praia da Falésia near Albufeira, Praia da Camilo near Lagos and Praia da Marinha near Lagoa featuring photogenic limestone cliffs.

Crete, Greece
Crete, Greece | Shutterstock
As Greek Isles beaches go, Crete has some of the best. But Greece's largest island is also its most geologically diverse — so beaches here range from sweeping and tranquil to compact and crowded. For the former, head to Balos Lagoon near Kissamos on the west coast or Elafonisi Beach, also in western Crete, with its pink sand. For the latter, there's Vai Beach near Sitia in the northeast, which is backed by Europe's largest natural palm grove, and Matala Beach on the south coast, where you can follow your swim with a seafood lunch at a local taverna.

Cornwall, England
Cornwall, England | Shutterstock
There are hundreds of beaches along this rugged peninsula on the Atlantic in southwest England, some ideal for surfing, others for beachcombing and others for seaside shopping and dining. It's all incredibly wild and moody, the kind of setting that's equally inspiring to artists and adventure-lovers. For pure visual delight, it's hard to beat the beaches around St. Ives, especially Porthmeor, while Kynance Cove seduces at first sight with its unblemished natural beauty. Add in fishing villages such as Mevagissey and Polperro and you'll discover how Cornwall charms visitors with a raw authenticity that's ever harder to find these days.
Sardinia, Italy
Sardinia, Italy | Shutterstock
On this vast Italian island, the second largest in the Mediterranean, it's possible to be a jetsetter or a backpacker, to step back in time while strolling tiny villages or channel the 21st-century while sunning on a modern mega-yacht, to visit ancient temples or enjoy the latest youth-enhancing spa treatment. Long celebrated for its talcum-soft beaches and clear aquamarine water, Sardinia's alluring Costa Smeralda has been a summer hot spot since the mid-1960s. Yet the island also has a harsh interior landscape that has shaped the local mindset and cuisine (fava beans, sheep's milk cheese and lamb with artichokes compete with seafood and pasta on many menus). But it's Sardinia's coastal beauty that has made it envied the world over.

This article was written by Donna Heiderstadt from Islands and was legally licensed through the NewsCred publisher network. Please direct all licensing questions to legal@newscred.com.
Rising tide of Special Olympics lifts employee's daughter
A dark green wave rises and crests, spilling over into a froth of white foam as it picks up steam and propels Alissa DiDomenico toward the shores of Fernandina Beach, north of Jacksonville, Florida. With her arms outstretched, Alissa kneels on her surfboard, eyes focused in concentration, and shifts her weight with the momentum, settling in for the ride as the water flattens over the hot sand.
Alissa's father, United's Jacksonville International Airport General Manager Paul DiDomenico, watches from nearby as she comes to a stop. Hopping to her feet, Alissa flashes a wide grin at her dad then turns, her board under one arm, and paddles back out to do it again.
It's late June, and Alissa, 18, is in the thick of competition season as she seeks to represent Nassau County at the Special Olympics Florida State Surfing Championship in Cocoa Beach this September. If she's successful, it will be her fourth consecutive state finals appearance, where she was a gold medalist in 2016 (the contest was cancelled in 2017 because of Hurricane Irma). Paul, a native Midwesterner more comfortable in the snow than in the sand, is nevertheless a fixture at all of Alissa's events and weekend practices, joined by his wife, Marta, in the cheering section.
The water is Alissa's sanctuary, the place where she feels most at home, like "a little mermaid," Paul says. Pool therapy helped her build her strength when she was young, and by the time she began riding waves in 2014 she was already an accomplished swimmer. When Nassau County Special Olympics introduced surfing, Paul encouraged her to give it a try and Alissa was immediately hooked, drawn to the speed and grace inherent to the sport.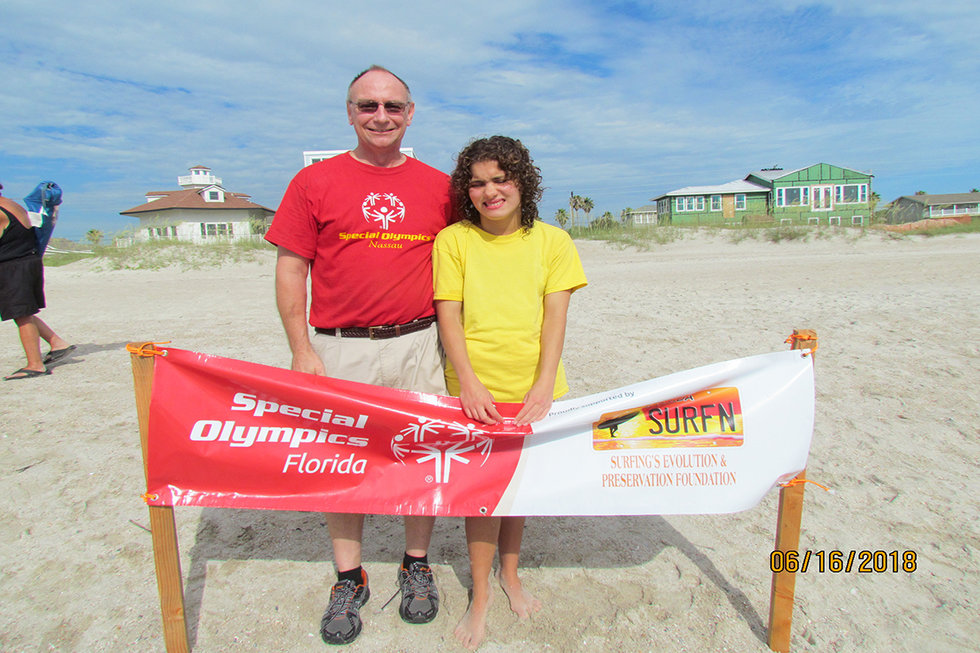 Apart from bringing her enjoyment, swimming and surfing have also had a transformative effect on Alissa as a person, helping to draw her out of her shell. She's on the autism spectrum and has difficulties speaking, but the look on her face when she's in the water says more than words ever could. Without Special Olympics, Alissa – and countless other children – wouldn't have these kinds of experiences, which is why Paul is so glad to see United expand its partnership with the organization, which includes flying nearly 700 athletes to the 2018 Special Olympics USA Games in Seattle and sponsoring the Special Olympics 50th Anniversary Celebration in Chicago.
I see it as an opportunity for her to step out and do something that's out of the ordinary, but also ordinary at the same time, because every kid plays sports, says Paul. "This is her opportunity to play and socialize."
As the morning session draws to an end, Alissa bobs in the water on her surfboard. A line of waves swell as they near the shoreline and she readies herself in a crouch. Before she can find her balance, though, her feet are swept out from under her, sending Alissa splashing into the Atlantic.
In an instant she's back on her board, waiting for the next set of waves to roll in, and with them, her next chance. Before long, she's gliding toward the beach once more, exhausted but happy, in a way that looks effortless. Competitions and medals are the farthest thing from Alissa's mind as Paul meets her with open arms, her smile matched only by his. In that moment, she's already won all there is to win.
Brazil's big three: Rio, São Paulo & Salvador
Brazil is nearly as large, populous and diverse as the United States. So where does a tourist begin? In the U.S., the answer might be to visit New York City, Chicago and L.A., each with its own personality. In Brazil, the best answer is Rio de Janeiro for its festive vitality, São Paulo for its cosmopolitan culture and Salvador for its history and beaches.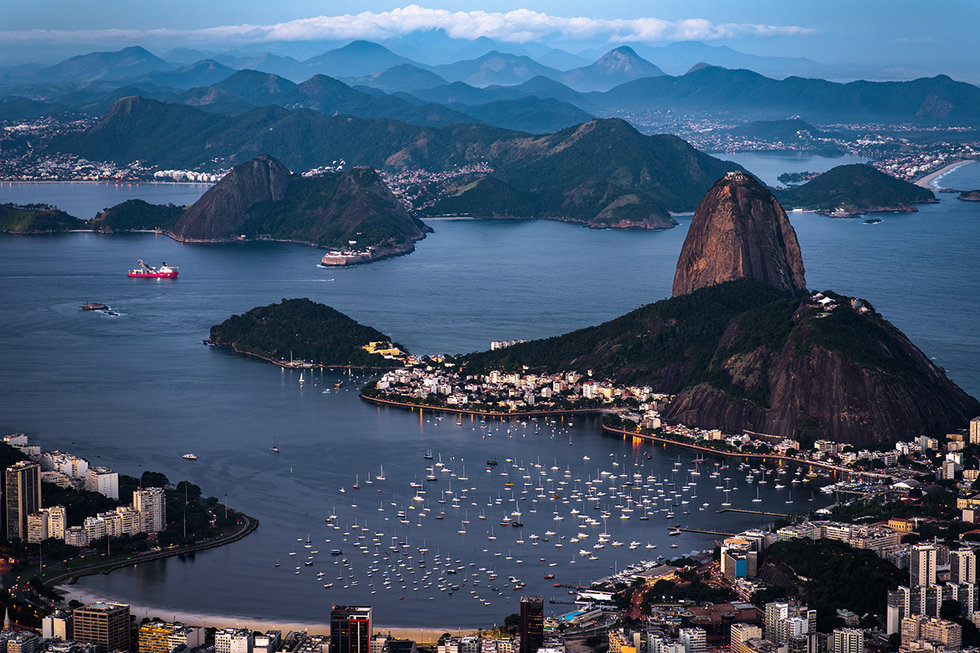 Rio de Janeiro

The world came to Rio for the 2016 Summer Olympics and left with a big grin. The energy of the city, the splendor of the beaches and the spirit of the people — including a passion for sports — made the games the global success story of the year.
From the Lapa district's samba clubs to the beaches, Rio de Janeiro is a colorful city where the party never ends. Copacabana Beach's two miles of sand are routinely packed with tourists and locals alike while adjacent Ipanema Beach is more sedate, located alongside the Ipanema and Leblon neighborhoods' upscale shopping streets and restaurants. Two steep, iconic mountains tower over the city, letting you see it all from high above. Take a gondola ride to climb to the top of Sugar Loaf Mountain, or a cog train to ascend up to Corcovado Mountain's 130-foot-tall Christ the Redeemer statue.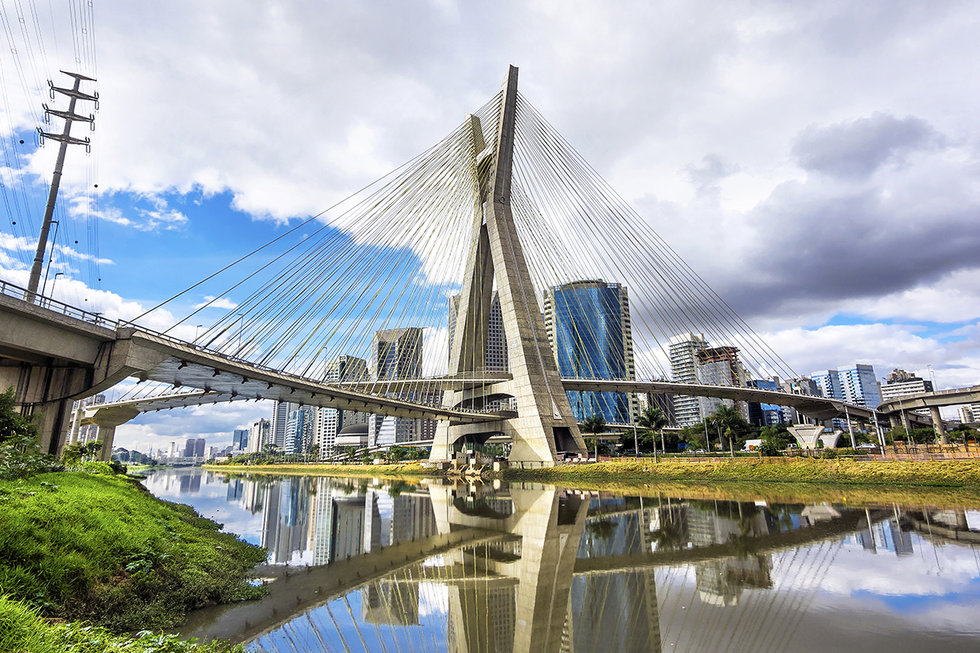 São Paulo
With 12 million people, São Paulo is the Western Hemisphere's most populous city, boasting more residents than New York City and even Mexico City. But that's not the only reason to visit. It's a must-see global city because of what the diverse, relatively affluent population has built — many of South America's finest museums, architecture, culture and more.
Several museums are found in the old city center. Walking distance apart are a neoclassical Brazilian art museum (The Pina), a neo-Byzantine cathedral and a Belle-Epoque covered marketplace. Elsewhere in the city are the São Paulo Museum of Art, boasting the largest collection of Western art in the Southern Hemisphere, and Museu Paulista, a colossal history museum surrounded by Versailles-inspired gardens at the University of Sao Paulo. Every Saturday, live samba music is played in many of the city's bars, but the place to experience this is at Bar Samba in Vila Madalena. And when you're hungry, it's good to know the restaurants are the best in Brazil, especially in the Jardins district. Among them are countless sushi spots and pizzerias, thanks to a vast population of Japanese and Italian immigrants and descendants.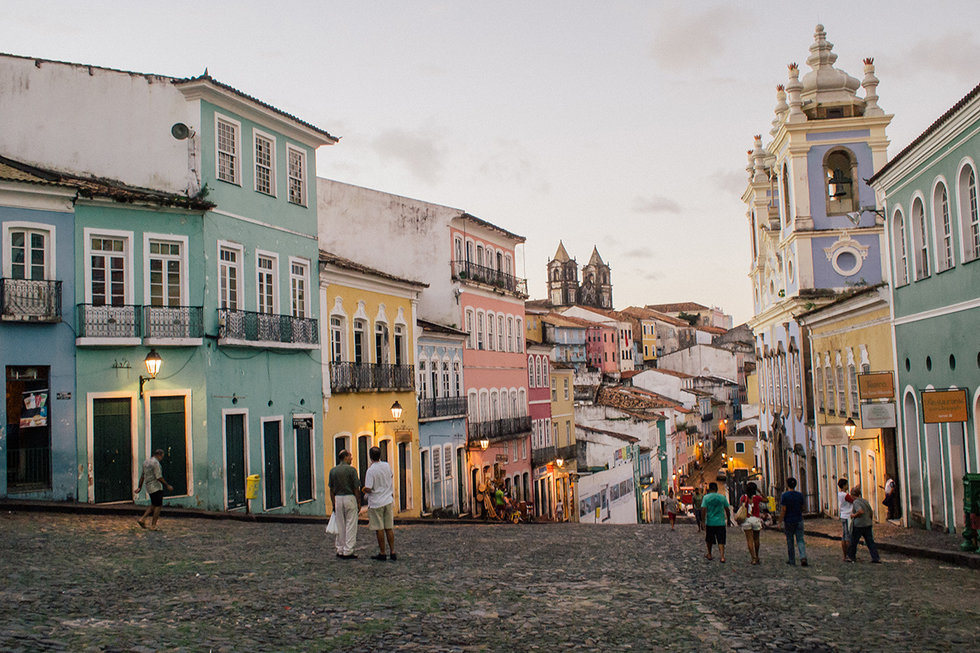 Salvador
Among the major cities on Brazil's northern coast, none offer as much to visitors as Salvador, the original capital city of Brazil. This city of three million has stunning beaches, superb restaurants and bars, plus an historic city center (Pelourinho — a UNESCO Cultural Heritage Site) that dates to the 16th-century dawn of the city.
Similar to Rio, almost everything worth experiencing in Salvador is on the water or close by, starting with beaches on the Bay of All Saints and Atlantic Ocean — ideal for swimming, surfing and sunbathing. Also found near the shore is the Elevador Lacerda (the world's first elevator—now a tourist attraction) and many museums devoted to South American, modern and decorative art. Also found in the Old City nearby are more museums, six cobblestone squares and a 17th-century cathedral. Many of Salvador's restaurants serve Afro-Brazilian food, a relic of the city's past.
Practicalities
All three of these Brazilian cities are closer to the equator than Miami, so expect balmy year-round temperatures that almost always hover in the seventies and eighties. The only months to avoid are the rainy season: December to February in Rio and Sao Paulo; April to June in Salvador. Transportation in all three cities is easy via Uber, buses and subways. Don't bother with pricey taxis or rental cars. And while in Brazil, be sure to try the national beverages — Brazilian coffee by day, caipirinhas by night.
If you go
United Airlines offers flights to Rio de Janeiro and São Paulo from numerous U.S. cities, including nonstop flights from Houston Intercontinental to Rio de Janeiro and nonstop flights from Chicago O'Hare, Houston Intercontinental, New York/Newark and Washington Dulles to São Paulo. Salvador is served by Star Alliance partner Avianca Brasil, with frequent flights from Rio de Janeiro and São Paulo. You can also get to any of these three cities via one of our partner airlines, Azul Brazilian Airlines. MileagePlus® Rewards can help pay for your hotel room. In addition, before you go make sure to submit the proper documentation to receive a tourist visa. Go to united.com or use the United app to plan your Brazilian adventure.
Scroll to top