Three Perfect Days: Toronto
Story by Richard Morgan | Photography by Andrew Rowat | Hemispheres, April 2018
"Vanillaville," they used to call it in Montreal. Or "Toronto the Good" (the bad kind of good). Then something changed: Extreme diversity made the T-Dot the most globalized city on the planet, with The Economist declaring it the world's best city to live in and Vogue dubbing it home to the world's second-coolest neighborhood. (Is there anything more Toronto than coming in second in coolness?) It's not as though it's now a city of almost 3 million BFFs, but there are no strangers here. No immigrants. No refugees. Again and again, the only word you hear—in a wide variety of accents—is "newcomer."
Day 1
Taking in colorful markets and alleyways
I wake up in the airport taxi having forgotten where I am. The cabbie has reached our destination, and he's nudging me to get up. I'm a terrible morning person, but I am tasked with an adventure in this town, so I begin with a pilgrimage to The Monkey's Paw bookstore, which shares a block in West Toronto with a Russian tattoo parlor and an eatery promising the Caribbean Queen of Patties. The store's sea-green Biblio-Mat vending machine swallows $2 coins and spits out random books, a less showy, more schoolmarmy version of Zoltar, the mechanical fortune teller from
Big
. The clerk tells me that the machine's secret method has been shared with only one customer, a magician who then scolded the shopkeeper about maintaining the mystery.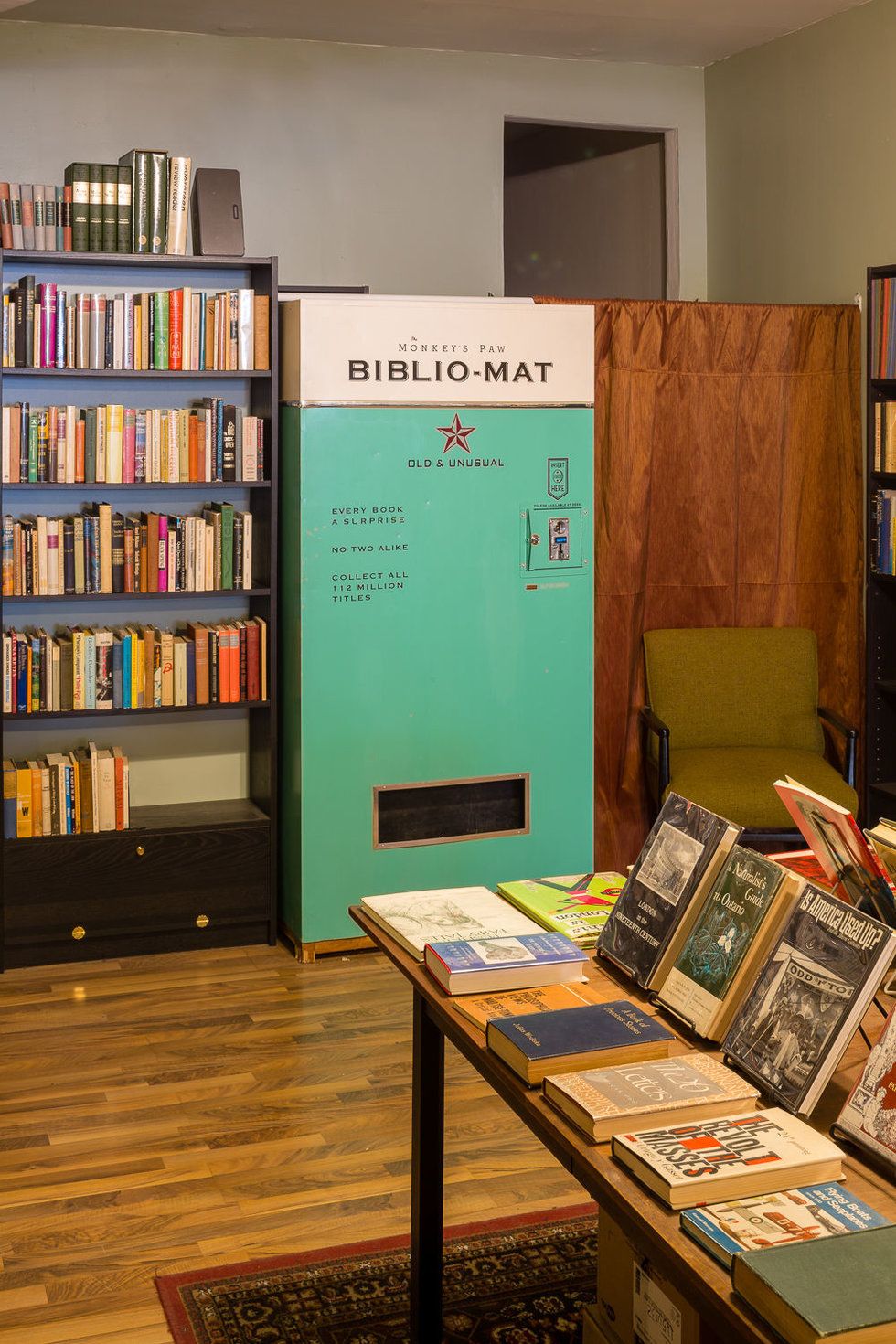 The used book vending machine at The Monkey's Paw
I drop my coin and—kerplunk—out pops a 1935 collection by Duncan Campbell Scott, "a Canadian poet who is internationally recognized as a master craftsman," according to the book jacket. I turn to the first poem, "Reality," and immediately feel as if I'm starting a scavenger hunt with a fortune cookie:
"The courtyard rings
and rattles
With the chaffering
and the din;
For all the guests are
merchants
Who all have dreams
to sell."
"Shangri-La," I tell my patient cabbie, who whisks me off to the hotel. "The most beautiful woman in my life, I dropped her off here," he says. "It is a place of beauty."
It is, but after checking in, I'm eager to get out and explore. A short stroll up University Avenue leads me away from the clutter of downtown to the teeming foliage of Queen's Park, which is also home to the Ontario Legislative building, a looming Richardson Romanesque structure that seems more ecclesiastical than municipal. Toronto is Canada's largest city, but here, with the twittering songbirds and chattering kids, it verges on pastoral.
"Peter Parkour, coming through!" yells a man in a black Spider-Man suit as he swings around a lamppost, then hops off a mailbox onto the windowsill of a bank, where he briefly crouches before somersaulting and cartwheeling down the street. There are no cameras around, and the guy doesn't seem interested in attracting an audience. He's just out for a bit of mid-morning fun. That's Toronto for you.
I follow him as best I can, rounding the corner into Kensington Market, a hodgepodge of decade after decade of Hungarian, South Asian, Portuguese, Italian, Jewish, Filipino, and West Indian newcomers.
The first place I stop, Global Cheese, is a marvel of aromas and nibbles that makes me hungry for more. Nearby, Rasta Pasta serves Jamaican-Italian fusion: Dreadlock Pasta with jerk meatballs, say, or Reggae Lasagne with steamed callaloo. I end up getting a selection of tacos at surfer-chic Seven Lives: grilled octopus, beef cheek, and the Gobernador, a rapturous smoked marlin, shrimp, and cheese beast.
"There's nary a structure that hasn't been daubed with a colorful, chaotic decoration."
Tastebuds treated, I head off to dazzle my other senses at Rush Lane, an alleyway that's often erroneously thought to be named for the Toronto-born rock trio. This strip, also known as Graffiti Alley, is the neighborhood's artistic spine. There's nary a structure—garage, warehouse, hydrant—that hasn't been daubed with some sort of colorful and chaotic decoration, created by local artists in a dizzying array of styles: the punk and the poetic, the cute and the caustic. One expansive mural depicts a fluorescent undersea scene, while another renders Toronto as a treasure map. I also spot works by the local artist Uber5000, whose signature Pikachu-like yellow birds are Toronto's unofficial mascot.
It's especially fun to explore the area while gobbling the color-splattered truffles I acquired earlier from CXBO Chocolates in Kensington (the king of these treats, which I dare not try, is the pineapple-size "disco egg"). Hopped up on sugar and stardust, I wander around for a bit, transfixed by the art and impressed by the fashion sense of the other people wandering around. I stop before one work, a bug-eyed pink and yellow face that's been applied to the door of a cupboard. Inside is a giant orange prescription bottle with a label that reads: "CHILL." How could I argue with that?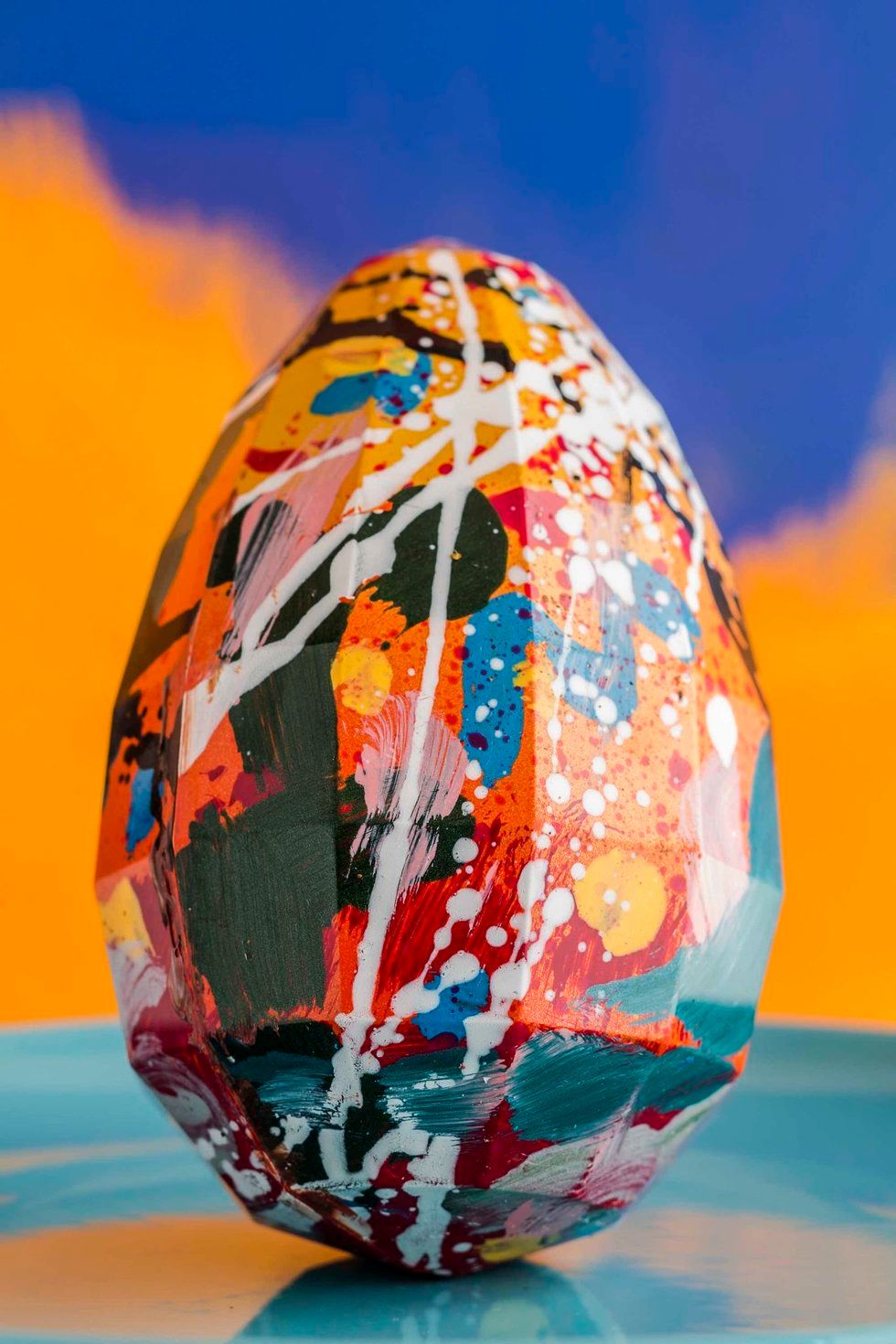 A Ziggy Stardust Disco Egg at CXBO Chocolates
It's an easy walk to Edulis, a cozy-cottage restaurant that's considered one of Canada's best. I'm having dinner here with Max, a buddy joining me on this trip to celebrate his 30th birthday. We're not particularly hungry, so we just order squid stuffed with its own tentacles and cooked in its own ink, Wyandotte heritage chicken fricassee, wild lake trout, intense mountain porcini, and Nova Scotia lobster with chanterelles and foie gras. Oh, and a rum cake with chantilly cream. "Oh my God," Max moans after his first bite of the cake. After his second: "Oh my God, it's still … it's just … wow." He lifts the third bite to his mouth, shushes the spoonful with puckered lips, closes his eyes, and whispers two words: "Stop it."

Toronto can't stop. Won't stop. So we're on to Sneaky Dee's, a dive bar that proudly serves what it calls "gringo" breakfast food. We settle for a couple of Manitoba martinis—Crown Royal and Diet Coke—before heading out to row merrily, merrily down the street.
We almost pass by Super Wonder Gallery, an art space that's hosting a pop-up cumbia reggae party. Inside, people of every age and race swirl to the sounds of a Guatemalan DJ called Dr. Nativo. A young First Nation guy introduces himself as Israel, then darts into the crowd, his braids bobbing behind him. We do the same, only with less panache. The rhythm is contagious, even for my two left feet. Newfound friends introduce us to their friends, on and on: "This is Richard and Max. They're newcomers."
"People of every age and race swirl to the sounds of a Guatemalan DJ, Dr. Nativo."
Day 2
Toggling from a fine art museum to a VR headtrip
Having worked our way through the Shangri-La's restorative full English breakfast, Max and I head a few blocks north to the Art Gallery of Ontario, which spans the centuries and is spiced with the kind of woke wit that allows signs to be translated casually from English into Anishinaabemowin, an indigenous tongue. The museum itself is a work of art, especially Frank Gehry's woozy spiral staircase in the mammoth central atrium.
In a dark room containing Hank Willis Thomas's retro-reflective prints, flash photography is not only encouraged but necessary: the images can be seen only in the brief burst of light. Sandra Meigs and Christopher Butterfield's Room for Mystics is a romper room of oversize primary colors. Esmaa Mohamoud's ball gowns made from Vince Carter basketball jerseys are deliciously impish and structurally flawless. And there is a haunting beauty in standing inches from Shauntay Grant's great-grandmother's handmade quilt as Grant reads poetry through speakers tucked behind the fabric: "Show me secret ways of feeding from forest feasts, flower dumplings, and blueberry stew. I want to know potatoes, pan-fried pain too much on the belly. Grandmother, teach me."
The poem is inspiring, but also mouthwatering, so we head off to Dim Sum King, a large restaurant on the third floor of a nondescript building in nearby Chinatown. On the way, we take a detour through Grange Park, which reopened last year after a multimillion-dollar revitalization, part of which involved the introduction of a Henry Moore sculpture, Large Two Forms, which was moved here from another part of the city—a decision that caused a stir among local art lovers.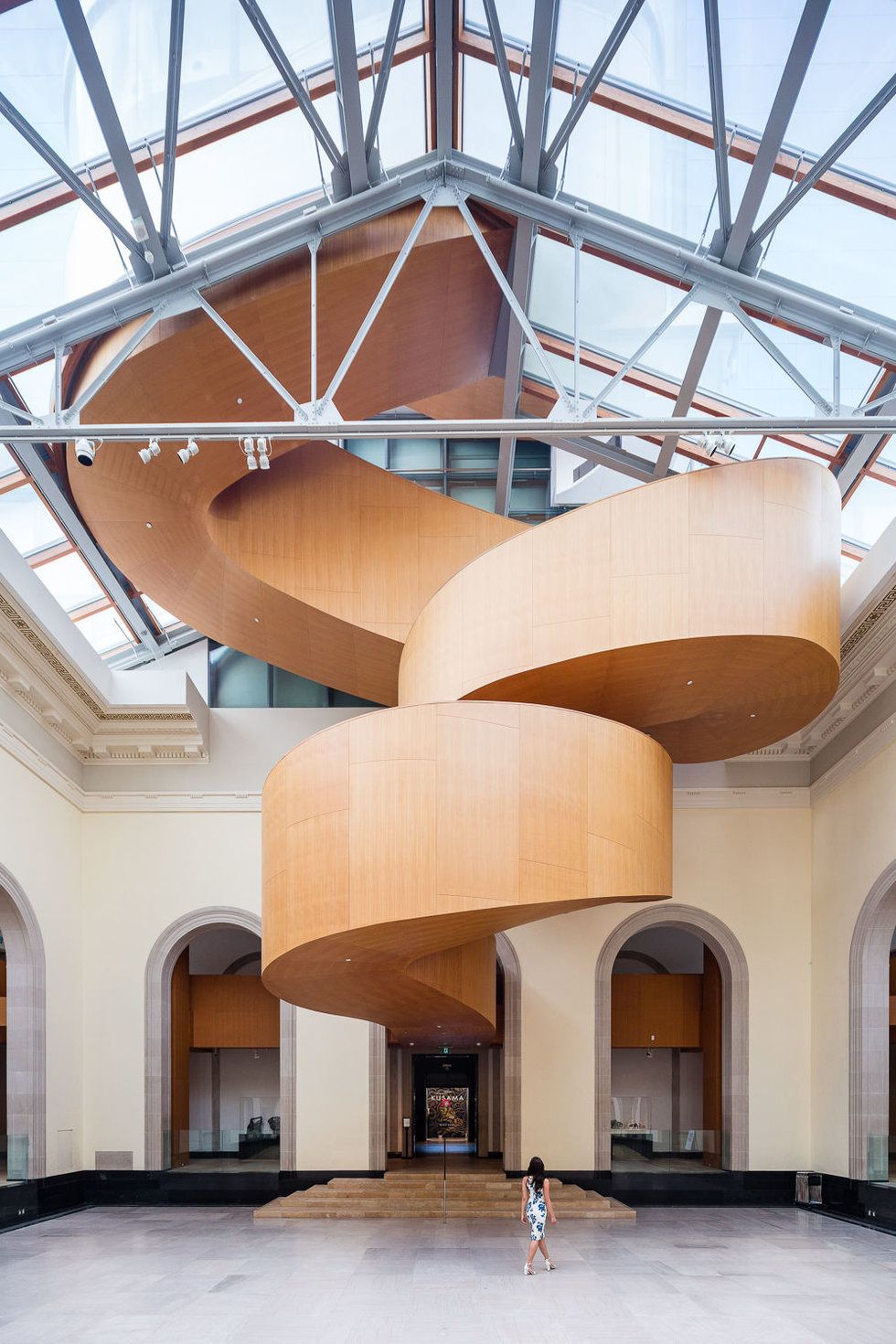 The museum's spiral staircase
Dim Sum King is a low-key spot, yet the walls are covered with photos of celebrities who have eaten here. Prime Minister Justin Trudeau appears to be a regular, and within moments of sitting down I can see why: Carts of wonderful treats are wheeled up to our table, including pillows of steamed buns and dumplings that are the culinary equivalent of a spa treatment. We burn the buns off by walking to the historic Distillery District, which is built around a landmarked 19th-century brick distillery and is now a magnet for artists, foodies, and sundry craftsfolk.

It's incredible how open these people are to discussing their work, even as they go about making it. At the Sarah Phelps Art Gallery, the eponymous painter gives Max and me a guided tour of nearly every work in the space—the inspiration, the process, the emotion. At the Thompson Landry Gallery, we view the hypnotic oil paintings of Ognian Zekoff, which focus almost entirely on hands, along with the folkloric Technicolor prints of Anishinaabe artist Norval Morrisseau. At Soma Chocolatier, we buy chocolate birch branches stuffed with raspberry jam and nougat, as gifts for folks back home. Tastier than olive branches, eh?
"The Art Gallery of Ontario itself is a work of art, especially Frank Gehry's woozy spiral staircase in the mammoth central atrium."
North of here, on the fringes of the funky Annex district, we come across Snakes & Lattes, which offers coffee and board games in a space with a distinct living-room vibe. So much of this city is homey. For a true taste of Toronto's stylishness, though, you have to go a block west to Bar Raval, which is largely hidden from the outside world, identifiable only by a plain wood door. Inside is a Hobbit house of swirling dark wood, Gaudí-style, where Spanish tapas are served. Think of it as the home of Bilbao Baggins.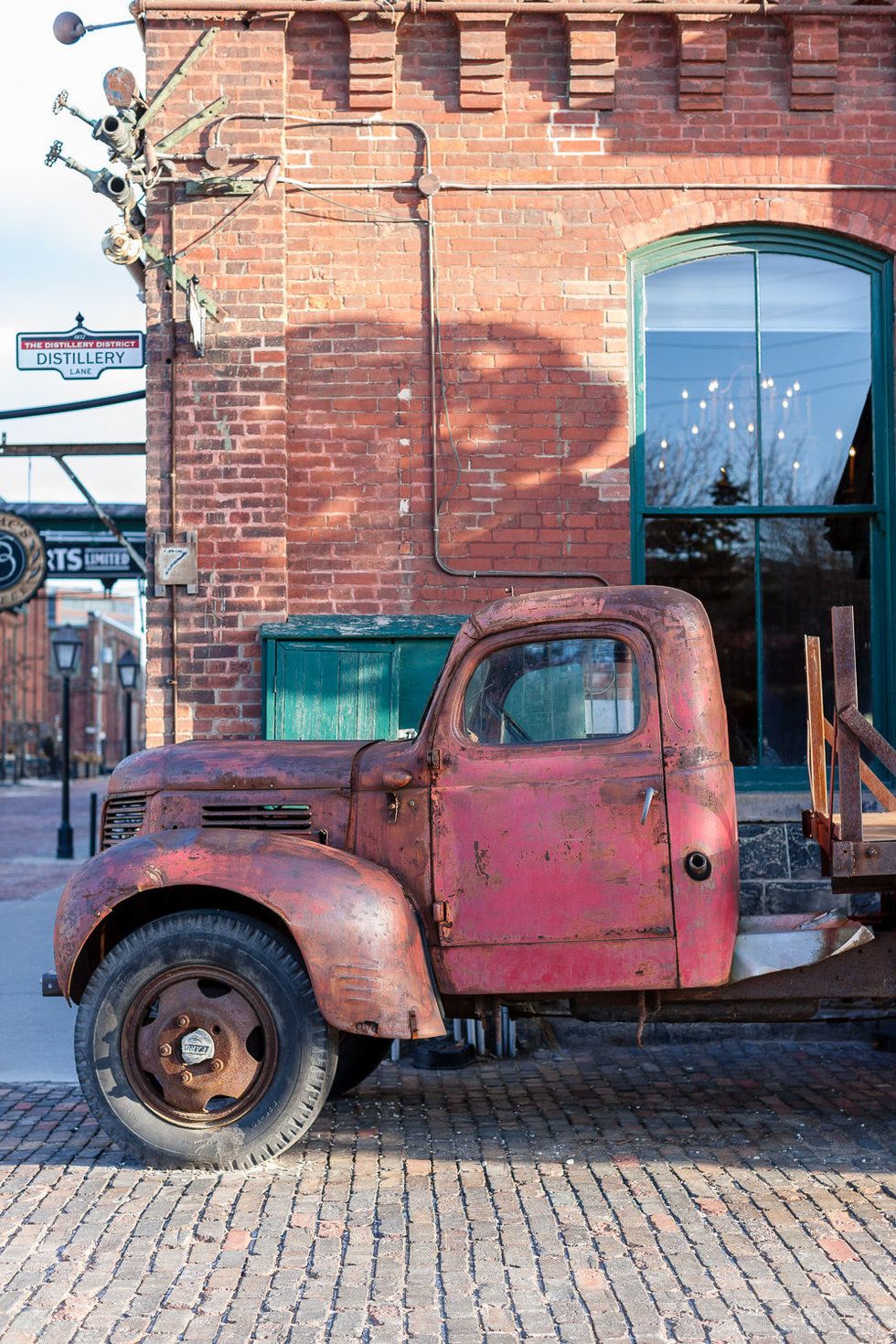 The Distillery District's trademark cobblestone streets
While sipping the mole-infused cocktail Glass Case of Emotion and the apricot and celery Into the Sun, we eye passing platters of mushroom towers and tuna pickle gildas and just the sheer transportative splendor of the place. All the people here, Max and me included, seem to be discovering fantasy versions of themselves—a bit cooler, a bit more adventurous. The overall effect is the opposite of a singles bar: It hums with the communal pulse of a house party.

From here, we head to DaiLo, a modern Asian bistro inspired by chef Nick Liu's family recipes. An amuse-bouche of green tomatoes comes from Liu's own backyard, pickled kimchi-style then tempura-fried. His pork and shrimp dumplings in XO sauce are made with his grandmother's recipe. There are also a few wild novelties, such as a fantastic Big Mac bao (in which the fast-food classic is reimagined with 90-day dry-aged ribeye), tofu in KFC batter, Vietnamese tiramisu, and sake sorbets.
The Into The Sun cocktail at Bar Raval
While eating a crunchy jellyfish slaw, Max (a molecular biologist) remarks to our Brazilian waiter that jellyfish are the least-evolved creatures that sleep—"Well, the lowest metazoan with a circadian rhythm that manifests a sleep-like behavior." The waiter is unfazed, chipping in with a factoid of his own: "And do you know that there are more types of jellyfish than any other type of creature? It's the most varied creature."

Toronto after dark is oddly mischievous, as if the city is playing dress-up with the cloak of night, everyone running around in the glow of a school recess. The city, somehow, has gamified adulthood. After a while, you stop being surprised by the sight of someone walking down the street with a stroller filled with beer, or riding a unicycle, or playing a ukulele. We see all three of these things through our cab window while on our way to House of VR, where virtual reality playpens are rented in half-hour blocks.
I get my virtual legs in a world made up of Vincent van Gogh paintings. Goggles on, there I am in 1888's The Night Café. Down the hall, past a vase of sunflowers, is Marguerite Gachet at the piano. And in a nearby armchair is van Gogh himself. We listen to an impromptu concert before the artist gets up and walks over to a window. I join him. Outside is his Café Terrace at Night. I suppose we are in Arles. Something else has van Gogh's attention, so I poke my head out the window and follow his gaze skyward. There, swirling to the point of dancing, is the giddy firmament of The Starry Night.
"The city, somehow,
has gamified adulthood. After a while, you stop being surprised by the sight of someone riding a unicycle or playing a ukulele."
Van Gogh retreats to his armchair, and, feeling I may have worn out my welcome, I try other games, fighting robots and shooting at bad guys, before settling on what the staff tells me is a children's game: assuming the role of Godzilla in a cityscape where I can not only tear down buildings with a swipe, I can pick them up—along with cars or trees—and toss them around. Who knew being a monster was so much fun?
During the cab ride home—I'm already thinking of the hotel in these terms—our driver tells us that everyone in Toronto has a nickname, even though he doesn't. He dubs us Richie Rich and Maximilian, but then changes his mind. "That's too easy," he says. "But they're both about money. So maybe one of you could be Loonie, like the $1 coin, and the other could be Toonie, like the $2 coin, and then when you show up people could call you the Loonie Toons. Or, like, it's Loonie Toons time. I could see that with you two."
Day 3
Tasting Canada's history and ultra-diverse future
The Aga Khan Museum is a half-hour drive from the city center, but it's worth the effort. The building is a thing of beauty, in particular the restored courtyards, which feature geometric designs intended to stretch space toward infinite horizons. The collection, meanwhile, includes artifacts such as an 11th-century pharmacology text and an ancient dish whose rim is inscribed with Arabic text that could easily stand as Toronto's motto: "Generosity is the disposition of the dwellers of Paradise." Surrounded by 18th-century Damascene walls, doors, and panels, we have a light, spicy brunch of grilled octopus salad and chicken jalfrezi at the museum's restaurant, Diwan, with a couple of saffron martinis and a fig gelato for dessert.
On the way back into town, we stop at Evergreen Brick Works, a former quarry now given over to Mother Nature. Its hiking trails offer sweeping hilltop views of Toronto's skyline, but the real appeal here is the scrappy scramble of exploration. Is that a path? A natural clearing? Could it be both? The great scoop of the quarry creates the feeling of a condensed valley, and summiting the surrounding small hills provides a surprising thrill.
Back in the city proper, we do a bit of shopping on bustling Dundas Street—primarily window shopping, since we've spent most of our disposable income on chocolate—but can't resist dipping into OVO, the owl-branded clothing store made famous by the rapper Drake. It's minimalist but fanciful (if you fancy $100 khaki-colored sweatpants). I end up popping into a no-name gift shop in Chinatown to buy some allegedly lucky coins. Toronto makes you believe in good luck, even if it doesn't make you believe in sweatpants.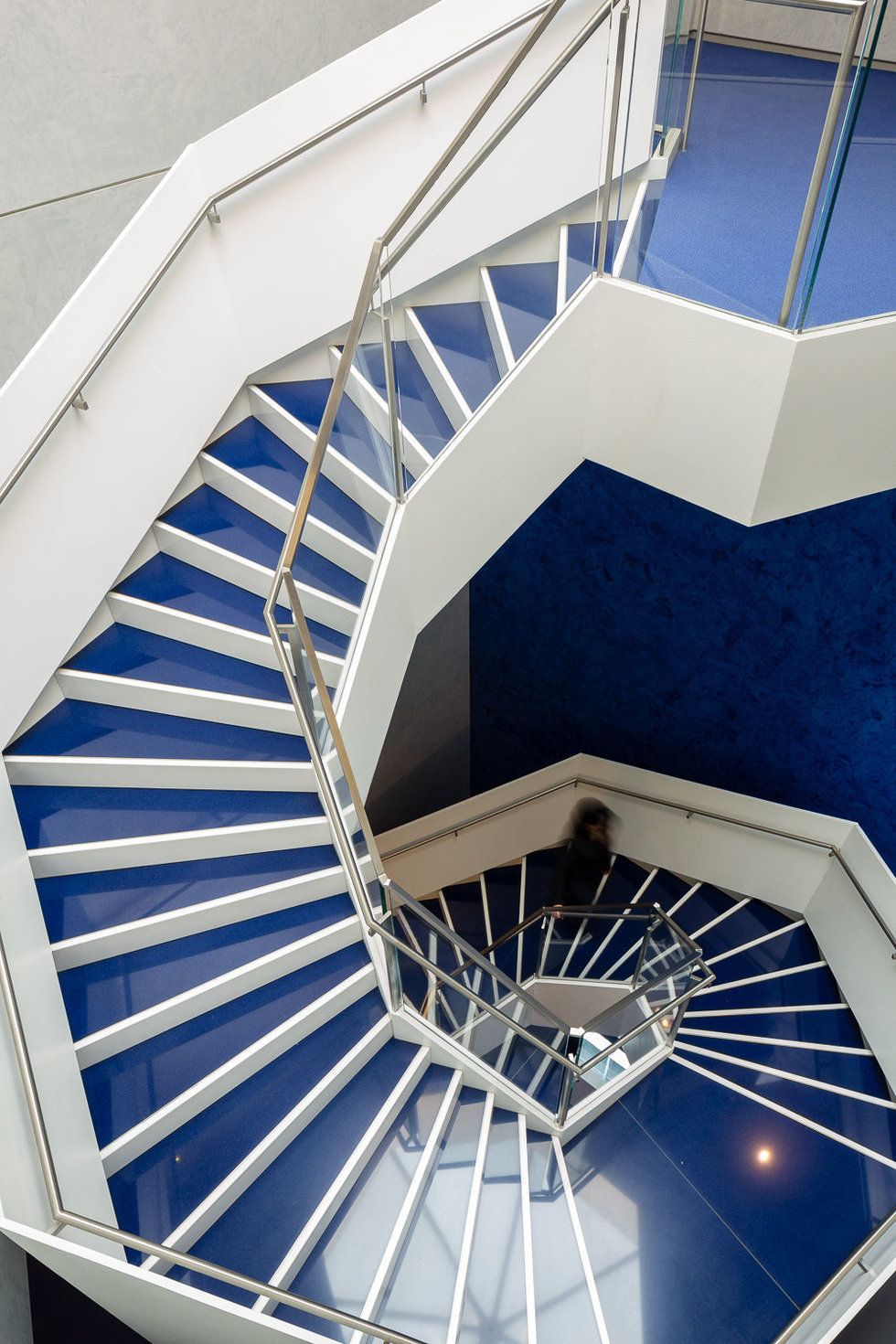 A hexagonal staircase at the Aga Khan Museum
There is a giddy timelessness to this city's magic, and there's no better place to experience that spirit than Boralia, a restaurant whose menu is derived from the cuisine of indigenous people and early settlers. Keeping with this concept, many dishes come with date stamps that refer to the year the recipe was devised. We have deviled Chinese tea eggs (1855) marinated in soy sauce, Chinese wine, black tea, and five spice powder served with pork sausage and chives on top; mussels smoked in pine needles and pine ash butter (1605); and tavern keeper's duck (1851) with hibiscus-wrapped sausage, Arctic cranberries, and birch syrup. The star is a simple pigeon pie (1611), a testament to the idea that less is more. Luckily, we save just enough room for a bird's-nest pudding of fried butterscotch custard (1894).
"The ancient dish is inscribed with Arabic text that could stand as Toronto's motto:'Generosity is the disposition of the dwellers of Paradise.'"
I ask that my grandmother and pastor and any future employers not read this next part, but we end our last night in Toronto with a bar crawl, during which we sample the Haitian-inspired tipples of Rhum Corner, the low-key Hoof Cocktail Bar's Manhattan, and the draft beers at Otto's Bierhalle (where I highly recommend you push the giant red button in the bathroom). One fellow barhopper insists that we visit the speakeasy-ish Civil Liberties, adding, "Look for the pineapples." On Bloor Street, we pass by Christie Pits Park (home to the Erratic Boulder, a boulder with a plaque that reads "Erratic Boulder"). Then we see it: an awning peppered with pineapples.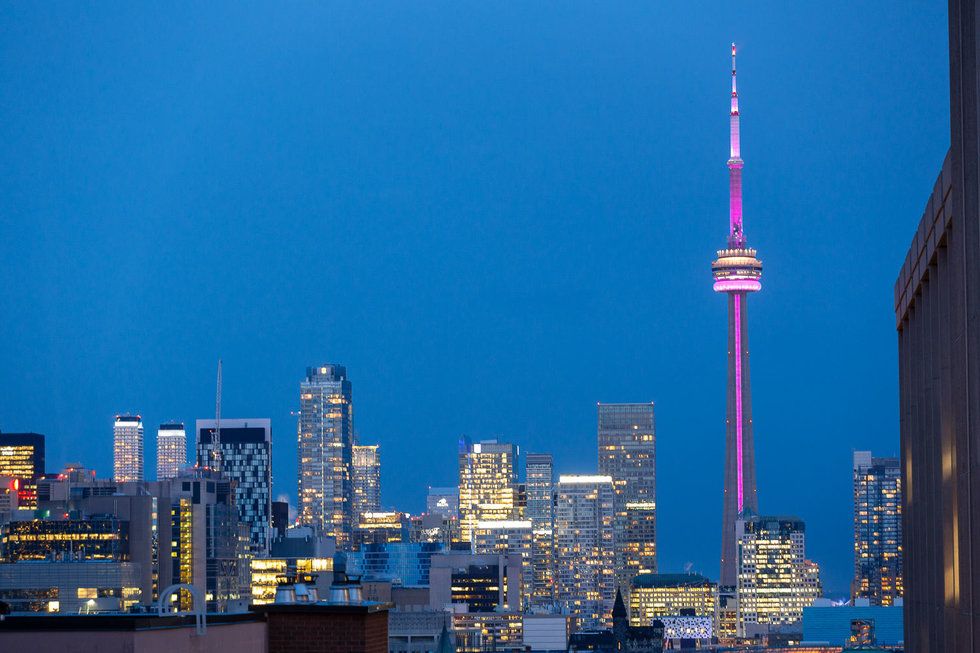 Civil Liberties is so confident in its craft that it has no menu. Every drink is tailor-made. The bartender promises she can give me any flavor I want, so I ask for a drink that tastes like Toronto. It turns out there's an actual cocktail called the Toronto—a Fernet-infused play on the Manhattan. As I sip it, the band wraps up a song about mustaches, then asks the audience to suggest words that might inspire an improvised number. "It's our last night in Toronto!" I yell, a bit too—how to put it?—yell-y. Duly prompted, the band delivers a rousing ballad titled "Last Night in Toronto":

I want to let you run
It don't matter where we go
It don't matter where we go
Everybody needs
somebody to love
When it's your last
night in Toronto
It's our last night
in Toronto
Won't we have fun
It's our last night
in Toronto
And it's only just begun
As we leave, I look back wistfully and catch the banner above the bar's entrance. In another century, it could've been emblazoned across the city's gates: "This must be the place."
Canada's largest city spreads out along the northwestern shore of Lake Ontario, and it's a dynamic, multicultural and inclusive experience like almost no other place on earth. Not only is Toronto a thriving living city,it's also become one of the world's truly must-visit destinations. Regularly ranked as one of the greatest places to live, Toronto is the cultural center of the country and home to the biggest events, the most pro sports and the greatest concentration of theaters and restaurants.
Recent decades have seen regular multi-million-dollar upgrades to the city's public spaces, with a slew of great museums, iconic architecture and the redevelopment of the now glittering lakefront adding to the city's appeal.

Add in an ever-growing number of world-class hotels, upbeat nightlife that runs from dusk until dawn and a vibrant and diverse culinary scene influenced by the eclectic makeup of the city's people. Bright and bustling, cosmopolitan and cultured, unpredictable and energetic, Toronto has become one of the greatest cities on earth.
What you see and where you go will depend on the length of your stay. A week is good, longer is better. But even a long weekend will give you a taste of 'The Six' — one of the city's many nicknames, reworked recently as 'The 6ix' by one of its most famous sons, Drake.

However long you stay, you can't hope to see it all. So, consider what follows a starting point for your first visit…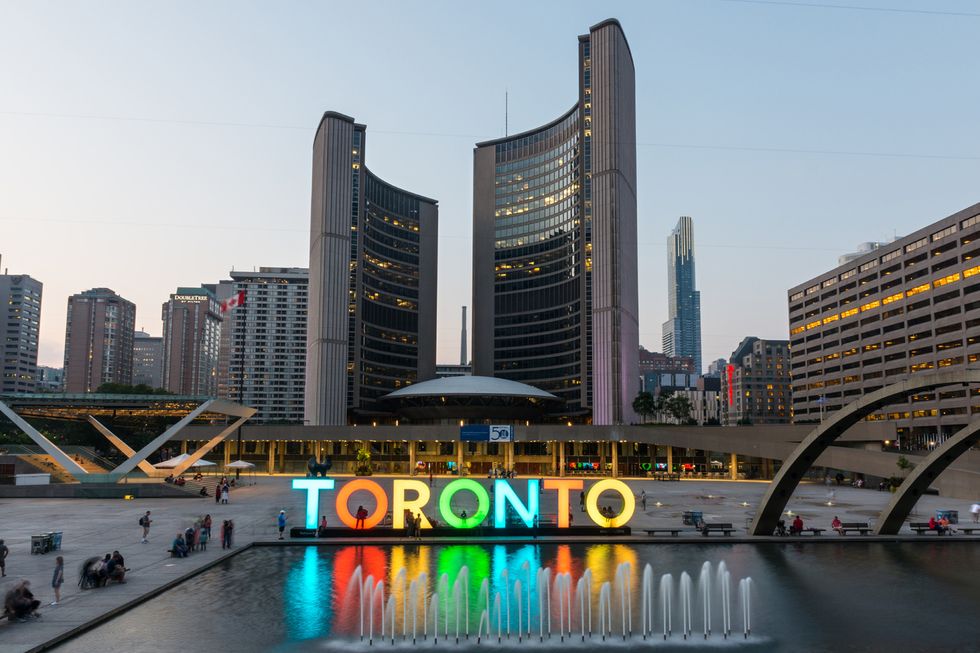 City Hall, Toronto
The checklist sites

No visit to The Six can be considered complete without ticking off several of Toronto's true heavyweight sights. All of the following are in or within easy reach of the city's compact, walk-able and very vibrant center.
The CN Tower is unmissable in every sense, a vast freestanding spire that looks down upon the city and takes its place as one of the 'Seven Wonders of the Modern World'. Head up for the city's best 360-degree views, or get your heart racing on the EdgeWalk — a journey around the circumference of the tower's main pod, 116 stories high and tethered by a harness.

Back on solid ground, Ripley's Aquarium is almost right next door to the CN Tower and is home to 16,000 aquatic animals and the Dangerous Lagoon. A moving sidewalk that whisks you through a long tunnel surrounded by sharks and stingrays is guaranteed to make your heart race all over again.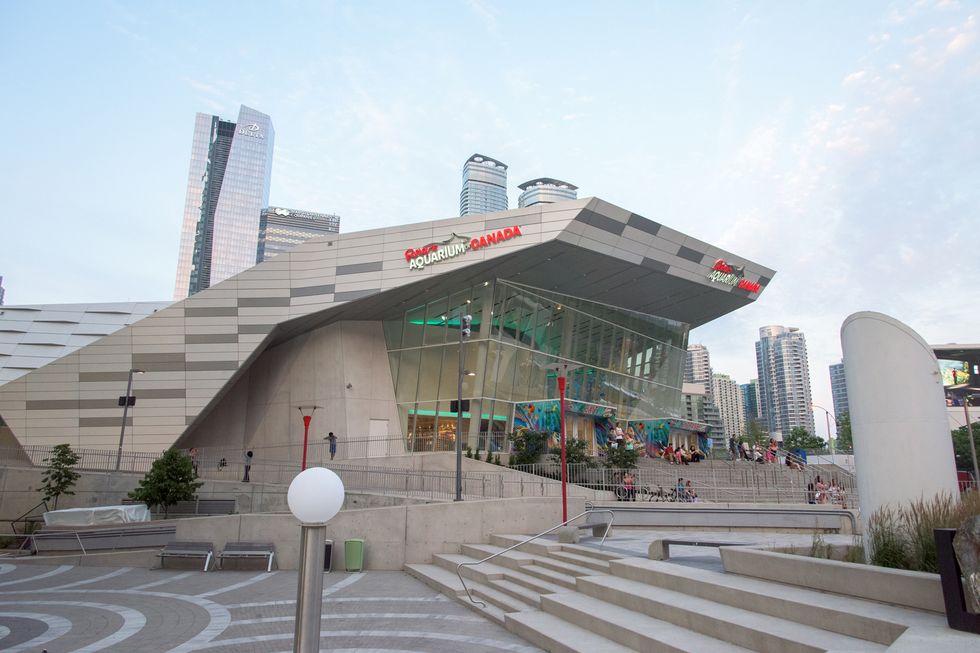 Ripleys Aquarium
Also close to the CN Tower is the Rogers Center, home to Canada's only baseball team, the Toronto Blue Jays. Visit on game day for the full experience, or take the stadium tour to go behind the scenes and through closed doors.

In a city of so many museums and galleries, the Royal Ontario Museum stands out. Not just because it's home to a world-class collection of 13 million artworks, cultural objects and natural history specimens, but as much because it hosts exciting Friday night events that include dance, drink and top DJs.

Two other must ticks include the Art Gallery of Ontario, which houses 95,000 works of art and is free for visitors under 25, and the Hockey Hall of Fame, which taps into Canada's national obsession in stunning depth.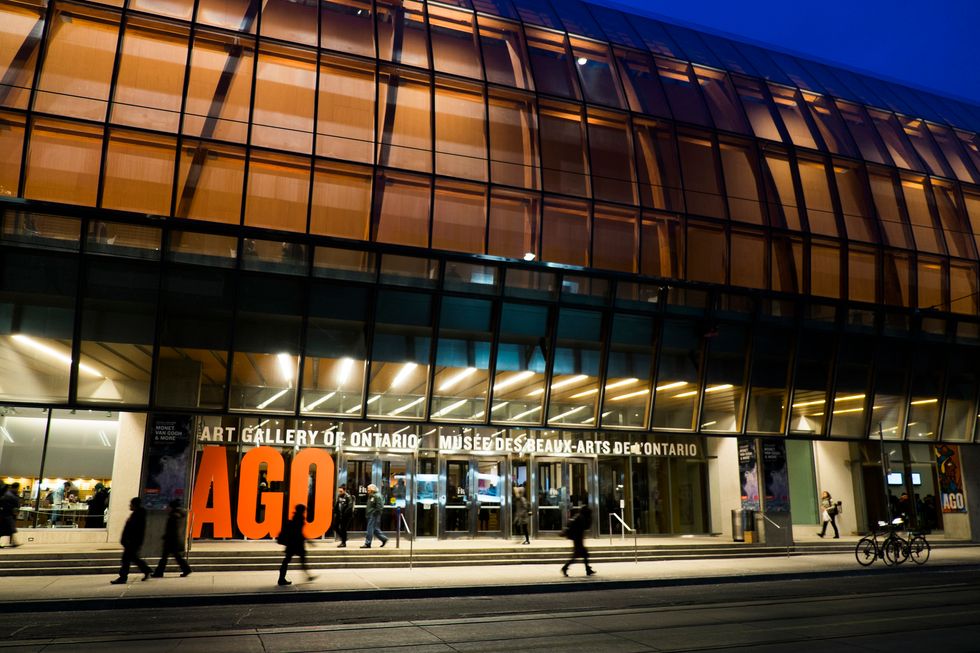 Art Gallery of Ontario
Casa Loma is a must-visit Gothic castle in the heart of the city. North America's only castle is filled with artworks and treasures from Canada and beyond, but its big pull is the network of hidden tunnels to explore as they stretch out beneath the city.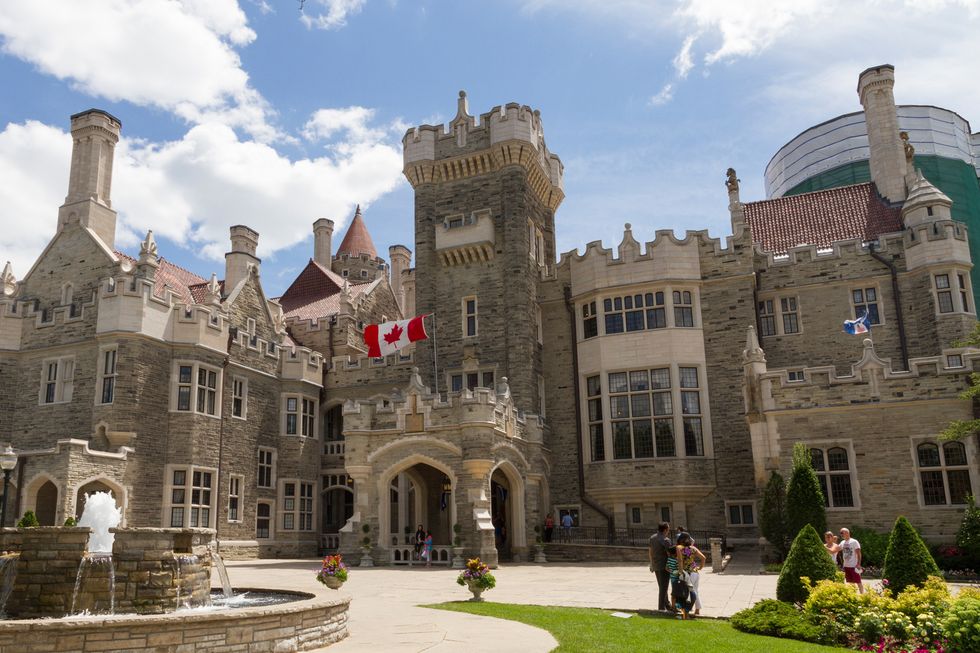 Casa Loma
Toronto's multi-cultural makeup is visible all across the city but reflected best in its remarkable culinary scene (see Where to eat and drink). The city's 'fresh and local' mantra is perfectly showcased at St. Lawrence Market, one of the world's greatest food experiences. Pay it a visit and grab a peameal bacon sandwich — a Canadian staple invented in Toronto and now considered the city's signature dish.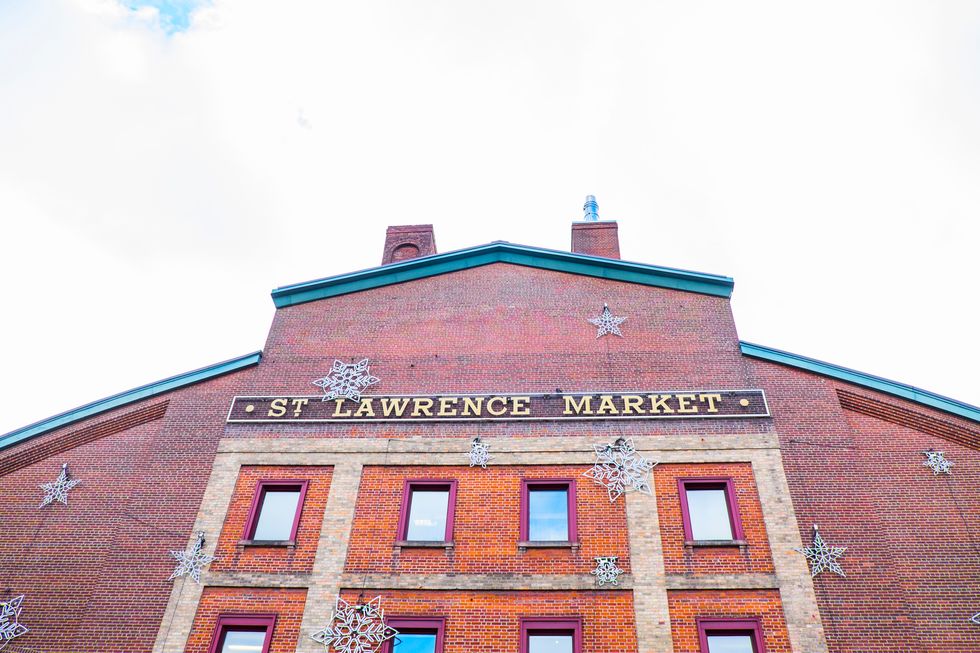 St. Lawrence Market
Afterwards, walk off the calories by wandering the historic cobblestone and car-free Distillery District. Once a vast whiskey distillery and an important spot during prohibition, historians mention that even Al Capone would visit the Distillery to load alcohol destined for the States[9] . This iconic landmark now distils creativity within the 19th century buildings now home to hip restaurants, bars, independent boutique stores, galleries and theaters. Visit in December for the Toronto Christmas Market.

Finally, don't even think about returning home without having had a picture taken with your head poking through an 'O' of the multicolored, 3D Toronto sign at City Hall — the most Insta-worthy location in a city of so many. You'll need to head there early in the morning to avoid the crowds.

If you stay long enough, take a ferry and hop across to Toronto Islands, a chain of 15 small islands in Lake Ontario just south of the mainland. They're home to beaches, a theme park and a breathtaking view of the city's skyline and will very happily fill a full day of your stay.
The bucket list
You absolutely cannot leave Toronto without having witnessed the power of the Niagara Falls and its hypnotic mist up close. Trying to visit the Falls from the States is a trip on its own, but it's almost non-optional when you're less than two hours away in Toronto. Take the trip, buy the T-shirt and tick off one of the world's must-see sights.
Explore like a local
Away from the sleek, gleaming towers of downtown lie many of Toronto's less obvious but no less essential attractions. West Queen West is Toronto's hippest neighborhood and artistic heart, a one-mile strip of very chic galleries, stores, restaurants and boutique hotels. Kensington Market is a fantastically chaotic neighborhood and perhaps the best example of the city's famous multiculturalism. It's not a market as the name implies, but a collection of independent shops, vintage boutiques, art spaces, cafés, bars and restaurants from every corner of the globe.
The Bata Shoe Museum is one of the city's quirkiest collections, an unexpectedly fascinating exhibit that retraces the 4,500-year history of footwear. And as you wander the city, you can't fail to notice that Toronto's walls are alive with graffiti. Take a free 90-minute walking tour through the back alleys of Queen Street West and down Graffiti Alley to gain a better understanding of the city's street art scene. If you visit during the sunnier months, escape the hustle by heading just east of the center to High Park, the green heart of the city where forests, walking trails, picnic spots and even a zoo await you. Ideal to unwind after a long day of urban adventures.
The essentials
When to go With the sun shining, May through October is a great time to visit, but the city is alive through all four seasons. The Spring and Autumn months are ideal as the humidity and visitor numbers are lighter, while Toronto comes alive through the colder months through a wide array of winter celebrations. One of the most spectacular is the Aurora Winter Festival, a six-week celebration that sees the Ontario Place, West Island transformed into four mystical worlds. Whichever season you choose, plan to stay for at least five nights to get a true flavor of the city.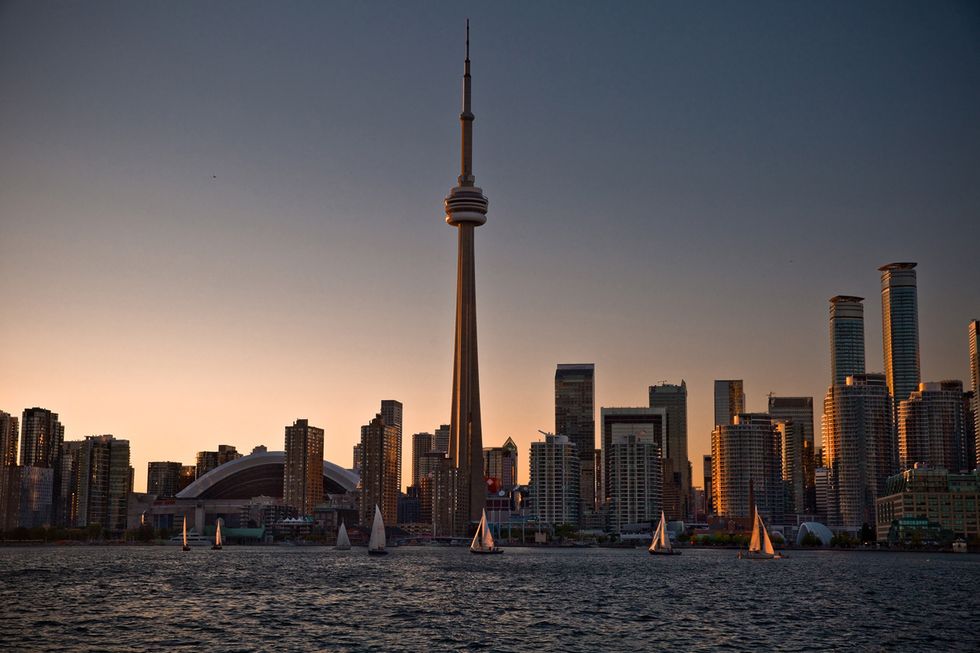 Toronto skyline view
Where to stay To be at the heart of most of the attractions you'll want to see, aim for downtown. One of the best options is the Marriott City Center, not only because it's located right next to the CN Tower but also because it's attached to the iconic Rogers Center where the Toronto Blue Jays play and countless concerts and popular events are held.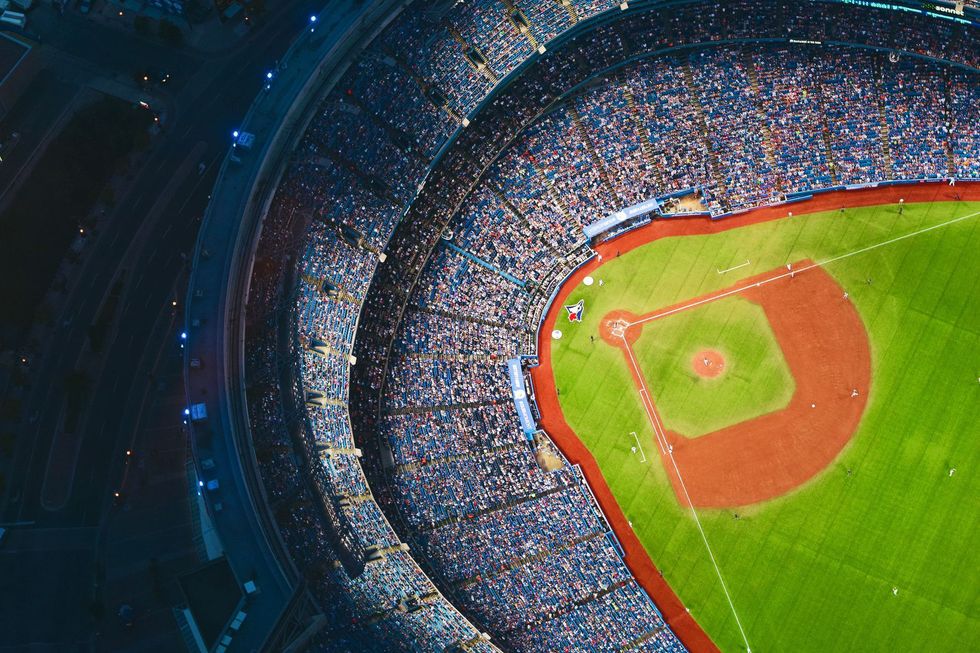 Toronto Blue Jay stadium
Opt for a Stadium room and you'll look out onto the field. If you want to experience Toronto's non-stop nightlife, the Entertainment District is the place to be. If you're looking for a luxury experience, discover Canada's first St. Regis hotel in the heart of downtown.

Where to eat and drink Nowhere is Toronto's incredible diversity more evident than in its food scene — taste Toronto and you're tasting the world. The city is brimming with restaurants and cafés serving everything from high-end fine dining to comfort food from an informal neighborhood joint — plus every option imaginable in between.

For fine dining, consider Alo, Canis and Edulis. Book a table at Canoe, Lavelle, The One Eighty or 360 at the CN Tower and you're guaranteeing a view as spectacular as the food. Or experience the city's remarkable fusion food at DaiLo (French-Cantonese), El Catrin (Mexican-French) and the unexpected mashup of Rasta Pasta (Jamaican-Italian).
The above suggestions don't even scratch the surface of a food scene to rival any city on earth, with options to suit every taste and any budget.
How to get around Toronto is perfect to explore on foot or via a growing network of cycle routes. For a quicker journey, buy a Presto card to use the TTC, Toronto's subway, streetcar and bus system.

How to get there Fly into Toronto Pearson International Airport (YYZ) with United and you're around 15 miles west of the city center. The most comfortable route in is via the Union Pearson Express, which runs every 15 minutes and gets you downtown in 25 minutes ($13).The TTC is a cheaper option at under $5, but it can take an hour and a half and involves a number of transfers, while a taxi will take around 30 minutes and cost $45.
United flies to Toronto from numerous U.S. cities including our Hub city locations. Book your trip via united.com or by downloading the United app.



Following the devastating wildfires in Australia and powerful earthquakes that shook Puerto Rico last week, we're taking action to make a global impact through our international partnerships as well as nonprofit organizations Afya Foundation and ADRA (Adventist Development and Relief Agency).
Helping Puerto Rico recover from earthquakes
Last week, Puerto Rico was hit with a 5.2 magnitude earthquake, following a 6.4 magnitude earthquake it experienced just days before. The island has been experiencing hundreds of smaller quakes during the past few weeks.
These earthquakes destroyed crucial infrastructure and left 4,000 people sleeping outside or in shelters after losing their homes. We've donated $50,000 to our partner charity organization Airlink and through them, we've helped transport disaster relief experts and medical supplies for residents, as well as tents and blankets for those who have lost their homes. Funding will go towards organizations within Airlink's partner network, which includes Habitat for Humanity, Mercy Corps and Americares, to help with relief efforts and long-term recovery.
Australian wildfire relief efforts

Our efforts to help Australia have inspired others to make their own positive impact. In addition to teaming up with Ellen DeGeneres to donate $250,000 and launching a fundraising campaign with GlobalGiving to benefit those impacted by the devastating wildfires in the country known for its open spaces and wildlife, our cargo team is helping to send more than 600 pounds of medical supplies to treat injured animals in the region.
Helping us send these supplies is the Afya Foundation, a New York-based nonprofit that seeks to improve global health by collecting surplus medical supplies and delivering them to parts of the world where they are most needed. Through Airlink, the Afya Foundation will send more than $18,000 worth of materials that will be used to treat animals injured in the Australian fires.
These medical supplies will fly to Melbourne (MEL) and delivered to The Rescue Collective. This Australian organization is currently focused on treating the massive population of wildlife, such as koalas, kangaroos, and birds, that have had their habitats destroyed by the recent wildfires. The supplies being sent include wound dressings, gloves, catheters, syringes and other items that are unused but would otherwise be disposed of.
By working together, we can continue to make a global impact and help those affected by natural disasters to rebuild and restore their lives
Australia needs our help as wildfires continue to devastate the continent that's beloved by locals and travelers alike. In times like these, the world gets a little smaller and we all have a responsibility to do what we can.
On Monday, The Ellen DeGeneres Show announced a campaign to raise $5 million to aid in relief efforts. When we heard about Ellen's effort, we immediately reached out to see how we could help.
Today, we're committing $250,000 toward Ellen's campaign so we can offer support now and help with rebuilding. For more on The Ellen DeGeneres Show efforts and to donate yourself, you can visit www.gofundme.com/f/ellenaustraliafund
We're also matching donations made to the Australian Wildfire Relief Fund, created by GlobalGiving's Disaster Recovery Network. This fund will support immediate relief efforts for people impacted by the fires in the form of emergency supplies like food, water and medicine. Funds will also go toward long-term recovery assistance, helping residents recover and rebuild. United will match up to $50,000 USD in donations, and MileagePlus® members who donate $50 or more will receive up to 1,000 award miles from United. Donate to GlobalGiving.
Please note: Donations made toward GlobalGiving's fund are only eligible for the MileagePlus miles match.
In addition to helping with fundraising, we're staying in touch with our employees and customers in Australia. Together, we'll help keep Australia a beautiful place to live and visit in the years to come.
Scroll to top