Know before you go: Tips for transgender and nonbinary travelers
By Alex Verman
This story was originally published on AFAR | May 30, 2019
For people whose gender identity doesn't match the one assigned to them on their birth certificate, dealing with air travel can present a host of obstacles. Here's what U.S. travelers need to know about flying outside of the binary.
If you're a transgender or nonbinary traveler, making your way through the airport can feel like a journey in itself. Different airlines and airports enforce varying policies when it comes to harassment and discrimination, but all air travel requires in some way that travelers "declare" a gender as part of their identification. For transgender people and nonbinary folk (those whose internal sense of self isn't exclusively male or female), this means effectively outing yourself to every TSA official you encounter.
To offset the anxieties that come with navigating the airport as a transgender or nonbinary person, it can be helpful to know what to expect before traveling in order to prepare your documents and review your answers to security questions. These tips will give you the information you need to make smart decisions and figure out what works for you while preparing for air travel.
Navigating gender markers on travel documents
Passports
According to the U.S. State Department website, changing the name or gender marker on a U.S. passport requires submitting a DS-11 application form complete with a recent form of government-issued identification and a passport-appropriate photo (both of which must resemble your current appearance), proof of legal name change (for those changing their names) and a medical certification indicating that you have received — or are in the process of receiving — clinical treatment for your transition. Templates for this medical certification, which must be signed by a licensed physician, can be downloaded from the government agency's website. It's important to note that a description of the specific "treatment" is not required in the medical certification and need not be limited only to gender confirmation surgery — the State Department intentionally leaves it open for interpretation.
Still, some trans women have reported encountering unexpected roadblocks in getting their names and gender markers changed on their passports in the United States. In these cases, it took the intervention of a sympathetic politician to sort out a simple bureaucratic error. It's unclear how widespread this problem is, but just in case, nonbinary and trans people hoping to use their correct names and gender identities on their travel documents should start updating their passports well in advance of their intended travel date.
Whether or not you're able to change your name and gender marker, the main thing is that your passport photo somewhat matches your actual physical appearance. If your appearance has changed significantly since starting your transition, you may want to renew your passport with an updated photo and carry an additional piece of I.D. that matches the information on your passport. (Across the United States, rules regarding name and gender changes on drivers' licenses vary. The National Center for Transgender Equality has a helpful search tool that spotlights policies specific to each state.)
While the United States doesn't currently offer gender neutral passports, many other countries do provide some variation for travelers who don't identify with the "male" or "female" binary gender options. For instance, Australia, Denmark, Germany, Malta, New Zealand and Pakistan also have an "X" category, while India, Ireland and Nepal provide various third gender options. My Canadian passport has an "X" (undetermined), along with an "M" (male). Sure, it's a bit of an unsatisfying compromise, but there's still something reassuring about having a government document that acknowledges my nonbinary identity.
Flight tickets
Earlier this year, Airlines for America (A4A) and the International Air Transport Association (IATA) announced that starting June 1, 2019, both major trade organizations would allow airlines to offer two new gender options for travelers booking flights: "U" (undisclosed) or "X" (unspecified), in contrast to the previous binary system consisting of "M" (male) and "F" (female) titles only. Following the update, all five major airlines in the United States — United, Alaska, American, Delta, and Southwest — announced that they plan to shift toward more inclusive gender options for travelers.
This spring, United Airlines became the first U.S. airline to provide gender neutral options in its booking process. (This change came with newly implemented training sessions for United employees — offered by the Human Rights Campaign and The Trevor Project, an organization devoted to mental health advocacy for LGBTQ youth — which cover topics such as gender discrimination and use of preferred pronouns.)
Although the rest of the aforementioned airlines maintain plans to add the new gender options, most currently have no timetable for the update. All the same, the real test will be in how transgender and nonbinary people are treated in real life while traveling.
Getting through airport security
TSA pat-downs and scans
Security scans and pat-downs are infamous among transgender travelers. At U.S. airports, TSA requires passengers to go through a full-body Advanced Imaging Technology (AIT) scanner that operates on a binary gender system — it's programmed to read certain bodies in certain ways and to see any "irregularities" as signs of danger. As you can imagine, this poses problems for some trans people, for whom a bulge in the "wrong" place is often misperceived as a security threat. (Before each passenger enters the machine, a TSA agent must press a blue "male" or pink "female" button so that the device's Automatic Target Recognition software can detect "anomalies" not consistent with the passenger's assigned gender.)
If an "anomaly" is detected, the AIT machine will ring an alarm, which means you'll have to receive additional screening before passing through airport security — often in the form of a pat-down. For some people, this can be an uncomfortable experience of public humiliation. According to the TSA website, travelers can initially request a pat-down instead of an AIT scan, which avoids the potential embarrassment of the alarm (even though the end result of a pat-down is the same). You can also request an inspecting TSA agent who matches your gender identity, and you can request to have the pat-down conducted in a private area with a companion of your choosing.
Packing medications, prosthetics, and implants
Most airlines and airports will allow you to travel with medications and supplies in your carry-on, although they should be packed in a separate bag within your luggage. For transgender travelers who inject their hormones, it's best to pack any medical syringes alongside their corresponding medications and to try to keep the pharmaceutical label intact. The TSA website also advises travelers to declare any syringes or dilators to inspectors before going through security and to travel with proof of the medical necessity of the item(s).
Transgender travelers wearing chest binders or prosthetic devices may need to undergo Explosive Trace Detection (ETD), or swabbing. (Implants should not pose any issue.) The National Center for Transgender Equality states that travelers are not required to "lift, remove, or raise an article of clothing to reveal a prosthetic item and should not be asked to remove it." According to their website, if a TSA officer asks you to reveal a prosthetic item, you can ask to speak to a supervisor. You can also ask to be screened in a private room. Still, this whole process can be time-consuming, so make sure to arrive early to account for delays.
Transgender or nonbinary travelers with questions about medical equipment and devices can call the TSA Cares hotline in advance of their trip at 1-855-787-2227.
The most important thing to keep in mind
Airports can be unsettling spaces for everyone but especially for trans and nonbinary people —and particularly for trans people of color. Airports are not simply binary spaces; they are also under heavy security. The important thing to remember is that there's nothing "wrong" with you or your body. There's no reason for people to be seeing you as a threat, and you have every right to demand respectful treatment. As with any negative customer experience, if you have any issues with airline or TSA personnel, you can report it.
Remember, navigating the airport is just one part of the trip. For better or worse, your time there doesn't have to define your travel experience. The rest of it is up to you.
Calling all AvGeeks and travelers! Here's a fun way to take your next video call….from a United Polaris seat, the cockpit or cruising altitude. We're introducing United-themed backgrounds for use on Zoom, a video conferencing tool that many people are using to stay connected.
So for your next meeting or catch up with friends and family, download the app to either your computer or mobile device to get started. If you've already downloaded Zoom you can skip ahead to updating your background image (see instructions below).
Start here by downloading your favorite United image to your computer or mobile device. Just click "download" in the bottom left corner of the image.
Next go to your Zoom app (you'll need to download the app to access backgrounds) and click on the arrow to the right of your video camera icon in the bottom of the screen.
From here select, "choose virtual background" to upload your uniquely United photo.
When and where possible, we are working to repatriate travelers who are stranded abroad in the wake of the COVID-19 crisis. Our teams are working closely with government officials here in the U.S. as well as in other countries where flying has been restricted to gain the necessary approvals to operate service. In regions where government actions have barred international flying, we have coordinated with the the U.S. State Department and local government officials to re-instate some flights. Additionally, we have been operating several extra flights to countries in Central America and South America as we continue to play a role in connecting people and uniting the world.
We have operated more than 56 repatriation flights from Panama City, Guatemala City, Quito, Lima, San Pedro Sula, Tegucigalpa and Roatan, bringing nearly 8,000 people home. We will continue working with government officials to operate extra flights to Houston from Quito, San Pedro Sula, Tegucigalpa and from Lima to Washington Dulles and beginning April 5, we will begin operating multiple charter flights between Delhi and San Francisco. We continue to review more opportunities for flights between the United States and other countries to bring citizens home.
Video provided by the U.S. Embassy Ecuador of Americans returning home on United.

Additionally, our Customer Solutions and Recovery team is working with customers in the following markets to rebook them on flights back to the United States as capacity allows, either on our aircraft or on one of our airline partners' planes:

Quito, Ecuador
Managua, Nicaragua
Roatan, Honduras
San Pedro Sula, Honduras
Amsterdam
Brussels
Munich
Singapore
Tokyo-Haneda
Seoul, South Korea
Melbourne, Australia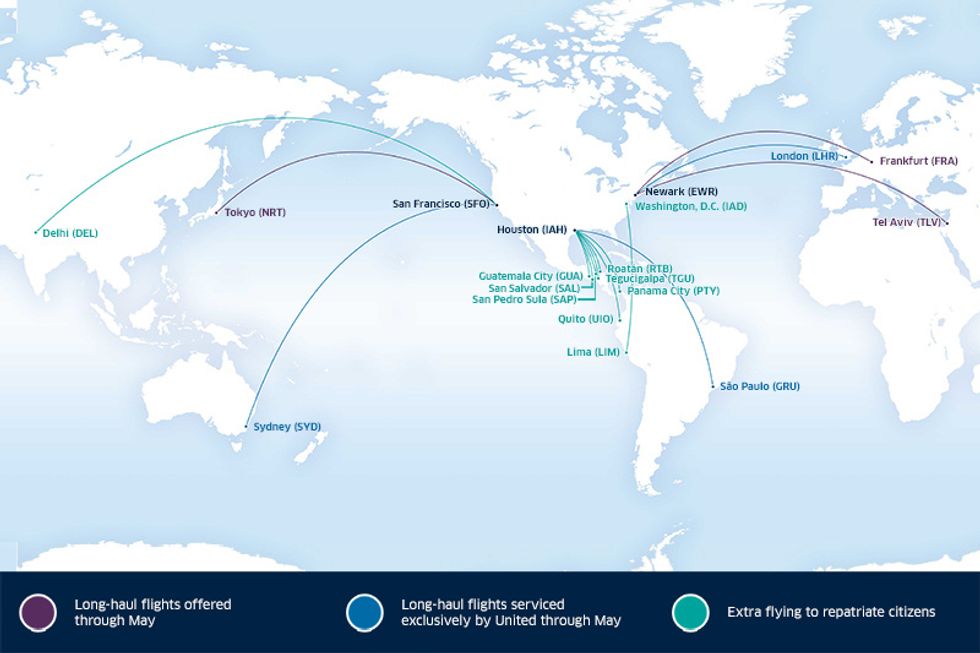 We also recently reinstated several international flights back into our schedule to support customers and essential businesses which depend on these routes. As a result, we will be the only airline to offer service between Newark/New York and London, San Francisco and Sydney, as well as Houston and São Paulo, Brazil.

In the midst of mobilizing our cargo operations, our teams at New York/Newark (EWR) and Jacksonville (JAX) stepped in to assist Roche Diagnostics with transporting a vital component for an instrument being used for COVID-19 testing.
The component was stuck at EWR en route to the Mayo Clinic in Florida after another airline's flights were cancelled. A Roche employee contacted us asking for help and, within a few hours, our teams had the piece loaded onto a Jacksonville-bound aircraft, with arrangements in place to deliver it to the Mayo Clinic.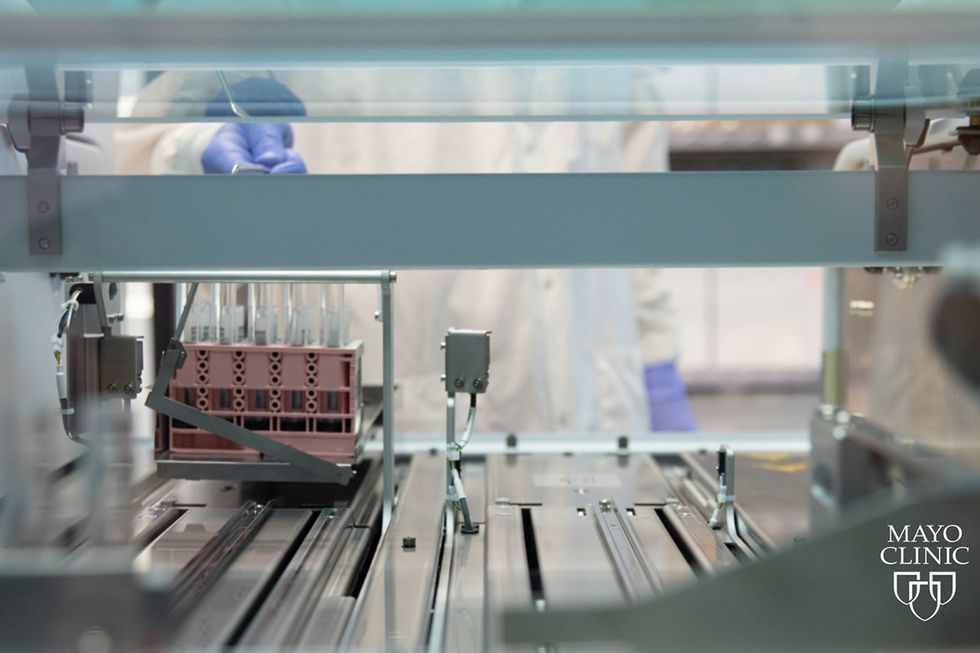 The item we shipped will allow the Mayo Clinic in Florida to process hundreds of COVID-19 tests per day. Mayo Clinic Laboratories has been on the front lines of increasing testing capacity to expedite caring for patients at this critical time and working to ease the burden being felt at test processing laboratories in a growing number of areas.

Together, we are facing an unprecedented challenge. United Together, we rise to meet that challenge.
Check out our newest destinations
United Airlines
united
We continue to work with government officials to bring Americans home. In addition to flights from Central & South America, we have charter flights planned from India. Learn more about our repatriation efforts in the wake of COVID-19 here:
uafly.co/3aExaOL
#UnitedTogether
United Airlines
united
When
@RocheDia
needed to ship a vital component of a COVID-19 testing unit from New Jersey to Florida, United Cargo jumped in to help. Read about how this part will allow
@MayoClinic
to process hundreds of tests per day for cases in the Southeastern U.S.
uafly.co/2UzOAGW
United Airlines
united
International schedule update: We know some people around the globe are displaced and still need to get home. We are reinstating some international flights over the next few days and will continue to fly six daily international flights through May.
uafly.co/3a5Dj6p
United Airlines
united
We have extended our change fee waiver to cover travel through May 31, 2020: - You can change or cancel your flight on
united.com
or through the app – a phone call is not required - For the latest on our commitment to your safety, visit
united.com/coronavirus
We Are United
weareunited
Shoutout to our operations team, who are working to properly park, maintain and store many aircraft in the
#BeingUnited
fleet. These aircraft are being housed across our seven hubs, maintenance facilities in CLE and MCO as well as at offsite facilities in New Mexico and Arizona.
We Are United
weareunited
Tomorrow, Oscar and Scott will host a companywide town hall to discuss the latest developments in managing the effects of the coronavirus (COVID-19). You can join the livestream event at 1:20 p.m. CT here:
uafly.co/39AV25m
We Are United
weareunited
Tomorrow, Oscar and Scott will host a companywide town hall to discuss the latest developments in managing the effects of the coronavirus (COVID-19). You can join the livestream event at 1:20 p.m. CT here:
uafly.co/39AV25m
.
Watch our most popular videos
Copyright © 2020 United Airlines, Inc.
All rights reserved.
Indicates an external site that may or may not meet accessibility guidelines.
Scroll to top
Scroll to top