Tale of two cities: Porto & Lisbon
The story of Portugal is a tale of two cities — the bustling capital and the northern jewel. Lisbon and Porto are two of Europe's most historic, romantic and often overlooked destinations. Smaller and more easily explored on foot than many of their European counterparts, both are essential stops on any itinerary. And given they are just a 50-minute flight apart, visiting both in a single vacation is not only possible, but highly recommended. To make the most out of your trip, here are the bare essentials to see and do in both cities.
---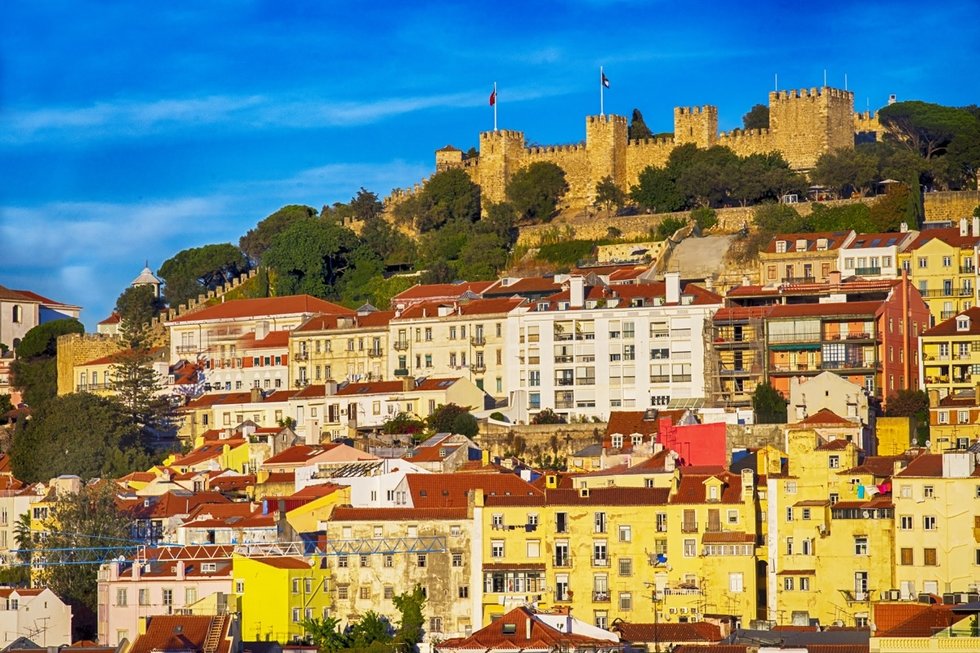 Lisbon
A city built on seven mighty hills, Lisbon looks down on the River Tagus and combines rambling cobbled streets with ancient ruins and some of Europe's most striking architecture. Add in an ever-growing number of restaurants, cafés and bars, you'll quickly realize that a couple of days in the Portuguese capital won't ever be enough. But here's what we'd suggest.
What to see
Head over to Baixa Pombalina, known simply as Baixa, the city's historic heart, and commercial center. Here, the bustling, pedestrian-friendly streets are home to an endless array of cafés, restaurants, souvenir stores and museums. Notably, in a city of hills, this area is remarkably flat.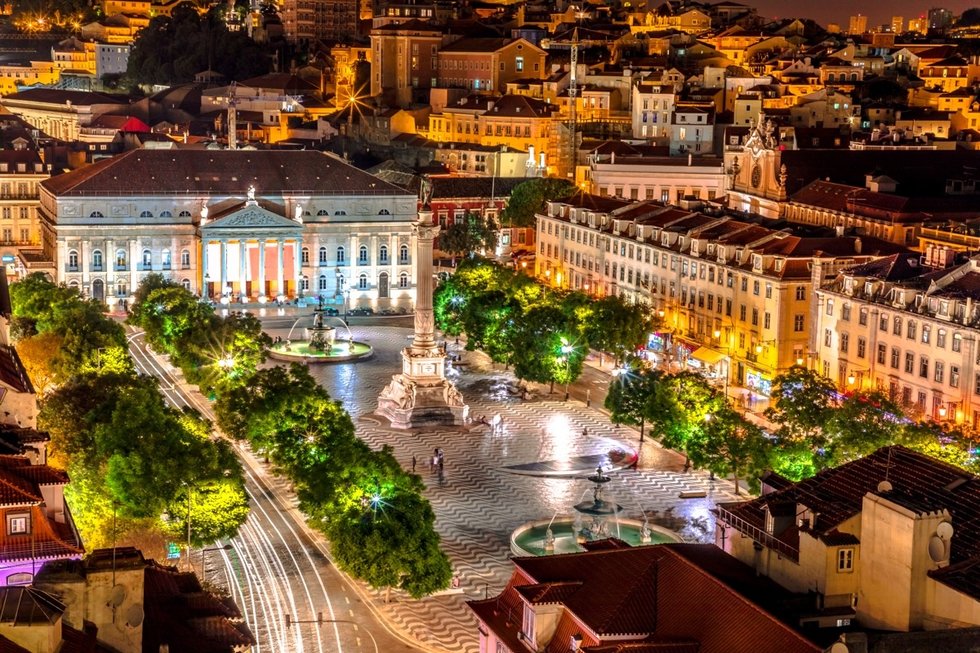 While you're in Baixa, seek out Livraria Bertrand, the oldest continuously running bookshop in the world. Baixa is also home to the Elevador de Santa Justa, a wrought-iron elevator lift that has been transporting visitors from Baixa to the Largo do Carmo and the ruins of the Carmo church for more than a century.
A rail vehicle better known as a tram is an integral part of Lisbon life as is the historic yellow Remodelado carrying passengers up and down the city. The most scenic route of all is the E28, crossing the Alfama district and taking in many Lisbon landmarks on its 40-minute route, including Sé Cathedral — the city's oldest church.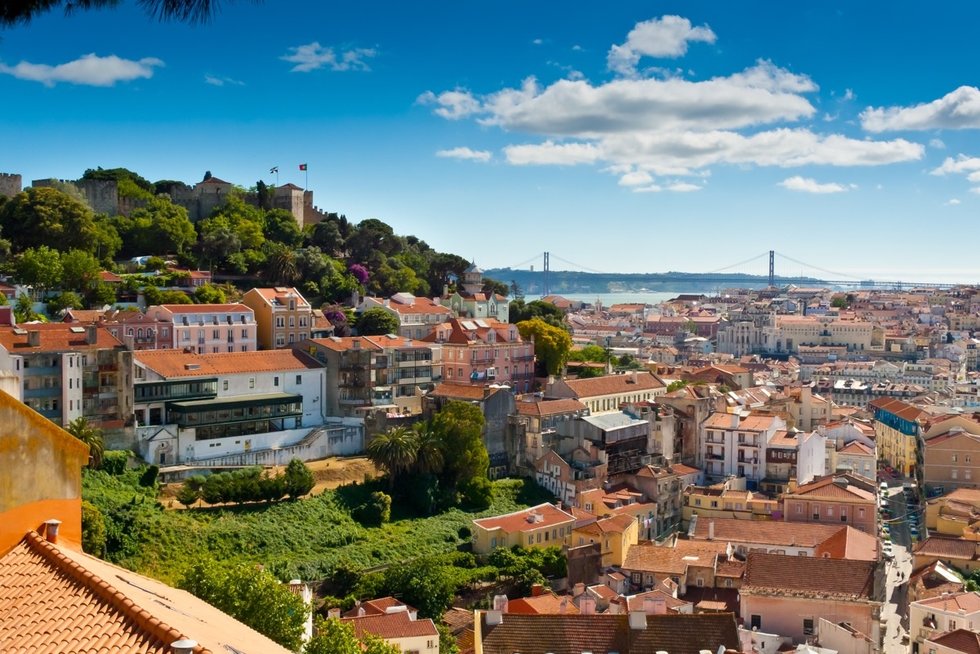 The imposing Castelo de São Jorge is perched on the highest hill in Alfama, but worth the effort it takes to reach it. The castle is open to visitors, and its views over the city and the River Tagus will soon be filling your phone. Known as the city's most ancient district, Alfama is also home to many of Lisbon's best souvenir shops and myriad tiny streets lined with bars and restaurants. In the most traditional of them, you'll hear and experience Fado, Portugal's soulful national soundtrack that is known as 'Lisbon's song'.
Next, visit the National Ancient Art Museum, located in Rua das Janelas Verdes. It's hard to know which is more impressive: the vast collection of artworks considered 'national treasures', or the magnificent gardens and restaurant overlooking the River Tagus.
What to eat & drink
Food and drink to suit every taste and budget are easily found in a city filled with cafés, bars and restaurants. One of the best neighborhoods to explore is Barrio Alto, sleepy by day but alive as night falls. However, to sample Lisbon's specialties, head to a pastelerias and order the ubiquitous pastel de nata (custard tart). The Manteigaria Fabrica de Pasteis de Nata in Baixa-Chiado serves one of the very best.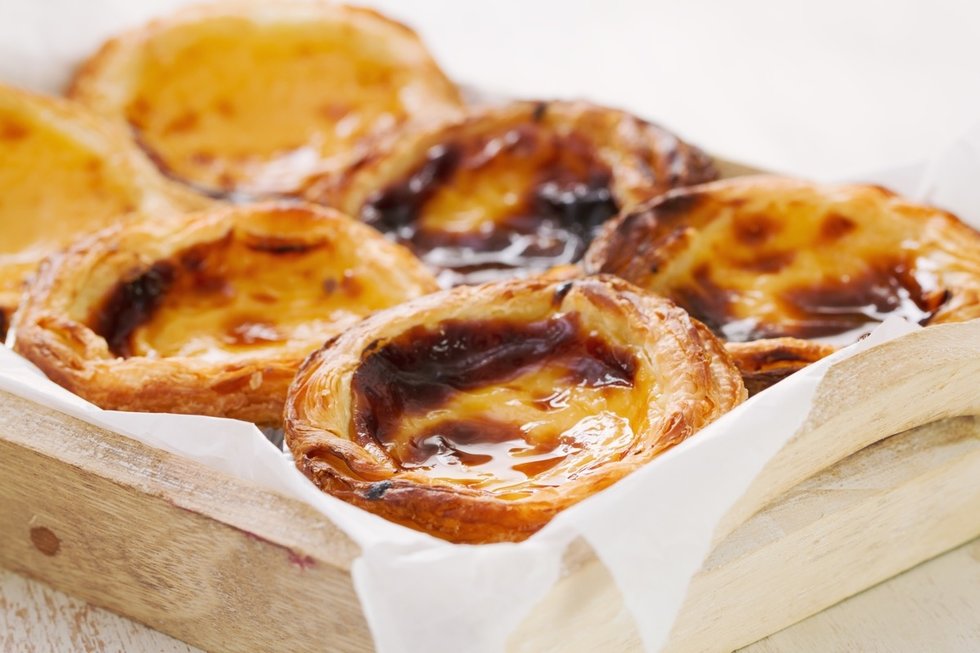 If that somehow doesn't appeal, visit the Padaria Portuguesa chain dotted throughout the city for coffee and the moist coconut-covered Pão de Deus (God's bread). One of Lisbon's most beloved drinks is ginjinha, a sweet cherry liqueur that originated in the city. The Ginjinha Espinheira is one of the city's most historic ginja bars, but by no means the only one.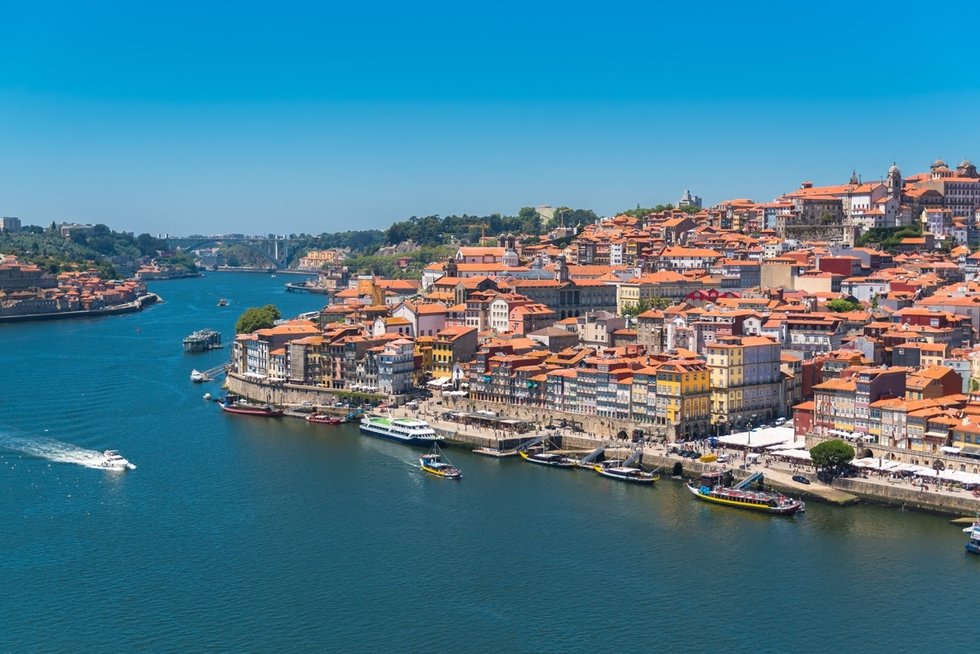 Porto
Portugal's second city is one of Europe's oldest, a hillside agglomeration overlooking the River Douro. Famed for its river and its port wine, the city is a maze of steep and narrow cobbled streets, picture-perfect plazas, grand cathedrals and churches. Smaller and even more manageable than Lisbon, your time here will pass in the blink of an eye. To make the most of your first visit, prioritize the following…
What to see
Porto's most artistic neighborhood is Rua Miguel Bombarda, home to a growing collection of galleries, bookstores, boutiques and cafés. One of the neighborhood's prized gems and most visited bookstores in the world is Livraria Lello which is more like a grand library and was also an influence on J.K. Rowling, who wrote the first few chapters of Harry Potter and the Sorcerer's Stone here, at the time when she lived in the city.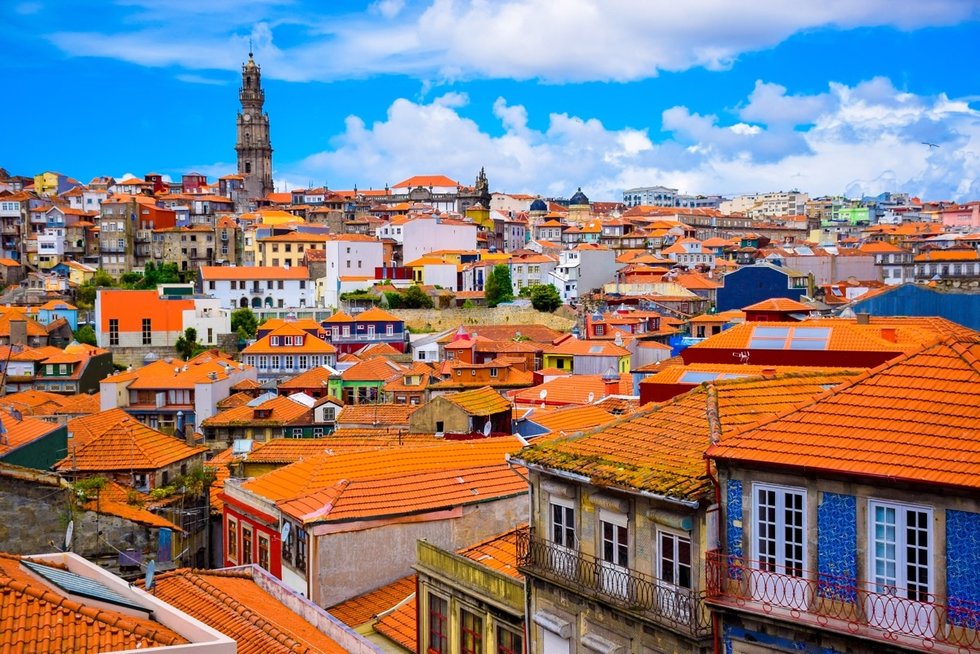 Next, make sure to add climbing the 255 steps up Torre de Clérigos (Clérigos Tower) to your to do list – it's one of the city's most important monuments and offers some of the best panoramic views of the city. Serralves Museum of Contemporary Art is also well worth visiting. It's home to around 4,000 works from the late 20th and 21st century, plus it's blessed with one of the city's most serene gardens.
The twin-towered cathedral, Sé do Porto is a Porto landmark, unmissable in every sense. Free to enter, you can pay $3.75 to enter the atmospheric 14th-century cloisters, which is money well spent. Enjoy the tranquil Jardins do Palácio de Cristal for picture-perfect views of Vila Nova de Gaia neighborhood and the Douro River.
From the city center, jump aboard Tram 1 for a rickety ride down to the seafront in Foz do Douro in minutes. From there, take a boat tour on the Douro to see the city from a new angle –the Rabelo flatboats you ride on were once used to transport barrels of Porto wine and are now a symbol of the city.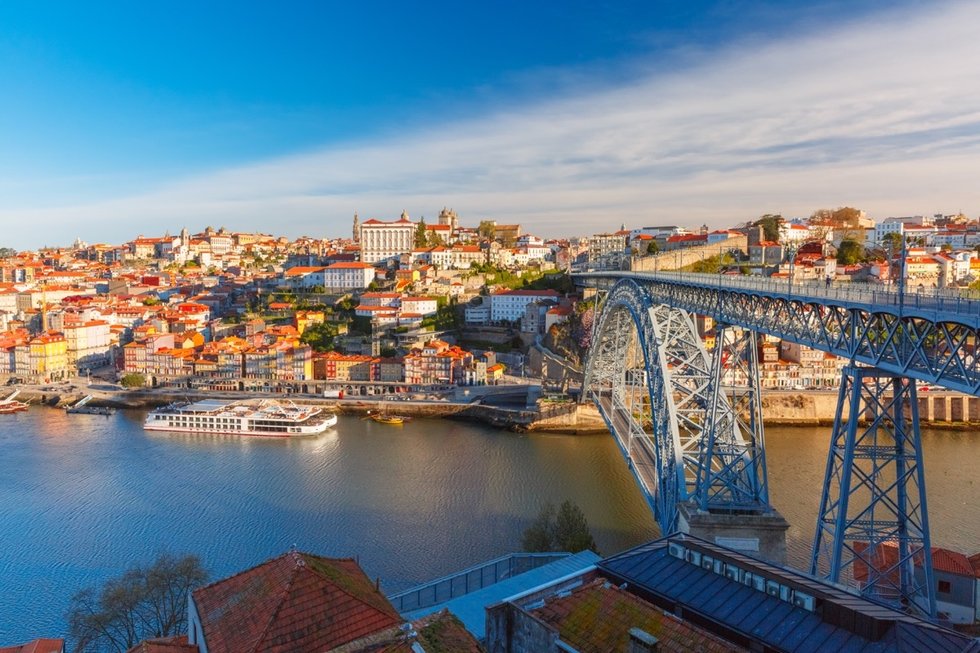 The multi-level bridge stretches from Porto's Ribeira section across the Douro to Vila Nova de Gaia. As confirmed by the ever-present tourist crowds, climbing the bridge to photograph the city is an essential stop. As you're heading across the river, drop in on Caves Ferreira, one of the oldest Port wine cellars in the city. Drink in the history with a glass of the city's signature drink.
What to eat & drink
Porto is a food lover's paradise with everything your taste buds desire. From food stalls to Michelin-starred restaurants, much of it with a strong emphasis on seafood. Avoid the overpriced cafés on the riverbank in Ribeira as far better value lies elsewhere. Local specialties you have to sample include, a multi-layered meat sandwich smothered in cheese and hot tomato sauce (try it at Café Santiago).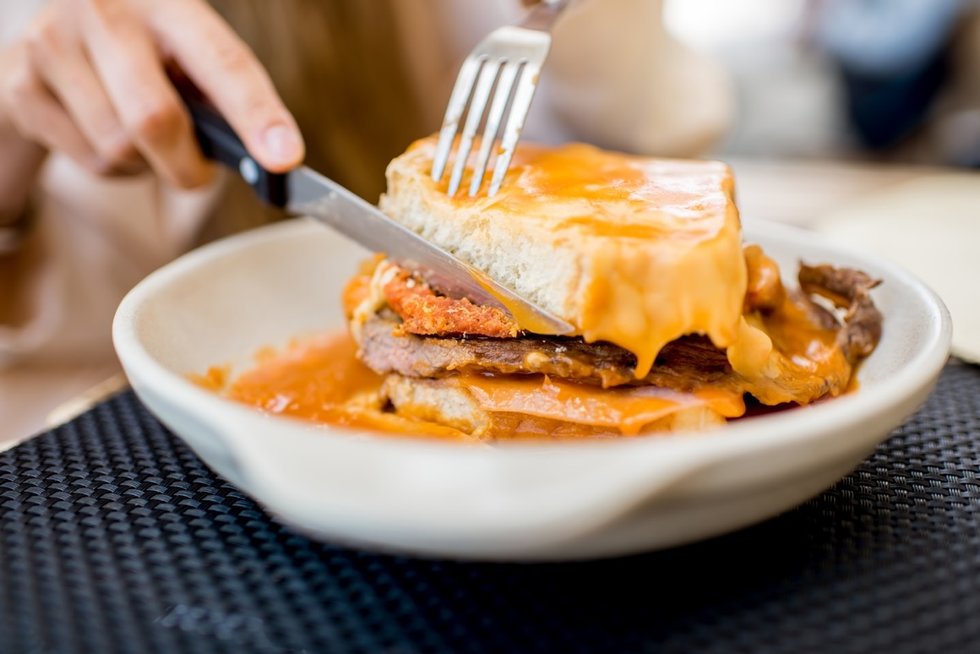 You may also want to try the Bolinhos de bacalhau (codfish potato fritters) at Cozinha da Amélia. And to really get to know the local flavors, seek out Tripas a Moda do Porto at Líder. This thick stew of tripe, sausage, white beans and spices is said to symbolize the famed generosity of the city.
Whatever you eat, make sure to wash it down with a glass or two of port wine, for which the city is famous for — Espaço Porto Cruz is just one of many wine cellars well worth the visit.
If you go
United Airlines flies year-round to Lisbon from Newark International Airport and seasonally from Washington Dulles Airport beginning April 2018. We also will begin flying seasonally to Porto beginning May 2018 from Newark. For full details and to book, visit United.com or use the United app. Direct flights between the two cities are available through our Star Alliances partners with flight time approximately 50 minutes.