The Trotter Projects chefs offer tips for guaranteed gobbles this holiday season
There is a lot to be thankful for this holiday season, and there's no better way to spend Thanksgiving than with friends and family gathered around the table. One way we're bringing people together at the table is by partnering with The Trotter Project, a nonprofit created in honor of legendary chef Charlie Trotter. The organization is dedicated to mentoring and inspiring a new generation of culinary minds, and we've collaborated with them to reimagine our inflight dining experience. To help celebrate the holidays, we asked two chefs affiliated with The Trotter Project to share a favorite festive recipe. From scrumptious Mac 'n Cheese Bites to the Perfect Manhattan, you're sure to be making these recipes for holidays to come. Enjoy!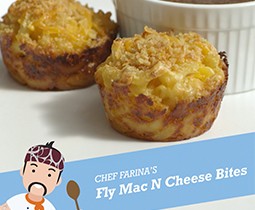 Chef Richie Farina's Mac 'n Cheese Bites
Ingredients:
3 cups whole milk
1/2 cup flour
4 tablespoons butter
1 pound shredded cheddar cheese, with a small amount set aside to sprinkle on top
4 cups dried elbow macaroni
BBQ dipping sauce:
1 cup ketchup
3 tablespoons molasses
3 tablespoons apple cider vinegar
1 tablespoon Worcestershire sauce
Recipe:
Preheat oven to 350 degrees F.
Fill a large stock pot with water and heat to a boil, season with salt.
Add pasta to the water and cook for 10 minutes at a boil.
Drain the pasta and set aside.
In a medium saucepan, melt butter over low heat.
Add flour to the melted butter and mix, cook for 5 minutes until it starts to turn light brown.
Add milk to the flour mixture and bring to a boil over medium heat.
Turn off the heat and add the shredded cheese and whisk until it becomes incorporated.
Add the cheese sauce to the pasta and mix.
Spoon into a prepared muffin tin.
Sprinkle the reserved cheese and the panko bread crumbs over the tops.
Bake for 30 minutes, or until the topping is nicely browned.
Allow the muffins to cool for a few minutes before removing from the pan. (This will allow the cheese to set, and they will hold their muffin shape.)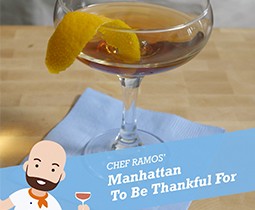 Chef Christian Ramos' Perfect Manhattan
Ingredients:
2 dashes Angostura bitters
2 ounces Buffalo Trace bourbon
1 ounce Cocchi di Torino
Ice
Burnt orange twist
Recipe:
Shake 2 dashes Angostura bitters into a cocktail mixing glass.
Pour in 1 ounce Cocchi di Torino.
Pour in 2 ounces Buffalo Trace bourbon.
Add ice.
Stir with cocktail stirrer.
Strain into a chilled coupe.
Peel an orange twist and squeeze it above a lighter or match flame.
Garnish with the burnt orange twist.