Turks and Caicos
Story by Richard Morgan | Photography by Michael George| Rhapsody, March 2017

At a yoga retreat on a private island, an exercise-averse writer finds his lotus operandi
I stood on the beach at sunset, as ordered, fretful and even fearful for my rendezvous. The sun, that glowing yolk, spilled across the shores and waves of Parrot Cay, a private island resort in Turks and Caicos, bathing white sands and coral-and-periwinkle clouds in sumptuous warmth. And there she was: a woman sitting cross-legged with her back to me, with the sun and the breeze and, hell, the whole universe swirling through her flowing brunette tresses and exotic floral clothes.
"Is that her?" asked a new friend, a six-packed blonde woman from San Francisco taking her first vacation in two years.
"I think so," I said, stroking my jaw as if to pull answers from it.
"It must be," the blonde said. "Look at her. She's so holy. Perfect. Isn't she just like you imagined?"
Even though this holy woman must've been 10 or 20 feet away from me, a voice filled my head as if coming from right next to me. "You must be Richard." Gentle and forceful, the way angels or flight attendants speak. It was cosmic.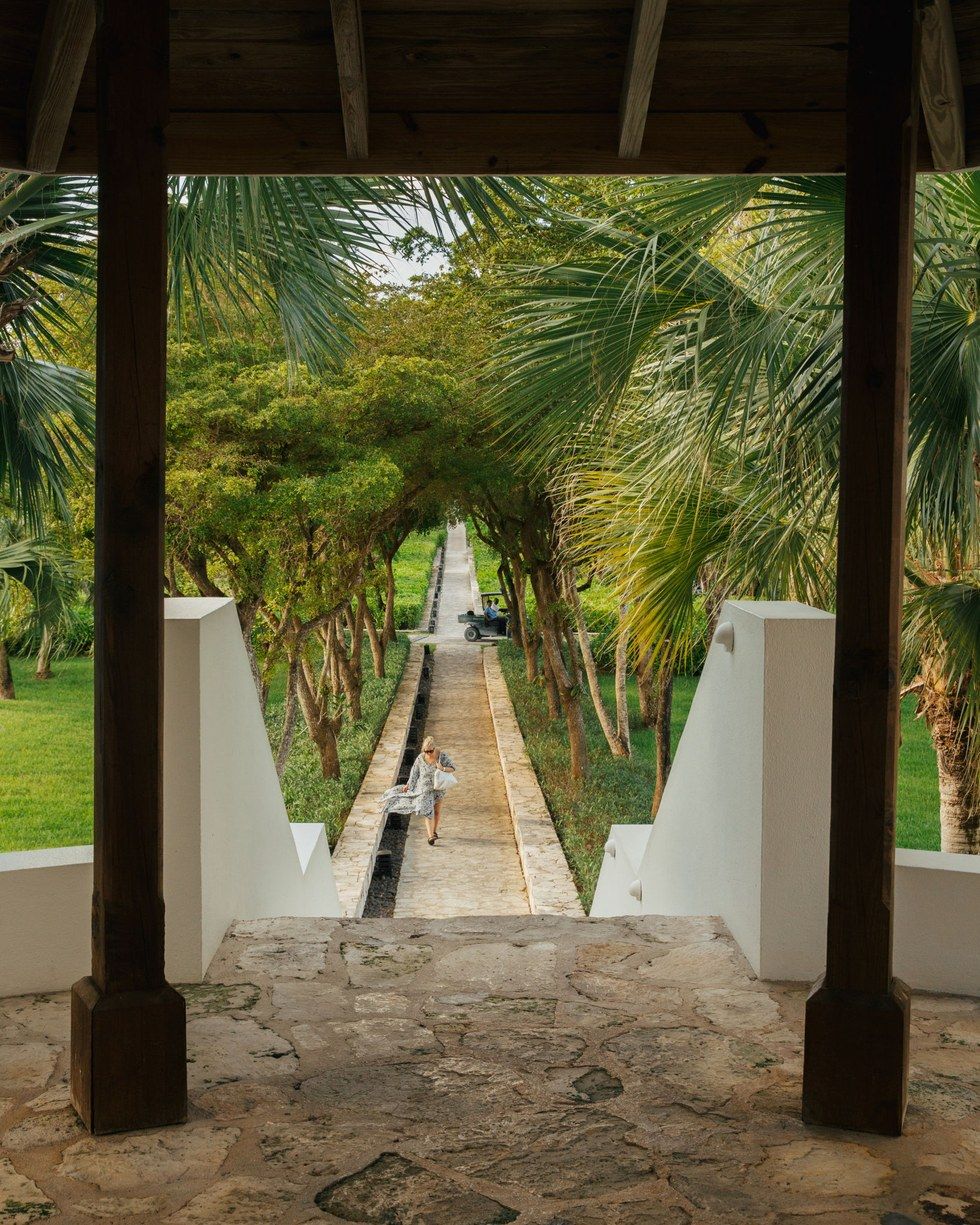 The path to the ocean
Then, a force on my shoulder. A hand. I spun, and there she was: Elena Brower, the celebrity yogi I had come to meet, was standing beside me. The sunset woman, it turned out, was a case of mistaken identity. "Let's do this," said Brower, who has been teaching the likes of Eva Mendes and Naomi Watts since 1999. I cackled. It was the first of many times we would surprise each other that week.

We strolled along the beach. She cussed.She joked. She teased. In short, she shocked the hell out of me. But she also read the doubt in my face and smiled.
"Let me show you as we walk back," she said. "Think of five things you can hear. Your feet on the sand, the wind, the waves, my voice, but what else? Push your ears. Reach out around you. Welcome that fifth sound. That is meditation. That is yoga. Easier than you thought, isn't it?"
I hadn't known what to think. I did not come to this yoga retreat. I was sent. My editor sent me, frankly, because I didn't belong.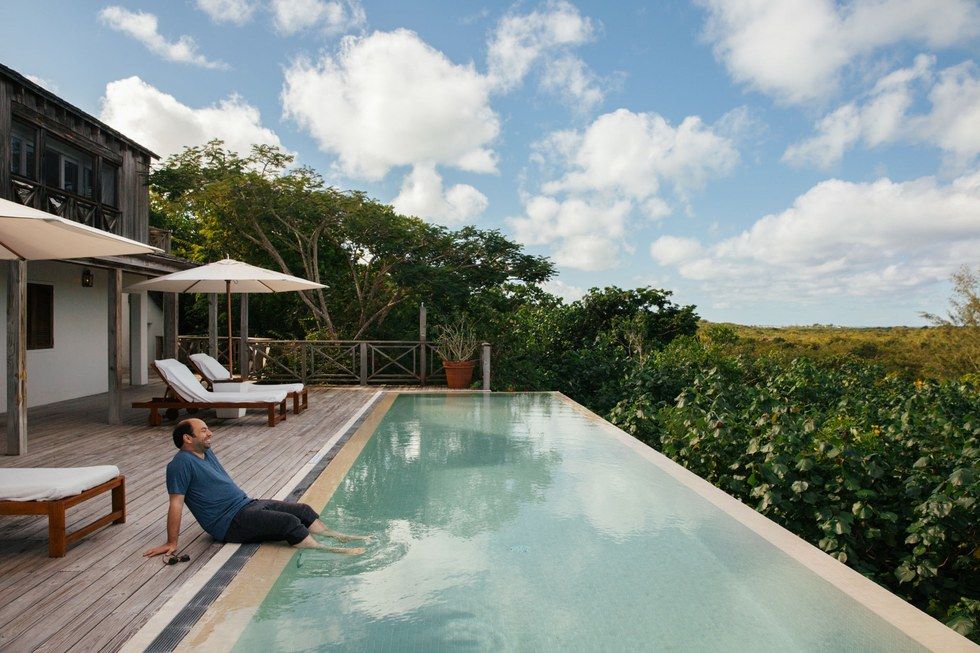 The author cools down after class
The most flexible and spiritual I get is when I cross my fingers. I lettered for three years on my high school track team as a statistician. In college, I took social dance as my P.E. requirement. I hadn't set foot in a gym in years. I'm even terrible at vacations—especially beach vacations, given that I don't know how to swim. On the shores of various paradises, I stare out into a cloudless Caribbean or perfect Pacific vista as if it were a Rothko of teals at a museum, full of anxiety about how long I have to look at the damn thing before moving on to the next exhibit without being scolded by the art lovers around me. Yoga, I thought, was for Himalayan splendor. Not for me, a man of I'm-a-layin' languor.

"This is the kind of paradise where the horizon does the exhaling for you."
But now I had been assigned to four and a half hours of yoga a day—two and a half at 9 a.m. and another two at 5 p.m. Yoga, for all its mellow mantras, was about to kick my butt.
I deflected my anxiety with dumb jokes. Before class started, I did a bunch of weird fake yoga positions. "Winner pose!" I cheered, mimicking the Heisman Trophy. "Stud pose!" (A bodybuilder pose.) "Star pose!" (Jazz hands.)
On top of all of Brower's en masse classes—thousands of practitioners in Central Park or under the Eiffel Tower—she also offers a handful of retreats each year (to Costa Rica, Germany, California). But the week at COMO Parrot Cay is special—the only one she returns to year after year. Next November's will be her ninth. And why not? It's the kind of paradise where the horizon does the exhaling for you. Even at peak capacity, tucked within its private banana and coconut plantations, the resort never feels full. It frees you to find your own fullness. It's not for getting trashed. It's for getting treasured. After the airport novels and self-help books and guru guides, the oasis whispers your own story to you. Bring a journal.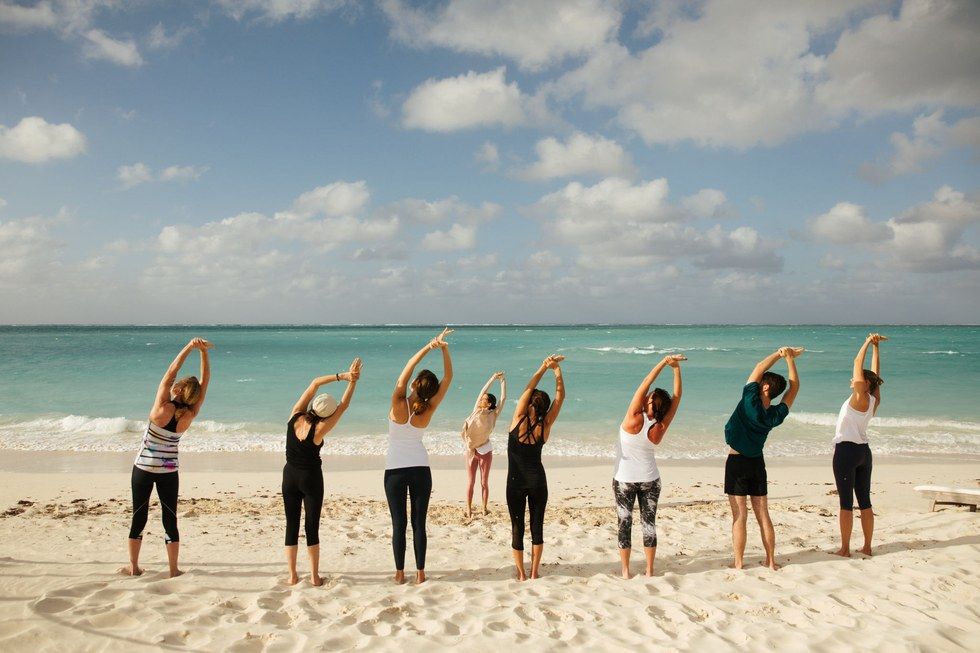 Brower leads a yoga class on the beach
Brower's 2012 book, The Art of Attention, has chapter prefaces written by Donna Karan, Gwyneth Paltrow, and Christy Turlington Burns. She is a much more flexible version of Oprah Winfrey or Martha Stewart. She is their higher Brower, the Brower that be, and looks like she could be Rachel Weisz's 35-year-old hippie sister (even though Brower is actually 47).

She is everything to everyone. And who was I? This lumpy, rookie interloper. This impostor in never-before-worn Uniqlo activewear. This night owl pretending to be a morning person and trudging down to my first class—in a screened-in, stand-alone riverfront yoga studio where I'd be the only man among 20 ladies who lunge.
The human brain and heart are 73 percent water. Bones are 31 percent, skin 64 percent, muscles 79 percent, and lungs 83 percent. On the whole, babies are 78 percent water, and grown men are 60 percent. But in that first yoga lesson, I was 4,000 percent water. I was a human-shaped cloud that rained nonstop onto my yoga mat. I was so sweaty that my fingers pruned. My shirt splashed when it hit the mat. At the end of the two-and-a-half-hour session, during which poses were held for as briefly as 30 seconds or as interminably as 10 minutes, I guzzled half a liter of water in one long swig. That "namaste" greeting yoga practitioners are always saying to each other? I'm pretty sure it means "don't forget to drink eight glasses of water a day."
"In honor of Richard, let's do a child's pose," Brower said halfway through that first class. I flopped to my knees and threw my arms forward, as if in prostrate prayer. A moment of relief! And suddenly, I was a child again.
"Yoga, I thought, was for Himalayan splendor. Not for me, a man of I'm-a-layin' languor"
I was in second grade, mocked for being unable to pat my head while rubbing my stomach in a circle. In fourth grade, falling off my bike, and in fifth grade, falling off my skateboard. In seventh grade, caught saying "1, 2, 3, 1, 2, 3" aloud during my first slow dance at my first boy-girl mixer. In ninth grade, diagnosed with a heart condition and put on the track team as a statistician instead of a runner.
When I told my friends I was going to a yoga retreat, one said, "No one will believe you"; another said, "No one will recognize you when you return." It's weird: There's an idea that yoga
transforms you but only if you're already pretty awesome—that it turns princes into kings but not frogs into princes.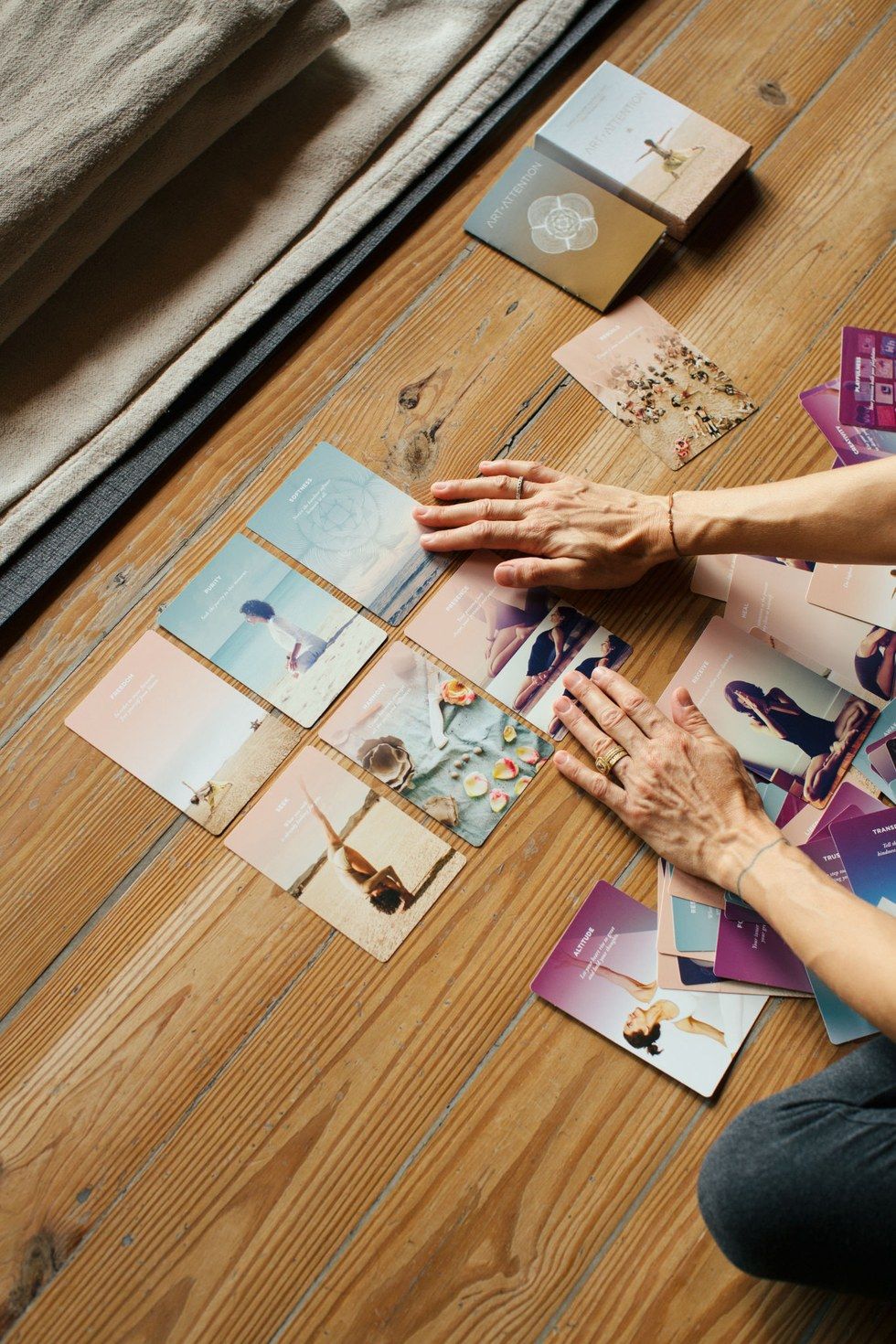 Brower's Art of Attention yoga cards, offering positive affirmations and yoga poses
And it was then, flat on my knees, that I realized that child's pose could easily be called frog's pose—and that I had remained in the pose far longer than the rest of the class. "Man down," joked Brower. I tried to mutter a pep talk to myself. If the Chicago Cubs could win the World Series, then surely I could do some yoga. But instead, under my breath, I muttered one simmering word: "Enough." I wanted to quit. I had quit swim lessons, guitar lessons, and French lessons. What was one more thing? One less thing, really.

It turns out Brower knows about quitting too. Before becoming a yogi in 1997, she was a self-described "loser stoner." Even until 2010—well into her yoga stardom—she was smoking up to half a pack of cigarettes a day. I mention it not to point fingers (Lord knows I've had my own vices) but to mention how it relates to Brower's best qualities. She's no wax-on-wax-off cryptic sensei. She wasn't the perfectly holy sunset woman. She's goofy and gentle, relatable, and candidly, unabashedly human. One night—at a group poolside dinner of jalapeño oysters, Indonesian gado gado salad, tomato sambal, fried red snapper, red lamb curry, and crab cakes with wasabi mayonnaise—she pointed at a star above us, near the moon, and claimed it was Mars because, she said, it looked red to her. Doubtful, I pulled out my phone and used an app to identify the star. It was Mars, even though it didn't look red to me. "How could you see that?" I asked. Without missing a beat, she replied: "I'm very farsighted." She rolled her eyes jokingly, a move not nearly enough yogis know how to do.
She'd stroll around during class commenting on how we were doing. Move your hand an inch to the left. Keep that heel touching the floor. Shoulders out. Chin up. Back arched. Some directions were almost purposely baffling. What does it mean to move your navel in? Or your armpits down? Or your spine forward? "I need a sassy tush from you, Richard." I broke the unspoken (unknown to me) rule: I talked back. "It's as sassy at it gets!" I said, my body trembling to keep the pose. "It's getting sassier by the minute," she joked.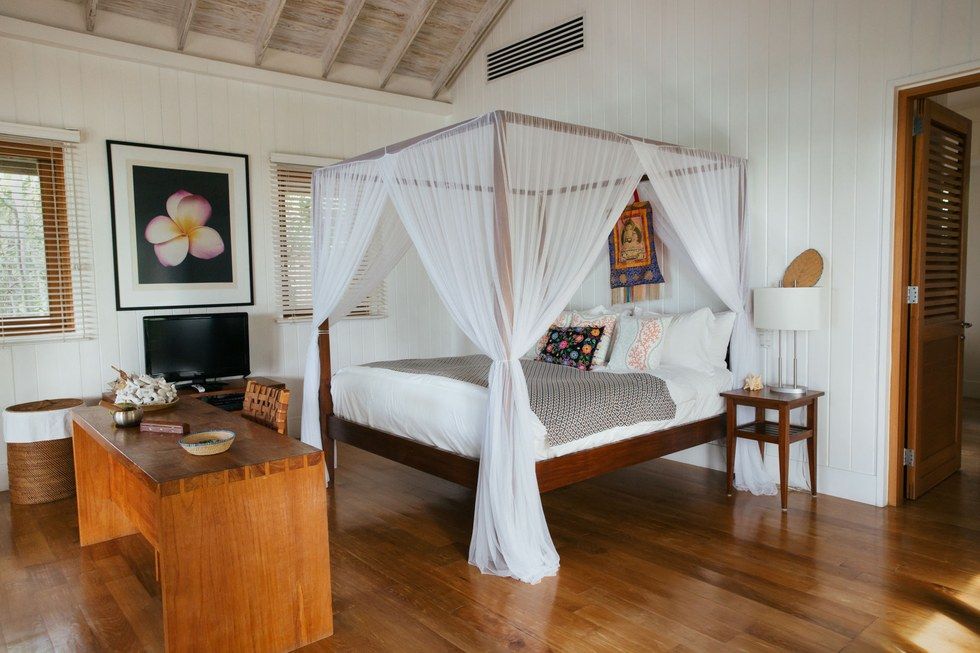 One of Como Parrot Cay's rooms, which all feature four-post beds
All this changed in my second lesson. She asked us to do a full lotus position. Wondering what this was, I asked the woman next to me, a practitioner of 10 years who confessed she couldn't do it but explained that it was both ankles on both thighs.

"Like this?" I asked, trying it. The woman stifled a surprised laugh. Brower suddenly sounded uncharacteristically schoolmarm-ish. "What is going on over there?" she asked. Tangled and embarrassed, I looked at her in silence and hoped she'd move on. But she didn't. She stopped the class. "Everyone! Everyone! This is Richard's second class, and he is in full lotus!" There was a smattering of oohs and aahs and applause. "You're 37 years old," she told me. "That doesn't happen. You must've been a yogi in a previous life."
"I didn't realize it was part of yoga," I said, "to put my age on blast like that."
The whole room laughed. Comic's pose!
As I looked around at them, I saw something I hadn't seen before—or had seen but not realized: Almost nobody was doing the same thing. Some had their ankles at their knees, some deep into their hips, others had just one ankle up or were just kneeling or finding their own version.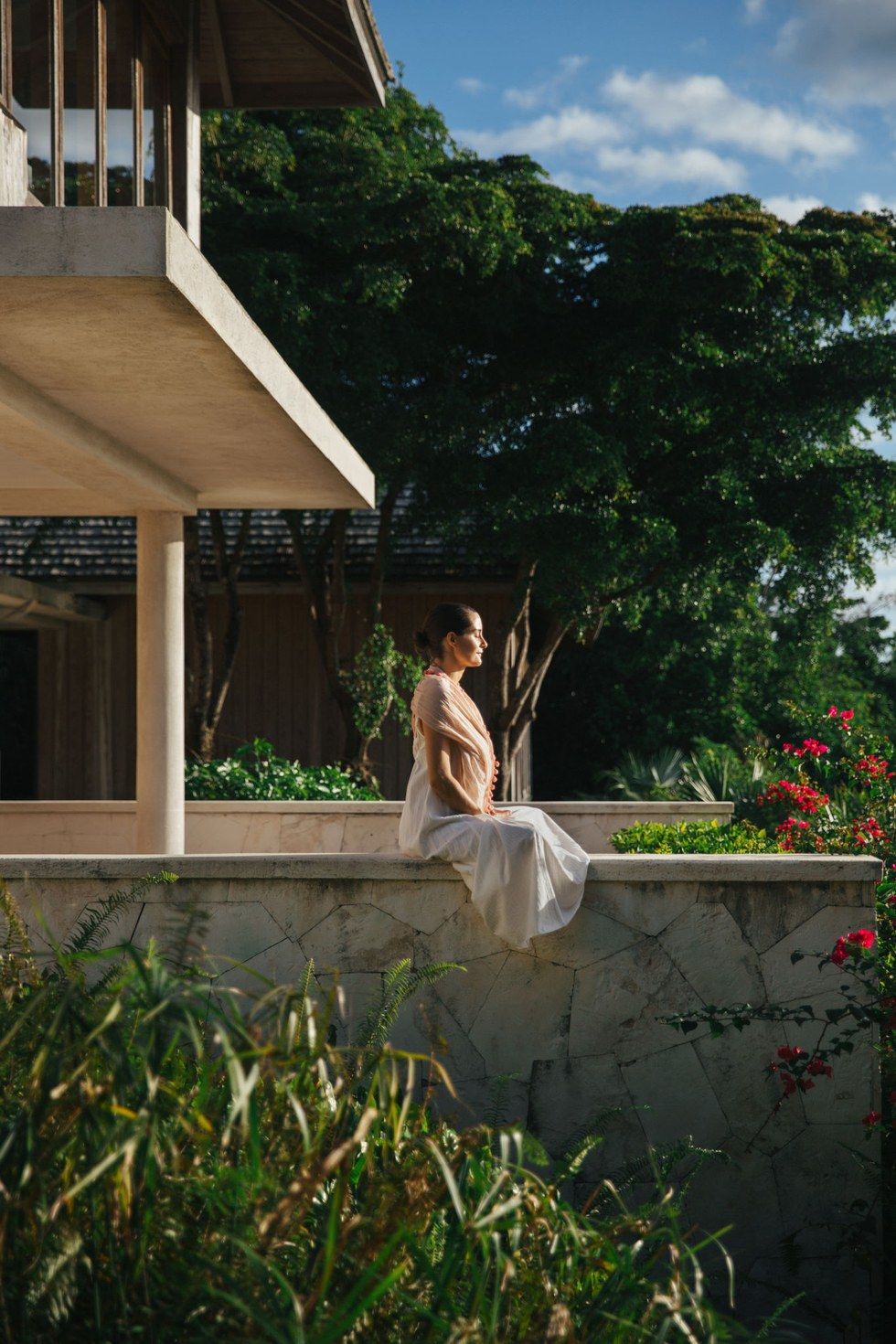 Elena Brower finds her center
For seemingly the first time at the retreat, despite breathing being so integral to yoga, I exhaled. I let it out. All the stress, all the pressure, all the wondering how I'm doing. Gone in a puff of hot, stale air.

My third eye opened. My lotus operandi.
"Will you do this when you go home?" people asked me all that week. "Probably not," I said, "but I have awakened something that I can only call my body's conscience."
I had seen that the obstacle course is also scenic. I had learned I couldn't get an A+ in yoga, that it wasn't even exercise, that it wasn't about building muscle but shedding ego. Here was my fairy-tale
ending: Yoga kisses frogs not in the hopes of them becoming princes but because frogs are amazing and deserving of love.
For me, at some bourgie point, vacations became a matter of acquisition over meditation, of getting more than being more, of bucket-list check marks as status objects. A vacation was something I could win.
Now I knew: It doesn't matter.
In my life, only three things have mattered. First, in my teens in North Carolina, I realized I was gay. Then, in my 20s in New York, I realized I was a writer. Lastly—finally—in my 30s in Turks and Caicos,I realized I was this one simmering word: enough.
We're proud to launch a redesigned version of our United app to make it easier for customers with visual disabilities to manage all aspects of day-of travel, including check-in, viewing reservation details and flight status, bag tracking and more.
This latest version of our app is now available to both Android and iOS users, and it offers increased color contrast and more space between graphics. Furthermore, we have reorganized how information is displayed and announced to better integrate with screen reader technologies like VoiceOver and TalkBack, which are built into most handheld devices. By restructuring the way the information is organized on the app, screen readers are better able to convert text to audio in the proper, logical sequence, allowing customers to better understand and navigate the app.
"The parts of the travel experience that we all take for granted like checking luggage, getting your flight status and accessing a boarding pass can still be a challenge for someone with a visual disability," said EVP of Technology and Chief Digital Officer Linda Jojo. "These new accessibility enhancements are part of our continuing commitment to level the playing field, unlock all the customer benefits of our app and give people with disabilities more independence while traveling."
Senior Accessibility Analyst Ray Campbell is a member of United's digital team who's visually impaired and sits on the board of the American Council of the Blind. He played a key role in helping us redesign the app. He even put the app to the test as seen in this video.
"Optimizing mobile apps for tools such as VoiceOver and TalkBack has been a game changer, allowing people with visual disabilities to fully utilize smartphone technology in their daily lives," said Ray. "It's just as important for someone with a visual disability to easily access day-of-travel information and features as for any other customer. Improving the accessibility of the United app, helps us truly live out United's mission of caring for all customers."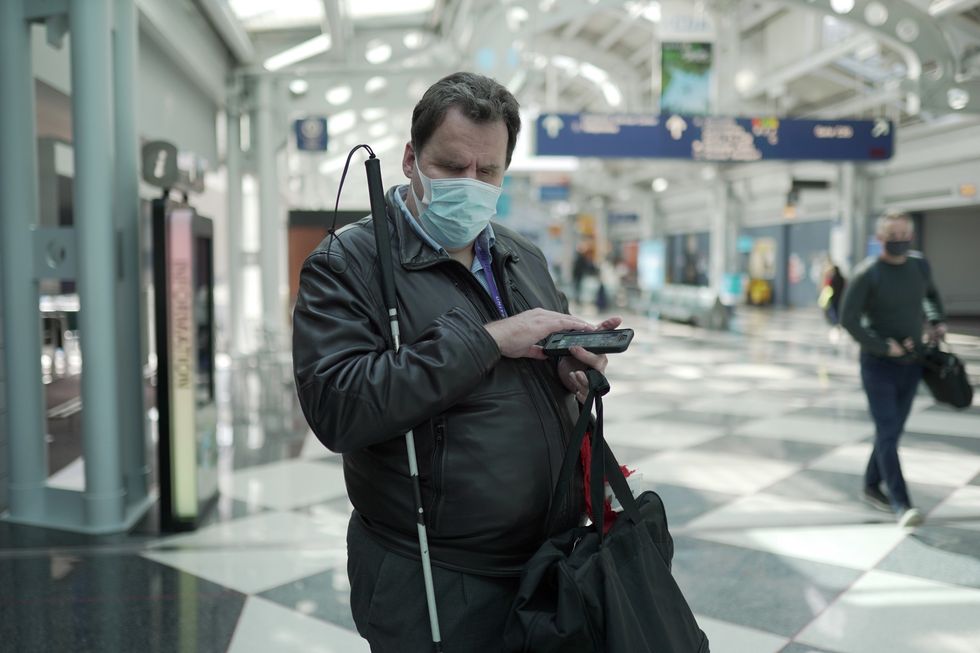 United's Senior Accessibility Analyst Ray Campbell using the mobile app at Chicago O'Hare International Airport.
Beyond the accessibility changes, our digital team enhanced the current offering while keeping the features that helped the app win a Webby People's Voice award in 2019.
For our MileagePlus® program members, the app now features a refreshed account experience for members to easily check balances, track Premier® progress, explore MileagePlus benefits, access past activity and more, all in one place.
The airline is also expanding a popular feature previously only accessible to MileagePlus members. Now, all 37 million customers who have the United app will see a contextualized home screen starting 48 hours before their flight which provides dynamic updates based on where a customer is in their travel journey. For example, customers can see the boarding status of their flight on their homescreen, access personal device entertainment onboard with one click, find a link to a map with gate-to-gate directions for connecting flights and click a quick access button to track any checked bags upon arrival.
We made slight tweaks to navigation based on customer feedback to make the app more intuitive, including making the bottom navigation persistent throughout the app. Another example is the "More" menu, which was reorganized and now contains the "Inbox" feature, which includes timely messages about boarding announcements, gate changes and other travel updates.
Customers will notice a new color palette that's consistent with the refreshed branding the airline debuted in 2019. United's digital team also made subtle design adjustments to make things more consistent and easier to find, like always using a purple bar to highlight the main call-to-action on a page and ensuring alerts and flight status icons appear the same way in every page on the app.
All of these changes are underpinned by a new back-end platform, which will ultimately make the app faster and more responsive.
The redesigned app is now available to download for iPhone®, iPad® and iPod touch® devices (as an iPhone app) and for Android devices.
Calling all AvGeeks and travelers! Take your next video call from a United Polaris® seat, the cockpit or cruising altitude with United-themed backgrounds for use on Zoom and Microsoft Teams.
Newly added to our collection is a background encouraging our employees and customers to vote. Our mission is to connect people and unite the world — and one of the most important ways to do that is to engage in the democratic process. No matter which party you support, we know our democracy will be stronger if you make your voice heard and vote.
So for your next meeting or catch up with friends and family, download the app to either your computer or mobile device to get started.
To use on Zoom:
Start here by downloading your favorite United image to your computer or mobile device. Just click "download" in the bottom left corner of the image.
Next go to your Zoom app (you'll need to download the app to access backgrounds) and click on the arrow to the right of your video camera icon in the bottom of the screen.
From here select, "choose virtual background" to upload your uniquely United photo.
To use on Microsoft Teams:
Start by downloading your favorite United image to your computer. Just click "download" in the bottom left corner of the image.

If you're using a PC, copy the image you want to use into this folder:

C:\[insert your device user name here]\AppData\Microsoft\Teams\Backgrounds\Uploads

If you're using a Mac copy the images to this folder on your computer:

/users/<username>/Library/Application Support/Microsoft/Teams/Backgrounds/Uploads

Once you start a Teams meeting, click the "…" in the menu bar and select "Show background effects" and your image should be there
Earlier this summer, we shone a light on our flagship partnership with Special Olympics and our commitment to the Inclusion Revolution. In that same story, we introduced you to our four Special Olympics Service Ambassadors, Daniel, Kyle, Lauren and Zinyra (Z), who, this month, celebrate one year working at Chicago O'Hare International Airport as part of the United family.
This groundbreaking, inclusive employment program took off as a part of our ongoing partnership with Special Olympics, a community relationship that employees across the company hold close to heart. The original 'UA4' (as they call themselves) have become an integral part of the United team serving customers at O'Hare Airport. Even from behind their masks, their wide smiles and effervescent spirit exude and bring life to the service culture of excellence we strive towards every day.
"The UA4 are more than just customer service ambassadors. They are shining examples of how inclusion, accessibility and equity can have monumental impacts on the culture and service of a business and community," said Customer Service Managing Director Jonna McGrath. "They have forever changed who we are as a company. While they often talk about how United and this opportunity has changed their lives, they have changed ours in more ways than we can count."
In the two years of partnership with Special Olympics, United employees have volunteered over 10,500 hours of service at events around the world and donated over $1.2 million worth of travel to the organization.
"This inclusive employment program is what community partnerships, like ours with Special Olympics, are all about: collaborating to identify areas where the needs of the community intersect with the cultural and business opportunity, then creating the infrastructure and programming to bring the two together," said Global Community Engagement Managing Director Suzi Cabo. "Through this program, our goal is to show other companies that when you put a committed effort and focus towards inclusion and breaking down barriers, you transform lives. I challenge other business around the world to follow our lead in joining the Inclusion Revolution."
Check out the video below to hear from our Special Olympics Service Ambassadors firsthand.
Scroll to top