Twice as hard
In honor of Black History Month, each week we will profile an employee who is helping to break barriers. Follow along throughout the month of February for these extraordinary stories of perseverance.
Not everyone is cut out to be a trailblazer. It requires just the right mix of guts, determination and, maybe most importantly, a thick skin. Lacking even one of those qualities is enough to stop a would-be pioneer in their tracks, sending them home in defeat. But for United Airlines First Officer Theresa Claiborne, losing was never an option.
"My mother always told me, 'You have to be twice as good.' That's why I was always so hard on myself," Theresa says.
You have to be twice as good. It's a phrase that many African Americans heard as children, foreshadowing the inequality that they were likely to face at some point in their lives. Theresa used that as her motivation to not only flourish over her 26-plus year career at United, but also in becoming the first African American woman pilot in the United States Air Force.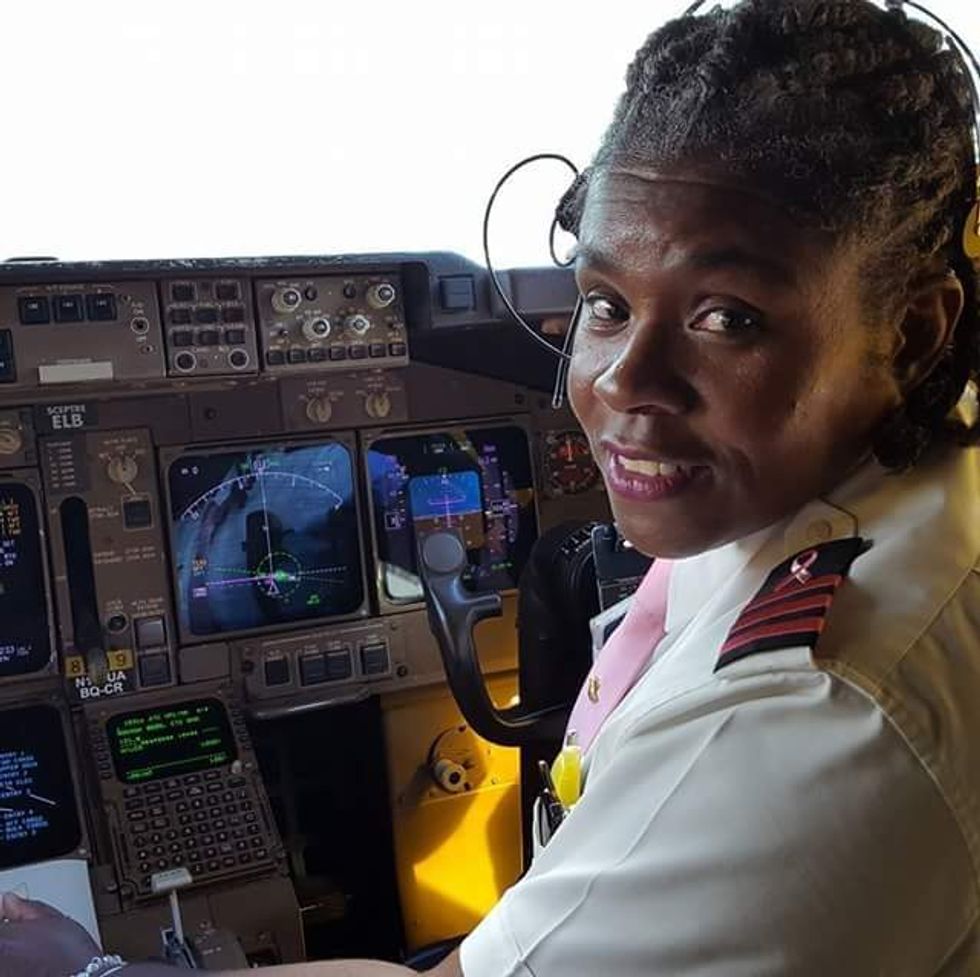 "I had no idea that I would be a barrier-breaker," she says. "When I was going through pilot training, a guy who had been in ROTC with me called me up and said, "Theresa, you're the first,' and I said, 'The first what?' We researched the records, and sure enough – I had the chance to be the first African American woman to fly in the Air Force."
Looking back on it today, Theresa is grateful that she wasn't aware of that fact until her training was nearly complete. "When I found out, I knew that people would be looking at me and wondering if I could do it. I'm glad that I didn't know until the last couple of months of training; flight school was already the most difficult thing I had ever done without that extra pressure."
While in college, Theresa entered the University of California-Berkeley's ROTC program, and it was there that she got her first taste of flying, riding along in an Air Force T-37 training jet. "That one flight is all it took; it was the best thing ever," she recalls with a smile. From that point forward, she knew what she wanted to do, but there was a major hurdle to overcome: At that time, the military only gave out ten pilot slots each year to women who were non-service academy graduates. By the time Theresa took the oath to join the military, those ten spots were filled.
But midway through her first year in ROTC, the Air Force determined that female trainees washed out at the same rate as their male counterparts (roughly a third fail to graduate from training).They increased the allotment to 30 women per year just in time for Theresa to accomplish the necessary prerequisites and be selected for flight training.
For the next 20 years - seven years of active duty and thirteen in the reserves - she flew the KC-135, a massive refueling plane dubbed the "stratotanker." Theresa flew missions overseas in the early-1990s during Operation Desert Shield and in the mid-90s over the Balkans during the Yugoslavian civil war. And in January 1990 Theresa joined United, at a time when she was one of only a handful of African American pilots working at the airline.
"In years past, you didn't really see many black pilots anywhere. Being hired by United was a big deal; African American pilots were a small group, and African American women pilots were an even smaller group. Over the years, younger pilots have said to me, 'Thank you so much, Theresa, for paving the way,' and that warms my heart. I always thank them, but then I remind them that it's up to them to continue to clear that path for the young people behind them."
To be sure, it wasn't always easy. "When I was in the Air Force, my co-pilot and I were planning a mission. Another crew walked in and their Captain went over the details with my co-pilot. When he was finished, my co-pilot looked at him and said, 'That sounds good, but maybe you should talk to the Commander' and he pointed at me. My co-pilot was a white male, and that Captain obviously thought that there was no way that I could be the Commander. We laughed about it, but it was an opportunity to educate that person."
Over the years, Theresa has seen gradual improvement in that regard. "I wasn't hired at this airline just because I was black, and I haven't lasted this long due to that fact, either. Thankfully, at this point, I no longer feel like I have to prove that I deserve to be here. But I also strive to do a good job so that the next person doesn't have to work twice as hard to get where I am."
When and where possible, we are working to repatriate travelers who are stranded abroad in the wake of the COVID-19 crisis. Our teams are working closely with government officials here in the U.S. as well as in other countries where flying has been restricted to gain the necessary approvals to operate service. In regions where government actions have barred international flying, we have coordinated with the the U.S. State Department and local government officials to re-instate some flights. Additionally, we have been operating several extra flights to countries in Central America and South America as we continue to play a role in connecting people and uniting the world.
We have operated more than 85 repatriation flights from Panama City, Guatemala City, Quito, Lima, San Pedro Sula, Tegucigalpa and Roatan, bringing nearly 12,000 people home. We will continue working with government officials to operate extra flights to Houston from Quito, San Pedro Sula, Tegucigalpa and from Lima to Washington Dulles and beginning April 5, we will begin operating multiple charter flights between Delhi and San Francisco. We continue to review more opportunities for flights between the United States and other countries to bring citizens home.
Video provided by the U.S. Embassy Ecuador of Americans returning home on United.

Additionally, our Customer Solutions and Recovery team is working with customers in the following markets to rebook them on flights back to the United States as capacity allows, either on our aircraft or on one of our airline partners' planes:

Quito, Ecuador
Managua, Nicaragua
Roatan, Honduras
San Pedro Sula, Honduras
Amsterdam
Brussels
Munich
Singapore
Tokyo-Haneda
Seoul, South Korea
Melbourne, Australia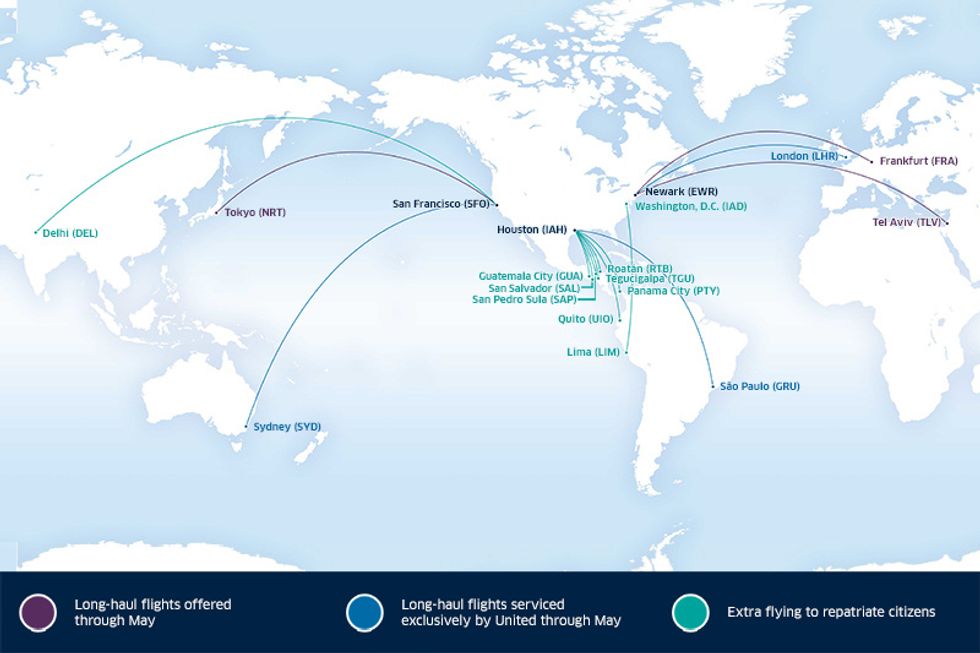 We also recently reinstated several international flights back into our schedule to support customers and essential businesses which depend on these routes. As a result, we will be the only airline to offer service between Newark/New York and London, San Francisco and Sydney, as well as Houston and São Paulo, Brazil.

Throughout these unprecedented times, we remain committed to doing what is right and fair for all of our MileagePlus® members and are pleased to share the steps we are taking to reciprocate the trust and loyalty that you have placed in United. These steps include not only Premier status updates, but also an extension of current memberships and subscriptions. The updates will happen automatically over the next few weeks — there's nothing you need to do.

The big news: If you have current 2020 Premier status, it will be extended to January 31, 2022. At a minimum, you will enjoy the same published status next year that you have today, up to and including Premier 1K®.
For the 2021 status year, United is reducing thresholds for Premier qualification by 50% for each status level, to make reaching an even higher tier easier. You'll still need a minimum of four flight segments on United or United Express®.
| | | | |
| --- | --- | --- | --- |
| 2021 status | Earn Premier qualifying flights | and PQP | … or meet a higher PQP goal |
| Silver | 6 | 2,000 | 2,500 |
| Gold | 12 | 4,000 | 5,000 |
| Platinum | 18 | 6,000 | 7,500 |
| 1K | 26 | 9,000 | 12,000 |
We're also doubling PQP for United Explorer cards and quadrupling PQP for the United Club cards.
At the same time that we're decreasing the published program's PQP requirements, via a promotion from May 1 – December 31, 2020, we're doubling (for United Explorer cards) or quadrupling (for United Club cards) the maximum number of PQP that Cardmembers can earn from card spending during 2020 to help achieve a higher level of status than you already have. More details to come later.
1K® and Platinum members, we're increasing your ability to upgrade by extending PlusPoints expiration dates by six months and expanding Skip Waitlist.
This means a six-month extension of any PlusPoints set to expire on or before January 31, 2021.
Last year we introduced Skip Waitlist on select flights as a benefit to 1K members, giving you more opportunities to confirm an upgrade request at the time of booking. This benefit will now be available for the rest of 2020 in a significantly expanded selection of long-haul international regions and will have expanded availability in 2021 as well.
We're extending all annual membership and subscription benefits by six months.
We want to make sure your benefits are still there when you're ready to start flying again. That's why we're extending purchased United Club℠ memberships purchased directly from United and purchased subscriptions for Economy Plus®, United Wi-Fi℠ and checked bags by six months. You should see this reflected in your MileagePlus account soon.
All electronic travel certificates now have 24 months to be used.
If your travel plans have been disrupted, and you have an electronic travel certificate from us for the value of your ticket, you now have two years from the date it was issued to book a new flight, as well as up to an additional 11 months to travel. This includes all currently valid and all new electronic travel certificates issued on or after April 1, 2020.
We have removed some redeposit fees for the rest of the year.
We are currently waiving all award redeposit fees for travel through end of May 2020.
We are now also waiving all redeposit fees for award ticket cancellations made more than 30 days before departure for the remainder of 2020.
Finally, we'll be making it easier to earn status in 2021 for the 2022 program year. We recognize that getting back to travel will occur at a different pace for different members. Keep an eye out for changes we will make to help you earn status in 2021 for 2022, as we'll share details later this year.
Over the years, you have placed your trust and loyalty in United, and we are honored to do the same for you. We are all in this together.
Status extension to January 31, 2022, applies to all members that met the published criteria of the MileagePlus program in 2019, status match associated with the United/Marriott Bonvoy partnership and status offered as part of a Sales nomination. Status granted from other programs and policies may not apply.
To help with the uncertainty around future travel — be it summer vacations, conferences, events and more — customers now have until April 30 to make changes to, or cancel, any travel they have booked through the end of the year without fees. This is in addition to existing waivers already in place which allow customers to change or cancel plans for travel through May 31.If you decide to cancel your flight, you can retain the value of your ticket to be applied to a new ticket without a fee. These electronic travel certificates are now valid for 24 months from the date they were issued. This includes all currently valid electronic certificates and all new ones issued on or after April 1, 2020. You might not see this policy change reflected everywhere right away – we appreciate your patience as we work to make that happen.
Eligible travelers on domestic flights and international tickets can request a refund on united.com or may call our contact centers if their flights have been severely adjusted or service to their destination suspended either due to government mandates or United schedule reductions related to COVID-19.
Certain tickets cannot be changed on united.com or the mobile app, including tickets booked through another airline (if the ticket receipt does not begin with 016). Please contact the original ticketing airline for changes.
Follow the steps below to stay up to date, change or cancel your flight.

Change your current flight:
On the united.com homepage, select "My Trips" and enter your flight information to retrieve your flight.
Select "Change flight" and then "Edit" to make the following changes:

Date of travel or destination
Add a flight
Remove a flight

Select "Continue" and choose a new flight option
Continue through booking to confirm your new flight
Note: The change fee will display as waived, but any difference in fare may apply.
Cancel your flight and rebook later:
On the united.com homepage, select "My Trips" and enter your reservation information to retrieve your flight
Select "Cancel flight"
Confirm flight cancellation
If you have future flight credit, when you return to the reservation, select "Use Future Flight Credit" to shop for new flights and apply the credit towards a new flight.
Canceling or changing an award flight:
When you select "Cancel flight," you will have the option to cancel your award reservation and redeposit the miles or to cancel your award reservation and use those miles for another trip in the future.
*We're currently experiencing heavy traffic to united.com. If you experience an error while trying to change or cancel your flight, please try again later.
Click through the slideshow below for more detailed instructions:
​Start on the United homepage: ​
User can select 'My Trips' on the homepage widget to find and retrieve their reservation.
Together, we are facing an unprecedented challenge. United Together, we rise to meet that challenge.
Check out our newest destinations
United Airlines
united
To help with uncertainty around future travel – summer vacations, conferences & more – customers have until 4/30 to make changes to, or cancel, any travel they have booked through the end of the year without fees. This is in addition to existing waivers:
uafly.co/2vmnkSk
United Airlines
united
This is what a charter flight, carrying 100% medical equipment, looks like. We've been flying millions of units of personal protective equipment (PPE) from China to help get supplies to frontline responders across the country.
#WorldHealthDay
#UnitedTogether
United Airlines
united
For 200 Australian citizens who have been stuck on cruise ships for the past few weeks, our flight crew was a welcome sight. We operated a special charter flight from SFO - MEL on Sunday night, reuniting these travelers with their home and their families.
#UnitedTogether
👏💙
United Airlines
united
We're extending current MileagePlus Premier status levels to January 31, 2022 and lowering thresholds for status to help you reach an even higher tier. Learn more about the other steps we're taking, like extending PlusPoints, to thank you for your loyalty:
uafly.co/2xVfvnm
United Airlines
united
If your travel plans have been disrupted, and you have an electronic travel certificate for the value of your ticket, you now have two years from the date it was issued to book a new flight + up to an additional 11 months to travel. Learn more:
uafly.co/2RbdgDq
We Are United
weareunited
Shoutout to our operations team, who are working to properly park, maintain and store many aircraft in the
#BeingUnited
fleet. These aircraft are being housed across our seven hubs, maintenance facilities in CLE and MCO as well as at offsite facilities in New Mexico and Arizona.
We Are United
weareunited
Tomorrow, Oscar and Scott will host a companywide town hall to discuss the latest developments in managing the effects of the coronavirus (COVID-19). You can join the livestream event at 1:20 p.m. CT here:
uafly.co/39AV25m
Watch our most popular videos
A happy, Hollywood ending
This is the story of Jason and Shantel. You see, Jason and Shantel love each other very much. They also love traveling and they love the classic Adam Sandler film, The Wedding Singer.
It all began when Jason reached out to United's social media team, hoping for assistance with his upcoming plan to propose. Some phone calls and one borrowed guitar later, the stage was set for Jason. Put all that together, mix in some helpful United employees and, voila, you have a truly memorable marriage proposal. Congratulations to this fun-loving and happy couple, and here's to many more years of making beautiful music together.
A big thank you to Chicago-based flight attendants Donna W., Marie M., Karen J. and Mark K. for making this proposal come to life.
Copyright © 2020 United Airlines, Inc.
All rights reserved.
Indicates an external site that may or may not meet accessibility guidelines.
Scroll to top
Scroll to top