In honor of Black History Month, each week we will profile an employee who is helping to break barriers. Follow along throughout the month of February for these extraordinary stories of perseverance.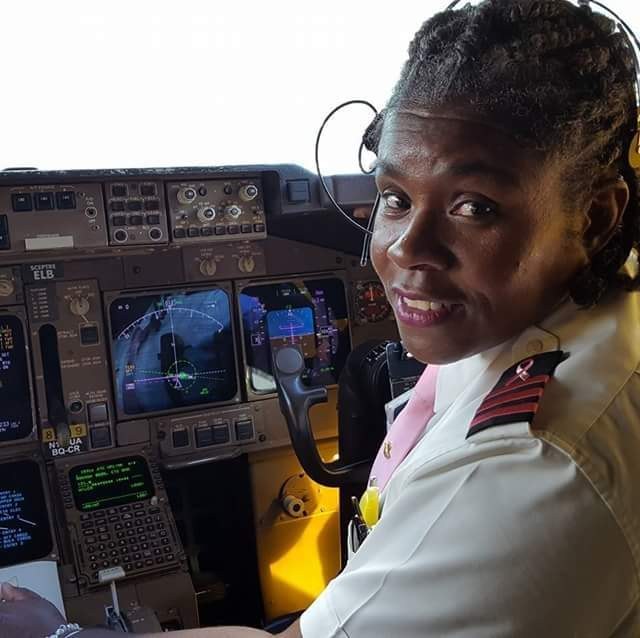 Not everyone is cut out to be a trailblazer. It requires just the right mix of guts, determination and, maybe most importantly, a thick skin. Lacking even one of those qualities is enough to stop a would-be pioneer in their tracks, sending them home in defeat. But for United Airlines First Officer Theresa Claiborne, losing was never an option.

"My mother always told me, 'You have to be twice as good.' That's why I was always so hard on myself," Theresa says.
You have to be twice as good. It's a phrase that many African Americans heard as children, foreshadowing the inequality that they were likely to face at some point in their lives. Theresa used that as her motivation to not only flourish over her 26-plus year career at United, but also in becoming the first African American woman pilot in the United States Air Force.
"I had no idea that I would be a barrier-breaker," she says. "When I was going through pilot training, a guy who had been in ROTC with me called me up and said, "Theresa, you're the first,' and I said, 'The first what?' We researched the records, and sure enough – I had the chance to be the first African American woman to fly in the Air Force."
Looking back on it today, Theresa is grateful that she wasn't aware of that fact until her training was nearly complete. "When I found out, I knew that people would be looking at me and wondering if I could do it. I'm glad that I didn't know until the last couple of months of training; flight school was already the most difficult thing I had ever done without that extra pressure."
While in college, Theresa entered the University of California-Berkeley's ROTC program, and it was there that she got her first taste of flying, riding along in an Air Force T-37 training jet. "That one flight is all it took; it was the best thing ever," she recalls with a smile. From that point forward, she knew what she wanted to do, but there was a major hurdle to overcome: At that time, the military only gave out ten pilot slots each year to women who were non-service academy graduates. By the time Theresa took the oath to join the military, those ten spots were filled.
But midway through her first year in ROTC, the Air Force determined that female trainees washed out at the same rate as their male counterparts (roughly a third fail to graduate from training).They increased the allotment to 30 women per year just in time for Theresa to accomplish the necessary prerequisites and be selected for flight training.
For the next 20 years - seven years of active duty and thirteen in the reserves - she flew the KC-135, a massive refueling plane dubbed the "stratotanker." Theresa flew missions overseas in the early-1990s during Operation Desert Shield and in the mid-90s over the Balkans during the Yugoslavian civil war. And in January 1990 Theresa joined United, at a time when she was one of only a handful of African American pilots working at the airline.
"In years past, you didn't really see many black pilots anywhere. Being hired by United was a big deal; African American pilots were a small group, and African American women pilots were an even smaller group. Over the years, younger pilots have said to me, 'Thank you so much, Theresa, for paving the way,' and that warms my heart. I always thank them, but then I remind them that it's up to them to continue to clear that path for the young people behind them."
To be sure, it wasn't always easy. "When I was in the Air Force, my co-pilot and I were planning a mission. Another crew walked in and their Captain went over the details with my co-pilot. When he was finished, my co-pilot looked at him and said, 'That sounds good, but maybe you should talk to the Commander' and he pointed at me. My co-pilot was a white male, and that Captain obviously thought that there was no way that I could be the Commander. We laughed about it, but it was an opportunity to educate that person."
Over the years, Theresa has seen gradual improvement in that regard. "I wasn't hired at this airline just because I was black, and I haven't lasted this long due to that fact, either. Thankfully, at this point, I no longer feel like I have to prove that I deserve to be here. But I also strive to do a good job so that the next person doesn't have to work twice as hard to get where I am."