Top 7 things to experience when visiting Las Vegas
When picturing Las Vegas, you probably see shimmering lights, felt-covered poker tables and the ecstatic sound of slot machines. Located on the edge of the vast Mojave Desert, this uniquely American destination is constantly reinventing itself with every passing day, which makes it an ideal holiday spot for virtually every type of traveller. To help you get the most from your next trip to Vegas, here are seven attractions in and around the city that you will not want to miss.
The Neon Museum
Since 1996, this magical outdoor art gallery has collected hundreds of old and discarded neon signs from the Las Vegas strip and displayed them for visitors on a 2-acre plot of land. With so much colourful history available to see, it is no wonder that the Neon Museum is one of the city's top Instagram spots. Though new signs are constantly being acquired and refurbished, many date back to the glory days of the 1950s, when Vegas icons like Frank Sinatra, Dean Martin and Sammy Davis Jr. were the entertainment headlines at the casinos.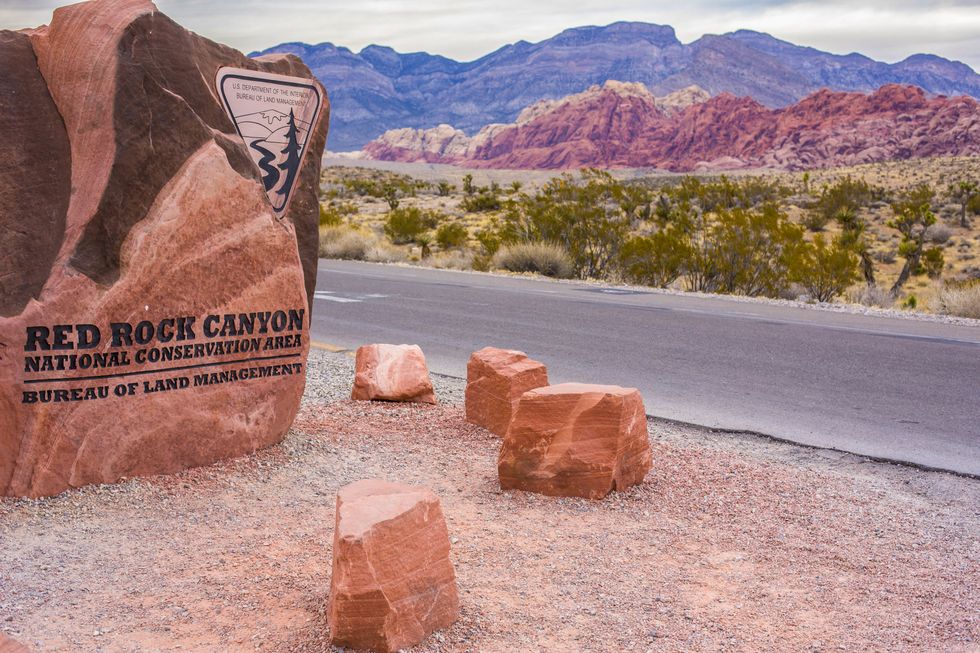 Red Rock Canyon, Las Vegas assets.rbl.ms
Red Rock Canyon
This stunning nature reserve is just a 15-mile drive west of Las Vegas and is the perfect place to experience all the scenic beauty that Nevada has to offer. Red Rock Canyon features 26 clearly marked hiking trails, indoor and outdoor conservation exhibits and a plethora of majestic wildlife and desert flora to view. There is even a picturesque waterfall, so bring your camera along with your sunscreen and bottled water. A variety of educational programmes are held each month, including a popular "Bats in Our Belfry" presentation in which rangers take visitors on a bat sightseeing tour of the canyon.
The Mob Museum
Because the birth of Las Vegas is intricately connected with organised crime, this fascinating museum is a must-visit for anyone who wants to understand how a dry Nevada desert became a worldwide symbol of glitz and glamour. Filled with amazing artefacts, vintage photos and life-size recreations of some of the city's most infamous residents, the Mob Museum focuses on both the gangsters who built Las Vegas and the law enforcement heroes who pursued them. A rotating collection of exhibits brings the town's colourful history to life in a way that no film or book could ever hope to duplicate.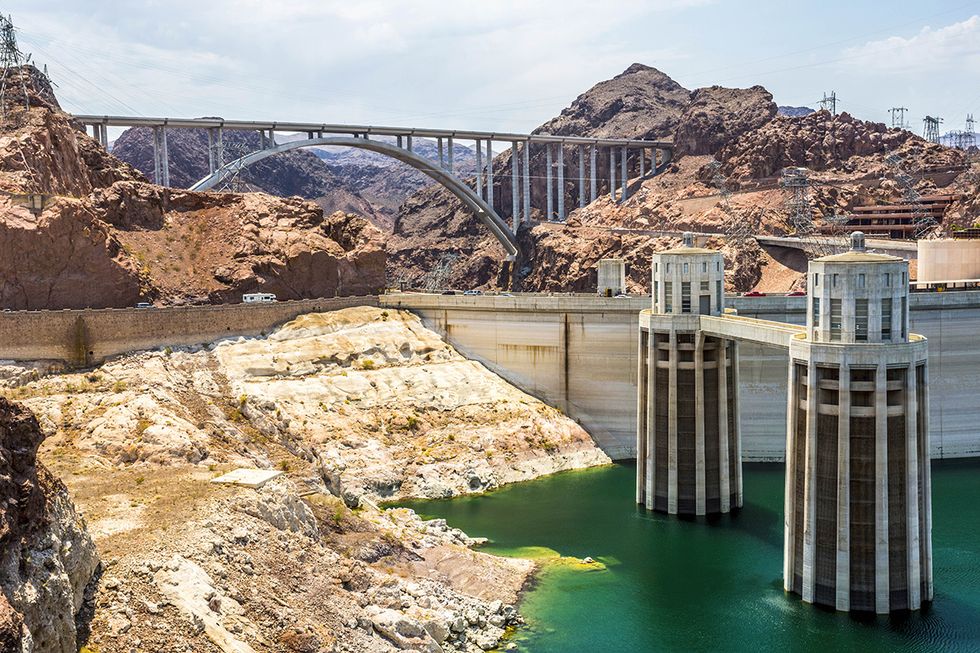 The Hoover Dam in Nevada assets.rbl.ms
The Hoover Dam
A monument to man's industrial spirit and a marvel of American engineering, the spectacular Hoover Dam is located less than an hour's drive from Las Vegas—and it is a truly unforgettable sight to behold. Tours of the 726-foot-tall dam are highly encouraged and will fascinate young and old alike. While you are in the area, why not spend some time cruising the beautiful waters of nearby Lake Mead, which was created by the dam itself. Boat tours are available all week long from several locations around the lake, so advance reservations are not necessary.
Dig This Las Vegas
Are you visiting Las Vegas with children? If so, then this one-of-a-kind experience should definitely be on your travel itinerary. Dig This Las Vegas lets you and your kids drive and safely operate heavy duty construction equipment such as bulldozers and excavators on a massive outdoor playground in the heart of the city. Anyone who grew up with toy tractors and plastic earth-moving machines can now climb behind the wheel and try them for real. With the help of trained instructors, children as young as 8 years old can make their dreams of operating a genuine Caterpillar D5 bulldozer come true at this hands-on attraction site.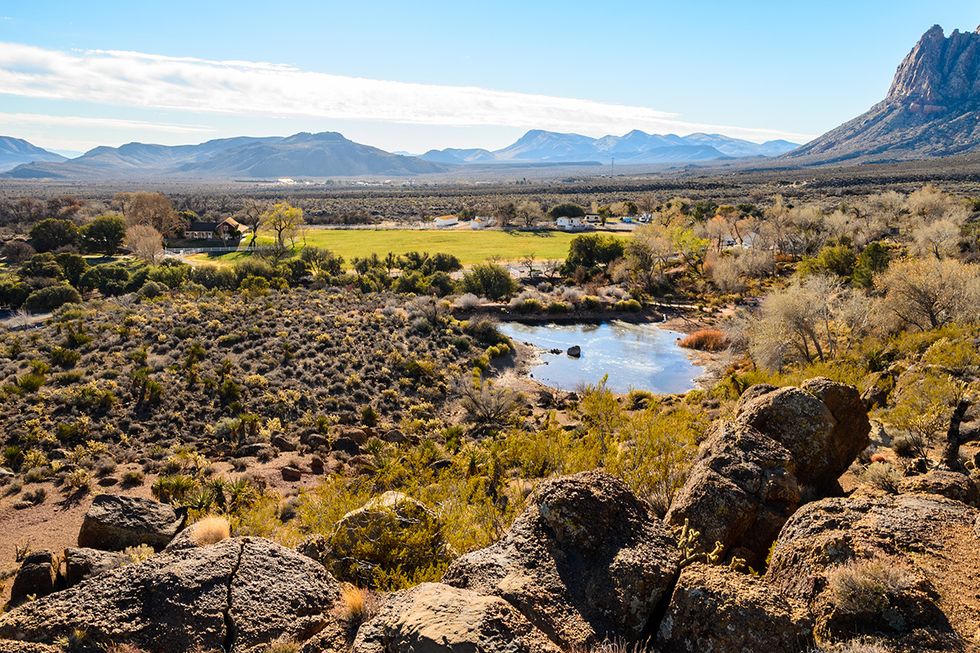 Spring Mountain Ranch State Park near Las Vegas assets.rbl.ms
Spring Mountain Ranch
This Nevada state park is a relatively short drive from downtown Las Vegas and will instantly transport you back to the region's historic past. The perfectly preserved Old West-style ranch is an excellent place for an afternoon picnic when you need a break from the hustle and bustle of the casinos. Thanks to the lush green surroundings and man-made lake, the temperature at Spring Mountain is noticeably cooler than you might expect of the hot Nevada climate. Explore further as gentle hiking trails allow you to stretch your legs in comfort while you navigate some of the loveliest scenery in the entire state.
Lotus of Siam
Widely considered to be one of the best Thai restaurants in the United States, Lotus of Siam earned its prestigious James Beard Award the hard way by serving incredibly delicious Northern Thai dishes every day for the past 19 years. Owner and head chef Saipin Chutima recently opened a second location in Las Vegas, which means you will have no trouble making reservations while you are in town. Considering that top foodie magazines like Gourmet, Saveur and Bon Appétit have praised this restaurant's incredible dishes for almost two decades, you would be wise to book a table in advance. Try their crispy rice salad with house-made pork sausage for a flavour that will make your taste buds sing.
Getting there
When you are ready to experience the fun and excitement of Las Vegas, book your flight at united.com or by using the convenient United app and share your story on social media with the #UnitedJourney hashtag.
We know people are taking a second look at their travel plans right now. If you're scheduled to travel March 10 – May 31, 2020 and would like to change your plans, there is no fee to do so, regardless of when you purchased your ticket or where you're traveling. This is in addition to our previous waiver, which waives all change fees – domestic and international – for tickets purchased March 3 – April 30, 2020. This is available for any of United's published nonrefundable fares. If you decide to cancel your flight, you can retain the value of your ticket to be applied to a new ticket without a fee. These electronic travel certificates are now valid for 24 months from the date they were issued. This includes all currently valid electronic certificates and all new ones issued on or after April 1, 2020. You might not see this policy change reflected everywhere right away – we appreciate your patience as we work to make that happen.
Eligible travelers on domestic flights and international tickets can request a refund on united.com or may call our contact centers if their flights have been severely adjusted or service to their destination suspended either due to government mandates or United schedule reductions related to COVID-19.
Certain tickets cannot be changed on united.com or the mobile app, including tickets booked through another airline (if the ticket receipt does not begin with 016). Please contact the original ticketing airline for changes.
Follow the steps below to stay up to date, change or cancel your flight.

Change your current flight:
On the united.com homepage, select "My Trips" and enter your flight information to retrieve your flight.
Select "Change flight" and then "Edit" to make the following changes:

Date of travel or destination
Add a flight
Remove a flight

Select "Continue" and choose a new flight option
Continue through booking to confirm your new flight
Note: The change fee will display as waived, but any difference in fare may apply.
Cancel your flight and rebook later:
On the united.com homepage, select "My Trips" and enter your reservation information to retrieve your flight
Select "Cancel flight"
Confirm flight cancellation
If you have future flight credit, when you return to the reservation, select "Use Future Flight Credit" to shop for new flights and apply the credit towards a new flight.
Canceling or changing an award flight:
When you select "Cancel flight," you will have the option to cancel your award reservation and redeposit the miles or to cancel your award reservation and use those miles for another trip in the future.
*We're currently experiencing heavy traffic to united.com. If you experience an error while trying to change or cancel your flight, please try again later.
Click through the slideshow below for more detailed instructions:
​Start on the United homepage: ​
User can select 'My Trips' on the homepage widget to find and retrieve their reservation.
When and where possible, we are working to repatriate travelers who are stranded abroad in the wake of the COVID-19 crisis. Our teams are working closely with government officials here in the U.S. as well as in other countries where flying has been restricted to gain the necessary approvals to operate service. In regions where government actions have barred international flying, we have coordinated with the the U.S. State Department and local government officials to re-instate some flights. Additionally, we have been operating several extra flights to countries in Central America and South America as we continue to play a role in connecting people and uniting the world.
We have operated more than 68 repatriation flights from Panama City, Guatemala City, Quito, Lima, San Pedro Sula, Tegucigalpa and Roatan, bringing nearly 9,200 people home. We will continue working with government officials to operate extra flights to Houston from Quito, San Pedro Sula, Tegucigalpa and from Lima to Washington Dulles and beginning April 5, we will begin operating multiple charter flights between Delhi and San Francisco. We continue to review more opportunities for flights between the United States and other countries to bring citizens home.
Video provided by the U.S. Embassy Ecuador of Americans returning home on United.

Additionally, our Customer Solutions and Recovery team is working with customers in the following markets to rebook them on flights back to the United States as capacity allows, either on our aircraft or on one of our airline partners' planes:

Quito, Ecuador
Managua, Nicaragua
Roatan, Honduras
San Pedro Sula, Honduras
Amsterdam
Brussels
Munich
Singapore
Tokyo-Haneda
Seoul, South Korea
Melbourne, Australia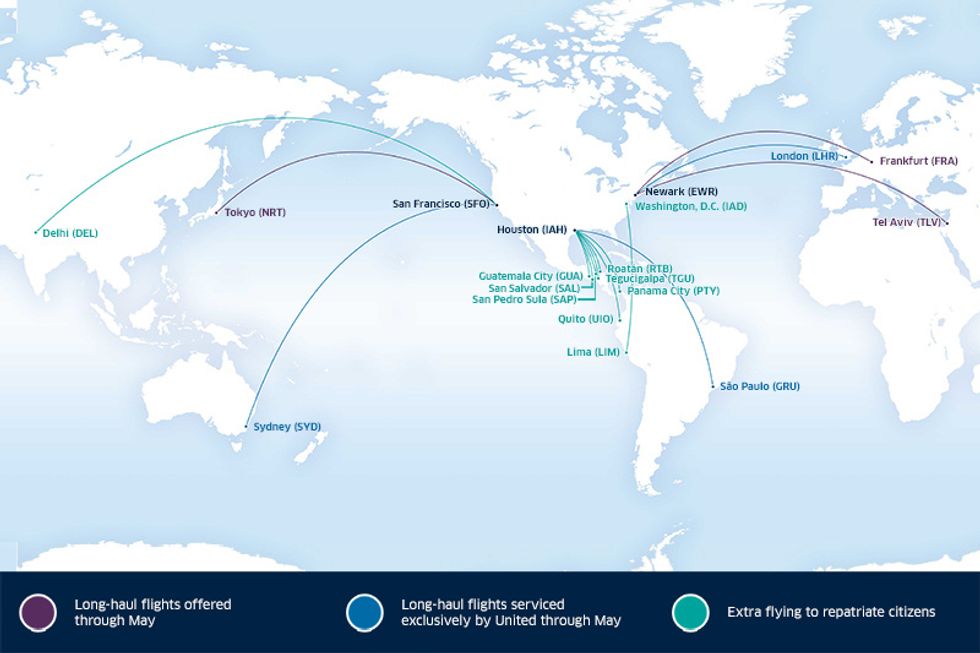 We also recently reinstated several international flights back into our schedule to support customers and essential businesses which depend on these routes. As a result, we will be the only airline to offer service between Newark/New York and London, San Francisco and Sydney, as well as Houston and São Paulo, Brazil.

Calling all AvGeeks and travelers! Here's a fun way to take your next video call….from a United Polaris® seat, the cockpit or cruising altitude. We're introducing United-themed backgrounds for use on Zoom, a video conferencing tool that many people are using to stay connected.
So for your next meeting or catch up with friends and family, download the app to either your computer or mobile device to get started. If you've already downloaded Zoom you can skip ahead to updating your background image (see instructions below).
Start here by downloading your favorite United image to your computer or mobile device. Just click "download" in the bottom left corner of the image.
Next go to your Zoom app (you'll need to download the app to access backgrounds) and click on the arrow to the right of your video camera icon in the bottom of the screen.
From here select, "choose virtual background" to upload your uniquely United photo.
Together, we are facing an unprecedented challenge. United Together, we rise to meet that challenge.
Check out our newest destinations
United Airlines
united
We continue to work with government officials to bring Americans home. In addition to flights from Central & South America, we have charter flights planned from India. Learn more about our repatriation efforts in the wake of COVID-19 here:
uafly.co/3aExaOL
#UnitedTogether
United Airlines
united
When
@RocheDia
needed to ship a vital component of a COVID-19 testing unit from New Jersey to Florida, United Cargo jumped in to help. Read about how this part will allow
@MayoClinic
to process hundreds of tests per day for cases in the Southeastern U.S.
uafly.co/2UzOAGW
United Airlines
united
International schedule update: We know some people around the globe are displaced and still need to get home. We are reinstating some international flights over the next few days and will continue to fly six daily international flights through May.
uafly.co/3a5Dj6p
United Airlines
united
We have extended our change fee waiver to cover travel through May 31, 2020: - You can change or cancel your flight on
united.com
or through the app – a phone call is not required - For the latest on our commitment to your safety, visit
united.com/coronavirus
We Are United
weareunited
Shoutout to our operations team, who are working to properly park, maintain and store many aircraft in the
#BeingUnited
fleet. These aircraft are being housed across our seven hubs, maintenance facilities in CLE and MCO as well as at offsite facilities in New Mexico and Arizona.
We Are United
weareunited
Tomorrow, Oscar and Scott will host a companywide town hall to discuss the latest developments in managing the effects of the coronavirus (COVID-19). You can join the livestream event at 1:20 p.m. CT here:
uafly.co/39AV25m
We Are United
weareunited
Tomorrow, Oscar and Scott will host a companywide town hall to discuss the latest developments in managing the effects of the coronavirus (COVID-19). You can join the livestream event at 1:20 p.m. CT here:
uafly.co/39AV25m
.
Watch our most popular videos
Copyright © 2020 United Airlines, Inc.
All rights reserved.
Indicates an external site that may or may not meet accessibility guidelines.
Scroll to top
Scroll to top