In honor of Black History Month, each week we will profile an employee who is helping to break barriers. Follow along throughout the month of February for these extraordinary stories of perseverance.
Reflecting on past struggles and triumphs while looking toward a better future is at the very heart of Black History Month. Though the battle for civil rights is far from over, throughout the past few decades the United States has experienced a seismic shift in terms of racial equality. But sometimes it takes an outside perspective to appreciate just how far we have come as a country.
Gervais Tchoutan saw the United States as so many immigrants before him had: as the land of opportunity. Born and raised in the West African nation of Cameroon, he came to Chicago in 2002 to attend graduate school at Northwestern University, where he studied finance before joining United Airlines as an analyst.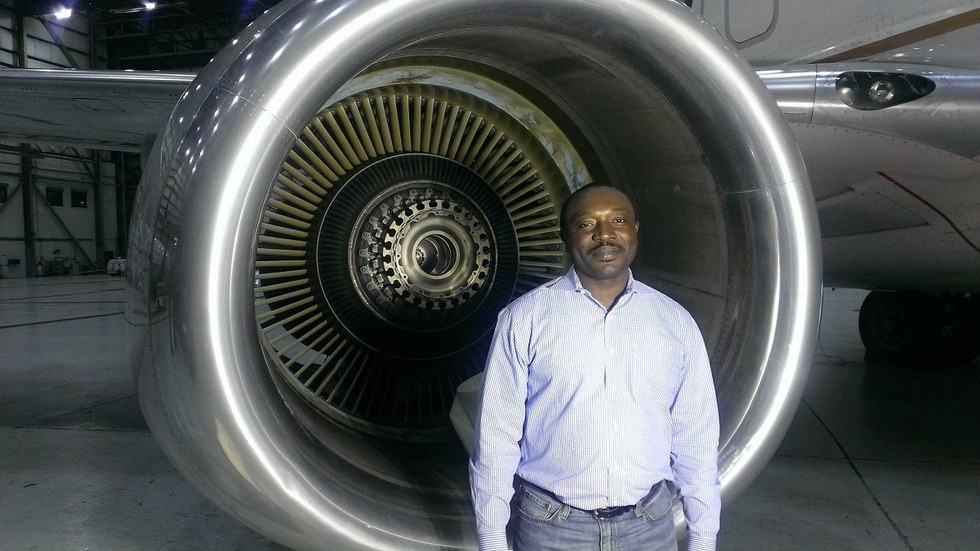 Cameroon is often called "Africa in miniature," owing to its diverse geography of mountains, deserts, jungle and beaches, but the country also boasts a rich cultural fabric influenced by Spanish, Portuguese, German, English and French colonialism intermixed with traditional tribal customs. Today Cameroon is still home to more than two hundred separate tribes, each with their own leadership structures and values.
"I was born in the English part of the country, but my parents are both from the French side," Gervais says. "My parents also come from a tribal royal family - my grandfather was actually a king - so they instilled in me a deep respect for that part of our culture as well."
Before moving to Chicago, Gervais lived and studied in the Ivory Coast, France and Canada, gaining a well-rounded appreciation of the world and its wide array of peoples. But it was the United States that he felt offered the most freedom to do what he wanted to do and to be who he wanted to be. And it was one of the few places where he felt that his dreams wouldn't be curtailed because of the color of his skin.
"My cousin told me that I could find more success in the United States, even more so than in Europe or in Cameroon, because everyone is equal here," he says. "Even though black people in this country originally came over as slaves, they fought hard over the years to integrate themselves into American culture. That's what sold me on coming here; no matter your background, you can achieve whatever you put your mind to."
Though he grew up roughly six thousand miles away, Gervais says that the significance of figures such as Martin Luther King, Jr. and Malcolm X were not lost on him as a young man.
"In Cameroon we knew about those men and women because we struggled under colonization. We looked up to American civil rights leaders as we dealt with our own oppression, but I didn't feel how profound their impact had been until I moved to the United States. For generations, people here have confronted the issues of racial prejudice head-on."
Today, Gervais and his wife (who is also from Cameroon) are U.S. citizens and the proud parents of two children, a 10-year-old son and a 3-year-old daughter, both born in the United States. Just as his parents did with him, Gervais is trying to instill in his children an awareness of their multicultural background.
"I try to show them that they truly are African Americans. They are American, but they also have a unique heritage. We invite my parents over often to talk to them about Cameroon, and we remind them of the people who came before them in this country, the ones who fought for equality. I tell them that, though it might not always seem fair, they are a representation of an entire culture, and they have to work hard for the benefit of future generations."
Gervais feels a sense of optimism about those future generations thanks to a philosophy that he finds thoroughly American. "In the United States, we are constantly trying to improve; that's the big difference between America and other places - we never stop wanting to get better. United Airlines is a good example of that: we might hit our numbers in terms of diverse employees, but we have taken that next step toward true inclusiveness. I like celebrating Black History Month because it's a celebration of the fact that we are unique in this diverse nation, but it's also a recognition of the fact that we are still working to improve race relations while honoring past successes."