A message from Oscar on Veteran's Day
"Attention, we now invite uniformed military members to pre-board."
Each time I hear a United boarding agent announce these words across the gate lounge, I raise my eyes from my screen or magazine to see who might be stepping forward in response to that call. I notice other passengers doing so as well. We look up with a mixture of awe and pride, a shared sense of respect for the individuals who wear the uniform and the principles it represents, and we are reminded once again that what divides us is far outweighed by all that unites us.
The young men and women who make their way to the gate represent every background and ethnicity of our country. Some of them look impossibly young; all of them are unfailingly polite and courteous. They answer that boarding call, because when a far more profound call was made—a call to serve and sacrifice—they stepped forward to answer that one as well.
When I see them boarding our United planes, I hope they are returning home to their families. If not, I pray for them that they will be safe wherever their mission takes them. Whichever direction they are headed, I pray for them all the same, as I'm sure we all do, each in our own way.
Each day, United helps hundreds of American military personnel reach their destinations around the globe in service of our nation, and everyone in the United family takes immense pride in the small role we play in assisting our service members, especially in our capacity as the only U.S. carrier to be an official sponsor of the USO, Inc.
Many of us personally know families that will have an empty seat at the table this Thanksgiving as a loved one serves far from home. And too many military families will keep an empty place at the dinner table forever reserved for someone who gave what Lincoln called "the last full measure of devotion" for our country, and for us. So, as we celebrate the holiday season and give thanks for our many blessings, I hope you will extend your own thanks to our active military personnel and veterans as you meet them during your travel with us. Such simple acts of thanksgiving go a long way to every person who has worn the uniform. Few times in our history have we ever asked so much, for so long, from so few Americans as we do now.
Yet, even such words of gratitude—important though they are—fall short of our obligations to our veterans when they return home. More than just showing respect for their service, we ought to recognize the skills they've earned while serving abroad by hiring them when they come back home. Unfortunately, in addition to healing from scars both seen and unseen, too many of our veterans continue to struggle in the job market, and private sector companies still overlook their incredible qualifications because their résumés and backgrounds don't always fit the typical mold.
At United, we make it a priority to hire service women and men from all branches of the military, and, like other companies in our industry, we hire hundreds of outstanding veterans every year.
We do so not only because we take seriously the obligations we have to veterans—though we do—but because they have skillsets that simply can't be found anywhere else. From pilots to mechanics, customer service and ramp agents to logistics experts, our veterans have proven experience performing every role that exists in a major airline, and doing so under the most difficult conditions. Moreover, they have acquired the habits of leadership and a commitment to excellence that are the hallmark of those who wear the uniform.
As you fly with us, I hope you remember that the quality of our service is thanks in large measure to the unique and unmatched skills of thousands of veterans who honor us by being members of the United family. If you happen to be looking to hire a new position in the near future, I encourage you to seek out candidates who have served. In addition to offering them your thanks, also offer them a job. I speak from experience when I say you'll be glad you did.
The next time a United ticket agent calls for military personnel to step forward, I hope you'll take a moment to look up and see the next smart hire for your company, and the best business decision you can make.That's what it means to express thankfulness to our brave men and women in uniform.
Sincerely,
Oscar Munoz - CEO, United Airlines
From Sept. 15 through Oct. 15, the U.S. celebrates Hispanic Heritage Month, a chance to pay tribute to the history, culture and contributions that generations of Latinxs have paved to enrich U.S. history. It is also a reminder to celebrate our differences and spark difficult, yet important, conversations.
To kick off the month, UNITE, our multicultural business resource group for employees, did just that by hosting a panel discussion about the immigrant experience and what it means to be an immigrant in the U.S.
United Litigation and Managing Counsel Elizabeth Lopez, who is a pro bono immigration attorney, moderated the panel, and was joined by Ashley Huebner, Associate Director of Legal Services at the National Immigrant Justice Center (NIJC) and Magdalena Gonzalez, Program Manager, Leadership Development Programs at Hispanic Alliance for Career Enhancement. The three women shared their insights and personal stories, while addressing some misconceptions and highlighting the contributions of immigrants to our company and country.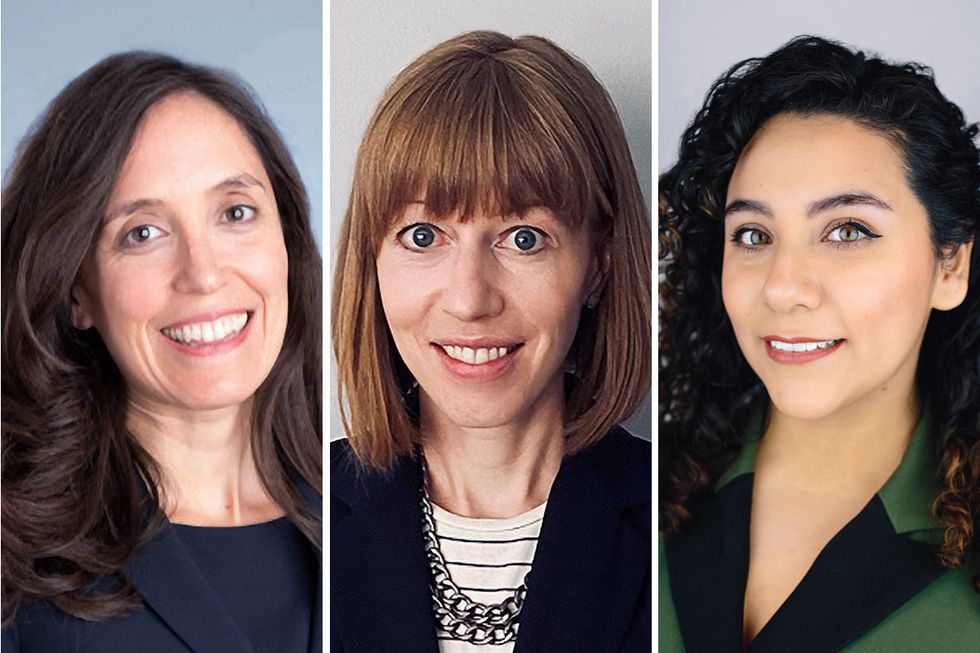 From left to right, Elizabeth Lopez, Ashely Huebner and Magdalena Gonzalez
"I started to notice that there were things I was scared of doing, that I needed to be cautious," said Magdalena while sharing her personal experience as a DACA (Deferred Action for Childhood Arrivals) recipient. "My friends, who a majority of them are citizens, did not need to worry about that. As I was able to see that, I realized that, 'oh, there's so many things that revolve around not just being a DACA recipient but revolve around being a person with an undocumented status here in the United States.'"

United maintains a close relationship with the NIJC. In May of 2019, United co-hosted an asylum clinic put on by the legal services organization, where several attorneys and legal professionals were trained on representing asylum-seeking applicants. At the end of the clinic, members of our legal department were assigned an asylum case through the NIJC.
Litigation Managing Counsel Elizabeth Lopez, Commercial Transactions Counsel Tiffany Jaspers, Global Compliance and Ethics Counsel Nancy Jacobson and Employment Litigation Senior Manager Dorothy Karpierz were partnered with attorneys from the law firm of McDermott Will & Emery to take on an immigration case of a mother of three from Honduras. Recently, after a years-long court battle, the legal team was victorious, changing the life of the woman and her family.
United is committed to connecting people and uniting the world. Whether you're an immigrant, a child of immigrants or simply want to learn more about the immigrant experience in the U.S., discussions like these, related to this hot-button issue, are important to have in order to understand the human lives behind it.
Your voice matters. Voting is one of the most influential civic activities we can engage in as Americans. At United, our mission is to connect people and unite the world — and one of the most important ways to do that is to engage in the democratic process. That's why we've long provided our employees with resources to help them get registered to vote.

This year, we're taking our support a step further as the official airline of the Commission on Presidential Debates (CPD). Since the start of the pandemic, we've overhauled our cleaning measures through a program we call United CleanPlusSM , and the CPD has placed their trust in United to fly Commission production staff to each of the four debates, starting with the first one on September 29, hosted by Cleveland Clinic and Case Western Reserve University.
Today, on National Voter Registration Day, we also want to make sure our customers have access to information about how to participate in the 2020 Election. Over the past several months, you've heard a lot from us about how the COVID-19 pandemic has changed air travel. We've learned that with some planning and extra effort, it's still possible — and safe. That's true of voting, too.
No matter which party you support or how you're planning to vote, we know our democracy will be stronger if you make your voice heard and make a plan to vote.
Best,
Brett J. Hart
President
United Airlines
Since its launch 20 years ago, Year Up, one of our critical needs grant recipients, has helped more than 10,000 young adults gain access to corporate business and technical experience at large companies like United while offering the invaluable perspectives they bring with them.
On Wednesday, the nonprofit inducted United into its Opportunity Hall of Fame – a selection that occurs once every five years.
Year Up's mission is to help close the opportunity divide by providing urban young adults with the skills, experience and support that will empower them to reach their potential through professional careers and higher education. Since 2018, our partnership has allowed talented student learners the opportunity to gain corporate business experience and technical skill training at the airline while bringing their unique perspectives to our United family and culture. One of those students is Emily Lopez, who graduated from the Year Up program in January 2019 and was hired to be part of the United family as an analyst in Revenue Management.
"I moved from Venezuela to the United States in July 2016 and being a young immigrant with no resources can be difficult to pursue a career in a new country," said Emily.
After learning about Year Up and ultimately being accepted into the program, Emily landed an internship with United, an opportunity she is very grateful for.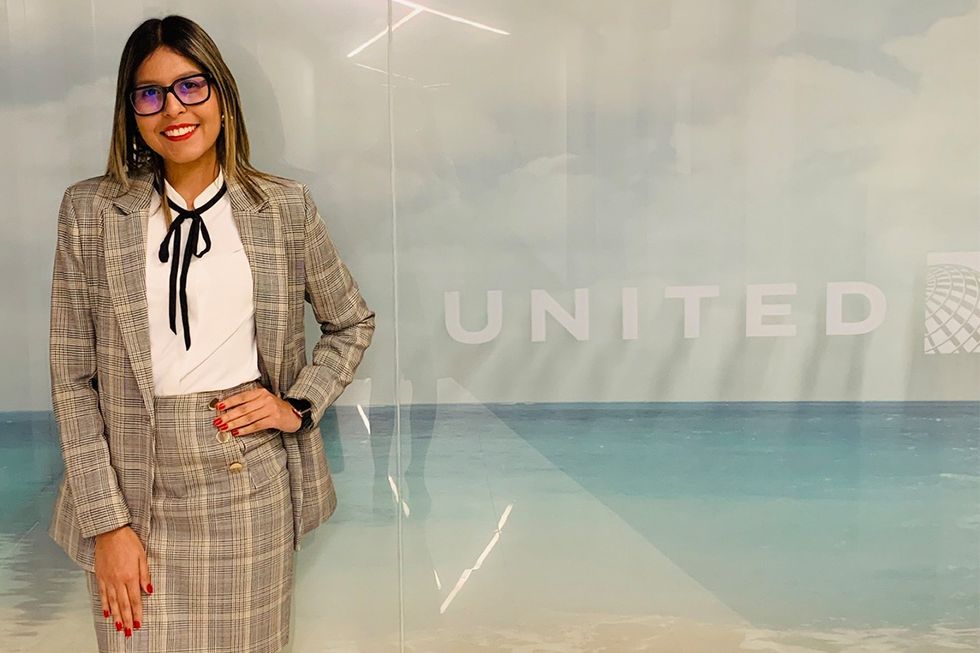 Emily Lopez - Analyst, Pricing & Revenue Management
"Feedback from my mentors, coaches and managers was key during my internship phase and helped me convert my internship at United to a full-time position. I am grateful for the opportunity United has provided me and my Year Up Alumni colleagues to keep building a professional career within the company. I am so excited to continue building a professional career with the company and to see United being inducted to Year Up's Hall of Fame. Let's continue closing the opportunity divide!" said Emily.
Although the coronavirus pandemic has made this year's partnership a bit more difficult, we continue to do our part to support the Year Up student learners. Last month, we surprised 145 graduates of this year's Year Up Chicago program with roundtrip tickets to pursue career and networking opportunities within the United States.
"I've been personally honored and inspired to be an advocate for Year Up since I joined United," said CEO Scott Kirby. "This program gives young people from challenged backgrounds an opportunity to get their foot in the door as interns at United. This year's graduates are entering a challenging job landscape, but we have one thing that can help: a route network that provides easy access to major business markets across the United States."
Scroll to top