Wanderlust experience in Scotland
Each week we will profile one of our employee's adventures across the globe, featuring a new location for every employee's story. Follow along every week to learn more about their travel experiences.
By SFO Maintenance Planning Analyst Hannah Rebosura
I've often come across the travel quote in the internet that says, "It is better to see something once, than to hear about it a thousand times." And for the past 10 years or so, I have traveled the world, with 25 countries checked off my bucket list, yet Scotland still remained the elusive one. However, last October I had the wonderful privilege of flying off to Edinburgh, Scotland.
Pronounced, "Eiden-brah," Edinburgh is known as "Athens of the North," as well as Scotland's capital, of course. It's Old and New Towns were listed as a UNESCO World Heritage Site in 1995, and in 2009 it was voted the most desirable place to live in the U.K. Also known as the Aud Reekie, in Scottish Gaelic, Edinburgh is combined with both ancient and modern unique Scottish atmosphere. Its medieval palaces rub elbows with the modern architecture. Its gothic churches are as ancient and magnificent as the Edinburgh Castle itself.
Strolling down the elegant Royal Mile in the Old Town is definitely a must. It boasts the highest number of traditional souvenir shops. There you will find the "made in Scotland" garments from the popular cashmere and lamb's wool scarves to the traditional, yet very famous Scottish wear: the kilt. They come in every tartan pattern known, but they aren't cheap either.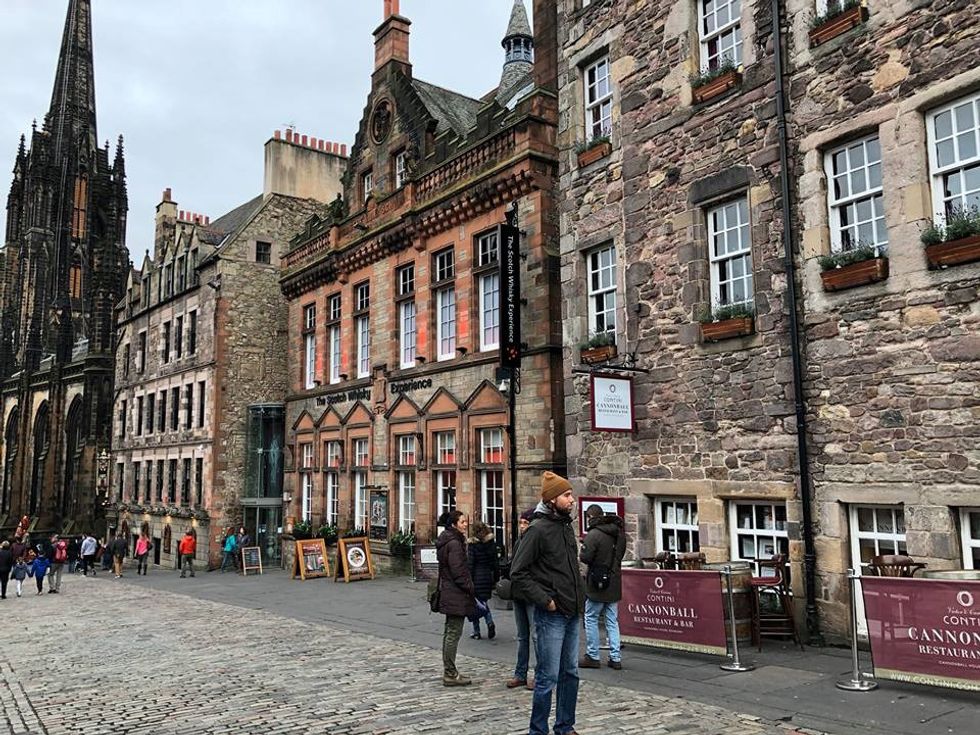 The Royal Mile is book-ended by the Edinburgh Castle and the Palace of the Holyrood House. The Holyrood House is the official residence of the British Monarch in Scotland, Queen Elizabeth II. Edinburgh is also home to several interesting museums and historical sites which include St. Giles' Cathedral, the place of worship of the Church of Scotland and it is also known as the "Mother Church of Presbyterianism." The cathedral is also dedicated to the city's patron St. Giles and the building right next to it is the Scottish Parliament. The Royal Mile's old cobbled-stone roads and the ever-iconic red telephone booth make the best scenic backdrop for every picture you take.
Then of course there is the Scotch Whisky Experience for all the whisky lovers and enthusiasts. For those of you that are unaware, Scotland is the biggest exporter of whisky. All the best Scotch Whisky comes from Scotland. The Scotch Whisky Experience offers whisky-making tours and tastings. The tasting was a lot of fun and I learned that the older the whisky, the stronger it is and the better it tastes, especially on a cold and gloomy day. It makes your day far more delightful and warm too.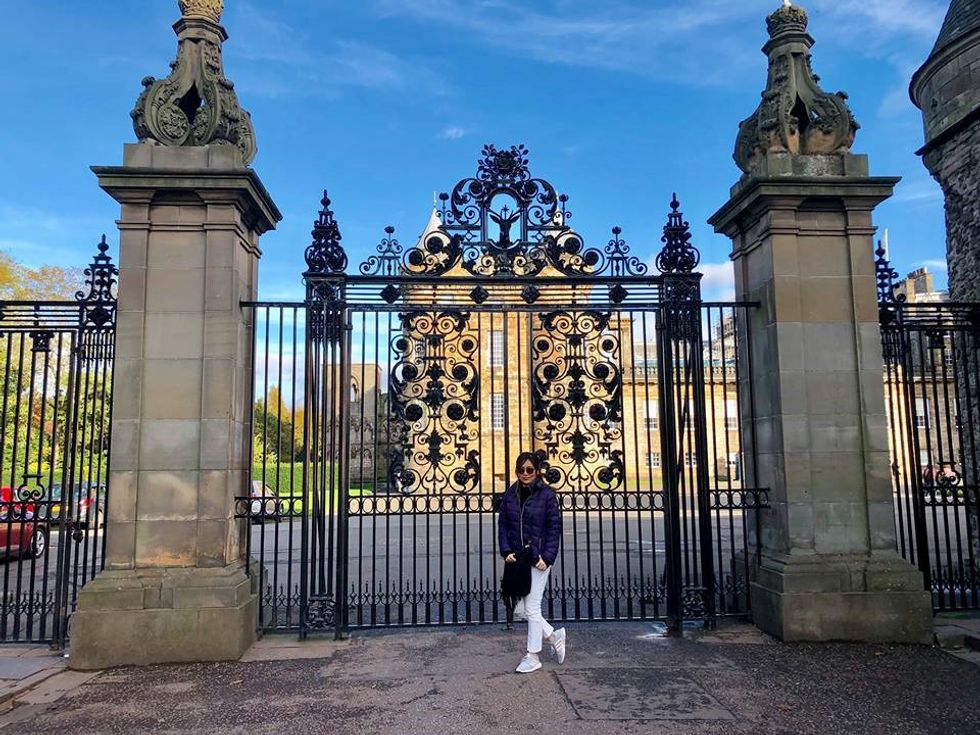 Then we were off to the castle, Edinburgh Castle, that is. The Castle is better known as the symbol of the city and home to the Edinburgh Military Tattoo, an annual event featuring music, dance and more. The royal fortress is situated in one of the highest points of the city, and has been continuously in use for the past one thousand years but still remains in excellent condition. The castle is also home to the Mons Meg Cannon, an enormous medieval super gun, or cannon, that was built in 1449. The cannon fires huge, solid stone cannonballs, three times the size of a human head. Each cannonball weighs about 400 pounds and can shoot as far as two miles. Every day at 1:00 p.m. there is a ritual called the "One O'Clock Gun," or the firing of the cannon from the castle. The Scottish tradition began in 1861, when the firing was a signal for ships that sailed in and out.
The name "cannon," or "canon," is very common throughout Edinburgh. It somehow has a significant meaning. Beyond the crossroads, the Royal Mile continues down the Canongate, literally meaning, "Cannon's/Canon's Way." It was used in former times by the Augustinian Canons of Holyrood Abbey. The name or the word "cannon," is not just a weapon of destruction, but it is also a religious order in the Catholic and Anglican Church, and of course the Church of Scotland. From the award-winning Cannonball Restaurant and Bar, to the Canongate, all the way to the Canonmills and finally to the Old Cannon Kirk (Church) and Cross, the word "cannon," surrounds this marvelous Scottish city. Canongate was once described as, "the main avenue from the palace to the city, it has been born upon its pavements the burden of all that was beautiful, all that was gallant, all that has historically interesting in Scotland for the last six or seven hundred years."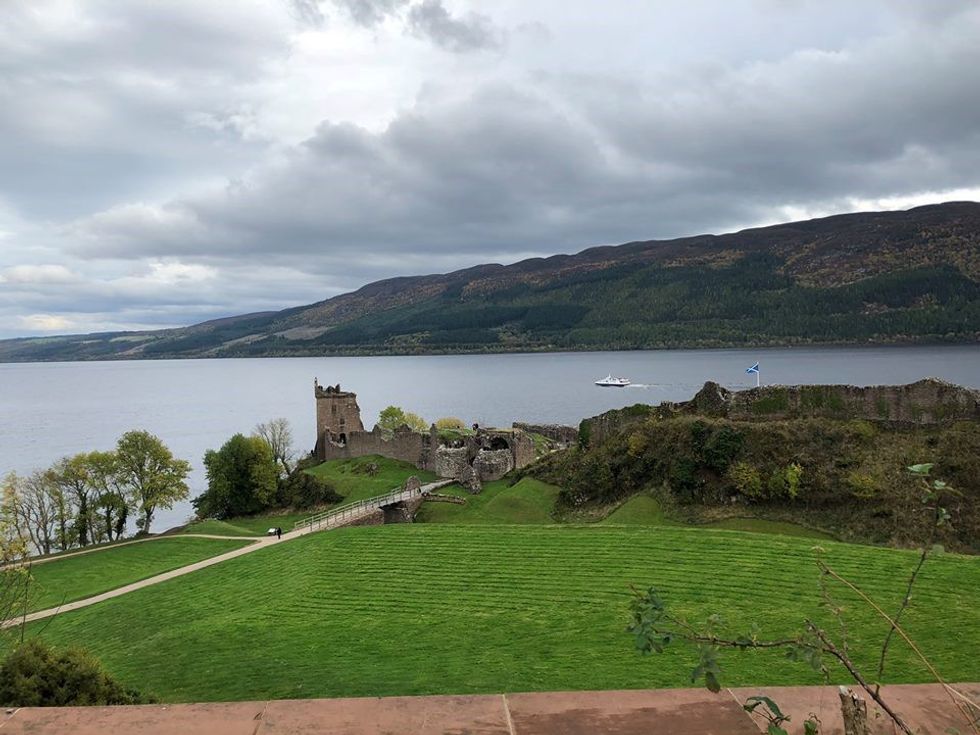 Throughout my one-week stay in Edinburgh, I was able to go up to the Scottish Highlands in Loch Ness (famous for its mythical Loch Ness Monster) and Inverness. The Loch Ness is best known for the alleged sightings of the crypto-zoological Loch Ness Monster, also known affectionately as "Nessie." The monster is an equivalent to our "Big Foot," or "Sasquatch." The "Nessie" was first sighted by an American couple on the road in 1933 where it approached their car and eventually ran away but it has been a mystical character in stories for hundreds of years. Eventually, Loch Ness became a tourist attraction in all of Scotland. The Urquhart Castle is also situated in Loch Ness. It is one of the oldest castles in Scotland, and definitely one with the most spectacular views of the Highlands and the lake.
Being surrounded by the majestic mountains of the Highlands in Inverness, felt so surreal. I felt like I was in a scene of "The Game of Thrones," and as a matter of fact, the show shot several scenes from their "Winterfell" episode in Season One in the Highlands. Even though it was cold and damp, the Scottish Highlands was one of the most beautiful places I've seen in my life, and that was a great check off my bucket list.
"Fill your life with adventures, not things. Have stories to tell, not stuff to show" is one of my most favorite travel quotes. Scotland truly has so much to offer. From getting lost in the Scottish Highlands, to my search for the Loch Ness Monster in Loch Ness, and falling in love with the Canongate, or Cannon's Way, while enjoying the sounds of the original bagpipe music, to striking a pose at the iconic Red Telephone Booth at the Royal Mile, and finally the Edinburgh Castle -- Scotland, you truly are one of a kind and most definitely brought out the wanderlust in me.
On March 19, 2020, United operated its first flight carrying cargo without passengers on board. While the passenger cabin was empty, its cargo hold was completely full, carrying more than 29,000 pounds of commodities from Chicago O'Hare International Airport (ORD) to Frankfurt Airport (FRA).
A year later, United Cargo has operated more than 11,000 cargo-only flights carrying more than 570 million pounds of freight. To support the COVID-19 pandemic recovery efforts, United Cargo has also transported more than 113 million pounds of medical and pharmaceutical products on both cargo-only and passenger flights as well as approximately 10 million COVID-19 vaccines, providing global communities access to the items they have needed most.
"At the beginning of the pandemic, we knew we were uniquely positioned to utilize our widebody aircraft and our network to keep commodities moving, so we quickly mobilized various departments throughout the airline to launch a cargo-only network of flights that would keep commodities moving," said United Cargo President Jan Krems. "Thanks to those efforts, United Cargo has delivered millions of items to countries all around the world. We would not have been successful without the steadfast support of our employees, industry partners and our customers."
Since last March, United Cargo has transported almost 850 million pounds of freight on cargo-only and passenger flights. The airline will continue to monitor market trends adjust its cargo-only flight schedules to help ensure we are meeting our customer's evolving shipping needs.
Whether you haven't flown with us for a while or just need a quick refresher before your spring trip, read this list of tips to know before your flight and arrive at the airport travel-ready:
1. Download the United app for contactless bag check, travel assistance and more
Before your flight, download the United app to view your flight status, check in, sign up for flight notifications, locate departure gates, access our free personal device entertainment when available and more. We've also updated our app with new features that can make your trip a little safer, including contactless bag check.
Don't forget to use Agent on Demand for help with any and all questions you may have before your flight. This new capability is available at all our U.S. hub airports and allows you to use your own mobile device to contact a customer service agent via phone, video or chat to help with day-of-travel questions while you're at the airport. Learn more about Agent on Demand here.
2. Check out the Travel-Ready Center
Our Travel-Ready Center makes it easy to get a personalized overview of everything you need to do in preparation for your flight. Just enter your confirmation number or MileagePlus® number and you'll find detailed information on all the documents, tests and more that you'll need for your trip.
3. Read and sign the Ready-to-Fly checklist
Before completing check-in, all United travelers will need to read our Ready-to-Fly checklist and confirm that they understand and agree to our policies. These include:
Acknowledging that you haven't had any symptoms of COVID-19 in the last 14 days
Agreeing that you will not fly if you have tested positive for COVID-19 within the last 21 days
Confirming that you will follow all policies regarding face masks, social distancing and other health and safety measures we've adopted
4. Arrive early; avoid the stress
Airports can be busy, especially during peak travel periods like spring break season. The TSA advises arriving at the airport two hours before your flight for domestic travel and three hours for international travel in anticipation of long security lines. This can help ease the stress when navigating busy check-in areas, security lines and crowded boarding gates.
5. Get familiar with CleanPlus
United CleanPlus℠ is our commitment to delivering industry-leading cleanliness as we put health and safety at the forefront of your experience. We've teamed up with Clorox to redefine our cleaning and disinfection procedures and Cleveland Clinic to advise us on enhancing our cleaning and disinfection protocols, like:
Disinfecting high-touch areas on board and in the terminal
Using electrostatic spraying, Ultraviolet C lighting wands and more advanced measures to clean aircraft cabins before boarding
Redesigning our mobile app to allow for touchless check-in and contactless payment, along with enhanced travel assistance features
Implementing high-efficiency (HEPA) filters on our aircraft that completely recirculate cabin air every 2-3 minutes and remove 99.97% of airborne particles, including viruses and bacteria
Studies show COVID-19 exposure risk is minimal when air filtration systems and masks are in use, so you can rest assured that the steps we've taken to keep you safe truly make a difference.
6. Wear your mask
Federal law requires all travelers to wear a face mask in the airport, including customer service counters, airport lounges, gates and baggage claim, and on board during their entire flight. Make sure you review the requirements for face masks, including what an acceptable face mask looks like.
7. Get ready for a safer boarding process
To make boarding even safer, we now have travelers board their aircraft from back to front. At the gate, just listen for your row number to be called – we'll ask a few rows at a time to board, starting with the last row of the plane. This helps everyone maintain a safe distance from each other during boarding without slowing things down. As you step onto the plane, flight attendants will hand each passenger a sanitizing towelette, which you can use to wipe down your seat to ensure it's extra clean.
8. Pack smart
Before packing your bags, check to see what exactly you can carry on and what you should plan to check. You can also copy your confirmation number into our Baggage Calculator tool to learn about the bag allowance included with your reservation, as well as the cost of checking any additional bags.
9. Check your flight status, important notices and weather
Check the United app regularly for the latest updates on weather conditions, flight status, gate numbers and seat assignments. You can also visit our Important Notices page to find essential information and updates about travel waivers, international travel, TSA and security, airports and United Club locations.
10. Relax and enjoy your flight
Once you're on board, it's time to sit back and enjoy your flight. Our flight attendants will be happy to help you with anything else you need.
This week, we were honored to become the first U.S. airline to join the UNICEF Humanitarian Airfreight Initiative to combat the COVID-19 pandemic by transporting the vaccine and other critically needed supplies to underserved areas of the globe.
"We are committed to helping the global community in any way we can, and we all must work together to do our part to bring this health and humanitarian crisis to an end," said Director of Cargo Specialty Products Manu Jacobs.
We will leverage our expertise to transport these critical pharmaceutical and healthcare shipments around the world safely, efficiently and expediently. We are proud to partner with the United Nations to support this global effort and provide equitable access to COVID-19 vaccines.
Scroll to top