Wanderlust experience in Scotland
Each week we will profile one of our employee's adventures across the globe, featuring a new location for every employee's story. Follow along every week to learn more about their travel experiences.
By SFO Maintenance Planning Analyst Hannah Rebosura
I've often come across the travel quote in the internet that says, "It is better to see something once, than to hear about it a thousand times." And for the past 10 years or so, I have traveled the world, with 25 countries checked off my bucket list, yet Scotland still remained the elusive one. However, last October I had the wonderful privilege of flying off to Edinburgh, Scotland.
Pronounced, "Eiden-brah," Edinburgh is known as "Athens of the North," as well as Scotland's capital, of course. It's Old and New Towns were listed as a UNESCO World Heritage Site in 1995, and in 2009 it was voted the most desirable place to live in the U.K. Also known as the Aud Reekie, in Scottish Gaelic, Edinburgh is combined with both ancient and modern unique Scottish atmosphere. Its medieval palaces rub elbows with the modern architecture. Its gothic churches are as ancient and magnificent as the Edinburgh Castle itself.
Strolling down the elegant Royal Mile in the Old Town is definitely a must. It boasts the highest number of traditional souvenir shops. There you will find the "made in Scotland" garments from the popular cashmere and lamb's wool scarves to the traditional, yet very famous Scottish wear: the kilt. They come in every tartan pattern known, but they aren't cheap either.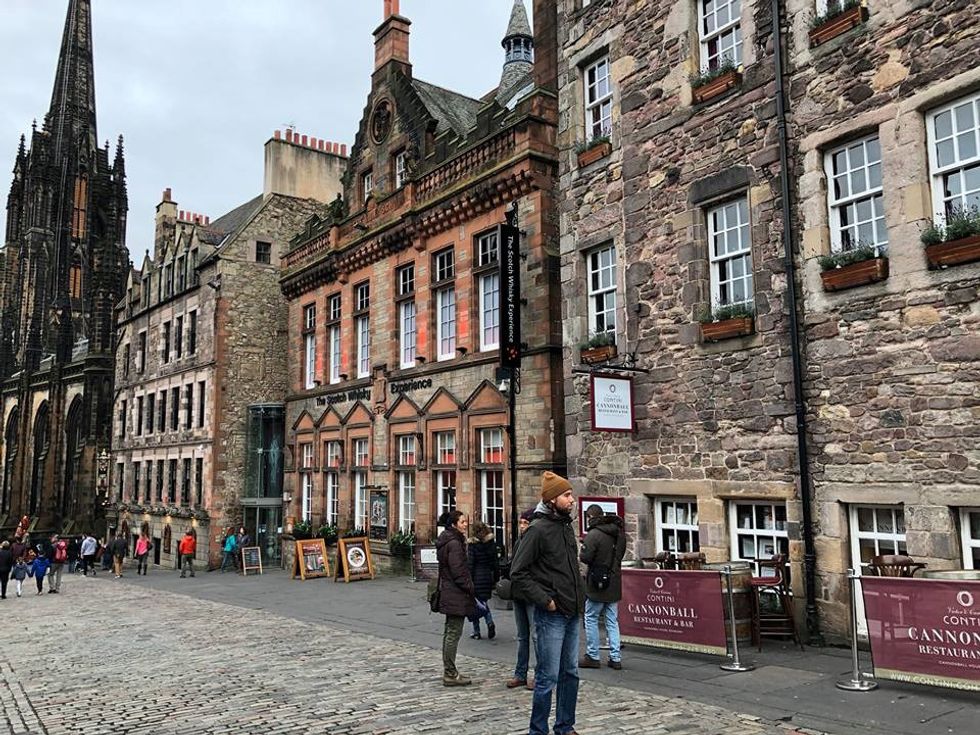 The Royal Mile is book-ended by the Edinburgh Castle and the Palace of the Holyrood House. The Holyrood House is the official residence of the British Monarch in Scotland, Queen Elizabeth II. Edinburgh is also home to several interesting museums and historical sites which include St. Giles' Cathedral, the place of worship of the Church of Scotland and it is also known as the "Mother Church of Presbyterianism." The cathedral is also dedicated to the city's patron St. Giles and the building right next to it is the Scottish Parliament. The Royal Mile's old cobbled-stone roads and the ever-iconic red telephone booth make the best scenic backdrop for every picture you take.
Then of course there is the Scotch Whisky Experience for all the whisky lovers and enthusiasts. For those of you that are unaware, Scotland is the biggest exporter of whisky. All the best Scotch Whisky comes from Scotland. The Scotch Whisky Experience offers whisky-making tours and tastings. The tasting was a lot of fun and I learned that the older the whisky, the stronger it is and the better it tastes, especially on a cold and gloomy day. It makes your day far more delightful and warm too.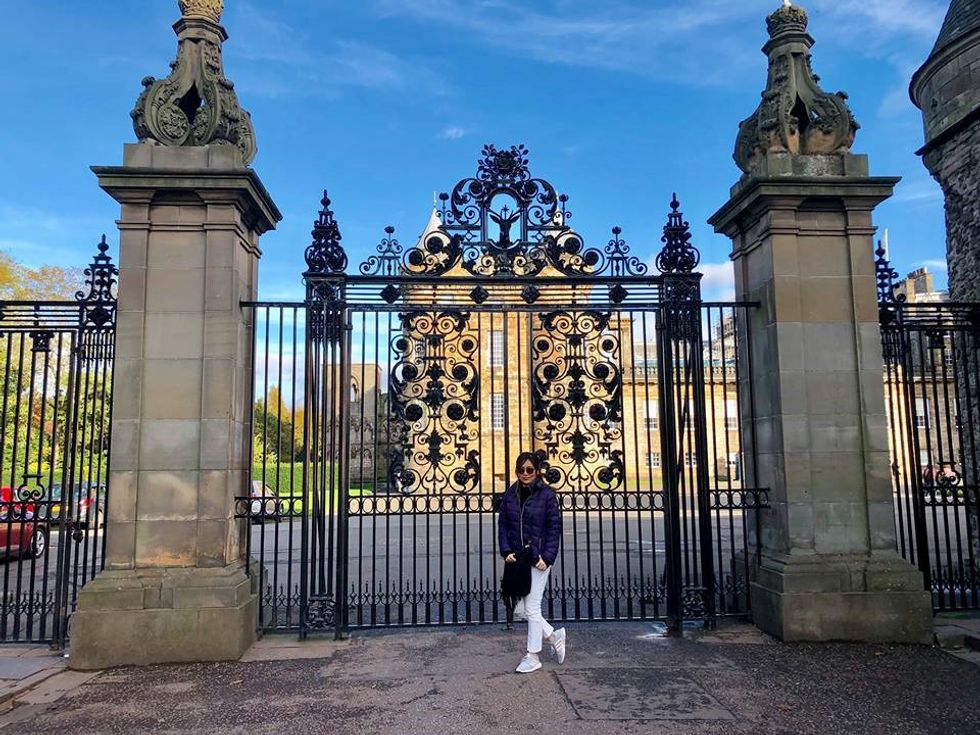 Then we were off to the castle, Edinburgh Castle, that is. The Castle is better known as the symbol of the city and home to the Edinburgh Military Tattoo, an annual event featuring music, dance and more. The royal fortress is situated in one of the highest points of the city, and has been continuously in use for the past one thousand years but still remains in excellent condition. The castle is also home to the Mons Meg Cannon, an enormous medieval super gun, or cannon, that was built in 1449. The cannon fires huge, solid stone cannonballs, three times the size of a human head. Each cannonball weighs about 400 pounds and can shoot as far as two miles. Every day at 1:00 p.m. there is a ritual called the "One O'Clock Gun," or the firing of the cannon from the castle. The Scottish tradition began in 1861, when the firing was a signal for ships that sailed in and out.
The name "cannon," or "canon," is very common throughout Edinburgh. It somehow has a significant meaning. Beyond the crossroads, the Royal Mile continues down the Canongate, literally meaning, "Cannon's/Canon's Way." It was used in former times by the Augustinian Canons of Holyrood Abbey. The name or the word "cannon," is not just a weapon of destruction, but it is also a religious order in the Catholic and Anglican Church, and of course the Church of Scotland. From the award-winning Cannonball Restaurant and Bar, to the Canongate, all the way to the Canonmills and finally to the Old Cannon Kirk (Church) and Cross, the word "cannon," surrounds this marvelous Scottish city. Canongate was once described as, "the main avenue from the palace to the city, it has been born upon its pavements the burden of all that was beautiful, all that was gallant, all that has historically interesting in Scotland for the last six or seven hundred years."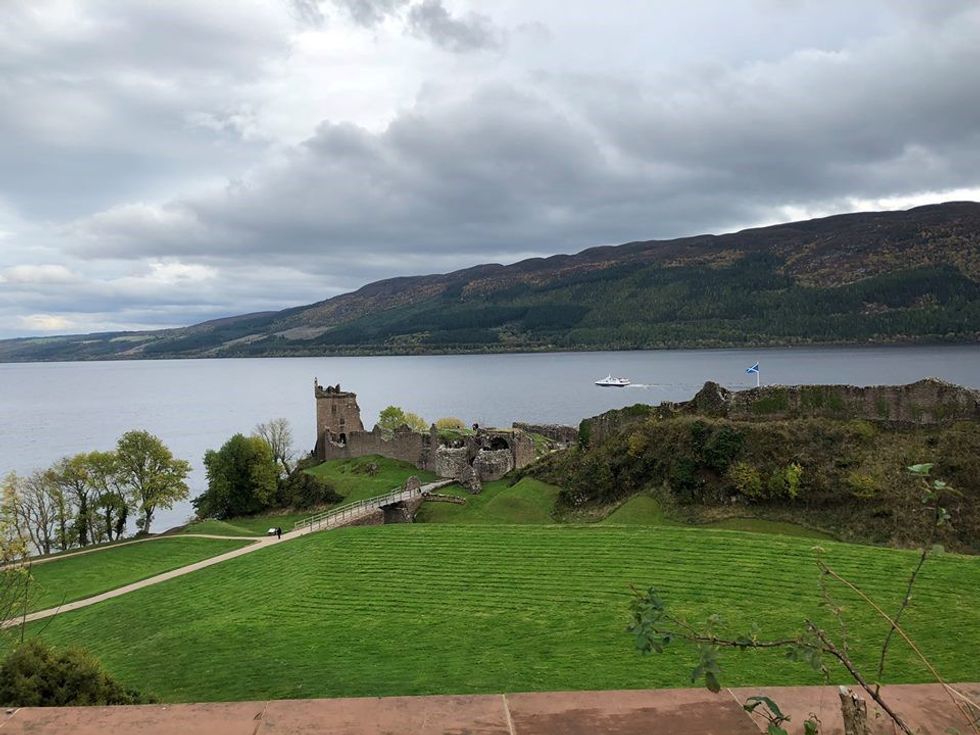 Throughout my one-week stay in Edinburgh, I was able to go up to the Scottish Highlands in Loch Ness (famous for its mythical Loch Ness Monster) and Inverness. The Loch Ness is best known for the alleged sightings of the crypto-zoological Loch Ness Monster, also known affectionately as "Nessie." The monster is an equivalent to our "Big Foot," or "Sasquatch." The "Nessie" was first sighted by an American couple on the road in 1933 where it approached their car and eventually ran away but it has been a mystical character in stories for hundreds of years. Eventually, Loch Ness became a tourist attraction in all of Scotland. The Urquhart Castle is also situated in Loch Ness. It is one of the oldest castles in Scotland, and definitely one with the most spectacular views of the Highlands and the lake.
Being surrounded by the majestic mountains of the Highlands in Inverness, felt so surreal. I felt like I was in a scene of "The Game of Thrones," and as a matter of fact, the show shot several scenes from their "Winterfell" episode in Season One in the Highlands. Even though it was cold and damp, the Scottish Highlands was one of the most beautiful places I've seen in my life, and that was a great check off my bucket list.
"Fill your life with adventures, not things. Have stories to tell, not stuff to show" is one of my most favorite travel quotes. Scotland truly has so much to offer. From getting lost in the Scottish Highlands, to my search for the Loch Ness Monster in Loch Ness, and falling in love with the Canongate, or Cannon's Way, while enjoying the sounds of the original bagpipe music, to striking a pose at the iconic Red Telephone Booth at the Royal Mile, and finally the Edinburgh Castle -- Scotland, you truly are one of a kind and most definitely brought out the wanderlust in me.
From Sept. 15 through Oct. 15, the U.S. celebrates Hispanic Heritage Month, a chance to pay tribute to the history, culture and contributions that generations of Latinxs have paved to enrich U.S. history. It is also a reminder to celebrate our differences and spark difficult, yet important, conversations.
To kick off the month, UNITE, our multicultural business resource group for employees, did just that by hosting a panel discussion about the immigrant experience and what it means to be an immigrant in the U.S.
United Litigation and Managing Counsel Elizabeth Lopez, who is a pro bono immigration attorney, moderated the panel, and was joined by Ashley Huebner, Associate Director of Legal Services at the National Immigrant Justice Center (NIJC) and Magdalena Gonzalez, Program Manager, Leadership Development Programs at Hispanic Alliance for Career Enhancement. The three women shared their insights and personal stories, while addressing some misconceptions and highlighting the contributions of immigrants to our company and country.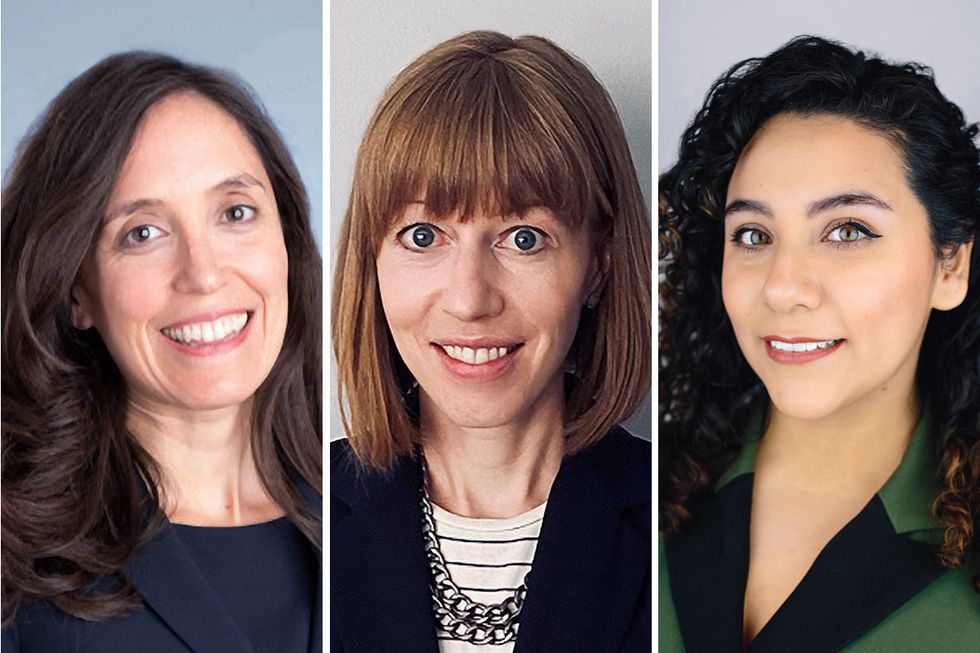 From left to right, Elizabeth Lopez, Ashely Huebner and Magdalena Gonzalez
"I started to notice that there were things I was scared of doing, that I needed to be cautious," said Magdalena while sharing her personal experience as a DACA (Deferred Action for Childhood Arrivals) recipient. "My friends, who a majority of them are citizens, did not need to worry about that. As I was able to see that, I realized that, 'oh, there's so many things that revolve around not just being a DACA recipient but revolve around being a person with an undocumented status here in the United States.'"

United maintains a close relationship with the NIJC. In May of 2019, United co-hosted an asylum clinic put on by the legal services organization, where several attorneys and legal professionals were trained on representing asylum-seeking applicants. At the end of the clinic, members of our legal department were assigned an asylum case through the NIJC.
Litigation Managing Counsel Elizabeth Lopez, Commercial Transactions Counsel Tiffany Jaspers, Global Compliance and Ethics Counsel Nancy Jacobson and Employment Litigation Senior Manager Dorothy Karpierz were partnered with attorneys from the law firm of McDermott Will & Emery to take on an immigration case of a mother of three from Honduras. Recently, after a years-long court battle, the legal team was victorious, changing the life of the woman and her family.
United is committed to connecting people and uniting the world. Whether you're an immigrant, a child of immigrants or simply want to learn more about the immigrant experience in the U.S., discussions like these, related to this hot-button issue, are important to have in order to understand the human lives behind it.
Your voice matters. Voting is one of the most influential civic activities we can engage in as Americans. At United, our mission is to connect people and unite the world — and one of the most important ways to do that is to engage in the democratic process. That's why we've long provided our employees with resources to help them get registered to vote.

This year, we're taking our support a step further as the official airline of the Commission on Presidential Debates (CPD). Since the start of the pandemic, we've overhauled our cleaning measures through a program we call United CleanPlusSM , and the CPD has placed their trust in United to fly Commission production staff to each of the four debates, starting with the first one on September 29, hosted by Cleveland Clinic and Case Western Reserve University.
Today, on National Voter Registration Day, we also want to make sure our customers have access to information about how to participate in the 2020 Election. Over the past several months, you've heard a lot from us about how the COVID-19 pandemic has changed air travel. We've learned that with some planning and extra effort, it's still possible — and safe. That's true of voting, too.
No matter which party you support or how you're planning to vote, we know our democracy will be stronger if you make your voice heard and make a plan to vote.
Best,
Brett J. Hart
President
United Airlines
Since its launch 20 years ago, Year Up, one of our critical needs grant recipients, has helped more than 10,000 young adults gain access to corporate business and technical experience at large companies like United while offering the invaluable perspectives they bring with them.
On Wednesday, the nonprofit inducted United into its Opportunity Hall of Fame – a selection that occurs once every five years.
Year Up's mission is to help close the opportunity divide by providing urban young adults with the skills, experience and support that will empower them to reach their potential through professional careers and higher education. Since 2018, our partnership has allowed talented student learners the opportunity to gain corporate business experience and technical skill training at the airline while bringing their unique perspectives to our United family and culture. One of those students is Emily Lopez, who graduated from the Year Up program in January 2019 and was hired to be part of the United family as an analyst in Revenue Management.
"I moved from Venezuela to the United States in July 2016 and being a young immigrant with no resources can be difficult to pursue a career in a new country," said Emily.
After learning about Year Up and ultimately being accepted into the program, Emily landed an internship with United, an opportunity she is very grateful for.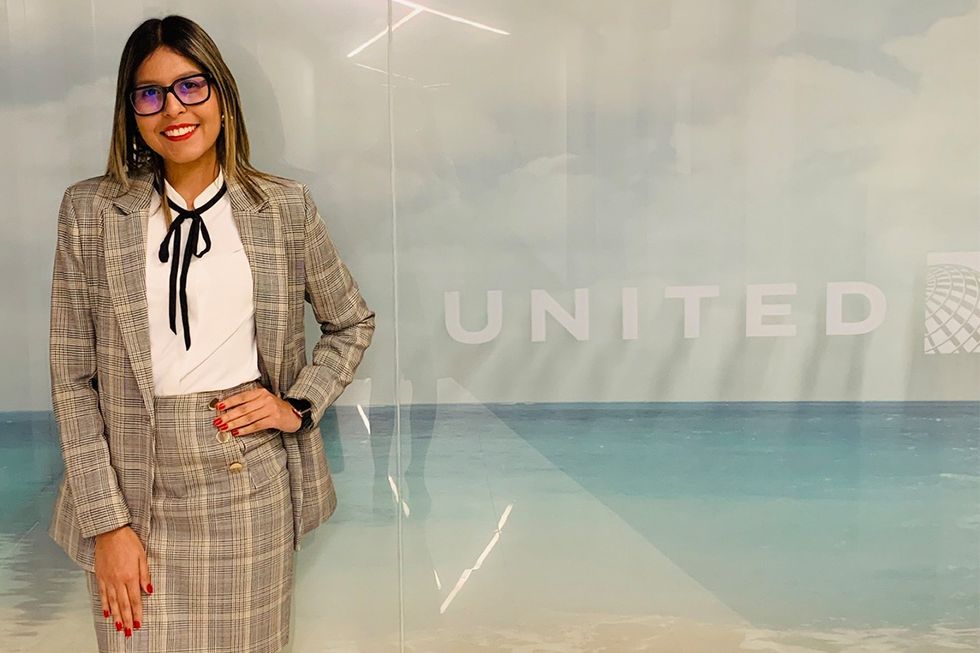 Emily Lopez - Analyst, Pricing & Revenue Management
"Feedback from my mentors, coaches and managers was key during my internship phase and helped me convert my internship at United to a full-time position. I am grateful for the opportunity United has provided me and my Year Up Alumni colleagues to keep building a professional career within the company. I am so excited to continue building a professional career with the company and to see United being inducted to Year Up's Hall of Fame. Let's continue closing the opportunity divide!" said Emily.
Although the coronavirus pandemic has made this year's partnership a bit more difficult, we continue to do our part to support the Year Up student learners. Last month, we surprised 145 graduates of this year's Year Up Chicago program with roundtrip tickets to pursue career and networking opportunities within the United States.
"I've been personally honored and inspired to be an advocate for Year Up since I joined United," said CEO Scott Kirby. "This program gives young people from challenged backgrounds an opportunity to get their foot in the door as interns at United. This year's graduates are entering a challenging job landscape, but we have one thing that can help: a route network that provides easy access to major business markets across the United States."
Scroll to top