You don't need to be a meteorologist to know that summer is almost through. Look out the window and note the leaves changing colors and people beginning to dress in sweaters and jackets. Summer and its sun have all but gone, and with autumn and winter on their way, the chances of keeping your tan for the next nine months are looking slim.
This may feel like bad news for those of us who understand that, in moderation, sunshine and its vitamin D can make us feel both happier and healthier, but it's no reason to feel down.
Instead, pack your bags, grab your ID or passport, and book yourself a flight to a place where it stays hot all through the year or at the very least warm and sunny. Escape to a place where summer never really ends. To get you started, consider five of our favorite sun-kissed escapes.
Santa Barbara, California
If you're looking for year-round sunshine, look west to the American Riviera. While it can't lay claim to being the sunniest place in the lower 48 (that title goes to Imperial County, California), Santa Barbara benefits from having some 300 days of glorious sunshine a year. It's not-too-hot, never-too-cold year-round climate makes it the perfect place to experience the great outdoors — be that hiking, golfing, lying on a beach or dining al fresco in your short sleeves. However, to suggest that Santa Barbara has a monopoly on winter sunshine would be wrong. Head down the California coast to San Diego, and you'll discover another city bathed in glorious year-round sun, where the exceptional beaches are never empty.
United Airlines flies to Santa Barbara (SBA) and San Diego (SAN)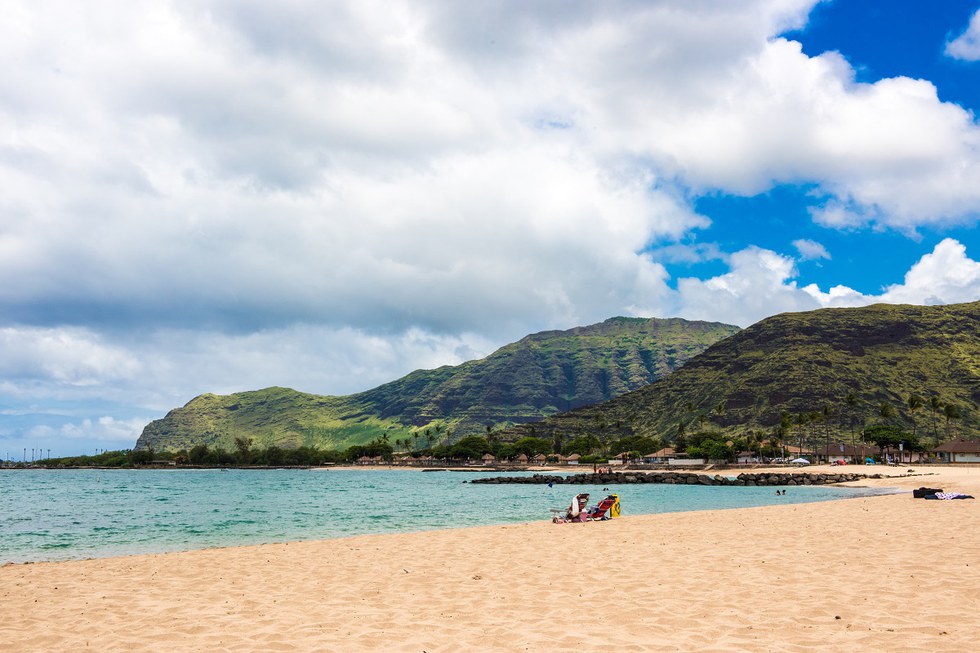 Oahu, Hawaii
America's paradise islands benefit from a tropical climate and temperatures that stay pleasingly high throughout the year. Hawaii averages a consistently beautiful 80-85°F, and while tropical showers are frequent visitors, choose the right part of the right island, and you'll be sure to feel the sunshine on your face. Kona and Waikoloa on the Big Island and Wailea and Kapalua on Maui can be considered sun traps, but head to the island of Oahu, specifically the southern and southwestern end of the island, and you'll find the closest thing to precise sunlight. With more than 300 days of sunshine beating down each year, it soon becomes apparent why they call it "the gathering place."
United Airlines flies to all of Hawaii's airports, including to Honolulu (HNL) on Oahu
Rio de Janeiro, Brazil
Why do the citizens of Rio refer to their home as "Cidade Maravilhosa"—the "marvelous city"? Undoubtedly, it has much to do with the city's stunning setting, nestled between an azure sea and the forest-clad mountains, and watched over from high above by Christ the Redeemer. It also owes something to the architecture, museums, galleries, world-class restaurants and nightlife, and it's impossible to overlook the world-famous beaches of Copacabana and Ipanema.
But it probably owes as much to the fact that "Cidade Maravilhosa" is blessed with a tropical climate and that Rio lies in the southern hemisphere, so its summer falls between December and January. While much of the U.S. shivers through October, November, December and January, Rio is heating up. By December temperatures can reach over 90°F, so you can forget about packing a sweater.
United Airlines flies to Rio de Janeiro (GIG–Galeao)
Aruba, Caribbean
Boasting mile upon mile of white-sand beaches surrounded by crystal-clear waters full of sea life and shipwrecks, the Dutch Caribbean island of Aruba is the island of your imagination. Mainly because, as the sun-chasers who flock there already know, the island benefits from a climate that ranges from hot in the summer to slightly less hot through its winters. The average annual temperature hits a heavenly 82°F,so expect it to be even a little bit warmer in the summer months, and only a degree or two beneath the average for what passes as winter.
Of course, this being the Caribbean, you may think that tropical storms will dampen your visit, but think again. Lying far outside of Hurricane Alley, Aruba escapes the downpours that rain down on the islands further north. All things considered, if it isn't heaven on earth, it does a pretty good impression.

United Airlines flies to Aruba (AUA)
Sydney, Australia

It's an exaggeration to say that Sydney enjoys year-round sunshine, but not much of one. On average the Australian city enjoys 340 days of sunshine every year — even the mathematically challenged can work out that that doesn't leave many dreary days. Picture an archetypal Aussie in your mind's eye, and chances are, they're standing on the beach, looking bronzed and beautiful with a smile on their face. That's effectively Sydney, a place that mixes the cultural buzz of a big (but walkable) city with more golden beaches and sunny days than seems fair to everyone who doesn't live there. And as with Rio, the fact that Sydney's summer falls from December to February makes it even more appealing.
United Airlines flies to multiple locations across Australia, including Sydney (SYD)
If you go
For details on how United Airlines can fly you somewhere sunny and warm all year round, visit United.com or use the United app.