Weekend inspiration: Palm Springs
After a combined 60-plus years of living in cities with snowstorms and cold weather, this winter we decided it was time to pack away the parkas in exchange for a month of sun in Palm Springs.
And it was heaven. 70-degree days filled with morning swims, long walks without a jacket and joyful dogs running around the backyard. Working on murals throughout the valley in perfect drawing conditions was paradise for us, considering we were typically working in freezing weather with pale skin, chapped lips and cracking knuckles. We found our new January normal.
Our month in paradise consisted of many highlights, so if you're in town for a few days, here are some of our favorite spots.
Friday night
If you're looking to rent a place in Palm Springs, we recommend Relax Palm Spring on Airbnb. They have more than 60 rentals in the Coachella Valley area, and we loved the house we stayed in. Every single thing we needed was available on-site or just a phone call away with this professional vacation rental group.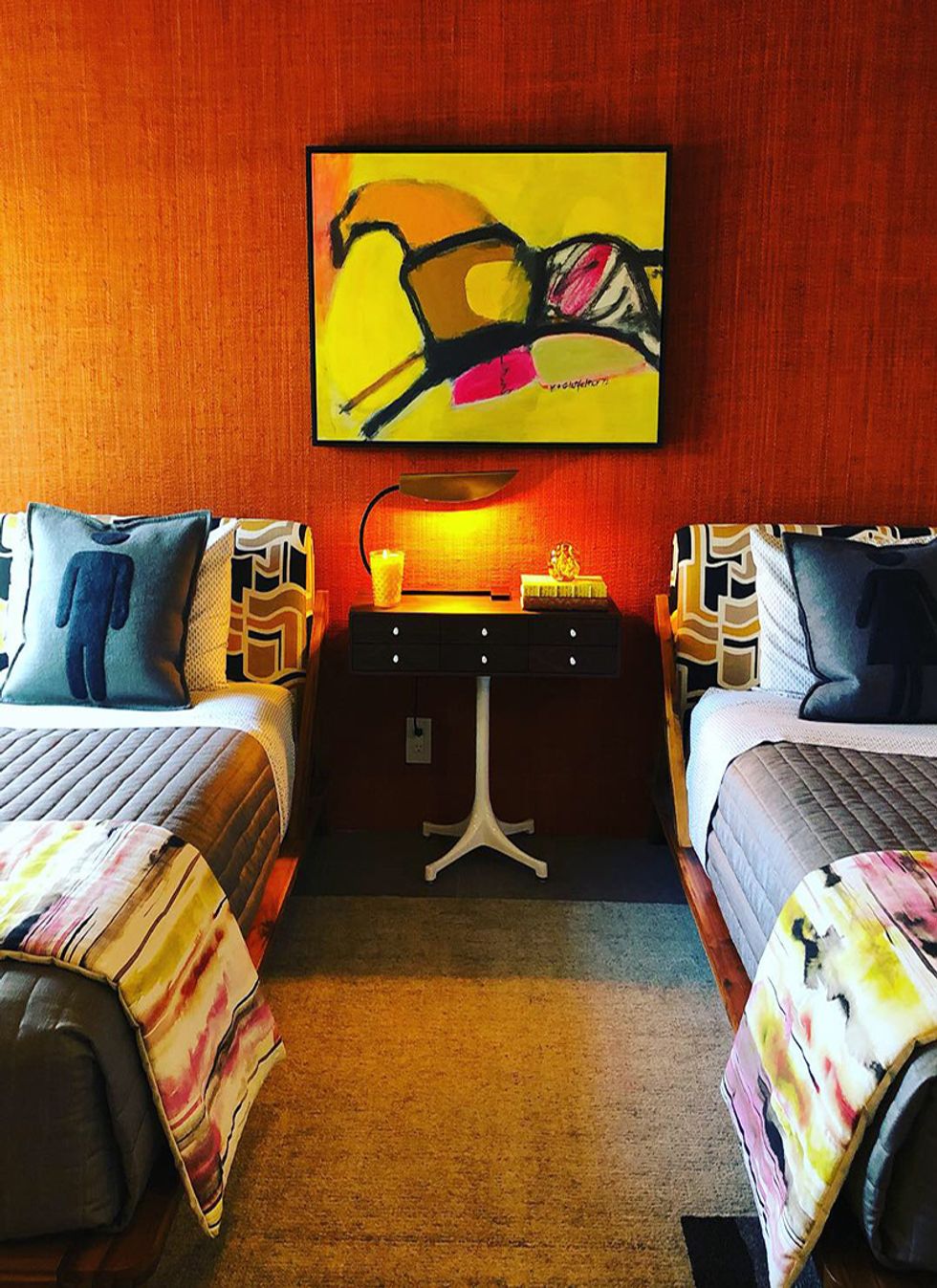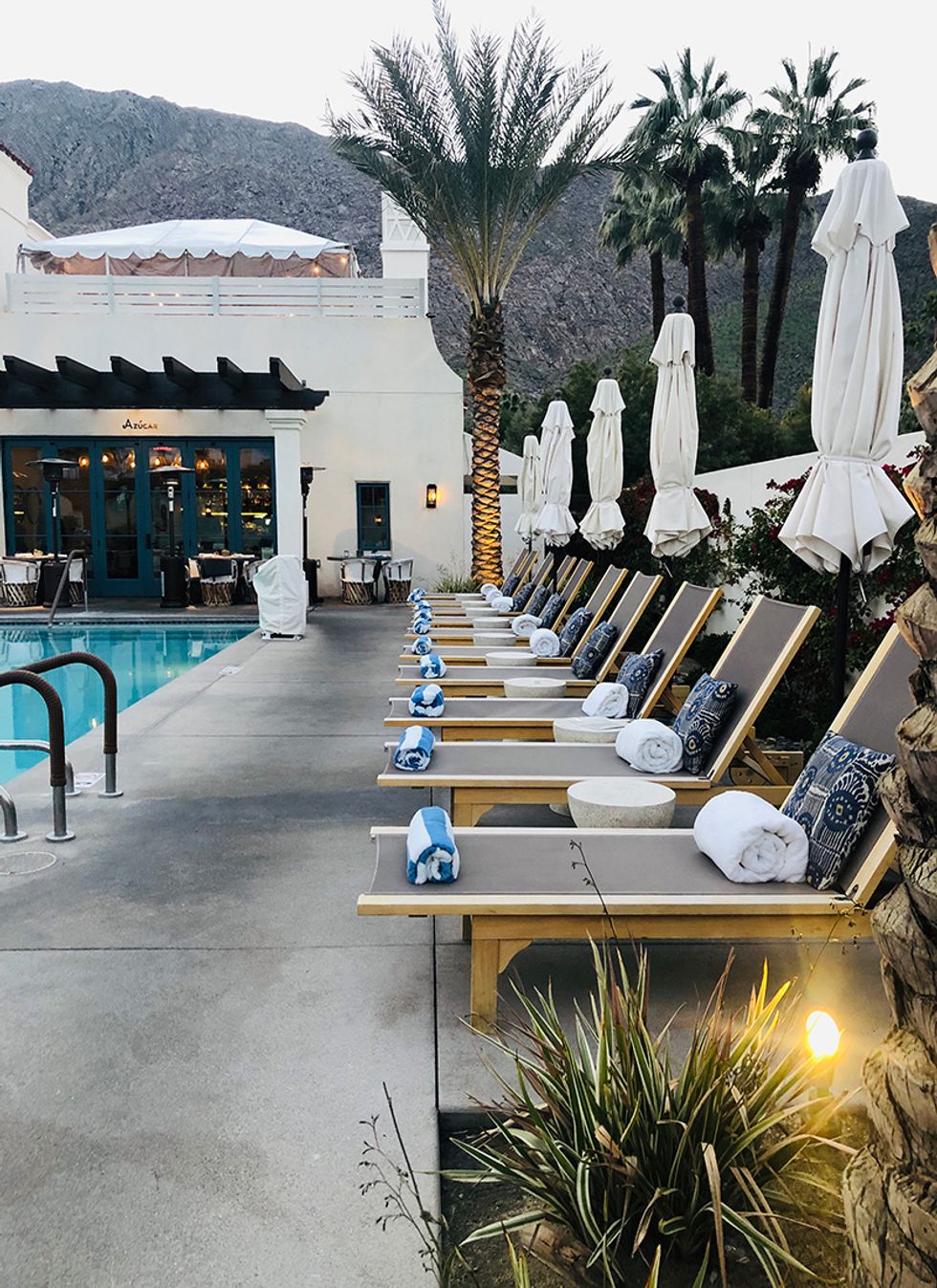 If you're looking to go the hotel route, we highly recommend The Colony Palms Hotel. This Spanish Colonial-style hotel features high-end casitas and a sweet hotel pool with stunning mountain views. La Serena Villas has a similar small-town feel with a wonderful restaurant attached. Further outside of the downtown area, Parker Palm Springs is a stylish and creatively fulfilling place to stay and play.
No matter where you stay, we recommend Azúcar for dinner (at La Serena Hotel). Make sure you get the watermelon appetizer, refreshing with bursts of sweet balsamic beads trickled over the top. You'll feel like a kid at the pool in summer all over again.
Saturday
Get up early and head to Palm Desert. Make your way over to Wilma & Frieda at The Gardens on El Paseo for one of the best breakfasts you'll find in the valley. The pastries are all excellent and homemade. The dishes are creative with items like "churro waffles" and "banana caramel French toast."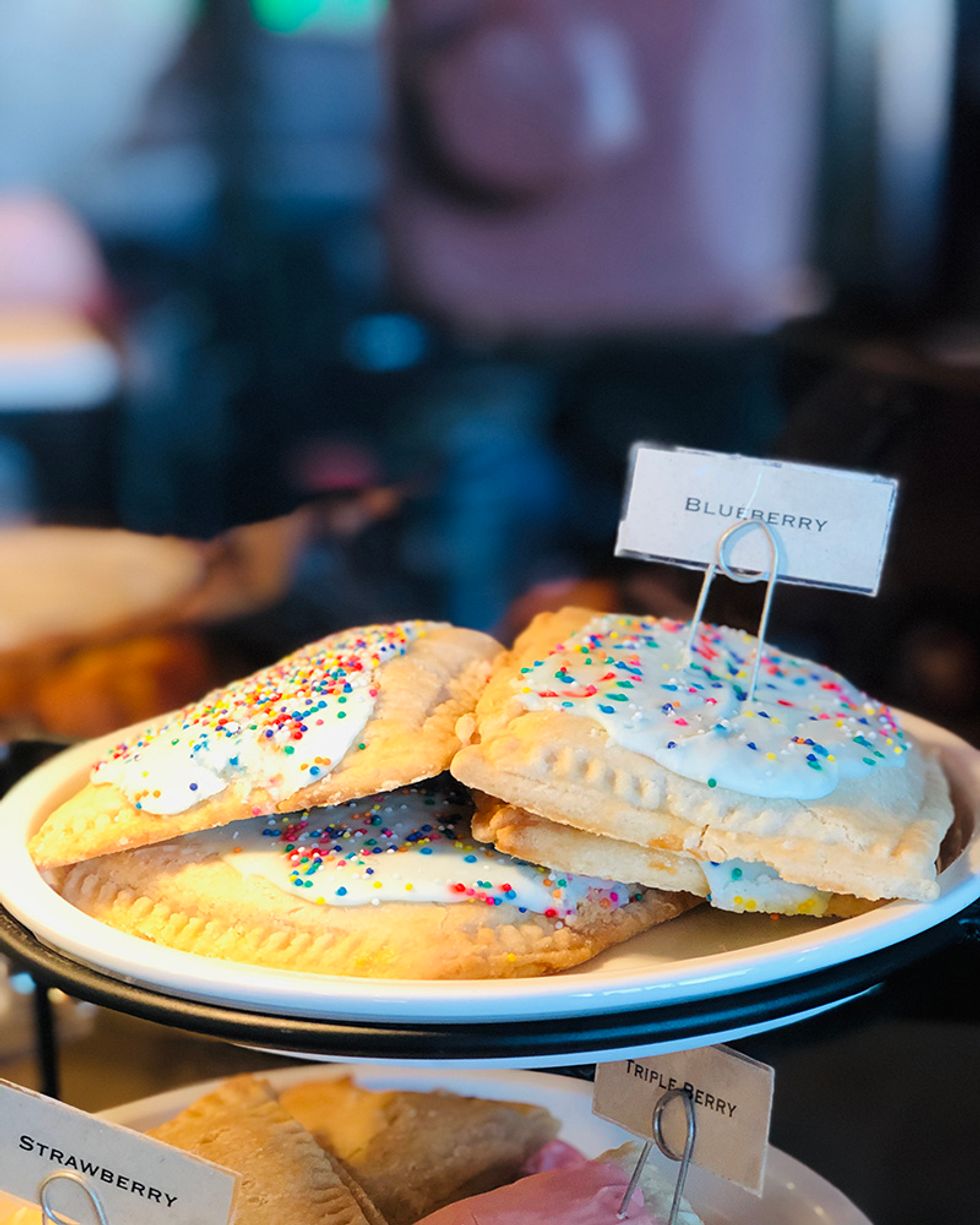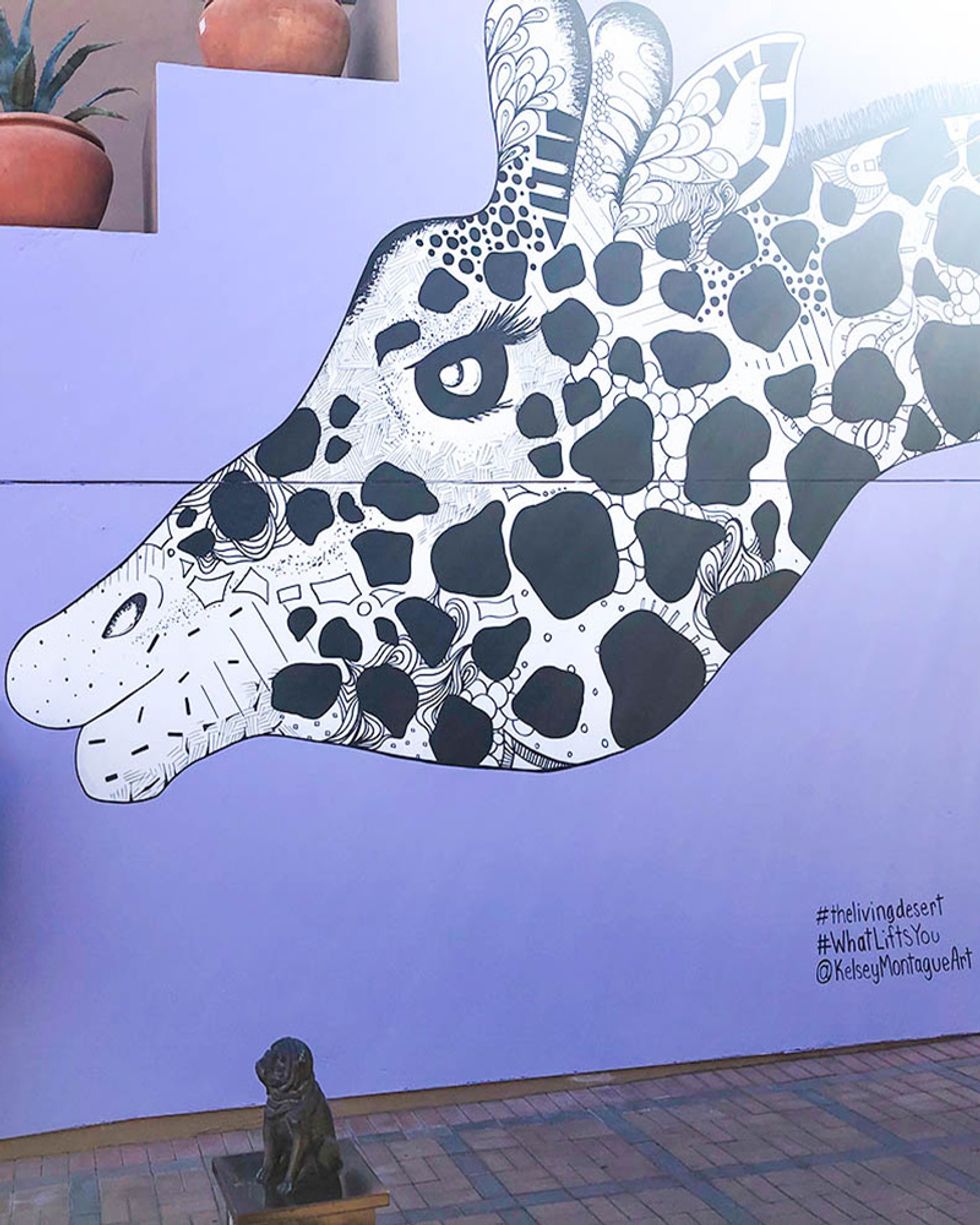 After breakfast, stop by Kelsey's giraffe mural at the Gardens on El Paseo (directions found here) to give her giraffe a kiss. Then drive up the highway to The Living Desert.
The Living Desert Zoo & Gardens is an incredibly well-designed zoo that takes advantage of the stunning desert scenery with every animal exhibit.
On your way back, stop for a sweet treat at the café at Shields Date Gardens for one of their legendary date shakes. Wander through the 1950's feeling diner and gift shop and into the 17-acre date garden. These shakes are a Palm Springs staple and worth every delicious calorie.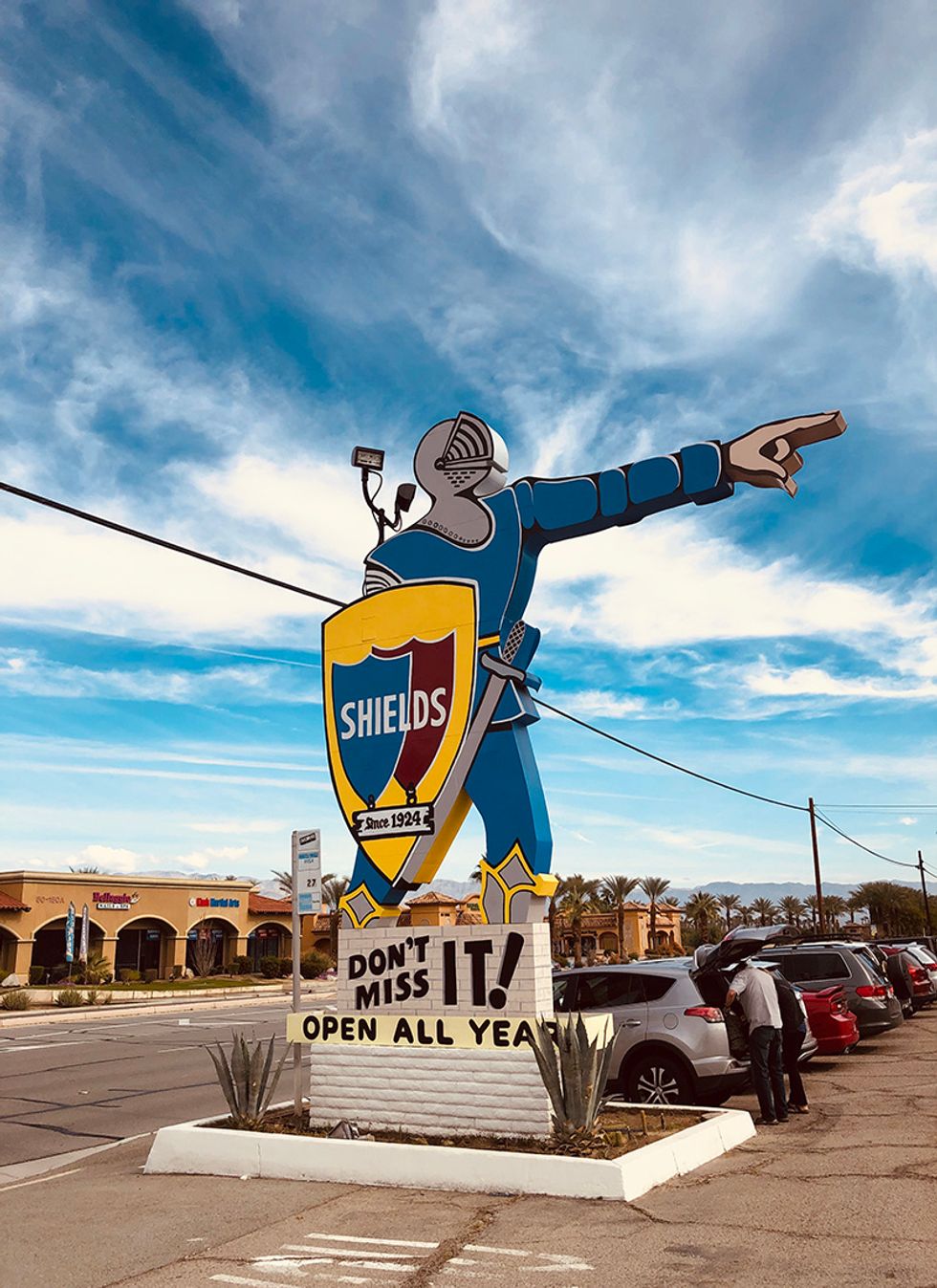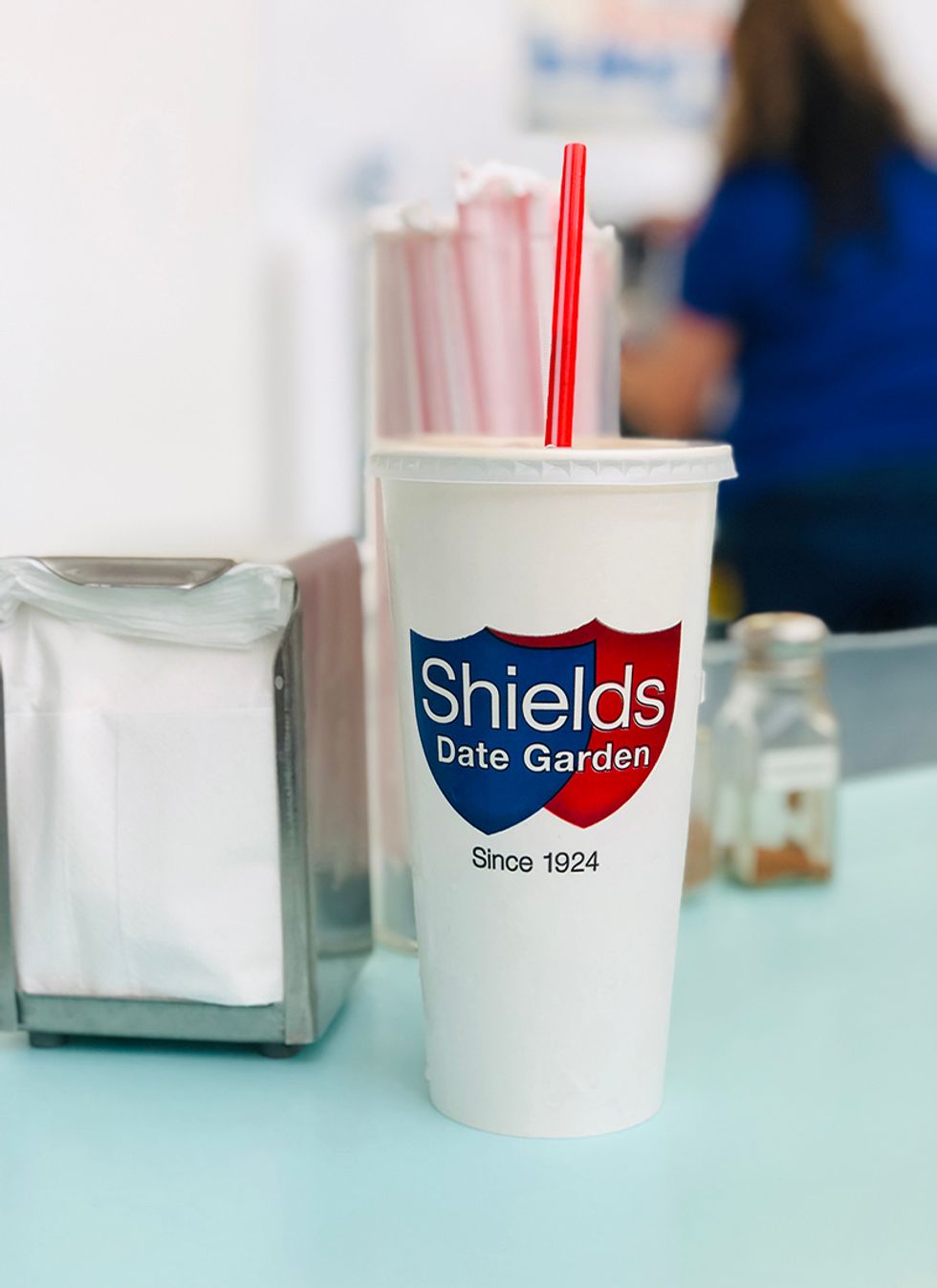 For lunch, wander around the hotel lobby at Parker Palm Springs to admire their excellent interior design decisions before heading into Norma's restaurant for an al fresco lunch.
If you have time, spend the afternoon at Joshua Tree National Park. The blend of Mojave and Colorado deserts results in a unique and stunning landscape. Begin your tour/hike at one of the visitor centers. From here, you can go on a relaxed half-day tour with a guide or head out on one of the 12 self-guiding nature trails.
Spend sunset here or head back downtown to enjoy the sunset at The Colony Palms Hotel's Restaurant, The Purple Palm, with a quality craft cocktail. After sunset, make your way to the popular Italian restaurant Birba for dinner. Birba boasts excellent pizzas with a wide variety of interesting toppings. Be sure to make reservations beforehand.
Sunday
Spend the day exploring Palm Springs. Go to Cheeky's for breakfast, but make sure to get there early, as a line forms before the doors even open. Their world-famous bacon flight is a must – it's unique and so tasty.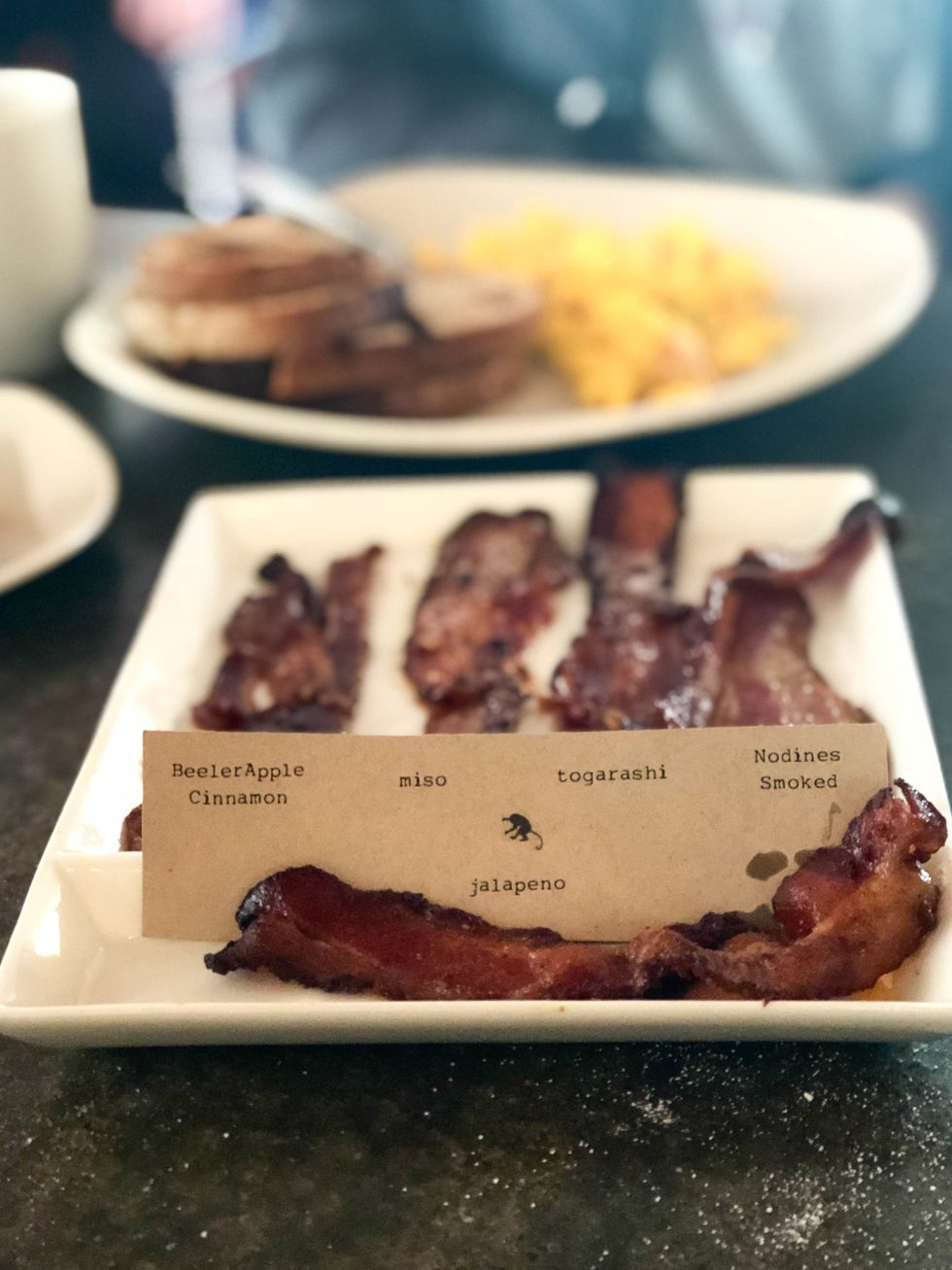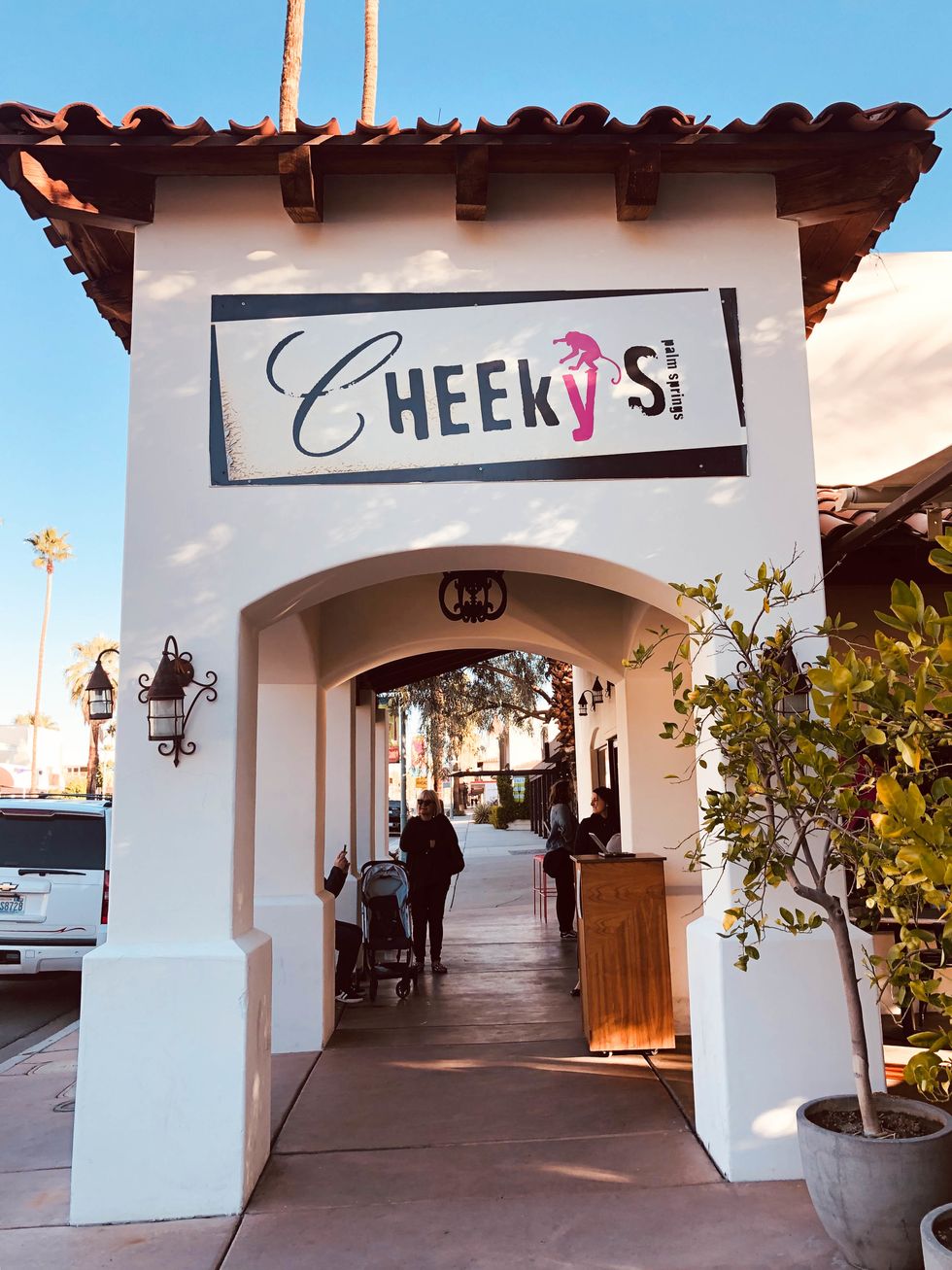 Palm Springs boasts an unbelievable amount of art experiences. Experiential art, art museums and mid-century Modern Design galore. If you can, try to visit Palm Springs during their Modernism week in February. Be sure to get tickets to their house events and tour some of the most breathtakingly beautifully designed houses. And if you're lucky, Desert X might be around during the same time and hunting for art installations throughout the valley, which would be quite the sight.
If a large art fair isn't happening while you're in Palm Springs, we highly recommend heading to the City of Coachella. Their downtown boasts some incredible murals and Kelsey was honored to join the ranks recently. Kelsey completed a pair of "What Lifts You" wings that are colorful and an ode to the Hispanic roots of the community on the side of City Hall.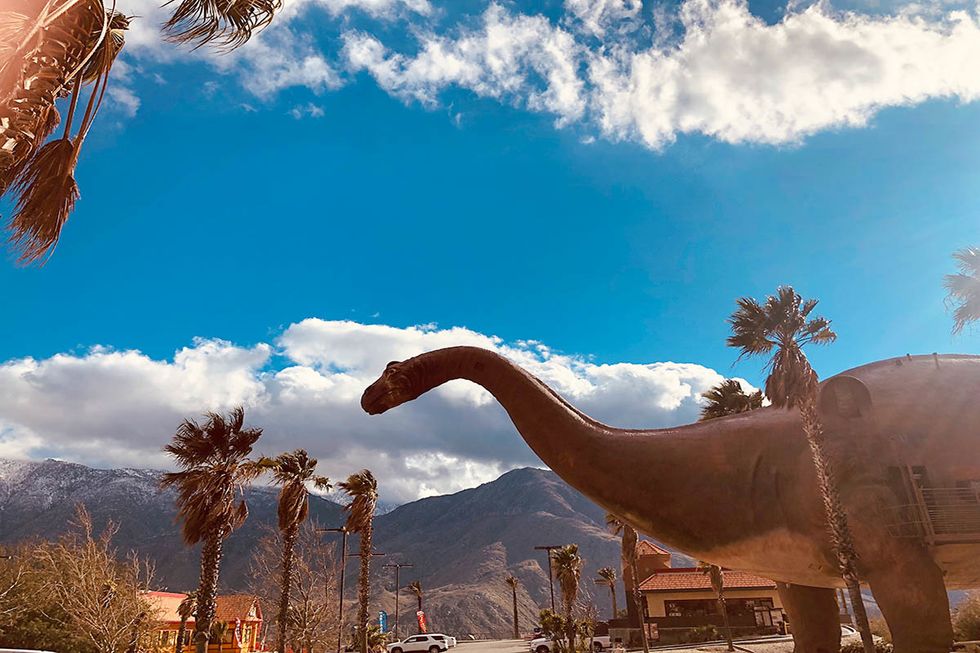 A trip to Palm Springs isn't complete without a picture with the Cabazon Dinosaurs. Made famous through their feature in movies like National Lampoon's Vacation and The Wizard – it's an Instagram-worthy stop.
For lunch, head back to downtown Palm Springs and enjoy a healthy meal at the charming restaurant Farm. Tucked into an interior courtyard, this restaurant feels like you've stepped into the French countryside. It's healthy, clean food even tastes like the South of France with their traditionally French dishes.
Walk off your lunch by exploring the boutiques in Downtown Palm Springs. These mid-century modern shops are not to be missed: A La Mod, Modernway, Vintage Oasis and The Frippery.
Complete your weekend with dinner at the chic Workshop Kitchen + Bar. Their wine cellar is massive and their waiters expertly trained. Trust them to find a new and different flavor for you – something you'll remember long after your weekend in Palm Springs.
We will continue building out our already expansive route network next year, adding flights to some attractive leisure destinations in the United States and the Caribbean.
Our hometown hub, Chicago O'Hare International Airport, will be the beneficiary of three of those new routes, which include Santa Barbara, California; Pasco, Washington; and Vail, Colorado. Rounding it out, United will add service from Denver to Nassau, Bahamas, and from Houston to Spokane, Washington. Tickets for all of these destinations are on sale now.
The Denver-Nassau route will begin on March 7, 2020, followed by Chicago-Santa Barbara, Chicago-Pasco, Chicago-Vail and Houston-Spokane on June 4. When that time comes, United will be the only airline offering nonstop service between Denver and Nassau and Chicago and Pasco.
All of these routes will open up a world of connection possibilities for customers living in each market. They'll also be scheduled to give flyers optimal arrival and departure time options. For instance, a passenger going from Chicago to Santa Barbara will have a flight option that departs O'Hare at 7:45 p.m. local time, arriving at Santa Barbara Airport at 10:30 p.m. That's ideal for business travelers.
"We want to offer customers the very best schedule, the best network and the most flight options in the industry," said Ankit Gupta, United's vice president of Domestic Network Planning.
The Boeing 737-800 aircraft will serve the Denver-Nassau route. Passengers going from Chicago to Santa Barbara and from Chicago to Vail will fly on the 737-700. United's 76-seat Embraer 175 aircraft, equipped with United First, Economy Plus and United Economy class seats, will operate on the Chicago-Pasco and Houston-Spokane routes.
You'll find flight times and additional details in the grid below. For more information and to book your tickets, visit
united.com
or download the United mobile app.
Depart

Arrive

Frequency

Duration

Chicago (ORD)

7:45 p.m.

Santa Barbara (SBA)

10:30 p.m.

Daily

Year-round

SBA

11:20 p.m.

ORD

5:20 a.m.

Daily

Year-round

ORD

8:00 p.m.

Pasco (PSC)

10:24 p.m.

Daily

Year-round

PSC

11:38 p.m.

ORD

5:20 a.m.

Daily

Year-round

ORD

4:00 p.m.

Vail/Eagle (EGE)

5:54 p.m.

Daily

Summer seasonal

(June 4 through September 6, 2020)

EGE

9:00 a.m.




ORD

12:45 p.m.

Daily

Summer seasonal

(June 4 through September 7, 2020)

Denver (DEN)

9:56 a.m.

Nassau (NAS)

4:00 p.m.

Once a week on Saturdays

Year-round

(with a break from mid-August through late-October)

NAS

11:37 a.m.

DEN

2:43 p.m.

Once a week on Saturdays

Year-round

(with a break from mid-August through late-October)

Houston (IAH)

9:32 p.m.

Spokane (GEG)

11:32 p.m.

Daily

Summer seasonal

(June 4 through August 17, 2020)

GEG

11:55 p.m.

IAH

6:17 a.m.

Daily

Summer seasonal

(June 4 through August 17, 2020)
Right now, around the world, brave members of America's armed forces are on duty, defending our freedom and upholding our values.
When not laser-focused on the mission at hand, they're looking forward to the day when their service to our nation is fulfilled and they can reunite with their families.
They are also imagining how they can use their hard-earned skills to build an exciting, rewarding and important career when they return home.
I want them to look no further than United Airlines.
That's why we are focused on recruiting, developing and championing veterans across our company, demonstrating to our returning women and men in uniform that United is the best possible place for them to put their training, knowledge, discipline and character to the noblest use.
They've developed their knowledge and skills in some of the worst of times. We hope they will use those skills to keep United performing at our best, all of the time.
That's why we are accelerating our efforts to onboard the best and the brightest, and substantially increasing our overall recruitment numbers each year.
We recently launched a new sponsorship program to support onboarding veterans into United and a new care package program to support deployed employees. It's one more reason why United continues to rank high - and rise higher - as a top workplace for veterans. In fact, we jumped 21 spots this year on Indeed.com's list of the top U.S workplaces for veterans. This is a testament to our increased recruiting efforts, as well as our efforts to create a culture where veterans feel valued and supported.
We use the special reach and resources of our global operations to partner with outstanding organizations. This is our way of stepping up and going the extra mile for all those who've stepped forward to answer our nation's call.
We do this year-round, and the month of November is no exception; however, it is exceptional, especially as we mark Veterans Day.
As we pay tribute to all Americans who have served in uniform and carried our flag into battle throughout our history, let's also keep our thoughts with the women and men who are serving around the world, now. They belong to a generation of post-9/11 veterans who've taken part in the longest sustained period of conflict in our history.

Never has so much been asked by so many of so few.... for so long. These heroes represent every color and creed. They are drawn from across the country and many immigrated to our shores.

They then freely choose to serve in the most distant and dangerous regions of the world, to protect democracy in its moments of maximum danger.
Wherever they serve - however they serve - whether they put on a uniform each day, or serve in ways which may never be fully known, these Americans wake up each morning willing to offer the "last full measure of devotion" on our behalf.
Every time they do so, they provide a stunning rebuke to the kinds of voices around the world who doubt freedom and democracy's ability to defend itself.
Unfortunately, we know there are those who seem to not understand – or say they do not - what it is that inspires a free people to step forward, willing to lay down their lives so that their country and fellow citizens might live.
But, we – who are both the wards and stewards of the democracy which has been preserved and handed down to us by veterans throughout our history – do understand.
We know that inciting fear and hatred of others is a source of weakness, not strength. And such divisive rhetoric can never inspire solidarity or sacrifice like love for others and love of country can.
It is this quality of devotion that we most honor in our veterans - those who have served, do serve and will serve.
On behalf of a grateful family of 96,000, thank you for your service.
Humbly,
Oscar
Each year around Veterans Day, Indeed, one of the world's largest job search engines, rates companies based on actual employee reviews to identify which ones offer the best opportunities and benefits for current and former U.S. military members. Our dramatic improvement in the rankings this year reflects a stronger commitment than ever before to actively recruiting, developing and nurturing veteran talent.
"We've spent a lot of time over the past 12 months looking for ways to better connect with our employees who served and attract new employees from the military ranks," said Global Catering Operations and Logistics Managing Director Ryan Melby, a U.S. Army veteran and the president of our United for Veterans business resource group.
"Our group is launching a mentorship program, for instance, where we'll assign existing employee-veterans to work with new hires who come to us from the armed forces. Having a friend and an ally like that, someone who can help you translate the skills you picked up in the military to what we do as a civilian company, is invaluable. That initiative is still in its infancy, but I'm really optimistic about what it can do for United and for our veteran population here."
Impressively, we were the only one of our industry peers to move up on the list, further evidence that we're on a good track as a company.
Scroll to top