The well-traveled guide to 2018
As wellness enters the mainstream, the tourism industry is doubling down on ways travelers can take their healthy habits on the road. And we're not just talking about hotel gyms and in-room massages; destinations around the globe are including cutting-edge treatments, holistic practices, and even mystical modalities (hello, shamanic healing) in their offerings. Whether you're seeking a really good sweat or want to experience truly restful sleep, here are five emerging wellness trends that will have you feeling good—no matter where you go.
Shamanic Healing Leaves the Fringe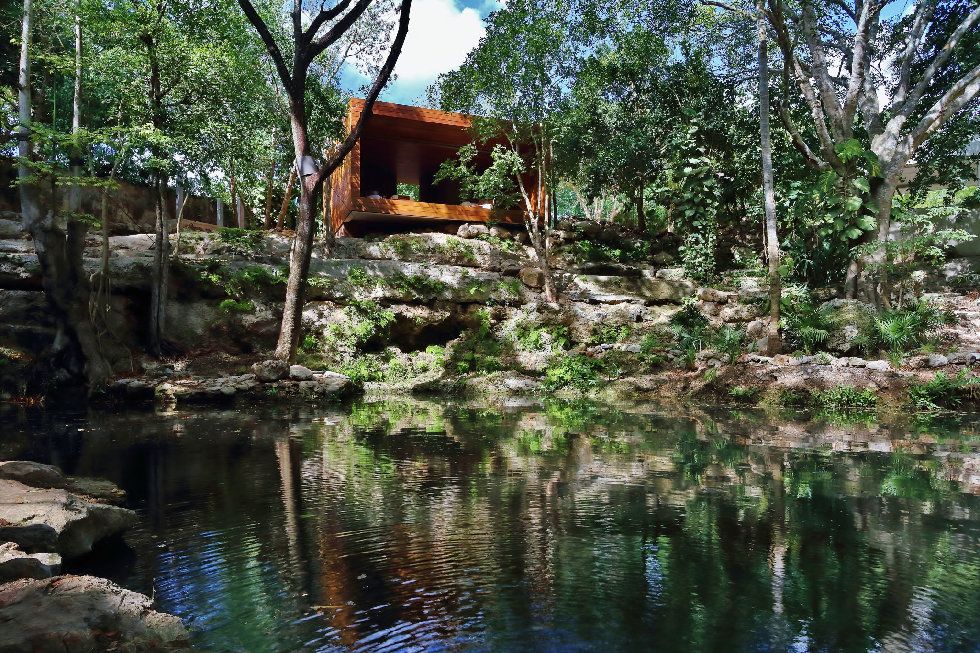 The peaceful cenote-side digs at Chablé Resort
It's not just people backpacking through South America who are raving about shamanic ceremonies; today, some of the most elevated spa programs in the world are incorporating the ancient practice into their menus for next-level healing.
The Yucatán Peninsula's recently opened Chablé Resort (built around a cenote, a natural sinkhole believed by the Mayans to be a sacred power source) brought in a shaman to devise its wellness treatments, which include janzu water massages and temazcal (or Mayan sweat lodge) ceremonies alongside more Western-style facials and body work—all performed by therapists clad in linen jumpsuits from Mexico City–based designer Bianca Bejos. "What makes shamanism such a powerful wellness tool is that it's rooted in nature," says Chablé's spa director, Carmelina Montelongo. "The main reaction from our guests to shamanic treatments is curiosity at the beginning and the feeling of surprise by the end, when they discover another way of life and guidance to go back to the original form of all things."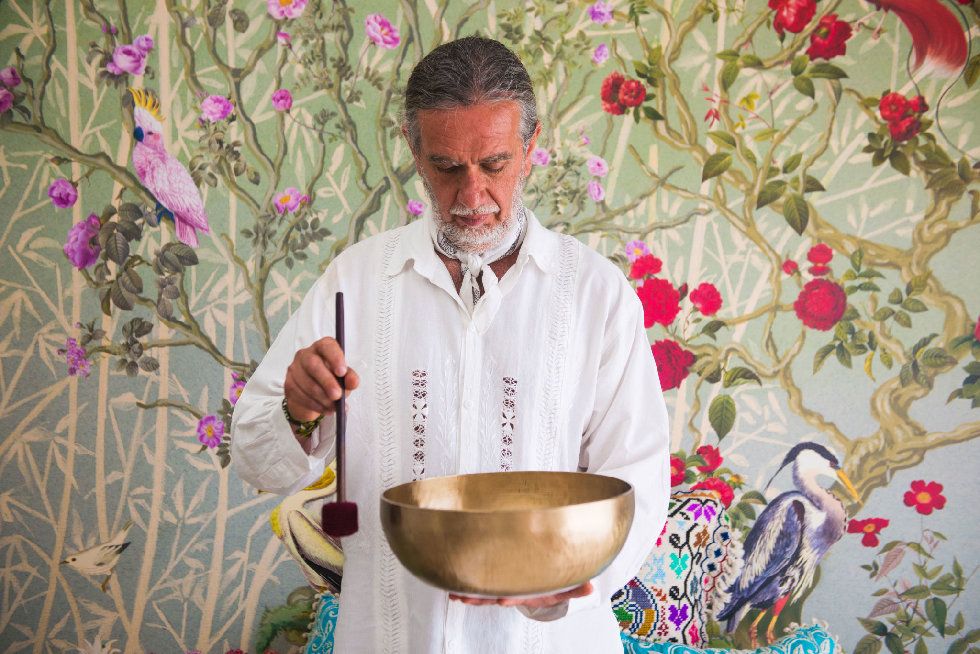 A singing bowl treatment at Faena Hotel Miami Beach
Stateside, the Tierra Santa Healing House at Faena Hotel Miami Beach also consulted with a shaman while drawing up its wellness menu. The brightly decorated 22,000-square-foot sanctuary offers palo santo and singing bowl treatments and a fully appointed wet spa whose centerpiece is a göbek taşi—a raised platform common in Turkish baths—made of Amazonite stone.
For a complete energy reboot, book a session with Jon Rasmussen, the resident shaman at Post Ranch Inn. Drums, feathers, and chanting abound, yes, but the mystical tools he uses differ depending on the "journey." No matter the implements on hand, don't be surprised if your 90 minutes ends with a tear-filled breakthrough—or just the uncanny feeling that an invisible weight's been lifted off your shoulders.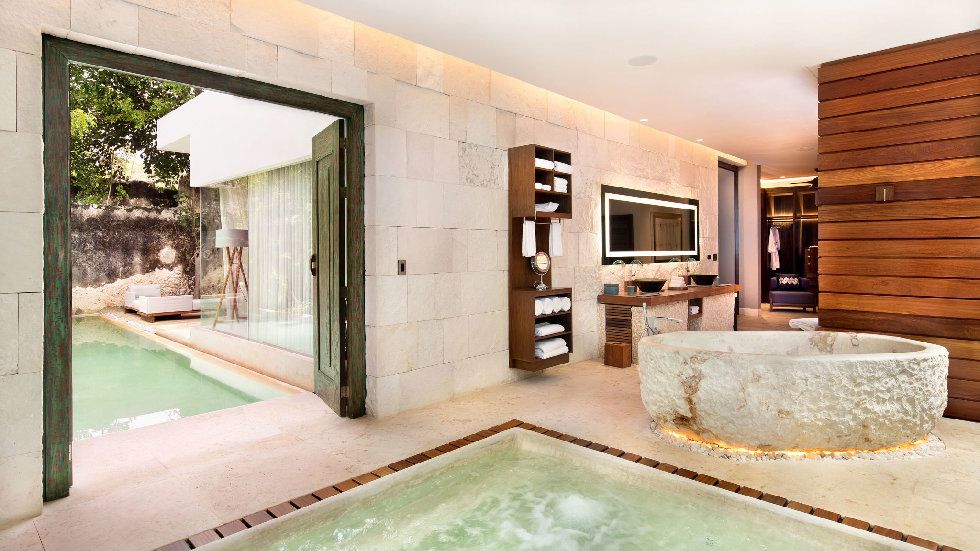 The healing waters at Chablé
Art Therapy Gets Its Due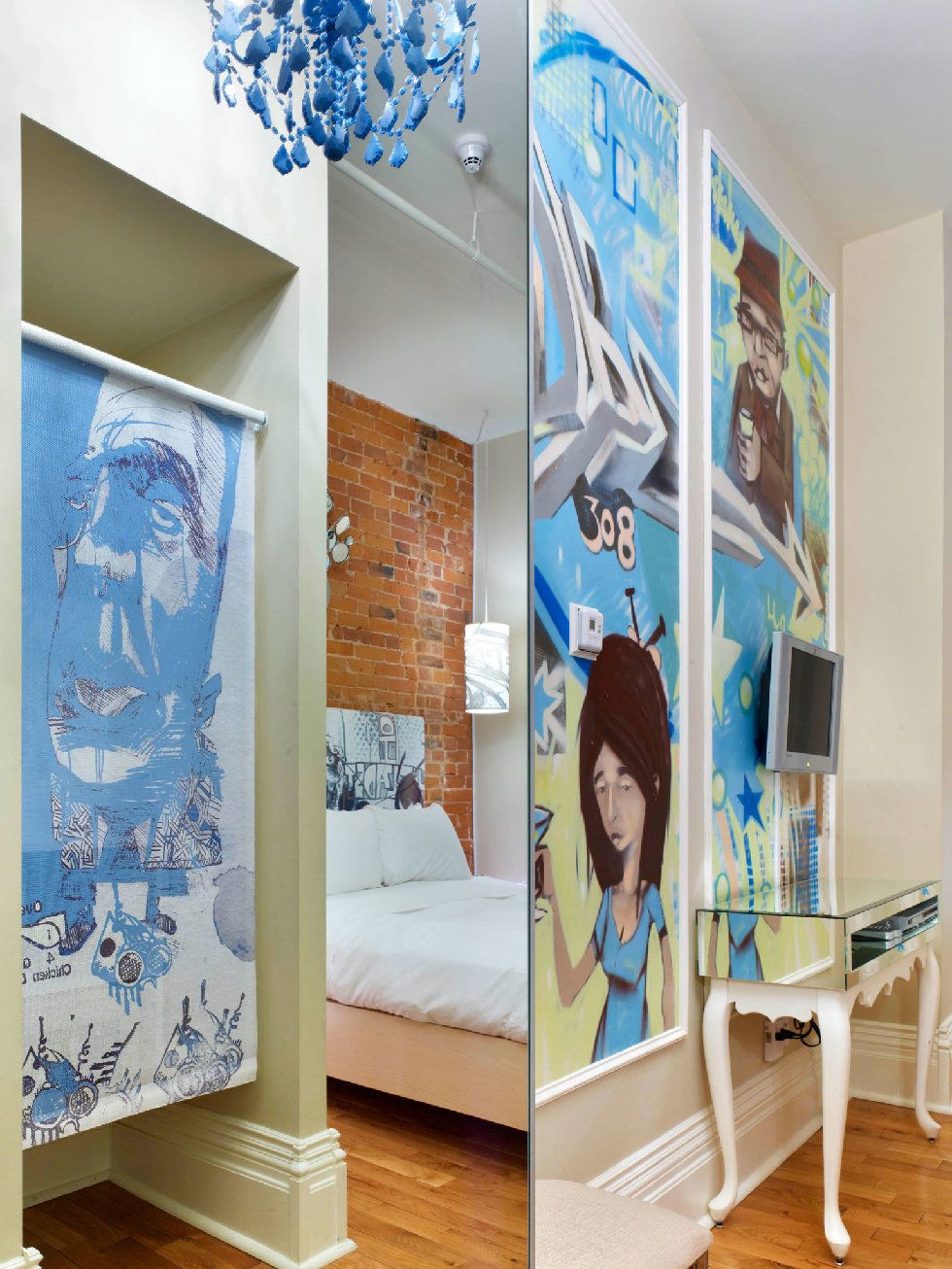 Art therapy has long been deployed as a tool for stress relief, but you no longer have to fit your brushes and easel into your suitcase to experience it when you're away from home. In addition to its artist-designed rooms and a gallery space programmed by Ryerson University's School of Image Arts, Toronto's Gladstone Hotel offers watercolor and coloring workshops—as well as the longest-running life drawing class in the city, led by Walt Ruston every Wednesday night. (He's been hosting the class for 30 years.)
At Brooklyn's cityWell, a boutique bathhouse spanning the first floor of a charming brownstone building, visitors are encouraged to spend their downtime between steam-room sessions and dips in the outdoor tub putting colored pencil to paper in one of the adult coloring books stacked next to fashion magazines.
This pastime isn't exclusive to hipsters, either; the Mandarin Oriental's digital wellness program, developed with the help of the Mayo Clinic, includes coloring sheets in select spa relaxation rooms, with the goal of getting guests to spend less time on their phones pre- and post-facial. In cities like Las Vegas, where distractions abound, it's a serene yet nonetheless entertaining respite. "Holistic benefits include a still and calm mind," says Jennifer Lynn, the senior director of spa and wellness for the Mandarin Oriental Las Vegas. "These mindful exercises in which we focus our attention inward help us to stop the mental chatter and create space for clearheaded thoughts."
Silence Is the New Luxury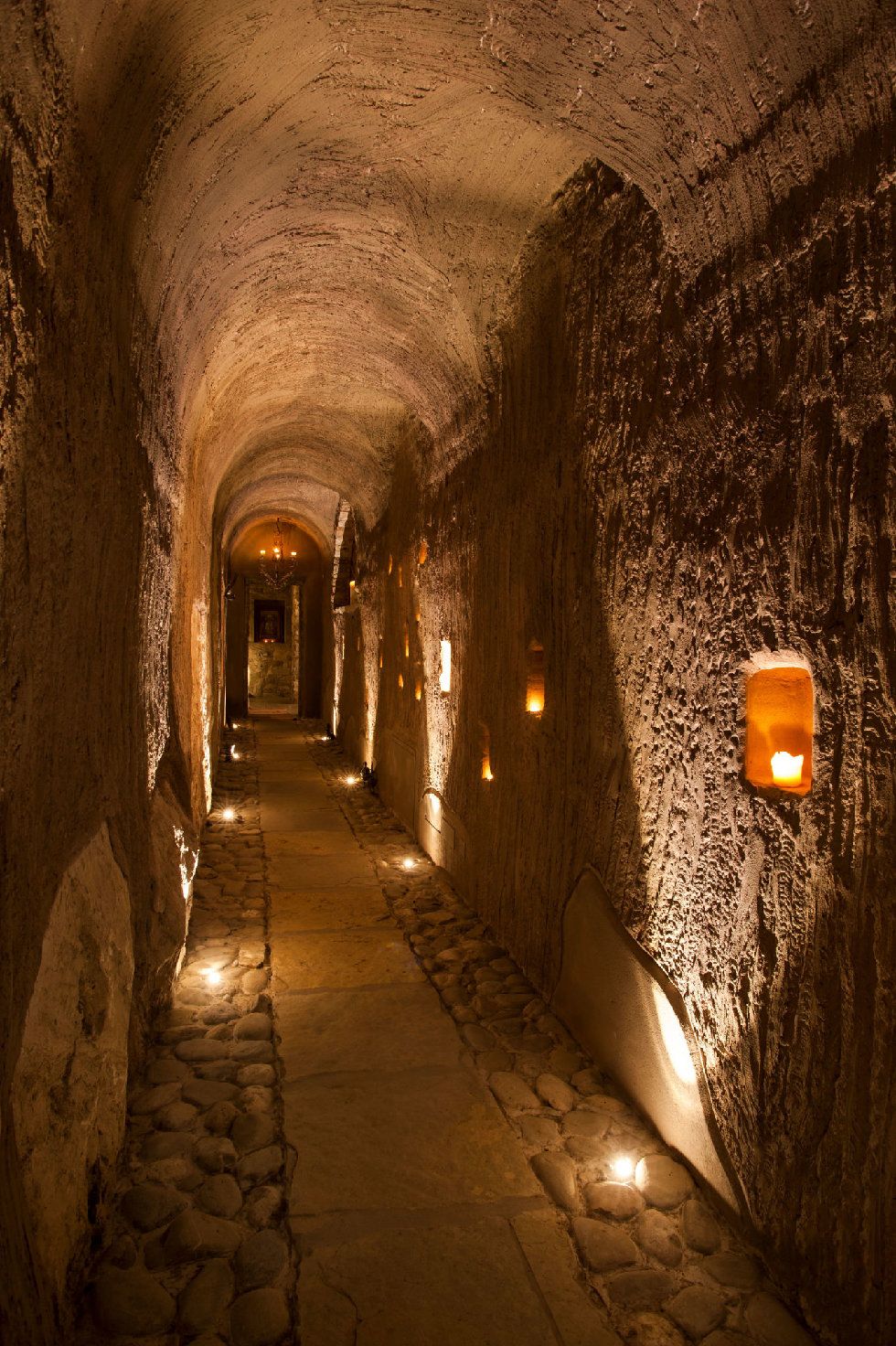 Eremito, a wellness "monastery" in Umbria
With the constant buzz of work meetings, subway chatter, and phone notifications, travelers are increasingly seeking out experiences that help block out all the noise—from the literal to the digital.
Villa Stephanie in the German spa town Baden-Baden (less than two hours from Frankfurt) recently introduced what's been dubbed a "kill switch," allowing exhausted visitors to turn off the internet in their room with the press of a button. "As noise pollution is a modern thing, there's a growing demand for places that offer quiet reflection," says Bärbel Göhner, the resort's head of communications. "Silence is a constant companion at Villa Stephanie."
Other than at check-in and while ordering at the restaurant, the only sound you'll hear at Silent Spa at Therme Laa, located about an hour outside Vienna, is running water. The recently opened space discourages guests from small talk while soaking in its dramatic pools.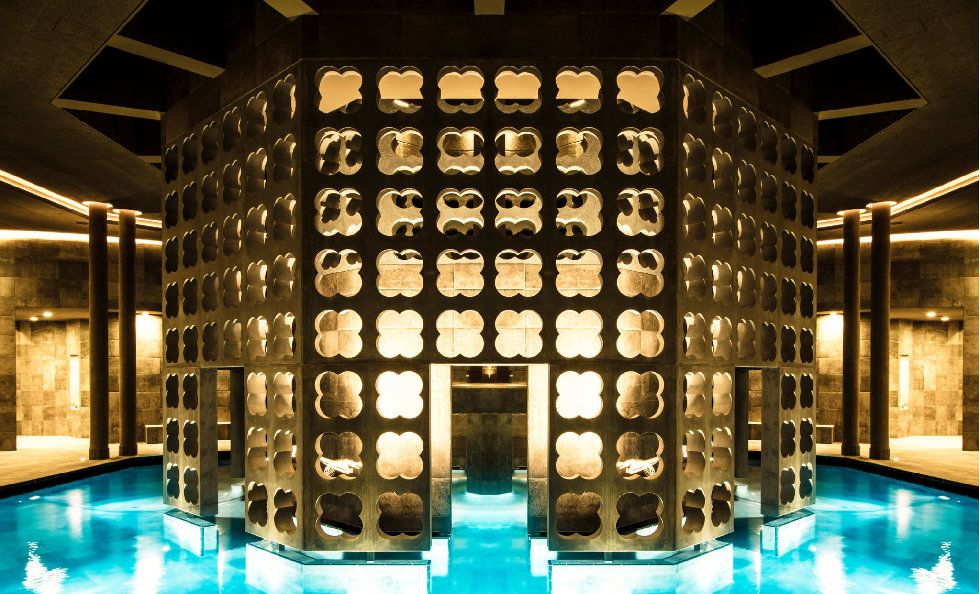 And for a truly noise-free experience, book a stay at a wellness "monastery" like Eremito in Umbria, Italy. The getaway takes its code of silence quite seriously, swapping out religious prayer (the property is, in fact, a former monastery) for meditation, yoga, and hikes through its 7,000 acres. The austere, stone-walled buildings may tempt you to whip out your phone to post mid-contemplation photos on Instagram, but don't bother—there's no Wi-Fi or phone signal on the premises. Luckily, a 2013 Duke University study found that two hours of silence a day boost cell development in the region of the brain related to memory, so your mental snapshot of the restful vacation will actually be even more vivid.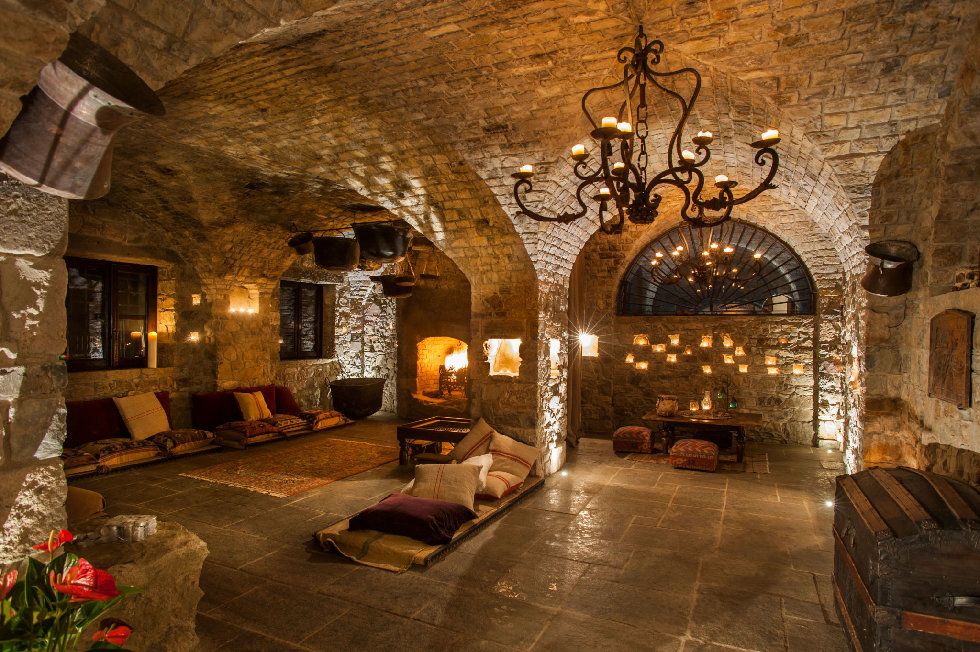 Eremito's austere interior
A Good Night's Sleep Goes Next Level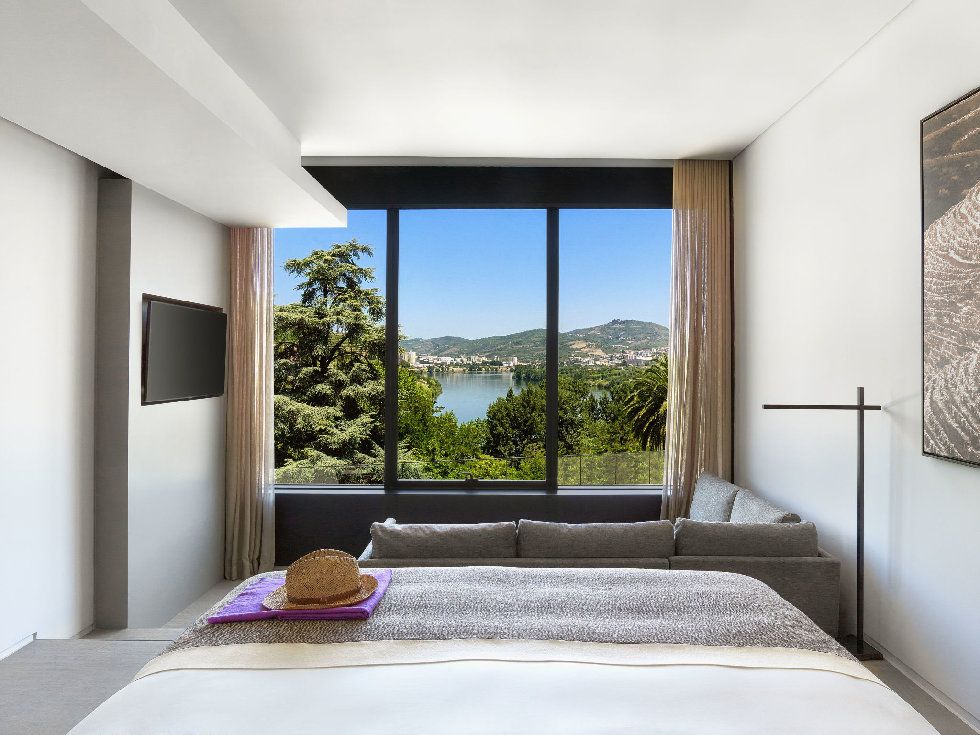 A room at the Six Senses Douro Valley in Portugal
It's not just your waking hours that can be optimized. An increasing number of destinations are focusing on sleep time as a way to maximize wellness, and with the CDC estimating that one in three Americans don't get enough sleep (and 50 to 70 million struggle with some kind of disorder), the programs on offer go way beyond your typical turn-down service.
At many Six Senses locations, including in the Douro Valley, Portugal, guests looking to fine-tune their zzz's can take a pre-visit online questionnaire developed by renowned clinical psychologist Dr. Michael J. Breus, which not only entitles them to an individual assessment (with spa treatment suggestions included) but also to a dedicated Sleep Ambassador who preps their room and checks in daily to provide support in case, say, their handmade lambswool mattress isn't quite right. The aim is to impart habits that can be replicated anywhere—even if you live on the noisiest of streets. "It's impossible to help others toward wellness goals without having sleep be a critical factor," says Dr. Breus. "We wanted to help people learn how to get [truly amazing] sleep when at home or during other travel."
Similarly, the Rest & Renew program at New York City's The Benjamin proffers a curated range of pillows (selected according to preferred sleep position) and access to a support team 24/7, and all Conrad Hotel & Resorts guests can avail themselves of an extensive pillow menu.
If you're truly looking to reset your nighttime habits, however, opt for a multiday sleep retreat at one of the locations of U.K. luxury spa-hotel Champneys. Between the treatment sessions and aromatherapy massages, good sleep habits just might be the souvenir you take back with you.
Sauna Spaces Get Dramatic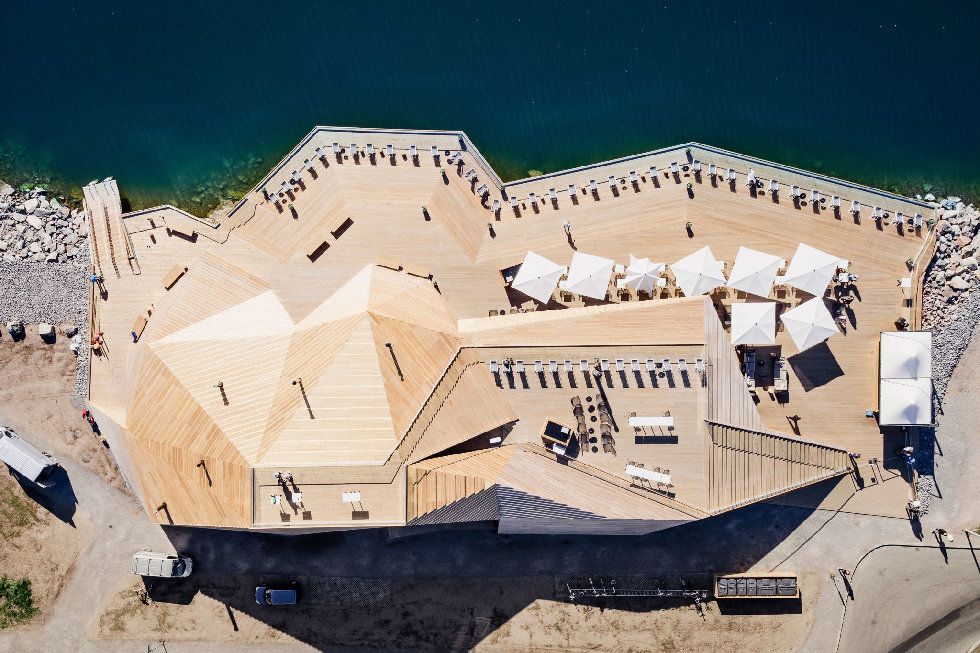 Helsinki's newly opened Löyly sauna complex
The health benefits of sauna—from moderating blood pressure to reducing the risk of Alzheimer's—are impressive, but the sweat-inducing spaces themselves are now providing the real "wow" factor.
In Finland, where it's estimated that there are 3.3 million saunas for a population of just 5.5 million, Löyly stands out for its breathtaking, undulating structure, perched on the edge of the Baltic Sea in Helsinki. Behind the wooden slats—all made from sustainable materials in what is the country's first FSC-certified building—are three different saunas, a Scandinavian minimalist-chic relaxation room, a restaurant that serves locally sourced dishes like reindeer fillet and roasted celeriac soup, and a swimming area to cool off in the sea itself. (Despite its modern appearances, Löyly sticks to local tradition in winter and drills a hole in the ice for year-round dips.) "All Finns have a sauna at home, however, up until now, tourists visiting Helsinki haven't really been able to experience a true, traditional Finnish sauna with all of the key elements," says Jasper Pääkkönen, an actor who, along with parliament member Antero Vartia, opened Löyly in 2016. "Our modest aim was to build the mother of all saunas, kind of like a flagship of what is so extremely important to all Finns."
Not to be outdone, the Norwegians offer a place to reboot your lymphatic system while soaking up the local arts scene with Salt, a nomadic, 54,000-square-foot installation that is stationed in Oslo through October 2018 (the island of Sandhornøya, located north of the Arctic Circle, was its previous home). The largest of the A-frame buildings, inspired by traditional fish-drying racks and designed by Sami Rintala, holds drop-in hours on the weekend—but if the mere thought of going shirtless beside 99 strangers is enough to make you sweat, you can book a two-hour private session in one of the other smaller sauna spaces. No matter where you sit, you'll enjoy direct views of the city's famed opera house.
And it's not only Scandinavia that has a lock on impressive thermotherapy spaces. Nordik Spa-Nature, just 20 minutes north of Ottawa, Ontario, boasts seven dry saunas, two wet steam saunas, and four cold plunge pools on its sprawling, often snow-covered property.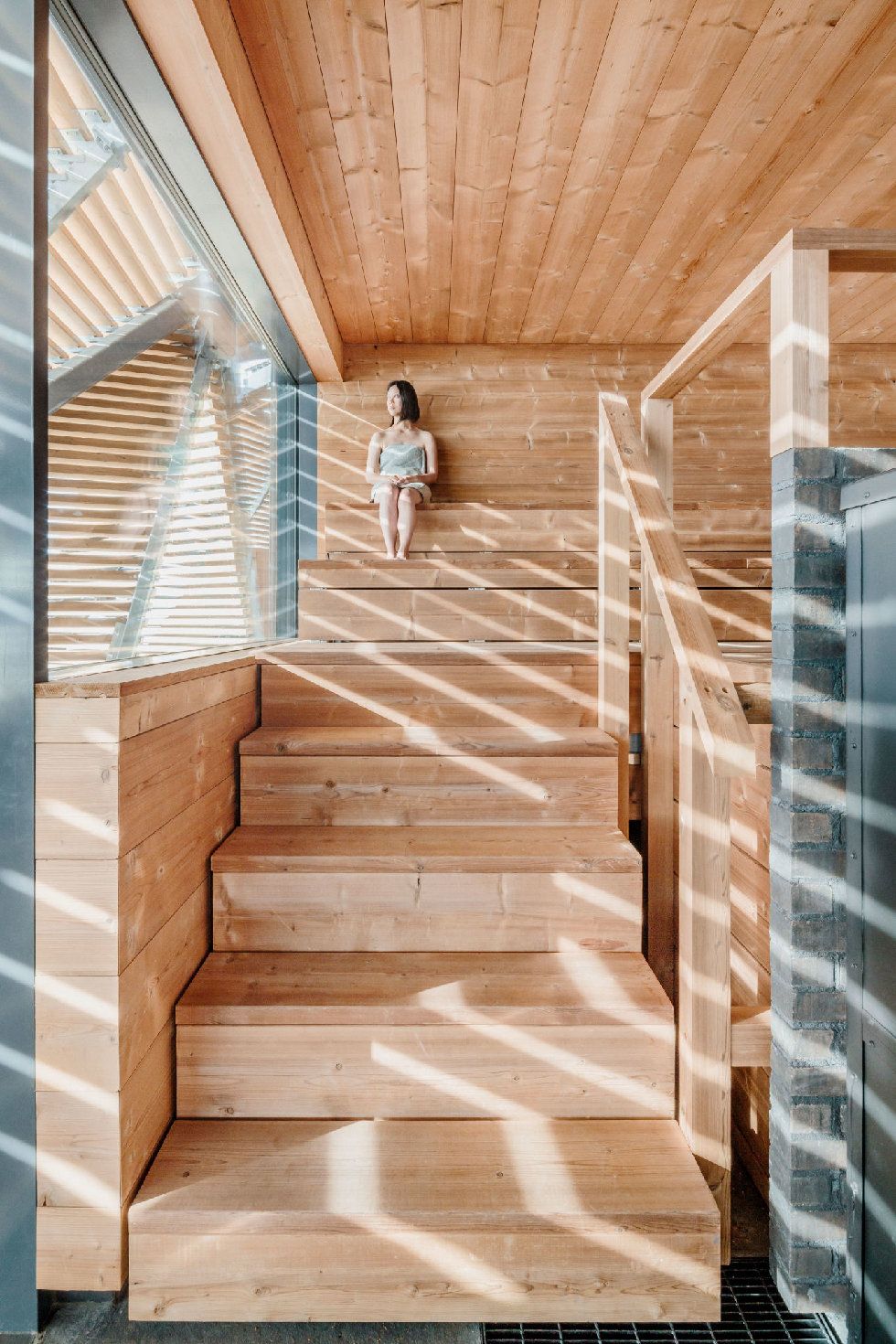 Löyly's chic and sustainable wooden slat design
Right now, around the world, brave members of America's armed forces are on duty, defending our freedom and upholding our values.
When not laser-focused on the mission at hand, they're looking forward to the day when their service to our nation is fulfilled and they can reunite with their families.
They are also imagining how they can use their hard-earned skills to build an exciting, rewarding and important career when they return home.
I want them to look no further than United Airlines.
That's why we are focused on recruiting, developing and championing veterans across our company, demonstrating to our returning women and men in uniform that United is the best possible place for them to put their training, knowledge, discipline and character to the noblest use.
They've developed their knowledge and skills in some of the worst of times. We hope they will use those skills to keep United performing at our best, all of the time.
That's why we are accelerating our efforts to onboard the best and the brightest, and substantially increasing our overall recruitment numbers each year.
We recently launched a new sponsorship program to support onboarding veterans into United and a new care package program to support deployed employees. It's one more reason why United continues to rank high - and rise higher - as a top workplace for veterans. In fact, we jumped 21 spots this year on Indeed.com's list of the top U.S workplaces for veterans. This is a testament to our increased recruiting efforts, as well as our efforts to create a culture where veterans feel valued and supported.
We use the special reach and resources of our global operations to partner with outstanding organizations. This is our way of stepping up and going the extra mile for all those who've stepped forward to answer our nation's call.
We do this year-round, and the month of November is no exception; however, it is exceptional, especially as we mark Veterans Day.
As we pay tribute to all Americans who have served in uniform and carried our flag into battle throughout our history, let's also keep our thoughts with the women and men who are serving around the world, now. They belong to a generation of post-9/11 veterans who've taken part in the longest sustained period of conflict in our history.

Never has so much been asked by so many of so few.... for so long. These heroes represent every color and creed. They are drawn from across the country and many immigrated to our shores.

They then freely choose to serve in the most distant and dangerous regions of the world, to protect democracy in its moments of maximum danger.
Wherever they serve - however they serve - whether they put on a uniform each day, or serve in ways which may never be fully known, these Americans wake up each morning willing to offer the "last full measure of devotion" on our behalf.
Every time they do so, they provide a stunning rebuke to the kinds of voices around the world who doubt freedom and democracy's ability to defend itself.
Unfortunately, we know there are those who seem to not understand – or say they do not - what it is that inspires a free people to step forward, willing to lay down their lives so that their country and fellow citizens might live.
But, we – who are both the wards and stewards of the democracy which has been preserved and handed down to us by veterans throughout our history – do understand.
We know that inciting fear and hatred of others is a source of weakness, not strength. And such divisive rhetoric can never inspire solidarity or sacrifice like love for others and love of country can.
It is this quality of devotion that we most honor in our veterans - those who have served, do serve and will serve.
On behalf of a grateful family of 96,000, thank you for your service.
Humbly,
Oscar


Each year around Veterans Day, Indeed, one of the world's largest job search engines, rates companies based on actual employee reviews to identify which ones offer the best opportunities and benefits for current and former U.S. military members. Our dramatic improvement in the rankings this year reflects a stronger commitment than ever before to actively recruiting, developing and nurturing veteran talent.
"We've spent a lot of time over the past 12 months looking for ways to better connect with our employees who served and attract new employees from the military ranks," said Global Catering Operations and Logistics Managing Director Ryan Melby, a U.S. Army veteran and the president of our United for Veterans business resource group.
"Our group is launching a mentorship program, for instance, where we'll assign existing employee-veterans to work with new hires who come to us from the armed forces. Having a friend and an ally like that, someone who can help you translate the skills you picked up in the military to what we do as a civilian company, is invaluable. That initiative is still in its infancy, but I'm really optimistic about what it can do for United and for our veteran population here."
Impressively, we were the only one of our industry peers to move up on the list, further evidence that we're on a good track as a company.
The question of where David Ferrari was had haunted retired U.S. Army Sergeant Major Vincent Salceto for the better part of 66 years.
Rarely did a week go by that Salceto didn't think about his old friend. Often, he relived their last moments together in a recurring nightmare. In it, it's once again 1953 and Salceto and Ferrari are patrolling a valley in what is now North Korea. Suddenly, explosions shatter the silence and flares light up the night sky.
Crouching under a barrage of bullets, Salceto, the squad's leader, drags two of his men to safety, then he sees Ferrari lying face down on the ground. He runs out to help him, but he's too late. And that's when he always wakes up.
Italian Americans from opposite coasts – Salceto from Philadelphia, Ferrari from San Francisco – the two became close, almost like brothers, after being assigned to the same unit during the Korean War. When Ferrari died, it hit Salceto hard.
"After that, I never let anyone get close to me like I did with Dave," he says. "I couldn't; I didn't want to go through that again."
When the war ended, Salceto wanted to tell Ferrari's family how brave their son and brother had been in battle. Most of all, he wanted to salute his friend at his gravesite and give him a proper farewell.
For decades, though, Salceto had no luck finding his final resting place or locating any of his relatives. Then, in June of this year, he uncovered a clue that led him to the Italian Cemetary in Colma, California, where Ferrari is buried.
Within days, Salceto, who lives in Franklinville, New Jersey, was packed and sitting aboard United Flight 731 from Philadelphia to San Francisco with his wife, Amy, and daughter, Donna Decker, on his way to Colma. For such a meaningful trip, he even wore his Army dress uniform.
That's how San Francisco-based flight attendant Noreen Baldwin spotted him as he walked down the jet bridge to get on the plane.
"I saw him and said to the other crew members, 'Oh my goodness, look at this guy,'" she says. "I knew there had to be a story."
The two struck up a conversation and Salceto told Baldwin why he was traveling. She got emotional listening to him talk and made a point of fussing over him, making sure he and his family had everything they needed.
About halfway through the flight, Baldwin had an idea. She and her fellow crew members would write messages of encouragement to Salceto and invite his fellow passengers to do the same.
"We did it discreetly," says Baldwin. "I asked the customers if they saw the man in uniform, which most had, and asked them if they wanted to write a few words for him on a cocktail napkin. A lot of people did; families did it together, parents got their kids to write something. After the first few rows, I was so choked up that I could barely talk."
When Baldwin surprised Salceto with dozens of hand-written notes, he, too, was speechless. He laid the stack on his lap and read each one. At the same time, the pilots made an announcement about the veteran over the loud speaker, after which the customers on board burst into applause.
"It seems contrived, and I hate using the word organic, but that's what it was; it just happened," Baldwin says. "Mr. Salceto was so loveable and humble, and what he was doing was so incredible, it felt like the right thing to do. And you could tell he was touched."
On June 27, Salceto finally stood before Ferrari's grave and said that long-awaited goodbye. As a trumpeter played "Taps," he unpinned a medal from his jacket and laid it reverently on the headstone.
"I had gotten a Bronze Star for my actions [the night Ferrari died] with a 'V' for valor, and that was the medal I put on Dave's grave," says Salceto, pausing to fight back tears. "I thought he was more deserving of it than I was."
For the first time in years, Salceto felt at peace. His mission was accomplished.
Scroll to top