'When opportunity knocks, have your bags packed'
In honor of Black History Month, each week we will profile an employee who is helping to break barriers. Follow along throughout the month of February for these extraordinary stories of perseverance.
One of the more interesting things about pilots is the fact that most of them, from an early age, knew exactly what they wanted to be when they grew up. Captain Glendon (Glen) Fraser is no exception. In fact, he can still pinpoint the exact moment the aviation bug bit him. "I was eight years old in Jamaica, lying in the grass, and I saw this white streak in the sky," he remembers. "I asked my mother what it was, and she told me. She said, 'One day you'll be able to fly on one yourself.' From that day forward I wanted to be a pilot, and I never took my eyes off of that goal."
More than four decades later, Glen is still living that young boy's dream as a 777 Captain and Assistant Chief Pilot at United's Newark base. But it wasn't always so easy. When he was growing up in the 1970s and 1980s, there weren't many black pilots in the ranks of commercial airlines. For a young black man with aspirations of flying, finding a role model could be difficult. Glen managed to find his in an unlikely place. "I was in a Burger King in the Bronx (Glen, his mother and his six siblings immigrated to New York when he was young) when I was about 12 or 13, and I saw an African American guy in line. I knew he was a pilot because of the uniform, but I didn't let on; instead, I asked him what he did. He told me that he worked for United Airlines. It was the first time that I saw someone who looked like me who was a pilot. It made me believe that I could become one, too."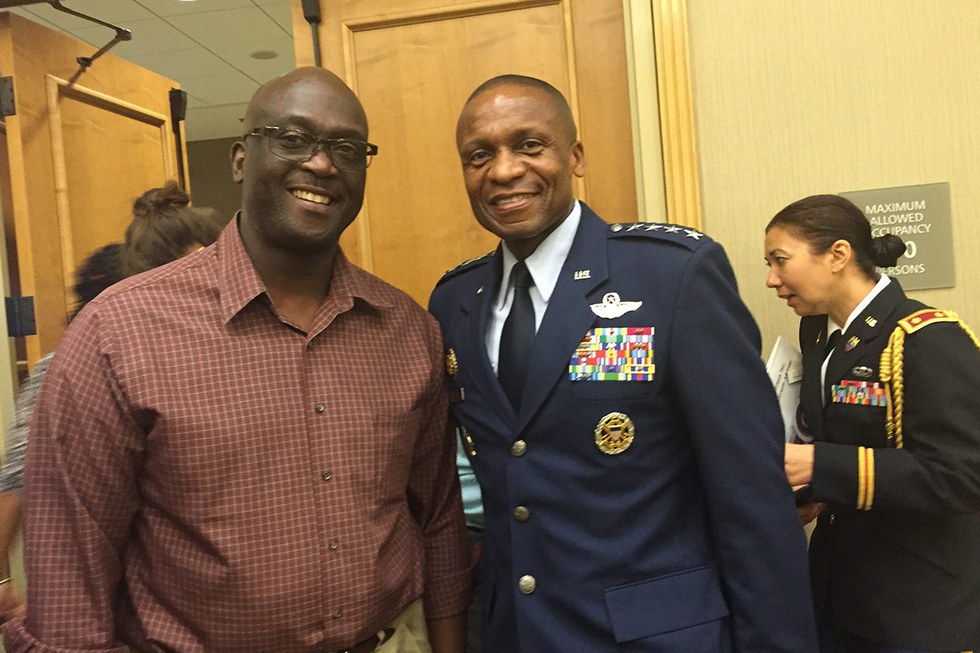 Glen Fraser (left) at a Tuskegee Airmen event
Throughout high school, Glen excelled at baseball while harboring his dream of flying. One day during his senior year those two passions intersected in a most fortunate way. "We had a college recruitment fair in the school gymnasium, and the first booth I went to was the one for Embry-Riddle (the prestigious aeronautics university). The recruiter just happened to be the baseball coach; it was perfect." Glen went on to play ball at Embry-Riddle while taking flight training courses before being drafted by the Houston Astros. When an injury to his throwing arm derailed his baseball career, he turned his attention back to flying. It was during that time that he found another source of inspiration: The Tuskegee Airmen. Admitting that he knew very little about the famed World War II fliers, a book about the airmen titled The Lonely Eagles caught his attention. Not only did their story encourage him to become a pilot, it encouraged him to serve.
"I had always wanted to be in the military to pay a debt to this country, the country that helped me get where I was, but I also wanted to serve because of the Tuskegee Airmen."
After he was hired as a pilot by People Express, Glen was selected for the New York Air National Guard. While in the Guard, he attended a National Tuskegee Airmen convention in Chicago and found himself face-to-face with General Benjamin O. Davis, the legendary leader of the 99th Fighter Squadron at Tuskegee Army Air Base. That encounter led to him serving as president of the Major General Irene Trowell-Harris Chapter of the Tuskegee Airmen, a position that he occupies to this day. "We go around to schools, libraries, clubs — anywhere that will have us — and we talk about the Tuskegee Airmen and the difference that they have made not only in my life, but in the lives of so many others."
Glen most enjoys telling young people the story of the pioneering pilots. "I show them that you can do whatever you have a passion for, but you have to be determined, persistent and prepared. In our classroom we have a quote that says, 'When opportunity knocks, have your bags packed.' You can advance based on your merits, but you have to be ready and you have to have put in the work." After 31 years in the cockpit, Glen is acutely aware of the impact that he could have on the next generation of aviation, much like that pilot in the Burger King, or the one who flew over his home all those years ago. "Once, I was flying from Newark to Lima, and as we passed over Jamaica, I looked down to see where I used to live, and the thought hit me — what if there was another eight-year-old down there looking up at me?"