Where to eat and drink in Salem
While Salem, Massachusetts will be forever famous for its 1692 witch trials—and the associated spooky attractions that always make the streets quite crowded this time of year—its culinary scene is starting to become an attraction unto itself. Here are the beverage spots, bakeries, and restaurants to check out next time you're in town.
The Roof at Hotel Salem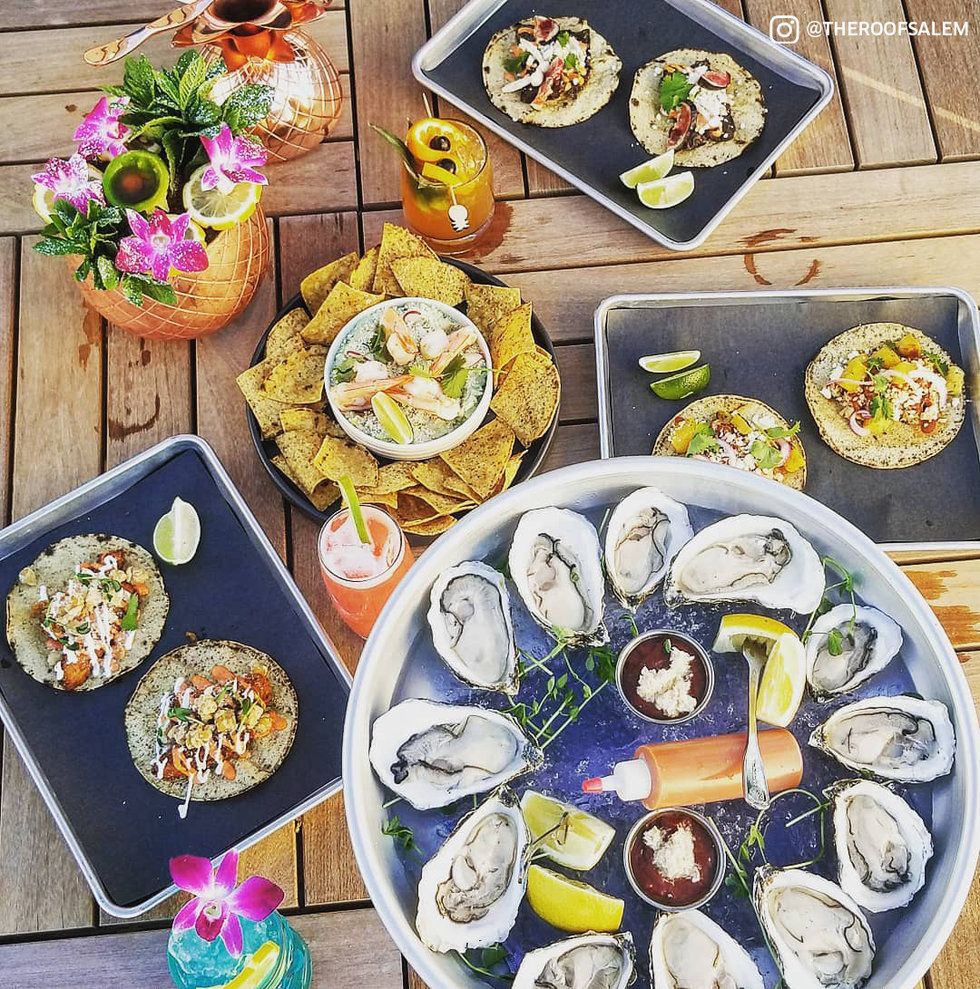 Today is the day. We will be open 2-11! #wayup \Roof Salem
When the mid-century modern Hotel Salem opened recently, it had a draw for locals, too: Salem's first-ever roof deck, with views of the harbor, church steeples, and historic rooftops for miles around. Open at least through the end of October (request a blanket from a host if you get chilly), the open-air lounge keeps the warm weather vibes going with a mostly Mexican-inspired food and drink menu, including margaritas and tacos. In colder months, retreat downstairs for a double burger from the open-concept lunch and dinner bar, Counter.
Kokeshi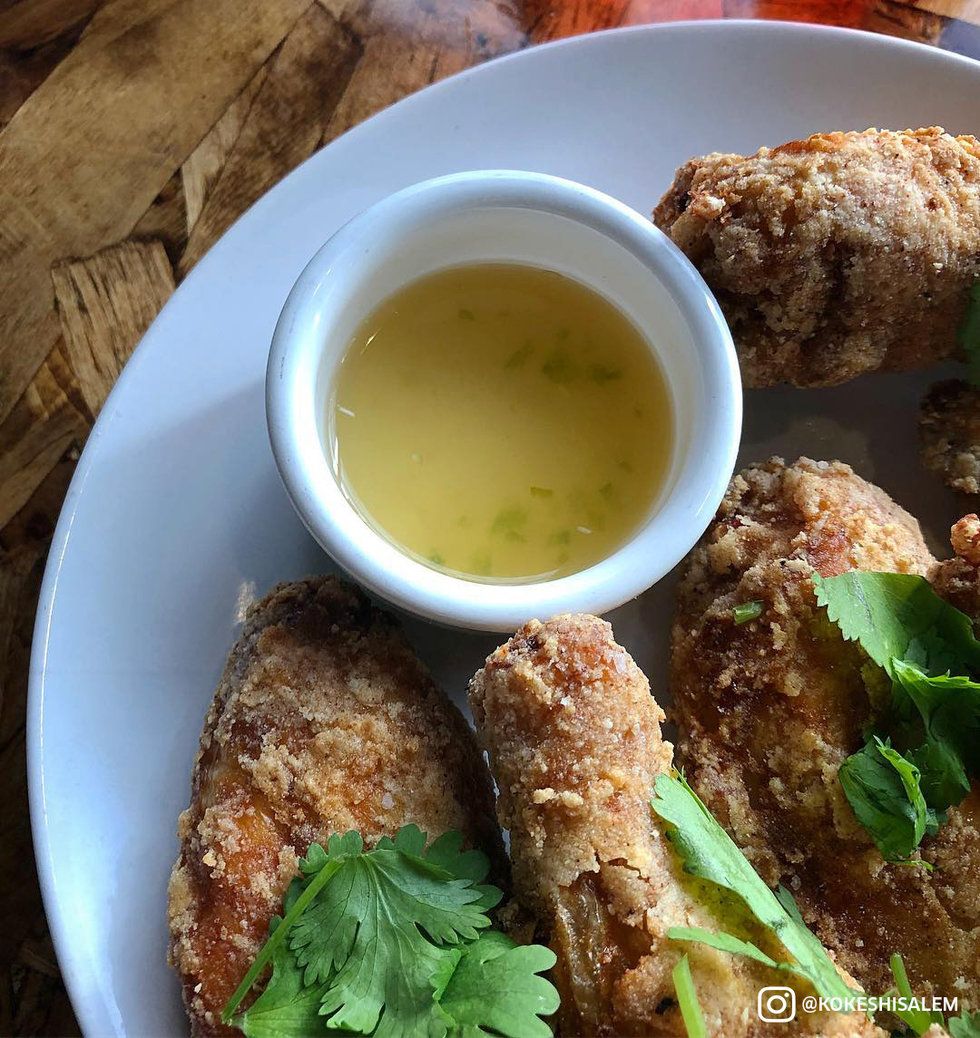 Fried chicken wings... one of four courses offered during the first ever Ramen Mile this Thursday. What's a Ramen Mile? Check the link in our profile for info and sign ups. 🍗 \Kokeshi
With its flashy atmosphere (graffiti-lined walls, more than a dozen colorful paper umbrellas hanging from the rafters) and bold Asian street food menu, Kokeshi is nothing if not vibrant. Head here for surprising starters like an octopus hot dog sprinkled with daikon slaw and comforting bowls of rice noodles and ramen, including the Colonel Sanders, topped with fried chicken. If you're more in the mood for pizza, take note that the owners also serve perfectly crispy-chewy Neapolitan pies at their other spot, Bambolina.
Ledger Restaurant & Bar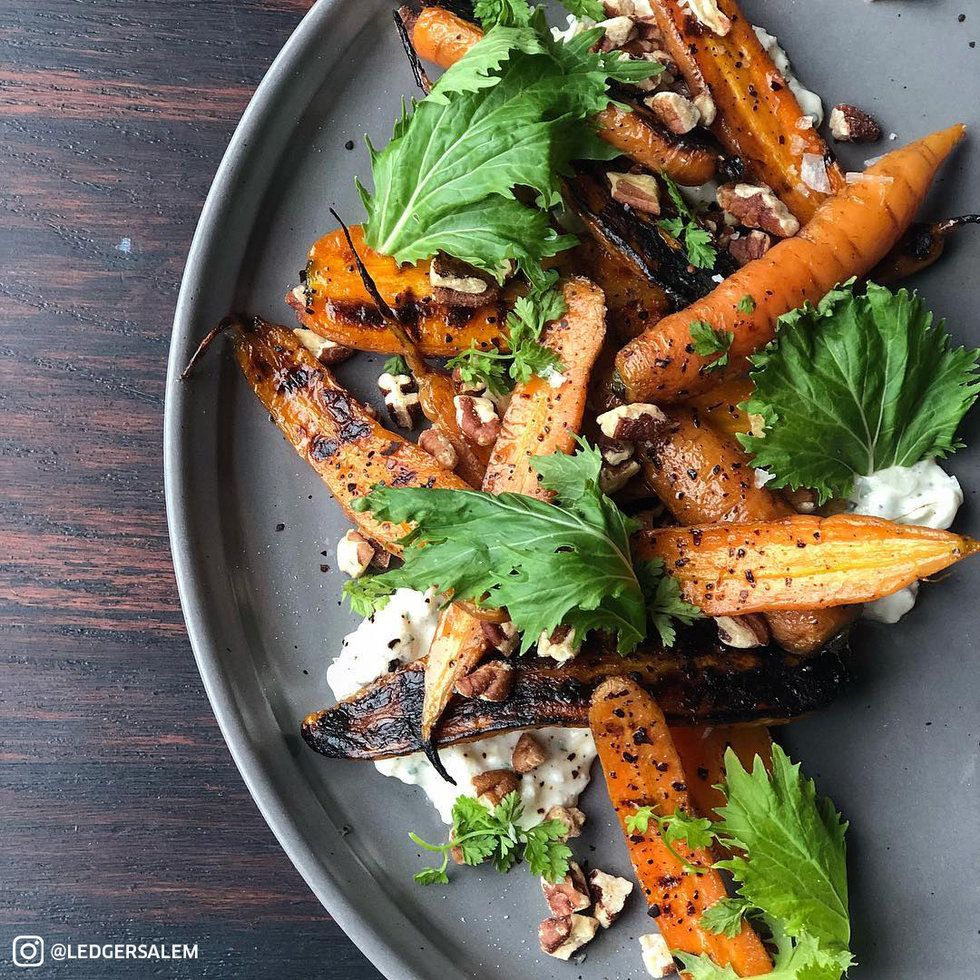 One of the favorites from last summer is back on the menu. Wood fire grilled carrots, house made herbed ricotta, maple, urfa, toasted pecans, chervil. \Ledger Restaurant
A circa-1818 former savings bank found new life recently when chef-owner Matt O'Neil oversaw its thoughtful renovation into a gleaming restaurant space. Rustic touches like exposed original brick, a wall of repurposed deposit boxes, and a long, wooden communal table sit alongside more polished elements, including a sweeping open kitchen with a custom wood-fire grill and a dramatic, oversized chandelier over the bar. The menu has a new-New England vibe, with seasonal, locally sourced sides like cornbread and succotash, and hearty mains like a Berkshire pork chop with marinated peaches.
Life Alive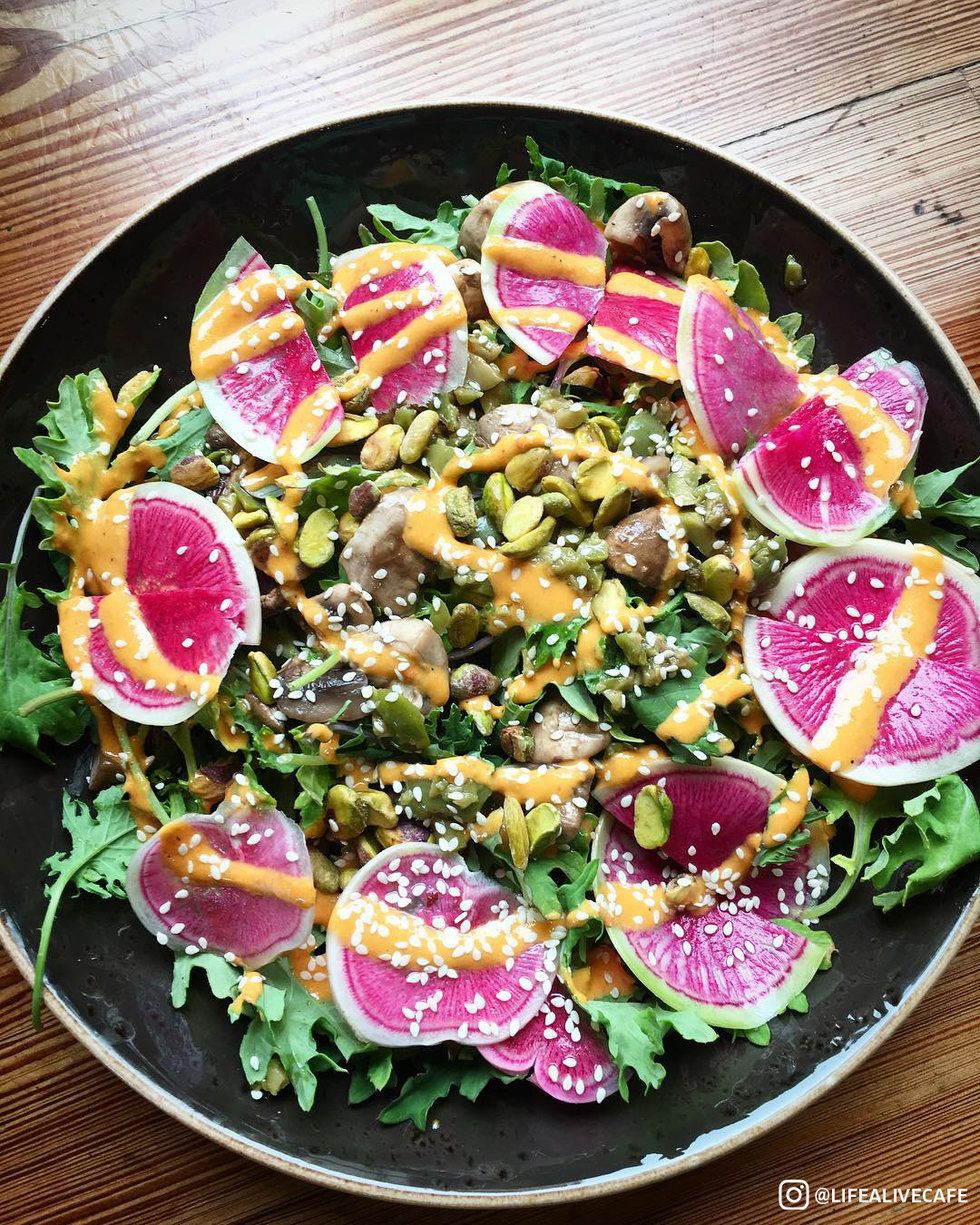 The Thinker salad mindfully composed exquisite red bell pepper tahini dressed baby kale with paper thin Winter Moon Root radishes pistachios green olives & marinated mushrooms.Life Alive Organic Cafe
Long before "plant-based" was a buzz-phrase and juice bars were popping up by the minute in downtowns everywhere, Life Alive was spreading its version of veggie love in the Boston area in the form of nutrient-packed smoothies, salads, and grain bowls (try the Goddess, with ginger shoyu sauce and sprouted legumes). Now four shops strong, including an outpost in Salem, this casual, organic cafe serves up the type of clean eats you'd expect to find at pricey yoga retreat.
Far from The Tree Hard Cider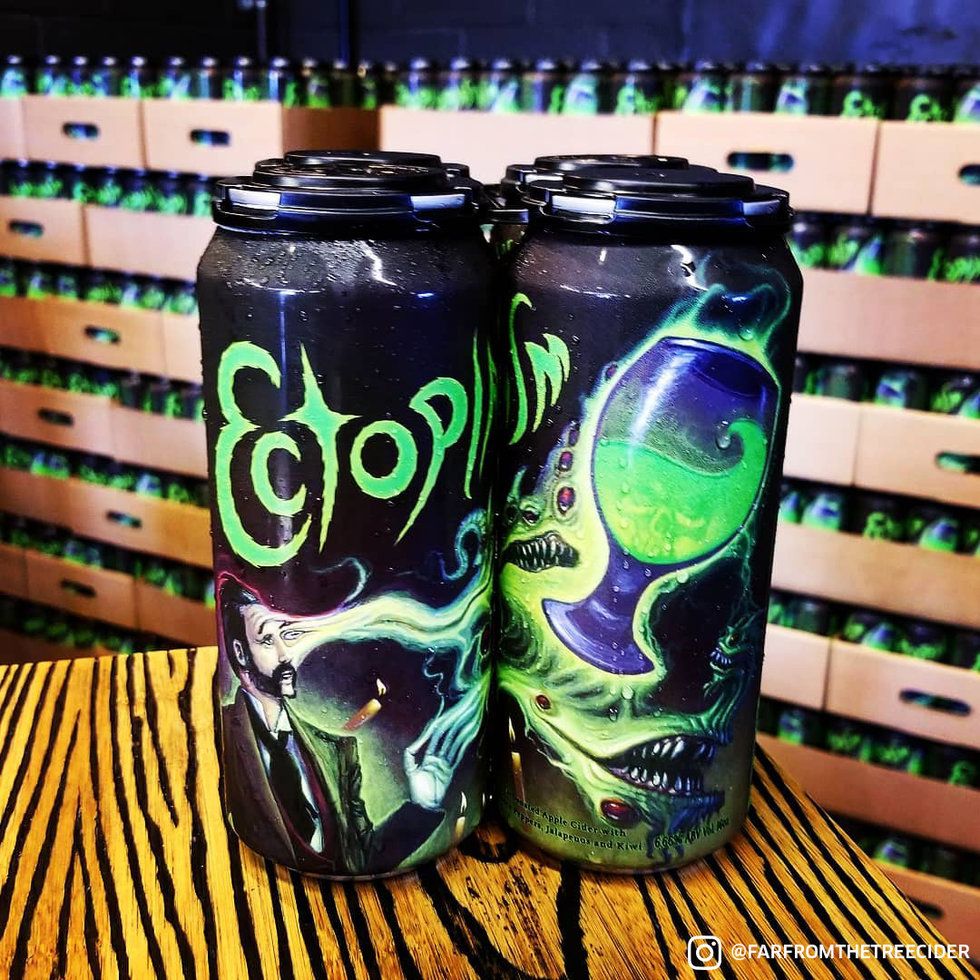 It's on! 1 case limit per person. \Far From The Tree Cider
When you need a break from the witch museums and haunted graveyard tours, retreat to Far from the Tree's decidedly more mellow taproom. Pull up a stool in the rustic indoor space or perch on a picnic table on the patio outside, and sample hard ciders that run the gamut from off-dry heritage blends and Citra-hopped versions to out-there creations such as the limited edition Ecotoplasm, a bright green sipper spiked with jalapeno and green pepper out just in time for Halloween.
Notch Brewing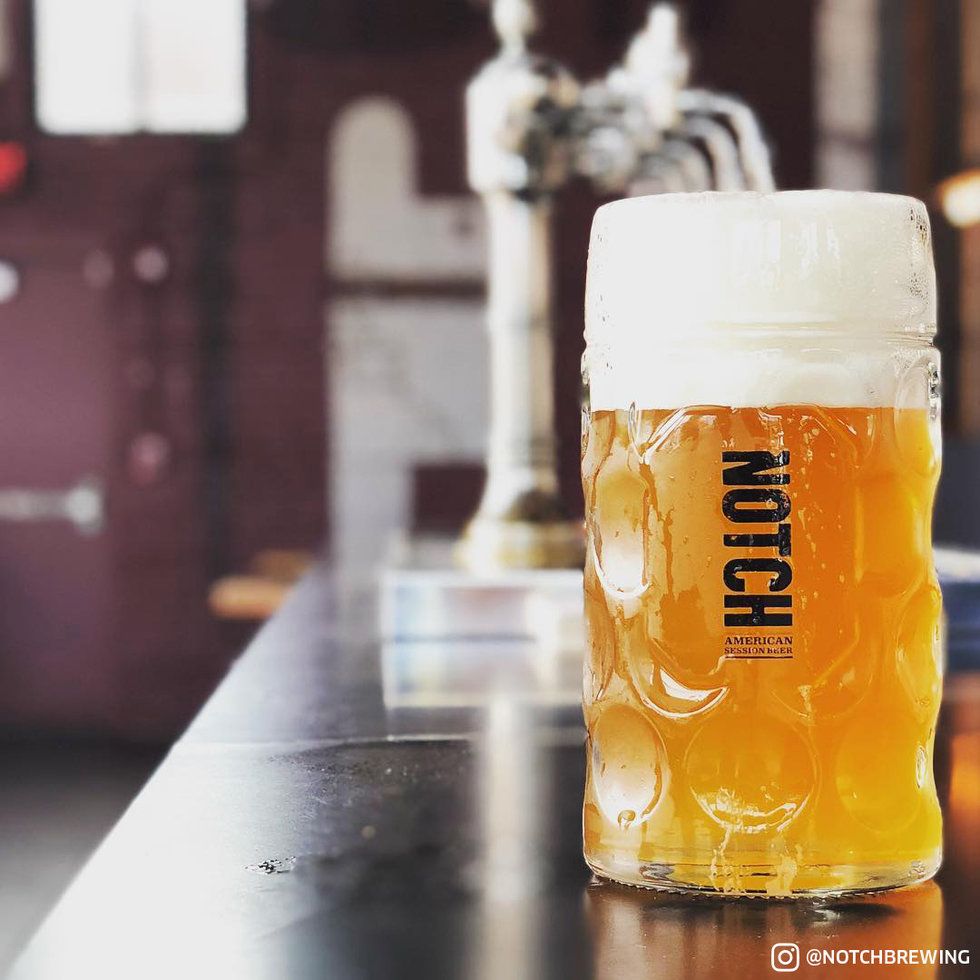 Voll Projekt Festbier on tap today for our annual Oktoberfest. \Notch Brewing
Not that we're recommending it, but if you insist on drinking by the bootfull, these are the kind of beers you want to reach for. This ahead-of-the-curve session brewer specializes in low-abv German and Czech-style lagers and ales, like the signature "session IPA" Left of the Dial and even more quaffable pale ale Zwickel. In between rounds of Skee-Ball in the taproom, also check out Notch's Voll Projekt, the a new foray into full-strength brews.
A&J King Artisan Bakers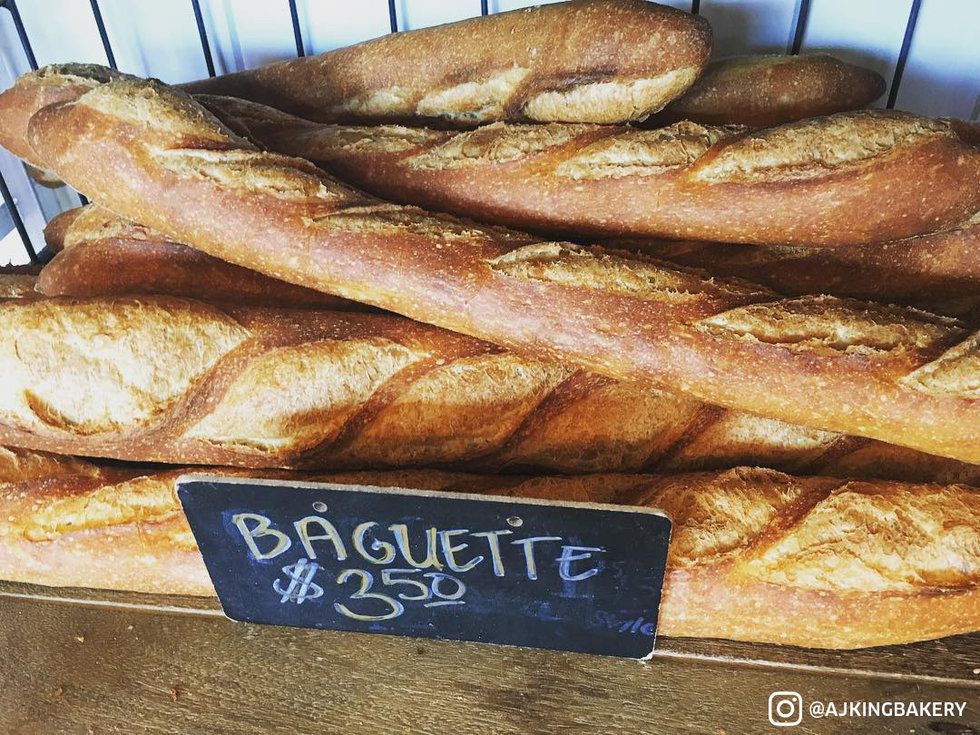 Baguettes! \A&J King Artisan Bakers
Master makers of all things crusty and buttery, artisan bakers Jackie and Andy King have earned themselves cult culinary status in this city—one croissant at a time. Stop by their original location or recently opened second bakery for a flaky apple tart or cinnamon bun, then fill your arms with as many rustic loaves of sourdough and baguettes as you can possibly tote home.
Caramel Patisserie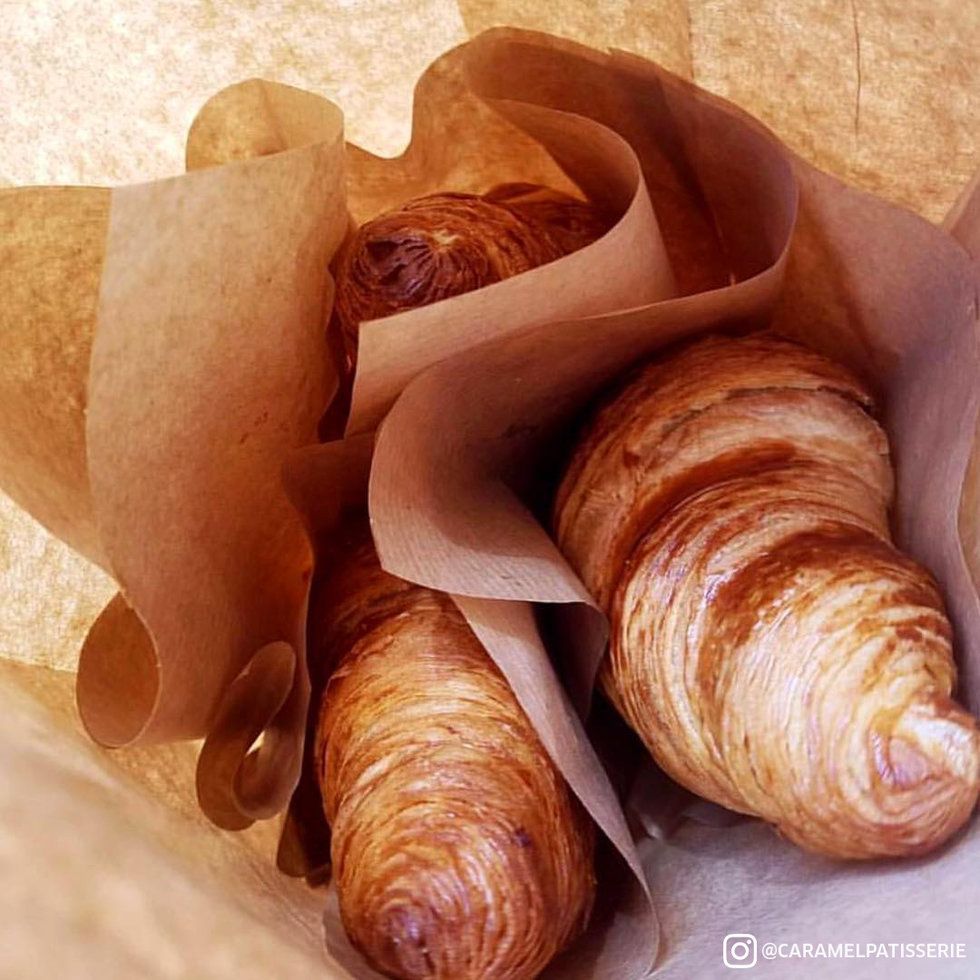 Morning 🥐🥐🥐 Patisserie & Macaron
French-born and clasically-trained pastry chef Dimitri Vallier makes some of the best treats in town—apparent by one glance at his picture-perfect pastry case. His elegant sweets, including Paris-brest eclairs and triangles of caramel mousse with poached pears are simply transportive. The only sign you're still in Salem? Alongside more traditional almond and rose macarons, you'll also find orange and black ones, too.
This article was written by Jenna Pelletier from Food & Wine and was legally licensed through the NewsCred publisher network. Please direct all licensing questions to legal@newscred.com.
If you can't get to Mars, what's the next best thing? Apparently Iceland. A team of renowned explorers and researchers recently journeyed to Iceland to test a Mars analog suit in a Martian-like environment.
The United sponsored expedition, led by The Explorers Club — an internationally recognized organization that promotes the scientific exploration of land, sea, air and space — and in partnership with Iceland Space Agency, involved the team venturing inside the Grímsvötn volcano and across the Vatnajökull ice cap. The group traveled to the remote location and lived for six days in the Grímsvötn Mountain Huts and endured harsh weather conditions and unstable terrain.
Helga Kristin Torfadöttir, Geologist and glacier guide, using the LiDAR system to map the ground and test the suit's capabilities on the glacier.
The objective of the mission was to explore the potential of concept operations at the Grímsvötn location while testing the suit in an arctic environment similar to what would be found on the surface of Mars. "This mission was an important test of the design of the MS1 suit, but it was also incredibly helpful to understand the how to conduct these sorts of studies in Iceland," said Michael Lye, MS1 designer and NASA consultant and RISD professor. "No matter how thoroughly something is tested in a controlled environment like a lab, studying it in a setting that accurately represents the environment where it will be used is absolutely essential to fully understand the design."
The suit was designed and constructed by faculty and students at the Rhode Island School of Design (RISD) with input and guidance from members of the HI-SEAS IV crew and NASA's Johnson Space Center Space Suit Engineering team. At 50-60 lbs, the suit is similar to what a planetary exploration suit would weigh in Martian gravity. The suit was originally designed to be used in the warm climate of Hawaii, however the martian climate is much closer to what would be found on top of the glaciers in Iceland. The data collected will inform the future of habitat and spacesuit design that can be used to train astronauts on Earth.
Today, we remember the colleagues, customers and every single victim of the terrorist attacks of Sept. 11, 2001.
I know each of us in the United family marks this difficult moment in our own way. Still, we all share a common commitment to honor how our brothers and sisters left us and also celebrate what they gave to us during their lives. We remember their professionalism and heroism. We cherish their camaraderie and friendship. We carry with us the examples they set forth, especially in the heroism and bravery displayed by so many on that terrible day. Above all, we understand a simple truth: While thousands of our fellow human beings lost their lives in New York City, Arlington and Shanksville, the attacks of September 11th were aimed at all people of peace and good will, everywhere. They were attacks on the values that make life worth living, as well as the shared purpose that make us proud of what we do as members of the United family: connecting people and uniting the world.
We may live in times scarred by discord and disagreement, and we know there are those around the world who seek to divide us against one another. But, on this day – above all – we come together, as one. We affirm our core belief that far, far more unites us as citizens and fellow human beings than can ever divide us.
Let us embody that belief as we go about serving our customers and one another – on this day and every day – as we continue to help building a world that's more united. Let that be our memorial to the sisters and brothers we lost, eighteen Septembers ago.
Humbly,
Oscar
A team of search and rescue experts from Empact Northwest departed Newark International Airport (EWR) this morning for Nassau (NSA), the capital of the Bahamas to help meet the pressing need for search and rescue services identified by Bahamian Prime Minister Hubert Minnis in the aftermath of Hurricane Dorian. The Empact Northwest team worked with Airlink, a rapid-response humanitarian relief organization that connects airlines with non-governmental organizations (NGOs), that respond quickly and efficiently in the wake of major disasters.
"We can't thank United enough for allowing us to jump out of the gate right away to aid people devastated by this storm," said Airlink Strategic Advisor Emily Sperling. "Search and rescue, medical care, temporary shelter, food and access to potable water are among the most immediate and pressing needs identified in the region. United's assistance is critical in ensuring that groups like Empact Northwest join others, including Mercy Corps, ADRA, and Heart to Heart International in fulfilling those most basic needs."
Airlink notes that our assistance enables two types of first responders to arrive quickly: those with specialized response capabilities like search and rescue, as well as assessment teams, who identify the most pressing needs and establish partnerships quickly to distribute supplies more efficiently once they are on the ground in country. Our partnership is felt long after the initial outreach after a disaster, too, according to Ms. Sperling. "After Irma and Maria hit the Caribbean in 2017, we received requests to transport relief workers a year or two later, to provide training and rebuilding assistance to help these communities develop future resilience," she said. The partnership also helps move responders into place to assist U.S. East Coast communities in the path of this tremendous storm.
You can join us in our disaster relief efforts by donating to our Crowdrise fundraising page here.

Scroll to top