Where to eat in Copenhagen now that Noma is closing
A decade ago, you wouldn't have heard too many people brag about traveling to Copenhagen for the food unless they were on stage doing stand-up. Now, of course, the game has changed. The unofficial statistic around the city is that one in three tourists is there to eat. The restaurant at the top of everyone's wish list is Noma, an almost impossible dream. (Even before it announced that it was closing at the end of the year, Noma averaged 20,000 calls on the one day each month that it takes reservations.)
Still, if you visited Copenhagen in the past few years, you know that the worldwide obsession with Noma and the New Nordic cooking style it helped champion—hyper-seasonal simple (if sometimes off-beat) ingredients, foraging, etc.—has had a downside. Especially if you were eating in the city for more than a few days and had only a limited appetite for pickled vegetable tops and burnt grains. Food that's delicious and intriguing for a couple of meals becomes very one note after a while, and you start badly wishing that someone would open up a good Szechuan spot or even a hot sauce stand. And when even bath soaps start using the "New Nordic" label, well, that's a trend that's run its course.
Which is why a September visit to Copenhagen yielded some pleasant surprises. More diverse cuisine is around town now, from elaborate Japanese breakfasts to incredible late-night pizzas topped with just-made mozzarella. Noma itself is evolving. When it reopens in its new location in 2017, in a hippy district with a farm, chef and owner Rene Redzepi promises a different focus. His mantra is hyper-seasonality: He's dividing the year into three distinct food seasons, not the four we've all been brought up to believe in and shop for. Instead, there will be a seafood-focused winter; produce for spring and summer; and a hunting menu for fall.
Here are eight terrific places to eat and drink around Copenhagen now.
Kadeau Copenhagen
The original location of this astonishing restaurant is on Denmark's Bornholm island, a little hotspot near Sweden frequently described as the Montauk of Scandinavia. ("You have to visit," locals will scream at you if you mention Bornholm.) Here at the recently relocated, five-year-old Copenhagen outpost, a battery of chefs work in the wide-open kitchen and take turns delivering such dishes as a side of salmon that's been both cold- and hot-smoked, served with pickled figs and cherry blossom vinaigrette. King crab comes with fresh walnuts and fruit juice made with "all the berries we can find," finished with a butter sauce.
The 18-course prix fixe menu is about $350; the wine pairings are an extra $200. You can choose juice pairings for about $100, or, best of all, have them interspersed with wine and beer throughout the meal.
Admiralgade 26
Wine drinkers around the world adore Ved Stranden 10. The place has no wine list; instead the staff will help you figure out what wine(s) you want to be drinking and set an open bottle down in front of you. Recently, the owners opened a restaurant around the corner that looks like a groovy, uncrowded Scandinavian furniture shop. At dinner, the menu features non-Scandi staples such as bouillabaisse and steak with smoked bone marrow vinaigrette. In the morning there's a savory Japanese breakfast with enough little plates and bowls to fill the table, including miso soup, cured mackerel and rice, and chawanmushi egg custard, plus fortifying green juice and coffee.
Bronnum
Copenhagen has one of the best cocktail bars in Europe; it's called Ruby. (If you're looking for Noma cooks after hours, you might well find them here.) Bronnum is the brand new spot from the Ruby team, and it's even grander, a series of six distinct rooms set in a building across from the Royal Theatre that was once a restaurant frequented by Hans Christian Anderson. Bronnum's ambitious 24-drink menu includes the "3 Martini Lunch," a flight of drinks that shows the evolution of the classic from sweet to bone dry, and the aquavit-based Memories of Aalborg, served with a nugget of cheese and hazelnuts that complement its flavors. There's also a cellar full of Champagne, with Dom Perignon 2006 poured by the glass.
Baest
Former Noma chef Christian Puglisi has built a mini restaurant empire in Copenhagen starting with the intimate, elegant Relae. (Its design, featuring silverware hidden in drawers in the dining tables, has influenced such restaurants as Manhattan's acclaimed Wildair.) Though he's a Scandi food star, Puglisi was born in Sicily, and his latest place, Baest, has a big wood-burning oven front and center. He uses fermented flour for his doughy, blistered pizzas topped with mozzarella that's made several times a day. There's a list of charcuterie and cheeses produced from the milk of cows that graze 30 miles from Baest. It's one of the few places that Noma's pastry chef Malcolm Livingston II goes out to in his limited time off. "I love the vibes, and the pizza is banging," he says.
Amass
One of the hardest reservations to get in Copenhagen is, perhaps unsurprisingly, at a place run by another ex-Noma chef, Matt Orlando. In a graffiti-covered building, Orlando cooks with ingredients from his huge garden. His epitome-of-late-summer dish is tomatoes—an unconventional ingredient in Denmark—made more unconventional with raspberry, wild rose, and burnt pine wood oil (because this is Copenhagen, after all). The chef is terrifically eco-minded: Amass is one Denmark's most sustainable restaurants, with a new gold organic certification, one of only two fine-dining places in the country to earn that achievement. Likewise, Orlando is launching a food rescue program with the Danish ministry of environment to cut down on food waste.
108
It's been billed as the more casual incarnation of Noma restaurant without Rene Redzepi in the kitchen; he's merely the co-owner now, with one of his former chefs, Kristian Baumann, doing the cooking. Some of the ingredients come from Noma's kitchen, a block away, but the place has its very own sensibility, with deceptively simple dishes. In a recent review, Bloomberg critic Richard Vines shouted out the raw lamb with last year's pickles, which he described as "Nordic steak tartare." Vines also liked the braised oxtail, glazed with fermented barley. In fact, Vines says, "The great thing is that 108 doesn't feel second-best. In fact, the buzzy dining room is more fun than at Noma."
Torvehallerne Street Food Market
As if your weekly greenmarket mated with an internationally minded Eataly, this five-year-old foodie destination in central Copenhagen has a terrific mix of 60 stands (not unlike the new Claus Meyer food hall in New York's Grand Central Station). In the outdoor plaza, Hija de Sanchez, run by Noma's ex pastry chef Rosio Sanchez, has a short menu that usually stars carnitas tacos on fresh tortillas. Within the two glass-walled halls, among the cheese and butcher and produce stands, are prepared food kiosks, such as Hallernes Smørrebrød, which specialize in glorious open-faced sandwiches topped with thick slices of smoked salmon and beef tartare. And in one corner is an outpost of the Coffee Collective, whose espresso-topped soft serve has a cult following.
Spuntino
This two-story modern Italian restaurant has been open for a while, but a recent renovation also brought on a rising star chef, Nick Curtin (from Rosette in New York). His lovely dishes include imported buratta with vibrant purple plums and pickled onions; handcut beef tartare with hazelnut oil, burnt lemon, and smoke; and spaghetti alla chitarra with brown butter and trout roe. (Take note: Copenhagen doesn't have a ton of great pasta.) The short wine list focuses on Italy with a little France and includes some orange wine, too. Spuntino's five-course menu is less than $50, which constitutes a bargain in Denmark.
©2016 Bloomberg L.P.
This article was written by Kate Krader from Bloomberg and was legally licensed through the NewsCred publisher network.
When and where possible, we are working to repatriate travelers who are stranded abroad in the wake of the COVID-19 crisis. Our teams are working closely with government officials here in the U.S. as well as in other countries where flying has been restricted to gain the necessary approvals to operate service. In regions where government actions have barred international flying, we have coordinated with the the U.S. State Department and local government officials to re-instate some flights. Additionally, we have been operating several extra flights to countries in Central America and South America as we continue to play a role in connecting people and uniting the world.
We have operated more than 85 repatriation flights from Panama City, Guatemala City, Quito, Lima, San Pedro Sula, Tegucigalpa and Roatan, bringing nearly 12,000 people home. We will continue working with government officials to operate extra flights to Houston from Quito, San Pedro Sula, Tegucigalpa and from Lima to Washington Dulles and beginning April 5, we will begin operating multiple charter flights between Delhi and San Francisco. We continue to review more opportunities for flights between the United States and other countries to bring citizens home.
Video provided by the U.S. Embassy Ecuador of Americans returning home on United.

Additionally, our Customer Solutions and Recovery team is working with customers in the following markets to rebook them on flights back to the United States as capacity allows, either on our aircraft or on one of our airline partners' planes:

Quito, Ecuador
Managua, Nicaragua
Roatan, Honduras
San Pedro Sula, Honduras
Amsterdam
Brussels
Munich
Singapore
Tokyo-Haneda
Seoul, South Korea
Melbourne, Australia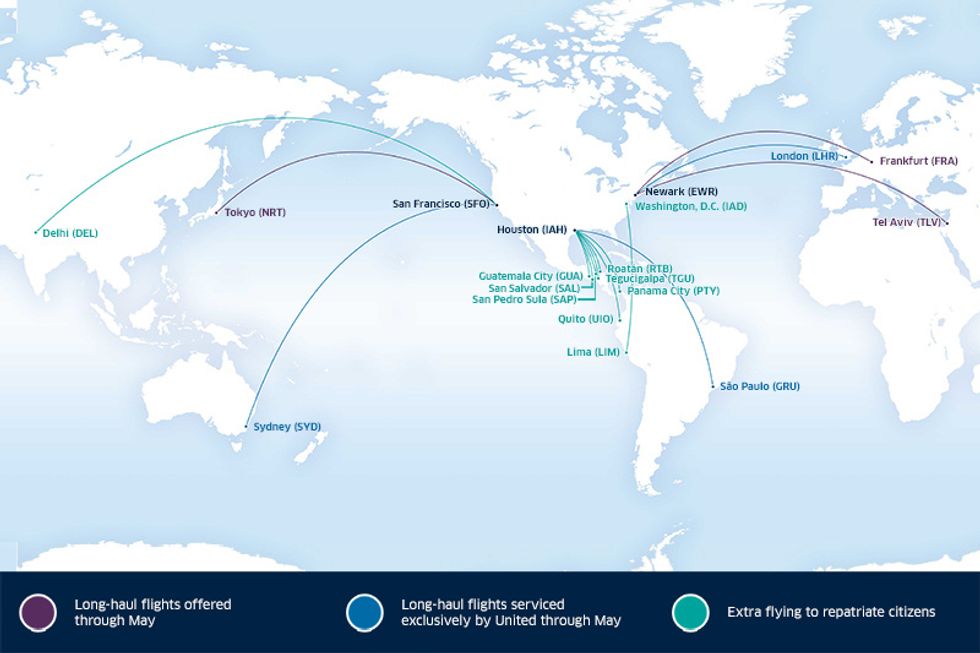 We also recently reinstated several international flights back into our schedule to support customers and essential businesses which depend on these routes. As a result, we will be the only airline to offer service between Newark/New York and London, San Francisco and Sydney, as well as Houston and São Paulo, Brazil.

Throughout these unprecedented times, we remain committed to doing what is right and fair for all of our MileagePlus® members and are pleased to share the steps we are taking to reciprocate the trust and loyalty that you have placed in United. These steps include not only Premier status updates, but also an extension of current memberships and subscriptions. The updates will happen automatically over the next few weeks — there's nothing you need to do.

The big news: If you have current 2020 Premier status, it will be extended to January 31, 2022. At a minimum, you will enjoy the same published status next year that you have today, up to and including Premier 1K®.
For the 2021 status year, United is reducing thresholds for Premier qualification by 50% for each status level, to make reaching an even higher tier easier. You'll still need a minimum of four flight segments on United or United Express®.
| | | | |
| --- | --- | --- | --- |
| 2021 status | Earn Premier qualifying flights | and PQP | … or meet a higher PQP goal |
| Silver | 6 | 2,000 | 2,500 |
| Gold | 12 | 4,000 | 5,000 |
| Platinum | 18 | 6,000 | 7,500 |
| 1K | 26 | 9,000 | 12,000 |
We're also doubling PQP for United Explorer cards and quadrupling PQP for the United Club cards.
At the same time that we're decreasing the published program's PQP requirements, via a promotion from May 1 – December 31, 2020, we're doubling (for United Explorer cards) or quadrupling (for United Club cards) the maximum number of PQP that Cardmembers can earn from card spending during 2020 to help achieve a higher level of status than you already have. More details to come later.
1K® and Platinum members, we're increasing your ability to upgrade by extending PlusPoints expiration dates by six months and expanding Skip Waitlist.
This means a six-month extension of any PlusPoints set to expire on or before January 31, 2021.
Last year we introduced Skip Waitlist on select flights as a benefit to 1K members, giving you more opportunities to confirm an upgrade request at the time of booking. This benefit will now be available for the rest of 2020 in a significantly expanded selection of long-haul international regions and will have expanded availability in 2021 as well.
We're extending all annual membership and subscription benefits by six months.
We want to make sure your benefits are still there when you're ready to start flying again. That's why we're extending purchased United Club℠ memberships purchased directly from United and purchased subscriptions for Economy Plus®, United Wi-Fi℠ and checked bags by six months. You should see this reflected in your MileagePlus account soon.
All electronic travel certificates now have 24 months to be used.
If your travel plans have been disrupted, and you have an electronic travel certificate from us for the value of your ticket, you now have two years from the date it was issued to book a new flight, as well as up to an additional 11 months to travel. This includes all currently valid and all new electronic travel certificates issued on or after April 1, 2020.
We have removed some redeposit fees for the rest of the year.
We are currently waiving all award redeposit fees for travel through end of May 2020.
We are now also waiving all redeposit fees for award ticket cancellations made more than 30 days before departure for the remainder of 2020.
Finally, we'll be making it easier to earn status in 2021 for the 2022 program year. We recognize that getting back to travel will occur at a different pace for different members. Keep an eye out for changes we will make to help you earn status in 2021 for 2022, as we'll share details later this year.
Over the years, you have placed your trust and loyalty in United, and we are honored to do the same for you. We are all in this together.
Status extension to January 31, 2022, applies to all members that met the published criteria of the MileagePlus program in 2019, status match associated with the United/Marriott Bonvoy partnership and status offered as part of a Sales nomination. Status granted from other programs and policies may not apply.
To help with the uncertainty around future travel — be it summer vacations, conferences, events and more — customers now have until April 30 to make changes to, or cancel, any travel they have booked through the end of the year without fees. This is in addition to existing waivers already in place which allow customers to change or cancel plans for travel through May 31.If you decide to cancel your flight, you can retain the value of your ticket to be applied to a new ticket without a fee. These electronic travel certificates are now valid for 24 months from the date they were issued. This includes all currently valid electronic certificates and all new ones issued on or after April 1, 2020. You might not see this policy change reflected everywhere right away – we appreciate your patience as we work to make that happen.
Eligible travelers on domestic flights and international tickets can request a refund on united.com or may call our contact centers if their flights have been severely adjusted or service to their destination suspended either due to government mandates or United schedule reductions related to COVID-19.
Certain tickets cannot be changed on united.com or the mobile app, including tickets booked through another airline (if the ticket receipt does not begin with 016). Please contact the original ticketing airline for changes.
Follow the steps below to stay up to date, change or cancel your flight.

Change your current flight:
On the united.com homepage, select "My Trips" and enter your flight information to retrieve your flight.
Select "Change flight" and then "Edit" to make the following changes:

Date of travel or destination
Add a flight
Remove a flight

Select "Continue" and choose a new flight option
Continue through booking to confirm your new flight
Note: The change fee will display as waived, but any difference in fare may apply.
Cancel your flight and rebook later:
On the united.com homepage, select "My Trips" and enter your reservation information to retrieve your flight
Select "Cancel flight"
Confirm flight cancellation
If you have future flight credit, when you return to the reservation, select "Use Future Flight Credit" to shop for new flights and apply the credit towards a new flight.
Canceling or changing an award flight:
When you select "Cancel flight," you will have the option to cancel your award reservation and redeposit the miles or to cancel your award reservation and use those miles for another trip in the future.
*We're currently experiencing heavy traffic to united.com. If you experience an error while trying to change or cancel your flight, please try again later.
Click through the slideshow below for more detailed instructions:
​Start on the United homepage: ​
User can select 'My Trips' on the homepage widget to find and retrieve their reservation.
Together, we are facing an unprecedented challenge. United Together, we rise to meet that challenge.
Check out our newest destinations
United Airlines
united
To help with uncertainty around future travel – summer vacations, conferences & more – customers have until 4/30 to make changes to, or cancel, any travel they have booked through the end of the year without fees. This is in addition to existing waivers:
uafly.co/2vmnkSk
United Airlines
united
This is what a charter flight, carrying 100% medical equipment, looks like. We've been flying millions of units of personal protective equipment (PPE) from China to help get supplies to frontline responders across the country.
#WorldHealthDay
#UnitedTogether
United Airlines
united
For 200 Australian citizens who have been stuck on cruise ships for the past few weeks, our flight crew was a welcome sight. We operated a special charter flight from SFO - MEL on Sunday night, reuniting these travelers with their home and their families.
#UnitedTogether
👏💙
United Airlines
united
We're extending current MileagePlus Premier status levels to January 31, 2022 and lowering thresholds for status to help you reach an even higher tier. Learn more about the other steps we're taking, like extending PlusPoints, to thank you for your loyalty:
uafly.co/2xVfvnm
United Airlines
united
If your travel plans have been disrupted, and you have an electronic travel certificate for the value of your ticket, you now have two years from the date it was issued to book a new flight + up to an additional 11 months to travel. Learn more:
uafly.co/2RbdgDq
We Are United
weareunited
Shoutout to our operations team, who are working to properly park, maintain and store many aircraft in the
#BeingUnited
fleet. These aircraft are being housed across our seven hubs, maintenance facilities in CLE and MCO as well as at offsite facilities in New Mexico and Arizona.
We Are United
weareunited
Tomorrow, Oscar and Scott will host a companywide town hall to discuss the latest developments in managing the effects of the coronavirus (COVID-19). You can join the livestream event at 1:20 p.m. CT here:
uafly.co/39AV25m
Watch our most popular videos
A happy, Hollywood ending
This is the story of Jason and Shantel. You see, Jason and Shantel love each other very much. They also love traveling and they love the classic Adam Sandler film, The Wedding Singer.
It all began when Jason reached out to United's social media team, hoping for assistance with his upcoming plan to propose. Some phone calls and one borrowed guitar later, the stage was set for Jason. Put all that together, mix in some helpful United employees and, voila, you have a truly memorable marriage proposal. Congratulations to this fun-loving and happy couple, and here's to many more years of making beautiful music together.
A big thank you to Chicago-based flight attendants Donna W., Marie M., Karen J. and Mark K. for making this proposal come to life.
Copyright © 2020 United Airlines, Inc.
All rights reserved.
Indicates an external site that may or may not meet accessibility guidelines.
Scroll to top
Scroll to top