Written in the stars
After more than two-and-a-half years of dating and countless adventures together, MileagePlus Premier® member Jeff Schick was certain that he had found his soul mate in Anthony Hawkins. For a pair of avowed travel enthusiasts and aviation buffs — Mr. Hawkins is a Captain with ExpressJet and Mr. Schick grew up in a family of pilots — the relationship could not have begun more perfectly. On their first date they watched a documentary about the Boeing 747. From that day forward they racked up United miles as they traveled the world together, culminating in a trip to Delhi, India, this past January, when Mr. Schick decided it was the right time to pop the question. Naturally, there was only one way to do it.
"I had been thinking about proposing to Anthony for a long time," Mr. Schick said. "When we were preparing for our trip to Delhi, I thought, I wonder what United would say if I asked them for help?"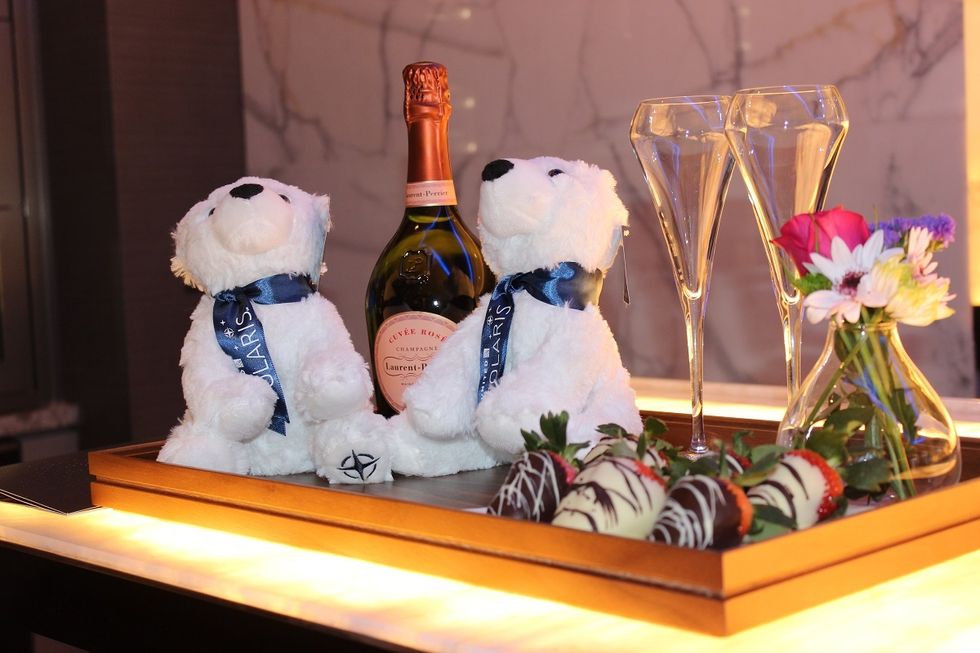 He reached out to United's Social Media team through Facebook, explaining the situation and asking if there was anything that we could do to make the experience more memorable. Within an hour, a plan was in motion. The couple was scheduled to fly from Chicago's O'Hare's International Airport to Delhi, via Newark, in the new United Polaris℠ business class. Mr. Schick had recently read an article about the United Polaris lounge at Chicago's O'Hare's International Airport, and thought that a preflight proposal in the lounge would be the way to go. What they got was nothing short of a first-class experience.

Social Media and Relationship Marketing Assistant Managers Diana Sweis and Karen Petrella, along with Chicago's O'Hare's International Airport Operations and lounge employees, conspired with Mr. Schick to pull off the surprise. First, they made custom lounge menus with a special page devoted to Mr. Hawkins and Mr. Schick's dating milestones, with the heading, "Will you be with me from Ahh to ZZZ?" — a play on the United Polaris motto.
As Mr. Hawkins flipped through the menu, unaware of what was in store, he came to the personalized page, at which point Mr. Schick got down on bended knee to present the ring.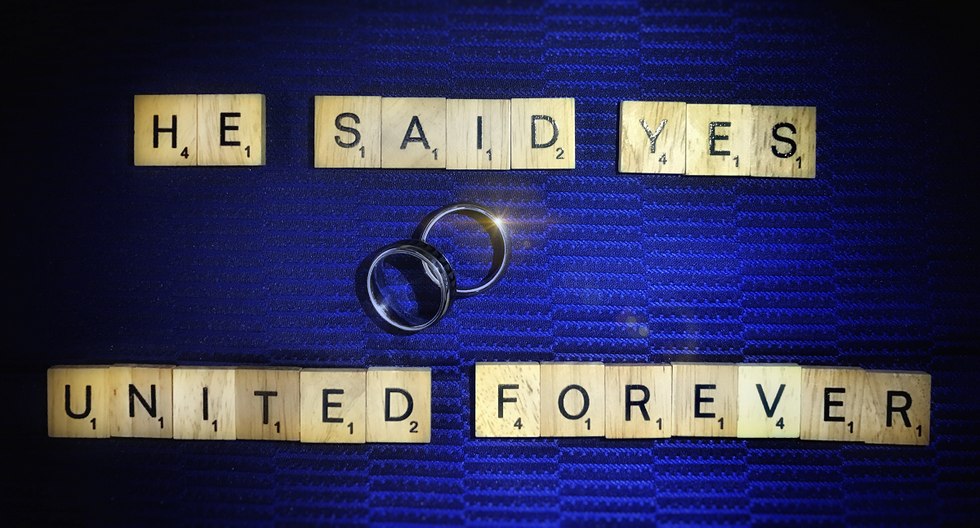 "I think Anthony had suspicions that something was going to happen, but it shocked him when he found out what was happening," said Mr. Schick. That shock was written all over Mr. Hawkins's face as he happily accepted. That was the cue for our lounge team to bring out a cheese and pastry tower, made complete with a bottle of champagne and mimosas, and Diana and Karen took the first photos of the newly engaged couple.

"It was so well orchestrated, everything fit together perfectly," Mr. Schick recalled, still feeling the excitement and joy of that day. "Everyone was so friendly and congratulatory. Even the United Polaris lounge chefs came out to celebrate with us. It was incredible."
The moment was special not only for Mr. Hawkins and Mr. Schick, but also for our employees who got to take part. "Proposals are always unforgettable, but I think it's safe to say that they will remember this day, and remember United, for the rest of their lives," Diana said. "This is the part of the job that I love the most, when we have the opportunity to interact with a customer in this way to surprise and delight."
Mr. Schick and Mr. Hawkins were more than just surprised and delighted. "Things like this make customers for life," Mr. Schick said. "It certainly bonded Anthony and me to United. It shows how the people at United care, and they're making United a great airline to fly on, not only for special occasions like this, but for every trip."
Calling all AvGeeks and travelers! Here's a fun way to take your next video call….from a United Polaris seat, the cockpit or cruising altitude. We're introducing United-themed backgrounds for use on Zoom, a video conferencing tool that many people are using to stay connected.
So for your next meeting or catch up with friends and family, download the app to either your computer or mobile device to get started. If you've already downloaded Zoom you can skip ahead to updating your background image (see instructions below).
Start here by downloading your favorite United image to your computer or mobile device. Just click "download" in the bottom left corner of the image.
Next go to your Zoom app (you'll need to download the app to access backgrounds) and click on the arrow to the right of your video camera icon in the bottom of the screen.
From here select, "choose virtual background" to upload your uniquely United photo.
When and where possible, we are working to repatriate travelers who are stranded abroad in the wake of the COVID-19 crisis. Our teams are working closely with government officials here in the U.S. as well as in other countries where flying has been restricted to gain the necessary approvals to operate service. In regions where government actions have barred international flying, we have coordinated with the the U.S. State Department and local government officials to re-instate some flights. Additionally, we have been operating several extra flights to countries in Central America and South America as we continue to play a role in connecting people and uniting the world.
We have operated more than 56 repatriation flights from Panama City, Guatemala City, Quito, Lima, San Pedro Sula, Tegucigalpa and Roatan, bringing nearly 8,000 people home. We will continue working with government officials to operate extra flights to Houston from Quito, San Pedro Sula, Tegucigalpa and from Lima to Washington Dulles and beginning April 5, we will begin operating multiple charter flights between Delhi and San Francisco. We continue to review more opportunities for flights between the United States and other countries to bring citizens home.
Video provided by the U.S. Embassy Ecuador of Americans returning home on United.

Additionally, our Customer Solutions and Recovery team is working with customers in the following markets to rebook them on flights back to the United States as capacity allows, either on our aircraft or on one of our airline partners' planes:

Quito, Ecuador
Managua, Nicaragua
Roatan, Honduras
San Pedro Sula, Honduras
Amsterdam
Brussels
Munich
Singapore
Tokyo-Haneda
Seoul, South Korea
Melbourne, Australia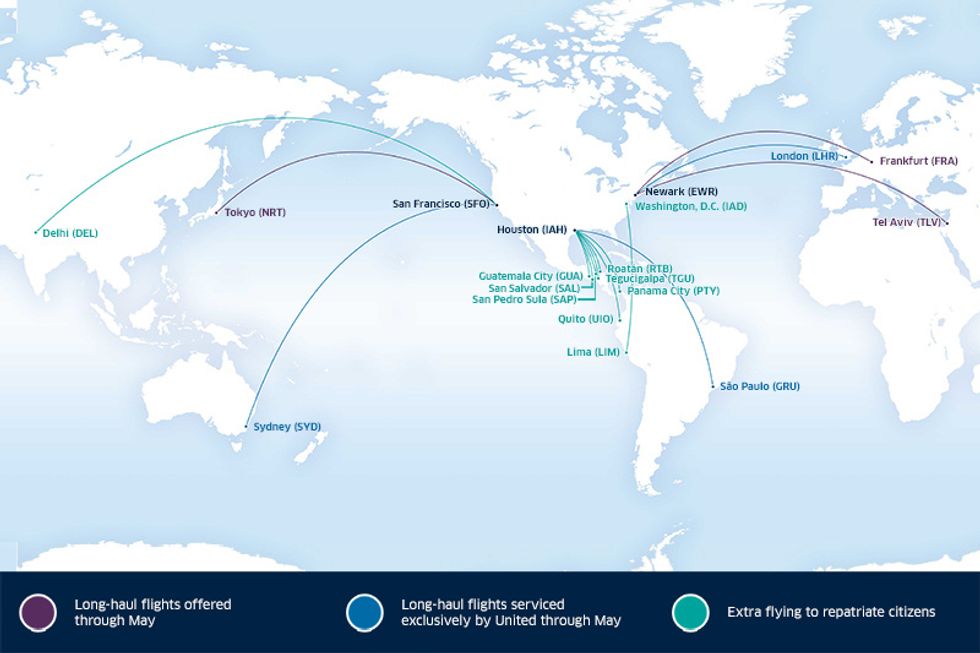 We also recently reinstated several international flights back into our schedule to support customers and essential businesses which depend on these routes. As a result, we will be the only airline to offer service between Newark/New York and London, San Francisco and Sydney, as well as Houston and São Paulo, Brazil.

In the midst of mobilizing our cargo operations, our teams at New York/Newark (EWR) and Jacksonville (JAX) stepped in to assist Roche Diagnostics with transporting a vital component for an instrument being used for COVID-19 testing.
The component was stuck at EWR en route to the Mayo Clinic in Florida after another airline's flights were cancelled. A Roche employee contacted us asking for help and, within a few hours, our teams had the piece loaded onto a Jacksonville-bound aircraft, with arrangements in place to deliver it to the Mayo Clinic.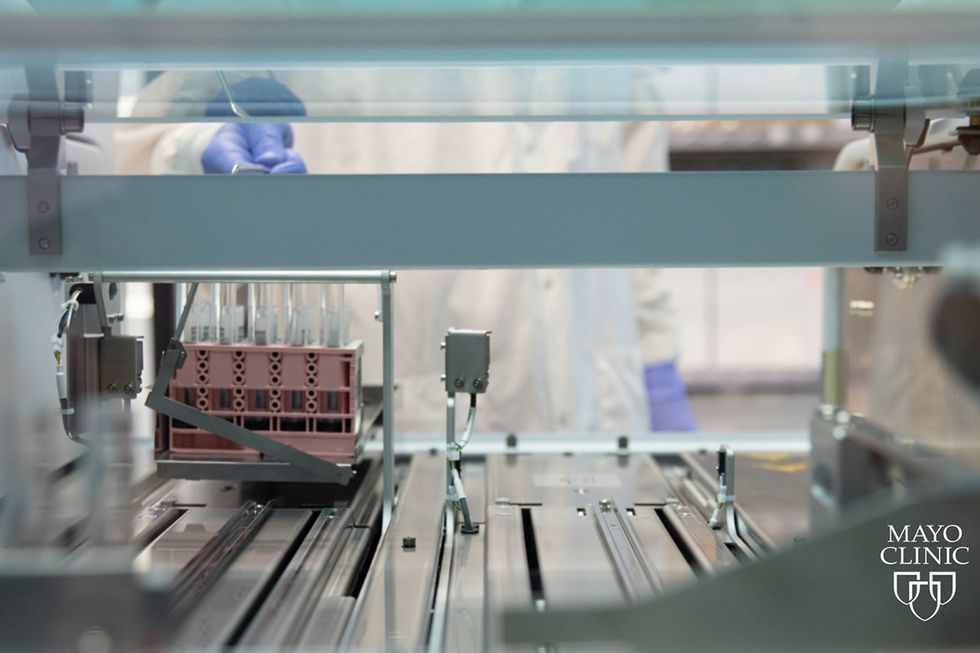 The item we shipped will allow the Mayo Clinic in Florida to process hundreds of COVID-19 tests per day. Mayo Clinic Laboratories has been on the front lines of increasing testing capacity to expedite caring for patients at this critical time and working to ease the burden being felt at test processing laboratories in a growing number of areas.

Together, we are facing an unprecedented challenge. United Together, we rise to meet that challenge.
Check out our newest destinations
United Airlines
united
We continue to work with government officials to bring Americans home. In addition to flights from Central & South America, we have charter flights planned from India. Learn more about our repatriation efforts in the wake of COVID-19 here:
uafly.co/3aExaOL
#UnitedTogether
United Airlines
united
When
@RocheDia
needed to ship a vital component of a COVID-19 testing unit from New Jersey to Florida, United Cargo jumped in to help. Read about how this part will allow
@MayoClinic
to process hundreds of tests per day for cases in the Southeastern U.S.
uafly.co/2UzOAGW
United Airlines
united
International schedule update: We know some people around the globe are displaced and still need to get home. We are reinstating some international flights over the next few days and will continue to fly six daily international flights through May.
uafly.co/3a5Dj6p
United Airlines
united
We have extended our change fee waiver to cover travel through May 31, 2020: - You can change or cancel your flight on
united.com
or through the app – a phone call is not required - For the latest on our commitment to your safety, visit
united.com/coronavirus
We Are United
weareunited
Shoutout to our operations team, who are working to properly park, maintain and store many aircraft in the
#BeingUnited
fleet. These aircraft are being housed across our seven hubs, maintenance facilities in CLE and MCO as well as at offsite facilities in New Mexico and Arizona.
We Are United
weareunited
Tomorrow, Oscar and Scott will host a companywide town hall to discuss the latest developments in managing the effects of the coronavirus (COVID-19). You can join the livestream event at 1:20 p.m. CT here:
uafly.co/39AV25m
We Are United
weareunited
Tomorrow, Oscar and Scott will host a companywide town hall to discuss the latest developments in managing the effects of the coronavirus (COVID-19). You can join the livestream event at 1:20 p.m. CT here:
uafly.co/39AV25m
.
Watch our most popular videos
Copyright © 2020 United Airlines, Inc.
All rights reserved.
Indicates an external site that may or may not meet accessibility guidelines.
Scroll to top
Scroll to top