The Yacht Week - sailing the Adriatic Sea
Each week we profile one of our employee's adventures across the globe, featuring a new location. Follow along every week to learn more about their travel experiences.
By Health and Welfare Compliance Manager Kristin Komar
In the spring of 2017 I booked what was sure to be a life changing week- The Yacht Week. I had a friend who had completed the journey, and raved about how amazing it was. The Yacht Week launched almost 10 years ago, with Croatia as the original route, but in the recent years has grown in popularity. The company (based in London) now organizes an entire summer (and even winter break) of yachting adventures across seven worldwide destinations. Croatia, the original route, is still the most popular, but some of the other locations (Greece, Thailand, British Virgin Islands) are quickly gaining attention. Since it was our first time, and we had heard the most about it, we went for the Croatia route.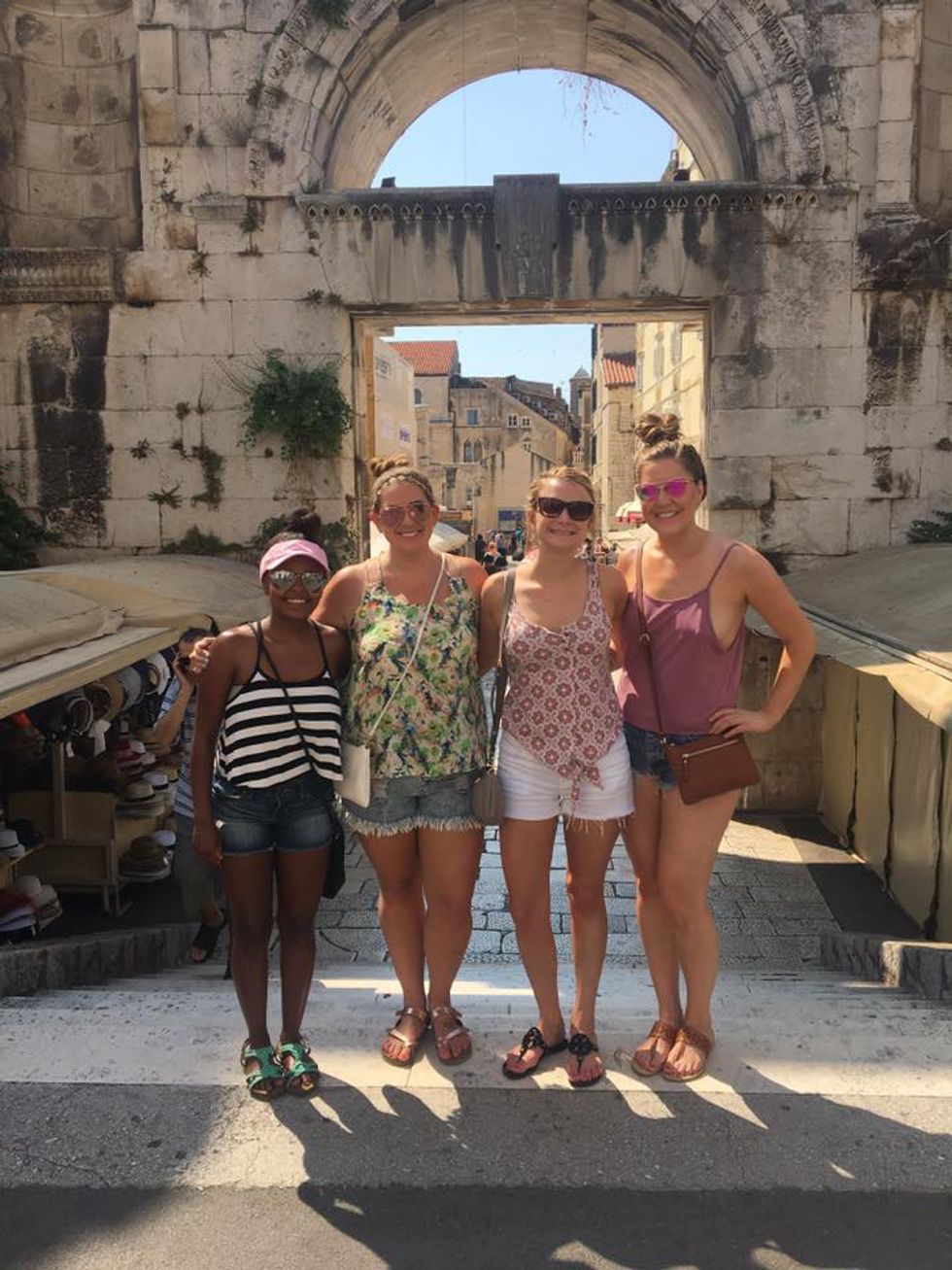 Each week of summer (for about 15 weeks in a row), as well as through the holidays, The Yacht Week charters boats and crew across all their destinations to sail for seven days, immersing it's attendees in the local culture, and forming bonds with people from around the world. I have to say, I was shockingly impressed with the origination of Yacht Week. Each day/night had organized events to connect all the attendees with each other and the island that we were on. The skippers (captains) and the hostesses (there to cook and clean the boats) quickly became our "parents" and led us through this journey of a lifetime. Yacht Week was a chance to unwind, de-stress, and put worries behind me, as I sailed from island to island indulging in the local Croatian culture, floating on inflatable floaties in the Adriatic Sea, and consuming copious amounts of fresh Mediterranean foods. It was promised to be the best week of my life -- and it was.
When it came time for this journey to begin, I flew from O'Hare International Airport to Newark Liberty International Airport, and took a direct flight from there to Munich. After landing in Munich (and eating some sausage in a beer garden), we hopped a plane to Split, Croatia, where we spent 2 days catching up on sleep and drinking local wines. When sail day came, we traveled to our marina, met our crew, stocked our boat with food and drink alongside our boat mates, unpacked our inflatable rafts and bathing suits, setting sail on a Saturday evening. I traveled with three of my close girlfriends, and the rest of our boat was filled with people from around the world- two guys from Brazil, two guys from Australia, and our hostess and skipper (a couple from South Africa). People made jokes about how close you got to your boat mates, but I had no idea that these strangers would soon become family.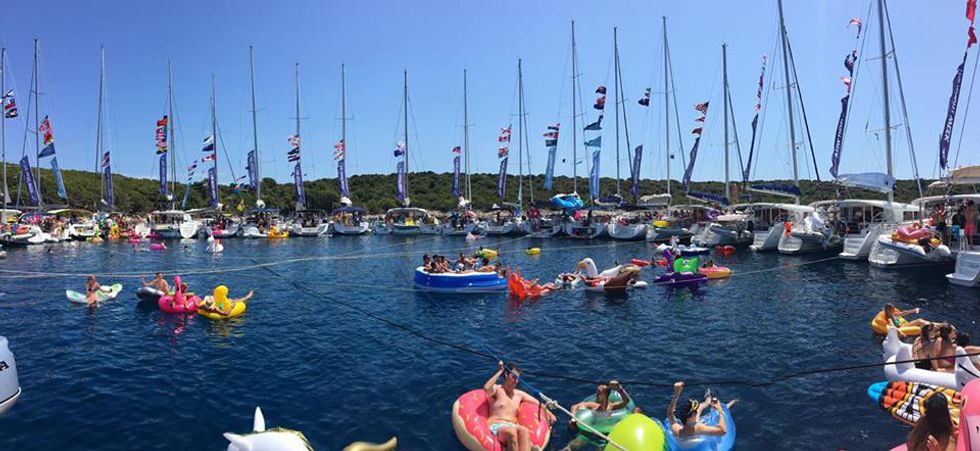 Our itinerary was quite simple, and unbelievably relaxing. Our day times were filled with exploring the Adriatic Sea. Some days we would just sail off on our own away from the other boats and float in the water. Other days, we would tie up with all the other Yacht Week boats in what is famously referred to as "the circle raft" or the "tunnel raft." Essentially all boats tied together in formations where you float around from boat to boat getting to know the other yacht weekers. We also spent some days exploring the Croatian landscape. Off the island of Vis we explored the blue and green caves, and cliff jumped. In total we visited five Croatian Islands- Trogir, Vis, Komiza, Palmizana and Hvar. On the final day, all of the boats sailed from the most southern island, Hvar, north to our origin, Split, in what is referred to as The Regatta Race.
Afternoons and evenings were spent on the various islands at chartered Yacht Week themed events. These events ranged from tropical themed to Riviera themed, and gave you a chance to unwind with your boat mates, sipping Mediterranean themed drinks and dancing in the sunset. After afternoon events, we would branch off as a boat and go get some local Croatian cuisine for dinner. Food ranged from coal oven roasted pizzas to the freshest Mediterranean seafood, caught dockside that morning.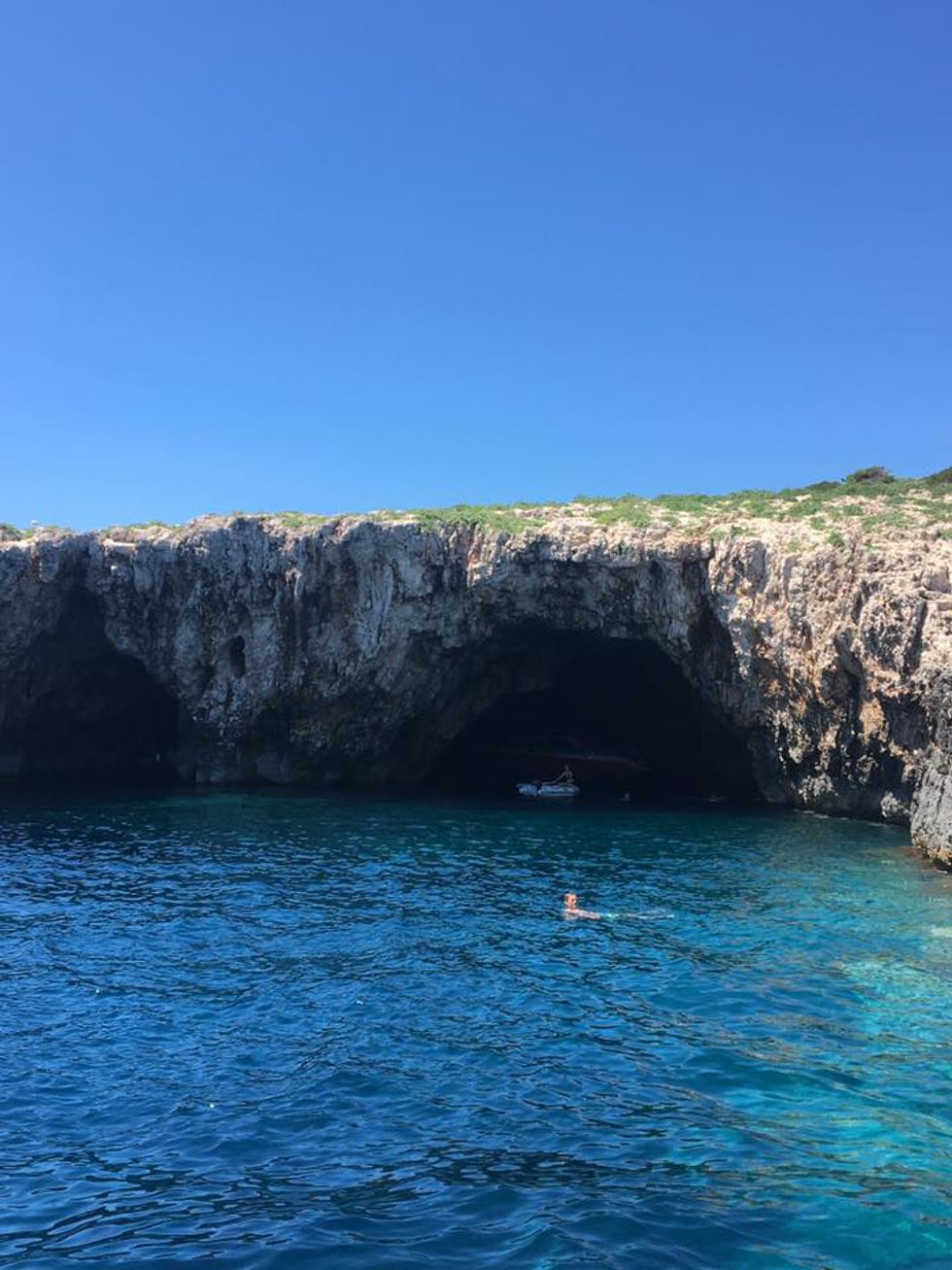 Nighttime was spent one of two ways. We either had a Yacht Week themed event to attend (one night there was a neon themed soiree on the beach on the island of Komiza), or a chance to lay on the front of your boat and stare up at the stars. The stars were unlike anything I have ever seen in my life. You could see every single star in our galaxy, and the experience was one of the most humbling moments of my life.
By the time Yacht Week came to an end, I couldn't believe how much I had grown. I got the chance to immerse myself in not only the local Croatian culture, but in the world itself. Being surrounded by hundreds of like minded individuals from around the world, hearing the way their cultures experience the same things we do as Americans, was eye-opening. I tried foods that I wouldn't look twice at in Chicago. I put the stress of my daily life behind me, and for a moment, felt how enormous this world we live in truly is.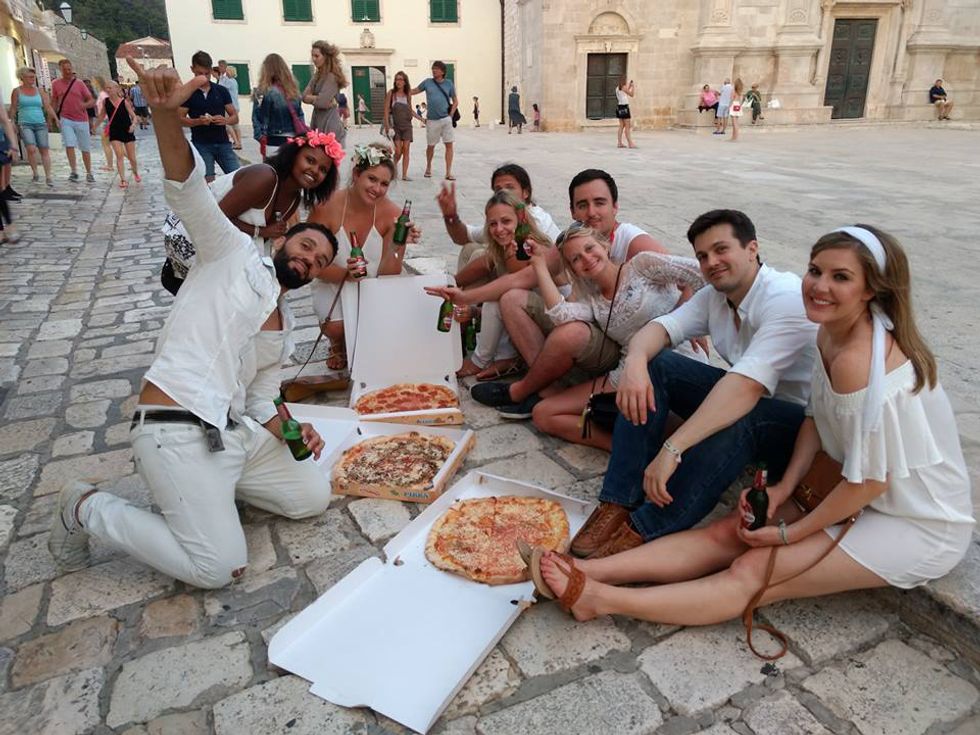 The Yacht Week gave me the time I needed to take a step back, to re-center myself in this crazy world, and to remember how fortunate we are to work for a company like United, which fully supports taking journeys far beyond our backyards. I have always been a free spirit, and a spontaneous person, but going on Yacht Week changed me for the better. When life gets crazy and stressful, I will always have my memories of The Yacht Week to bring me center again. Until our next journey together, I will always remember my new family in that Croatian sunset lighting, eating pizza in the streets of Hvar, forgetting the worries of our real lives, and dancing under those magnificent stars.
On March 19, 2020, United operated its first flight carrying cargo without passengers on board. While the passenger cabin was empty, its cargo hold was completely full, carrying more than 29,000 pounds of commodities from Chicago O'Hare International Airport (ORD) to Frankfurt Airport (FRA).
A year later, United Cargo has operated more than 11,000 cargo-only flights carrying more than 570 million pounds of freight. To support the COVID-19 pandemic recovery efforts, United Cargo has also transported more than 113 million pounds of medical and pharmaceutical products on both cargo-only and passenger flights as well as approximately 10 million COVID-19 vaccines, providing global communities access to the items they have needed most.
"At the beginning of the pandemic, we knew we were uniquely positioned to utilize our widebody aircraft and our network to keep commodities moving, so we quickly mobilized various departments throughout the airline to launch a cargo-only network of flights that would keep commodities moving," said United Cargo President Jan Krems. "Thanks to those efforts, United Cargo has delivered millions of items to countries all around the world. We would not have been successful without the steadfast support of our employees, industry partners and our customers."
Since last March, United Cargo has transported almost 850 million pounds of freight on cargo-only and passenger flights. The airline will continue to monitor market trends adjust its cargo-only flight schedules to help ensure we are meeting our customer's evolving shipping needs.
Whether you haven't flown with us for a while or just need a quick refresher before your spring trip, read this list of tips to know before your flight and arrive at the airport travel-ready:
1. Download the United app for contactless bag check, travel assistance and more
Before your flight, download the United app to view your flight status, check in, sign up for flight notifications, locate departure gates, access our free personal device entertainment when available and more. We've also updated our app with new features that can make your trip a little safer, including contactless bag check.
Don't forget to use Agent on Demand for help with any and all questions you may have before your flight. This new capability is available at all our U.S. hub airports and allows you to use your own mobile device to contact a customer service agent via phone, video or chat to help with day-of-travel questions while you're at the airport. Learn more about Agent on Demand here.
2. Check out the Travel-Ready Center
Our Travel-Ready Center makes it easy to get a personalized overview of everything you need to do in preparation for your flight. Just enter your confirmation number or MileagePlus® number and you'll find detailed information on all the documents, tests and more that you'll need for your trip.
3. Read and sign the Ready-to-Fly checklist
Before completing check-in, all United travelers will need to read our Ready-to-Fly checklist and confirm that they understand and agree to our policies. These include:
Acknowledging that you haven't had any symptoms of COVID-19 in the last 14 days
Agreeing that you will not fly if you have tested positive for COVID-19 within the last 21 days
Confirming that you will follow all policies regarding face masks, social distancing and other health and safety measures we've adopted
4. Arrive early; avoid the stress
Airports can be busy, especially during peak travel periods like spring break season. The TSA advises arriving at the airport two hours before your flight for domestic travel and three hours for international travel in anticipation of long security lines. This can help ease the stress when navigating busy check-in areas, security lines and crowded boarding gates.
5. Get familiar with CleanPlus
United CleanPlus℠ is our commitment to delivering industry-leading cleanliness as we put health and safety at the forefront of your experience. We've teamed up with Clorox to redefine our cleaning and disinfection procedures and Cleveland Clinic to advise us on enhancing our cleaning and disinfection protocols, like:
Disinfecting high-touch areas on board and in the terminal
Using electrostatic spraying, Ultraviolet C lighting wands and more advanced measures to clean aircraft cabins before boarding
Redesigning our mobile app to allow for touchless check-in and contactless payment, along with enhanced travel assistance features
Implementing high-efficiency (HEPA) filters on our aircraft that completely recirculate cabin air every 2-3 minutes and remove 99.97% of airborne particles, including viruses and bacteria
Studies show COVID-19 exposure risk is minimal when air filtration systems and masks are in use, so you can rest assured that the steps we've taken to keep you safe truly make a difference.
6. Wear your mask
Federal law requires all travelers to wear a face mask in the airport, including customer service counters, airport lounges, gates and baggage claim, and on board during their entire flight. Make sure you review the requirements for face masks, including what an acceptable face mask looks like.
7. Get ready for a safer boarding process
To make boarding even safer, we now have travelers board their aircraft from back to front. At the gate, just listen for your row number to be called – we'll ask a few rows at a time to board, starting with the last row of the plane. This helps everyone maintain a safe distance from each other during boarding without slowing things down. As you step onto the plane, flight attendants will hand each passenger a sanitizing towelette, which you can use to wipe down your seat to ensure it's extra clean.
8. Pack smart
Before packing your bags, check to see what exactly you can carry on and what you should plan to check. You can also copy your confirmation number into our Baggage Calculator tool to learn about the bag allowance included with your reservation, as well as the cost of checking any additional bags.
9. Check your flight status, important notices and weather
Check the United app regularly for the latest updates on weather conditions, flight status, gate numbers and seat assignments. You can also visit our Important Notices page to find essential information and updates about travel waivers, international travel, TSA and security, airports and United Club locations.
10. Relax and enjoy your flight
Once you're on board, it's time to sit back and enjoy your flight. Our flight attendants will be happy to help you with anything else you need.
This week, we were honored to become the first U.S. airline to join the UNICEF Humanitarian Airfreight Initiative to combat the COVID-19 pandemic by transporting the vaccine and other critically needed supplies to underserved areas of the globe.
"We are committed to helping the global community in any way we can, and we all must work together to do our part to bring this health and humanitarian crisis to an end," said Director of Cargo Specialty Products Manu Jacobs.
We will leverage our expertise to transport these critical pharmaceutical and healthcare shipments around the world safely, efficiently and expediently. We are proud to partner with the United Nations to support this global effort and provide equitable access to COVID-19 vaccines.
Scroll to top