It's what Washington/Dulles-based First Officer Sarah Micklo calls "that old stigma," one that somehow continues to permeate corners of the aviation industry: the idea that women pilots aren't as good as their male counterparts. "At least one or two people during my career have said women don't belong in the cockpit," recalled Sarah. "I'm far from the first to ever hear that, but I hope I'll be one of the last."
It's a bogus notion, of course, and one that Sarah herself has helped quash for nearly 20 years as a military and civilian pilot. When asked where she found the strength to fight on anytime that old stereotype reared its ugly head, Sarah points to her family. Her mom, retired U.S. Air Force Lieutenant Colonel Ginny Logan, was the first woman in the Pennsylvania Air National Guard to lead a squadron and the first woman in the Air Force to command a combat unit. Ginny met and married Sarah's dad, retired Lt. Col. Ted Logan, when they were both stationed in Laredo, Texas, and together they made sure Sarah and her siblings never saw gender as a limitation. You'd think that, given that influence, it would be no surprise that Sarah grew up to become a pilot, but the truth is she had little interest in it as a child. Only after enlisting in the Air National Guard to help pay for college did that change.
"I was a traditional guard member in my unit in Pittsburgh," Sarah said, "and during my senior year of college, we were activated to Germany supporting Operation Allied Force in Kosovo. I was in the maintenance squadron, and my dad, an evaluator pilot, was the detachment commander. That's when I got an up-close look at flying and what the aircrews were doing, and decided it was what I wanted to do."
Once back stateside, Sarah began flight training and was hired as a pilot in her unit, entering flight school as the only woman in her class. While backing Sarah's aspirations, Ginny and Ted painted a realistic picture for their daughter, telling her that, at times, she might be treated differently but reminding her to never doubt her abilities. Sarah took that advice to heart, but she still felt immense pressure to succeed, not only for herself but for the sisterhood of women flyers everywhere.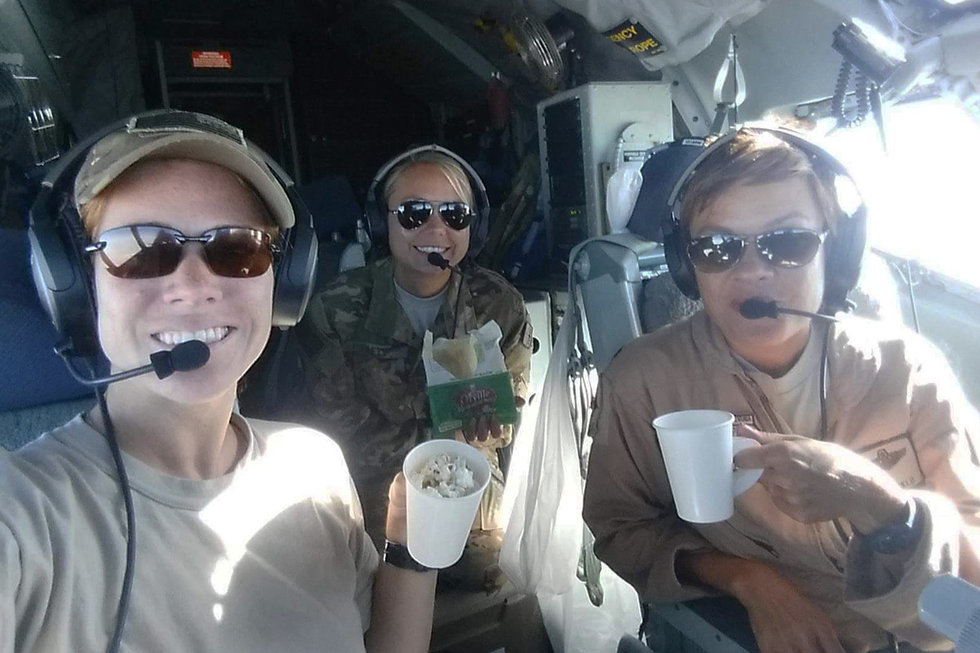 "It was important to me to make it work," she said, "because I had a mom and dad and a husband [Sarah is married to United Flight Instructor David Micklo] who were very successful. Not to mention I didn't want to be the female pilot who failed or the one nobody wanted to fly with. If you only have four women pilots and one is bad, then people may look at it and generalize and say, 'Well, a quarter of female pilots are bad.' Unfortunately, sometimes that's the way it is, and a lot of women before me worked hard to fight that. I love my job and I just want to do it really well."
After graduating flight school, Sarah went on to fly KC-135 Stratotankers, and eventually became her unit's first female instructor pilot. She still flies today as a lieutenant colonel with the Pennsylvania Air National Guard's 171st Air Refueling Wing when she's not flying Boeing 737s here at United.
Sarah said she's witnessed a cultural shift over the years when it comes to acceptance of women in the flight deck, and she praised her fellow women pilots for stepping up to support one another as they've fought to make those strides. United pilots even have an informal message board group called "UAL Venus List," where women can share their experiences and buoy each other when times get tough. And through her work with groups like Women in Aviation International and the Organization of Black Aerospace Professionals, as well as with her Air National Guard unit, Sarah is passing on that encouragement.
"When I talk with young people and prospective pilots, I have the same conversation with the women as I do with the men," she said, "but I tell females that sometimes they'll have to work harder, and that it will feel like they have higher standards to uphold. My goal is to one day give my speech and not have to say that. I think we've come a long way, and I hope we'll get to the point where, for the next generation of women pilots, it's something they don't even have to think about. I look forward to the day when being a woman pilot isn't a big deal."
Women, United
Like us on Facebook
for news and info, travel tips,
videos and more.